Cairns is a popular gay destination in the tropical climate of northern Australia, known for being a lively, welcoming place with a large queer community and home to plenty of gay-friendly attractions to make it a fun time regardless of the season.
Cairns runs their annual Cairns Tropical Pride festival every October, drawing people from all over the world and Australia for a week-long celebration of LGBTQ+ culture. For the rest of the year, you can find weekly events run by the local pride clubs and gay bars open to providing a great range of drinks and entertainment.
Situated in a warm paradise, Cairns also lures people to their bustling city with great seaside attractions and water sports. The highlight of these attractions is the gateway to the Great Barrier Reef, where you can get a boat to head out and see one of the top natural ocean hotspots.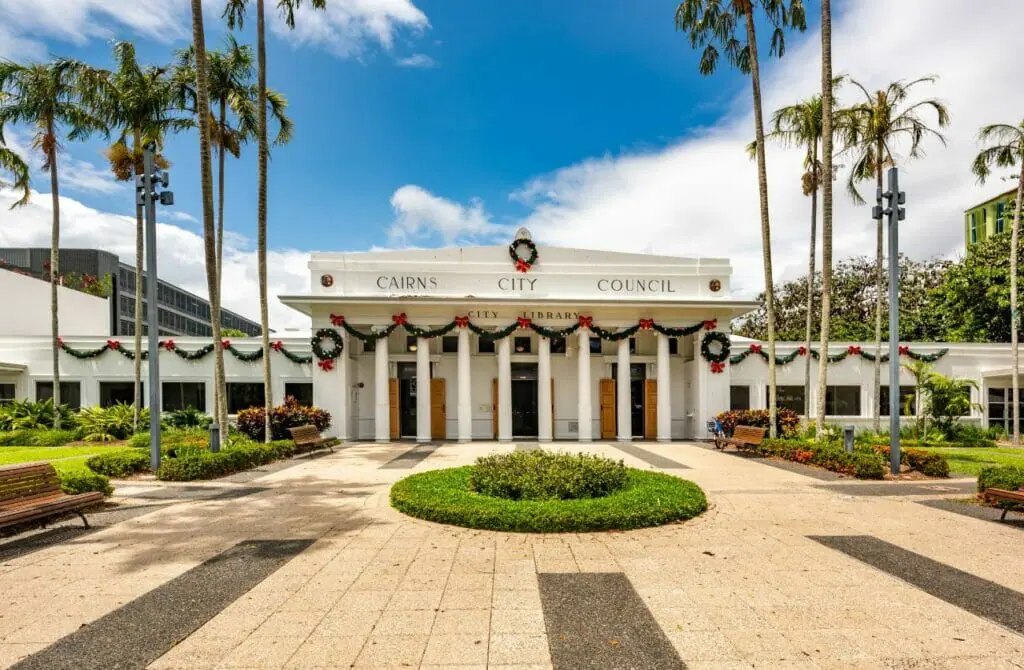 However, outside of tourism, the city is home to over 150,000 people, with a rich history dating back to the late 19th century when it prospered as a Chinese settlement of farmers. But, of course, even before contact with the rest of the world, the region was part of the territory of the Aboriginal tribes like Kuku Yalanji for over 50,000 years.
You can go on numerous tours that take you right through the heart of these ancient histories led by members of the tribes with a lineage of ancestral knowledge passed down for several thousand years.
However, most will be acquainted with the major metropolitan city committed to preserving the natural environment and promoting eco-friendly practices. So if you want an adventure capital in Australia, Cairns is at the top.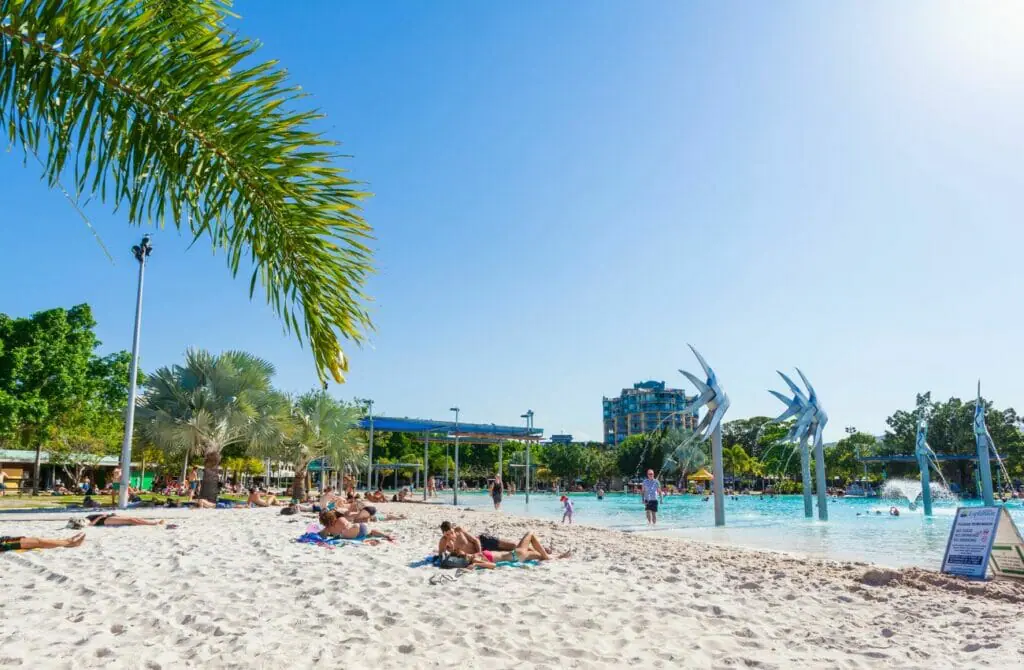 Attractions in Gay Cairns, Australia
As a new visitor to Gay Cairns, there are plenty of things to see and do, regardless of your sexual orientation. One of the best ways to experience any new city is to visit some of its most iconic landmarks and attractions, including historical monuments, museums, and art galleries.
We also love gazing at architecture up close, exploring parks and gardens, sampling the local cuisine, visiting local markets, and attending cultural events such as festivals, concerts and shows.
Even as the out-and-proud queer we are, we still love to explore the city and its culture in the same way as everyone else. Doing so allows us to learn more about the city and its people and better understand the local culture. As such, these are our favorite must-see attractions in Cairns.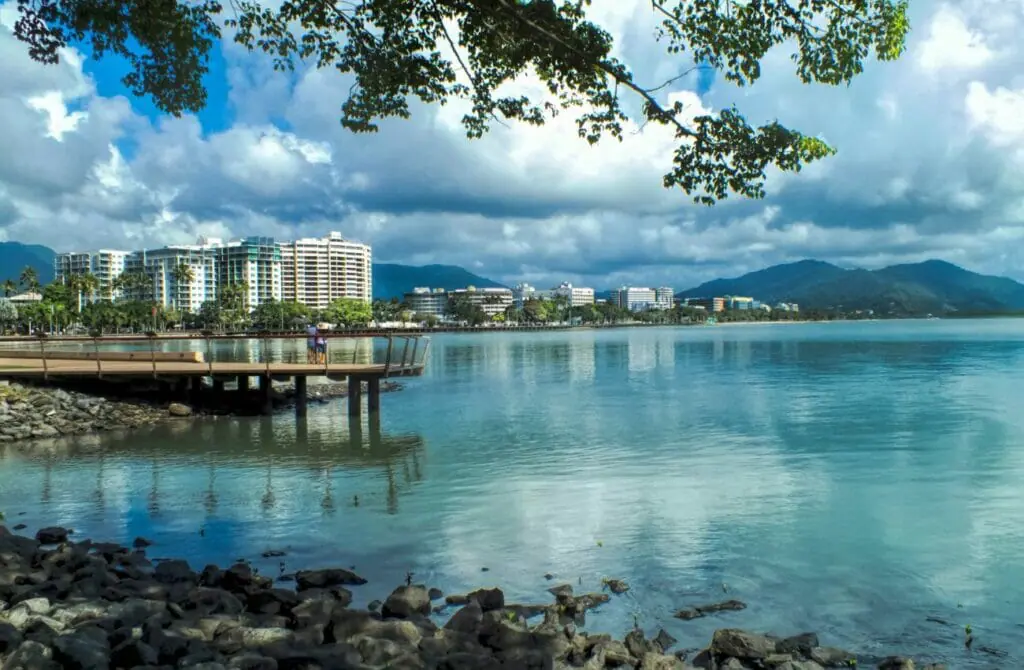 Cairns Aquarium is a fantastic on-shore way to discover incredible aquatic species from Tropical North Queensland. You will encounter species like sharks, turtles, and stingrays from various ecosystem exhibits. In addition, you can make a memorable trip in the evening to dine under a gorgeous marine scene at Twilight. However, otherwise, the venue is open every day from 10 to 2 pm.
Chillagoe Caves and Outback Day Trip from Cairns
A trip to Cairns is full of adventure, and one way to push out of your comfort zone is to head for a day trip to the Outback and see Chillagoe Caves. There is a tour that does just that, giving you transport from your Cairns hotel inland to Chillagoe-Mungana Caves National Park.
Here you will experience rich Aboriginal history through their unique rock art and experience the underground world of a cave system.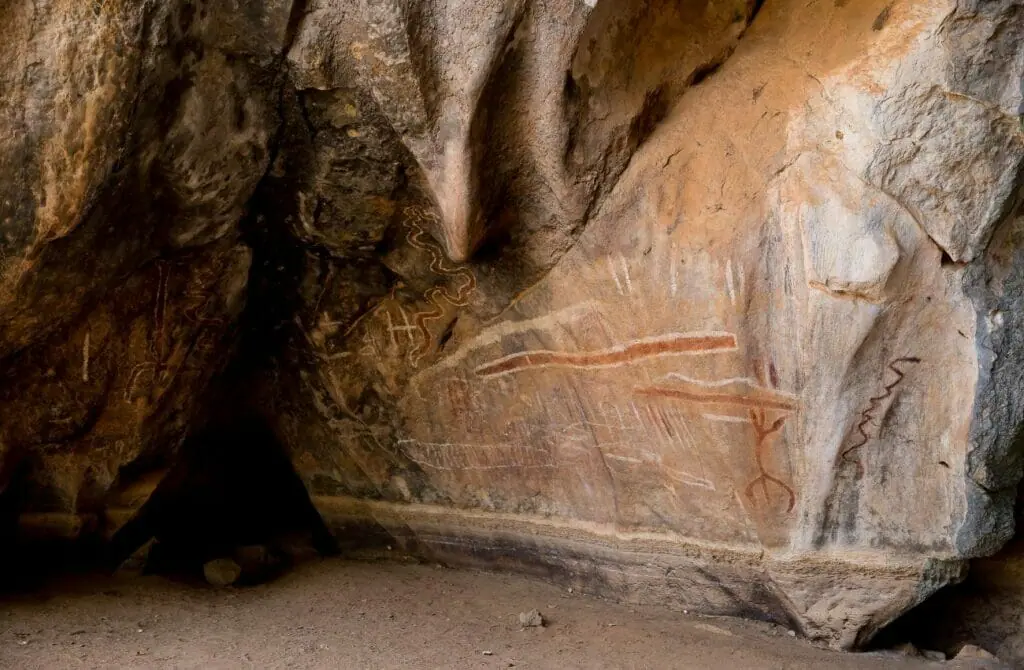 One of the best ways to get an introduction to any city is to take a talking tour with a knowledgeable guide. Cairns History Walking Tour does just that, exploring the history of the settlement covering over 40,000 years of human activity in this area, with key topics including colonialism, pirates, and the opium trade.
In addition, you will spend two hours visiting key attractions like the Cairns Museum, Cairns Art Gallery, and the Crystal Ball Bookstore.
For those adventure seekers, the Skyrail Rainforest Cableway is a unique way to experience a World Heritage-listed wet tropics rainforest from the air. Spanning across 32 towners stretched across 7.5 km and a height of 545 meters above sea level, you can sit in a cable cart and take in the natural beauty of this region without having to tire yourself out.
Plus, Skyrail is committed to environmental preservation and education as part of providing a fun rainforest adventure.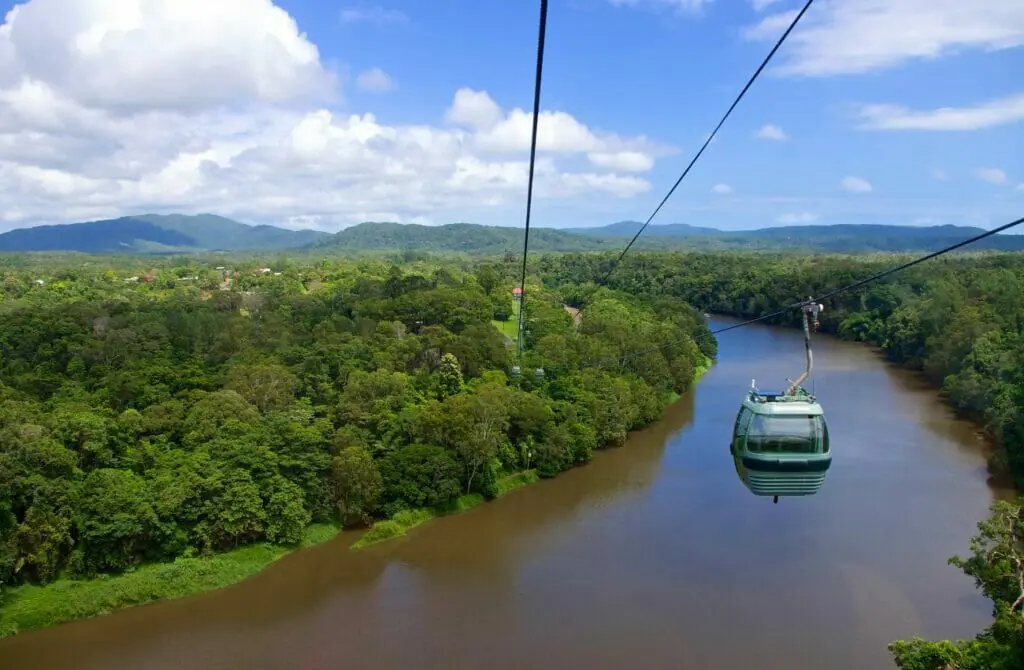 One of the must-do things in any city is to stop by the local botanic gardens, and Cairns is no different. Here you will witness countless varieties of tropical plants, and flora opens daily during daylight hours.
You can wander the picturesque paths and take in the handy block of nature in the town center, or you can get a guided tour to ensure you don't miss out on anything. Either way, you will find this garden alive with people regardless of the day.
Cairns Esplanade Lagoon
With Cairn's tropical climate, it is no surprise that many come to the city to enjoy a warm relaxing Summer. One way to cool off in the heat is the Cairns Esplanade Lagoon, with all the fantastic sea views without the salty water or sand.
You can take a slash in their outdoor pools, engage in sports and fitness activities, admire the public art and memorials, or get some friends together for a BBQ. Plus, you can take a leisurely walk along the esplanade, celebrating the sapphire waters on a fine day.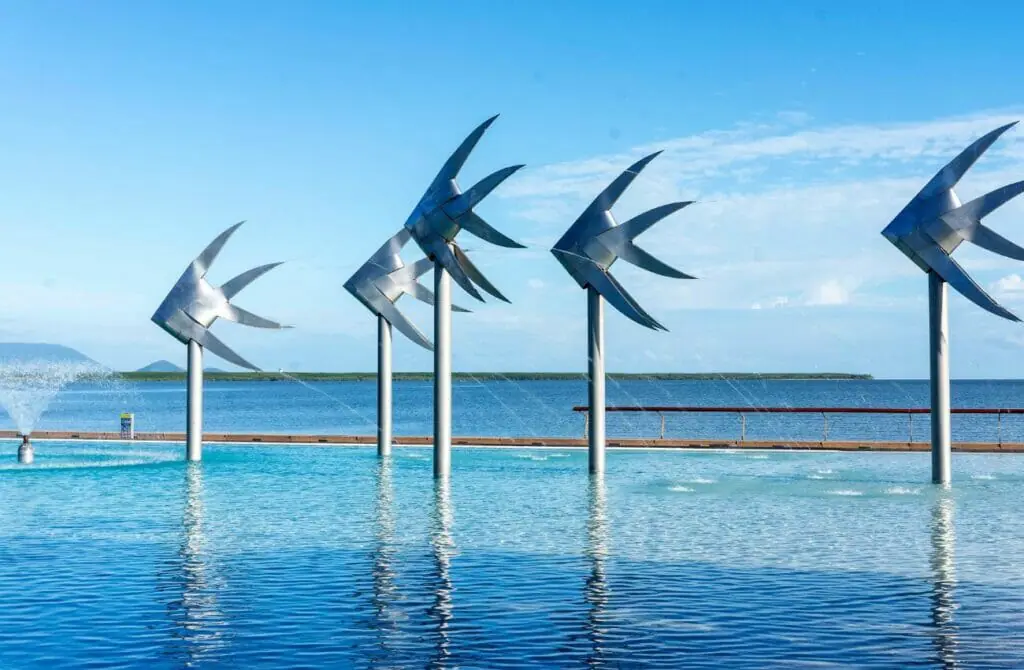 The Australian Armour And Artillery Museum
Those who love military history will get a kick out of the Australian Armour And Artillery Museum because it has a massive collection of war-related artifacts.
From the displays of guns and armor to tanks and anti-aircraft weapons, you will be up close and personal with some of the most destructive things humanity has ever created. Their collection isn't just exclusive to Australian weapons, with a wide range sourced worldwide.
Crystal Cascades
For those hikers that want to put in a bit of work because they relax in a swimming hole, you may enjoy the Crystal Cascades. Located a short drive from the city, you will arrive at the parking area to the track.
You can then make your 1.5 km journey along a paved trail to a swimming hole and waterfall. Swimming doesn't get much better than that! You may encounter wildlife like goannas and snakes during your visit, so be aware of your surroundings.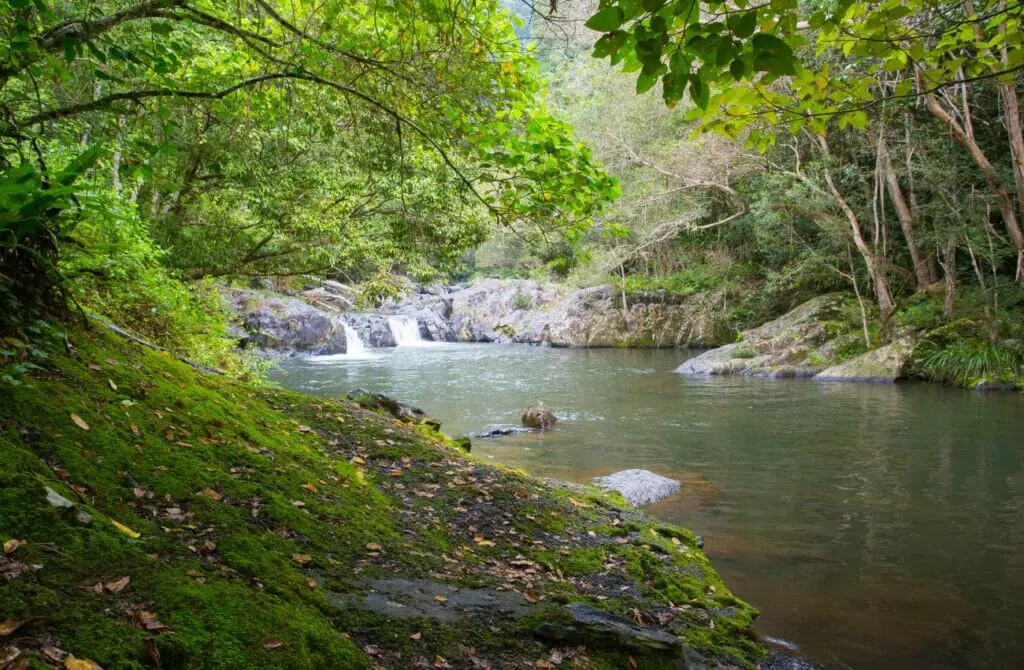 Cairns Museum
The top general history and culture destination is the Cairns Museum offering a range of exhibits exploring life in this Northern Australian city. You can see how the city evolved through carefully manicured exhibits with a small display of their expensive collections. They also have rotating exhibits aiming to make each visit a different experience.
One of the favorite beaches in the local area of Cairns is Palm Cove and the quaint beach village just thirty minutes north of the city. You can participate in many water and beach activities here, including finishing off the jetty. Then when you want to take a break, they have an abundant selection of fine-dining restaurants and beachfront cafes.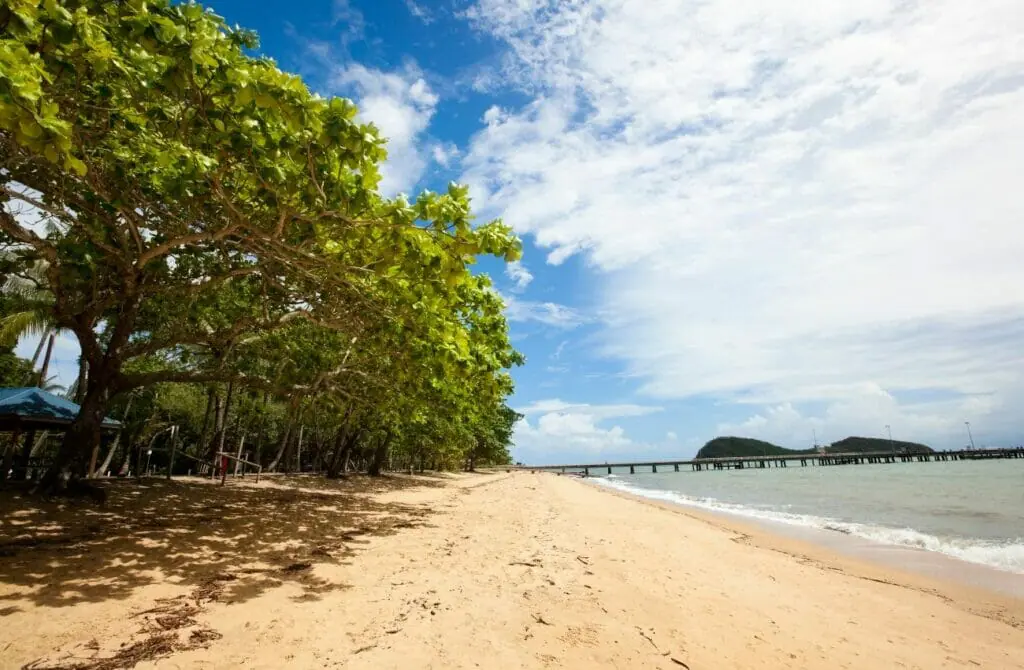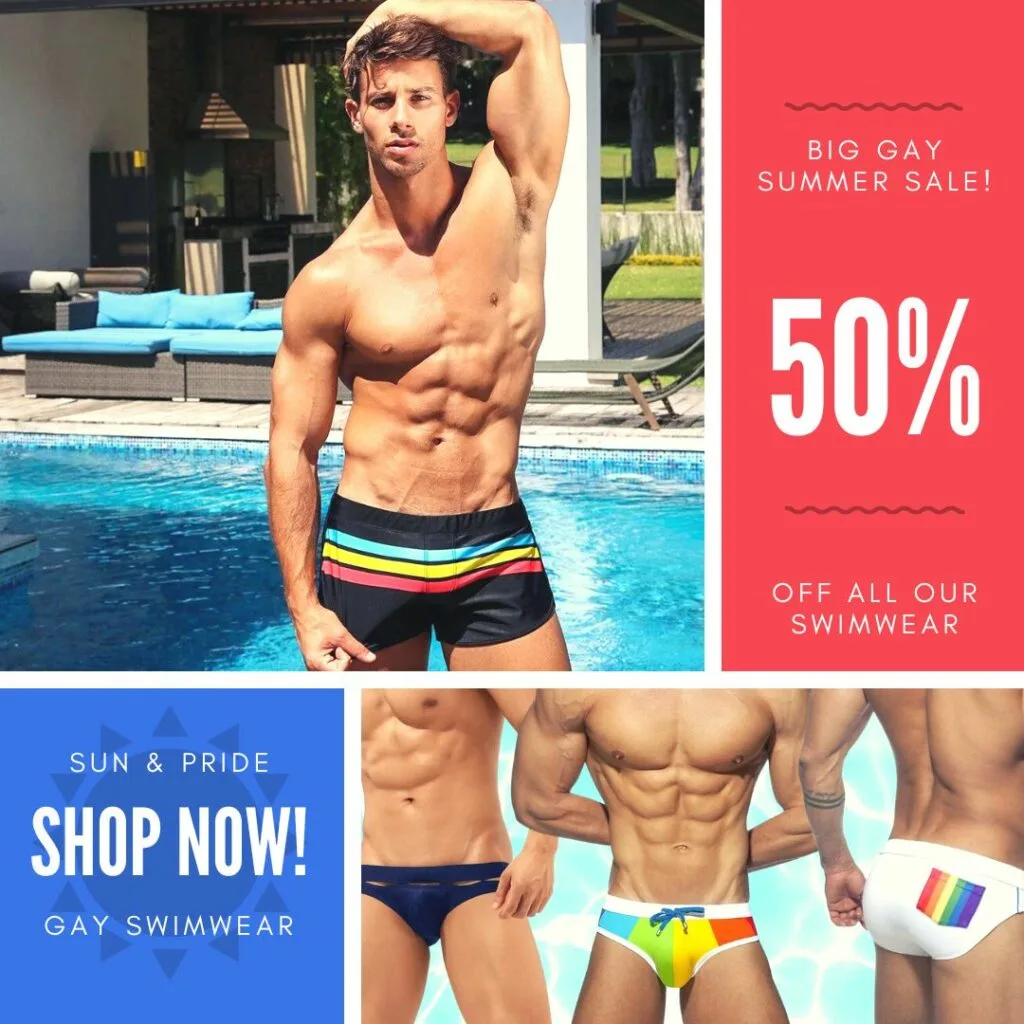 Hartley's Crocodile Adventures
When you come to Australia, you cannot miss out on seeing a Croc! Just as well, Cairns is home to Hartley's Crocodile Adventures, just 40 minutes north of the city. Here you can experience a wide range of wildlife that isn't just crocs, including other great animals like koalas, wombats, alligators, komodo dragons, and other exotic animals.
Green Island Day Trip from Cairns
Green Island is just a short boats journey from Cairns, so many recommend a full-day adventure from the city, allowing you to explore the Great Barrier Reef and lush rainforest island.
You will be taken over on a catamaran, arriving free to make the most of the natural oasis with leafy walks and sea-bound activities like snorkeling and scuba diving, to name a few. There are options to upgrade for a buffet lunch on board the boat, with a great food selection for all dietary requirements.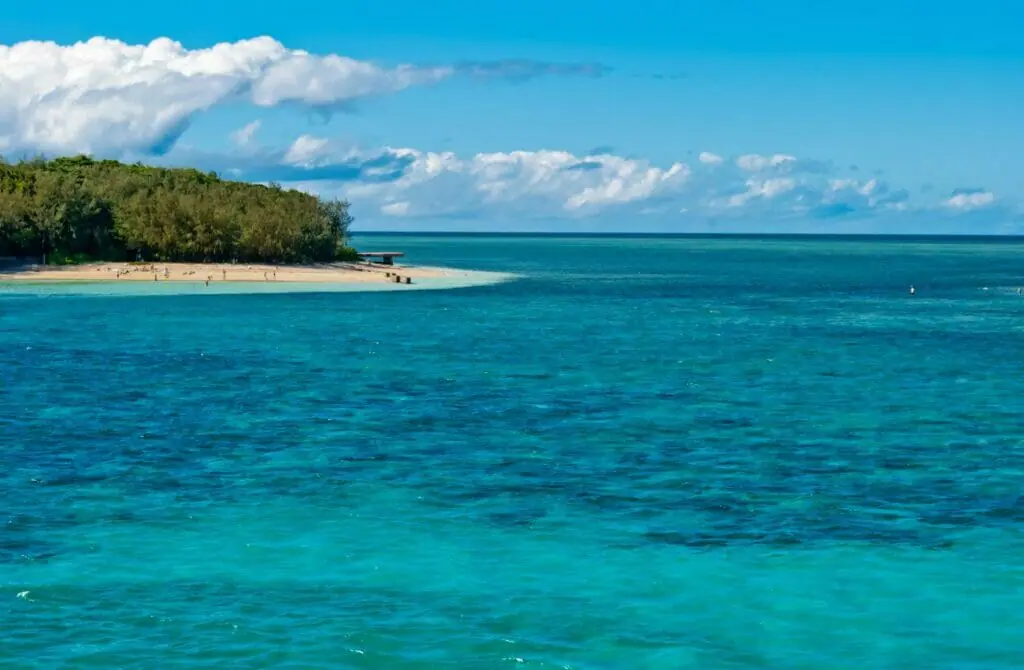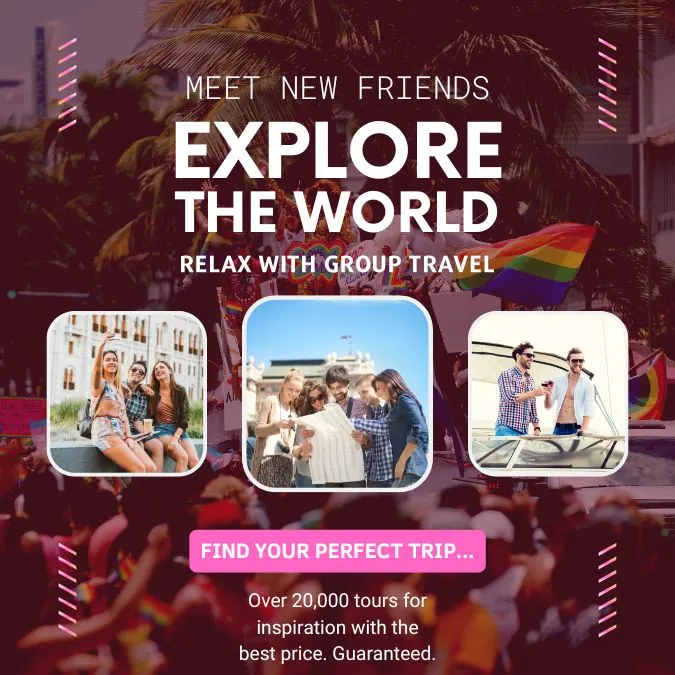 Gay-Friendly & Gay Hotels in Cairns, Australia
Being gay-friendly accommodation means that the establishment is welcoming and inclusive to guests who identify as LGBTQ+. This can include, but is not limited to, having policies and practices that demonstrate a commitment to creating a safe and inclusive environment for LGBTQ+ guests, such as non-discrimination policies and providing support and resources for LGBTQ+ travelers.
Some gay-friendly accommodations may also provide amenities specifically catering to the LGBTQ+ community, such as rainbow flags or literature about local LGBTQ+ events or resources. Furthermore, gay-friendly accommodations may be located in an area known for being LGBTQ+ friendly.
While Cairns has no specifically gay hotels or resorts, these are Cairns' most fabulous and pro-actively gay-friendly hotels. There are also hundreds more hotel and hostel options in Cairns if none of these suit your desired budget, facilities or area – but these are the best hotels according to other gay travelers and us.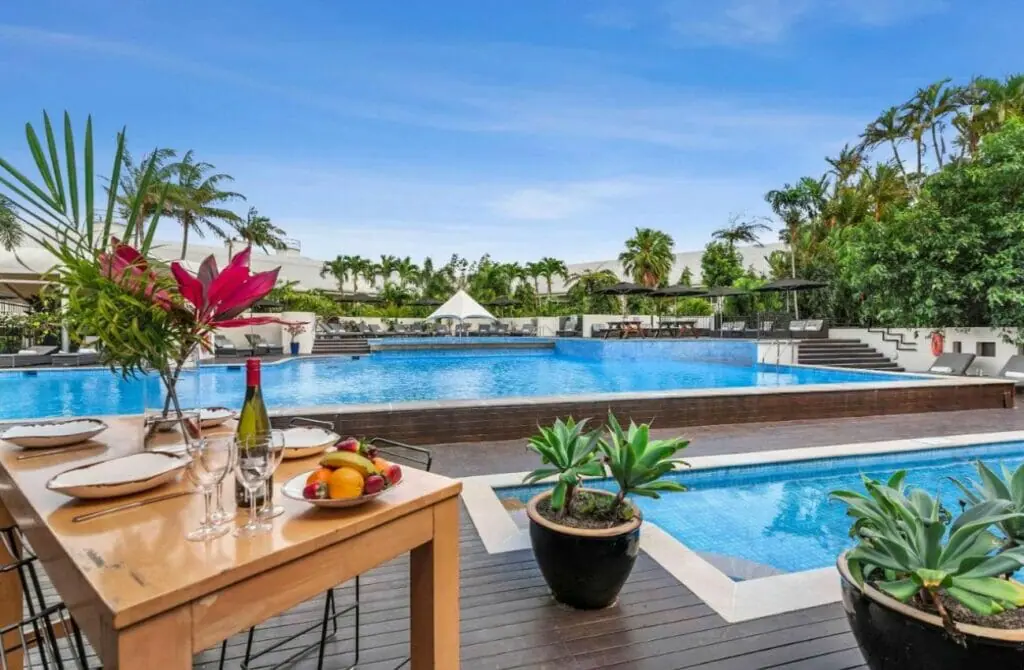 Whatever your needs are, Cairns has you covered.
Shangri-La The Marina is one of Cairns' top five-star hotels in the Central Business District. Why so? She is just a stone's throw away from key tourist attractions like the Reef Fleet Terminal and Cairns Esplanade, making her a convenient base.
However, many don't just pick this hotel for its excellent location; if the reason isn't the backyard of ocean views and on-site international cuisine restaurant, the coffee shop, poolside bar, shopping mall, and pool lures, all the rest. Essentially, it makes her an oasis away from home, bringing the best of Cairns city living to the cozy abode of a traveler.
Also, each of the 255 private rooms is spacious and comfortable with modern amenities like Wi-Fi and TVs, but also others you'd least expect, like balconies and refrigerators. In addition, with their separated spaces between living and sleeping, you can have an easy way to do a little bit of work while on holiday, or if you are on a working trip, not be tempted to go back to sleep working in bed!
Whatever the case, you can also use over 18 meeting rooms, dine in the restaurant eating area, and get a little hour of work between being a tourist.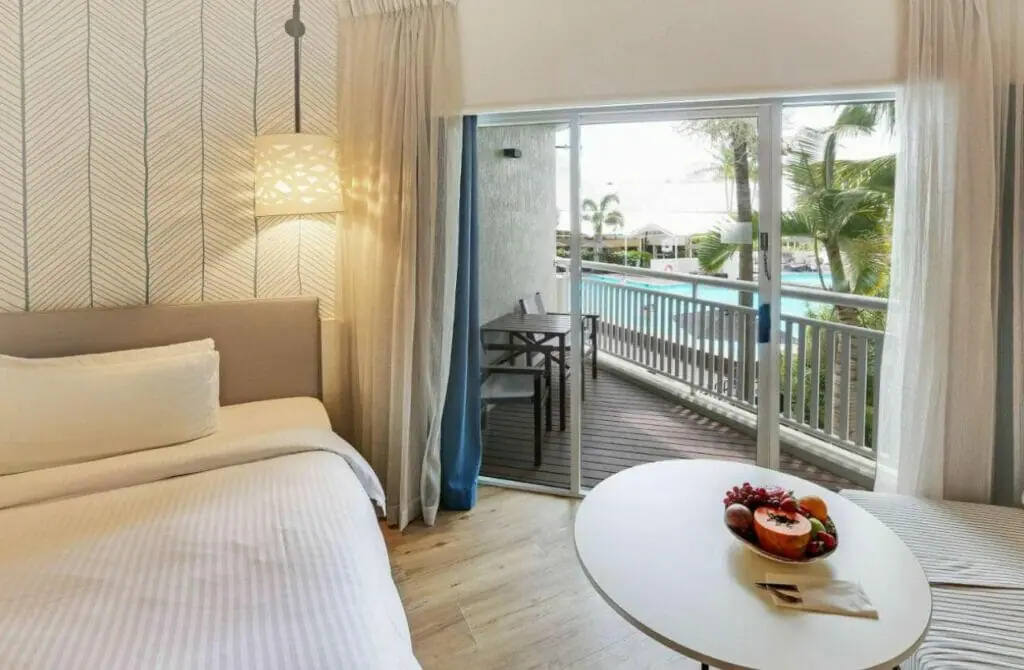 Another top five-star hotel in Cairns is Crystabrook Flynn, located in the Central Business District. In basic terms, this hotel is perfect for guests wanting a place to relax at the height of comfort, with the highlight being the onsite spa Eleme.
However, while that makes up most of the services on offer, it isn't the only selling point. For one, the hotel boasts an outdoor pool, a 24-hour gym and excellent access to nearby attractions like the Cairns Esplanade.
Guests can also indulge in the delicious meals hosted by their on-site restaurant, Boardwalk Social, and refreshing drinks from the Whiskey and Wine bar. So with food and drink sorted, you can make the most of your private quarters, lounging in the coziest couches and sleeping in premium bedding. So you'll be spoilt at Crystalbrook!
Rydges Esplanade Resort Cairns ☆☆☆☆
The Rydges Esplanade Resort is a four-star hotel in Cairns North, featuring plenty of drinking spaces from the garden to the poolside and terrace. From these spaces, you'll discover the three outside pools where you can enjoy a cooling Summer splash without going to the beach, and conveniently places loungers with umbrellas to relax without getting burnt.
Then heading inside, you can dine in their on-site restaurant or order room service and enjoy the comfort and luxury of your room. Even if they are the height of comfort, they also provide a covenant location to experience Cairns by foot and vehicle, including the esplanade.
So Rydges is great for those wanting the most of this seaside adventure city, knowing they have a soft place to rest their body for the next round of fun around the corner.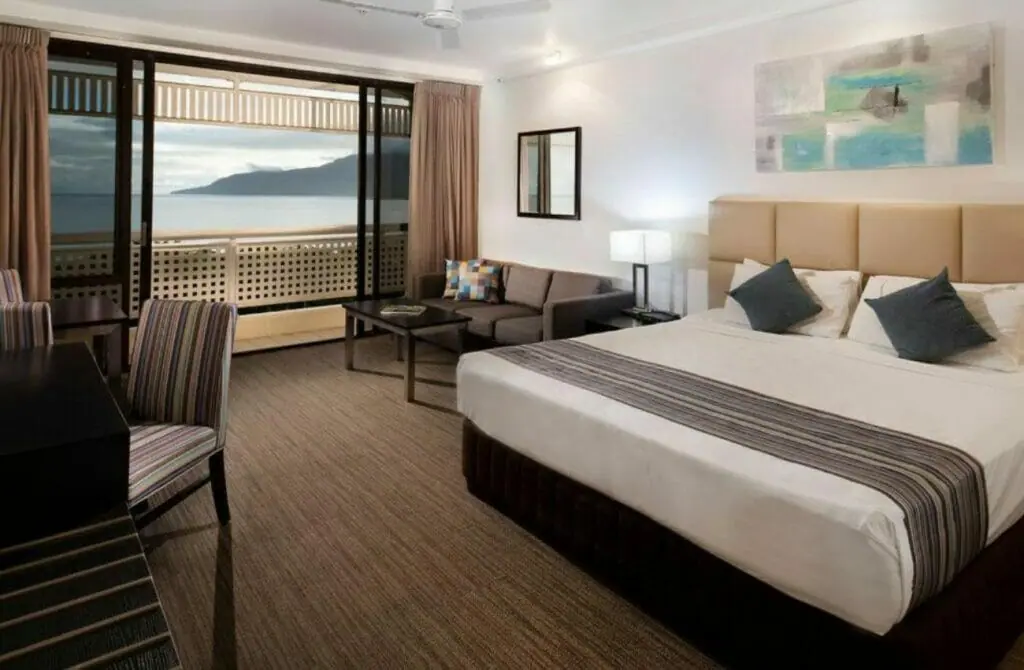 The Park Regis City Quays is a four-star hotel in Cairns Central Business District, perfect for a business trip or pleasure-seeking tourists. Not only are they located close to key attractions like the Cairns ZOOM and Wildlife Dome, but they also have a range of amenities and services that make your stay in Cairns one you'll never forget.
For example, you can make the most of the outdoor space with the pool, terrace and place to host a BBQ with free-to-use grills and nearby seating. This is a great way to mix up your meals from just relying on the nearby restaurants or your room microwave.
So, even if the hotel doesn't have a restaurant, you can still enjoy a taste of local Australian Summer cuisine and a hearty BBQ! A further highlight of this hotel is the private quarters, which have a private balcony!
The three-star Oasis Inn is located along the boardwalk and close to the airport in Cairns. Here you'll be treated to an outdoor pool, with an enclosed garden and picnic area with BBQ grills. However, if you don't want to make your food to enjoy these spaces, you can keep full with a snack bar and deli service on-site, with off-site food options just a stone's throw away.
Inside the hotel, you will find your cozy pirate quarters with a small kitchen set up with a fridge, a microwave, and a kettle. While preparing your food, you can enjoy the buzz of the TV or iron some clothes before a fancy night out on the town. Then when it comes time to turn in, rooms are decked with comfy bedding, an optional choice of black-out curtains, and soundproof walls to sleep soundlessly.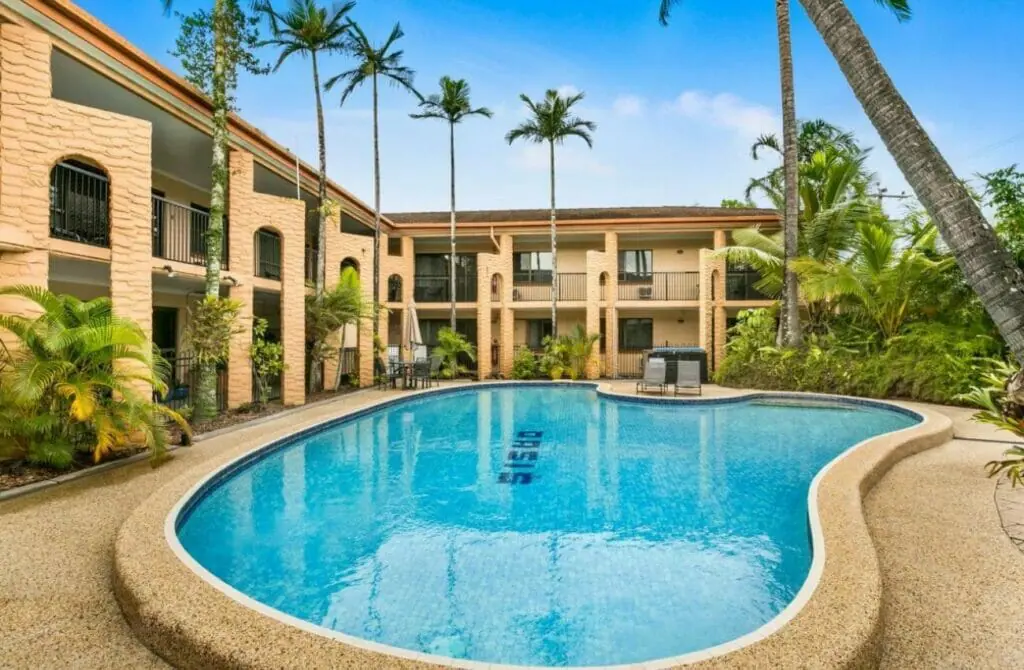 Gay Nightlife In Cairns, Australia
In the same vain as the range of attractions across Cairns, the gay community can celebrate because there are plenty of choices from queer-operated nightlife venues.
In addition, there is a gay bar a little way out of town, offering a unique experience and getting you acquainted with the local gay community. There is even a tiny cruise community for some to get excited about. So a night out on the town will be fun!
Exploring the gay and gay-friendly nightlife in a new city can be one of the most exciting and rewarding experiences while traveling – and Gay Cairns is no exception. Not only will you have the opportunity to meet new people and make friends, but you'll also get a taste of the local culture and learn more about the city's LGBTQ+ community.
Going out and experiencing the queer and queer-friendly nightlife in a new city can also be a great way to break out of your comfort zone and try new things. Whether dancing the night away at a gay club or mingling with locals at a gay-friendly bar, you'll have the chance to make memories and create lasting connections.
So, don't be afraid to step out of your comfort zone and explore the gay and gay-friendly nightlife in Cairns. You'll be glad you did!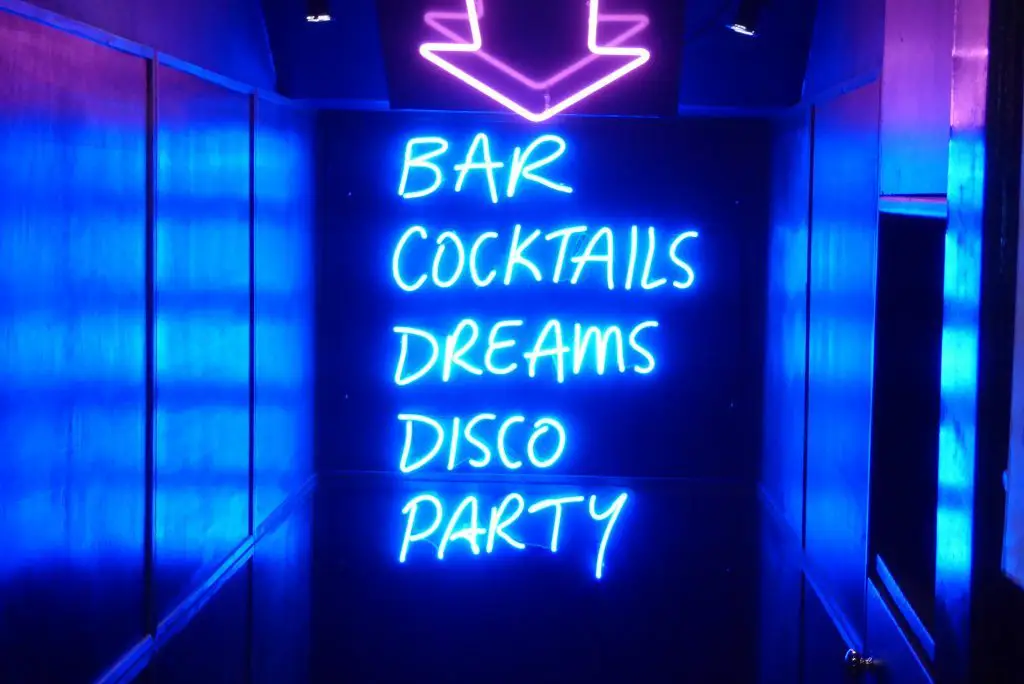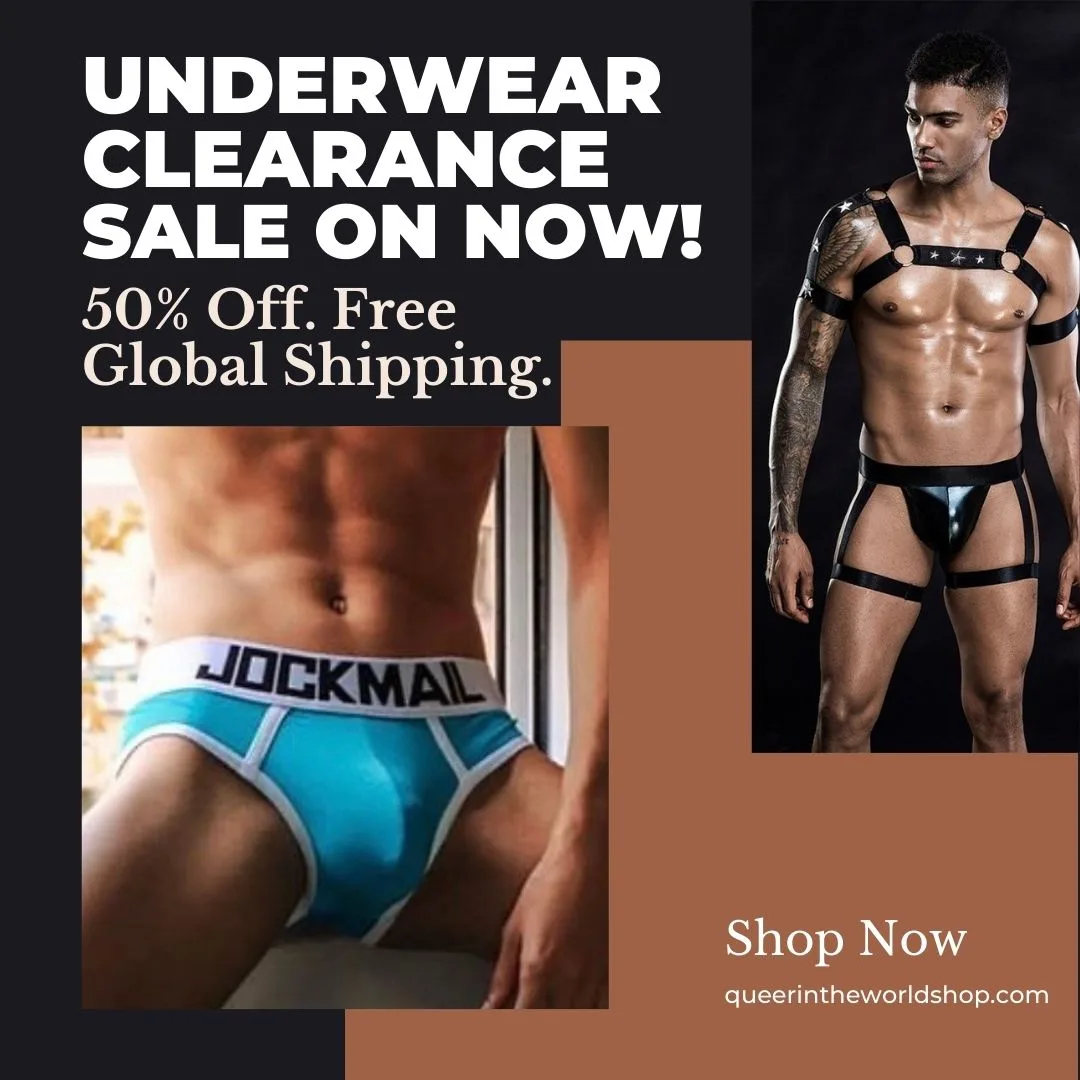 Gay Bars In Cairns, Australia
Turtle Cove Beach Resort is an upmarket resort for members of the LGBQT+ community, and regardless of whether you are staying at this secluded resort as a guest or stopping by, you will have a great experience.
However, Turtle Cove is a thirty-minute drive north of Cairns city, so to get the best experience, it is best to make an event of it, hiring a car and taking in the sights as you travel there and back again. In addition, guests should book in advance and be updated on their website with events in the area.
Rules aside, Turtle Cove, is a little gay gem on a secluded sandy shore, giving you the perfect romantic getaway. First, you can dine under candlelight, enjoying great food and drink as you relish good company and fantasy ocean views. Then after your high-class dining experience, you can walk along the beach, sit in the sand and watch the stars.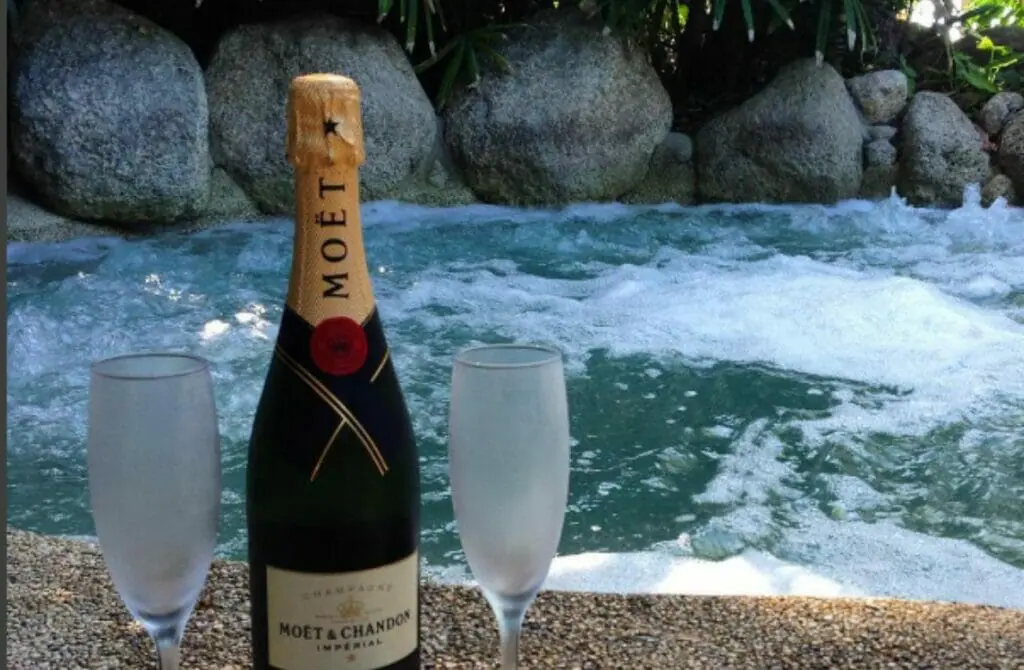 Gay Parties & Gay Clubs In Cairns, Australia
Every year Cairns plays host to the Cairns Pride Festival in October, bringing the queer community together for their biggest celebration. You can expect the streets to be lined with rainbow flags for the festival's highlight, the Pride Festival march. This would be the best time of year of gay tourists to visit the city to experience the passion of the LGBTQ+ community.
Out! It is the most prominent queer group in Cairns, hosting regular social events and being a valuable source for visitors to learn more about the local community. You can contact their organizers to learn more about gay city life and may discover some hidden secrets.
This gay club is an excellent source for the advertisement of local queer events across Cairns, and they are also a social network connecting fellow gay and lesbian people.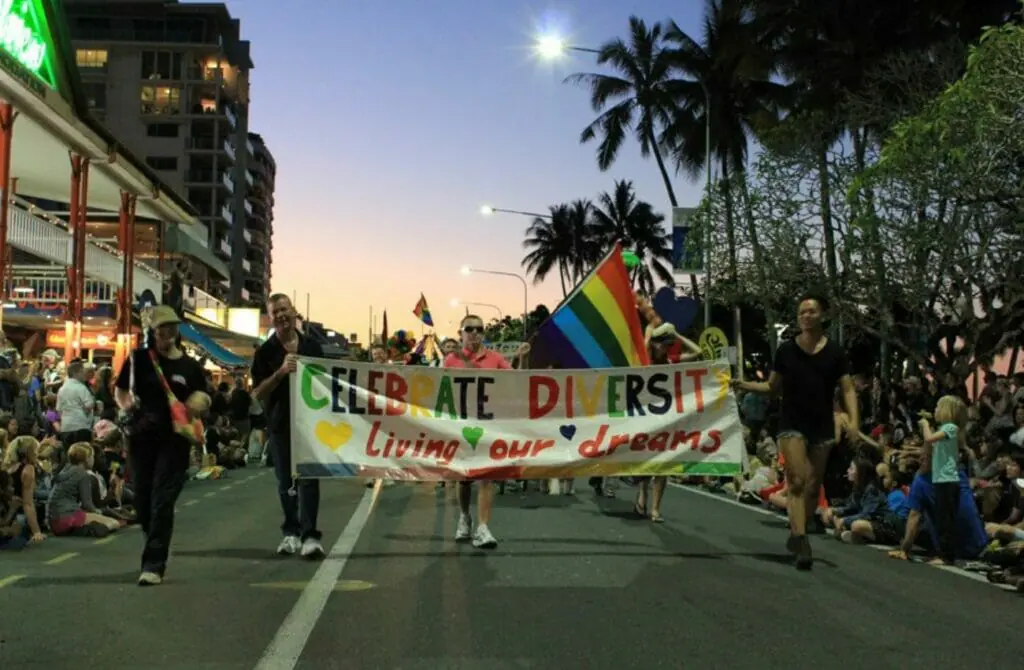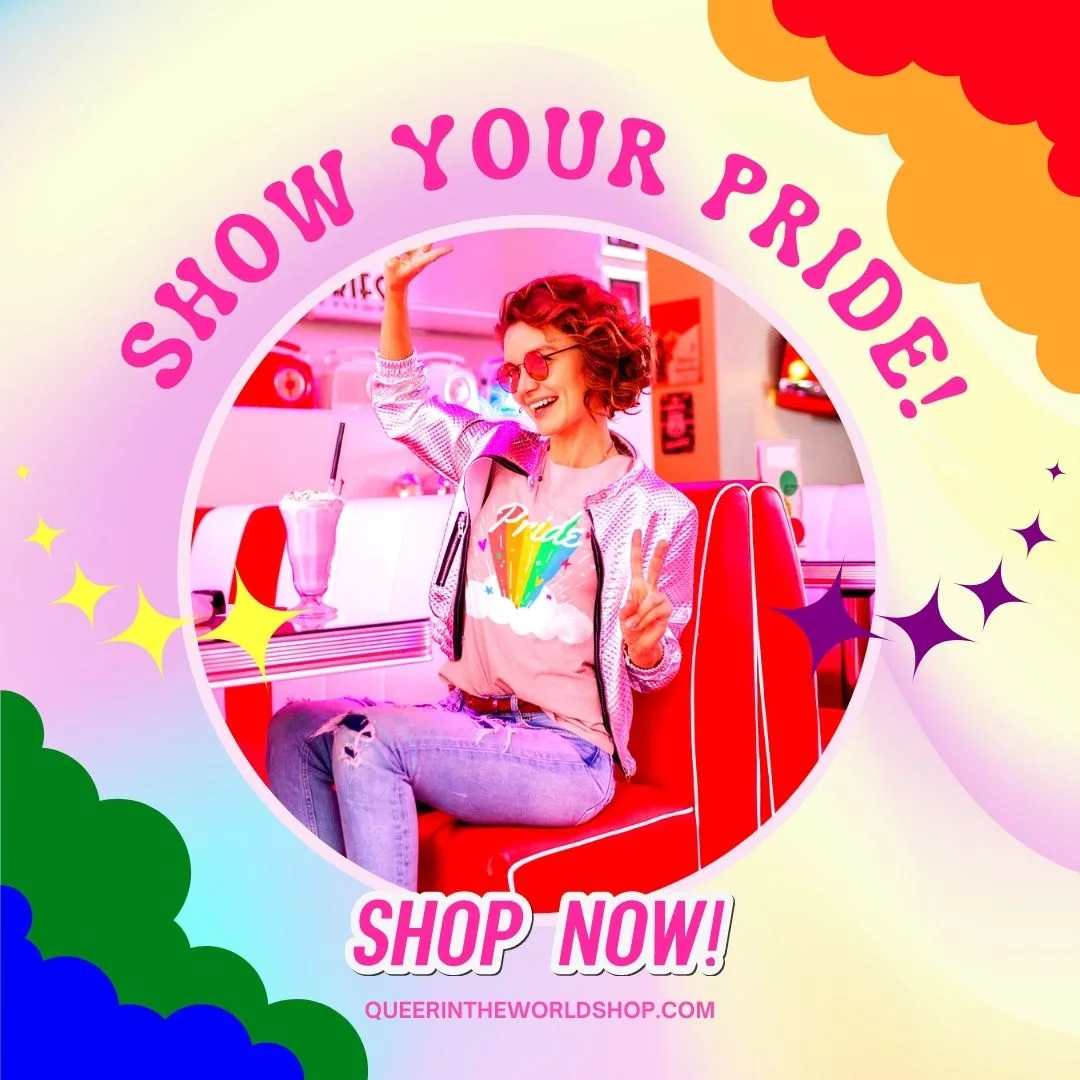 Gay-Friendly Nightlife In Cairns, Australia
Being so close to the ocean and part of the Pacific, it is no surprise that Cairns has its slice of Pasifika with Flamingos Tiki Bar.
In this delightfully pink venue, you will find decor and drinks inspired by the Polynesian cultures throughout the Pacific, including tiki figures, coconuts, drink umbrellas and 1950s beach pop art. Guests swear by the drinks and the extra effort in detail to make the experience at the bar one you will never forget.
Three Wolves is an iconic cocktail bar found in Cairns' heart; here, you don't just have a wide selection of drinks to introduce you to the wonderful world of cocktails, but tapas and a make-your-own tapas. They are not just about providing excellent service for their patrons out of their clean rustic venue; if you have always wondered how to make your drinks, they offer master cocktail-making classes.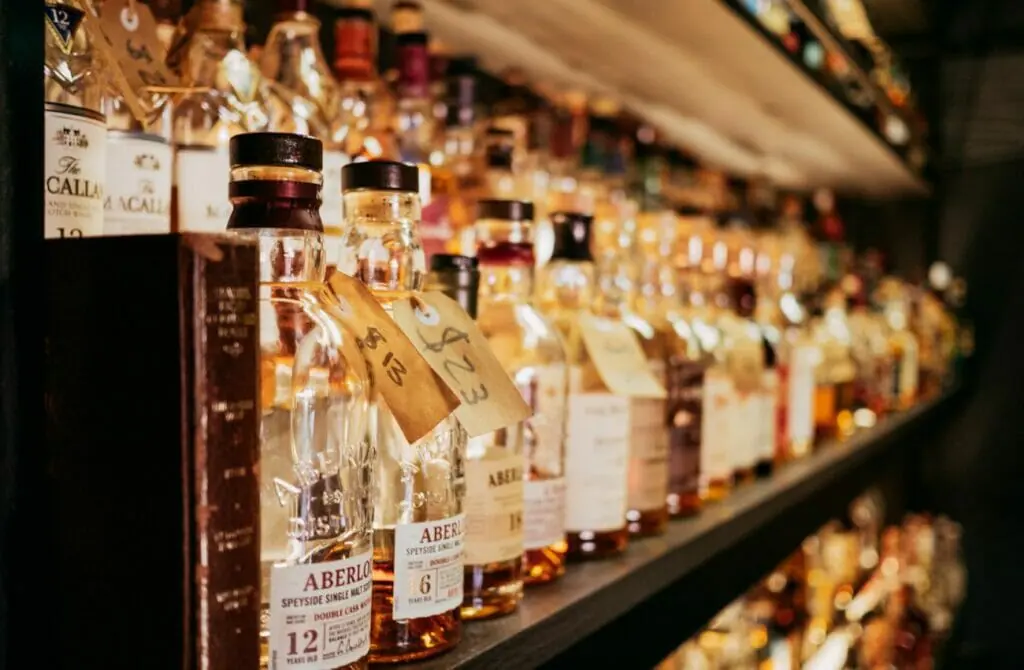 Fashioned out of an old woodshed, the bar with the same name is world-famous for its wild nightlife and barn aesthetic, making a dine and dance something unlike anywhere else. Not only are the drinks and vibe great, but the promise of a party every night is one they hold, with DJs and other live music on stage performing to an ample dance space.
For rad games, rad drinks and rad tunes, you don't need to look much further than a stop in at the Empire Alternacade and Events. Committed to bringing back the classic feel of the 1970s and 1980s arcades, you can find a rich collection of game machines, from the classic arcade and pinball to slightly more modern classic consoles.
Plus, with options to dine and drink between hitting the floors to test your gaming skills, this is a fun nightlife attraction unlike anywhere else in Cairns.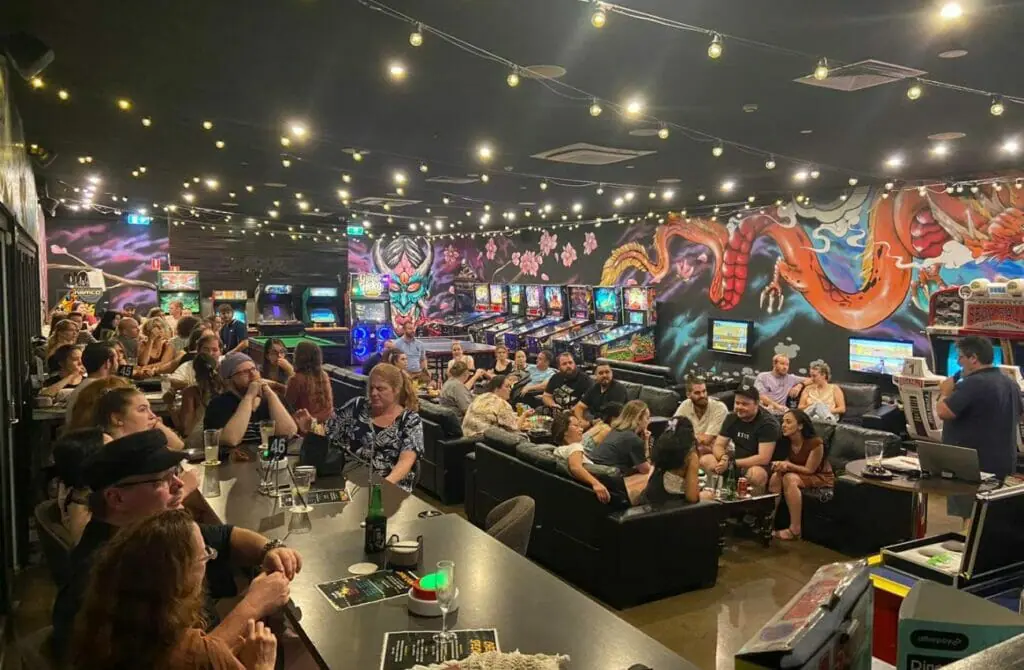 The Downunder is a popular pool bar with over eleven tables to play a few rounds with friends as you savor a sweet drink. Not only is this a classic pub with great drinks and gaming entertainment, but you can also throw yourself into the karaoke competition and sing your heart out as the evening wisens.
Essentially this is a classic Aussie bar with beer aplenty, a hanging flag of the mother nation, and hearty food with live music. Plus, did we point out that the pool is free?
After a chilled drinking lounge in the convenient central city, BAR36 comes to the table to provide a brilliant option. Here you can relax into a drink and chairs as you let the quiet background music massage your worries away. The food is also pretty tasty, making it great for an early evening stop-by.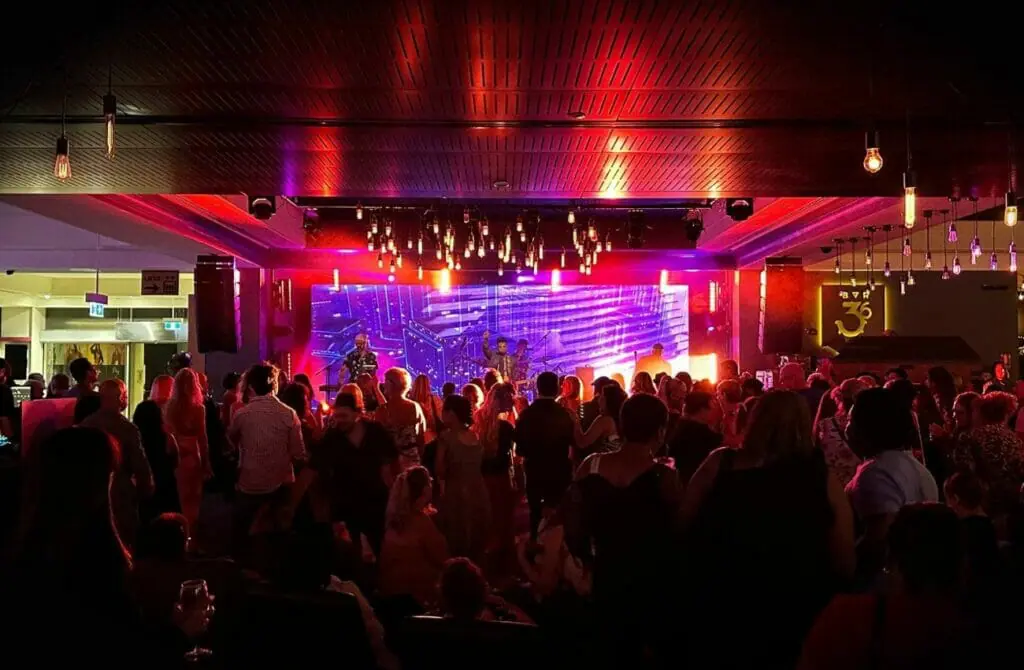 Cruising & Gay Saunas In Cairns, Australia
The cruising scene in Cairns may be small, but gay people will be glad to learn the Cruise Club is here to provide a safe place to go gay cruising. Besides the other gay establishments outlined in the guide, you don't have to rely entirely on dating applications to meet others.
When traveling to a new city, it can be exciting to head out for more than just a stiff drink. One aspect of the Gay Cairns scene that many queer men enjoy is visiting gay saunas and cruising clubs.
Sure, the sauna culture in Cairns is not as hedonistic as in Amsterdam, Barcelona or Berlin, but these venues still offer a chance to meet new people, socialize, and engage in sexual activity – without resorting to gay hookup apps.
However, it's important to remember that these venues can vary greatly in terms of atmosphere, clientele, and rules, so it's a good idea to prepare yourself before visiting. If you are apprehensive, we advise studying our guide to visiting a gay bathhouse for the first time, which should help set your mind at ease and always practice safe sex.
Additionally, it's important to be aware of and respect local laws and customs regarding gay venues and sexual activity. With a little planning and an open mind, visiting gay saunas and cruising clubs can be a fun and exciting part of your gay Cairns travel itinerary.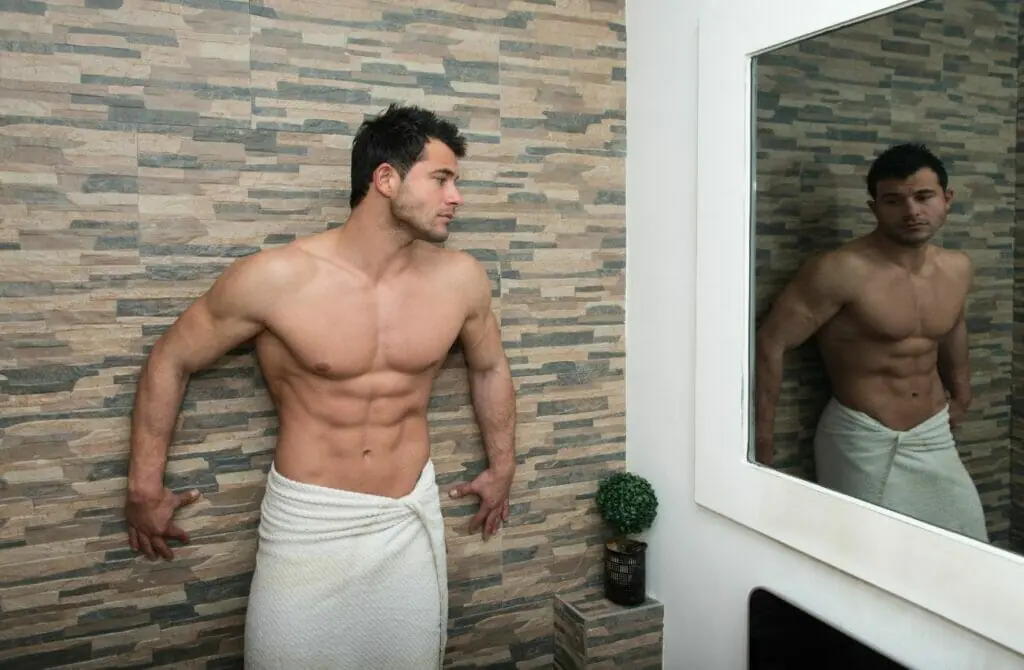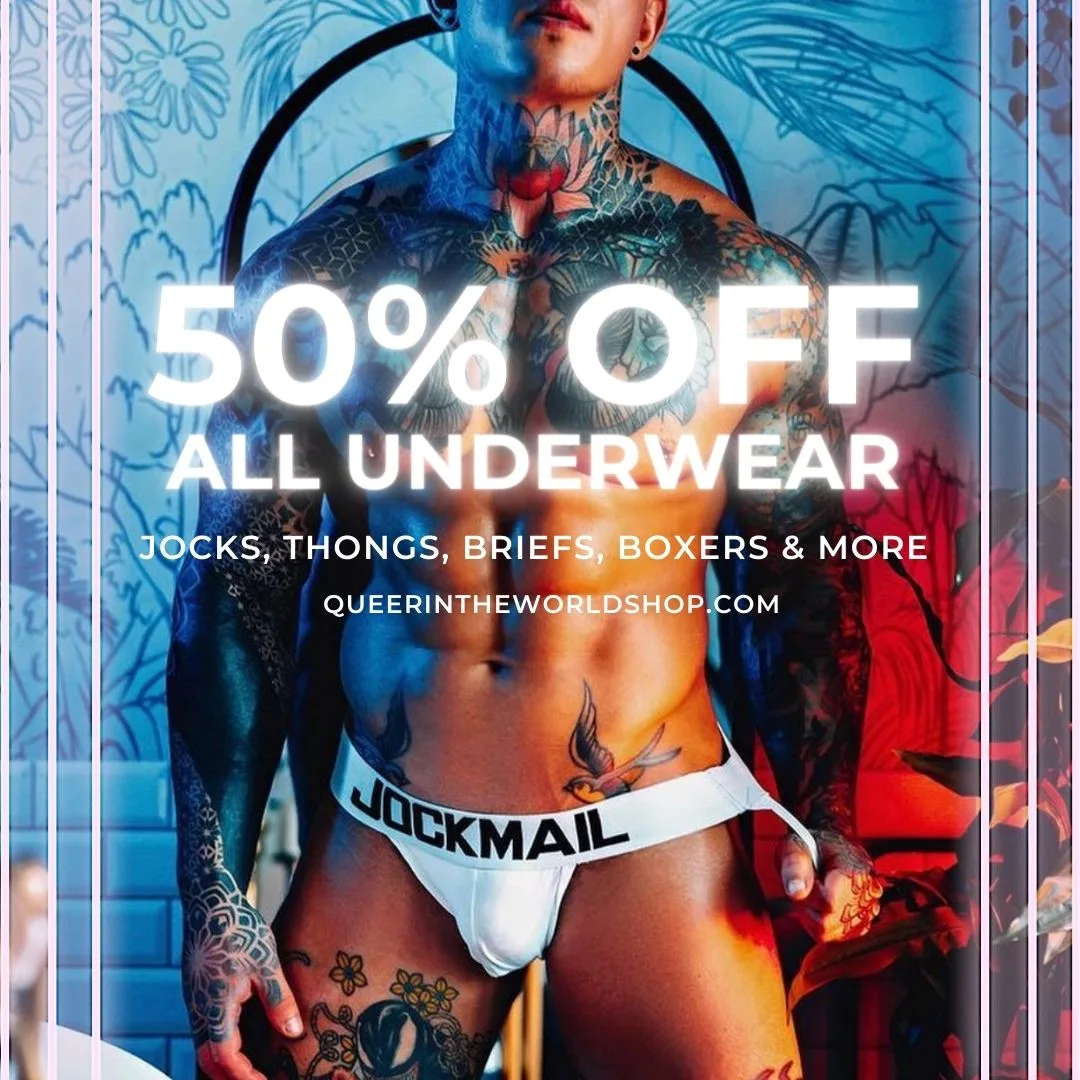 Gay Cruising Bars In Cairns, Australia
Being the only gay cruising club in Cairns, you will be treated to a rare treat in the queer tourist experience of the city nightlife. Here you will find fellow gay men looking for a good time at many levels and with the proper facilities to make whatever encounter you have in mind safe and private.
From the social lounge and bar, where you can become well acquainted with the gay scene, to the vast selection of fun rooms that allows you to explore your sexual fantasies. You will have a blast at Cruise Club Cairns.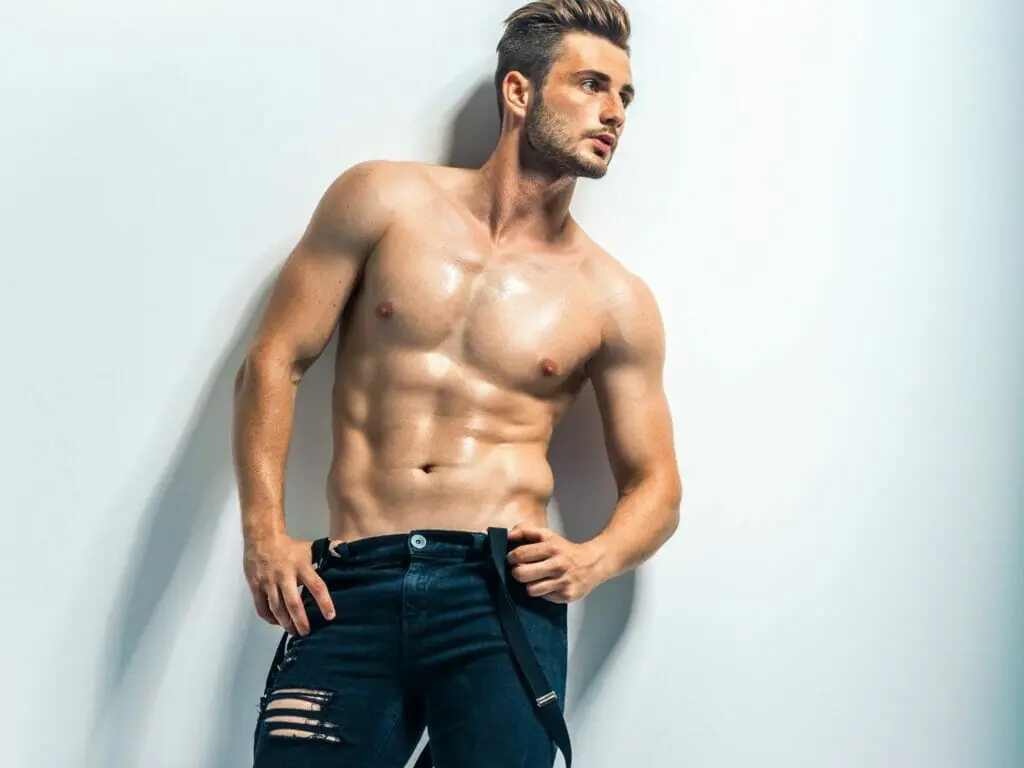 Gay Map Of Cairns
Finding it hard to envisage where everything is in Cairns? Hopefully, this queer-centric map helps where we have marked all the bars, clubs, parties, hotels, saunas, massages, and more will help you stay in the spot best suited to you!