There are so many glorious and fascinating places to visit around the world that it sometimes feels impossible to decide where to go – and we're sure we're not the only ones! Luckily, queer travel is something that's expanding all the time (with some notable exceptions) and there are some fantastic hotels designed for LGBT travelers out there.
We know you don't always want to stay in gay-only hotels, but it can be nice to stay somewhere knowing that you don't have to hide anything, that you can be yourself without feeling self-conscious. It means you can use all your energy on having a brilliant trip!
There's a sense of freedom in gay-only hotels that can be hard to come across elsewhere – and, of course, that's where the fun is at. Not to mention the great style and décor! So, if you're planning a fabulous gaycation, why not let the hotel inspire the destination, rather than the other way around? Here are some of our favorite gay-only hotels from around the world to help inspire your next queer adventure.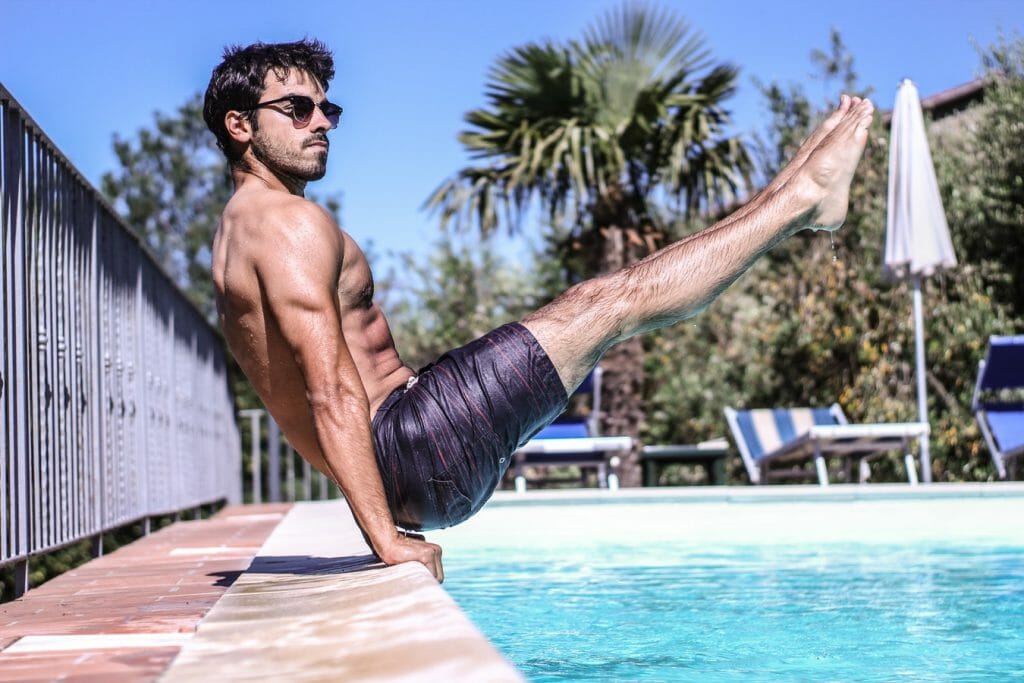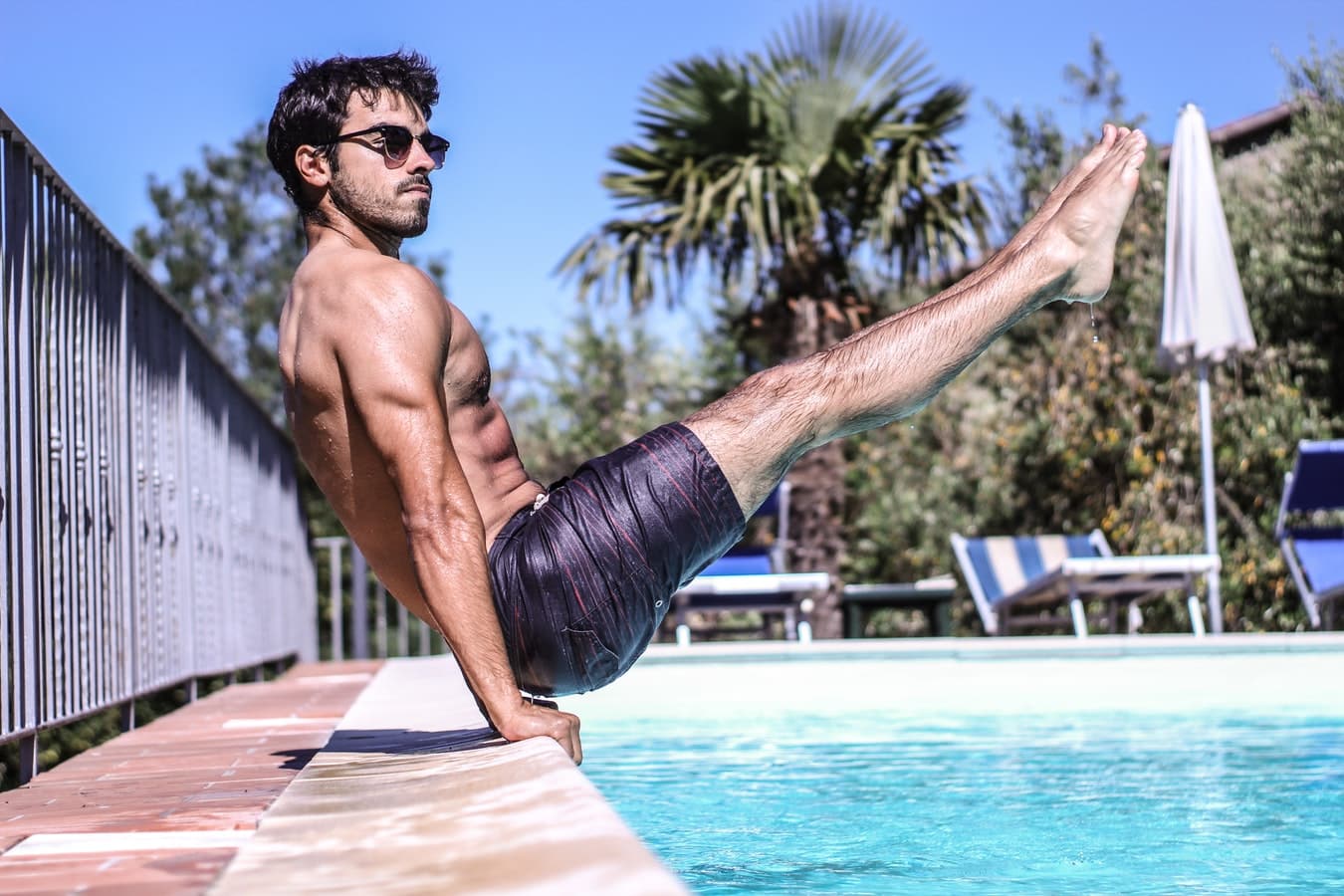 The Best Gay-Only Hotels In The World To Inspire Your Queer Travels! ✈️
This boutique guesthouse in the heart of Lisbon's historic center is one of our favorite recently-discovered gay-only hotels. With only 12 rooms, The Late Birds Lisbon feels intimate and peaceful. Although it has all the benefits of being 10 minutes away from the buzzing gay neighborhoods of Barrio Alto and Principe Real, the hotel itself is an oasis of tranquillity. Here you can chill out in the lush garden, dipping into the pool on a hot day; or order a cocktail at the bar before a night out.
The minimalist décor makes the most of the natural light coming through the large windows. Pale stone and wood are offset by the quirky antique finds that the owners have collected over the years and now use to decorate the comfortable and clean rooms. A delicious breakfast buffet gets your day off to a good start and the overall atmosphere is friendly and welcoming. Guests and staff alike seem to always have smiles on their faces at this converted 18th-century villa.
The epitome of a refined gay travel experience, we relished the excellent service, wine served poolside, optional group excursions and the company of other gay travellers who were always happy to chat – or go out and explore Lisbon. A gay resort we would return to time-and-time again, we are also excited to hear they are opening a second resort in Porto in the near future.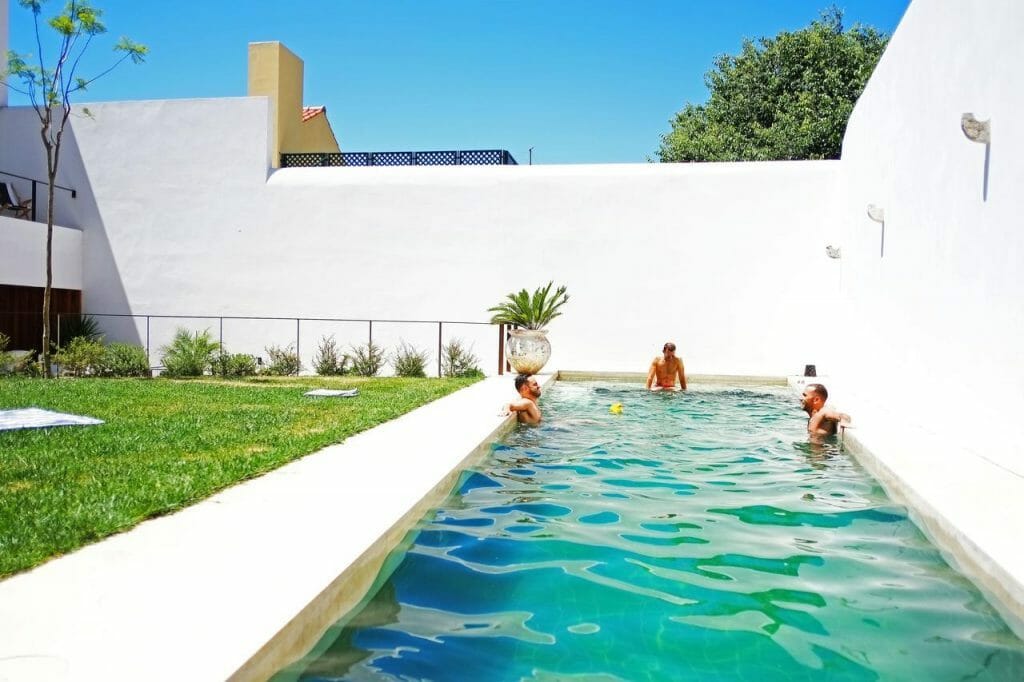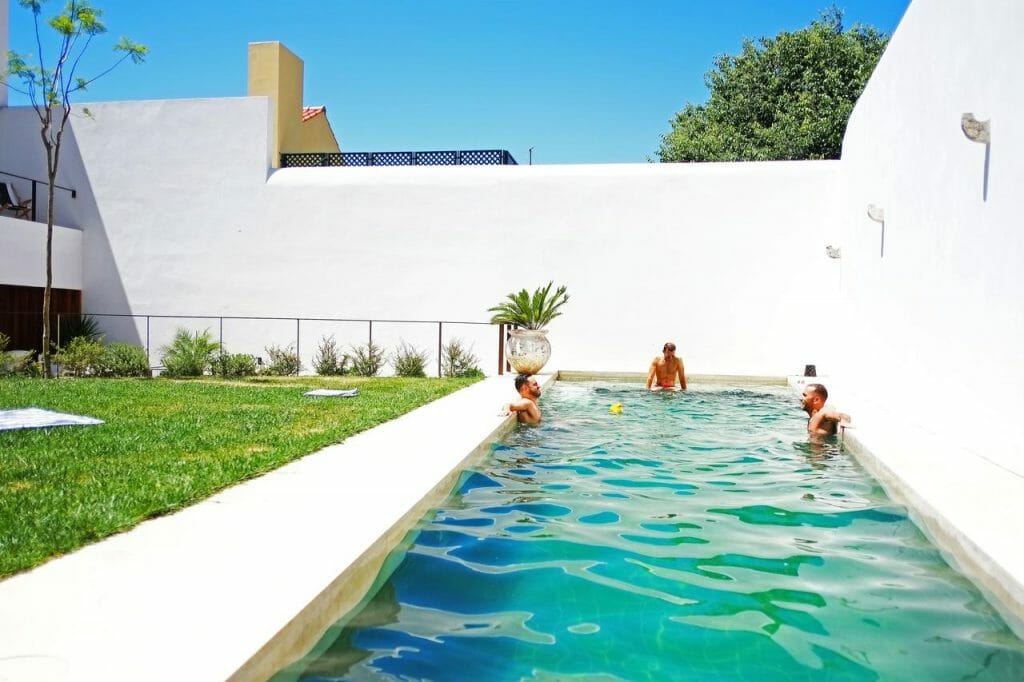 You will be delighted to hear that Spain's cultural capital is home to not one, but two amazing branches of Europe's premier 'heterofriendly' hotel Axel. Both are located in Gayxample (Eixample) so you're perfectly positioned to explore all that gay Barcelona has to offer from either spot. With sophisticated décor, great bars and friendly staff, we're sure you'll be hooked on Axel after staying here.
The original Axel Hotel and Urban Spa in Barcelona is a contemporary space with edgy and attractive design. Original artwork and comfortable beds take center-stage in the luxurious rooms. There's also a stunning rooftop Sky Bar where you can sip cocktails and chat with other guests before heading out on the town. TWO Hotel Barcelona by Axel is the chilled-out sister hotel; it has a more relaxed feel than the flagship but is every bit as chic.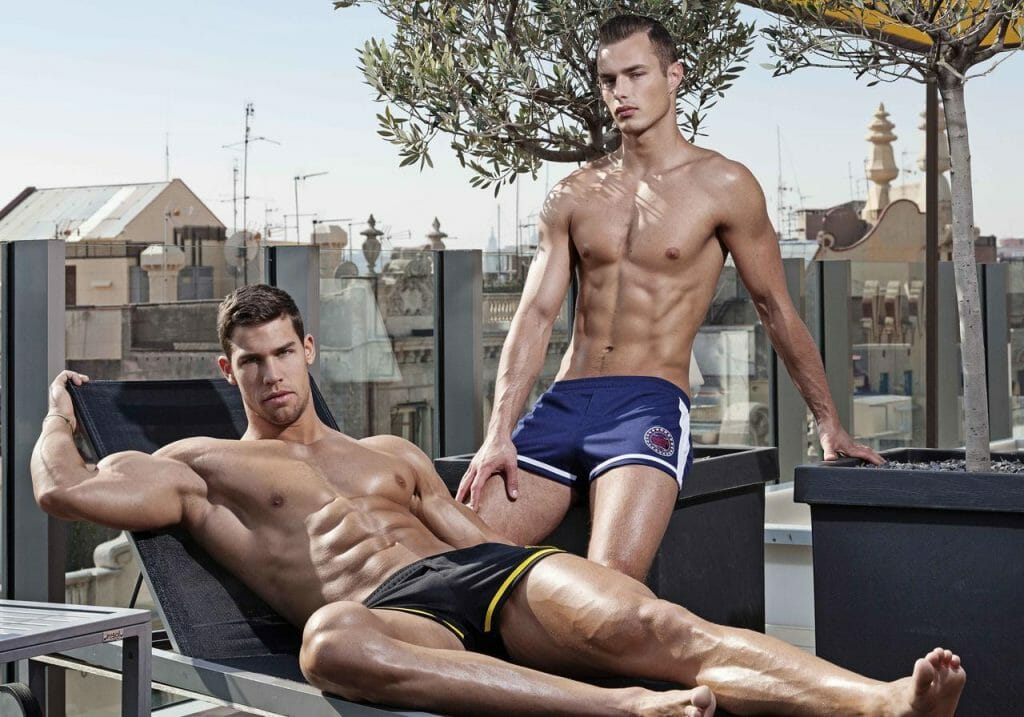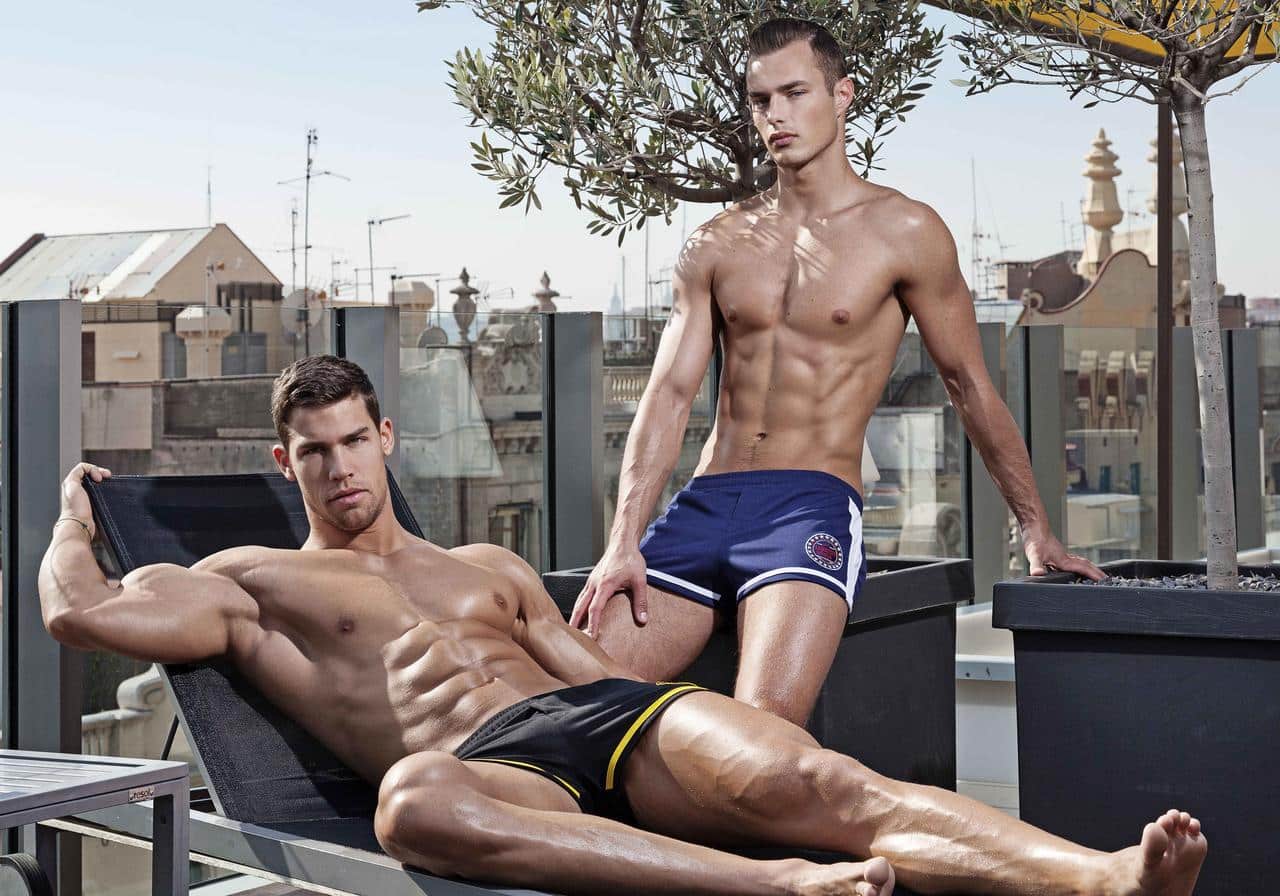 Who doesn't love a holiday on a Spanish island? Gorgeous weather, gorgeous men, spectacular scenery – life doesn't get any better than that. Well, Seven Hotels & Wellness might make it that bit better with their calming and beautiful resort on the southern coast. It's the perfect place to escape from it all. You can bask in the outdoor saltwater pool, tan on the sun terrace, enjoy a top-quality treatment in the spa or explore the surrounding area. Whatever you feel like doing, this lovely place accommodates it. The staff are incredibly helpful and their positivity is infectious.
With only about 20 rooms, this is a small resort with an intimate feel. The rugged mountains soar behind it and the Maspalomas dunes and gay beach are easily accessible. All of the rooms have been carefully decorated to make guests feel as relaxed as possible and each one has a furnished porch for you to enjoy the views and the atmosphere. You feel like you're far away from the tourist hustle and bustle as you enjoy a drink at sunset or a Bailey's iced coffee. The only problem? You might never go home!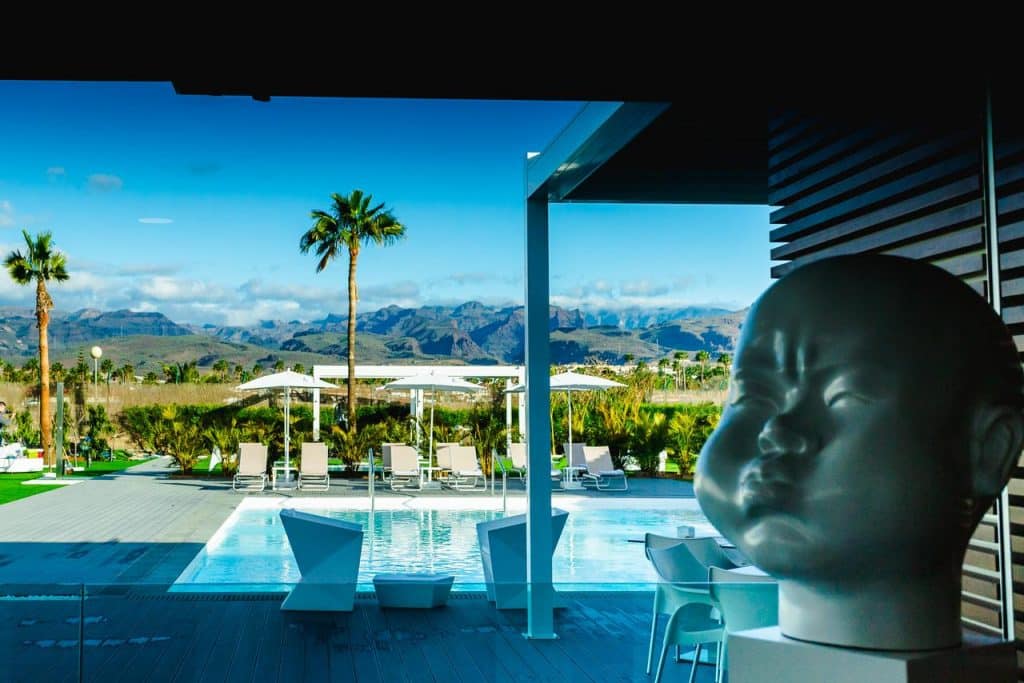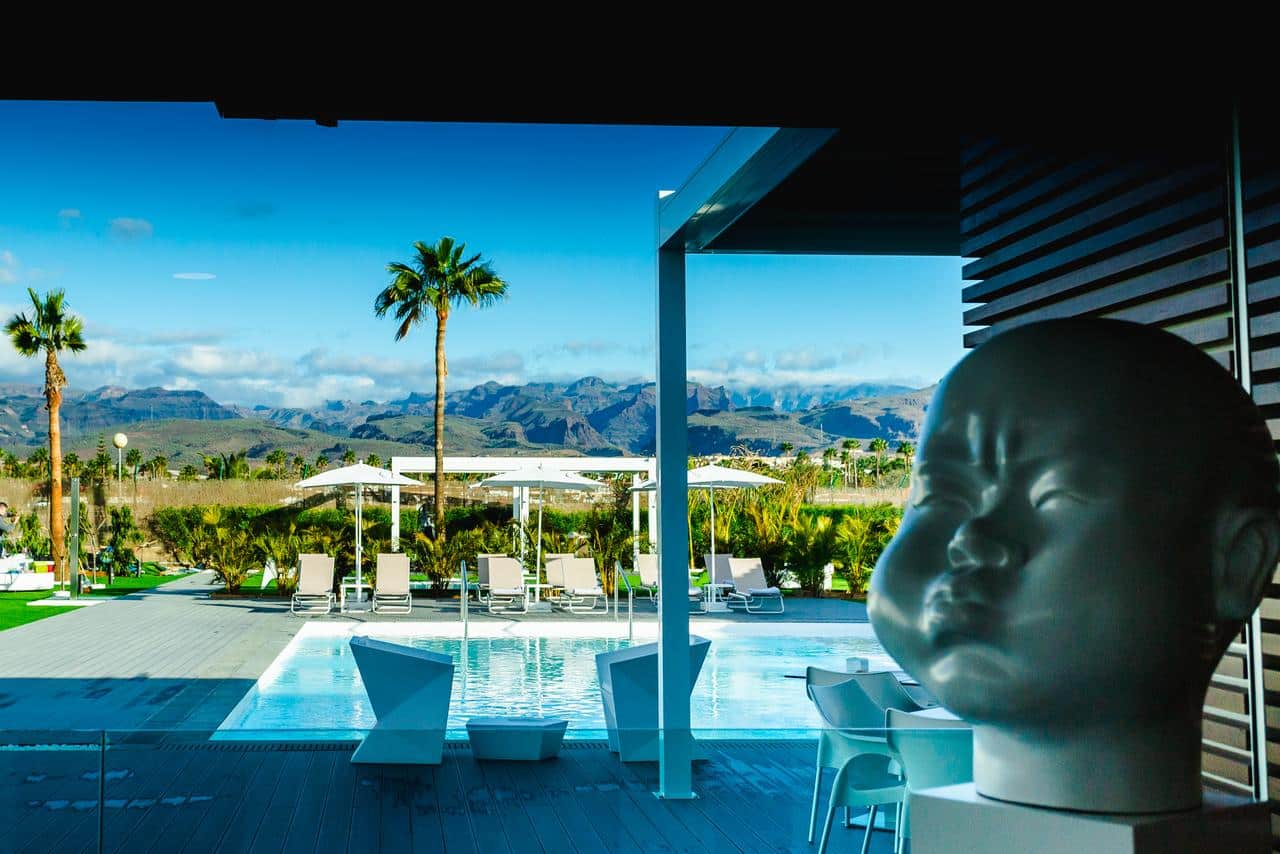 Really the only adjective to describe this Mexican section of our gay-only hotels is: fun! Bright colors and quirky features abound at Pinata PV in Puerto Vallarta. From the rainbow lighting to the outdoor pool full of red and yellow balloon balls, this is a place where your troubles fade away and every moment feels like a party. As well as the pool, there's a hot tub and a sun deck where you can soak up the gorgeous weather. If you manage to drag yourself away from this, the hotel is in the heart of the gay neighborhood and only 500 yards from Los Muertos Beach.
The rooms are bright and airy, with plenty of vivid and colorful touches of their own. Each one is fully air conditioned with TVs, en suite and comfortable facilities. It's a very sociable experience here, with pool parties encouraging guests to get to know each other, although there's no pressure if that's not your scene. The team working at Piñata PV are also amazing – nothing is too much for them.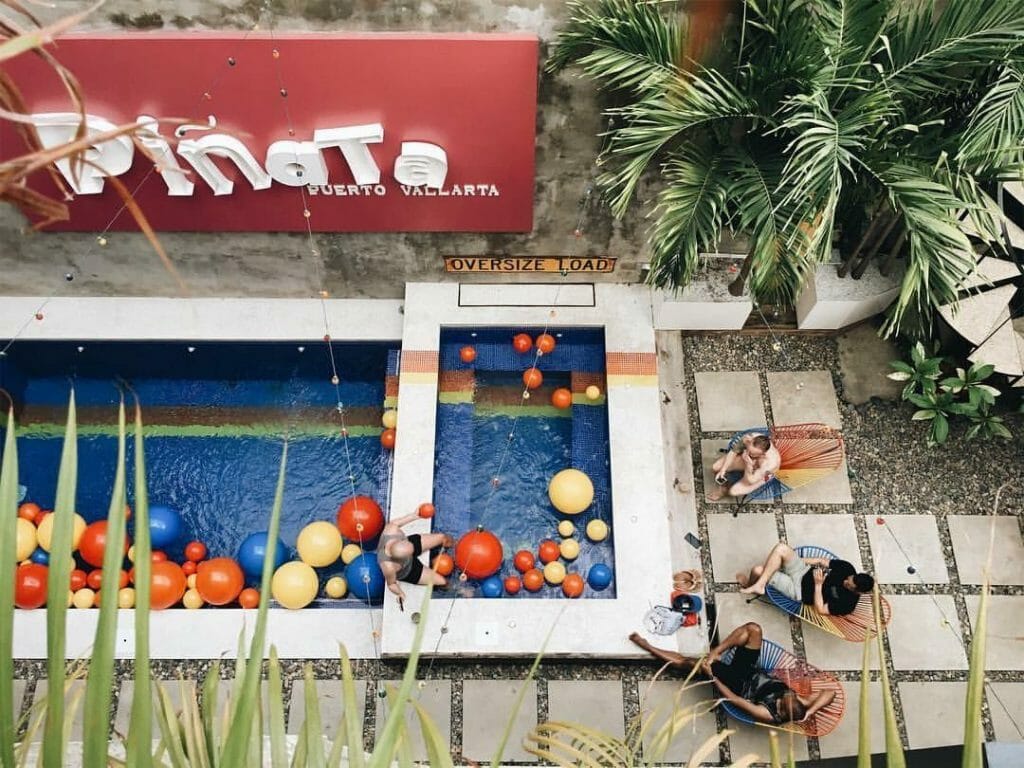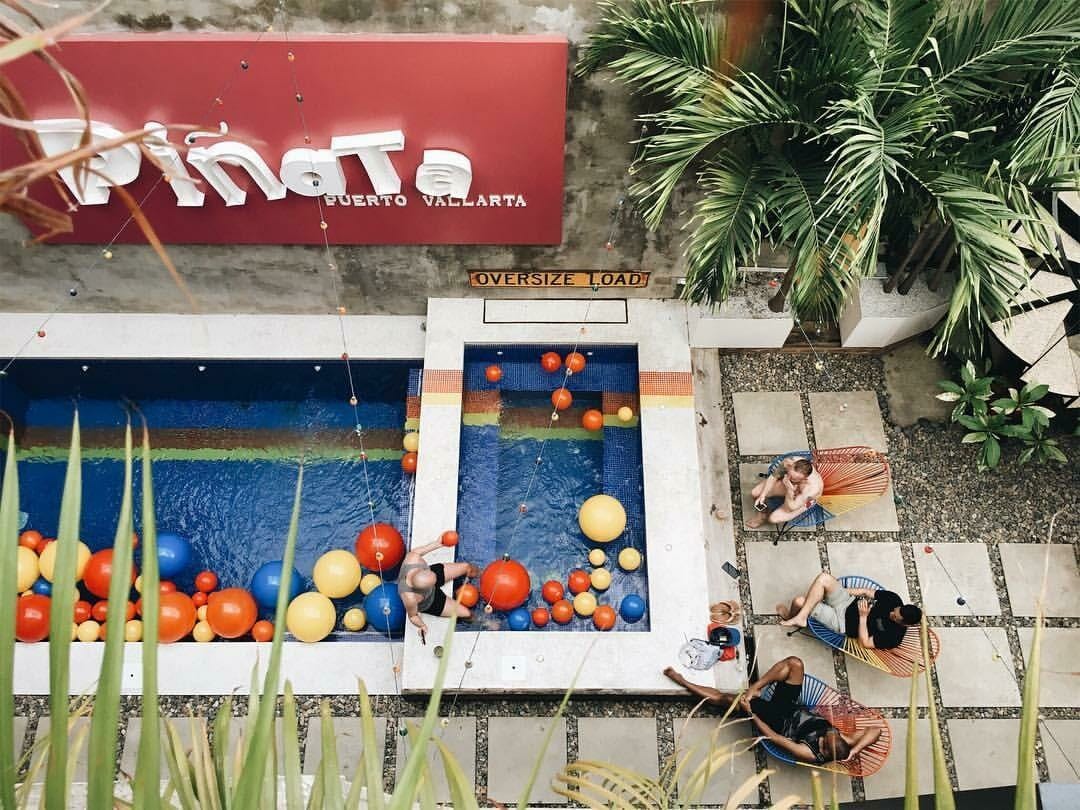 One of only two exclusively gay hotels on the Island of the Winds, Elysium is a veritable gay haven amidst the already amazing party scene of Mykonos. In Greek mythology Elysium was the playground of the gods, so we think that gives you a pretty good idea of what this resort is like. During the day you can top up your tan on the curved edges of the huge swimming pool or hop into the Jacuzzi; at night, enjoy the panoramic views from the sunset bar and get involved in the hotel's vast range of events. From drag shows to dance parties, there's an uninhibited joyfulness here that makes Elysium really stand out for us as a gay-only option.
There are over 40 rooms with choices for every budget. Even the standard rooms have tasteful décor and are fully equipped. The superior rooms will offer you more space, so if you're staying a while and have the budget for it, we'd recommend the upgrade. We love the gay-themed artwork on the walls. All rooms have a terrace or balcony to relax in that downtime between sunbathing and partying! Enjoy playing like a Greek god – or partying with several of them!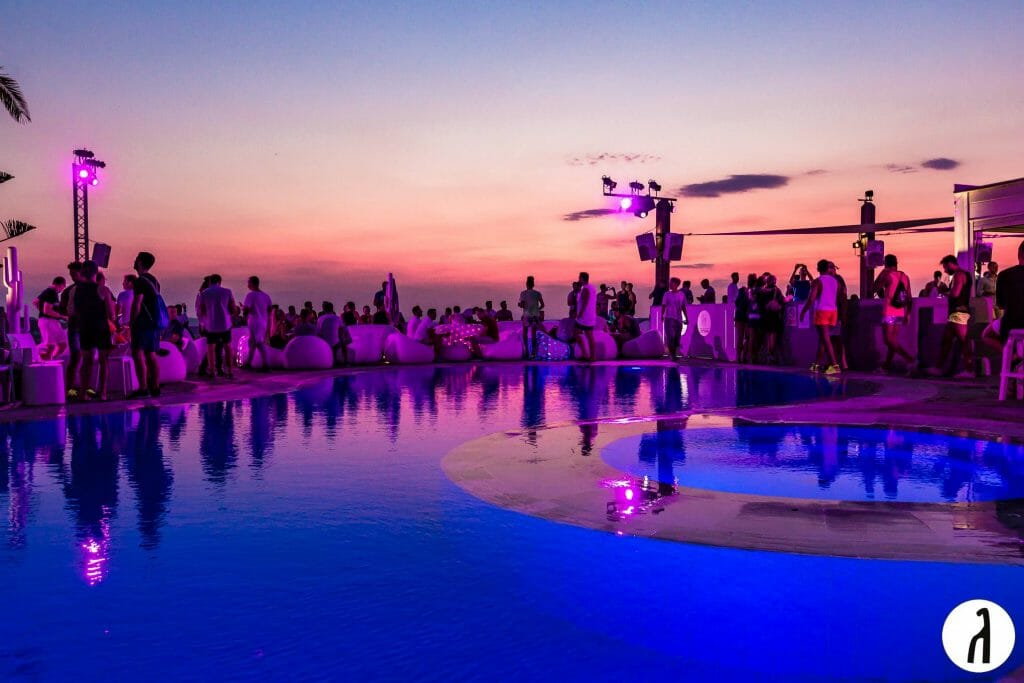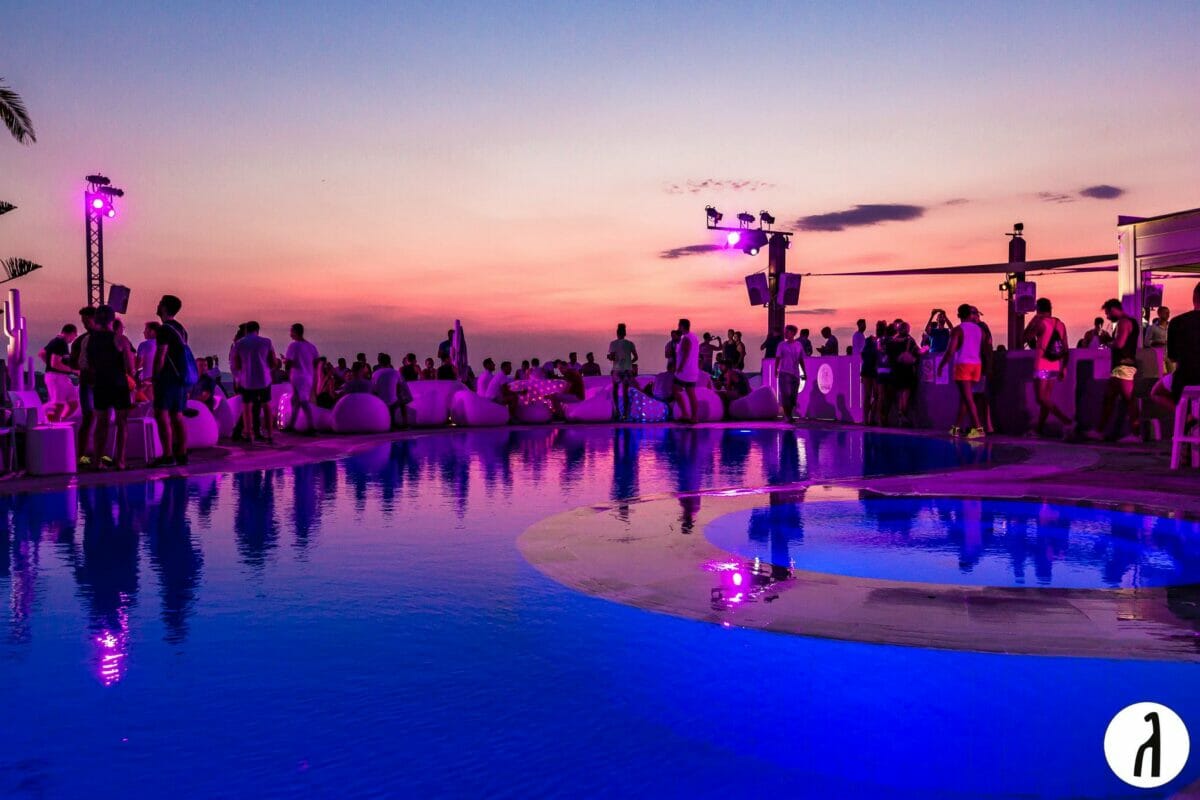 Although Bangkok is a mecca for gay travellers, this gorgeous hotel is actually the only gay-only hotel in the city, so it's an absolute must-stay for visitors to Thailand. In fact, it's such a great place to stay that we'd be recommending it even if it wasn't gay-only! With a sociable atmosphere, lush green gardens and tasteful décor (yes, we certainly do count muscly statues as tasteful, ok!), it's a pleasing oasis of chill away from the glorious chaos of Bangkok.
The communal areas at the Babylon Gay Hotel are a real highlight, whether you like to get chatting to fellow gay travellers in the Jacuzzi, relax with a drink by the pool or enjoy the illicit thrills of the sauna. Rooms range from budget 'barrack' rooms with shared bath/shower areas to penthouse suites at the top of the high rise. You definitely get what you pay for with the rooms, but with all the fun of Bangkok on your doorstep and the rest of the facilities around, you won't need to spend too much time in the room!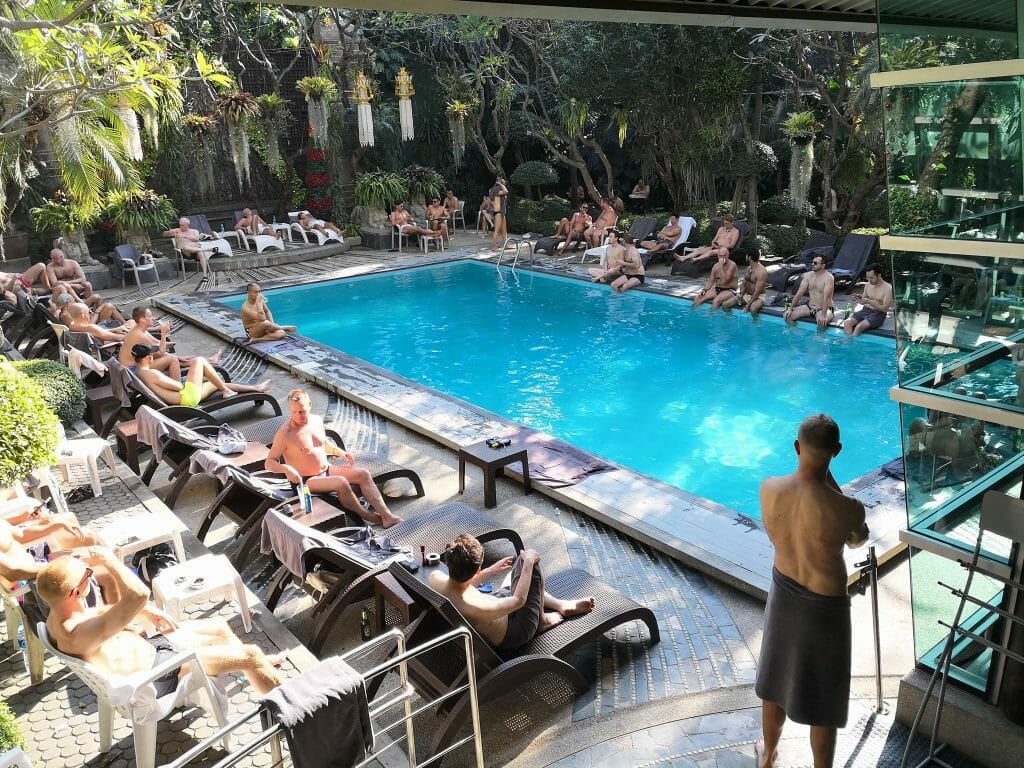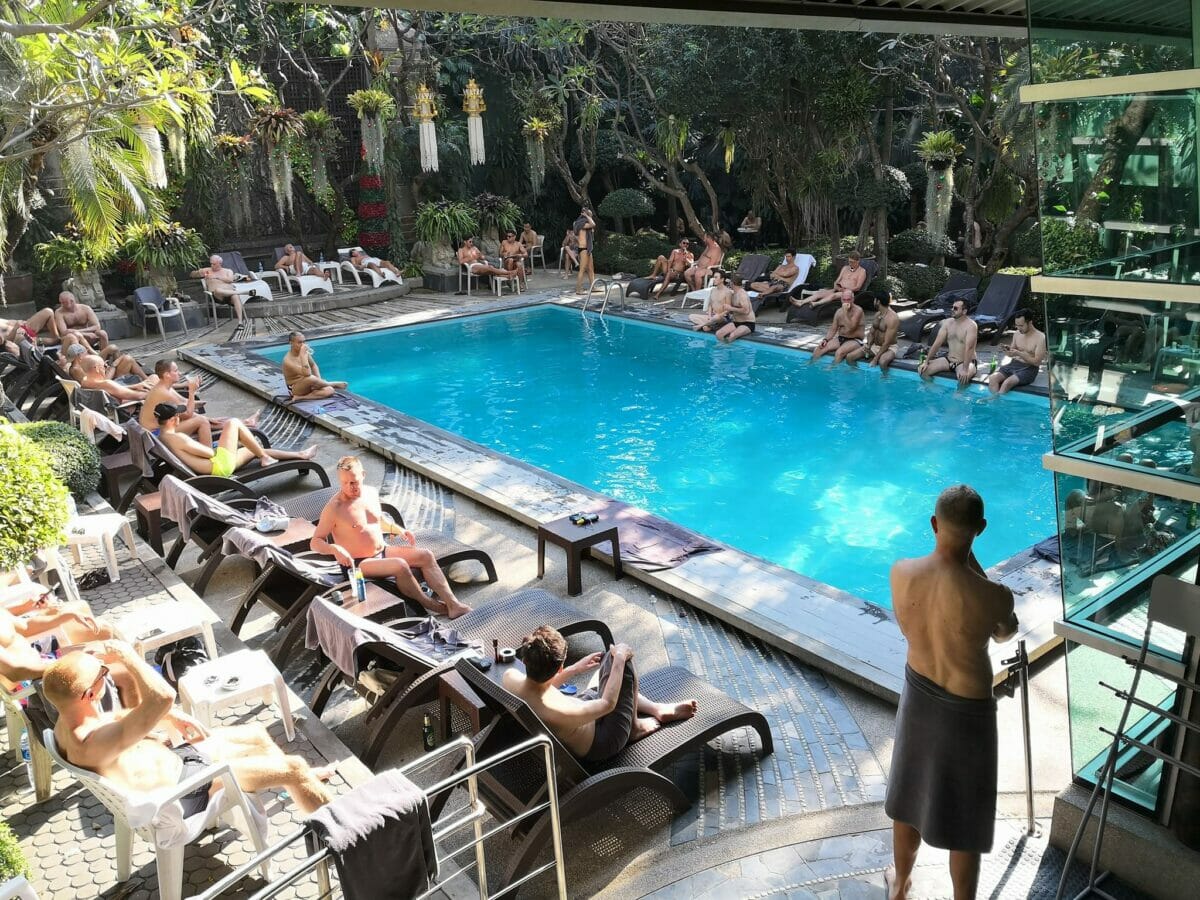 Since its heyday as a playground for Hollywood stars in the 50s and 60s, Palm Springs has had a resurgence as a fabulous gay destination. Unsurprisingly, this means you have plenty to choose from in terms of gay clothing-optional resorts; Santiago Resort is one of our favorites. From the moment you walk in to see the beautiful pool area with a backdrop of craggy desert hills, a feeling of calm washes over you. Every detail is attended to at this boutique hotel. The 24 rooms boast luxury bathrooms, flat screens, king or queen-sized beds and stylish décor.
Swinging in one of the hammocks under the palm trees, enjoying the views of the mountains (and the fellow guests?!), all your cares blow away in the desert breeze. If you need to get even more relaxed, head to the spa to be thoroughly spoiled. The team here are professional, friendly and attentive without being overbearing. It's definitely among the best gay-only hotels in the USA and the world, and the perfect base for a trip to Palm Springs.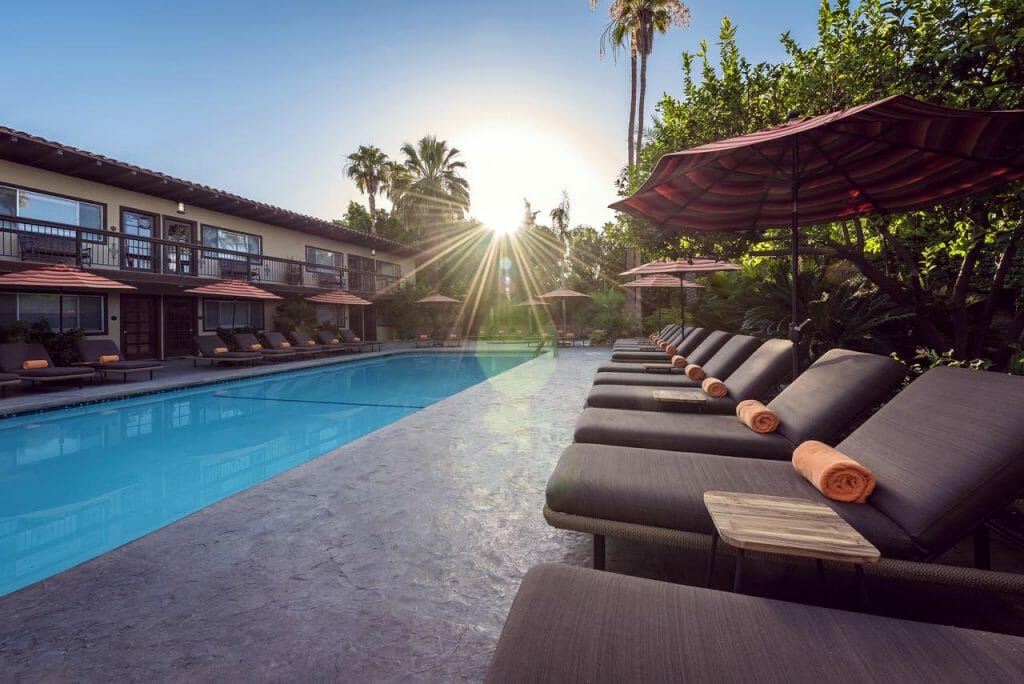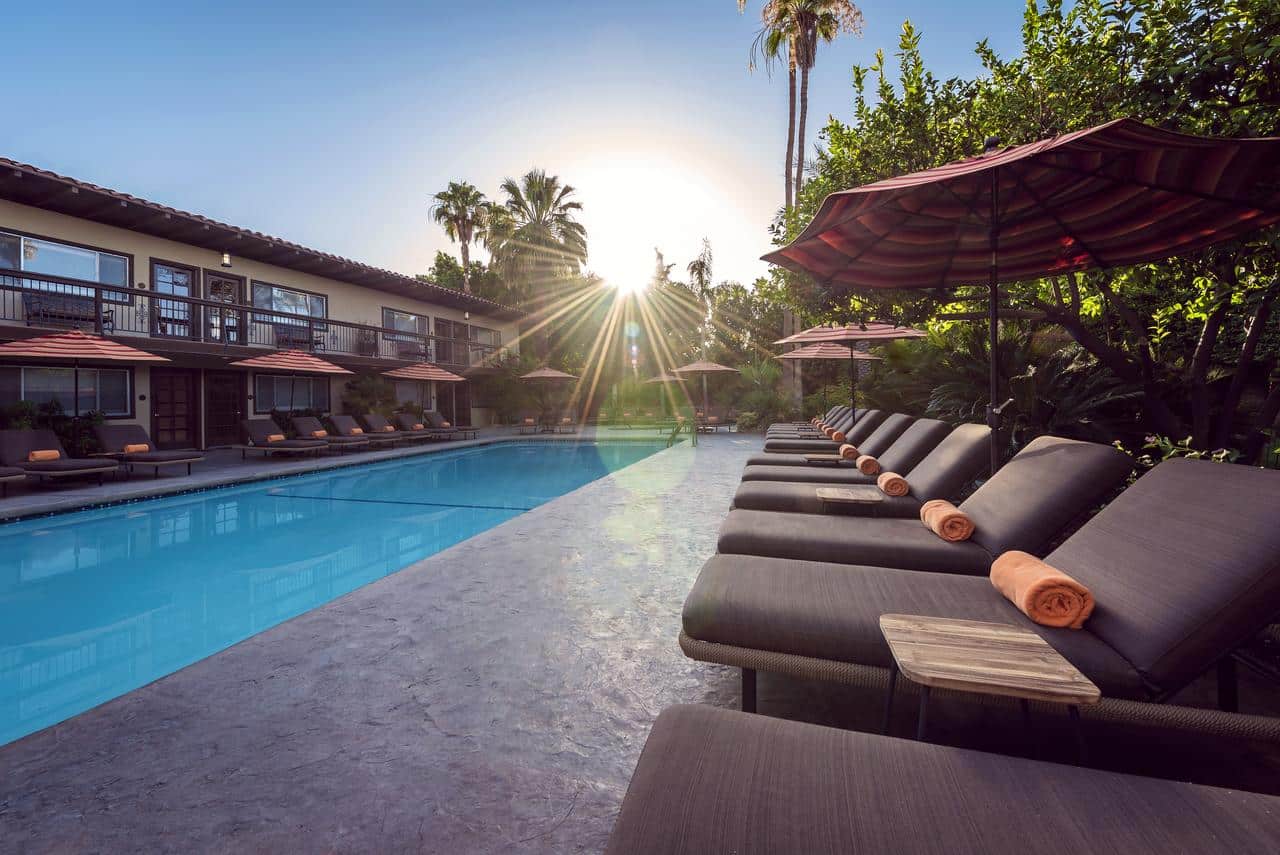 This world-famous resort is so well equipped that you basically never need to leave – and why would you want to? The exterior is your classic Miami building – bright whitewashed walls, towering palm trees swaying in the breeze – while the interior is luxe and sexy. Black leather, red accents, bunny ears, and humorous artwork give Hotel Gaythering its own special character. The staff are incredible, making each and every guest feel special with their cheerful welcomes and sense of humor.
The hotel goes out of its way to encourage you to 'gayther'. Regular events mean that guests can get to know each other. The on-site sauna and bar are fun spots to hang out at; the bar is also open to the public so you can invite friends back. If you do choose to leave this little haven, there are free bicycles for gliding along the promenade, shuttle services to the gay beaches and loads of restaurants within 10 minutes. Miami is a place to have a good time, and it all starts here!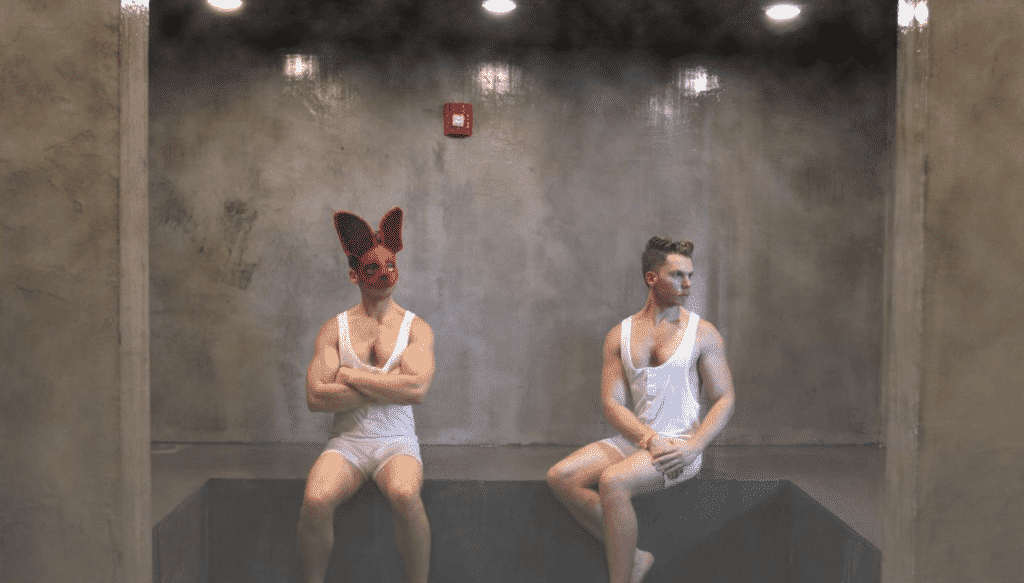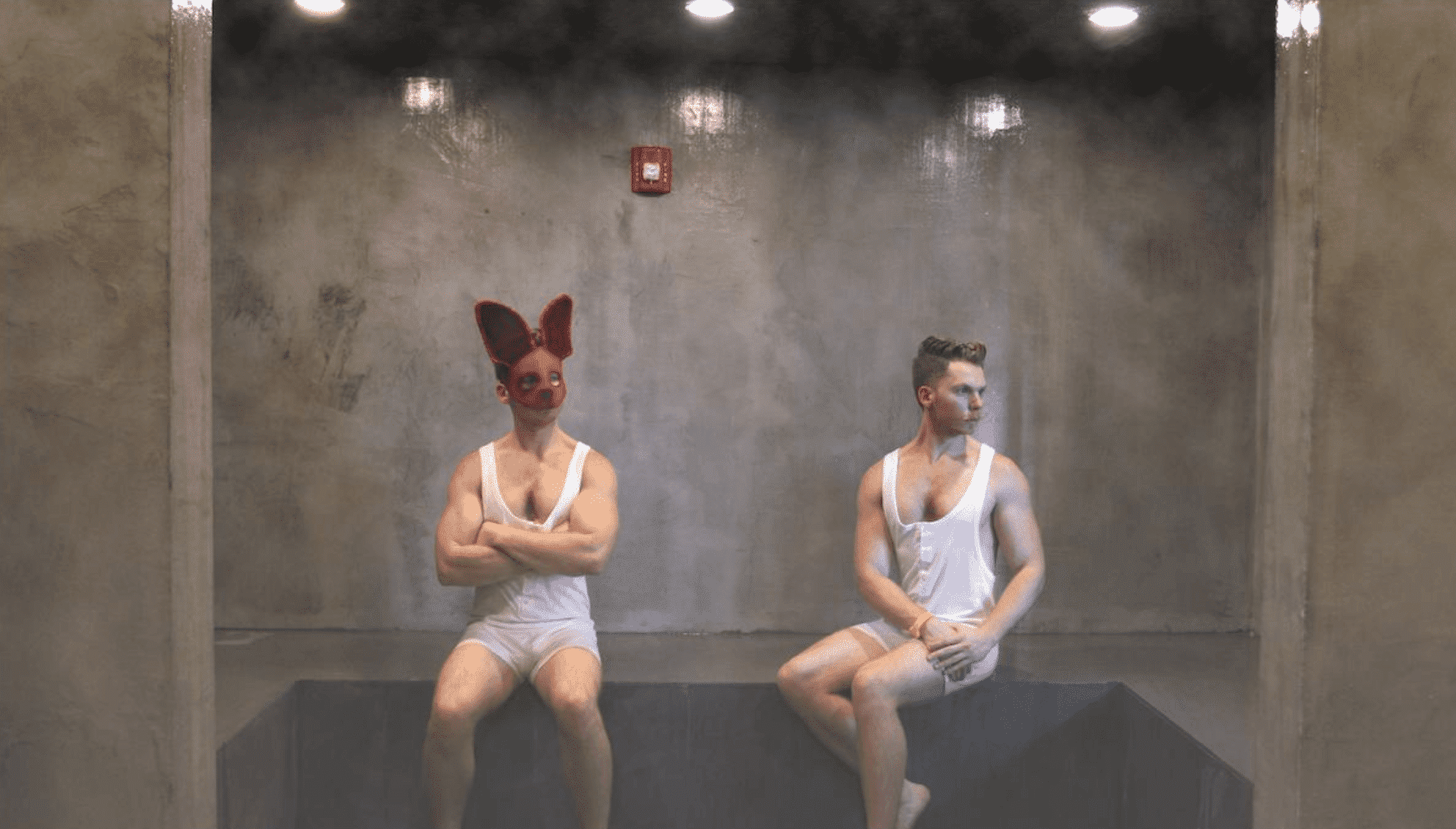 It's as if the team at M.A.N, Bali's only resort exclusively for men, looked into our hearts and made all our desires come true. Primarily a day club, it also has rooms that are to die for. One bedroom or two-bedroom suites and two-or-four-bedroom villas are on offer and, boy, are they stunning. The Japanese-inspired décor has resulted in beautifully curated spaces with lots of space, minimalist furniture, modern amenities, and traditional artwork. The rooms are like little slices of paradise on what is already a pretty idyllic island!
As well as the accommodation, M.A.N has a spa, a sauna and a great pool area with food and drinks on offer throughout the day. Everything centers on the pool – head down here first thing in the morning and you won't leave all day. Grab a delicious lunch from your sun loungers, then cool off in the crystal-clear water. Fully unwind with a professional massage then grab a sunset martini. If you're feeling cheeky, you could try the resort's signature cocktail – a Golden Shower. A visit here is a must for gay travelers in Bali – you won't find anywhere else like it!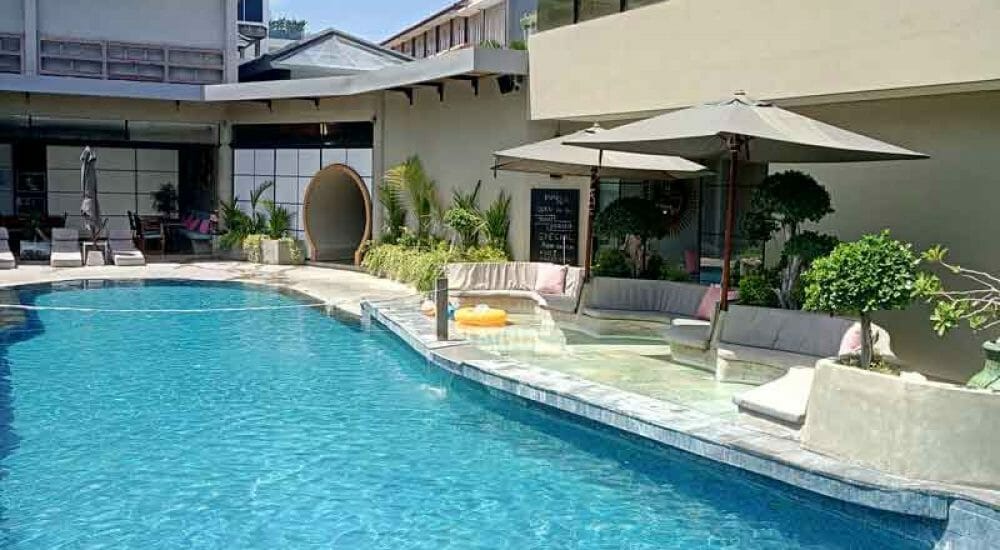 On the coastline where the Great Barrier Reef meets Heritage-listed Daintree Rainforest, you'll find this divine LGBT resort. The private beach at Turtle Cove Beach Resort is clothing-optional (as is the hot tub!) and there's honestly nothing like basking on this soft, white sand wearing nothing but sunscreen, gazing out over the deep blue sea. If you prefer not to get sand everywhere, slip into the pool instead – although you'll need a swimsuit for this. You can also laze away the days in one of the hammocks or sipping drinks at the Sand Bar.
All of the modern, bright rooms have views of the water; the suites and apartments on the beach have private balconies. The use of natural materials in the spacious rooms brings the outside in, so you feel constantly close to nature. There's an on-site restaurant and even a gym, so no need to leave once you settle in. Helpful staff show off that Aussie hospitality and contribute to a lively and friendly environment. Secluded, relaxing and beautiful, Turtle Cove is a destination in itself.
We're sure these gay-only hotels have got you inspired for your next 10 gaycations – maybe invite us to one of them?