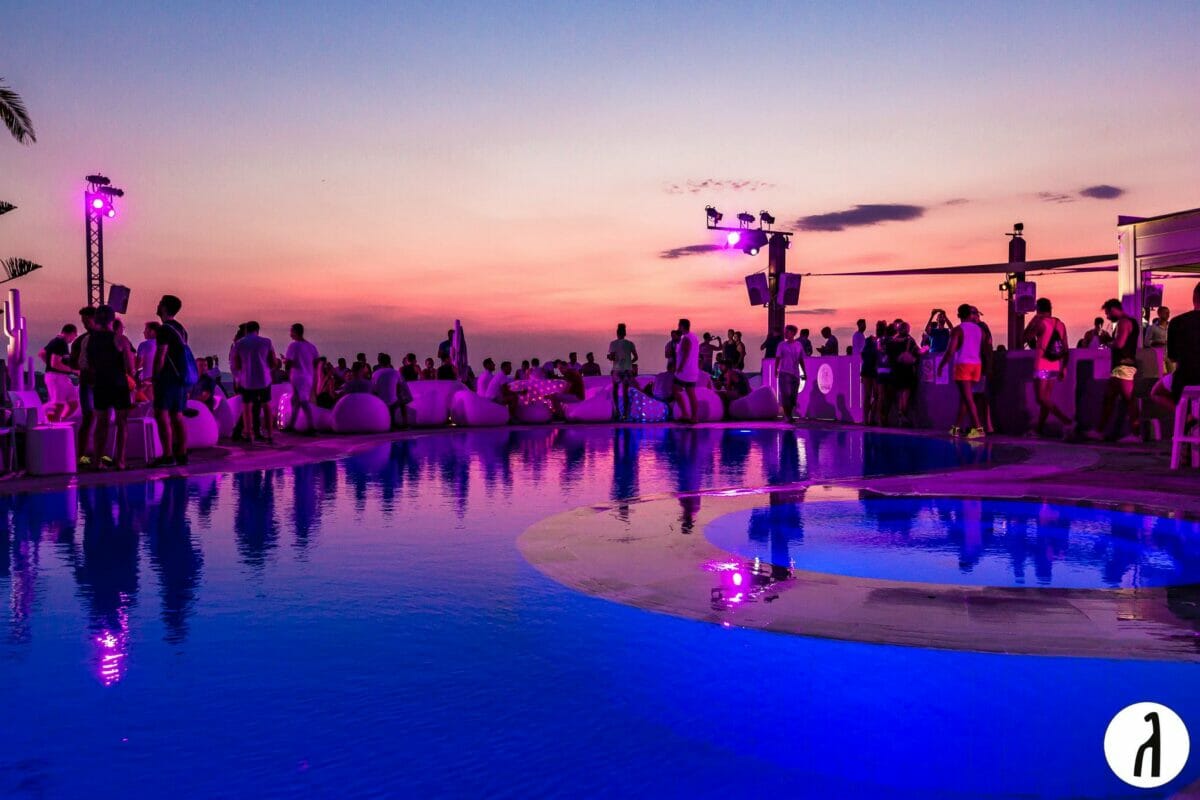 We really didn't think we could love Mykonos anymore that we already did, but then we discovered the Elysium Hotel.
The Island of the Winds already has so many wonderful assets: stunning beaches, turquoise seas, gay dance parties, and cheap cocktails. It's the perfect place to come to soak up the sun and meet new people. Mykonos is famously gay-friendly and has the nightlife to match this reputation.
[button title="Get All The Juicy Details With Our Complete Gay Mykonos Guide Now…" link="https://queerintheworld.com/gay-mykonos-travel-guide/" target="_blank" align="center" icon="icon-fire-line" icon_position="right" color="#3559C7″ font_color="#ffffff" size="2″ full_width="" class="" download="" rel="" onclick=""]
The Elysium Hotel has taken it to the next level, though. It's a piece of gay heaven right in the heart of Mykonos. So what makes it so special?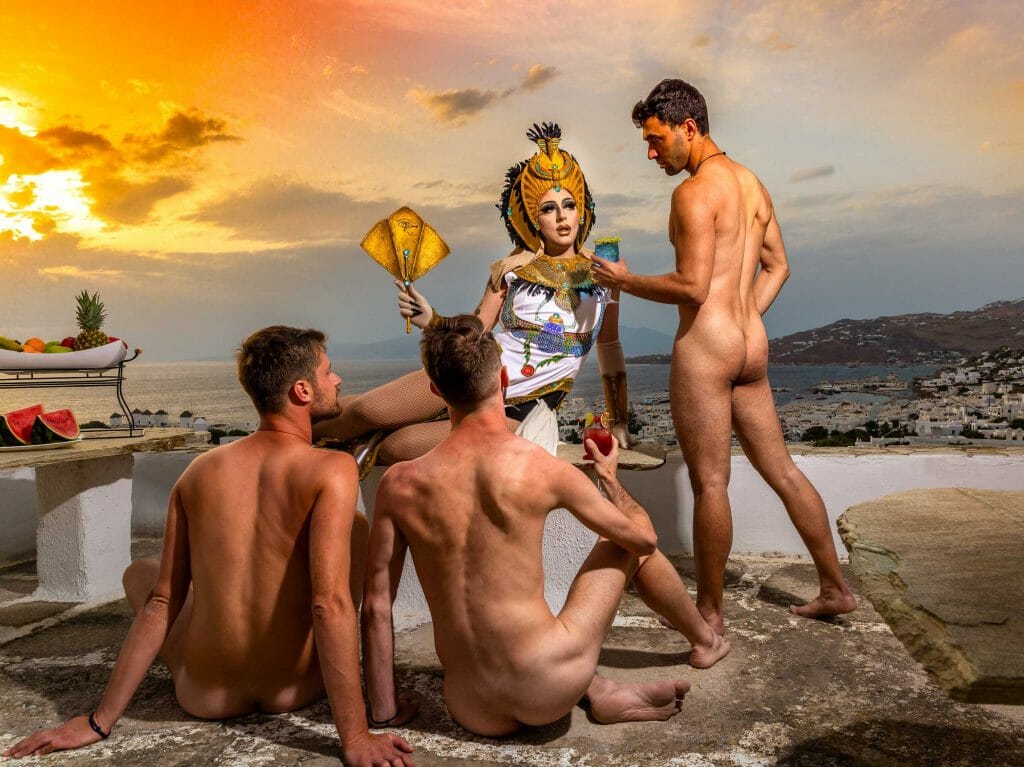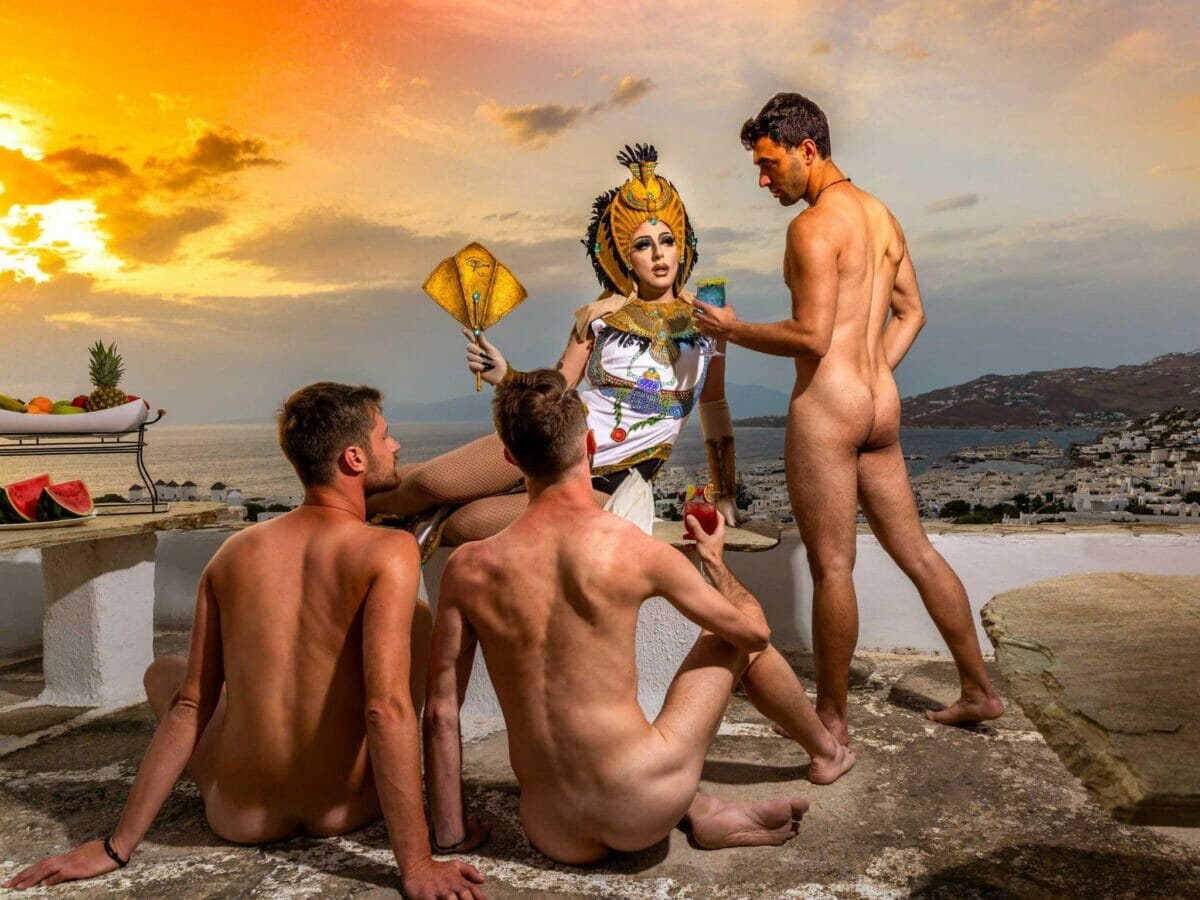 Why should gay travelers stay here?
Elysium Hotel is one of only two exclusively gay hotels in Mykonos and so is a fabulous place to relax on holiday, meet other gay travelers and just be who you want to be.
Here you'll find great rooms, excellent service and a range of events aimed at the gay guests; it's the perfect base for a gay holiday in Mykonos. Yes, there are lots of completely gay-friendly hotels in this area, but sometimes you just want to be surrounded by like-minded people. We love the gay-themed artwork that decorates the walls, for example – something that you couldn't find anywhere else.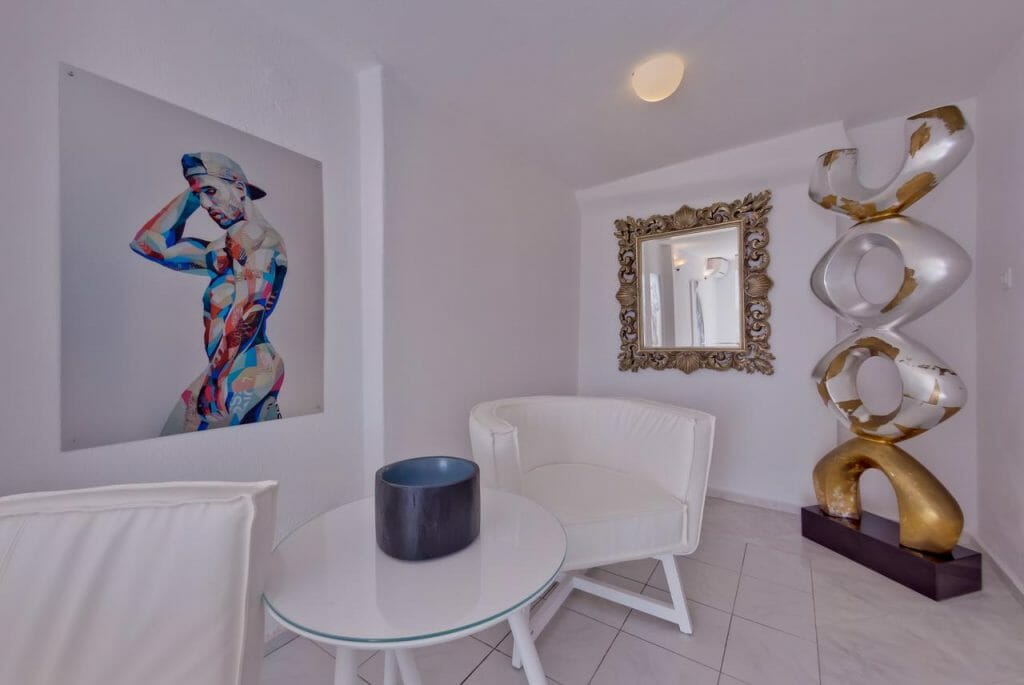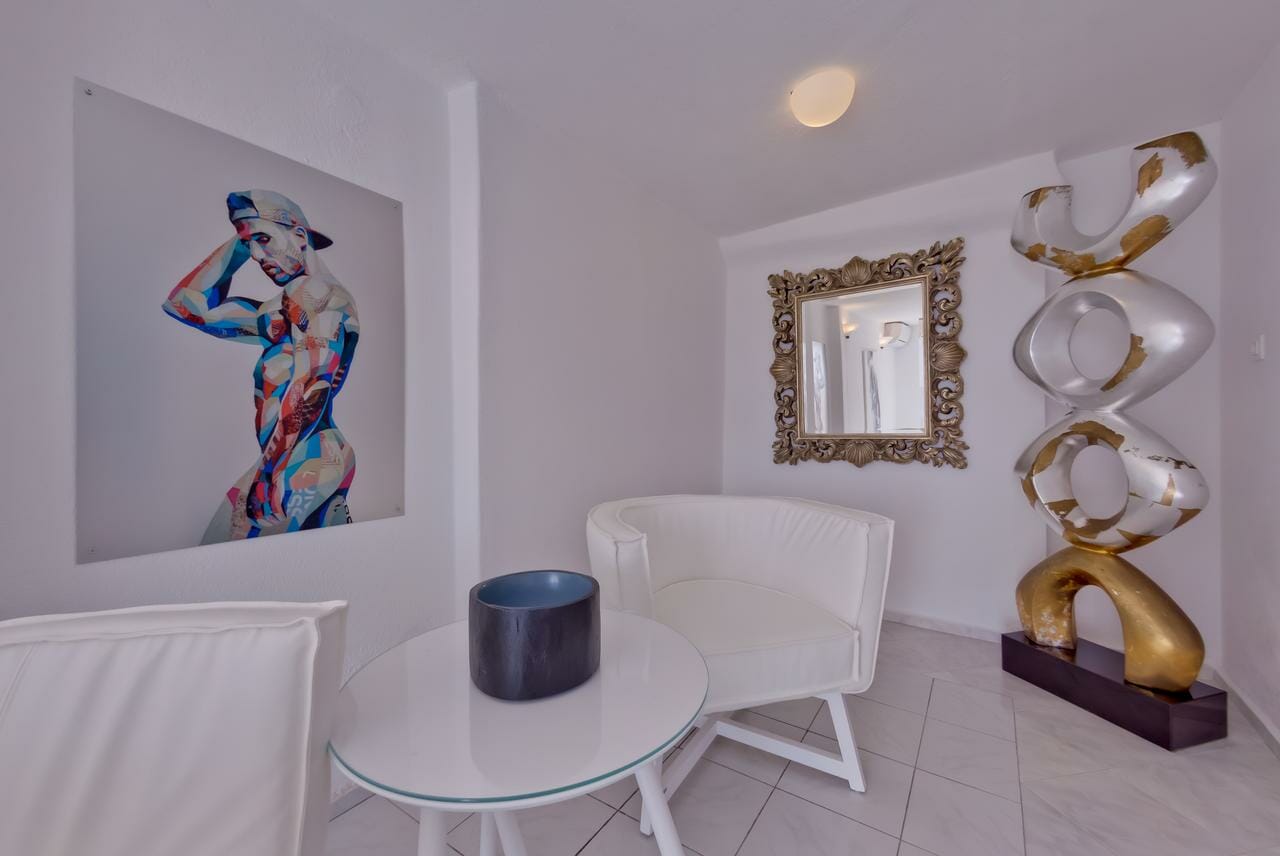 Not to mention the fact that here you'll know everyone you're eying up at the poolside bar definitely has the potential for romance!
As the hotel's website points out, the Elysium was known as the playground of the Greek Gods in Greek mythology, and that's the vibe they are going with! How could you resist that kind of atmosphere?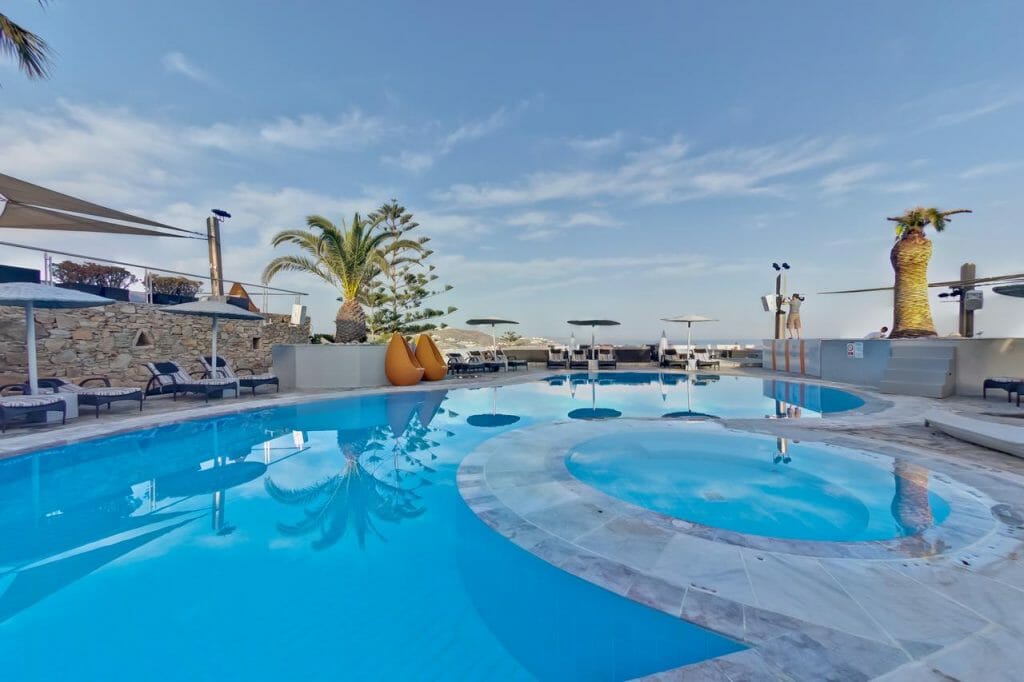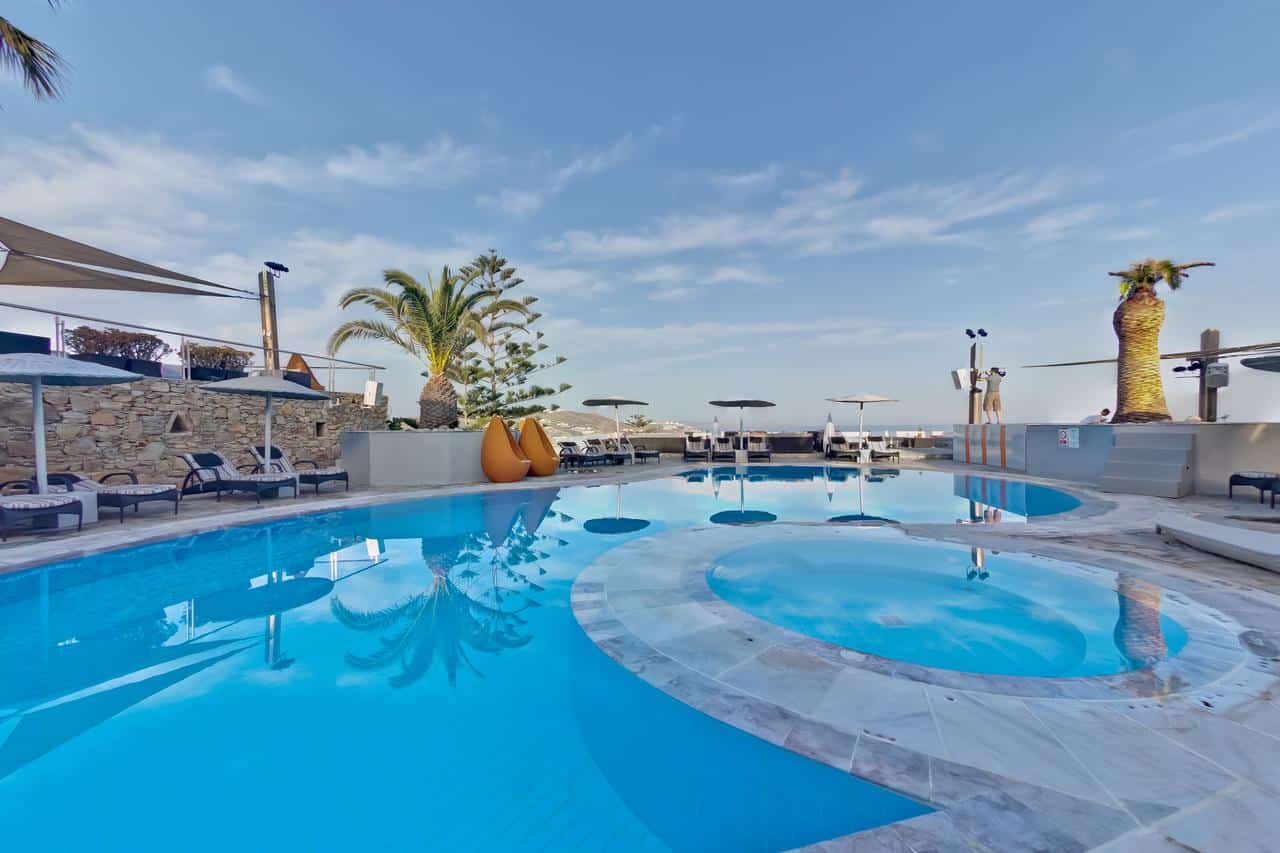 The Rooms at Elysium Hotel Mykonos
There are over 40 rooms, ranging from standard to superior, so there's something for every budget. Every room is fully air-conditioned and has everything you'll need for a trip – internet access, mini-bars, a safe, a TV and (of course) a bath.
If you are on a budget, then don't feel like you're missing loads by booking a standard room – all rooms are tastefully decorated in a minimal, contemporary way and are fully equipped, it's just that the superior rooms are more spacious. Of course if you can, we would always recommend going for a superior room just because it's nice to have that extra space.
All rooms have a terrace or balcony so you can chill out after a hard day at the pool!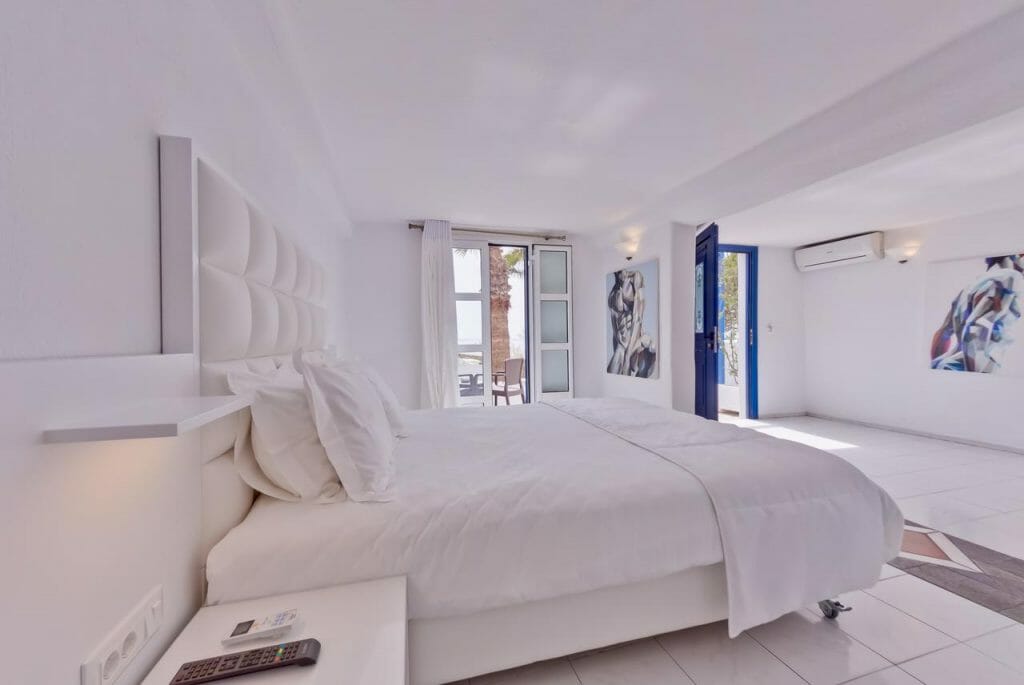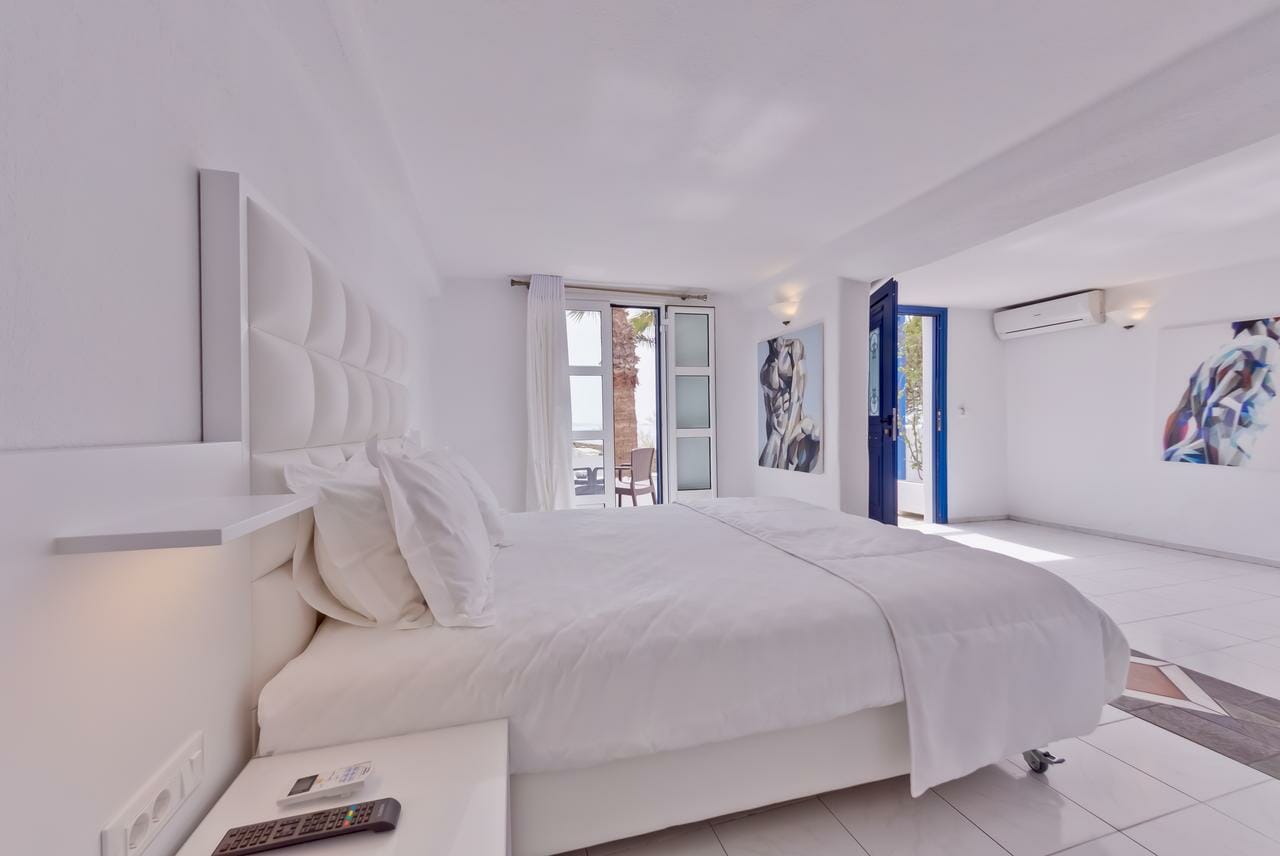 Elysium Hotel Mykonos Facilities: During The Day
The swimming pool at the Elysium Hotel is truly spectacular; the luscious curvy edges are surrounded by sun loungers for you to flaunt your tan (and admire others'!). There's plenty of space on the terrace, so invite all your friends to come with you.
There's a Jacuzzi aswell – if getting the swimming pool seems just too strenuous – a great place to get chatting to fellow guests. You never know where things might lead!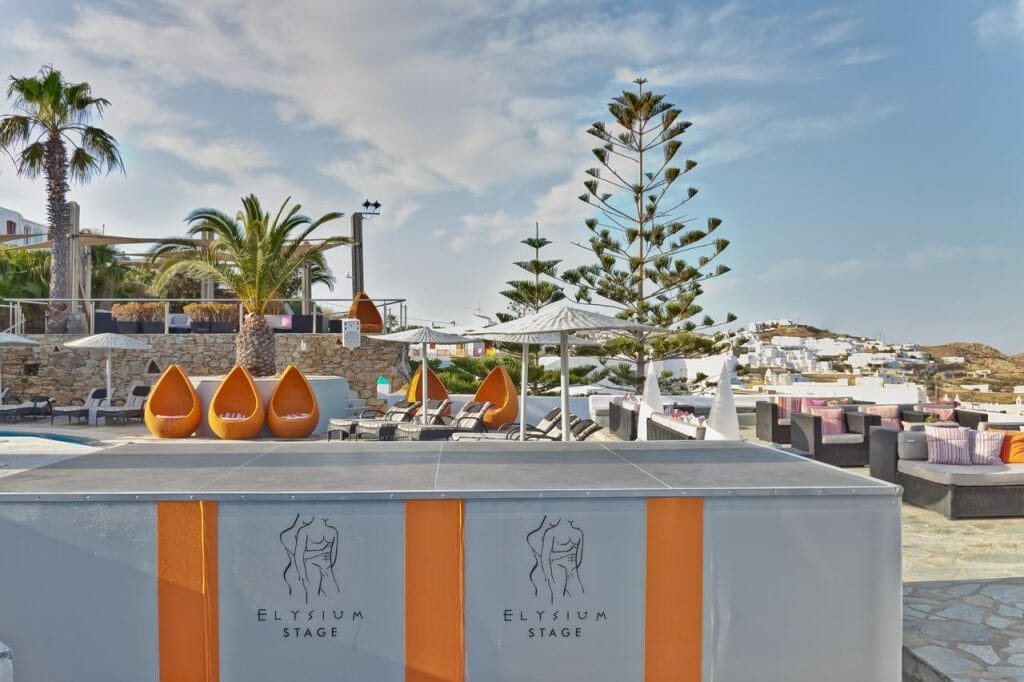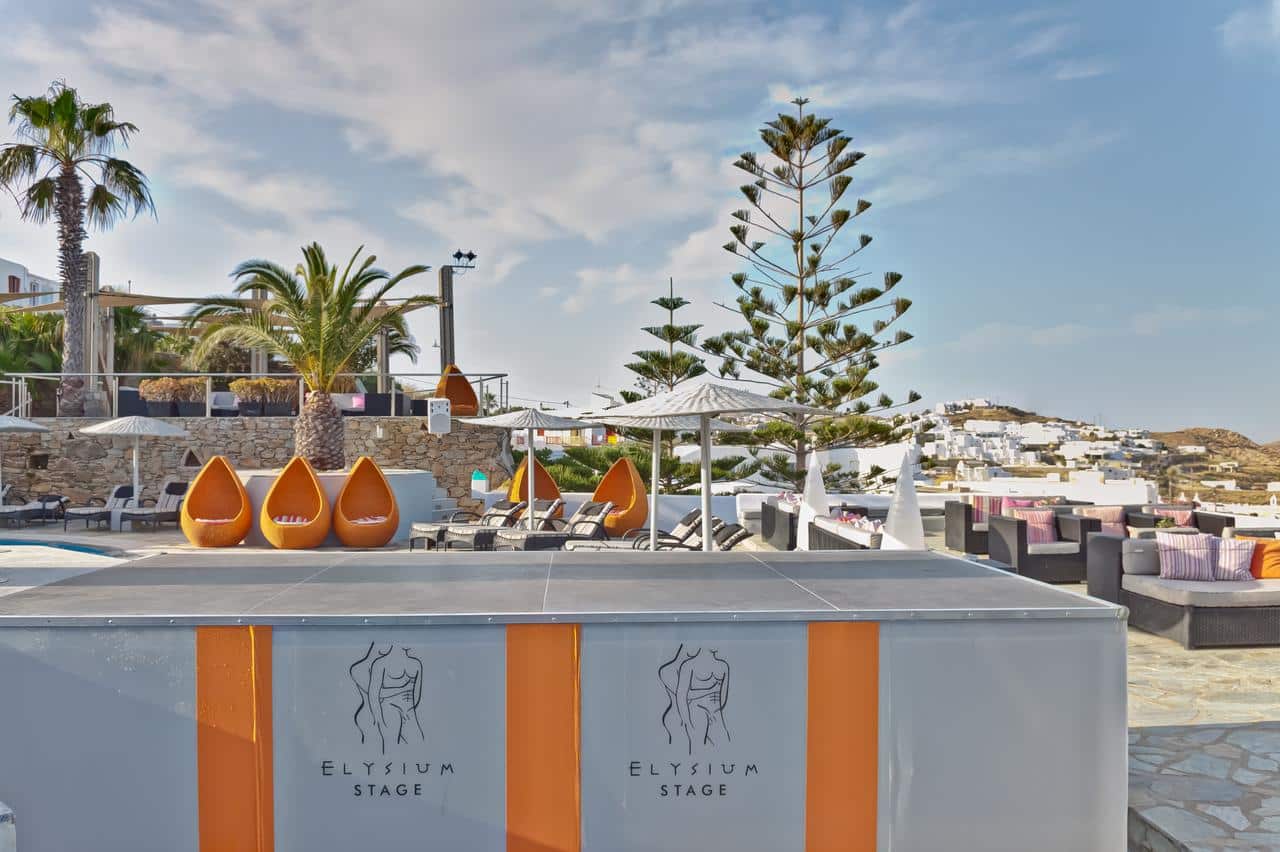 For gym bunnies, there is complimentary equipment in the gym for workouts so you can ensure your body stays beach-ready. sunrise your sore muscles with a massage.
Once you've whetted your appetite with a workout, replenish at the extravagant breakfast buffet. You can also have a delicious meal at the on-site restaurant or snacks at the poolside bar. There's also great coffee on offer, if you prefer to wait until the evening to sample the cocktails!
This restaurant aims to provide local food cooked in traditional ways, and offers you an amazing view of the surrounding area. Think of fresh seafood, colorful vegetables, and delicate flavors; it's the perfect food for the hot weather.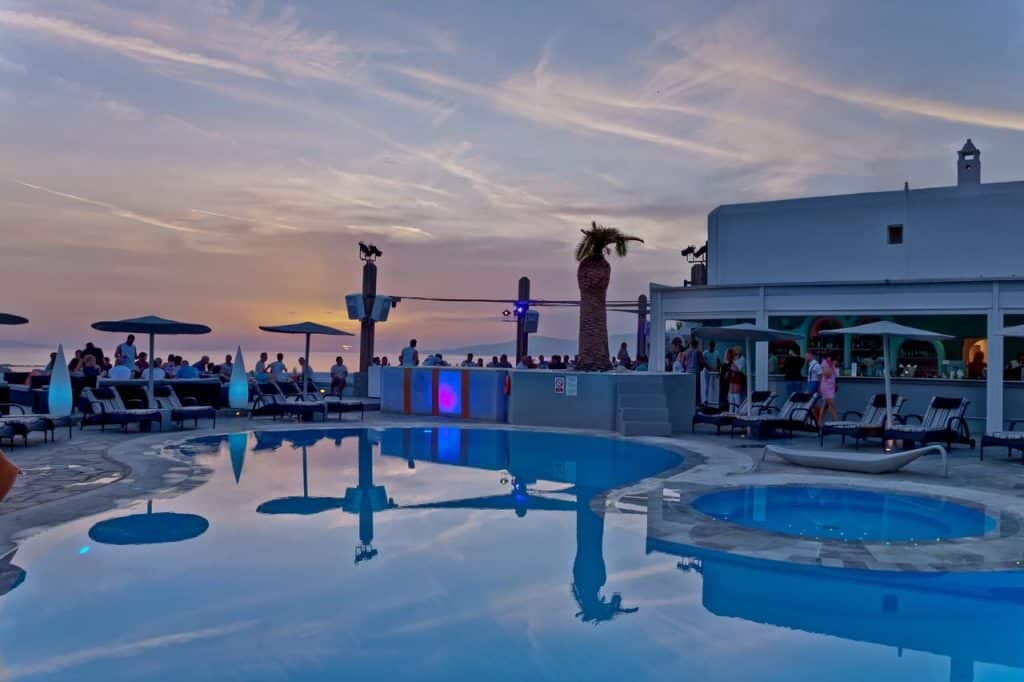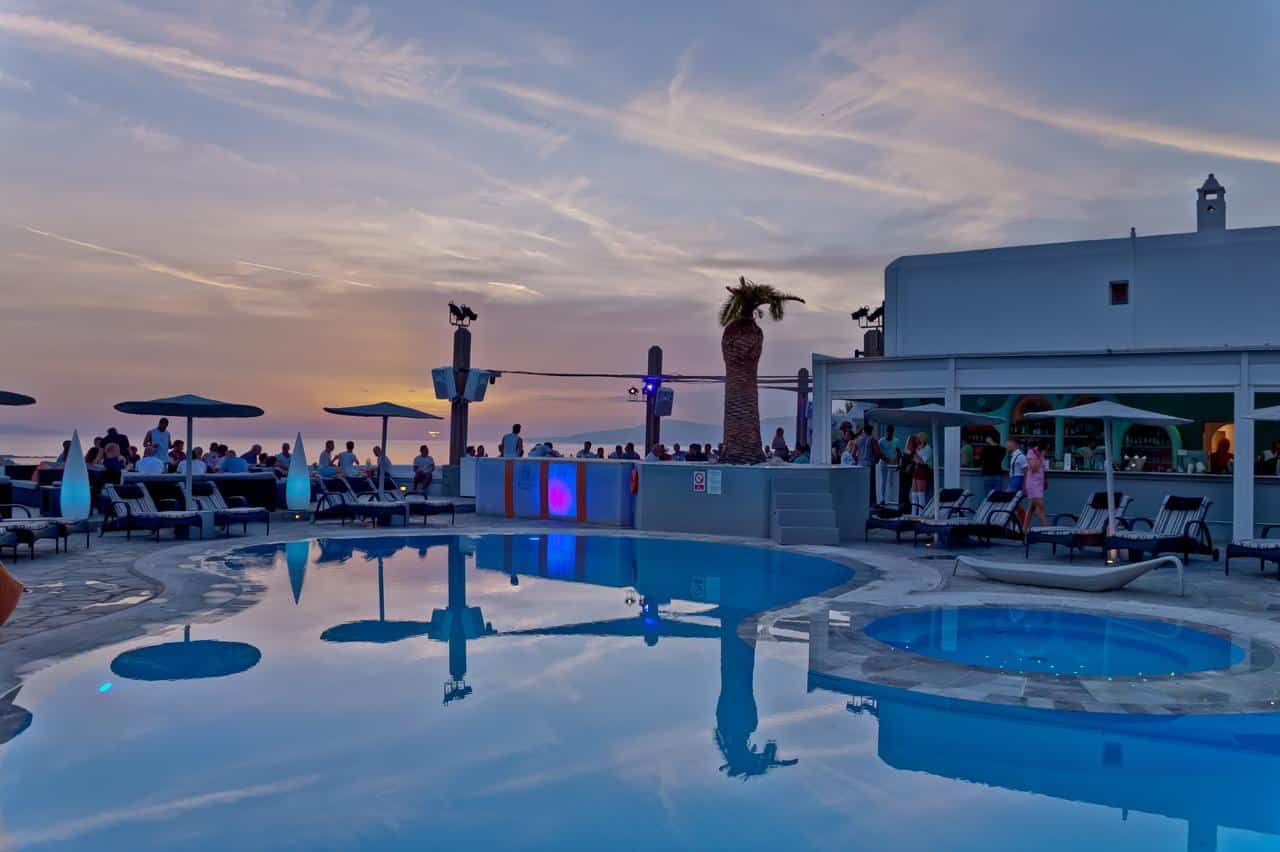 Elysium Hotel Mykonos Facilities: By Night
Once the sun starts to go down, the fun really begins! The sunset bar offers unparalleled panoramic views of Mykonos town and the sparkling Aegean Sea. Enjoy innovative cocktails while drinking in the surroundings, and then get involved with one of the Elysium Hotel's famous shows and events.
The repertoire includes drag-queen shows, professional dance troupes, and dance parties, all with an uninhibited vibe and sheer joyfulness that you just won't find anywhere else. The sunset cabaret is famous for a good reason, after all!
You won't have properly partied in Mykonos until you've partied at the Elysium Hotel, trust us. Sipping a drink while chatting up a cute gay while the stars start to come out all around is a magical experience. Not to mention dancing until dawn and watching the sun rise.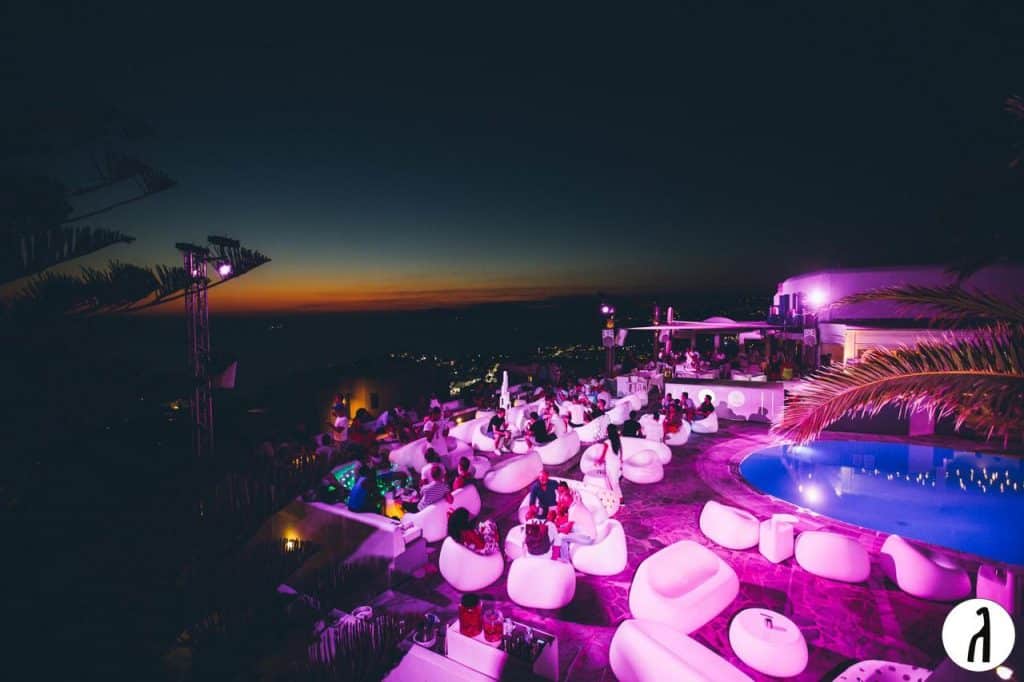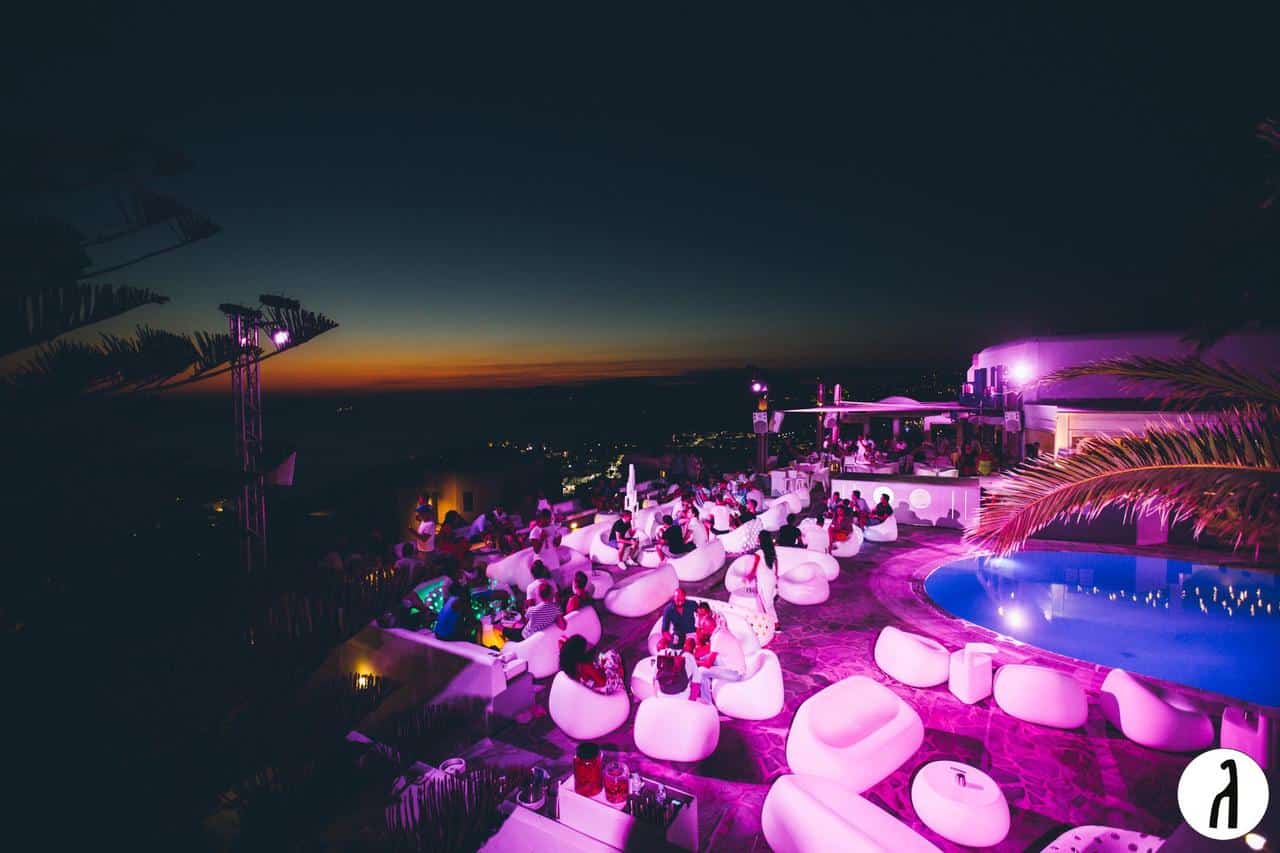 What Makes The Elysium Hotel So Special?
What really makes this gorgeous hotel stand out is its 100% welcoming atmosphere. The staff are amazing and clearly, want to make every guest's stay an unforgettable one. Whatever you need, they are sure to help you with it.
We also love how it seamlessly mixes the air of a secluded retreat with all the fun of the gay party scene. The white-washed rooms are perfect oases of calm for guests, where you can soak away the sweat and sunscreen from your day at the pool and take a replenishing break before heading out for drinks and dancing.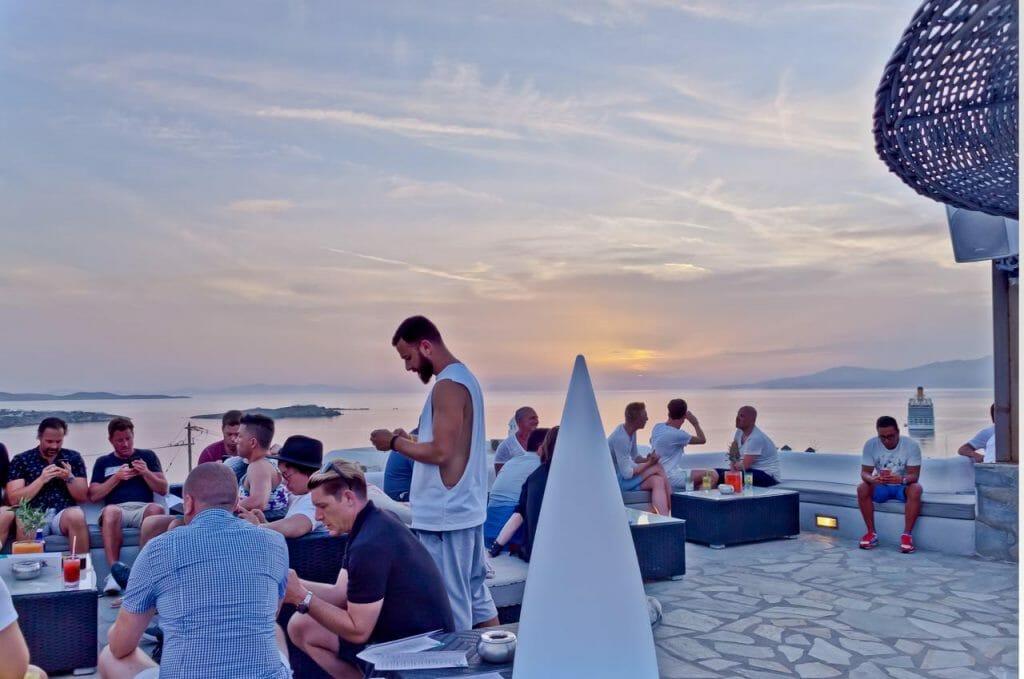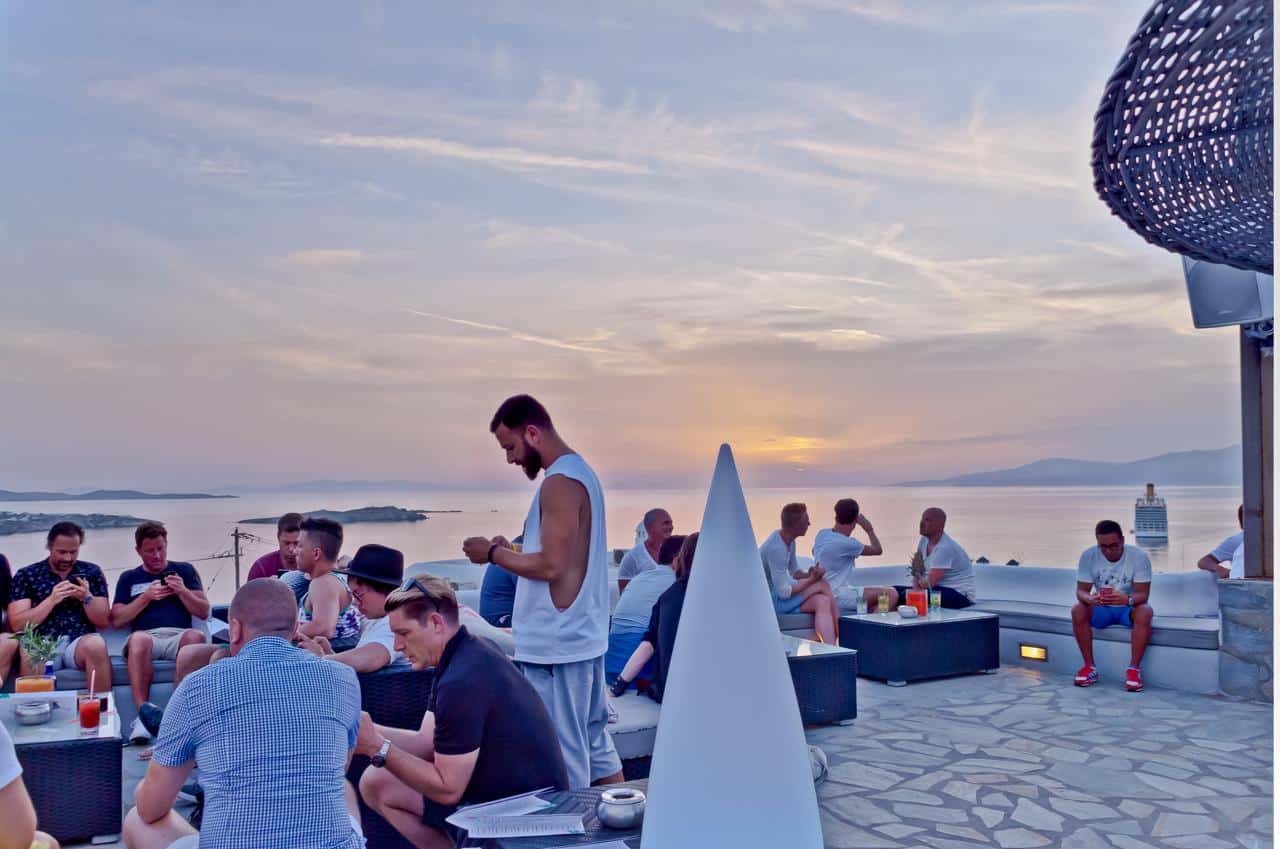 It's a little slice of gay luxury in the midst of one of our favorite gay holiday destinations – stay here, and you really feel like you're in the middle of something special.
How many of us thought when growing up that something like a gay hotel existed? Probably not many of us, so to discover an exclusively gay (or 'straight-friendly', as they term themselves) hotel is still a bit of a novelty and one that should be fully enjoyed!
So grab yourself a sliver of gay heaven with a stay at the Elysium Hotel, and play like a Greek god – or just be surrounded by them!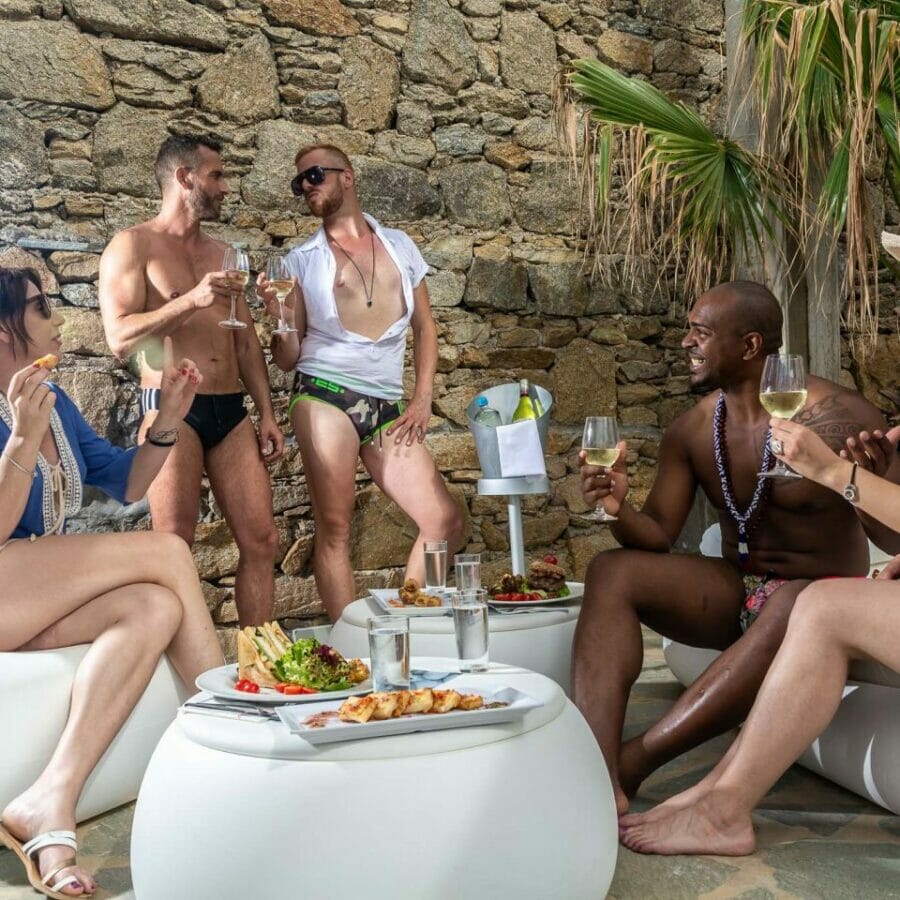 [button title="Find The Best Deal On The Elysium Hotel Mykonos Now…" link="https://queerintheworld.com/go/greece-mykonos-elysium-gay-hotel/" target="_blank" align="center" icon="icon-lamp" icon_position="right" color="#660087″ font_color="#ffffff" size="2″ full_width="" class="" download="" rel="" onclick=""]