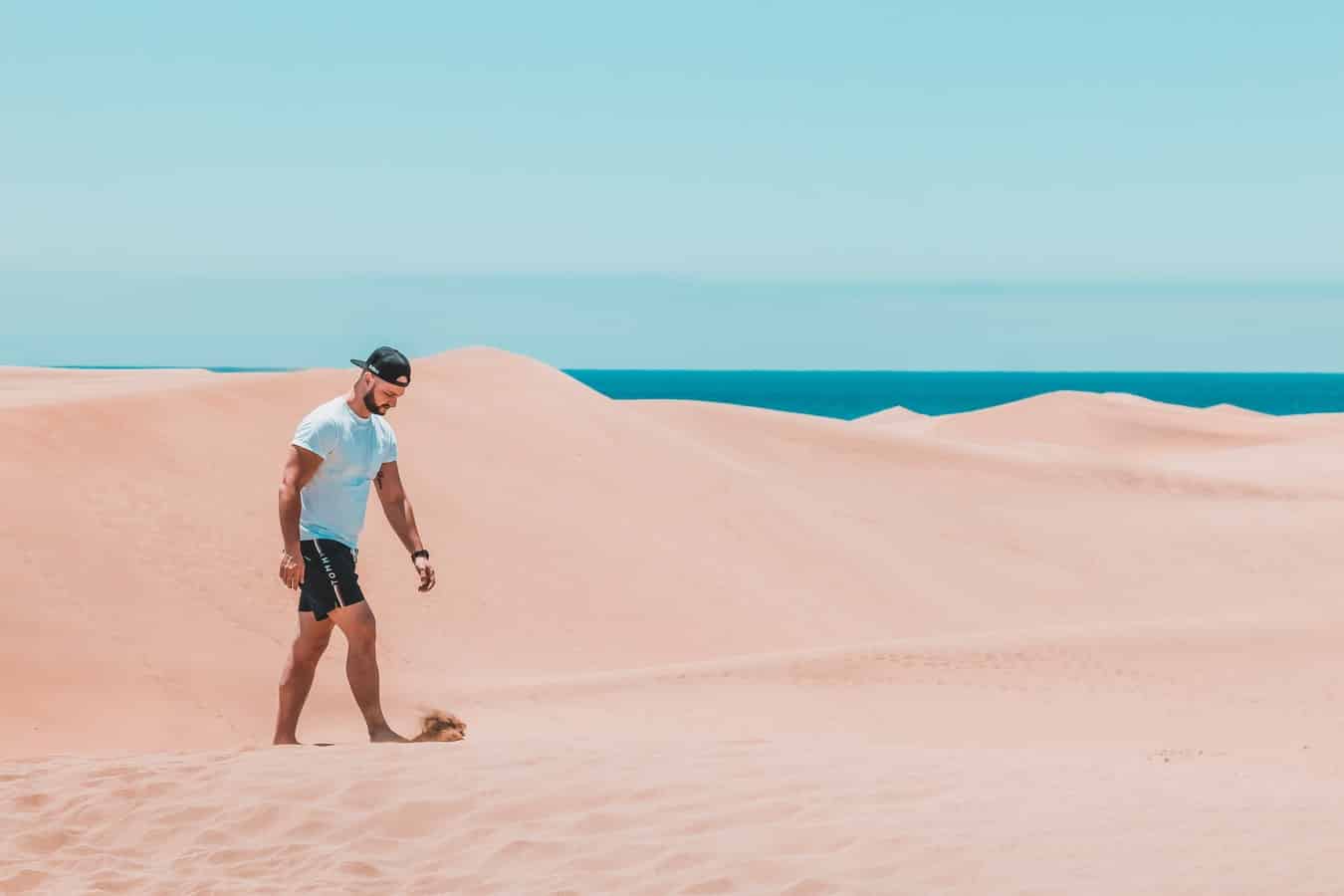 One of Europe's most gay-popular beach island destinations, Gay Maspalomas in Gran Canaria offers hedonistic nightlife, a glut of gay hotels, gregarious beaches and over 3000 hours of sunshine per year, making it one of the sunniest places on Earth. What more could you want really…
Gran Canaria is the second largest of Spain's Canary Islands after Tenerife but accounts for half of this island chains population. A paradise for gay men and nature lovers, Gran Canaria has a well-deserved reputation as a continent in miniature, with an awe-inspiring variation of terrain from the green and leafy north to the verdant mountainous interior and the hot desert south where Maspalomas is found.
Served by Gran Canaria Airport, LGBT tourism is booming here thanks to a unique mix of stunning beaches, gay resorts and all-night clubbing on offer here – not to mention the seemingly never-ending array of gay events on offer all year round. Moreover, everything is just that much more affordable thanks to the VAT-exempt prices of the Canary Islands.
Maspalomas is famed for its reasonable year-round climate which is generally a constant 25 degrees and as such is a popular holiday destination all year round – as opposed to Sitges, Mykonos or Ibiza which die down every year. The peak season is from December to February when the island is swamped by snowbirds from Northern Europe, but most younger gay tourists head here for the hotter months from April to September.
Like mainland Spain, basically every hotel and most bars here are LGBT-friendly so there is no need for concern on this front but for those who are interested – there are more gay hotels here than almost anywhere else on Earth, so why not give them a try.
And then there is the famous Yumbo Centrum Shopping Center, one of the largest shopping and entertainment centers in Gran Canaria and a stronghold of gay nightlife, dining, and shopping… It is such a juggernaut that there are very few queer establishments outside of the Yumbo, making a night out here just that much easier. Overall the gay scene of Maspalomas is one of the most vibrant and exciting we have come across anywhere in the world and we are certain you will not leave disappointed.
No matter what you are looking for, you can be sure to find it in Gay Maspalomas.
Gay Maspalomas Guide: The Essential Guide To LGBT Travel In Maspalomas Spain
Attractions in Gay Maspalomas
Naturally being gay does not define which attraction most of us will want to see when traveling and – generally speaking – queer travelers will simply want to check out the top things to see in Maspalomas during the day! Maspalomas is a very safe island, but still, all travelers should take caution in crowded areas or at night in bars with valuables.
There is so much to do here – but we found our favorite memories were tanning poolside at our hotel, exploring the gay beaches or getting lost in the immense beauty of this magical island with our hire car. Still – it helps to have some kind of idea of what is going on, so here are our must-see attractions in Maspalomas that you should not miss!
Top Things To See And Do In Maspalomas
MHT Music Hall Tavern Drag & Dinner Show – This hilarious comedy drag show will have you entertained and amused from start to finish for a fabulous night with live singing, dancing, and side-splitting comedy routines. Experience a truly magical production that will have you singing along and dancing out the doors as you leave. An unforgettable experience for young and old alike, the Music Hall Tavern will be the funniest night of your holiday. The price includes a three-course meal and free-flowing drinks during the meal comprised of beer, wine, sangria, and soft drinks.
Dolphin and Whale Watching – Enjoy a 2.5-hour trip by boat along the waters surrounding Gran Canaria and see beautiful dolphins and whales up close. The boat will come as close as possible to these amazing sea creatures so that you can experience their natural habitat from as close as possible – and it is sure to be a memory you will never forget. There is a bar aboard for those who wish to buy some drinks during the trip.
Convertible Beetle Tour – Enjoy the freedom and fun of the unique experience of driving a 4-seater convertible in Gran Canaria. Follow the route through ravines, winding mountain roads, and imposing valleys. During this tour, you will climb to an altitude of over 1500 meters. See the largest water reservoirs of the island, the "Valley of 1000 palms", and typical Canary villages. Stop along the way for a picnic made from delicious local products. Travel in curious convertibles and feel a sensation of freedom and fun as you experience the spectacular places of Gran Canaria. Explore and discover the most beautiful and exciting mountains and valleys on a tour that you will never forget.
Thalassotherapy Spa – Be swept away by the heated pools of Thalasso Gloria Amadores and indulge your mind and body at one of the most complete thalassotherapy centers in Europe! Get stunning sea views and give yourself up to complete relaxation with a thalassotherapy and sea water circuit for 2 hours. Avail of the heated swimming pools at different temperatures, along with 29 hydromassage stations for different sensations, including cross-current swimming, swan neck water jets, waterfalls and microbubble sunbeds.
Poema del Mar – Embark on an exciting journey into the deep blue world of marine wildlife as you discover 35 ecosystems and over 350 species of marine wildlife in a state-of-the-art aquarium.
Green Point Cooking Activity – Enjoy a fun and hands-on way to immerse yourself in Spanish and Canarian cooking when you book this beginner-friendly cooking class. Hosted in pretty kitchen facilities with views overlooking the sea, this class provides an accessible introduction to several classic recipes, from paella and gazpacho to Canarian potatoes; your chef host will provide first-hand instruction to help you along the way. At the end of class enjoy your meal, plus cava and local wines.
Camel Riding – Explore the dunes of Maspalomas the traditional way on this 40-minute camel-riding adventure in Gran Canaria. Climb into the saddle and head deep into the Gran Canarian countryside on camelback with a guide. Along the way, enjoy the sensation of riding on the back of these gentle giants. Admire sweeping views over the rolling sand dunes, rocky ridges and rugged landscapes for which Gran Canaria is famous.
Coffee Tour at Finca los Castaños – Take a deep dive into the coffee industry of Gran Canaria on this 90-minute guided tour of Finca los Castaños. Get the most out of your coffee experience by listening to a guide explain the coffee harvesting and production process, then get to taste some samples. Travel with a small group of likeminded coffee fans, which ensures personalized attention and an intimate atmosphere during your tour.
Beginners Scuba Diving Experience – Splash into the clear, colorful waters of Gran Canaria on this introductory scuba diving experience. Learn essential scuba tools and techniques during an hour-long lesson in an outdoor pool, and then put your new knowledge into action with a 1-hour dive at a Puerto Rico scuba site, with your professional instructor by your side. After swimming among the fantastic coral formations and fish, you'll be well on your way to earning PADI scuba certification.
Gay Things To Do In Maspalomas
Bottoms Up Gay Sailing Excursion – Experience the ultimate day of relaxation by going on a sailing excursion around the south of Gran Canaria. This fun experience for gay men only is the perfect way to discover hard-to-reach beaches such as Guigui beach, and spot native marine life too. You won't have to worry about bringing snacks with you as two meals are included, as well as unlimited drinks. Meet like-minded people, have fun, eat great food, and discover incredible beaches too.
Gran Canaria Gay Beach – The gayest beach in Maspalomas is conveniently situated close to the "Hut 7" beach bar just in front of the Maspalomas Sand Dunes. Clothing-optional, though you will find a mixture of both covered and uncovered men. Sunbeds and umbrellas for shade are readily available for rent. Rather cruisy in the late afternoon, and not the easiest place to reach but well worth the effort. You can either take a taxi to Plaza del Faro then walk along to Hut 7 or follow the path through sand dunes from the Riu Palace Maspalomas in Playa del Ingles.
Yumbo Centrum Shopping Center – One of the largest shopping and entertainment centers in Gran Canaria. Inside there are over 200 shops with bars, cafes, restaurants, as well as a great variety in fashion, electronics, and jewelry stores. At night it is almost exclusively gay. Inside is 4 floors with a rectangular shape and open architecture that allows visitors to orient themselves more easily with a garden park in the center and a large square where a stage is installed for events such as Maspalomas Gay Pride or the Carnival.
MAUU Bar Café – Large gay café located in CC Cita shopping center offering an excellent place to start or end your day. The very friendly owner Miro will always ensure you feel welcome and there is a busy brunch crowd every Sunday.
Café Wien – Another gay café located in CC Cita shopping center, and while lovely is a world away from the smoky gay cafes of Vienna. Busiest in the afternoons around 4 with very social vibes.
Code – Next door to Café Wien, this gay clothing store specializes in sexy underwear for gay men along with stylish swimwear.
YumboGay – A small gay store easily accessible in the Yumbo Center offering a range of adult toys, play accessories, DVD's, lubricants, leather/rubber/fetish wear – in case you forgot something when packing or just want to explore a little.
Why Not? – A multi-brand store with many years of experience for those looking for the best selection of fashion underwear and more.
Boxer Gran Canaria – The place to go for kinky beach and sportswear, underwear, t-shirts, leather clothing, jocks, and harnesses as well as accessories, lubricants, and toys. Now you don't need to go to Barcelona or Berlin to get stock up…
Gay Annual Events In Maspalomas
Carnival of Las Palmas – Carnival has only one thing in mind: the Maspalomas sun. One of the most famous Carnivals in Spain, this fabulous event is held each February with a ridiculous amount of surrounding events including the Queen Gala and Drag Queen Gala. The main parade is viewed by 200,000 people every year along with its six-kilometer route across the city. Expect plenty of wild gay parties, camp fun, sold-out hotels and to not get much sleep…
Maspalomas Fetish Week – The only European gay fetish event by the beach! Maspalomas Fetish Week is one of Europe's biggest get-togethers for guys who think of leather, uniforms, rubber, sports clothes and other kinky stuff as an act of liberation rather than a costume. Believe us, this is no fancy dress party. Gran Canaria's tolerant atmosphere lets everyone act, look and feel the way they want. No fantasy is out of place on this island. You just need to find the right company, and Fetish Week is the perfect time for that. If you're a first-timer or just curious, there's no need to feel intimidated. It could be the experience of a lifetime, provided you show all due respect (a very appropriate expression!). If you do that, it won't be difficult to find someone to get you started… and you'll probably be back for more. It's no coincidence that this has been one of the fastest-growing events in the last few years. The count of participants at each of its wildest parties is 400 and rising. Taking place annually in October.
Bear Carnival – Say hello to "Bear Carnival", held every March just after the World-famous Canarian carnival. Well beyond the usual disco party and pub crawls driving most bear festivals, Bear Carnival's program comprises around 40 events over one epic week, including Europe's biggest bear pool parties, excursions to discover this subtropical paradise, fine dining experiences, luxury spa evenings, cabaret shows, a speed dating party… all organized around a crazy bear carnival with a new theme each year. Highlights include a one-day cruise on one of the biggest catamarans in the World, retrofitted as a floating disco for the occasion, and of course the usual set of daily house sessions and sex parties at the legendary men-only clubs in Maspalomas. In short, Bear Carnival could easily be the most fun bear week ever held in Europe, ideal both for novices and long-time bear travelers in need of something fresher. Woof!
Winter Pride Maspalomas – When your island is as fabulous and queer as Gran Canaria, one Pride simply isn't enough. Enter, Winter Pride Maspalomas – the final gay pride celebration in the European calendar year taking place annually in November. An open-air event with an average outside temperature of 23 degrees there is a lot to love here with one week of amazing events including live shows with international artists, pool parties, boat excursions, parade, dance sessions and more.
Gay Pride Maspalomas – Every year in May, the streets of Maspalomas are filled with ever-growing crowds during the annual Maspalomas Gay Pride. The town hosts ten days of shows and parades with nearly 100, 000 attendees looking to celebrate Maspalomas Gay Pride. It is absolutely insane and one of the more vibrant Pride events in the world that needs to be seen to be believed. Book your accommodation far in advance and get ready for the ride of your life.
Gay Hotels in Maspalomas Spain
As a world leader in LGBT tourism, pretty much every hotel and hostel in Maspalomas can be considered gay-friendly – after all, being gay-friendly is not all about upscale luxury, but about providing friendly service and welcoming guests without prejudice!
However, everybody likes to be surrounded by people with common interests and thankfully there are more gay hotels in Maspalomas than almost anywhere else in the world giving Key West, Fort Lauderdale, Palm Springs, and Puerto Vallarta a run for their money.
All located around Playa Del Ingles with its thriving gay scene and there is no right or wrong options as each offers something unique and unforgettable. Most offer swimming pools, some are clothing-optional, some geared towards self-catered travelers and others are full-service hotels dripping in luxury.
The following hotels in Maspalomas are only those orientated towards gay travelers, but there are hundreds of other gay-friendly hotels in Maspalomas if you don't find quite what you are looking for.
Whether you want a fun and social budget hotel, a cheap apartment to crash after a night of partying or a chic designer option to sip cocktails and surround yourself with fabulous people – Gay Maspalomas has something for everyone!
Gay Hotels In Playa de Ingles
Seven Hotel & Wellness Bungalows ☆☆☆☆ – Newly opened, this 4-star hotel for gay men in Gran Canaria is currently the most trendy place to stay. Enjoy, relax and indulge in the exclusive environment of this beautiful hotel, offering unprecedented design, stunning views, and minimalist rooms. This marvelous gay hotel also offer two villas with a private swimming pool, a fully furnished terrace, a garden, and independent access. For all guests to enjoy there is a daily complimentary breakfast served in a peaceful restaurant, an outdoor pool, steam room, a sauna, and an open-air gym. One of the world's best gay hotels – a stay at Seven Hotel & Wellness Bungalows will not disappoint.
Axel Beach Maspalomas Apartments ☆☆☆ – The fact that the renown gay hotel chain Axel has an outpost in Maspalomas is truly a testament to how queer this beachside city is. Their atmosphere, facilities, and leisure options do not disappoint and allow you to have the most fun on the island, both by day and night. Located in the gay area of Playa del Inglés, AxelBeach Maspalomas has 92 modern apartments, distributed over 4 floors and perfectly equipped to provide the maximum comfort. The complex, for adults only, has also several leisure areas envisaged and intended exclusively for you to feel that trademark Axel cool atmosphere and to feel like you are in the most sophisticated meeting point on the island – which in most cases it is.
Rainbow Golf Gay Boutique Resort ☆☆☆ – Tucked into a relaxes leafy suburb, this peaceful hotel catering to gay men with modest 1-bedroom bungalows offering living rooms, kitchenettes, and coffeemakers. Onsite there is a simple café, gym, outdoor pool, sauna, and a hot tub. Oh, and did we mention it is all clothing-optional.
Vista Bonita Gay Resort ☆☆☆ – Set in a quiet residential area, Vista Bonita is only a few minutes away from Maspalomas beach and from Yumbo Centrum, the most lively commercial center in the island. Set in modern whitewashed buildings with Moorish accents, the relaxed 2-level apartments all boast kitchens, and living rooms with sofas, as well as terraces and balconies. Onsite you will also find a modern restaurant, tropical gardens with an outdoor pool, inviting sun loungers and a cute little poolside bar for socializing with other guests. There is also a steamy hot tub and a sauna, massage treatment options and bike rentals to make getting around town a breeze.
Bird Cage Resort ☆☆☆ – A unique gay lifestyle hotel in Playa del Ingles, close to the gay nightlife in Center Yumbo and only 500m from the beach. Here you can enjoy a unique men-only resort with charm, charisma and designer details. Most rooms and suites come with private gardens to complete the exclusive atmosphere and every morning you are welcomed with a delicious breakfast – included in your room rate of course!
Atlantic Sun Beach Apartments ☆☆☆ – Modern apartments located in a quiet residential area, very close to the gay commercial center and a few minutes walk from Playa del Inglés, the most spectacular beach in Gran Canaria. Clean, spacious, cute and relaxed – this is our preferred self-catered option for gay travelers. Recently renovated, you will not be disappointed.
Villa Adler Gay Men Only ☆☆☆ – Located 500 m from Playa del Inglés Beach, Villa Adler Gay Men Only features a private terrace with an outdoor swimming pool and a poolside café-bar. The bright bungalows and apartments are decorated simply and with colorful finishes. A very private option as there are no overlooking balconies from other hotels, and being walking distance to everything completes the appeal.
Club Torso ☆☆ – At this clothing-optional, gay men's resort hotel guests are all welcoming with contemporary design tailored to making the most of the undisturbed lifestyle under the Canarian sun. From there the choice to wear something or nothing entirely to you. There are twelve Spanish-style bungalows, most of which are situated around a heated swimming pool, a daily continental breakfast buffet until eleven o'clock, a poolside bar and free parking.
Gay Bungalows Artemisa ☆☆ – Located only 200 m from Yumbo Shopping Centre and surrounded by lush gardens, Bungalows Artemisa offers an outdoor pool, tennis courts and a mini-golf course to tempt you in. Each one-bedroom bungalow offers a living-dining area with a sofa bed and satellite TV, a kitchenette with a fridge and have their own garden terrace with sun loungers. Somewhat basic, but wonderful service, a fabulous location, and friendly guests make this a great option for gay travelers.
Bungalows Tropical La Zona ☆☆ – A clothing-optional hotel in Maspolamas catering to gay men and only a 12 minutes' walk from the clubs and restaurants of Yumbo Centrum. Onsite there is a large acclimatized pool with lots of comfortable sun-beds, a pool bar, jacuzzi, an open-air gym and cruising area with a sling and St Andrew's cross, all set withing palm trees and tropical gardens. Nudism is allowed throughout the whole complex, and it is all very cruisy. Daily breakfast is offered and the pool-bar offers drinks and food throughout the day. The staff and owners of Tropical La Zona are all gay and happy to answer any questions to make you feel as comfortable as possible.
Bungalows Tenesoya Gay Men Only ☆☆ – This charming but somewhat dated complex located just 200 meters from the beach. Bungalows Tenesoya boasts a swimming pool, where you can take a dip to keep cool from the hot Canarian sunshine and then grab one of the sun loungers surrounding the pool and spend the day soaking up the sun in good company. Tenesoya has spacious bungalow accommodation – each equipped with a lounge area – providing an affordable option to spend a fun holiday on the island of Gran Canaria.
Bungalows Aqua Beach ☆☆ – Supremely located in front of Yumbo Center and a short walk of the beach & sand dunes, it is no wonder Aqua Beach Bungalows is such a popular gay stay in Maspalomas. Inside there is a inviting swimming pool with plenty of sunloungers and a modern pool bar to meet new friends and quench your thirst. There are 23 bungalows configured with one or two sleeping rooms, a XXL outdoor heated Jacuzzi with room for 12 people, a small open-air-gym – and yes, a clothing-optional atmosphere for that feeling of complete liberation.
Gay Bungalows Paso Chico ☆☆ – A gay complex set up more for those on a self-catered holiday. Expect minimal services, but a very affordable price and a prime location opposite the CC Yumbo. Recently renovated with a pool and friendly service.
Los Almendros Bungalows Resort ☆☆ – A wonderful complex of bungalows and high-quality accommodations.for the private and exclusive of the gay and lesbian community. In Los Almendros, you can decide if you want to enjoy of the relaxing atmosphere and intimacy of there bungalows and extensive tropical gardens or, if you prefer, to make friends from different nationalities you can mingle in the swimming pool or in the XXL Jacuzzi.
Gay Nightlife in Maspalomas
Like most cities in Gay Spain, Maspalomas's nightlife starts late and goes even later. Many restaurants here don't get busy till around 10 pm, which bars filled from around 1 am and clubs getting going around 2.30 am. Outside of peak season (November to March), nights might get started a little earlier – but are still plenty of fun to be had.
Cash is king here, and pickpockets are sadly rife throughout some venues we visited – just be careful, leave your non-essentials at home and just take what you are actually going to use on the night.
Pay special attention in bars and dark rooms as – well, easy targets are those literally with their pants down. We have largely focussed on explicitly gay venues here in Maspalomas, but the island and country are so liberal don't feel like you can't make out with your partner in most bars or clubs here!
If you are a little lost, just remember gay nightlife in Maspalomas is almost entirely focussed in the Yumbo Centrum Shopping Center, one of the largest shopping and entertainment centers in Gran Canaria. Inside there are over 200 shops with bars, cafes, restaurants, as well as a great variety in fashion, electronics, and jewelry stores. At night it is almost exclusively gay. Inside is 4 floors with a rectangular shape and open architecture that allows visitors to orient themselves more easily with a garden park in the center and a large square where a stage is installed for events such as Maspalomas Gay Pride or the Carnival.
You might also want to try Strand-apo-Theke, basically the only gay café / bar not located in Yumbo with an exceptional atmosphere located on the Maspalomas beachfront. Busiest in the late afternoon so why not drop by on the way back from the beach…
Gay Bars In Yumbo Center
La Bulle – A bubbly gay lounge on the 1st floor of Yumbo with a great selection of cocktails and smoothies. Friendly staff, good happy hour deals, and staff who are more than happy to make recommendations for the rest of your night.
Adonis Bar – A German gay bar open every day until 2 am and is particularly busy during Pride in the summer months. Claus and Frank, the bartenders, and hilarious and sweet – and offer a fine selection of beers, cocktails, and non-alcoholic drinks.
Mardi Gras Gran Canaria – Not quite as fun as Mardi Gras in Sydney, but still worth a visit for people watching on the ground floor of Yumbo. We found the drink prices to be very reasonable and served by staff who were both friendly and attentive. Especially welcoming to solo travelers who are made to feel right at home.
Coco Loco – A late-night gay bar catering to the young crowd. We loved the drag show but others hated it, so you'll have to decide for yourself. Things can get a little crazy here, as the name might suggest.
Buddies Bar – A renown waterhole for gay Brits run by couple Joseph and Andres. Their Quiz Night's on Thursdays are generally busy – or the Sunday Roast Dinners are quite social. A great place for brunch, with super-friendly staff and a fun 2-4-1 Happy Hour. Possibly our personal favorite bar in the Yumbo.
Bar Diamonds – A Fabulous place to enjoy cheap drinks and meet new friends. If your very lucky the one and only Miss Beverly Hills may grace you with her presence on Friday nights and other occasional special events. On the ground floor with a spacious patio, so …diamonds is a gay's best friend!
Bärenhöhle – Translated as 'The Bear Hole' it is no surprise here you will find Yumbo's longest-running gay bar for bears, their friends, and admirers. Everyone is welcome, but speaking German will make your entire experience that much more enjoyable.
Bar Junior – A small gay bar frequented mostly by locals. We felt welcomed but heard very mixed experiences from other tourists. It's on the ground floor so pop in and decide for yourself.
Bar MeickeR – A Danish gay bar perfect for chilled drinks and pre-clubbing banter. It's not particularly stylish – but then neither are the gay bars in Copenhagen.
Parrots Gran Canaria – Leading on from its enormous success in Sitges, the Parrots Group has open a new bar and French restaurant in the Yumbo Centre. The Parrots gay bar is an excellent choice for those wanting to enjoy divine cocktails, people watch or to get roasted by fabulous drag queens on the weekend.
Macho Macho bei Andre – A small Dutch-owned gay bar that left us disappointed after the fun we had in Eindhoven and Amsterdam. In reality its more of a Dutch-German fusion bar with a younger crowd. The staff where friendly even if the patrons were not as much.
Spartacus – Mirko & Andreas have done an excellent job of managing this Gran Canaria institution over the years and consistently providing great friendly service with stiff drinks. The Tequila Sunrise had us dreaming of Mexico City and Cancun, and we loved that many of their loyal customers have been coming here for over twenty years…
Barack Afé Bar – A nice gay bar with good music, very friendly service and affordable cocktails. The owner Baraka here is a little wild and animated – and occasionally has a puppy, Kara, to add to the appeal.
Fiction Bar – A titillating gay bar with an all night long Happy Hour. The gorgeous waiters working in beachwear and g-strings, so the people-watching is just that much better.
Drag Show Bars In Yumbo Center
Terrazza Terry Show – For over 20 years this camp drag show bar has been a mainstay of any night out in the Yumbo Center – and those who have been to the island before will often talk of the infamous 'Flamenco Show'. There are nightly show from 10:30 pm until 1 am, then the atmosphere becomes more club and dancing until 4:30 am.
Sparkles Show Bar – A magnificent drag showcase put on by the talented Andi Martine, Dinah Might and James, along with a whole host of up-and-coming queens. A sparkling, outrageously fun night out at Sparkles with karaoke beginning at 9 pm until showtime and then resumes afterward. The main show every night is a full Comedy Variety Show with different shows nightly and new material being added consistently so you can visit time and time again.
Chez Funny Boys – Shamefully funny performances from the world-famous Funny Boy who originally opened his own Show Bar in Puerto Rico back in 1995 and decided to establish his second location in Yumbo Center in 2013. A must-see show with free entry and an endless number of talented artists work tirelessly to make this innovative, fun and interactive show a reality.
Ricky's Cabaret Bar – Owned and run by Gail and her partner Penny, Ricky's prides itself on providing a safe place for all walks of life to come to have a drink and have a good time with friends old and new. They have been providing some of the best Drag Queen cabaret that Gran Canaria has to offer since 2002 and have 2 shows a night, the first at 10:30 and second at 11:30. There are no admission charges and the great drink offers help make this one of the busiest bars in the Yumbo Centre.
Gay Clubs in Maspalomas
Mykonos – The biggest, oldest and frequently the most popular gay club in CCY Yumbo Centrum to dance the night away in. With pop disco music, projections of video clips on screens, a large dance area and busy cruising area with darkroom and booths they have everything you could want for a grand night out. Open every day of the week from 11 p.m. to 3:30 a.m. the staff is friendly and professional and the drinks affordable making this a great place to start dancing in the Yumbo. There is a mix of Spanish and English boys and other European nations mixed in for good measure. And yes, the boys here are just as hot as Mykonos…
Matrix – The other big club in the Yumbo Complex with a busy terrace and dance floor that gets busy around 3 am so Matrix is perfect for ending the night strong. Managed by gays for gays this is a place where you will feel safe, meet smoking hot boys and enjoy the best international house music thanks to their resident DJs. There is also a cruising area with darkroom and cabins for those who might be interested.
Gay Saunas in Maspalomas
Had enough of gay cruising in Maspalomas – either in the bars or elsewhere – and looking for some after-sun fun?
If you desire a bit more guaranteed action, the two gay saunas in Maspalomas will not disappoint you (unlikely all those faceless accounts on Grindr or the other hook up apps…). As such a foreign-friendly island you should have no issues visiting any Maspalomas gay sauna, although a few words in Spanish never hurt.
Sauna Portugal – Not actually in Gay Palarmos but in Las Palmas, the capital of Gran Canaria, about a 50-minute drive away at Las Canteras beach. Mostly locals by foreign guys are more than welcome in this two-story sauna with a Finnish sauna, steam sauna, changing rooms, showers, cabins, massage, dark rooms, maze, sling room, and bar.
Sauna Heroes – The biggest gay sauna in the Canary Islands, and the only one located in Gay Maspalomas -but when it is this good, one is enough. Recently renovated, Heroes Sauna has over 350 m² of air-conditioned play zones With a jacuzzi, dry and steam sauna, private cabins, video room and more. There is even a motorbike and foam room. Located on the 4th floor of the Yumbo Centre, this is one of the best saunas in the world – it is always spotlessly clean, but sadly sometimes suffers low patronage due to the amazing weather on the island.
Gay Cruise Clubs in Maspalomas
If the bars or gay sauna in Maspalomas are too vanilla for you, perhaps these cruise lounges and gay sex clubs are a better fit?
We have to warn you; however, Maspalomas has a surprisingly intense no-holds-barred cruise scene. Thankfully it's also one of the most friendly, welcoming and diverse we have ever come across – and comparable to Sitges, Barcelona, Madrid or Lisbon… so why not give it a go?
It is definitely not for everyone though, and we have tried to identify places for the more 'uninitiated,' if you are curious to give it a go. Or there is always the gay nudist beaches known for cruising: the most popular of which is the beach in Maspalomas by the "Hut 7" beach bar in front of the Maspalomas Sand Dunes.
Basement Studios – The only gay holiday resort in Gran Canaria dedicated to naked cruising and sexual freedom! Basement Studios is run by gay men for gay men and has multilingual staff which offers a relaxed yet stimulating holiday experience. Only a short walk from Yumbo Center, everyone is welcome here regardless of age, shape or ethnicity but guests are required to comply with the strict naked/jockstrap-only policy. Inside there is a pool with sunbeds, a maze, dark room, play space and plenty of kinky equipment. Daytime cruising at its finest. Look out for popular BBQ and cruise parties. You can also stay onsite in the surprisingly nice accommodation if it sounds like you might spend a while here – otherwise, day passes are always available.
Reds Club – Located in the heart of Maspalomas and only a 2-minute walk from Yumbo Centrum, Reds club is one of the largest gay sex bars in the Canary Islands. A place where you can fulfill all of your sexual fantasies where more than 200 m2 of pure kink awaits you a large bar, a smoking area, private cabins and much, much more. Check your inhibitions at the door and let your desires loose.
Bunker Bar – Open every night of the week from 10.30 pm, Bunker offers something for everyone with three floors of dark rooms, cabins, play zones, slings and – well, you get the idea. A hard-core fetish / no-limits sort of place where you can be sure to find something to keep you up all night long. A free drink is included with every entry.
The Box – A friendly, dark and sleazy mens cruising bar conveniently located in the Yumbo Centre. The box is open seven days a week from 11:00 PM till 4:00 AM and is a great place for those who are curious to try as the entrance is free and no dress code is enforced. Come in your leather, rubber or other gear…or just in your daily wear. There are free lockers so that you can safely put your things away while cruising around Whatever you are looking for, there is no judgment and a relaxed atmosphere here.
Cruise Bar Yumbo – A local institution that opened its doors way back in 1994. At the time it was the first Bear and Leather bar in the Canary Islands and today remains as popular as ever. In 2017, Cruise Bar Yumbo expanded its facilities to two floors including a large cruising area, guaranteeing kinkier nights for its patrons with labyrinths, private cabins, dark rooms, wet areas, and slings. All ages and body types can be found here, but it defiantly attracts more of the leather/jeans/military crowd.
Tom's Cruising Bar – A newer addition to the Yumbo having only been open for 4 years, this is a solid cruise bar for gay men only inspired by Tom of Finland. In this international cruising bar, you will find various cabins, glory holes, slings, an exclusive area for smokers and more – along with guys of all ages. Admission is always free and Tom's Cruising Bar is open from 22:00 to 04:00.
TImE oFF by Romeo & Julio – A hardcore venue focussed on the three F's of fisting, fetish and f**king. One of the most intense gay cruising spots in the Gran Canaries, with a sling, cabins, orgy bed, gloves and more. There is a variety of themed events and dress codes but the most popular event is undoubtedly Blackout Wednesdays where the entire club is plunged into darkness.
Hell Club – A small gay cruise club with a downstairs darkroom and sling with 3 cubicles. Upstairs there is a bar and another dark room.
The Hole – The largest men-only gay cruising fetish bar in Maspalomas Gran Canaria with 300m2 of kink spaciously situated across two floors. The Hole has many features including a professional and friendly team, a well-stocked bar, slings, lockable private cabins, multiple adult film viewing areas simultaneously showing different films, darkrooms, beds, glory holes, a fully ventilated indoor smoking area, plentiful toilet facilities, 'wet area', lockers and air-con. Recently opened by Bruce & Kris aka Bruce Force & Kris Kurt who are well-known internationally for their roles in the local fetish scene (or adult entertainment), the HOLE is guaranteed to exceed your wildest expectations.
Gay Maspalomas Map