Time and again, we invariably get the question – what shoes are best to wear to a pride parade to protect your feet while looking fabulous? Fortunately, with this collection of functional and colorful shoes, we've got you covered.
Finding the right pair of gay shoes is essential to completing your PRIDE outfit! Queer club nights and PRIDE parades will be some of the wildest and empowering experiences of your lifetime – but they also come with a few stress factors, including that you're going to be spending hours on your feet walking, dancing, and otherwise bopping around, frequently on bumpy surfaces or sticky surfaces or even just uncomfortable hard asphalt roads and sidewalks for hours on end.
So, while you want to be certain you're looking your best, you still need to consider price, durability and comfort!
We've trialed dozens of gay flip flops, crocs, sneakers, trainers, sandals and boots for queer events over the years and thought it'd be helpful to finally pool our knowledge together for a post full of ideas and suggestions to help you find your new favorite pair of gay shoes! We are talking high-quality LGBT pride footwear with rainbows, glitter and extraness galore intended for gay men, lesbians, transgender, bisexual, and queer folx who want to celebrate the power of inclusivity and equality.
Take a little browse through what we endorse wearing on your feet for your next big queer adventure and to see our top tips to avoid a visit to the medical tent with foot pains. Afterwards, be sure to read through our other guides for future queer trip-planning inspiration, a.ka. "Now I have these opulent gay shoes; where can I show them off!"
You are proud. You are powerful. These stunning LGBT Pride Sequin Mid Calf Boots will get you all set for your pride march but with more shimmer and gorgeousness than most mere mortals can handle…
These mid-calf boots are hand-made with love with a sequined cloth upper and a polyurethane lining for comfort. There is also a rubber sole for an added grip. Comfortable gay boots like these will not only create a statement of pride, positivity, and love with its pride flag colors all over but will also make your walk a comfortable one without hurting your feet.
Because sure, everyone will be gagging at how fierce you look – but self-care and love (for your feet) are still important!
Set on a low heel platform of 1 cm-3 cm height and black lace-up option for a classic look and better grip, expect compliments from your left and right. The bright and bold mid-calf boots will always draw attention towards you with the shimmer and pride flag colors.
Wear them with a classic tee or crop top and some short shorts to show them off in the ultimate summer pride look.
Ready to hit the streets and showcase your pride wherever you go – while still exuding those all-important fashionable vibes? Let us introduce you to these Translucent Cross-Tied Boots with which you are all set to give you a statement look that will set you apart from the crowd – no easy feat at an already colorful pride parade.
These captivating translucent boots come in a round toe and a mid-calf boot height. The shaft material is made of PVC with a sheepskin insole for maximum comfort so that you can walk miles in the pride march. These sexy boots are then set on a 3-5 cm platform height and a high heel of 5 cm- 8 cm giving these boots a statement look.
These eye-catching translucent boots come in a colorful and reflective sheen throughout the boots that give them a fierce look. The whole look comes together with a black lace-up tie.
Feel fiercer and powerful as you walk in these translucent boots, channel the spirit of your queer elders that marched before you, and feel their pride course through you. It will feel like magic honey, but it's just the power of these gay boots.
No need to ask what's for dinner tonight, cause honey – we know you are serving looks in these!
Bring some cute kawaii fashion looks and a sense of pride to the streets with these fabulous High Platform Cloud Sneakers.
These sneakers are all about being bold with a hint of drama! And girl, you just KNOW we live for the drama. Stunning and super-glam, these Cloud Sneakers are made from a microfiber upper and cut into a round toe with a lace-up closure. Set on a sky-high 8 cm high platform that will give you additional height and balance, these sneakers are all about having a subtly fierce look and being one with the clouds.
These compliment-worthy gay shoes also come with glitter detailing on the side with star-studded details. The platform is all about sending out cute and loving vibes with the merging of pastel colors such as blue and purple and the cloud pattern adding to the aesthetics.
You will be all set to hit the streets with these Instagram-able sneakers that will showcase your pride and love for being unique!
A perfect addition to your queer wardrobe as well as any loud and proud outfit! These beautiful and aesthetically pleasing Shiny Butterfly Wing Sneakers are the gay pride sneakers you need to have in your life.
Be self-expressive and proud in these 'fly' (get it) sneakers that will get you going at a gender-bending rave, daytime festival like Milkshake or Mighty Hoopla, or on a pride march. These sneakers come with a round toe and a lace-up closure adding to the ease and pure comfort of wearing them. The shaft and upper are made from a sequined cloth lined with a polyurethane material as well as the insole. The outsole is crafted from rubber.
Pleasing to your eyes as well as those of all your adoring onlookers, these magical-looking sneakers are outrageous and will help to define who you are. The butterfly wings spread the message that you are beautiful and free and are all about spreading positivity and love. These sneakers are also set on a flat rubber sole, making them perfect for those who want comfort with aesthetics.
Expect endless love and celebration to gather around you with these shiny and utterly unforgettable butterfly sneakers!
P.S. Really want to blow someone's mind? Get the sun or any light source shining through the wings and watch the incredible shadow that forms.
Self-expression and PRIDE are at the heart of everything we do, so it is no wonder that we are massive fans of these out-of-this-world Translucent PVC High Heel Boots!
Step your feet inside and hit the streets to showcase your pride and spread nothing but good vibes, love, and positivity. The perfect addition to any loud-and-proud pride outfit, with these outrageous boots, you might want to keep the rest of your outfit simple – think just a statement LGBT tee and jeans to let your fabulous gay footwear bask in the limelight.
Or go bright, bold, and totally over-the-top with all the colors of the rainbow when curating your pride outfit. There is no wrong choice, and no matter what you do – as long as you are in these boots, you'll look amazing and be celebrating our splendiferous LGTBQ+ community!
When kawaii fashion meets a sense of pride, these Cloud & Rainbow Platform Boot came into existence!
These super chic boots will make you want to dance and celebrate Gay Pride with all the colors of the rainbow on its platform heels.
These boots are constructed with an ankle-high shaft and a round toe made out of PVC, and a PU insole for comfort. These chic boots are set on a 7 cm high platform adorned with all the richness of the rainbow that is contrasted with a see-through top adorned with white fluffy clouds.
The simple white cloud pattern tones down the colorful look, making you appreciate the whole ensemble even more. These stunning boots come with a white front lace-up closure for both aesthetics and comfort.
Look fabulous in these super high yet comfortable platform boots that will let you walk miles and catch plenty of onlooker's eyes. Wear them with multicolored socks and tee, or keep it simple with a white tee to let the boots doing the talking (and walking…)
Let your LGBT pride enthusiasm shine as bright as you with these Rainbow Shimmer Platform Boots!
They are custom-designed for those who want a dramatic yet minimalist look at the same time. Fashioned into a classic boots style and cut into a round toe, the upper is made of vegan leather, and the shaft is made of microfiber adorned with rainbow shimmer.
Glimmer, as you walk in your next pride march but feel safe in the comfort that the insole is made of sheepskin and microfiber, and the outsole is made of rubber for a good grip. Because when you are dancing or marching for hours on end, you do not want to end up with sore feet!

A lace-up front detailing adds to the overall look, and the side zip closure ensures quick and easy wear. These magical boots come in two options, white with silver holographic shimmer and black with rainbow shimmer that will add to your gorgeous LGBT outfit.
As long as you are in these iconic gay boots, expect attention and loads of compliments.
Let these Trans Pride Heels Boots subtly tell the world who you are! You are bold, you are fashionable, and you are fuck'n fabulous huntie.
These sensual and stylish boots are cut into a knee-high length to give off those fierce human vibes. The shaft material is crafted from microfiber and lined with short plush for a comfortable feel. The pointed toe only adds to the sexiness.
These boots are also set on a super high heel that is 11 cm long and cut into a block statement style, and have a side zip closure that adds to the ease and enjoyment of these boots. These gag-worthy boots are adorned with the blue, pink, and white colors of the trans flag that complete the loud and proud look.
These long boots will help you express yourself and take pride in everything with every step of your journey. Keep the rest of your outfit simple, and wear these statement heels to draw all your attention to your footwear.
And don't forget – Keep your heels, head, and standards high!
If you love canvas shoes but believe solidarity and self-expression with your LGBTQ community are a must too, then owning these cute Rainbow Retro Canvas Shoes is a must!
The upper is made of canvas and dyed in black with a front white lace-up closure for contrast. They also have the round toe and a high ankle top style. The lining inside is made out of cotton fabric to provide maximum comfort as you walk for the pride march or dance in the clubs all night afterward.
All of the astounding look and drama comes in the sole of the shoes that are painted with LGBT Pride flag rainbow colors to let everyone know about the celebration and that you know LOVE IS LOVE.
These minimalist shoes are set on a low heel of 1 cm – 3 cm and are great for those who love to own flat shoes. This classic canvas but with a twist of gay pride is all about celebrating happiness and bringing color to everyone's life.
Stand out in the crowd with these eccentric and chic Rainbow Flat Platform Shoes! With all the rainbow colors of the Queer Pride flag, these platform shoes shout to the world that you take pride in being queer and being our authentic yourself.
These Platform Shoes are made into a round toe and a long shaft crafted from microfiber, while the rest is made of genuine leather.
The outsole is crafted from rubber with an insole made out of bonded leather and lined with microfiber. These darling shoes come in black with lace detailing on the all-over front and rainbow closures on the side and are set on a 7 cm long platform adding to the gorgeousness of these sexy platforms.
No matter what you do, there's no wrong place to wear these fabulous platform shoes as far as we are concerned!
Raise your spirits and everyone else's around you with these Rainbow Spiked High Heels!
Perfect for any prideful occasion but with a touch of glam, these heels are not for the faint-hearted as they are all about stealing the show.
These glamorous heels are cut into a Mary Janes pump style and are made out of patent leather in a nude color. These sexy heels are featured with pointed toes and a platform height of 0-3 cm that is then set on a super high thin heel of 8 cm.
They also come with an insole made out of sheepskin and the outsole that is crafted from rubber for a better grip on the floor.
Showcase your pride fearlessly and fiercely with the spikes covering these nude-colored gay high heels. These spikes feature all the colors of the rainbow, making them an excellent pick for LGBTQ events.
Match your shoes with your prideful personality with these funky Rainbow Chunky Sneakers!
Be warned, however, these sneakers are not for the minimalists but for those who want to make an everlasting impression on the minds of their spectators. Adorned with bright and bold colors, these gay sneakers come in a round toe with a high top and a platform that is embellished with the queer rainbow colors.
You won't need to shout, "I'm so gay even my shoes have a queer agenda," as they will do it for you!
The upper is made out of sequined cloth adding to the glimmer with a mesh lining inside and an EVA-composed insole for a better grip and comfort – an essential at any Pride march. The rainbow-colored lace-up closure brings the whole look together.
These boots are set on an 8 cm platform to give a stunning impression – and who doesn't love a little extra height!
Make the world your runway and step your feet inside these stunning Runway Stiletto Boots that will quickly become a loud and proud addition to your pride outfit.
These long stiletto boots are cut into a pointed toe adding to their sharp look and set on thin super high 12cm heels, and elongated into a high shaft that is constructed from the microfiber. The insole is made out of polyurethane, and the outsole is made of rubber for a good grip as you walk.
These boots are all about being fierce and proud with their over-the-knee height, while the chrome effect all over the boots adds to the dramatic look. And girl, you just know we live for the drama. These super tall boots also come with a slip-on closure for ease.
Category is: bring it to the runway! Classy, but you can still take it to the street…
Introduce your inner glam self to the world in these super stunning Sexy Black Mesh High Heel Boots!
Bold and über-glam, these boots will remind you that you are a sickening queen and let everyone else around you know they can always be their most authentic self around you. These unique boots are made from a thin 8cm high heel with a pointed toe.
The insole is made from PU, and the outsole is made from rubber from a better grip on the road. These dramatic and sexy heels are adorned with a mesh material that is detailed with crystal embellishment for that perfect amount of glimmer. They give the message of being outrageously stunning and help you unleash your truest self. Put them on with a simple dress or shorts, to focus all attention on them!
And if you ever feel a little sad, pop them on at home and strut around. We promise they will whisper a little reminder to you to never/ ever stopping from being fuck'n fabulous.
These Rainbow Stilettos were made for you – they are colorful, outrageous, and super chic! You need to buy them.
These sexy stilettos scream good vibes, pride, and positivity with our favorite rainbow colors used throughout. These statement stilettos are cut in gladiator-style and come with a slip-on closure style. The colorful straps are made from microfiber with a rubber outsole and synthetic lining for maximum comfort.
Set on an 8cm super high statement block heel, these open-toe stilettos also have a back counter composed of ankle straps that give these heels not only a perfect grip but also a sexy style. These fierce stilettos are for everyone and not just limited to LGBT events, as they are all about spreading love and being united!
Throw them on with your favorite pastel or white-colored midi dress and see the magic unravel as its bright and bold colors take over the whole occasion!
Top Tips For Wearing Your New Gay Shoes Out
#1: Choose the correct pair of shoes, and be sure to break them in before the big day!
We can think of absolutely nothing worse than arriving at a pride march or queer dance party and then figuring out that you've chosen a pair of gay shoes that are going to destroy your feet all day (or night) long. Luckily, it's simple enough to counter this: get proper footwear, and wear them around the house or streets for a few days to break them in.
As far as what footwear you should wear, that is up for debate and is a personal choice to some degree. A good pair of athletic shoes is almost always the most comfortable, but a pair of well-conditioned gay boots is our personal favorite. One thing we will say is that you should try to avoid the flatness of shoes like the Gay Converse release, as the sole is not thick enough to protect you if you are dancing around on asphalt all day. Some even say that Gay Crocs are their preferred things to dance around in, but – well, let's just say it has questionable fashion appeal, and the backless-ness can cause more issues than it creates.
If you're considering a pair of gay flip-flops / lesbian sandals to beat the heat, be wary that in large masses, it can be very easy for you to get stepped on – and will quickly ruin your day. For grassy frollicks, a brand like Birkenstock or Teva can be useful – especially if you find yourself prone to blistering on your heel but do not ever wear plastic flip flops as they have no foot or arch support whatsoever.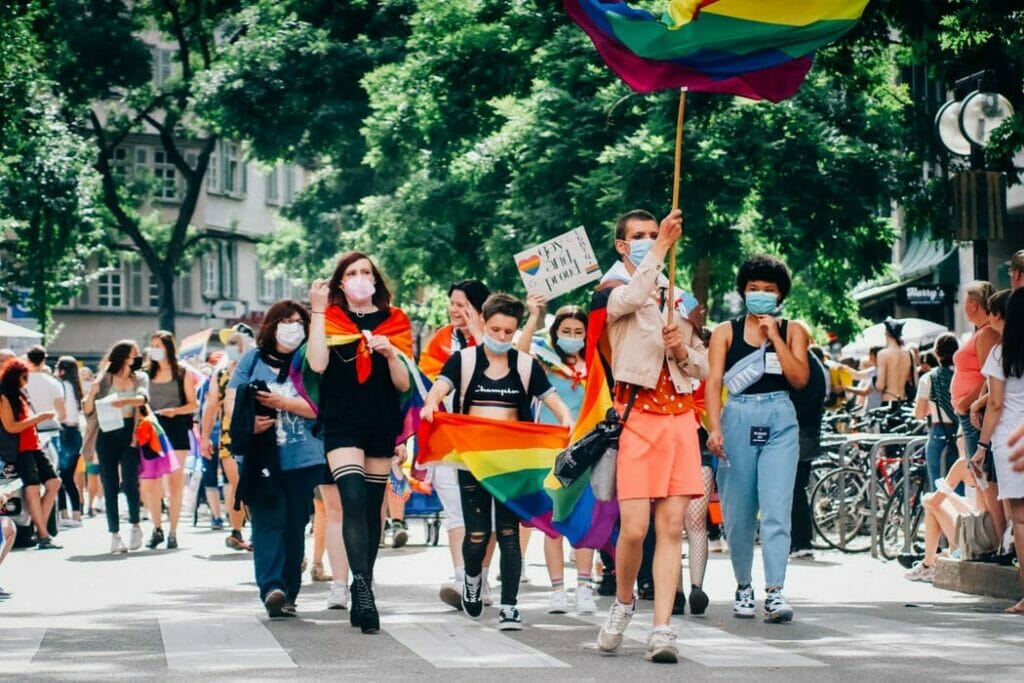 #2: Get some proper insoles and a comfortable pair of socks.
If you have already got a pair of gay shoes that you absolutely love but
don't have meaningful arch support (or are worn out), the best single thing you can do is spend on a suitable pair of insoles. It is not the best solution, but a small investment can go a long way to ensuring your comfort on the big day. Some companies like Dr. Scholl's produce well-recommended gel inserts, and you can even bring spares to switch out if you are going to an ultra-marathon dance session.
You should also invest in a good pair of wicking athletic socks to keep sweat away from your skin. Gay socks might complete the look, but if they are made in cotton, they will need to be replaced during the day. Especially if you are sweating a lot. Try packing an extra pair or two as nothing feels as good as changing out of wet socks after it rains. Trust us – your feet will thank you later.
If you're wearing gorgeous gay boots, hiking socks are ideal as they are tall enough to ensure you don't have raw material rubbing against your delicate skin. Small details like this bear thinking about to ensure maximum fabulosity when out…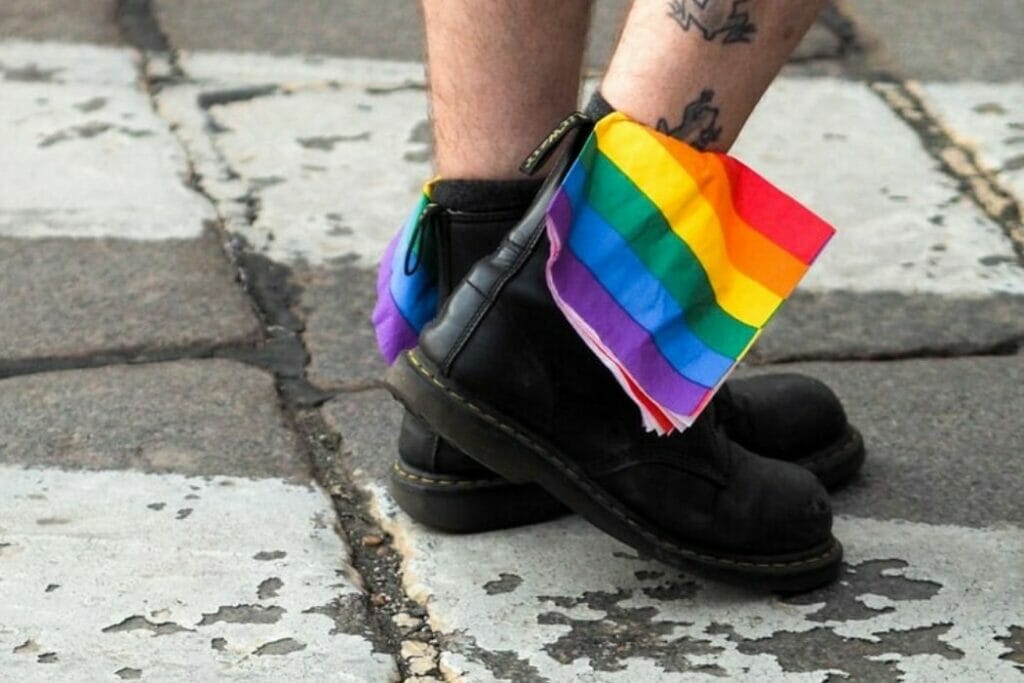 #3: If your feet do get damaged, take care of them!
Look, you might think you've broken in your new gay shoes, and you've planned everything ahead, but still somehow end up with blisters on your feet. Don't beat yourself it. Just make sure you have a first-aid kit with molefoam, moleskin, and Band-Aids. Not only will you be looking after yourself, but you can help out other less-prepared queer spirits you might meet during the event who have a similar issue. Hooray for sisterhood! As much as we can advise preparing, we are all beautiful yet entirely fallible humans who make mistakes.
Molefoam is our favorite as you can use it for preventative care and place it over a hotspot or existing blister, and BAM! your shoe will no longer rub against it and make things worse. Moleskin is excellent for annoying things like straps on sandals or spots on your feet that you can feel rubbing, but it's not quite as protective as molefoam.
Just cut it to size, place where you feel the discomfort, and you magically won't have a blister the next day. If you don't have either of these, a Band-Aid will do the trick, ideally with flexible fabric or plastic strip, as covering a blister is better than letting it rub.
No matter what you do, please never ever pop your blisters without the correct medical attention. Getting dirt or city grime into an open wound is a recipe for infection and a trip to the hospital or doctors. If it does happen, try to find a medical tent, though – as they will be more than happy to help you cover it up.
And there you have it – our favorite gay shoes and advice for how to wear them best. Now all that is left is for you to chose a pair (or five) and break them in before pounding the pavements and dancefloors with all the queer spirit you can muster!