Seobean claims to make the best swimwear, sportswear, sexy underwear, and beachwear for men, and while that's a bold claim that can be argued, Seobean underwear is undoubtedly an incredibly popular gay underwear brand.
Despite the fact that it was only started in 2013, Seobean has managed to gain a foothold in the global male underwear market as a result of the high-quality products they design and create.
Much like other newcomer brands like Jockmail, Adannu, and ORLVS – Seobean underwear has made able to make name for itself in matters of male gay swimwear, underwear, and so forth – but at a more affordable price point than established brands like Aussiebum and Andrew Christian.
They have a wide range of clothing choices, with an item for every occasion. From long johns to briefs to swim trunks and even tops, Seobean has shown that they can meet whatever gay underwear – and underwear adjacent – needs that you have.
With all they have on offering, a person may find it hard to find an item, especially when they don't have a specific one in mind and are just looking to sample Seobean's goods. If you're in that category, then keep reading. Below, I've compiled a list of the best Seobean underwear to make you look and feel sexy as f*ck.
Because if we're honest, the goal is not just to buy underwear that feels great; we all want to get underwear that also looks great as well. Because no one care who comfortable your loose, faded grandaddy briefs are if they are not also visually appealing and flattering to your figure.
Do yourself a favor. Buy some new Seobean underwear now and feel the difference.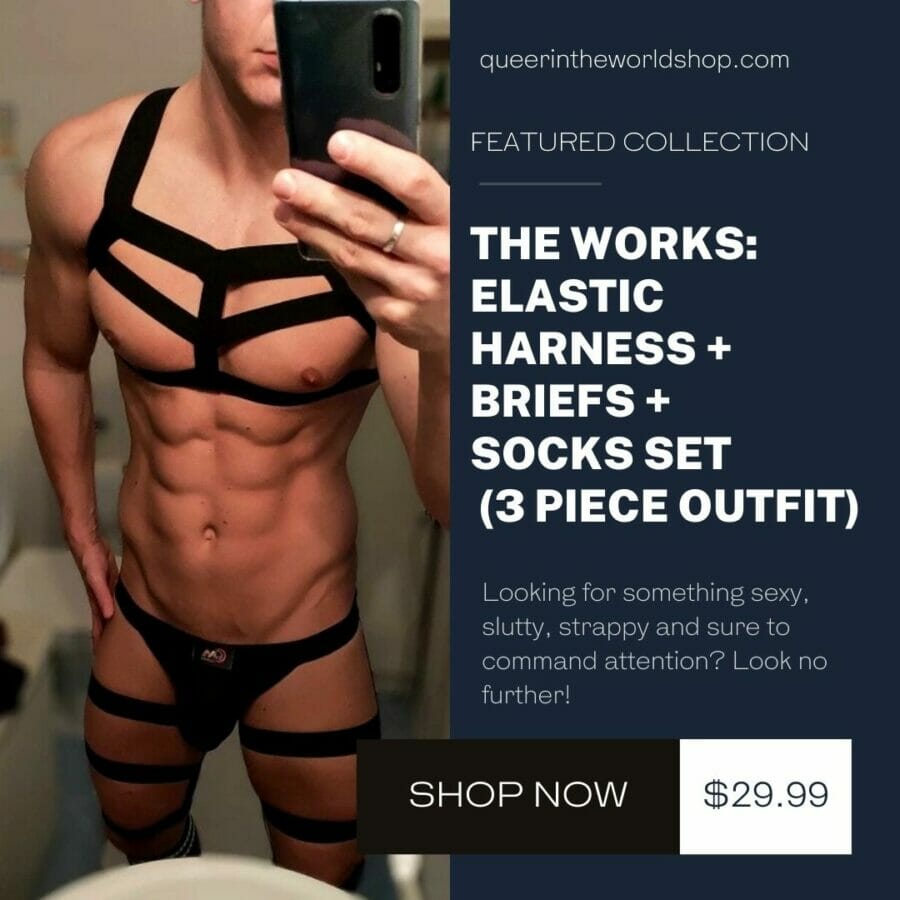 Everyone needs a collection of fun statement briefs, and this set from Seobean covers all the basics nicely. They come in a number of fun, abstract prints, and colors including lime green and orange, and they have a number of different, fun slogans, including 'Hungry,' 'Juicy,' and 'Delicious.'
If you're going to buy new Statement Briefs- which you should – then try out this set from Seobean underwear.
They're affordable and made from a polyester blend that feels amazing to wear. And besides, what could be sexier than sleek, tight briefs with the words 'Juicy' and 'Delicious' written across the ass? I didn't think so.
These are yet another cheeky set of boxers from Seobean. Because there's no fun in wearing plain, boring boxers, I've included quite a number of statement underwear, and this is one of them.
The Boxers have the cheeky message 'Can You Host' written across the back, accompanied by a number of lewd iconographies.
Can you host what? A dinner? A party? My ass in your bed?
The mysterious, open-endedness of the sentence adds to the charm and allure. Asides from the message, these boxers pack a serious punch. They're 92% cotton with some spandex thrown in, making for the perfect skin feel as well as ensuring a stylish fit.
This is one underwear item that doesn't show up in many blogs like this, but Seobean's offerings are so awesome I just had to include them. These Aurora-patterned leggings can be worn inside and outside, either for workouts or just for loungewear. As underwear, they can double as thermal underwear and keep you warm and looking fabulous – perfect for winter gay ski weeks.
Eighty-eight percent polyester means that it is hardy and durable, while twelve percent spandex ensures that every inch of fabric clings to you like a second skin.
Comfort, of course, is assured, as is a sexy silhouette, a shapely ass, and flattering legs. It might not be ideal for a steamy night of passion, but it will definitely help in getting you to that point.
Whether you're working out in the gym or just going for a run outside in winter, these super workout long johns or leggings can double as thermal underwear or just be worn by themselves, depending on the weather.
Made from a hybrid blend of polyester and spandex, they are strong but breathable, with a silky smooth feeling that eliminates all the usual discomforts of long johns. They are made with a modern design that can be found on leggings made by bigger brands. The crown jewel, so to speak, is the structured pouch that makes it stand out.
The fabric is stretched so that it contours around the crotch and cradles it gently, providing a soft haven for your package. The tight pull across the ass is amazing as well, and your buns will certainly receive attention.
Low-rise swimmers are practically synonymous with sexy, and these ones don't disappoint. In fact, they do the exact opposite. These Seobean swimwear briefs take hotness to the level by employing a cut-out pattern at the front of the briefs. Just below the waistband, semi-circles of fabric are removed, offering tantalizing glimpses of bare skin.
The pouch is just beneath and has a seam down the middle that creates support and structure. The back is completely covered, but the way the fabric of this Seobean swimwear hugs every inch of the skin ensures that it is anything but innocent. It's a tight fit, so ensure that you use the size chart, which caters to a wide range of sizes.
Perfect for wearing on the beaches of Gay Puerto Vallarta and Gay Sitges, or poolside in the gay resorts of the USA.
Tiger prints have always been hot, in more ways than one. They evoke a sense of lush, wild, exotic sensuality, and on items like underwear, its effect is magnified several times.
Personally, I'm a suckered for animal print across a tight pair of boxers. Make them tiger or leopard print, and you can basically use them as bait to lure me to…wherever. These tiger print boxers from Seobean are nothing if not bold. They're a lush dark orange with streaks of black across the fabric, forming the tiger print pattern.
The eye-catching design is paired with a cotton-spandex blend that ensures comfort and lends itself to stylish fitting. The crotch is the icing on an already luscious cake and is made superbly to present your package in the best way possible.
Nautical fashion has never really gone out of style, although it experienced a resurgence in the 20th century, especially in the early years. However, certain factors indicate that it's soon going to make a comeback, and these Navy Briefs from Seobean will fit right at home in any nautical-themed party or gay festival. After all, don't we all love seamen?
They provide optimum coverage, which is sometimes required. However, these bold and colorful briefs are anything but uninteresting. On top of the typical blue and white nautical-themed pattern, the word NAVY is printed boldly across the back, just in case you forget what the pattern is supposed to stand for.
Overkill aside, nautical stripes are notoriously sexy, and with the way these ones fit – and that pouch that's to-die-for – going fishing certainly won't be a hassle, and a catch is practically certain.
Seobean displays their creativity once again by deviating from the usual dark green and brown that make up the convention camo pattern. This time, the camo motif is filled out with different combinations of colors, with each of them showcasing a different design of camo boxers.
Asides from the coloring, the tailoring is equally admirable, with supports at the sides of the crotch, which, in addition to the seam down the middle, provide all the required support for the crotch. A soft cotton blend makes these shorts perfect for lounging in, and the wonders it does for your crotch aren't to be sniffed at.
Give your man a show of this, and some action will follow. Whether it's inside or camouflaged in the bushes is up to you.
Briefs or underwear with words or little phrases on them will always be cute, and when these words happen to be sexually suggestive things, they make the transition from cute to sexy.
Example one: these briefs with the word '#TOP' written boldly across them. Or specifically, across the back. Across the ass will be more correct. While the briefs are already sensual on their own, the suggestive nature of the text written across it elevates it to the next level of hotness.
The briefs all have the same background color, but the color of the text comes in three different forms. I suggest the red myself. These will be perfect for a party when you don't want to leave the boys guessing. Seobean underwear definitely knows the struggles of being gay and wants to make life just that little bit easier.
These Elemental Workout Leggings from Seobean really are a testament to the work that they put in to get to where it is today. They are meticulous and detailed when it comes to producing the leggings you'll be glad to wear. The patterns on them are incredible, and you'll look like living art.
And you know what else would make you look like art?
The fitting, which is immaculate, curtsey of the spandex in the polyester-spandex blend. Every dip, every curve of your ass is outlined by the fabric, creating a feast for the eyes, which can, in due course, became another sort of feast altogether.
You can never go wrong with classic boxers, especially when they are from a quality brand like Seobean. These ones were included in this list as the obligatory boxer staple in your underwear closet. They even come in at least half a dozen colors so that you can buy as many as you want.
Although they are relatively plain and unadorned (and therefore not the best gay pride underwear), they are made to the same standard of quality as the others, with the 92% cotton content ensuring a smooth feeling and the spandex making it fit like a glove. And it might be a staple, but it is anything but basic.
Check out the crotch, guys.
Plaid printed boxers are not something we often hear about, and they may perhaps seem a little bit juvenile or for your grandad, but Seobean's quality tailoring definitely elevates these. And trust us, they are coming back in trend in a big way.
They're still made from top-grade fabric and have still got that skin-tight fit that piles on the sexy. Gone are the baggy, plaid boxers of your parent's days. Now, these ones pretty much ooze sensuality, and with the ultra-soft cotton blend they're made of thrown in, comfort is a done deal as well.
These colorful boxers from Seobean are a range of boxers that combine two colors to form a flattering contrast. The blend of colors appears to be inspired by nature, and the fabric is a blend of eighty percent nylon and twenty percent spandex, a different blend of fibers from the ones Seobean typically employs. Regardless, all the marks of quality are still there.
The crotch provides adequate support, comfort, and the excellently defined ass that practically begs to be smacked and bared for some bedroom action. And if you're not lucky enough to get some in these, at least the other properties should be able to console you. Maybe. Hopefully.
Jockstraps are always fun, but this color block jockstraps is sure to arouse interest – and maybe arouse a few other things as well. Made from cotton and spandex, this Seobean jockstrap is breathable and highly comfortable. The pouch is tailored but not overly tight to define your package without being crushed to death.
The color blocking design across the crotch also helps to highlight it, and eyes will almost automatically be drawn to your lower regions wherever you go. The waistband is low-rise and sits low on the hips, so you can rest assured that you're going to look the very picture of sensuality.
Yes – more statement underwear. Sue us. We won't change and firmly believe you can never have enough of them.
One look at the caption written across the back of these Seobean Bite Me boxers, and you can immediately tell that these boxers (and whoever is wearing them) came to play. The design is made of fun colors, with pink being the dominant background color and yellow forming the color of the words.
It's made of spandex and cotton and fits tightly, so it stretches so enticingly across the ass and makes it looks bouncy and pert. These shorts are sure to be a hit in getting guys into the bedroom. Just slip it on and sashay around a little, and you won't be disappointed by the results.