We love a beach party as much as the next person, but there's something pretty special about partying in the snow. While the rest of the world is hibernating, why not embrace winter with one of these fabulous gay ski weeks?
Skiing is not traditionally a LGBT-friendly activity, often having a rep for posh people's cliques and hyper-competitive yahoos but it's time to forget that image. As well as being a hell of a fun sport, ski resorts are also great places to hang out, especially during special events.
There's nothing quite like coming back to the resort after a day's swooshing down powdery slopes to enjoy some hot wine, a bask in the hot tub and maybe a chance to see what's under that elusive hunk's snowsuit (hey, we'd all do it!).
Whether you're looking for something hedonistic, intimate or outdoorsy, you'll find something for you on our list of the best gay ski weeks around the world.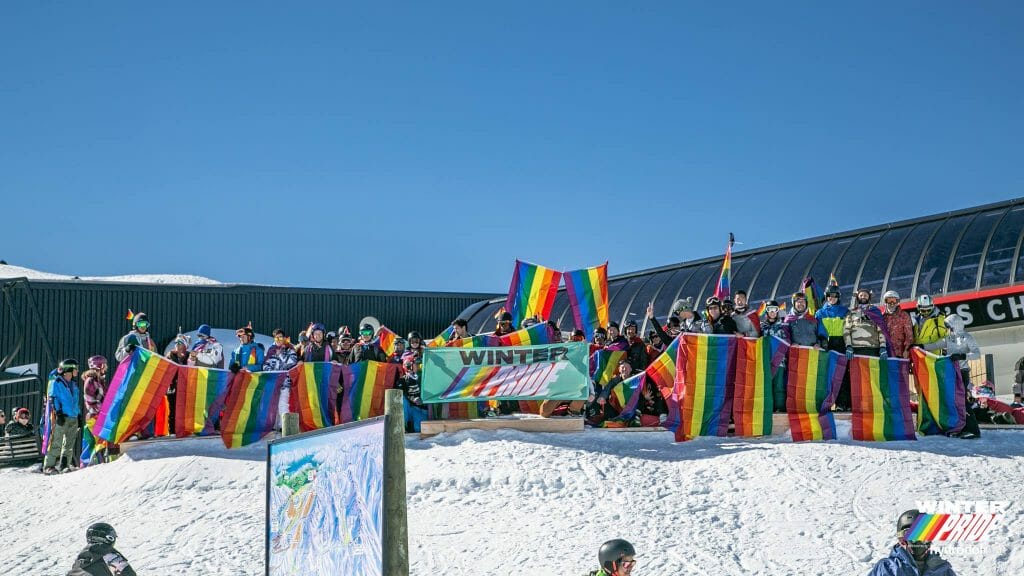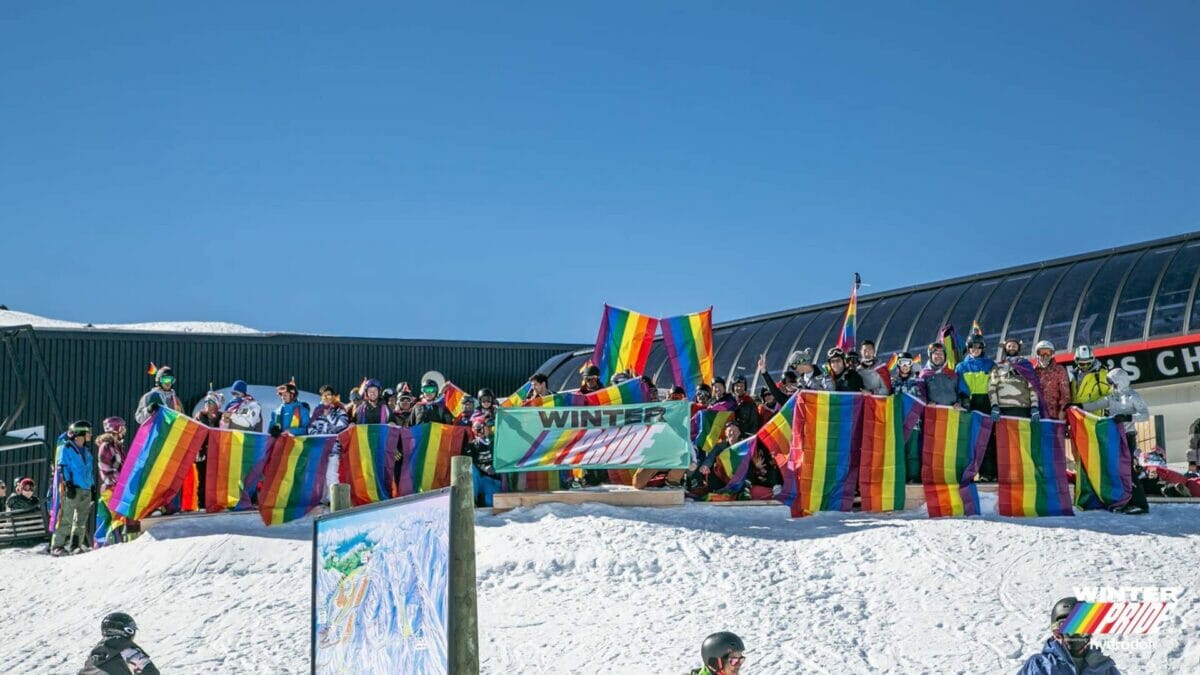 The Best Gay Ski Weeks Around The World To Attend This Winter ⛷
Seriously, this could hardly not be on the list, could it? This fun-packed week in September is one of the biggest winter Pride festivals in the world and is one for the bucket list even if you aren't a snow bunny. A whole eight days and seven nights long, this is a time when Queenstown comes alive with thousands of visitors looking for a good time.
During the day the many ski fields around the city to help the LGBT community enjoy a rambunctious time on the slopes, whether they're dressed appropriately for the weather, stripped-down (yup, it happens!) or wearing a glamorous costume. Get on one of the organized buses there and back so you don't miss a thing. There are also a growing number of day events for people who'd rather not risk life and limb on the slopes!
At night you can choose from epic dance parties run by Theta Project, cabaret, comedy, foam parties, and games. It's a totally unique experience and definitely not one to miss. Who said Auckland was home to the only gay scene in New Zealand…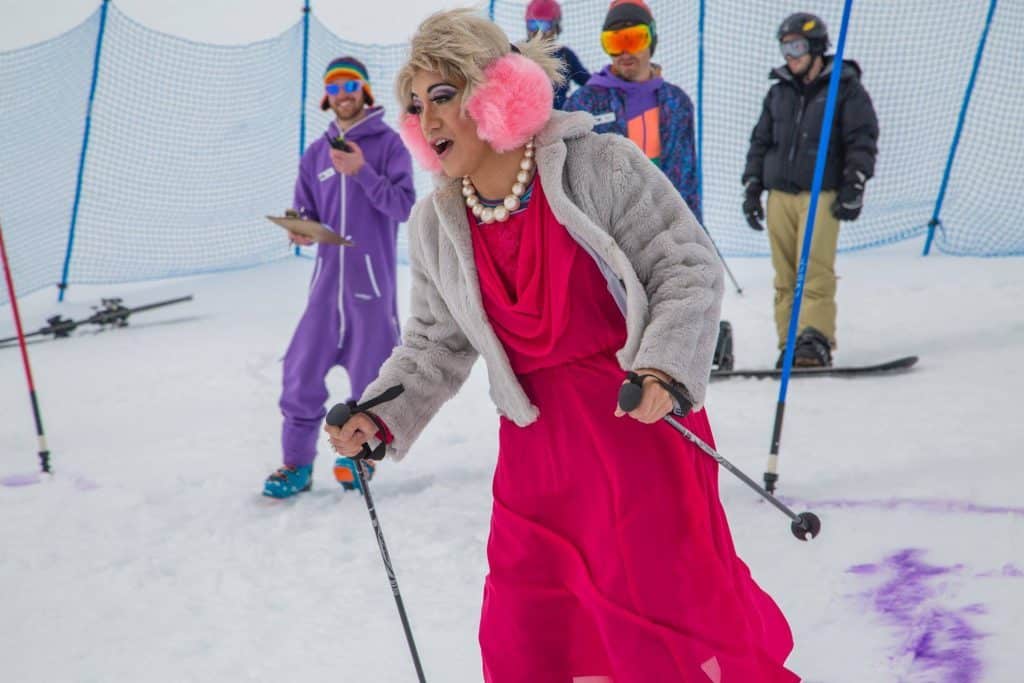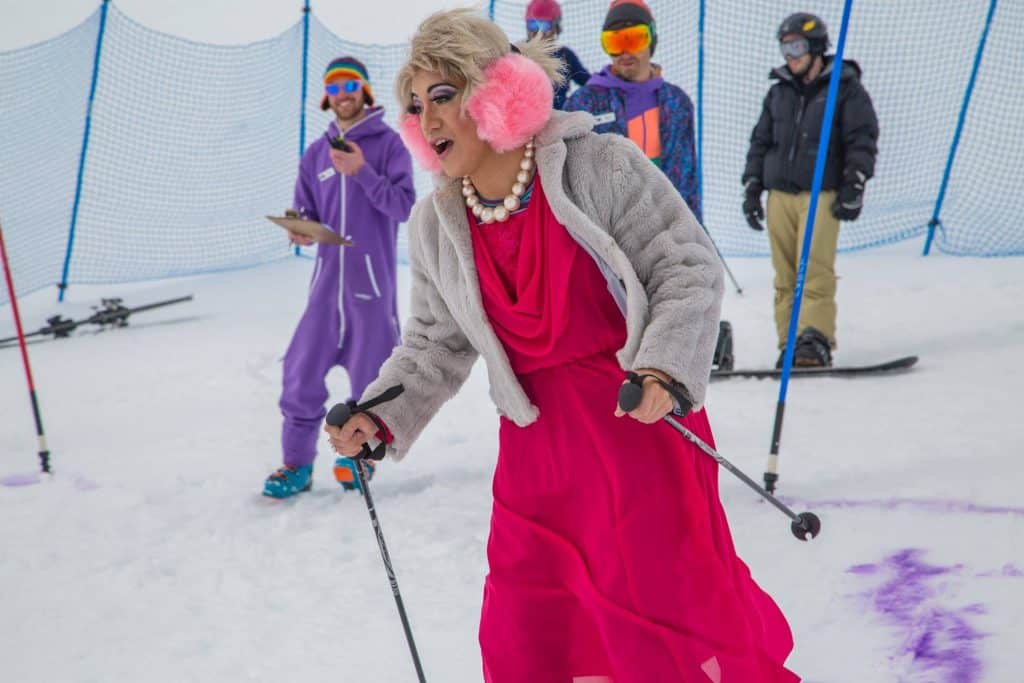 Going strong since 1977, the famous gay ski week in the mountain town of Aspen near Gay Denver is a January fixture. Aspen has become practically synonymous with skiing and this event is a brilliant opportunity for the LGBT community to enjoy its 480 kilometers of ski and snowboard runs.
As well as the spectacular scenery, those taking part in this celebration can also enjoy parties, films, symposiums, decadent dinners and concerts in the stunning location. Thousands come from all over, so you're certain to leave with lots of new friends.
We love the fact that this takes place in such an iconic place. It's got something for everyone over its seven-day duration and raises money for AspenOUT, a local non-profit organization. Fun in the name of a good cause? It's a win-win!
This is another epic week that's been running for over a decade. Not to be confused with European Snow Pride, although they're both in March, both take place in France and both rather fabulous! The Gay Ski Week is the final week in March and aims to give you 'the best ski holiday you ever had'.
And, oh boy, will they succeed. In the world-famous Paradiski area in France, you'll find incredible parties, unparalleled après ski and some memorable cabaret. Oh, and some great skiing, of course! The Les Arcs host resort is made up of 5 villages – the interconnected Arc 1950 and Arc 2000 are where it all happens.
It's this creation of a community in the resorts and the superb line-up of events that make this such a special week. Enjoy group skiing, fondue nights, pool parties, club nights and much more.
One of the most gay-friendly countries in the world naturally plays host to one of the best gay ski weeks in the world. Every January since 1992 the famous Whistler Ski resort has thrown a joyful week of parties and snow fun. Named the number 1 mountain resort in North America, Whistler is definitely the perfect location for a memorable event.
Everyone is welcome to this haven of acceptance north of Vancouver, regardless of gender, sexuality or age. As well as skiing and snowboarding, the daytime programme includes snowmobile tours, dog sledding and tubing in the snow. There's also a vibrant après ski programme with social events, comedy shows and themed parties. You'll even find parties specifically for lesbians, bears and circuit boys, among others.
It stands out for the range of events and the lively resort atmosphere – start planning for next January now!
Come on, we couldn't talk about gay ski weeks without at least one of them being in the country famous for its mountains and snow – Switzerland. This is another January event (the only thing about ski weeks is that they do tend to overlap; understandable given the weather requirements but not ideal if you want to go to all of them!) located only a couple of hours away from Zurich.
Over 600 participants jet in from over 30 countries to get involved with the wide range of activities. From classical concerts for the more 'sophisticated' among us, to sunbathing to dance parties, there's something here to suit every taste. Even if you travel alone, you're sure to meet some great friends. Oh, and it helps that the 220 km of slopes are incredible too!
Believe it or not, it snows in Spain too. While you might usually associate this party-loving country with sun and beaches, it also throws a mean gay ski event. The weekend in March at the Boí Taüll resort north of Barcelona is still a relatively small occasion, but this is what we love about it.
There's an intimate feel up in the Pyrenees where 47km of pristine slopes are ready to be explored and friendly gays are ready to be flirted with. If you get a basic package, hotel, meals, ski pass and nightclub entry will be included and it's reasonably priced (which is quite unusual for ski holidays, let's face it).
This is a great option if you don't want to spend too much, if you'd rather spend a long weekend then a full week on the slopes and if you love to do something a bit different.
A glorious long weekend of action, partying and après ski in the stunning landscape of the 'Scandinavian Alps'. Hemsedal is a picturesque mountain town which would always be a great place to visit – but is, of course, even better when it's flying the rainbow flag proudly.
While the official Skeive Ski website is still only in Norwegian, it's still worth the effort to get tickets for this fun event in March. It's another good choice if you can't spare a full week and this liberal country has a brilliant LGBT community. That means: great parties! And being conveinently located between Oslo and Bergen, you can always tack on a fun city escape while you are here too…
The hills might be alive in with the sound of music, but for a week in March Austria's hills are also alive with the sound of great tunes and laughter on the slopes. The area of Sölden boasts 145km of powdery slopes (snow is guaranteed) where you can swish down the slopes with hundreds of guys from all over Europe.
Once you've warmed up after a hard day's skiing or snowboarding, head to one of the lively parties in the mountain huts and get chatting to someone you met on the chair lift earlier. There are usually about 300 attendees so a more intimate atmosphere, although that definitely doesn't mean quieter!
Anyone who knows Austria knows that the locals can party, and Sölden is no exception. Drinking, dancing, skiing, cabaret and flirting await. Don't forget to check out Gay Vienna and Munich after – you can never have too much fabulosity on one trip!
This epic week in Deer Valley in Utah fits nicely on your calendar – taking place in February, you can easily squeeze it in between a week event in January and a long weekend in March! You might not picture Utah as the dream ski destination, but the ski areas of Park City, Deer Valley and The Canyons offer approximately 250km of ski and snowboard space.
Enjoy this long weekend in the mountains with some of the best entertainment around. The team organising this are the brains behind the Mammoth Gay Ski Week (California) and know exactly how to create a programme of varied events, maximising the appeal of a beautiful location.
This is unique for its exceptional organisation and the quality of the après ski, music, parties and ski activities. You'll leave feeling warm, fuzzy and part of a community.
So strap on your skis and experience the fun of a gay ski week – cold air on your cheeks, sun shining, and all the antics you can imagine!