Gay Auckland – a cosmopolitan city in one of the world's most liberal countries – is increasingly becoming a sought-after tourist destination in its own right.
Long overlooked for the raw natural beauty that exists in many other parts of New Zealand, Auckland finally seems to have found its footing in the past decade. Today, it is a rapidly changing city building a reputation for beautiful design, fine dining, thriving nightlife scene, and multi-cultural atmosphere.
Plus, having all those volcanos, beaches, islands, and rainforests dotted around probably doesn't hurt!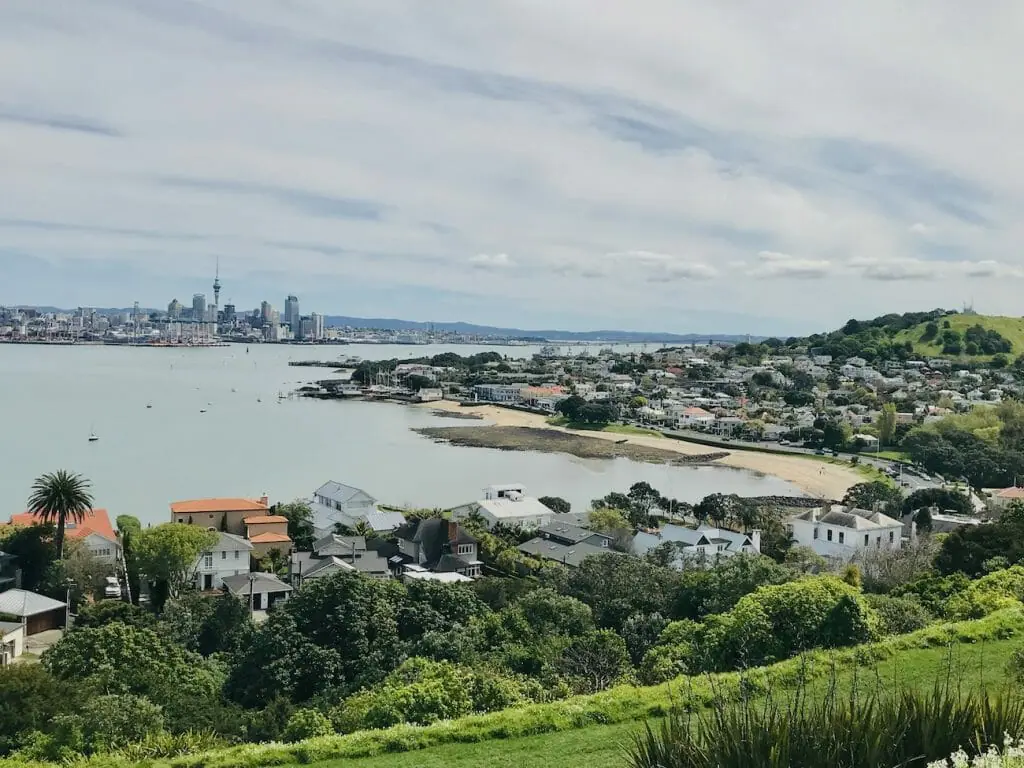 As the first country in Oceania to legalize same-sex marriage back in 2013, renewed interest has come from gay travelers who sought to find what this progressive South Pacific nation was all about.
We decided to join in on the trend, and in Auckland, we found accepting people, picturesque nature, creative design stores, plenty of cute cafes (frequented by even cuter Kiwi guys and girls), and, of course, a small but vibrant gay nightlife scene!
In this peaceful and open-minded city, queer travelers are welcomed pretty everywhere and protected by anti-discrimination laws. Public displays of affection are still uncommon in New Zealand. Nevertheless, you are unlikely to experience any more issues with this that could arise in any major developed city around the world.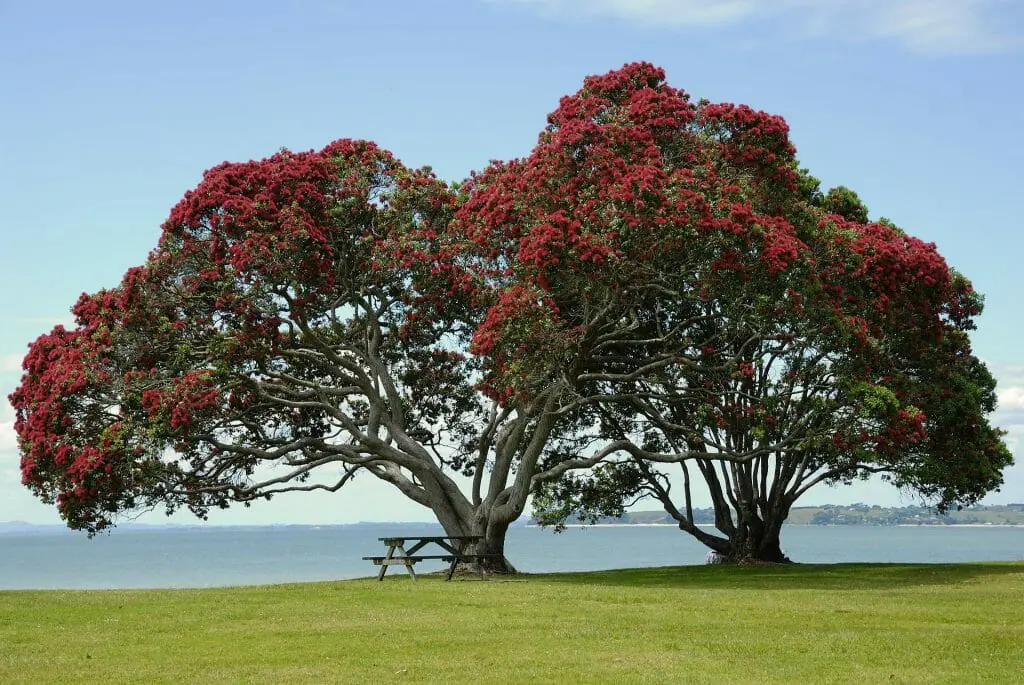 One of the best ways to experience Gay Auckland is with a local; the only problem is kiwis are extremely shy and will rarely cross the room to say "Hi"… Who would have figured in a country known for dare-devil sports, testosterone-fuelled DIY attitudes, and hulking rugby players?
Once you start a conversation, they are generally open, sincere, and dying to show off their city to you. So why not let them?

While in the long, beautiful summer days, it is easy to meet gay locals in the parks, beaches, and cafes. In the bitterly cold winters, you might want to turn to gay dating apps to meet a friendly local in Auckland.
You could also try a night out at the fabulous Auckland institution, Caluzzi Bar and Cabaret, where these talented queens are sure to give you pointers on what to do after the show – or just head to one of the three main gay bars: Staircase, GAY and Family.

No matter where your interests lie, Gay Auckland offers an adventure like no other with nature, nightlife, wine, beaches, culture, and more…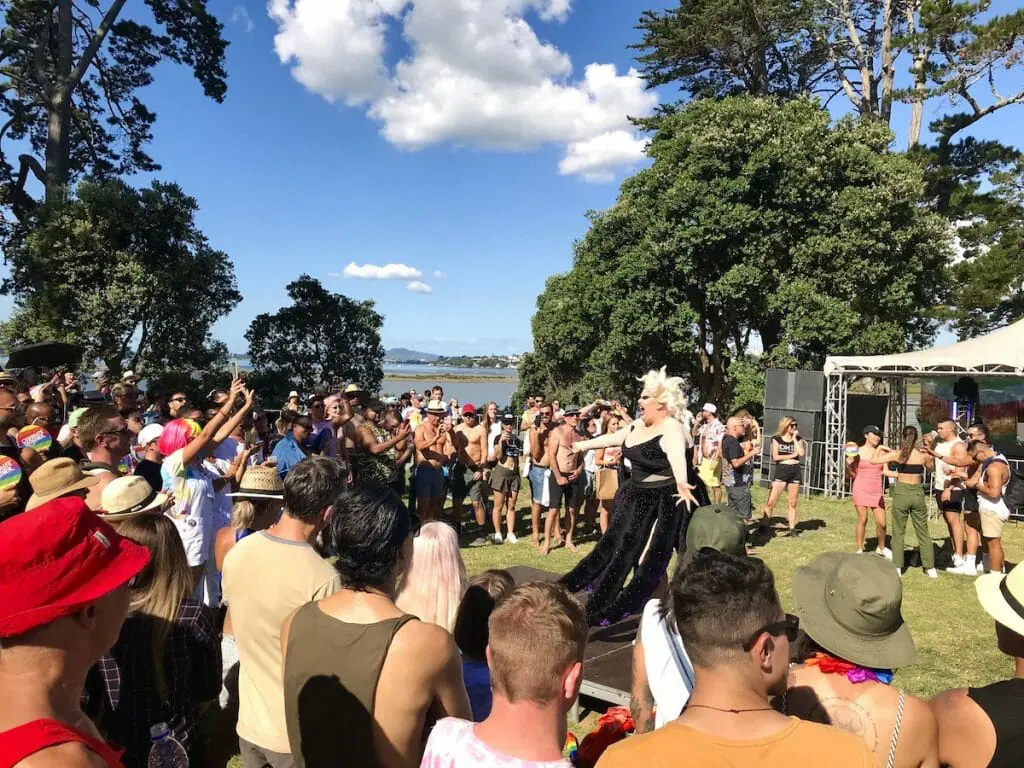 Attractions in Gay Auckland
Being gay does not define which attraction you most want to see in each city, and most queer travelers will simply want to check out the top things to see in Auckland during the day! There are so many things to do here, and we just couldn't keep our list short and concise.
We know locals from Auckland are sick of everyone saying there is nothing to do and boarding the next flight to Queenstown or Christchurch to explore the South Island. Though in the depths of winter when Queenstown Pride is on, they make an exception and will likely be joining you.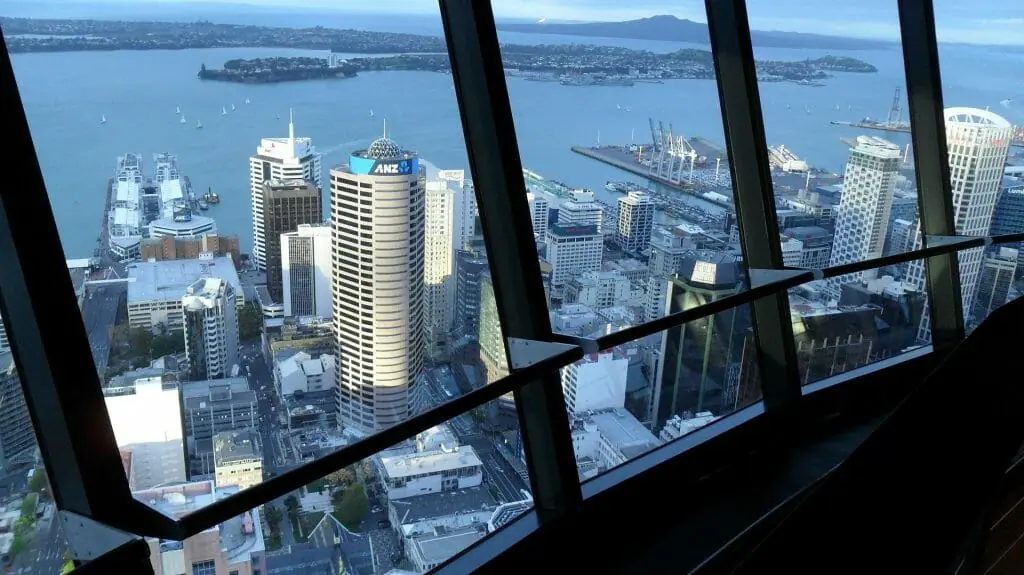 You will probably need to hire a car to see the best nature in Auckland, but there are many exciting attractions in and around the CBD to keep most people happy for a few days. With so many options, our go-to usually is exploring any of Auckland's gorgeous beaches, wine tasting on Waiheke Island, diving into the past of the Auckland Museum, or climbing any one of the city's 52 volcanos!
If you're still at a loss for things to do in Gay Auckland – wander along eclectic Karangahape Road / K Road, through upscale Ponsonby or amongst the super-yachts in the Auckland Viaduct!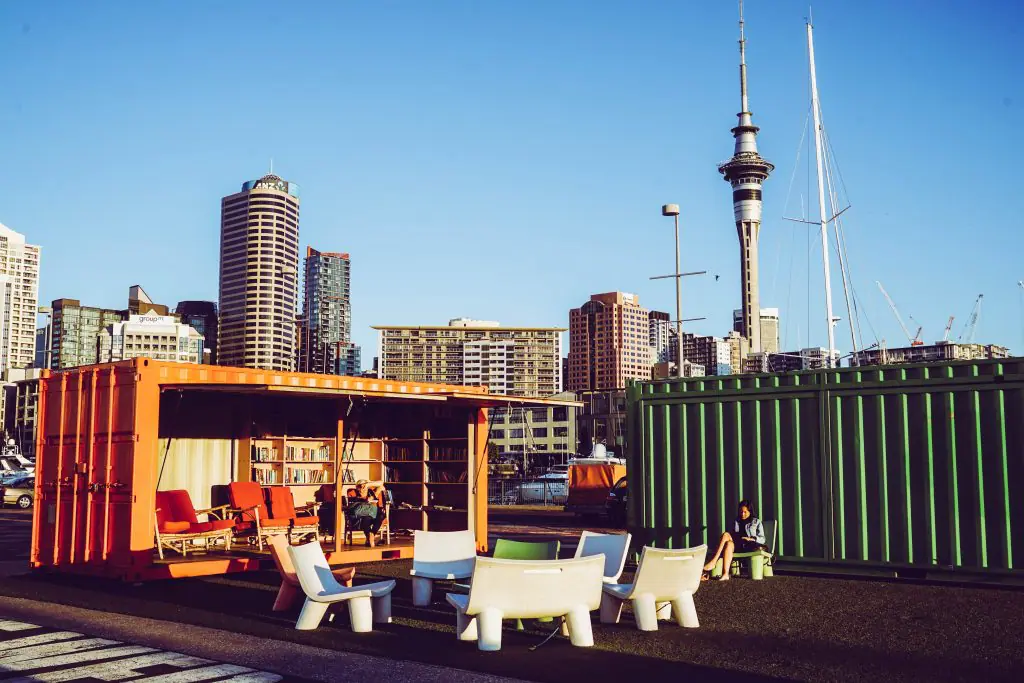 Things To Do In Auckland
It's not all gay nightlife here! During the day, explore various op-shops, boutiques, art galleries, and cafes. Sure, there are also plenty of sex shops, brothels, and strippers, but that's want makes 'K' Roads' peculiar vibe, and we love it while it lasts…Who knows how long before gentrification destroys it all?
A company committed to social change through arts and innovation, producing bespoke cultural activation that is cutting edge, culturally responsive, and socially relevant. Operating across a multitude of interdisciplinary art forms and genres, FAFSWAG artists work collaboratively to activate public and digital space, speaking to their contexts as Queer Indigenous arts practitioners.
Keep an eye out for upcoming events, as if FAFSWAG is involved, you can be sure it is going to be utterly marvelous.
A neoclassical monolith that takes up a prime position on a hilltop just out of Auckland city. Besides sweeping views of the harbor and city, the museum also plays host to the finest exhibitions related to NZ history outside of Te Papa in Wellington. They have plenty of world-class exhibitions in the custom-built event space at the back, so check out what's on before you go.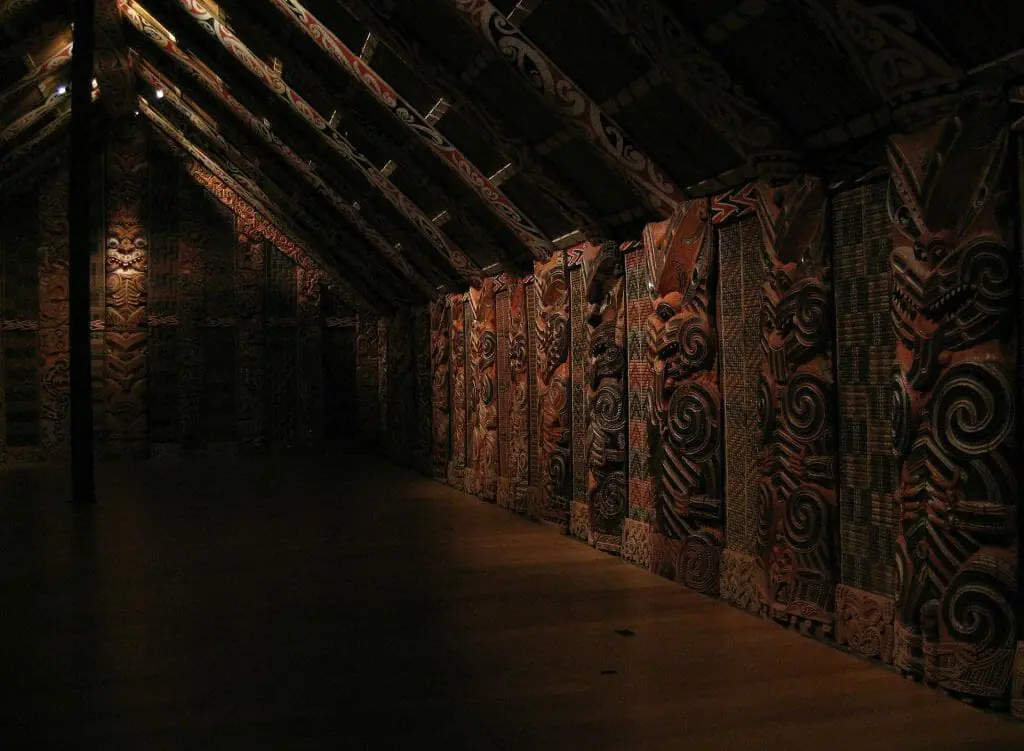 Auckland's new monthly queer comedy night is here to make you giggle with delight and provide you with your fix of the LOLgbts! Taking place on the last Friday of the month at the Comedy Club.
Aucklanders love their food, and while your average tourist might not stray from the uninspired cuisine of the Viaduct, we highly recommend you take the chance to get out and experience the diverse neighborhoods of Auckland with a talented local guide who knows all the best spots to chow down at!
We love the Korean tour, which goes beyond BBQ & Kimchi to discover the hidden delights in the heart of Auckland City or the Ponsonby Food Tour, which stops off at different 'trendy' spots along this famous foodie mile while looking at the Ponsonby's exciting food history.
Our personal favorite has to be their Sandringham Food and Spice Tour, which explores six diverse restaurants, three different spice markets, and a hidden chai bar in this off-the-beaten-track community. Eat Auckland is most popular with locals who want to discover the hidden delights of their city, but we think savvy tourists will get just as much – if not more – out of these engaging excursions.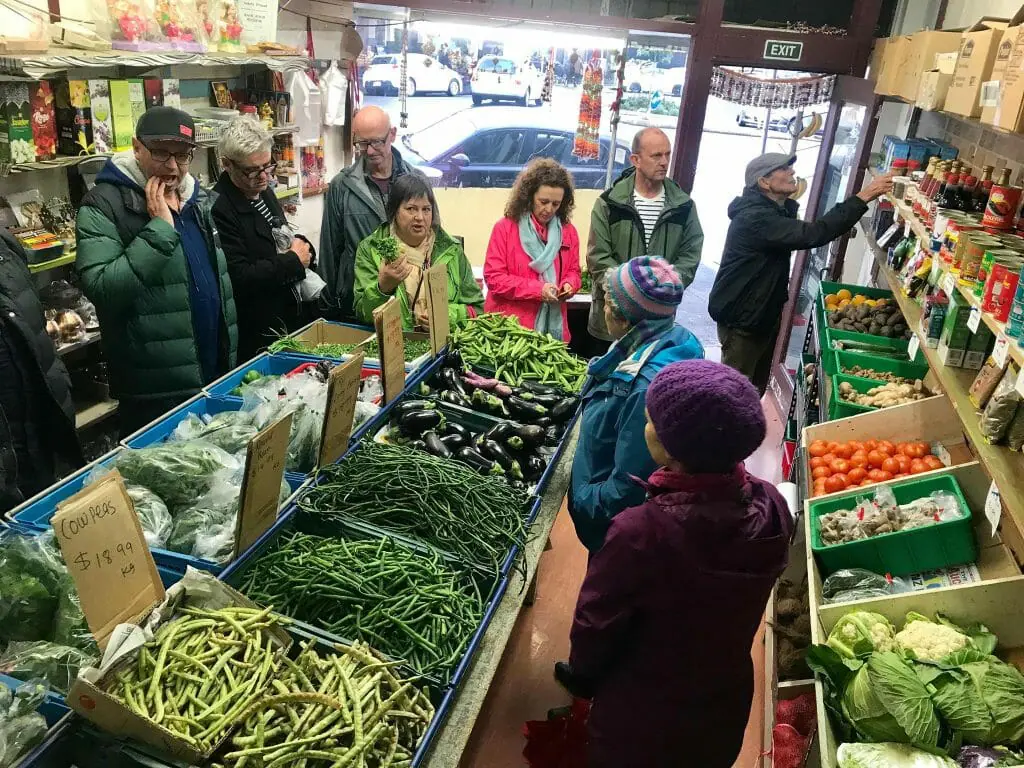 You can't really experience New Zealand without going to a rugby game, and luckily the NZ Falcons rugby team, Auckland's only gay and inclusive rugby team, is always looking for supporters! Check their Facebook page for upcoming events and head along to cheer them on; plus, you never know who you will meet on-or-off the sidelines.
A 328 meters tower has been an icon of Auckland's skyline for 20 years and is still the tallest freestanding structure in the Southern Hemisphere. Choose a sunny day and head up to its giddy heights to take in some of the best views of Auckland, and find some of New Zealand's best dining at the Sugar Club or any of the incredible eateries around this casino mega-complex.
Sure, it's no Las Vegas, but we love how they light it up in different colors during the year to mark various events – Including rainbow colors for Auckland's Pride week.
Pay a visit to this fabulous little cafe/queer space flying the rainbow flag high in the sky. Serving wood-fired pizza Wednesday to Sunday with a fun wine list and NZ craft beer – through their weekend brunch is also worth pulling yourself out of bed for. They also have very funky vibes, friendly staff, and a community theatre.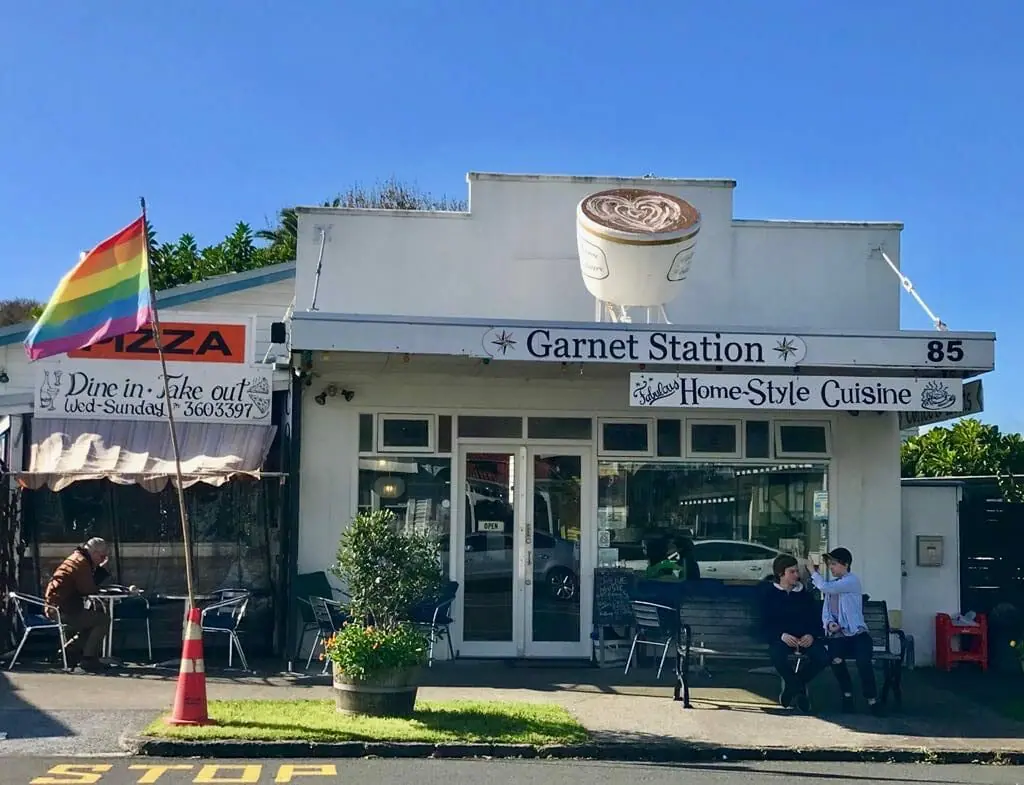 A queer basketball team is seeking to generate interest in all players in the LGBTIQA+ community (and allies) who are disengaged in a sporting activity or looking for a safe space to play basketball. For a fun way to socialize and engage with members of our own community – without the aid of alcohol – why not consider joining? They also have a partner club in Brisbane and Melbourne.
NZ is a sea-faring nation at heart, and this world-class museum explores this relationship with exhibits and replica ships of both Polynesian voyagers and later European conquests. It is ideally located on the Auckland waterfront.
An up-and-coming area of Auckland City was previously used purely for industrial pursuits. Today the area has been overhauled and now hosts high-end cafes, modern apartments, a glorious waterfront walk, and a large park with heritage silos. In summer, watch out for the frequent free movie nights held here and also where food trucks gather.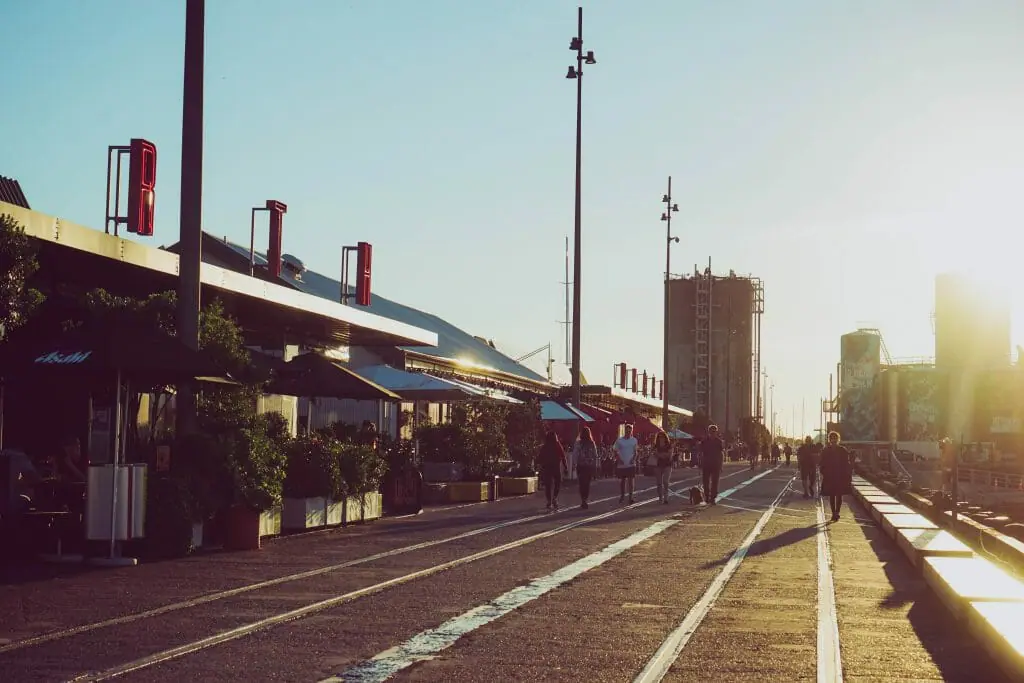 Another icon of the city extends just over 1 kilometer. There are plans for a cycling path shortly, but for now, you will have to admire it from a distance, unless you want to bungee jump off or climb over it!
An Auckland institution, Giapo is a modern ice cream parlor serving adventurous and innovative gelato with an unconventional twist. In a crowded space, Giapo stands out internationally by creating an immersive encounter that focuses on how you experience ice cream.
Our favorites? Well, they are always experimenting at Giapo, but their Tamarillo, Pineapple, Bitters, Macadamia, and Bee Pollen creation was fabulously delicious, and the Collussus Squid work of art is truly inspired and Instagram-worthy. A must-do in New Zealand because their ice cream is out of this world!
If someone can explain to me why gays are so obsessed with trains and planes? We swear it's a thing, and if you're one of them, you should head just out of the city to this vast 40-acre site with a hanger of historic planes, steam trains, and plenty of old tech and cars.
To get a different perspective of Auckland, head out on a small boutique yacht for an evening sailing experience complete with a 3-course meal as you watch the city's landmarks light up. Utterly romantic!
Waitakere Ranges / Western Wilderness
The hidden jewel of Auckland, somehow almost every tourist, misses this West Coast park with lush rainforest, windswept black sand beaches, and plenty of native wildlife. You can hire a car and head out to Whatipu, Bethells, Piha or Murawai Beach, or take a tour (sorry, there are no buses out here!)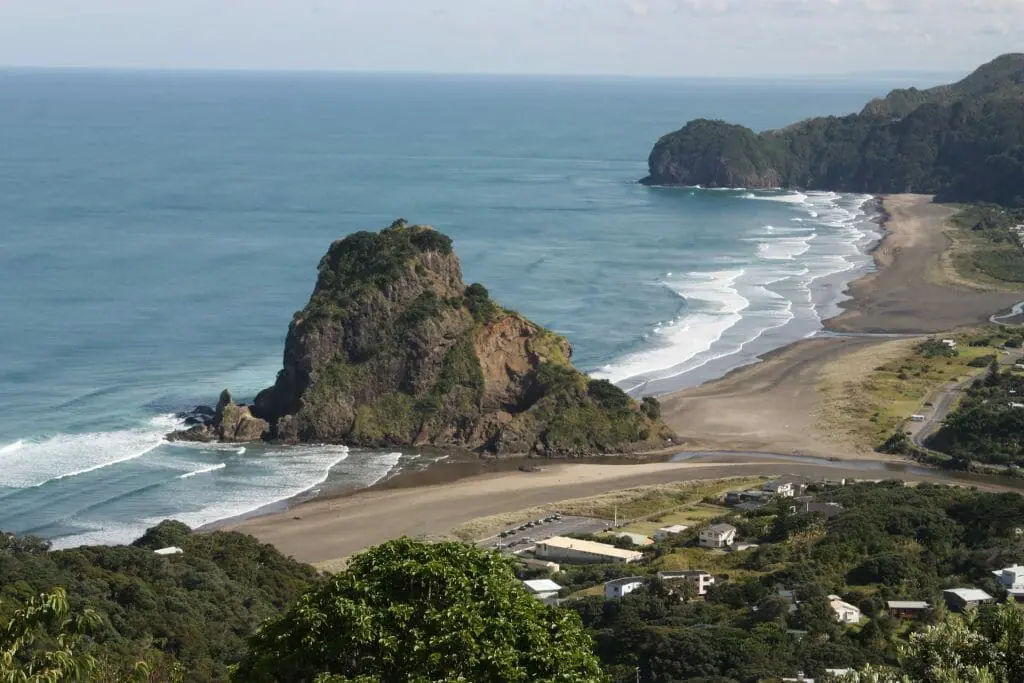 One of the premier art galleries in New Zealand with free entry and a vast collection of national, indigenous Maori, and international works. The building was recently renovated, keeping its historic 1800s exterior but being thoroughly modern inside.
Auckland Dolphin and Whale Watching
Yes, Auckland truly does have it all, including dolphins and six types of whales right on its proverbial doorstep. These majestic creatures are surprisingly easy to see and usually find you as they love to play on the waves of the boat!
Nude Beach
If you feel like getting an all-over tan, the unofficial nude beach in Auckland is Ladies Bay, hidden just below St Helier's cliff tops. Discrete with a killer set of stairs up and down, this little gem is a beautiful place to spend the day -and don't worry about the name!
It's more popular with guys than girls though it is not a gay beach (there is no gay beach in Auckland as of yet). You could also try Pohutukawa Bay, Auckland's most beautiful nude beach, at the northern end of Long Bay. Quite a hike from the CBD but well worth it!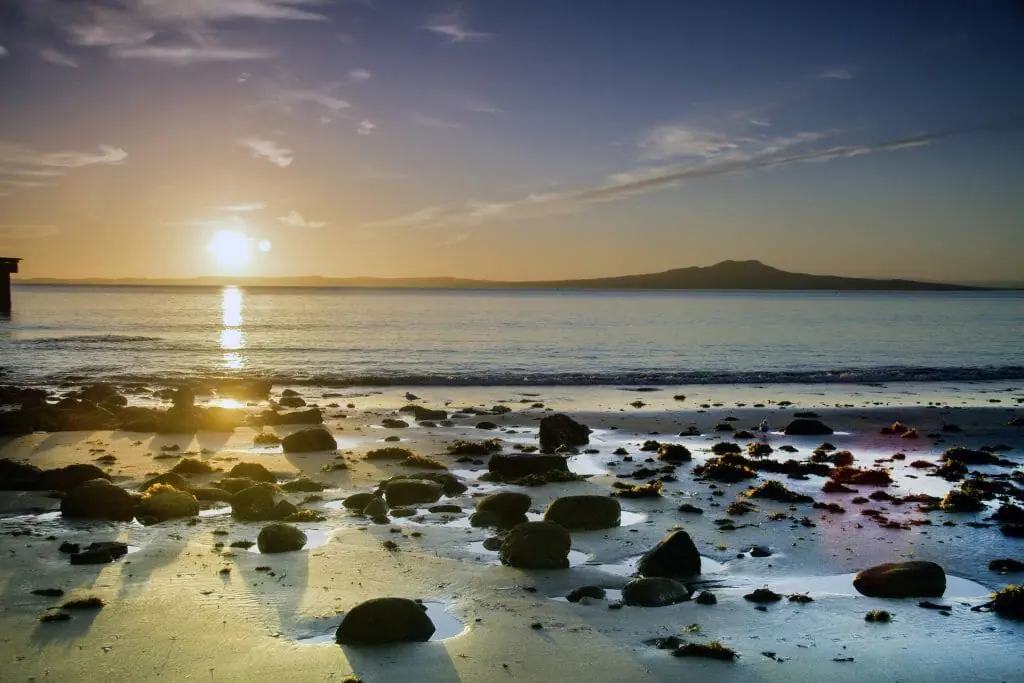 A buzzing inner-city beach, which is a gay hot spot thanks to its many restaurants, ocean-front promenade, white sandy beach, and easy access. Pack your glasses, as there is plenty of man candy to ogle on the weekends as you sunbathe – Or open up a gay dating app if you don't believe us!
For a different type of workout, you could also try the excellent Champs Fitness Gym in Mission Bay, with cute staff, an attitude-free training environment, a full range of equipment, and fabulous views out over the harbor. They even have very competitive day rates if you just want to try it out for the day!
The world has gone crazy for Lord of the Rings, and while we mainly were interested in Orlando Bloom as the sexy elf Legolas, apparently, everyone else was taking notice of the beautiful NZ landscape.
If you're a fan, then you can't miss this day tour to see the original set of Hobbiton still set in a farmers' hillside field and enjoy a delicious lunch at the Green Dragon Inn.
On the way back, a boat ride to the glowworm grotto to see thousands of glowworms twinkling in the darkness is something utterly unique in the world and only seen in a few special places in New Zealand.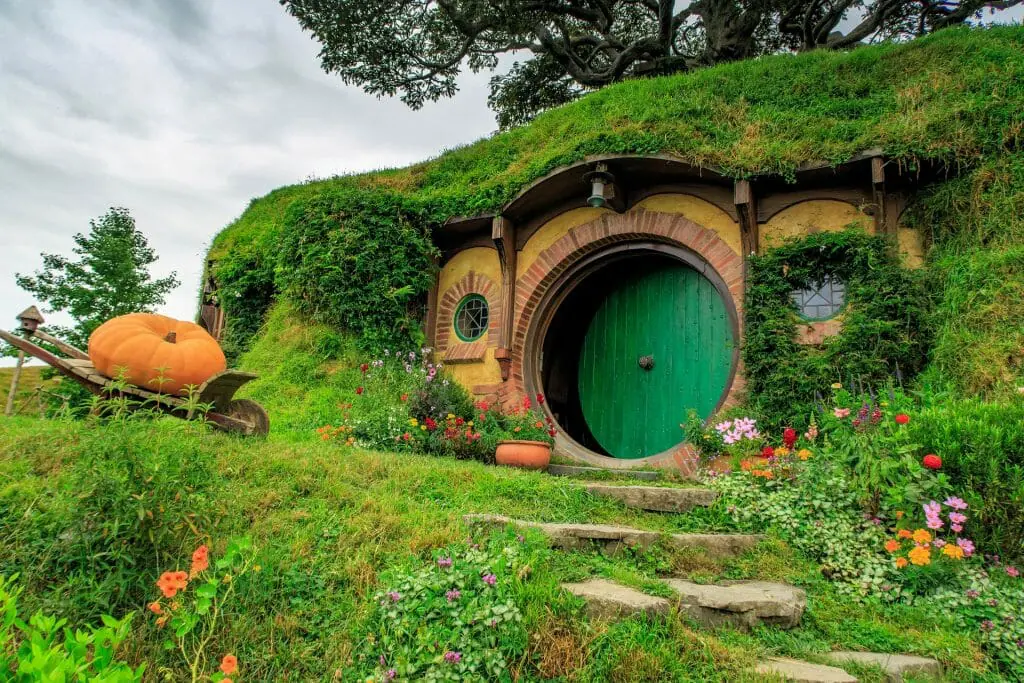 Auckland Harbour Islands
A world-renown bird sanctuary for endangered birds. You can see here many of the rarest birds in NZ, including the New Zealand Robin, Saddleback, and Takahe. There are no predators, and birds are all completely wild, so that you can get closer to them than anywhere else in the country. Plus, the boat trip out and back is pretty incredible! Interested? Read more here…
A desolate black scoria volcano in the middle of Auckland harbor, which is also home to the world's largest Pohutukawa forest. A relatively easy day hike to the top, giving you phenomenal views and the chance to work on your tan – Be careful to take enough water as there is absolutely nothing else here!
Who knew a picturesque island so close to the city center held so many of New Zealand's best vineyards? Try artisan wines at Mudbrick Vineyard, Cable Bay, and Te Whau Vineyard, explore the charming island by bus and take a dip in any of its tranquil beaches.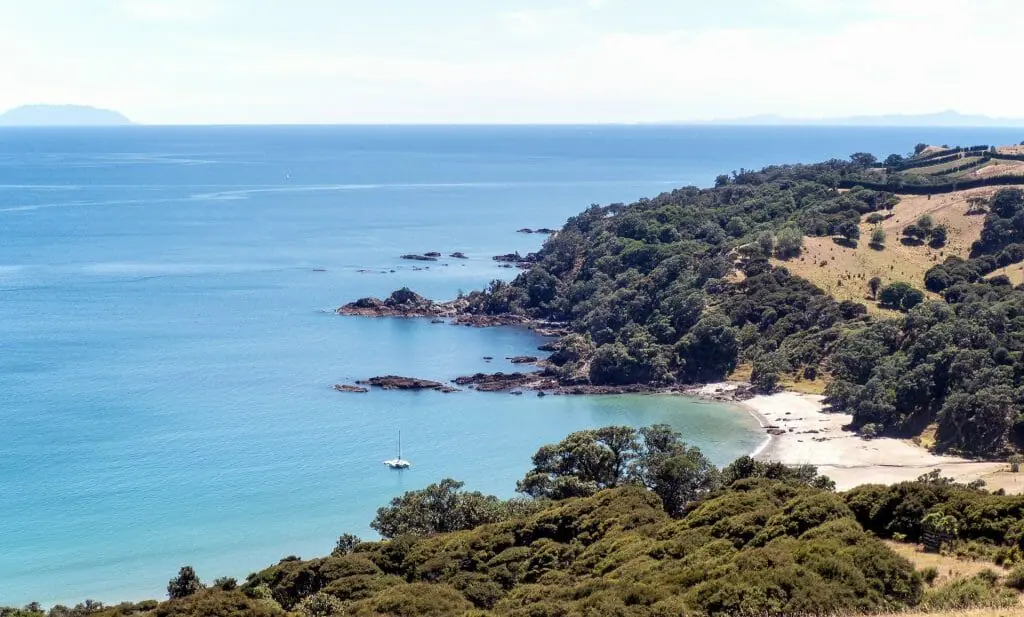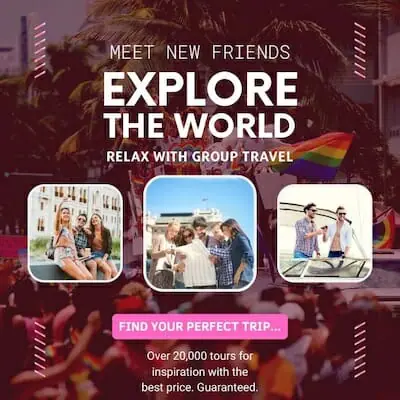 Gay Events in Auckland
An annual celebration held in February as a celebration of Auckland's LGBTIQ+ community equality and diversity. While there are plenty of gay parties and prideful events associated with this week, our favorite events are the annual pride parade down Ponsonby Road, the PROUD party (the biggest LGBT party of the year in New Zealand) and the Big Gay Out (a family-friendly festival party held in an inner-city park).
Auckland Pride is the biggest event on the Gay Auckland calendar, and it is worth planning a trip to New Zealand around!
The go-to space for LGBT-popular events is located upstairs on K Road. A small but fun venue with a large stage; take a look at their upcoming events page to see what's on. Whatever it is, you can trust it will be packed!
A popular new event taking place monthly in Auckland showcases new and existing drag talent as queens fight for cash, glory, prizes, and the crown. Hosted by the same talented queens that own Caluzzi, it's a great way to meet people in the Auckland gay community, have plenty of laughs and see some sickening drag!
We have to be honest, though – we are living for the 'half-time' show. Sexy guys typically end up naked, on the floor, and having tequila drunk off their washboard stomachs. It makes us miss Guadalajara …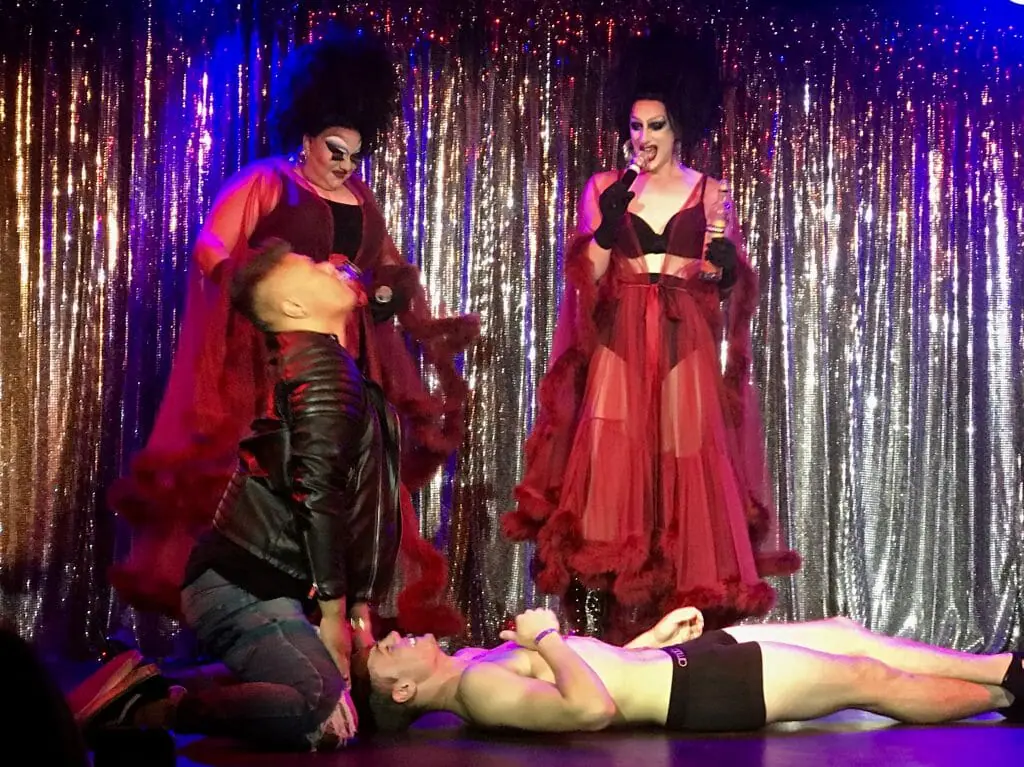 Once a popular Bear bar on K Road, they have since closed and rebranded as a pop-up event. Its success has been questionable as they have only held one event in the last year (an epic strip show from the NZ gay rugby team), and one upcoming currently for the Gay Ski Week in Queenstown, but we have included Urge Events in the hope they come out with more in the future.
While there might not be any lesbian bars in Auckland (everyone mixes and mingles freely here), this lesbian dance event is quickly taking off. Modeled after similar lesbian events in Melbourne and Australia, we hope they keep growing and continue to provide lesbians in Auckland a place to meet.
Otherwise known as, In The Dark Presents, it is New Zealand and Australia's leading LGBT event producer. Operating in Brisbane, Melbourne, Perth, Sydney, and more, they are responsible for bringing sickening drag race artists and other performers to Auckland for one-off events. Check their website for upcoming events.
A new gay events company in New Zealand is building a name for hosting the hottest gay parties of the year – namely their Propaganda and Homo House events – as well as collaborating in the PROUD annual party and Big Gay Out. Expect international quality events with sexy boys, international DJs, and high-end production standards.
[fb_plugin page href=https://www.facebook.com/thetaproject.nz tabs=events ]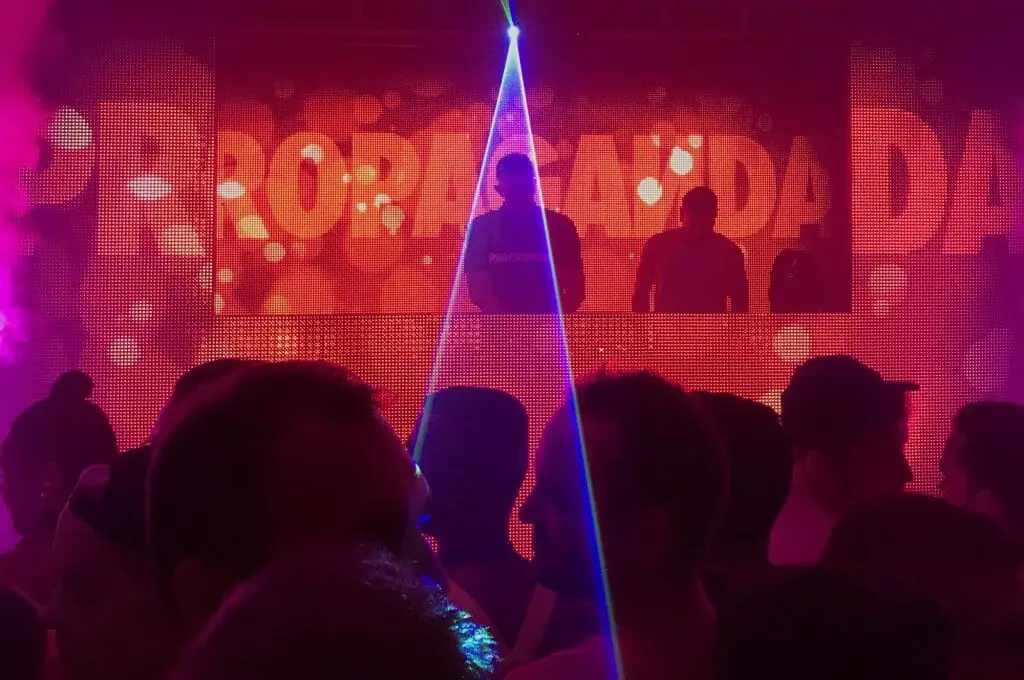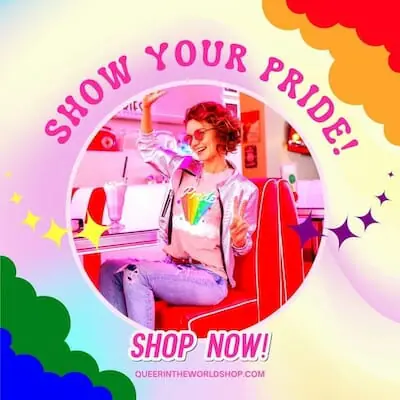 Gay-Friendly and Gay Hotels in Auckland
As a world leader in LGBT tourism, every hotel, and hostel in Auckland can be considered gay-friendly – after all being gay-friendly is not all about upscale luxury, but about providing friendly and open service and welcoming everyone with open arms!
There are no exclusively gay hotels in Auckland; however, a few fabulous and inclusive hotels in Auckland are well-known hot spots for gay travelers to stay, thanks to their location and style.
Many new hotels have opened in New Zealand, bringing a breath of fresh air into an otherwise tired sector – expect better amenities, international design and more competition, although there is still a hotel room shortage in Auckland and across New Zealand, resulting in relatively high prices and limited supply in the peak period.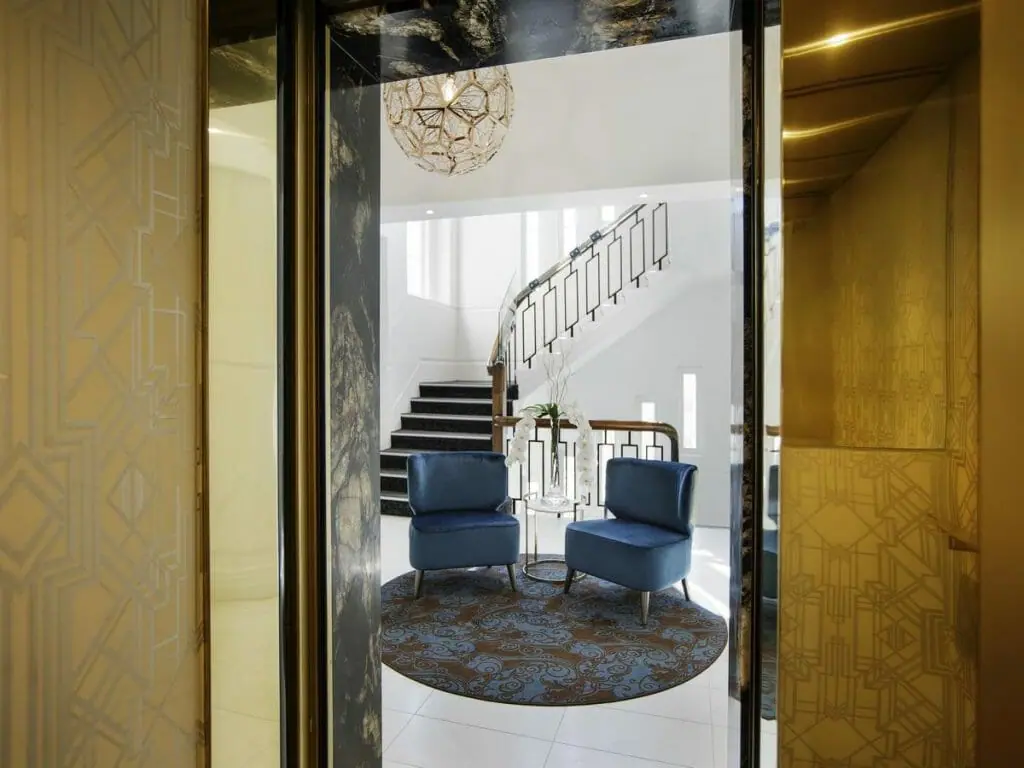 The best location for most gay travelers is in Britomart / Downtown area, which is close to the Viaduct and most attractions, or near Karangahape Road and Ponsonby with their upscale shops, art galleries, cafes, boutiques, and gay nightlife. Auckland is a big little city, and with many locations worth visiting. Don't be afraid to explore outside your neighborhood – either with the somewhat effective train/bus/ferry system, a ride-sharing app or by hiring a car…
The following gay-friendly hotels and accommodations in Auckland are only the most popular with gay travelers. Still, there are also hundreds of other hotels in Auckland if you don't find quite what you are looking for.
Whether you want a fun and social hostel, a cheap place to crash after a night of partying or a designer highrise option to sip chic cocktails and surround yourself with fabulous people – Gay Auckland as something for everyone!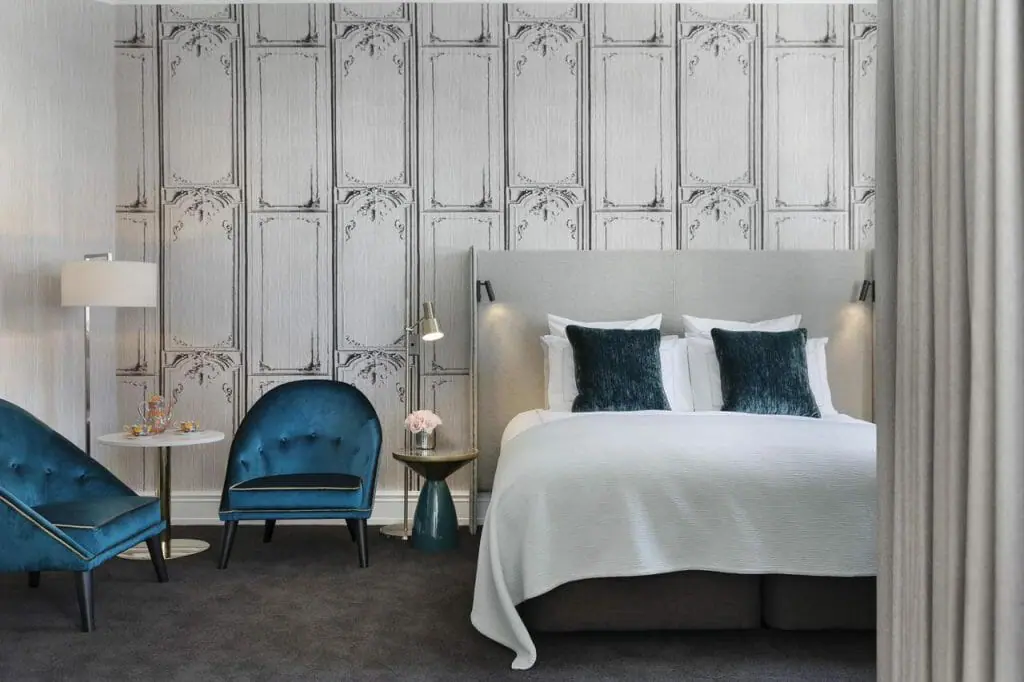 Hotel Grand Windsor MGallery ☆☆☆☆☆
We weren't kidding when we said Auckland was undergoing a hotel boom, and this fabulous hotel opened in 2017 masterfully blends chic interior design inside of a historically protected building. 2 blocks from the waterfront with opulent glamour throughout its 79 rooms – the design is just perfect with over-the-top glamour in the public area and understated luxury in the rooms and suites.
A newly opened hotel is bringing the best of international design to the Auckland waterfront. Stunning views of the harbor and sky tower from higher-level rooms, manuka honey toiletries, morning Yoga classes, and a warm library to relax in.
Spacious rooms and a location that's second to none next to the Britomart transportation hub. A real highlight is a breakfast served at Vue Restaurant on the top level of the hotel and one of Auckland's best viewpoints. We can't imagine a better way to start the day!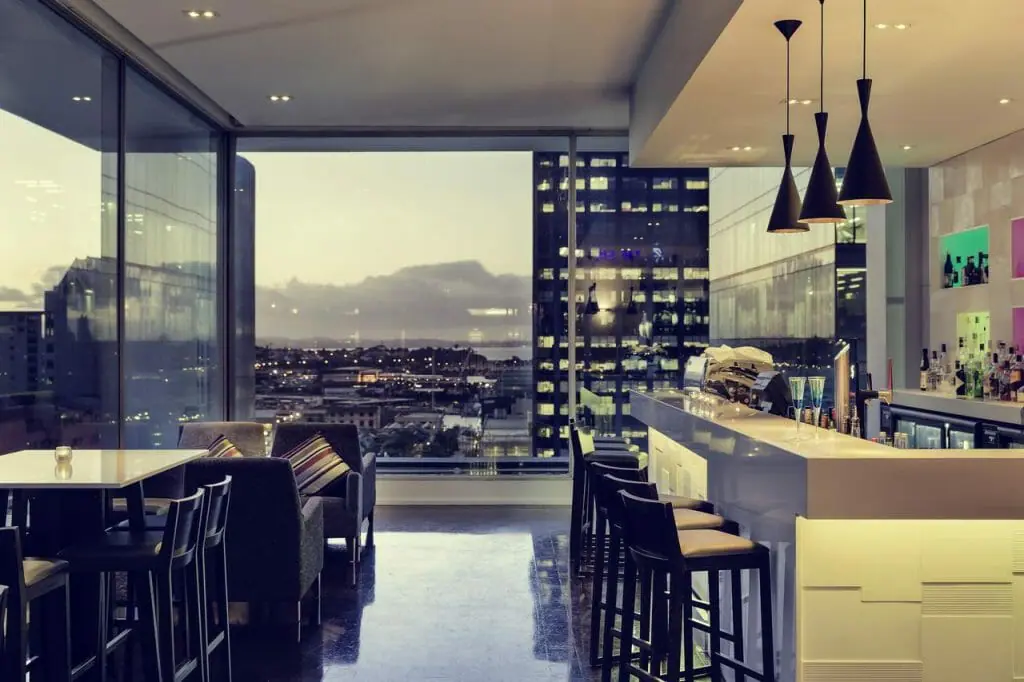 A small, boutique hotel tucked discreetly away in the central city. With only 25 rooms and plenty of style and panache, guests can expect personalized customer service, eclectic furniture, spacious suites, and a touch of retro NZ with their roaring 1920′s high tea on the weekends- a nod to the building's historic past.
A newly renovated high-end hotel with some of the lowest prices in Auckland. Its position close to Upper Queen Street and Karangahape Road makes it ideal for exploring the nightlife and a short 15-minute walk to most attractions in the city center. Understated sophistication with spacious rooms, an award-winning contemporary restaurant, and a heated rooftop pool complete the package.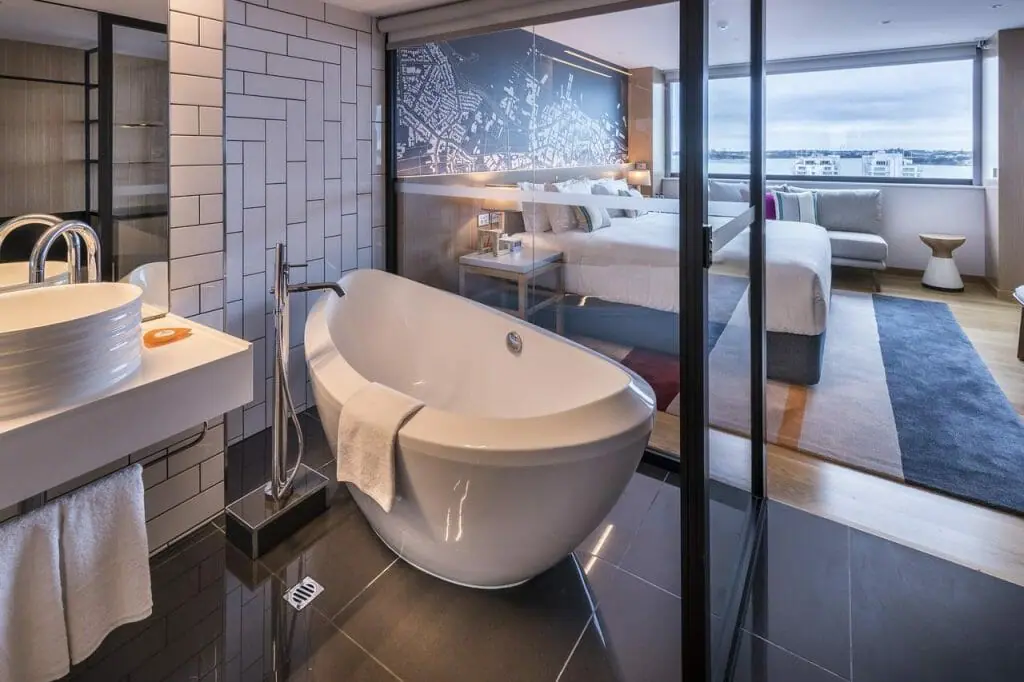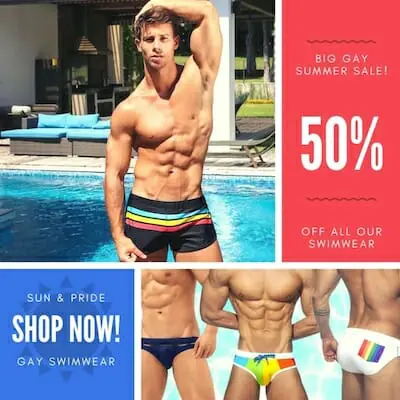 Fun and funky, this is another newly opened hotel on the edge of the Viaduct nightlife zone. With a seriously fun design, chic rooms, and colorful design details throughout, this is a modern hotel that doesn't take itself too seriously.
We love the glass-enclosed bathrooms and harbor views from all 190 rooms. If you're planning a gay stay in Auckland, this is probably the best value for money!
AVANI Metropolis Auckland Residences ☆☆☆☆
An upscale apart-hotel complex offers high-level one and two-bedroom suites with oodles of space. Perfect if you're entertaining or want something a bit different from your typical hotel. High-quality fit-out with gym/pool/jacuzzi/sauna access, plus we liked that every room has exterior balconies to lap in the views.
Haka Hotel K' Road Apartments ☆☆☆☆
A modern apart-meet hotel offers affordable prices and spacious suites in the center of the K Road Gay Area of Auckland. Enviable views back over the Auckland harbor, with each suite having a kitchenette and balcony. An ideal budget option if you want privacy, a place to enjoy a few drinks before going out or to host at yours.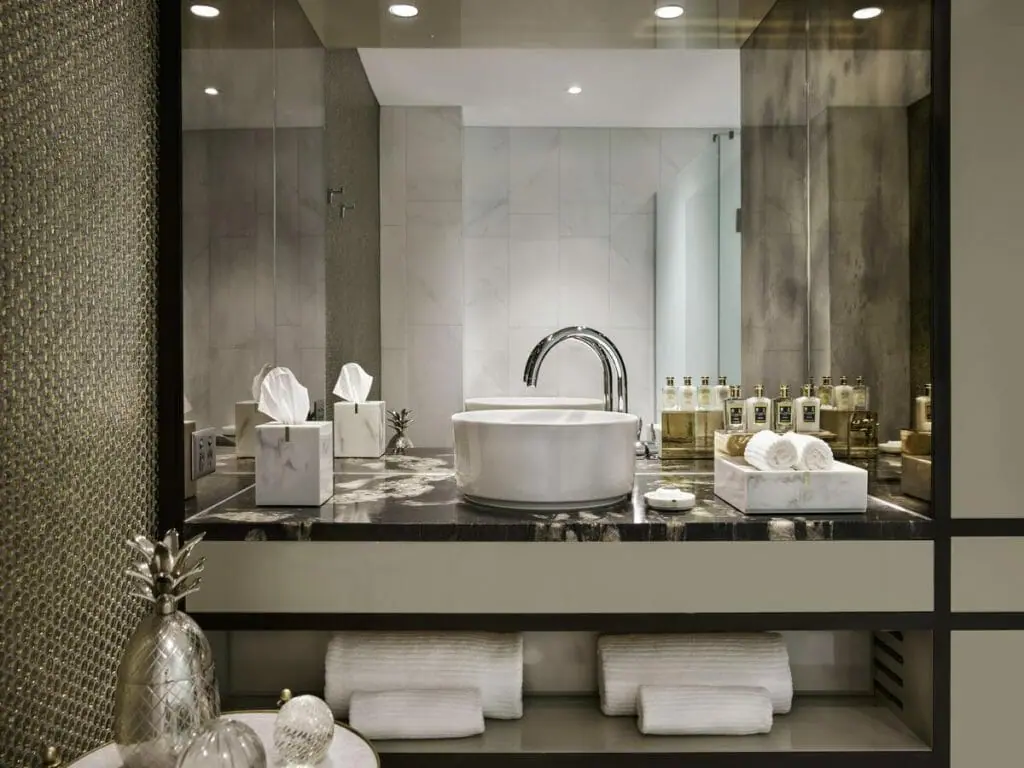 ibis budget Auckland Central ☆☆☆
An international brand where you know exactly what you are getting. Clean rooms, very affordable prices, and a location just off Queen Steet, so easy walking distance to all of the attractions in the center city. Sure it's nothing glamorous, but there is a kitchenette to help your money go even further.
A small and quirky little hotel in downtown Auckland. If you prefer the classic charm and small touches rather than generic mega-corporate hotels – This could be the option for you. It's also nice that this was the cheapest private room in the central city when we looked, and it has an onsite brewery!
Gay Auckland Bed And Breakfast ☆☆
Cute recently renovated rooms with ensuites in a historic house; this is the closest to a gay hotel in Auckland we have. Friendly hosts Martin and Damian are happy to welcome you to their centrally located home, only a 10-minute walk from the Karangahape Road gay scene. To learn more about Gay Auckland and spend your time in a gay-owned and hosted stay, this is where you need to go!
A beautiful boutique hostel adds some much-needed competition to the dire Auckland Central hostel scene. Trust us – everything else central is pretty terrible, but this fun hostel is right on K Road, so it is perfect for gay travelers!
If you don't mind sharing a dorm room, want to meet other liberally minded travelers, explore the Auckland gay scene with, or are really on a budget, you should look here. We also love the famous Bamber House to experience life in Auckland's leafy green suburbs.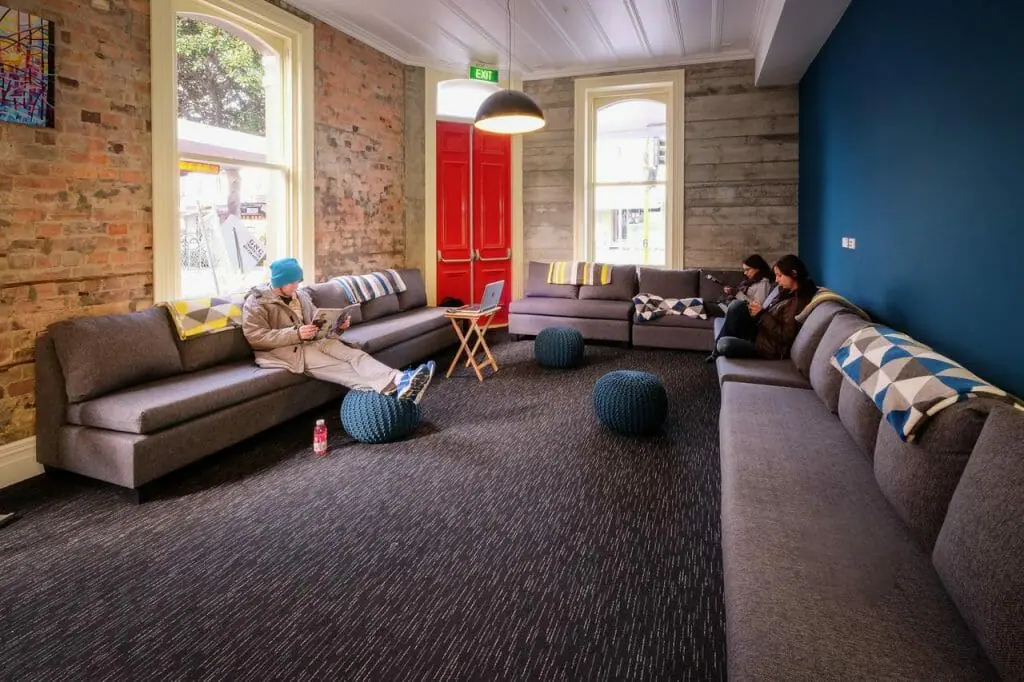 For something a bit different, how about considering Te Whau Lodge, a gay-popular luxury lodge on sultry Waiheke Island? Get a taste of Kiwiana just a 35-minute trip from the central city and yet an entire world away. Plenty of rolling hills are covered in vineyards, a warmer microclimate, and picturesque sandy beaches that merge with emerald waters.
Te Whau Lodge is the epitome of luxury and offers gay visitors something different, an island escape with striking architecture. Expect breathtaking views, plenty of wine, and a stay you will never forget. If it's a bit out of your budget, there are always the Hekerua Lodge Backpackers.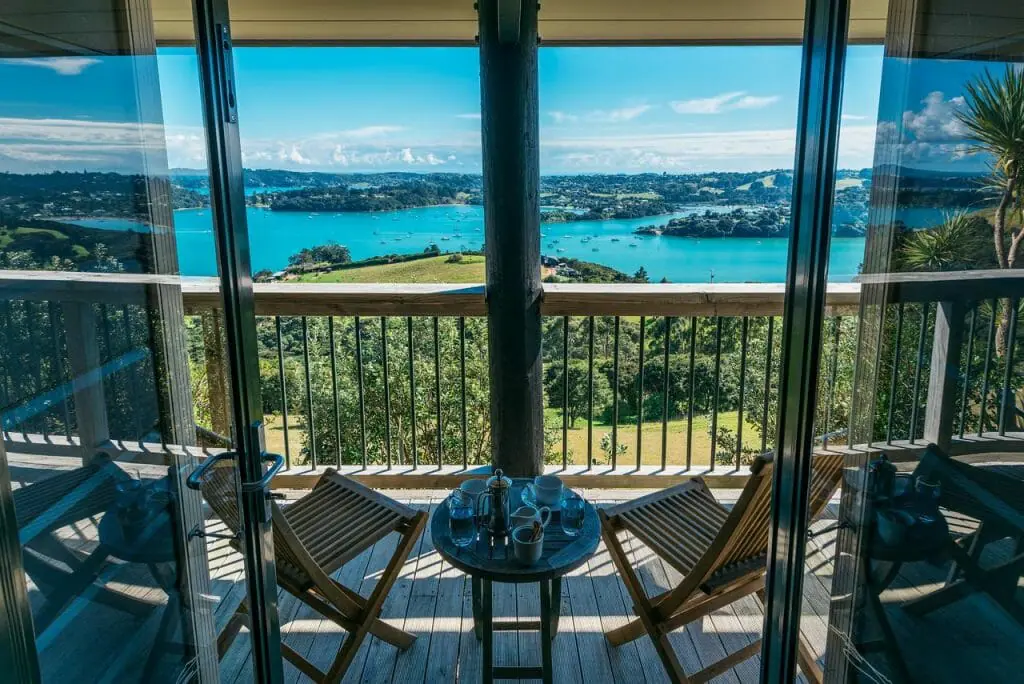 Auckland Gay Nightlife Scene
Auckland is well known as one of the most gay-friendly cities in the world and has a small but vibrant gay nightlife scene. Being such a progressive society, you are unlikely to experience any issues with displays of affection in public in New Zealand and will be welcomed in most nightclubs in Auckland.
Given that many LGBT people in Auckland don't feel the need to segregate themselves, they can be found in most venues around town. The most gay-popular nightlife area currently is the down-and-dirty 'K Road,' trendy Ponsonby, and the upscale Viaduct and Britomart area.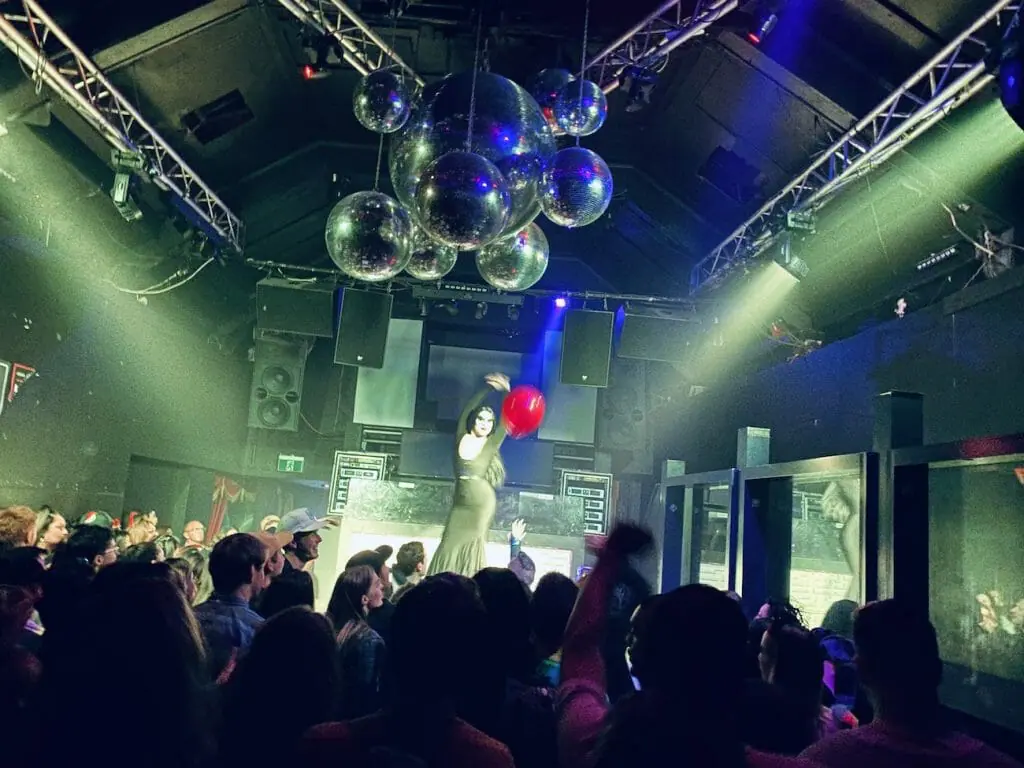 However, there is no vibe like those of a gay club and who doesn't like having a fabulous night out with our queer family – so when heading out in Auckland for the first time, we always recommend visiting the gay bars. Lesbians and gays rub shoulders here, but a few queer events are starting to gain traction, which offers lesbians and gays their own distinct spaces.
No matter if you want cocktails in an upscale hidden bar, a side-splitting night of drag comedy, shameless hot and sweaty dancing in a crowded club until 4 am – or practically anything else: Gay Auckland can provide…if you know where to look!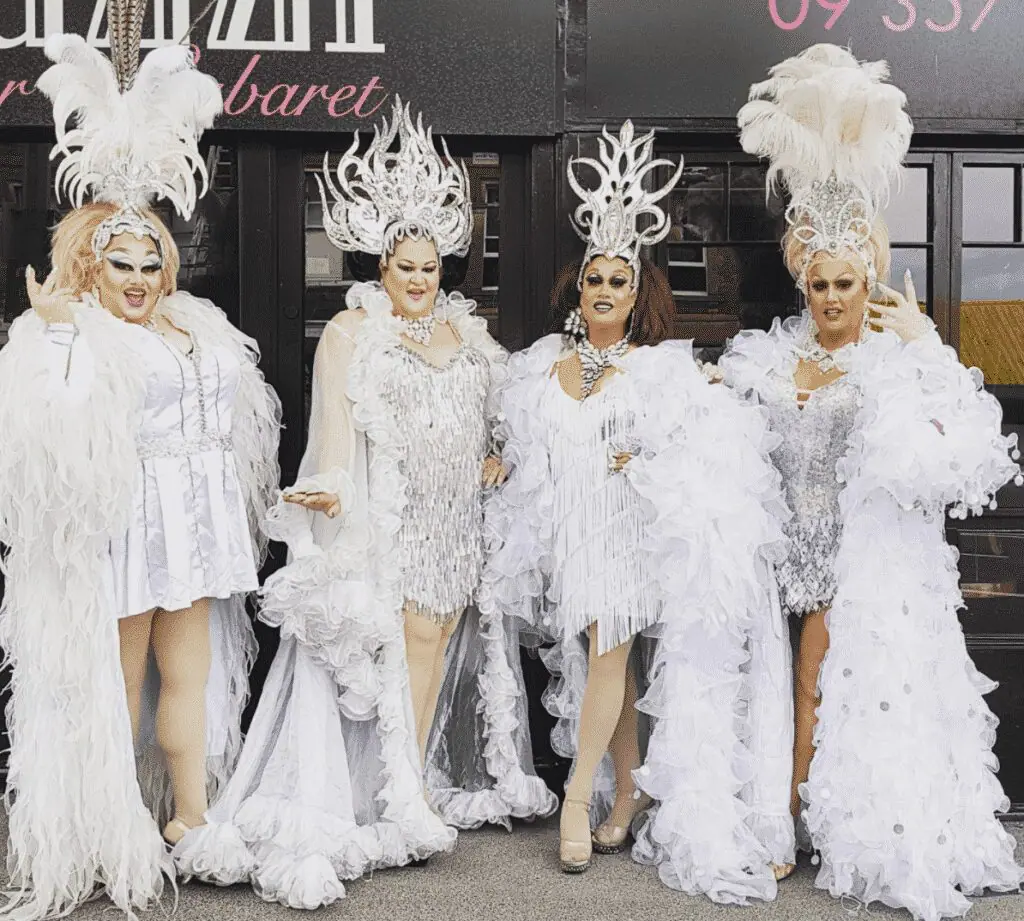 Gay Bars in Auckland
The gay club in Auckland – hand's down. Famous not just in Auckland but throughout New Zealand as the place to dance the night away with your queer family. Always packed on Friday and Saturday nights, Family Bar on K Road has multiple rooms with different music styles, a common outdoor area fronting K Road, sexy boys, and drag shows on weekends.
Truly the heart of Gay Auckland nightlife, and where everyone ends up sooner or later…though these days, the secret is out, and many in the local community are disgruntled by the level of straight people partying here.
Originally residing on High Street, after 20 years, this bar has awoken from its slumber and is breathing new life into its prime location at 262 K Road. Fabulous drag, innovation cocktails including UV Vodka, themed parties and epic beats, G.A.Y is one of our favorite places to go to relax and party with our queer community…especially now that Family has become decidedly more 'mixed.'
We are so impressed with what G.A.Y has achieved since opening and can't wait to see what they do next! Look up their drink specials and theme of the night on their events page before heading in if you want to be prepared.
Across the road from Family Bar, Eagle is more of a chilled spot for drinks, meeting friends, and annoying every other guest with your Jukebox music selection. The only real stand-alone gay bar in Auckland, it gets crowded late at night when crowds dart between Family and Eagle, but earlier in the night is best. However, anyone familiar with Eagle Bars around the world will be in for a surprise… leather bears are not often sighted here.
Truly the best night out in Auckland and running for over 20 years, Caluzzi is Gay Auckland at its best and one experience you can not miss. Plenty of drag, comedy, shade, and stunning stilettos – oh and the fabulous costumes! When we visited, they were running a hilarious 'Fairytale-Season-but-not-Disney-so-please-don't-sue-us' show, which was amongst the best we had ever seen!
This is a chance to see the best of New Zealand drag with friendly yet fierce queens while enjoying a sit-down meal rather than having some drunk twink grind your leg in a dark club – though when the shows over around 10.30 pm the dance music get pumped up, so there is always time for that later too…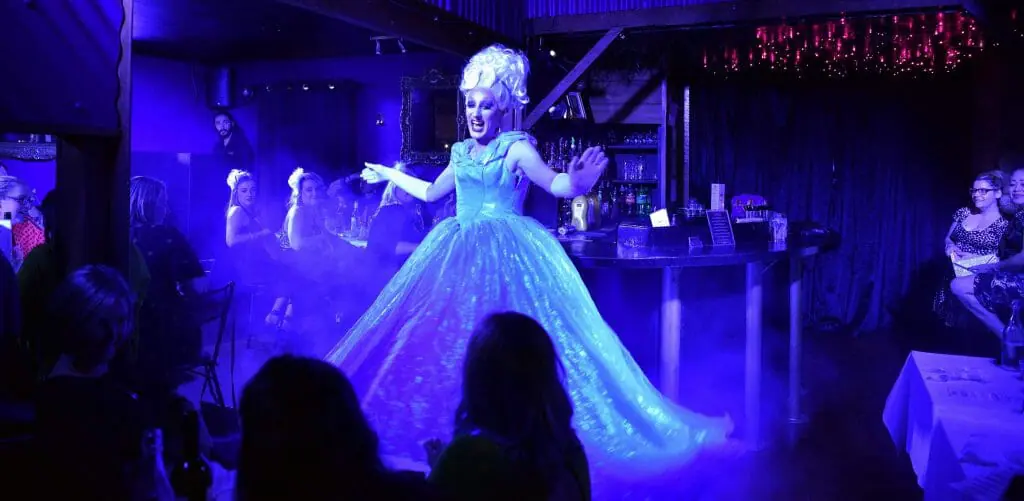 Gay-Popular Bars in Auckland
Sure, you won't find out and proud rainbow flags, but this bar and restaurant is very gay-popular, and the ripped torso in their logo is a bit of a giveaway. So quintessentially Auckland, with delicious food in an upscale-yet-casual environment – SPQR in the heart of Ponsonby is popular during the day for its outdoor seating in the sun with people watching or starting a night out with innovative cocktails.
An excellent little wine bar and eatery on K road located in a former taboo shop with an extensive wine menu and the best of NZ cuisine. Grab a seat on their streetside wine-barrel table for prime people-watching. A taste of Gay Auckland without the hangover or staying up till 3 am.
Inspired by New York, this is the place to go for some of the best cocktails in Auckland. Don't feel ashamed when you want to put them straight up on Instagram; we have all been there. DJs and great vibes on weekend evenings; it's not a gay bar by any means, but as we said – everywhere in Ponsonby is very gay-popular.
Specializing in gin with a view, The Churchill is Auckland's highest rooftop bar. Positioned on the 20th floor of the Four Points by Sheraton on Queen Street, The Churchill offers panoramic views of the city, stylish surroundings and a carefully curated beverage selection sure to satisfy the most discerning drinker. The ideal spot for an after-work drink, a pre-show aperitif or an evening get-together, drink in the views, cozy up with friends, or host an intimate gathering on their private mezzanine.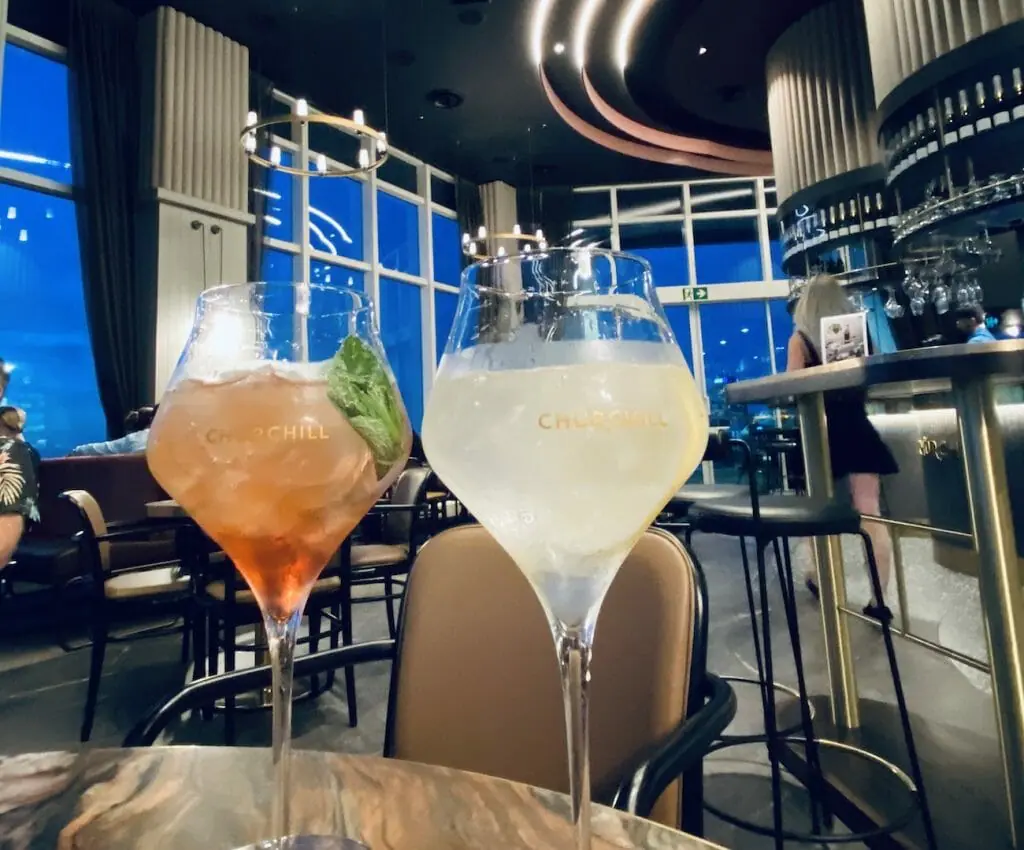 Located in the central city, this is the hottest club, with a rooftop view of Auckland's skyline, a dance floor, and great DJs. Plush booths, beautiful people trying just a little too hard, and everyone sipping Moët & Chandon give you an idea of what to expect.
An alternative venue is popular with just about everyone in the central city. Great live music, funky gigs, and Bitchin' Bingo nights – though we won't lie: we go for the fun Teapot cocktails! They are made for sharing, but somehow we never learn…
What could be better than a pink-neon Tiki Bar? Delicious Happy Hour, Daiquiri, that's what. Thankfully you don't have to choose with this funky and fun bar centrally located in the chic Britomart precinct.
Archie Brothers Cirque Electriq
A circus-themed nightlife hotspot at Westfield Newmarket with eight bowling lanes, loads of arcade and ticket games, an XD Theatre, and dodgems, there are hours of entertainment available. Throw their full-service cocktail bar, gourmet kitchen, and function spaces into the mix, and the fun is covered for everyone. Very LGBT+ popular and a great place for a date night.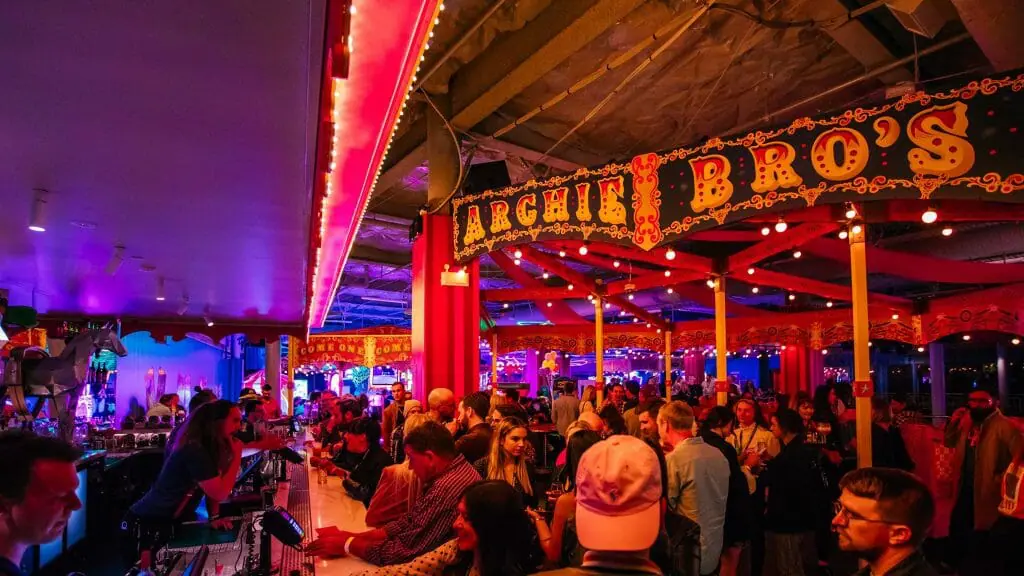 Sex-on-Site Venues in Auckland
Unlike the USA and much of the developed world – saunas and cruising spaces in Auckland are still accessible (in contrast to Gay Honolulu, Gay Austin, and Gay Santa Cruz, where all gay saunas have now closed down ).

Gay hookup apps are popular here, but often it's just easier and more fun to head to any of these on-site sex venues in Auckland. Cruising lounges and gay saunas in Auckland are not only clean and safe; they are welcoming to foreigners and host guests of all different shapes, sizes, fetishes, and more!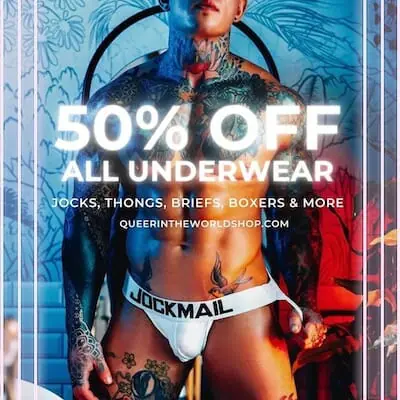 Gay Saunas

in Auckland
The most famous and busiest sex-on-site venue in Auckland is conveniently located a few minute's walk from the K Road gay nightlife area. Facilities include a maze, spa pool, steam and dry sauna, huge gay cinema, and 14 private cabins. Centurian is also the largest gay sauna in New Zealand and hosts a variety of events, including DJs, towel-off, movie night, and a hot orgy night once a month.
Located in the suburb of Avondale, this is Auckland's largest gay sauna and bathhouse. Open every day since 1992 (except for a small fire and subsequent remodel in 2013), Wingate Club is probably the nicest gay sauna in Auckland, with indoor facilities, including private rooms, a steam sauna, porn, and cruise areas.
The major drawcard, however, is outside with a large swimming pool, spa, bush area, and secluded lawn. Twenty minutes from the central city if you rent a car or 40 minutes by train. In the evening, younger guys turn up, but during the day, it's largely older men and retirees enjoying the pool and nude sunbathing.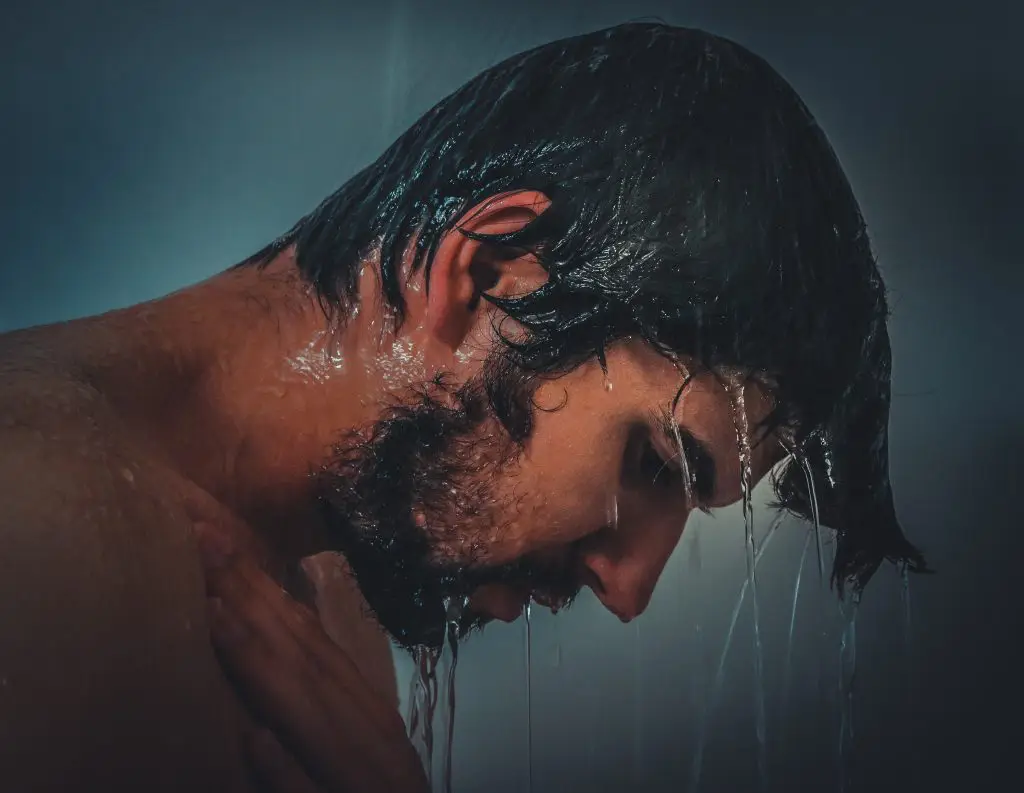 Gay Cruising in Auckland
The only dedicated gay cruise club in Auckland popular with bears and fetish lovers. With a giant maze, playrooms, showers, a pool table, private cubicles, and even a free breakfast on the weekend.
Again only a few minutes from the K Road gay scene, the Late shift hosts a popular Jack and Jocks night and an anonymous night on the third Wednesday of every month. The best gay cruising in Auckland.
A gay adult shop with a popular cruise lounge close to the K Road gay nightlife. There are private rooms, a dungeon playroom, glory holes, and themed areas, including a sling.
The Grinder Gay Cruise Lounge
(Temporarily or permanently closed. If you know something, please suggest an edit.)
A gay online store that is part of the larger Peaches and Cream adult sex store chain. Located in the back of the Peaches & Cream adult store on K Rd, this small cruise lounge offers just the basics with glory holes, a cruising area, and a porn movie lounge – but if you're just after your quick fix of gay cruising in Auckland its an easy option.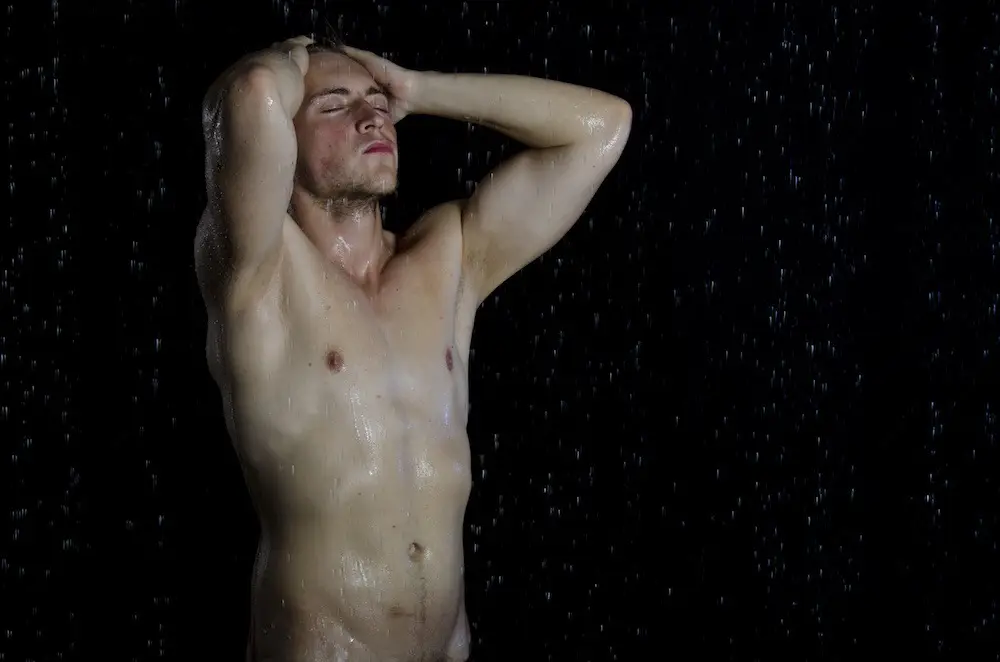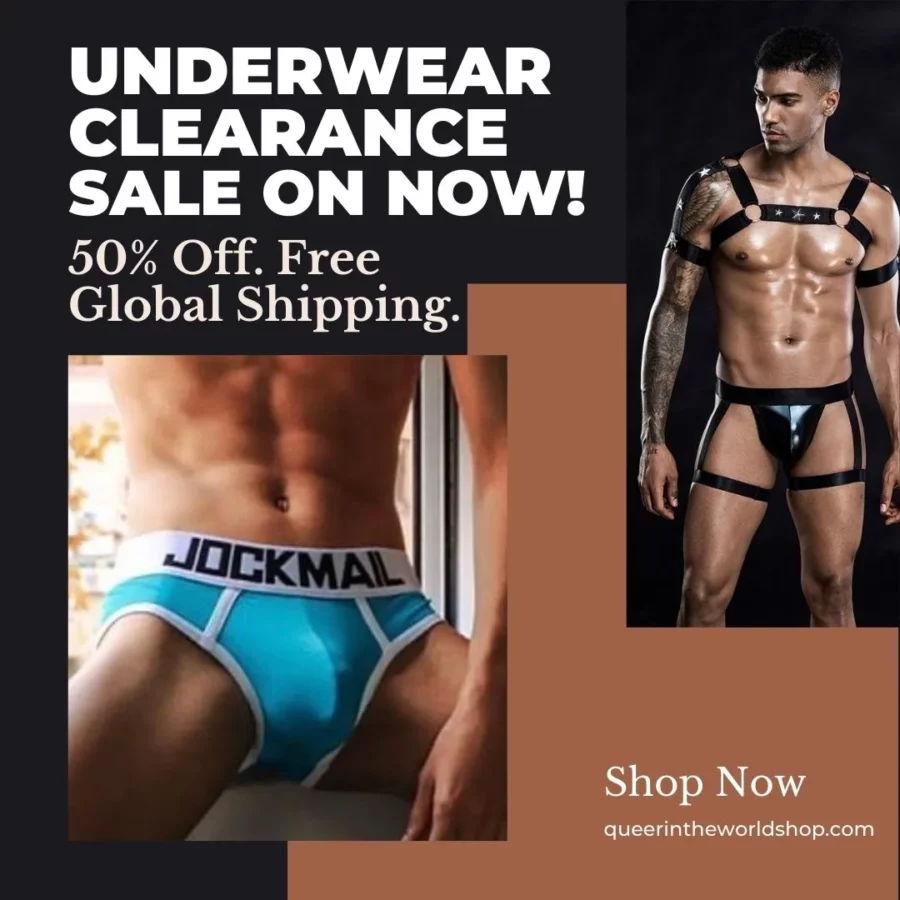 Gay Map Of Auckland
Finding it hard to envisage where everything is Gay Auckland? Hopefully, this queer-centric map helps where we have marked all the bars, clubs, parties, hotels, saunas, massages and more will help you stay in the spot best suited to you!