Sin City, The City That Never Sleeps, Entertainment Capital of the World, Neon Capital of the World, what happens there stays there… Las Vegas has got a reputation that far outstrips its surprising size (a permanent population of fewer than 1 million). But, boy, is that reputation well deserved.
Shimmering and glittering in the desert like a mirage, Gay Las Vegas is home to a thousand promises. Here you'll find Venetian Canals, Egyptian Pyramids and the Eiffel Tower amidst the luxury hotels and casinos jangling with the noise of fruit machines and tumbling coins. You can win big, either at the blackjack table or in the bar.
It's bursting at the seams with incredible entertainment, from the big-name music concerts, to big-budget stage shows, to performances that simply never get old, like the Blue Man Group and the seven Cirque de Soleil shows. With so much glitz and glamour (sequins, strip shows, Chippendales, Cher), it's a fabulous place to be gay. The gay scene might not be LA-levels, but there's plenty here to make it an essential West Coast stop.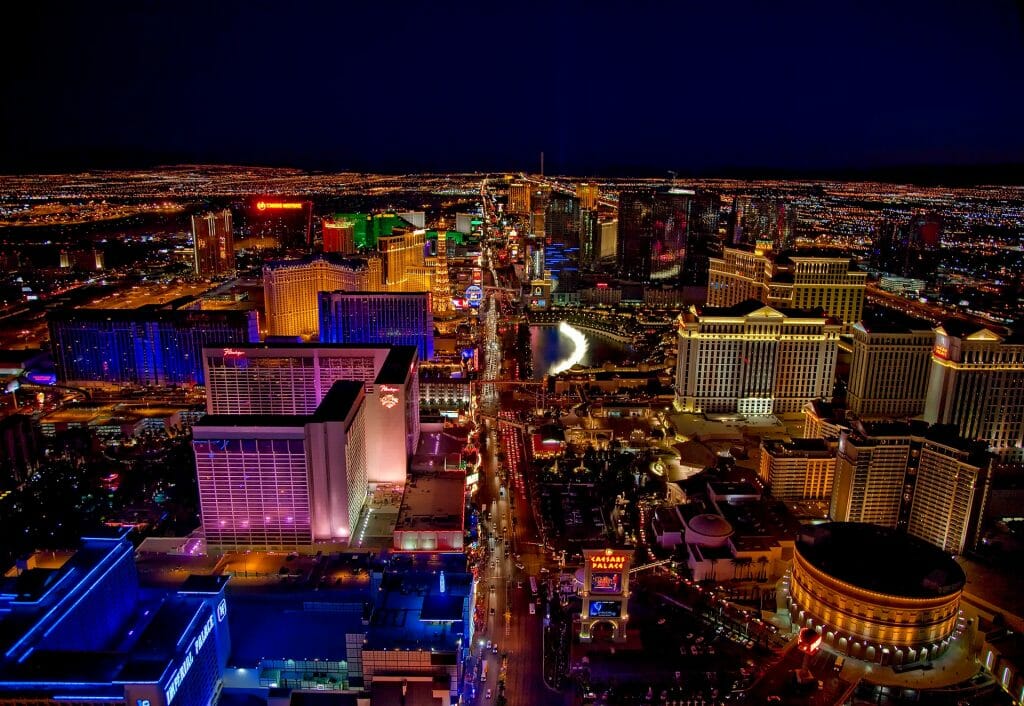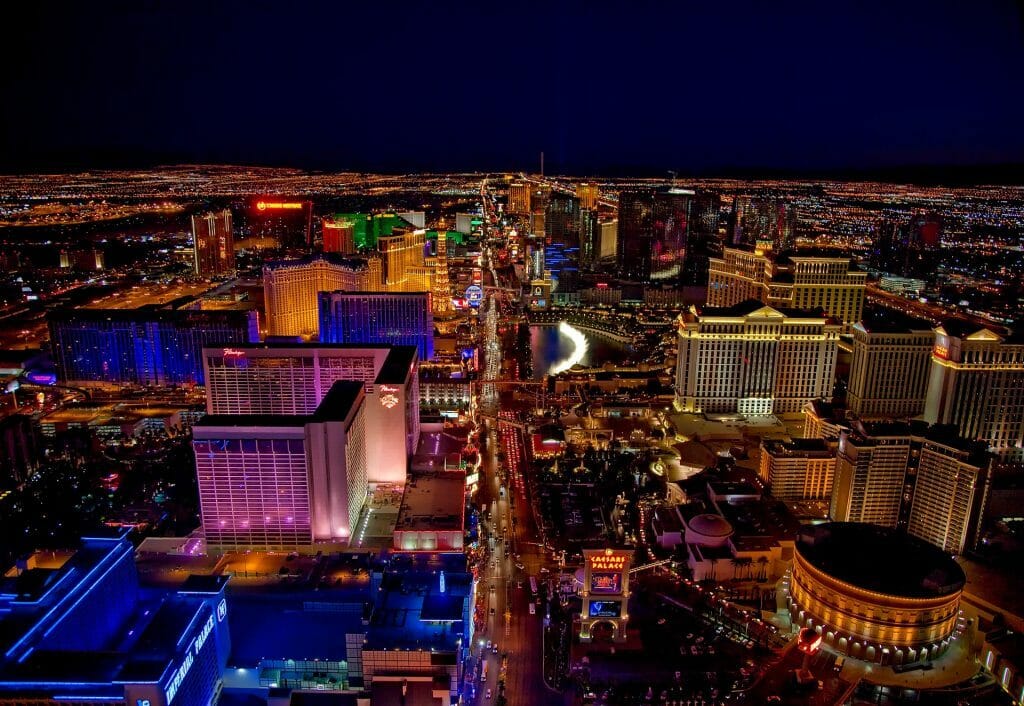 Aside from the shows, the gambling and the incredible scope of dining options, there's plenty of LGBT-focused things to do. The Sin City Shootout is an LGBT sports event (don't worry, there are plenty of parties if that all sounds like too much effort!), there's a night-time Pride Parade (so no worries about your costume drooping in the intense desert sun), and the long-running Temptation Sundays at the Luxor, an LGBT pool party that doesn't disappoint.
So, before you make a beeline to your wardrobe to fish out your trunks and hop on a plane, you want to find somewhere to stay where you know you can feel 100% comfortable. So, let's have a look at some of the best gay-friendly hotels in Las Vegas.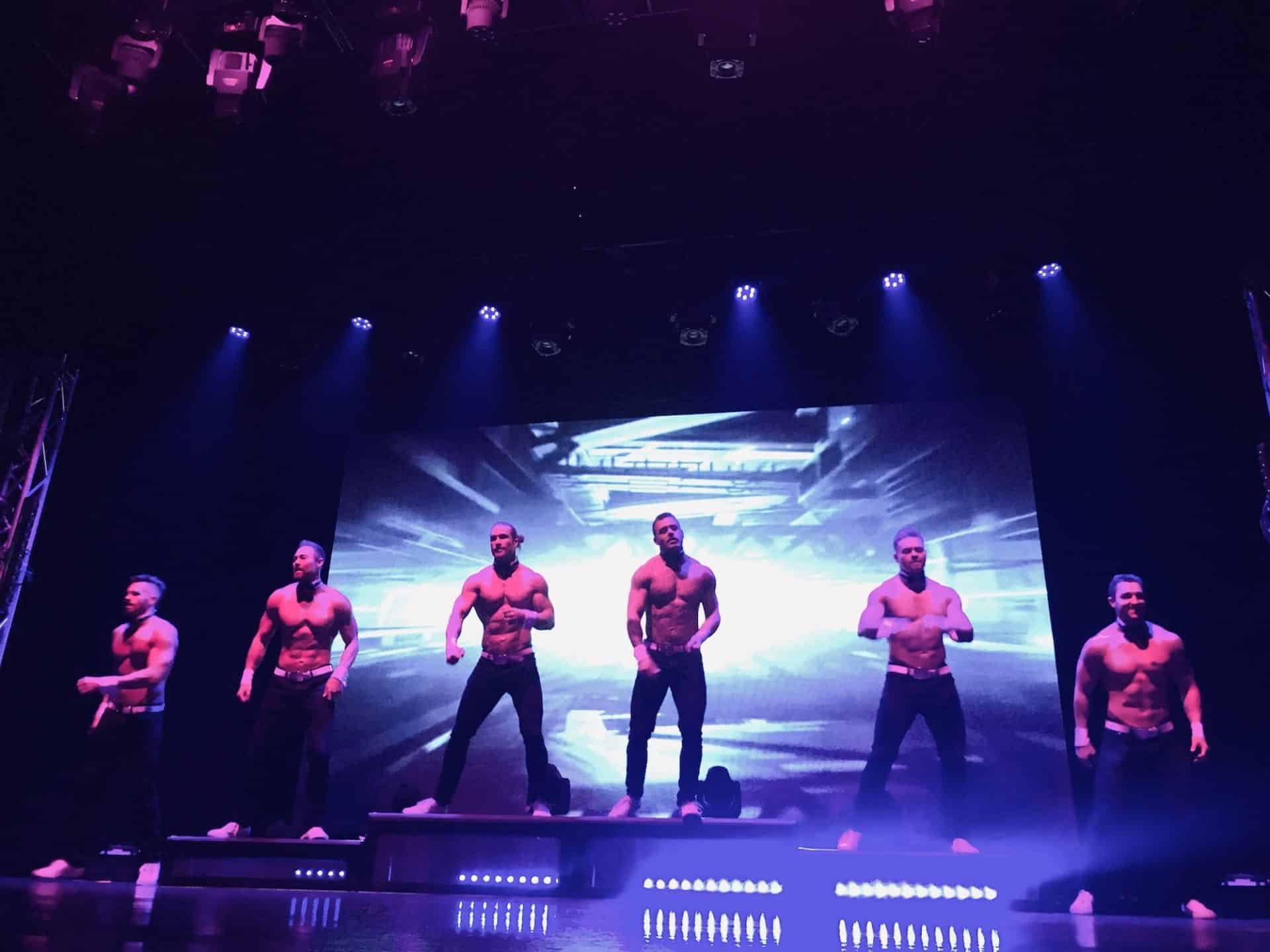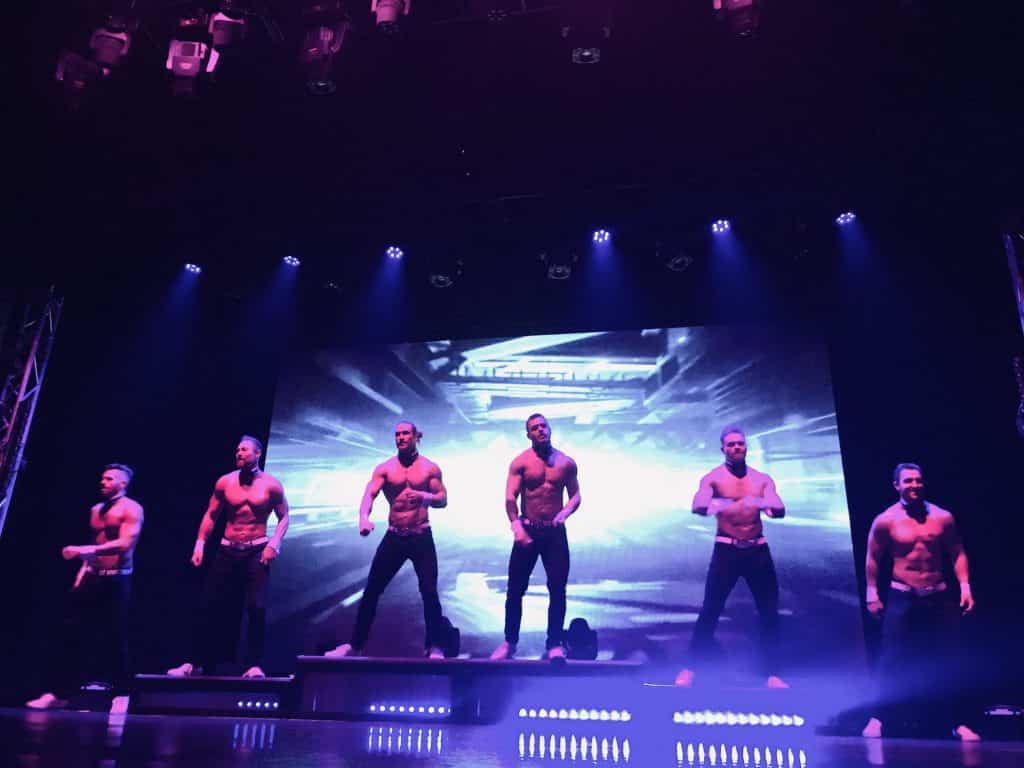 The Most Fabulously Gay-Friendly Hotels In Las Vegas 🌈
This design-savvy, facility-rich mega-resort is where all the cool kids head to in Las Vegas – which means plenty of gay travellers, of course! It's not only one of the best gay-friendly hotels in Las Vegas; it's one of the coolest. Opened in 2001, it has only grown since then, and a multimillion-dollar renovation taking place from 2016 to 2019 has put it right at the forefront of Vegas entertainment. Nightclubs and the famous Sky Villas live in the 'Fantasy Tower', the Pearl Theatre hosts pop divas, and the art in the new KOAS 'entertainment experience' (including work by Damien Hirst) really make the Palms stand out.
Oh, yeah, and there are rooms, too! 703 of them, to be precise, ranging from the minimalist standard rooms in the Ivory Tower to the (in)famous suites designed for bachelor/ette parties that include pools, bowling alleys and jazzy colours. Unwind after all the gambling and dancing at the luxury spa, or enjoy the mixed hammam. There are endless food options. If you're saving money for your cocktails, go to the 24-hour food court; if you've won big on the slot machines, head up the tower to the Michelin-starred Alize. Essentially everything you need is here: you could come to Vegas and never leave the Palms (we recommend you try to at least once, of course!).
This enormous 5-star hotel and casino is setting a new bar for gay-friendly hotels in Las Vegas with its Pride Concierge service specifically to help LGBT travellers find the best gay nightlife, events and entertainment around the city. It's such a simple and inclusive approach, we're amazed more places aren't offering it! Of course, it helps that this programme goes hand-in-hand with an absolutely stunning hotel with luxurious accommodation options, amazing restaurants and the ideal spa to relax after a tense few hours in the casino!
The interior of the towering Encore building is elegant and opulent without being over-the-top, and the suites are spacious with a contemporary design. Each one has at least 2 TVS (no fighting over the remote!) and a work area, should you need to get down to business while you're on your Vegas trip. We loved the entertainment by the outdoor pool and the on-site nightclubs; if you do drag yourself away from the facilities here, the Strip is mere moments away.
Now officially called the Waldorf Astoria Las Vegas after a takeover in 2018, the Mandarin Oriental is a sophisticated 392-room resort that's remarkably understated by Las Vegas standards, so is perfect for gays looking for a more up-market experience. When we say understated, we mainly mean that there's no casino on-site; but it's right in the middle of The Strip, so your money-making potential isn't far away! It's also got a pleasantly secluded pool and a deliciously indulgent spa.
The rooms are pure luxury, and have maintained the Mandarin Oriental feel, which prioritised natural light, dark wood and feng shui principles. It's a joy to come back to such a calming space after a hectic day out on The Strip. Foodies also won't be disappointed as they have French fusion, Asian cuisine, traditional afternoon teas and creative cocktails to sample. The staff are incredible – attentive, friendly and welcoming.
From understated elegance to pure, decadent glamour, The Venetian is justifiably the by-word for Las Vegas livin' around the world. Famous for its incredibly intricate recreation of Venice's Grand Canal, Rialto Bridge and Saint Mark's Square, as well as the interior's homage to the Sistine Chapel, the décor is astounding. It's got style and character in abundance, and there's always something new for guests to see or do. Glide around on the gondolas, bask surrounded by palms on the neo-classical pool deck, shop and eat to your heart's content in the Grand Canal Shoppes, or explore the 10 outdoor pools.
Eventually, you might make your way back to your room amidst this wealth of distractions. Even though you're in one of 4000 rooms, it doesn't feel like they've phoned it in. Sunken living areas, cloud-comfort beds, rich colour accents and all the amenities you need, your suite will become a home away from home. The fabulous style and range of facilities make it the ideal place for a gay traveller on their first trip to Sin City.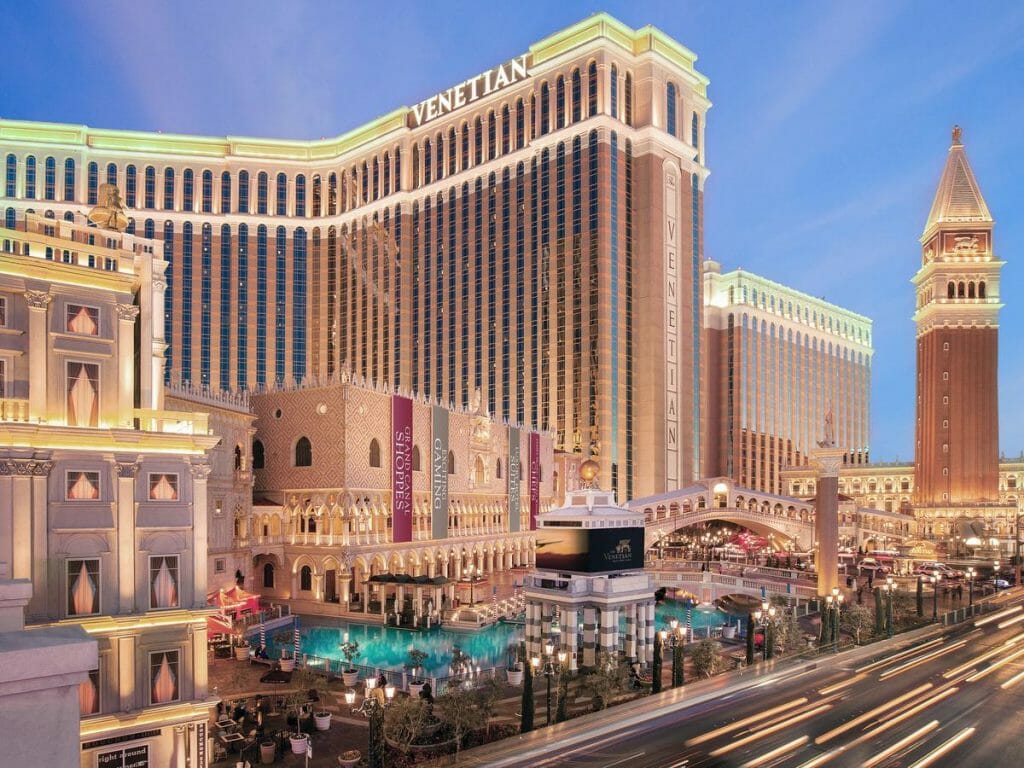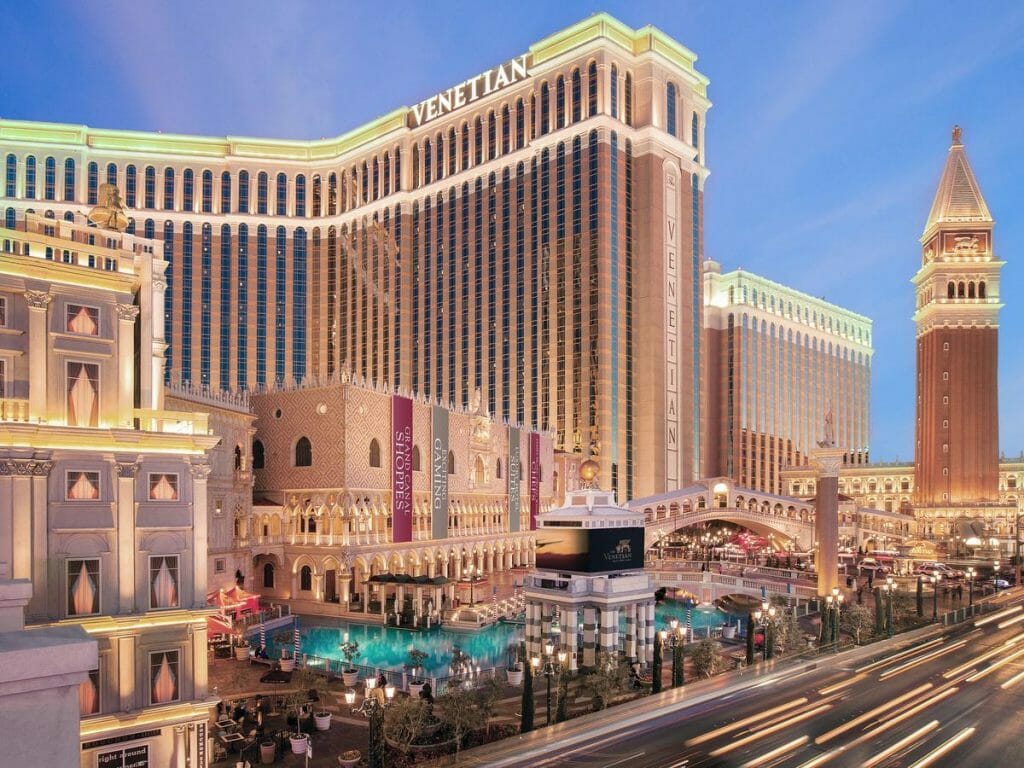 The Four Seasons is another classic choice, although its incarnation in Vegas is actually seen as an exclusive secret. It nestles next to the enormous Mandalay Bay at the southern end of The Strip, but offers a tranquil alternative to that mega-resort. It's extremely tastefully decorated with marble floors and bathrooms, lots of wood and soaring ceilings. The rooms are equally as soothing and the floor-to-ceiling windows look out either over the hubbub of the city or the mountains beyond.
But it's the service and facilities that really set Four Seasons apart. The staff are absolutely incredible, often remembering names of guests, offering runners bottles of water on their return, and answering all queries with a smile. Gay travellers here will feel 100% comfortable and the chilled-out vibe makes it ideal for couples. Lounge by the private pool in one of the private cabanas, work up a sweat at the high-end gym or unwind at the 5-star spa. The on-site food options might not be as extensive as bigger places, but they make up for that in quality.
A towering, curved structure of glass and steel, this impressive hotel and casino gleams on the Vegas skyline. The extensive use of glass at the Aria means that the hotel has lots of natural light and the rooms all benefit from floor-to-ceiling windows. Inside the rooms you'll find a state-of-the-art one-touch tablet system to customise lighting and temperature, chic décor and sumptuously comfortable beds. When you peel yourself out of bed (hard to do!), you can enjoy the three outdoor pools and their respective hot tubs.
There's also a fabulous adults-only pool lounge where guests can take advantage of a restaurant, cabanas and a bar without families (not that we have anything against kids, of course, but they aren't quiet!). There are also over 20 dining options – you barely need to leave, if you don't want to! If you're all about the gambling then head to the 150,000 square-foot casino to see if you can win big. Welcoming staff and great facilities make it ideal for a Vegas gaycation.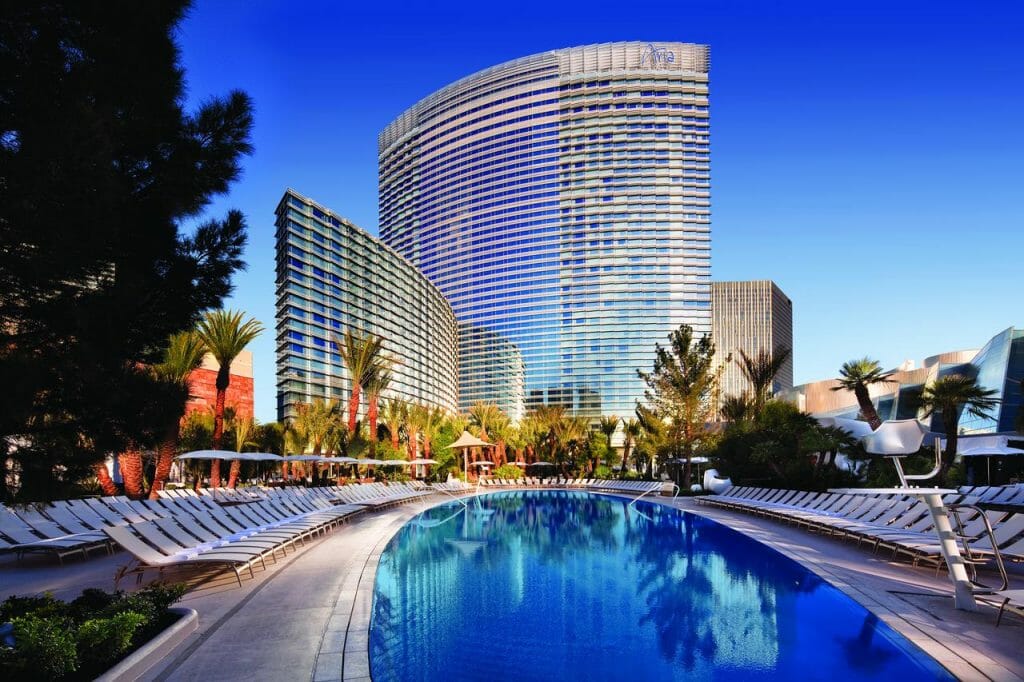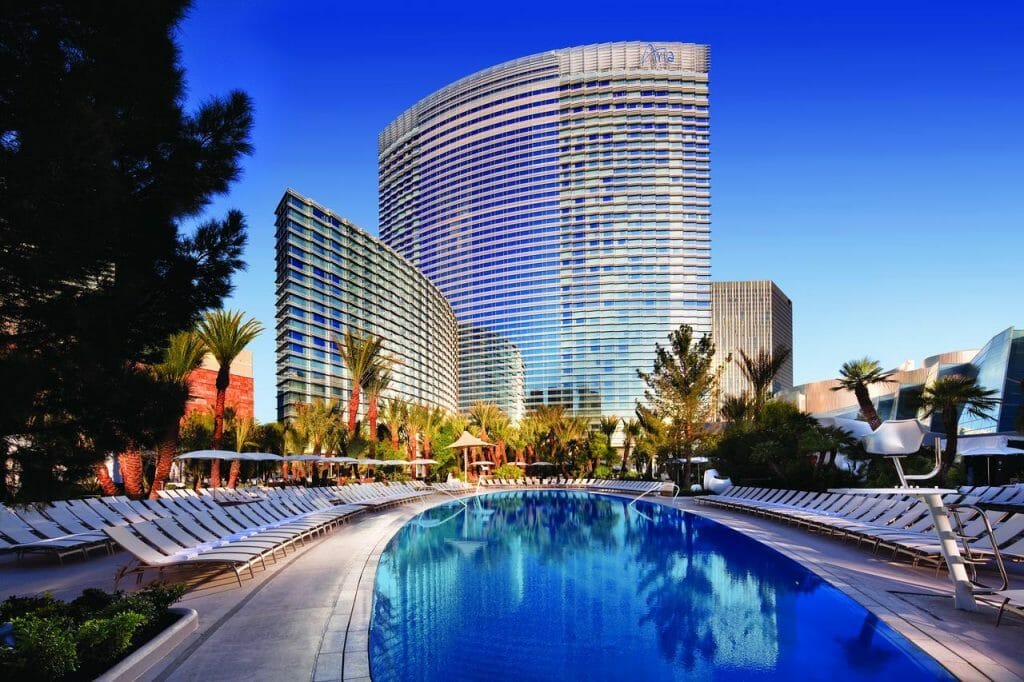 OK, the hotel with what's somehow the only LGBT pool party in the city is obviously going to be one of the reliably gay-friendly hotels in Las Vegas! The Luxor design might be a little on the loud side, but the deals here are good and it's definitely a lot of fun. Its pyramid shape (complete with beam of light shooting into the sky from the top) stands out on The Strip and visitors enjoy greeting the enormous Sphinx on arrival, as well as the various pharaohs dotted around. You'll also do your poolside sunbathing in the shadow of the black pyramid, which is slightly surreal, but in a very enjoyable way.
This is where you can enjoy 'Temptation Sunday' – and afterwards, head to the CatHouse restaurant and lounge for the 'Closet Sunday' fashion show. There are also other regular LGBT events, same-sex weddings at the chapel and discounts for guests arriving Sunday to Thursday. It's actually super cheap by Vegas standards, so is great if you're looking for a budget gaycation. Rooms vary, but are generally spacious and comfortable. Head to the casino in the pyramid or get the free train to Excalibur casino.
Retro chic, a neon pink flamingo at the entrance, pastel and pink décor, framed portraits of flamingos in the rooms… are we sure this isn't a hetero-friendly hotel rather than a gay-friendly one? We joke, of course, but the Flamingo Hotel & Casino certainly has an aesthetic that will appeal to plenty of gay travellers on the hunt for a fun place to stay in Vegas. Luckily, it's every bit as welcoming and inclusive as it is visually appealing. An added plus point? Great value for money!
The rooms are newly renovated and spacious, with a retro style intended to evoke Miami beach. It also has the added delight of a lush outdoor space (not common in Vegas, trust us!) where 15 acres houses palm trees galore, outdoor pool (with an adult-only area), waterfalls and a menagerie. The entertainment options are vast and varied, from the two casinos to the musical and burlesque acts to the charming spa. It's also in the perfect location, holding the fort in the middle of The Strip since 1941. A stay here isn't only a treat, it's a visit to a piece of Vegas history.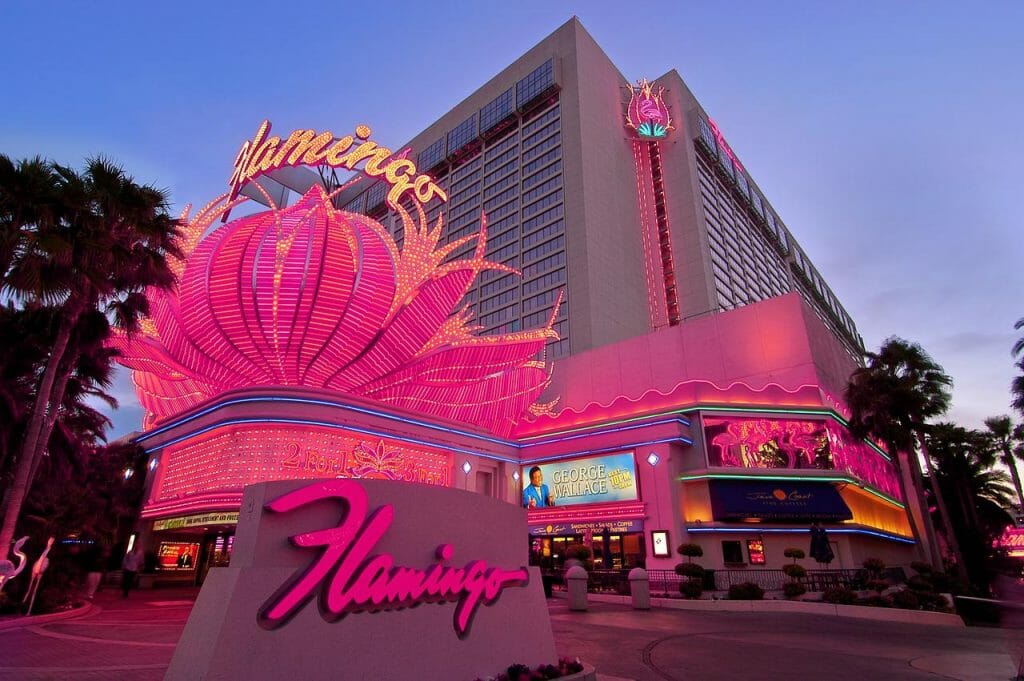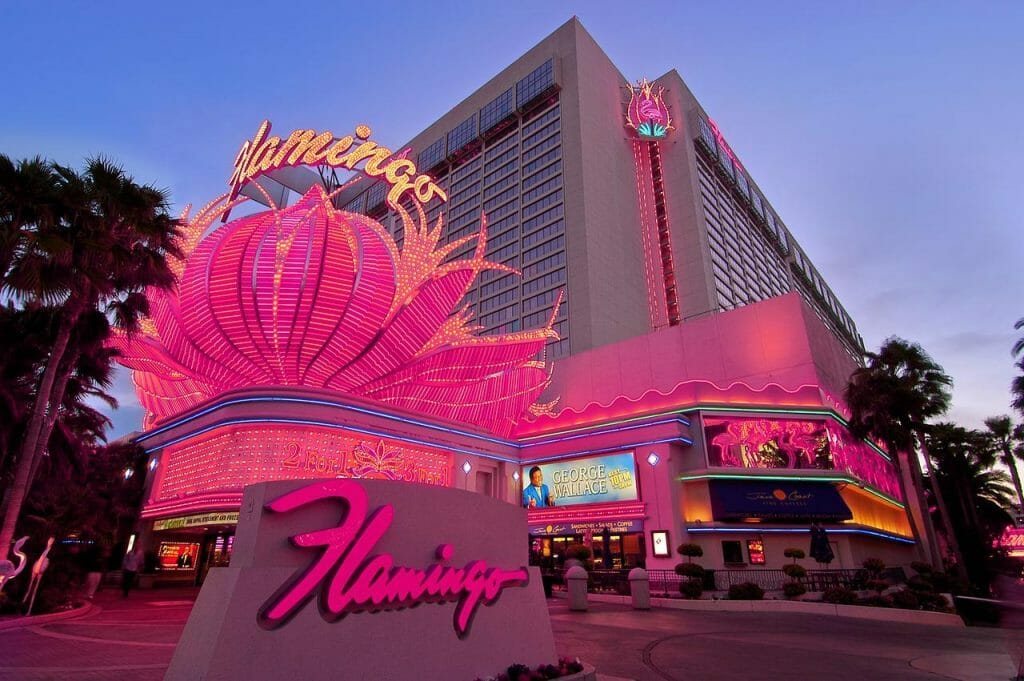 This is a gay-friendly Vegas stay with a difference, namely because it isn't right in the heart of the city. This sprawling resort is in the Henderson area, taking advantage of being on the outskirts by developing a gorgeous garden for the stylish hotel to reside in. It's the perfect place to stay if you want to take trips into the desert surroundings as well as spend some time on The Strip. We loved the enormous rooms, the luxe and colourful restaurants and bars, and the beautiful pool area.
It's got a very romantic vibe, so if you're here with someone special it's ideal. You can head to the spa to get a massage or other indulgent treatment, gamble in the casino together (couples that gamble together, stay together, right?!), chill in your private cabana or simply soak in the tub in your ensuite! Enjoy the space and the atmosphere here.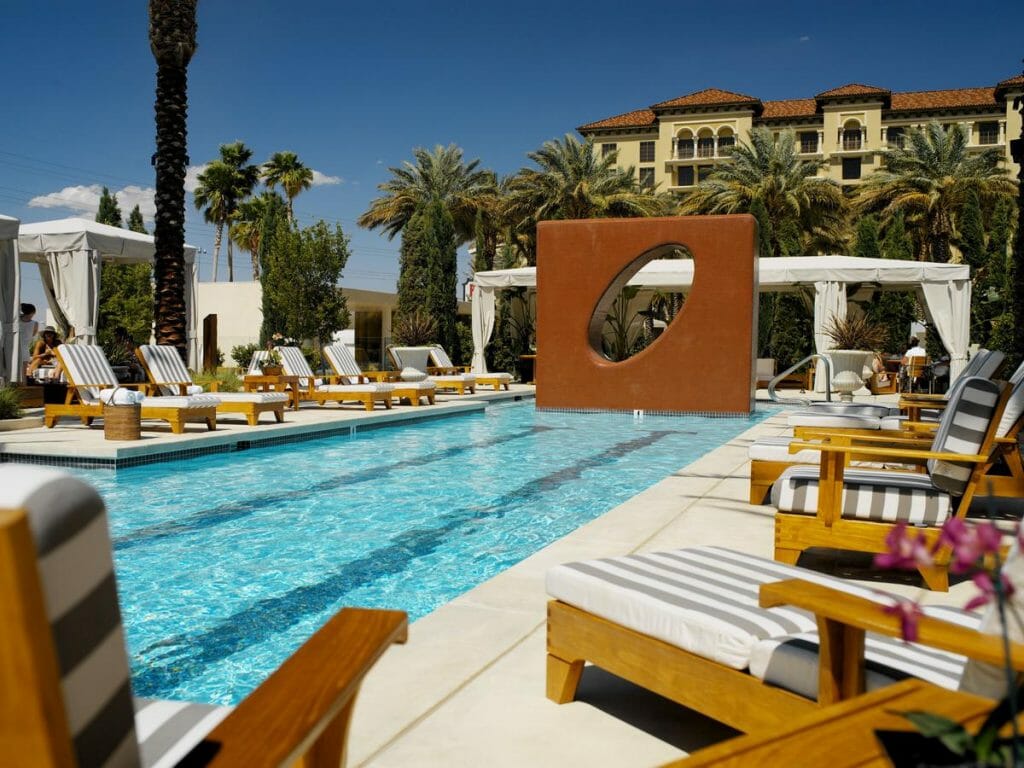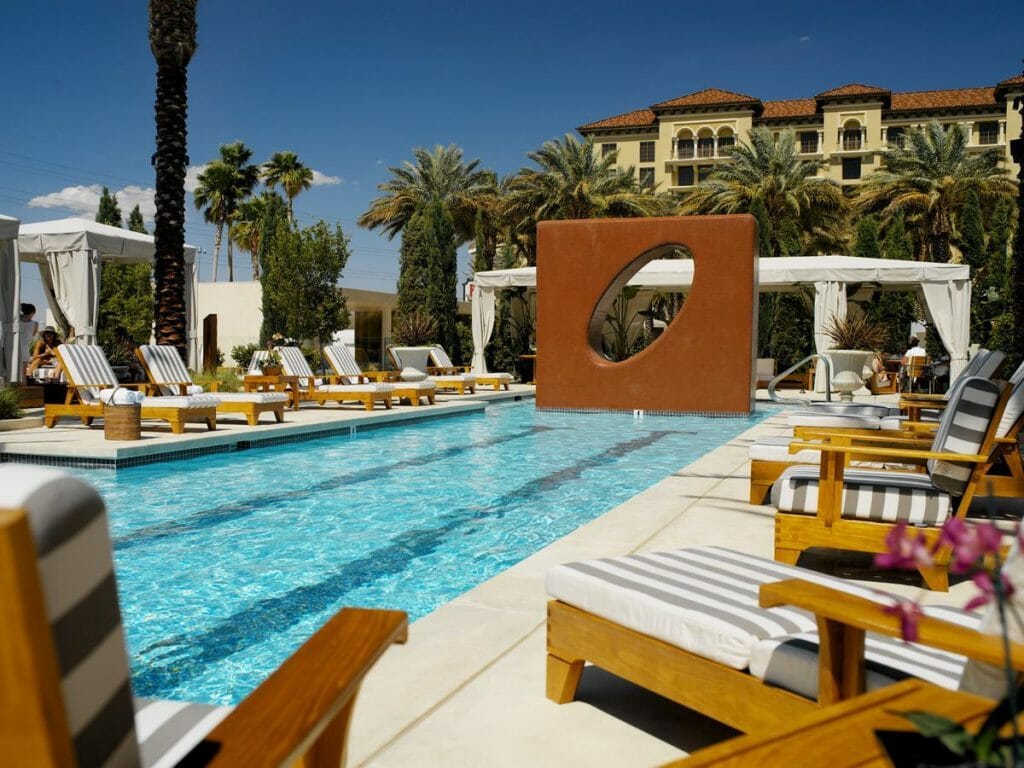 This adult-only boutique hotel a short distance from The Strip is a great gay-friendly option for your Las Vegas trip. It's got a secluded and relaxed atmosphere. The topless-optional pool is a fun place to hang out during the day, and we loved the modern design touches. There's lots of edgy artwork decorating the hotel, so there's a very creative feel.
Rooms are quirky and intimate. Dark décor, gilt frames and rich fabrics gives it quite a sexy feel. The dimly-lit lounge with artwork everywhere (including on the ceiling!) is the perfect place to enjoy a cocktail. There's no on-site casino, which makes a welcome change. Gay travellers will definitely enjoy the murals on the wall in the fitness centre! When you want to get out and about, the rest of Vegas is on the doorstep.
Further Things To Consider Before Any Gay Trip
Now you're all set and prepared to explore our big queer world, why not sort out everything else out all in one go? If necessary for your travel plans make sure you have brought proper travel insurance, protected your privacy by getting a secure VPN, compared all the top hotel booking sites to find just what you're after, reserved an unbeatable rental car price and - of course - booked the best flight deals!
Or maybe just forget it all and go for a last minute cruise or effortless tour instead?
Many gay travelers (including us) indulge in worldwide airport lounge access and pre-arrange airport transfers to take the stress out of travel. Naturally, we would never leave home without a more mainstream travel guide since we couldn't possibly cover everything here!
Just add an adventurous attitude and plenty of smiles - they go a long way - and that about covers it all! Now go out, find your global rainbow family and don't forget to share your best gay stories with us on Facebook, Twitter, and Instagram...We'd love to hear from you!