Welcome To Fabulous Las Vegas' as the sign says, and now finally, after all these years, it's actually true! Turns out: Sin city isn't just for the straight's anymore, and over the past decade, Gay Las Vegas has been well and truly flourishing. Glitter, muscles, pool parties, cocktails, and fun times await…
An oasis of dazzling lights, rolling dice, big-budget shows, and award-winning fine-dining restaurants, it's no wonder that Vegas turned to the gay market during the recession to keep the dollars flowing in.
With more disposable income, frequent travel tendencies, and a penchant for luxurious gay-friendly hotels and nightlife, we are not entirely sure why Vegas didn't turn to the pink dollar earlier. As anyone who knows Vegas knows: here they don't do anything small and true to form Vegas is now one of the biggest gay travel destinations in the world. And you know they want us as they are still outspending every destination worldwide in LGBT marketing dollars.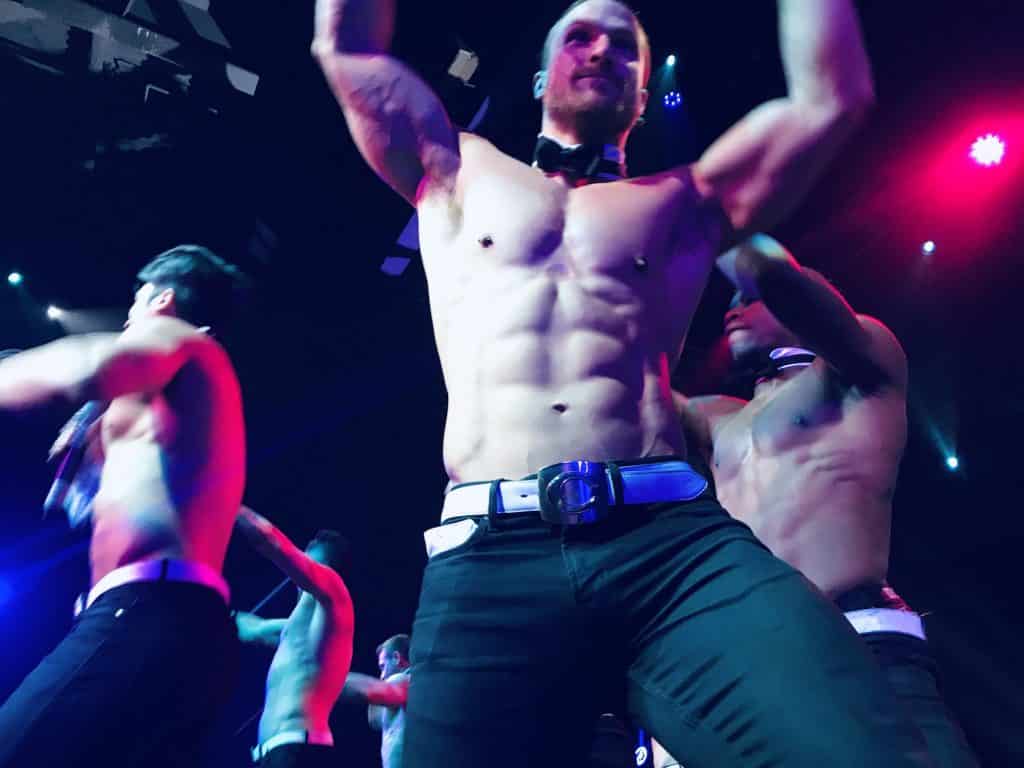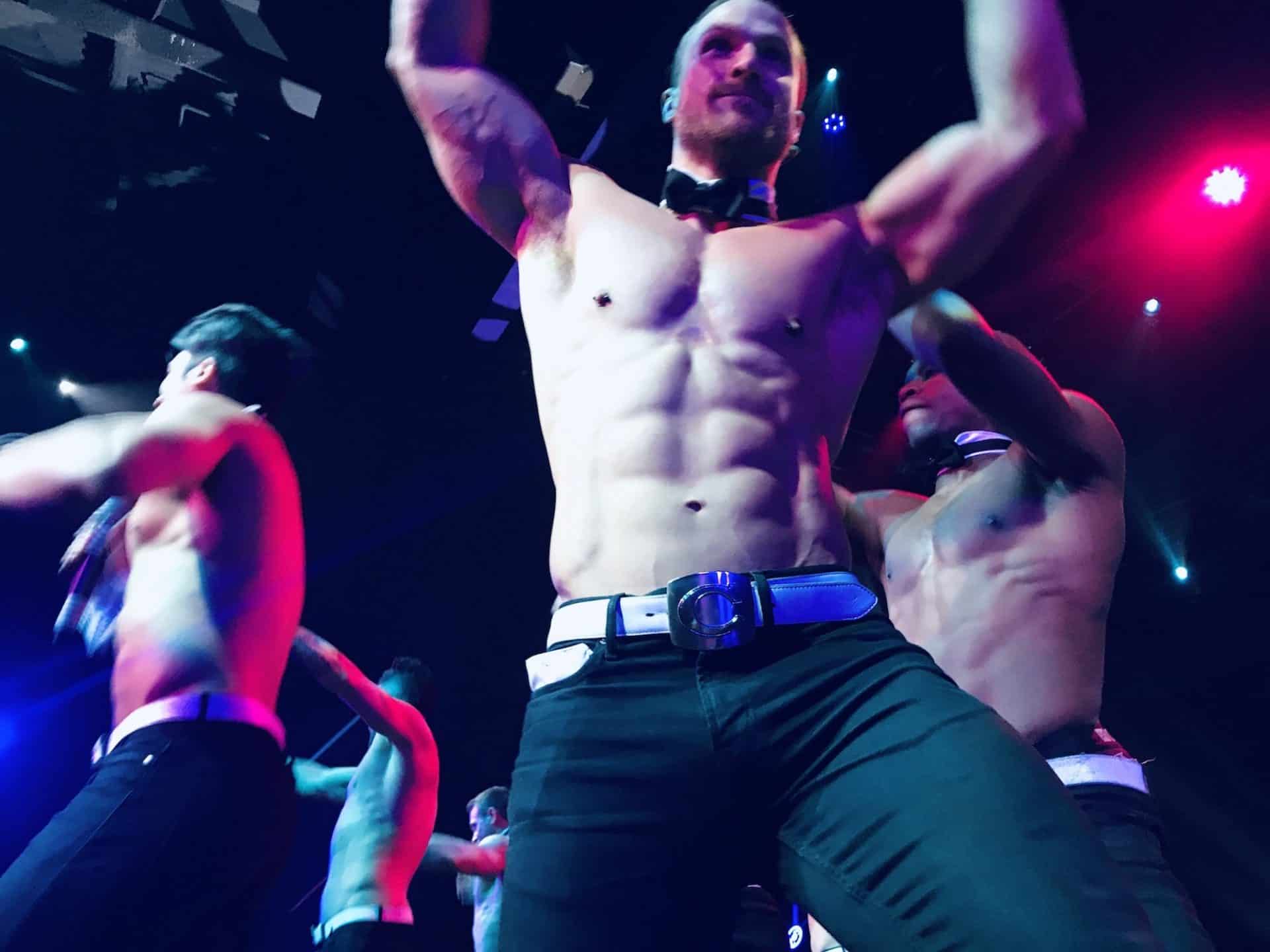 Las Vegas wants everyone to know whether your a leather daddy, twink drag queen, butch lesbian or trans, come, enjoy, and be accepted as you are. And come us queers have, in droves for the nightlife, the food, the posh hotels, and warm sun-bathing climate. Then there is the residency of gay icons such as Celine Dion, Elton John, Ricky Martin, Brittany Spears, and now Lady Gaga, which really puts Gay Vegas on the map!
Spend your day exploring the iconic Strip, getting out into nature, or attending a glamorous gay pool party when all-night dancing up a storm in any-one of the gay clubs and bars in Las Vegas (the so-called 'Fruit Loop' gay hub of LGBT Vegas is a good bet!).
And of course, we can't forget the vast array of gay events held in Las Vegas annually from the gay rodeo, fetish parties, and circuit events to the epic Pride Parade at night, music festivals, and the most significant gay sporting competition in the world.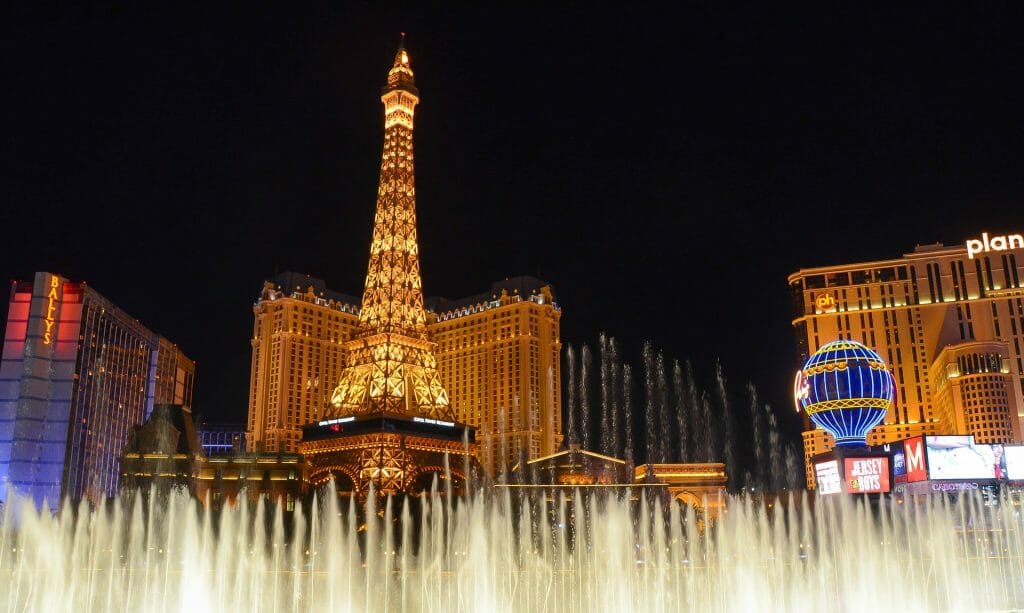 Our only complaint would be that there is yet to be a gay nightlife spot on the main Vegas strip that stays open for more than a few months. Still, we are hopefully in time one can succeed – and thankfully, we didn't have any issues finding some fellow gay in the hottest 'straight' clubs in Las Vegas anyway.
No matter where your interests lie, you can be sure Las Vegas has bent over backward to create something for you, and we were so busy here we didn't even get a chance to put a single dime in any of the machines here!
Progressive, glitzy, cutting-edge, and utterly hypnotic, Gay Vegas will draw you in and quickly have you coming back for more. Just remember that while unicorns aren't real, the house's advantage is.
Are you relocating? This guide will help travelers discover the queerer side of the city. However, if you are lucky enough to be considering a move here, we recommend reading our article about moving to LGBT Las Vegas or getting in touch with a local gay realtor. They can happily give you no-obligation advice and all the information you'll ever need to know about your new city. And if you then want their help to find your dream home, you are guaranteed fair, equal, and honest representation. No surprises or awkward conversations necessary!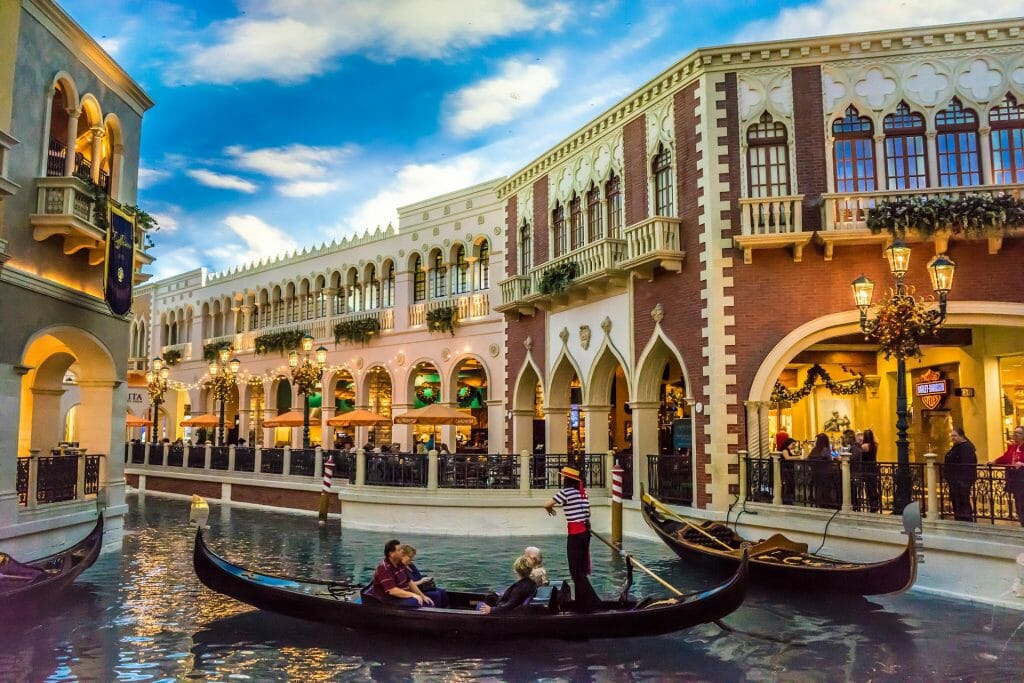 Are you relocating? This guide will help travelers discover the queerer side of the city. However, if you are lucky enough to be considering a move here, we recommend getting in touch with a local gay realtor. They can happily give you no-obligation advice and all the information you'll ever need to know about your new city. And if you then want their help to find your dream home, you are guaranteed fair, equal, and honest representation. No surprises or awkward conversations necessary!
Gay Las Vegas Guide: The Essential Guide To Gay Travel In Las Vegas Nevada
Gay Things To Do In Las Vegas
Being gay does not define which attractions most of us will want to see in each city, and most queer travelers will simply want to check out the top things to see in Las Vegas during the day!
There is so much to do here – but we found our favorite memories were hiring a car and heading out into the desert, gawking at the some of the hottest guys we have ever seen at the Las Vegas male strip shows and wandering out the Strip checking out all the free hourly shows. For the ultimate gay getaway, you could consider stringing together Palm Springs, Long Beach, and San Diego – or even San Fran and Los Angeles if you have more time.
Still, for Gay Vegas – it helps to have some idea what is going on, so here are the most popular attractions and shows in Las Vegas, according to gay travelers and us!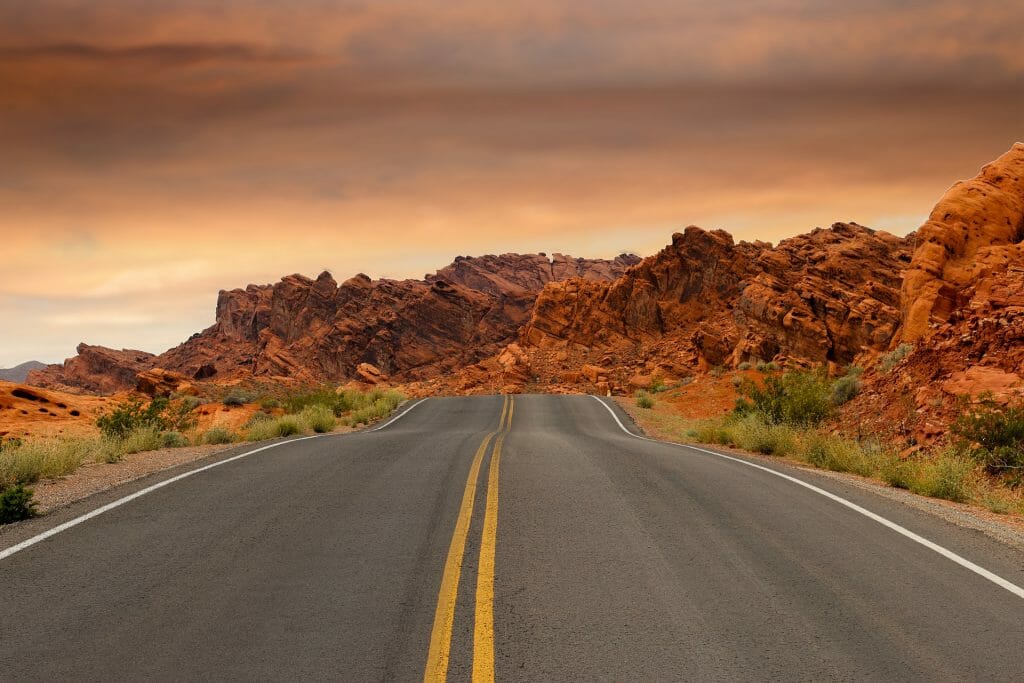 Grand Canyon West Rim and Hoover Dam Tour – The best day trip from Vegas, head out and see one of the seven wonders of the world, the Grand Canyon, and make a stop at the Hoover Dam for some iconic shots. There is also the new Grand Canyon skyway, which is not for the faint of heart! Of course, if you have the cash to splash, its much faster and better viewed with a helicopter tour (and you get an insane flyby of the Strip on take-off and landing!).
Get Booked – Stop by the LGBT store in the Las Vegas Fruit loo with a selection of fun gay pride goods and sexy swimwear. Plus, you never know who you will bump into!
Drag Brunch @ Senor Frogs – Sure, this trend is sweeping the nation, but you know a Vegas Drag Brunch is just going to be bigger, better, and more fabulous in every way! Senor Frogs Drag Brunch is the place to be on a Sunday with food, unlimited drinks, and a chance to see some of your favorite contestants from RuPaul's Drag Race. If you miss them, just pick up your favorite Drag Race Merch instead.
Las Vegas Helicopter Night Flight – Surprisingly affordable seeing the famous Las Vegas Boulevard at night from up high is just mind-blowing. Add in a glass of bubbles and the twinkling lights of the Luxor, Bellagio, and Fremont Street, and you have one experience you will never forget.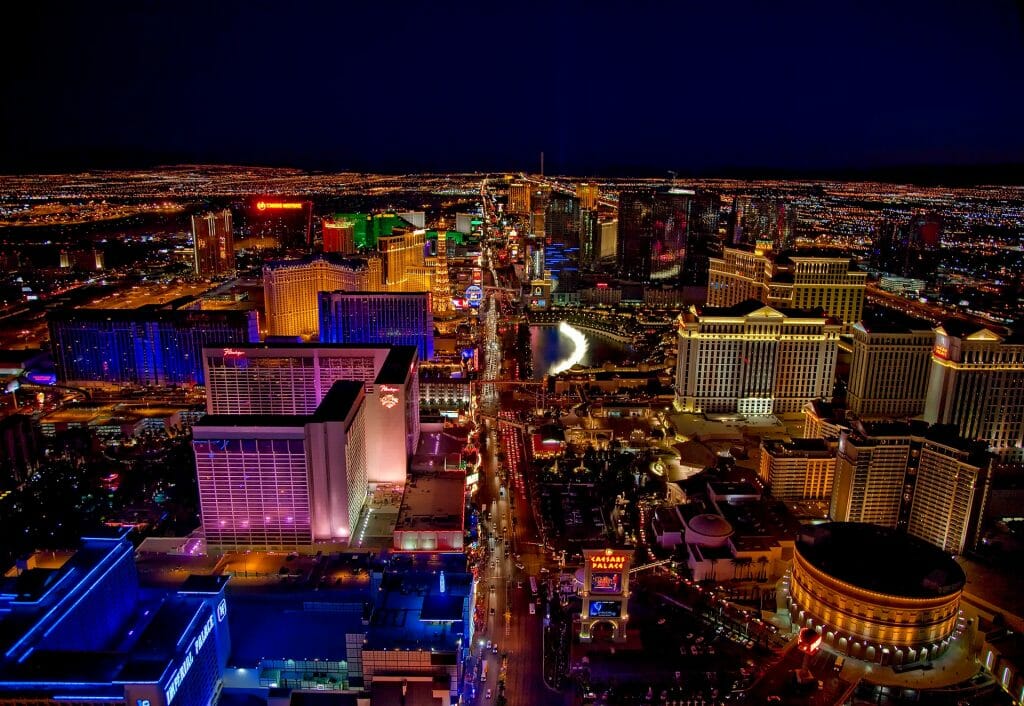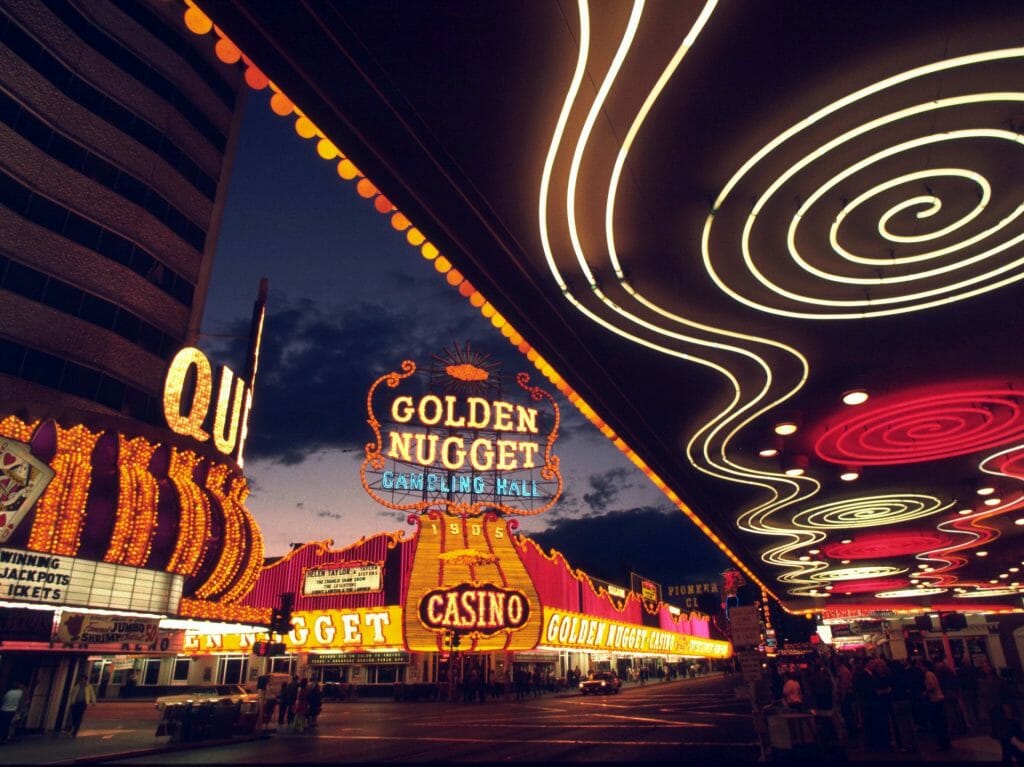 Michael Jackson ONE – A celebration of the autistic genus of MJ that spreads his global messages of peace, love, and unity. Dancing, acrobatics plus a fun story, if you're a fan of the King Of Pop, you won't want to miss this.
Fighter Pilot Experience – If you loved Top Gun for any other reason than the iconic Volleyball scene, then this is a unique opportunity to head out in an Extra 330LC aircraft with a professional fighter pilot to soar low over the mountains and valleys of the Mojave Desert.
WOW: The Vegas Spectacular – One of the hidden gems of Vegas tucked away just off the strip at Rio, grab your ticket for the mesmerizing and entrancing WOW show and be prepared to be enchanted by a world of water, wonder and fantasy. Dive deep into this internationally-acclaimed creation, witnessed by more than 2.5 million people, that transmutes the commonplace into the extraordinary – right before your eyes. Watch on in amazement as more than thirty artists fly, flip, fold, dance, and defy the laws of physics in a 180-degree theatrical setting that engages the audience from beginning to end with 3D multi-media projections, water walls, and holograms. Add jaw-dropping acrobatics, alluring choreography, electrifying dramatic lighting, marvelous music, and even a few recognizable finalists from America's Got Talent, and you are guaranteed to be 'wowed'!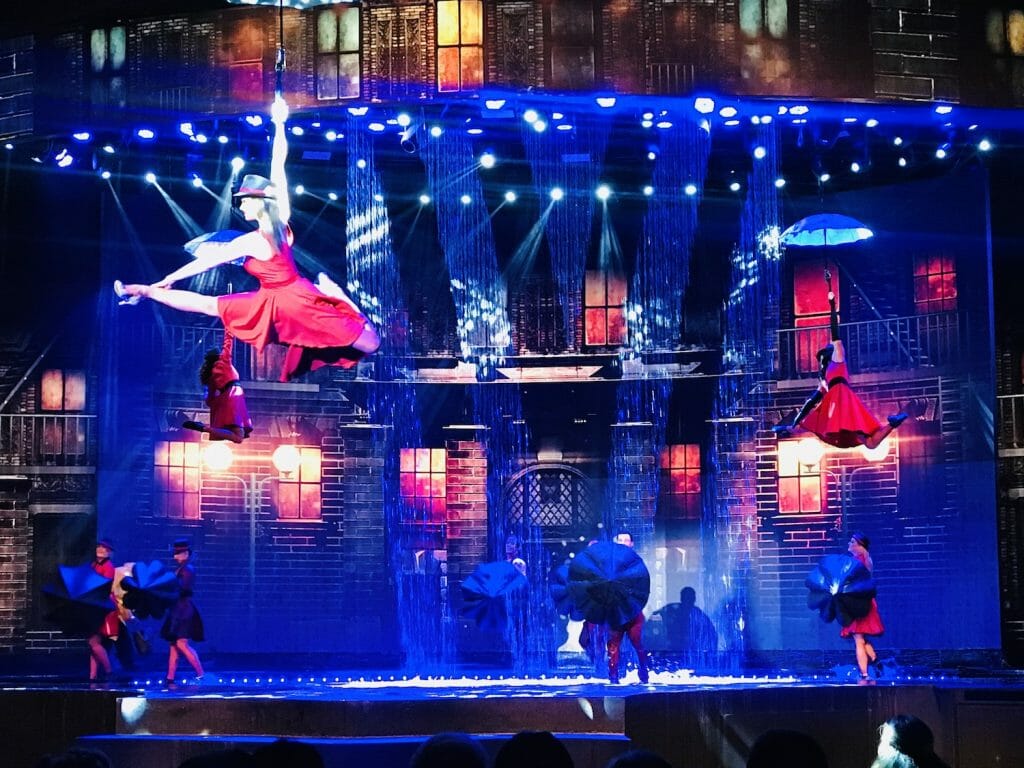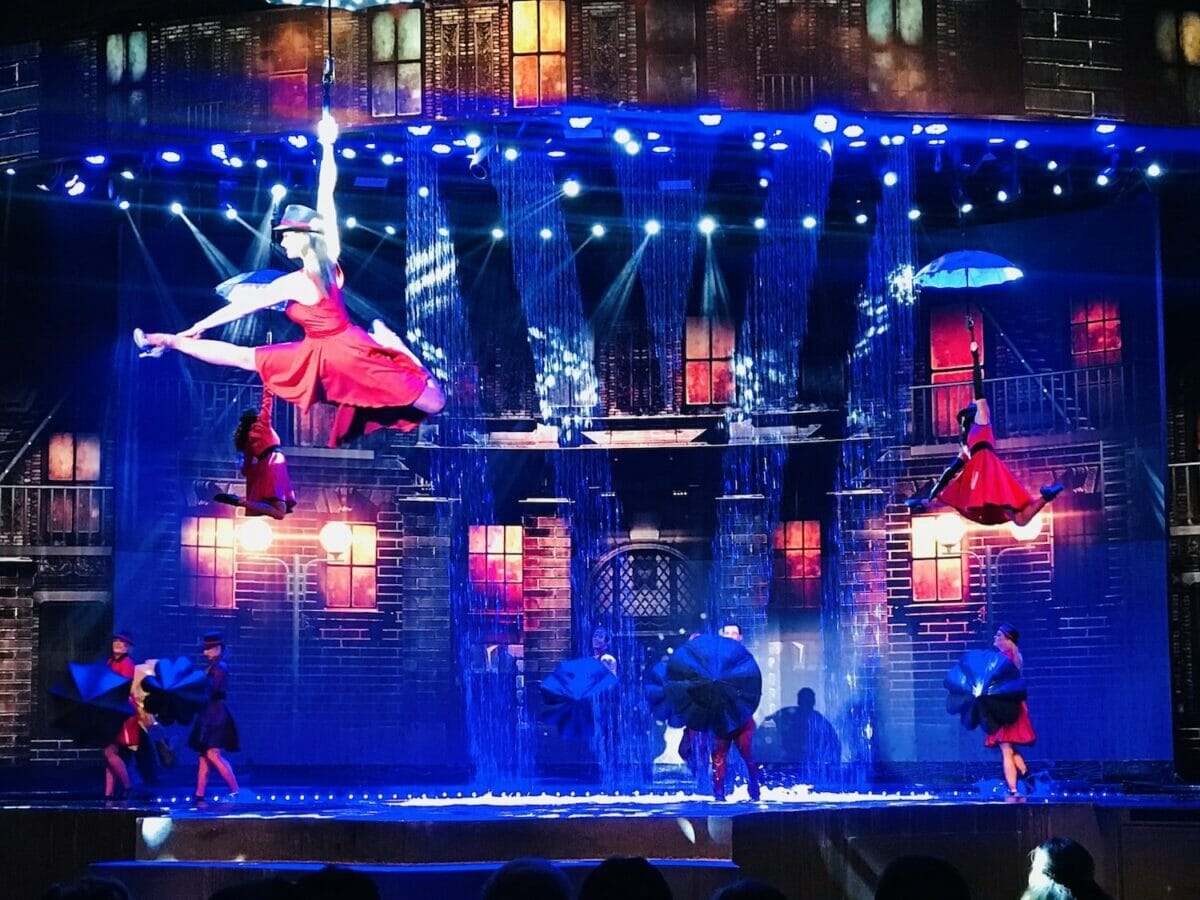 All-Access Vegas Nightclub Pass – Sure, it doesn't cover the gay bars or clubs of Vegas, but if your more interested in the DJ than the hook-ups or merely hitting up Vegas with your straight crew, this pass could be for you. Included is access to all the best pool parties, hottest clubs, and ultra-lounges at the lowest price. We didn't get a chance to try it but heard about it from plenty of other gays around town.
David Copperfield – While acrobatics might be the most popular attraction in Vegas these days, we still are partial to a little magic. We always love being amazed by this critically acclaimed star.
Go Skydiving – Get your adrenaline pumping by free-falling 120 mph for 45 seconds above the barren desert landscape, the Las Vegas strip. No experience necessary!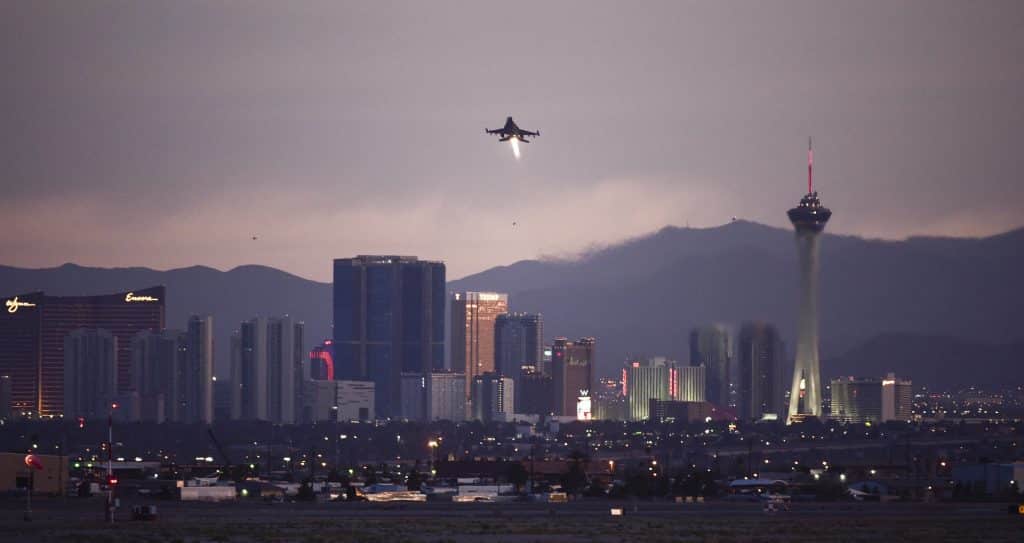 Have A Shot Gun Wedding – Gay marriage was legalized (just barely) in Nevada before it was nationally, so why not do as the heteros do and sign up for a drive-up wedding in Las Vegas. It's a lot cheaper than a reception will cost you back home! We even have a guide to gay marriages in Vegas just to help you!
Rupaul's Drag Race LIVE – Clock the hair, clock the mug, clock the nails, clock my skirt, it's time to werk. Glue your wigs on real tight, because this ruveal will leave you gagging. RuPaul's Drag Race Live is getting its own show (aptly inside Flamingo Las Vegas). So start your engines, because this is going to be one sickening affair. Alums and winner queens will deliver shady-lady comedy schticks, lip-sync assassinations, and reveals upon reveals upon reveals. Everything will be left out on the stage, and by the end of it, you'll be snapping and screaming "10s, 10s, 10s – 10s across the board." The goopery and gaggery is here Dahling. Zip up that dress, press on those nails, and get ready to see these squirrelfriends death drop up and down the stage.
The Best Male Strip Show's in Vegas
Aussie Heat – One of the newest male strip shows in Vegas, we were left gagging over this all-star cast of Australia dancers, all with the hottest, most chiseled bodies we have ever seen. We were so thirsty after we booked our trip to Gay Melbourne. Aussie Heat has garnered a loyal gay following and seems to have truly is open to everyone, with every dancer being an equal-opportunity flirt. We loved seeing a gay man up on stage being grinded on and give Aussie Heat our vote for the best male strip show in Vegas for a gay man.
Chippendales – The most famous male revue in town and a sign of the changing times in Gay Las Vegas. Famed in the 80s for their refusal to let men enter, nowadays they are the one of the most gay-friendly out of the male shows in Vegas – but we are yet to see a guy brought up on stage. Expect the crowd to be packed with us queers who froth at the mouth along with straight girls, some of the sexiest all-American dancers in Vegas entice and tantalize. We loved these guys so much; we dedicated an entirely separate article to them.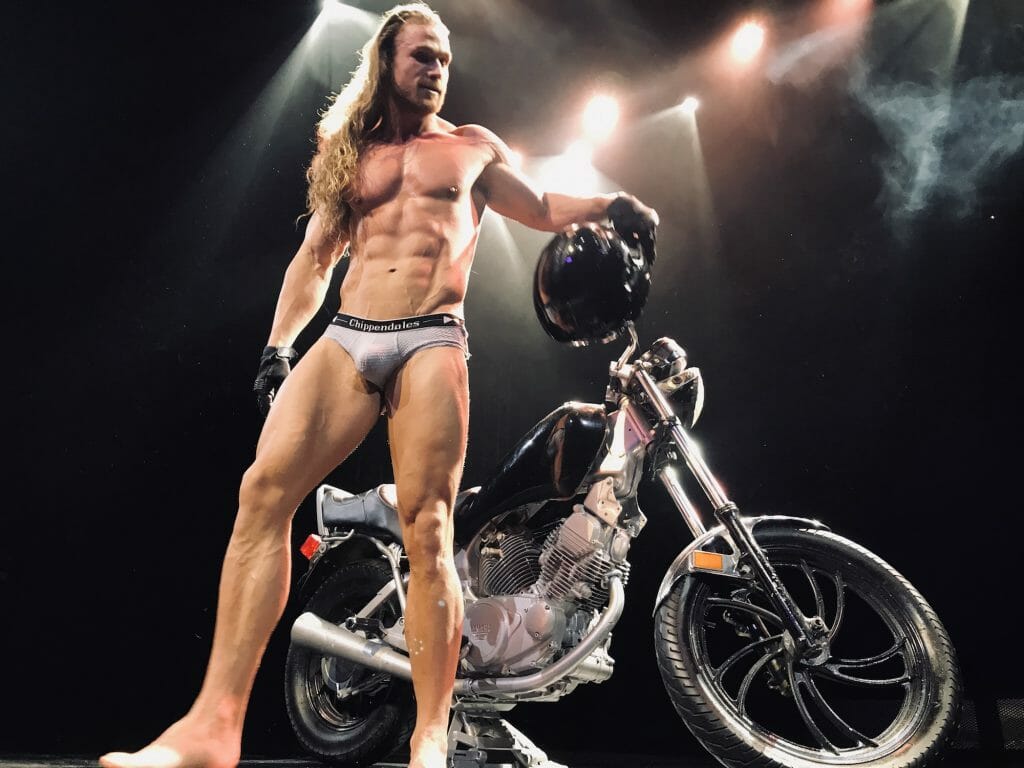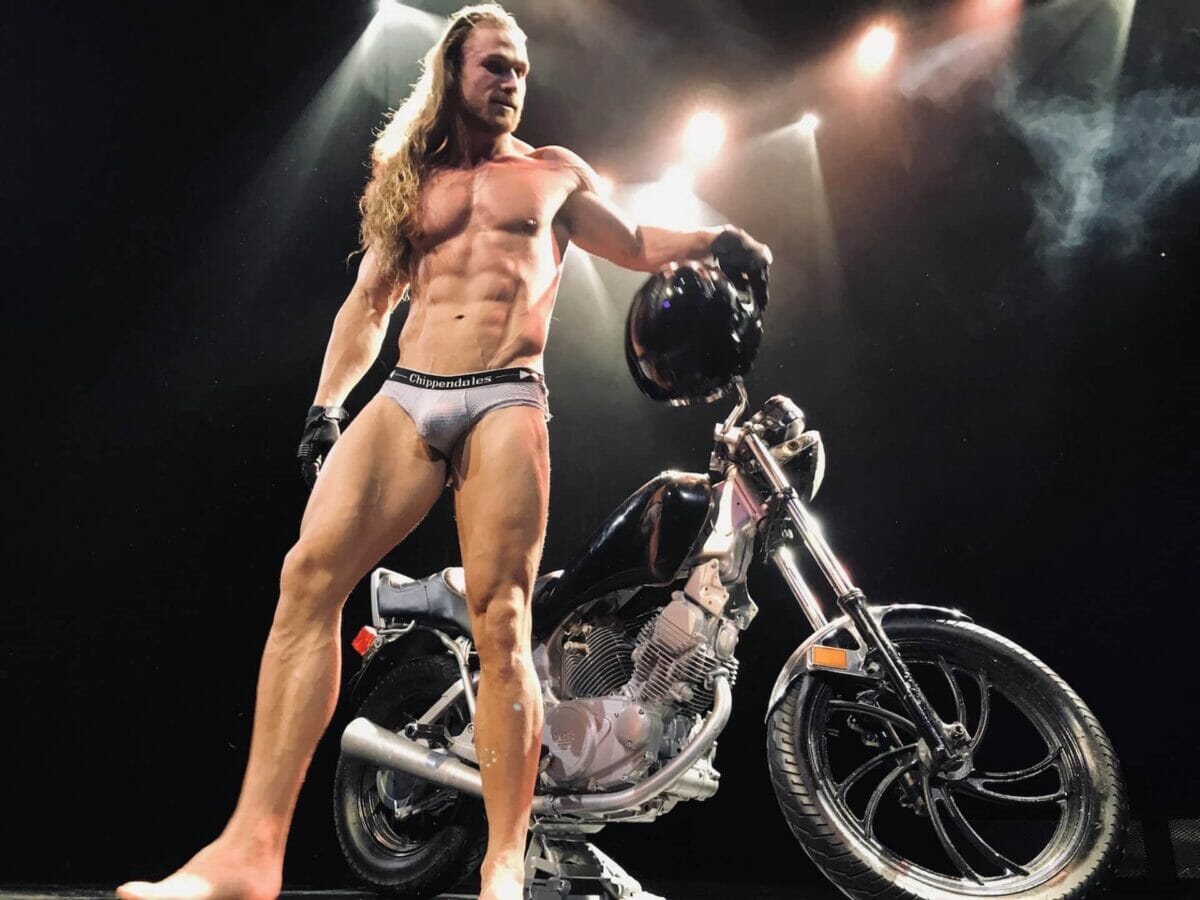 Thunder from Down Under – What is it about these Australian boys that get us all worked up? This male revue in Las Vegas features hard-bodied blokes, funny quips, gyrating pelves, and – did we mention all the gorgeous men? Fantasies really do come true.
Magic Mike Live – The only thing better than Channing Tatum in Magic Mike is the live show he produced with thirteen of the hottest and most talented men – well, it should have been! While you get plenty of action, dances, and sexiness – with none of the cringe-worthy plots, the guys remain shirtless for a significant portion, and there is not much interest in marketing to gay men. If they are cheap, it's still a fun night out, but it is easily one of the worst Male Strip Shows in Vegas.
Gay-Friendly Male Strip Club in Las Vegas – While all of the male strips clubs in Las Vegas we found have admitted men without women, we could not find one that offered gay lap dances across the board. Some only offer private lapdances out the back; some leave it up to the individual dancer – either way until a male strip club in Vegas get in touch with us to confirm a non-discriminatory policy we can't recommend any.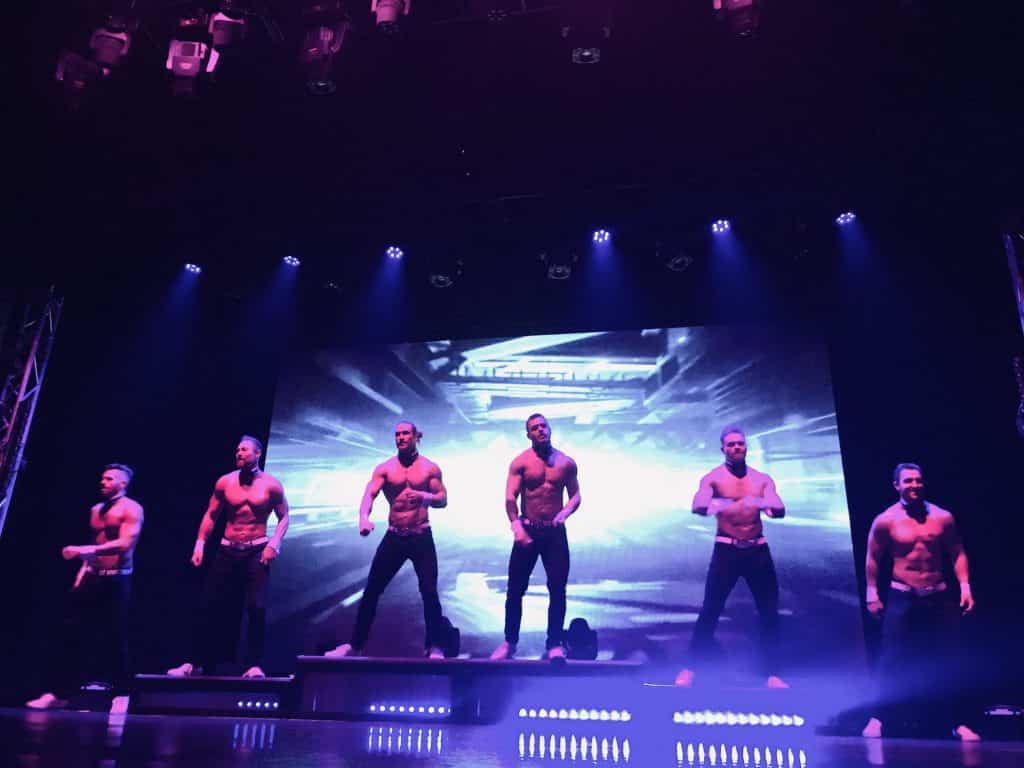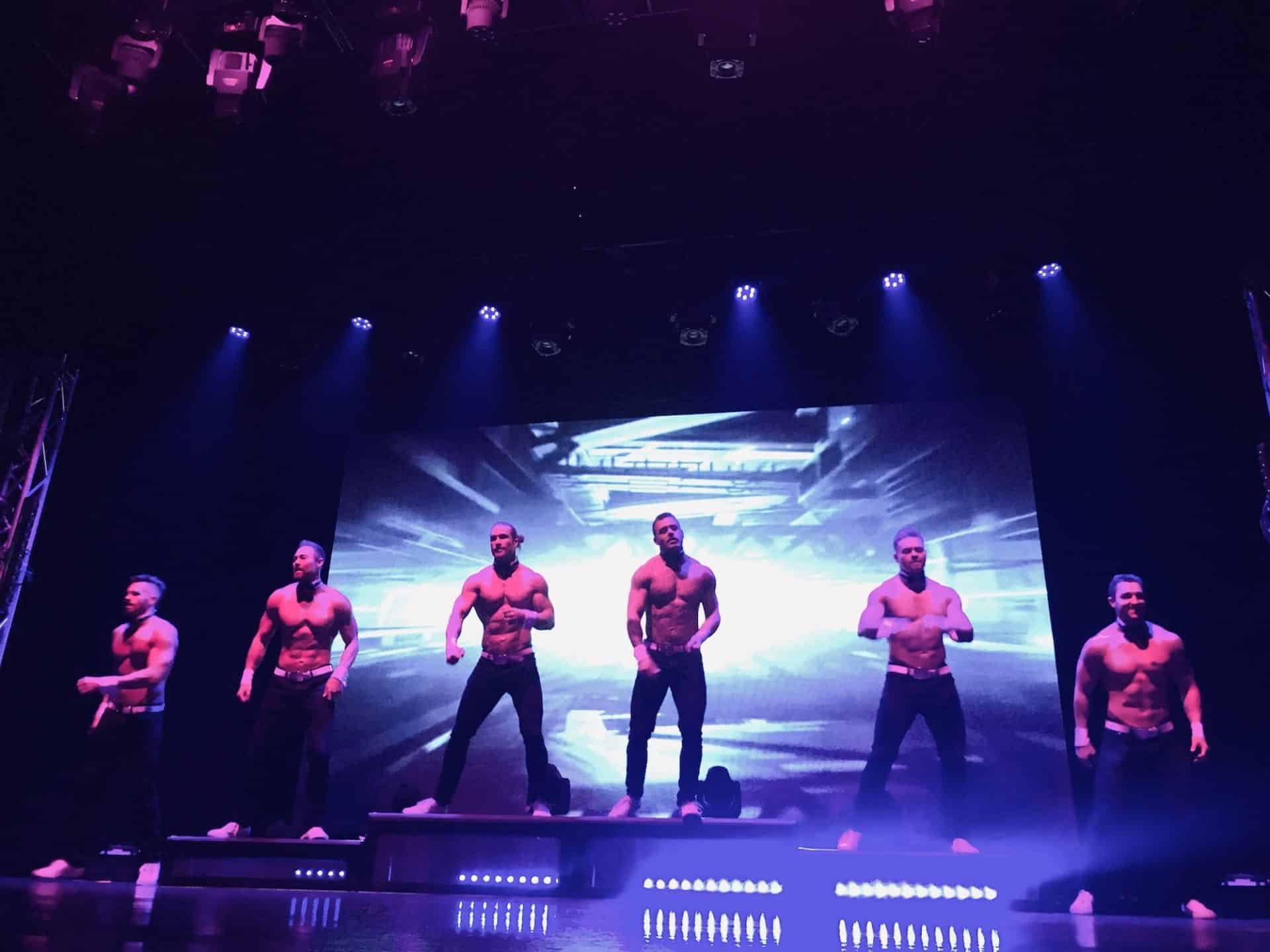 Gay-friendly and Gay Hotels in Las Vegas
LGBT tourism is booming in Las Vegas, and pretty much every hotel and hostel in Las Vegas can be considered gay-friendly. After all, being gay-friendly is not all about upscale luxury, but about friendly and open service and welcoming everyone with open arms.
Since Las Vegas's only gay hotel, the Blue Moon Gay Resort, abruptly closed it's doors a few years ago, there have been no exclusively gay hotels in Las Vegas. Luckily public acceptance has progressed to the point it's no longer necessary to stay in exclusively gay hotels in Vegas to avoid discrimination.
Many hotels in Vegas actively court the 'pink dollar' while hosting LGBT events, Pride promotions, and giving staff training on the local Vegas gay scene so they can better help gay guests.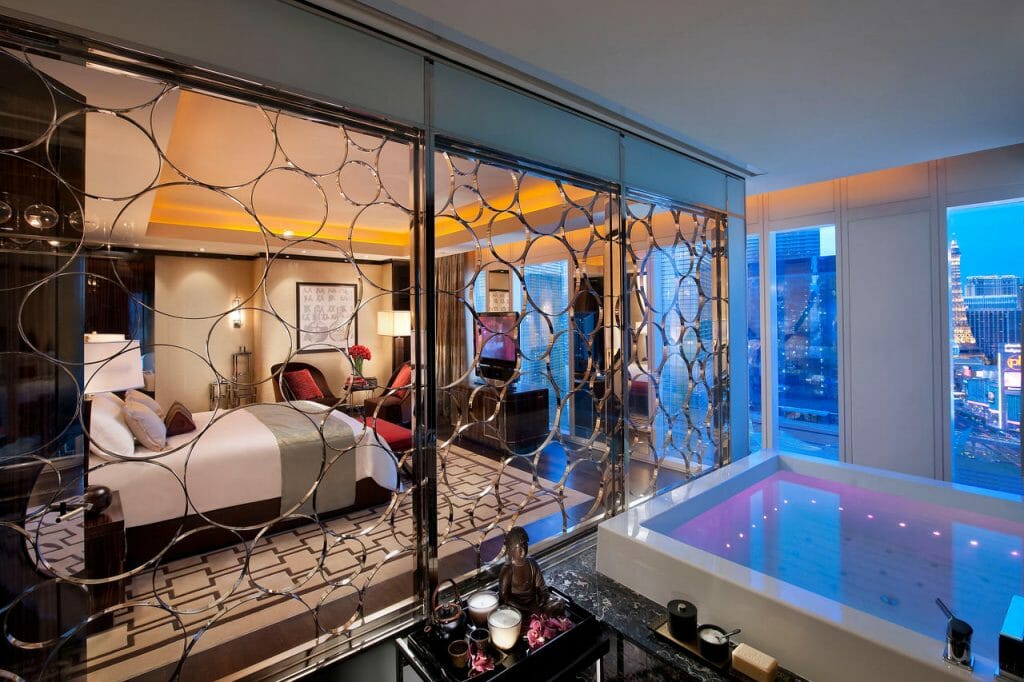 Some hotels have courted the gay's better than others, which are the hotels in Vegas we recommend because of their solid reputation as spots for gay travelers to stay – and who doesn't like to be surrounded by like-minded people.
Staying central within walking distance of the Las Vegas strip is ideal – although prices get cheaper the further away you travel. For a compromise, you might want to consider staying next to the Las Vegas Fruit Loop / Gay Hub, which is still walking distance to the strip – but with lower prices and gay clubs right outside your room.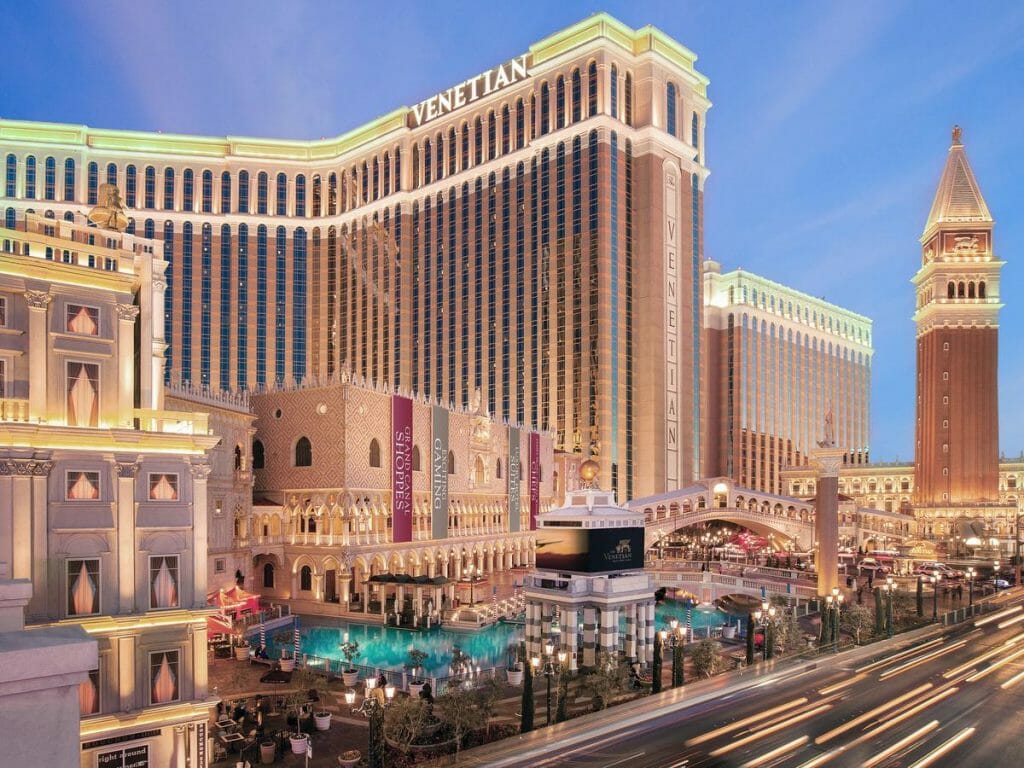 No matter where you choose to stay, it pays to book as far ahead as you can because occupancy rates in the best Las Vegas hotels routinely exceeding supply – though it does depend on which season you visit. Competition keeps prices from varying too much – but quality varies greatly.
There are plenty of other hotels in Las Vegas you could consider. Still, as it stands, these options are the most popular and closest to a gay hotel in Las Vegas. Whether you want a fun and social hostel, a cheap but private place to crash after a night of partying, or a chic luxury option with a pool to spend the day lying by, Gay Las Vegas as something for everyone!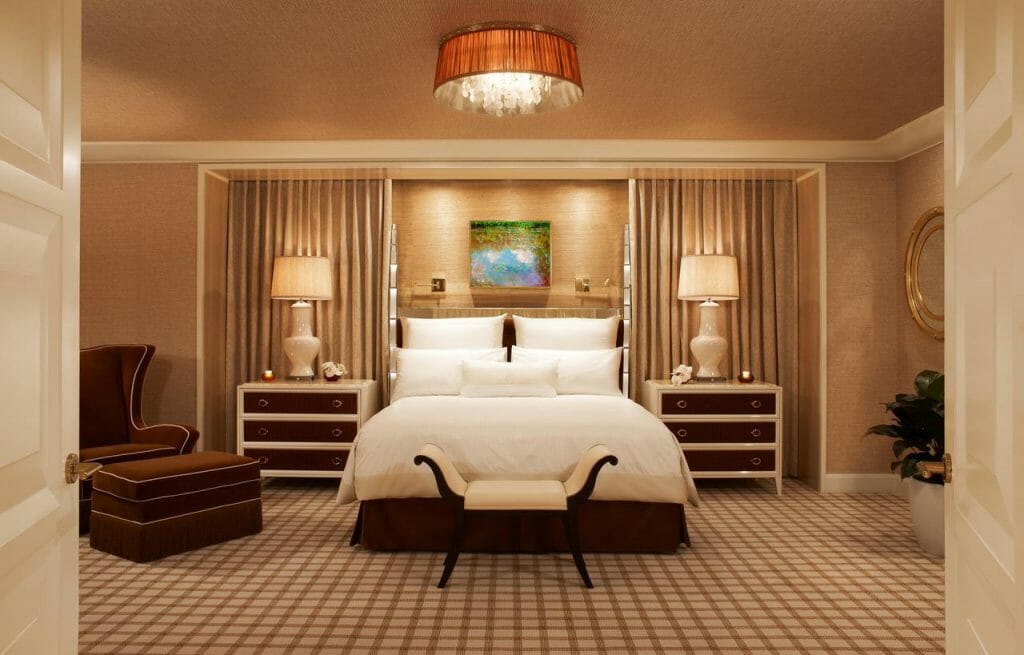 Luxury Gay-Friendly Hotels in Las Vegas
Encore @ Wynn Las Vegas ☆☆☆☆☆ – The most popular gay-stay hotel in Vegas, this luxurious 5 star serves you over-the-top glamour with blooming flowers, liberal use of the purple, and rouge-red and kits-free design. You almost forget the casino is right there! Guests also enjoy access to the amenities of the connected Wynn Resort and the Encore pool nightclub. They even have an exclusive "pride concierge" if we haven't answered all your Gay Vegas questions.
Mandarin Oriental Las Vegas ☆☆☆☆☆ – A global brand synonymous with high-end luxury, their flagship Las Vegas hotel doesn't disappoint with check-in on the 23rd floor Sky Lobby, heated outdoor pools, panoramic views of the strip and a world-class spa. There is no casino here, so it's a welcoming escape from the craziness of the Vegas Strip.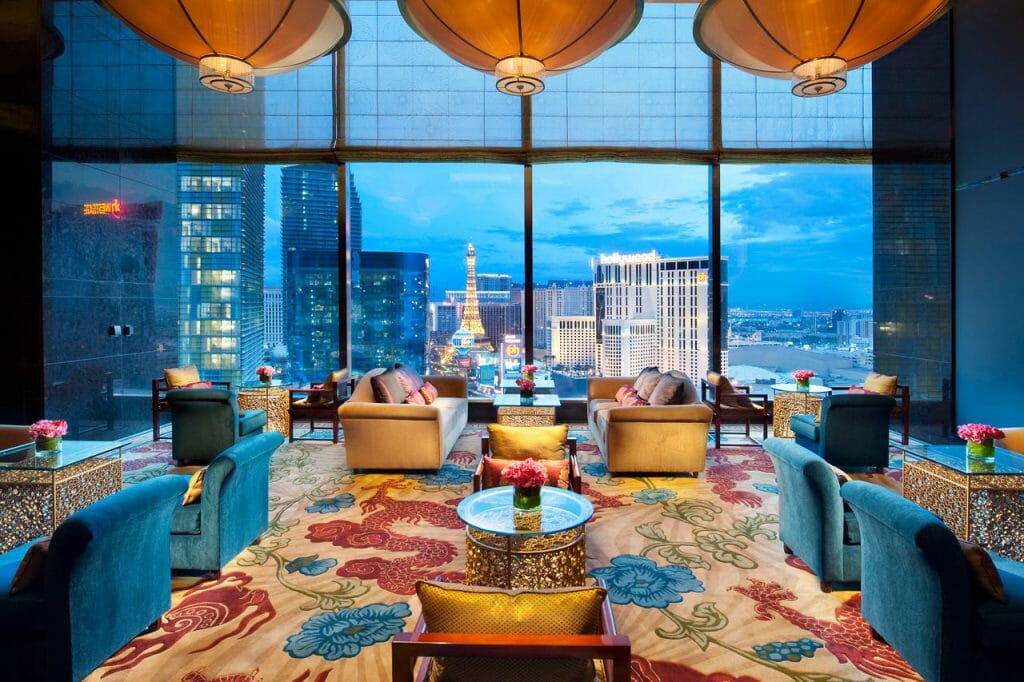 The Venetian ☆☆☆☆☆ – Who needs Venice when you can stay at this uber-romantic resort filled with light, world-class dining, and yes – those iconic canals and replicas of the Rialto Bridge and the Campanile di San Marco tower. Spacious suites, singing gondoliers, and the Grand Canal shops complete the package in this iconic, perfect for a first-time stay in Vegas.
Four Seasons Hotel Las Vegas ☆☆☆☆☆ – A boutique hotel (only compared to the insanity on the strips), this beautiful property bills itself as an elegant oasis escape and we have to agree with chic rooms spread out from the 35th to 39th floors. If you prefer sipping cocktails poolside under palm-trees than all-day gambling, this is the luxury hotel in Gay Vegas for you.
ARIA Resort ☆☆☆☆☆ – A gay-popular hotel in Las Vegas thanks to its gimmick-free modern design and location in the center of the strip. The sky suites offer access to top of the line amenities such as limo transport, but even the entry-level rooms offer corner views and floor-to-ceiling windows. There are also three outdoor pools and three hot tubs and a seasonal adults-only pool lounge (not that you will find many children staying here).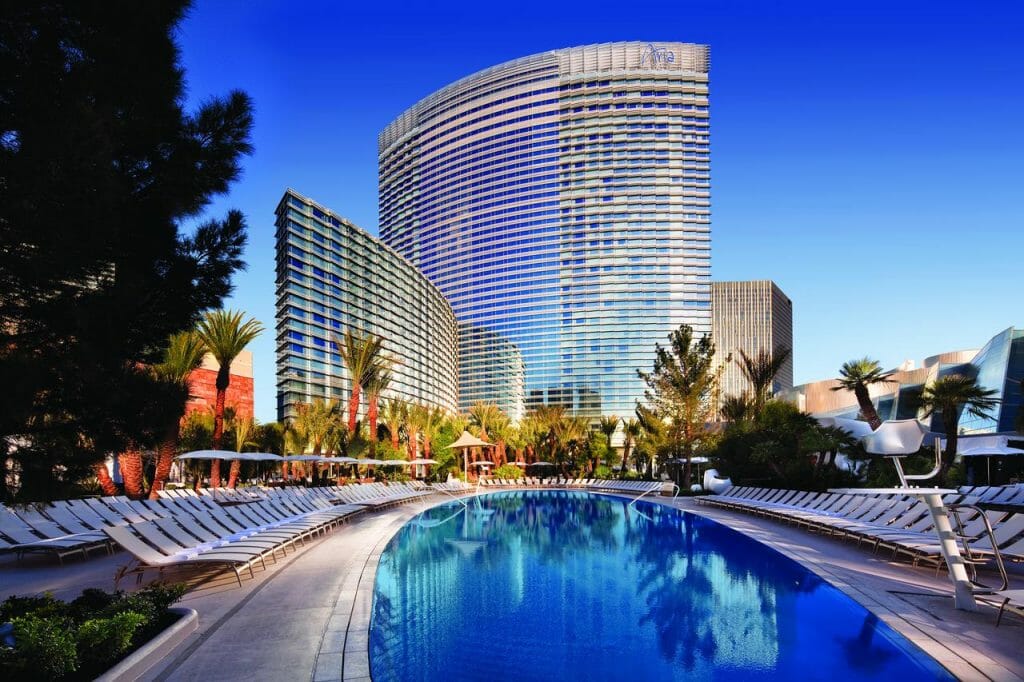 Other Gay-Friendly Hotels in Las Vegas
Luxor ☆☆☆☆ – Next to Encore at Wynn Las Vegas, this is the most gay-popular hotel in Las Vegas (with more affordable prices). Besides hosting the infamous gay pool party in Vegas every summer Sunday, you can stay in an iconic 30-story pyramid with slanted walls, multiple dining options, and warm rooms.
Flamingo ☆☆☆☆ – We cannot imagine a more gay hotel in Vegas than one entirely themed around flamboyant pink flamingos. This is 'old school' cool with Caribean style, plenty of entertainment, a central location, and an actual Flamingo wildlife habitat. The hotel has also been recently renovated with modern rooms with an outdoor pool featuring waterfalls, a water slide, and an adults-only area.
Green Valley Ranch Resort ☆☆☆☆ – If you want to explore more of the surrounding nature, this gay-popular resort on the outskirts in Vegas is Mediterranean-inspired with opulent rooms, a8-acre garden, infinity-edge outdoor pools, and upscale amenities. Airport and strip shuttles, but hiring a car is probably best to get around anywhere else.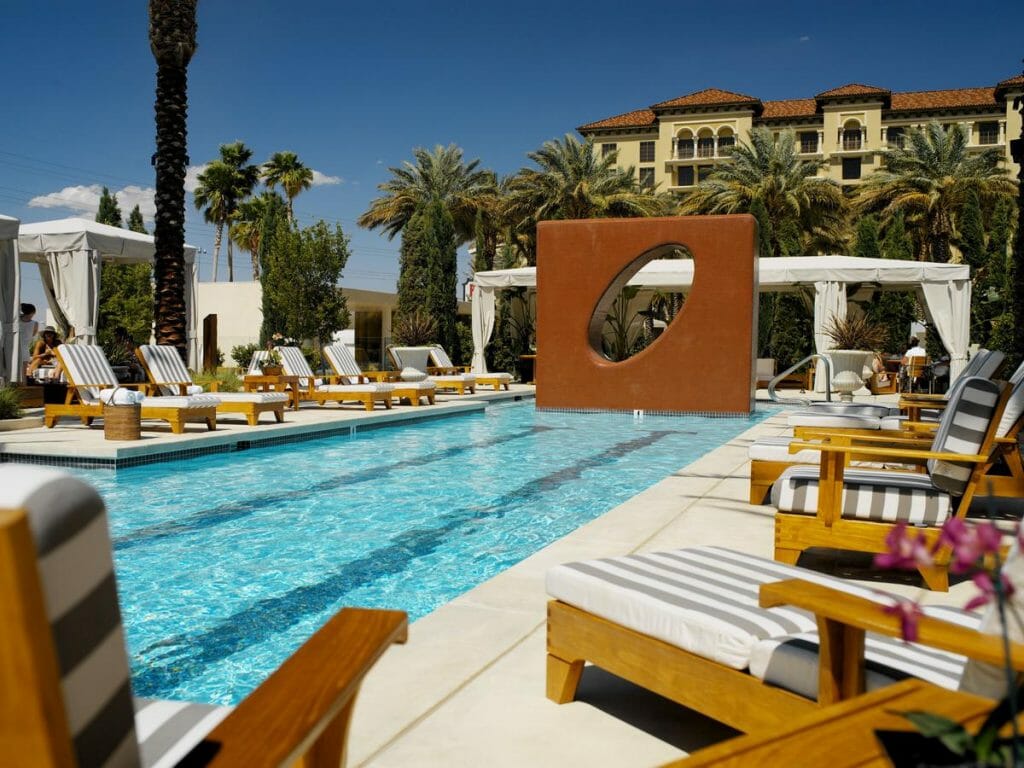 The Carriage House ☆☆☆ – A popular option thanks to its central location, the Carriage House is often the cheapest hotel room close to the Vegas Strip. With an outdoor pool, great reviews, and modern rooms, we can see why.
Circus Circus Hotel ☆☆☆ – The other cheap stay option on the Vegas strip featuring Adventuredome, an indoor theme park with a colossal roller coaster, plus circus-themed acts. At the north end of the Strip, we enjoyed the kitschy resort feel and very cheap rooms – but this is old-school Vegas and nothing glamorous.
Hostel Cat ☆ – Sure, Vegas is much better in a hotel, but if your traveling alone, one a super-budget and want to hit the town with new friends, this is the only place to go. The closest hostel to the Las Vegas Strip organizing epic party events every night, it's basic as hell, but we still hear great things from solo gay international travelers.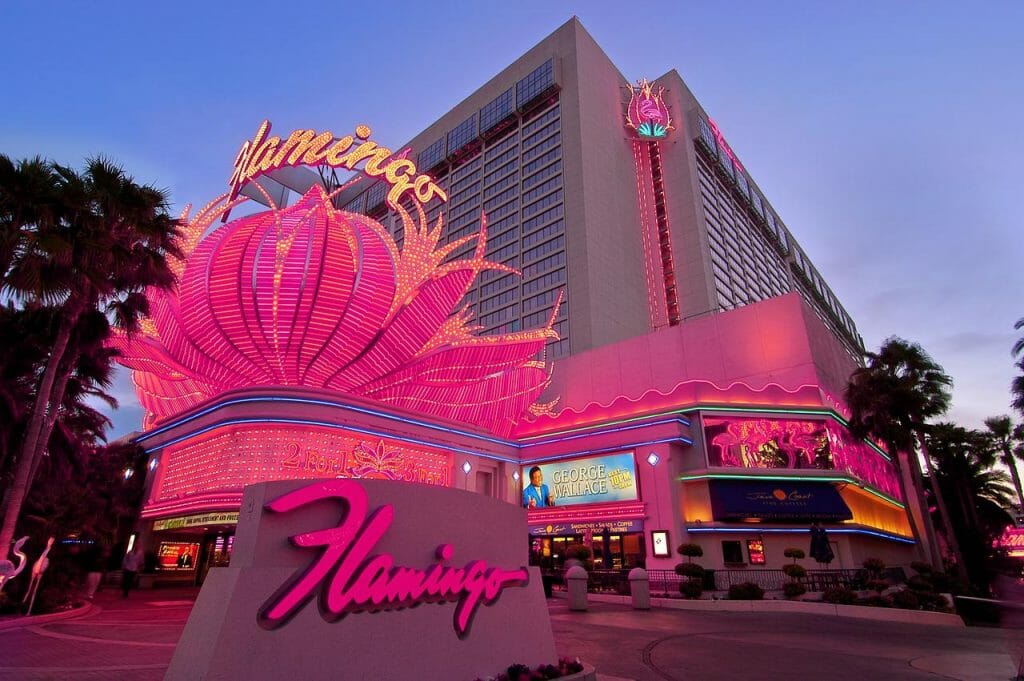 Gay-friendly Hotels Close To The Las Vegas Fruit Loop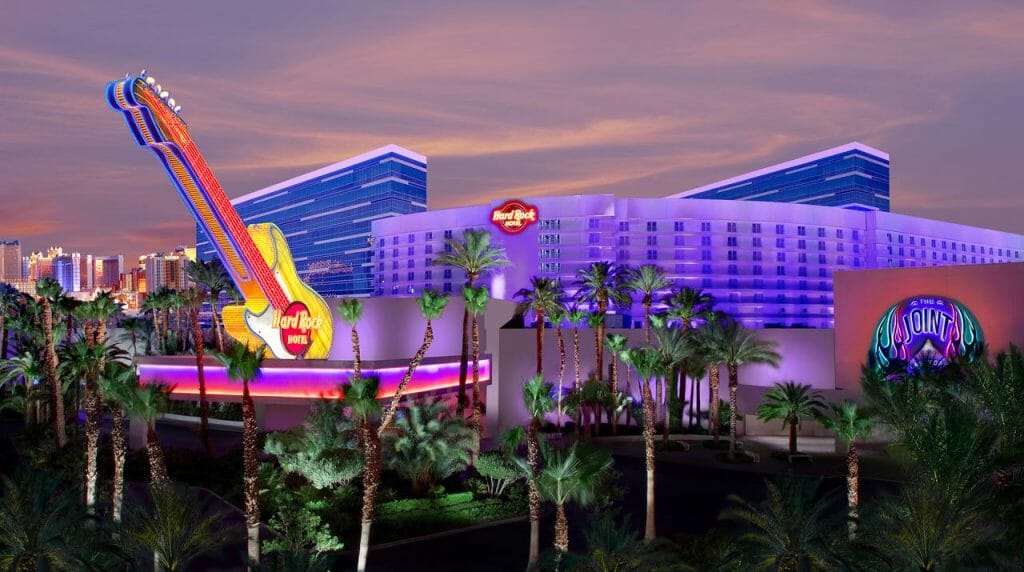 Gay Nightlife in Las Vegas
It wouldn't be a night out in Sin City without a few bad decisions, and luckily Gay Las Vegas has more than enough gay bars, clubs, and venues for you to make them in. With everything from dirty dive bars, full-scale clubs with international DJs, and chilled summer pool parties, you are never going to be bored here.
Check out our map of gay Vegas at the end to get an idea of locations, but if your not sure where to head, the hilariously named 'Fruit Loop' is the hub of the Las Vegas gay scene. A group of LGBT nightclubs, bars, and bathhouses on Naples Street near the University of Nevada, Las Vegas – there is always something going in here, and it's a great place to mingle with locals and tourists.
One thing is for sure though: Whatever you're after, Gay Las Vegas can provide!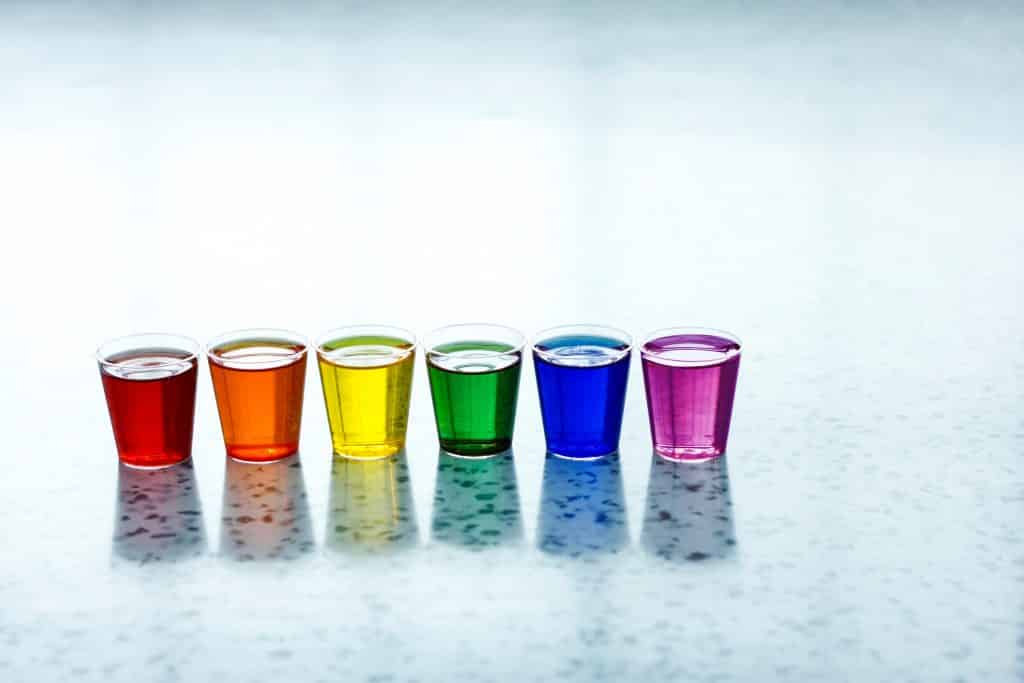 Gay Bars in Las Vegas
Las Vegas Eagle – A class gay bar in Vegas, which has exactly what you would expect. Dancing, karaoke, and a fun Wednesday Underwear night are the main drawcards. Don't forget to take your best gay men's erotic underwear — but be warned: the interior is rather cave-like and it is popular with an older, local clientele.
Badlands Saloon – Another mainstay in the heart of the Vegas gay area. It used to be a gay cowboy bar in Vegas but has since remodeled slightly as is known for its cheap drinks and guys who ain't looking for anything too fancy.
Charlie's Las Vegas – With locations in Denver, Chicago, and Phoenix, you know this is not their first rodeo. Charlie's Las Vegas is a popular haunt for anyone with a thing for gay cowboys (and who doesn't!) with an event line up the mixes drag and line dancing. Sure, word has got out, and now it's more popular with tourists, but at Charlie's Las Vegas, you can still get a little bit of everything.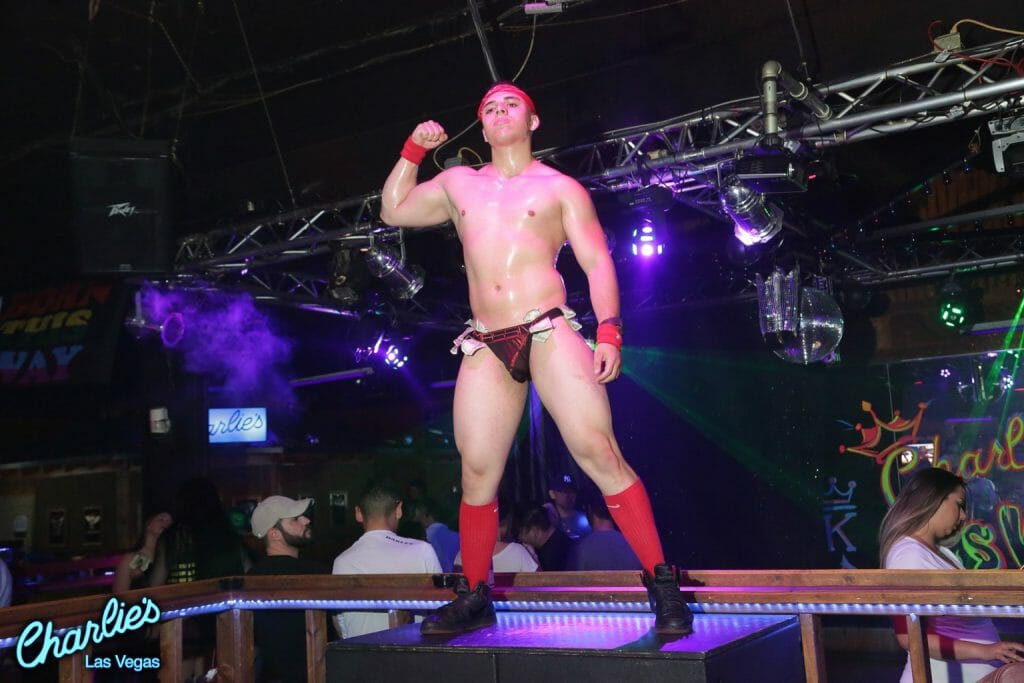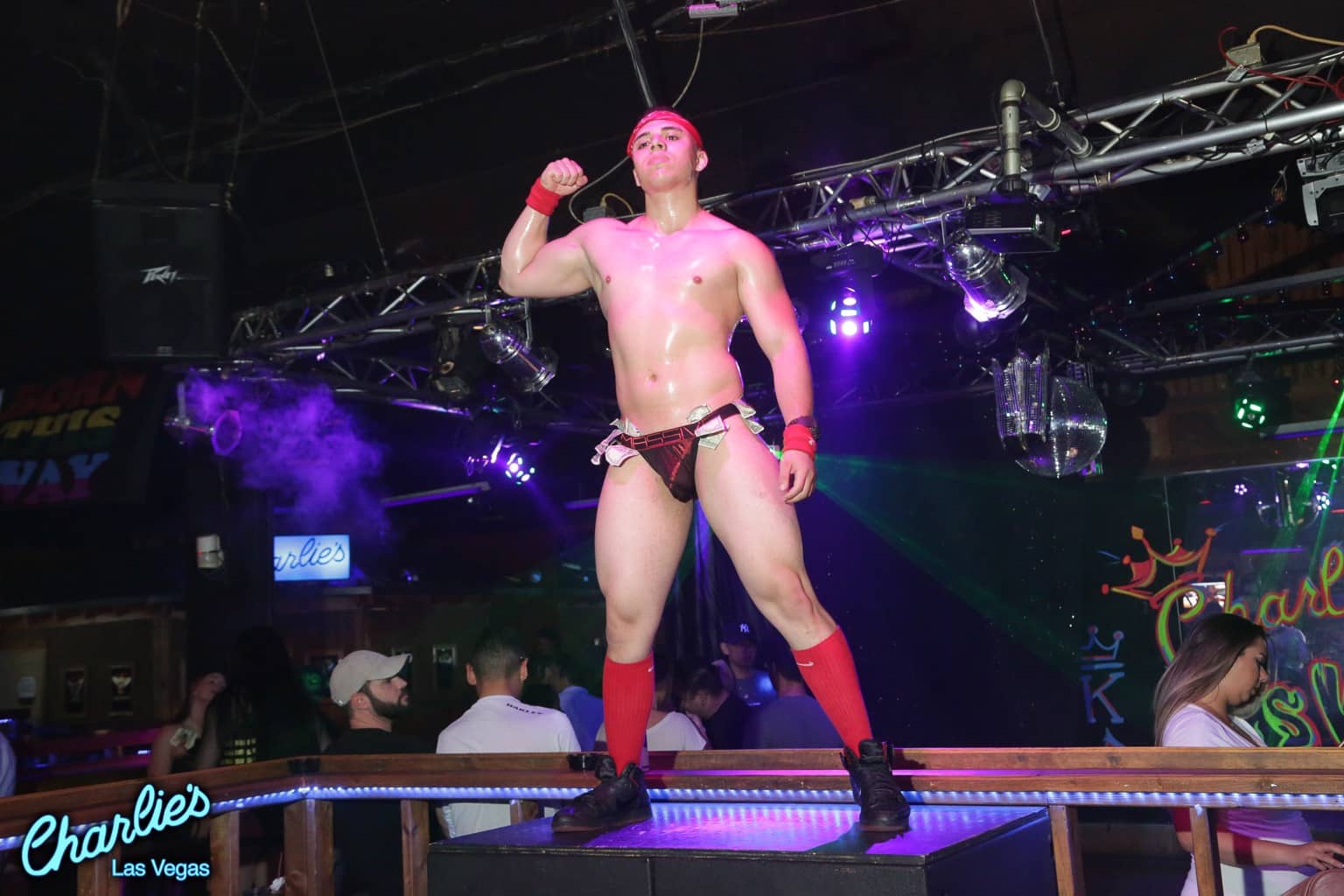 Quadz Video Bar – A popular 24/7 gaming and video bar that is part of the Las Vegas Fruit Loop with machines, pool, darts, jukebox, and a fun photo booth. Game night every Wednesday and Top 40 / EDM Music on the weekends.
The Las Vegas Lounge – In the always fun Fruit Loop gay area, this is the only Las Vegas Transgender Bar though, of course, everyone is welcome. With a daily happy hour, transexual drag shows on Saturday night and pool tables, video poker, and more.
The Phoenix Bar & Lounge – What's not to love about a gay bar fronted by a giant flaming bird and Lady Liberty! Inside, you will find an unpretentious crowd, cute bartenders, and music that lets you talk to the person next to you. Spacious with a wide variety of events every week with fun bar games, billiards, karaoke, and plenty of lounge space. Their Sunday brunch is also gaining popularity with drag shows and a $20 bottomless mimosas.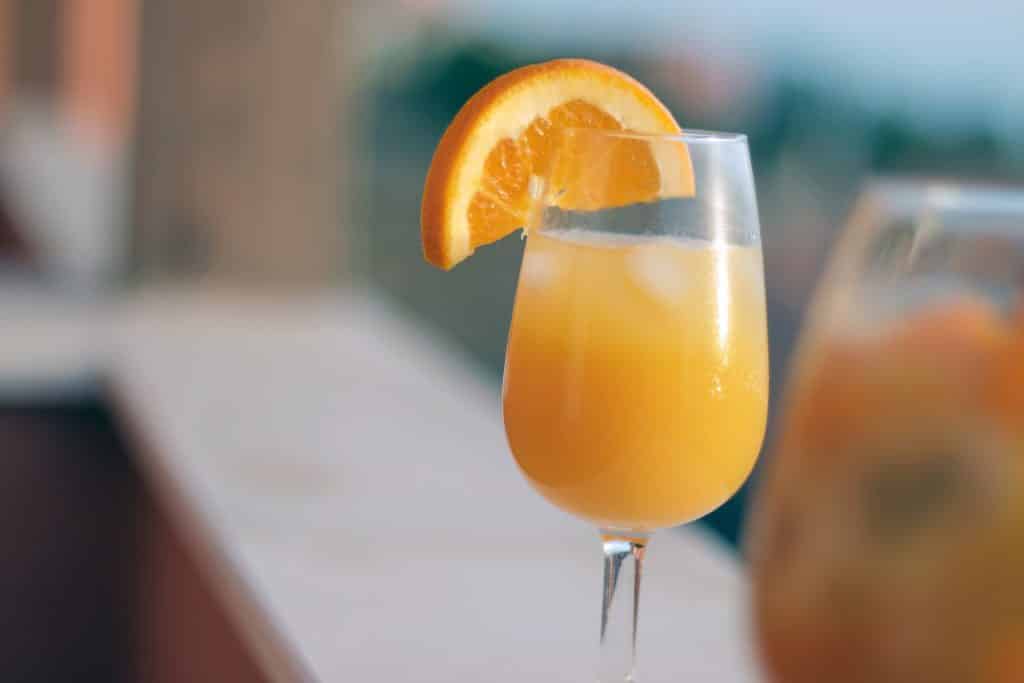 Bastille – The only gay bar in the Vegas downtown – but after a recent change of ownership is renewed and reenergized. A small, quaint gay bar with a French theme perfect for starting a night out with locals before heading on to bigger and better things.
Fun Hog Ranch – A simple gay hangout without pretense, offering a 2 for 1 Happy Hour every day, (1 pm-9 pm), relaxed atmosphere, jukebox, and gaming machines. A great dive bar that attracts the bear/leather/fetish crowd but as welcoming to everyone.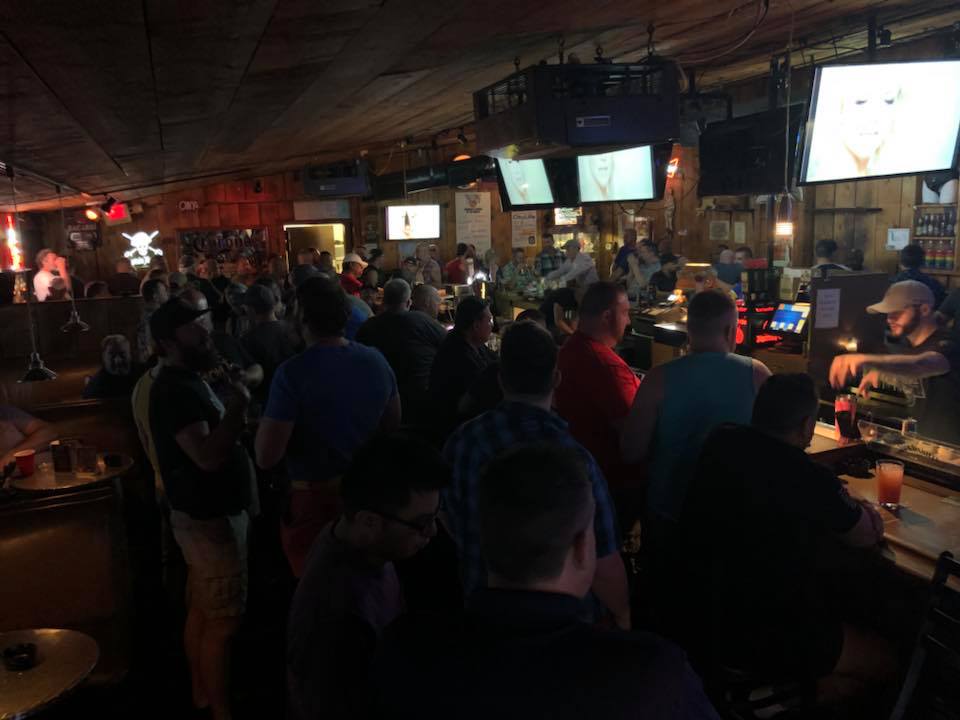 Don't Tell Mama – Not exclusively gay but a real cozy lounge with attracts all the boys to the yard – for live piano, open-mike, and sing servers. Our favorite sexually ambivalent bar with speakeasy vibes and so much talent you'll be raving about the cabaret for months to come.
Artifice Bar – Another under-cover homo hangout, so while they might not be flying rainbow flags, they are super-gay friendly, and you're bound to meet other queer brothers – especially for this performance events. Bohemian vibes with fun goth night events, delicious cocktails, and an anything-goes attitude. Found in the hip Arts District, this urban lounge is pretty hidden and gives a taste of the real Vegas scene – without tourists.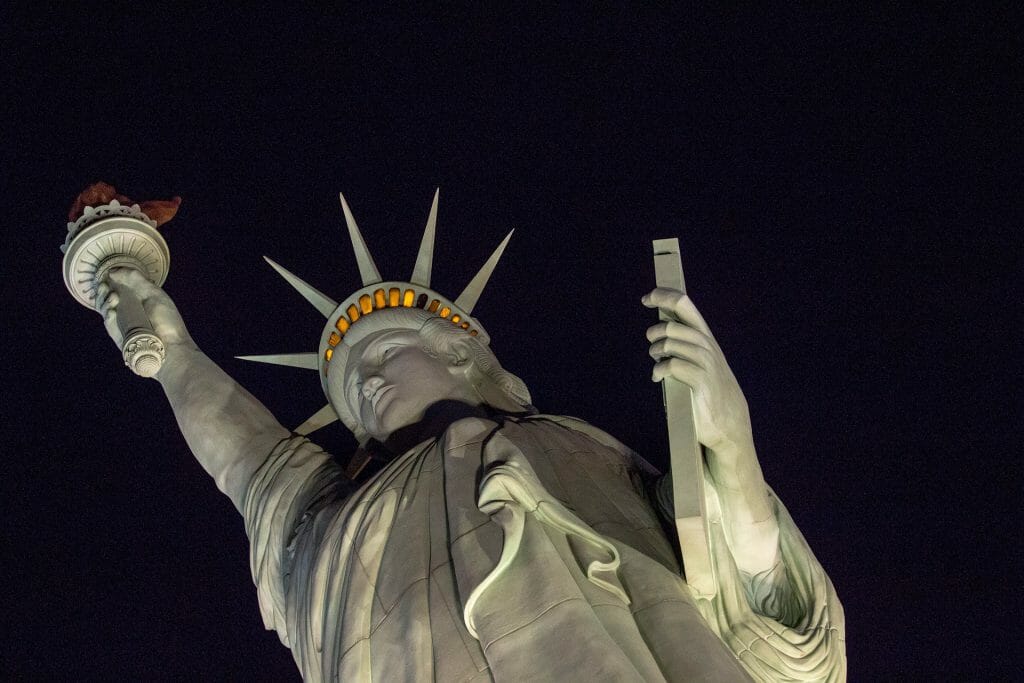 Gay Clubs in Las Vegas
Piranha Gay Club – A mainstay of the Las Vegas Fruit Loop open 24/7 this trendy nightclub is likely where you are going to end up no matter where you stay. A glam mix of hot pink and blue lights over the two-story club complete with VIP skyboxes, three different rooms, and an outdoor patio. Holding the hottest gay parties in Vegas and some of the best drag shows, Piranha Gay Club is the most popular gay club in Vegas for a reason.
Flair Nightclub – A popular LGBTQ night-club in Vegas with sexy boys, go-go dancers, drag, and no hang-ups. We love being surrounded by our family here – and while the guests might be hot as hell and often go shirtless, there is no West LA peacocking here, and everyone is just out to have fun. Set to re-open in a partnership with Hamburger Mary's shortly – so watch this space.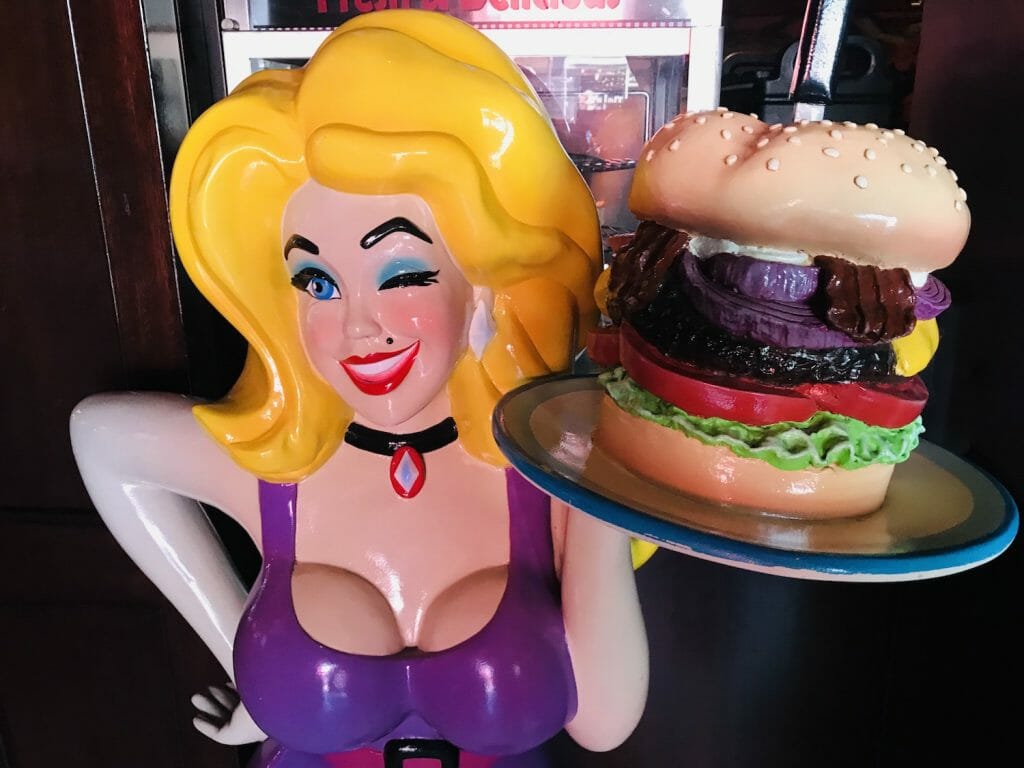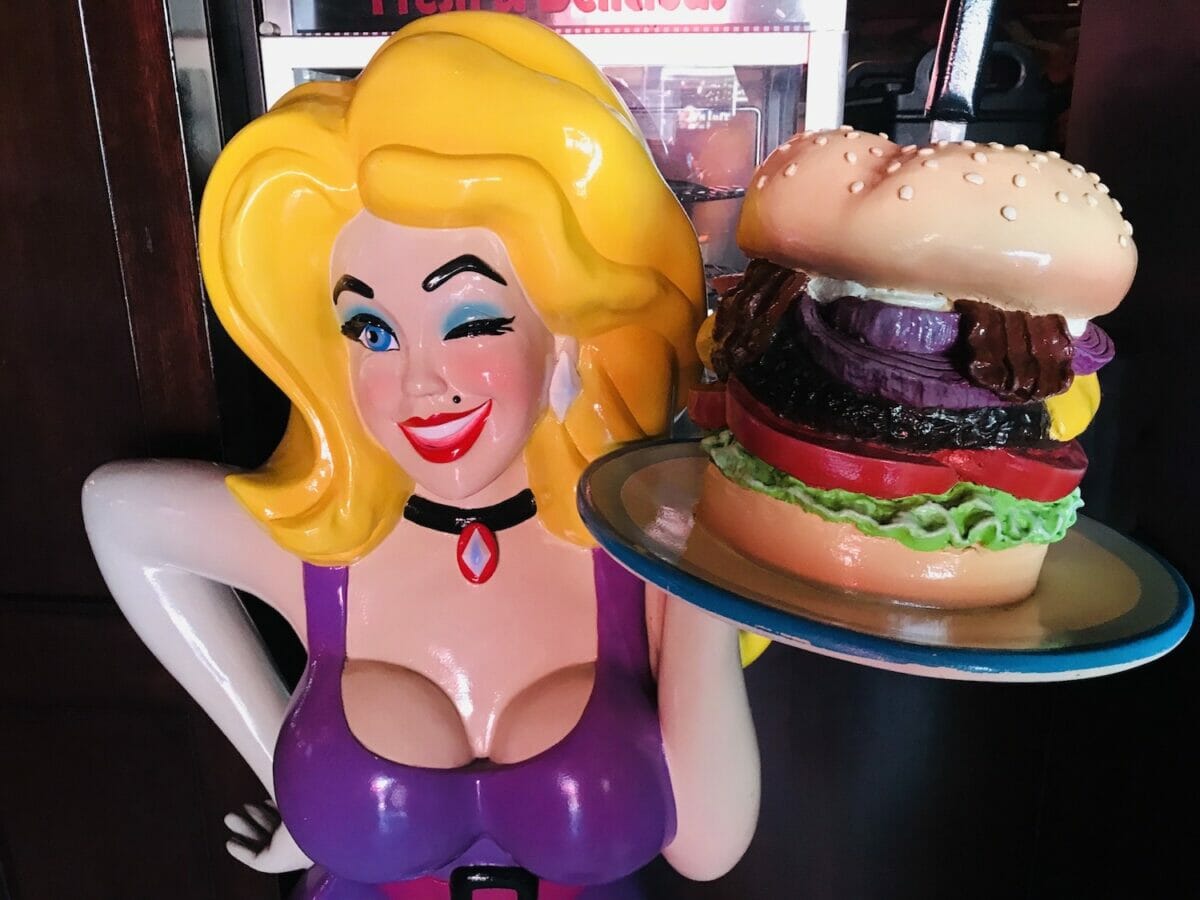 Freezone – A more chilled out gay club in the Las Vegas Fruit Loop with a 'family feel,' meaning a nice mixture of gays, lesbians, and our supporters typically resulting in an equal male / female ratio. Expect no attitude and hang-ups as everyone hits the dance floor, and late-night parties have been known to spill out into the car-park – and some of the cheapest drinks in town. PS: Jerry, the bartender, gives us life and is worth visiting alone for!
Flex Cocktails Lounge – Serving the LGBT community in Vegas for over 20 years, we love this Vegas gay club for their nightly drink specials and fabulous drag shows. It's more popular with locals than tourists, meaning lower prices and fewer crowds than the Strip, but the sexy go-go boys, events, and karaoke still draw a big crowd.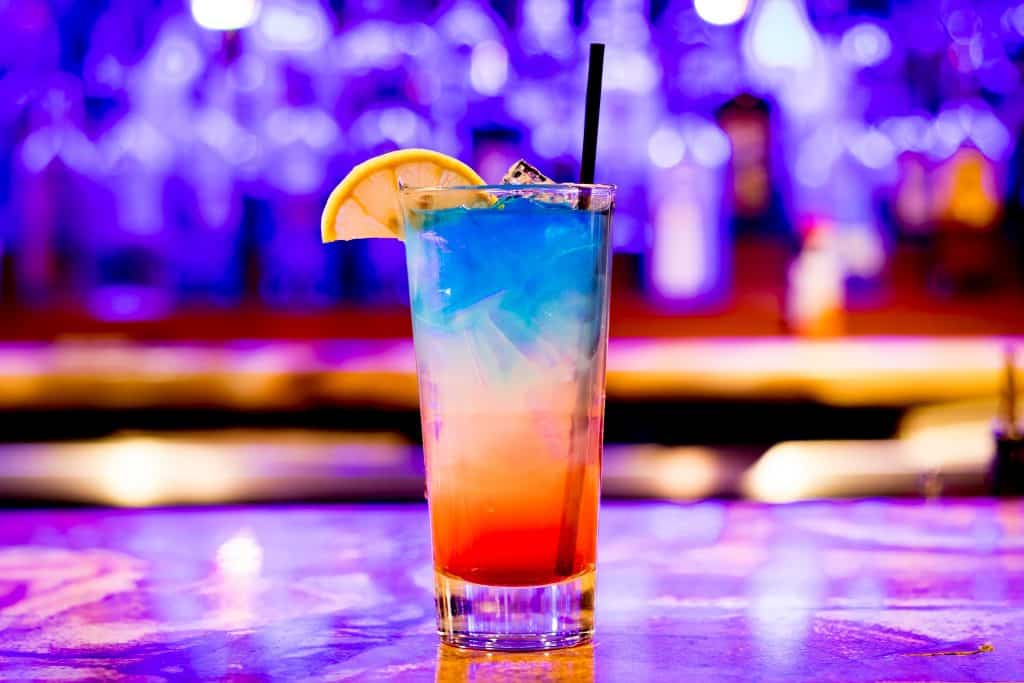 Gay Pool Party in Las Vegas
Temptation LGBT Pool Party @ Luxor – Sure anyone can attend, but this wild pool party every Sunday in the summer is specifically marketed and popular with queer folk, and we are living for it hunty! Great themes, bodies as hot as the Nevada desert, and sick beats make this the only place to be on a Sunday. Guests of the hotel enjoy half-price entry, which makes the Luxor a popular gay hotel in Vegas, and groups should consider reserving the luxurious cabanas with misting system, snacks, flat screen, and more.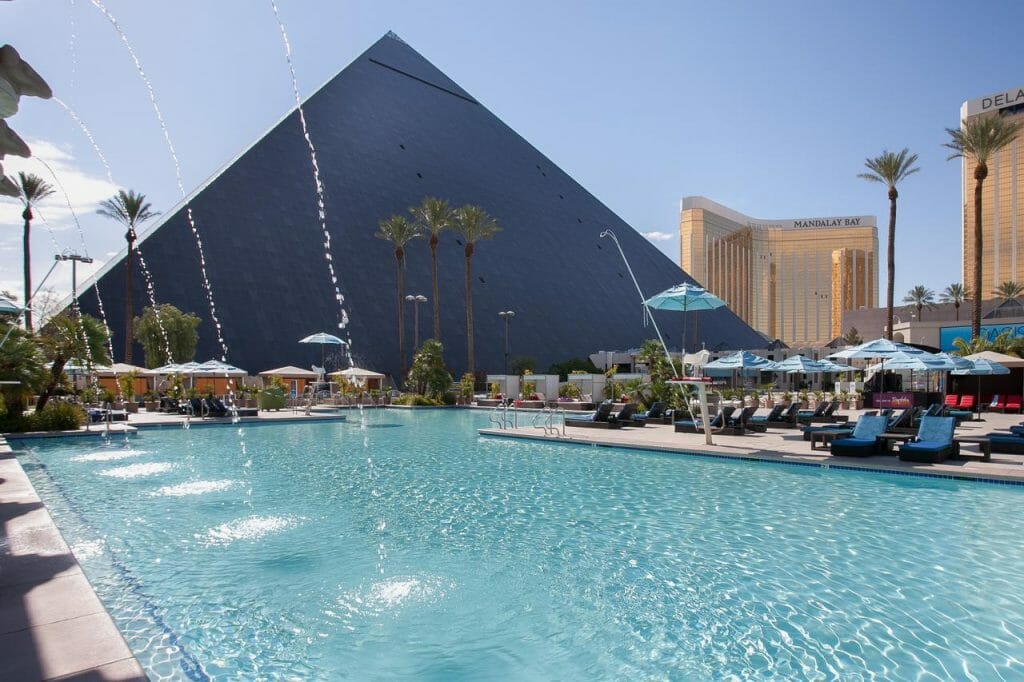 Gay Events in Las Vegas
Las Vegas is a city that has hundreds of events on every single night of the year, and therefore you can expect the events calendar to be similarly jam-packed.
While October is the primary month of celebrations and events for Las Vegas's LGBT community revolving around a vast Pride Parade & Festival, there are plenty of other gay activities in Las Vegas to look out for during the rest of the year. New developments are coming-and-going all the time, so if you hear of one that belongs with the most prominent annual Gay Vegas events, please contact us – but for now, these are our absolute favorite that are worth booking a trip around.
Just be sure to make sure you book your favorite gay-friendly hotel in Vegas well in advance!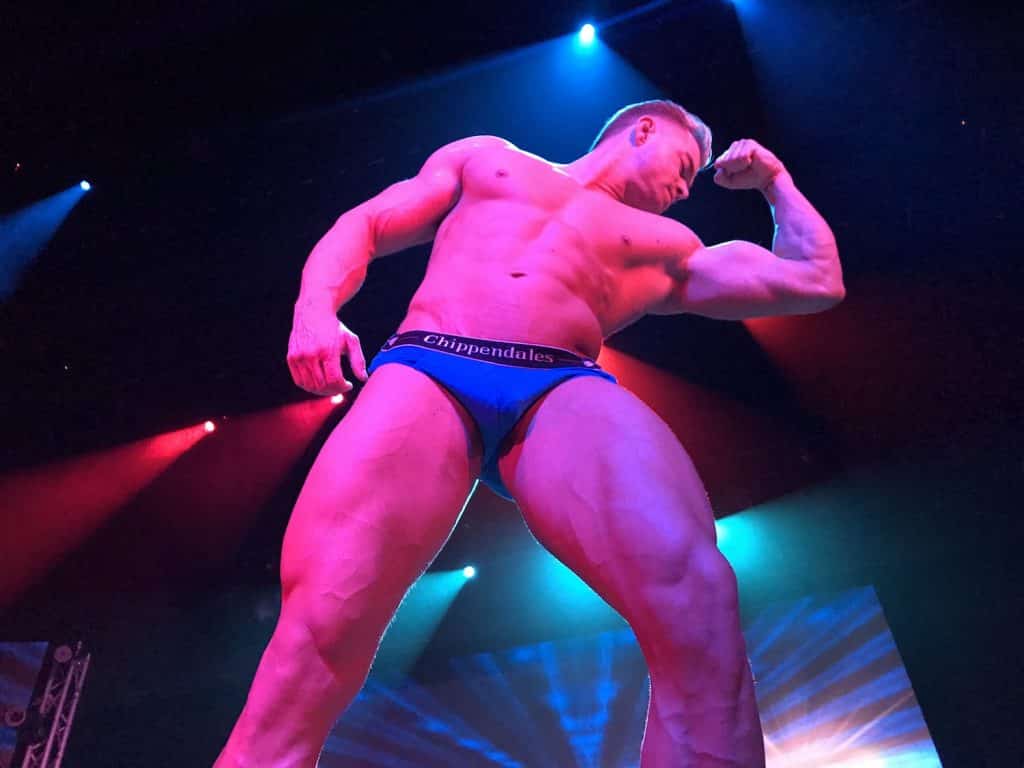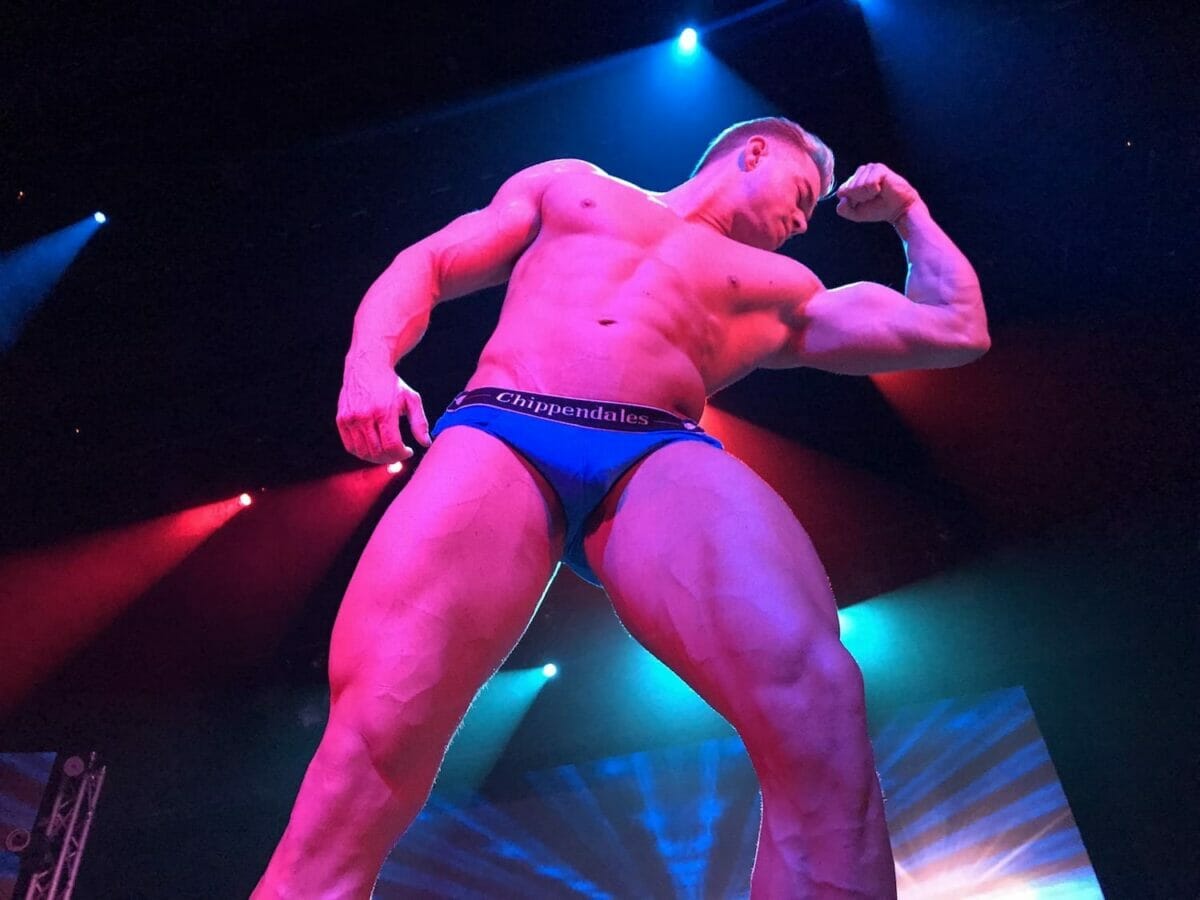 Las Vegas Pride Week (October) – Come together with your queer family to surround yourself with fabulous fun and an entire week of gay festivities. The highlights are the Vegas Night Pride Parade, which has all the glamour, glitter, and spectacle you would expect of Vegas on a Saturday night. The next day the Las Vegas Pride Festival is held in Sunset Park with 100 exhibitors on-site, musicians, bartenders dishing out drinks, and laid back vibes – whether you are in a nightclub tent or relaxing in the grass. Many people head out for the entire week to make the most of the associated parties and hotels in Vegas sell out fast.
Las Vegas Pride OUTside Hikes – We love this concept and a great show of Pride outside of darkened clubs. Mostly hikes for the LGBT community in different areas close to Vegas, sure you will have to hire a car to get there, but what better way to meet and chat with other gays, work off those margaritas and get sun-kissed by that amazing Nevada sun. Held monthly.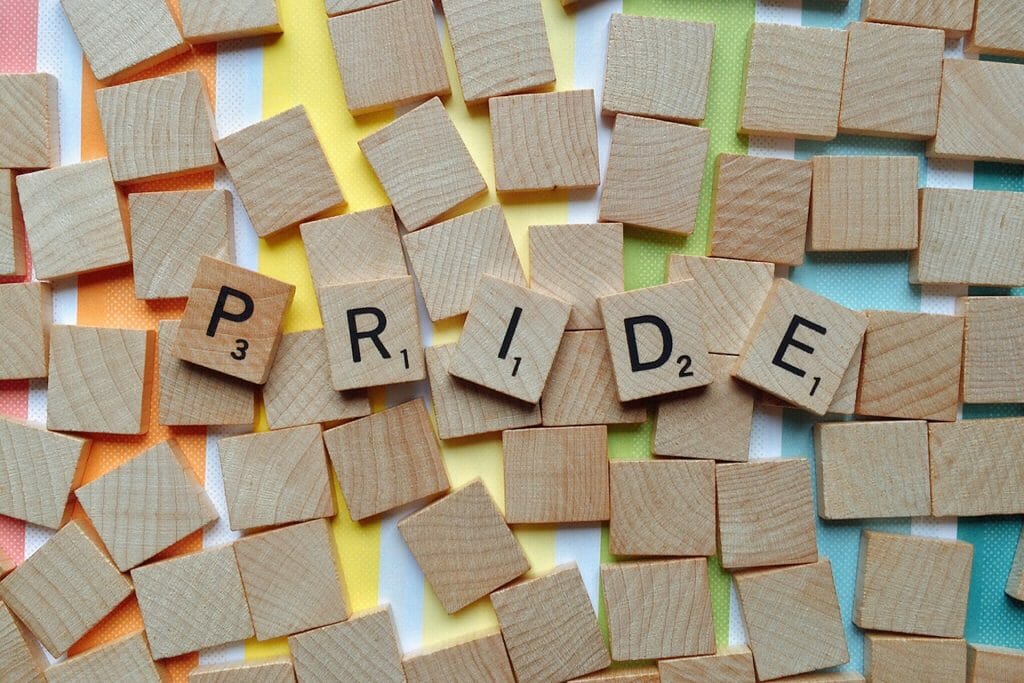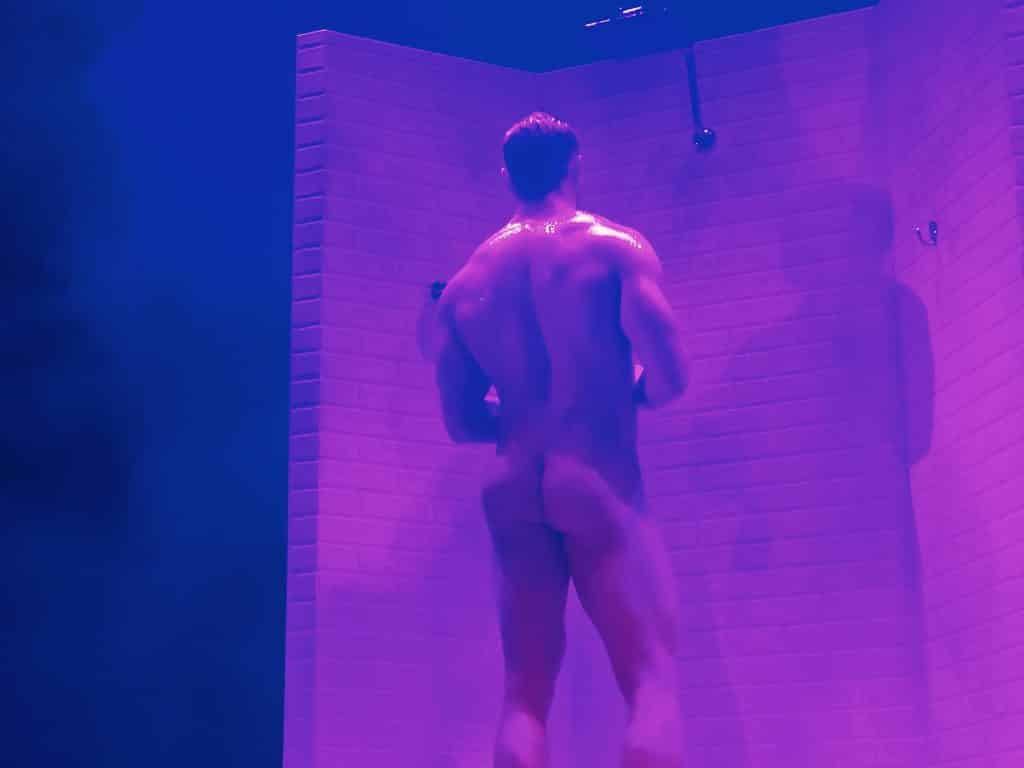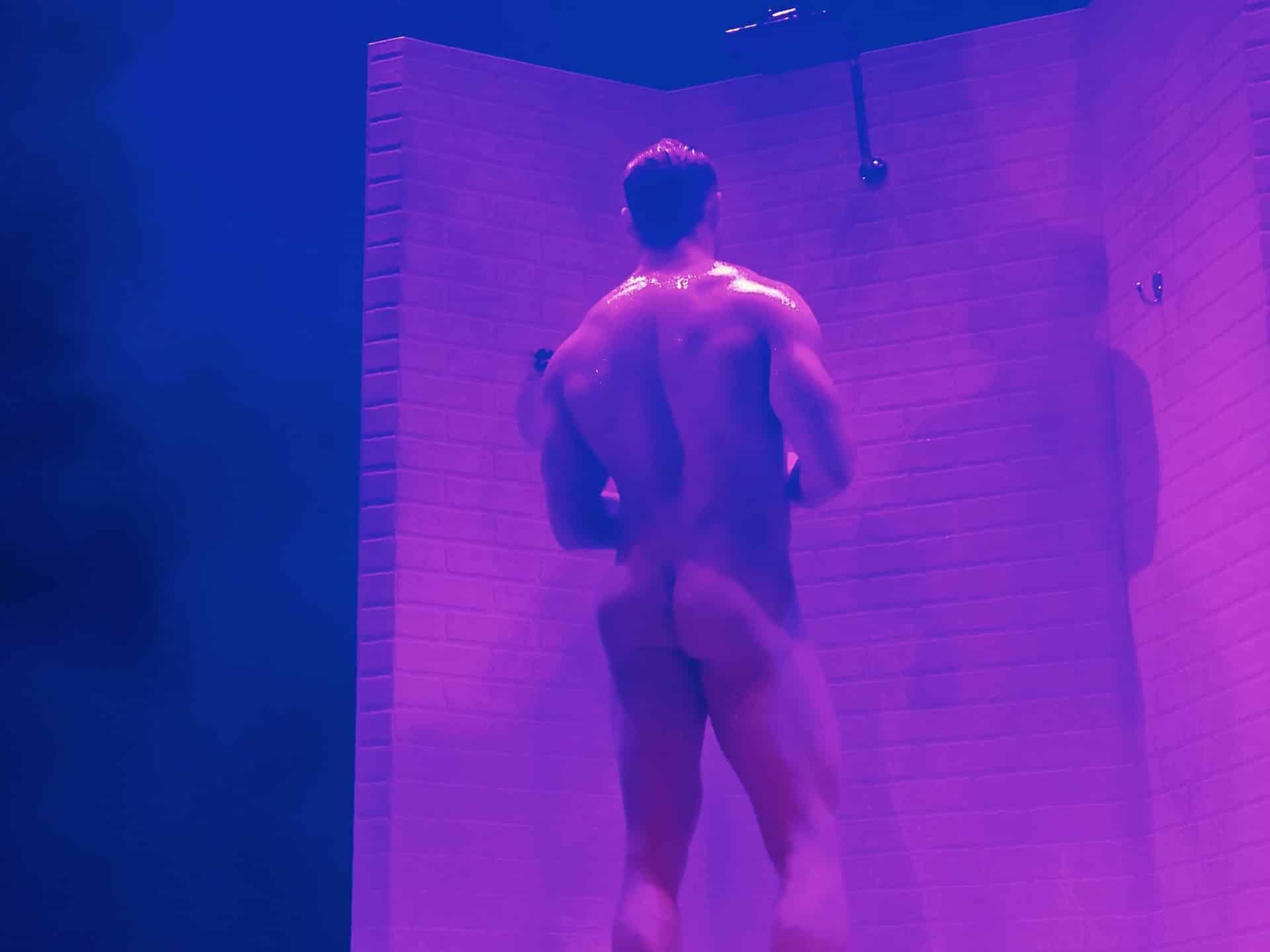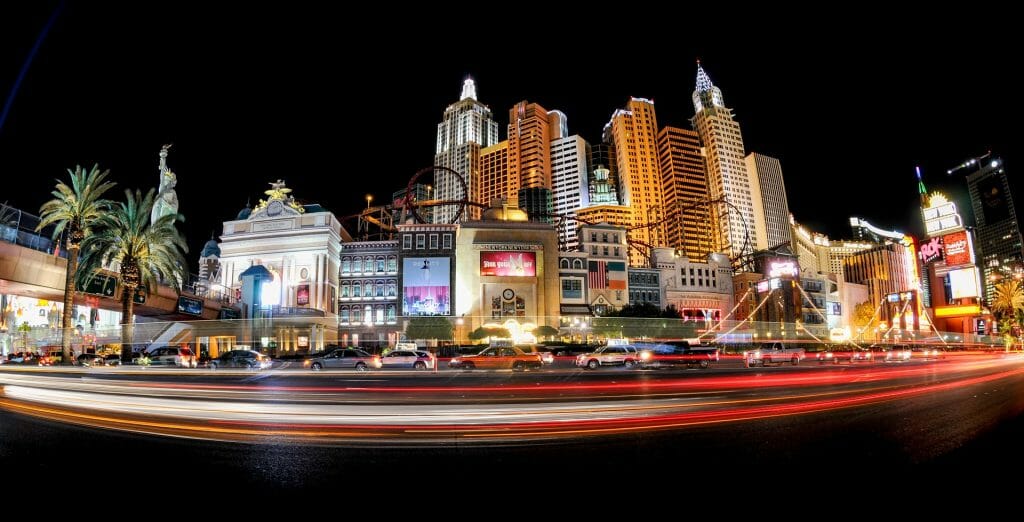 Cruising and Gay Sauna/Bath House In Las Vegas
The gay sauna scene in Las Vegas is relatively small as many people prefer to use gay hook up apps – but luckily, there are still two world-class gay saunas left in Vegas (which is far more than the zero we found in Santa Cruz, Honolulu or Austin!).
These two men's-only club/bathhouse in Las Vegas are Entourage Vegas and Hawks Gym, both of which are found in the Historic Commercial Center District, on E Sahara Ave between the Vegas Downtown and the Strip. Public cruising in Las Vegas was previously very popular. However, it is not recommended now, thanks to increased police patrols and wide-spread CCTV surveillance. However, many guys still choose to hire a car and head out to Lake Mead National Park to the gay beach, which is semi-private and a popular option to meet other gay men.
Hawks Gym – A gay owned and operated club with plenty of private rooms, lockers, showers' sauna, steam room, and small gym. The busiest times are Wednesday and weekends after 8 pm, and when we visited, it got so busy after 10 pm plenty of guys didn't even bother waiting for a private room. You will need to pay a nominal membership fee (USD 7) for a one time visit plus locker and private room hire – though there are various specials throughout the week.
Entourage Spa – Previously known as Apollo Spa, this full-service gay spa is extremely popular with the gay community in Vegas since 1993. Clean and modern facilities, this is our favorite gay sauna in Vegas with a huge indoor heated pool, lockers and private dressing rooms, XXX room, group showers, steam, sauna, and Jacuzzi – plus some fun dark and playrooms. Open 24 hours a day, seven days a week with popular specials for under-25 boys on Monday or repeat visitors on Sunday afternoons!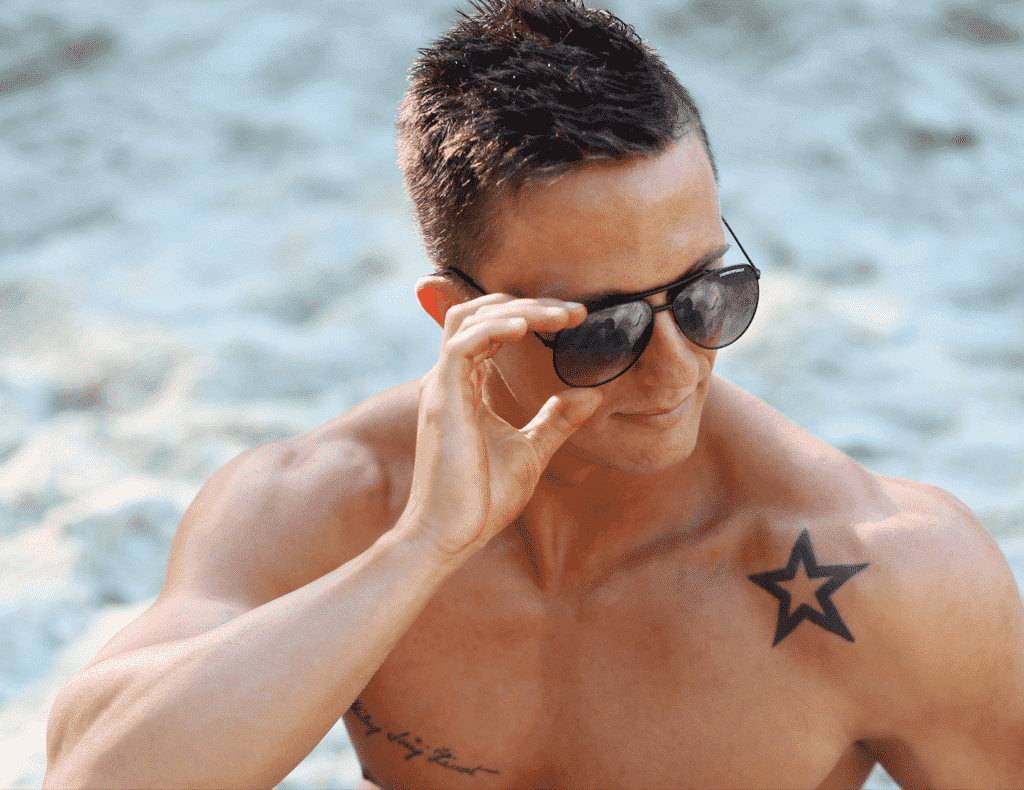 Gay Las Vegas Map