With flashing neon lights, retro-chic hotels and the constant hum of people having a hell of a good time, we're sometimes amazed that Vegas isn't a bigger gay destination.
It's a bundle of hedonistic fun in city form, the perfect place to come when you want to treat yourself, whether that's in one of the 5-star hotels, with a boozy night at a show or with lazy days by the pool, cocktail in hand. Sin City appears in the middle of the desert like a mirage, promising future delights and long nights (plus, Elton John, Madonna or Cher!). It's a fun-loving queer traveler's dream spot, basically!
Surprisingly, however, Vegas hasn't got much of a gay scene. Perhaps it's due to the smaller population, or because it's a pretty inclusive place all-round. The latter is definitely true, and there's no shortage of restaurants, clubs, bars, and casinos that LGBT travelers in the 'Entertainment Capital of the World' will love. But sometimes you just want to go all-out at a fabulous gay event.
Luckily, the city has something tailor-made for these moments: Temptation Sundays at the Luxor Hotel & Casino, otherwise known as the best gay pool party in Las Vegas. Yup, that's right, a gay pool party right next to the iconic black pyramid of the Luxor. What more could you want?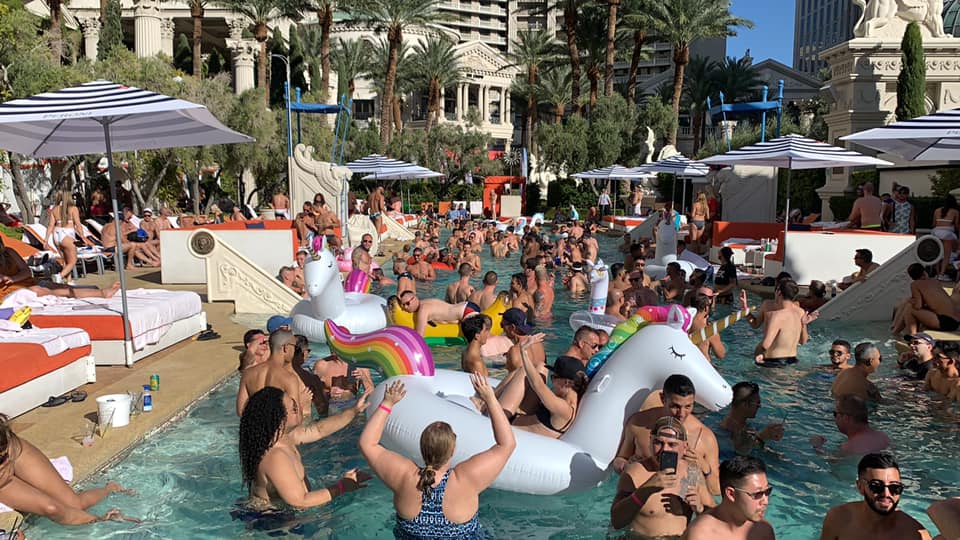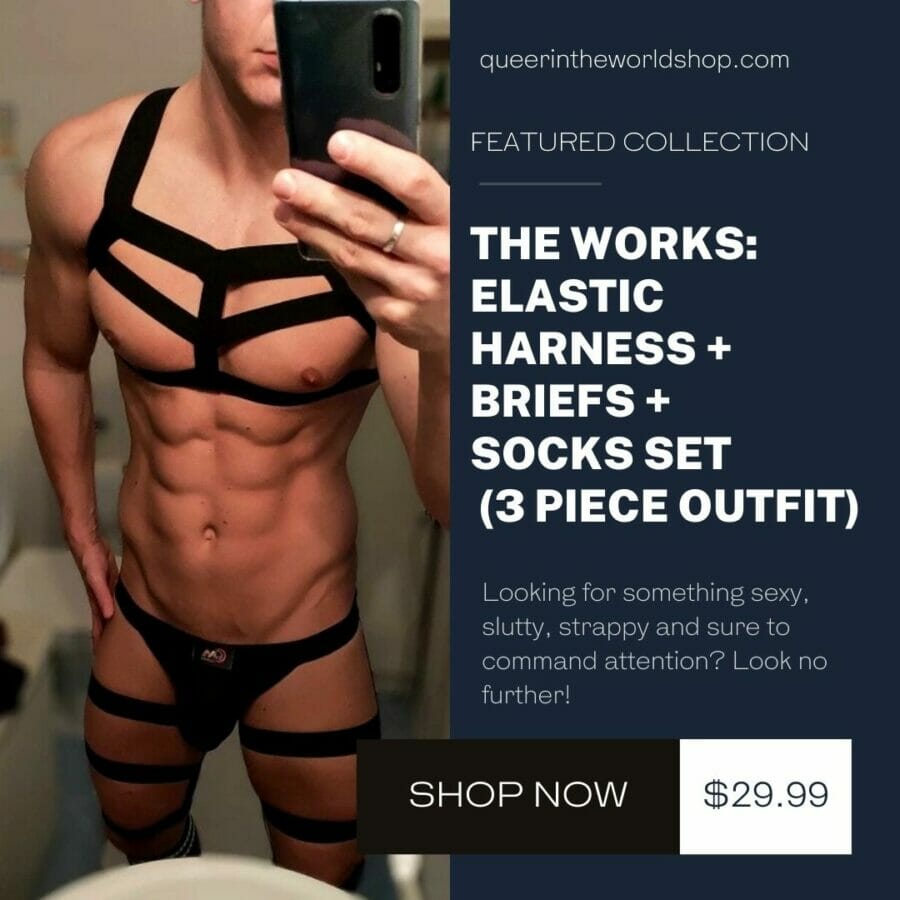 About Temptation Sundays At The Luxor
The Luxor Hotel and Casino is one of the iconic points along The Strip, with its unique shape and the beam of light shooting from the top of the pyramid making it pretty much unmissable! As well as being home to a replica Sphinx, it also plays host to the fabulous Temptation Sundays, Vegas's longest-running (and best) LGBT pool party. It also probably comes as no surprise its one of our favorite Vegas gay-friendly hotels for the same reason.
It celebrated a decade of parting in the summer of 2019 and shows no sign of slowing down. It's on Sundays (obvs) between 1pm and 7pm throughout the summer season (May to September) in the North Pool at the Luxor. Hosted and promoted by local personality J.Son of the Naked Boy News website, DJ Mattmon is the resident DJ on the decks and there are regular guest DJs to shake things up. It's an eclectic selection of music so there's a little summin' summin' for everyone – Top 40, electronic dance music, a bit of old-school pop.
It's adult only, so attendees all have to be 21 or over. While it's LGBT-focused, it's certainly all-inclusive, so bring all your friends – gay, straight or unicorn! Speaking of unicorns, you'll also find plenty unicorn floaties bobbing around in the pool for you to chill out on. If you're a local, a hotel guest or in the military (call us!) it's $15; everyone else pays about $25.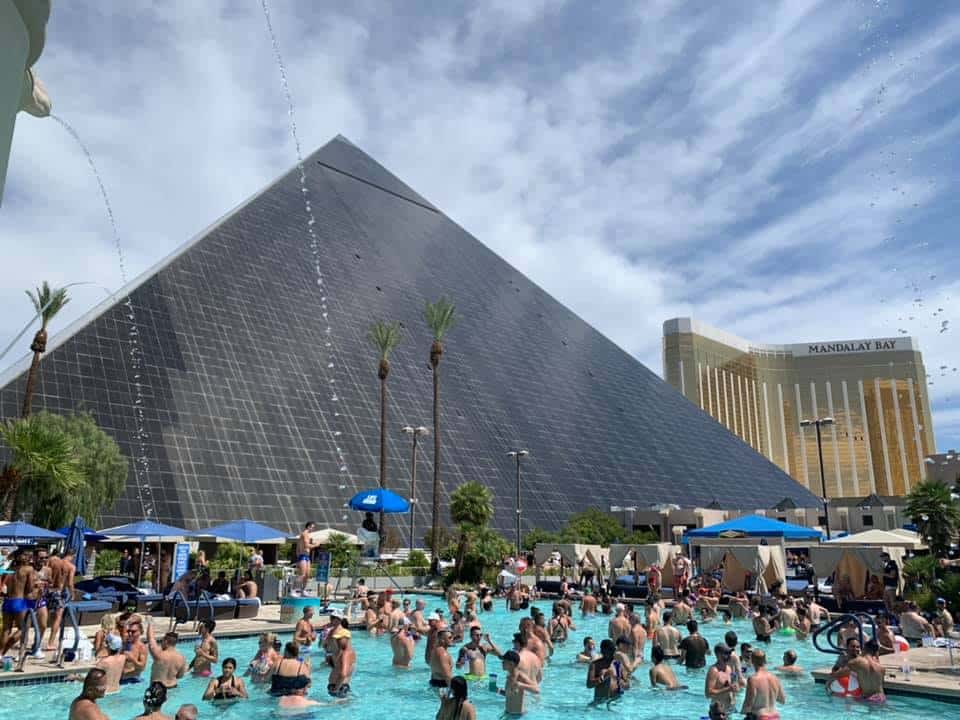 The Good About This Las Vegas Gay Pool Party
Where can we even start? It's an iconic Vegas staple that's a must-visit for any queers enjoying a wild weekend in the city. In fact, it might be the only gay pool party in Las Vegas, so if you want to meet other LGBT travellers then make a beeline for it! As we mentioned above, though, the atmosphere is 110% inclusive and positive vibes abound. We found it a really safe space to spend time, whether you're a party boy or a bit of a wallflower. This focus on inclusivity means that the organisers have created a place people can truly relax and feel themselves.
Plus, what better way is there to spend a sun-soaked Sunday afternoon than partying with some of the sexiest queers in Sin City? A Temptation Sunday party is definitely a memorable one! The epic tunes, colourful decorations and go-go boys help get the party started. Grab a drink and glide into the middle of the pool, where you can leave your cocktail on one of the centre islands, sit back and watch the hunks splash around. Just don't be surprised if you end up giving in to temptation… And if things get really wild there is always Chippendales or a gay shotgun wedding in Vegas…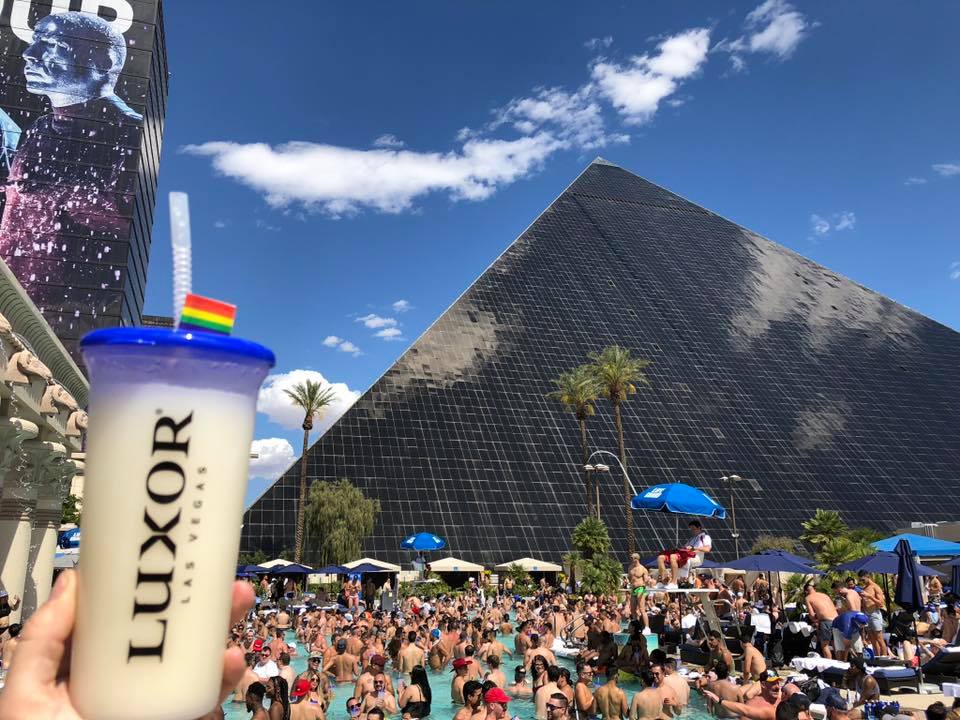 If you want to really party in style, book one of the cabanas, which can fit up to 6 guests. Here you can enjoy the luxury seating, flat-screen TVs and a delivery of crates of beer or bottles of tequila to keep you drinking all afternoon long. Food is simple but tasty, for example street tacos with all the fixings add to the chilled seaside vibe.
There are tons of special events throughout the season, including on Independence Day weekend, Memorial Day weekend to kick off the summer and Labor Day weekend to wave it goodbye. There's even a Las Vegas Pride event in September, if you want to get really extra! As great as these special events are, however, we actually think every Sunday is pretty extra at Temptation Sundays.
You could almost argue that the fact that it's the only gay pool party in Las Vegas makes it even better, because it's the place that the LGBT community can gather. You'll see all the sexiest gays in the city sunning themselves on the lounge chairs (insider tip: arrive early to grab one of these for yourself – the chair, not the guy!).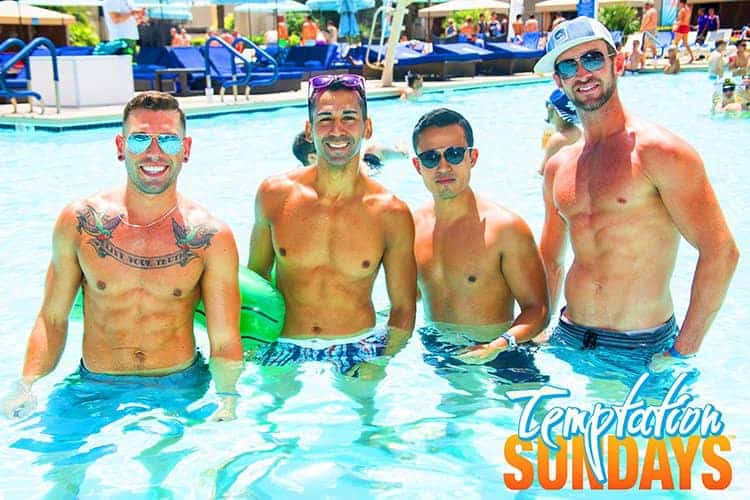 The Bad About Temptation Sundays At The Luxor
It's pretty hard to think of anything bad about soaking up the rays and soaking up the atmosphere at this fabulous party, to be honest! Perhaps we'd argue that only being able to enjoy it over summer just isn't enough! Then again, that adds to the exclusivity and makes it even more enjoyable for the too-few Sundays we can dance poolside with a tequila cocktail in hand.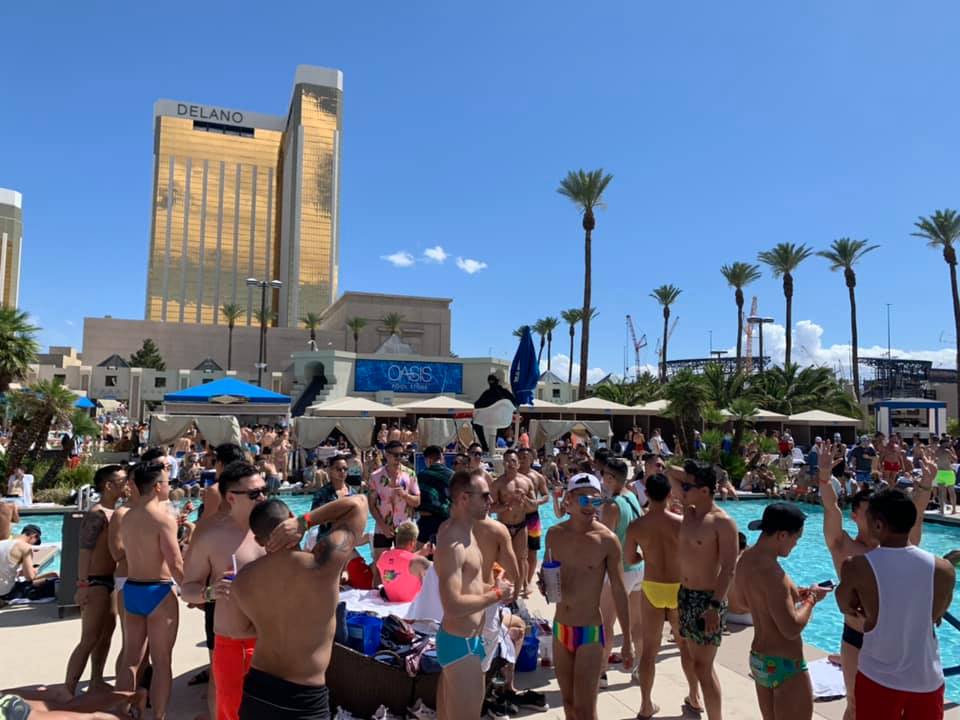 The Ugly…
It's pretty much eye candy central, so this section is also a bit irrelevant! But seriously, one of the things we love about Temptation Sundays is that there isn't the level of judgment and appraisal we can experience elsewhere. There's no need to look like a swimsuit model – though plenty of the boys here could easily perform in the Vegas strip shows…but we digress. You do you and enjoy the experience!