Gay Aspen, Colorado, is a small mountain town with a tiny year-round population of about 7,000 people that is known for its snowy peaks, champagne powder turns and enormous ski areas that provide many chances for adventure.
If you don't like the snow, that is perfectly fine! Come during the spring or summer to see the beautiful greenery emerge for plenty of other activities for you to enjoy…music festivals, arts, endless trails and mirrored lakes.
Even better, Gay Aspen is well known for its accepting community that openly welcomes queer individuals, so public displays of affection are perfectly fine here if you decide to embark on the best mountain vacation ever with your partner.
Gay Aspen also holds one of the world's best gay ski weeks that entail pride festivals, fashion shows, art exhibits and many more thrilling events for anyone to engage in. This nature-driven city has many views and activities that will have you enraptured with all that it has to offer.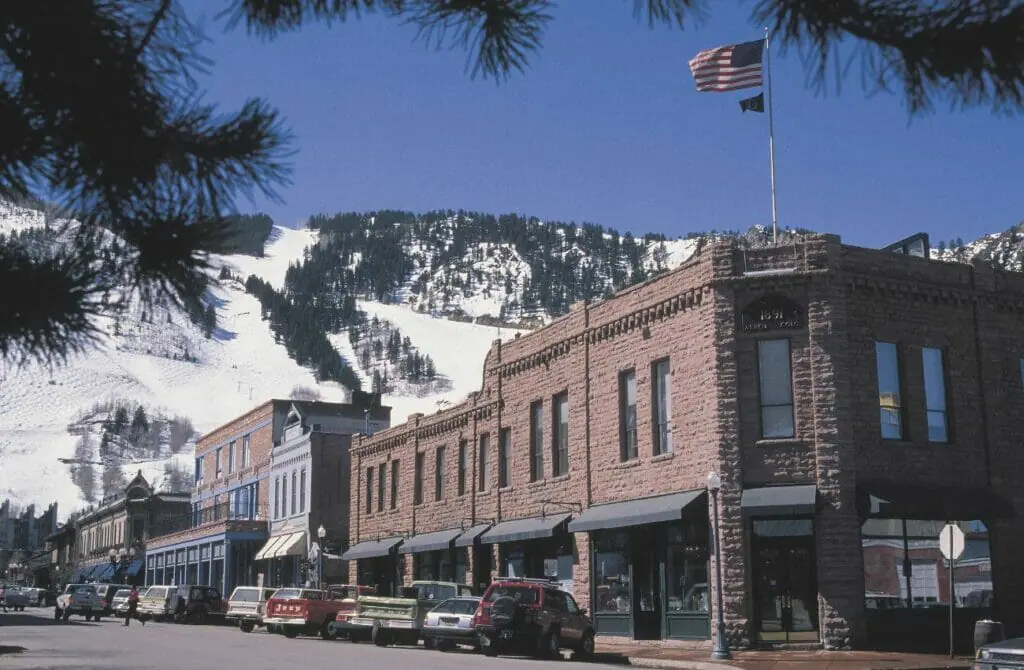 Besides the many snow-based activities, there are many opportunities to experience the nightlife within the city and its various gay-friendly bars. Many queer couples love to visit Aspen because of the amount of luxurious and welcoming events that are available to all people – though sadly much like Queenstown in New Zealand there aren't specific queer venues and straights and gays mingle freely at après-ski.
Each season brings a variety of different forms of entertainment to Gay Aspen that can help you disengage from the pressures of the world. However, year-round there are various art galleries, landmarks and historical buildings to visit and admire as a part of your time spent inside this rocky mountain town.
Besides the activities, many high-end restaurants are must-eat spots for all travelers, visitors and tourists to try. If you are an avid foodie, Aspen is the place to indulge and expand your palette to all of the unique food options on offer from caviar and wagyu, to classic wine tasting and half-priced martini happy hours – or simple pleasures like nachos, burgers and warming s'mores lattes.
Gay Aspen is jam-packed and has something to offer everyone, with interesting residents and travelers who will greet you with open arms!
---
Are you relocating? This guide will help travelers discover the queerer side of town. However, if you are lucky enough to be considering a move here, we recommend reading our article about moving to LGBT Aspen or getting in touch with a local gay realtor. They can happily give you no-obligation advice and all the information you'll ever need to know about your new city.
And if you then want their help to find your dream home, you are guaranteed fair, equal, and honest representation. No surprises or awkward conversations are necessary!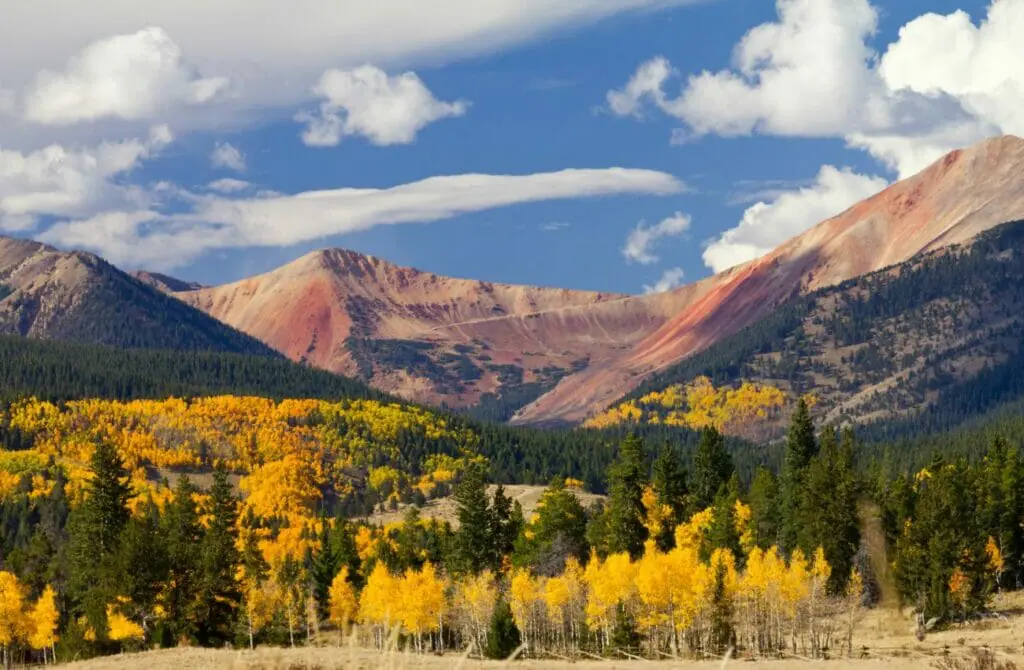 In this article we will cover...
Attractions in Gay Aspen
As a new visitor to Gay Aspen, there are plenty of things to see and do, regardless of your sexual orientation. One of the best ways to experience any new city is to visit some of its most iconic landmarks and attractions, including visiting historical monuments, museums, and art galleries. We also love gazing at architecture up close, exploring parks and gardens, sampling the local cuisine, visiting local markets, and attending cultural events such as festivals, concerts and shows.
Even as the out-and-proud queer we are, we still love to just explore the city and its culture in the same way as everyone else. Doing so allows us the opportunity to learn more about the city and its people and gain a deeper understanding of the local culture. As such, these are our favorite must-see attractions in Aspen.
All of the must-see places are welcoming of individuals in the queer community, so your visit will be stress-free and worthwhile.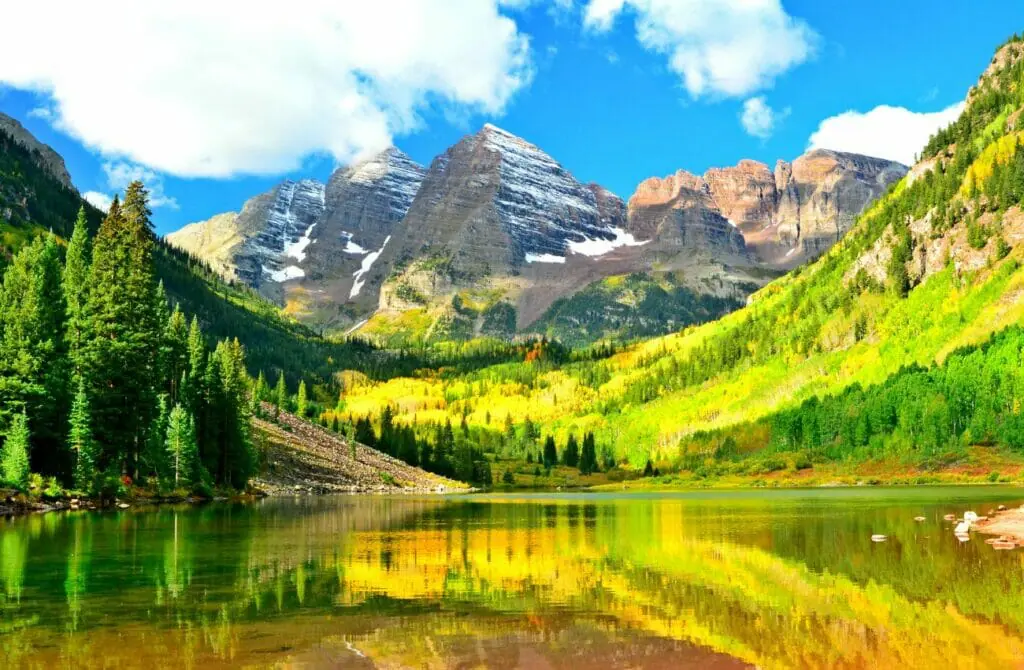 Maroon Bells
Maroon Bells is one of the most photographed mountains in North America that appeals to all avid nature lovers. Maroon Bells has an endless amount of activities, including hiking, camping and the whimsical Maroon Lake. There are six hiking trails that all vary in length that allow you to see the wildlife along the way to the gorgeous peaks of the mountain.
For camping, this is the perfect spot to lie underneath the stars for a romantic night with your partner or by your lonesome for a night of peace. There are three available campsites: Silver Bell Campsite, Silver Queen Campsite and Silver Bar Campsite.
Backcountry camping is also an option for visitors to survey the mountain terrain and unearth all of the natural elements of the earth within the mountain. Hiking lovers and nature lovers are welcome to go on the variety of adventures that are inside Maroon Bells as a chance to live in the moment.
Aspen Gay Ski Week is an exciting and vibrant event that attracts thousands of LGBTQ+ individuals from all over the world each year in mid-Janurary. This week-long celebration offers a variety of activities, including skiing, snowboarding, drag queen bingo and après-ski parties that will keep you entertained and make your winter vacation unforgettable. With its stunning mountain scenery and sophisticated atmosphere, Aspen is the perfect destination for those looking to mix outdoor adventure with sophisticated dining and nightlife. So pack your bags, grab your skis because whether you're an experienced skier or a beginner, there's something for everyone during Aspen Gay Ski Week.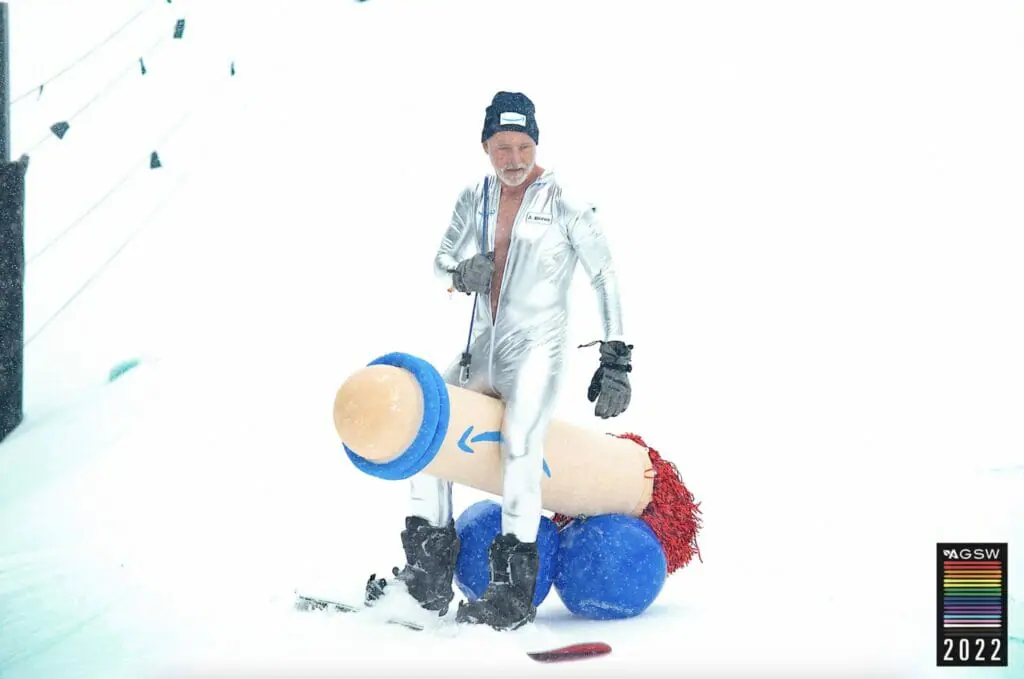 Downtown Aspen
Downtown Aspen is the spot for views, experiences and to do all of your daily errands. Greenery surrounds the whole area, which creates a tranquil environment for those that like to explore. Art galleries, restaurants and hiking trails are in the vicinity of Downtown Aspen for your enjoyment and exploration.
Downtown Aspen is the spot to eat, shop and see interesting sites perfect for entertainment at any time of the day. There is an Aspen Center for Environmental Studies for those that like to learn about nature. Hotels are also around this area for travelers who want easy convenience to shopping centers and appetizing eateries.
The aesthetic of Downtown Aspen is peaceful and homey as it is surrounded by lodge-like buildings where you can see the snowy mountain tops. If you want easy access to all of the must-see spots in one area, be sure to visit Downtown Aspen with all of your queer friends.
With Aspen City being known for its snowy peaks and chilly weather, this ski resort provides you with all of the necessities for your trip! If you decide to go during the winter, there are plenty of captivating activities. Buttermilk Ski Resort is perfect to ski in, with a height of almost 10,000 feet elevation. There are over 470 acres of skiable terrain just for your indulgence!
Skiers and snowboarders alike gather here to enjoy the snowy weather with friends and family. Don't fret; if you decide to go during the summertime, there are plenty of hiking trails over the four mountains that are within the resort.
There are also many other summer events to participate in if hiking isn't your forte. There is no shortage of activities inside this riveting ski resort; you are welcome to come year-round!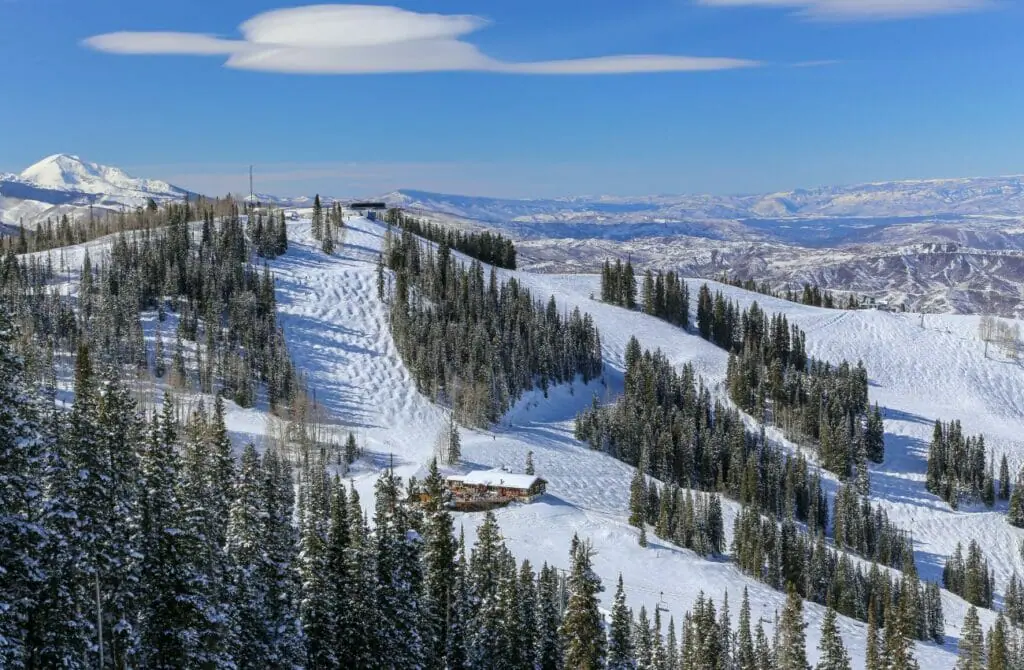 This jam-packed tour creates the perfect experience for tourists that want to see the history of Aspen. Get to know about the humble beginnings of Aspen and how this tiny mining town became the mountainous, delightful town that is present today.
A guide will assist you on this hour-and-a-half tour around downtown Aspen as they speak of the town lore and local legends. Enjoy the great views along the way as you get a blast from the past of the nearby sites.
Hiking is a necessity in order to see all of the views and sights that are included in the cozy city of Aspen. This trail is 5.4 miles overall, but how far you hike is up to you. If you do decide to take on this challenge, it takes approximately 3 hours and 33 minutes. This hike is definitely for those who enjoy seeking all of the ravishing peaks and wildlife all throughout the trail.
With this hike having over 2,000 feet in elevation, the fresh air feels wonderful and works as inspiration to finish the lengthy trail. Be sure to wear the proper shoes while hiking the terrain due to how snowy and muddy the ground can become.
This spot is also an excellent place to camp if you want to wake up to the lovely views surrounding the area. The best time to visit is between June and September, so plan your trip accordingly!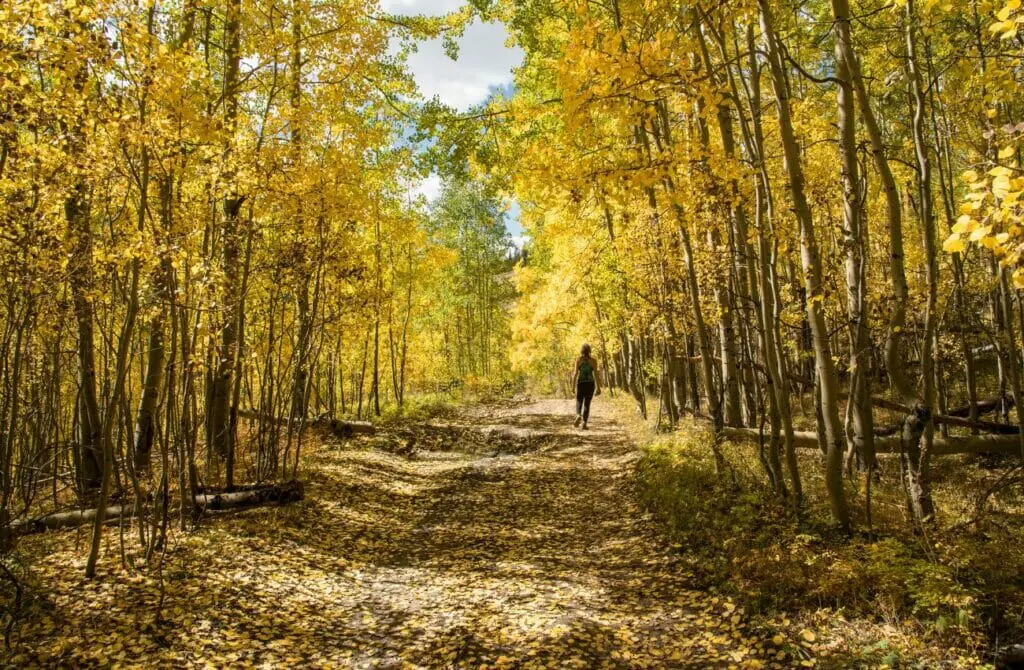 Don't expect anything like the Royal Opera House in London or the Metropolitan Opera House in New York City, but the intimate Wheeler Opera House is a fabulous performance venue for those that love to watch movies or see concerts, lectures, festivals and community events. The Wheeler Opera House has a vintage building structure that has elements of Italianate and Romanesque Revival architectural styles.
This opera house is located on East Hyman Avenue and South Mill Street in Aspen. The Wheeler Opera House is known as one of the most important landmarks in the city due to its being built in 1889 and the purposes that it has served for the residents of Aspen, Colorado.
There is a large selection of movies that are showcased throughout each month, depending on the season, like How The Grinch Stole Christmas during winter time! Overall, The Wheeler Opera House is a gathering place for all residents, travelers and curious visitors to see the artistic expression of the community.
If you love being active with a mix of adventure, Aspen WhiteWater Rafting is the place just for you! Aspen WhiteWater Rafting is known for making "Memories of a Lifetime", so be sure to mark this as a must-visit place on your map. If you've never been rafting, don't worry, there are guides with plenty of experience to help you along the way.
There are many rafting experiences to choose from, including mild trips, adventurous trips and wild trips. Rafting can be a lively experience with your partner, family or even a friend as a bonding experience. If you want an activity to fill your day while getting some exercise, be sure to make a reservation for a once-in-a-lifetime experience. The caring, comical staff welcomes all visitors!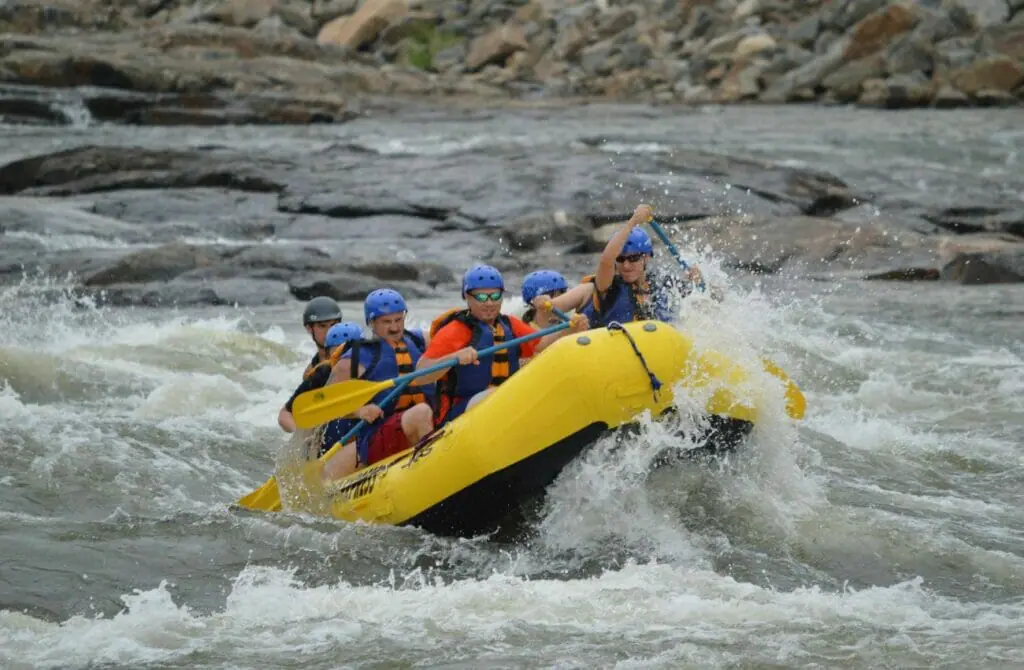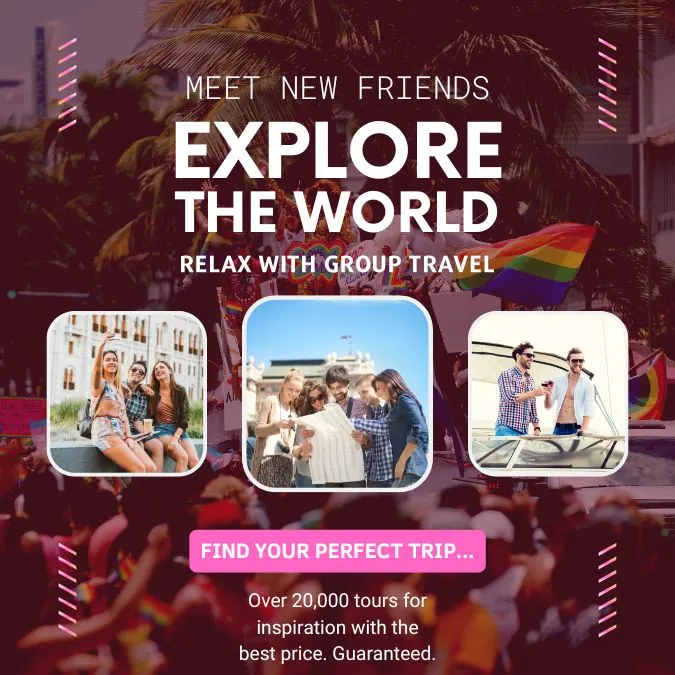 Gay-Friendly and Gay Hotels in Aspen, Colorado
Being gay-friendly accommodation means that the establishment is welcoming and inclusive to guests who identify as LGBTQ+. This can include but is not limited to, having policies and practices in place that demonstrate a commitment to creating a safe and inclusive environment for LGBTQ+ guests, such as non-discrimination policies, and providing support and resources for LGBTQ+ travelers.
Some gay-friendly accommodations may also provide amenities specifically catering to the LGBTQ+ community, such as rainbow flags or literature about local LGBTQ+ events or resources. Furthermore, gay-friendly accommodations may be located in an area that is known for being LGBTQ+ friendly.
While Aspen does not have any specifically gay hotels or resorts, these are the most fabulous and pro-actively gay-friendly hotels in Aspen. Needless to say, there are also hundred's more hotel and hostel options in Aspen if none of these suit your desired budget, facilities or area – but these are the best hotels according to other gay travelers and us.
Needless to say, there are also hundred's more hotel and hostel options in Aspen if none of these suit your desired budget, facilities or area – but these are the best hotels according to other gay travelers and us. Whatever your needs are, Aspen has you covered.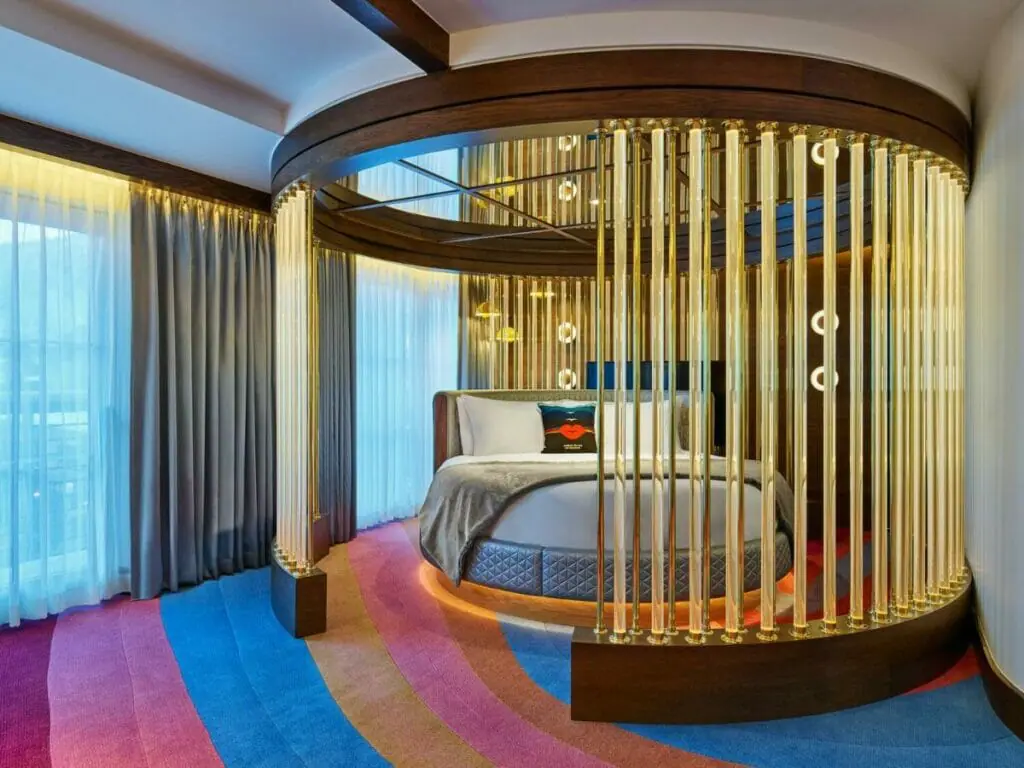 As a member of the LGBTQ+ community, staying at the W Hotel in Aspen offers a welcoming and inclusive atmosphere that caters to your unique needs and desires. The W hotel chain is known for its modern and sophisticated design, blending seamlessly with the chic and upscale atmosphere of the town. Whether you're seeking a romantic getaway or a fun-filled adventure with friends, the W Hotel provides a luxurious and safe haven for you to call home during your stay in Aspen.
In addition to its stylish rooms and exceptional service, the W Hotel also offers a variety of amenities and events throughout the year specifically geared towards the LGBTQ+ community. From vibrant nightlife options and exciting cultural events to outdoor recreation and spa treatments, the W Hotel provides a comprehensive and enriching experience for all guests. With its commitment to diversity and inclusivity, the W Hotel is the ideal destination for those looking to make the most of their time in Aspen as a queer person.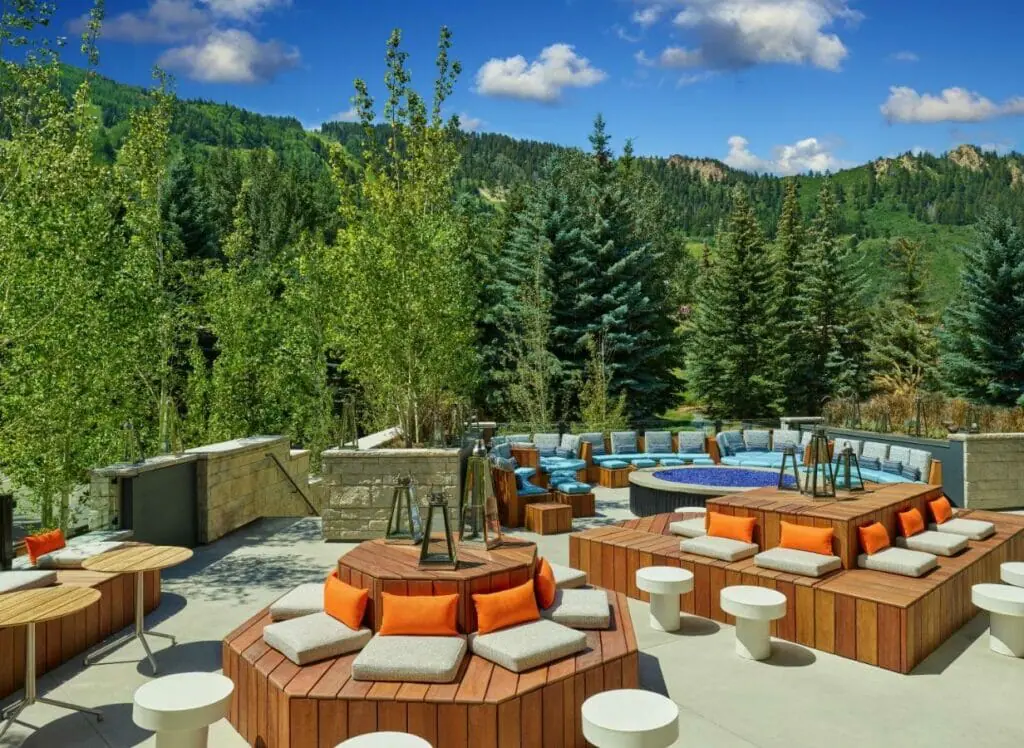 Limelight Hotel has a simple but modern and chic interior that is sure to draw you into the luxurious hotel. With over 126 suites and guest rooms, there are plenty of aesthetics to choose from that are suitable for your experience in Aspen! Since Limelight is a ski resort with a hotel, there are many activities to indulge in that are just within arms reach.
Hiking, skiing and fishing are nearby, but the hotel offers countless amenities for your enjoyment. There is a bar with a lounge, sauna, gym, an inside pool and an outside pool, to name a few of the classy amenities. Not to mention, there is an amazing assortment of restaurants within the resort. This is the perfect place for you if you want to be active every day of your visit to Aspen City.
St. Regis Residence Club Aspen ☆☆☆☆☆
The St. Regis Residence club is the place to be for a classy, deluxe spot to spend your nights. This hotel oozes a vintage, homey interior and exterior that can be seen from miles away due to its bright lights and sizable structure. Many of the rooms face the snowy peaks of the mountains nearby, which is the perfect sight to wake up to each morning of your stay.
The amenities are as classy as the hotel, with items including a fitness area, bar/lounge and a spa that offers services such as manicures, pedicures, facial treatments and an assortment of massages. There are plenty of activities for kiddies if you decide to take your family with you as well.
The St. Regis Residence Club is known as the "well-being destination", so this is the perfect place to unwind and stop worrying about the stresses of the world.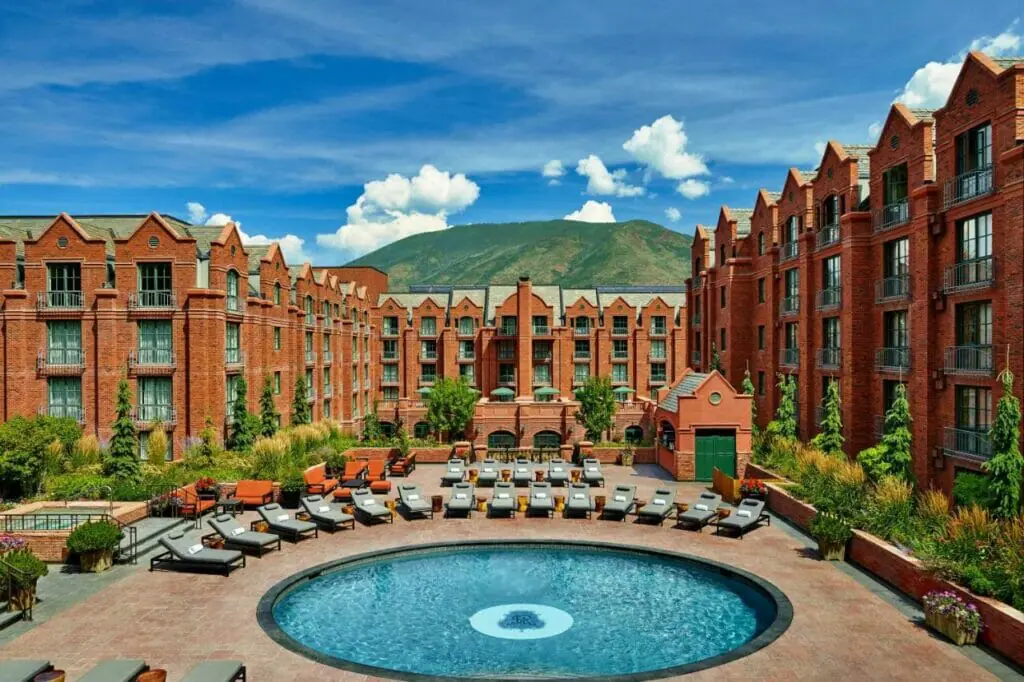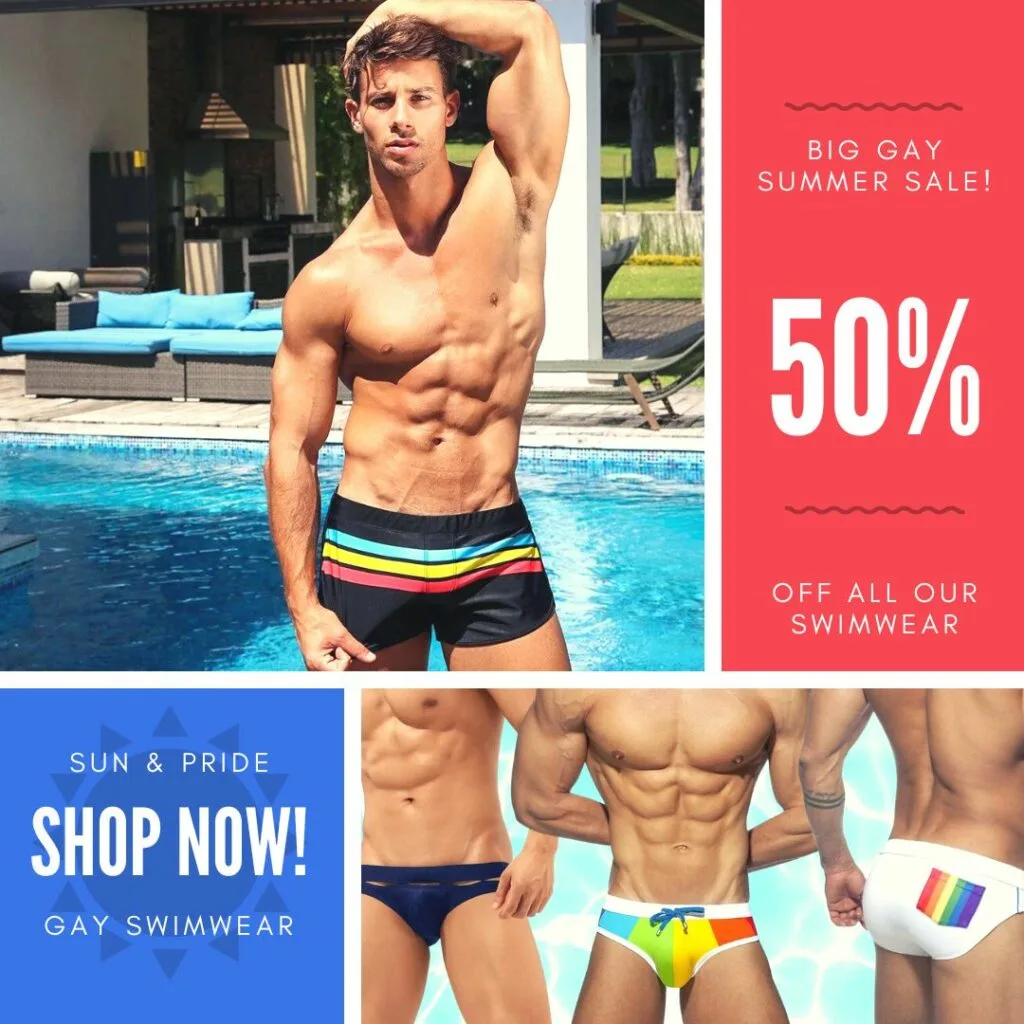 This hotel's simple, modern style mixed with its homestyle atmosphere is sure to reel you in for a beautiful night's rest. Just like many of the other hotels in Aspen, it is best to go during wintertime so that the mountains and the colossal Christmas trees covered in fluffy snow are present for viewing.
Even if you decide to go during any other season, the scenery of nearby nature serves as the perfect environment for a getaway vacation. The property amenities offer all types of entertainment and luxury. The amenities include a workout area, spa, nightclub and many others, to name a few available.
On top of all of these extravagant amenities, The Little Nell holds events throughout each month for visitors to engage in. Jazz nights, wine dinners and parties are all hosted in different areas of the hotel. If you are a party animal, The Little Nell is the perfect place for you if you want to host your own private party!
The Little Nell is a ski-in/ski-out hotel for people who love to be active in the snow and has plenty of dining options for foodies. There is fun to be had year-round with the different events during each season. Make sure to plan a visit during December to be able to engage in all of the Christmas dinners and New Year's Eve events.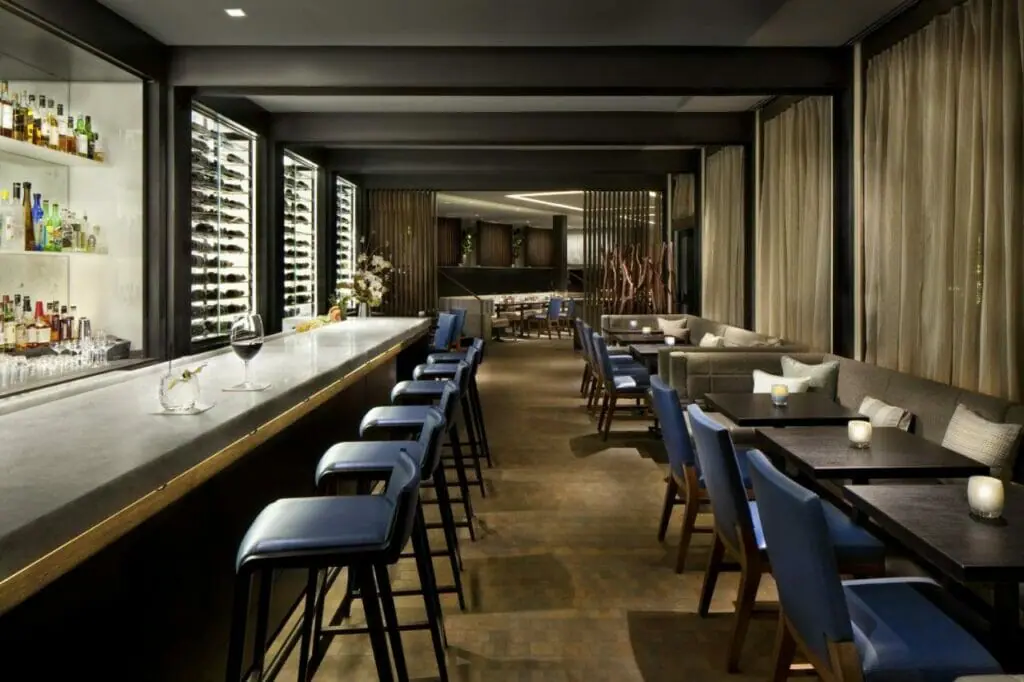 The Inn at Aspen is a convenient spot for tourists and travelers to book their stay, with the hotel only being five minutes away from the Aspen airport. The hotel is the hot spot for all things adventure and activity. There are an infinite amount of biking and hiking trails, flavorful restaurants and a lot of places to shop.
The Inn at Aspen has the perfect space for planning events if you choose to do so during your visit. This inn is known for having the best barbeque in Aspen, so food connoisseurs are welcome to put that title to the test! Besides BBQ, the menu has an assortment of foods for breakfast, lunch and dinner at all reasonable prices.
Amenities include an outdoor heated swimming pool, a fitness center and a firepit to warm you up on the snowy nights in Aspen. If you're worried about Uber or Lyft prices, don't fret! The Inn at Aspen offers a complimentary shuttle service to take you to the airport, so make sure to take advantage of this opportunity.
This resort has a pleasing outdoor aesthetic that serves as an energizing way to start your mornings with all of the views each room provides. There are plenty of perks when reserving a room at the Aspen Meadows Resort. A bar & lounge, tennis court, fitness area and sauna are a few of the many luxuries that the resort has in store for you.
The assortment of activities is outstanding, with music festivals, fishing and lectures presented by the Aspen Institute. The Aspen Meadows Resort is regarded as a "secluded sanctuary," which is perfect for those that want a peaceful retreat from the real world. Take a dip in the pool as you get a full panoramic view of the alluring city of Aspen.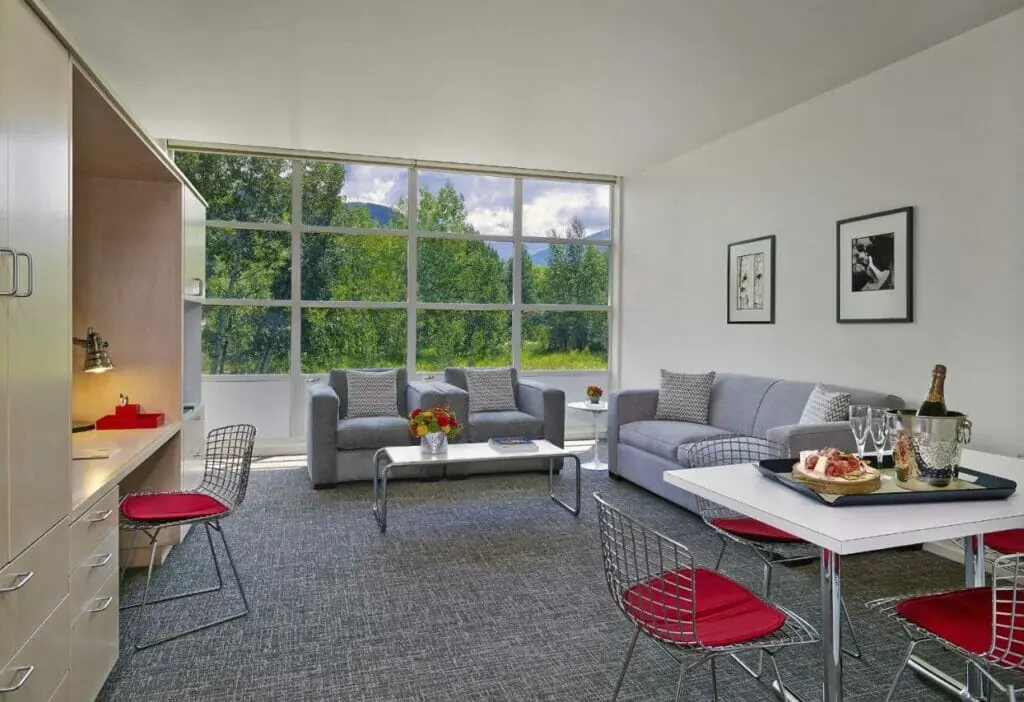 Gay Nightlife in Aspen
Although there are not any official gay bars in Aspen, the pocket-sized town has multiple gay-friendly spots for individuals that love to party and spend the night out with friends!
Like all places in Aspen, there are mostly queer-friendly and welcome all visitors, travelers and tourists of the LGBTQ+ community. However, these are a selection of our (and other queer travelers) favorites to get you on the right track…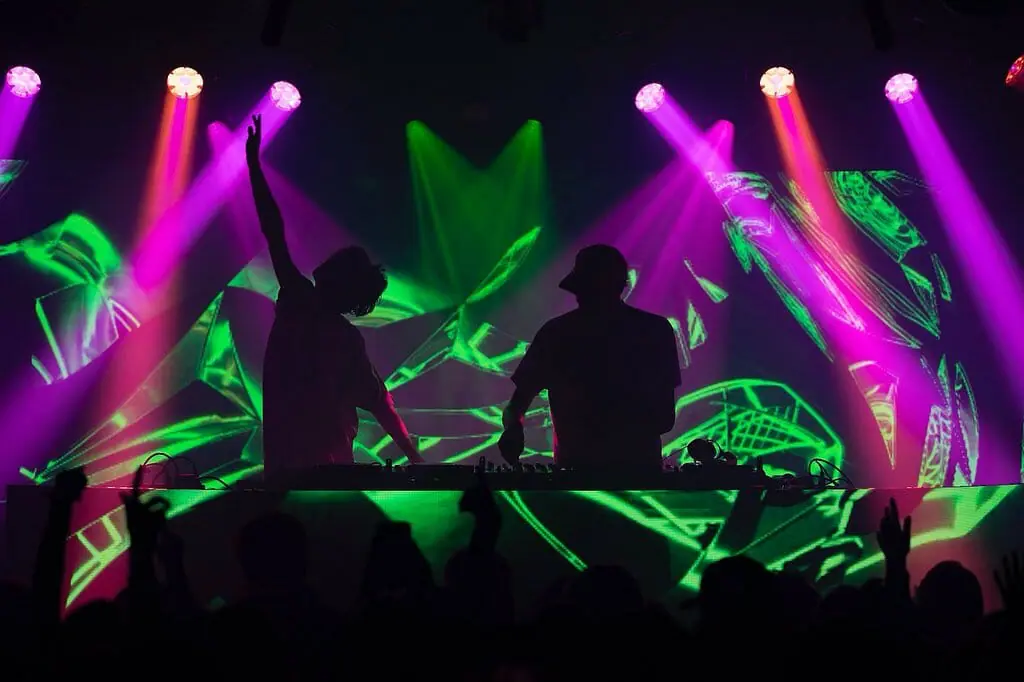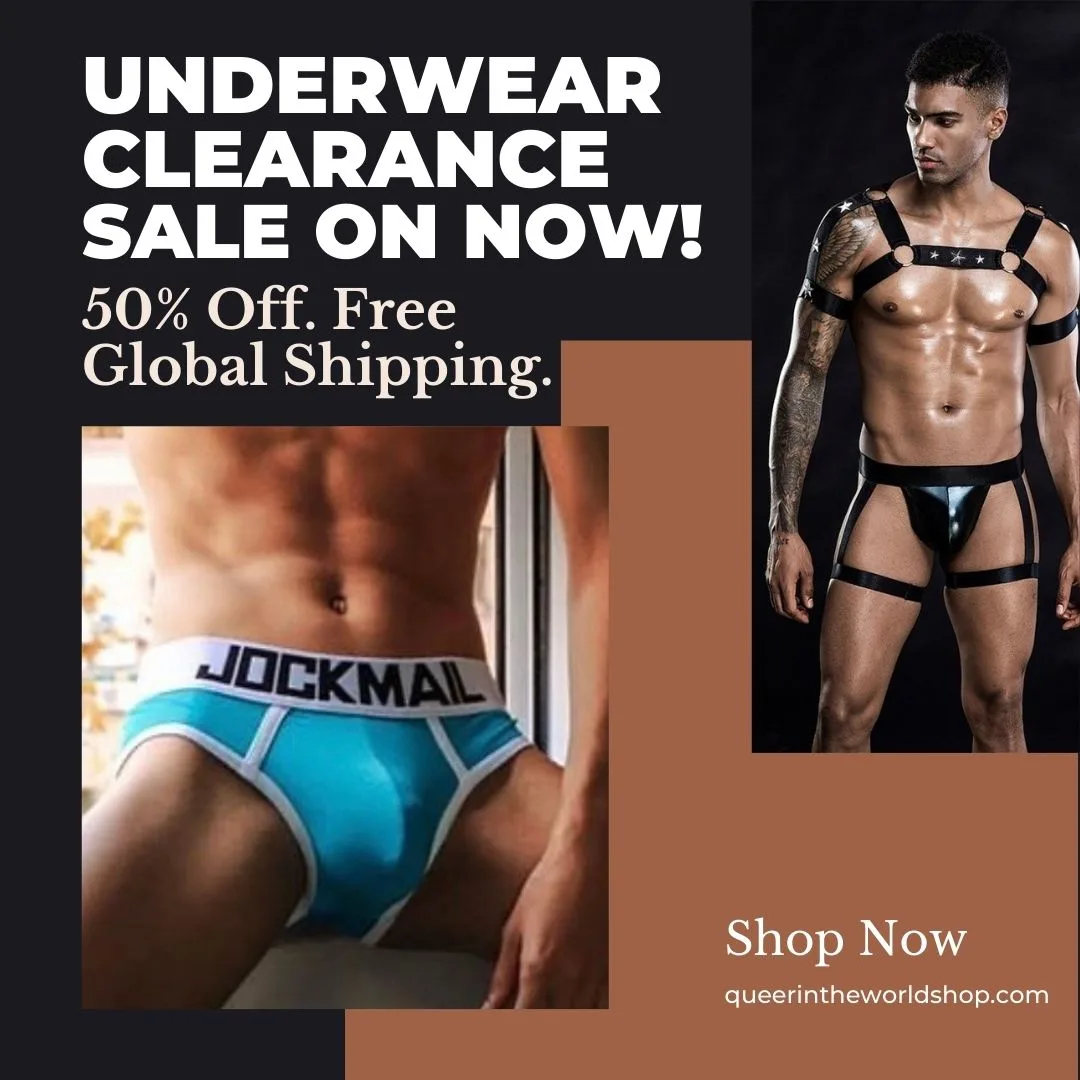 The Belly Up is a must-be spot for music lovers that want a place to vibe and drink. This small music venue, with two full-size bars, has numerous musical acts that enter the scene every month. From acts like Zedd, The Chainsmokers and Marcus Mumford, there is every type of music for those who want to dance the night away.
This upbeat bar and music venue has a full menu of food for hungry concert-goers, along with a variety of beer and liquor. Be sure to buy tickets to see your favorite artists at one of the top music venues in Aspen!
Stepping into the sleek and stylish Escobar nightclub, guests should be prepared to embrace their bold and alluring personalities. This underground venue offers a sense of mystery and adventure with its contrasting ambiance of intimacy and spaciousness. Guests can cozy up at private tables surrounded by curved ceilings, or bask in the seductive amber lighting of the expansive bar. The reflective walls of mirror and steel enhance the illusion of unlimited space, while neon lasers dance over the moving bodies, adding to the magical atmosphere of the club. PBR Tall Boys meet Pomegranate and Espresso Martinis, Escobar is very gay-friendly and hosts Aspen Gay Ski Week parties each year.
J-Bar, which is short for Jerome Bar, is inside the magnificent Hotel Jerome, making it a first-class place to wine and dine. Hotel Jerome is regarded as extremely gay-friendly, so feel free to bring your partner or your other queer friends for a lively night out. The vibe of this extensive bar is an old western bar of the 19th century.
J-Bar is the perfect social spot to meet new people while enjoying the fine cuisines that are served fresh just for the tasting. Cocktails, craft beers and the best burgers in town are waiting just for your indulgence. Brunch, lunch, dinner and late-night drinks are available in the J-Bar. So, sit back, relax and enjoy a cocktail or beer of your choosing.
The antique, warm, old-western vibe of the Silver City Bar gives you a blast of the past as it replicates the same elements of a saloon in a modern way. Cocktails, beer, wine, whiskey, tequila and spirits are on the menu for your drinking pleasure, as well as snacks to nibble on and clear your palette.
Taking place in the heart of downtown Aspen, the Silver City Bar's rustic design and live music are sure to set the tone for a night out with friends. Make sure to saddle up and make your way to one of the most note-worthy bars in Aspen.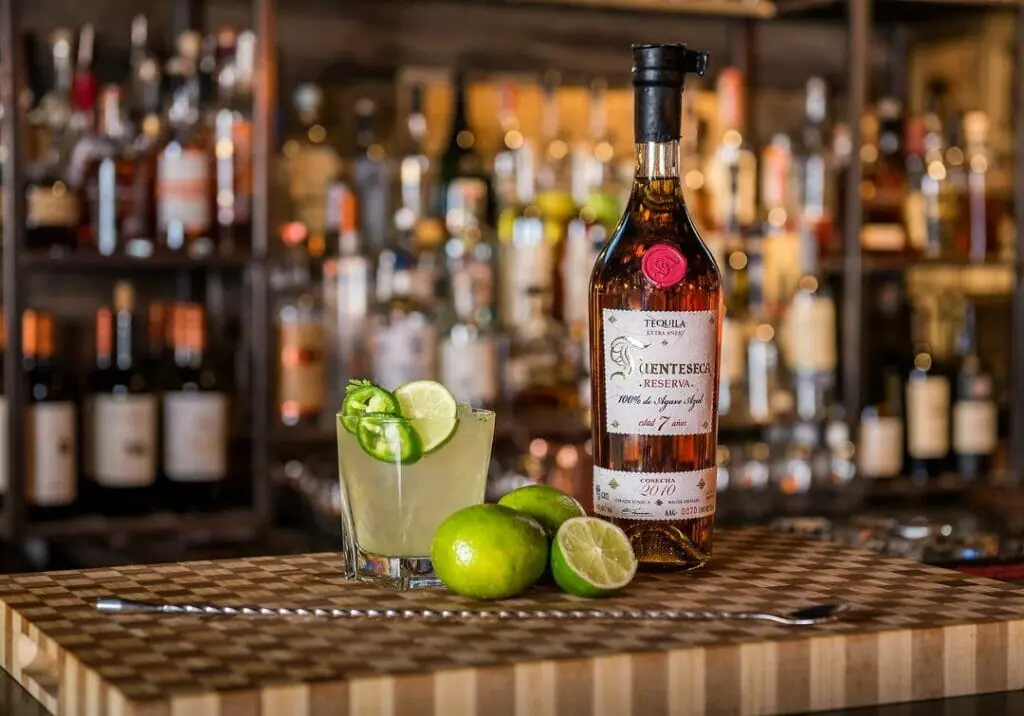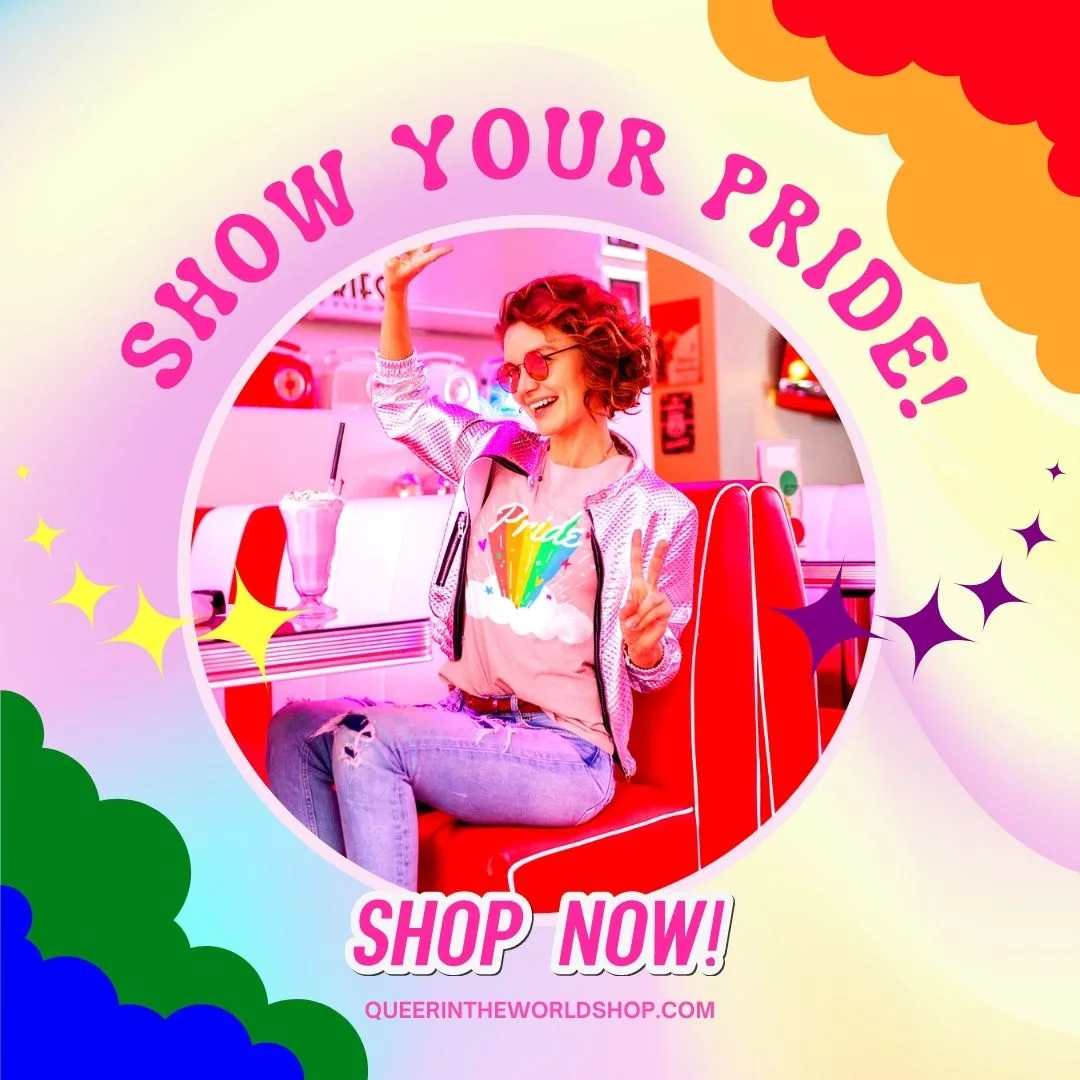 The elegant yet calming vibe of the Hooch bar makes it an excellent place to savor the energy of the night. There are plenty of snug couches and chairs complimented by chandeliers, thrift store art and chill music that creates a warm, friendly atmosphere that welcomes all visitors that want to have a memorable night with friends.
Hooch Craft Cocktail Bar has a great selection of craft beers, classic wine and traditional cocktails created by their amiable bartenders, that are pleased to serve you. The kitchen of the bar offers filling snacks and appetizers for those that get hungry while having the night of their life.
The simple, rustic style of Zane's Tavern, highlighted by its wood interior, creates an easygoing, chill vibe to eat out with friends. The menu entails classic foods alongside the restaurant's spin on these toothsome options. Items like totchos, cheesesteak egg rolls and their signature chili will be sure to keep you full for an entire night of amusement.
This reasonably priced restaurant offers tap beers and cocktails to compliment the mouthwatering meals on the menu. If you come down to Zane's Tavern, you are sure to leave with a full belly and an unforgettable outing with friends!
The Marble Bar has a chic, homestyle detailing with warm features that include a fireplace that creates the atmosphere of a living room that is sure to make you feel right at home! This bar is known for its cocktails, alluring environment and kind owner that welcomes all guests into the establishment.
Marble Bar offers their own brand of drinks, including vodka, bourbon and whiskey, so for avid drinkers, this is the bar for you! Marble Bar is located next to numberless other significant places in downtown Aspen, so this is the perfect spot for people who want to explore the nightlife of the fun-filled town.
The bar is inside the Hyatt Residence Club and next to the Silver Circle Ice Rink, which is a convenient spot for people who want to experience all types of different activities in downtown Aspen. Plan a trip to the high-class, stylish bar for an exquisite evening of dining.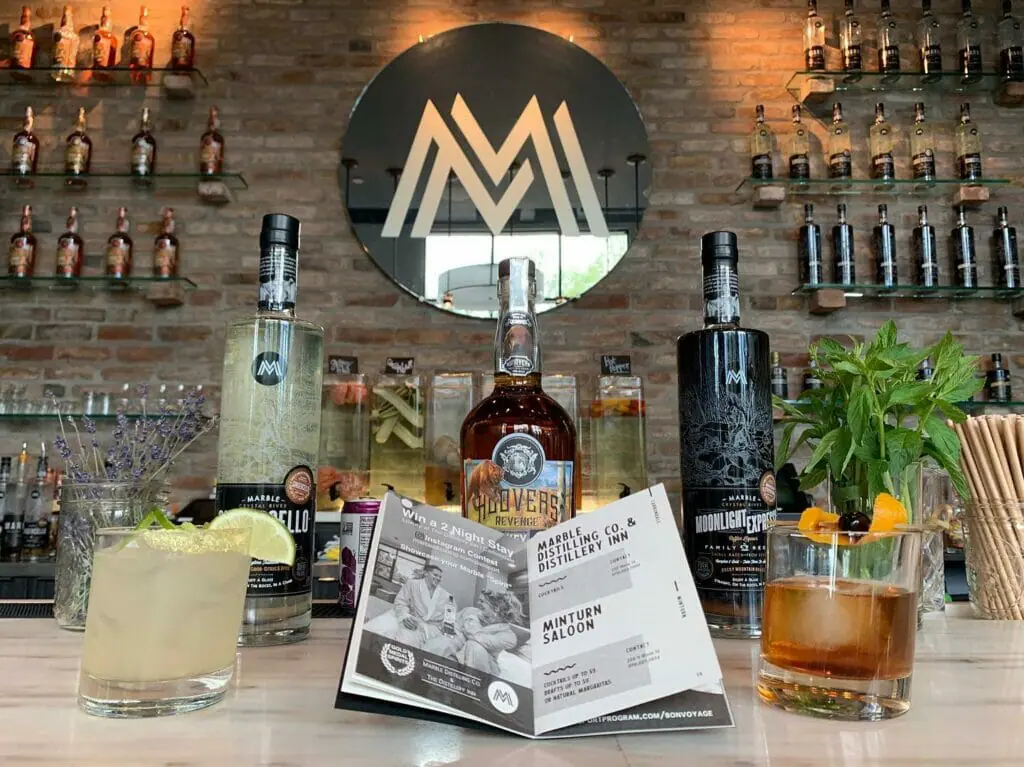 Gay Map Of Aspen
Finding it hard to envisage where everything is in Aspen? Hopefully, this queer-centric map helps where we have marked all the bars, clubs, parties, hotels, saunas, massages and more will help you stay in the spot best suited to you!