We all know what a dildo is, but for emphasis' sake, a dildo is a sex top that is usually shaped like a phallic and is intended primarily for penetration.
A gay dildo is a must-have sex toy for every queer man. It gives you the liberty to pleasure yourself without all the hassle associated with the real thing and spices up your sex life.
Dildos have now become more popular than ever, with people being more open about their sexuality. In this article, you will find the best dildos for queer men. These toys are safe to use and have all been medically tested to ensure safety. We have also tested them all rigorously ourselves, because, well, we are always prepared to put in the hard yards!
This list contains gay dildos of different sizes, shapes, and colors. Therefore it is nearly impossible not to find one that interests you.
P.S. Please note we are not prudes here. The only reason we have ever so slightly censored these glorious gay dildos is to keep onside with the Google gods.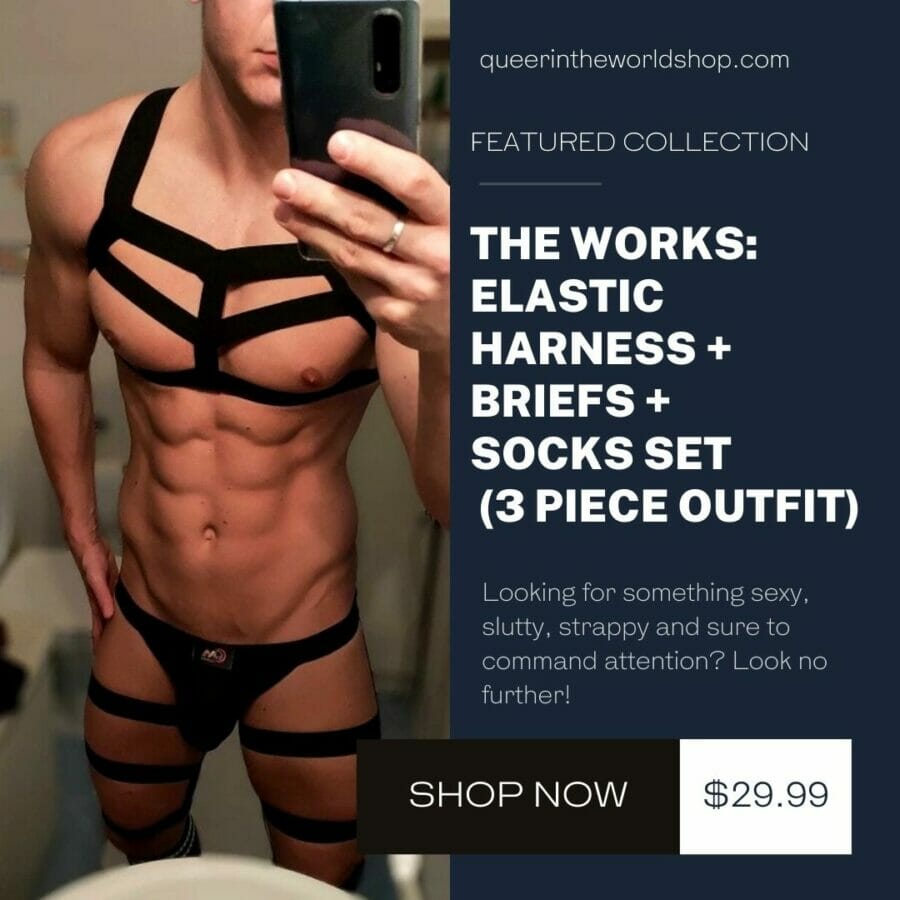 Pride-themed gay toys are always welcome – think of all the use you get out of them when pride rolls around. And a pride-themed dildo? Sign me up, please. And this is no ordinary gay dildo. It's made of soft silicone – as opposed to the ones made of glass or even metal, which can lead to accidents if not handled with care.
This pride dildo has rainbow-colored layers and is realistically shaped, with a slight curve at the end for extra stimulation. The whole body is waterproof and easy to clean, and you can pair it with lube for more pleasure. It is flexible but sturdy. It can survive repeated use and is perfect for group orgies where a more delicate one might be dropped or damaged accidentally.
Alternatively, you can use it in a solo session or with a partner just in case you need some extra zest in your relationship.
A combination of this pride dildo and extra sensual stimulation is sure to make your toes curl and your eyes roll back inside your head. Once you use it once, you'll be dying to come back to it again and again. It'll make great pride gifts for your friends, which will surely come in handy if you guys decide to link up for some fun.
Group masturbation session, anyone?
This candy cane dildo comes in a sexy glass red color. It screams complete queer sexual liberation. It gives a comfortable feeling when being used due to the soft and smooth glass material it is made of. Unlike other glass dildos, which may be dangerous to use, this toy is made of a safe glass material that won't break.
This is the perfect gay Christmas gift for yourself, your partner, or your queer friend. I mean, who doesn't want a dildo for Christmas? I know I want one. The diameter and length of this toy make it even more perfect and will have even the Grinchest Grinch going Ho, Ho, Hoe!
There's always a strange and eclectic addition to every collection, and there are some pretty unique gay sex toys out there. Take this one, for instance.
Dildos shaped like produce seem to be making a comeback. This dildo is in the shape of a banana, but similar ones are shaped like corn and even zucchini. It's made from silicone that's not too soft and not too hard either, and it comes equipped with a suction cup at the base for attachment to a wall or floor, so you can use it hands-free.
Like most silicone toys, soap and warm water are all you need to clean them. The banana-shaped one is smooth, but the corn and cucumber shapes have textures that translate to heavenly sensations when you use them.
They might not look sexy, but they're guaranteed to keep you coming back. If you're going to share it with friends in one session, don't forget to use condoms and be safe.
If you love color as much as I do, then this rainbow tentacle dildo is just for you. The tentacles give you a tantalizing feeling during playtime, and it almost feels as good as the real thing (yes, I know nothing beats the feeling of the real thing), but this comes a close second to it.
This dildo is made of liquid silicone with various degrees of hardness to give you maximum pleasure. If you enjoy shower playtime, then you should purchase this dildo as it is waterproof. Its portability makes it easy to carry around. The suction cup for wall attachment also gives your hand the freedom to play with other things (wink).
This is another colorful gay dildo that is inspired by an otherworld phallic encounter. The color combination is yellow at the base and purple at the tip, which blends into the color blue at the center of the alien dildo. The spirals around it are what make it an alien dildo. This beauty is 8.46 inches long and 2.4 inches wide or is sure to give you maximum satisfaction during sexy time.
This toy is calling my name because of those spirals(alien features), and the colors, the length, and the width are another thing. Just imagine how much pleasure is to be felt. The high-quality silica gel it is made of gives it different degrees of hardness.
With it, you can perfect the art of anal probing all for yourself…
Like most gay dildos on this list, the werewolf dildo has a suction cup and is made of liquid silicone. If exotic, mysterious, and paranormal are your thing, then this toy is for you. This dildo has a cool coloring that gives some sort of mysterious and supernatural feeling.
The markings on the toy are exotic and it is shaped in a way that makes the top a bit bent to the side, with slight contours around it. 25cm long and 4cm wide, this toy will bring its user to orgasm in no time. You are not the only one who deserves some sexy time; gift this to your partner or queer friend during Halloween.
Or use it on a full moon and find out what it is like to be ravished by werewolves in all the right way…
As the name depicts, the dragon tongue dildo is shaped like a dragon's tongue ( I don't believe anyone has seen a dragon in real life, but according to movies, dragon tongues are like human tongues). This toy is made of medical-safe liquid silicone and is available in three different color combinations; purple and pink, yellow, purple and pink, and blue.
This tip of the dildo was designed as a slim curve that looks like a bent tongue; then, the diameter expands till the base. It is said that penises shaped like this toy feel extraordinary, and I couldn't agree more. The appearance of each dragon tongue dildo is unique, so you do not know how curved it will be. The thrill that comes with not knowing how the one that will be delivered to you will look is worth it.
Oh, and before you ask, dragon sexuality and romance are ridiculously common in science fiction. Which makes a lot of sense as dragons signify sex since they are gigantic, fiery, gorgeous, and uncontrolled mythical animals. The urge to have sex with one of those immense, burning desires that is especially tough to overcome.
It's also a yearning driven by our fantasies, and we are all about living the fantasy here…
Nothing screams best gay sex toy like a rainbow-colored dildo in the shape of a unicorn horn. Seriously, it's like the Holy Grail of gay sex toys, and it's just as potent.
Made from silicone, it's got a ridged texture that hits the right spots. It comes in different rainbow motifs for a life-fun twist. Although it's shaped like a horn, the end is blunted, so it's safe to use. It's also got a suction mechanism at its base so that it can be attached to any surface.
Enjoy it on your own or with friends, as it's wide enough to please, and yet small enough that most people can take it with a little bit of lube. It'll make a refreshing change from anatomically-correct dildos – and perfect for those days when you just hate that you love men!
It's simple to assume that you can love someone "till death do you part," but what if they're undead? This is the question this Zombie Dildo seeks to answer.
When I look at this toy, all I see are the veins. It is thick from the tip down to the base, and I can only promise you how good this will feel. Imagine using this on yourself or your partner during playtime. It looks like the real thing, and while I have no idea what sex with a gay zombie would be like, I can be pretty sure this is close to the real thing.
The color combination is haunting in a sexy way, and the base comes with a suction cup so you can enjoy yourself hands-free. You should add this to your toy collection.
If huge penises are your thing, then this toy is for you. It comes in three different colors; black, brown and purple. It has a high-quality PVC construct and is waterproof, which means you can take your sexy fun time into the showers without worries of your toy getting destroyed.
This is another gay dildo with veins, thick ones for that matter; it is 34cm long and 6.5cm wide. Imagine how much pleasure you can derive from this beauty. If you are used to smaller-sized toys, and you want to experiment with a bigger one, then you should try this XL Huge Dildo. It will never leave you wanting more.
The huge and hung horse dildo. Why is it called this? You may ask, not only is this toy huge, it has a powerful sucker that can be attached to surfaces without fear of getting detached. Weighing a whopping 980 grams, this toy is only available in black and brown. It is safe to use, non-toxic, odorless, durable, easy to pull, and easy to twist.
Another notable feature of this dildo is the veins (yes, I have a thing for veined toys). Once you have had a taste of this toy, there is no going back, of this I can assure you.
The super realistic dildo looks just like the real thing, with hanging wrinkled balls, those veins that I love do much, and the entire package. It comes in 7" and 8.4" ( sizes small and large), respectively. The strapon option of this toy is everything for me. Introducing it into your sex life with your partner will spice it up and give both you and your partner something to look forward to. It can be swapped between partners for more fun. Cause versatility is hot!
If you are into role play, then this strapon dildo could be part of your get-up, and if not, you can add this to your gay dildo collection without the strapon option.
Rainbows everywhere! This is another choice for my fellow lovers of queer rainbow spirit. It is a portable dildo toy that takes up a small amount of space and doesn't weigh much, making it easier to carry around. It is 28mm wide and 148mm long, flexible, soft, and waterproof.
It is made of medically safe; platinum cured silicone. This toy can be used by all queer people; gays, lesbians, transgenders, and bisexuals who want to have fun with the colors of our fabulous pride flag.
This is for the size queens out there. Sure it's possible to buy a dildo in every size you can think of but it's a bit awkward using several toys in one session in a bid to get that exact fit that just hits the spot.
The solution to that problem is an inflatable dildo that can be inflated or lessened depending on how big you want it to be. As an added bonus, it can simulate that incredible pulsing feeling that most rigid dildos cannot give you.
Made from silicone, it's easy to clean, plus there's no chance of your getting carried away and causing it to explode from too much air. It's even got a maximum safety diameter. The pumping mechanism is simple: just turn the pressure valve clockwise or counterclockwise depending on if you want to release or inflate, squeeze the pumping ball and you will definitely see – or feel – an increase in size.
It's also got a long tube so that you can use it in solo play with a little maneuvering. Or you can have a partner control the size and test how much you take – 12 cm diameter is the limit, but it'll take quite a lot of practice to even get to this size. Trust me on that.
Carrying huge dildos around can be such a hassle. Everyone just wants something small and portable that can fit into a small traveling bag and not take up too much space. This silicone transgender pride dildo is here to save us some luggage space. It is made of medically safe platinum cured liquid silicone.
It is waterproof, soft, and very flexible. This toy is an excellent choice for transgender people who want to show their pride.
Some people shy away from more modern, high-tech toys, preferring old-fashioned dildos, butt plugs, and nipple clamps. Once you get past the original reluctance, though, you'll realize that technology truly makes everything better, and sex toys are no exemption.
Within limits (because even the most experienced sexual enthusiasts would balk at a fully humanoid gay sexbot), technological improvements have generally brought positive developments in the sex toy industry. After all, where would the world be without vibrators and vacuum-equipped masturbators? Take, for instance, this three-in-one remote-controlled pleasure machine and the potential it holds.
Made from silicone, it comes equipped with a ball ring, a cock ring, and an anal dildo, all cleverly fitted with vibrating mechanisms that promise a night filled with endless, almost overwhelming sensations. The vibration has nine different levels so that you can go from a gentle buzz to teeth-gritting stimulation. The remote control for the vibration works from up to thirty feet away, so your partner can be in another room controlling your pleasure.
It's also USB rechargeable, and can even be charged in the car, so you never need to run out of juice. It's waterproof, so you can use it in the pool or slather it with water-based lube without causing damage. It's a good fit for solo play. For setting extra-special, the top can wear it while fucking the bottom. I warn you, though, you probably won't last long this way.
It's a hell of a way to go out, though!