The gays love a good party, and who can blame us? With so many problems in the world, it is only natural that we find a way to let loose and have fun. Unfortunately, parties always come with one major problem: the question of what to wear.
That eternal question can dampen the vibe of any party. The stress of having to choose what to wear gives people party PTSD. Some of us have friends, literal angels that can help us pick outfits for a party. But for those who don't, blogs like ours are the next best thing. I've helpfully compiled a list of the best gay clubwear to wear to your queer party.
The choices can be daunting: from harnesses to leather pants to collars and even full-body costumes, there are so many choices, depending on the type of party you're attending. It's important to look your best at every party or gay pride festival. Wearing pride underwear or a cute gay t-shirt just won't cut it these days.
After all, it's the only way you can guarantee that all eyes are on you, and what's the fun of going to a party if you're not the center of attention? You might as well stay home and save yourself the stress. Go big or go home, although, with this list of gay clubwear ideas, you're guaranteed to go big…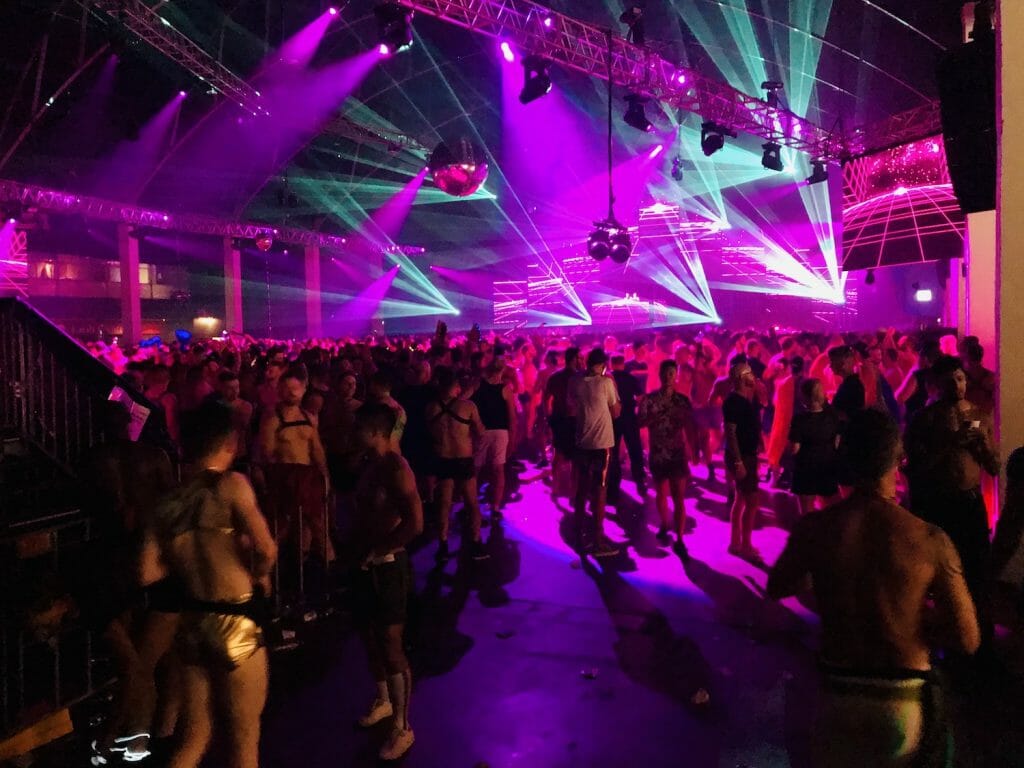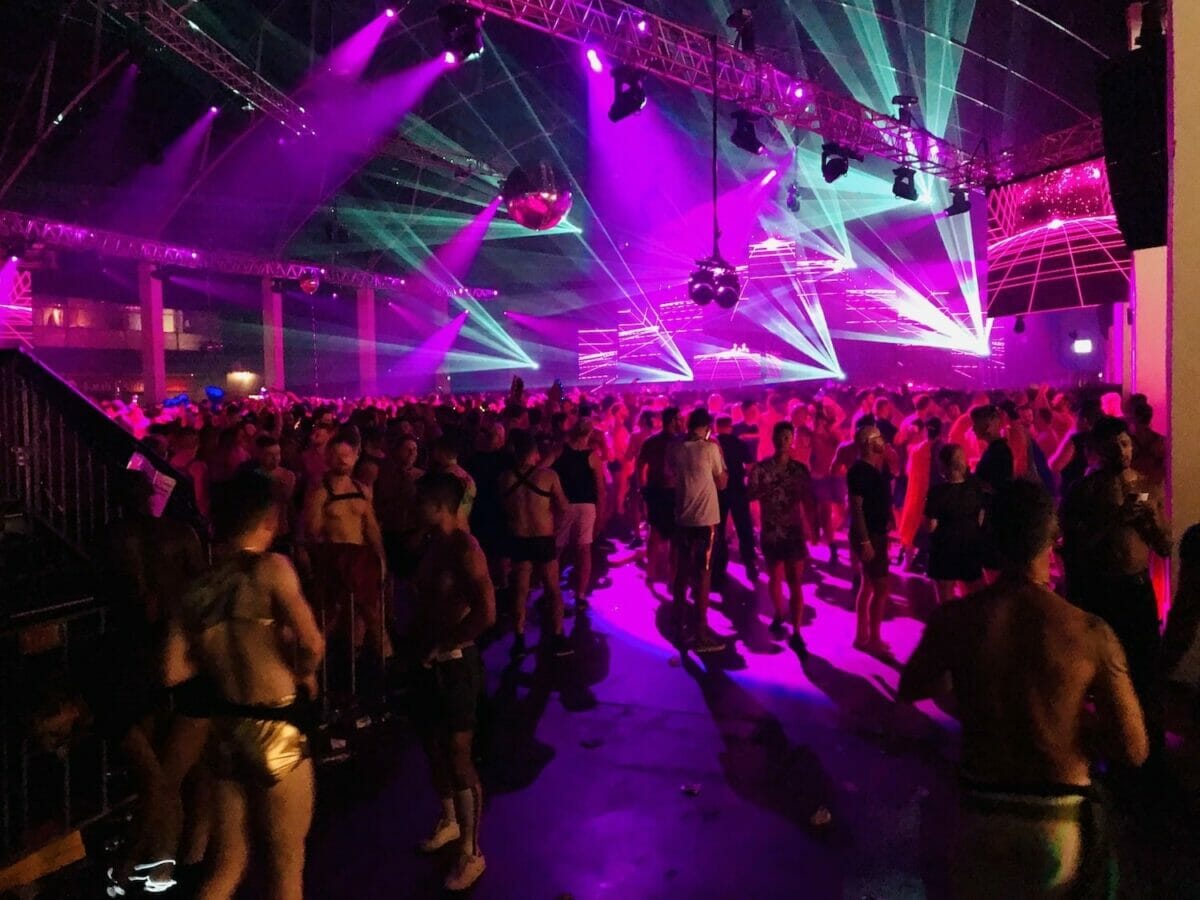 Some parties call for a simple combo of a shirt and shorts or even jeans. Others require something a little fancier. And then there are some others that require the hottest and most daring outfits you have. In such cases, this three-piece outfit will do nicely.
Appropriately named 'The Works,' it has everything, and I mean everything, you need to feel sexy, stylish, and slightly dangerous. While it may be inappropriate for a family- and child-friendly party, once the sun goes down, everything is fair game.
It's perfect for kink parties and adult pride parties as it is, but you could also throw on a pair of leather pants to really amp up the looks. The straps of the harness add an edge to the outfit that gives you an air of mystery – and most guys like a challenge.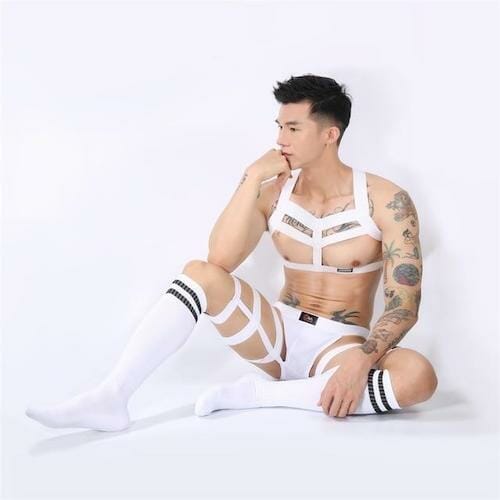 There are shorts for wearing to stay in, shorts for slipping on when you want to make a quick run outside the house, and shorts you wear when you want to look a little fancy. And then there are these imitation-leather cruise shorts, which belong to a category all on their own because it should be a crime to look ordinary and boring every day.
These shorts + tank club outfit are made from a top-notch imitation leather that's one hundred percent vegan, so you receive the soft, buttery, pleasant feel of leather with none of the disadvantages. They look almost as great as they feel and are tiny enough to tease while still providing adequate coverage. Black with a silky sheen, this sexy little number will draw admirers to you like you're a siren's call they cannot resist.
It's a little too edgy for a run to the grocery, but you can wear it to parties and festivals. For a kinky rave, pair it with a harness and some gay socks. The leather top and hoodie are just as great, and the best part is that you can wear them together or separately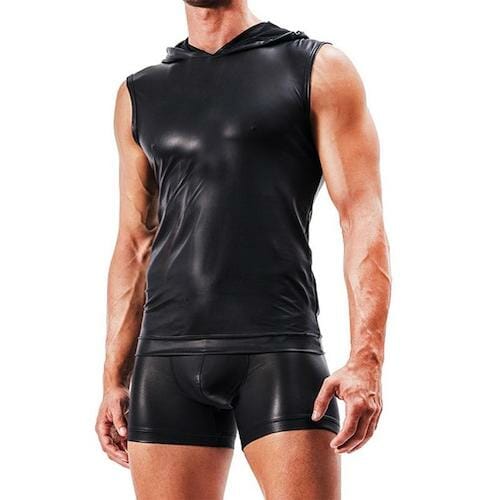 Some parties just scream for you to go the extra mile, and this PVC leather mesh kink bodysuit should be your weapon of choice for those times. It's head-to-toe sexiness and guaranteed to draw longing looks wherever you're wearing it too. It's a skin-tight design that is made from a combination of faux leather and mesh.
The design is ingenious because while leather – and faux leather by extension, tends to be hot and stuffy, mesh, which is light and airy, provides more than adequate ventilation for the suit. The mesh is carefully structured to give you a streamlined look. While still exposing enough skin for extra effect.
The problem of accessibility is solved by the provision of zippers at the front, back, and even the crotch area – so it's not too troublesome to get out of. As a matter of fact, you don't even have to get out of it at all if you catch my drift.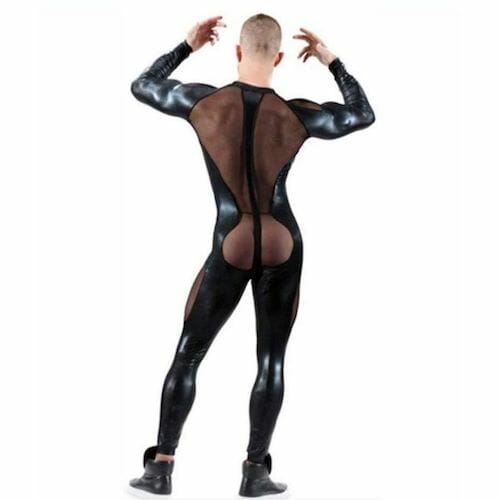 There's something inherently sexy about bodysuits, and when they show it of skin? SWOON. This mesh bodysuit is definitely not your granny's pride outfit – unless your Granny has taste, in which case big ups to her. It's made of sheer fabric that is almost completely see-through and what few parts are covered are as tight as a second skin.
You'll need a very special – and very child-free – occasion to wear this to. The blend of polyester and spandex delivers an erotic experience steeped in comfort. You'll get to look and feel amazing at the same time. One size fits all, so no need to waste time looking for an accurate size.
Seriously, this bodysuit is all upsides with no disadvantage. Except for the fact that you'll have to fend off admirers with a stick, that is.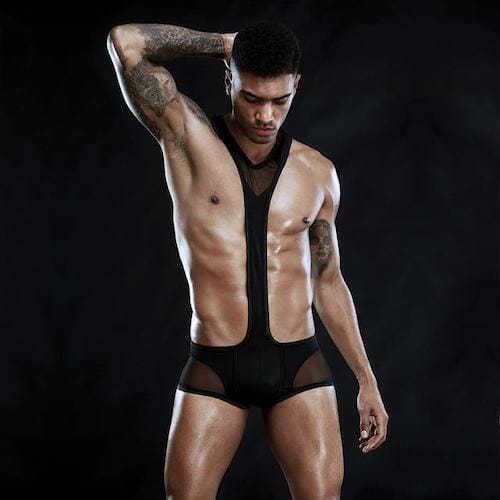 Parties come in many different flavors. The most important thing is wearing the right outfit to whichever one you are invited to. Puppy Play as a kink is not for everyone, but if it is for you – or if you're trying to get into the field – then you should make looking your best at every party a priority.
This gear set for Pup Play should help you do that. It's an incredible discovery, with practically everything one needs to get started with Pup Play included in the kit, including a collar, a mask, and a harness. It's made from neoprene but is padded with a spongy material to make it more comfortable.
This means you can wear it for a long time and have fun at the party without getting uncomfortable. It is soft but sturdy and can be safely reused several times.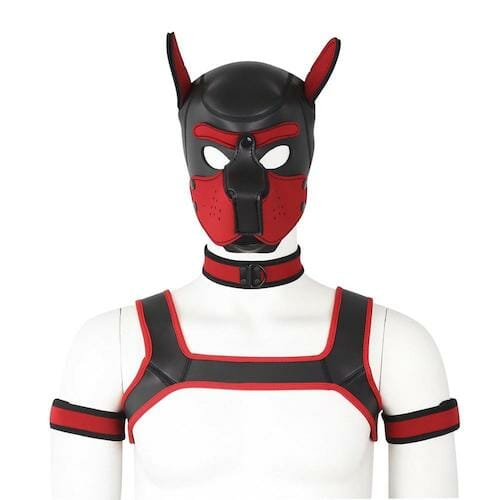 This muscle shirt is see-through and perfect for most parties. Made from a mixture of polyamide and elastane, It's great for a sexy night out, and the mesh ensures that it is breathable. It pairs well with most gay underwear, from briefs to leather pants to boxers, and comes in black and white.
Want some advice? Wear it with a pair of figure-hugging pants, so all your assets from top to bottom will be properly displayed.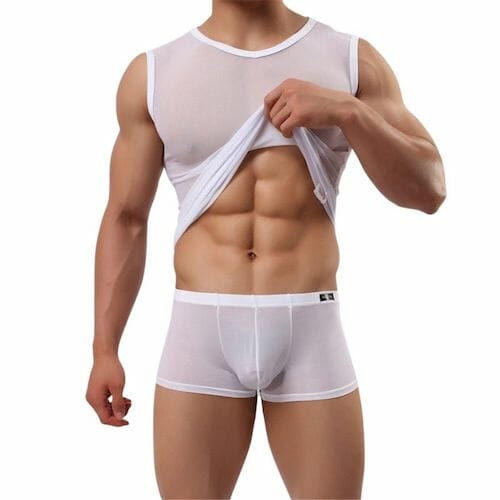 The mixture of harnesses and halter is very interesting – and by interesting, I mean make me want to do unprintable things to the wearer. Harnesses are traditionally made of leather, but recent developments have, among other things, led to a rise in non-leather harnesses.
They are made from an elastic material that causes your muscles to stretch and ripple attractively. This elastic harness combo has very little fabric making up the body, so ventilation and air circulation are not problems. The numerous straps that hold the fabric together also serve to streamline your figure and make you look hot.
It comes in blue, white, and red, all of which look great, and as an added bonus, you can choose the color that best suits you.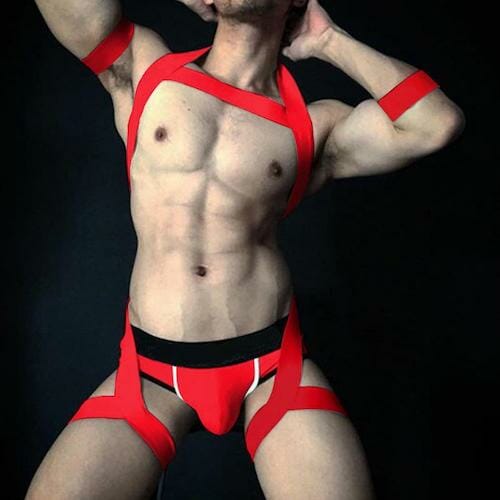 Camouflage is the ultimate fantasy material. You could throw camo print a garbage can, and it'll look just that bit better. A combo of camo prints, harnesses, and briefs, I'd sure to stop the show the moment you walk in. This combo leaves little to the imagination, as your torso and thighs are laid bare.
No soldier in the history of wars has ever worn this style of camo before, but you'll be sure to gather an army of admirers. It even comes with bicep cuffs to highlight your arms and can be reused as a gay Halloween outfit. It's made from a soft, comfortable polyester and stretches to fit every size.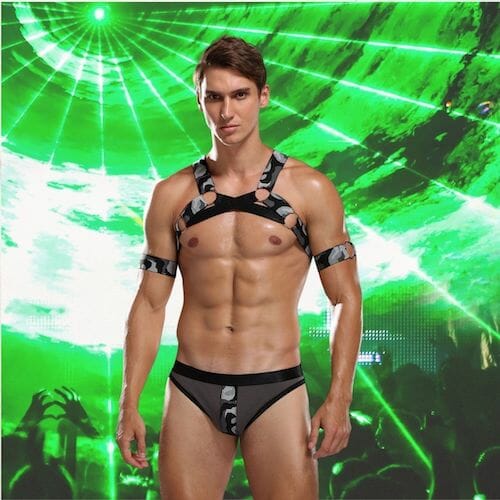 Some outfits just signal that you're ready to take a walk on the wild side, and this outfit is surely one of them. It's a BDSM-style bondage harness outfit consisting of a network of straps and rings, as well as a jockstrap. This outfit will likely only be useful to hardcore kink stars, except an adult costume party comes up.
It's incredible what a few, well-placed. Colorful straps can achieve, as seen in this look. The straps are polyester, so at least they are not uncomfortable. The jockstrap molds over the crotch like a second skin, leaving it covered in sleek fabric. This outfit is barely there, and yet it is practically guaranteed to turn heads.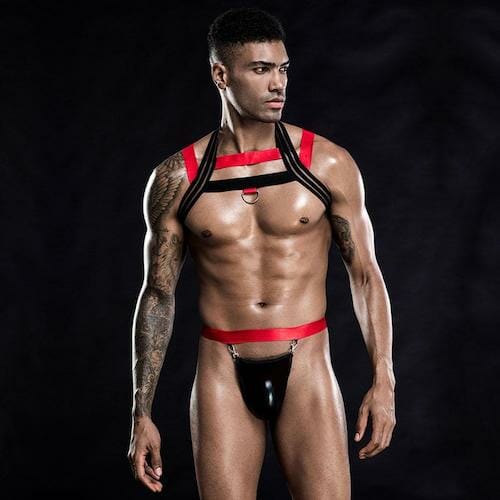 This reflective outfit brings a futurist tinge to the world of gay party dressing. If you've got a lot of people to impress and you've come to a point where you want something fresh, get your hands on this outfit. The top and bottom pieces are made from a polyester and spandex blend that gleams and seems to have slight iridescence.
It also fits snugly against the body, and it looks like it is great for showing off and highlighting your best assets. Ventilation is sure in this outfit, as is easy access. It's a stretch fit, and one size generally fits all.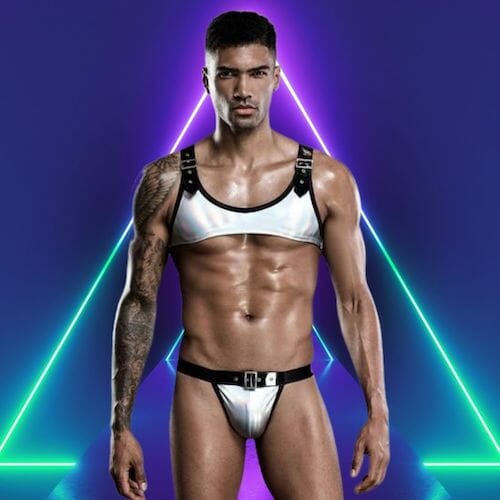 Harnesses are generally great for emphasizing toned, bare broad shoulders. Paired with a jockstrap of mesh, you'll probably need to issue earnings to stop people from being all over you. This harness and jockstrap set exudes an incredibly intense and erotic air of danger.
The polyester-nylon blend is comfortable as well a stylish, following the shape of the body perfectly. The material is high-quality and can be worn to anything from BDSM underground raves and costume parties to Milkshake Festival or Mighty Hoopla. Utilized well, it will draw attention to you once you're ready to rock it to the fullest. To help with this, it's made to fit all with only one size.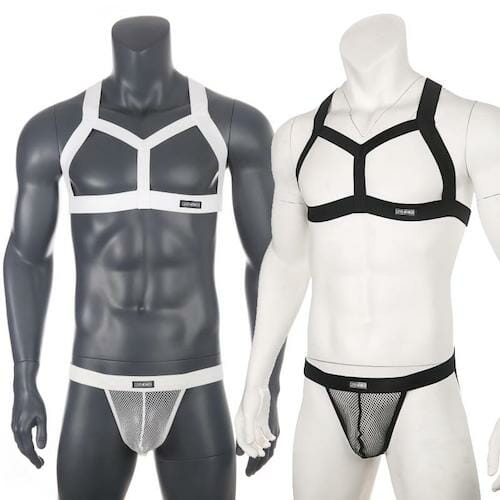 Rainbows are to the gays what weird neck scarfs are to flight attendants. Seriously, the gradual accumulation of rainbow-themed items is one way to signal the passage of time in the queer community.
Rainbow-themed outfits are not left out either, as this gorgeous two-piece set indicates. It's made of a material with a glossy satin finish and contains a rainbow motif made up of vertical bands of rainbow colors. The jockstrap is extremely tight, with the whole bulge practically in full display, and the harness is a thing of beauty.
As a shoulder harness, it serves its main function of enhancing the broadness and set of your shoulders and making it look good. These outfits can be worn to pride parties, costume parties, or just for a wild night out about town with a few adjustments.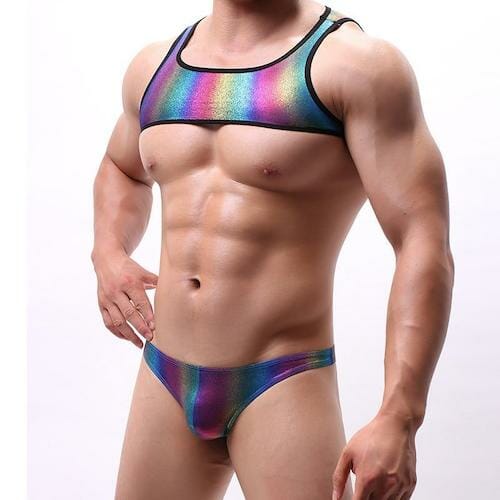 This stunning mesh outfit is obviously designed for a direct party-to-bedroom pipeline, and I'd advise against using it for any other purpose. Mesh, as always, ups the hotness factor by about a million, with all the holes showing ample skin.
The holes in the mesh, as well as making the outfit look more attractive, also provide ample circulation of air, which is important in outfits to be worn for a long time. The bodysuit is fine on its own for some occasions, but you can make it even more versatile by pairing it with pants or gay shorts.
The mesh is strong and sturdy, and the probability of an embarrassing 'accident' is very low.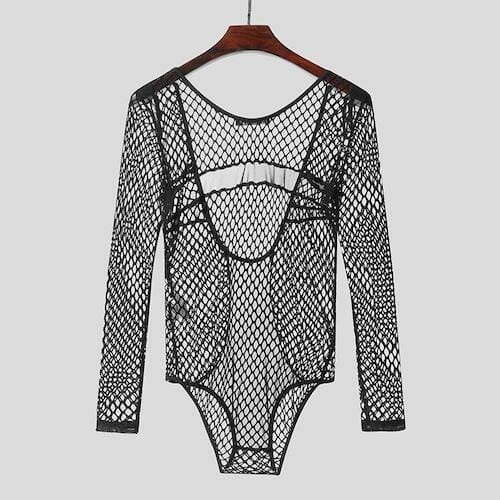 I'd recommend this snakeskin outfit for a special occasion – it's just too sexy to wear to any ordinary party. It's made from a blend of spandex and polyester that's cleverly designed to look just like real snakeskin, and it's just as slinky and exotic.
This three-piece outfit is made up of tiny boxer shorts, a top, and an armband, all of which stretch to fit. It hugs you like a second skin and gives you a unique, attractive look. Just like the animal, it is named after, you'll be ready to go on a hunt with this outfit.