Hey there, gorgeous! If you're looking for a fabulously gay-tastic adventure, then Gay Split in Croatia is the place to be! This city has everything you need to make your vacay one for the books – from its fascinating history, and breathtaking landscapes, to its passionate culture that's sure to put a pep in your step.
And listen up, divas! Split may be small, but it's got a LGBTQ+ scene that's out and proud. There are plenty of queer-friendly bars and events that cater to our fabulous community, so you can let your hair down and show your true colors. But let's keep it real, some areas may not be as welcoming, so stay vigilant and safe...
Overall, Split is a city that's got it all – history, beauty, culture, and a fun-loving LGBTQ+ community. So pack your bags, bring your sunscreen, and get ready to live your best life in Split, Croatia!
Croatia as a country has made progress towards LGBTQ+ rights in recent years, with homosexuality being legalized in 1977 and discrimination based on sexual orientation and gender identity being banned by law. The country also held its first Pride Parade in Split in 2019, which was met with both support and opposition from the local community.
While Croatia as a whole still has a long way to go in terms of LGBTQ+ rights, there are a few advocacy groups in Split that are working tirelessly to promote equality and acceptance. One such group is Rijeka Pride, which is an LGBTQ+ organization based in the nearby city of Rijeka that organizes a number of events and initiatives aimed at raising awareness and promoting visibility for the community.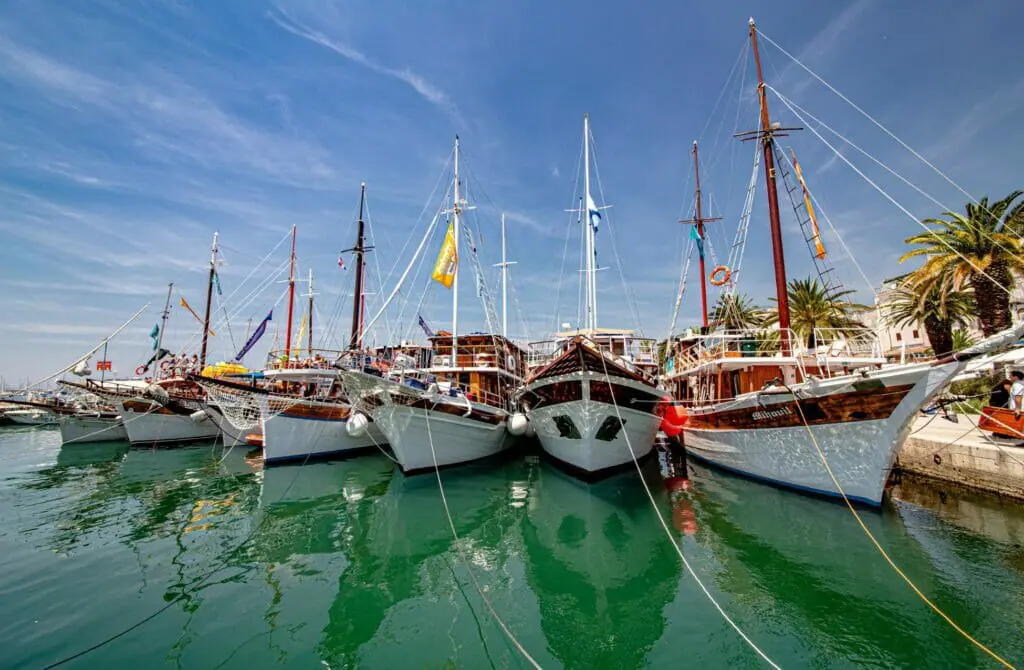 Another group that's making a big impact in Split is the LGBT Center Split. They are dedicated to advocating for LGBTQ+ rights and providing support and resources for individuals who identify as LGBTQ+. LGBT Center Split has been involved in a number of important initiatives, including promoting anti-discrimination policies, organizing educational workshops, and providing support for victims of hate crimes.
Despite the challenges that still exist for the LGBTQ+ community in Croatia, these advocacy groups are making a real difference in promoting visibility and acceptance. By raising awareness and educating the public on LGBTQ+ issues, they are helping to create a more inclusive and welcoming society for all.
This coastal city is also home to some of the most stunning attractions in the country, including the jaw-dropping Diocletian's Palace, which is a UNESCO World Heritage Site. This ancient Roman palace is a must-see, with its grand arches, intricate carvings, and sprawling courtyards that make for the perfect Instagram photo ops.
But Split isn't just about history and architecture – it's also surrounded by some of the most beautiful natural landscapes you'll ever see. The Marjan Forest Park is a popular spot for locals and tourists alike, with its winding trails, hidden beaches, and breathtaking views of the Adriatic Sea. Plus, the city's lively streets are filled with charming cafes, trendy bars, and local markets, making it the perfect place to relax, unwind, and soak up the unique atmosphere of this amazing destination.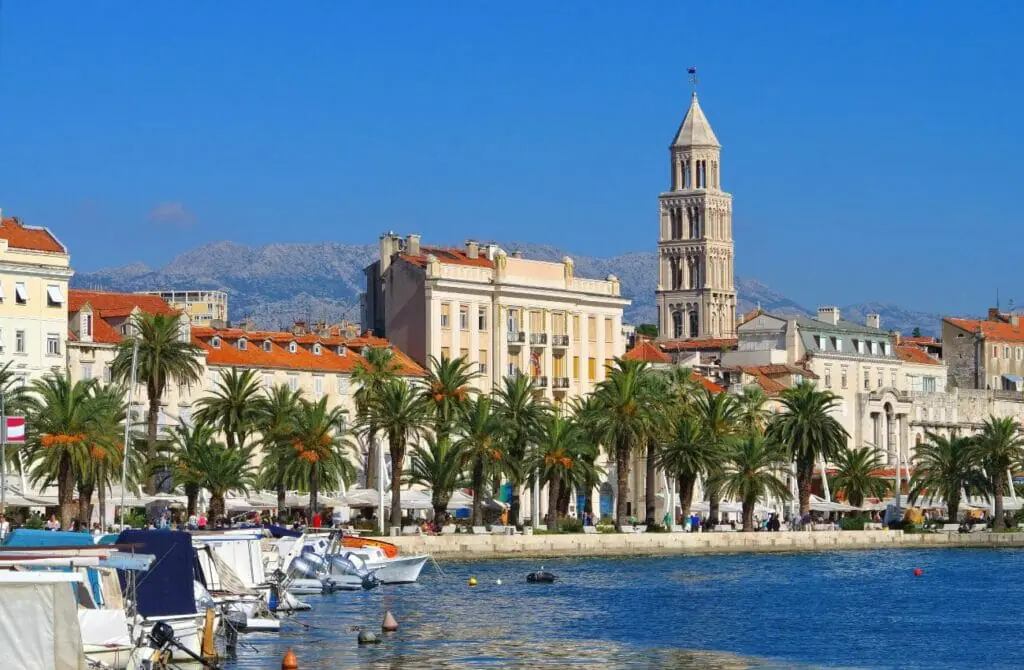 Top Attractions in Split
As queer travel experts, we can assure you that Split, Croatia is a must-visit destination for LGBTQ+ travelers. While the city is relatively liberal, it's important to exercise caution and keep public displays of affection to a minimum, especially in crowded places or late at night at bars. However, there is no shortage of activities to keep you entertained, whether you identify as queer or not. From exploring historic landmarks to sipping wine at charming sidewalk cafes, there's something for everyone in Split.
For a truly unforgettable experience, rent a car and explore the breathtaking Croatian countryside. The scenery is simply stunning, with rolling hills, rugged coastlines, and hidden beaches that will take your breath away. And if you're a fan of history and architecture, you'll be in heaven in Split – the city is packed with stunning Baroque structures that are sure to impress.
So whether you're interested in history, nature, or just soaking up the local culture, Split has something to offer everyone. Don't miss out on the chance to experience this incredible city for yourself!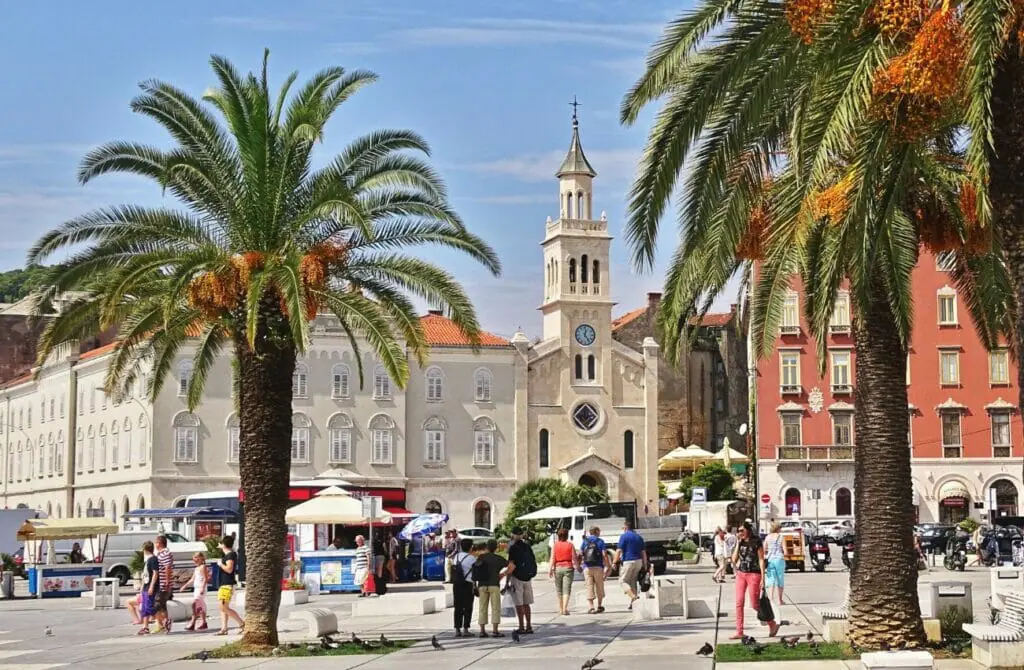 View The Roman-era Diocletian's Palace
Diocletian's Palace is a Roman-era tourist attraction located in the city of Split, Croatia. The palace is a well-preserved complex of buildings and structures that date back to the 4th century AD, and it is considered to be one of the best examples of Roman architecture in the world.
One of the main draws of Diocletian's Palace is its historical significance. The palace was built by the Roman Emperor Diocletian as a retirement residence, and it was one of the most luxurious and grandiose palaces of its time. Visitors can explore the palace's many chambers and courtyards, and get a sense of what life was like for the Roman elite during the late empire.
Another popular feature of Diocletian's Palace is the way it has been integrated into the modern city of Split. Today, the palace's ancient structures and buildings are surrounded by a vibrant and bustling city, and visitors can see how the palace has been adapted and reused over the centuries.
Many of the palace's chambers and courtyards have been converted into shops, cafes, and homes, giving visitors a unique glimpse into the way history and modern life intersect.
Visitors can take a guided tour of the palace to learn more about its history and architecture. The tour will take visitors through the palace's many chambers and courtyards, and provide them with information about the palace's original purpose and how it has been used over the centuries.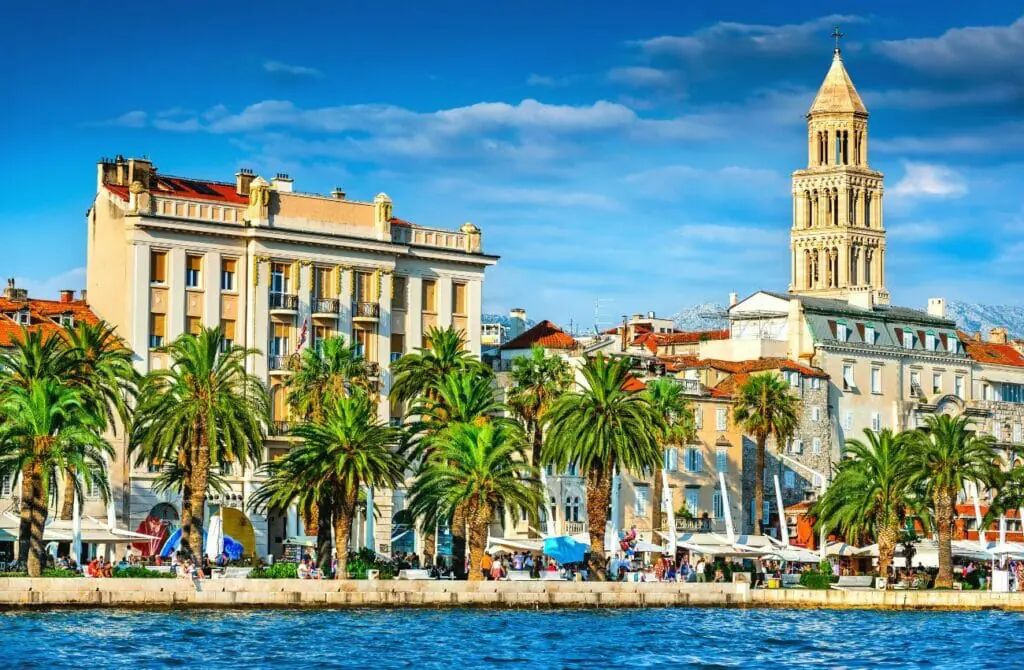 Visit The Split Archaeological Museum To Learn Some History
The museum houses a wide range of artifacts from ancient Greece and Rome, as well as artifacts from the Illyrian and Roman periods. Visitors can admire the museum's collection of Roman glassware, pottery, jewelry, and coins, which provide a glimpse into the lives of the people who lived in the area during those times.
Another reason for the museum's popularity is its interactive exhibits. The museum offers a variety of interactive exhibits, such as a replica of a Roman house and a virtual tour of the ancient city of Salona, which was once the capital of the Roman province of Dalmatia. These exhibits help visitors understand the history and daily life of the ancient people who lived in the area.
The museum also offers a variety of educational and guided tours, which provide visitors with a deeper understanding of the artifacts on display. Visitors can learn about the history and significance of the artifacts, as well as the techniques used in their preservation.
Explore The St. Domnius Cathedral
The St. Domnius Cathedral in Split, Croatia is a popular tourist attraction for several reasons. The cathedral, which is also known as the Cathedral of St. Duje, is the oldest Catholic cathedral in the world that is still in use. The cathedral is located in the historic center of Split, which is a UNESCO World Heritage site.
One of the main reasons for the cathedral's popularity is its rich history. The cathedral was originally built in the 4th century AD as a mausoleum for the Roman Emperor Diocletian. The cathedral was later converted into a Christian church in the 7th century, and it has been used as a place of worship ever since. The cathedral's architecture is a unique blend of Roman and Gothic styles, which makes it a popular destination for architecture enthusiasts.
The St. Domnius Cathedral is also home to several important artifacts, including a reliquary of Saint Domnius and a statue of Saint Anastasia, the patron saint of Split. These artifacts are of great historical and religious significance and attract many visitors who are interested in religious history.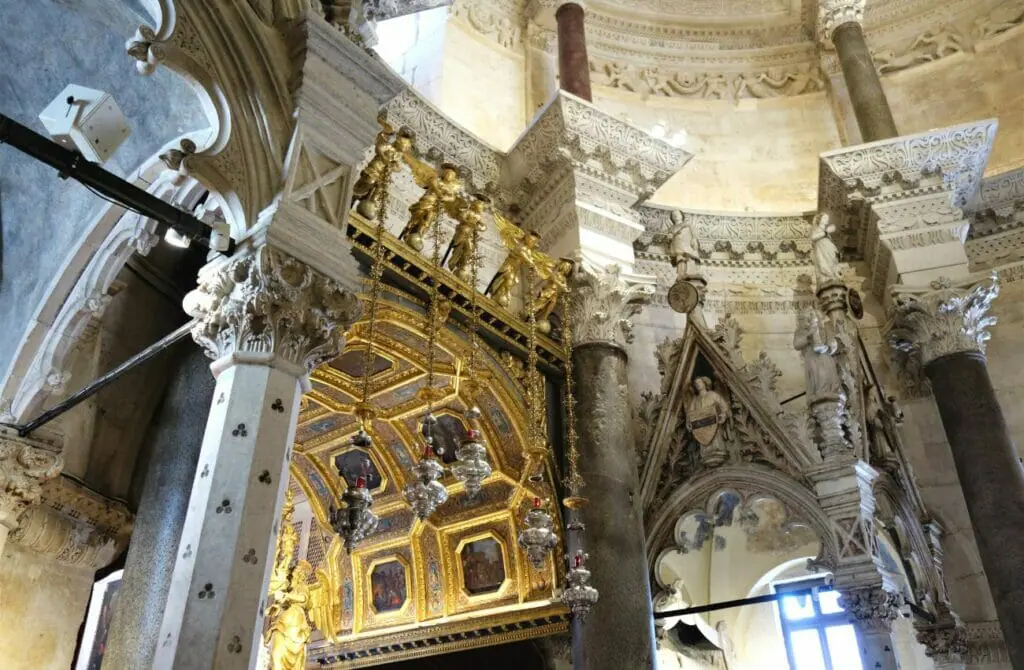 Visit The Ivan Mestrovic Gallery To Learn More About Croatia's Best Artists
The Ivan Mestrovic Gallery in Split, Croatia is a popular tourist attraction for art lovers and admirers of the works of Ivan Mestrovic, one of Croatia's most renowned sculptors and artists. The gallery is located in the historic center of Split and is housed in a beautiful Renaissance palace.
One of the main reasons for the gallery's popularity is its collection of works by Ivan Mestrovic. The gallery features a wide range of Mestrovic's sculptures, drawings, and prints, which showcase his unique style and talent. Mestrovic's works are known for their powerful expressiveness and emotional intensity, which makes them highly engaging and moving to visitors.
The Ivan Mestrovic Gallery is also a great place to learn about the life and work of Ivan Mestrovic. The gallery has a rich collection of documents, photographs, and other materials that provide a comprehensive overview of Mestrovic's life and career. The gallery also hosts temporary exhibitions, lectures, and other events that provide visitors with a deeper understanding of Mestrovic's art.
The Klis Fortress in Croatia is a popular tourist attraction for history enthusiasts and those interested in medieval fortifications. The fortress is located on a hilltop near the city of Split and offers visitors stunning views of the surrounding countryside.
The fortress has a long and storied past, dating back to the medieval period. It was built in the early 9th century to protect the city from invaders and played a crucial role in the region's defense for centuries. The fortress has been witness to many battles and conflicts over the years, and it has been rebuilt and expanded many times.
Visitors can enjoy the beautiful views while exploring the fortress's many towers, ramparts, and defensive walls. On a sunny day, the fortress is a great place to visit. The Klis Fortress is also a popular destination for fans of the hit TV series Game of Thrones.
The fortress was used as a filming location for the show and they shot there many of the scenes from the series. Visitors can explore the fortress and see the locations where their favorite scenes from the show were filmed, which makes for a unique and exciting experience.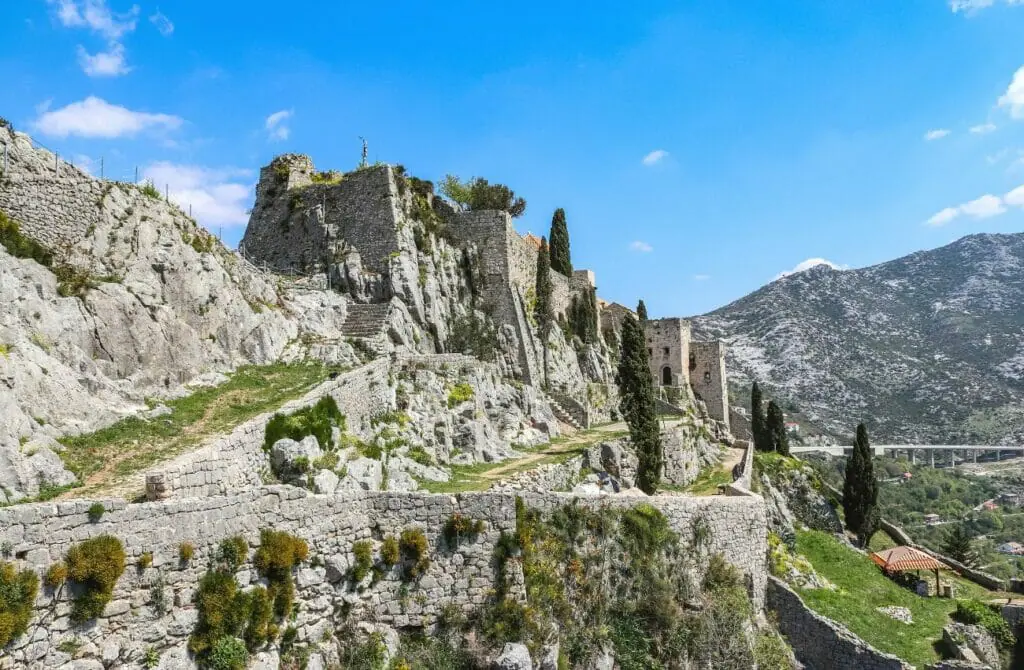 Learn Something New At The Croatian National Theatre
The Croatian National Theatre in Split was founded in the 19th century, and it is one of the oldest professional theaters in Croatia. The theater has played a vital role in the cultural life of the region and it has been host to some of the most renowned Croatian and international actors, directors, and playwrights.
Another reason for the theater's popularity is its impressive architecture. The theater's main building, built in the 19th century, is a beautiful example of the Austro-Hungarian architecture style. Visitors can admire the theater's ornate decoration, impressive frescoes, and grand chandeliers, which make for a truly magnificent setting for the performing arts.
Scale The Marjan Stairway And Marjan Forest Park
Marjan Stairway and Marjan Forest Park in Split, Croatia are popular tourist attractions for those looking to explore the natural beauty and outdoor recreational opportunities of the city. The stairway is a series of steps that lead up to Marjan Forest Park, a beautiful and serene park that offers visitors a chance to escape the hustle and bustle of the city and enjoy some fresh air and greenery.
One of the main reasons for the stairway and park's popularity is the natural beauty of the area. The park is home to a wide variety of plant and animal life, and visitors can enjoy the sights and sounds of nature as they explore the park. The park is also home to a number of hiking and biking trails, which offer visitors a chance to get some exercise and take in the beautiful views of the park and the city.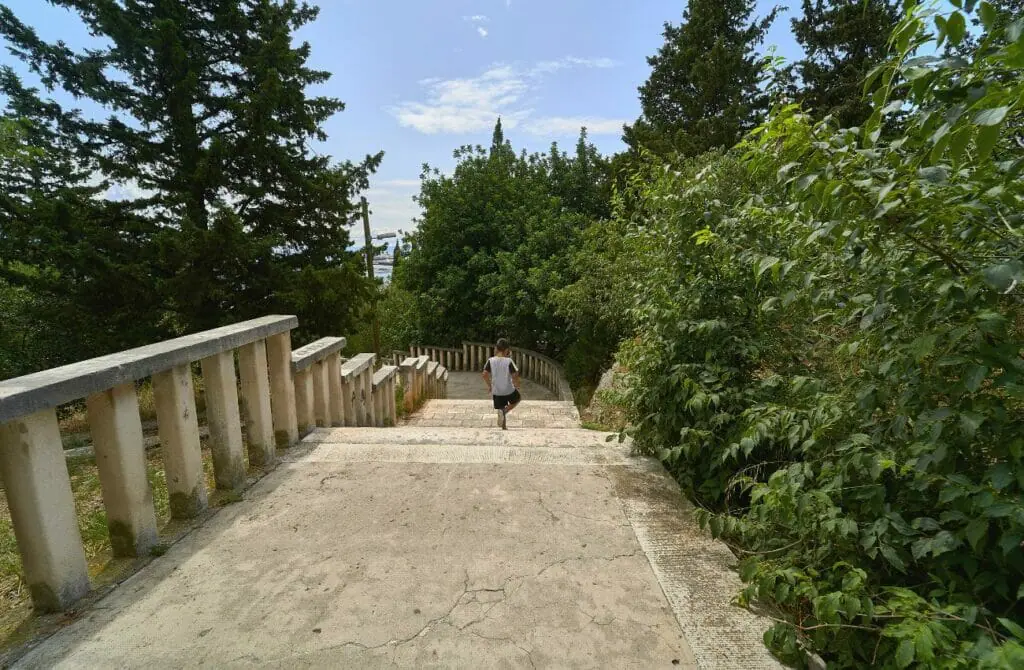 Wonder At The The Church of St. Dominic
The Church of St. Dominic was built in the 13th century, and it is one of the oldest and most important religious buildings in Split. The church is an excellent example of Gothic architecture, and it features impressive stone carvings, frescoes, and stained glass windows that attract visitors from all over the world.
Another reason for the church's popularity is its cultural and religious significance. The church is dedicated to Saint Dominic, the founder of the Dominican Order, and it has been an important religious site for centuries. The church has played a significant role in the religious and cultural life of the city and it is considered an important pilgrimage site.
The church also offers a variety of events and activities throughout the year, such as concerts and religious ceremonies, which attract visitors from all over the region. Visitors can enjoy the beautiful architecture, art, and history of the church while participating in these events.
Explore The People's Square
The People's Square in Split, Croatia, also known as Pjaca, is a popular tourist attraction for those interested in experiencing the city's vibrant culture and history. The square is located in the heart of the city, and it is considered one of the most important cultural and social hubs in the region.
One of the main reasons for the square's popularity is its historical significance. The People's Square has been a central gathering place for the citizens of Split for centuries. It has played an important role in the city's history as a marketplace, a site for public gatherings, and a place for social and political events. The square is surrounded by many historical buildings such as the Town Hall, the Governor's Palace, and the Cathedral of Saint Domnius.
Another reason for the square's popularity is the vibrant atmosphere it offers. A square is a lively place where visitors can enjoy a variety of activities such as street performers, musicians, and vendors selling local products. Visitors can also enjoy traditional Croatian cuisine and drinks at the many cafes and restaurants surrounding the square.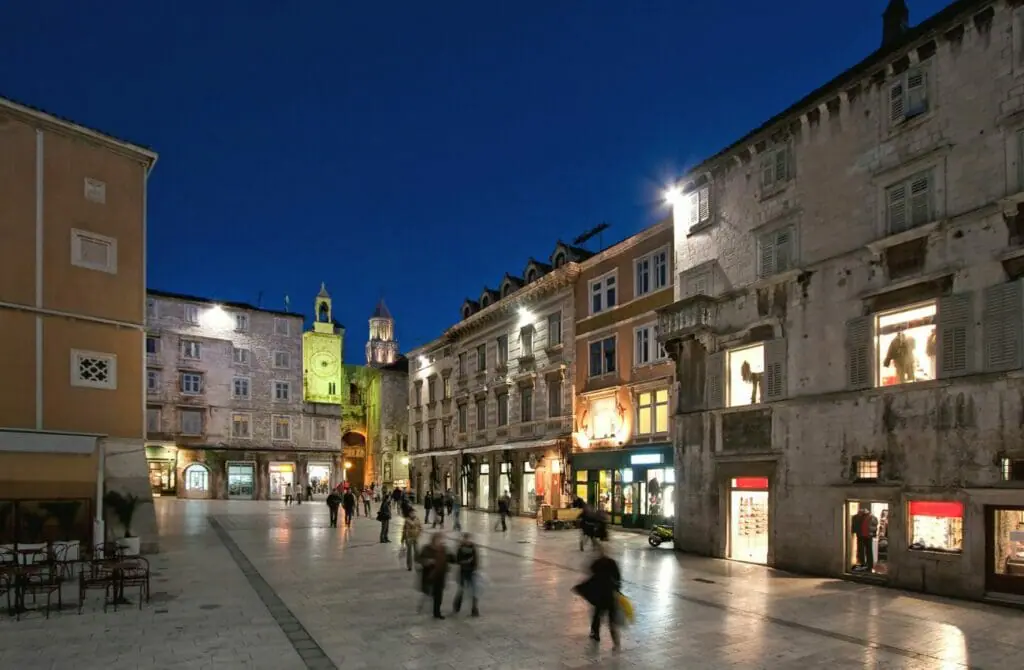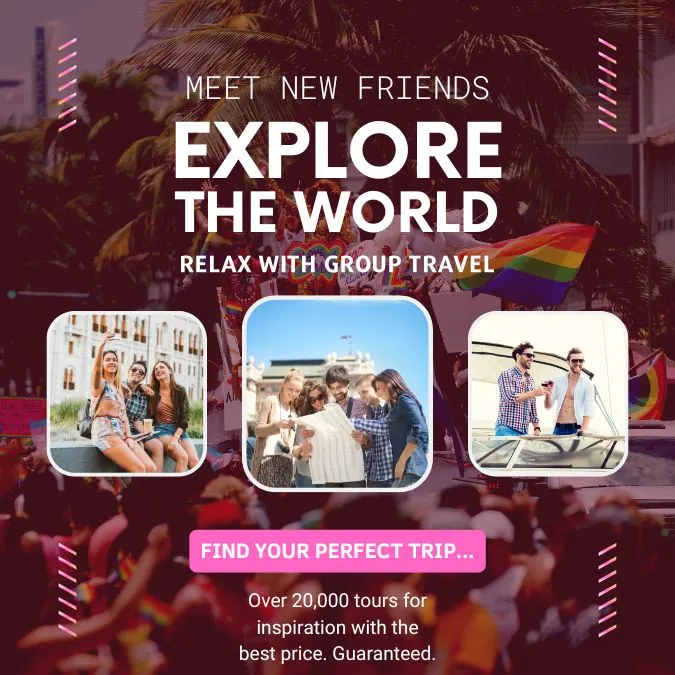 Gay Beaches In Split
Split is known for its breathtaking coastline and crystal-clear waters, making it a popular destination for beachgoers. Split has a reputation for being a welcoming and inclusive destination for LGBTQ+ travelers, and its beaches are no exception. Whether you're looking for a secluded spot to relax or a lively beach with plenty of activity, there are several gay-friendly options to choose from in Split, and these are the most popular:
Kasjuni Beach
This beach is a popular spot for locals and tourists alike, and is known for its crystal-clear water and stunning scenery. Kasjuni Beach is also a well-known gay-friendly spot in Split, with a relaxed and welcoming atmosphere that makes it an ideal place to soak up the sun and enjoy a swim. Place your hottest swimwear, and you never know who you'll meet.
Obojena Svjetlost Beach
This beach is another popular destination for the LGBTQ+ community in Split. It is situated in a secluded bay and is known for its calm waters, stunning surroundings, and friendly atmosphere. The beach also has a charming bar where visitors can grab a refreshing drink and enjoy the stunning views of the Adriatic Sea.
Firule Beach
This beach is located just a short walk from Split's city center, making it a convenient option for those who want to combine sightseeing and beach-going. The beach is known for its crystal-clear water, relaxed atmosphere, and welcoming vibe. While it is not an exclusively gay beach, it is a popular destination for LGBTQ+ travelers.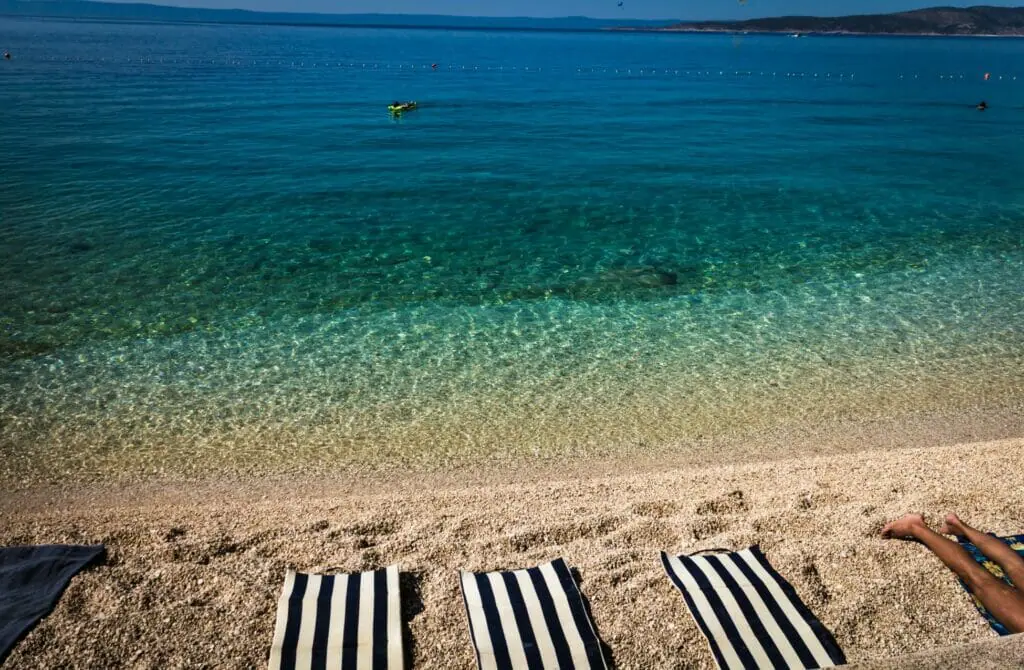 Gay Things To Do In Split
If you're a traveler in Split seeking a means to connect with the local LGBTQ+ community, the LGBT Center Split is an essential destination. This organization provides a safe and welcoming environment for individuals who identify as LGBTQ+ and their allies, and presents a variety of resources, support, and community activities.
At the LGBT Center Split, visitors can forge connections with locals and gain insights into the unique LGBTQ+ culture in Split and across Croatia. The center offers an array of resources, including information about businesses and services that are supportive of the LGBTQ+ community, support groups, and advocacy initiatives.
Along with its outreach efforts, the LGBT Center Split presents a diverse array of events and programs throughout the year. These activities include a diverse range of events such as film screenings, art exhibitions, panel discussions, and workshops. Attending any of these events can be a wonderful way to expand your social circle, enrich your knowledge of the LGBTQ+ community, and cultivate meaningful connections during your visit to Split.
All in all, the LGBT Center Split serves as an invaluable resource for LGBTQ+ travelers to Split and provides an excellent means for visitors to engage with the local community during their stay.
Gay sailing from Split is the ultimate way to experience the stunning Croatian coastline and nearby islands while enjoying the company of other queer travelers. This unique adventure involves chartering a private sailboat with a group of like-minded individuals, exploring the Adriatic Sea and stopping at some of the most beautiful destinations in the region.
During a typical gay sailing trip from Split, you'll spend your days swimming, sunbathing, and exploring picturesque fishing villages and hidden coves. As the sun sets, you'll dock at a new location and enjoy the local nightlife, with plenty of opportunities to sample delicious food and drink, as well as socialize with your fellow travelers.
Not only is gay sailing from Split a fun and unforgettable way to experience the beauty of Croatia, but it's also a chance to connect with other LGBTQ+ travelers and form lasting friendships. It's a unique opportunity to escape from the stresses of everyday life and indulge in the beauty of nature and the company of other queer folks.
So if you're looking for a one-of-a-kind adventure that combines breathtaking natural scenery with the thrill of sailing and the company of like-minded individuals, gay sailing from Split is the perfect choice. Don't miss out on this unforgettable experience – set sail and discover the beauty of the Adriatic for yourself!
We highly recommend this 8 days tour package taking you through Split through 9 other destinations in Croatia and ending in Dubrovnik.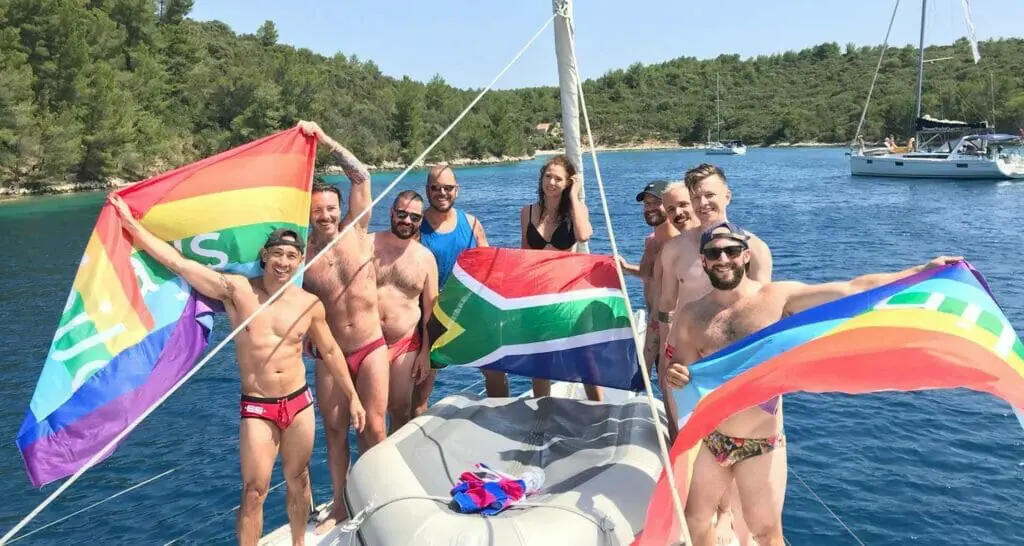 Get ready to turn up the fabulousness because Split Pride is an event you simply can't miss! This annual LGBTQ+ celebration takes place every June in the heart of the city, attracting a lively and diverse crowd of queer folks and allies alike. The event features a colorful parade through the city streets, as well as a number of parties, performances, and cultural events that are sure to keep you entertained.
Split Pride first began in 2011 and has grown in popularity every year since, with an estimated 10,000 people attending in 2019. This event is a powerful demonstration of the LGBTQ+ community's resilience and strength in the face of discrimination and prejudice, and a celebration of the progress that has been made towards equality and acceptance.
Attending Split Pride is a chance to connect with like-minded individuals from all over the world, as well as show your support for the local LGBTQ+ community. With its vibrant energy, welcoming atmosphere, and stunning surroundings, Split Pride is the ultimate queer summer destination. So grab your rainbow flags and get ready to party – we'll see you there!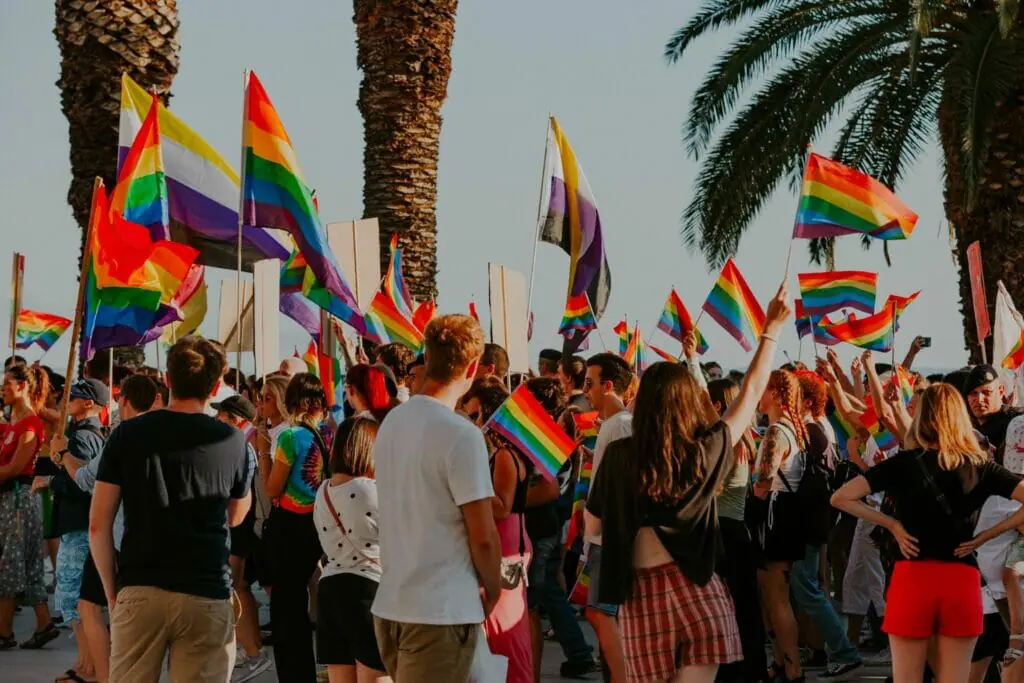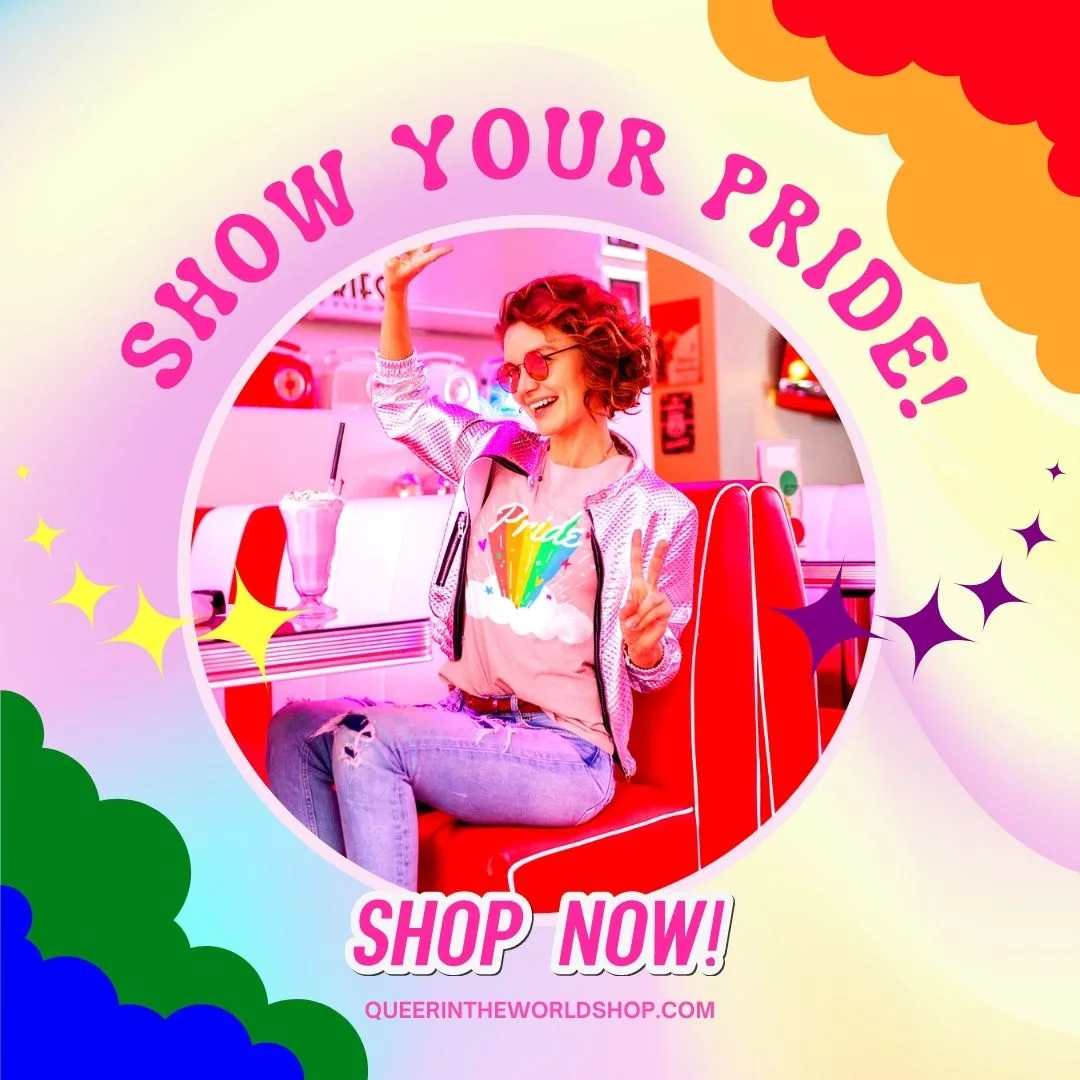 Gay-Friendly Hotels & Gay Hotels in Split
Get ready to experience the ultimate in gay-friendly accommodations, because Split has got you covered! As an LGBTQ+ traveler, it's important to know that you can feel safe, welcome, and respected wherever you stay. Luckily, many hotels and hostels in Split are actively committed to creating a warm and inclusive environment for all guests, regardless of sexual orientation or gender identity.
These gay-friendly accommodations go above and beyond to make LGBTQ+ travelers feel at home, with policies and practices that demonstrate a commitment to inclusion and diversity. From non-discrimination policies to resources and support for LGBTQ+ travelers, you can rest assured that you'll be treated with the utmost respect and care.
In addition to these welcoming policies, some gay-friendly accommodations in Split may also offer amenities and resources that specifically cater to the LGBTQ+ community. You may see rainbow flags or literature about local LGBTQ+ events, making it easy to find the hottest parties and gatherings in town. And if you're looking for a hotel or hostel in an area that is known for being LGBTQ+ friendly, Split has plenty of options to choose from.
So whether you're looking for a luxurious hotel or a cozy hostel, Split has the perfect gay-friendly accommodation to meet your needs. You'll feel right at home in this welcoming and inclusive city, surrounded by breathtaking scenery and a vibrant queer community. Don't wait – book your stay in gay-friendly Split today and get ready for the ultimate LGBTQ+ travel experience!
Only the most well-known gay-friendly hotels in Split are included here, but if you can't find what you're looking for here, there are hundreds of more hotels in Split.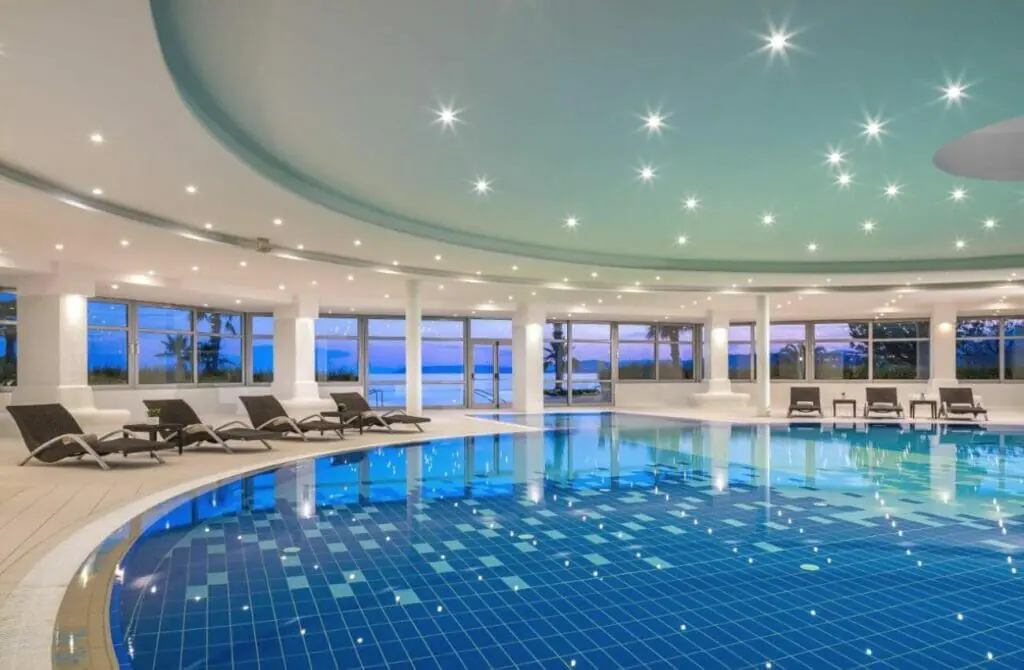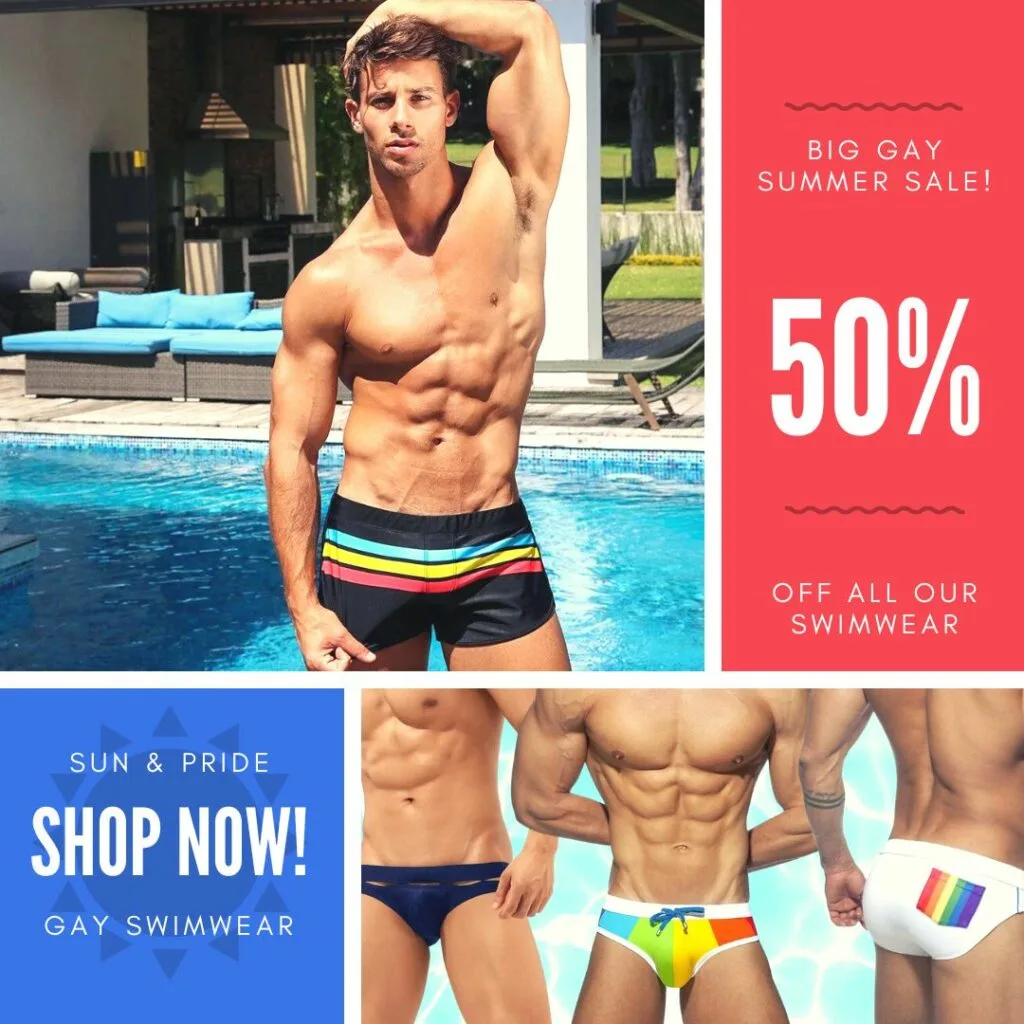 By offering a variety of one-of-a-kind activities both inside the resort and along this captivating coastline, Le Méridien Split gives you a fresh perspective on the area and a new way to experience Dalmatia.
Learn something new, increase cultural awareness, and adopt a fresh perspective! Separate sofa seating, individually controlled air conditioning, international among other amenities and an in-room safe are all features of the 378 guestrooms and suites. They also all have floor-to-ceiling windows that open to spacious balconies.
Le Méridien Lav, Split is located in Podstrana, on the Dalmatian Coast, 8 km south of Split. It has a stunning location with an 800 m stretch of beach and a stunning view of the city and nearby islands. Le Méridien Lav is home to a premier spa, besides a plethora of dining establishments and pubs.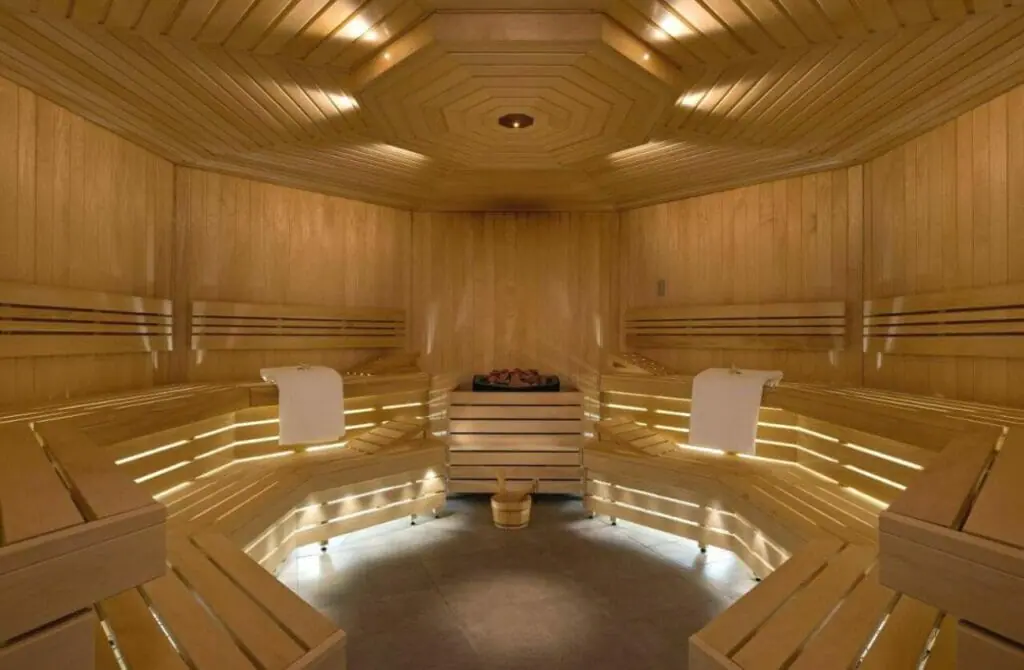 Hotel Park, which boasts a fantastic location among Split's magnificent coastlines in Croatia, provides exceptional views and great walking access to the city's most amazing medieval stone buildings, which are arranged along marbled lanes.
This picturesque property is close to fascinating attractions, including the Cathedral of Saint Domnius, Poljud Stadium, Split Marina, Gregory of Nin Statue, and Diocletian's Palace.
It's hard to believe that Split's most fascinating and stylish boutique hotel is now located where a factory formerly stood almost a century ago. You may now enjoy the old-world charm and groundbreaking luxury at the boutique Hotel Luxe, which is just steps from Split's historic center, the ancient Diocletian castle, and the most well-known sandy beach, Bacvice.
In any of the hotel's public spaces, from the health center to the restaurant and lobby bar, you'll feel at home and enjoy a tranquil atmosphere, specially designed décor, modern furnishings, and exceptional service.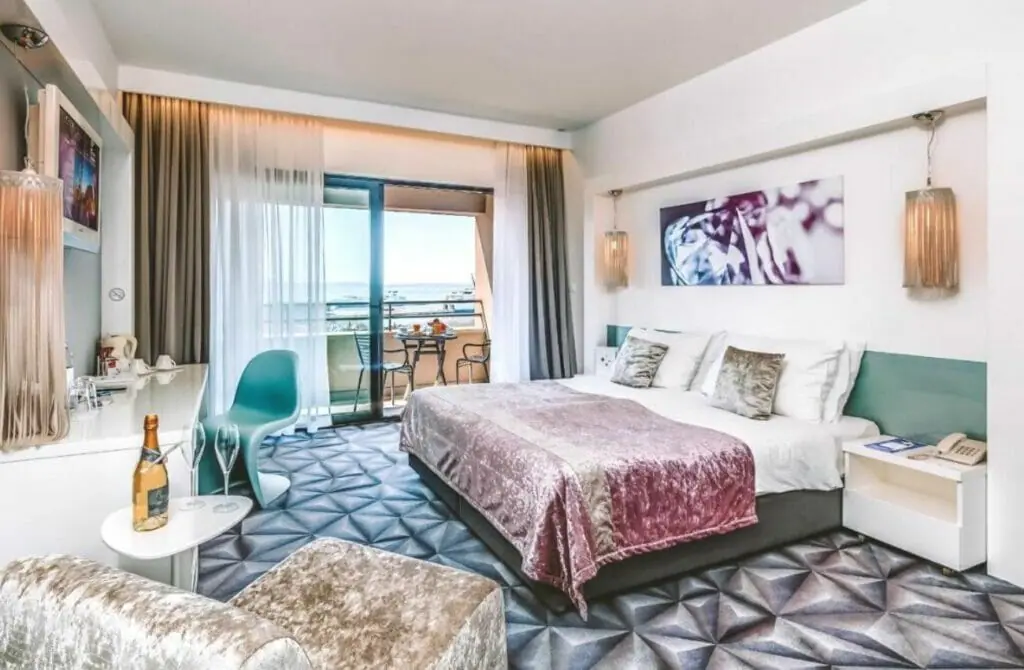 Between the emperor's rooms and the "Peristile," the emperor's square that was once only for the gods, Hotel Vestibul was in the center of the Diocletian palace. The Romanic, Gothic, and Renaissance styles of architecture, as well as the wall components from Diocletian's palace and the ancient Roman niches, were combined to build the hotel.
This combination best conveys the tangible presence of the bygone centuries, where each stone has a tale to tell. The hotel is a fusion of the contemporary and the traditional, with authentic Roman-era walls interlaced into the interior's contemporary design.
By letting in natural light through the lobby's vast glass dome and by using soft evening lighting, the formal atmosphere is softened. Each piece of furniture is beautifully handmade by hand.
Explore the many facets of Split's rich past that are all around you. The hotel's walls are a remnant of the 1700-year-old Diocletian's Palace's original construction! Since 1979, UNESCO has recognized the entire Palace and Old Town as a world heritage site.
Some of its rooms have views of Peristil Square and the Cathedral of St. Domnius with the bell tower. Modern, it incorporated handcrafted furniture with the original, antique stone walls. The interior held onto the original style of the place but also weaved modern aesthetics into it.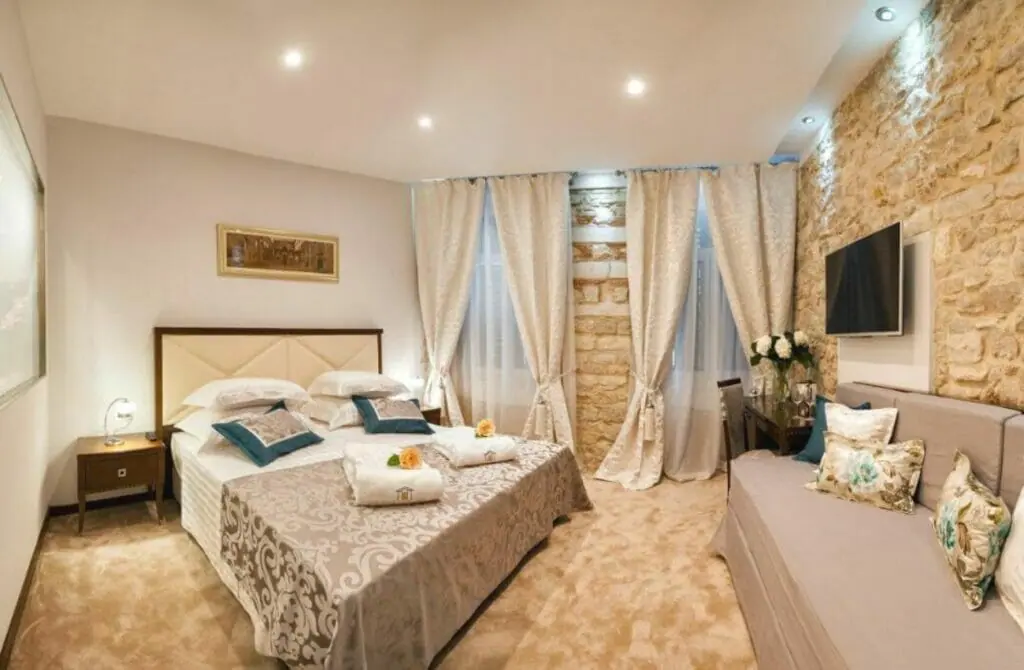 Both business travelers and vacationers may enjoy a warm atmosphere and attentive service at the Globo Hotel. The Globo Hotel Split features 35 conference rooms for meetings, presentations, and smaller conferences, 33 cozy rooms that are modernly furnished with natural materials, a breakfast room, and many other amenities that will make you feel at home.
Although the hotel was only opened in 2001, numerous renovations have been made to the rooms and bathrooms in order to maintain the consistently excellent standard.
Hostel Split dorms are the perfect location for you if you enjoy making new acquaintances from other continents and nations and expanding your social network profiles. Also, Our private rooms should be your first choice if you're traveling alone or with your significant other and don't like loud gatherings.
Hostel Split private rooms, which may accommodate two to four people, come with a double bed and a private toilet, among other amenities. Don't you think it's more than enough for a comfortable stay?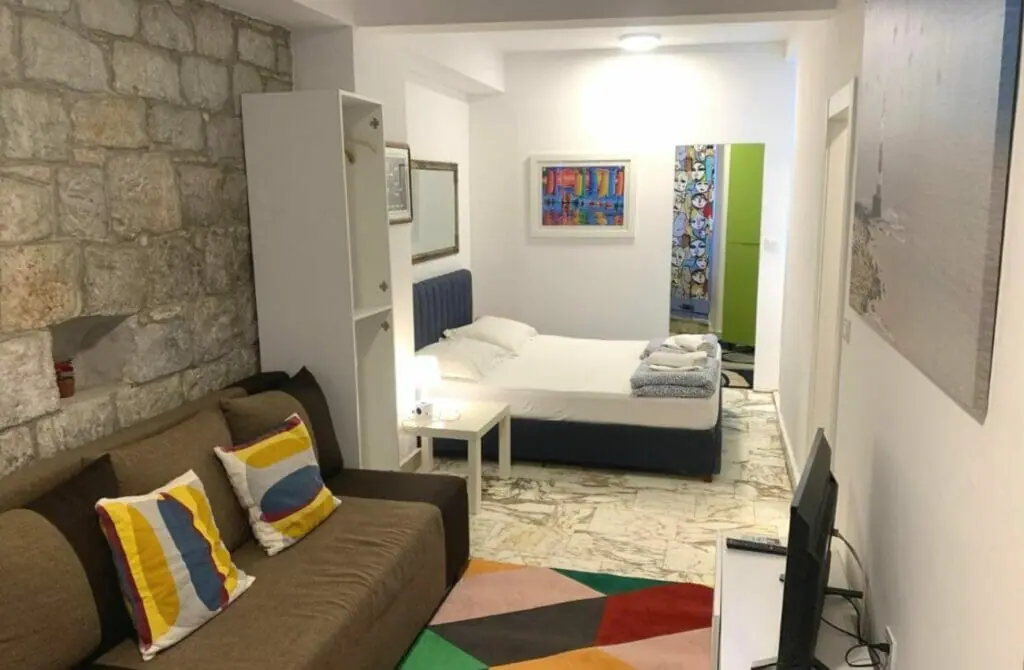 Gay Nightlife in Split
Unlike Zagreb, Split has no official gay clubs. But that does not mean that you can not have a good time in the night's buzz.
When it comes to gay nightlife in Split, there is a small but vibrant scene that is concentrated in the old town area. The most popular gay clubs and bars can be found around Hrvojeva Street, just a few minutes walk from the city's main promenade, Riva. This area is known for its lively atmosphere, friendly locals, and diverse range of venues catering to LGBTQ+ crowds.
Overall, Split's gay nightlife scene is relatively small but welcoming, and you're sure to have a great time exploring it. Just remember to be respectful and mindful of the local customs and culture.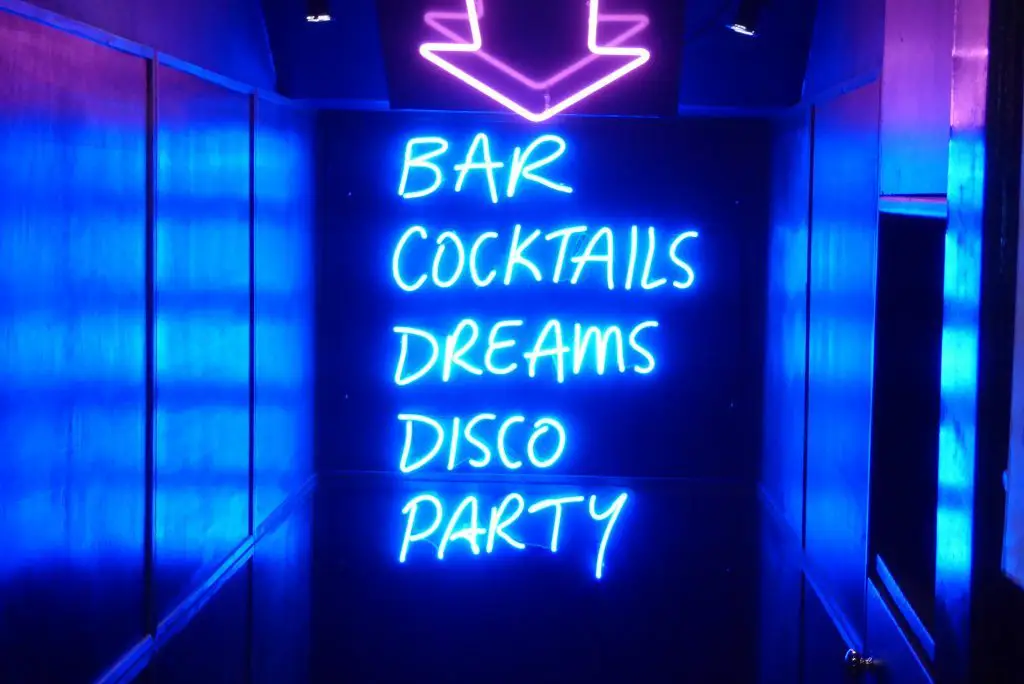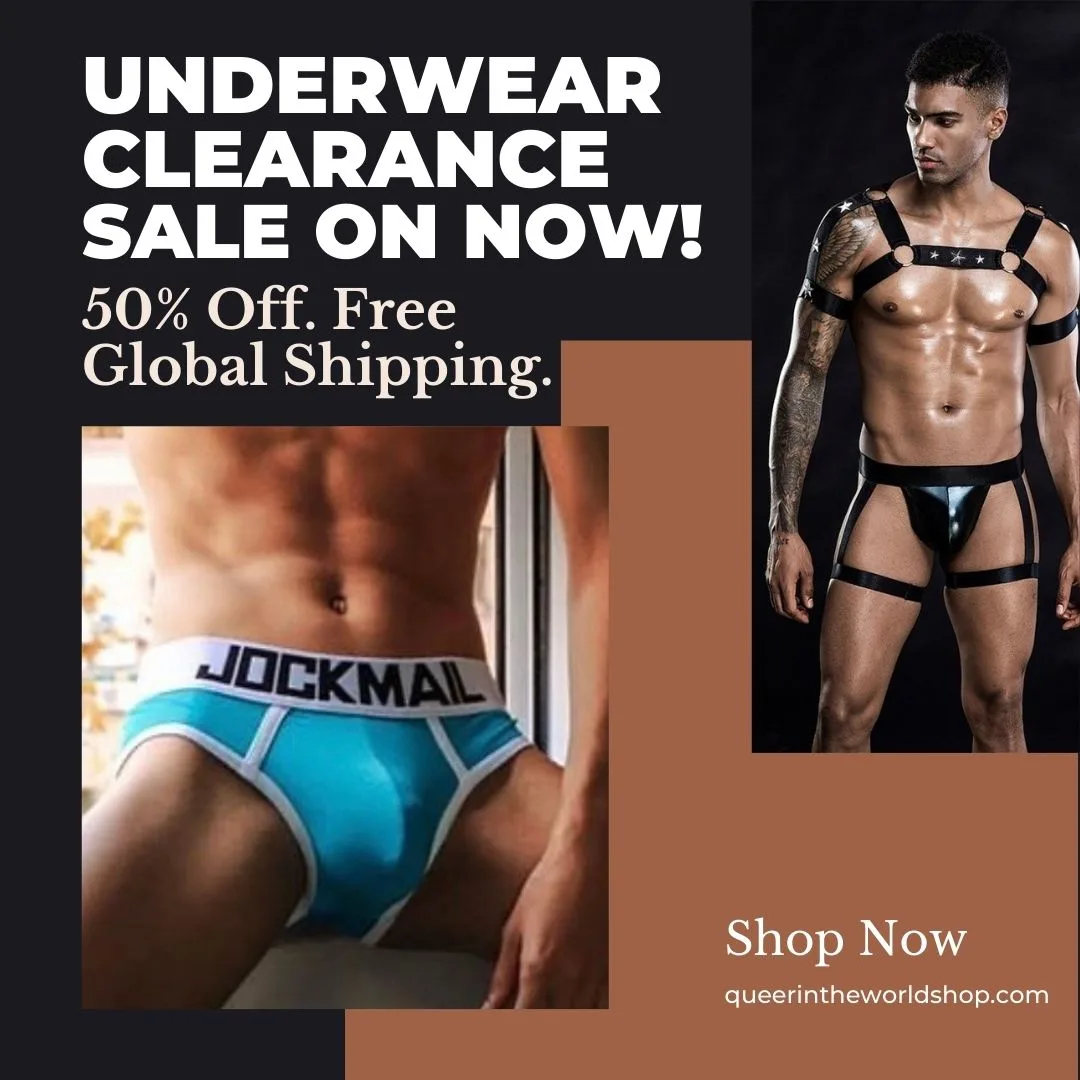 Backpackers can let wild at the Australian-run Charlie's amid Diocletian's Palace. Locals down apparently endless pints of Oujsko while happy hours, themed parties, and regular rounds of shots keep the night moving along well. Charlie's is a pub in every sense, but it's also a hostel that welcomes guests, so getting to bed shouldn't be too difficult if you can make it back to your lodgings.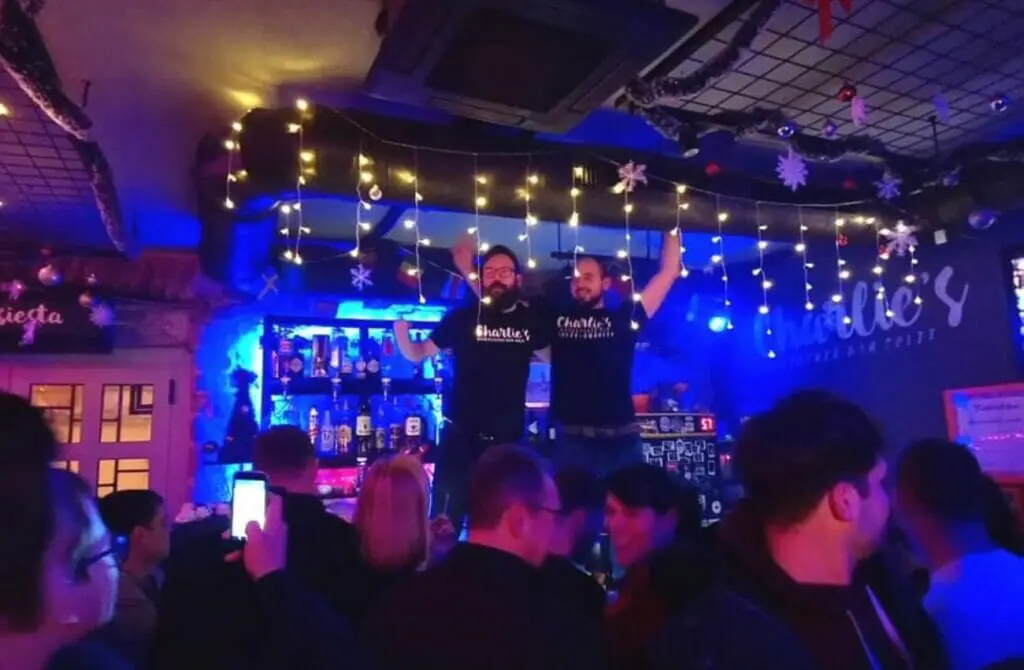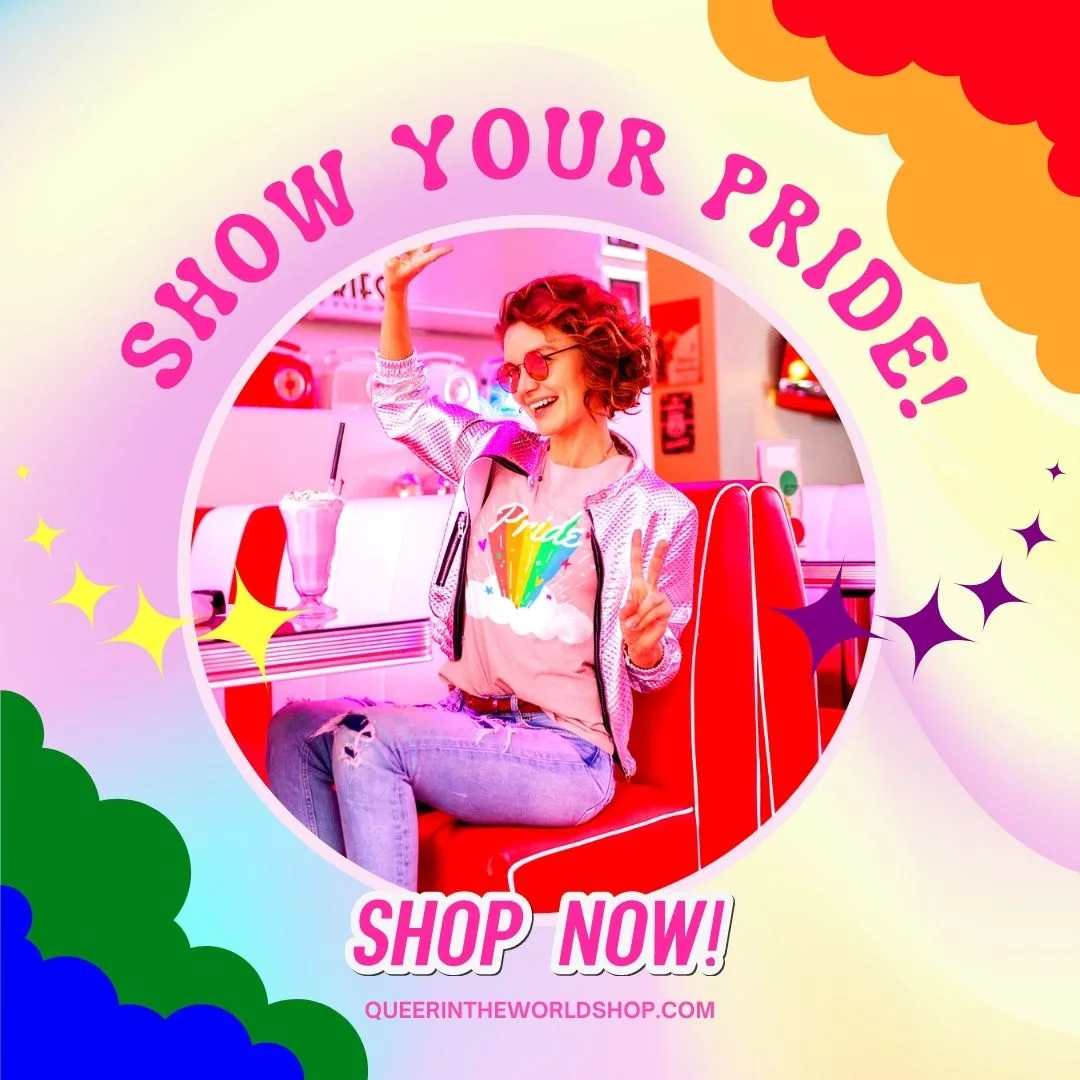 A homely cafe bar and drinking venue. If you want to socialize with locals, have a pleasant time, and not spend a lot of money, this is the place to be.
This gay-friendly bar is known for its unique brandy and cocktail. They host parties every night that draws in a large and diverse crowd. As much as this bar is gay-friendly, be careful with public displays of affection.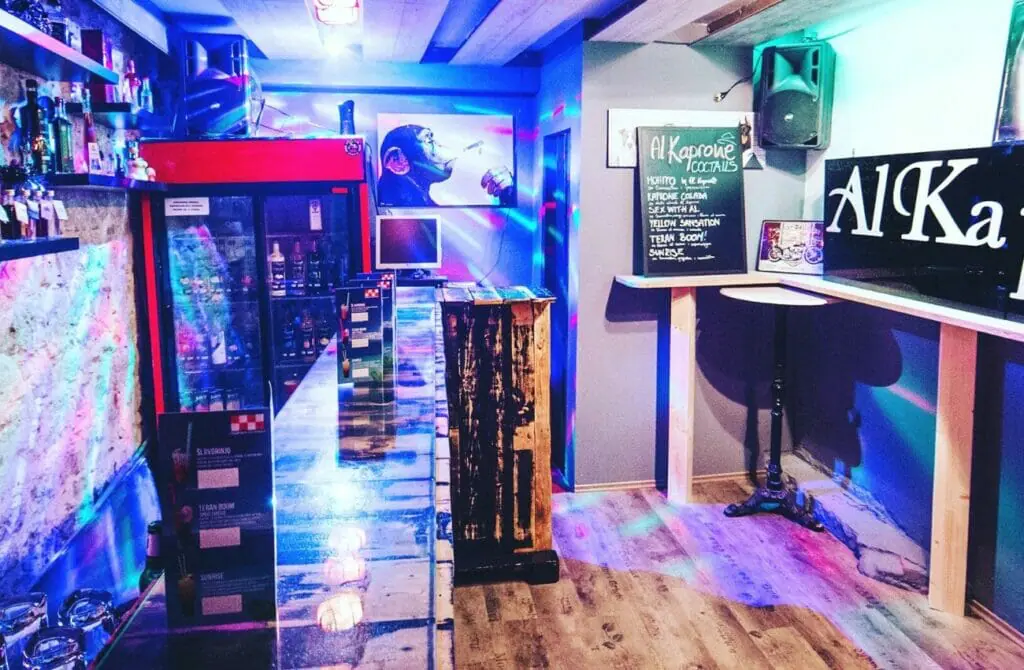 If you are looking for the craziest and wildest parties in the city, the Inbox bar is where you should go. It is the biggest open-air bar in the city center and also a staple of the well-known pub crawls in Split and is well-liked among youthful travelers.
An underground club that hosts alternative performances, gatherings, exhibitions, seminars, workshops, and other artistic events. The club is in the basement and has dark lighting perfect for private conversations. A few times a year, they hold drag shows, which are a lot of fun.
This rock, metal bar with a warm and friendly atmosphere will make you feel relaxed and have a pleasant time as you sip your beer. The staff is also friendly, and that adds to the totally cool ambiance of this place.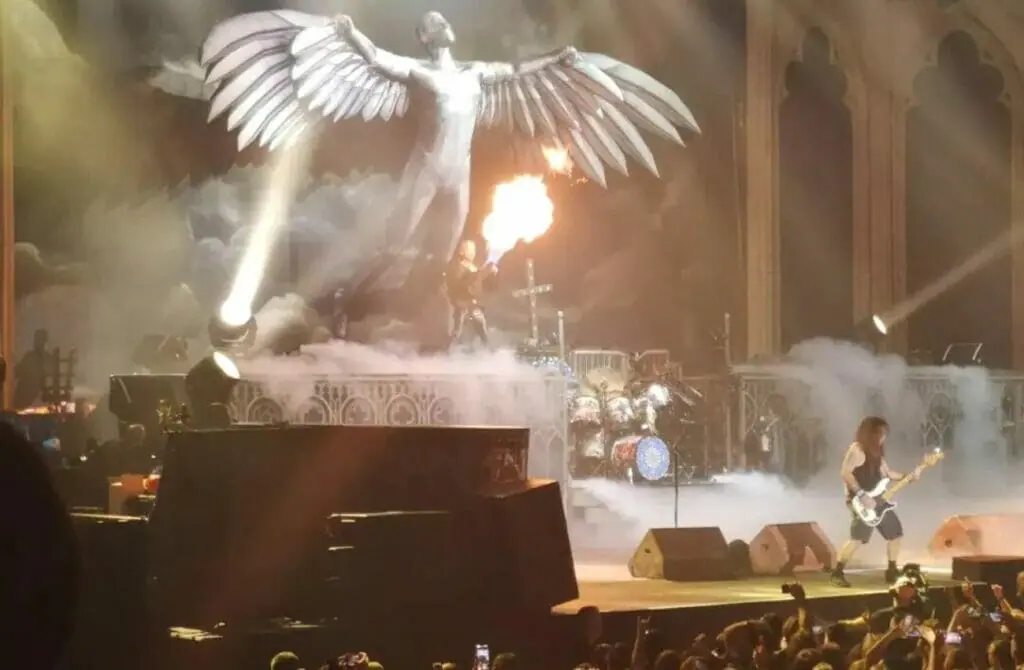 Cruising and Gay Saunas in Split
When traveling to a new city, it can be exciting to head out for more than just a stiff drink. One aspect of the international gay travel scene that many queer men enjoy is visiting gay saunas and cruising clubs – but sadly Split is no Amsterdam, Barcelona or Berlin and you will not find any of these venues here.
Cruising continues to be a popular pastime among individuals who enjoy its thrill and anonymity in Split, but we cannot recommend this as it is not strictly legal. Instead, we recommend heading to the gay clubs and beaches of Split, or resorting to gay hook-up apps.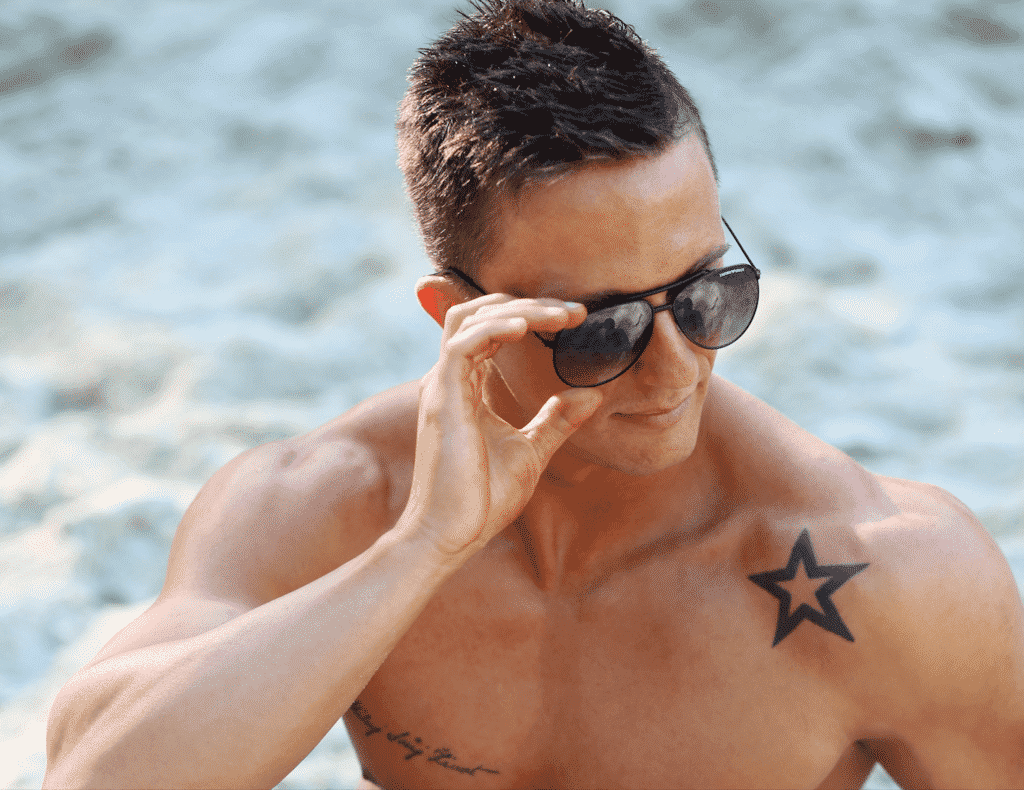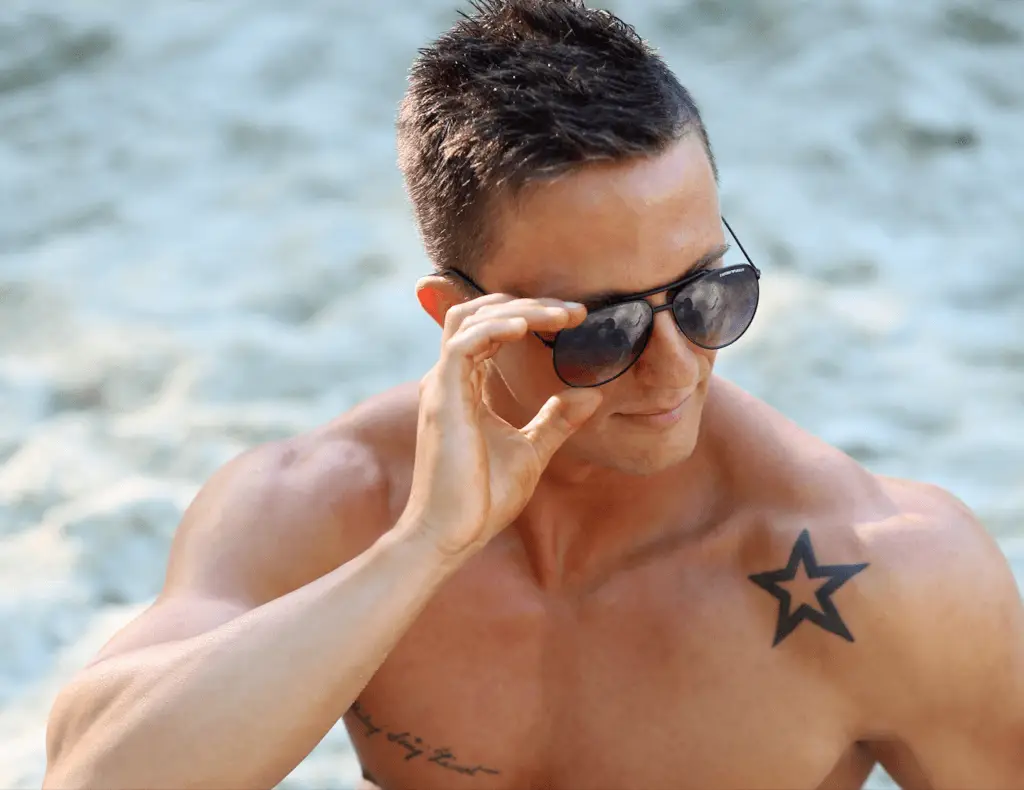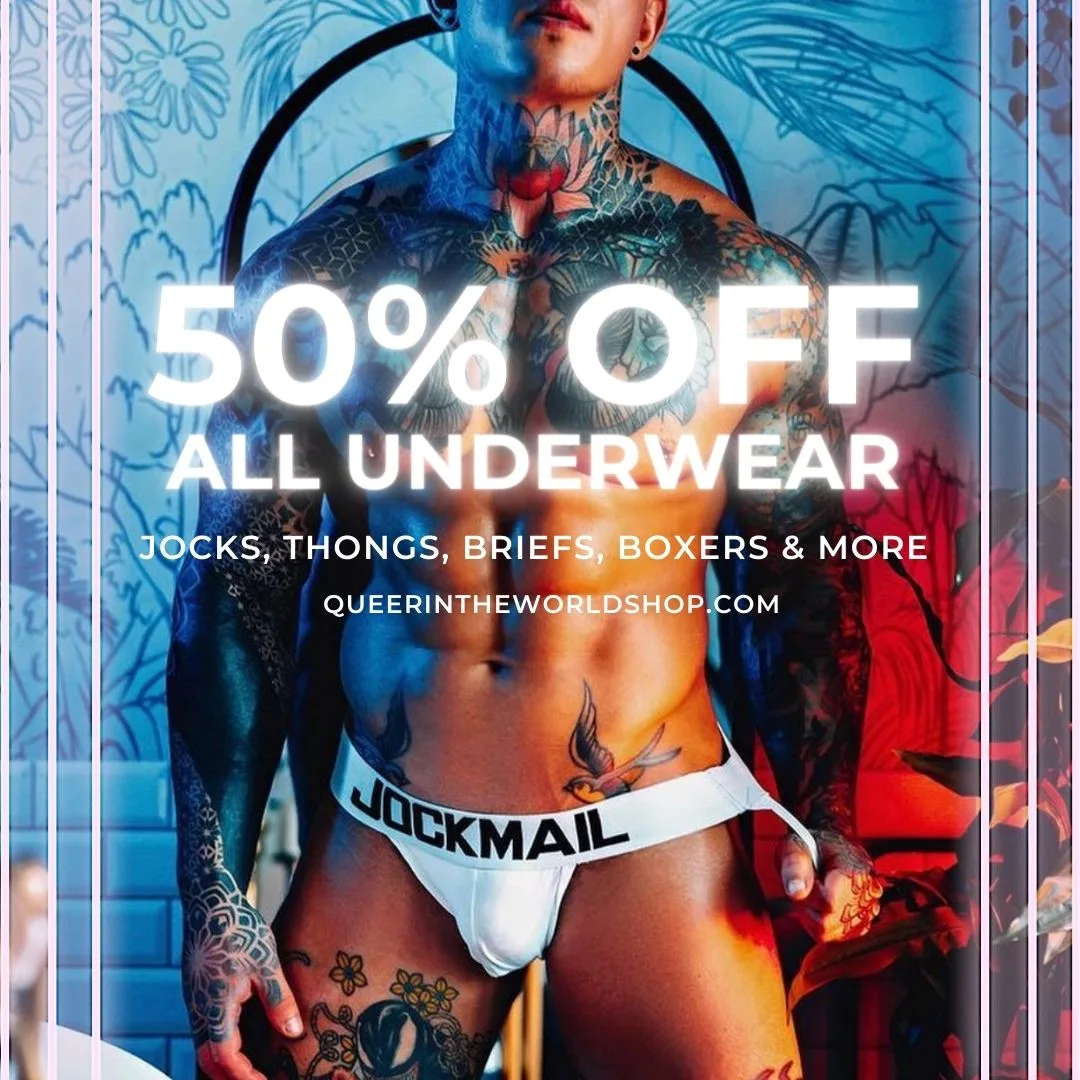 Gay Map Of Split
Finding it hard to envisage where everything is in Split? Hopefully, this queer-centric map helps where we have marked all the bars, clubs, parties, hotels, saunas, massages and more will help you stay in the spot best suited to you!