Gay Blackpool is a vibrant oasis for members of the queer community to come together in peace and love! Discover a world of queer adventure and flamboyant fun in Blackpool, Lancashire, where the city's electric nightlife, remarkable sights, and captivating culture provide the perfect backdrop for an unforgettable holiday.
This coastal paradise nestled in northwest England is a beloved place by the LGBT community as a safe haven. In 2006, this utopia held its very first Pride festival – an event welcoming all who embrace love and acceptance for years to come.
Long before Gay Pride could be openly celebrated, Blackpool (much like Brighton) had already made itself a sanctuary of sorts for the LGBT community and has a rich history that frequently intersects with the LGBTQ+ community.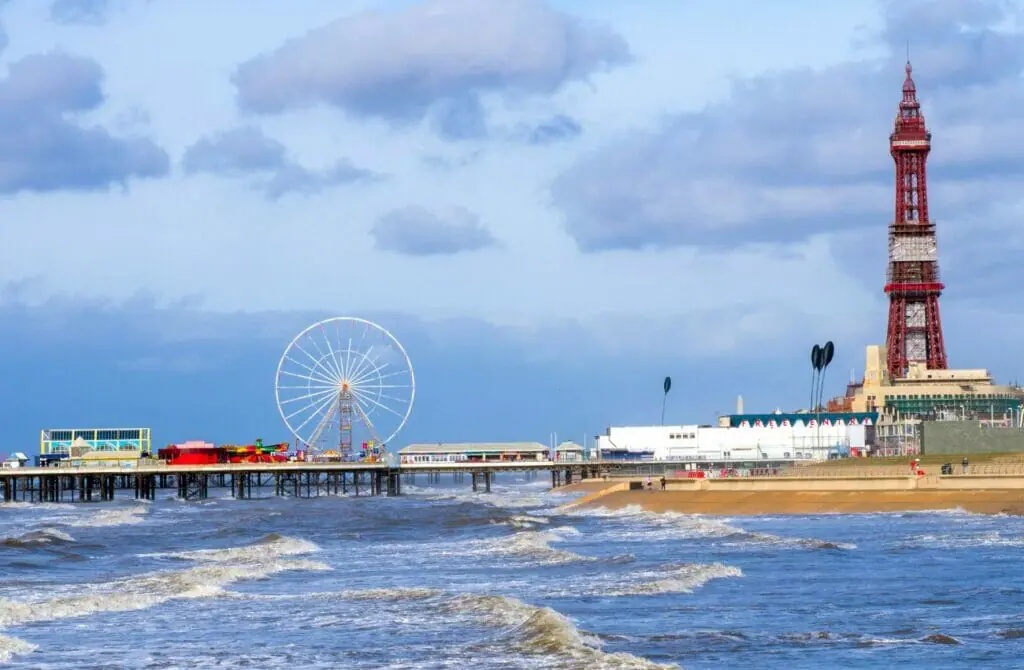 In World War II especially, it experienced a 'boom' of pubs and clubs – providing safe places where gay people could meet without fear, with no need to hide their true selves away from society's eyes.
In the 19th century, Blackpool became a popular destination for the LGBTQ+ community in the North of England, as they sought a space to escape from the discrimination and persecution they faced in their day-to-day lives. This led to the emergence of several gay bars and clubs in the town, such as the Pink Flamingo and the Flying Handbag, which continue to be popular destinations for queer travelers today.
In the 1960s and 1970s, Blackpool also saw an emergence of drag culture, which became a central feature of the town's LGBTQ+ scene. The drag queens of Blackpool were known for their elaborate costumes and performances, which attracted audiences from across the country.
The coastal town has long been considered an unofficial haven for those who were too afraid or embarrassed to fully express themselves elsewhere: it was dubbed "the gay capital of the North" precisely because even when others turned their backs on them, this seaside English town kept its arms wide open!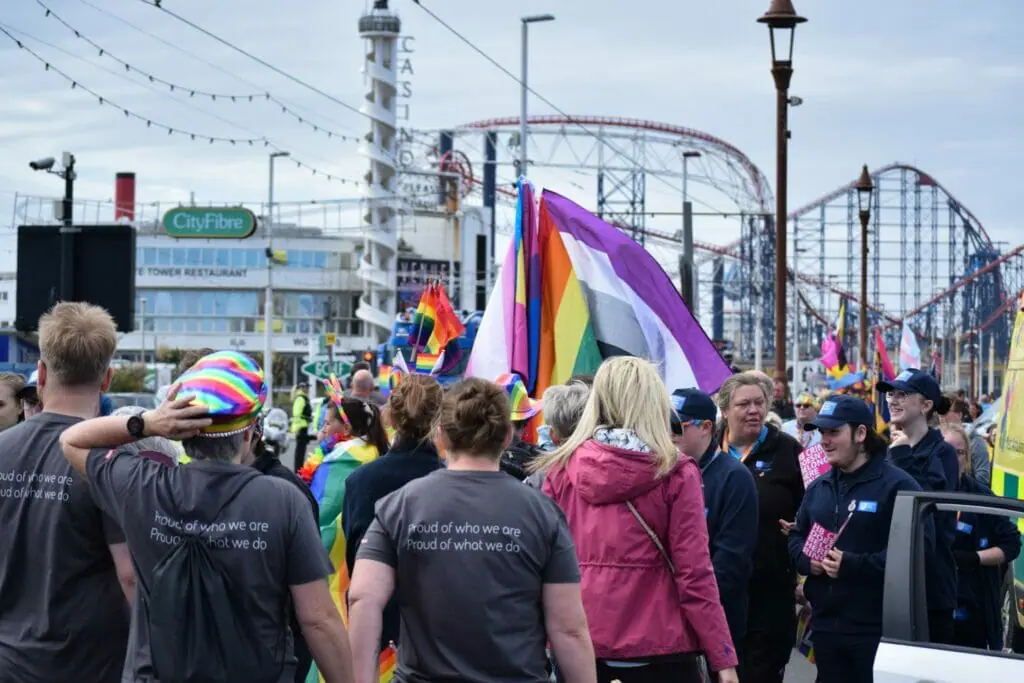 This popular spot is brash, proud, and loud all year round. Here, you'll find plenty of fun activities from entertainment venues to delicious restaurants – all surrounded by stunning coastline views! This city has a great draw for international tourists because of its inclusive nature and wide variety of activities. With countless gay attractions, any LGBT+ visitor can feel right at home and explore to their heart's content.
There is a note to be made about going to the UK as a gay traveler. While the UK has made great strides in terms of legal protections, there are still some pockets that are violently anti-trans and anti-gay. Following the legalization of gay marriage in the UK, there has been a 20% increase in reported hate crimes and a 55% increase in London alone.
In general, follow basic safety protocols while traveling and make sure to research trusted queer travel sources to make sure the towns you're visiting are safe for gay travelers. As a rule, avoid large crowds of drunken individuals who may feel bold and want to start something. Blackpool is more LGBT+ than most, but you can never be too careful.
Now that that's out of the way, leave your inhibitions at home, it's time to explore everything this enchanting destination has to offer.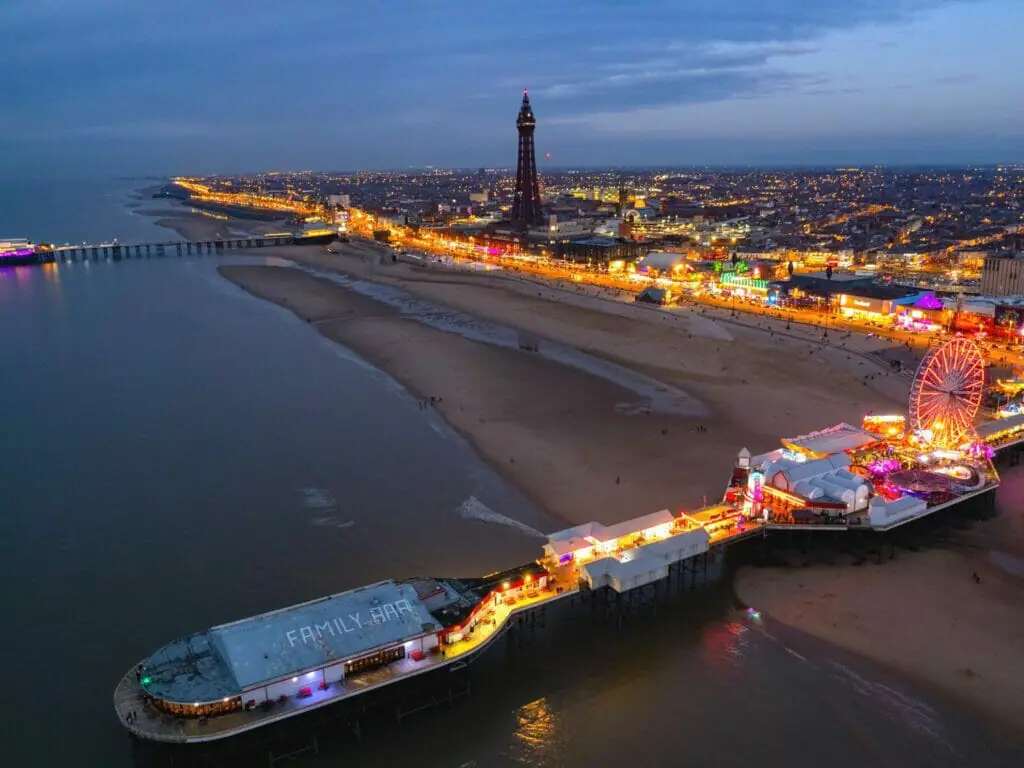 In this article we will cover...
Top Attractions In Gay Blackpool
Step into the vibrant world of Gay Blackpool and let yourself be mesmerized by the city's colorful history and culture. With a plethora of exciting activities and sights to discover, there's something for everyone, no matter what your sexual orientation may be.
Immerse yourself in the local art scene by visiting museums and galleries, or marvel at the city's stunning architecture up close. Stroll through verdant parks and wind-swept coastline, sample the delectable local cuisine, or browse the bustling markets. Experience the city's vibrant cultural scene by attending festivals, concerts, and shows.
As proud members of the LGBTQ+ community, we relish the opportunity to explore Blackpool's diverse culture and traditions. By doing so, we gain a deeper appreciation for the city and its people. Whether you're a first-time visitor or a seasoned traveler, these must-see attractions are sure to captivate your senses and leave you with unforgettable memories of your visit to this stunning seaside city.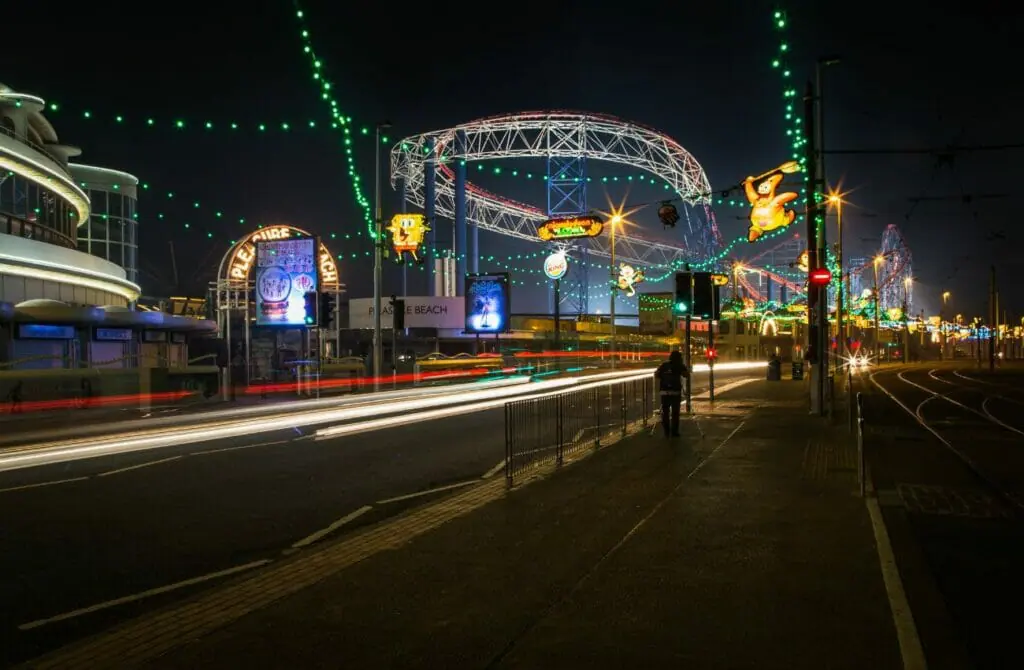 Blackpool Shows
A great evening option for after-dinner entertainment is to attend The Greatest Star, a Barbara Streisand tribute show centered around a true LGBT icon. This show features all of Streisand's greatest hits, sung by Kearra Bethany. The venue is spacious and the alcohol is free-flowing, so it's a great nighttime spot. Also, who doesn't love a little Barbara Streisand music?
Another great gay-friendly spot to drop in for an evening of fun. With a constant turnover of British comics, you'll find plenty to laugh and enjoy for the night. It's also a relatively inexpensive option at fifteen pounds per adult entry. Conveniently close to the train station, you could hop on a train out to a more distant locale or hotel where you've found yourself.
While we'll talk about it further in this article, Funny Girls is another venue that features other shows than their usual nightly cabaret attractions. They have all kinds of events and parties that you can participate in that have a focus on gay nightlife and general event planning.
If you're into history, this is a fantastic choice for visitors of all ages. You are taken through the Blackpool Tower and get to learn about the way British prisons worked and all of the nitty-gritty parts of history. Featuring living history performers, this experience even has a sudden-drop ride to take.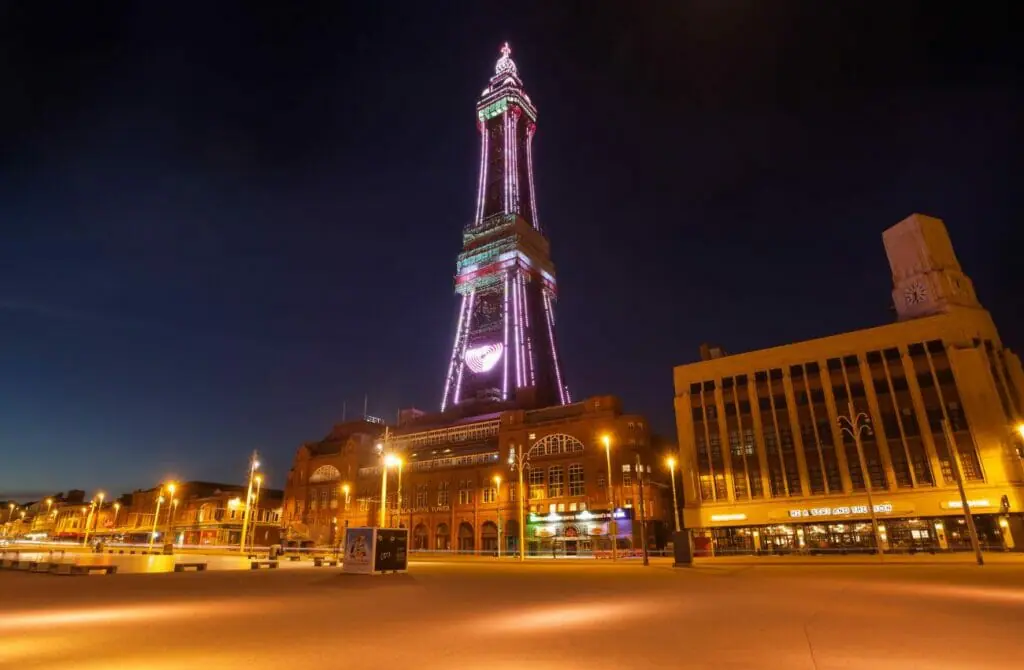 Another great choice for history fans is this art gallery. This museum features mostly contemporary art from all around the United Kingdom and local artists in Blackpool. This gallery is completely free to the public and a great way to get a feel for the local art scene. They have a robust gift shop where you can buy prints, souvenirs, and other kinds of merchandise.
A great central spot and most major businesses are going to be near it. This massive paved trail runs the length of Blackpool proper, connecting the north and the south end by one continuous road. It is a long, but lovely path with stunning views of the Irish Sea.
This is the main artery in town and another part of it is the Blackpool Tramway. This trolley runs the length of the Promenade and connects to other major bus sites in the city. It is convenient and easy to hop and ride up to Fleetwood if you desire.
Blackpool is also a great spot to gamble if you want to test your luck. There are many casinos in this resort town to choose from: the Grosvenor, the Genting, and the Coral Island, to name a few. There are even some themed establishments and some hidden in areas you'd never expect. Assuming you and your party are over the age of eighteen, you'll have a great time at the tables!
Speaking of the Coral Island and themed casinos, we have to talk about the Coral Island Family Arcade. A pirate-themed free admission spot, kids and grown-ups alike will find things to do, such as go on rides and earn tickets at games.
There is a shopping center in Blackpool as well if you want to do some shopping while you're in town. The Houndshill Shopping Center has so many options for stores, restaurants, and attractions. It's a great spot to pick up clothing that you might have forgotten or just to wander and explore. This is frequented by the locals, so it is a great place to get a feel for the community and the energy of Blackpool.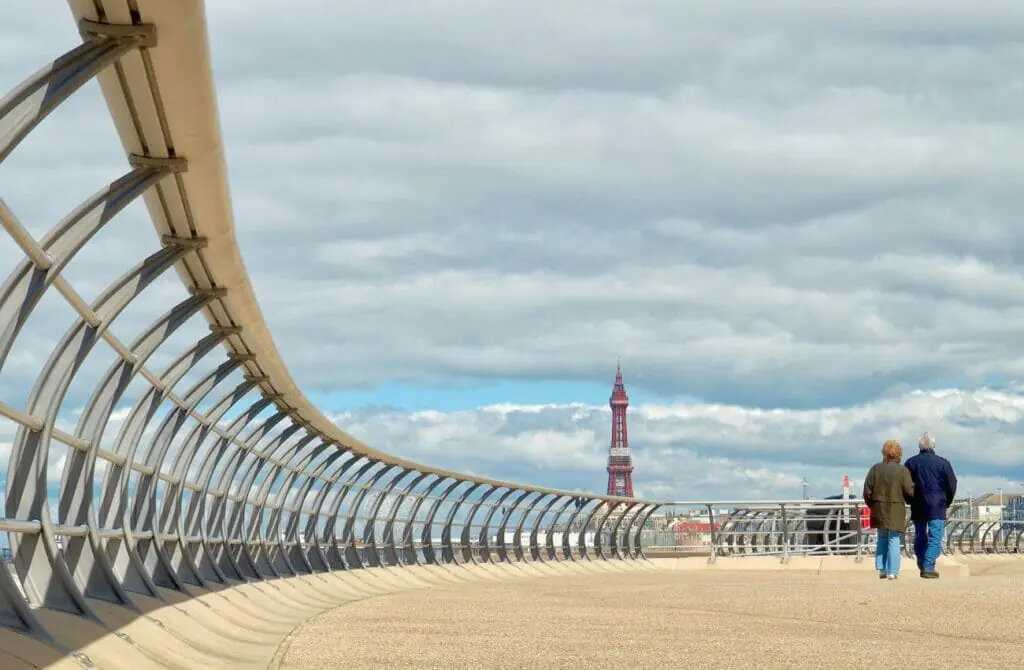 Has a wide selection of wax figures to observe and enjoy. With everyone from the 13th Doctor to the royals to RuPaul, you can find someone made in wax for every interest. Not only that, but it's a perfect spot to capture the perfect photos for Instagram.
Also, a great spot to find all kinds of strange attractions to dazzle and disgust. From a penny portrait of Princess Diana to shrunken heads, it's a great spot to explore the macabre and unique. Plus, with a ticket price under $15 for adults, it's an inexpensive entertainment option that the whole family can enjoy.
Foodie Options In Blackpool
In Blackpool, there are so many fun and delicious choices to explore the food of the region. From Lancashire hot pot to some of the best fish and chips in the country, there's plenty to try and experience. While Blackpool isn't known for its cuisine, there are some ionic delights you can find during a visit.
As a seaside town, Blackpool has excellent access to seafood and you should take some time to try out some local favorites. This town has mastered fish and chips, but there are other local specialties too.
Cockles, winkles, and whelks are local specialties, often sold in bags and eaten with a toothpick. While they can be an acquired taste, you can also find them in local restaurants with all kinds of different flavors. The Beach House Bistro Bar is an upscale restaurant on the main promenade featuring local and exotic seafood dishes.
Another great restaurant is Hauze, a mixed European restaurant and one of the best-rated restaurants in Blackpool in 2022. They have a little bit of everything on the menu and you can takeaway too. There are burgers, sushi, and vegetarian options on their menu to choose from.
In general, Blackpool is known for its fun and classic cuisine meant to fill the heart and not exactly be the healthiest. The more excessive, the better. Candyfloss, ice cream, donuts, and other fun snacks are staples of the Promenade and street food in the city.
If you like candy, be sure to pick up a stick of Blackpool Rock. This specialty hard candy is a long stick with a whole host of flavors and a small pattern inside of the candy itself. This is a great souvenir or present for others so you can pass on a little bit of Blackpool to those you love. You can actually see it being made at Rock Candy Kingdom.
If you want to explore the Northern English countryside and sample all the great food they have to offer, why not check out one of Bowland and Bay's bespoke food tours of Lancashire? They cover everything from wine to tea to ice cream and cheeses as food ranger Kate Wilson takes you around. You'll get a well-rounded tasting of what this lush area has to offer.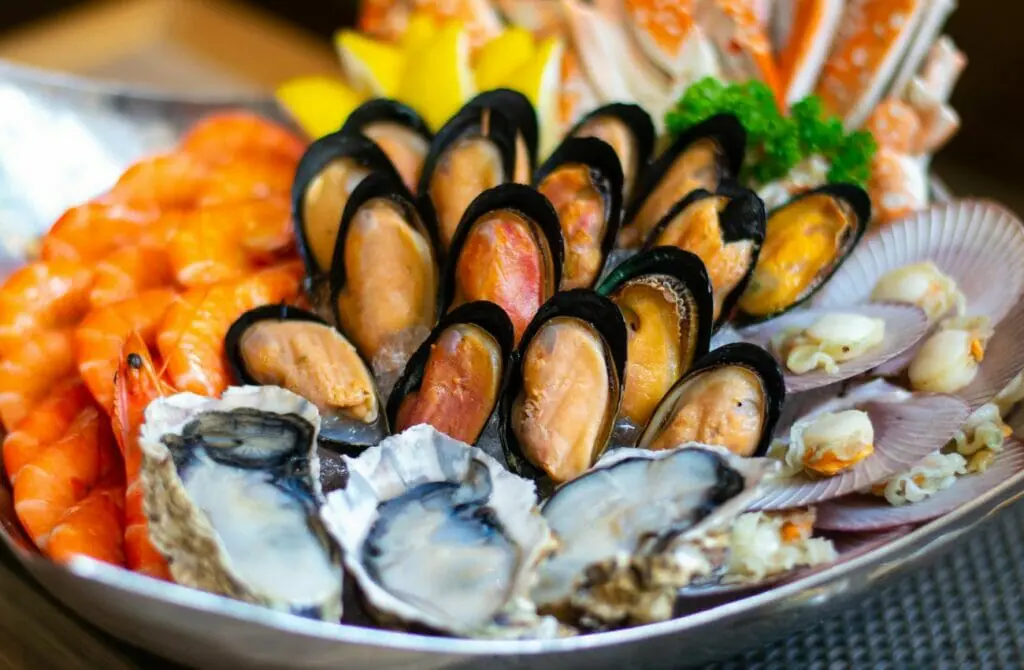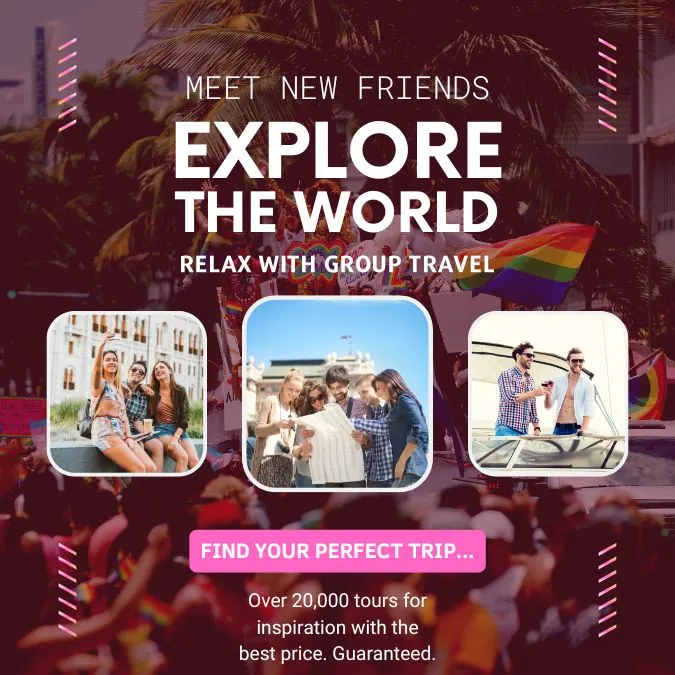 If you're looking for an unforgettable Pride experience in the UK, then Blackpool Pride is definitely worth adding to your list. Happening every year in June, the city comes alive with a vibrant display of color, music, and pure joy that's sure to make any heart sing. Blackpool Pride is known for being one of the most inclusive Pride events in the country, welcoming everyone from the LGBTQ+ community and their allies to come together to celebrate love and diversity.
Started in 2006, Blackpool Pride has quickly become a highlight of the city's cultural calendar, drawing in crowds from all over the country and beyond. From the iconic parade that winds its way through the city streets to the main event at the Winter Gardens, there's something for everyone to enjoy. With live music from local and international artists, drag performances, and a host of stalls and attractions, you won't want to miss a moment. With over 10,000 people attending each year, Blackpool Pride is a celebration of love and acceptance that's not to be missed. So mark your calendars for the next Blackpool Pride and get ready to dance, sing and show your true colors!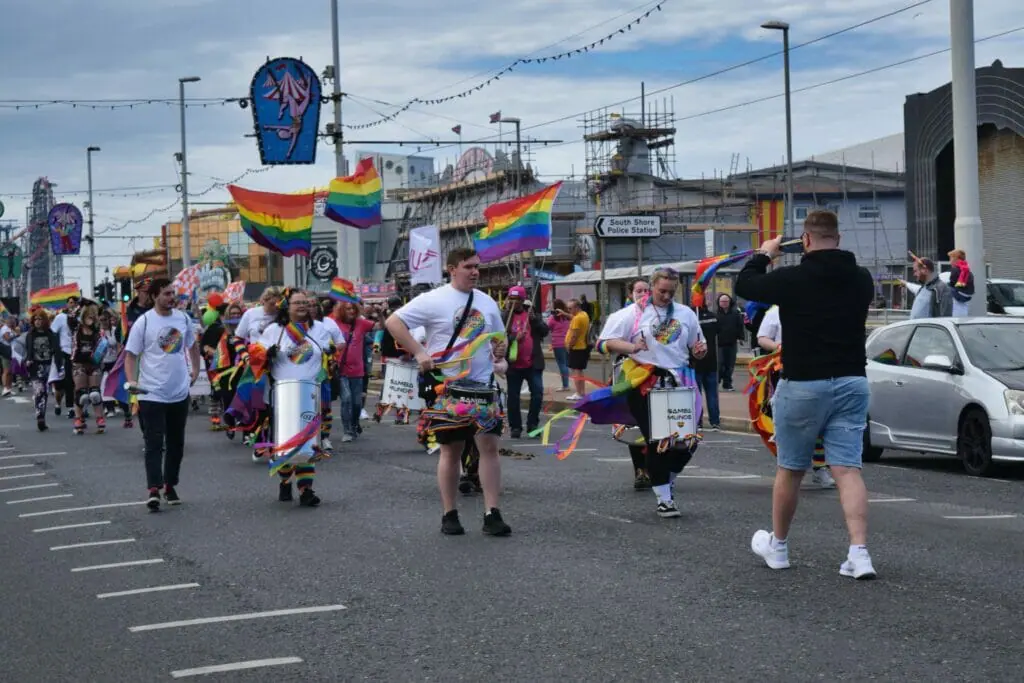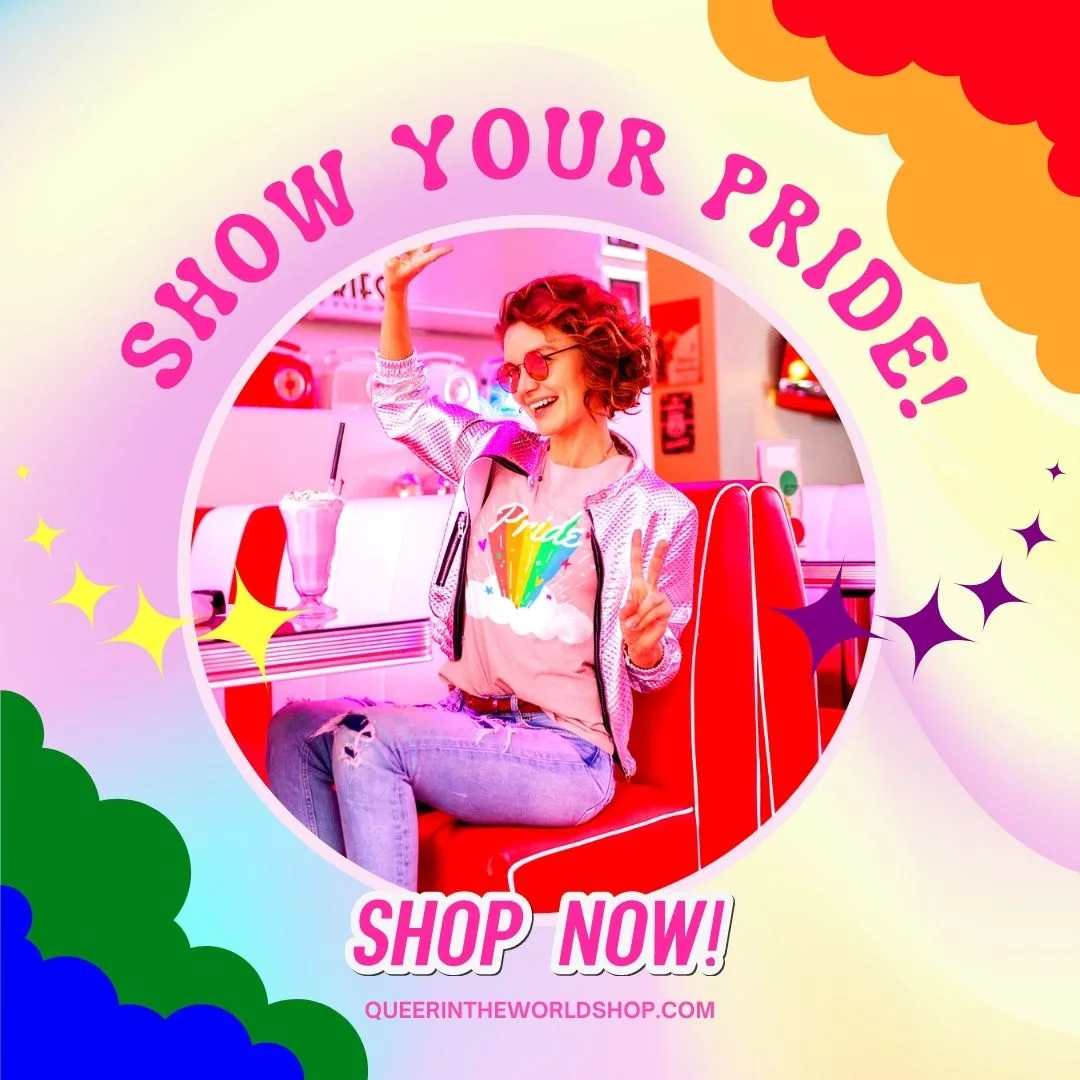 Gay And Gay-Friendly Hotels In Blackpool
Blackpool has countless hotels that are queer-friendly and great places to stay. From boutique hotels to larger chains to intimate bed and breakfasts, there's a place for everyone. The amount of gay-friendly businesses is staggering, but that means that there are so many options out there!
This list is only a few of the places to stay in Blackpool for members of the queer community, and is centered around those that are most popular, welcoming and utterly fabulous!
Needless to say, there are also hundreds more hotel and hostel options in Blackpool if none of these suit your desired budget, facilities or area – but these are the best hotels according to other gay travelers and us. Whatever your needs are, Salt Lake City has you covered.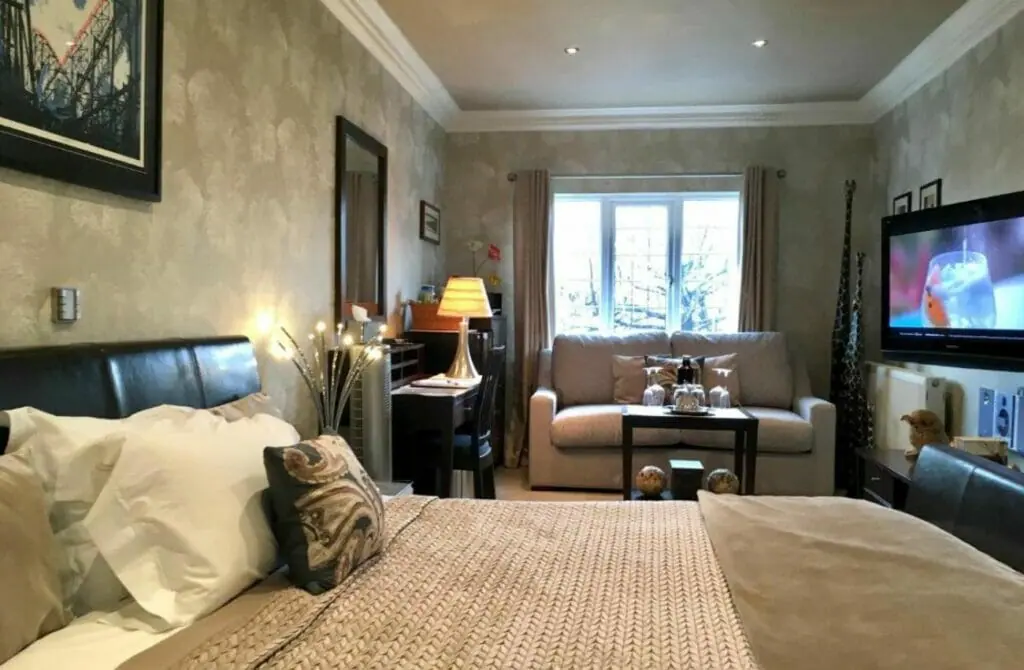 For the fanciest stay in Blackpool, look no further than Number One St. Lukes. This best-rated, five-star bed and breakfast in Blackpool is plush, luxurious, and tucked right in town, near the gay district. It's a short distance from the hotel to all the bars and hotspots you could ask for!
This hotel is lovely with king beds, rich fabrics to relax into, enormous bathtubs, and even come with gaming consoles in the room. There is private parking and putting green as well, making this one of the best places to stay in Blackpool.
If you don't want to stay right in town, you could also stay at their other Number One on South Beach right on the shore. This option is perfect for the summer when the temperatures soar and the town is flooded with tourists. A bit quieter, you'll relax right by the sea and take in the lovely breeze.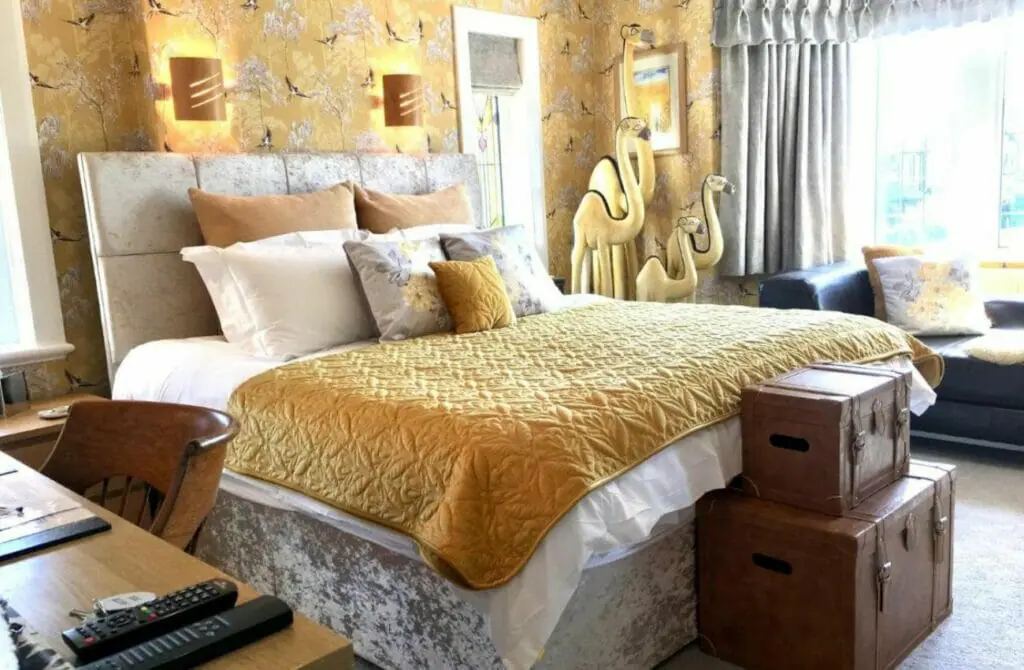 This four-star hotel is gay-owned and gay-forward, with two very involved owners named Peter and Wayne. Just steps from the gay district, you can't beat these accommodations for under $100. They have won multiple awards for service, food, and accommodations from the British tourism board and have a perfect 5.0 rating on TripAdvisor.
It's easy to see why. An adult-only option, it has a kitschy appeal with warm and friendly rooms and fantastic service from the two owners. All of the lightings is cozy and will warm you right up, especially if you visit during the winter.
During the summer, the rooms appear like someone's well-loved beach house. Their food is also out of this world and they won a VisitEngland breakfast award in the summer of 2022. If you drop by, make sure you get one of their specialties, the full English breakfast, and take it on their stunning rooftop terrace.
Chaps Hotel on Cocker Street is one of the best-reviewed gay beds and breakfasts in the city. This small and intimate three-star hotel is just down the road from the High Street, the gay quarter, and all kinds of other gay attractions you can enjoy. Everything is within walking distance of this quaint hotel.
This hotel has rooms for all types of travelers from solo to groups, from double beds to king-sized. For a little bit of extra flair, all of their rooms are named after gay icons like Cher and Judy Garland. Their rooms are also colorful and cozy, not bland, but a little on the small side for the price point.
Another perk is that Chaps is right near the Blackpool train station so you can hop on a rail line and go explore the region. The Lakes District is quite close and an easy train ride up to along with Lancaster, Preston, and the small town of Lytham St. Anne's. The last one, Lytham St. Anne's, is known for their local gin distillery. One of the best gay hotels in Blackpool.
If you want another gay-friendly hotel right on the shore, Bluewaters is the choice for you. Also well-rated, this three-star beachfront resort has a lot of different amenities for guests but is lacking in plush living. It is crisp and clean, but if you are looking for a sumptuous resort, this minimalist hotel is not the pick for you.
That being said, it is new and fresh with a pool, two bars, a business center, a gift shop, and an on-site spa. It also has quite a color scheme with vibrant blues and bold geometric shapes everywhere you look. The Bluewaters Hotel is a stunning modern hotel for the modern traveler. You'd be hard-pressed to find a more fashionable option for visiting Blackpool.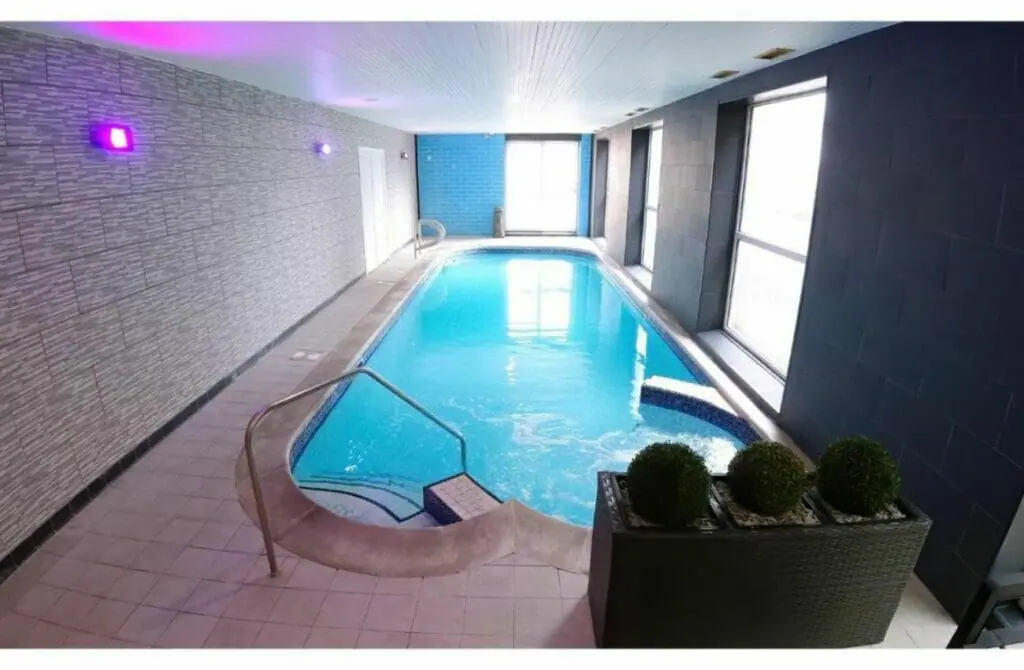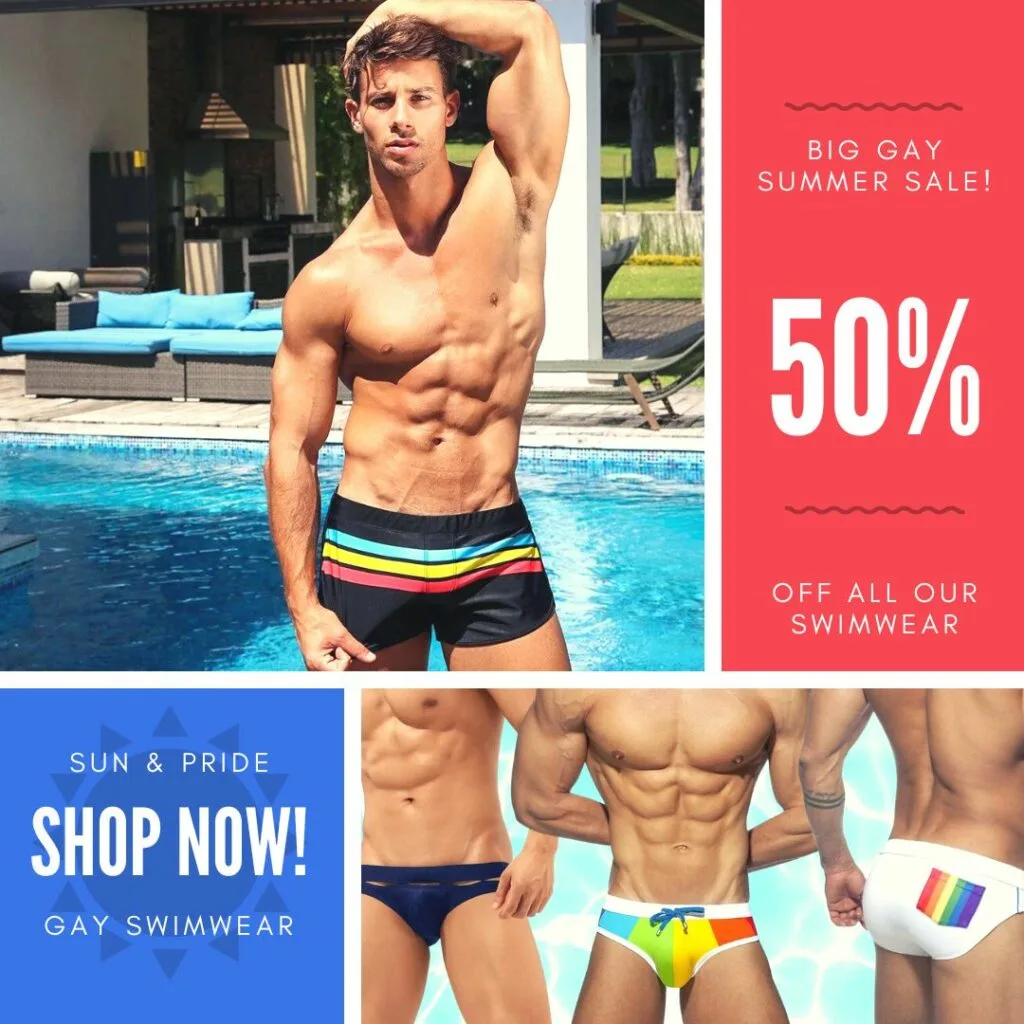 Are There Gay Hostels in Blackpool?
Unfortunately, there are no gay hostels in Blackpool anymore. That being said, there are plenty of options to rent for short-term and cheaper stays. There are many apartments for rent on sites like Expedia and Airbnb that a visitor could make on short notice. This could be a great option for hen do's and stag parties since many hotels in the area do not allow these kinds of groups to stay.
One example of this is the Pride Lodge. This gay-owned B&B has only a few rooms, but a major focus on customer service pays off. With a hot tub, sauna, and local discount cards for all guests, it's a great option for gay travelers on a budget.
You can even rent the hot tub for the night if you want a more private moment with a group or your special someone. They have a great selection of rooms and this small resort is perfect for couples.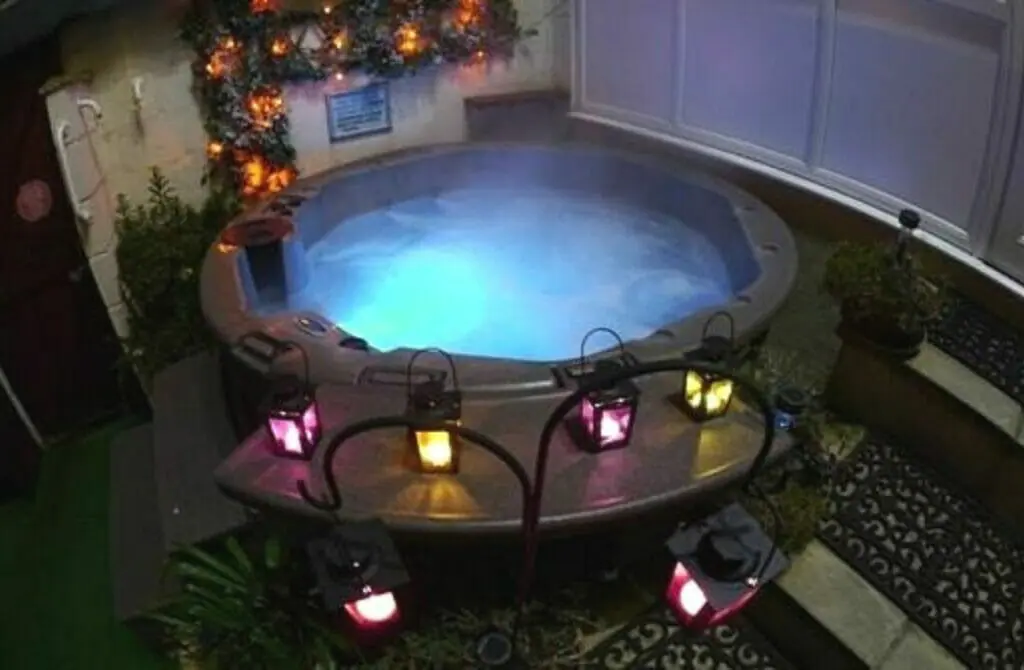 Gay Nightlife In Blackpool
Discovering the vibrant and diverse nightlife of a new city can be a thrilling and fulfilling experience, especially in the lively LGBTQ+ scene of Gay Blackpool. You'll have the chance to mingle with locals and other travelers, all while immersing yourself in the unique culture and character of the city.
There's something for everyone in Blackpool's queer nightlife, from glittering drag shows and high-energy dance parties to cozy and welcoming gay bars. Whether you're a seasoned partier or a first-time club-goer, the vibrant atmosphere of the city will make for an unforgettable night out.
So, take a leap and explore the exciting and dynamic gay and gay-friendly nightlife of Blackpool. You never know what adventures and connections you might make!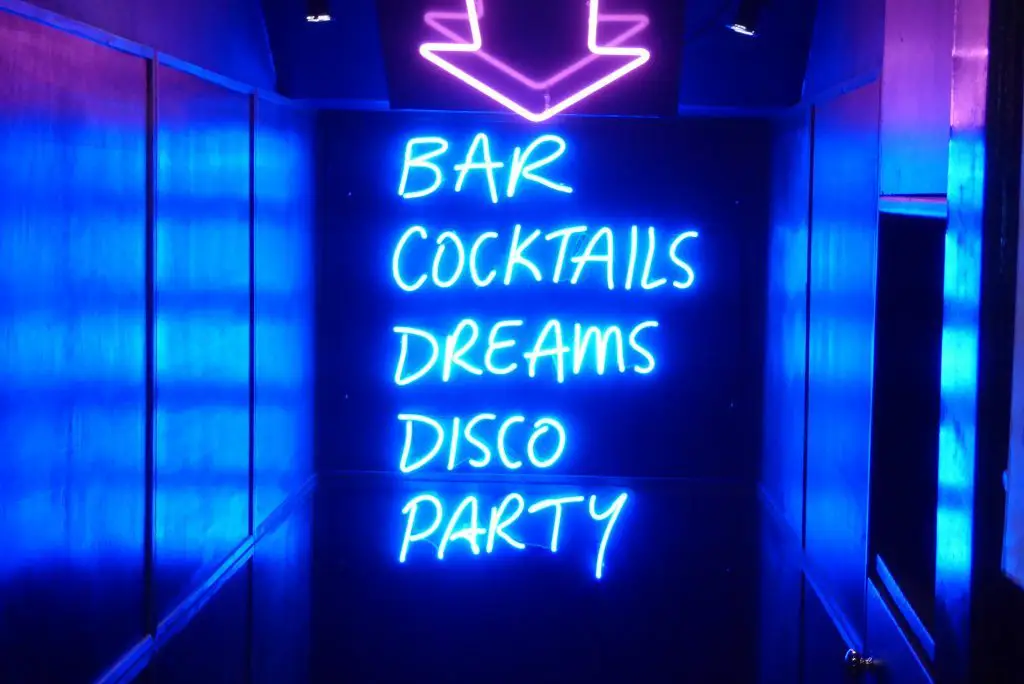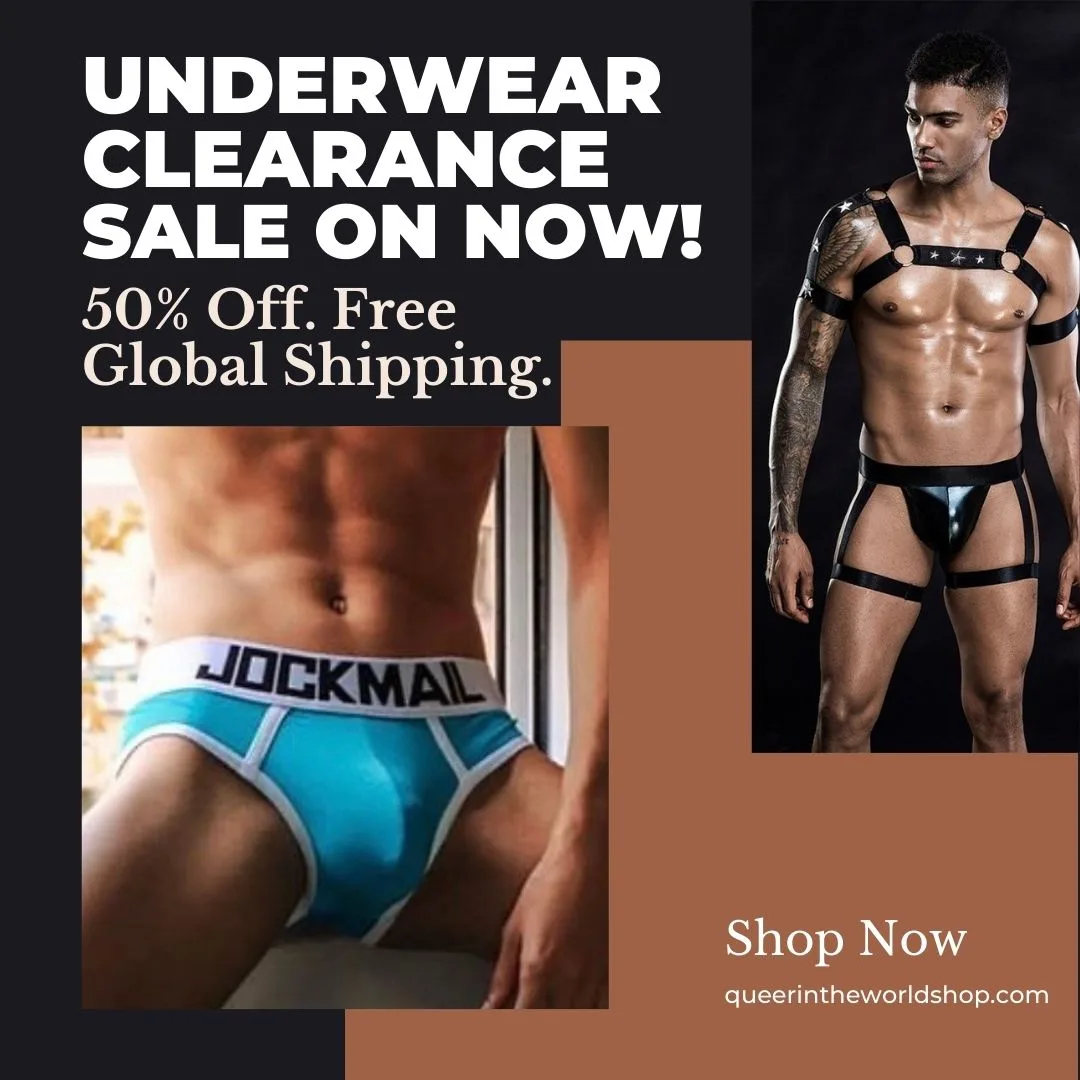 After a quarter of a century, this iconic Blackpool gay bar remains an oasis for LGBTQ+ pleasure seekers. Its recent massive renovation ensures that it looks as good on the inside as its recently upgraded sun terrace and heated smoking area suggest from the outside.
With all necessary permits to stay open into late hours and free WiFi access throughout, what better way is there than grabbing some delicious drinks in this queer paradise after experiencing every magical thing else around town?
Step into an electrifying atmosphere at KAOS Bar, where their one-of-a-kind metal dance floor awaits! Let loose and groove the night away with celebrity DJs spinning tunes through the Amazing Sound & Light systems. They've got Low Prices on drinks to keep your energy up until late in the evening when their fun and friendly staff. Admission is free.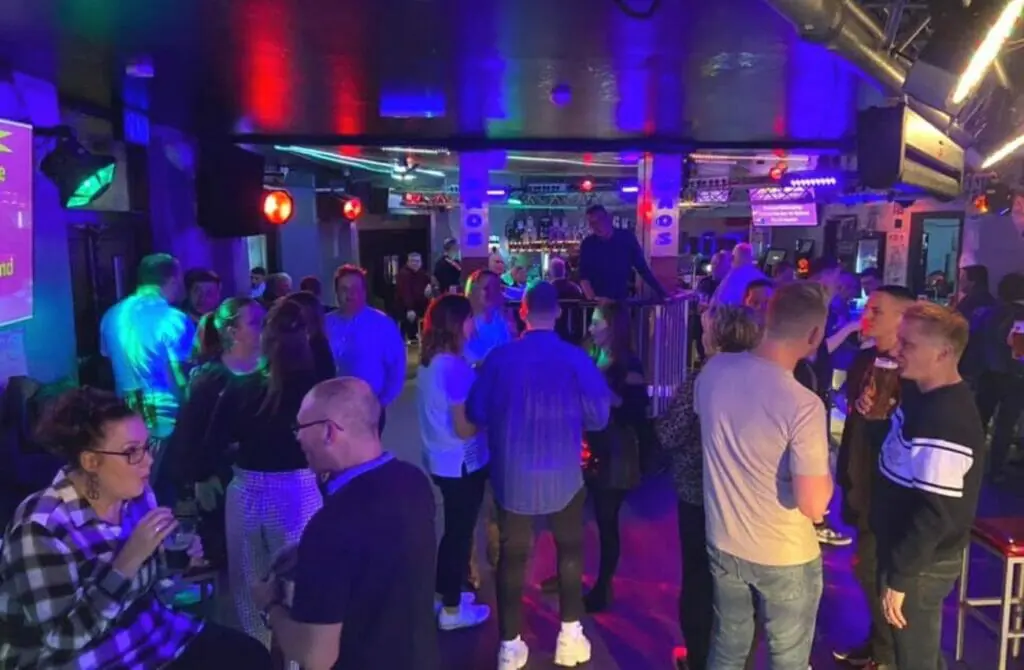 Blackpool's always ready to sashay its way into a brand new nightlife experience with Seven Queens, the only bar in town offering drag performances every single day of the week. An array of beloved local stars (plus some special guests!) will show off their modern and classic style skills for you to enjoy. Talk about an unforgettable evening!
Manbar in Blackpool is the ultimate destination for anyone seeking a good time. This popular gay bar boasts an energetic and lively atmosphere, making it the perfect spot for a night out with friends or to meet new ones. The music is always on point, and the drinks flow freely, so be sure to come thirsty and ready to dance.
But don't let the party atmosphere fool you, because Manbar also offers a chill and welcoming environment for those who just want to hang out and relax. With a cozy seating area and friendly bartenders, it's the perfect spot to unwind after a long day of exploring Blackpool. Plus, with regular events like cabaret shows and karaoke nights, there's always something new and exciting happening at Manbar.
GrowlrClub is above Manbar and is a male-only cruise bar. It is accessible only with a wristband purchased from the bar downstairs.
This chic locale stands out amongst the rest of its list rivals. Not only is it a welcoming gay bar, where one can watch local queens take center stage – but also experience some truly memorable musical concerts!
Concertgoers will be delighted at this upscale spot's collaborations with other High Street businesses and a plethora of exciting events featuring top-tier local talent. All kinds are welcome here to create their own unique nightlife adventure!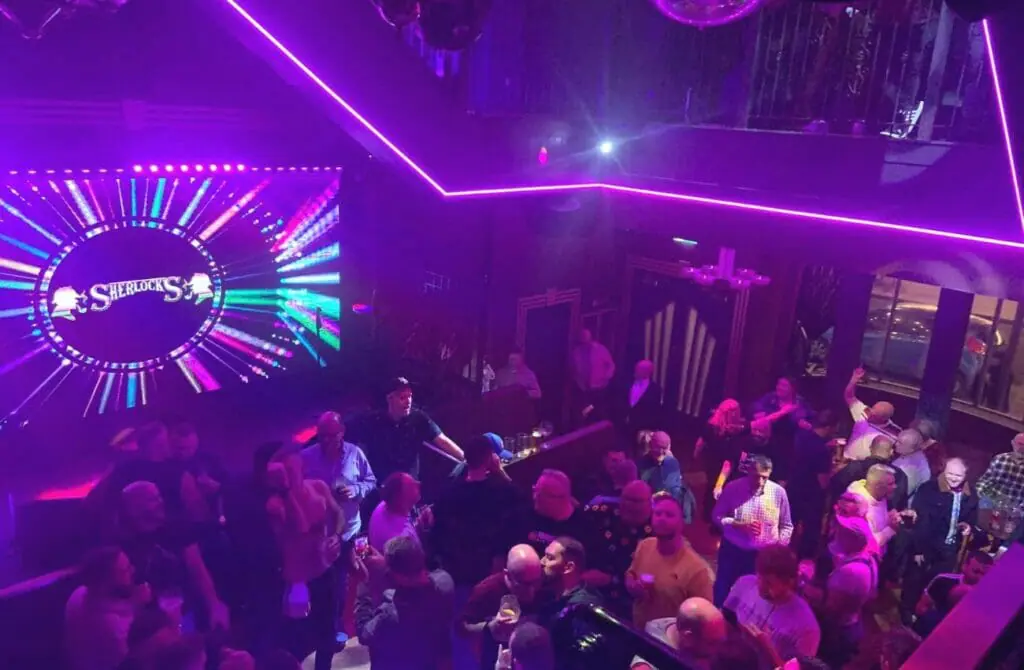 Is a newer cabaret bar to join the line-up. Featuring a multitude of drag queens and a new gin bar, this spot is great if you want to get a look at the new and upcoming British drag talent in Blackpool. There are also some wild drink specials, such as five-pint glasses and specialty cocktails.
While there are consistent performers, they feature locals and newbies as well. It's a great way to support the local queer community and people who might still be finding their footing.
This bar is connected to the Mardi Gras Hotel, which is another fantastic adults-only hotel only two minutes from Funny Girls. This gay-owned bar and hotel is a hotspot for great drinks and more casual entertainment.
It is also a stone's throw away from the gay quarter and all of the other amazing bars we've already talked about. This also places the bar close to many of the other attractions on this list. If you want a hotel and bar combo that can't be beaten, choose to stay here.
No list talking about gay Blackpool is complete without mentioning Funny Girls.
This 25-year-old cabaret features drag shows, burlesque, and male dancers of all types. Not only that, this venue has drink packages with different tiers of alcoholic drinks and private booths to sit in with your group. A fantastic place to enjoy and watch one of the longest-running drag shows in England!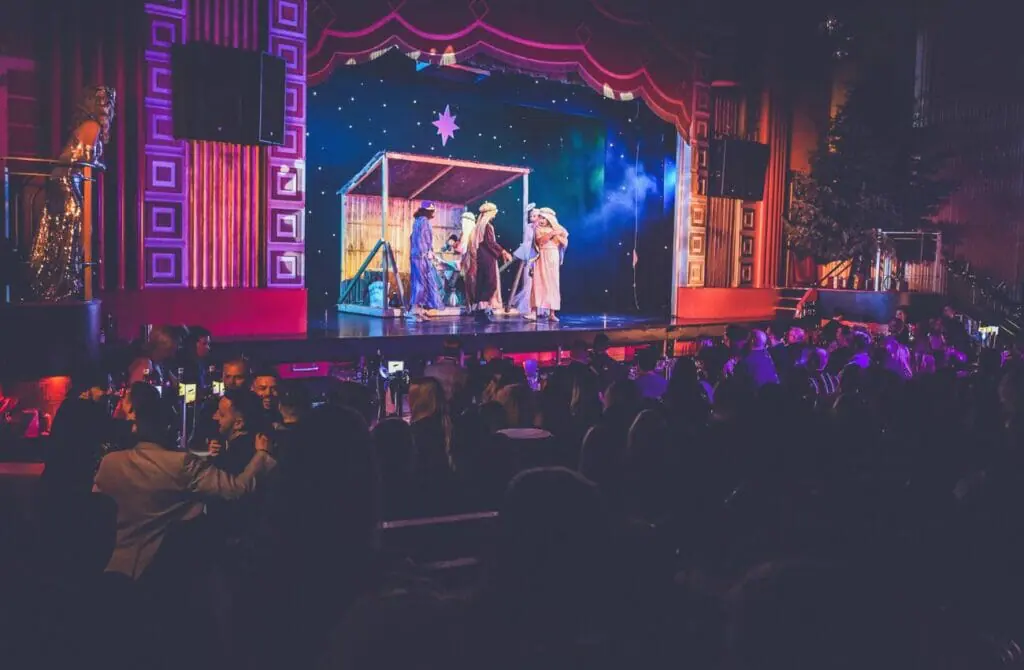 Gay Saunas in Blackpool
When traveling to a new city, it can be exciting to head out for more than just a stiff drink. One aspect of the Gay Blackpool scene that many queer men enjoy is visiting gay saunas and cruising clubs.
Sure, the sauna culture in Blackpool is not as hedonistic as in Amsterdam, Barcelona or Berlin, but these venues still offer a chance to meet new people, socialize, and engage in sexual activity – without resorting to gay hookup apps.
However, it's important to keep in mind that these venues can vary greatly in terms of atmosphere, clientele, and rules, so it's a good idea to prepare yourself before visiting. If you are apprehensive, we advise studying our guide to visiting a gay bathhouse for the first time, which should help set your mind at ease.
Additionally, it's important to be aware of and respect local laws and customs regarding gay venues and sexual activity. With a little bit of planning and an open mind, visiting gay saunas and cruising clubs can be a fun and exciting part of your gay Blackpool.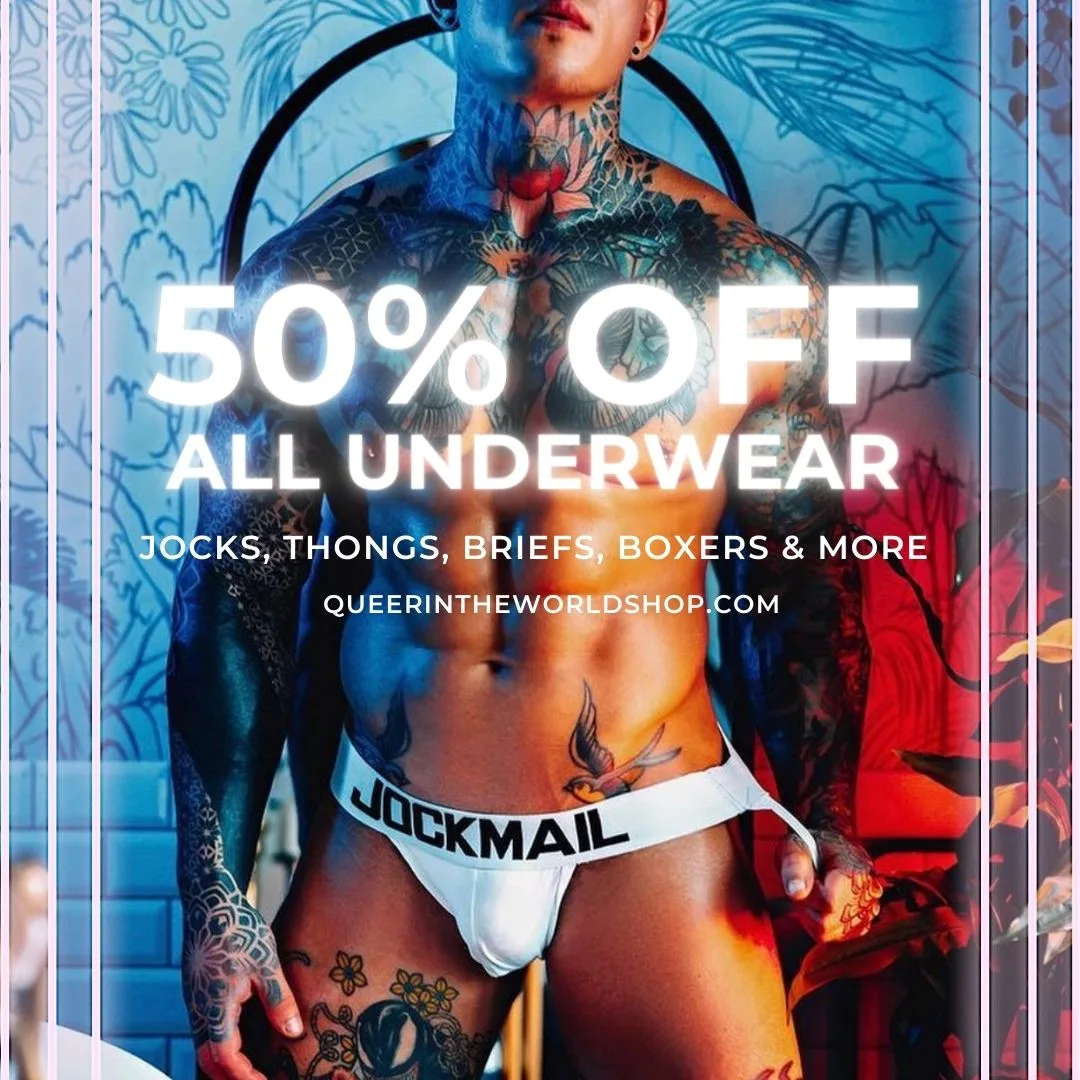 The W3 Sauna is a popular gay sauna located in Blackpool, UK. The sauna is located in the city center and is easily accessible via public transportation. The facility features a range of amenities, including a sauna, steam room, private rooms, a hot tub, and a relaxing lounge area. The sauna also offers a range of health and beauty treatments, including massage therapy.
The W3 Sauna is a welcoming and inclusive space that caters to a diverse range of clients, including local residents and visitors to Blackpool. The sauna is known for its friendly staff and relaxed atmosphere, making it a popular destination for those seeking a more laid-back and comfortable experience. The sauna is open daily and offers a range of membership options to suit different budgets and needs. The best gay sauna in Blackpool.
GrowlrClub is above Manbar gay bar and is a male-only cruise bar. It is accessible only with a wristband which is purchased before entry. Small, cozy and very hot.
Looking for a sultry and steamy time? Look no further than Acqua Saunas in Blackpool! This fun gay sauna is a must-visit for those seeking a sensual and sexy experience.
With a stunning modern design and state-of-the-art facilities, Acqua Saunas offers the ultimate in relaxation and indulgence. The sauna boasts a steam room, sauna, and hot tub for guests to unwind and soak their cares away. And for those looking to spice things up, the sauna also features private rooms and a fully-equipped play area.
But it's not just the facilities that make Acqua Saunas so special – it's the atmosphere. The welcoming and inclusive vibe is perfect for meeting new people and exploring your wildest fantasies. So come on in, strip down, and enjoy a hot and steamy time at Acqua Saunas!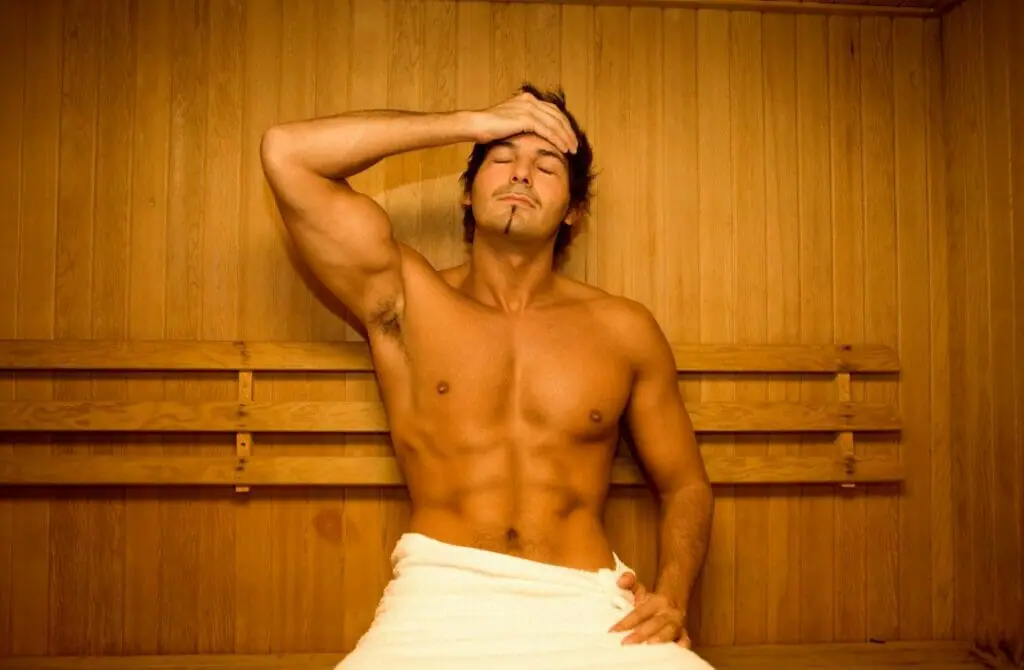 Gay Map Of Blackpool
Finding it hard to envisage where everything is in Blackpool? Hopefully, this queer-centric map helps where we have marked all the bars, clubs, parties, hotels, saunas, massages and more will help you stay in the spot best suited to you!