Ask anyone who's done it; they'll all have a coming out story. It's a process that can be terrifying, exhilarating, heartbreaking, confidence-building and all of those combined plus more.
It's never just one moment; it's an ongoing journey.
That's probably why there are so many films that cover the subject: from high school movies to tales of discovery in later life, from passion to awkwardness.
There's desire and there's a hunt for identity.
Here we've gathered together some of the best gay coming out movies to suit any mood; ones we know everyone will love, no matter their experience.
Wondering where to watch? It depends on where you live in the world and which streaming services you have. We link to the streaming service we watch on in each case - be it Netflix, Amazon Prime, Apply TV+, or elsewhere.
You can get one month free of Amazon Pride (or a 6-month trial for students) of Amazon Prime and also get immediate access to FREE Two Day shipping, Amazon Video, and Music. While you won't be charged for your free trial, you'll be upgraded to a paid membership plan automatically at the end of the trial period - though if you have already binged all these, you could just cancel before the trial ends.
Apple TV+ also has a one-week trial, and Hulu has a one-month trial (which can be bundled with Disney!). Another option might be using a VPN to access Netflix titles locked to other regions. Netflix is now available in more than 190 countries worldwide and each country has a different library and availability. US Netflix is (understandably) one of the best.
While we wish everything could just be in one place - for now, it seems these are the best streaming platforms to watch on.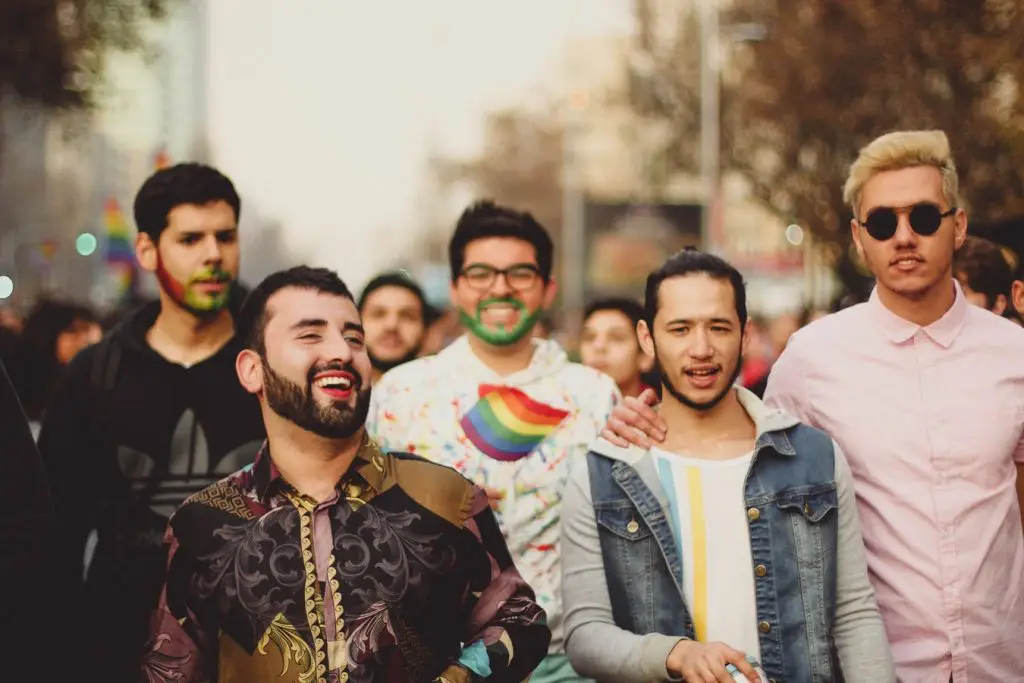 In this article we will cover...
Desert Hearts is one of the most iconic lesbian movie titles because it was the first film about a female same-sex relationship that didn't involve a man or a tragic ending: utterly groundbreaking.
It also breaks the mold for being a coming-out movie that doesn't focus on the tender teenage years. Set in Reno, Nevada, it follows the blossoming love between a reserved English professor and a young, impulsive sculptor, whose energy and boldness starts to draw her out of her shell.
With stunning scenery and complex characterization, this is proof that it's never too late to learn who you are.
Indiana resident Howard is outed by a former pupil in an Oscar acceptance speech, to the shock of his family, co-workers, fiancée and himself. Through the confusion that follows Howard has to accept his feelings and admit to himself and others that he's gay, which he does in a quite a remarkable setting (no spoilers!).
Although it was criticized for its somewhat 'asexual' portrayal of gayness, it took steps in bringing conversations about being gay into the mainstream (as did Love, Simon 20 years later) and presents an enjoyable mix of humor and acceptance. One to see, for sure.
This comedy-drama perfectly captures the turbulence and confusion of being a teenager and coming to terms with your sexuality. Not to mention the fact that there's an excellent 80s soundtrack going on. No matter what your experience, everyone will love this story of coming out.
Set in Ohio in 1984, it tells the story of Eric, a music-obsessed high school student, and his summer of discovery with a co-worker and at a local gay bar. There is experimenting with clothing, there is a heartbreaking subplot with a female friend; a standout moment is when Eric comes out to his mother. It's bittersweet and poignant while maintaining a sense of fun.
A great British addition to this list, Get Real is a fresh and youthful story about what it's like to grow up gay. Stephen is a sensitive and lonely student in conservative Basingstoke who keeps his sexuality hidden out of fear of what could happen to him at school if he didn't. A chance encounter leads to a romance with high-school hero John.
Their blossoming relationship shows the pain of having to deny who you are; there is a heartbreaking scene where John beats up Stephen to keep his cover. At the same time, there is an important message, unsentimentally told: we are who we are, and the best thing to do is to accept that. A gay coming out movie with value.
This is a morally ambiguous coming out movie that packs a huge emotional punch. A repressed teacher at a Catholic high school in LA is pursued by one of her pupils who, while a minor, is mature, intelligent and considerably more sexually experienced. Director Katherine Brooks deliberately doesn't judge, allowing the viewer to feel how they authentically would.
It's interesting to watch a film flip the usual conventions: here, it's not the high school student struggling to come out, but the adult character. Aside from that, there's also great sexual chemistry and a powerful love scene – an important addition to gay cinema at the time.
This authentic film is about a 17-year-old African American living in Brooklyn trying to discover who she is and assert her place in the world. Alike's family don't approve of her clothing choices or openly lesbian friend, but her process of coming to terms with her identity takes place with calm determination.
Pariah was awarded the Excellence in Cinematography Award at Sundance for good reason: it looks stunning. The performances are similarly impressive, with Adepero Oduye beautifully conveying Alike's curiosity and anticipation. It's a coming out movie with universal emotion.
A fun teen comedy that offers a different slant on your usual gay coming out movies. Here it's not necessarily the process of coming out that takes the whole focus, but it's what happens afterwards. Tanner comes out at his New Jersey school, starting a battle between the three most popular girls to make him their Gay Best Friend.
It's got all the usual teen comedy standards (prom features heavily) but also carries an important message about not being a 'token' or a symbol. It's thoroughly good-natured and a great gay movie for when you don't want anything too heavy.
The thing about Love, Simon is that it's really just your standard teen rom-com, but with a gay protagonist and a sweet coming-out story. It is the first major Hollywood film to focus on a gay teenage romance, bringing gay characters unashamedly into the mainstream.
Simon is a closeted high school pupil in Atlanta, Georgia. When he discovers that someone else at his high school is also gay, he begins an anonymous email flirtation and takes steps towards finally being able, to be honest about who he is. It contains a lot of the tropes of teen movies – impassioned speeches at football matches, misunderstandings at Halloween parties – while treating its coming-out story with sensitivity and warmth.