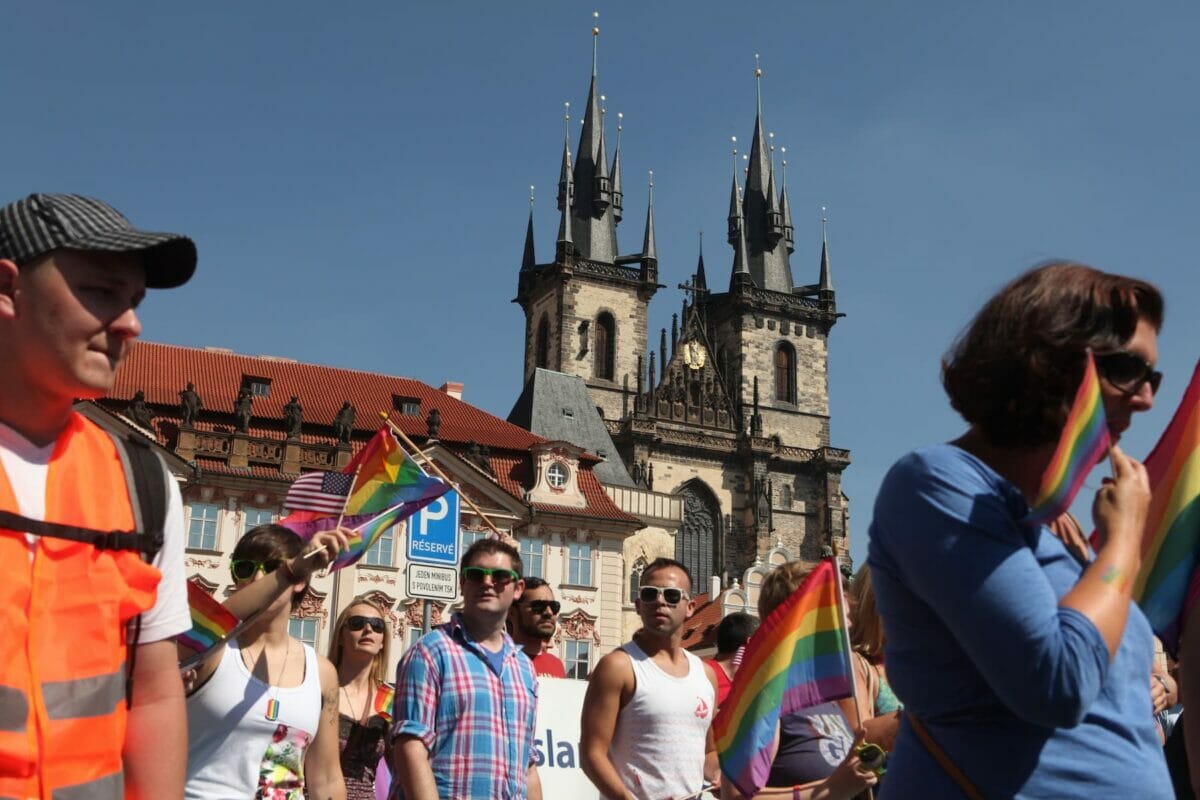 Progressive, liberal, tolerant – at least compared to its neighbors to the east, Gay Prague is quickly becoming one of the world's most popular gaycation destinations.
Since the 1990's tourism has been booming here – gay or otherwise – and it's not hard to see why. Centuries of history, a beauty that rivals that of Paris, some of the world's best beer (at some of the world's best prices) and an epic nightlife scene that would have you believe they are celebrating the fall of communism still – every, single, night!
The gay community in Prague is the biggest and most vibrant in ex-communist Europe, bolder, brighter and more fabulously queer than
Warsaw
,
Tallinn
,
Krakow
or even
Budapest
. Honestly, Prague would even be a contender for offering one of the biggest gay scenes in the world!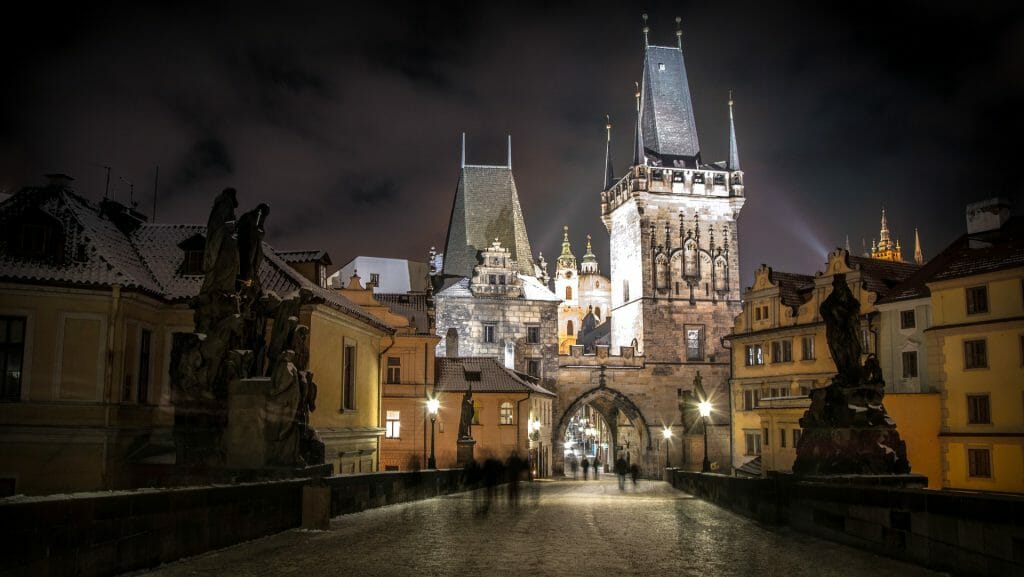 Gay Prague punches far above its weight and honestly, it kind of took us by surprise – like the unexpected gay scenes of
Kuala Lumpur
,
Istanbul
or
Bogota
.
Sure, we somehow just knew that Prague would be full of BDSM sex-dungeons and all-night gay dance parties, but the refined cocktail bars like
Dandy
(whose sexy bartenders are worth stopping by for alone) and almost post-gay cafes such as
The Bourgeois Pig
took us by complete surprise.
Czech society is tolerant and largely atheist, and an average gay traveler here should not expect any discrimination above and beyond that of other major European cities. Even better – the Czech Republic is currently discussing repealing a ban on same-sex marriage and we were pleasantly surprised to learn recent polls showed 75 percent of people here now believe that same-sex couples should be able to marry. Halleloo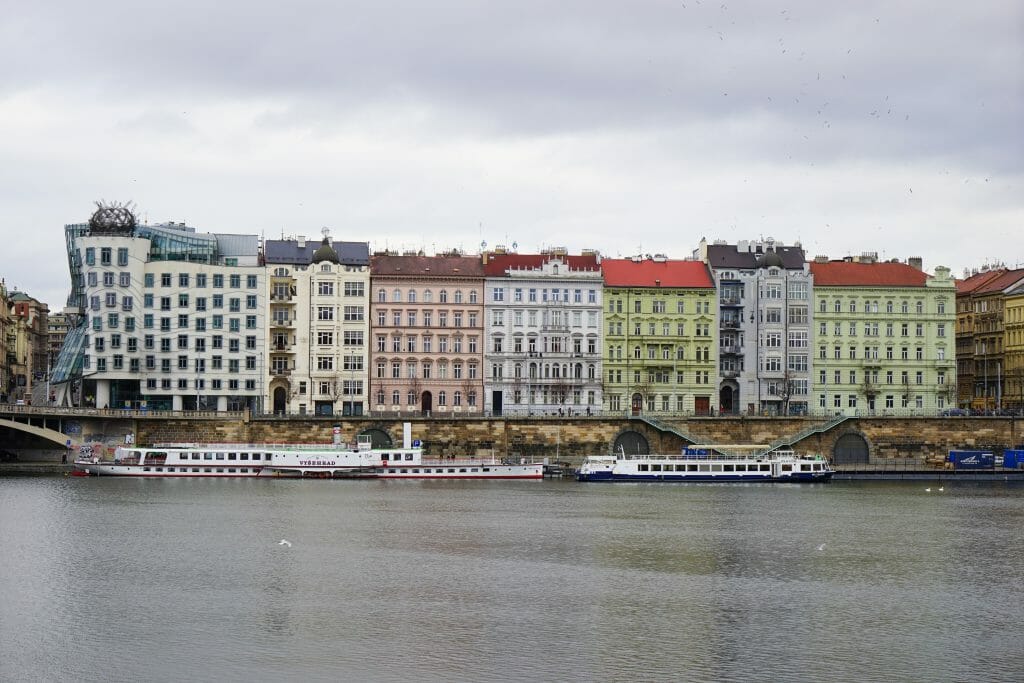 If you're wondering the best time to visit Gay Prague we would humbly suggest August timed with the fabulous
Prague Pride
, a summertime week filled with culture, entertainment and tolerance ended with the largest pride in the Central and Eastern Europe.
There is really no bad time to visit however as the glory of Charles Bridge in the twilight, the millennium-old caste on the hill and twisting maze of cobbled laneways and quiet courtyards in Prague's Old Town will always be waiting.
No matter where your interests lie – excessive hedonistic nightlife, old-world culture, luxury hotels, gratifying food, tranquil cafes or all those adorable Czech boys – Gay Prague has something for you!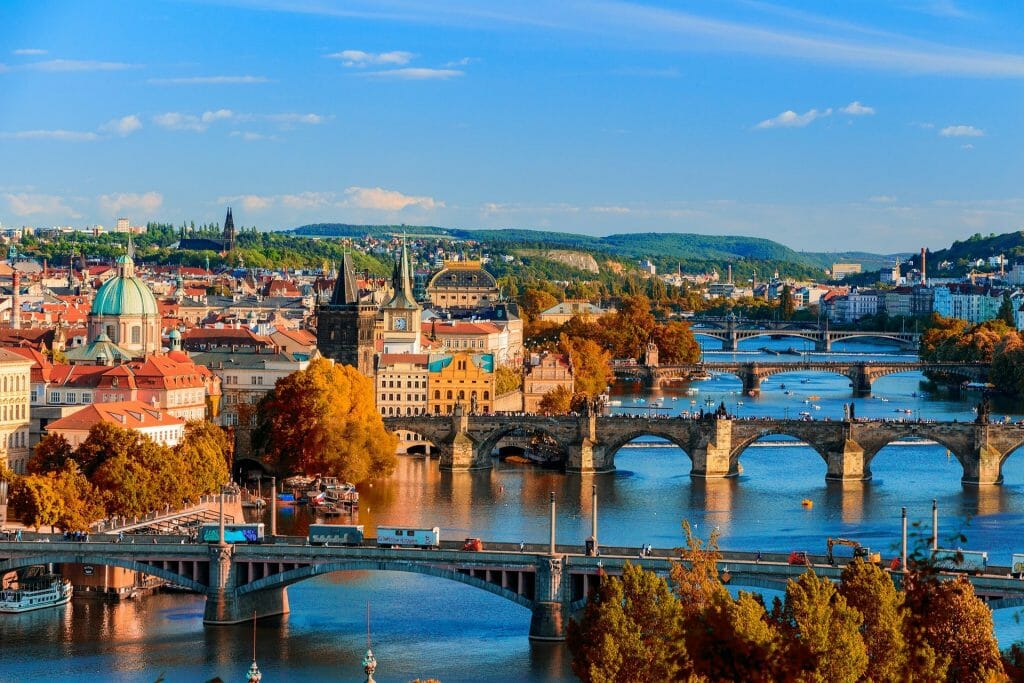 Gay Prague Guide: The Essential Guide To LGBT Travel In Prague Czech Republic
Attractions in Gay Prague
Obviously being gay does not define which attraction most of us will want to see in each city and most queer travelers will simply want to check out the top things to see in Prague during the day! Prague is a very safe city but still, all travelers should take caution crowded areas or at night in bars with valuables.
There is so much to do in this gorgeous city – but we found our favorite memories were just sitting and drinking coffee watching the world go by, getting lost in the beautiful Old Town or dancing away the night with new friends in one of the cities many gay bars.
If you have the time you might consider hiring a car to check out the beautiful surrounding small towns and countryside, though you hardly run the risk of getting bored no matter how long you stay in Prague.
You can't throw a stone in this city without hitting something gothic and historic – but still, it helps to have some kind of idea what is going on, so here are our just a few of our favorite things to do in Prague that you should not miss!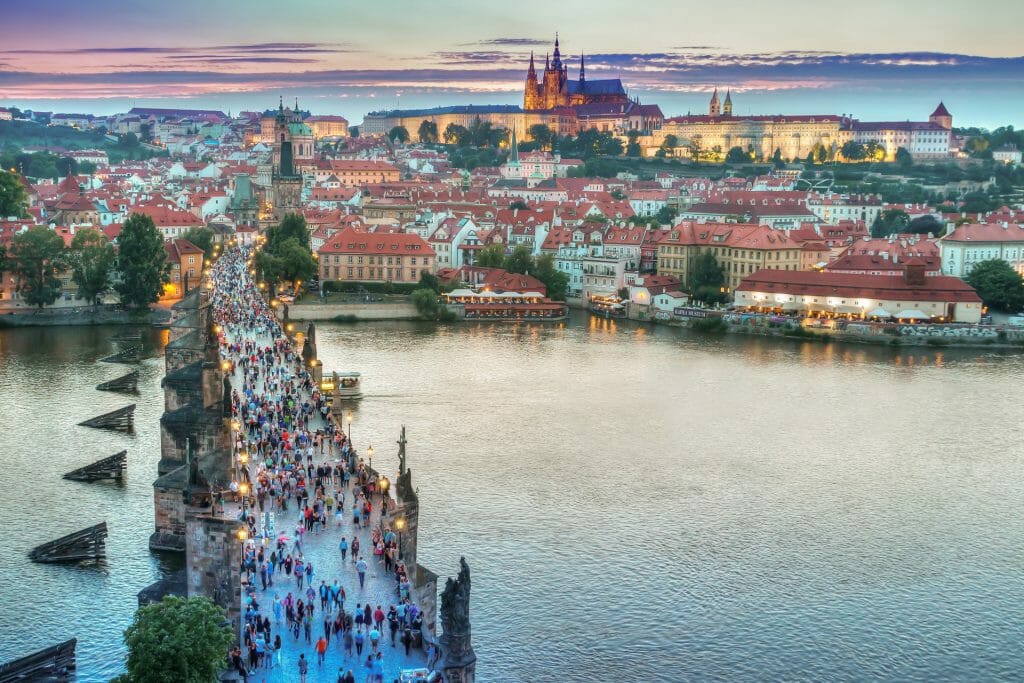 Things To Do In Prague
Prague Castle – A UNESCO monument that has etched over Prague for over 100 years, hike up the hill to the castle complex and visit the official office of the President of the Czech Republic. There is plenty for tourists to explore including the St. Vitus Cathedral, Old Royal Palace, St. George's Basilica, Rosenberg Palace and the Golden Lane with Daliborka Tower.
Prague Old Town – Honestly, there is far, far too much to cover here but suffice to say this lively cobblestoned hub literally covered in landmark attractions can keep your average tourist busy for days, weeks if you really want to see everything. Truly a city like no other on Earth.
Prague Ballet – Much like nearby Vienna and Budapest, Prague has a long and proud musical tradition and today you can see world-class ballet and opera for prices that wouldn't even get you nosebleed seats in cities like Paris, London or New York.
Prague Christmas Markets – Cheaper than the German Christmas market, and arguably more beautiful – the Prague Old Town Square and Wenceslas Square Christmas markets are truly a sight to behold and worth planning an entire trip to Prague around (you won't be the only one doing this!)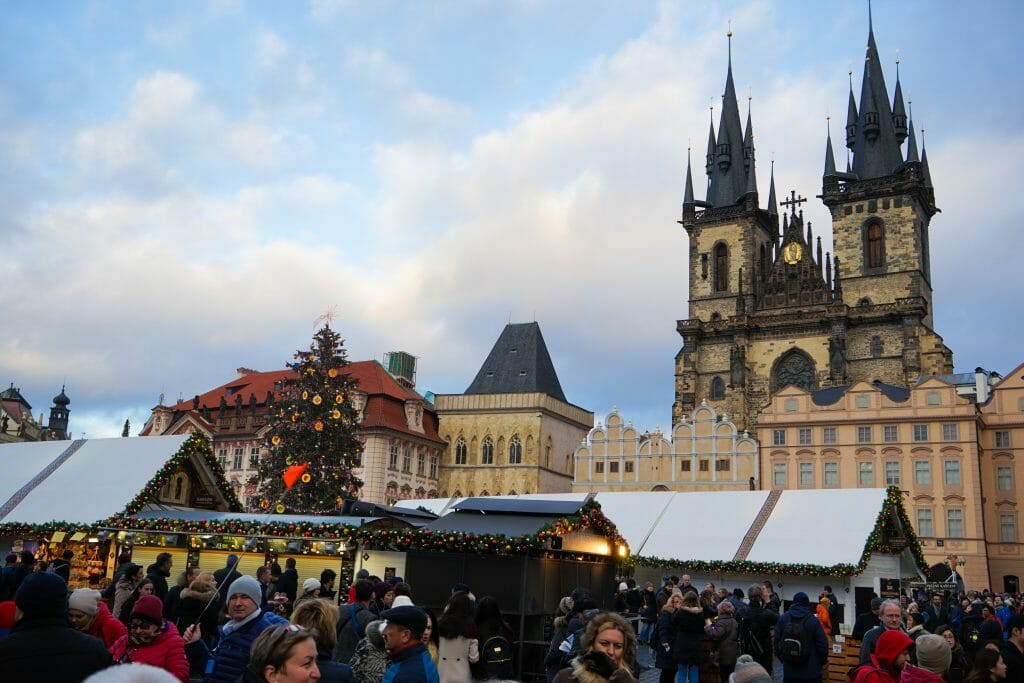 Prague River Cruise – Escape the hectic crowds of the Prague Old Town and head out on a romantic river cruise taking in all the best highlights of this historic city from the Vlatava River. When you have had your fill, the onboard bar is always fun!
Czech Beer Museum – Forget Germany, discover the long and proud history of beer brewing in Czech starting with the Golden Age of Czech beer brewing. If you have not had enough beer in the bars, you can taste four different beers in their showroom pub then actually create and bottle your own beer using the brewery's machinery!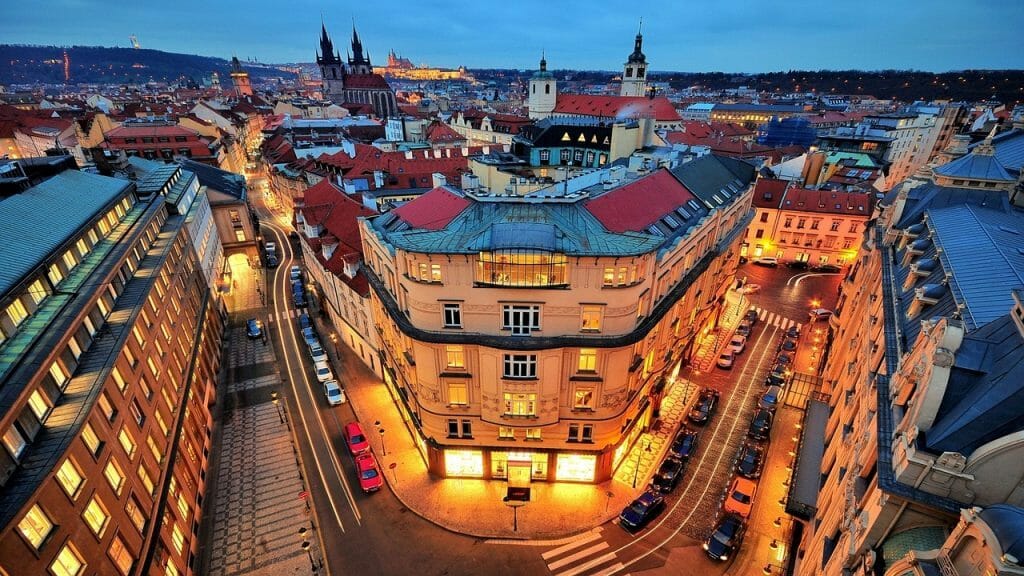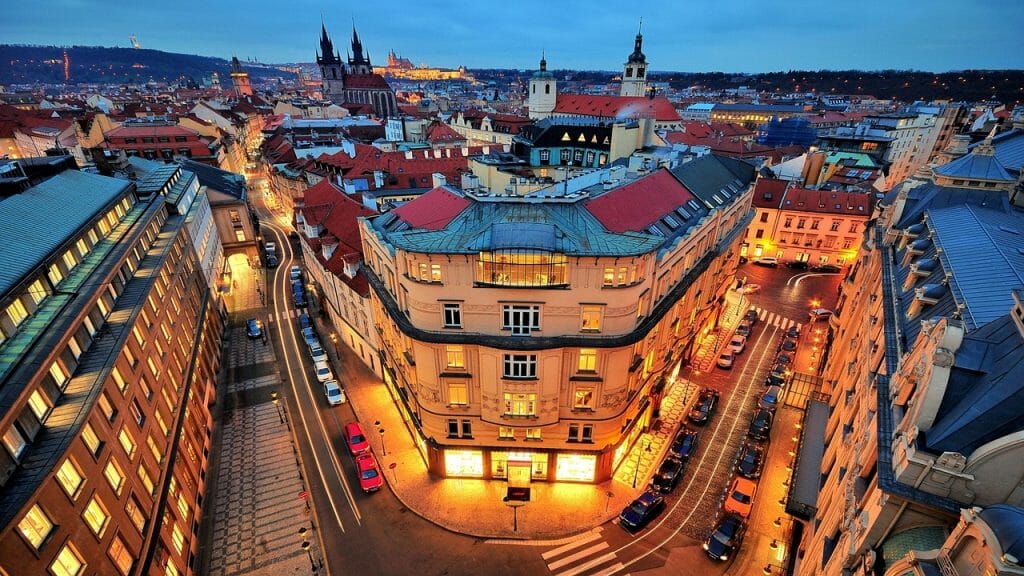 Traditional Czech Food – Sure this Eastern European country might not have the most famous cuisine in the world, but there is still a lot to love. Don't fall for the tourist traps of trdelnik or langose on every corner with actually both came from Hungary. Instead try to seek out Czech delicacies like potato pancakes fried in lard, potato dumplings filled with smoked meat with sauerkraut, sweet curd dumplings filled with fruit, pork with sauerkraut and dumplings, or roasted beef sirloin with creamy sauce and cranberries served with dumplings. You can taste all of these easily in local restaurants, but ask your hotel in hunting down the best places nearby!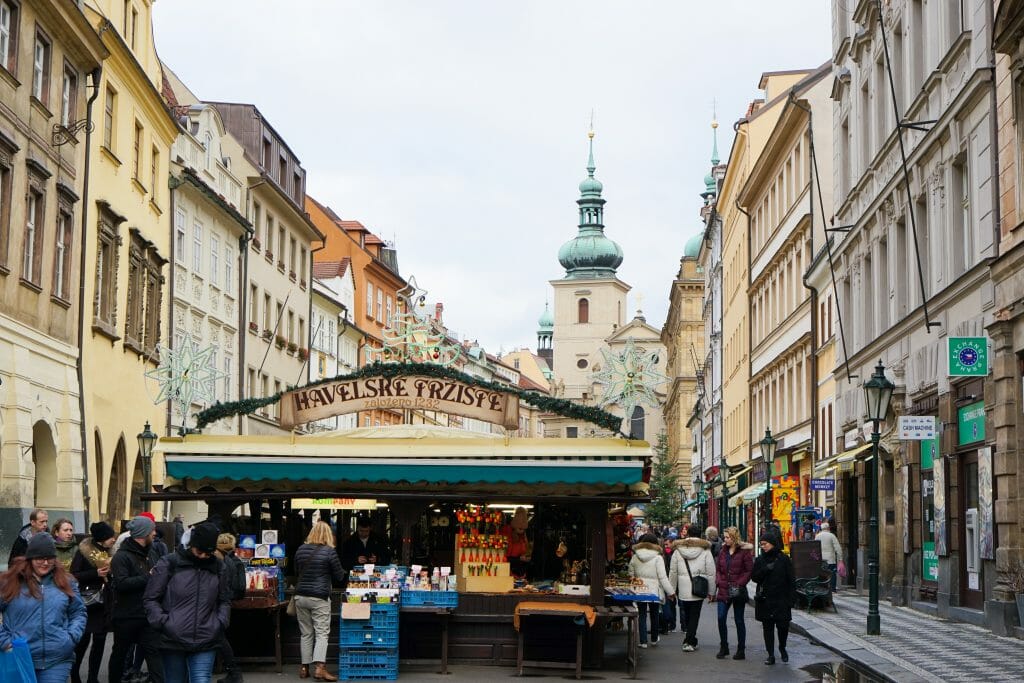 Municipal House – If you don't have the time or energy to seek out the best of Czech food, simply sign up to a traditional Czech 3-course lunch in the Art Nouveau restaurant. Taste the best specialties from across the region accompanied by a live folklore performance. We are kind of lazy so any chance to experience a culture while sitting down!
Relax in the Gay Cafes – Prague's gay life doesn't just happen at night, and while it's less thriving during the day you should stop in at one of the several gay cafes (our favorite gay places in Prague) – if only to check out all those gorgeous Czech boys. Some of the most famous are Q Cafe, Cafe~Cafe or Patra, but keep your eyes out as you wander around and you're sure to see a few more.
Shopping in Prague – Low prices and high quality mean you get plenty of bang for your buck here. Once you get past all the kitschy tourist shops there are some truly stunning boutique art stores – or for the best souvenirs look out for Marionettes, Becherovka Herbal Liqueur or Bohemian Glass.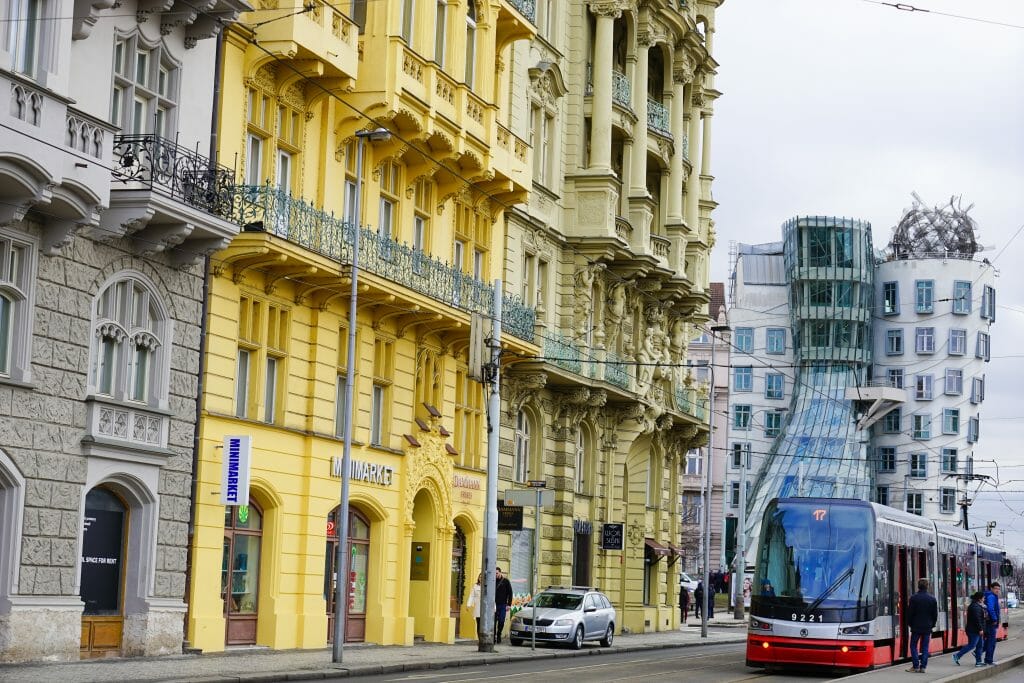 Communist Czech – Sure, today Prague might be known as one of the best preserved European Capital's but for those who are interested in the intrigued history of communism and the Velvet Revolution you will need to head out on a tour with a guide who will use his words to bring the "good old days" back to life.
Mozart Dinner – Enjoy an elegant three-course dinner in the surreal historically protected Boccaccio Hall while enjoying the best of Mozart's music live. One for the culture vultures and a unique experience you won't get anywhere else in the world.
Astronomical Clock Tower – One of the most famous buildings in Prague. Be sure to reserve your tickets early to head up this 600-year-old Gothic Tower and take in the best views of Prague's old town before heading down to watch the hourly clock show.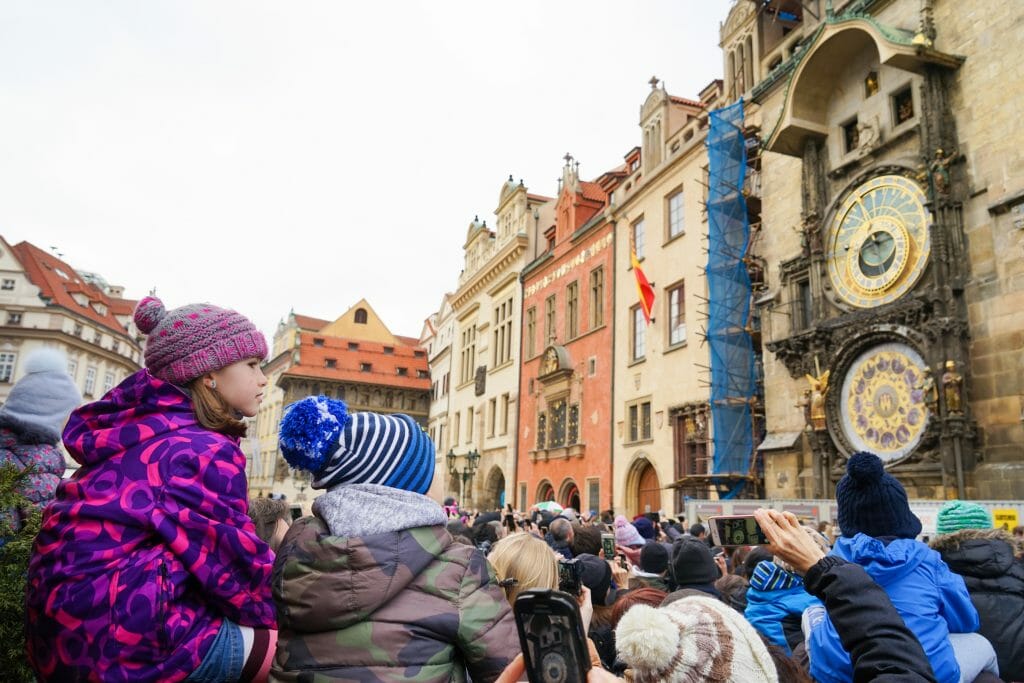 The Best Day Trips in Prague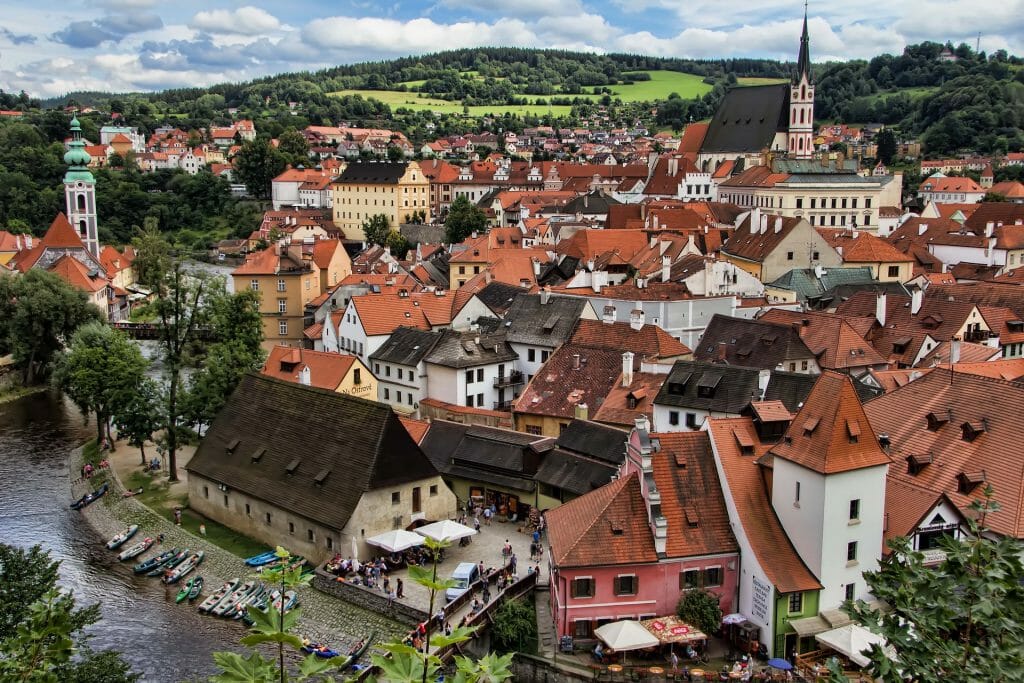 Gay-friendly and Gay Hotels in Prague
In Prague, you would be hard-pressed to find an upscale hotel which had any issues with gay guests but discretion is advised in small, owner-operated hotels in this still sometimes conservative society.
Some Prague hotels are more popular with queer travelers due to their location and inclusive environment or vibe, which are featured here since there are no exclusively gay hotels in Prague…yet!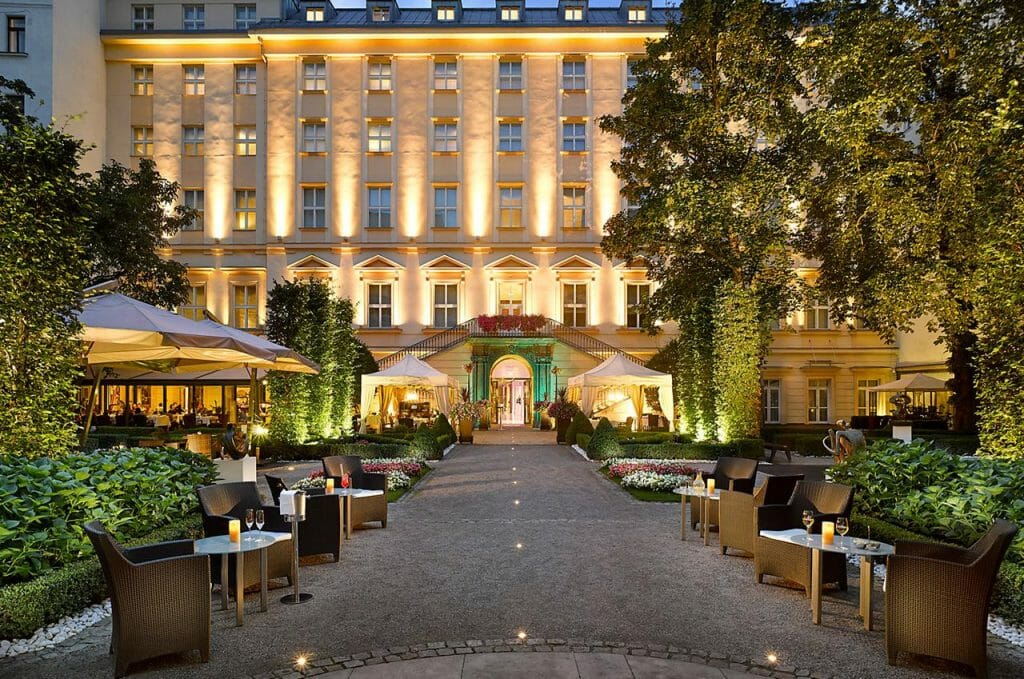 Each hotel and area offer something very specific, so be sure to choose the right style and location to meet your needs. Prices are cheap compared to North American and Western European hotels (thought quickly rising) and standards are high – so it's a great place to splurge!
Of course, there are also hundred's more hotel and hostel options in Prague if none of these suit your desired budget, facilities or area – but these are the best hotels according to us and other gay travelers.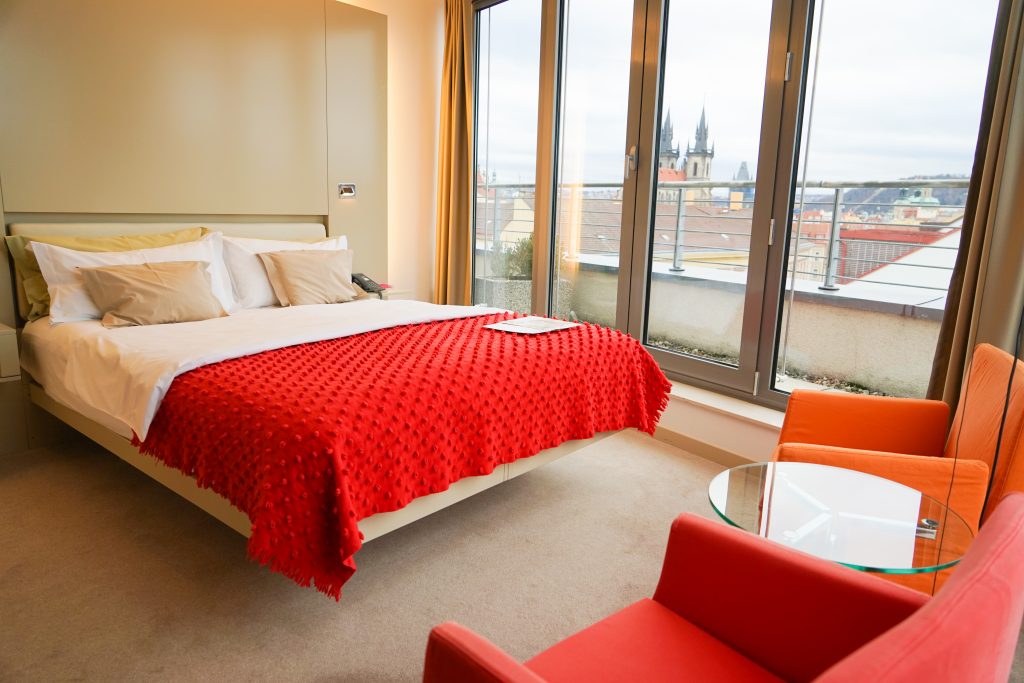 Hotel Josef ☆☆☆☆ – Our absolute favorite stay in Prague, this gay-friendly hotel (Prague's only design boutique hotel) is the perfect juxtaposition to the old-world beauty of Prague. We were left gagging over their Premium Josef rooms where you can enjoy unparalleled views out over the UNESCO-listed Old Town of Prague without even leaving your bed. Located on a quiet side street only a few blocks from the main square, we loved the modern architecture, plentiful natural light, and a bold color scheme. Oh, and did we mention the penthouse gym and sauna – which include free advice and work-out routines with the very sexy private fitness coach Lukas.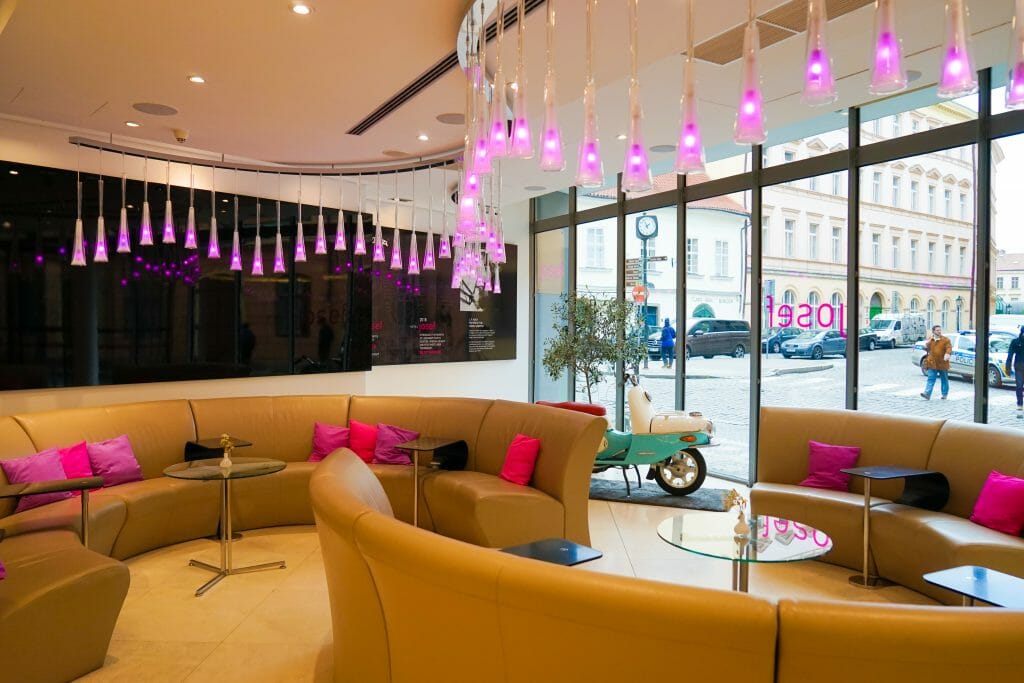 The Grand Mark Prague ☆☆☆☆☆ – One of the leading hotels in the world, this iconic hotel artfully blending classical design with modern art, and technology. Gay-popular with those of our family with cash to splash – and it's easy to see why when everything is just this perfect. We loved the relaxing garden terrace and glass-enclosed bar which provide a quiet space for when Prague gets a little too overwhelming, but the entire hotel is simply pure perfection.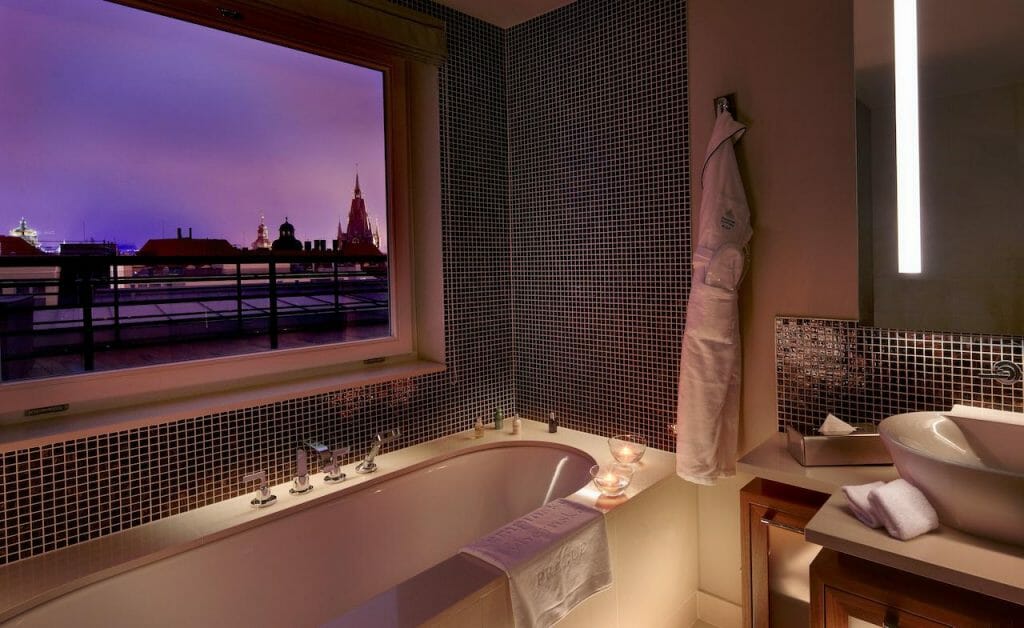 Four Seasons Hotel Prague ☆☆☆☆☆ – An international renown gay-friendly hotel chain whose name is synonymous with luxury. Their Prague outpost doesn't disappoint with three Old Town buildings of varying baroque and renaissance styles renovated and now playing host to this refined, high-end hotel. The views of the Prague Castle and Charles Bridge are unreal, and we loved the interior decor inspired by historical Czech eras.
Carlo IV, The Dedica Anthology ☆☆☆☆☆ – Managed by the very gay-friendly Marriot Hotels, this is one of Prague's most majestic hotels in a former 19th-century neoclassical palace. You will feel like absolute royalty in this unique modern/old-world fusion with huge spaces, friendly staff, and a luxurious spa.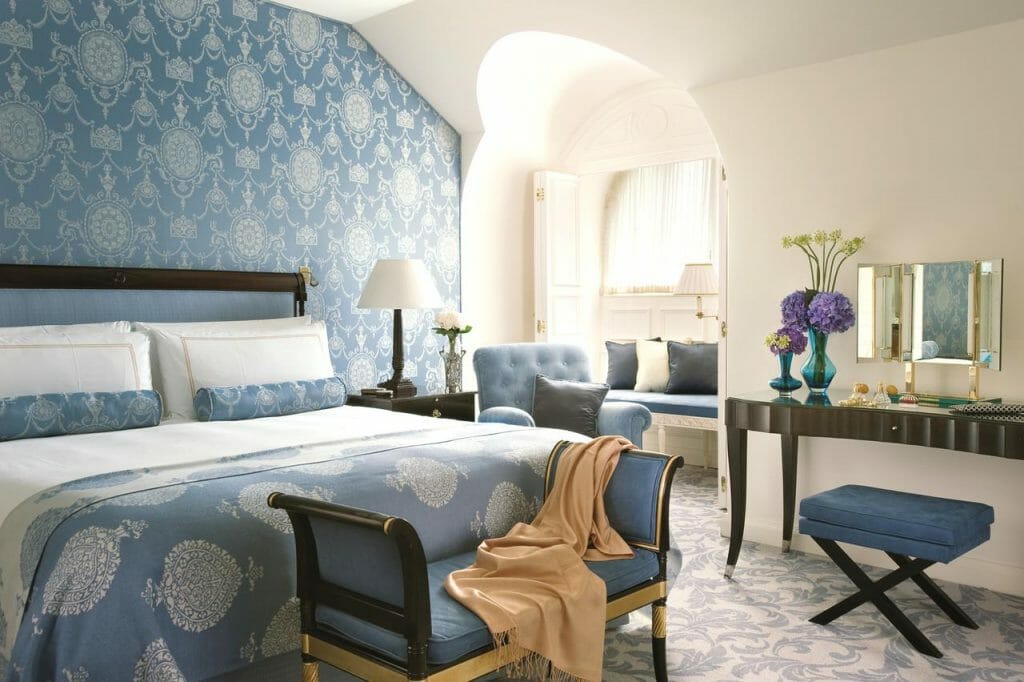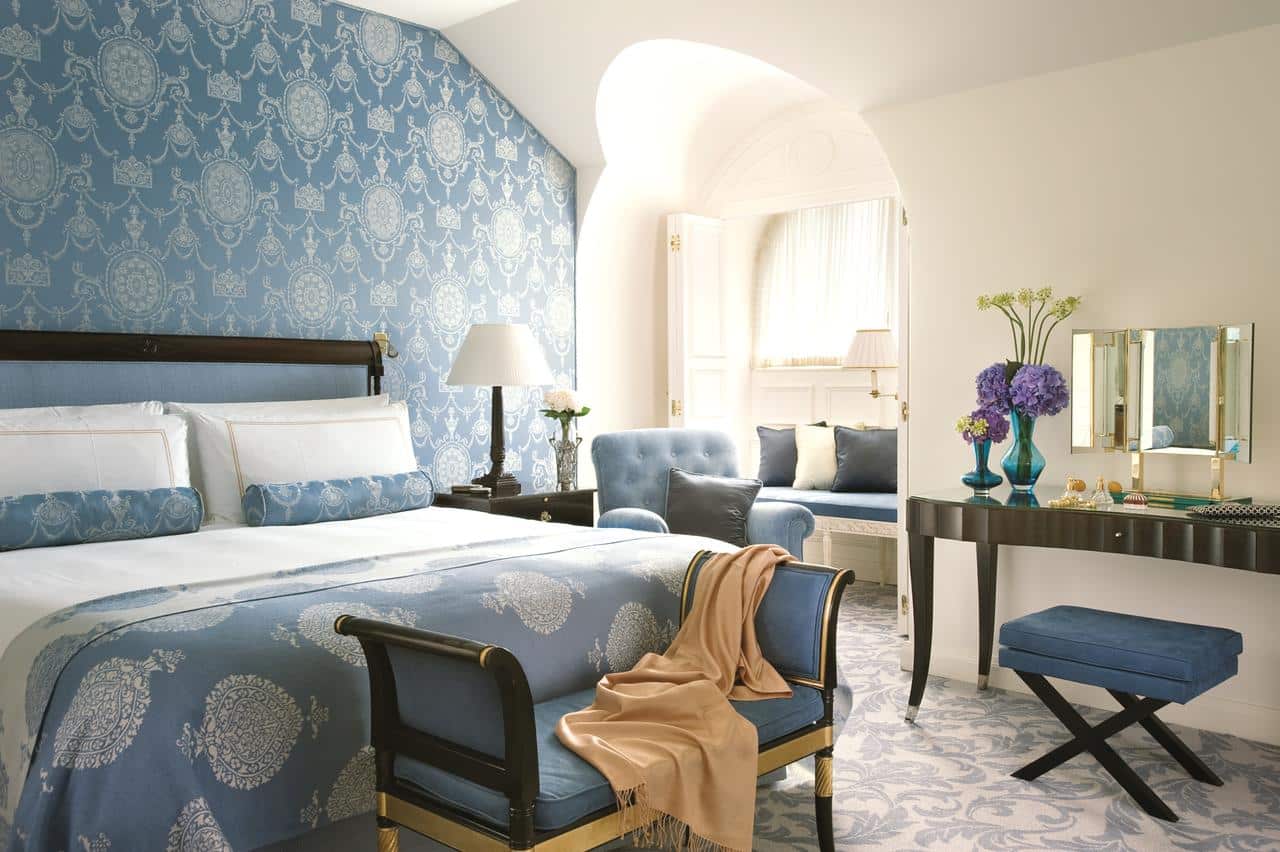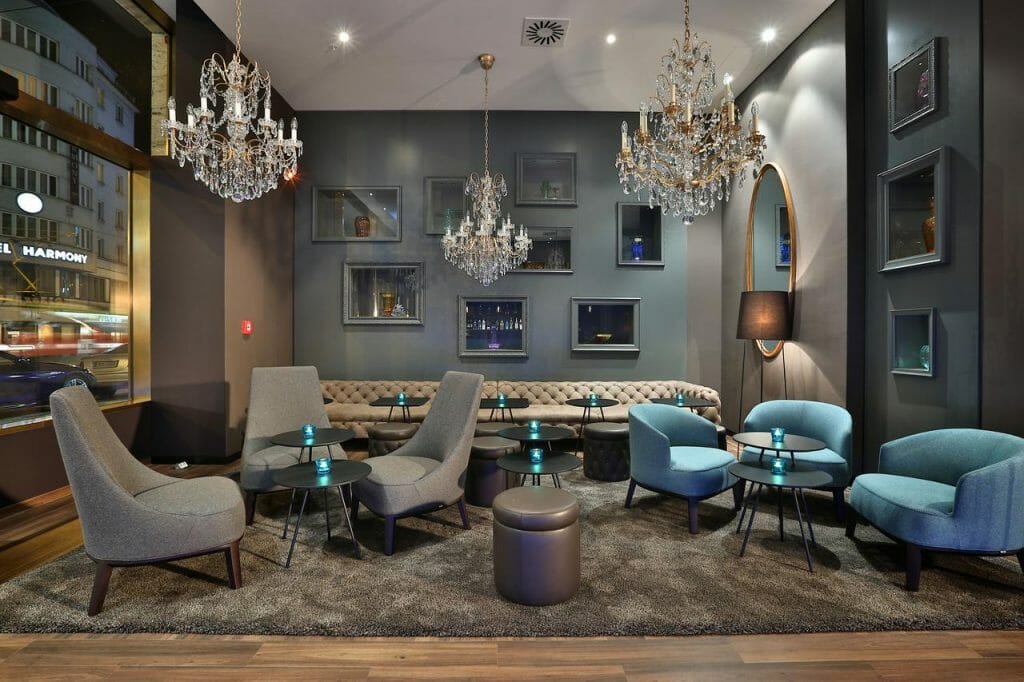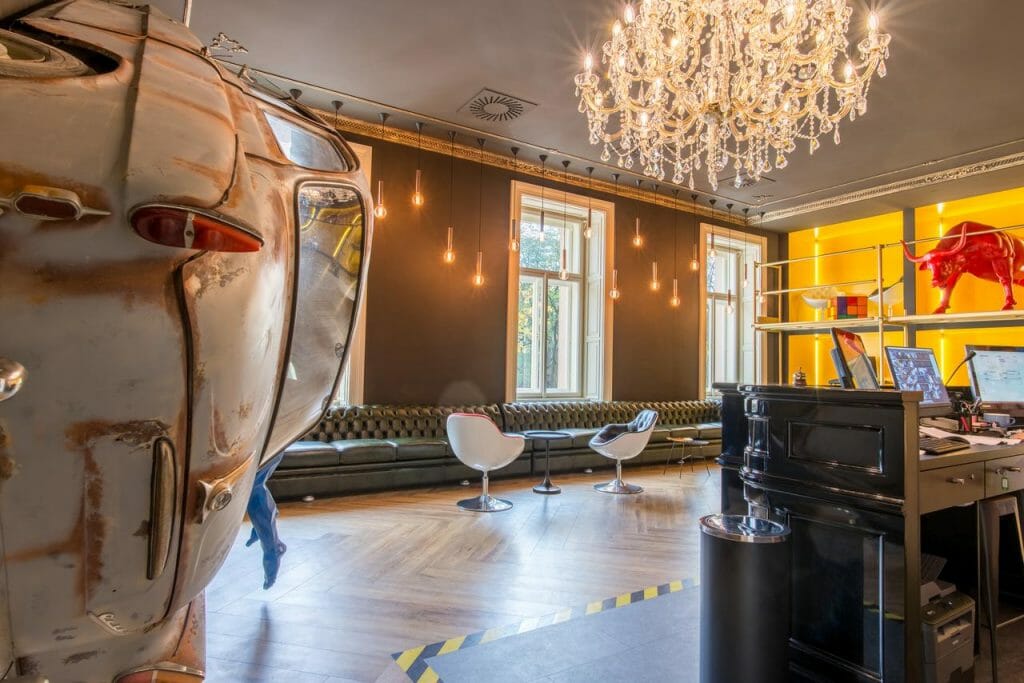 Gay Bars and Gay Clubs in Prague
Prague is increasingly getting a reputation as one of the best gay-party cities in Europe, as it's nightlife is up there with some of our other favorite 'up-and-coming' gaycation spots: Orlando, Medellin, Taipei and Glasgow.
Needless to say in Gay Prague you can find almost every type of nightlife imaginable from hipster cocktail bars, bohemian cafes to underground drag-pubs and all-night gay dance events. There is a ridiculous amount of Prague gay bars to choose from mostly located around in the Vinohrady gay district, close to Náměstí Míru metro station (but some are located in other places so be sure to check out our helpful Gay Prague Map).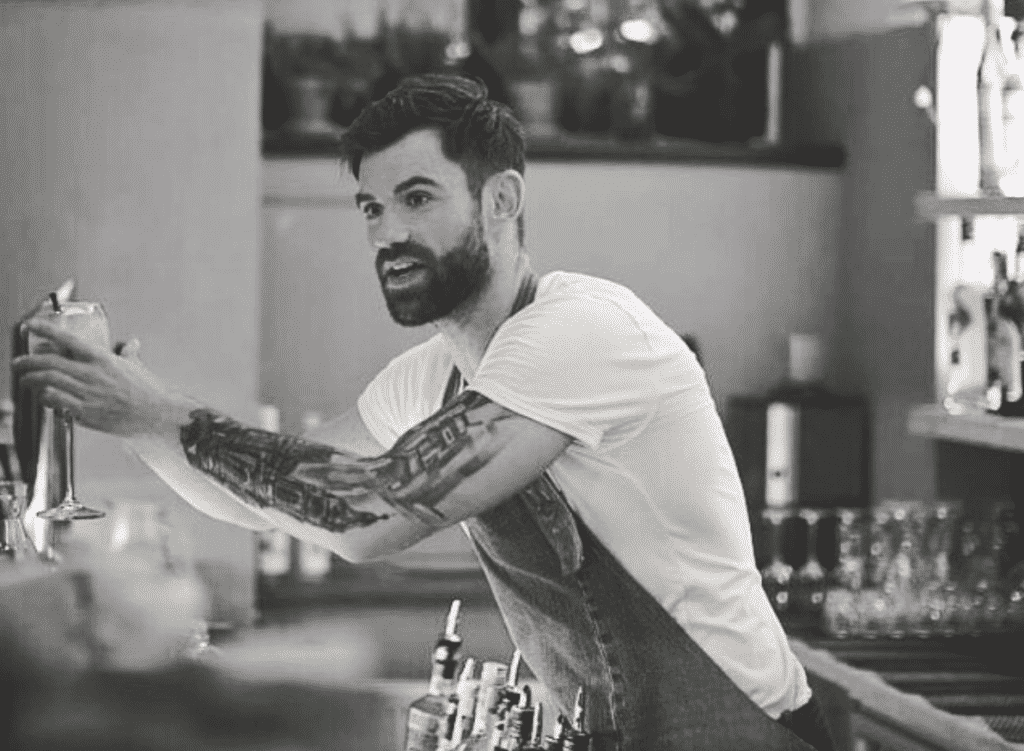 The gay club scene in Prague is always changing and it seems some places open just as quickly as they close so check websites and Facebook pages before heading out and contact us if you think we need to add or remove anything.
While Prague might be the most liberal city in the Czech Republic, open displays of affection outside of gay bars can lead to trouble. Also, watch out for hustlers and don't take any valuables with you if you can help it – and watch all of your belonging in the back-rooms of gay bars and clubs (most have them) as pick-pocketing, while you're focussed elsewhere, is extremely common.
Things are getting better however, many gay bars in Prague are cleaning up their image, increasing security and kicking hustlers out – so just use your common sense and enjoy what is guaranteed to be a crazy fun night out in Gay Prague.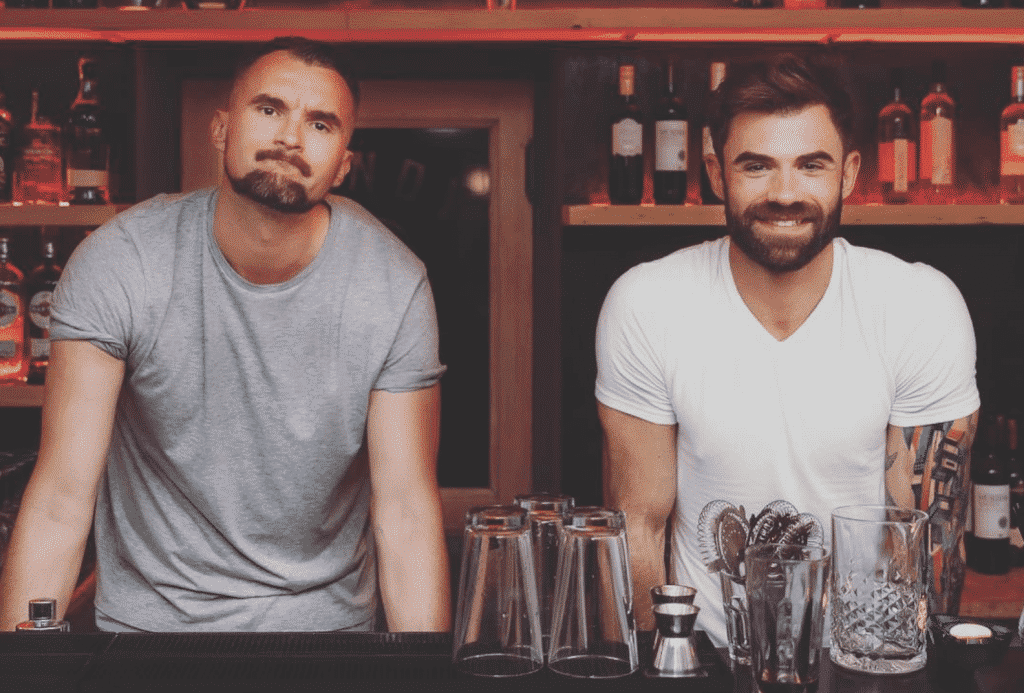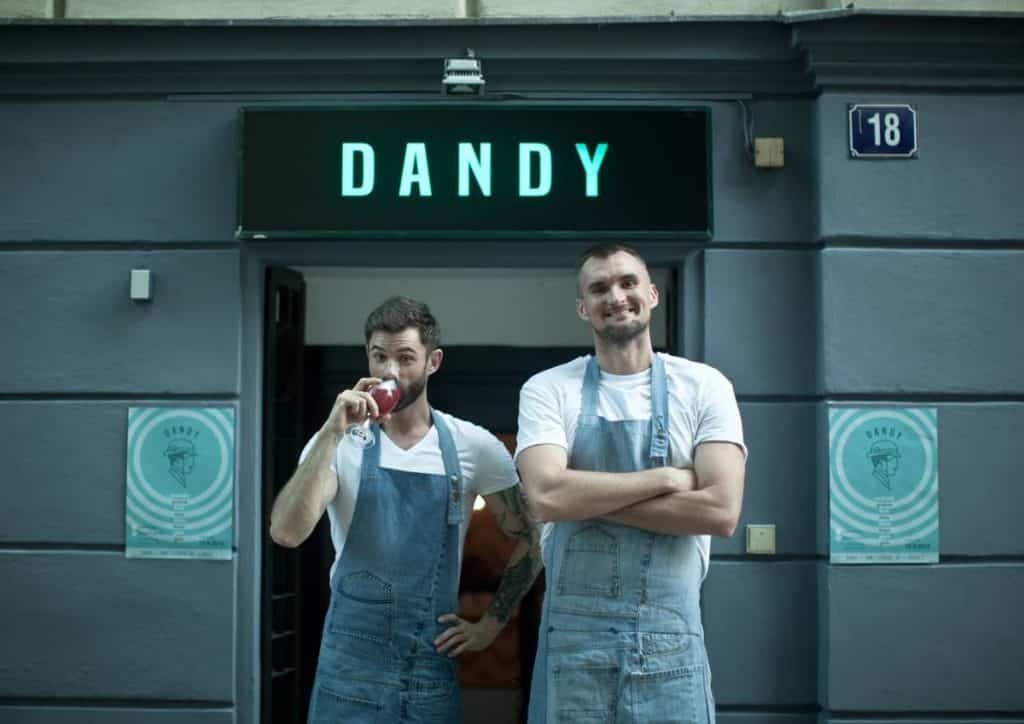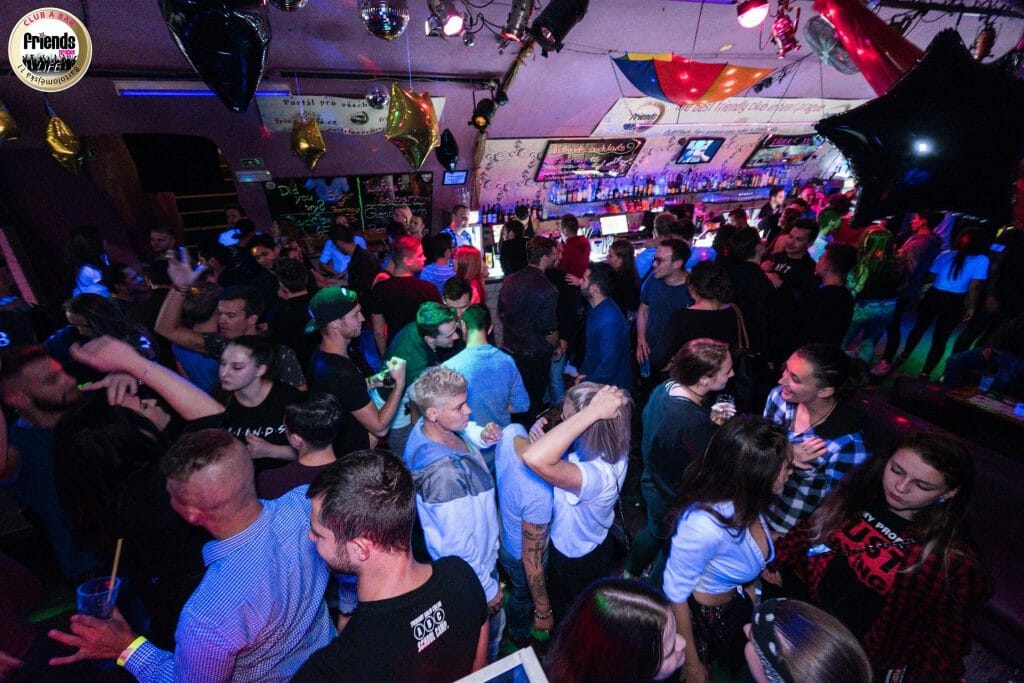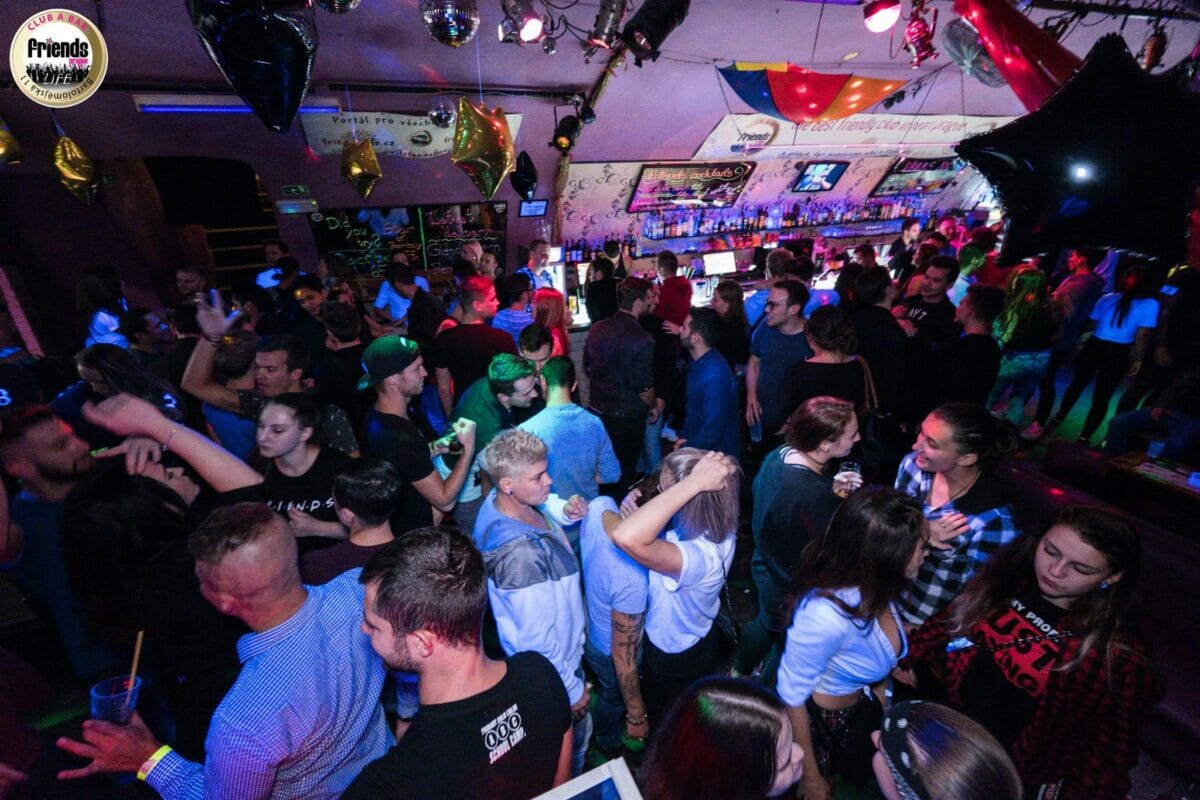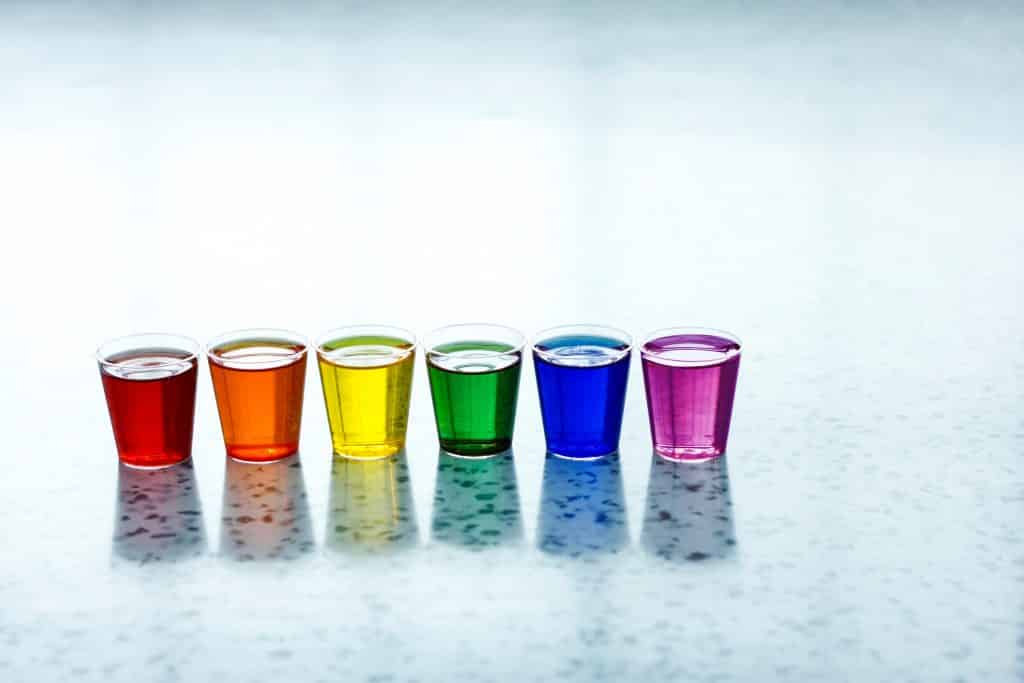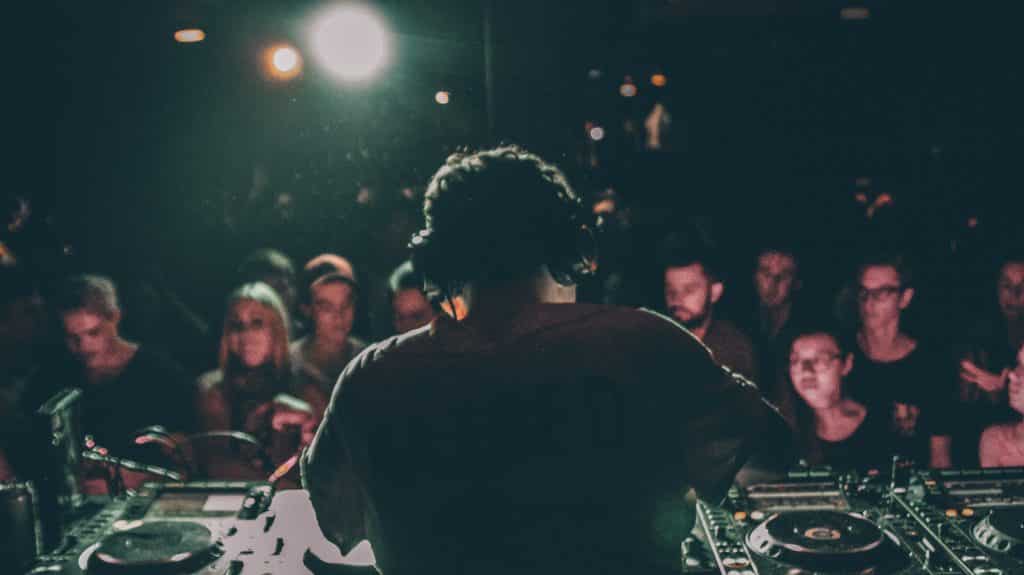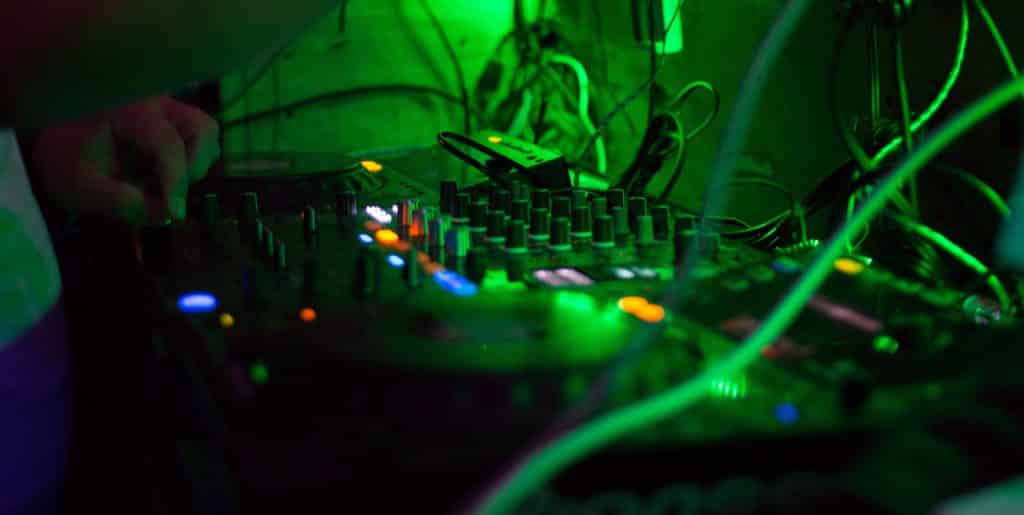 If you're a bit shy or just wanna meet other LGBT travelers, why not join the Prague Gay Pub Crawl? A totally unique experience beginning with a 1-hour open bar and free shots then VIP entrance to 5 of the best gay venues in Prague before ending in an (optional) steamy sauna session!
Gay Cruising & Gay Saunas

in Prague
Those who are interested in the Prague gay sauna scene will not be disappointed, unlike in other Eastern Europe Capitals like
Bucharest
. In fact, the cruising clubs and gay saunas in Prague are amongst the best in Europe competing with
Vienna
, Berlin,
Paris
and
Brussels.
Sadly however many venues are full of attitude so decide carefully where you want to decide – and rent boys in Prague are pervasive here. We recommend Sauna Babylonia, Drakes Club, and Alcatraz to avoid the worst of this and to read our
first-time gay sauna guide
if you want to know what to expect! In any case, your experience in the gay sauna of Prague will really depend on timing with the afternoons on weekends being the most popular time, since almost all the gay clubs in Prague have their own darkroom there is no need to leave…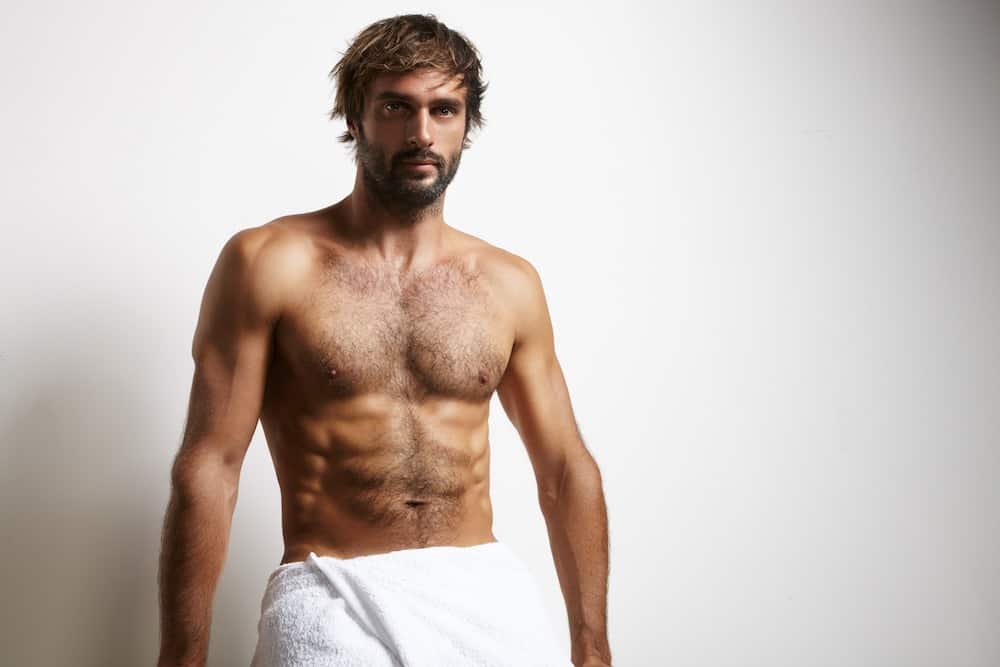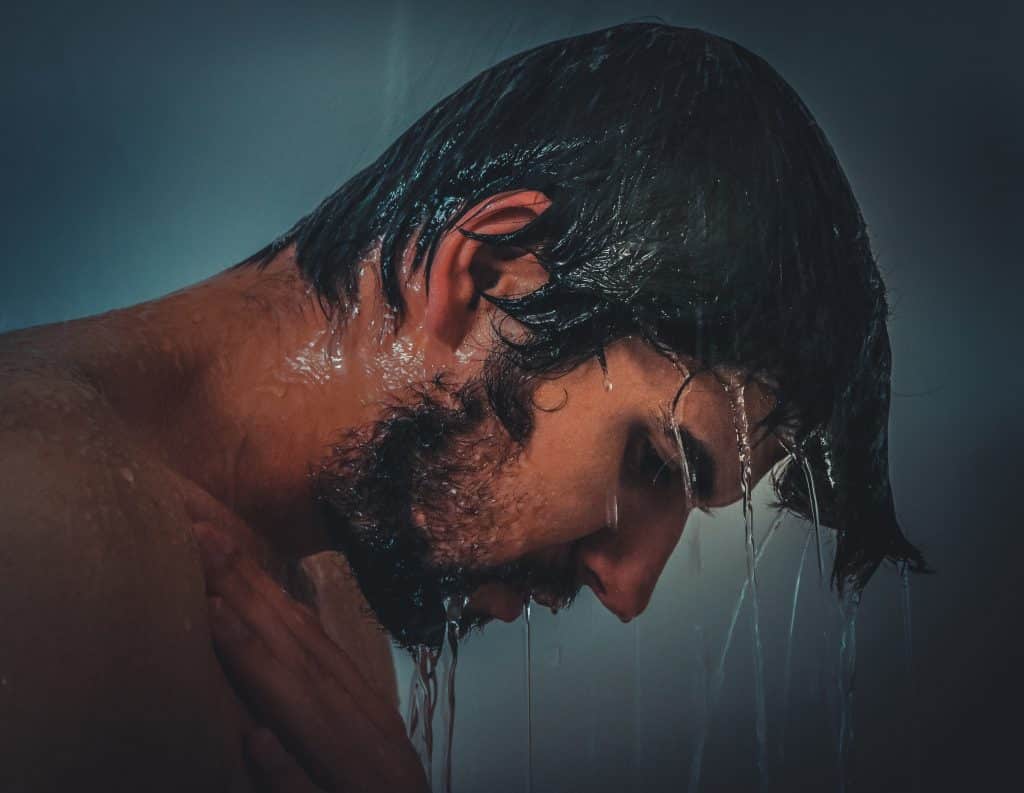 Gay Cruise Bars

in Prague