Whether you go on holiday for the suntan, new experiences, to blow off steam, or just to escape the daily grind, we're willing to bet that you want to feel relaxed and free to be yourself. Thankfully the resorts and gay hotels in Brighton allow you to do just that – to be 110% yourself, without a single double-take, all in the company of other open-minded folks.
Brighton is a popular seaside town that enjoys almost legendary status as a fun travel destination.
It's no wonder why: it has so much to offer in the way of entertainment and inspiration with its beaches, scenic walks and cycling paths (there is also a nudist bike ride event), its festivals, art scene, unique attractions, its diverse and stunning architecture, and its gastronomic offerings – especially the many Indian restaurants there.
But Brighton is also known as "The city where anything goes." The influx of soldiers coming and going through Brighton during the Napoleonic Wars gave rise to the beginnings of the LGBT community in Brighton.
By 1930 gay bars and pubs were popping up throughout the city, and with Brighton's easy access via London by train (Brighton is also known as London on the Sea, after all) it wasn't long until Brighton became known as a safe space for Londoners to explore their sexuality.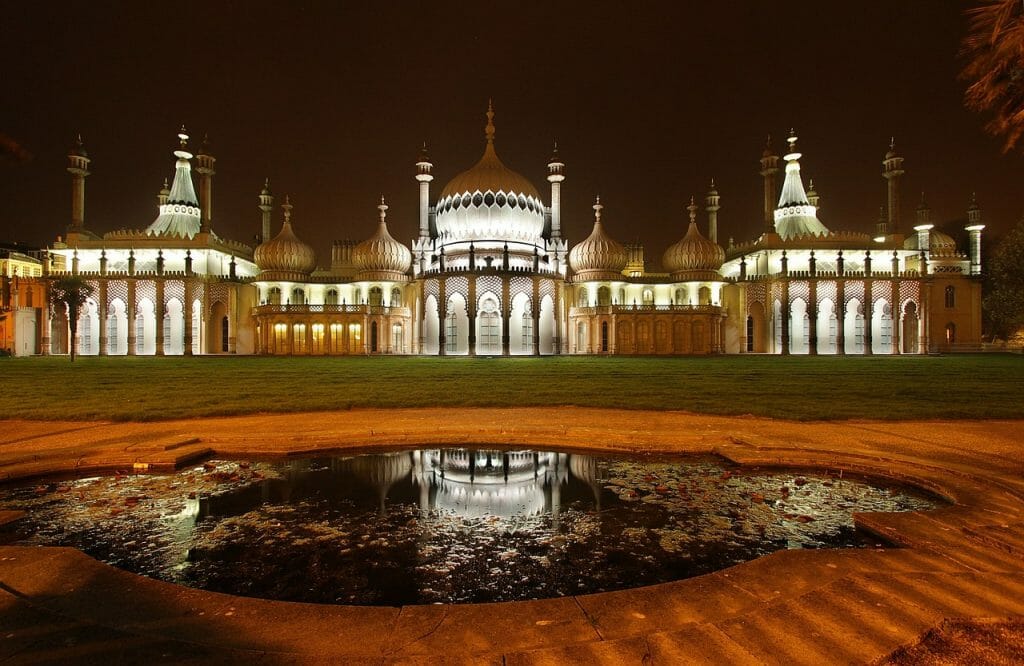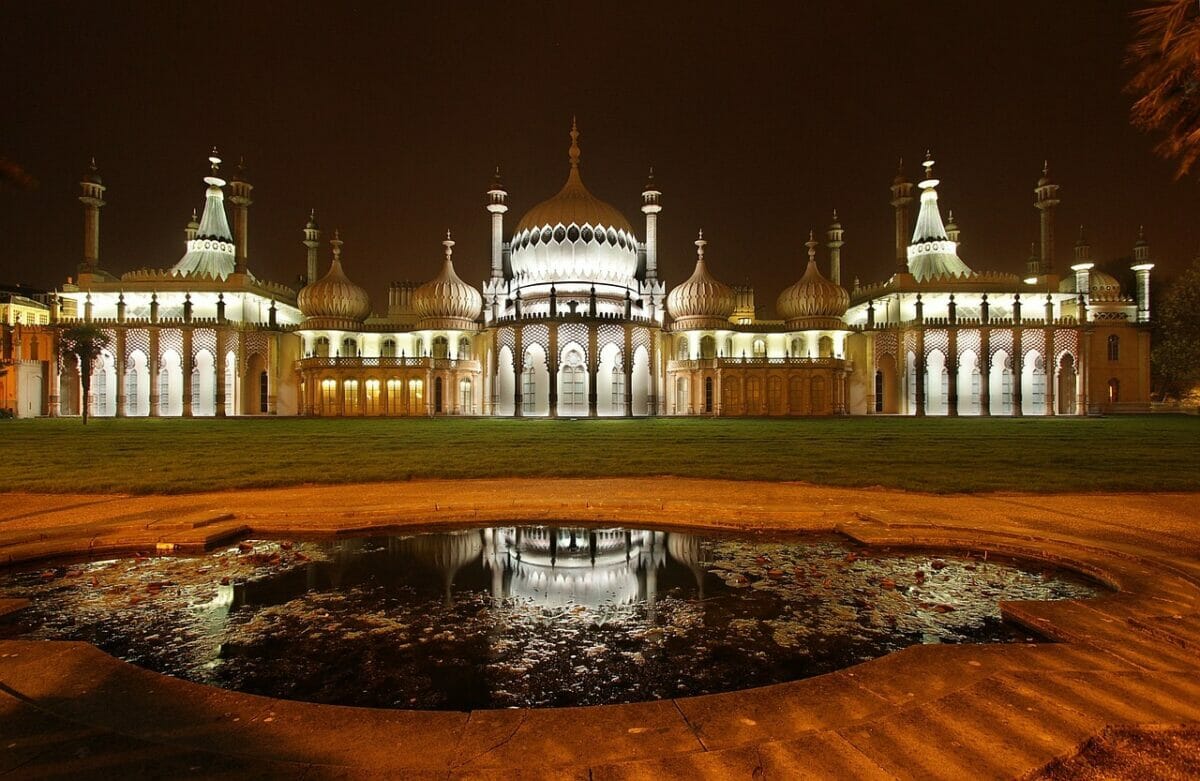 Brighton is known today as the unofficial gay capital of the UK (studies have shown it to also be one of the happiest places to live in the UK as well, making Brighton gay in the other sense of the word as well).
And really, that is Brighton's best attraction of all: its celebration of diversity, its open-minded and liberal attitude towards all lifestyles. It really is like London in miniature, and that makes it one of the best places to discover contemporary British culture and city life.
And Brighton isn't a gay travel hotspot for no reason. Each August it hosts the UK's biggest Pride event, Brighton Pride. Former headliner acts to have performed at this event include Kylie Minogue and Britney Spears.
And it's not just a parade through the city center, but a full-blown citywide party spilling out into places like Preston Park and numerous smaller bashes at the local clubs. And the fun is relentless at other times of the year as well, and you can count on Brighton to embrace the quirky, the eccentric, and the alternative.
Brighton's free-spirited nature is also reflected in its hotels. LGBTQ visitors have no reason to worry about finding gay and gay-friendly accommodations in Brighton. Here we have brought together the best of them in one handy list. Without further ado, let's have a look at them.
This newly renovated boutique hotel has been named one of Brighton's Top Ten Hotels by Times Magazine. It is an obvious pick for gay and lesbian travelers looking to enjoy the best of Brighton, with its choice of location in the middle of Brighton's gay village. The New Seine's setting in a five-story Georgian townhouse offers style to spare, with a hint of French influence.
Rooms styles include single, double, twin, deluxe, triple and quad rooms. Rooms are decorated in a contemporary chic style. Rooms come with free Wi-Fi, direct dial telephone, desk space, tea and coffee-making facilities, and flat-screen LCD TV with up to 45 channels.
For the single rooms the toilet and bathroom facilities are private and located just down the corridor (a dressing gown is provided in the room). Some single rooms now also have a shower cubicle of their own the room. Luxury toiletries included. At the high end of the accommodation range, the triple and quad rooms have their own private ensuite bathrooms.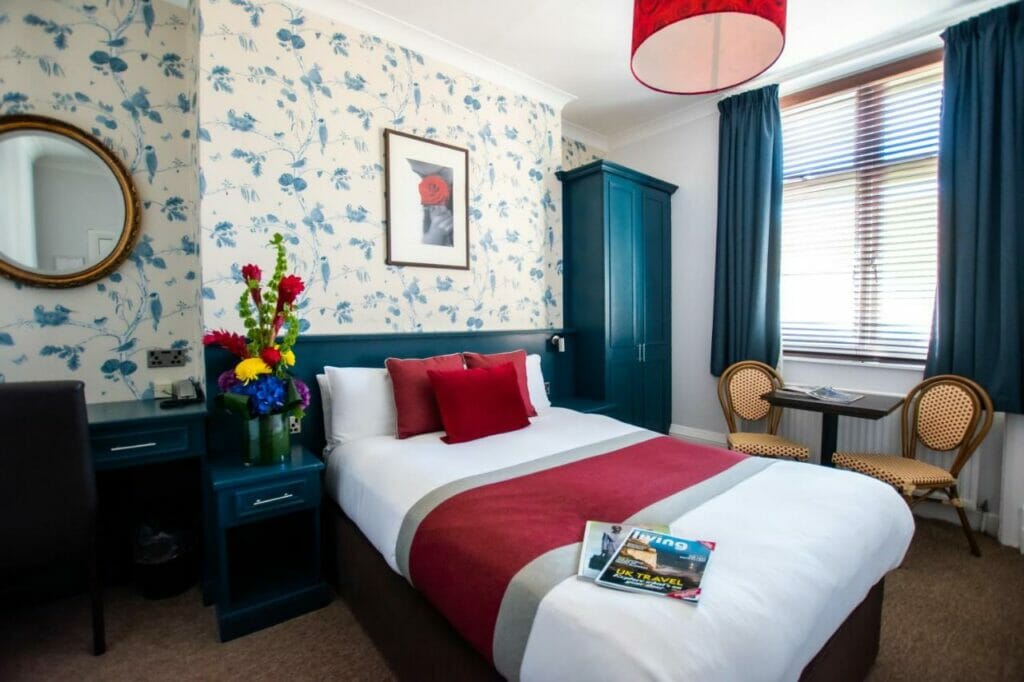 The New Seine Bistro is open 7 days a week, offering French cuisine as it has for the last 20 years. The main courses in particular have a south of France influence.
Recently the New Seine Bistro has been awarded the AA Breakfast and Dinner Award in recognition of its outstanding quality and service, with food locally sourced from Sussex farmers and producers. It also has a breakfast buffet open each morning and a snacks menu. Private in-room dining is also available.
The New Seine is well deserving of its status as one of Brighton's most esteemed gay-friendly hotels. For LGBTQ tourists looking to explore the gay nightlife scene, the New Seine's central location should not be overlooked.
There's no denying the distinctive allure of this Victorian Brighton icon. Ideally situated on the seafront where it takes center stage, the gay-friendly Grand Brighton is without a doubt the most world-renowned hotel in the city.
Aside from being a major landmark in UK history, the Grand Brighton is also a recently refurbished luxury hotel blending traditional grandeur with modern design, and boasting some of the finest accommodations in the city.
Classic and deluxe-style rooms are available, as well as king suites. Many rooms afford excellent sea views. The air-conditioned rooms feature complimentary high-speed Wi-Fi, a work desk, a 32" flat screen TV, tea and coffee making facilities, safe, and ensuite bathrooms with bath and shower, also luxury bathrobes and a hair dryer. Beds feature Egyptian cotton linens.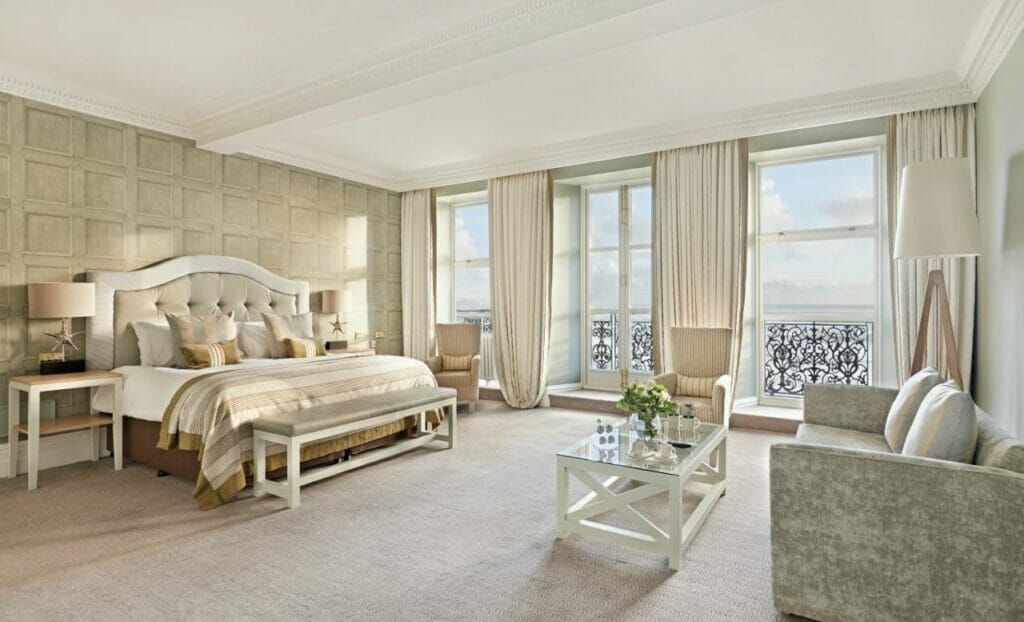 For an unforgettable gastronomic experience in a gorgeous setting, the Grand Brighton has multiple choices. The art-deco-inspired Victoria Bar & Lounge provides a dreamy spot to sip coffee or cocktails, with a cocktail menu that fuses the classic and the innovative. The bar also offers locally distilled spirits and limited-edition liqueurs alongside a carefully curated list of wines, beer and fizz.
The sun-soaked Victoria Terrace is home to the hotel's iconic afternoon tea, a can't-miss experience even if you aren't British. The terrace also has seasonal grill specials. And the Cyan restaurant is the place to enjoy an exquisite meal right at the hotel. The two-course Sunday Roast is a guest favorite.
With all this and world-class service to boot, Grand Brighton presents an exciting hotel option for visitors of all kinds, and LGBT visitors should seriously consider the opportunity to stay at this history-steeped hotel that embraces diversity and welcomes everyone.
It's easy to see why Legends Brighton is such a gay-popular hotel. This super LGBTQ-friendly hotel has a great central location just minutes from the Brighton Palace Pier as well as some of Brighton's best shopping and entertainment, with Lanes Shopping and Entertainment Quarter nearby. Brighton Pavilion is also just minutes away.
Legends has a range of room styles offering something for all tastes, needs and budgets. Room amenities vary but generally include 24-hour reception, flat screen TV, tea and coffee maker, free wireless internet, street views, private bathrooms with shower and free toiletries, ironing facilities, telephone, and most importantly comfortable beds. Single, double and superior rooms are available.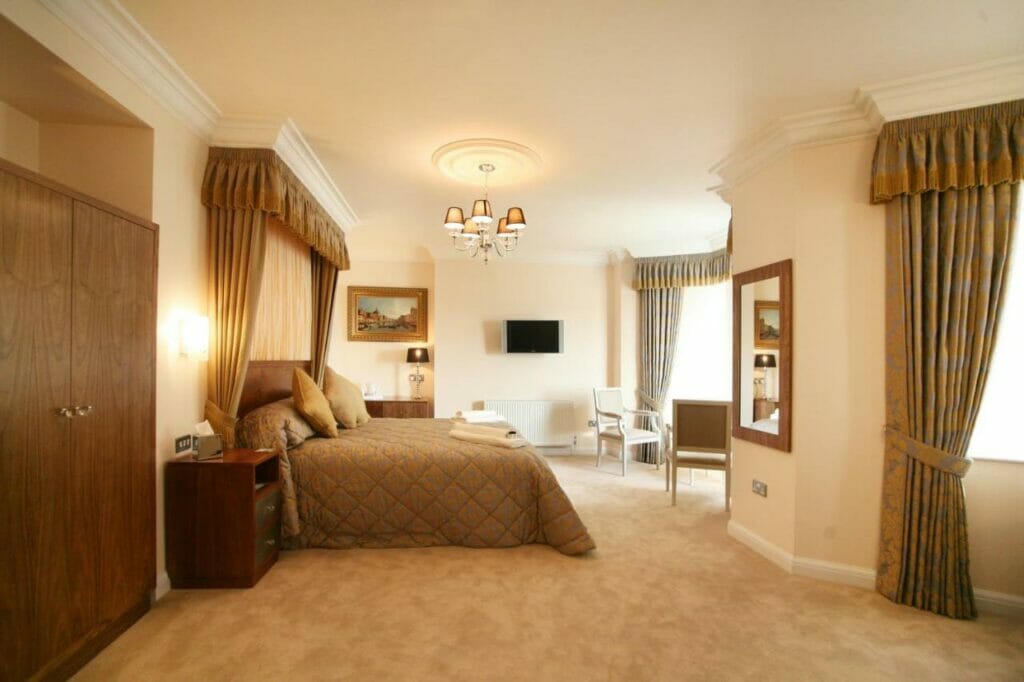 Legends Bar makes a great spot to sip coffee and cocktails, grab a delicious bite, or just sit back and enjoy the panoramic views of the sea from the biggest terrace bar in the city. sophisticated and vibrant, yet relaxed, Legends Bar is home to a traditional Sunday Roast as well as Sunday Cabaret – a Brighton mainstay.
The Basement Club is Legends Brighton Hotel's on-site subterranean nightclub: unique, sexy, gorgeous, and ultra-stylish. The club has great music each night from a range of the top DJs who play the UK's top gay venues and is the perfect complement to Legends Bar.
Club nights include Night Shift on alternate Fridays, with dance anthems, chart remixes, and mashups, and Pop Candy also on alternate Fridays with all the best Pop chart and disco tunes. The club is a guaranteed good time for all.
You won't find a more gay-friendly hotel establishment anywhere in Brighton. And with so many gay clubs and bars nearby, you may have a hard time tearing yourself away to explore the rest of this incredible city.
Drakes is a "handmade" gay-friendly 4-star hotel that puts an emphasis on design. Ideally located on Brighton's seafront, Drakes is now in its 13th year of operation and continues to set the benchmark with its award-winning quality and service.
Drakes 20 bedrooms are all individually designed to make the most of the space and features of each room, and all are packed full of the best comforts. Arrival packages can be ordered when booking, and they'll be there waiting in your room when you arrive. These packages can include champagne, flowers, chocolates, even massage and other treatments.
Among the niceties, you'll find in all our Sky TV on flat-screen televisions, are complimentary bottles of sparkling Hildon water, also tea and fresh ground coffee, and if you prefer milk, a latte or cappuccino that can be brought to your room. Instead of a minibar, the hotel prefers to bring made-to-order drinks to your room; just call reception to order.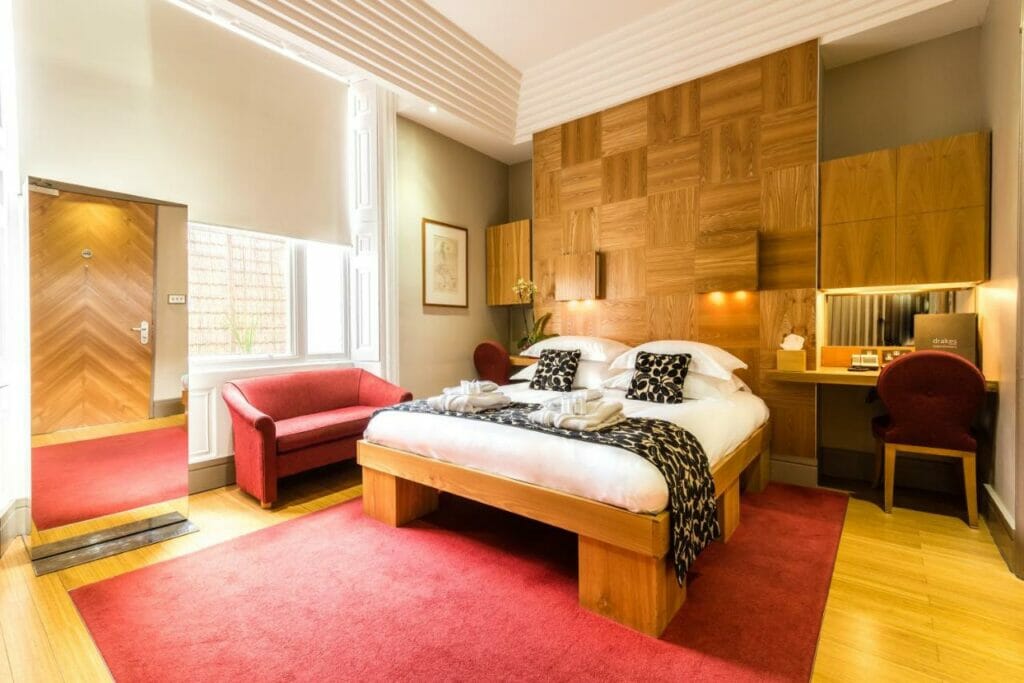 Guests also get complimentary individual gift packs of White Company toiletries, as well a pair of Drakes branded luxury slippers, and a waffle robe is yours to use for the duration of your stay. You will also find in your room a selection of premier magazines like Food and Travel if you feel like getting in some quiet reading time. And free wifi is available throughout the property.
For on-site dining guests have options. Amarillo at Drakes offers a fine dining experience, with a range of culinary delights and a tasting menu featuring such fare as Pan Fried Stone Bass and Venison Tartare, just to name a few.
The drinks menu is as long as it is decadent, with spirits in addition to soft beverages and water. Also, beer and cider, and the wines list including white, sparkling, rose, dessert wines, and more.
The Bar at Drakes offers bespoke cocktails, premium spirits, and a pleasing range of fine wines and champagnes. There is also a range of craft beers. The intimately laid-out bar affords stunning sea views and is an inviting place to relax and enjoy a morning cappuccino or an afternoon cocktail.
For gay-friendly hotel accommodations, it doesn't get much better than Drakes: great design, great style, great service, great location, and an accepting atmosphere that is welcoming to everyone. One of the best luxury hotels in Brighton, especially for LGBT tourists.
This LGBTQ-welcoming 4-star hotel is set in a historic Georgian building with 154 guestrooms, of which 49 overlook the world-famous Brighton Beach. If you are wondering where the name of the hotel comes from, one look at the imposing seafront structure will make it apparent.
It is just a 5-minute walk from Brighton Pier. There are many shops nearby for guests looking to experience Brighton's renowned shopping scene, and the gay bars and clubs of Kempton are just a few minutes walk away. So it is sufficed to say that you really can't beat the Old Ship's location.
What you also can't beat is the hotel's friendly, efficient staff, comfortable rooms and excellent value. All this makes The Old Ship Hotel a very gay-popular option. Standard and double rooms, as well as two-bedroom and deluxe suites, are available, each option even more spacious and luxurious than the last.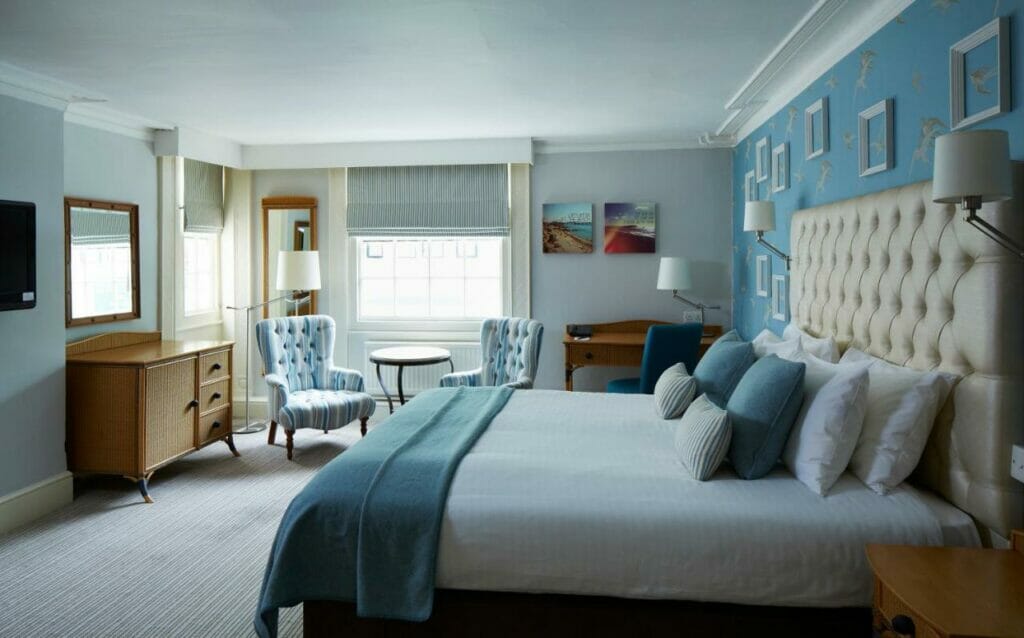 Standard room amenities are comfortable lounge chairs, flat-screen TV with Freeview channels, coffee-making facilities, a workstation with stationary, and free Wi-Fi. Upgraded rooms feature minifridges with welcome refreshments and Nespresso machines, and luxury bathrobes are included. The hotel also has a fitness gym that guests can make use of if they are so inclined.
The Wardroom restaurant offers fine a la carte dinner service, serving delicious starters, main meals and desserts. The menu varies as ingredients come into season. At the Mess Deck Bar, guests can enjoy a casual dining experience in the lounge, with all food cooked to order by an expert culinary team using the very best of seasonal produce that is locally sourced whenever possible.
In addition to light meals, snacks and even afternoon tea, the Mess Deck has a lengthy selection of wines and both classic and exotic cocktails. The outdoor terrace is a fine place to relax, enjoy what the bar has to offer and watch the world go by.
The Old Ship Hotel is yet another great accommodation choice for gay, lesbian or bisexual visitors in Brighton. The hotel has so much to offer in the way of great service and comfortable rooms, in addition to the friendly and tolerant atmosphere guests will find here.
Hotel Nineteen is a smaller gay-friendly hotel in the heart of Brighton. With only 6 rooms, guests will be in for a very intimate and laid-back stay experience. The historic Victorian building is just minutes away from Brighton Pier and the Lanes, with an array of shops and entertainment.
Each of Hotel Nineteen's rooms is individually themed with splashes of color and features free Wi-Fi as well as complimentary snacks, fresh towels, crisp white linens, and everything you need to make your stay comfortable, relaxing and enjoyable.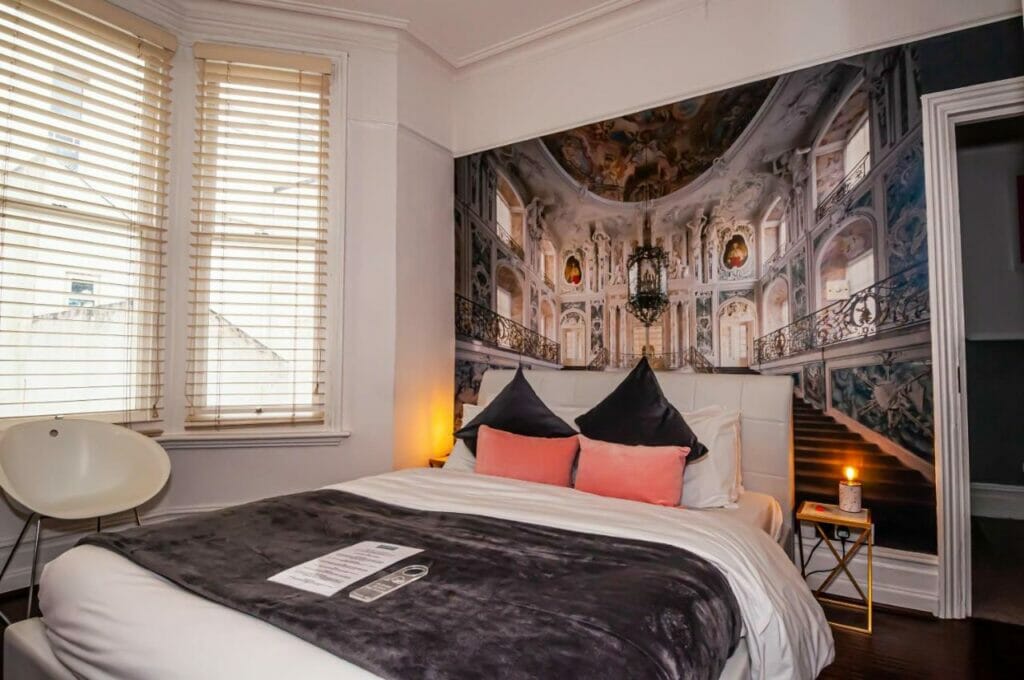 Each room has a smart TV, retro fridge, tea and coffee-making facilities, complimentary water and snacks, Bluetooth docking stations, towels, flannels, bathrobes, and ensuite shower rooms with Rituals bath products.
Rooms include housekeeping service. The hotel also offers a digital guidebook and an Instagram Room, where guests are free to capture special moments and post their pictures.
Hotel Nineteen definitely offers a different kind of stay for LGBTQ travelers visiting Brighton. But it has some of the best of both worlds with the cozy, relaxed vibes of a small hotel without compromising top-notch service.
This hotel has much more than just an interesting name going for it. Among the things that have been said about it are "Excellent location and immaculate with amazing facilities. Breakfast is sublime" and "Fantastic venue with excellent attention to detail and could not have been looked after any better.
" A Room with a View enjoys a prime location opposite the beach with the Palace Pier nearby. It is also situated on the seafront in addition to being adjacent to a garden square – hence the view.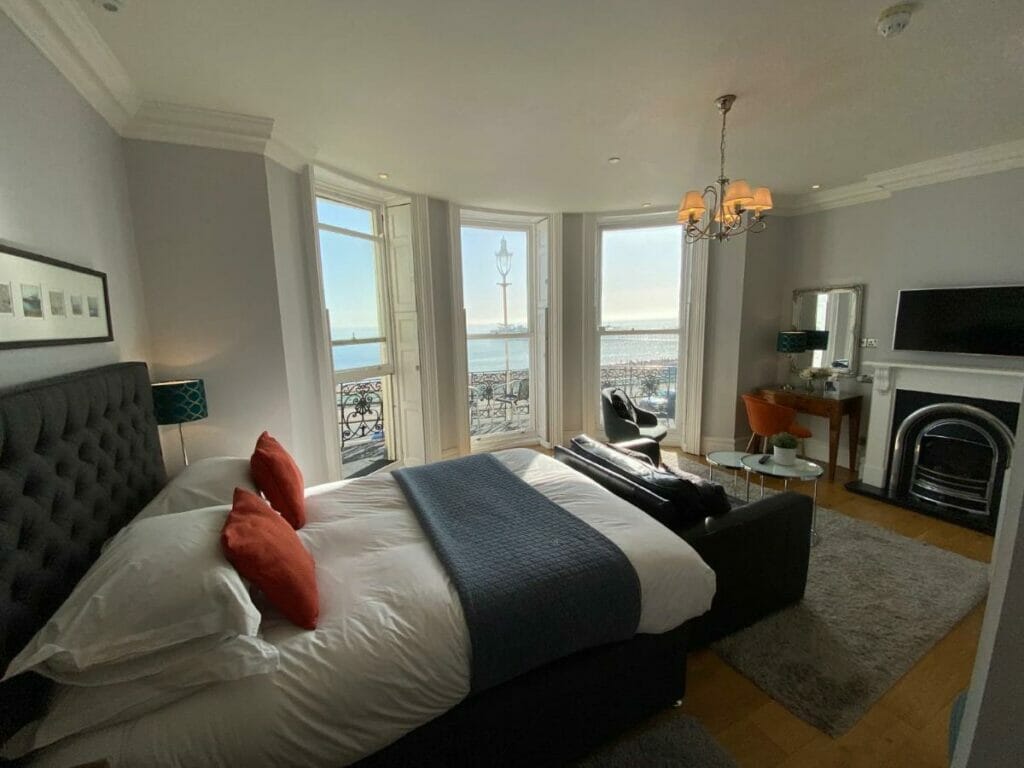 All this and with Kemp town and its gay village at your doorstep; A Room with a View gives gay visitors just about everything they could ask from a hotel in the location department.
It doesn't skimp in the accommodation area, either, with a range of rooms in its Georgian building, from singles to deluxe king rooms. Flat screen TVs, coffee and tea maker, refrigerator, iron, and housekeeping service included in rooms, along with bathrobes and complimentary toiletries. Some rooms have private balconies.
This stylish, funky, risqué hotel is just 20 minute walk from the gay village of Kemp Town and the best gay bars in Brighton. A fabulous gay-owned boutique hotel, the Pelirocco features a rock and roll theme in each of its rooms, from the Pin-up Parlour to the Play Room (the latter of which has a cornerless bed and a stripper pole!).
Hotel Pelirocco goes all out with the décor, featuring bright, vibrant colors, mirrored ceilings and spa baths. With its abundance of style and flair, this hotel makes for the perfect gay stay in Brighton.
The unique rooms offer something for every taste. Lover's Lair is one of the hotel's flagship suites and is perfect for couples in need of a luxe getaway and/or a dirty weekend. The newest room, Rebel Rebel, pays homage to the late David Bowie and features a double spa and dressing-up rail.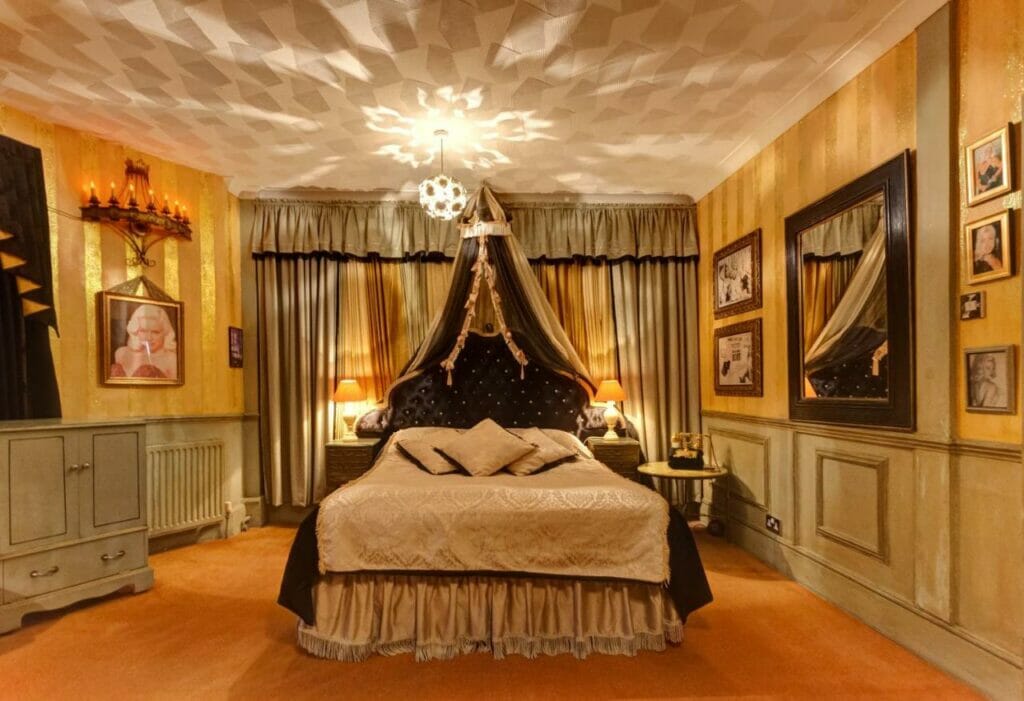 Dollywood is another popular accommodation, styled as Dolly's Country Cabin. The Nookii Room is another sexy choice for couples, and Dupenny Boudoir is a vintage-inspired room styled by Brighton's own Denny Design. And this is just a sampling of the 19 total rooms on offer, with a range of others available.
There is a wealth of extras available too, including boudoir photography sessions, messages, and Koibito love hampers coming in an array of choices – Like A Virgin, Love is the Drug, Get Your Rocks Off, and others.
These contain a selection of products to take your experience to the next level: adult toys and games, massage oil, condoms, bondage tape, paddles, tickling feathers, and the like. Other hotel extras guests can enjoy our made-to-order room drinks, and there are even cocktail classes available right at the hotel bar.
Hotel Pelirocco offers a one-of-a-kind hotel experience with the best in comfort and luxury, and with a super-accepting setting – it is almost impossible to feel unwelcome here. For a certain kind of traveler looking for a certain sort of getaway, whether with a partner(s) or single and ready to mingle, this hotel could be the perfect choice in Brighton. You are guaranteed to find no other like it.
We have quite possibly saved the best for last with this adults-only gay hotel in the heart of Brighton's gay hub, Kemp Town. This party hotel exudes friendly vibes toward everyone – LGBTQ guests are no exception. And for those looking for Brighton's best gay nightlife and entertainment, there is no beating Amsterdam's location, which is why it is so gay-popular.
With such fabulous venues as a bear den and Brighton LGBT institution The Camelford Arms and shops like Nice 'n' Naughty right at your doorstep, it might be hard pulling yourself out of the hotel's immediate area to explore the rest of Brighton. And that's not a bad problem to have on any getaway.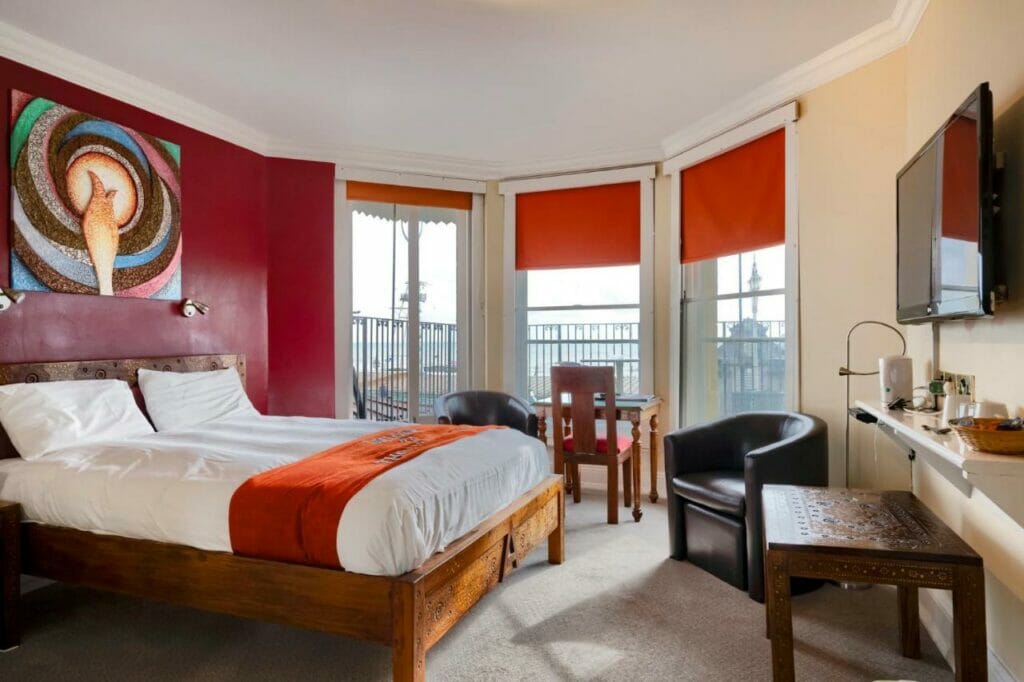 A variety of rooms and suites are offered, and there is accommodation for every taste and budget, from standard single rooms to sea-view double rooms to a penthouse suite for the very best in luxury accommodation. Rooms are generally no-frills but have all the standard amenities you would come to expect from a fine hotel. The hotel is for 18 and over only, and it has a rule against hen and stage parties. Free breakfast is available.
Amsterdam's on-site restaurant is Centre Stage, which has quite an extensive menu with breakfast and brunch options as well as a Buckets and Slates menu, Butty's and Wraps, burgers, artisan pizzas and main plates. Also sides, puddings, you name it. Hotel guests will certainly be spoiled for choice when they dine at Centre Stage, with more delicious offerings than they can hope to try in any one stay.
Amsterdam in Brighton is truly one of the best accommodation options for LGBTQ visitors in this fabulous city. Neither hotel nor the city should be missed.