Whether you go on holiday for the suntan, new experiences, to blow off steam, or just to escape the daily grind, we're willing to bet that you want to feel relaxed and free to be yourself. Thankfully the resorts and gay hotels in Torremolinos allow you to do just that – to be 110% yourself, without a single double-take, all in the company of other open-minded folks.
If you have never heard of Torremolinos on the Spanish Costa del Sol, then it's about time you did. This once tiny picturesque fishing village has transformed into one of the hottest gay holiday destinations on the whole continent.
And with its wide beaches and gorgeous Mediterranean climate, it's no wonder why Torremolinos is so popular with sun-seekers of all sexual orientations and gender identities – it isn't called the Costa del Sol (The Sun Coast) for nothing.
And with the tourism boom that ensued in the latter part of the 20th century, Torremolinos acquired a liberal character thanks to international tourism. Today, Torremolinos is – much like most of Spain itself – a very progressive locale that embraces diversity and free expression.
What does all of this mean for the LGBTQ tourist in Torremolinos? It means that Torremolinos has some of the hottest gay nightlife in the country. The country's first gay bar, Tony's Bar, opened right here in Torremolinos.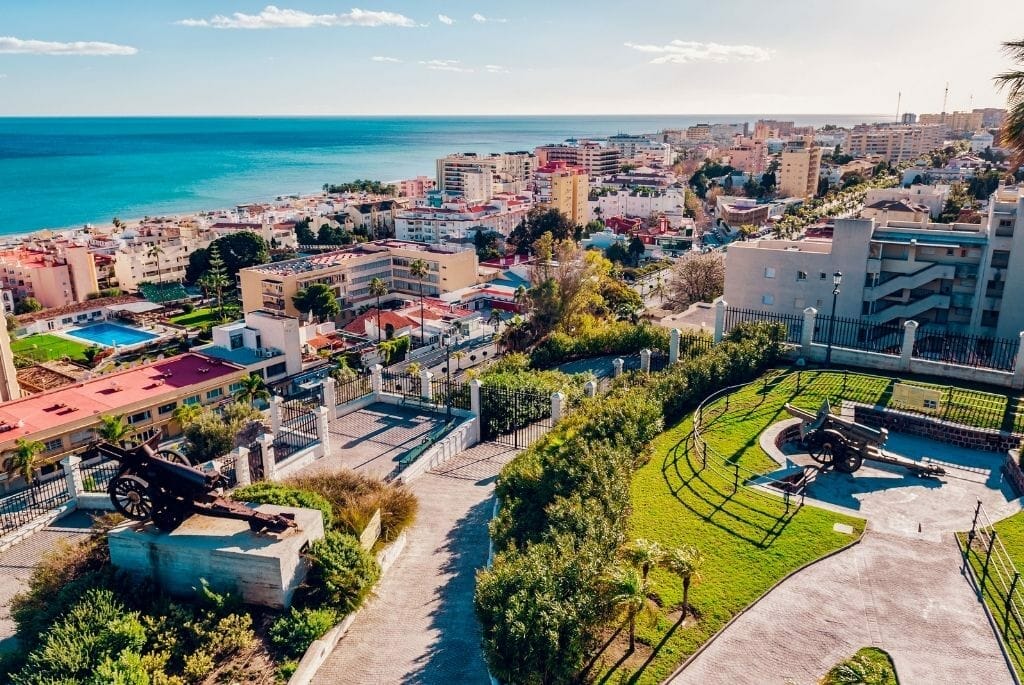 Cosmopolitan and hedonistic, Torremolinos has become extremely gay popular over the past few decades as a gay summer vacation spot, especially for LGBTQ folks from Madrid and Barcelona. Torremolinos' gay hub, La Nogalera, is a maze of bars and clubs where the historic mingles with the ultra-modern.
The gay scene here is punctuated by a huge Gay Pride event every year, with other LGBT events taking place throughout the travel season.
So as you might expect, Torremolinos is not lacking for gay and gay-friendly accommodations. Rest assured gay, lesbian, transgender, and gender-fluid or non-binary folks will have no problem finding a quality hotel with great service and amenities, and most importantly a tolerant atmosphere where all are welcome.
As an LGBTQ+ tourist, you are very unlikely to have any issues in Torremolinos; the city is a very progressive-minded one with open, cosmopolitan vibes where diversity is the norm. And for the very best of gay and gay-friendly hotels in Torremolinos, we have brought them together in this handy list. Feel free to peruse, for there are no losers anywhere on this list.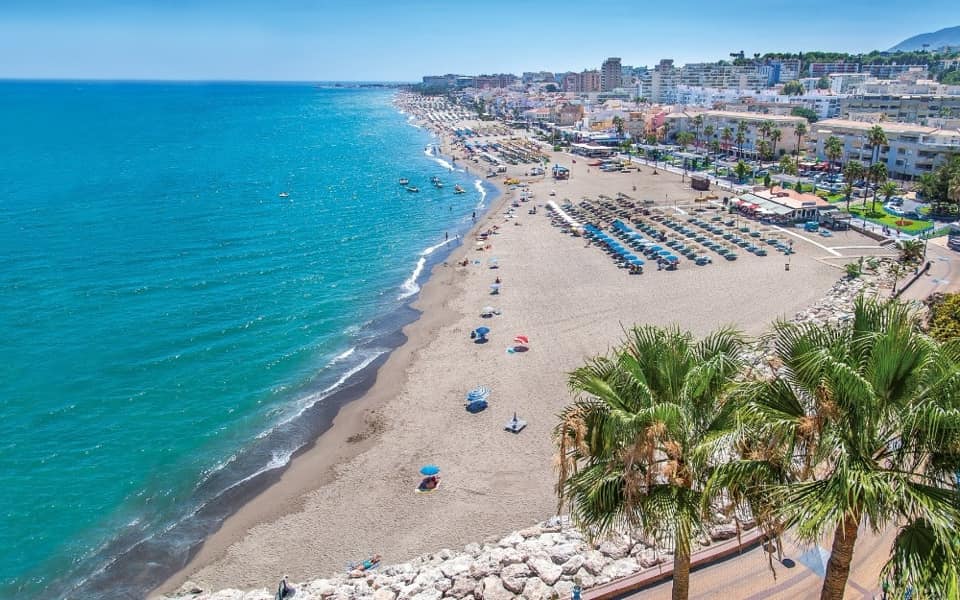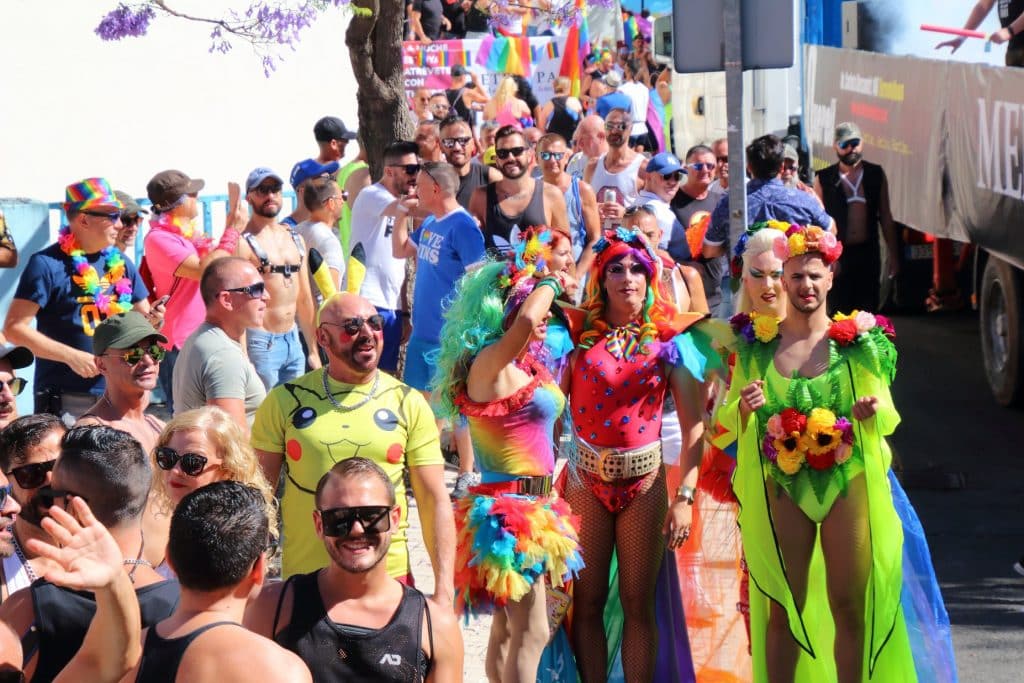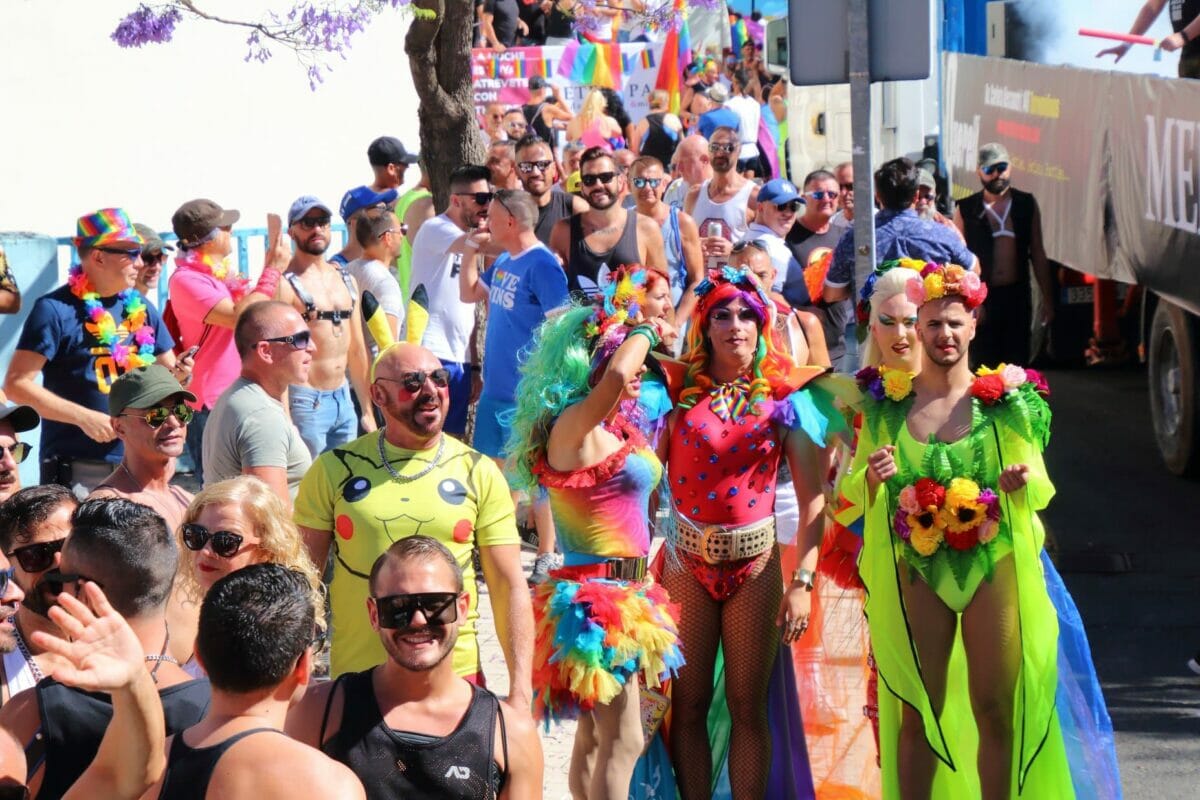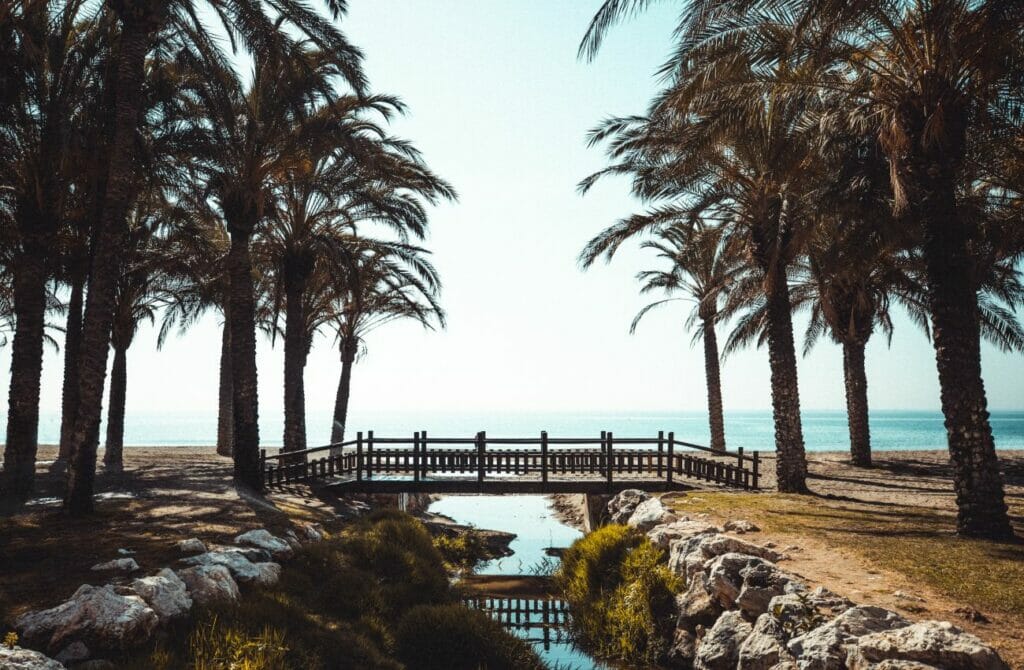 Hotel Ritual Torremolinos is an openly friendly accommodation on the Costa del Sol in Malaga. It allows direct access to Bajondillo Beach, as well as the center of Torremolinos and the Nogalera area. The entirely refurbished Hotel Ritual offers avant-garde style, rooms with sea views, a sauna & spa, and an infinity pool within the nudist area, with a rooftop bar.
Rooms come with satellite TV, a private balcony, room service, a mini bar, free Wi-Fi and more, and rooms are also pet friendly, so guests can feel free to bring their furry friend along.
The 166 Standard Double Rooms are outfitted with queen or double beds, while the 15 Superior Doubles offer an upgraded experience with more spacious accommodation. The 8 Junior Suites are the epitome of luxury at the Hotel Ritual, offering top-of-the-line comfort.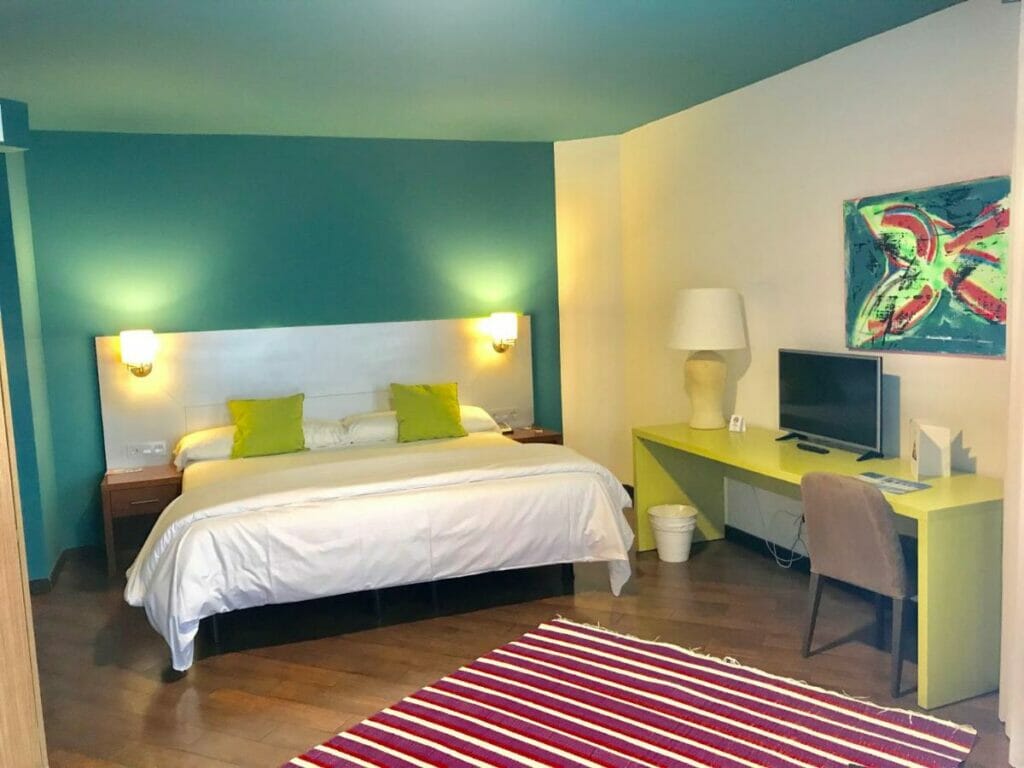 On the ninth floor of the hotel, you will find the nudist area and rooftop bar, where the stunning views of Bajondillo Beach aren't the only stunning views to be had. Here also is the infinity pool – the perfect place to take an invigorating swim or just relax and sunbathe while enjoying some of the best cocktails around. The poolside bar is open til dawn, so there is no reason to miss out.
The sauna-spa is state of the art, with a templarium, a dynamic pool, a Turkish bath, a sauna, a massage room and a chromotherapy area. There is also a gym so guests can stay in shape while staying at the Hotel Ritual — you'll want to look your best when you visit the rooftop pool, after all. Hotel Ritual has a boutique store selling everything from swimsuit attire to personal care products. Though best to back your gay swimwear prior…
Hotel Ritual Torremolinos is a very open and gay-friendly establishment offering not only a great location but also top-notch luxury service and amenities. It would be hard to top for LGBTQ tourists looking to experience fabulous Torremolinos.
This adults-only gay-friendly hotel is situated in the center of Torremolinos and is very close to Bajondillo Beach, with such landmarks as the Church of San Miguel and Plaza de la Nogalera also within a stone's throw from the hotel. Hotel Fenix is designed to facilitate a stay that is centered on relaxation and providing a tranquil stay experience for guests.
Elegantly designed and furnished rooms – all of which have recently been refurbished – have air conditioning, a desk, mini bar, kettle, flat screen TV, a safe, and a private modern bathroom with either a tub or shower.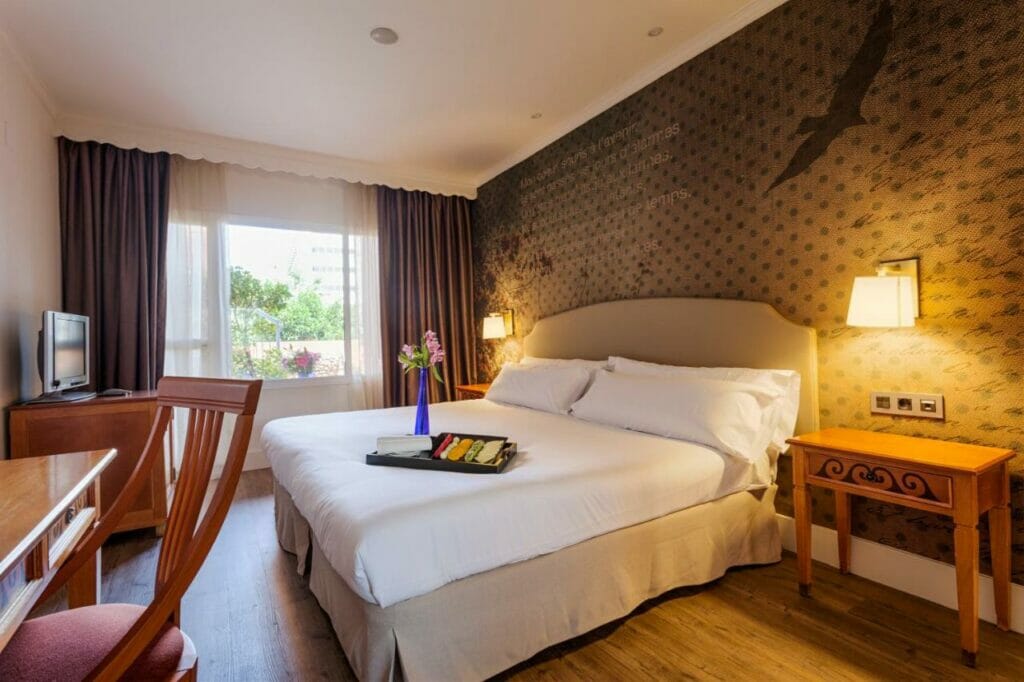 The hotel's spa and wellness center guests can enjoy a range of amenities and services. These include a sauna, Turkish bath and solarium. Messages and other treatments can be booked in advance.
On the seventh floor is Le Cliff Chill-out Bar, where you can enjoy light breezes and gorgeous views to along with relaxing music, chill vibes, and delicious cocktails. At the hotel's outdoor swimming pool, you will find a hidden treasure in La Rita Food Truck, which offers local products in addition to cocktails and soft drinks.
The rooftop terrace has some of the most relaxing ambiances anywhere on the property, not to mention a solarium and a Jacuzzi.
For a relaxing seaside hotel resort, with an open attitude that embraces guests of all lifestyles, the beautiful Hotel Fenix should be at the top of any gay tourists' radar for great accommodation in Torremolinos.
The Hotel el Pozo (meaning the hole, or wellspring) is another fabulous gay-friendly hotel with an excellent location in the center of Torremolinos. Not content to rely on a great location alone, Hotel el Pozo was renovated just a few years ago and boasts an accommodation offering that has the best in gay-friendly modern comfort, though it does so without sacrificing its distinct Andalusian charm.
A five-minute walk from the hotel will take you to the best beaches and shopping in Torremolinos – particularly the Calle San Miguel area. And the Plaza Costa del Sol, the hub of Torremolinos, is mere meters away from the hotel.
And for those looking to explore more of the heavenly Costa del Sol while in Torremolinos, a railway station is only 100 meters from Hotel el Pozo, and the nearest bust stop is 200 meters away.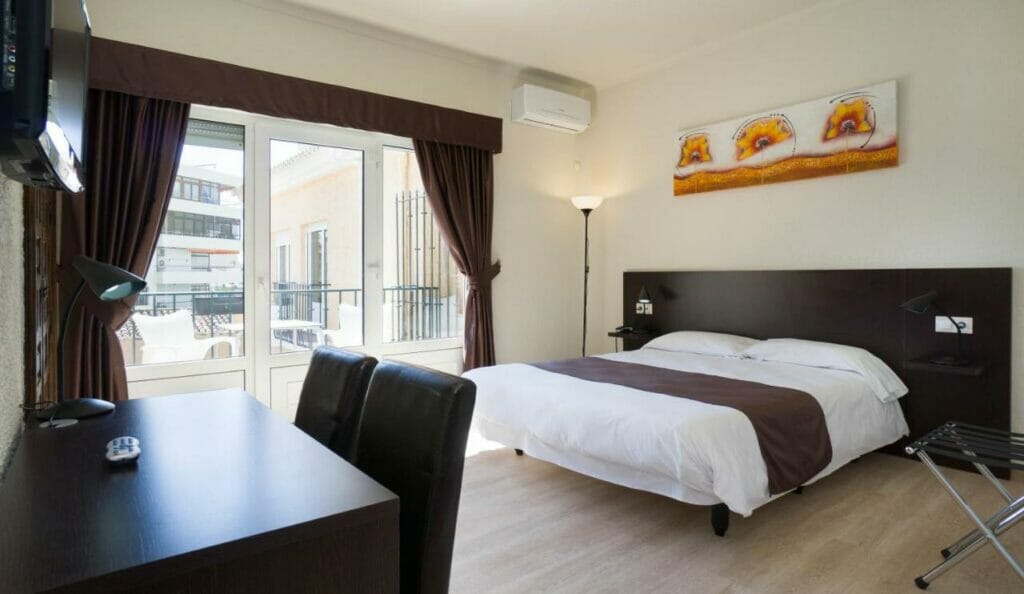 All rooms feature air conditioning, a flat-screen TV, and complimentary Wi-Fi. The minibar and cot are available upon request. Rooms are spacious, with quality beds, wooden floors and a private bathroom for all rooms.
Rooms feature double-glazed windows to reduce street noise and make your stay relaxing and comfortable. Room styles are single, double and triple rooms, and many afford fine views of Casablanca Street, the Pasaje de la Fuente or the hotel's interior patio.
Also available are a junior suite as well as a suite apartment that sleeps four, with a kitchenette, large screen TV and full-size refrigerator. The suite-terrace apartment can sleep up to six, and features a solarium, a Jacuzzi, a shower and a relaxation area.
The apartment is made up of two double rooms with a bathroom, a living room, a comfortable dining area and a kitchenette with a microwave, oven and fridge with freezer.
Hotel el Pozo offers a communal TV room for its guests and a billiards room, in addition to an Andalusian-style patio and a bar with 24-hour service. The cafeteria/restaurant has a wide range of breakfast options as well as freshly baked pastries, and for lunch and dinner options there is an array of cuisine including Spanish, French, Dutch and Belgian.
All told, you will be hard-pressed to beat the Hotel el Pozo as a gay-friendly accommodation and a fine hotel that embraces diversity.
This fine gay-friendly hotel sits right on the Paseo Maritimo beachfront. The international airport is only 7 kilometers away and the AVE train station in the center of Malaga is only 12 km distant. Lucky guests at the Melia Costa del Sol will have the clean, sandy beaches of Torremolinos, including Bajondillo Beach, right at their doorstep.
There is a wealth of choice when it comes to accommodation styles, from classic rooms to master suites. Standard room amenities include room service and 24-hour reception, air conditioning and heating, Wi-Fi, desk, minibar, kettle, hair dryer, telephone, safe, and 32" LCD TV with Canal+.
Upgraded rooms offer more space, and some have sea views. The Master Suites are top of the line in terms of luxury and comfort, with spectacular views of the Mediterranean and two bedrooms, a separate lounge, and a full bathroom with a shower. These suites also have DREAM MAKER equipment which is exclusive to Melia.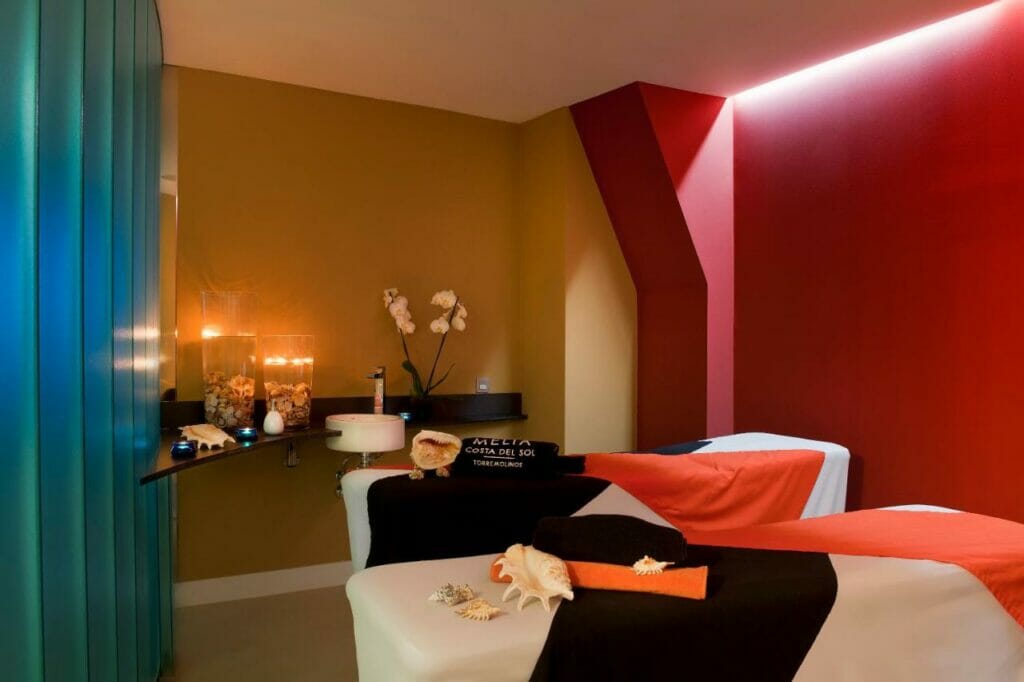 Hotel amenities include the outdoor pool overlooking the sea, with bar service and plenty of sunbeds. Other facilities are a fitness room, gardens, Marino Spa, and Thalasso Spa with a sea-water pool, a steam bath, a sauna, and two massage cabins.
Dining options at the Melia are a plethora. The Sky & Sea Rooftop Pool and Terrace is a 1200 square meter space for guests 16 and over only, and has a bar-restaurant and sundeck, as well as areas for parties and such. The hotel's Beach Club is a new addition with Bali beds, cocktails, and invigorating sea breezes, not to mention some of the finest flavors to be found in the Costa del Sol.
The Buffet Restaurant features show cooking with splendid salad, veg, fish and meat dishes, as well as a wide selection of cheeses, fruit, and delicious desserts. Lastly, Bar Central offers excellent cocktails and a friendly atmosphere. Among the extensive drinks selections available are specialty gin and tonics. There is also live music, and views of the pool, the sea, and the Tropical Garden Terrace.
Melia Costa del Sol has just about everything LGBTQ tourists could ask for in an inclusive luxury hotel that respects individuality and welcomes everyone equally.
This recently renovated gay-friendly hotel offers just under 400 comfortable and well-furnished rooms for guests of all kinds. It also offers a great location in Torremolinos with the El Gato gay beach just a 10-minute walk away. The gay bars and clubs of La Nogalera are also within easy walking distance of Blue Sea Gran Cervantes. The airport is only 7 kilometers away, and the train station is also nearby.
The hotel boasts a long list of amenities, such as 24-hour reception, free Wi-Fi, disabled access, and an outdoor pool open in the summer season with a surrounding solarium with hammocks – providing the perfect opportunity to sunbathe or just relax while enjoying your favorite drink.
There is also a covered, heated rooftop pool with views of the Costa del Sol, in addition to a kid's pool to keep them away from the main area. For adults, there is pool and ping pong to be enjoyed, and if you are looking for something a bit more exerting, there is a treadmill, weights, elliptical, rowing and spinning equipment in the fitness area.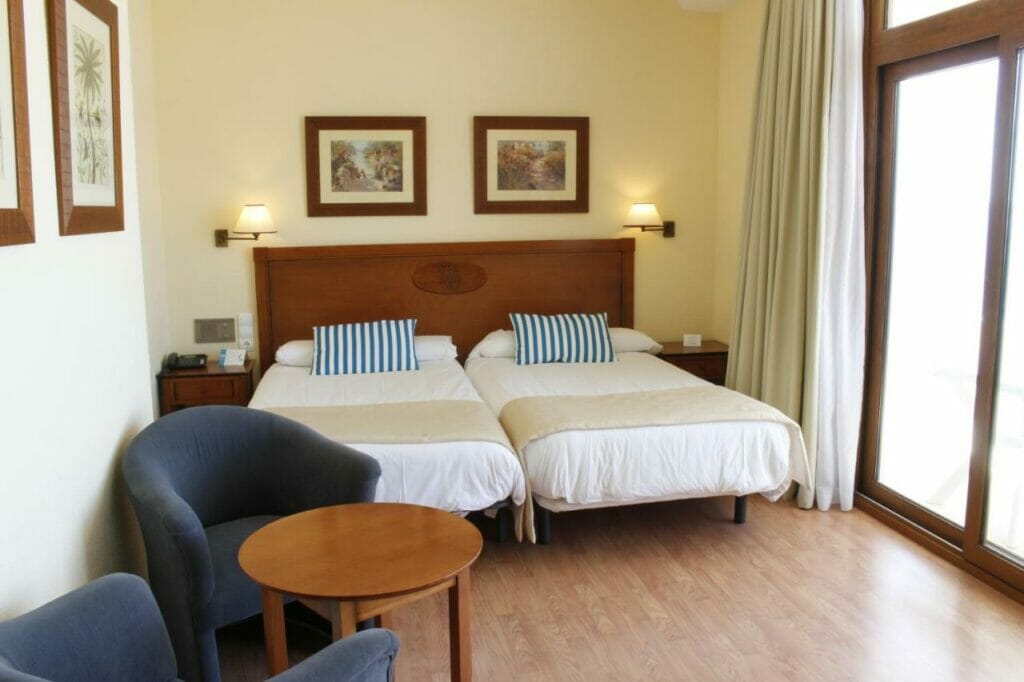 After all that strenuous activity, you might need to relax and loosen up with a message or a trip to the hotel's sauna. The rooftop Skyline Bar is another great spot to unwind and enjoy a beer or cocktail. The hotel restaurant offers buffet dining combining local food and international cuisine.
Single and double rooms are available, and all include free wireless internet access, air conditioning, television, and private bathrooms. Rooms also have terraces, some with views of the sea. An in-room safe and a minibar can also be had for an added fee. The double rooms offer either a double bed or two single beds.
With its great location in close proximity to the best gay nightlife and entertainment in town, not to mention the comfortable rooms and excellent service, Gran Cervantes by Blue Sea presents a gay-friendly accommodation choice that is hard to pass up, especially for those coming to Torremolinos to experience its famous gay scene.
This is an excellent, gay-popular 4-star hotel in the La Carhihuela district of Torremolinos. An adults-only establishment that is especially popular with couples, El Tiburon Hotel Boutique & Spa is but a short walk from the best beaches in Torremolinos.
This hotel has been around since 1963 and was one of the first modern hotels to open its doors on the Costa del Sol. So it goes without saying that El Tiburon has great service down to a science at this point. In 2014 the hotel was renovated to make it even more modern and cosmopolitan than ever. And it has since gone on to reclaim its place as one of the most exclusive hotels in Torremolinos.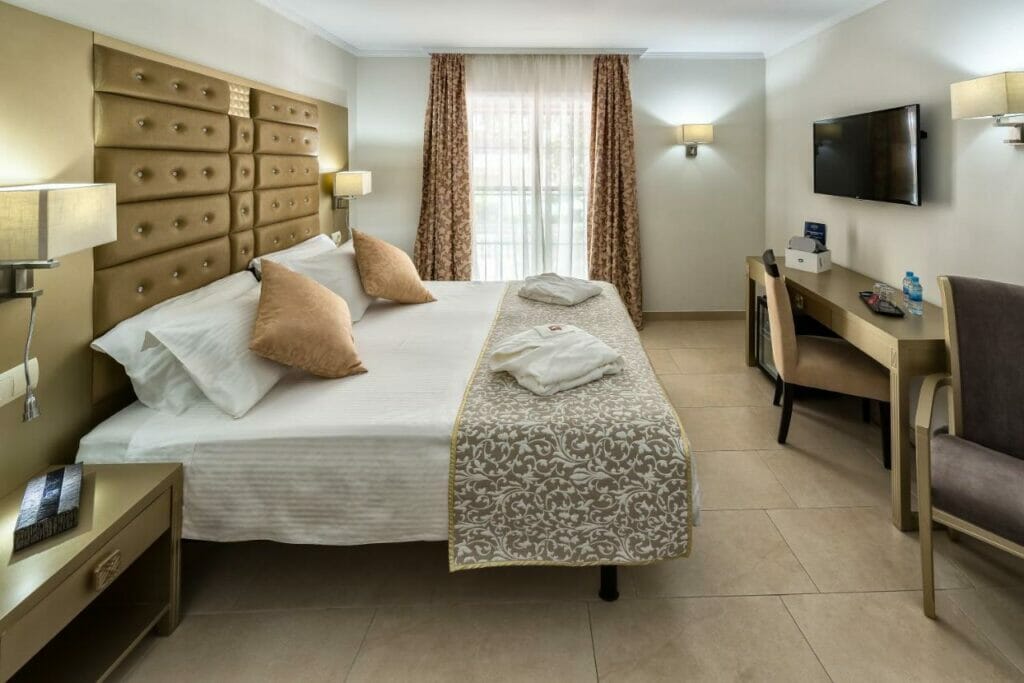 Rooms boast ultra-modern design, with optimal comfort in mind and style to spare. Double twin, double standard, double superior, and double with terrace are your accommodation options and El Tiburon. Rooms feature double-glazed windows and double curtains for added privacy and relaxation.
Rooms also come with 32" flat-screen TVs, a safe, mini bar, air condoning, a kettle, and a private bathroom with a shower or bathtub, toiletries included. In some cases, the terrace rooms afford views of the Mediterranean.
Particularly favorited by guests is the hotel's wellness options, with massage, sauna, and hammam all available – it is the perfect way for individuals and especially couples to pamper themselves.
There is also a seasonal swimming pool. El Tiburon is yet another excellent choice that LGBTQ visitors to Torremolinos can't really go wrong with, for it embraces the same inclusive atmosphere and celebration of diversity as Torremolinos itself.
An adult-only four-star hotel that is friendly toward all guests including LGBT ones, AluaSoul Costa Málaga is a mere 1.5 km from Playamar Beach and offers 243 fully renovated rooms that combine design and innovation with comfort, for adults of all lifestyle types.
Bajondillo Beach is only 10 minutes from the hotel on foot, and Torremolinos train station is also close at hand. La Nogalera and the town's best gay nightlife can also be reached in 10 minutes, and a shuttle service to the town center is available.
The outdoor private pool has a solarium area with hammocks and parasols, the perfect place to unwind, preferably with a drink in hand. And guests at the AluaSoul Costa Málaga have access to a free bus that takes them to the beach and a special discount pricing on rentals of sunbeds and umbrellas. The hotel itself boasts a games room and gym.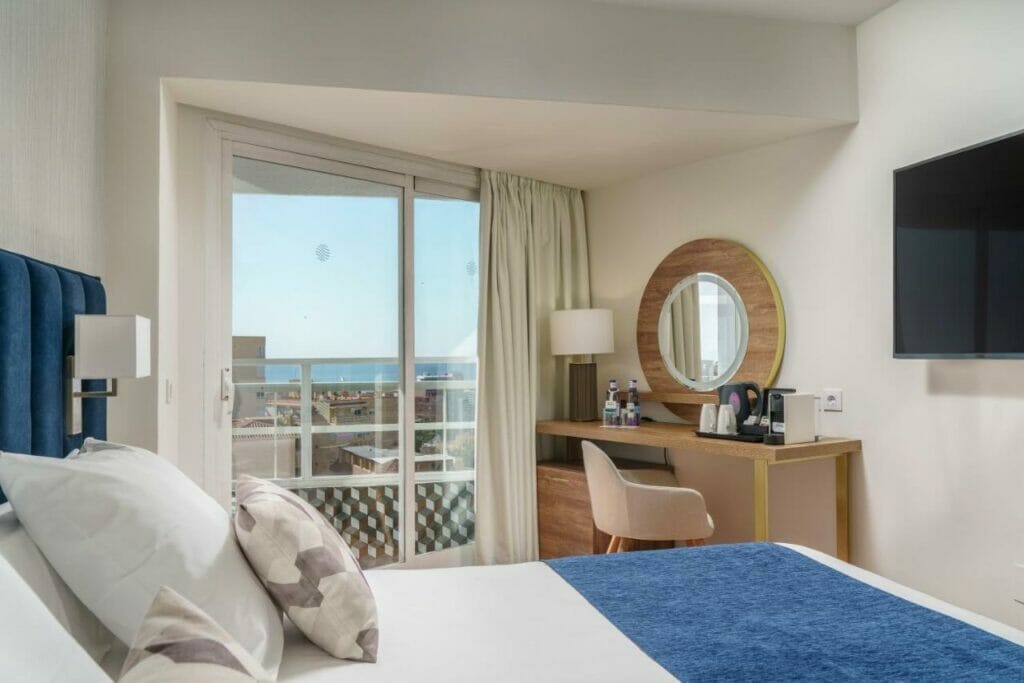 Rooms include 55-inch smart TVs with satellite channels, an expanded selection of mini bars and luxury amenities, a welcome bottle of cava (a sparkling wine), Nespresso machines, a telephone, and more. Rooms are air-conditioned, and Wi-Fi is available throughout the hotel. Room types include double rooms and suites of various styles.
There is a buffet restaurant with authentic Mediterranean cuisine and a terrace for highly enjoyable al fresco dining in the sea breezes. Gluten-free, vegan and vegetarian dishes are available. Also, there is a bar overlooking the pool, where you can enjoy a drink or a snack by the water or savor a delicious cocktail in the sun.
AluaSoul Costa Málaga is an excellent adult-only choice of accommodation for guests of all lifestyles, where you can enjoy all the comfort and amenities you would expect from a fine four-star hotel.
Just as one might expect from this trendy gay-friendly hotel, it is indeed practically right on its namesake beach. Modern, quiet and adults only, this establishment is the perfect place to base your Costa del Sol experience with your significant other.
It offers an intimate, relaxing stay experience that you won't find at all hotels in Torremolinos, with highly personalized service and attention that some of the bigger hotels can't always offer.
Besides its close proximity to Bajondillo Beach, this hotel enjoys an ideal central location with such eateries as Casa Juan Los Mellizos, Tiki, and The Bailey Irish Pub all within walking distance, in addition to the Church of San Miguel and Plaza de la Nogalera being within a quarter mile of the hotel.
For those looking to explore a little further La Carihuela, Calle San Miguel with its fantastic shopping opportunities, and Parque la Bateria are all within one mile away.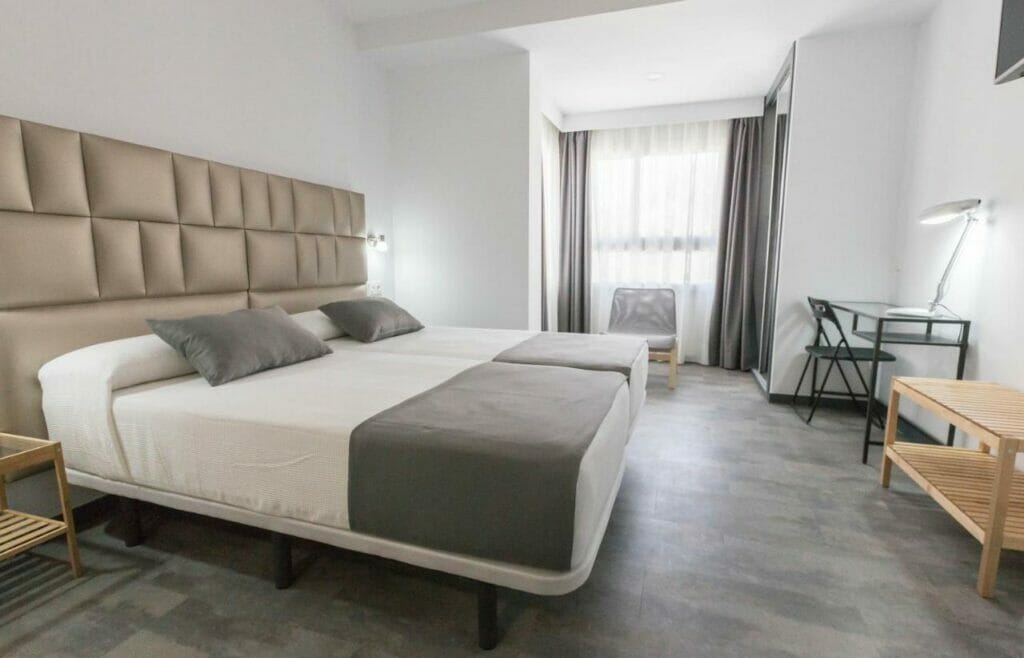 If you are looking to get your entertainment without venturing out of the hotel, there is a lounge and bar in the lobby, offering street views as well as breakfast and of course, drinks throughout the day.
All rooms have air conditioning, satellite TV, a mini bar, a safe, a kettle, a desk, and a private bathroom. Free Wi-Fi is available for all guests. Other nice amenities are concierge, baggage storage, housekeeping, and more.
Being a small hotel, there is a cozy ambiance (as suggested in the establishment's name), and the Bajondillo Beach Cozy Inns definitely offer something different from your standard luxury hotel, in a more intimate and inviting setting.
We close out our list of the best gay and gay-friendly hotels in Torremolinos with the fabulous four-star Hotel Isabel, which is currently celebrating its 50th anniversary. And with a half-century of world-class, LGBT-friendly service under its belt, you can rest assured that this is one establishment that takes pride in embracing diverse clientele and offering its top-of-the-line service to all kinds of guests.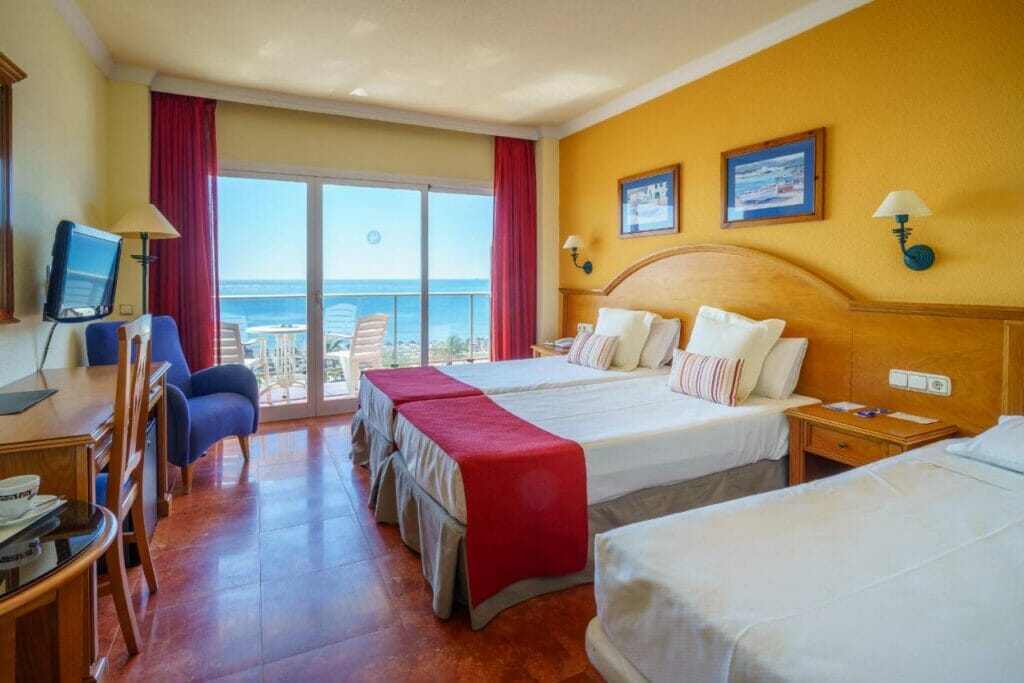 With spacious, well-lit rooms that are nicely appointed and outfitted with air conditioning, television, mini bar, private bathrooms with tubs or showers, and terraces, you can't help but be impressed with the room offerings. You can even have breakfast in bed as an option. There are 70 bright and lavishly decorated rooms in total.
Hotel Isabel boasts a saltwater swimming pool where guests can sunbathe and enjoy the Mediterranean breezes. Or, enjoy some cocktails at the on-site Oasis Bar. The hotel's restaurant offers selections for those with food intolerances and uses fresh local produce. There is also a café & snack bar on site.
You really can't find a better hotel in Torremolinos for LGBT visitors. It is an establishment that welcomes everyone equally and offers some of the best accommodations in Torremolinos, bar none.