Known for its small yet dedicated gay community, Malaga in Spain is a popular gay summer holiday retreat with amazing beaches, attractions and a lively party scene.
You can find the heart of the queer community in two places, and the first is in the center of town, where gay bars like La Comedia and El Carmen Bar are within walking distance of each other. The second is a concentration of gay attractions to the south in El Romeral, with The Room Cruising Club and AQUA Club.
Malaga is a Spanish city located in the south with a unique cultural heritage with old streets in one part and a new town in the west, resting along the long beaches of Costa del Sol taking full advantage of the warm Mediterranean Ocean.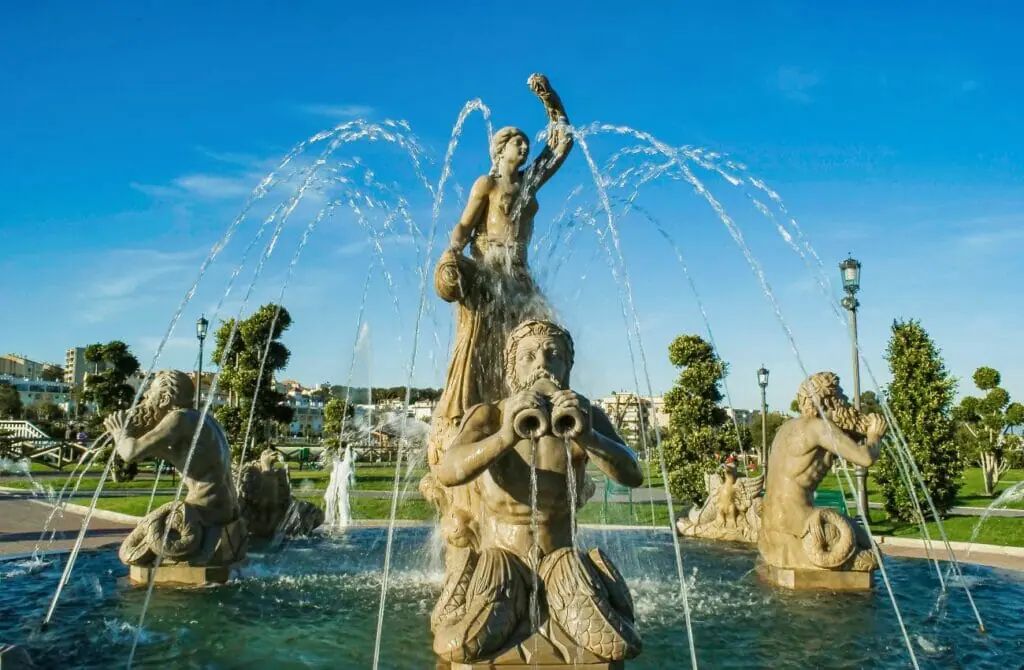 Here you can expect to experience a unique blend of the old and new in an exceptionally gay-friendly city with so much to do and see that you will have to spend several weeks at least to see it all.
A great thing about Malaga isn't just the gay-friendly attractions and queer scene; the towns just outside make traveling beyond the city's limits worthwhile. Going south, you will hit Torremolinos, 'the gay capital of Spain'. To the north, you have the Parque Natural for a taste of nature and plenty of other adventures in Spain. All in all, Malaga is a great gay destination with a tight small gay party scene.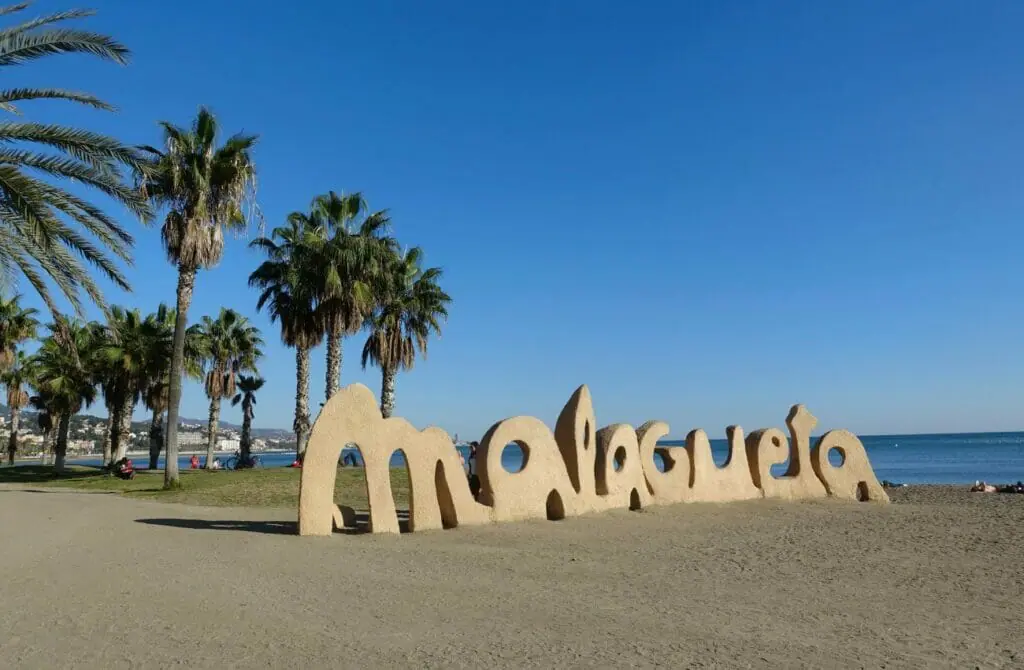 Attractions in Gay Malaga, Spain
Within this coastal haven is an endless range of activities and attractions to keep your gay visit to Malaga full to the brim. You can throw yourself into the numerous tours taking you all over the city and into the unexpected sights outside of the city limits, or you can relax on a night out at an organized bar crawl; there is something for everyone.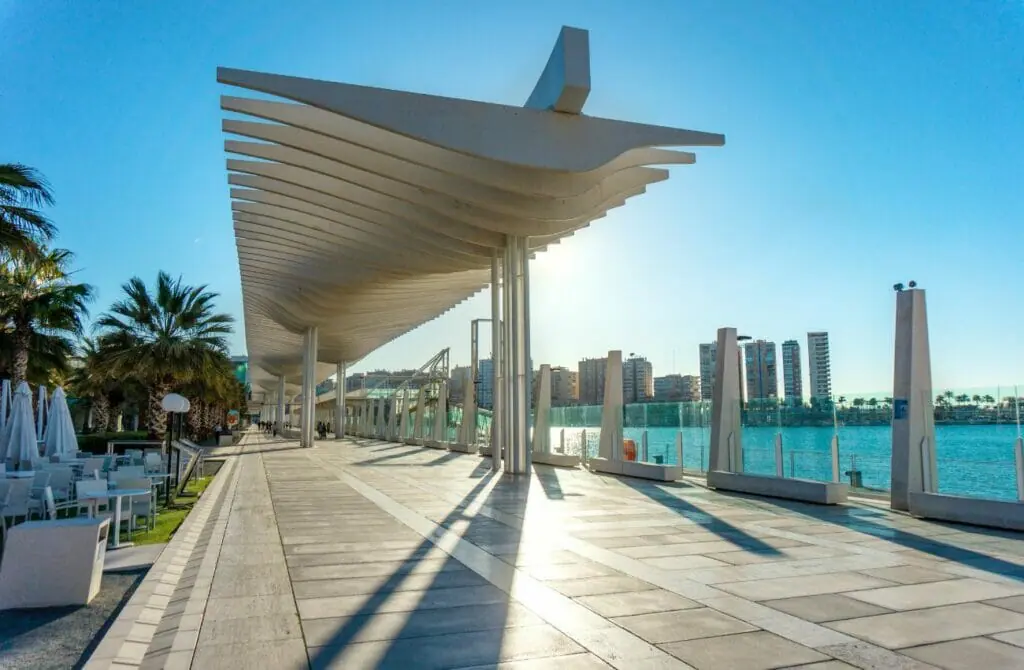 Horse and Flamenco Show in Torremolinos
Just outside Malaga, when you take a trip to the 'gay capital of Del Sol' of Torremolinos, you should check out the Horse and Flamenco Show. This is an unusual horse riding show based on 'rhythm, discipline, music and beauty' for just a small ticket price to see the show, with a free tour and entry to the stables beforehand.
Malaga Photoshoot With Professional Photographer
If you consider yourself a model or looking for an incredible photographer and a fantastic place to model in front of, then this is for you. You can hire a professional photographer who will not only give you 50 -75 photos but it will allow you to take impressive photos of your holiday at your choice of location. In addition, you will have a local guide who can hand you some of their tips for this beautiful city.
Day Trip: Alhambra Tour from Malaga
A must-see place in Malaga is Alhambra's incredible historical monument, which can only be truly appreciated with a tour. You can learn about the art of the building and the greater history of this region as one of the last Muslim kingdoms of the Iberian Peninsula. This will be a tour with a small group and a knowledgeable guide, who will be ecstatic to show you this spectacle.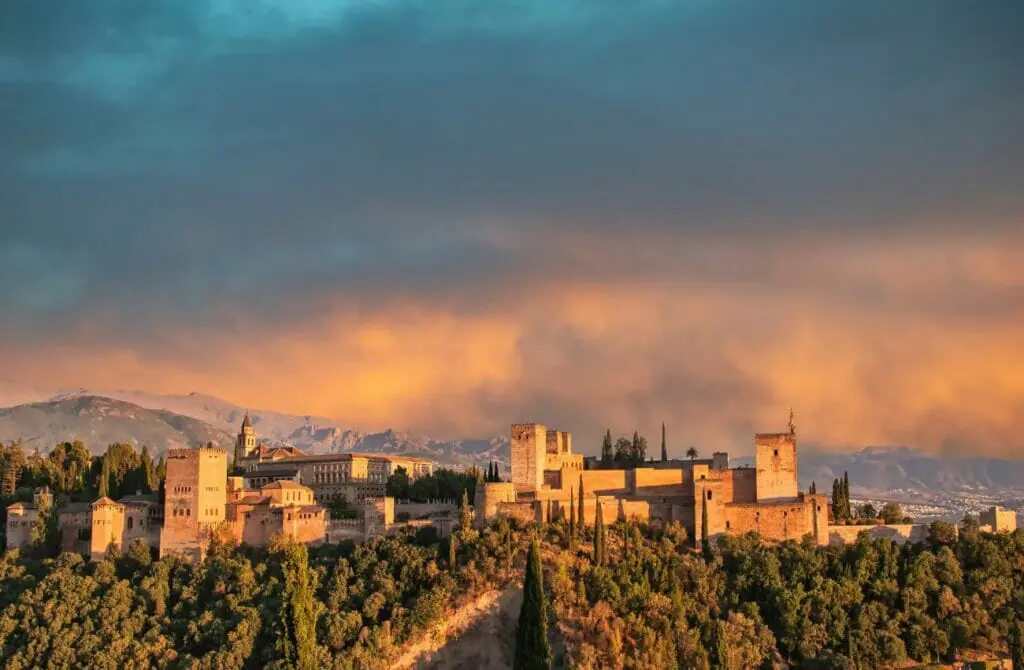 Canyoning Level Beginner Marbella
Not far from the center of town, making your way inland is the option for a unique experience with a beginner canyoning tour. Lasting two hours and suitable for children over six, you make your way down driver wading, abseiling and swimming. You go through tunnels, a waterfall, natural waterslides, and pool jumps. All gear is provided, so there is no need to worry about finding a wetsuit!
This food and wine tour is a must for all foodies that explore the culture of the country they visit through what they eat. This three-hour culinary tour takes you through 15 Spanish dishes with an expert guide at several high-end Spanish restaurants. You can learn more about the region's heritage through this delicious attraction, paired with San Miguel beers or sweet wine.
Ronda Private Day Trip from Malaga
This day trip outside Malaga takes you to the top of El Tajo Gorge, where you can see one of the oldest sights in the region in the town of Ronda. During this trip, you will see the Puente Nuevo gorge bridge, an old bullring, Mondragon Palace, and much more!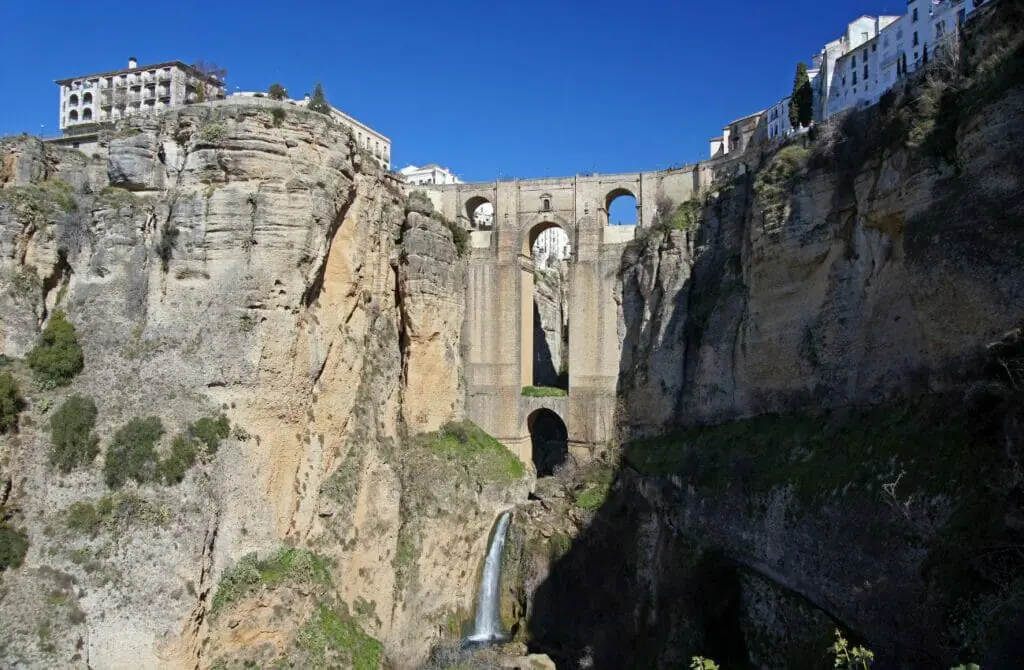 Skip the Line: Museo Picasso Malaga Combined Entrance Ticket
Malaga is the birthplace of one of the greatest modern painters to come out of Spain, Pablo Picasso. So, to celebrate when you visit this region, you must check out the Picasso museum, even if you're not a fan of art. With this entrance ticket, you can skip the line with admission into the galleries to look at over 200 works with an audio tour guide.
Malaga: City Highlights Exploration Game
A great way to experience a city is by making a game of it. This game allows you to explore the rich history of this city and region without missing out on the best parts, as it creates a fun experience where you learn and has a good time. Start in the city's center and visit attractions like Casa del Guardia Tavern and the Santiago Church.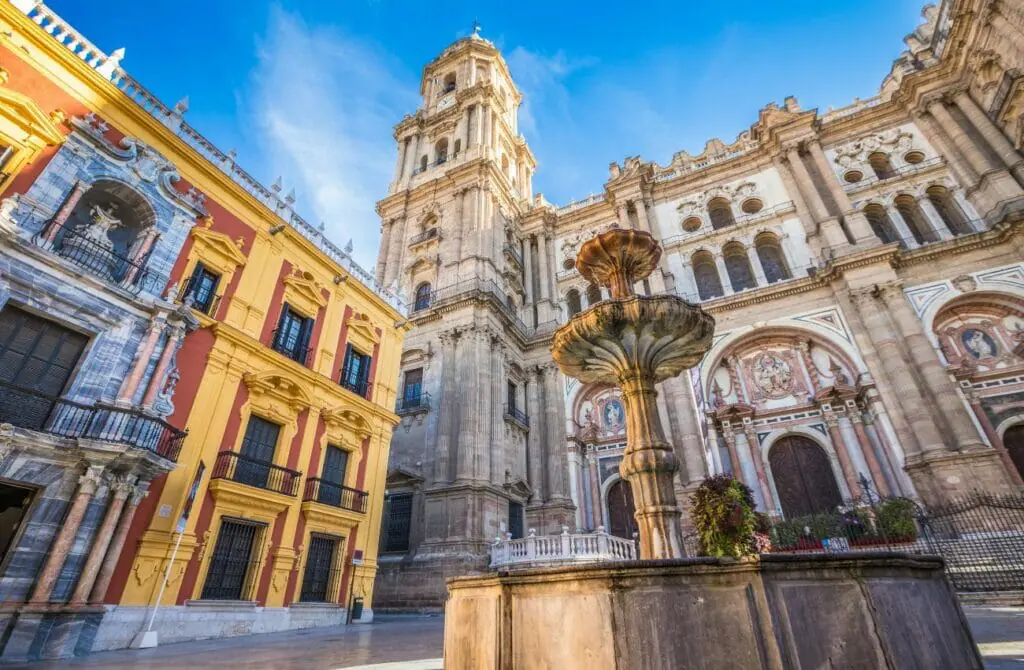 Málaga Crime Investigation Tour
Have you always wanted to be a crime detective? Even if you don't want to go to university to get the degree, there are ways to play at being a killer catcher with this fun crime tour.
You follow a fictional crime through Malaga, using your phone and GPS and a guide who you can call up at any time you have questions or problems. This is a unique way to experience a new city differently by exploring the usually unexplored back streets and iconic places such as Picasso's birthplace.
Torremolinos
A small town outside Malaga, Torremolinos is a must-see gay attraction. It is the most lively gay scene in the Malaga Province and is where you'll find most gay folk on the weekends. It is also where the first gay bar in Spain opened in 1962 and where most gay attractions are found today.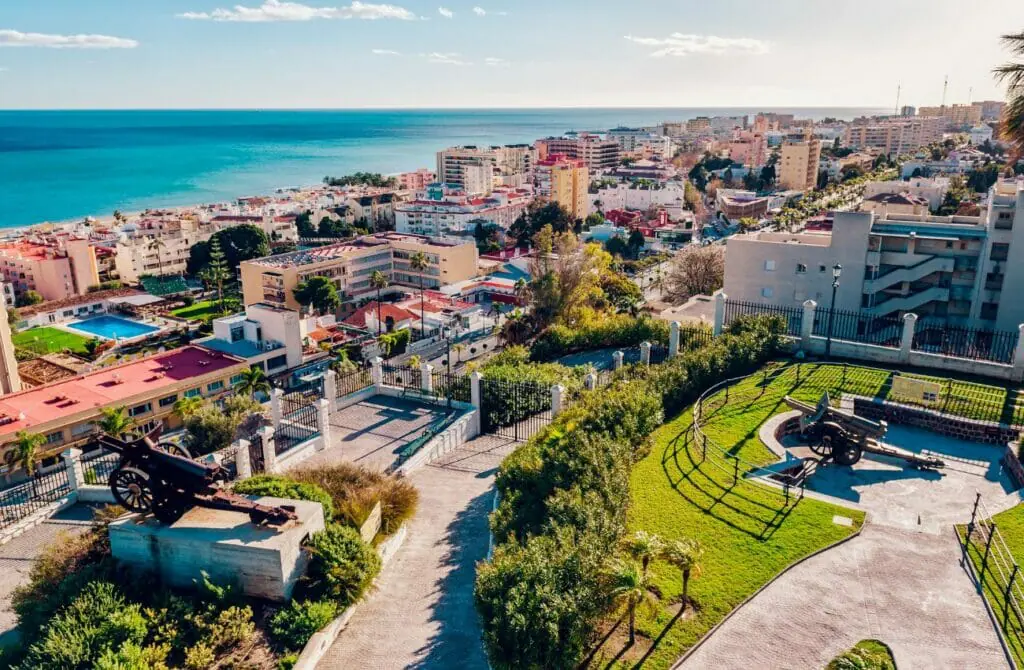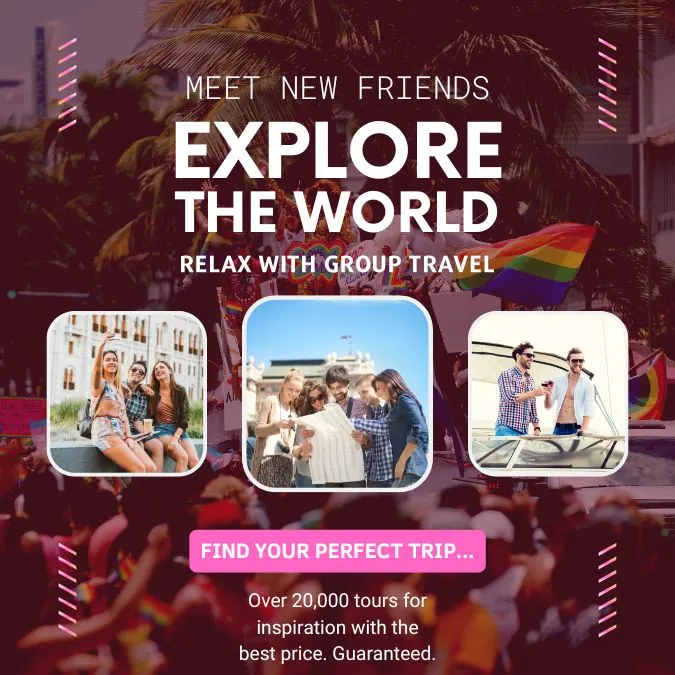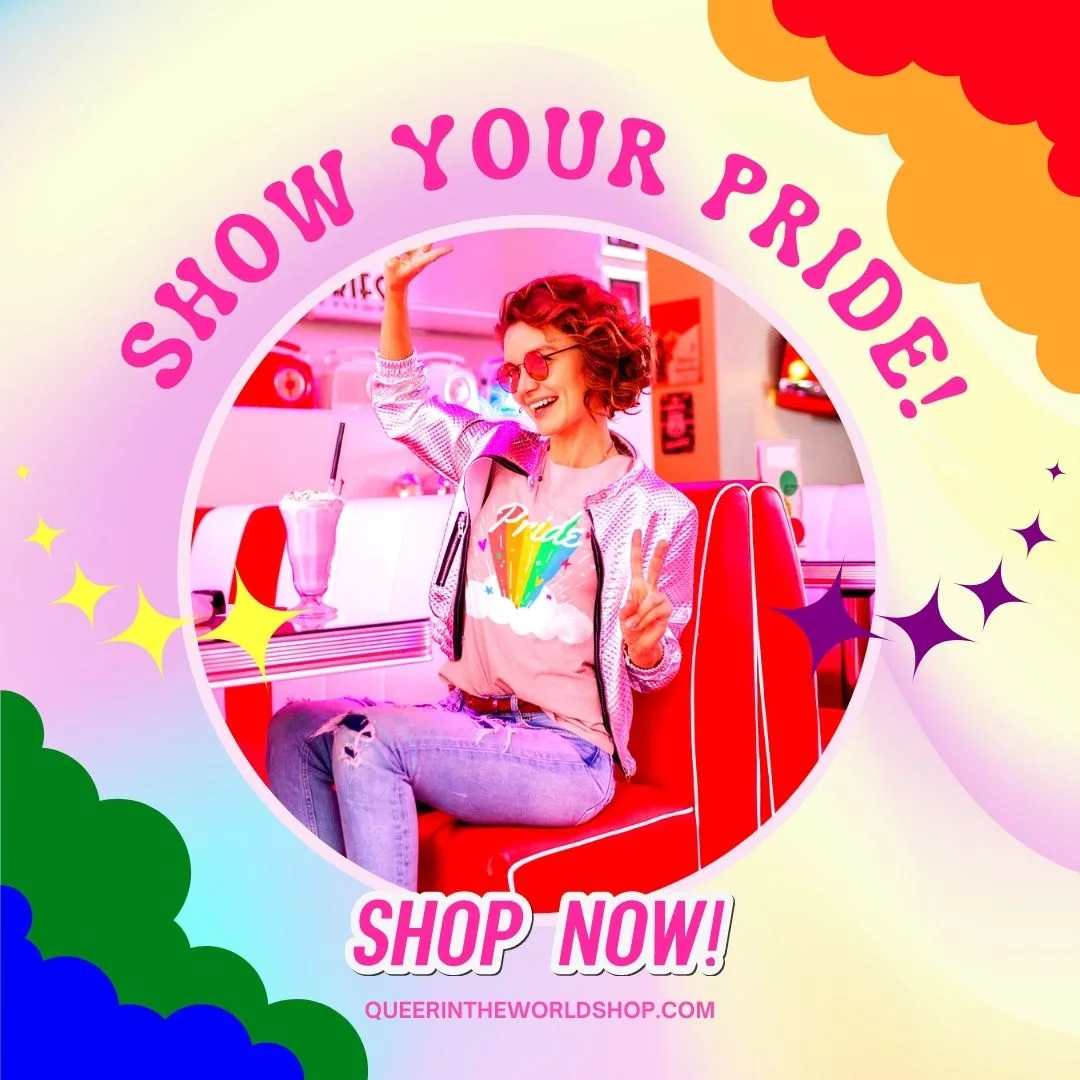 Gay-Friendly & Gay Hotels in Malaga, Spain
When you take a trip to Malaga, you will be pleased to know that there is an excellent selection of gay-friendly and gay hotels to give you a warm bed. So whether you want a five-star experience with the lushest pillows treated like royalty or are happy with the basics as long as you are within walking distance of the best gay attractions, Malaga has you covered in both.
Needless to say, there are also hundreds more hotel and hostel options in Malaga if none of these suit your desired budget, facilities or area – but these are the best hotels according to other gay travelers and us. Whatever your needs are, Malaga has you covered.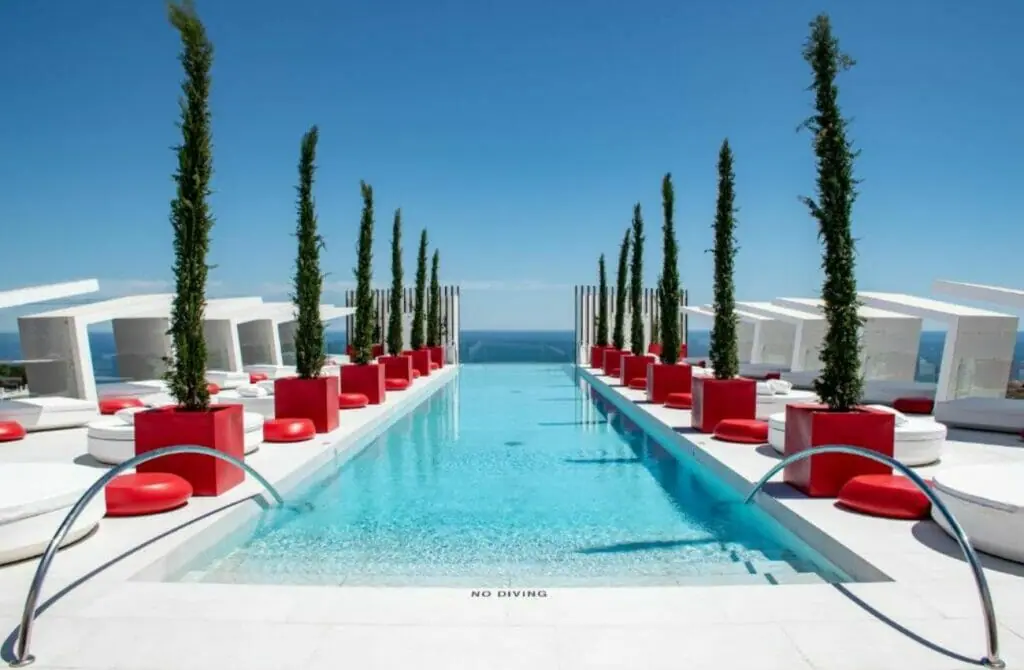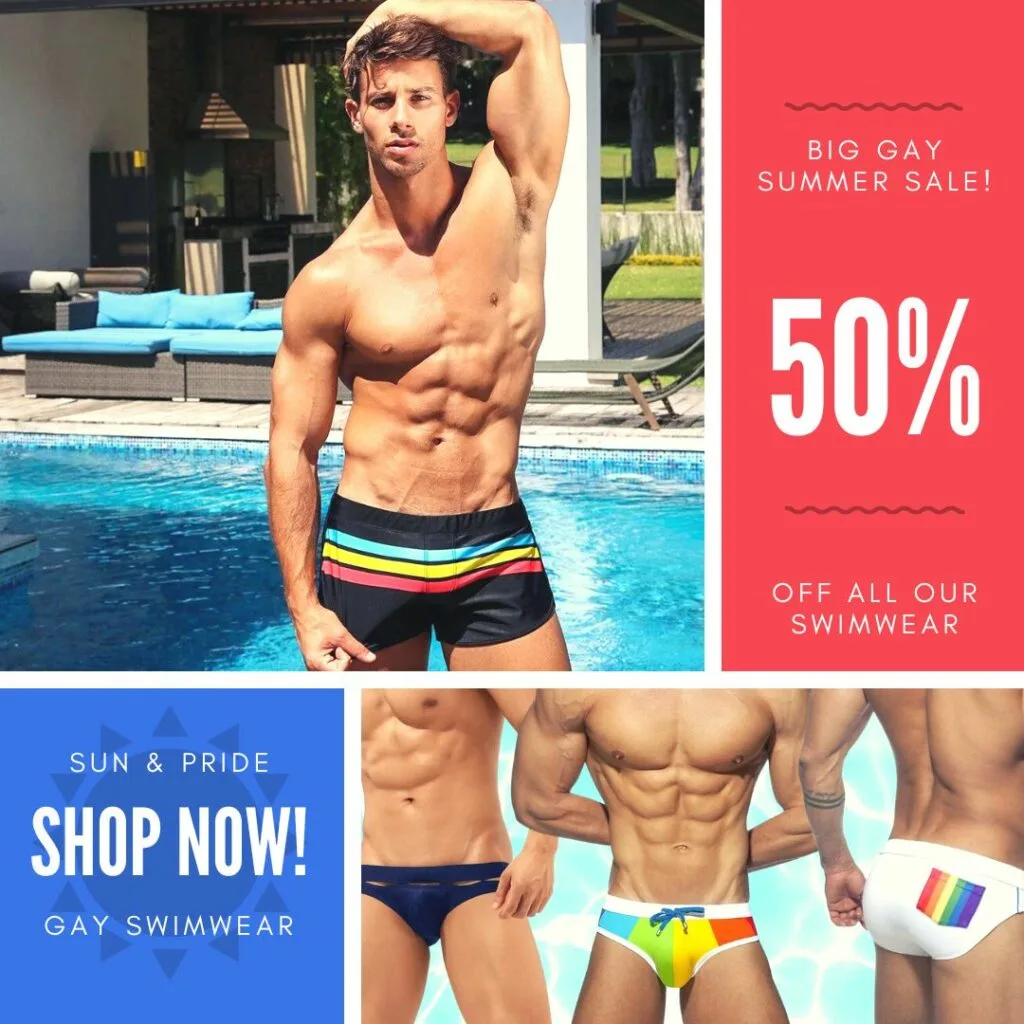 Higueron Hotel Malaga, Curio Collection by Hilton ☆☆☆☆☆
It might require a little driving to the heart of Malaga city, but the five-star Higeron Hotel by Hilton is an experience you cannot miss. With a luxurious experience only gods could dream of, but now it has come down to earth for you to enjoy.
Located south of Malaga, you can reach this oasis within a 25-minute drive, passing iconic gay attractions like Torremolinos along the way, making the slight detour worth the extra effort.
But what does this piece of paradise have to offer? The hotel's out-of-room attractions have both an indoor and outdoor pool, with enough chairs to lounge about and make the most of the warm Spanish Summers.
Then, during the winter months, you can relax in the sauna, hot tub or mineral hot springs… maybe even get a massage; all are available. And not only that, you have a choice of 10 restaurants to choose from, offering a range of international cuisines and breakfast and lunch for guests.
Not only is this hotel made for the height of relaxation, but it also caters to those that love to keep active with the premium gym or laned pools. There is even a golf course and sports center if hitting a ball is more up your alley.
The rooms are each unique and offer a range of upgrades and quirks depending on what you seek. Some have private hot tubs and great views, while others are simple to fit the lower end of the budget. Either way, you be sleeping well and treated to excellent service, with little need to leave the complex if you desire.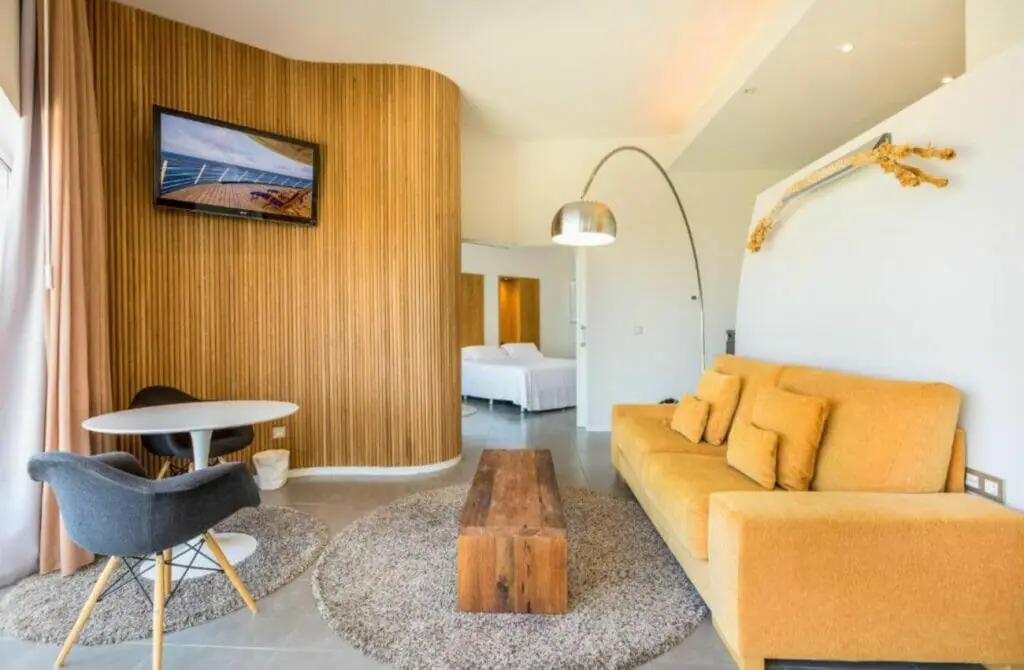 Novotel Suites Malaga Centro ☆☆☆☆
Located in the heart of Malaga city, Novotel Suites Malaga Centro is an exquisite four-star hotel within walking distance of the warm Mediterranean beaches. The complex has on-site parking, excellent for visiting Torremolinos on a whim, with a gym to keep up with the daily grind even if you're on holiday.
But, putting those boring commodities aside, you'll be pleased to know they serve breakfast and host an on-site bar providing refreshments well into the night.
When you turn in for the evening, your room will have all the basics to make your stay as cozy and effortless as possible. It includes a comfortable king bed, a TV, seating, and an ensuite and kitchenette microwave with a fridge. If that doesn't convince you, it's also pet-friendly and has air conditioning, perfect for the best of both worlds during Summer.
Just a step from the Malaga Cathedral is the four-star hotel Molina Lario in the heart of the city, within a 15-minute walk of the port. You will be offered a range of excellent services inside your room and in the shared spaces, with the highlights being the restaurant, Pool Bar and rooftop swimming pool.
Molina Lario rooms come with all the necessities with paid parking, ensuites, king-sized beds, sofa, TV and desks. Any food you order can even be delivered to your room, so imagine waking up to a romantic view of the cathedral in this historical building and breakfast being served to you in bed!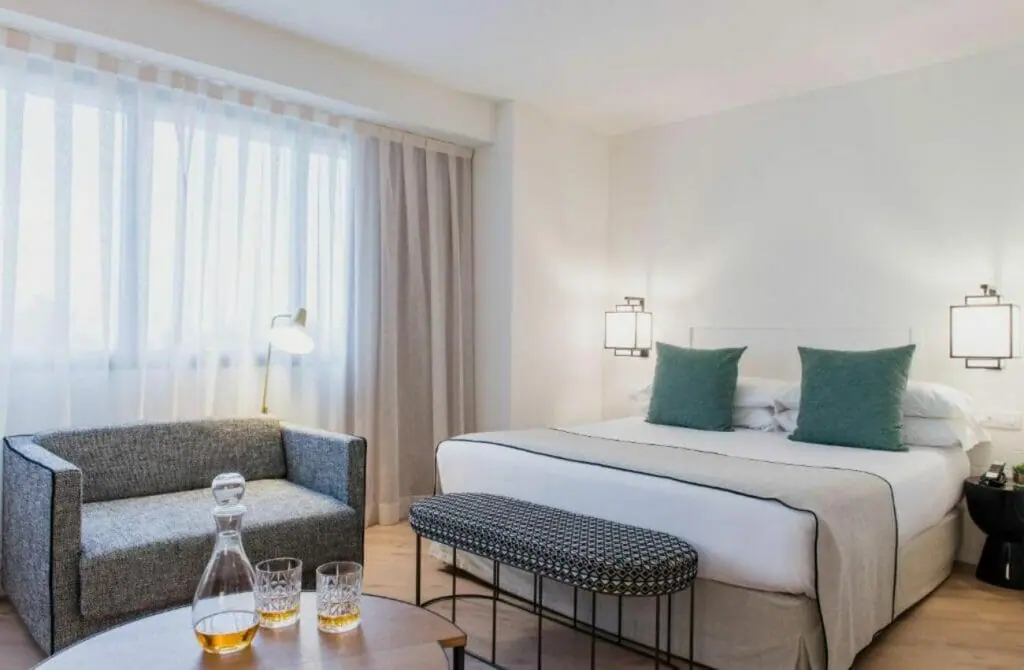 Finca La Maroma, Gay Guesthouse
Located less than an hour from Malaga city is the gay B&B Finca La Maroma in the Spanish countryside. Although not a hotel with any star rating to its name, this is a gay retreat worth considering if you want to stay somewhere different. Choose from one of six self-catering studio apartments for gay men in a 300-year-old country estate surrounded by olive groves and incredible views.
Each room comes with beds, fully-equipped kitchens, bathrooms and terraces. These give you access to communal areas such as the clothing-optional pool and jacuzzi. It is the perfect paradise to relax or explore the heart of Southern Spain.
Located close to all the famous city attractions, you can see Malaga without taking wheels! However, if you want to rest your feet, they offer a bike rental service to save on fuel and the environment. The hotel is a favorite for those who visit Malaga as it caters to business and tourist ventures, with 57 air-conditioned rooms with all the basics to make everyone feel at home.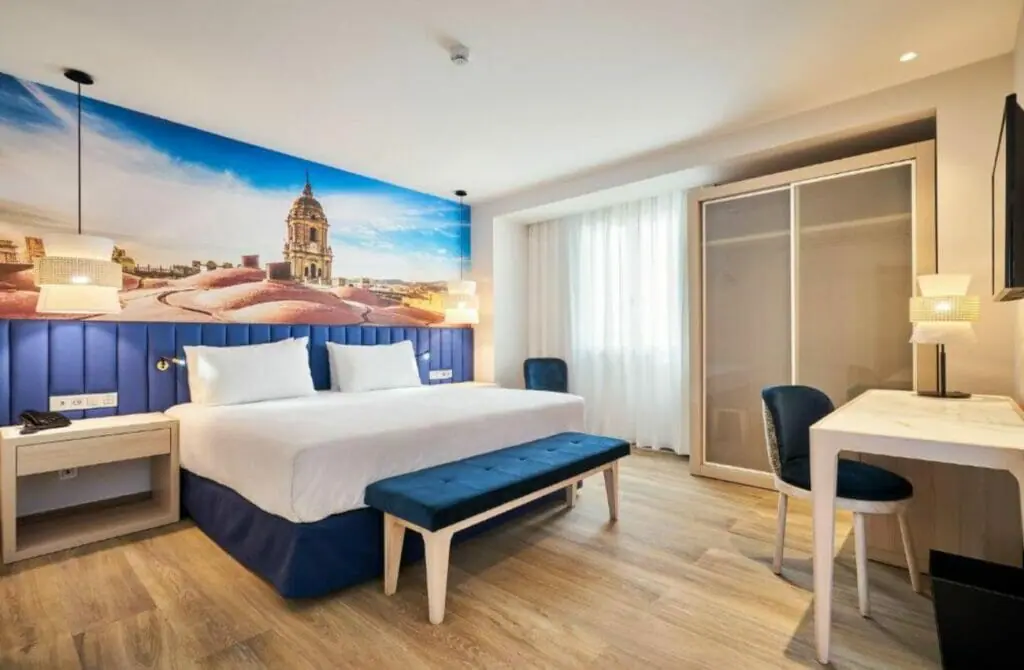 Gay Nightlife In Malaga, Spain
To start your fantastic night in Malaga, you will not need to look far from the city's center to find your first selection of gay nightlife. However, if you have already explored these venues and are for the more famous scene, you might want to take a car to the southern gay capital of Torremolinos. Wherever you end up, you will find a lively queer night on the town.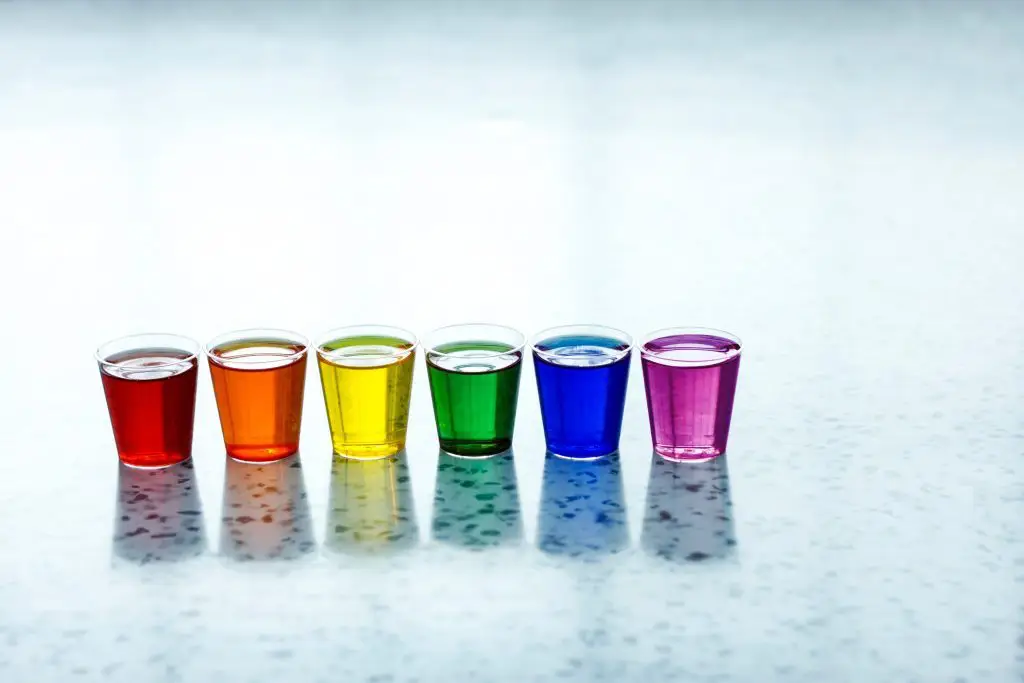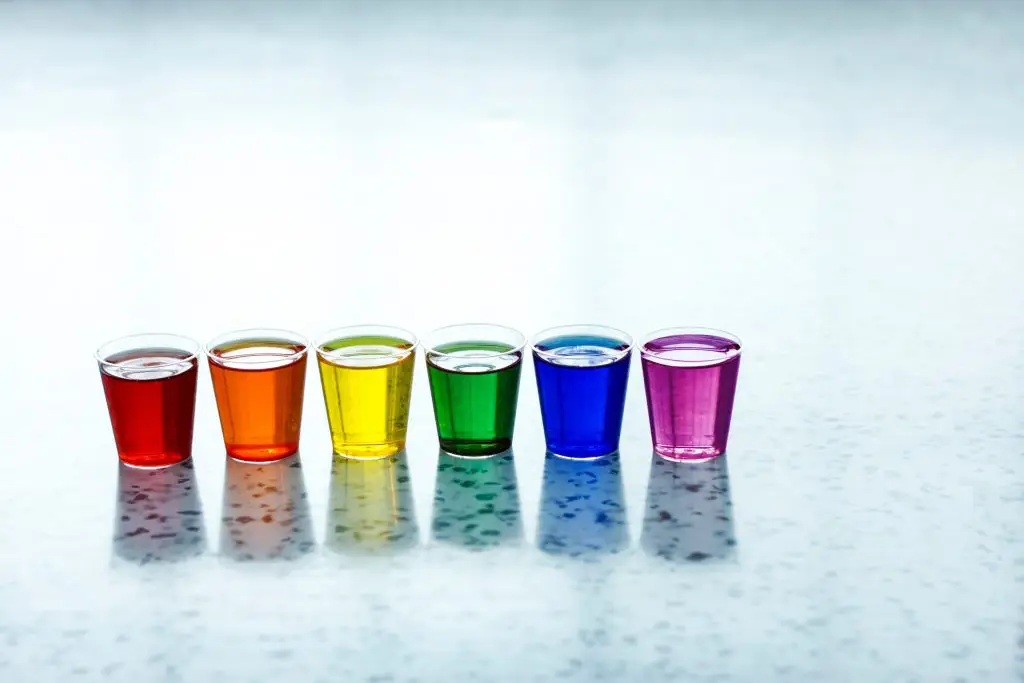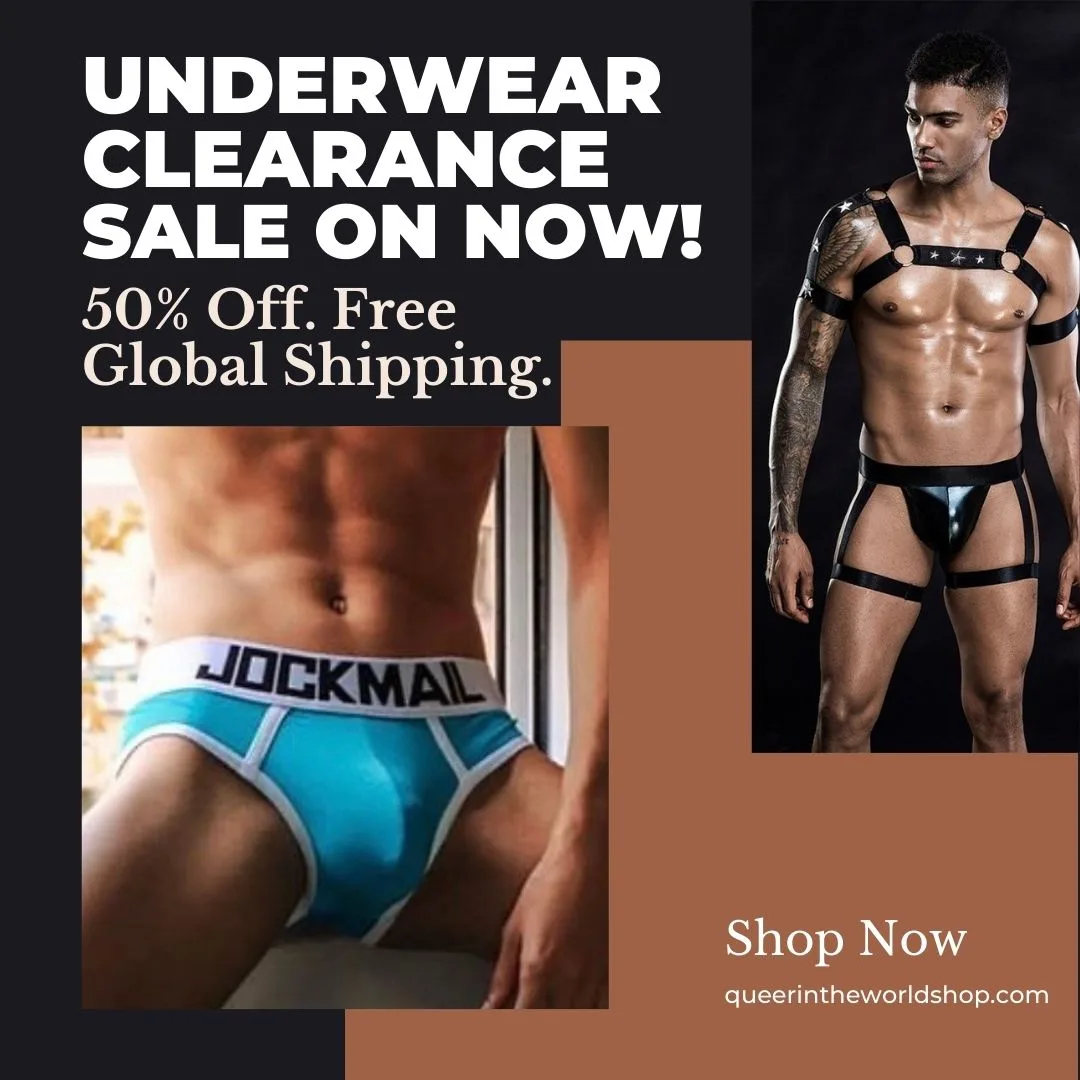 Gay Bars In Malaga
Located in the gay capital of the south, Torremolinos, Eden Copas is a beach gay bar with cocktails. One of the highlights for most visitors is the weekly events and bingo on Sundays, with many swearing this is the best bingo house in town. The venue is a must-visit for a great night out, as you are treated to great drinks, open mics, stage shows, and drag!
In the heart of Torremolinos is Marta Cariño by Ritual, a gay nightclub with a dancefloor cellar. Be treated to a wild gay nightclub experience with dress-up themes, drag queens, loud music, and a promise of a great time.
If you so wish, you could choose to stay the night at the attached Ritual Hotel and get a complimentary drink on them, and when you do stop by the bar, a hot topless man might even serve you!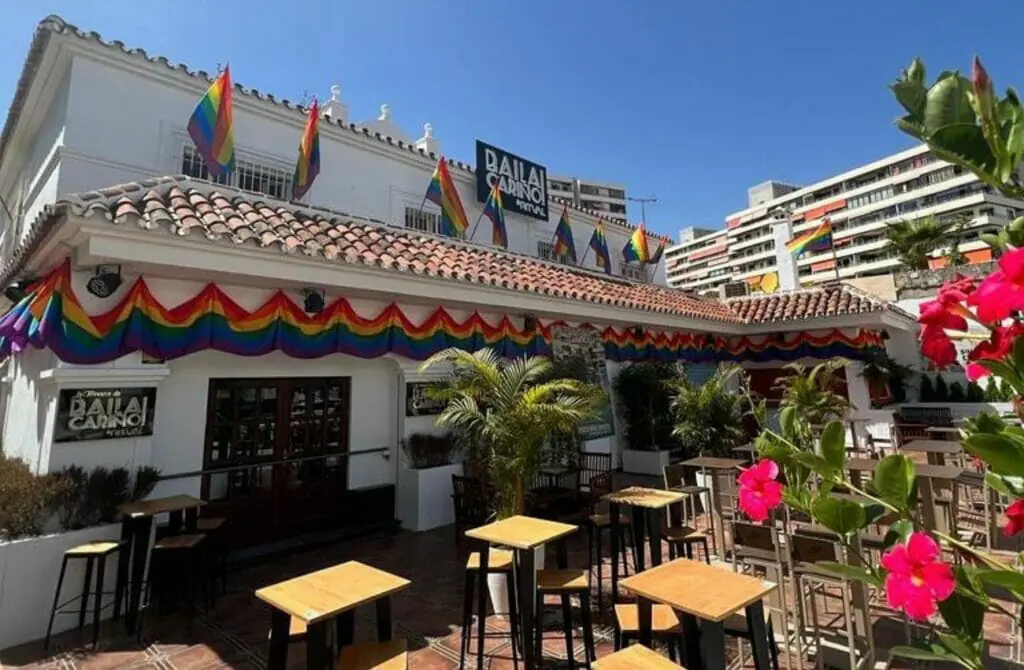 At the heart of the gay community in Malaga city is the gay bar, Kipfer & Lover. Here you will be treated to a fun queer-owned place run by equally impressive owners, and if you're lucky, you might get served by them!
You can come here for a relaxing drink or start your fun-packed night, but it can also be where you spend a whole evening if you wish. They harvest delicious food and cool drinks and regularly have themed nights and events to keep the bar experience fresh.
Queen is a cute gay bar in Torremolinos that serves mainly Spanish patronage but is open to all types of people. Their waiter Alvaro is super friendly and will try to help everyone even if there might be a language barrier.
The venue is small but has enough space and quirks not to make it feel like you're being stuffed into a tiny box and plenty of seating. In addition, the neon lighting makes it stand out from the crowd, and as its name suggests, they regularly host drag queens.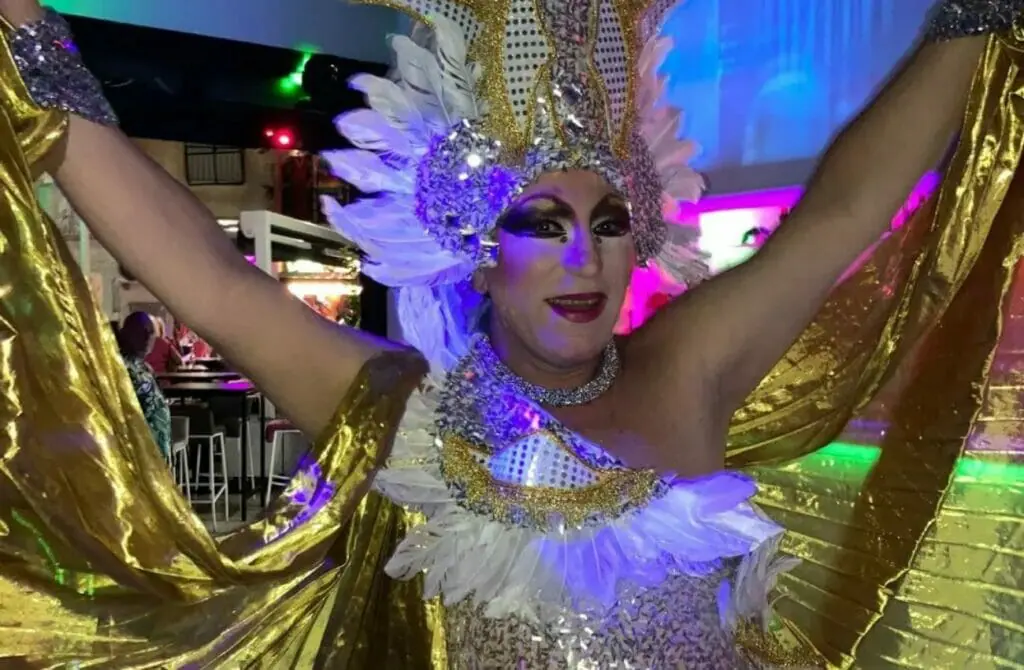 The gay cocktail bar in Torremolinos, Ego Copos, is open on Fridays and Saturdays with drag queens and dancing every night. Be treated to the best in Spanish dance music and be entertained by the many drag queens looking to lighten your evening. You won't feel pushed to do anything, and you can get involved in the lively gay socializing or sit back and recline into the comfortable seating.
Lola's Copas is a gay dance bar in Malaga city with live music to allow you to enjoy a drink listening to good tunes. It pitches itself as a quieter venue than others of its type in the area, full of love and serenity, with an ever-evolving bar to fit with the times. All are welcome, so you might even see the occasional drag queen or sexy man add to the nightlife.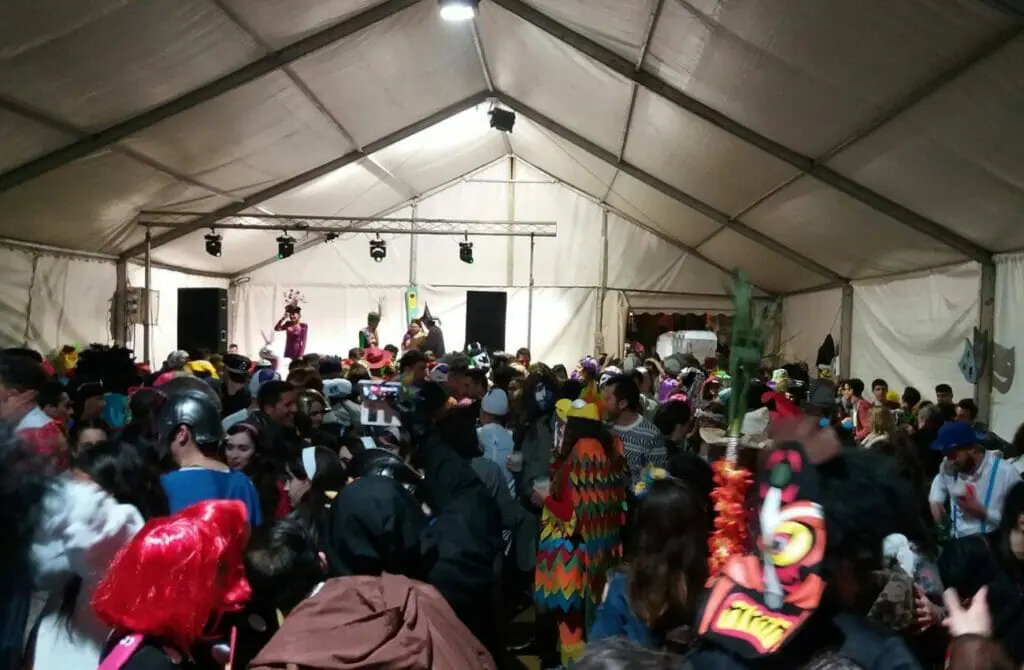 Gay Parties & Gay Clubs In Malaga
'The Comedy' is a gay nightclub located in the heart of Malaga city and was the first to be set up outside the southern gay capital. They welcome music lovers of all sexualities and genders, cultures and patrons, only asking that you come for a good time to party.
The venue is in the historical part of town, so this club brings to life an old medieval building with modern dance music and walls adorned by famous drag queens. So you can expect not just music and dance but also visiting DJs and drag shows.
Parthenon is a popular gay disco dance and nightclub in Torremolinos; with so much to do, you'll be spoiled for choice. You can enjoy the quieter sections of the bar or throw yourself into the dance hall and get lost in the strobe lights and pumping music.
If you want to venture deeper into the venue, you might encounter hot guys and even a dark room, making your experience more memorable.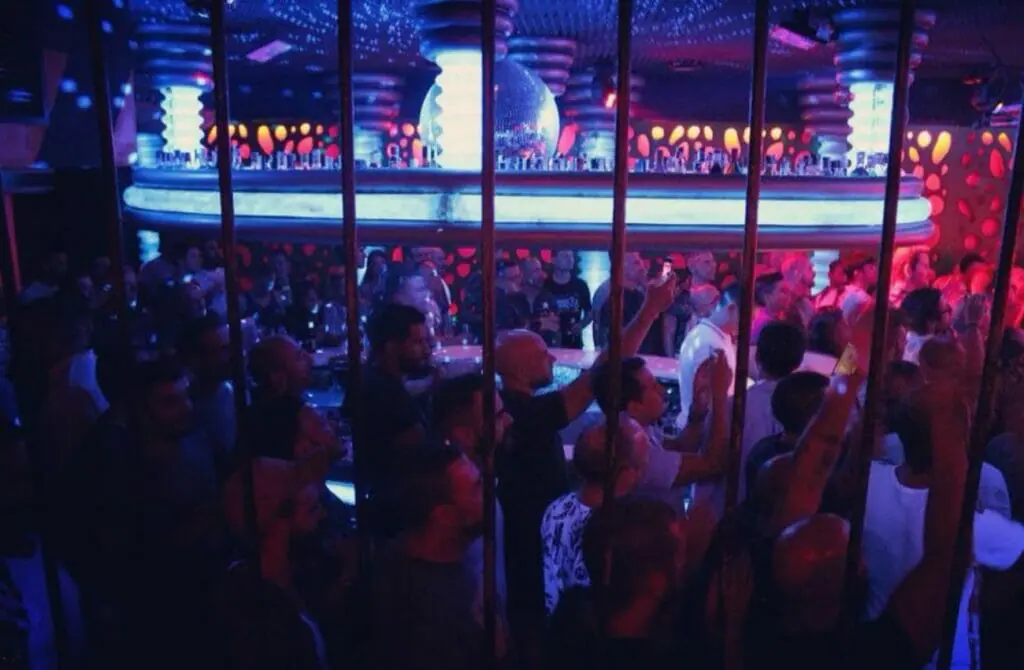 Other Gay-Popular Nightlife Spots In Malaga
If you're looking for a buzzing nightclub in Malaga city, look no further than the Theatro Club Malaga. Even if it's not exclusively a gay venue, it is popular amongst LGBTQ+ crowds, particularly its late-night disco.
You will be treated to a massive dance hall with a DJ or entertainment stage, with easy access to bar and dining areas. So you can watch from the sidelines enjoying a range of drinks or throw yourself into the rhythm of the dance floors.
La Biblioteca is a library-themed cocktail bar and nightclub. This popular establishment is full of faux bookshelves and paraphernalia, as well as small booths and reservable spaces to host small gatherings. With all these bonuses making it stand out from the crowd and its central city location, it would be sacrilegious not to stop by when in town.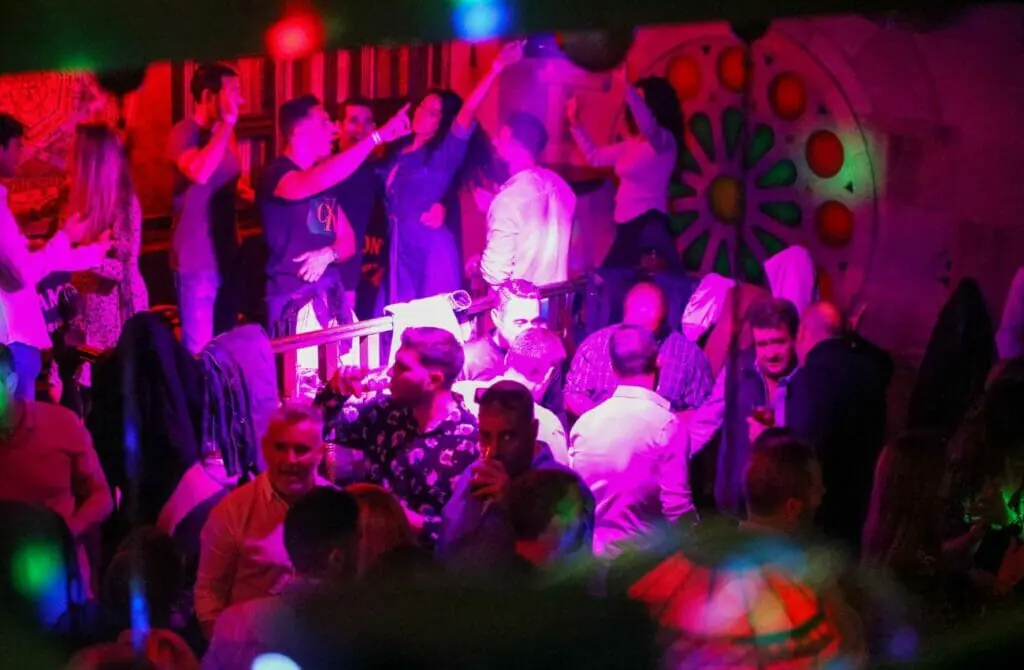 El Caermen is a bar in the heart of Malaga city, serving as a day cafe for breakfast and lunch and a restaurant bar for dinner and beyond. In addition, as it is a popular scene for local gays, you will indeed have a great time engaging with the queer community for evening drinks at the bar or on the outside terrace.
Not only are the drinks bringing clients back, but the tapas platter and other bar food delights. So you can satisfy your hunger whilst out on the town and still be in the gay scene of Malaga, with delicious nibbles and extraordinary service.
Cruising & Gay Saunas In Malaga
Based on the lively nightlife in Malaga city and Torremolinos, there is an equally bustling gay cruising scene. Dark rooms, gay-only bars, cruising dance clubs… they have it all. Then if that wasn't enough, there are also several areas where you can relax in a warm sauna full to the brim with other eager men looking for a good time.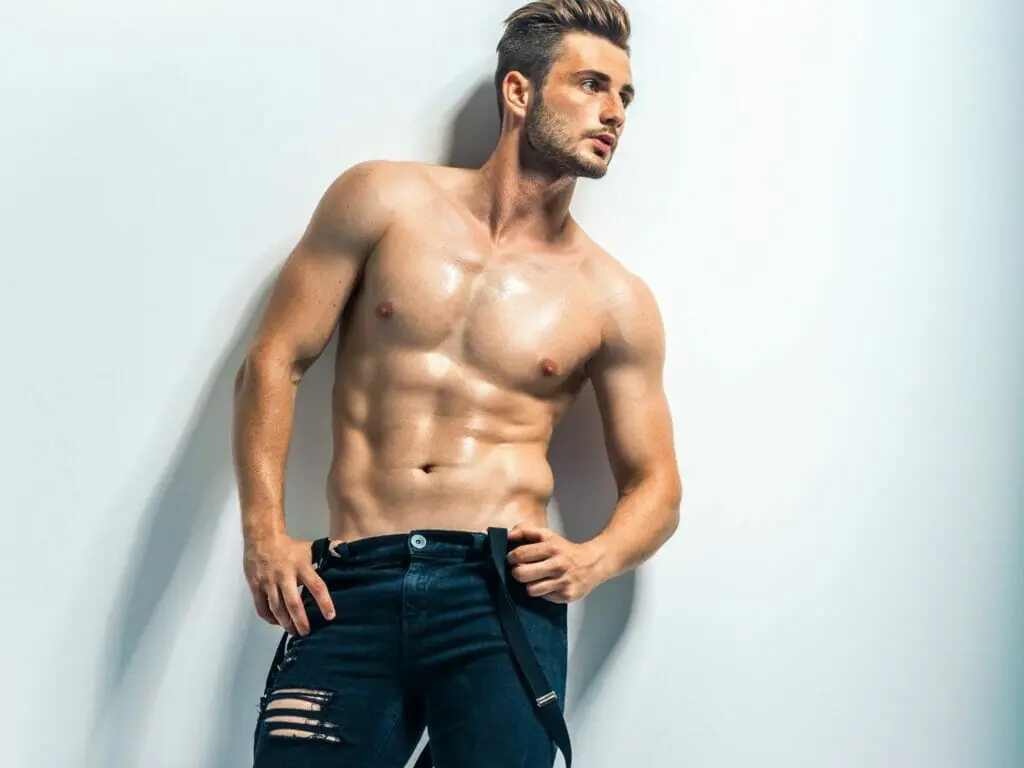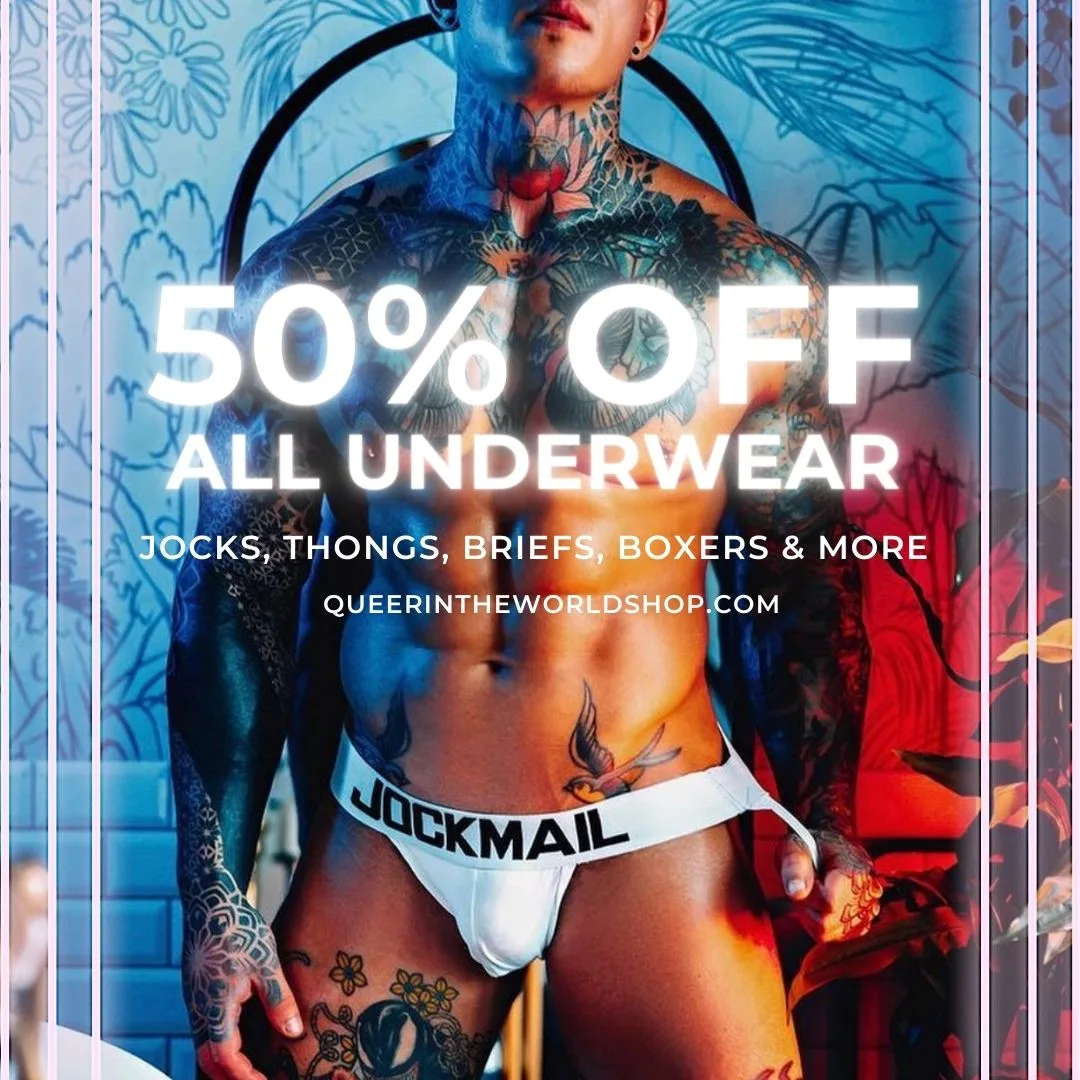 Gay Cruising Bars In Malaga
AQUA Club – Cruising Bar and Sauna
AQUA Cub in Torremolinos is a gay dance nightclub and a cruising bar with a sauna. If you're looking for a late-night day adventure, this disco cruising area would be perfect for you; located close to other gay bars in La Nogalera, and every night is full of hot men!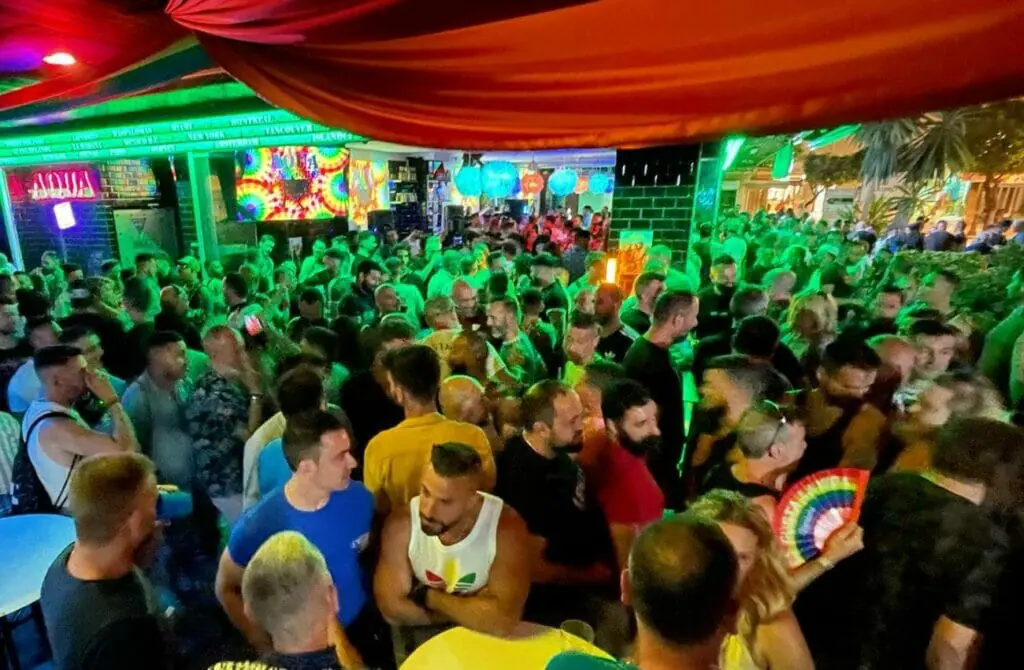 An exclusive men's club, Alcatraz is in Torremolinos looking to provide a place to cruise and fulfill any fetishes for gay men. So if you're after some free drinks, and became closely acquainted with good-looking men in a safe and unjudgemental place, Alcatraz is a favorite in the gay scene. However, don't expect large groups of guys, as it is a small venue.
Described as a 'must-see location in Malaga, and one of the best cruising clubs in Europe' by some, Exxtreme Cruising Club should be on top of your list for gay attractions. This gay club is larger than others in town, so you can expect groups of up to 100 at any one time in the cruising areas.
However, the venue is nice and spacious, so it never feels cramped, with options for private cabins or places to drink also on offer.
The Room is a gay-men-exclusive cruising club open seven days a week and can be found in Torremolinos with dark rooms and private cabins. It has several small rooms, a big one, and a small dance floor, but it has cozy music to add to the relaxing atmosphere.
Moreover, it is a popular venue with locals and tourists, with the option to book in advance during the busy seasons or reserve it for private events.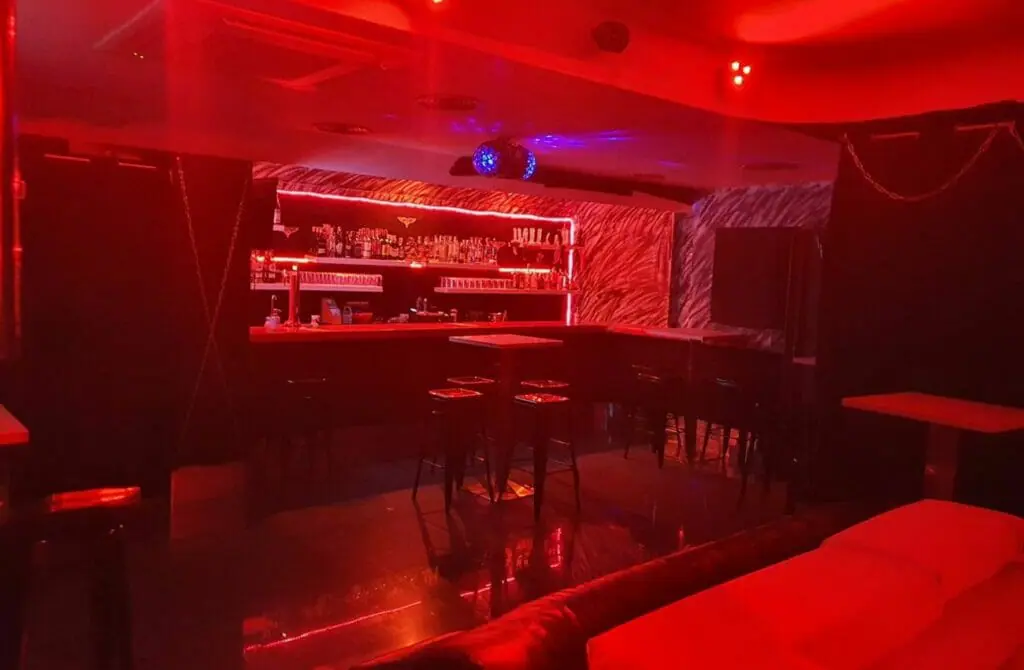 Gay Map Of Malaga
Finding it hard to envisage where everything is in Malaga? Hopefully, this queer-centric map helps where we have marked all the bars, clubs, parties, hotels, saunas, massages and more will help you stay in the spot best suited to you!