Gay Seville is an intoxicating mix of winding medieval lanes, lavish Moorish hotels and gay clubs that go from sun-down to sun-up, or even later!
Made rich on the back of New Work Trade Seville is a progressive city that still honors its glorious past – the appeals are clear. Crowded tapa bars, buzzing plaza's, world-class are and annual festivals such as Semana Santa and Feria de Abril, which are amongst the most famous in Spain. Gay travelers might want to plan around the Seville Gay Pride (Orgullo de Andalucía) at the end of June or the annual bear weekend GuadalkiBear which is normally in October.
Most of the gay scene in Seville is centered around the Alameda de Hércules, with a range of gay-friendly and straight-friendly bars to socialize with easy-going crowds before moving on to clubs and bars later on in the night.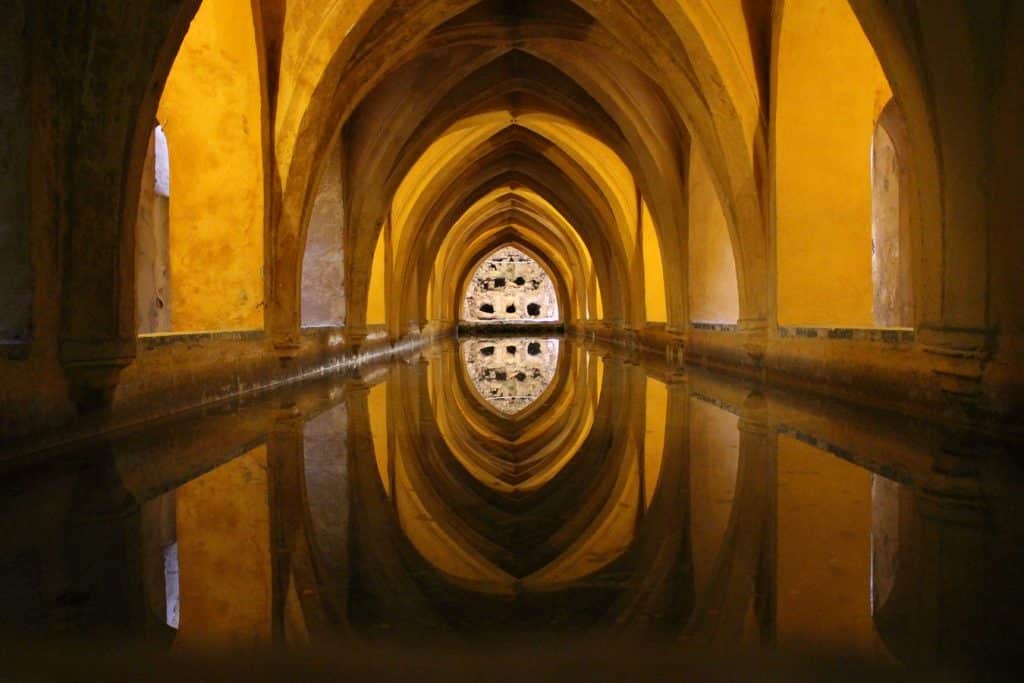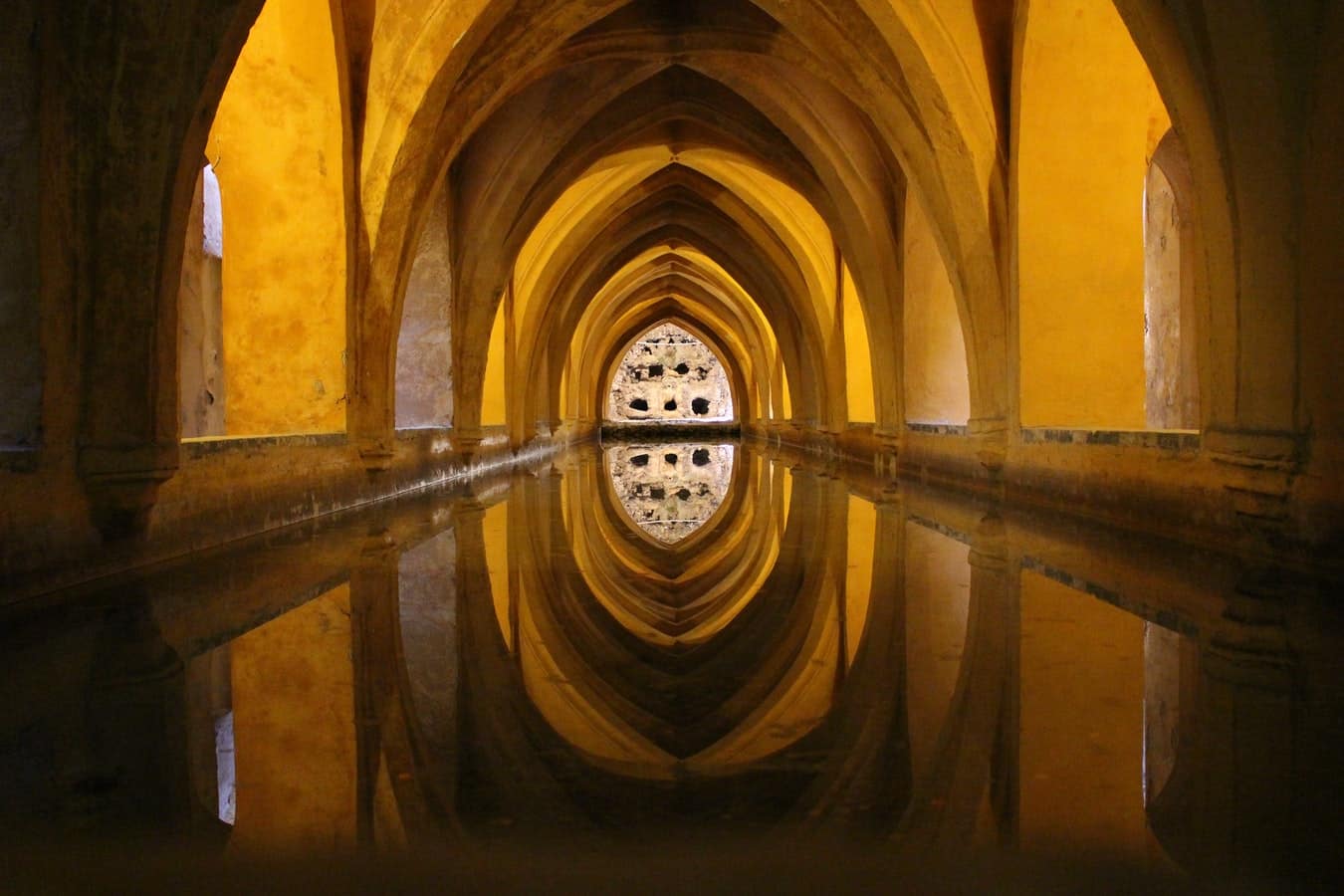 Spain is one of the world's most gay-friendly country in southern Europe and while the Catholic Church still holds a lot of sways here, LGBT acceptance in Seville and all other urban centers like Valencia, Girona, and Salamanca is very high. Seville's LGBT scene is actually growing as word gets out with a nice mix of gay and gay-friendly bars, clubs, and cafes. After a late-afternoon siesta, everyone hits the tapa bars for pre-drinks and nibbles and a healthy dose of people watching while sangria flows freely and new friends are made.
If you want to explore the buzzing nightlife then it's off to one of the gay bars, then gay clubs, then even gay after-parties in Seville – It's hard to say no when prices are this low, the cocktails strong and the boys gorgeously sun-kissed. Whatever you desire, chances are you can find it in Gay Seville – and there is more than enough here to entertain you for a week, a month or even more.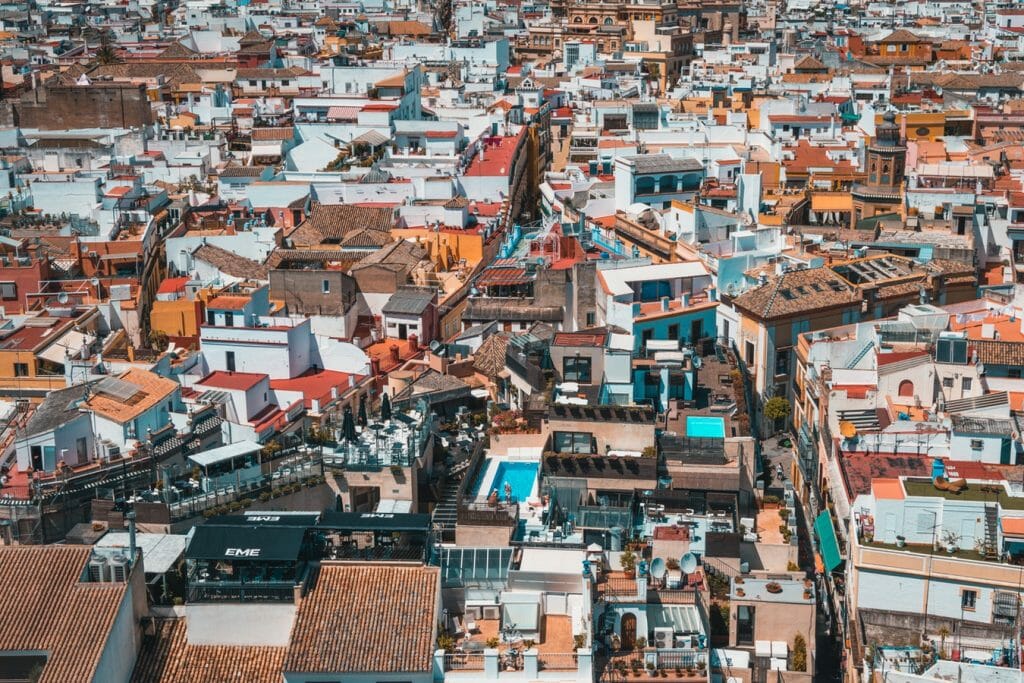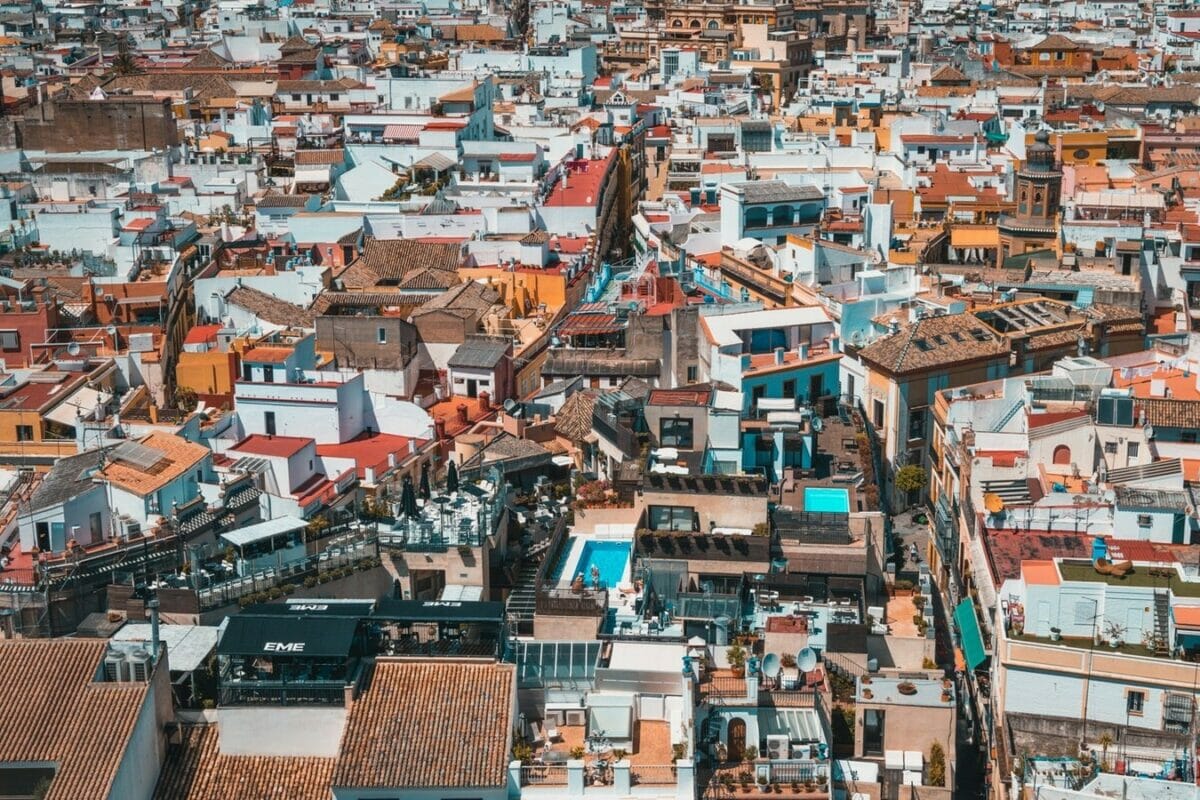 Gay Seville Guide: The Essential Guide To LGBT Travel In Seville Spain
Attractions in Gay Seville
Obviously being gay does not define which attraction most of us will want to see in each city and most queer travelers will simply want to check out the top things to see in Seville during the day! Prague is a very safe city but still, all travelers should take caution crowded areas or at night in bars with valuables.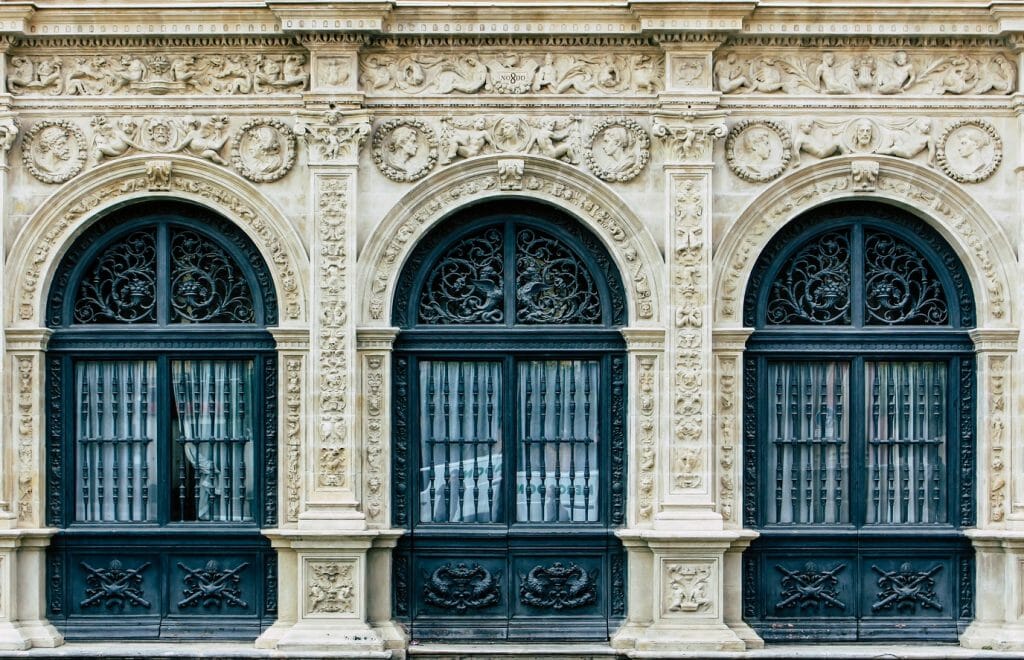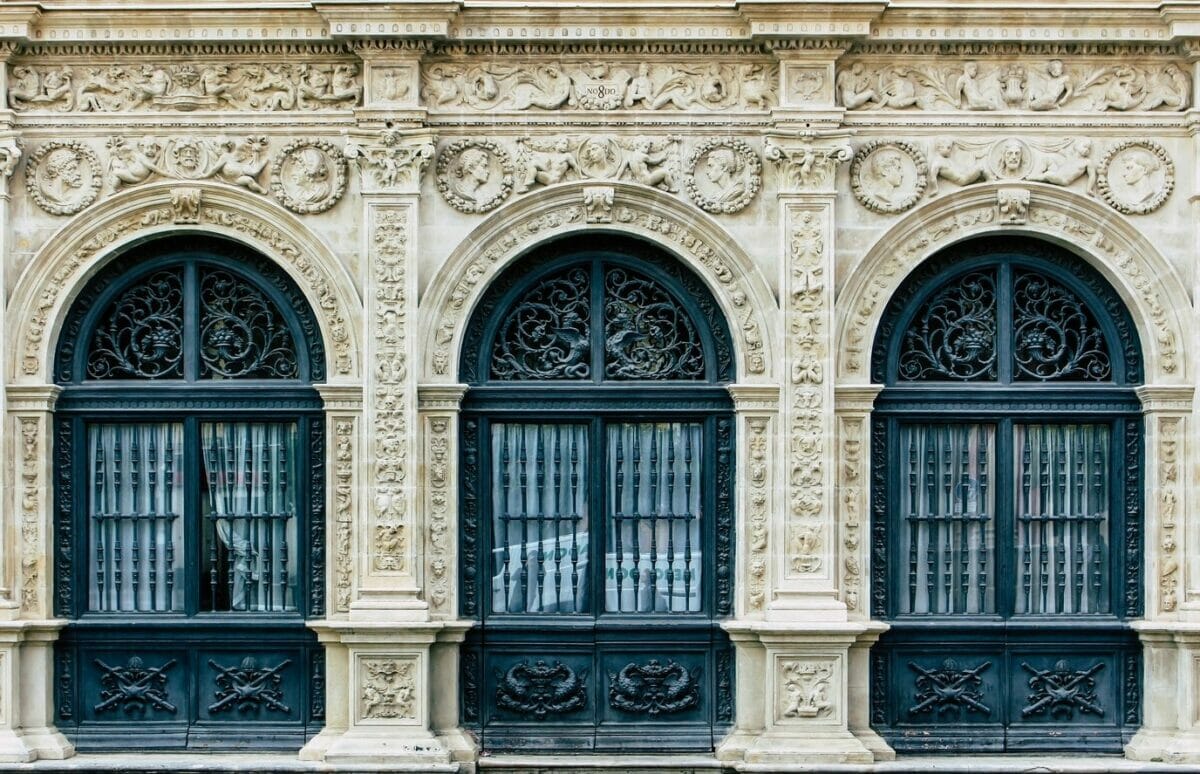 There is so much to do in this gorgeous city – but we found our favorite memories were just sitting and drinking coffee watching the world go by, getting lost in the beautiful Old Town or dancing away the night with new friends in one of the cities many gay bars. If you have the time you might consider hiring a car to check out the beautiful surrounding small towns and countryside, though you hardly run the risk of getting bored no matter how long you stay in Seville.
You can't throw a stone in this city without hitting something gothic and historic – but still, it helps to have some kind of idea what is going on, so here are our just a few of our favorite things to do in Seville that you should not miss!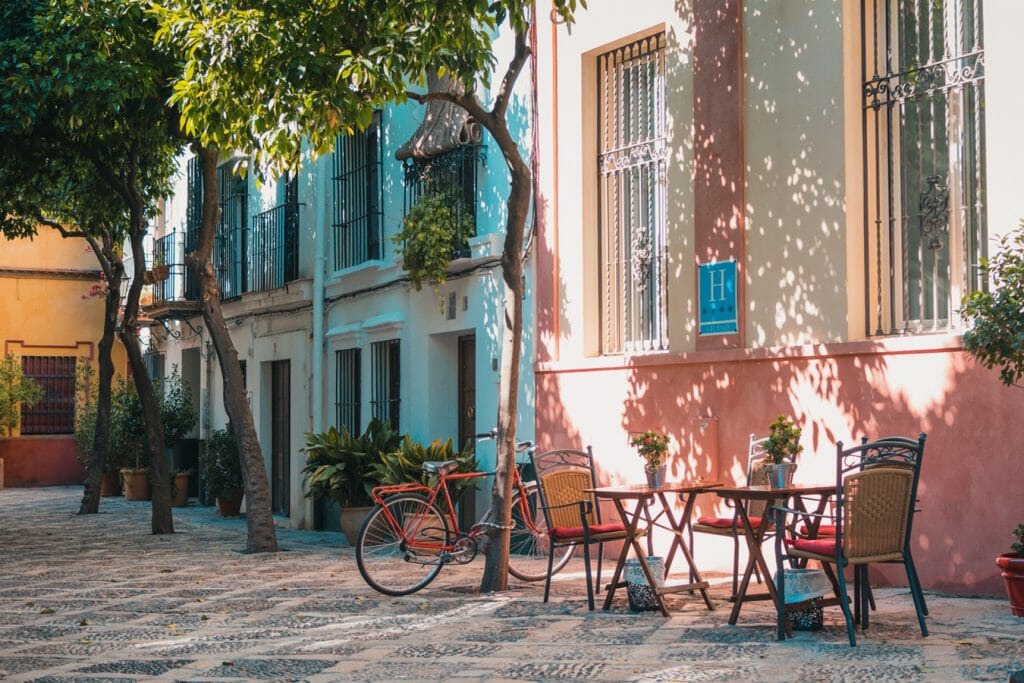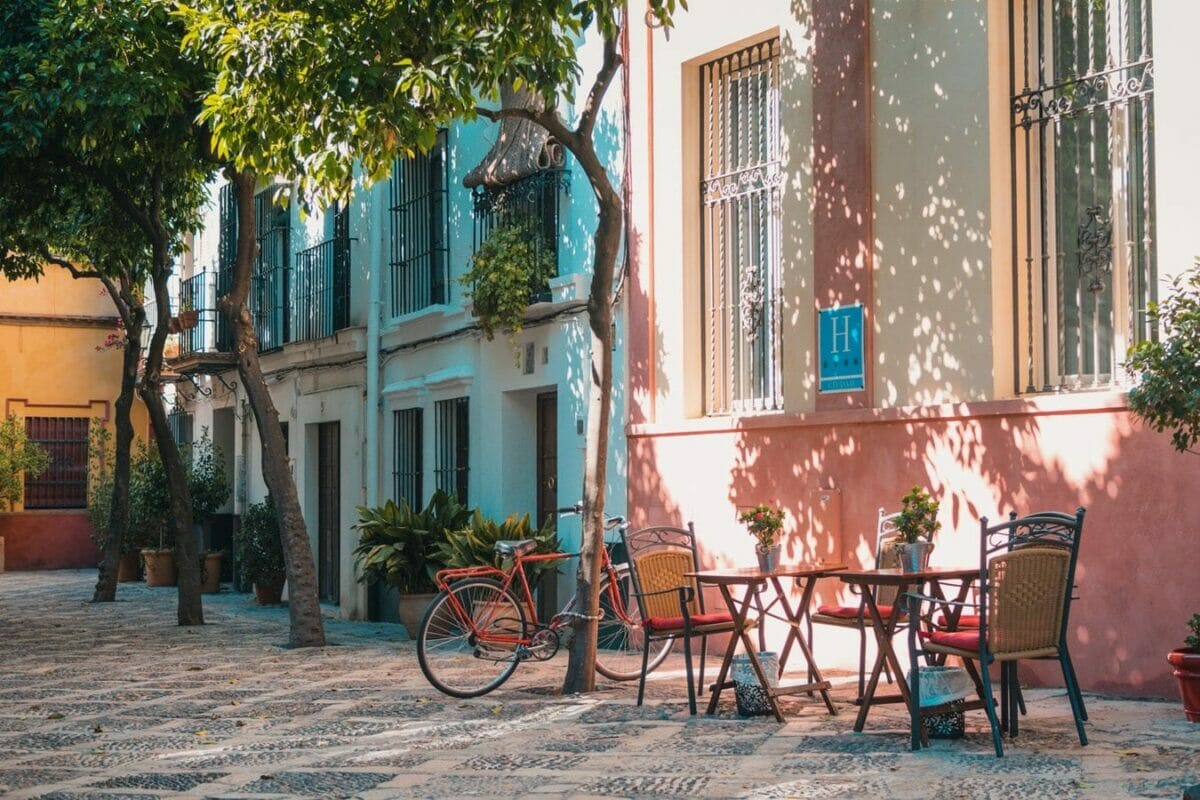 Alameda de Hércules – The center of the Seville Gay Scene, this plaza garden is where students, queers and creative types head for vibrant nightlife, which is all centered around 'el Alameda' Expect planet of tapas bars with modern ceviche and sushi and live music venues with jazz and open mic nights. Most bars here are gay-friendly but Seville has plenty of dedicated gay bars and clubs to dance the night away in – all found around Alameda de Hércules.
Alcázar of Seville – A royal palace built on the Abbadid Muslim residential fortress destroyed after the Christian conquest of Seville. This royal residence of the Moorish kings developed and today is a must-see within Seville, for its lush gardens and as an exquisite example of mudéjar architecture.
Seville Cathedral – The world's third largest church that stands on the site of what was –in the 12th century– the Great Mosque. The final resting place for Christopher Columbus since 1898, this glorious Gothic Roman Catholic cathedral is a landmark of the city you couldn't really miss if you tried. Giralda, the 341 feet cathedral belltower was the original minaret of the mosque.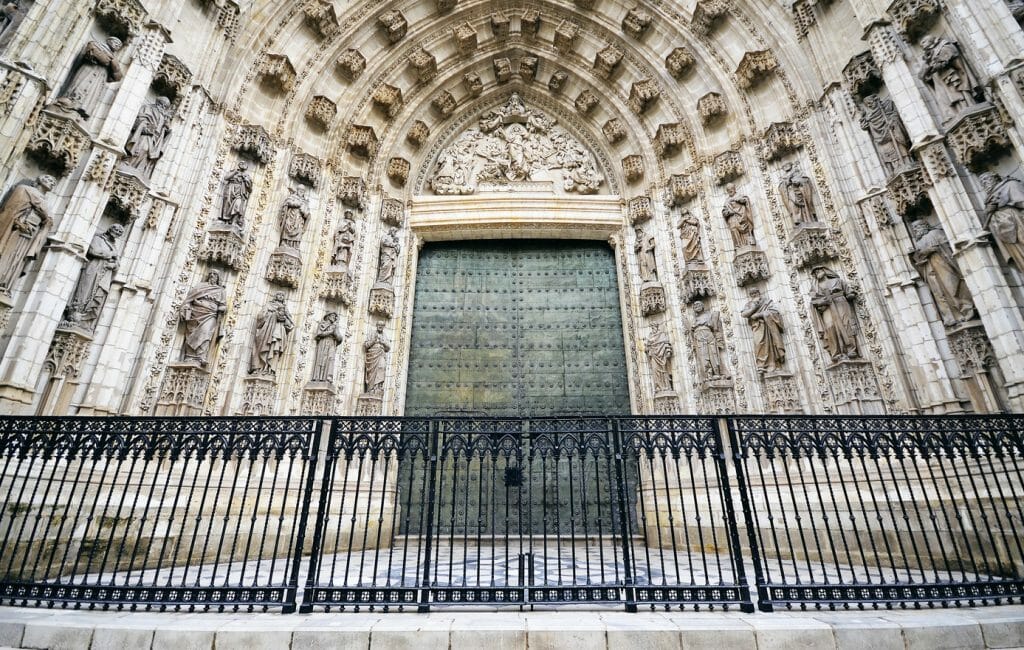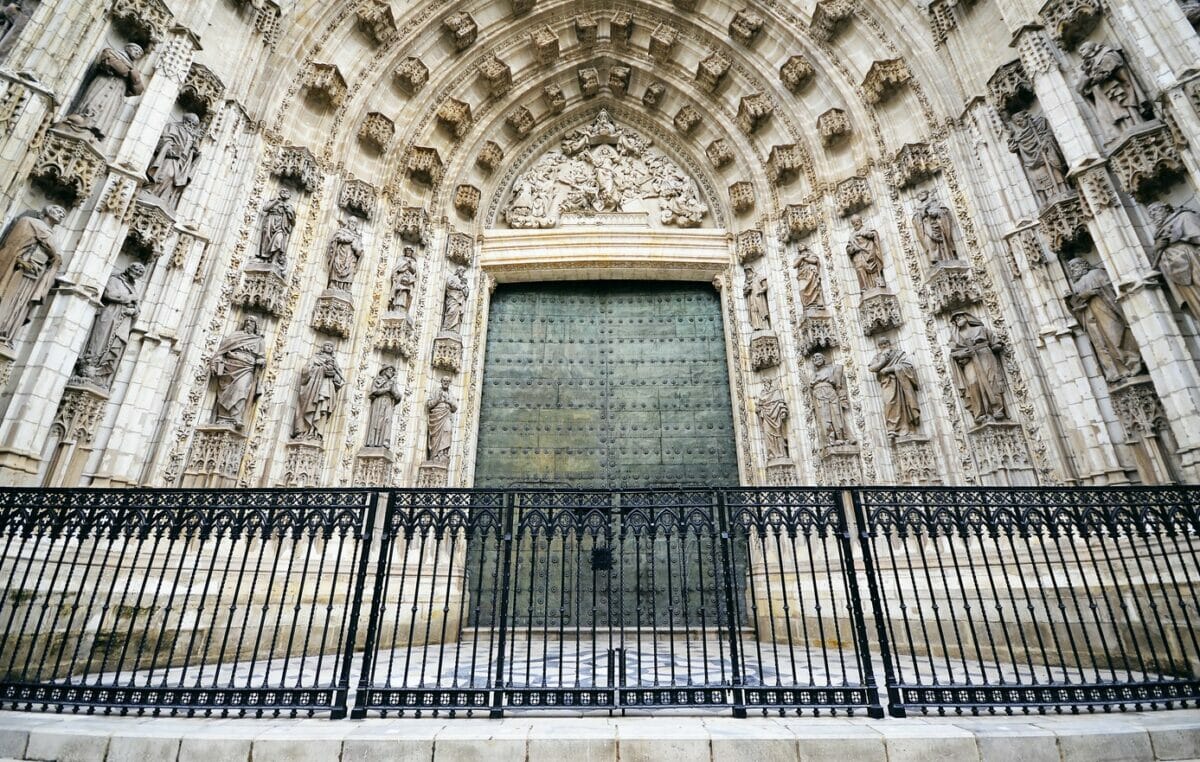 Torre del Oro – An iconic dodecagonal military watchtower once fitted out in golden tiles hence the name "Tower of Gold". Situated on the banks of the Guadalquivir River today this marvelous structure is home to a dedicated Naval Museum reflecting on Spain's colonial expansion in the Americas.
María Luisa Park – A verdant and tranquil green space sprawling along the city's river. Home to the1929 Ibero-American Expo, today it is the perfect place to relax, people watch and gawk at all the gorgeous boys and girls tanning. On the edge of the park is Plaza de España, an impressive, half-circle complex, with tiled recesses embodying Spain's provinces with quaint fountains and small canals.
General Archive of the Indies – The ancient merchants' exchange of Seville, a repository of exceedingly valuable archival documents detailing the history of the Spanish Empire in both the Americas and the Philippines. Trust us, it is absolutely fascinating dating back to 1785 with over 40,000 documents dating over 3 centuries of Spanish colonialism. The building itself is also an unusually and Italianate example of Spanish Renaissance architecture and since 1987 was declared a UNESCO World Heritage Site along with the Seville Cathedral and the Alcázar of Seville.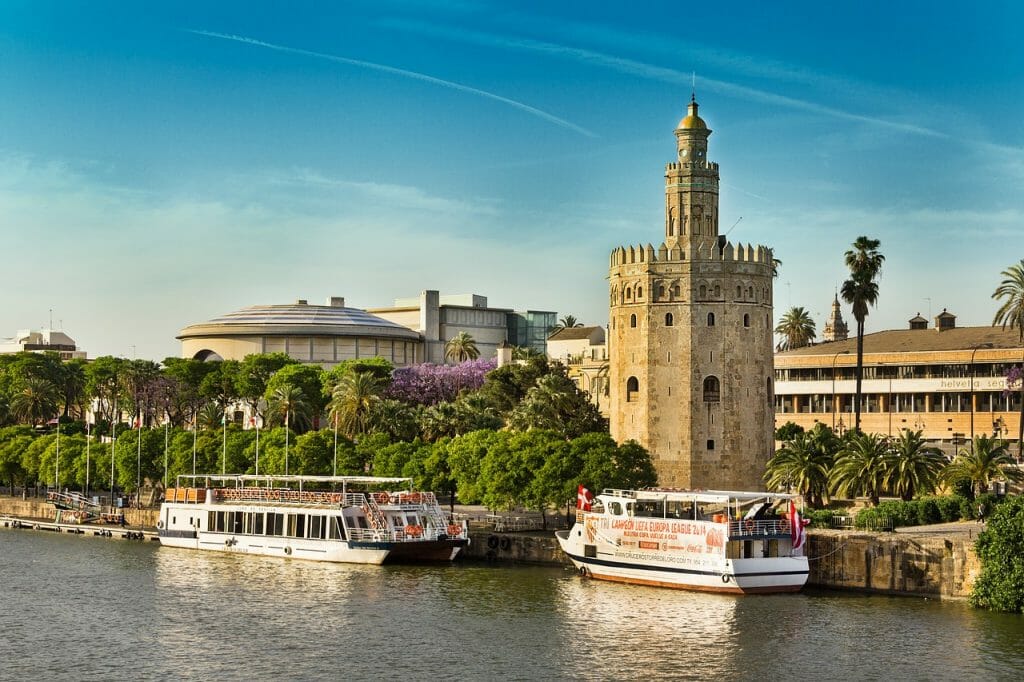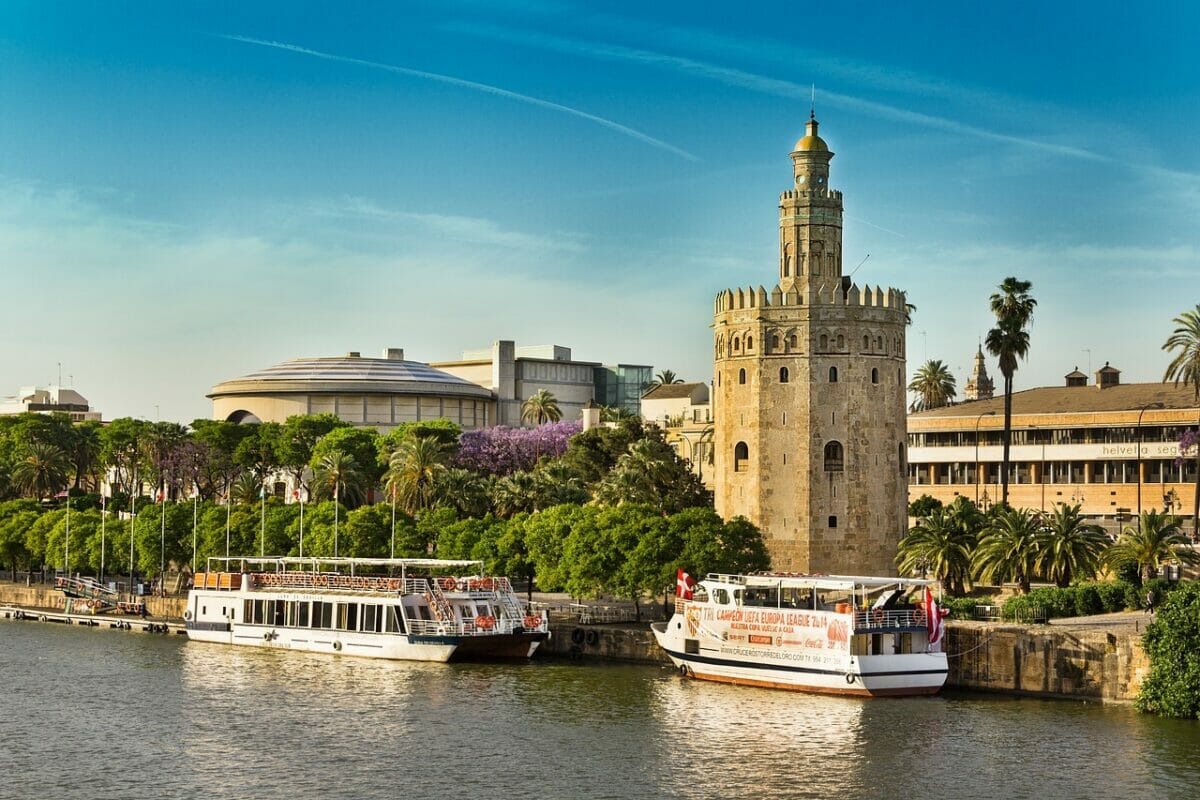 Teatro de la Maestranza – A world-class opera house constructed as a main cultural venue for the 1992 Expo, hosting mainly opera and musical performances. If you get the chance, don't miss seeing one of the exceptional Spanish operettas known as Zarzuelas.
Museum of Fine Arts of Seville – Art lovers can rejoice in this glorious museum featuring masterpieces by celebrated artists, such as Zurbarán, Murillo, and Goya. Founded in 1839, the museum features a collection of predominantly Spanish visual arts from the medieval period into the 20th century, including a large collection from Golden Age of Sevillian painting during the 17th century.
Metropol Parasol – The world largest wooden structure in the old quarter of Seville, Spain. Controversial at first, it was designed by the German architect Jürgen Mayer and finished in 2011. The bizarre waffle-like structure rejuvenated a down-trodden neighborhood while offering city panorama from above and a view of Roman and Moorish ruins underneath.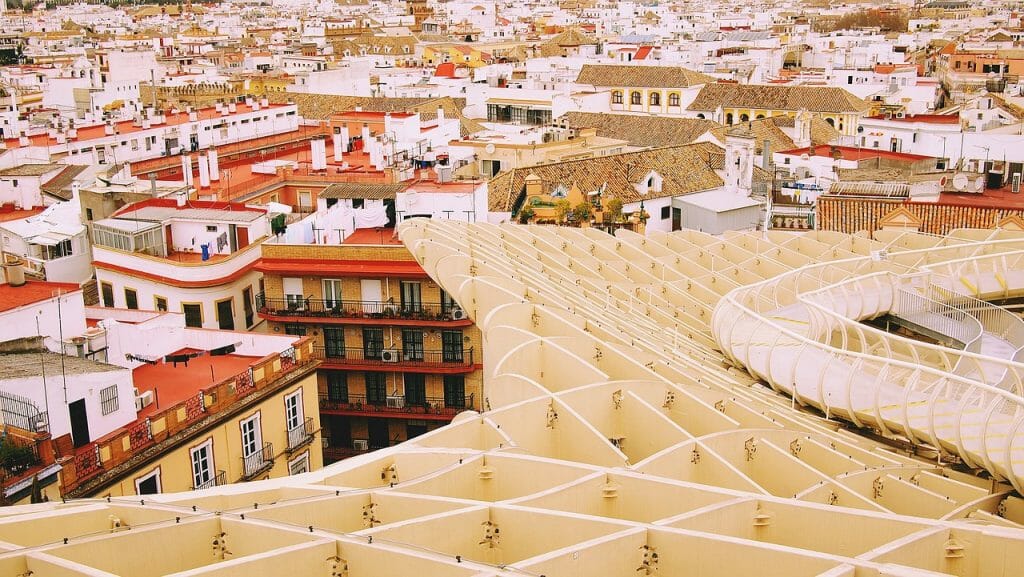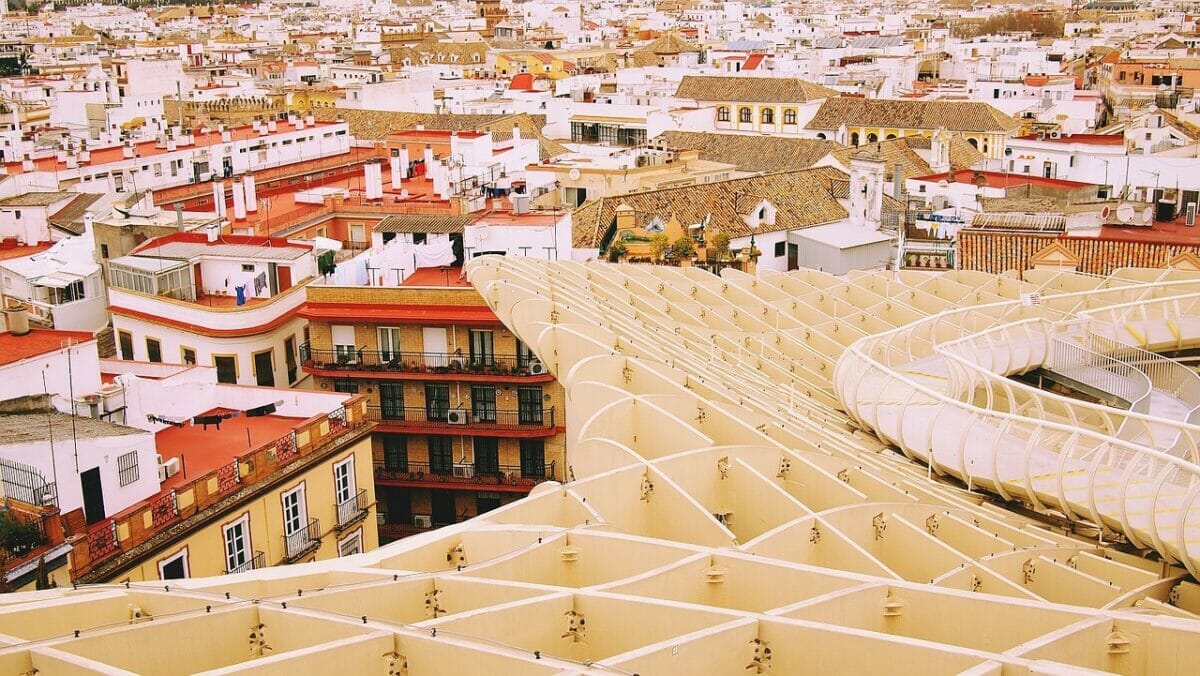 Seville River Cruise – Take a cruise on the Guadalquivir River, the only navigable river in Spain. Get an epic view of all the cities grand monuments, admire historic bridges and see the route taken by all the ships carrying gold docked after their world explorations. Utterly romantic.
Flamenco Show – How could you visit Seville without seeing the unique cultural art form of Spain, all right in the historic Santa Cruz district of Seville. With passion, fire and plenty of chemistry watch and admire the skills of the dancers and singers – it's a memory you will never forget!
Pueblos Blancos and Ronda – Go on a tour or hire a car for this full-day trip from Seville traveling back to the prehistoric Andalusian kingdoms of Castille and Granada, while appreciating the natural beauty and learning about the region's history. Visit the white villages, the Grazalema forest and mountains, and the ancient town of Ronda.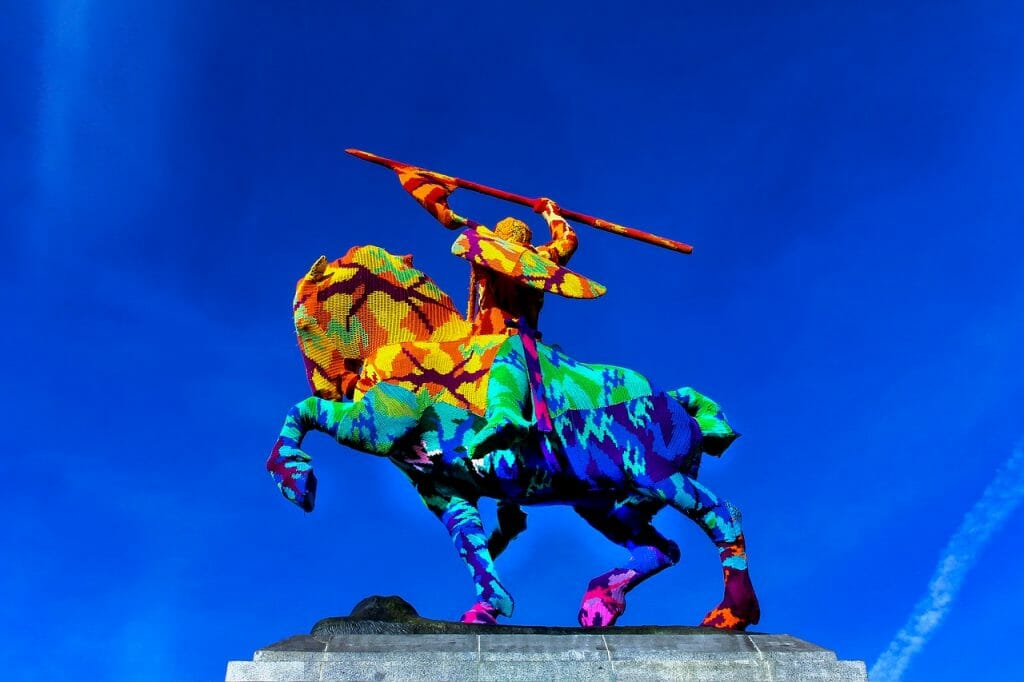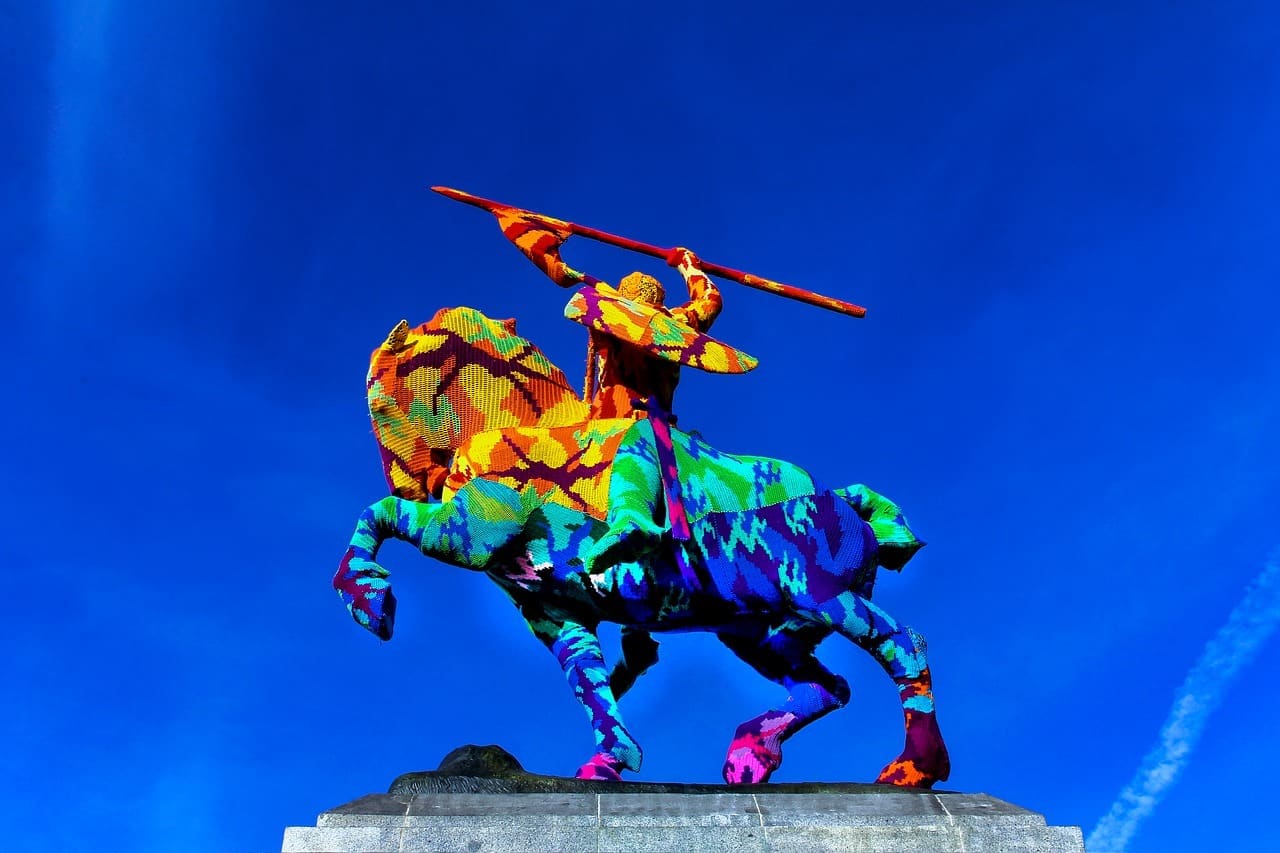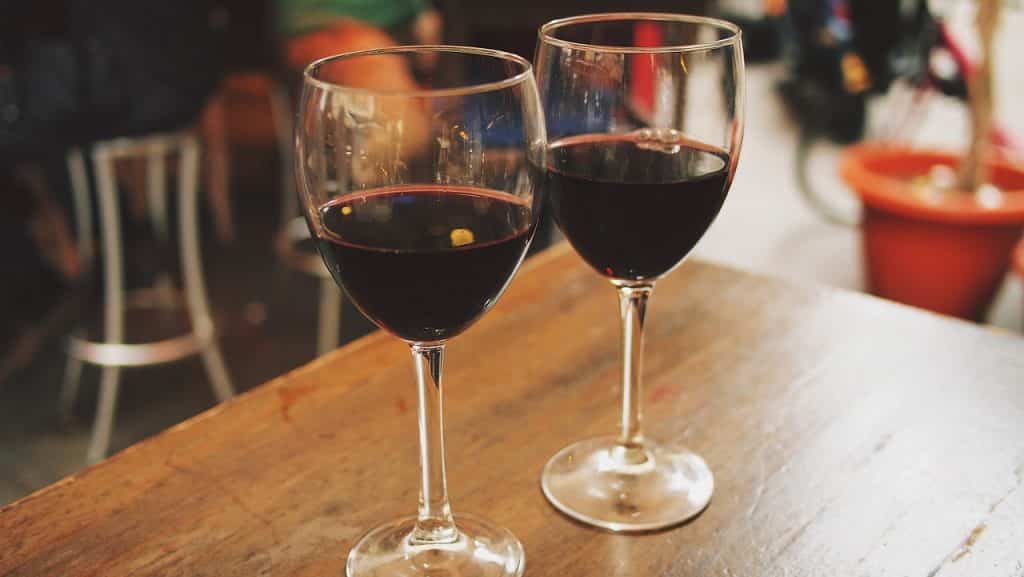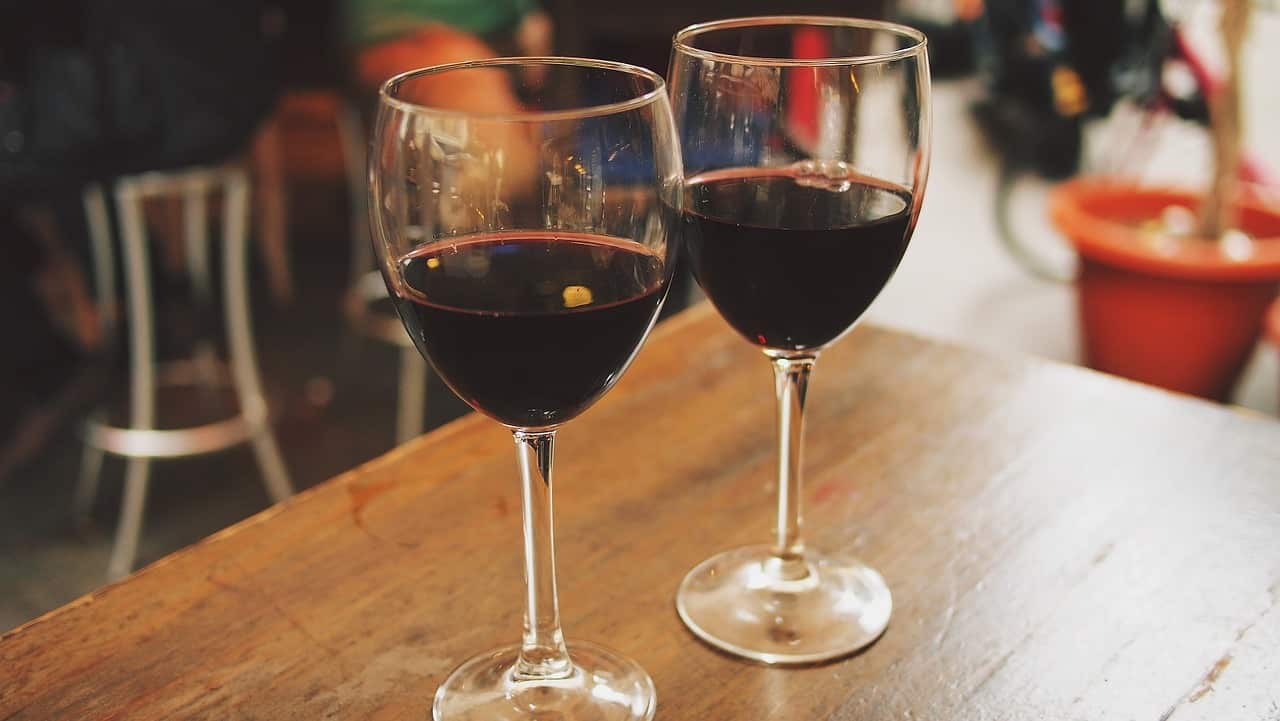 Guadalkibear – Southern Spain´s club for bears and admirers, GuadalkiBear, has its annual meeting Guadalkibear ConBeargence in October annually. The Bear movement has swept across Spain and there are now bars and bear clubs in the country´s most important cities, and international events in cities like Barcelona, Madrid, and Sitges. For the Seville bear scene, Men to Men is the official bear clubhouse that has become the largest bar for bears, older men, and admirers in all of Spain, with two floors but there is also have two saunas and a disco frequented by the bear community.
Orgullo de Andalucía 2018 – Seville Gay Pride taking place in June annually. The parade starts on Saturday evening through the center of Seville finishing at the Alameda de Hércules, but there are plenty of other club parties, cultural events and political movements taking place throughout the entire week. Orgullo de Andalucía is entirely worth planning your trip around and is the best time to visit Gay Seville.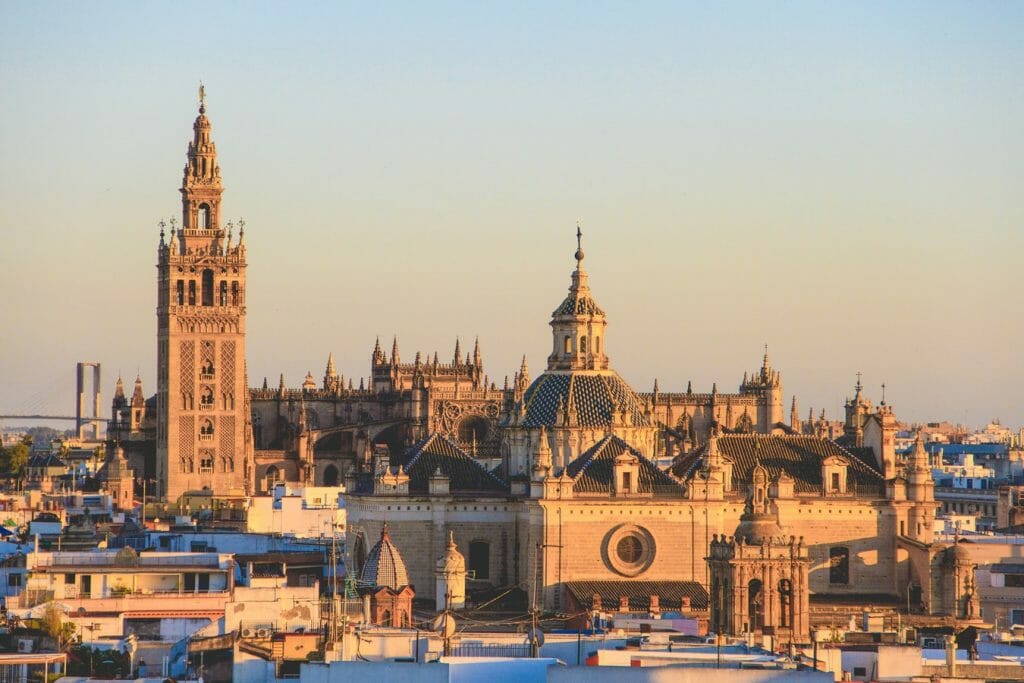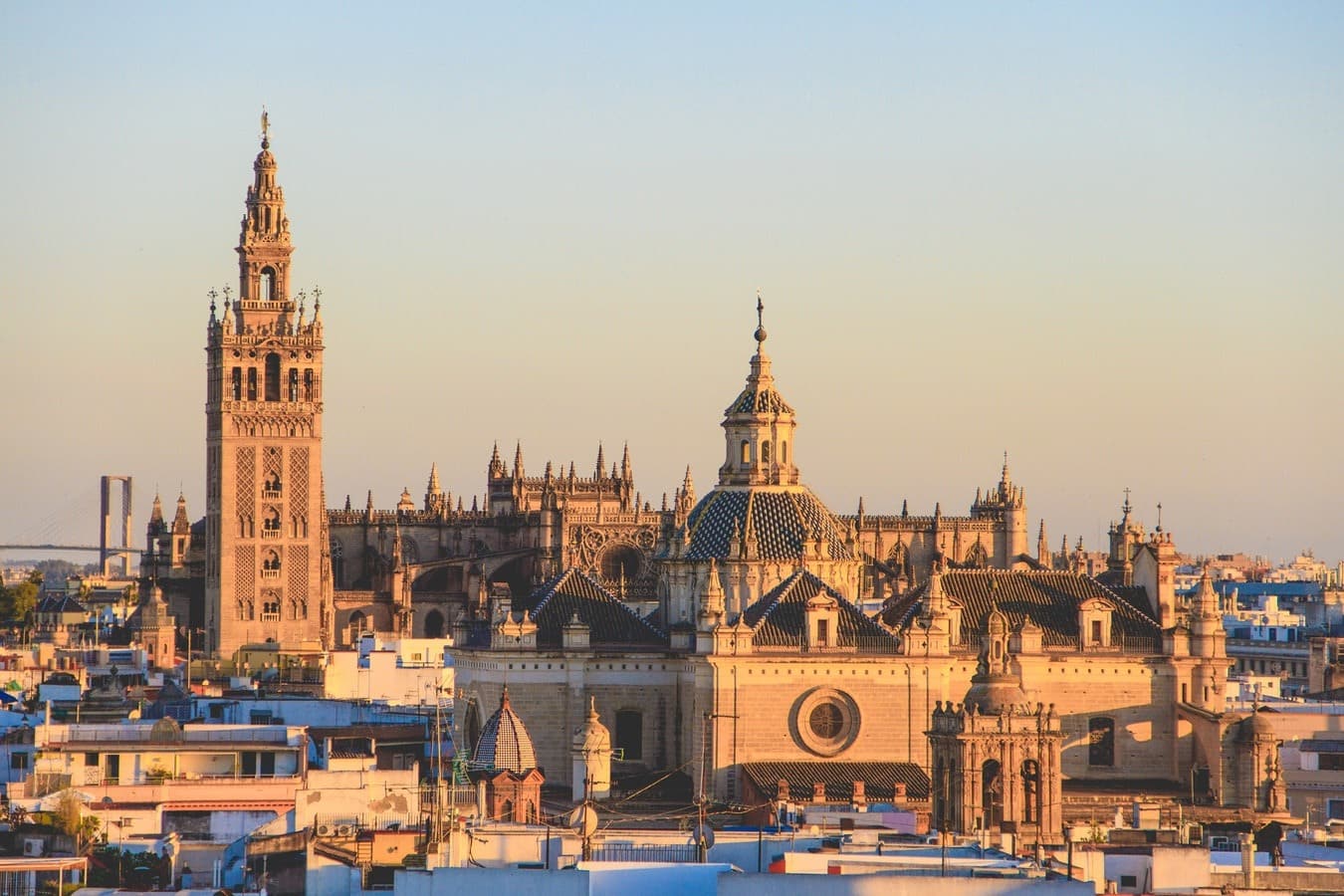 Gay-friendly and Gay Hotels in Seville Spain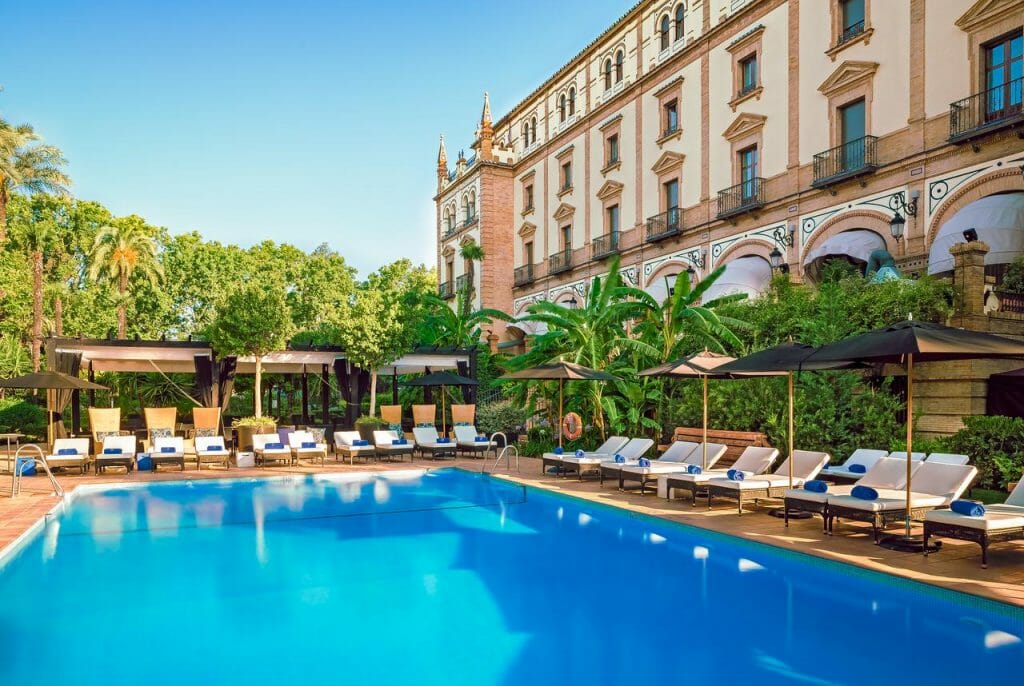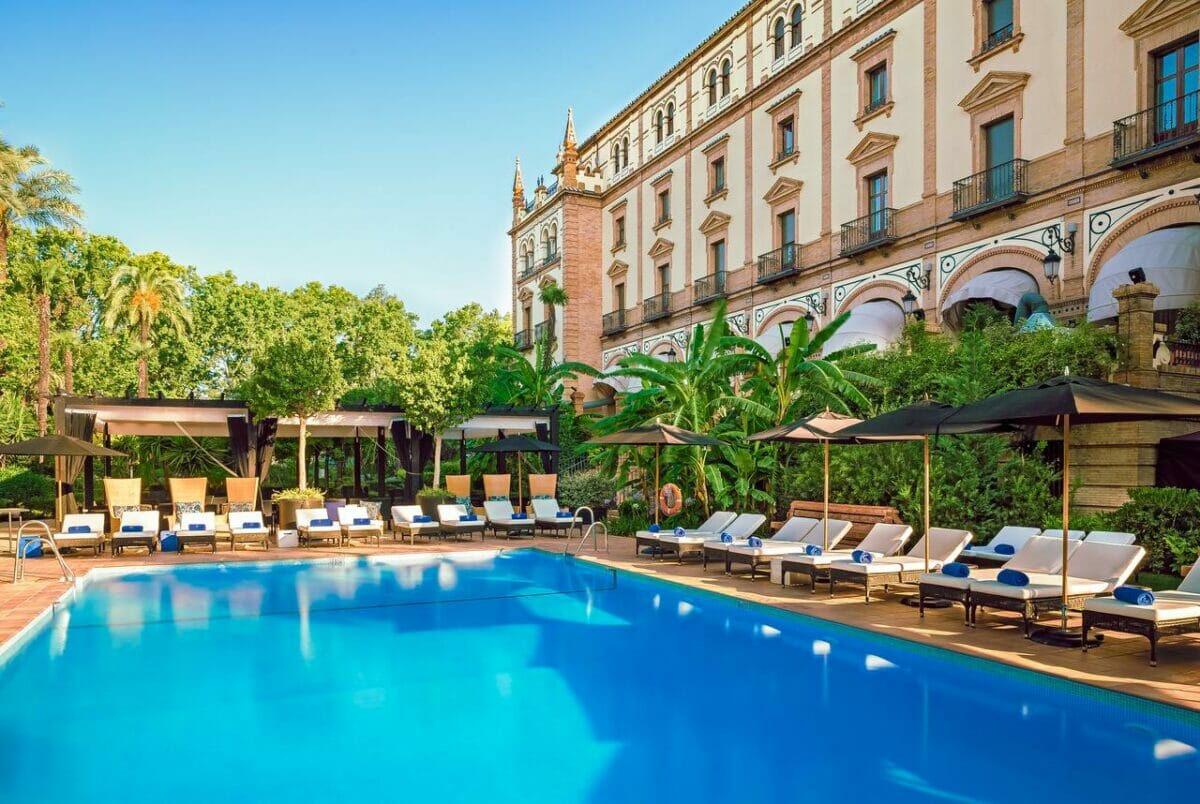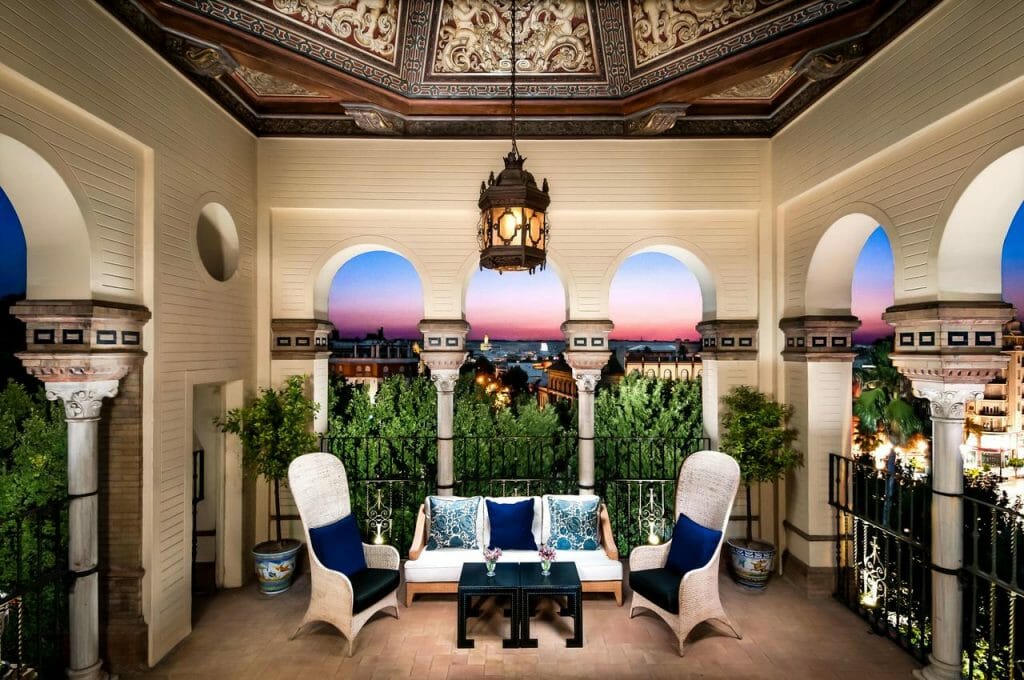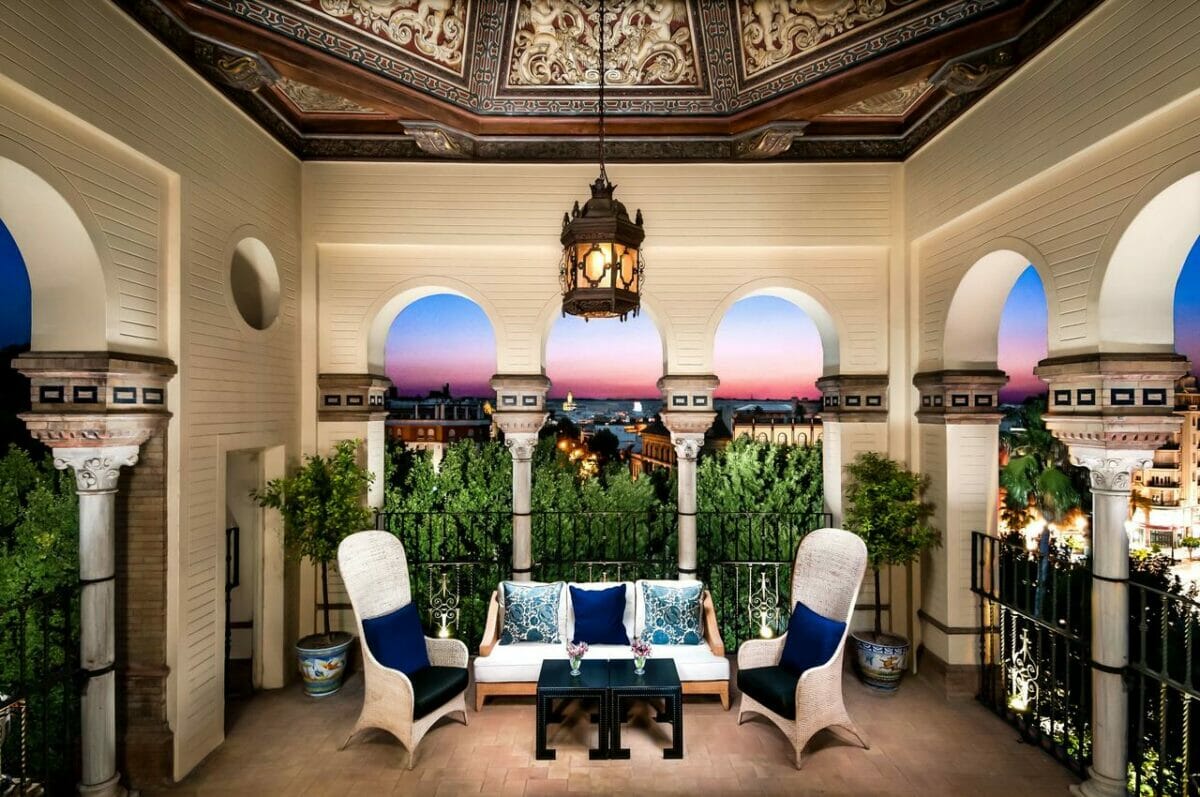 Spain is a world-leader in LGBT tourism and nowadays pretty much every hotel and hostel in Seville can be considered gay-friendly – after all, being gay-friendly it not all about upscale luxury, but about providing friendly and open service and welcoming everyone with open arms!

Having said that, everyone likes to be surrounded by people with common interests, and as such a there a few well-known hotels in Seville that are known hot spots for gay travelers to stay – most are close to all the attractions of Gay Seville by day and night!




The following gay-friendly hotels in Seville are only the most popular with gay travelers but there are hundreds of other hotels in Seville – Just make sure you try to stay near the Alameda de Hércules gay area in Seville if you are interested in the nightlife here. Whether you want a fun and social hostel, a cheap place to crash after a night of partying or a chic designer option to sip wine and surround yourself with fabulous people – Gay Seville has something for everyone!



Hotel Alfonso XIII ☆☆☆☆☆ – An ornate 1929 hotel in the center of Gay Seville with regal suites, harmoniously blending traditional Spanish and modern details. All rooms feature marble and Sevillian tiled bathrooms while some even have Juliet balconies Hotel Alfonso XIII also boasts a trendy restaurant, a casual tapas bar, and an upscale cocktail bar, not to mention the sauna, outdoor pool, and well-equipped gym.
EME Catedral Hotel ☆☆☆☆☆ – Directly opposite the famed Gothic Seville Cathedral, the EME Catedral Hotel is a luxe whitewashed hotel with sixty rooms, four restaurants, event rooms, terrace, and spa. Rooms feature exposed sinks, in-room tubs, or upgrade to their bespoke suite includes a Jacuzzi on a private terrace. Complete your day in Seville with a relaxing wellness spa session, enjoy their hammam or just indulge in the lux terrace bar.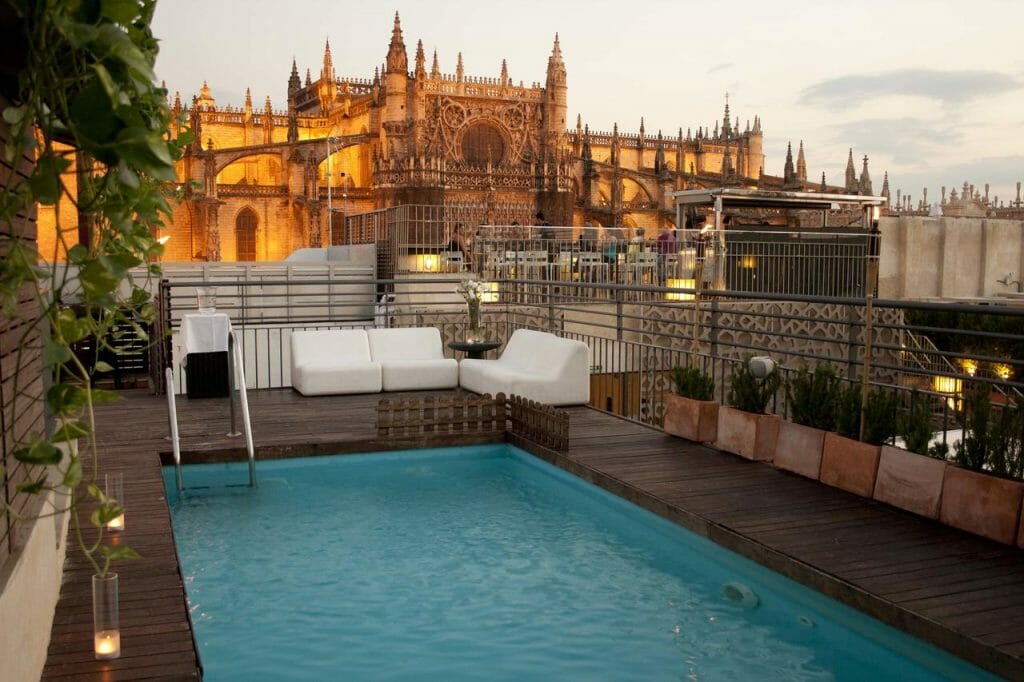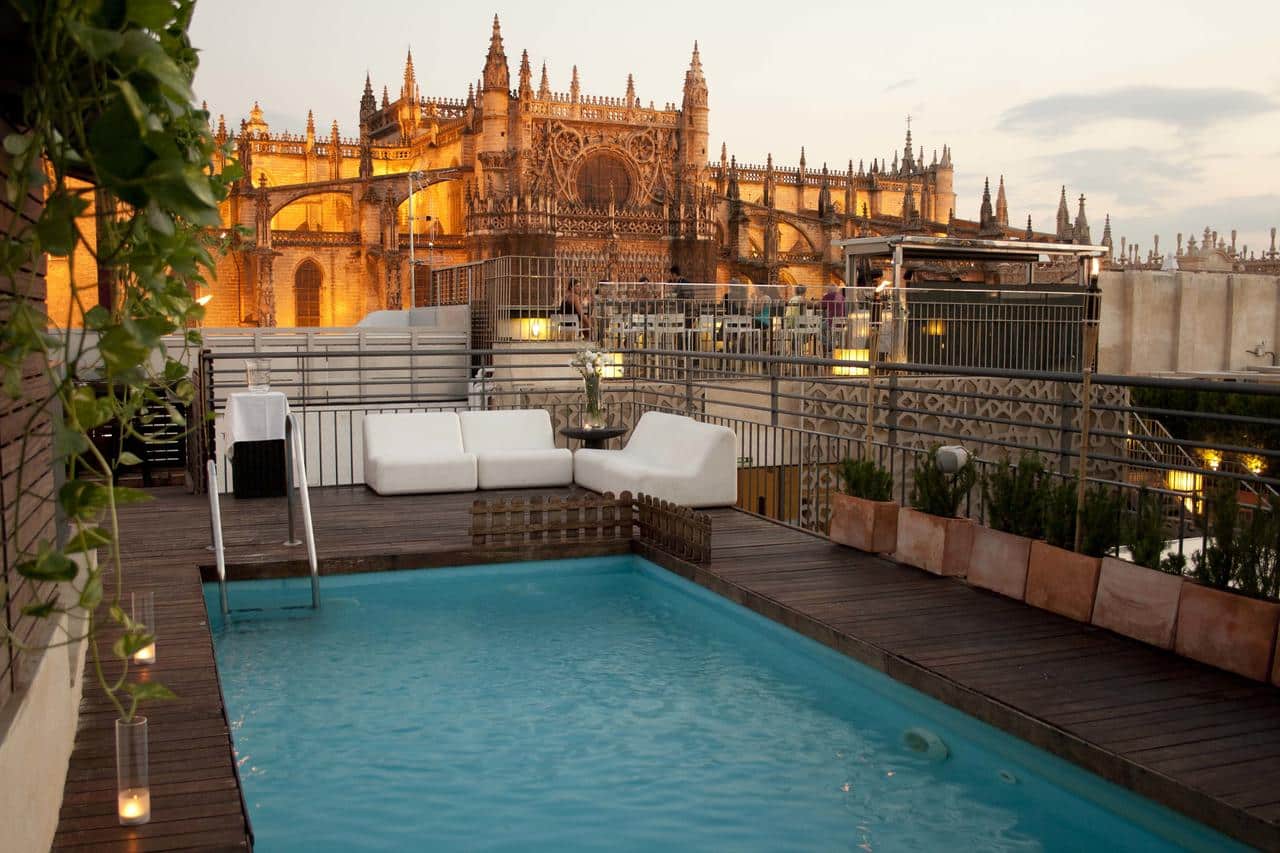 Gran Meliá Colon ☆☆☆☆☆ – Gorgeous rooftop infinity pool, central location, and modern decor…No wonder this is one of the most popular gay hotels in Seville. Renovated with a striking combination of art, color, and style, we loved the world-class service, city view rooms and in-room Nespresso machines, perfect for enjoying in them marble bathtubs after a long night out. There is also a contemporary Andalusian restaurant, a fun bar, and a decadent wellness spa if you need more reasons to tempt yourself.
Sacristia de Santa Ana ☆☆☆☆ – This 18th-century manor house is located in Plaza de la Alameda with elegant rooms and antique furnishings to boot! If you do stay here, splurge on a suite to truly feel like a Spanish conquistador! Trust us, you won't regret it!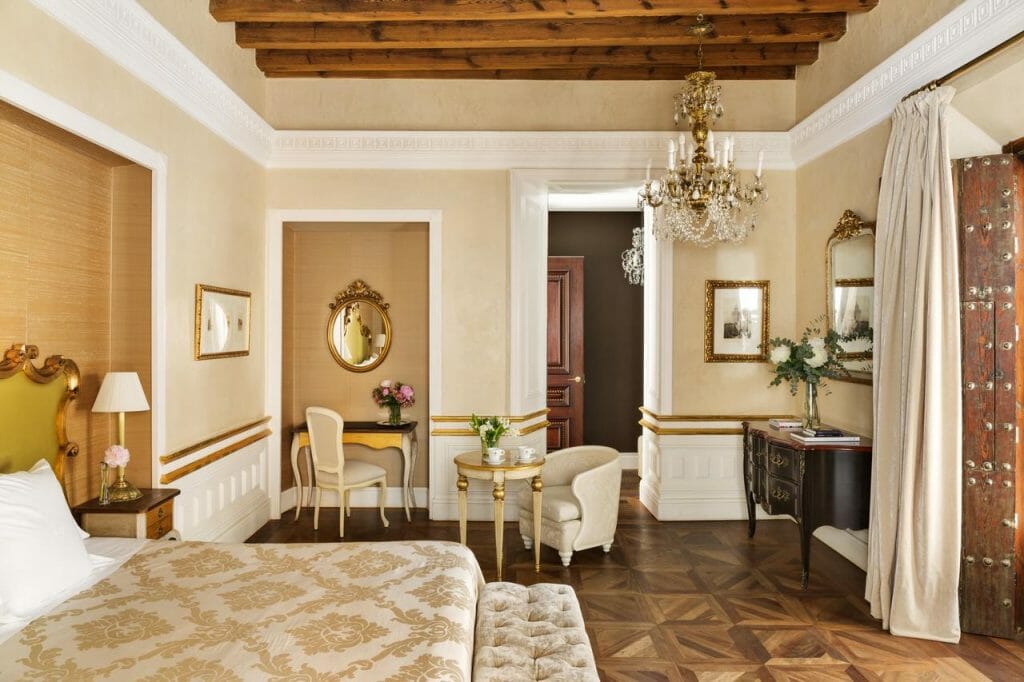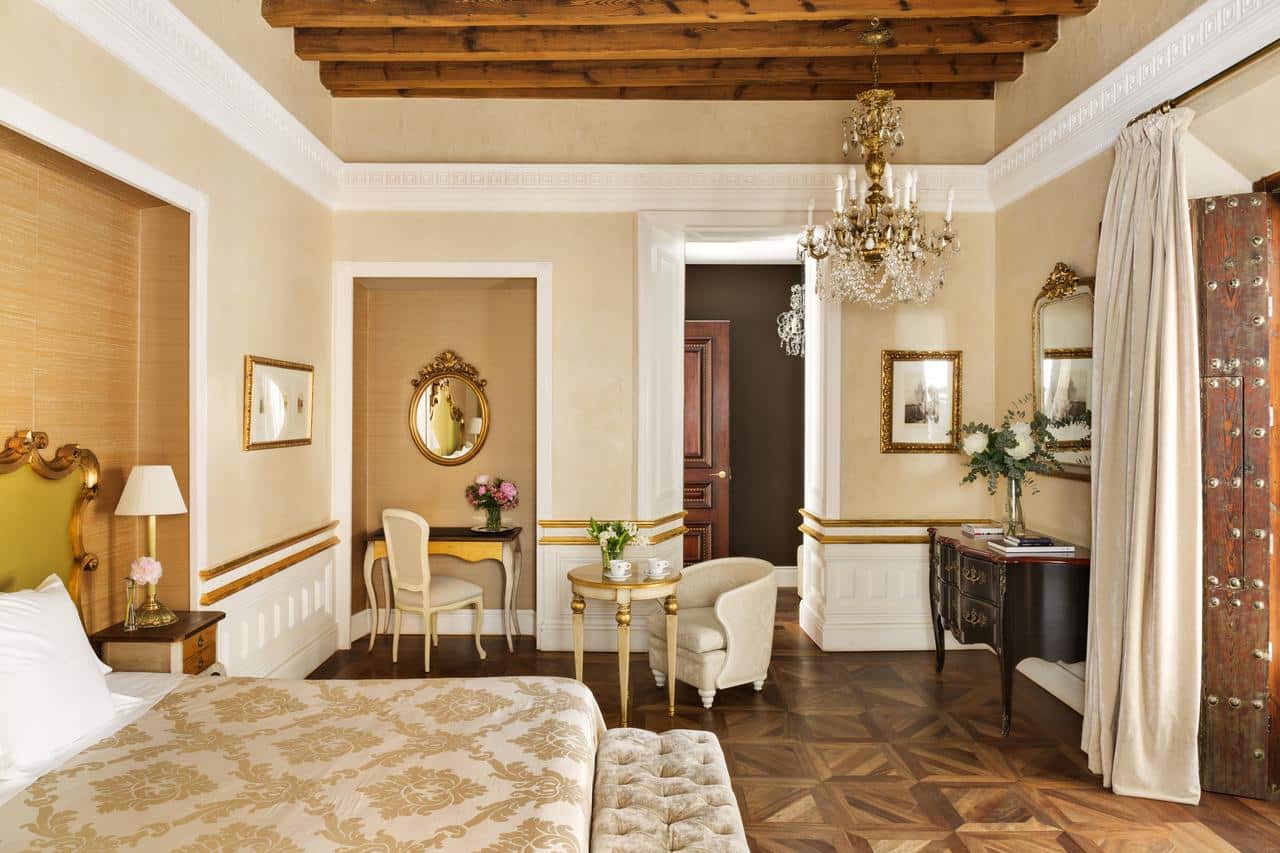 Hotel Casa 1800 Sevilla ☆☆☆☆ – Housed in a mansion built in 1864, this luxurious hotel offers stately rooms include fresh flowers, minibars, Egyptian cotton towels, free Wi-Fi and plenty of original features. If you want to upgrade, the suites even have private terraces with outdoor Jacuzzis. Great value-for-money with a complimentary afternoon tea and a terrace with panoramic views over Gay Seville.
Hotel Amadeus & La Musica ☆☆☆☆ Tucked away in the Santa Cruz neighborhood, this boutique music-themed hotel dates from the 18th century. As you would expect there are classic, antiques-filled rooms and a glorious library of classical music. Some upgraded suites even feature whirlpool tubs and delightful balconies. There are also a fun rooftop hot tub, musical instruments for guest use (and a soundproof rehearsal rooms), plus a quint terrace.
El Rey Moro Hotel Boutique ☆☆☆☆ – An quaint, converted manor hidden in a narrow cobbled street, this elegant hotel offers colorful rooms, an upscale restaurant, and a rooftop terrace. The raw wood, intensive restoration, and small Arabic fountains transform this hotel into a truly magical experience.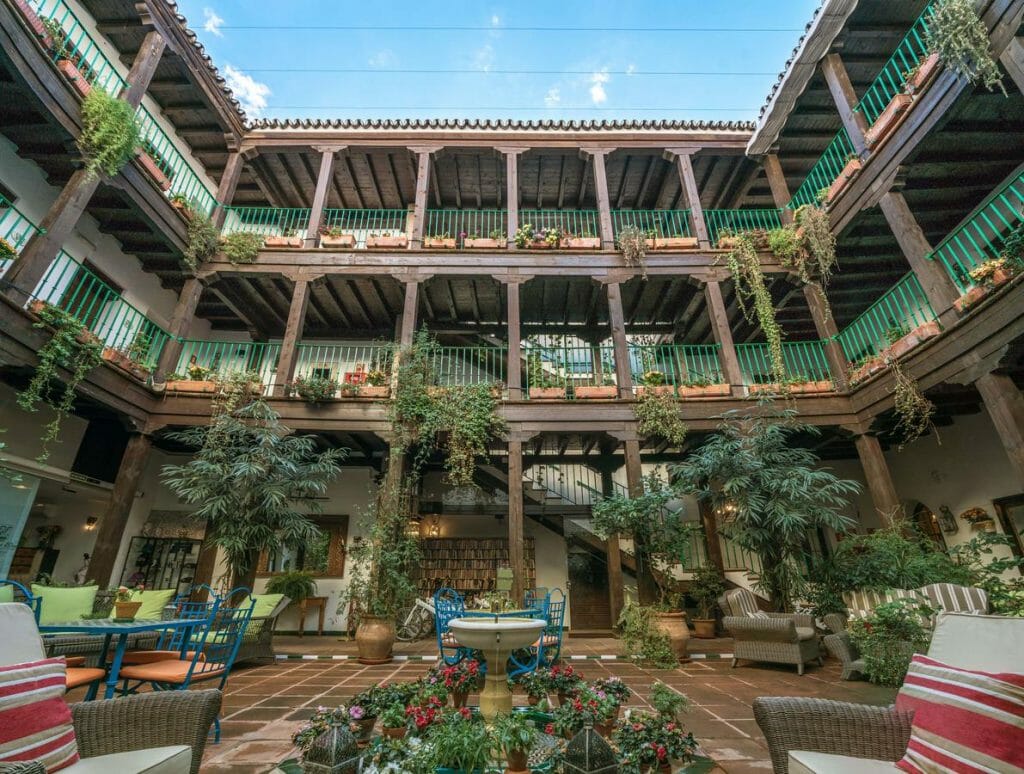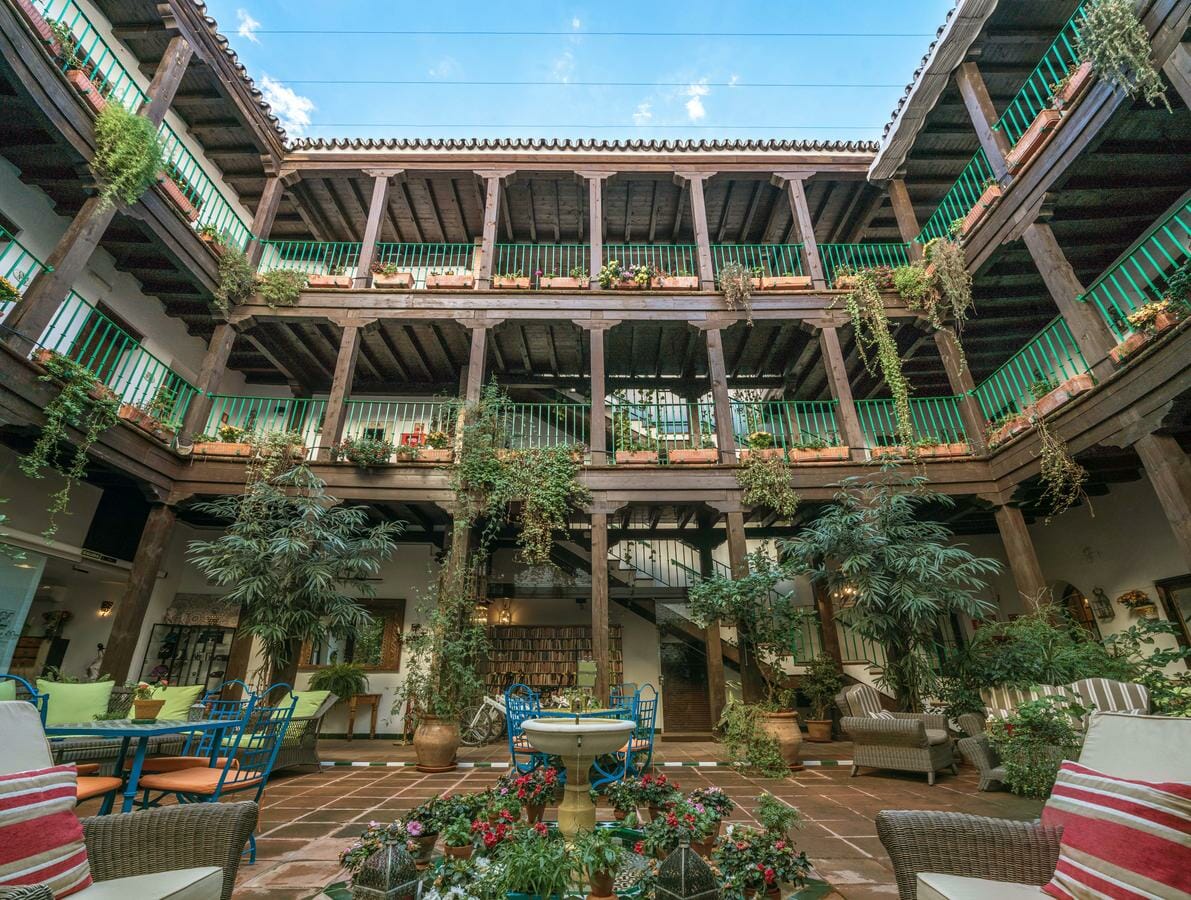 H10 Corregidor Boutique Hotel ☆☆☆ – Tucked down a narrow alley in central Seville, this quaint hotel near all of the top gay Seville attractions, offers refined rooms – many with balconies – overlooking the interior colorful courtyard, outfitted with a fountain and neoclassical statues.
Hotel Boutique Doña Lola ☆☆☆ – One of the most popular gay hotels in Seville, although they are not exclusively gay but a place of respect and tolerance where you know they will understand you. Located in a beautiful, historic area in central Sevilla, Hotel Boutique Doña Lola is set in a 19th-Century house, with basic interiors, airy rooms, and large windows. Great value for money!
La Banda Rooftop Hostel ☆☆ – A fun, gay-friendly hostel with a large rooftop chill-out terrace offering sofas and stunning views of Seville Cathedral. This independently-run hostel offers air-conditioned dorms with free Wi-Fi, a communal kitchen, and 24-hour reception. If you're on a budget, or traveling solo and want to make friends to explore the Seville nightlife this is our #1 option!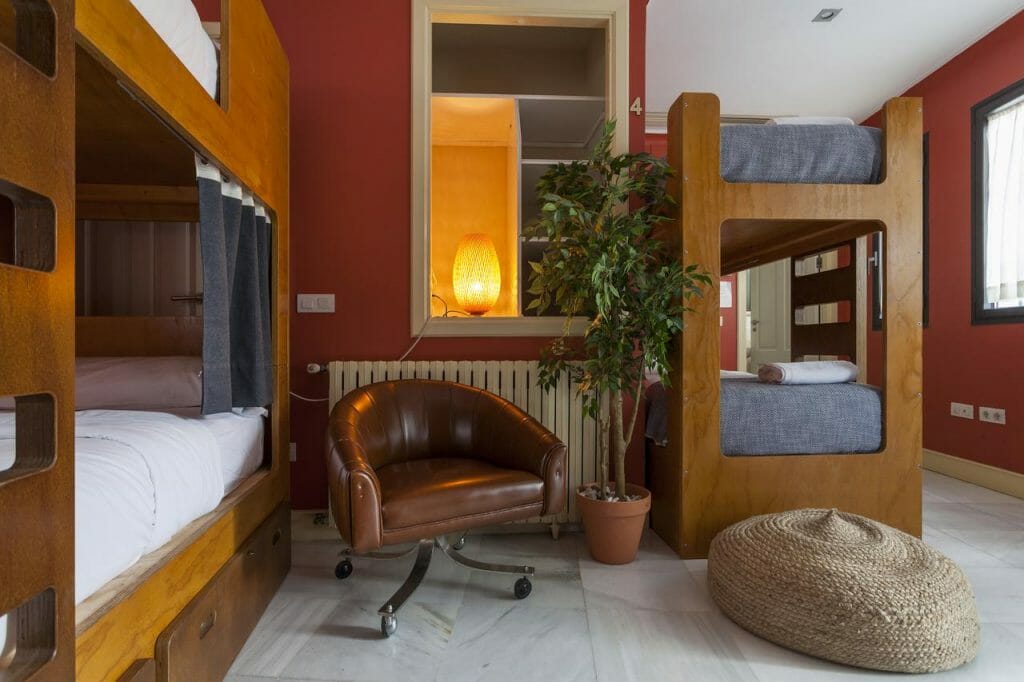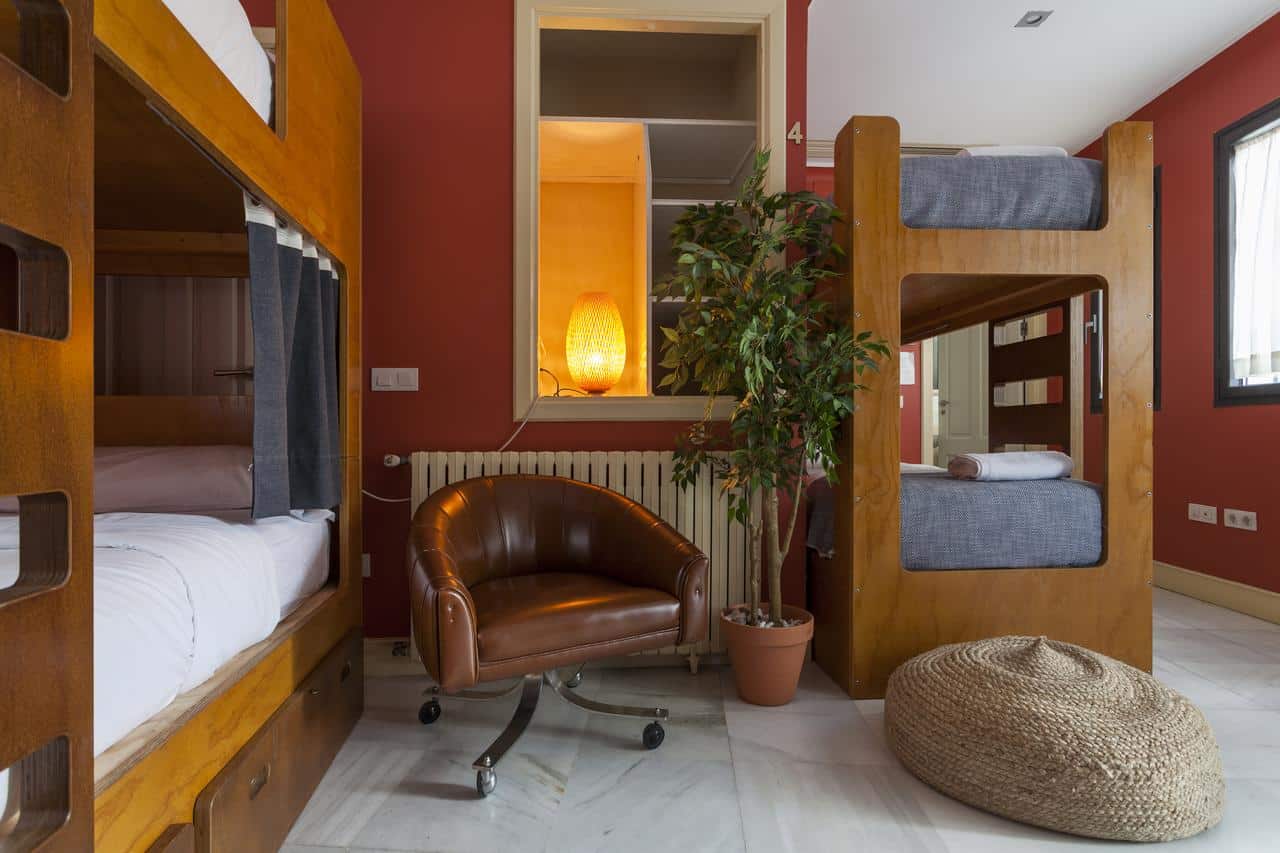 Gay-Friendly / Gay Bars in Seville
Seville is one of our favorite under-the-radar gay destinations in Europe – in part due to comparatively low prices and vibrant gay nightlife scene here! Anyone who knows anything about the Spanish knows they love a good party, and while Seville might be relaxed by day, the nightlife here is anything but!
New bars and club events are taking place consistently here so it pays to ask around when you arrive (hotel staff are a good bet) but thriving gay scene here is mostly found around the Alameda de Hércules (Hercules mall), or simply La Alameda. Things will get crazy – but just go with it!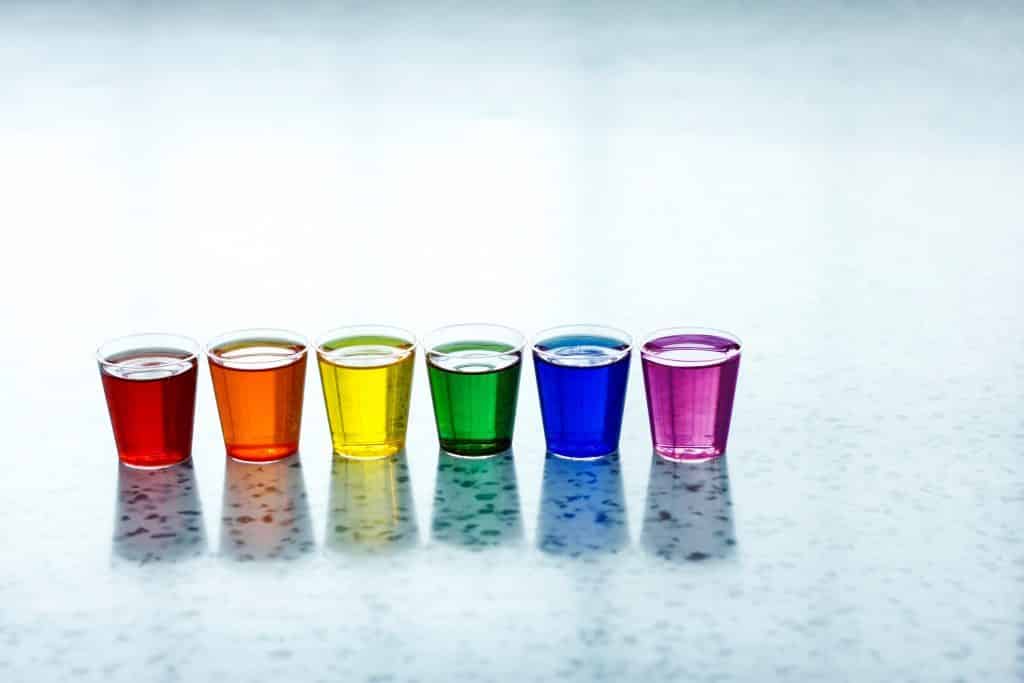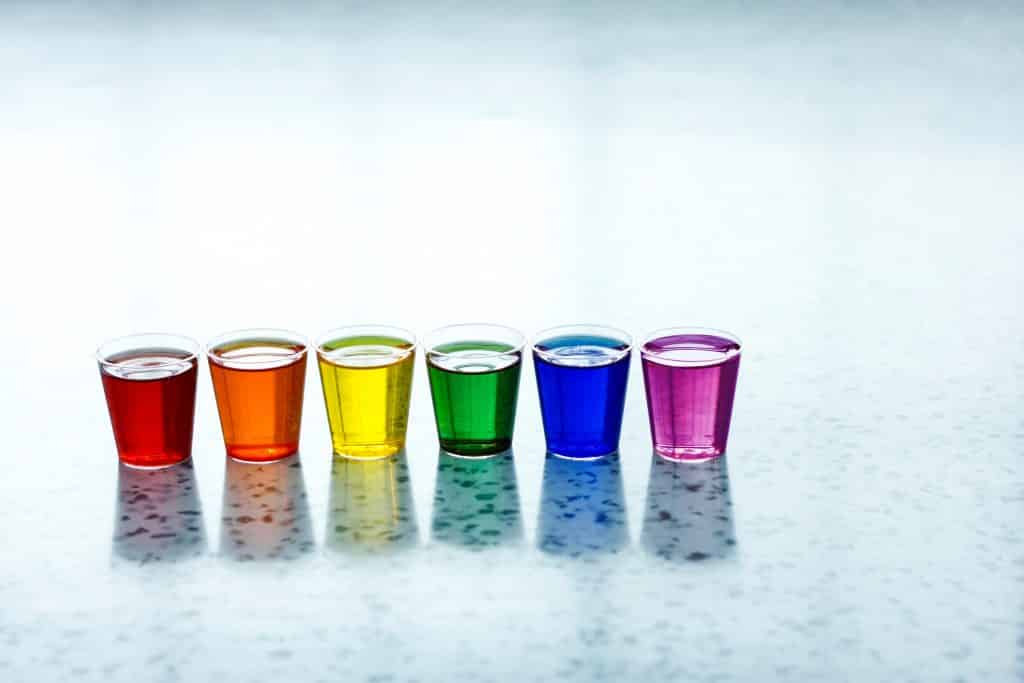 ITACA – The biggest gay club in Seville offering gay anthems and the latest pop music until 5 am on weekdays and 7 am on weekends – what more could you want really? Fitted out with a fun Ancient Rome theme (we all know what those naughty Romans got up to) – which probably explains the dark room onsite. Plenty of hot guys, a chill out VIP space and friendly bartenders. Our go-to space in Seville to dance the night away!
Men to Men – A popular disco gay club in Seville with a raunchy cruise club on the second floor. Men to Men put Seville in the international circuit of the gay masculine scene with epic lighting, its wild dance floor with DJ and its community of 100% masculine men: young and mature, locals and visitors, bears, otters, fetish lovers and next-door pals. The more intense upstairs floor has video rooms, cabins, and dark room.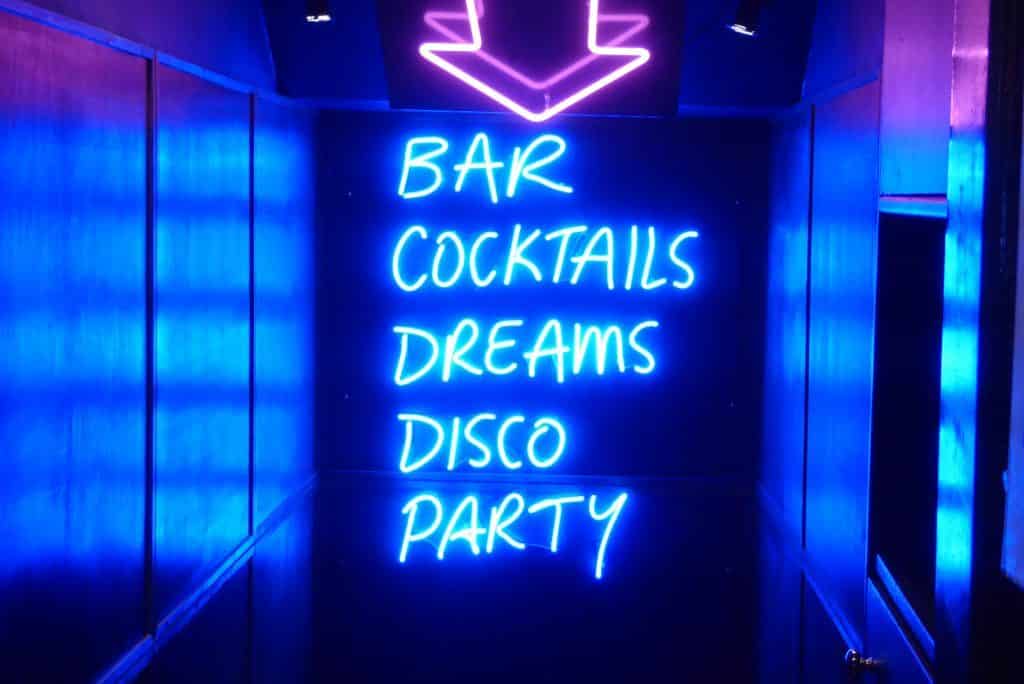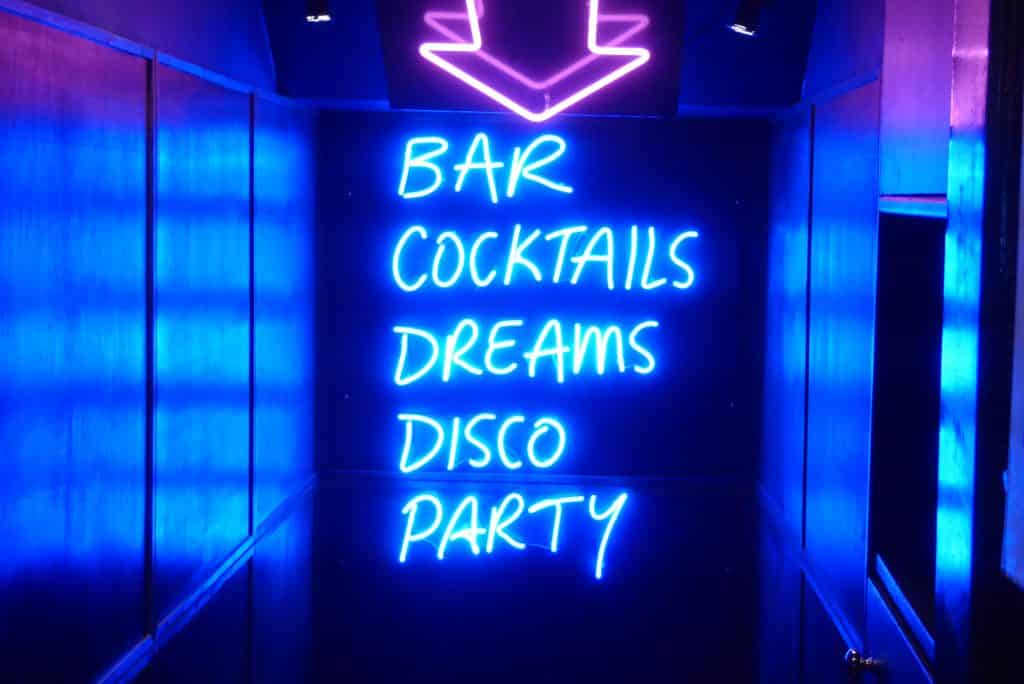 El Bosque Animado – Cute little neighbor gay bar in Seville with beautiful bartenders, fun parties, and bespoke events. The weekends can get pretty wild here but otherwise, El Bosque Animado is the perfect to relax, meet for a drink and plan out the rest of your night in Gay Seville.
Bohemia Bar – Cosy sweet-side bar with cheap drinks and a devil-may-care attitude. The local bear hang-out though anyone is welcome in this den.
1987 Bar – If you want to escape modern life then this is the spot, as 1987 offers throw-back 80s music from Wednesday to Saturday. Fun parties, plenty of Madonna and all those good looking boys.
Mentiroso – An upscale gay cafe/cocktail bar offering funky purple lighting and delicious drinks. Everyone across the LGBT spectrum is welcome here, andMentiroso is a super casual place to hang out and make friends in a stylish setting.
Jewel – A sexy gay dance club playing pop on Friday and house music on Saturdays with fun themed events, sculpted go-go boys, and an all-go attitude until 7 am.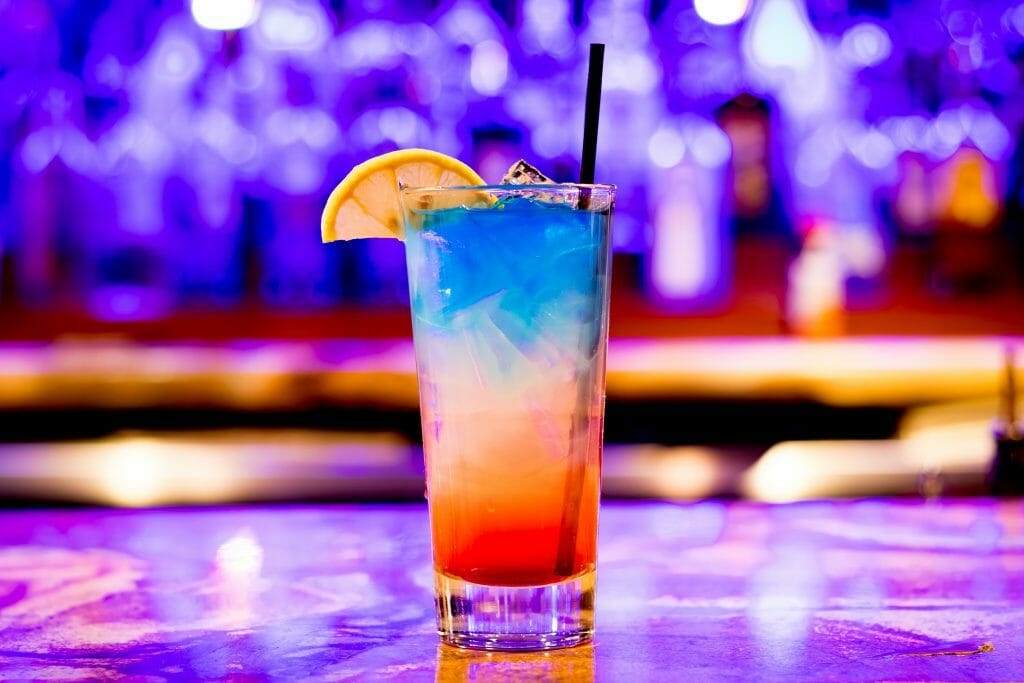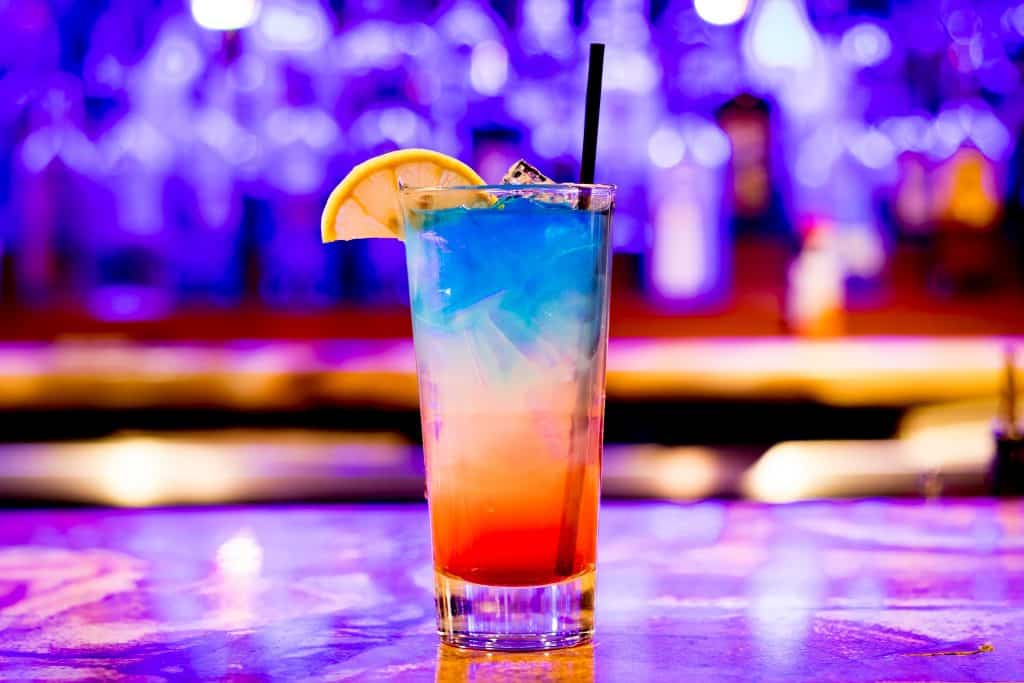 Rainbow – A queer dance party popping up in different locations around the city. Not as active as they used to be but still a wild night of music, drag, go-go and hot young things.
LUX @ Terraza – The biggest gay party in Seville taking place during the summer months (May- September) every Friday and Saturday. A queer takeover of the Terraza open-air venue which is suddenly filled with delicious go-go boys, stylish men, and fabulous stage performances. Not to be missed!
Gay Cruising & Gay Saunas

in Seville
Had enough of gay cruising in Seville – either in the bars or elsewhere? For those who want a bit more guaranteed action, the gay saunas in Seville will not disappoint you (unlikely all those faceless accounts on Grindr or the other hook up apps…). In such a foreign-friendly city you should have no issues visiting any Seville gay sauna if you have read up on your gay sauna etiquette, but you could also consider the one dedicated gay cruising bars in Seville.
Sauna Alameda Gay – The newest gay sauna in Seville right in the gay heart of the city, right next to La Alameda de Hércules. Friendly staff and super clean, just be sure to walk if it is busy before entering. Modern facilities include spacious cabins, showers, adjustable lighting, mobile chargers along with the essentials: a Finnish sauna, Turkish baths, Jacuzzi, dark room and glory hole.
Sauna Gay Hispalis – The biggest gay sauna in Seville, but located a little outside of the historic city center. Like most gay saunas in Spain, it gets crowded on weeknights after work and Sunday afternoons. Nice jacuzzi, steam bath, dry sauna, bar, private spaces and some of the best male massages in Seville.
El Bunker – A hard-core cruise club speed across two floors in the gay area of Seville. Weekly theme nights and strictly enforced dress-codes. Fun dark room with slings and discreet fun whether you are wanting to join in or just watch.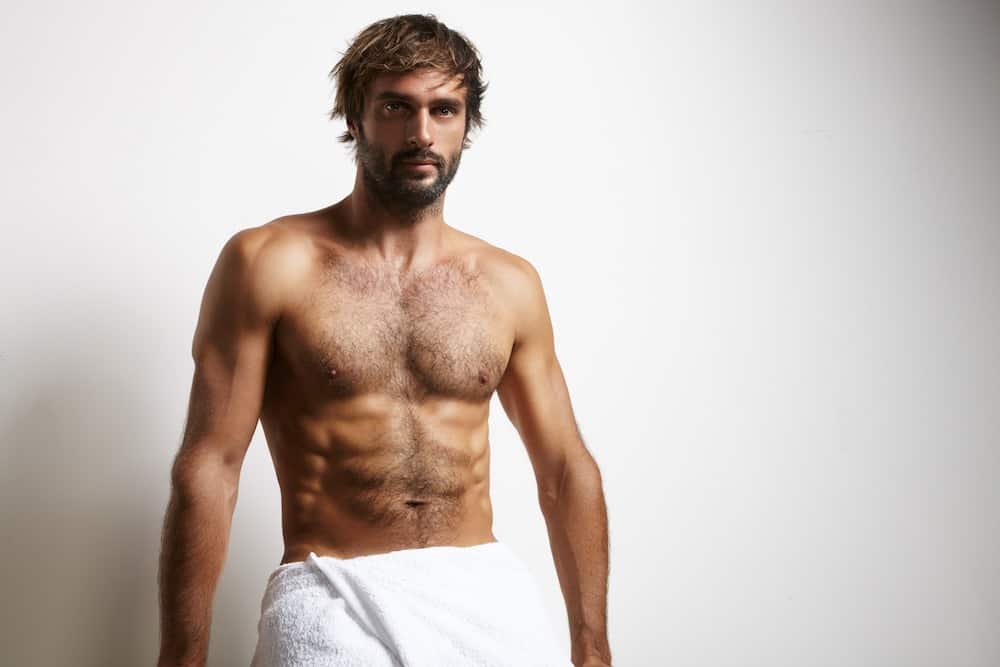 Gay Seville Map