Hey, you've got great shoulders; why not get them out in a tank top? Even if you don't think your shoulders are your best feature, why not get them out?
Tank tops are comfy, sexy and great in hot weather – the perfect recipe for an ideal Pride outfit. So why not go the extra mile and get a tank top that proudly proclaims your queer spirit?
You'll find a great choice of rainbow colors, fun slogans and cool designs among these fab gay pride tank tops that will allow you to release your inner unicorn in style – whether you are at home or any of these fabulous gay friendly travel destinations.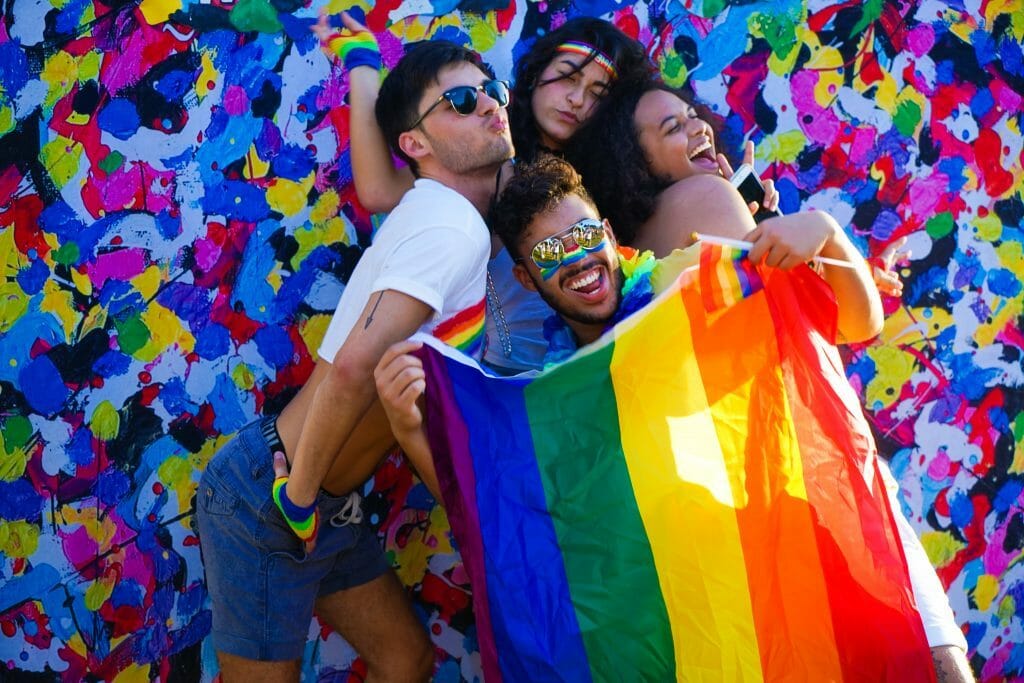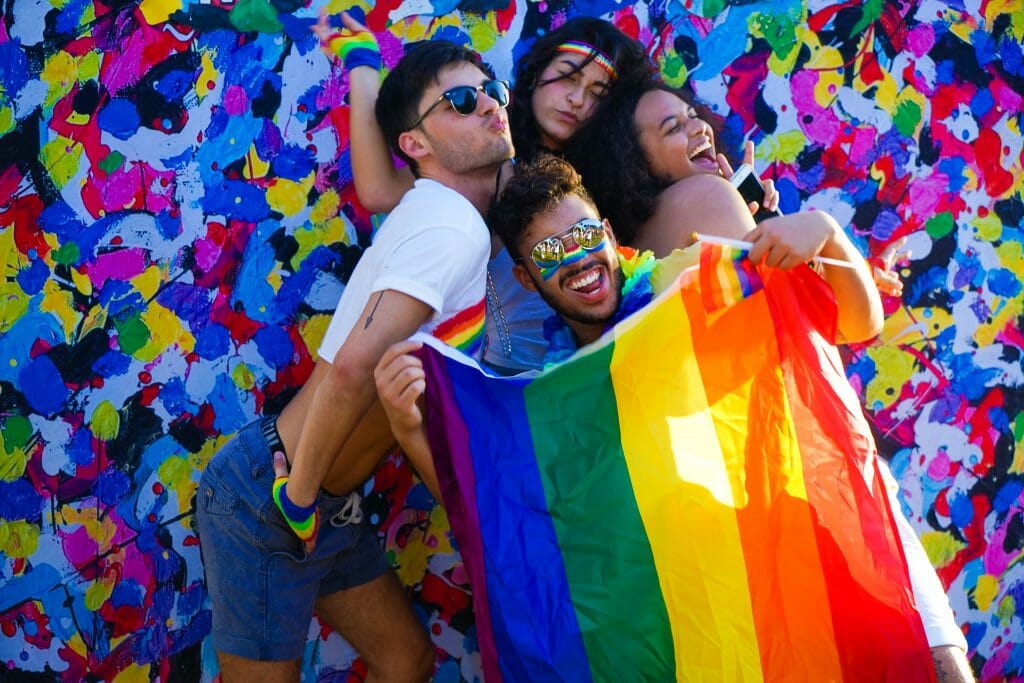 What better place to start than with this soft cotton tank with an actual unicorn on it? It's a plain background with a rainbow-colored unicorn drawn with confidence and flowing lines.
We love how the graphic stands out and we've always got compliments on it, whether at Gay Pride or just running errands. Choose from a range of colors to suit your style and wardrobe, perfect for checking into Key West, Palm Springs or Fire Island…
This cool tank is completely unique and bound to catch the eye.  The design makes it look as though someone's tipped a bucket of rainbow paint over you and it's now running down your chest.
Luckily, no one has to throw paint at you to achieve this great effect. The colors are vibrant and the tank is comfy enough to dance in all the way along your pride parade.
The unexpected combination of the macho muscle tank and the nerdy cat wearing glasses makes this one of our favorite alternative gay pride tank tops. It's made of high performance fabric so will soak up your sweat whether it's in the parade or at the gym.
The adorable cat is colored in bright rainbow stripes, so you can proclaim your gay pride and your affection for felines – though you don't need to be a cat person to enjoy this.
Another tank option for those of us with a sense of humor (well, that's all of us!). The top is comfy and the design doesn't fade; you can also choose from a range of background colors.
We love the cute sheep giving us a wink on the front and its rainbow colors are bright and eye-catching. The message is a quirky twist on that old saying and shows how you proudly embrace yourself! Plus you can show off those epic guys at your favorite queer beach destination – wheater it is Puerto Vallarta, Mykonos or Phuket you will be sorted!
This is another shirt where you've got plenty of choice in terms of background color – whether you prefer wearing blue, black, red or green, you can make this tank work for you.
It's the perfect level of snug and the jersey material feels soft against your skin. The rainbow astronaut design is great for a scientist or just someone who likes to feel out of this world!
If you're full of rainbow spirit but just prefer your clothing to be a little less bright then this tank is guaranteed to make you feel like you at your next Gay Pride.
It's a minimalist design of interlocking male symbols white on a black background. While it's not in your face, it is a way of showing your queer spirit without changing your style.
We just love the power of this gay pride tank top. It's not only about pride, although that's vital, but it's about resistance to oppression and this top conveys that perfectly.
The vibrant rainbow colors of the resist symbol make it stand out and catch the eye – they are bright and bold, and won't fade too much over time. Wear this to your local Pride to get people talking; or wear it to the shops to star in something like your own gay coming out film. Any time is a good time to send a message!
This is a cheeky little number that's sure to make you lots of new friends at your next gay pride event. It's a good quality top make of 100% cotton, so it won't get uncomfortable even if wearing it for a long time.
That rainbow bear on the front is playful and proud – isn't that a great message to send about yourself as well? You're playful and proud too, of course, and wearing this tank everyone will know it! Perfect for Copenhagen Pride, or really any of our favorite Prides worldwide.
A high quality and well-fitting tank top that allows you to be a little firmer with people than you perhaps normally would be. It's hard to tell someone to their face to 'get over it', even though we want to, so use your tank top to do the talking.
The plain font in rainbow colors creates a striking impression and you have a choice of colors for the material. Choose an option with contrasting ring collar and sleeves for something a bit different.
We might have linked to the Illinois option here (because why not?) but Old Glory actually have the full range of simple but effective black tank tops with rainbow cut outs of all US states. Perfect if you're from one of these places and want to represent, or if that's where you're heading for Pride.
Wear one of these and you're sure to make friends from the same place at the same time as showing off your pride.
We're including this as an option for any lucky people who are loved-up and are about to get married; or who are having a Pride honeymoon! Celebrate your fabulous gay wedding in Vegas with this out and proud tank top.
The bonus is it's 100% cotton and super-soft, so you won't want to take it off!
So make yourself comfortable and show off those arms in one of these fun tank tops – thank us for all the compliments later!