Gay aprons are great, aren't they? They not only help to show fabulous pride and protect our clothes from stains, but also they are handy for cleaning the hands in the kitchen since you can't feasibly go wash your hands every single time you touch something, so they basically double as dish towels.
Many a nice shirt has been saved from utter ruin by an unexpected grease splash or that inevitable spaghetti spill – and honey, you damn well that isn't coming out.
Another benefit of wearing an apron is the psychological effect it bestows when you throw it on and draw those strings tight: it makes you feel like a fierce boss – one who is ready to take on even the most formidable souffle or roast. It gives you a boost of confidence and puts you in the mindset of a culinary badass. It's basically the fashion form of the saying, "Let's do this."
The best thing about gay aprons is that they look great on any body type. And there is something inherently sexy about someone who knows their way around a kitchen, isn't there? Try on one of these sexy pride aprons and it's easy to play the sultry waitress or barmaid.
Picture this scenario for the next time you find yourself in a frisky kind of mood: your significant other comes home after a long day at work. They walk through the front door and into the kitchen, where they see you in nothing but one of these saucy gay pride aprons, a cluster of grapes in one hand and in the other a spatula (which has now been appropriated for spanking purposes).
We'll just let your own imagination walk you the rest of the way through this scenario – but needless to say that pride underwear or gay shorts are completely optional.
The point is that these LGBT aprons are far from the boring old kitchen-wear your grandma used to have. These aprons are bursting at the seams with style and pizzazz, with flair and fashion and all kinds of panache. They are an excellent way to liven things up around the home and add a touch of humor, an extra dash of spice to the kitchen. There is no rule that says you can't be cute and sexy while doing your domestic duties. And the best thing is that you can feel pride at home.
Without further ado, go ahead now and dig right into the best gay pride aprons you will find anywhere. Indulge in these fashionable pinafores, for they are a real feast for the eyes.
This gay apron is the perfect thing for that dramatic and over-the-top friend you have – you know, the kind of person who thinks a crop top is too conservative. Or maybe you are that dramatic and over-the-top friend. If so then this apron has a place in your kitchen. Add a dash of style to go with your culinary flair and intense personality. Bring a whole new level of fun to dinnertime with this playful item.
In case you aren't aware, this quote comes from season 10 RuPaul's Drag Race contestant Miss Vanjie. Whether or not you are a fan of the show you'll love this humorous apron, and so will your guests. Put it on and show off your pizzazz, your energy, your razzle-dazzle, your panache, your extraness. You will feel just as fabulous as Vanjie herself.
This apron would also make an excellent present to give a friend or relative to let them know just how extra they really are.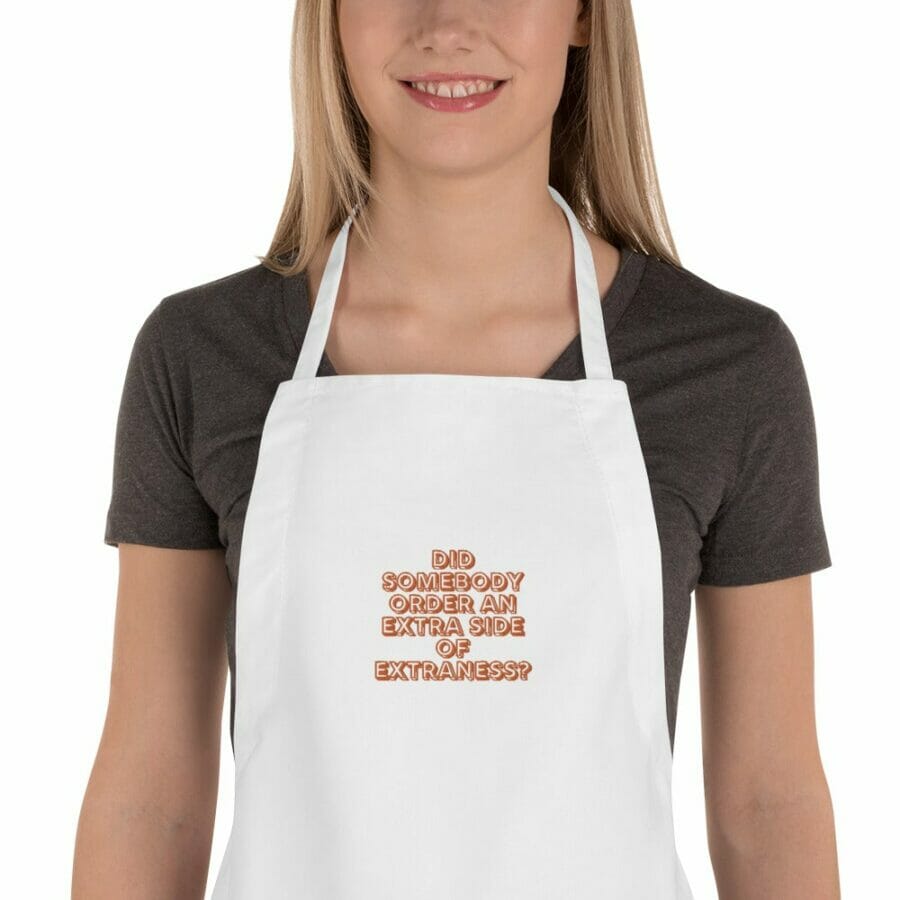 This apron is a great way to advertise that you are single and ready to mingle. It comes in black or white and looks pretty darn snazzy in either color. There is little to be gained in life by being bashful, so just check your inhibitions at the door and put yourself out there.
For those out there who may not be in the know, Grindr is the world's largest gay dating site/app, and is an excellent place to search for that special someone who is just waiting to come into your life and help make it complete. But we digress…
Picture this: you are entertaining guests with a cookout or cocktail party in your backyard. You're flipping those burgers and hot dogs and passing them out like a boss, engaging with your friends and neighbors, and the whole while you have this apron on. That cute AD guy is there (you know the one). As the evening winds down the crowd dwindles until almost everyone is gone. You're putting things away, beginning the task of cleaning up when you turn and who's there? You know who.
"So, you are on Grindr too?," they ask. And we will just leave the rest to your imagination.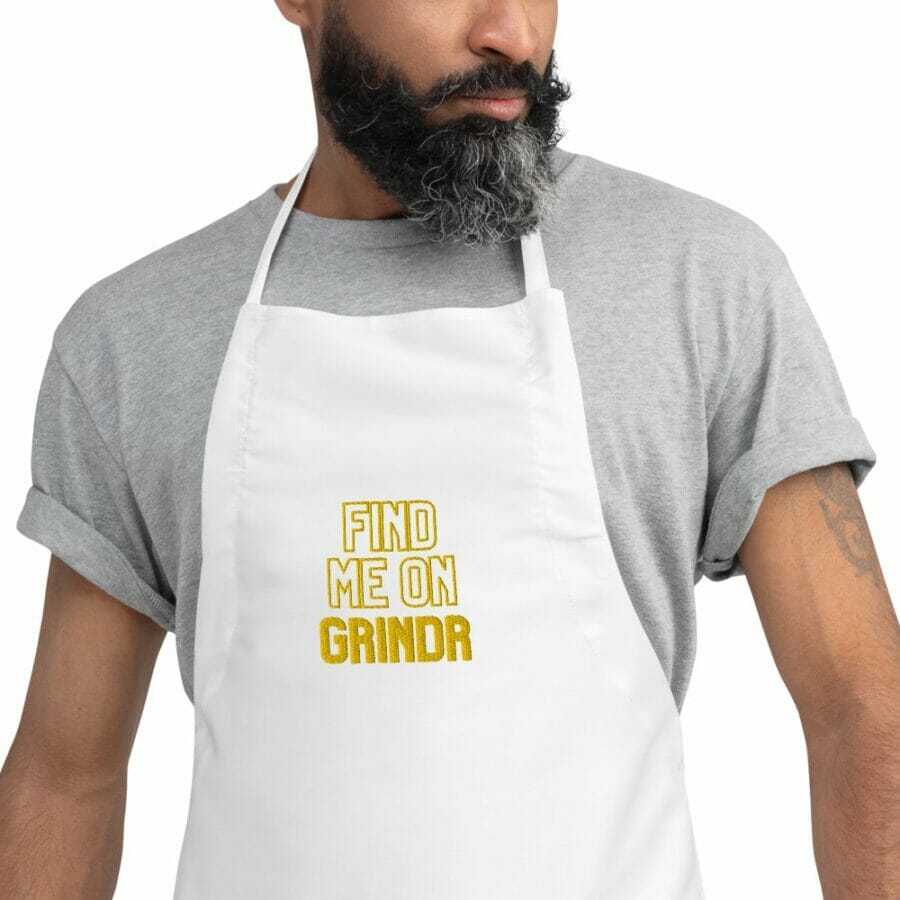 If you are a fan of the uber-creepy short film "0 Feet Away," then you are going to love this apron. If you haven't seen it, the film is basically an online-dating horror story about a young guy who goes on a dating app similar to Grindr and winds up getting more than he bargained for.
You could say it's the LGBT version of films like When a Stranger Calls. We'll not spoil it for you with any more details, but you seriously need to check it out; it's an excellent short film (not to mention a cautionary tale about the risks of online dating).
If you have a crazy but lovable stalker in your life (and in all seriousness we hope you don't) then you will be able to relate.
The apron can be had in black or white. You are sure to love it either way, and if you know someone who is a fan of the film, this would be the perfect gift for them. And if you have a friend who has an indefatigable admirer, then this apron would be the perfect present to give them with a little good-natured ribbing thrown in. They are sure to appreciate the jest…eventually.
Or, maybe they havn't seen the film and just assume their dream man is standing zero feet away in this cute gay apron. That might be better come to think of it…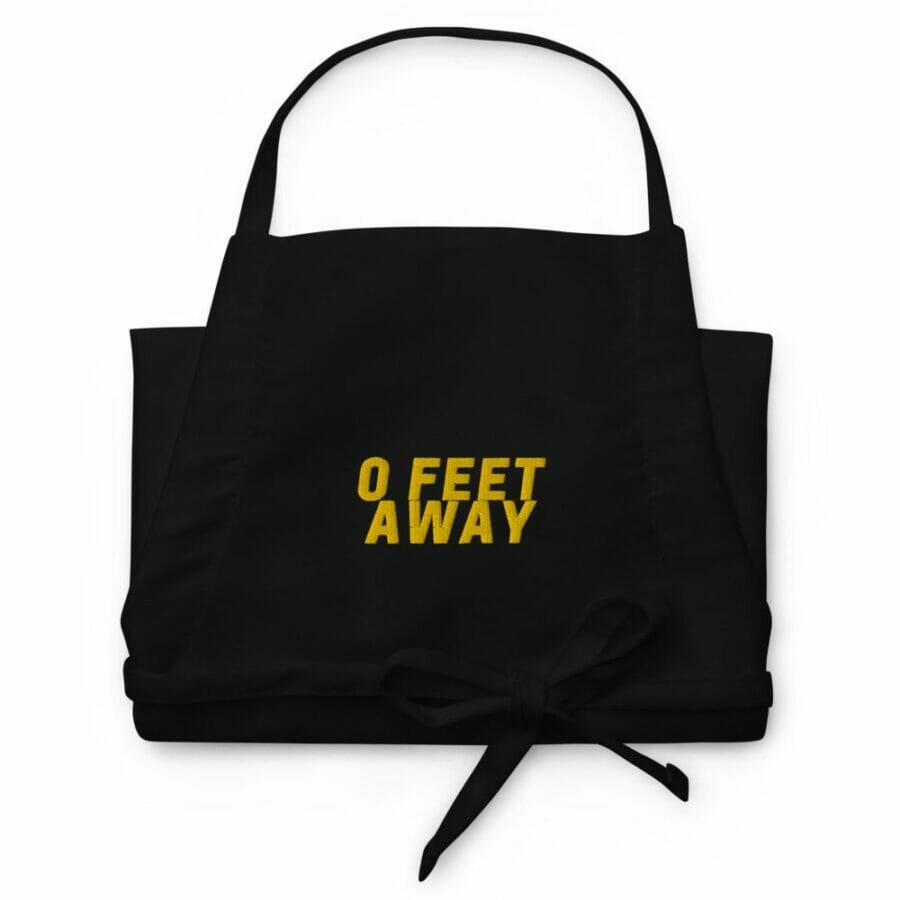 This apron is apropos for those who consider themselves LGBT in the extreme – that is, those who eat, sleep and breathe LGBT culture, who never miss a single pride parade, who are all about pride in every single thing they do, and who wouldn't consider drinking out of anything but a gay coffee mug.
If this is you, then consider this apron a must-have for your kitchen.
Gay AF is an attitude, but really it's more than just an attitude – it's a philosophy. It's a way of life. It is about embracing the whole concept of pride and taking it to the next level. It is about not only accepting who you are but embracing it and sharing it with the rest of the world without concern for what certain others may say or think.
It is about being yourself everywhere and at all times and encouraging others to do the same. Wearing this Gay AF apron while you're scrubbing those dishes or baking that pork loin is a wonderful way to get started down the path of discovering the gay AF mindset.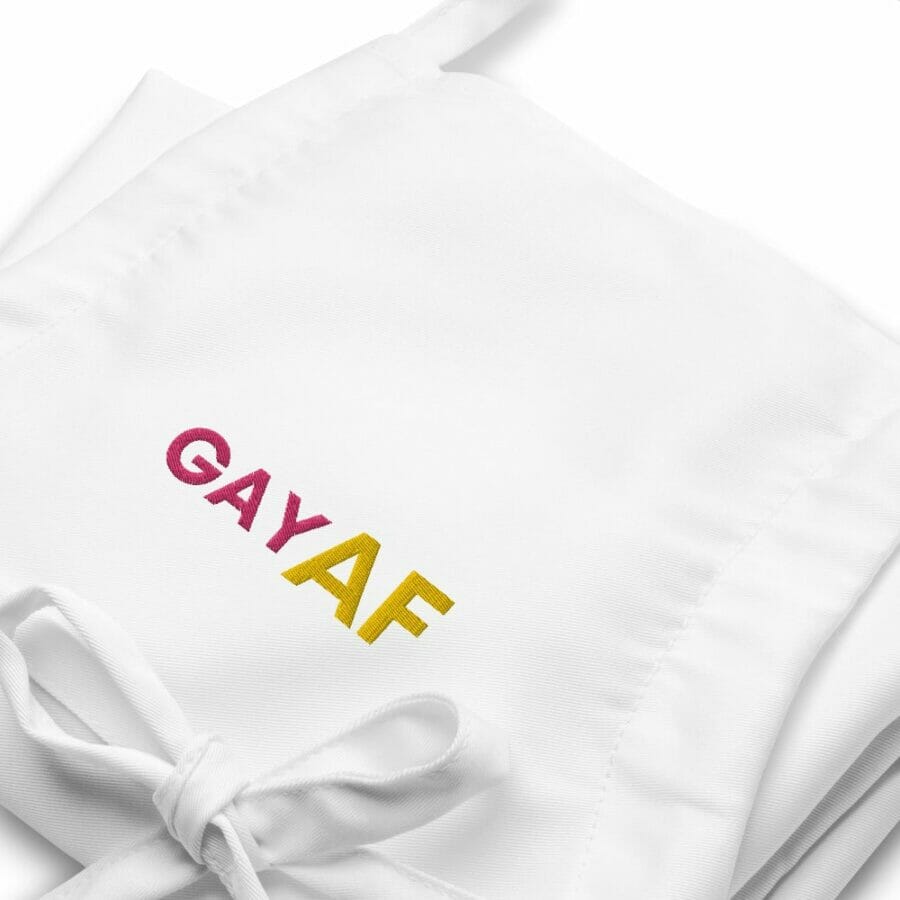 Here we go again with another iconic line from RuPaul's Drag Race and Miss Vanjie Mateo. "Get these cookies baby!" has become one of the most memorable lines from a show that bursts at the seams with memorable and iconic lines. RPDR is practically an internet meme factory.
And you don't even have to be a fan of the show to appreciate the saucy humor of this apron.
The meaning of the phrase basically is that you're the stuff and you know it. "Come get these cookies" is like telling someone to eat it. It's a saying that is full of sass. If that suits you to a tee then get this gay apron and embody that sassy spirit in the kitchen.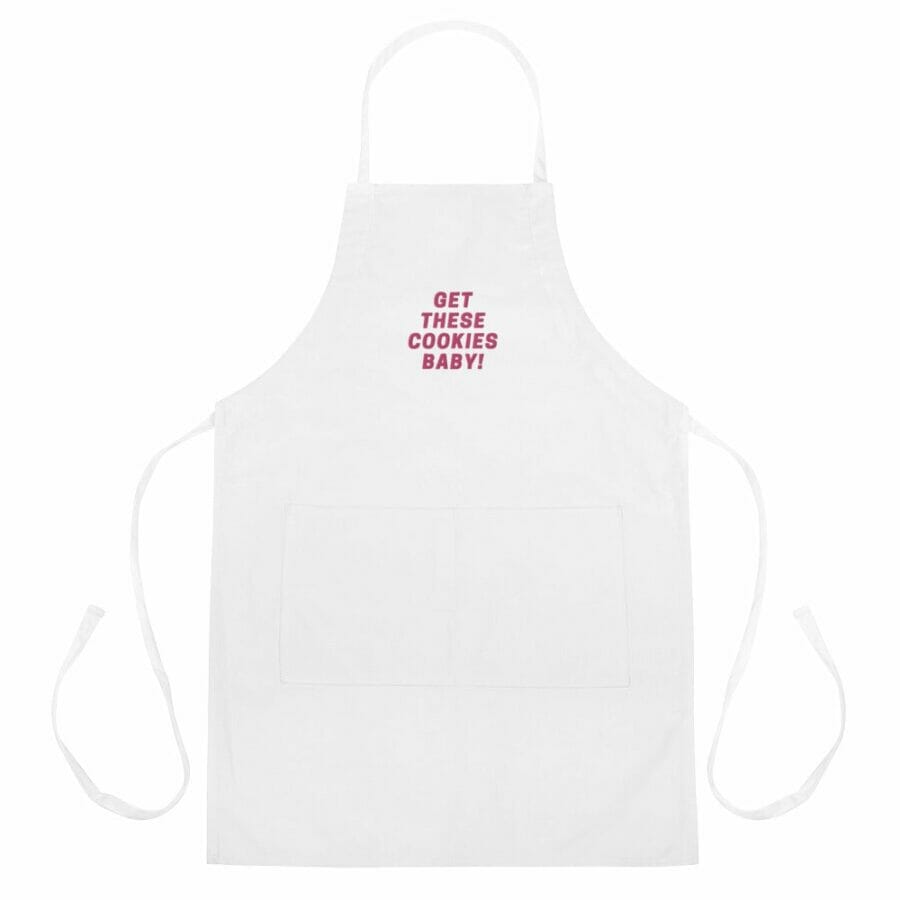 Calling all LGBT women with a sense of humor: here we have something just for you. While the term lesbosaurus has often been used with contempt against certain people, lesbian women have proudly turned it into a term of affection, as evidenced by this charming lesbian apron.
Are you someone who would consider yourself a lesbosaurus? Embrace it with this cute apron. And if you are not, the chances are good that you know someone who does. This would make a funny and affectionate gift to give them. They'll be sure to appreciate it coming from you.
There's nothing like a little good-natured ribbing between friends to show that you care about them and accept them for who they are. After all, it takes all kinds to make the world go round, as the saying goes. Get this amusing item and wear it with confidence. The best thing about pride is that it looks good on everyone.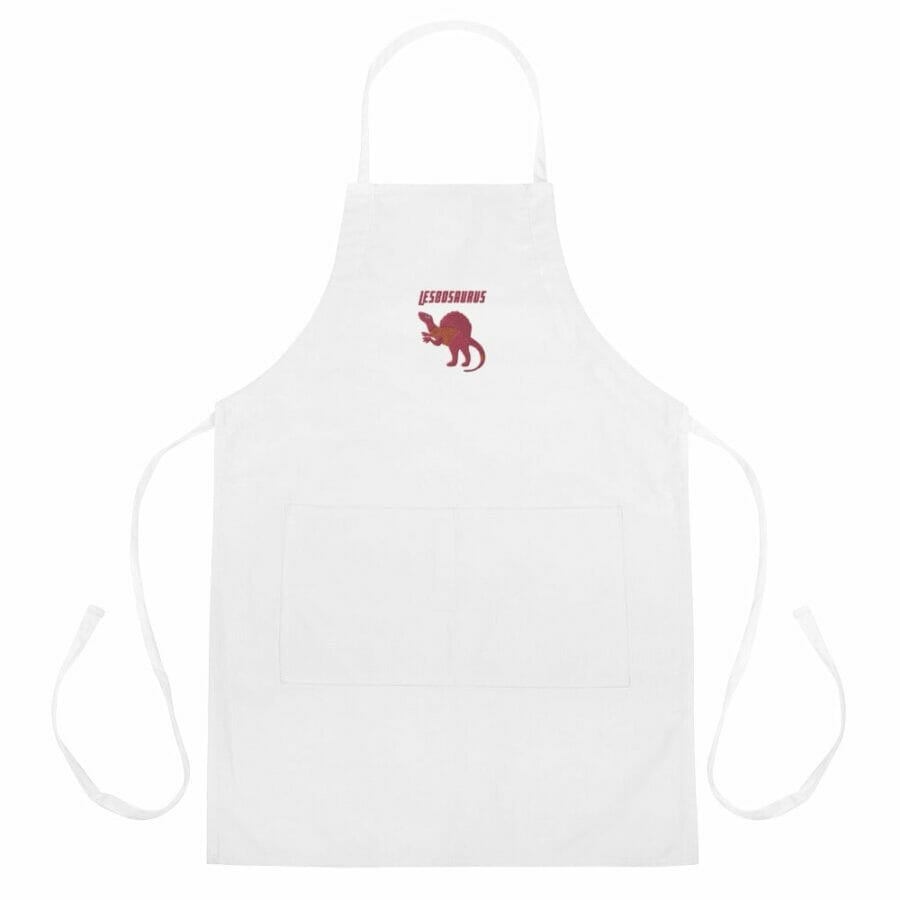 Is there anyone who doesn't adore RuPaul? We think not! And if you are a fan of the world's most successful drag performer then you will positively get a kick out of this LGBT apron.
It features one of actor/model/drag queen/author's most iconic quotes (and that's saying something). Don't fuck it up. Snappy, direct, unvarnished, and just so apt. "Don't fuck it up" is more than just a catchy saying, they are words to live by. Make it your credo. Personify "Don't fuck it up" in everything you do and say. Write it down the first thing you get up in the morning; make it your mantra that you say every night before you go to bed.
Get this apron and wear it when you're in the kitchen. Embrace your inner fabulosity and RuPaul's words of wisdom, and you will be an absolute boss in everything you do in life.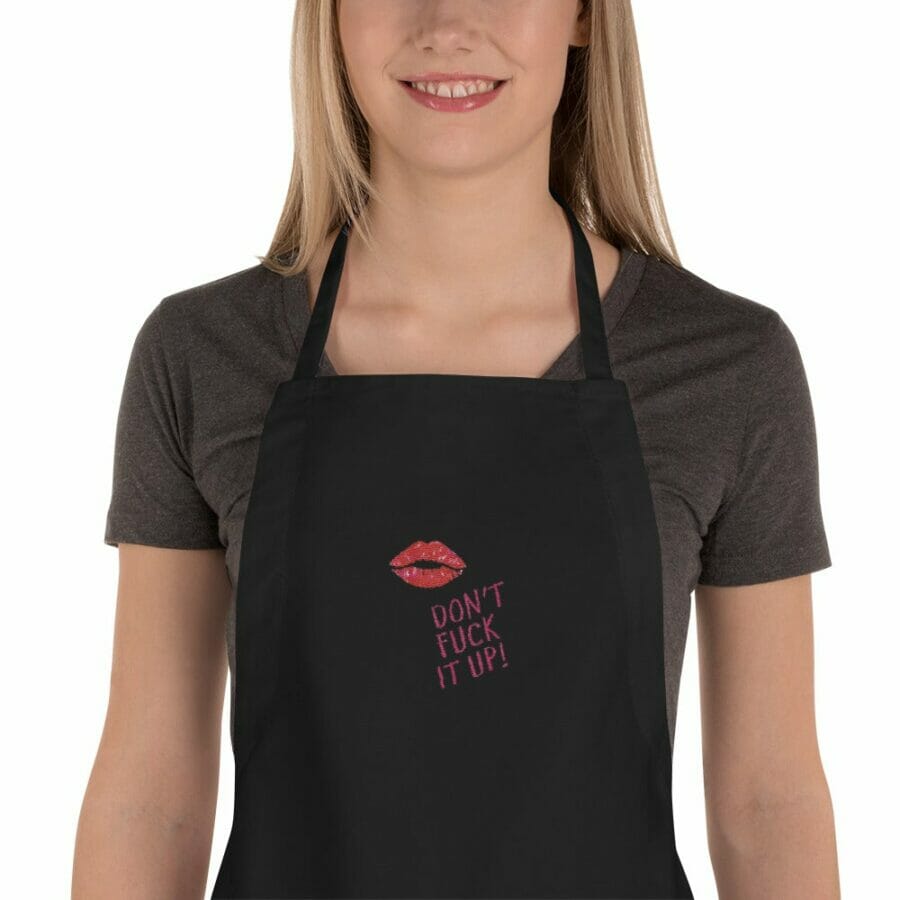 Of all the gay aprons we have here on this list, this one might just be the most appropriate for the kitchen. If you support the LGBTQ community then you'll not only appreciate the cute graphic on the apron, but you will appreciate the message here as well, and you will also relish the humorous delivery of said message.
Make a stand for progressive thinking with this lovely apron, even if it's only in your own kitchen. The fight has to begin somewhere! Keep your clothing free of grease stains and resist the patriarchy at the same time! You never knew culinary fashion could accomplish so much, now did you?
But in all seriousness this is a small but significant way of expressing your beliefs and showing your support of equal rights. Get one today, and while you are at it get one as a gay gift for a friend. They will thank you.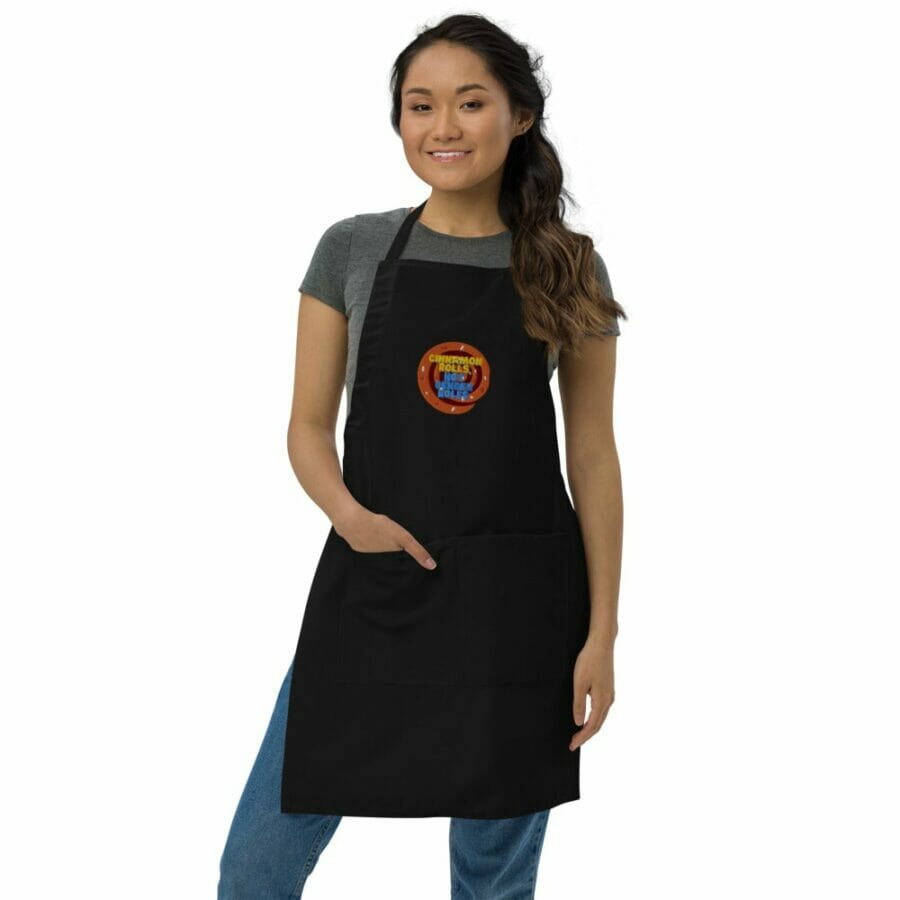 Pride starts in the kitchen with this gorgeous gay pride apron. The rainbow V peace hand sign graphic is positively stunning. Strike a blow for peace, pride, acceptance and solidarity right in your kitchen. Be a turkey baking, pork loin roasting, bacon frying, vegetable grilling, egg poaching, brisket braising, fish steaming, potato simmering, lamb broiling, shrimp sauteing champion of equality and social justice when you have this apron on.
Display your culinary skill right alongside your passion for LGBT rights. Take pride in who you are as a person, both in and out of the kitchen. Get one for a friend and spread pride through kitchens all over your community. The struggle for true freedom starts right at home.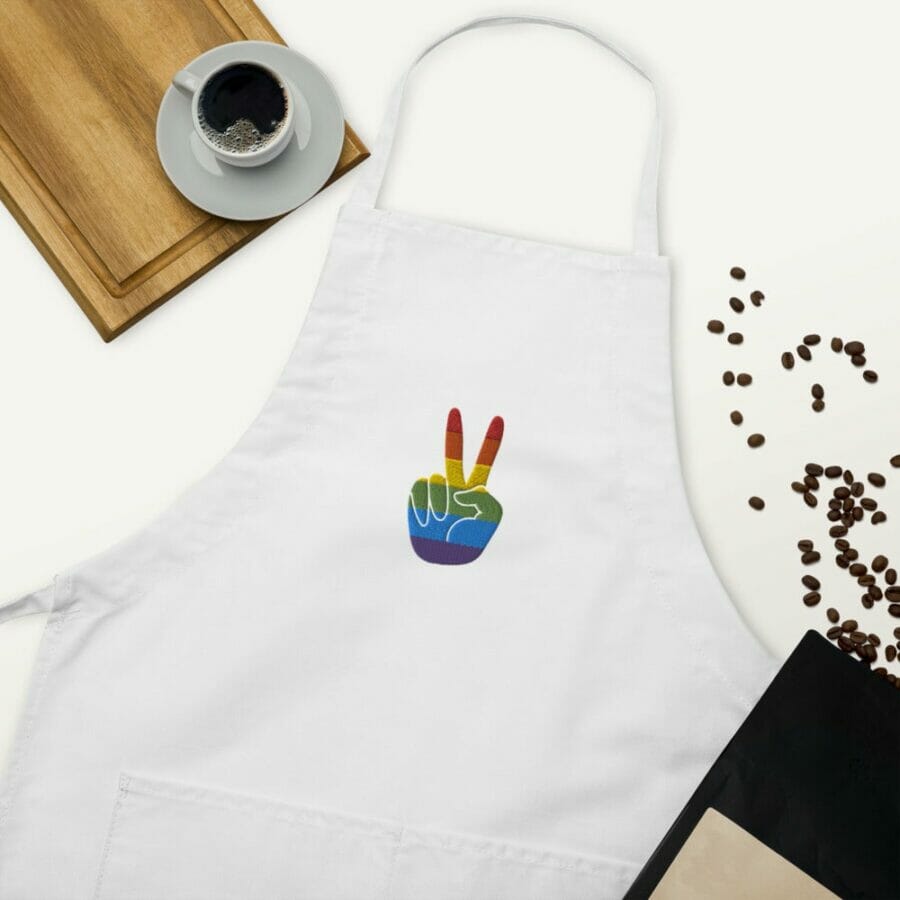 You can really let your dramatic side loose with this funny apron. It is yet another item taking its inspiration from the hit show RuPaul's Drag Race, which has been a pop culture gold mine of memes and memorable quotes over the years.
This particular bit of sass (which was later adapted into a song) came from season 4 contestant Latrice Royale. It is a spicy spin on the old expression "the shame of it all," which is often said in reference to something embarrassing. Here it was used to call out another contestant who was throwing shade. Hence, "The shade of it all." To be sure it was one of the most iconic moments from the show.
Now you can have a piece of this memorable moment from one of the best TV series in recent years all for yourself with this apron. Whether or not you think you are just as fabulous as Latrice, you can manifest the same kind of snappy attitude right in your own kitchen.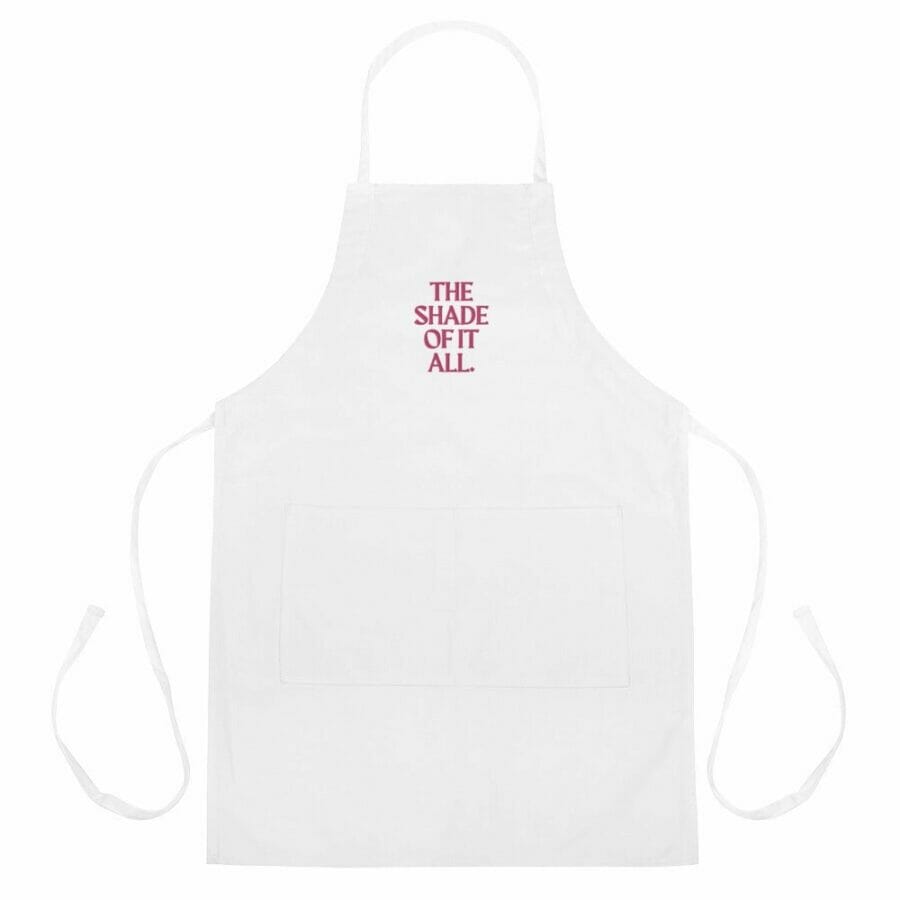 What a way to finish up this list of fabulous gay aprons! Here we have surely saved one of the best for last. But first let us start off with a bit of gay culture 101 for anyone who might need it. Don't worry: we promise not to bore you.
"Woof" in gay culture is a term of approval directed at a "bear," or rather a large, rugged and usually hairy man. Woof is basically a more specific form of playful catcalling. The origins of this piece of gay culture are quite fascinating. Picture this: it's Ft. Lauderdale during Fleet Week. Three guys – Bobby, Ziggy and Twinkie – are out drinking and cruising. Inspired by a scene in Young Frankenstein in which actress Madeline Kahn cries Woof! when she sees what the monster is carrying in his pants, the boys start using it toward all the hot sailors they see while cruising the avenue. Thus Woof was born.
And what's sexier than a bear in the kitchen? If you fit the bill then you simply must own this cute apron. Your SO will adore you in it.