For those who may not be in the know: gay flip-flops are having one hell of a moment right now. Though, much like crop tops and gay leggings, there is a schism in the world of fashion over this ultra-casual style of footwear, with the conflicting schools of thought being torn right down the middle between the love them and hate them camps.
The former, on the one hand, are those who love the comfort, affordability, and movement ease that flip flops allow – in other words, the pro-floppers. And on the other hand, we have those we may call anti-floppers (and perhaps the odd podophobe out there), who think they are distasteful and a bit too casual. There really doesn't seem to be much middle ground here.
It's no different when it comes to other forms of LGBT fashion either. But whichever camp you would put yourself in there is one thing that is clear: gay flip-flops are here to stay. Sorry to all you anti-floppers out there, but this trend, which was absolutely on fire throughout the early 2000s, has reemerged bigtime in the last couple of years. Pro-floppers couldn't be happier about the fact, and admittedly neither could we.
After all, we have sported them on many a queer beach around the world from Gay Sitges to Puerto Vallarta and Sydney, color-coordinated with our gay swimwear obviously.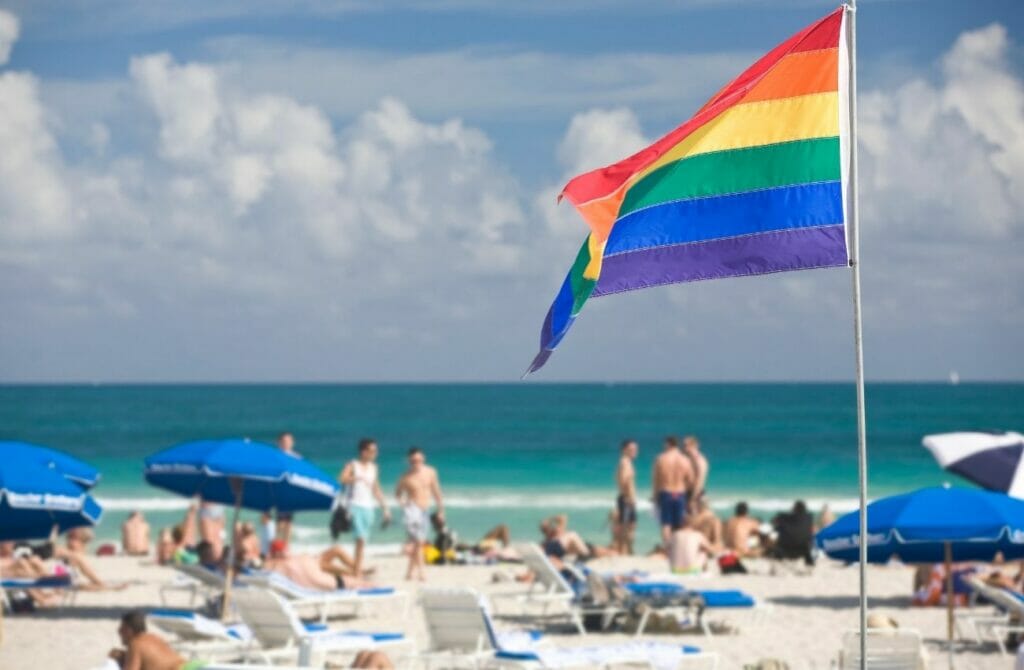 And what's better than a nice comfy pair of flip flops? Answer: a nice comfy pair of LGBT Pride flip flops. As always we are all about the pride here, about feeling good and feeling like you. We are about to show you the sleekest, sexiest, trendiest, most chic, most trailblazing casual pride footwear to be found anywhere in the world.
Gay flip-flops don't get any better than this, we can assure you. While everyone knows that they make wonderful house shoes, they are also suitable for almost anywhere these days. While this used to not be the case, times change and fashion changes with it (and in some regards the opposite also holds true as well). Whether it's a trip to the beach, a stroll through the neighborhood, or even if you like to swap your gay shoes for these flip-flops for a more casual night out, we've got something here for LGBT folks of all stripes, identities, and orientations.
You will be proud to wear any of the fabulous footwear featured here, and you will enjoy the pride that comes with supporting LGBT visibility by wearing pride fashion. And you don't need outrageously expensive designer flip-flops (yes, that's a thing) to look great, feel great, and be comfortable as you go about living your life. These gay flip flops won't put much of a dent in your wallet, so you get to have style and comfort at a minimum of expense. We would call that a win-win situation.
This trendy footwear has a nostalgia factor as well, as they inescapably are a throwback to the early aughts – another time when gay flip flops and lesbian sandals were mega-popular – fashion in some way, so if you are let's say, um, mature enough to have fond memories of this time (hey, don't worry: they say forty is the new thirty) then these will be right up your alley. And for all you anti-floppers: put your reservations aside and come on over to our side!
Fashion is all about self-discovery, and one can never achieve it if he/she doesn't tread new territory from time to time. The same applies to life in general, for that matter. So with all that out of the way, let us now take our first steps on this journey of discovering the best LGBT flip flops.
These gorgeously colorful LGBT flip flops proudly display the colors of the genderfluid flag, which was specially created to show recognition of people who have an adaptable outlook on the concept of gender.
To be clear, there are various alternate takes on the genderfluid flag as well as different interpretations of its meaning. One interpretation has it that the blue represents masculinity, the pink represents femininity, the purple androgyny, the white fluidity. This seems to be the most common interpretation. Anyway, if you are someone who identifies both as genderfluid and a fan of flip flops, then these are made just with you in mind.
Pride fashion like this is yet one more way to show the world that you won't be shoved into prepackaged notions of what gender is. These also are a great way to demonstrate support for genderfluid individuals, and make excellent gifts for a genderfluid friend or family member.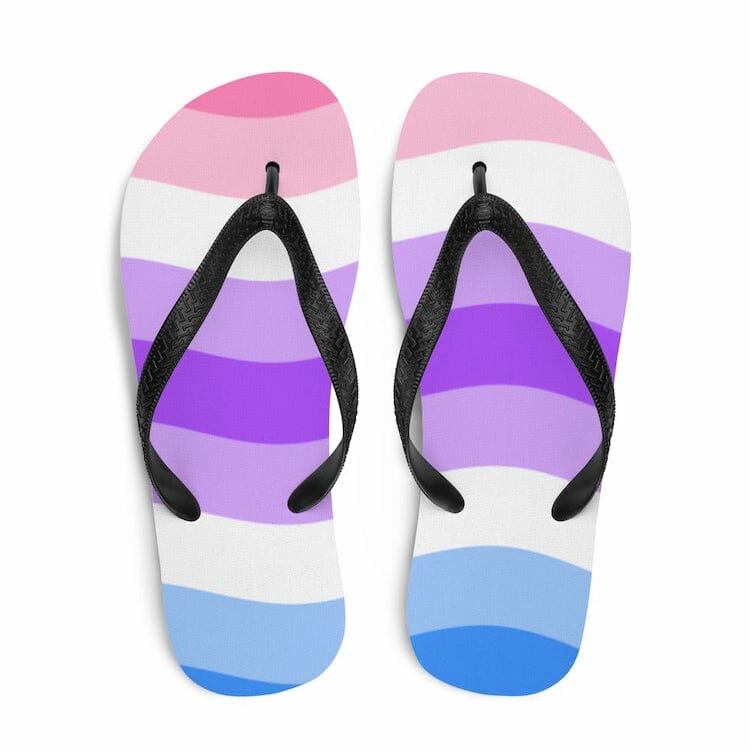 Are you a gay man who prefers to keep your business to yourself? Are you so sly that the objects of your affections never know what hit them? Then you are going to adore these cute gay flip flops when you see how perfect they are for you.
They feature a rainbow-colored fox design which incorporates the pride theme, so you can enjoy comfort and style while supporting the pride movement. You can absolutely make a statement without being bombastic if that just isn't your style.
And after all, it's all about being yourself.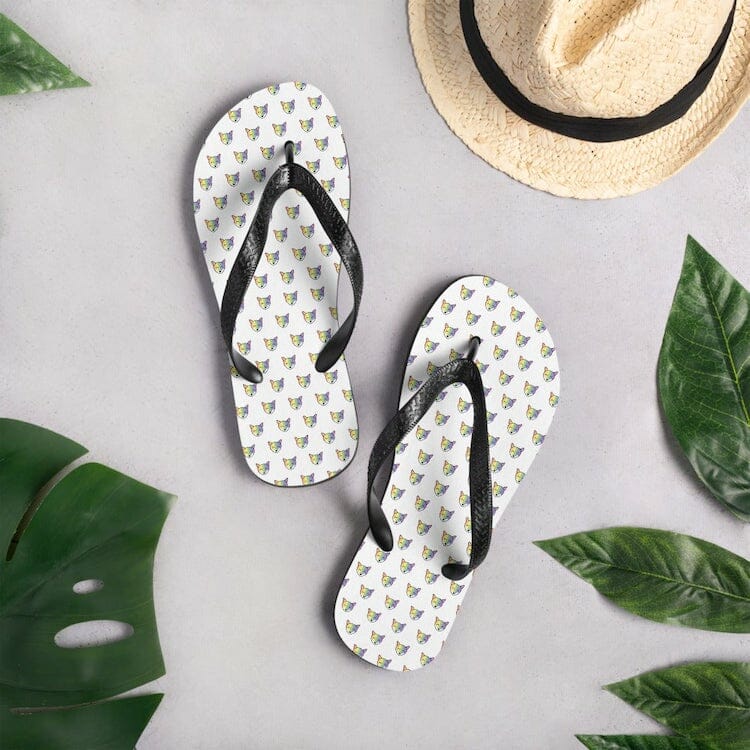 Well aren't these quite the snazzy things? You will absolutely, positively, hopelessly adore the zig-zagging rainbow stripes adorning the footbed of these voguish gay pride flip flops. If you are going to wear flip flops to the next pride parade, then they simply must be these flip flops.
With their vibrant rainbow colors and eye-catching design, they are certain to get you seen anywhere you go and pair perfectly with a pair of gay shorts. There is no more comfortable, affordable, or fashionable way to show your pride and self-confidence than with this gorgeous footwear.
Like so many of the items you'll be seeing here, they make fabulous gifts for the LGBT people you know, love, and care about.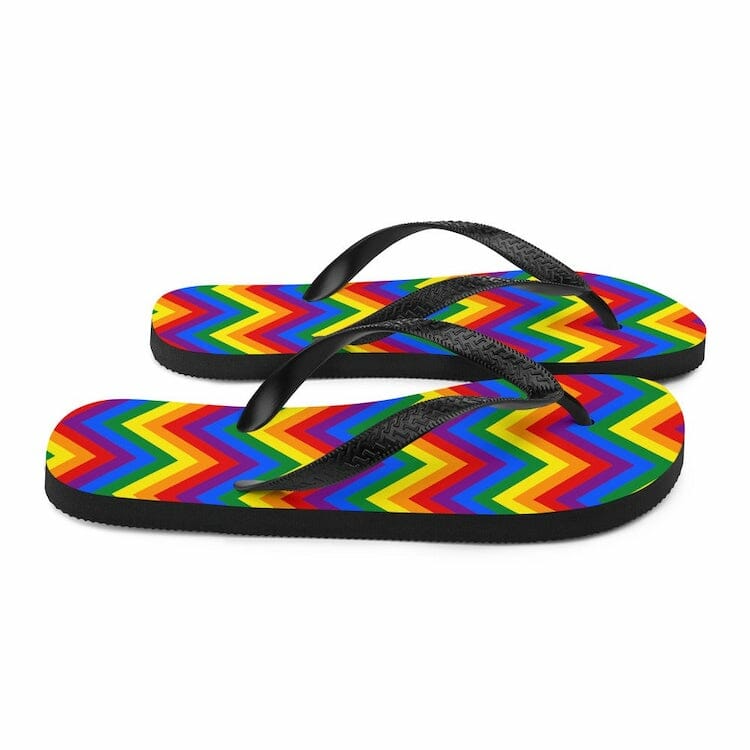 There's something energizing and liberating about saying "Yasss Queen!" Something rejuvenating, like taking a long, deep breath of fresh air. Don't believe us? Well then just go ahead and try it for yourself. Don't be shy now! And don't worry about all those people staring at you right now.
Did you do it with zest and enthusiasm? See what we mean? This is really the whole point of Yasss Queen. It is about not only heaping praise upon the praiseworthy and fabulous, but in sharing a bit of that fabulosity with yourself and feeling that fabulosity.
Make it your personal mantra with these chic gay flip-flops. They are simply darling.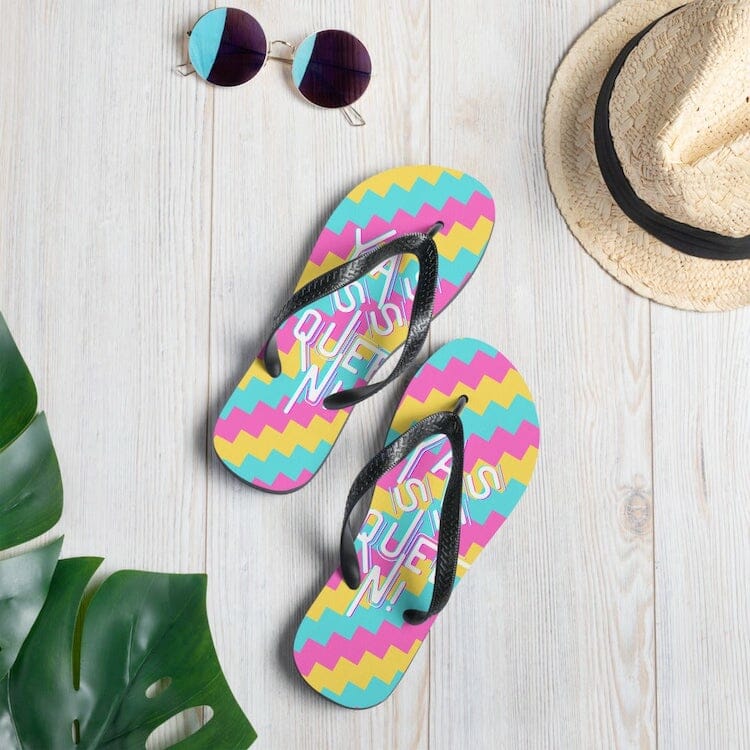 These LGBT flip flops are specially made with the gay bear subculture in mind. They bear (pun actually not intended, believe it or not) the stunning colors of the International Bear Brotherhood Flag, which are meant to represent the culture's inclusionary philosophy. Is there a bear you know and love in your life?
What better present could you give them than these (besides a cheeky gay bear t-shirt perhaps)– they certainly won't break your bank, that's for sure. And they are just one more way to help spread visibility for this subculture and for LGBT persons in general.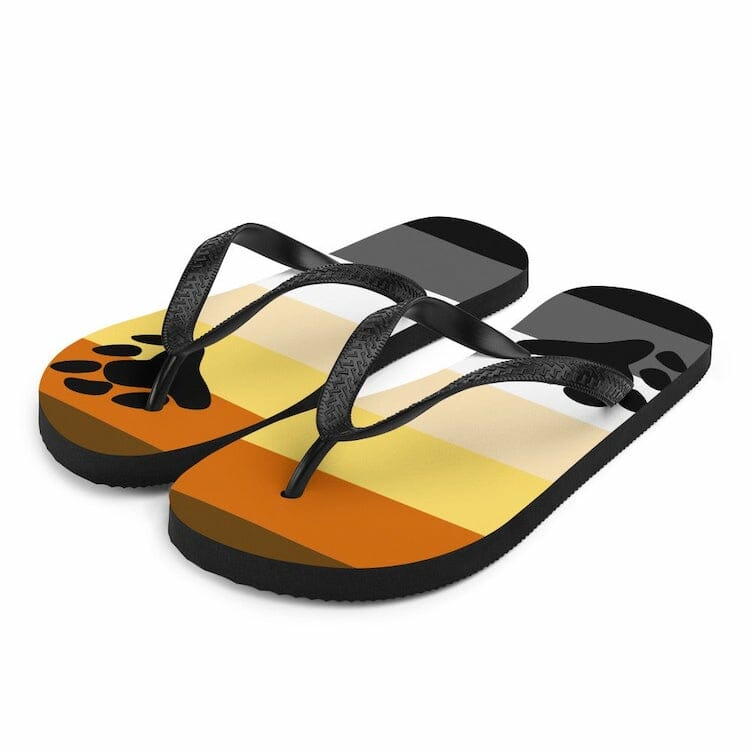 Here we have one of the more unique items on our list in that the flip flops feature an asymmetrical color design.
They are inspired by the LGBT Pride Progress Flag – a pride flag which was especially made to point out recognition for the most marginalized subsets of the LGBT community i.e., trans people, LGBT people of color, as well as those who have suffered and those who have been lost to AIDS.
The flag also marks progress which society has made in regards to recognition of equal rights and protection for said groups, while acknowledging that there is still a ways to go before the dream of equality for all is to be realized.
Owning and proudly wearing these flip flops are small but significant ways of contributing to this dream, and it's so easy to double your efforts by getting a pair for a friend as a nice gift.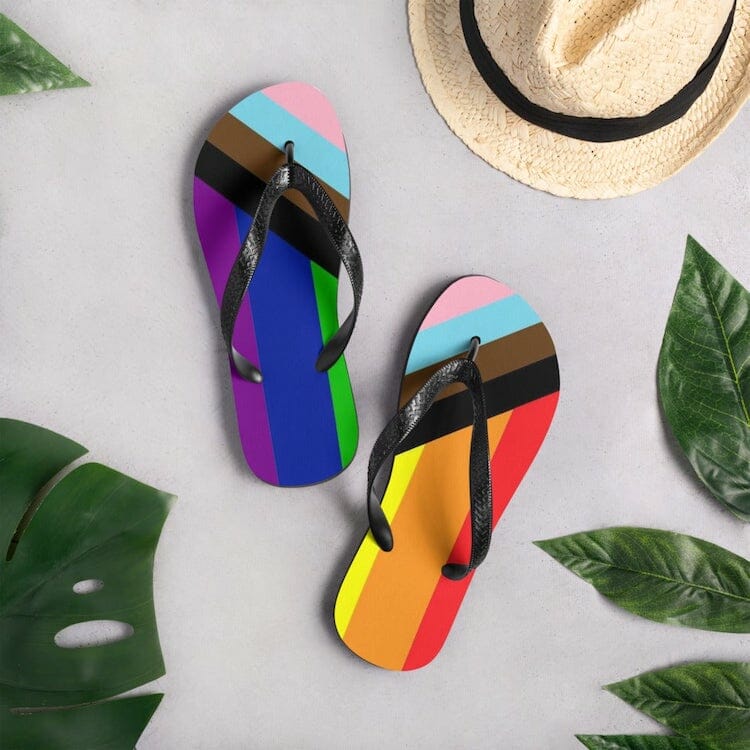 When someone tells you "You're so gay!" you take it as a compliment, so why would you hesitate to wear these fabulously colorful gay pride flip flops? An essential for just about any LGBT summer closet along with a gay hat and a gay pride tank top, if you don't have these in your summer style arsenal, then we are afraid to say that you're just not with it.
These are the quintessential pride parade flip-flops for those who like to be comfortable at all times and in all situations. Perfect for a visit to the park or any warm-weather outing such as a backyard party or a cookout. They also work fabulously for a day at the beach, and the vibrant rainbow theme will fit in perfectly for such a setting.
These not only make your pride swell but also they conjure up that bright and vivacious sunny weather vibe, and you'll feel a whole lot brighter just putting them on. A must own, and at such a small price, why not?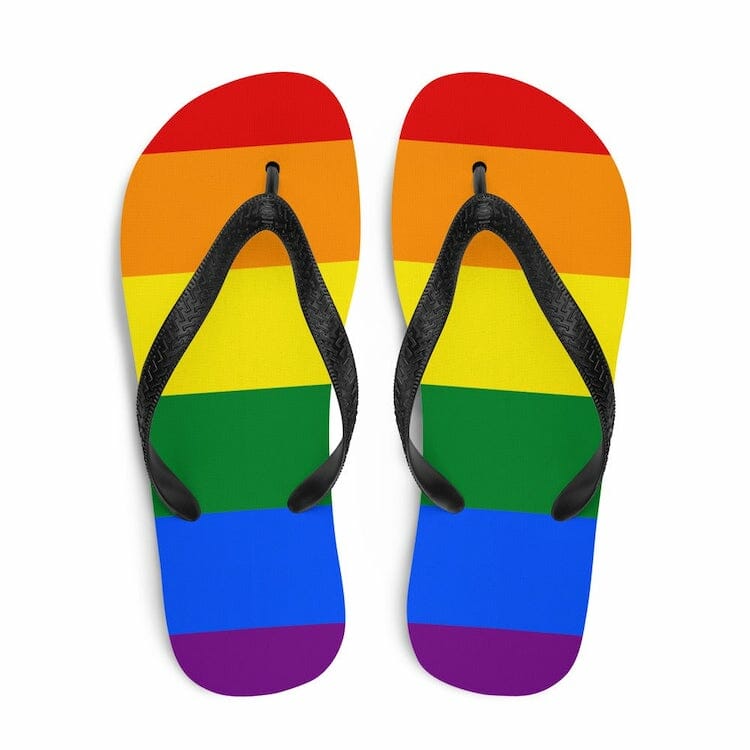 This gay pride footwear is, to put it simply, stunning. It doesn't take a style wizard to appreciate the drop-dead beautiful artwork decorating the footbeds of these flip flops.
The fabulous black and white animation represent the LGBT community, and the design perfectly communicates that LGBT folks are just like anyone else. They are your friends, family, neighbors, and coworkers. Just with better fashion. The design's sparing use of rainbow colors makes them that much more exquisite where they do appear.
Here is an item that is trendy, modish, and chic; it's bound to be a hit with the younger crowd. But you don't have to be Gen Z to love these sandals and wear them proudly. These are surely the definitive LGBT pride flip flops to be seen in.
Wear them with pride and do your part in spreading visibility for the LGBT community. Get them for an LGBT rights-supporting friend and they will take great pleasure in doing the same.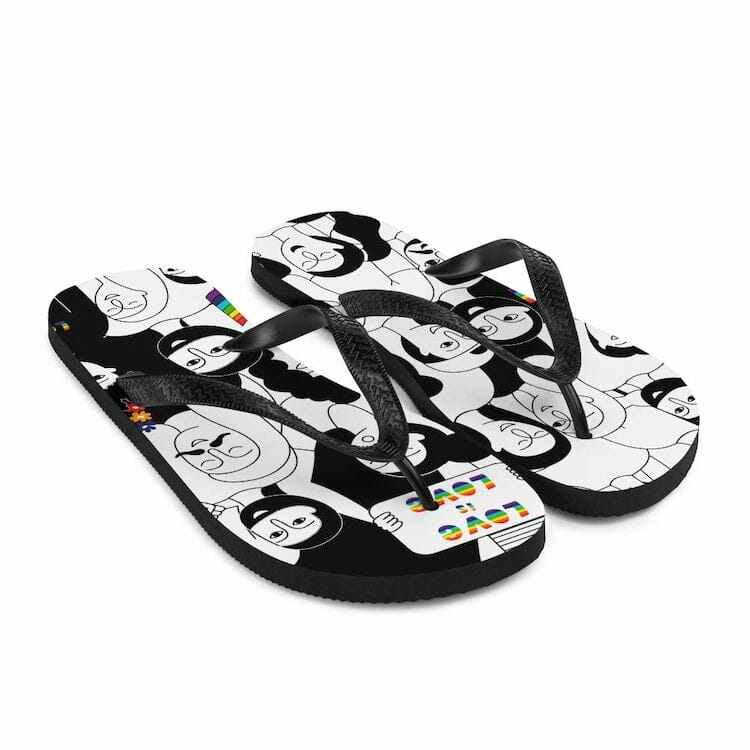 Another pride flag themed pair of LGBT flip-flops. These take inspiration from the transgender pride flag, an LGBT Flag that is intended to specifically bring recognition and visibility to transgender people and show support for transgender rights.
The colors of the transgender flag are symbolic as thus: blue for the traditional color of baby boys; pink for that of baby girls; the white stripe represents those who identify as gender-neutral or are in the process of transitioning.
This fabulous trans pride footwear is just another way to show your support for transgender people. They also are a great gift to give someone you know who is part of the transgender community or a supporter of it.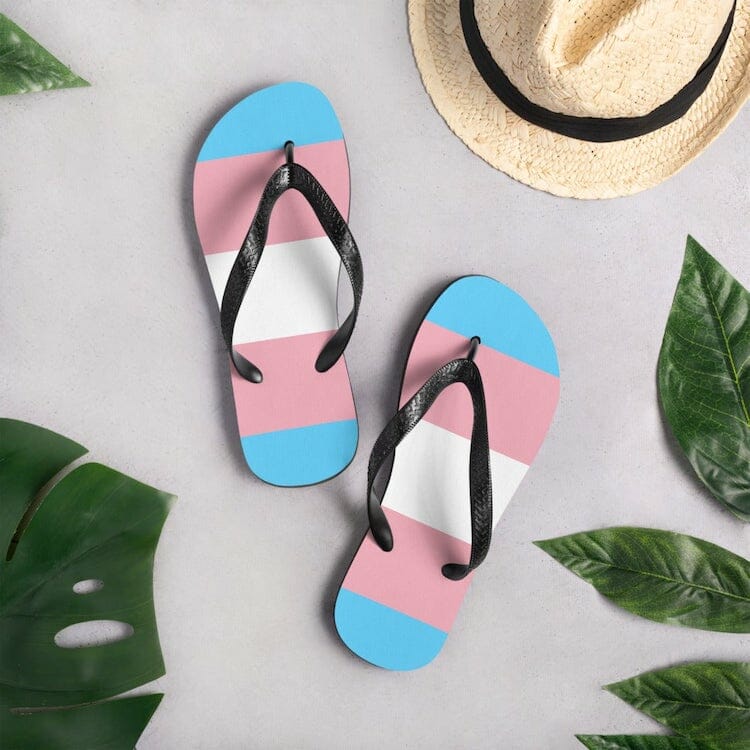 You will adore the sensational use of color here. These flip flops proudly show the lesbian pride flag colors on their footbeds. These colors represent independence, community, serenity, femininity, and peace, among other things.
Like the Lesbian Pride Flag, these beautiful shoes are tailor-made to represent the lesbian community and to highlight unique relationships to womanhood. These shoes are a great, inexpensive way to put your pride on display and look stylish doing so.
Support the lesbian women in your life and across the world with these fashionable flip-flops.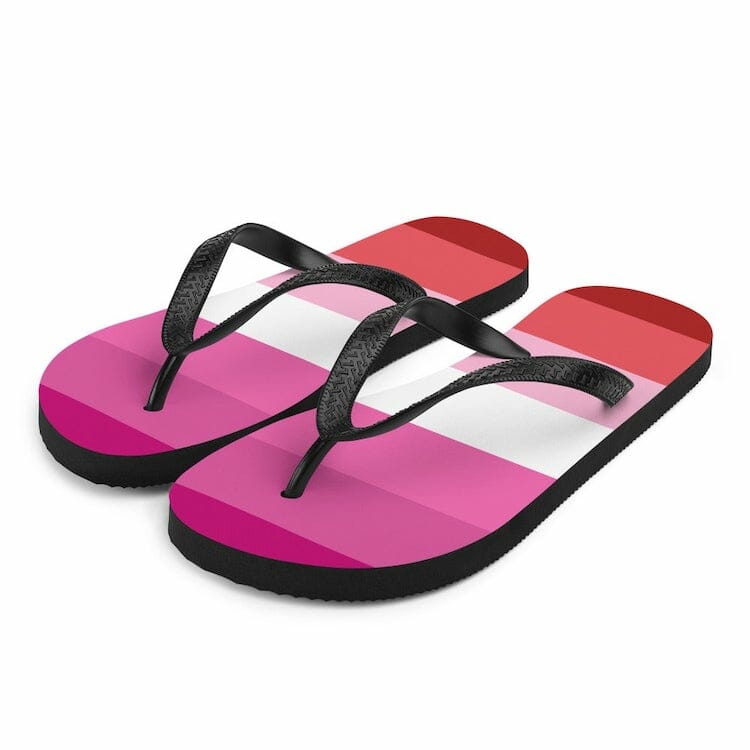 These stylish flip flop shoes put the LGBT pride rainbow flag on display. The footbeds feature a grid pattern made up of rainbow flags, making for quite a colorful item. These are the perfect flip flops to wear to a pride event, if you are so inclined.
Like all the products featured here, these are super comfortable as well as super stylish. If you are someone who loves to feel laid-back and stress-free, then these are just your kind of footwear. And if you don't put yourself into this category, take it from us when we say that you will be astonished at how much a great pair of shoes can do to put you in an easygoing mood. When your feet feel good, you feel good.
Those are words to live by, right there. But in all seriousness, we encourage everyone to broaden their style horizons. You never know when you just may learn a little something about yourself or (gasp!) change your mind. And at such a trivial expense, what have you got to lose? Try a pair and get ready to be surprised.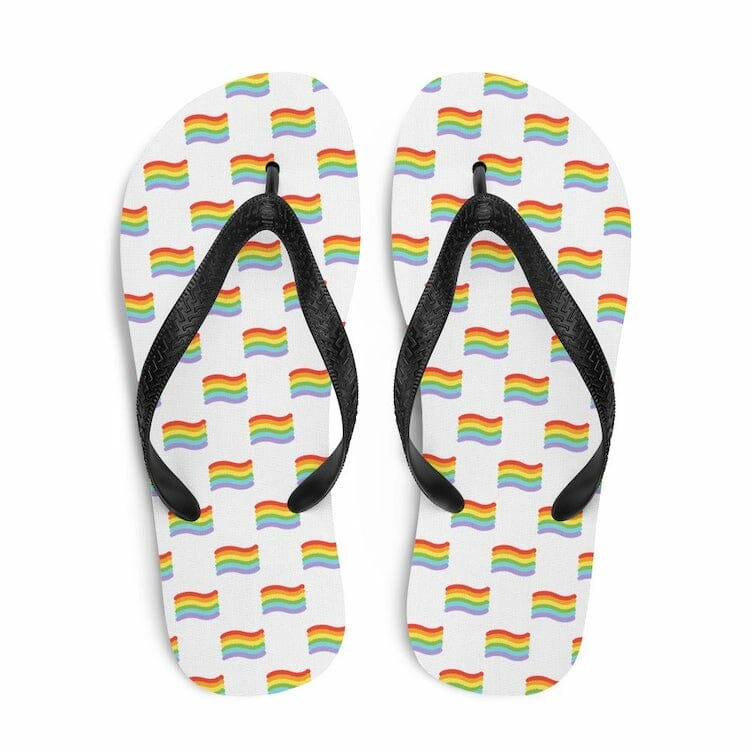 We close out our list of awesome gay flip flops with a pair that are nothing short of absolutely sensational. You are going to gush over the fabulous use of color here, with stunning gold lettering on the black color scheme. These just may be the swankiest flip flops ever designed.
Certainly, you will feel like a style god or goddess when you are walking around in these. Now you can feel chic and classy even for a beach day or a casual stroll on the promenade. And the best part is that it's an easy way to advertise that you are on the marketplace (referring, of course, to the hugely popular online LGBT dating app Grindr), or to just add a dash of humor to your casual outfit.
Folks will know which by reading your deportment. Enjoy the comfort that comes with these voguish sandals as well. If you find yourself in the gift-giving mood, well could you really do any better than these? The recipient will be sure to appreciate them.