Gay necklaces are all the rage these days in the queer fashion world. And why shouldn't they be? Of all types of jewelry, from rings, bracelets, and anklets, earrings, etc., necklaces are arguably the most important in terms of accentuating an outfit.
To be sure, necklaces can be very impactful when it comes to making – or breaking – an overall look. So it is absolutely no surprise that the LGBT community is on to the necklace craze as well – gay fashion is usually right on top of the hottest trends. It has been said that as trends go, so too do LGBT trends. In fact, we happen to think it's the other way around.
If you have never been much of a gay necklace enthusiast in the past, we might encourage you to consider broadening your style horizons. These accessories are highly in vogue right now (broadly speaking), as mentioned earlier, and are likely to remain so for some time, so we might as well get used to seeing a lot of them. And there is no better time to start getting in on the trend yourself than right now.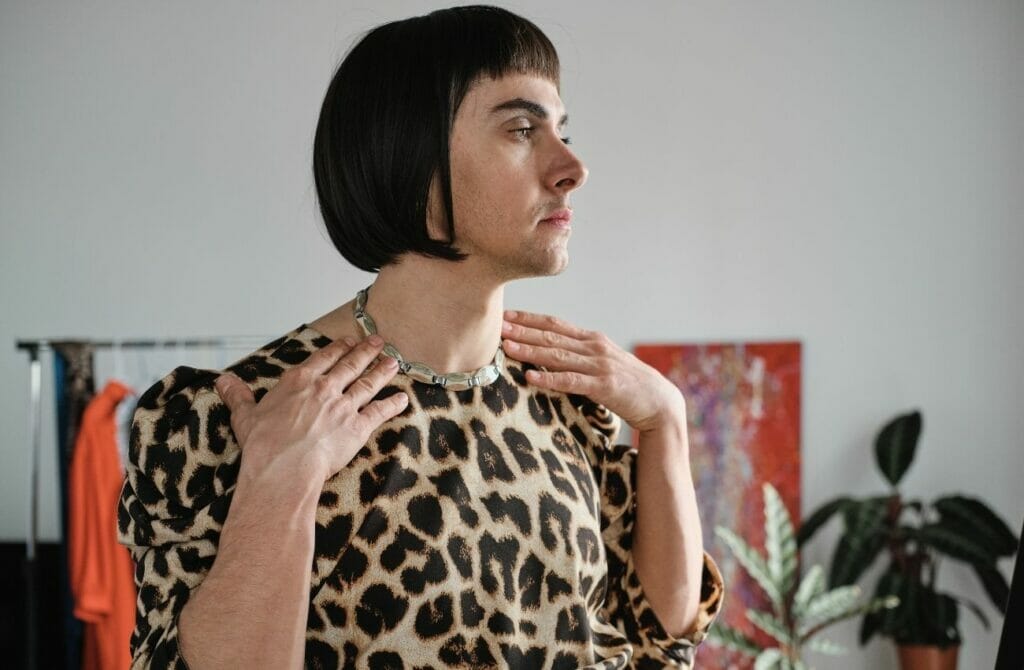 Neck candy can add so much to your fashion repertoire in terms of not only bringing a more dynamic, and in some cases more complete, quality to a look but also in lending some oft-needed variety.
And if you need further convincing to get on the necklace-wearing bandwagon, perhaps in the form of celebrity inspiration, then we say to you look no further than Jojo Siwa's J-Nation necklace, replete with floating diamond at this year's AMA awards; or the ultra-fabulous Billy Porter and his sapphire and diamond statement necklace at the Virgin Atlantic Attitude Awards; or Emily Blunt who hosted the CDFA Fashion Awards in a serpent-motif green enamel and diamond show-stopper of a necklace. We could go on and on.
If these jaw-dropping pieces of neck candy don't do anything for you, well then we just don't know what to say to you! And just so you know: there are a few need-to-know rules for all you LGBT necklace noobs out there. Don't worry, we won't belabor them here, but we will run through them very briefly.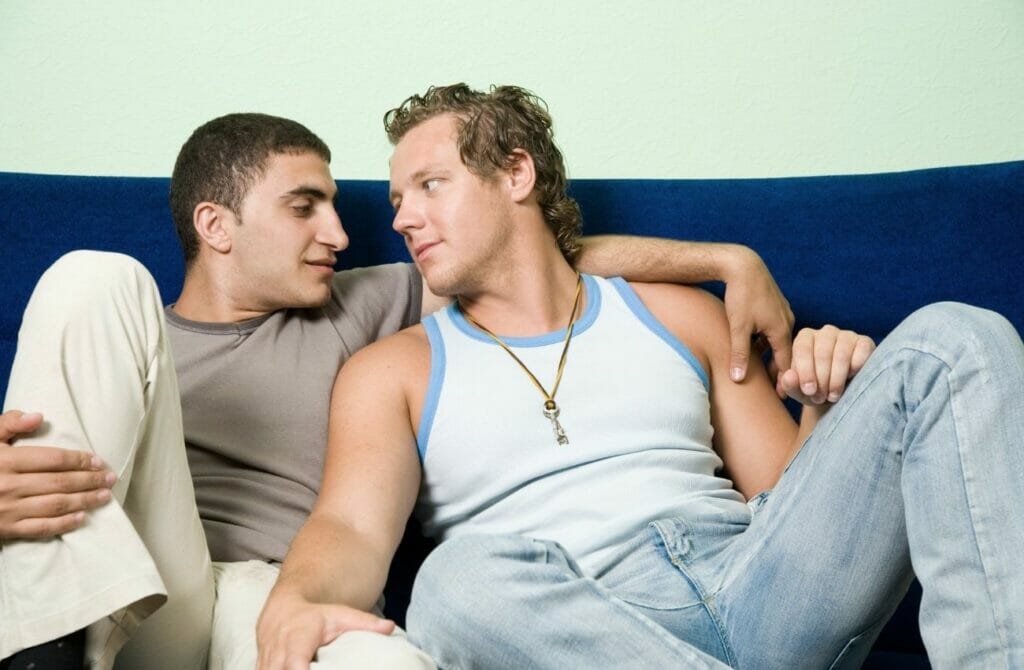 One is that you need to choose a necklace that works with your neckline. Two is that your necklace needs to suit not only your personal style but also, of course, the given outfit you are pairing it with (be it a bodysuit, crop top or festival ware) for the necklace needs to coordinate with the aesthetic and vibe you are going for.
Number three: (there are two schools of thought on this and neither are wrong; it's simply a matter of preference), but do you think the necklace should grab its own attention, or should it merely be there to accentuate a look, to embellish it?
That is a question you will have to answer for yourself. Either way, you must go with what makes you feel best about you, for when all is said and done that is the purpose of fashion. We, of course, are all about fashion that makes you feel pride. We are about style that makes you feel fierce, relentless, indomitable, unstoppable.
We love showing things that send you along your path of self-discovery and aid you in unleashing that fierce gay pride beast within you that wants to tear down all the old convoluted paradigms rooted in prejudice and discrimination and build a world founded on equality, and social justice for all. We are here to help you achieve that.
Spread pride and encourage others everywhere you go with these beautiful gay pride necklaces. There are plenty here to choose from so there has to be something present on this list of the best gay necklaces that will suit just about any style and taste. So feel free to peruse at your leisure. And most of all, enjoy.
Pay tribute to the legendary U.S. Supreme Court Justice and champion of gay rights with this stunning LGBTQ necklace, which lovingly imitates the late Mrs. Ginsberg's unmistakable style.
Ruth Bader Ginsberg undeniably changed the course of LGBTQ history in America and has inspired millions around the world to strengthen their resolve in their struggle for equality. She was the first Supreme Court Justice to officiate a same-sex wedding ceremony, same-sex marriage recognition being a cause which she championed successfully throughout her long career.
Ginsberg was also known for her signature fashion when it came to eyeglasses, earrings, and of course, necklaces. Now you can have that style for yourself and pay tribute to this staunch social justice warrior.
For those who don't follow fashion and may not know: Harajuku refers to a trendy boutique district of Tokyo which is a sort of oriental analog to places like say, Soho. A popular haunt of Tokyo's young crowd and a safe place for the LGBTQ community there, Harajuku is known for the colorful, bombastic style associated with it, a style closely linked with cosplay couture.
Harajuku style is the inspiration behind this beautiful crystal choker. It has plenty of sparkle, so if you like to instantly grab attention when you walk into a room, then this is for you. The letter necklace comes in a variety of styles, so with it, you can say exactly what you please, and it also pulls a bit of inspiration from the Harajuku Girls pop group.
This bold and striking statement necklace simply says "Queen," and that is exactly what you'll feel like when you have it on. It definitely makes quite the statement, to be sure.
The tiara design is a nice added touch. This necklace is a great addition to your look and is a nice way to stand out in the crowd while displaying your pride. It also makes an excellent gift for that friend you have that can be a bit of a queen sometimes.
Here we have another style of these gorgeous acrylic gay necklaces. Have you been a naughty, naughty boy or girl? You may as well advertise it with this brazen statement piece.
It is tailor-made just for you if you have something of a kinky side, a streak of mischief in your personality. And if you do, there's nothing wrong with that, so own it proudly and wear it like a badge of honor. This playful Whip Me necklace is sure to lighten the mood when you walk into the room. It lets everyone know that you are all about having a good time and not worrying about what anyone else may think.
If this is who you are, then this necklace belongs in your collection.
Playful, and in a saucy, flirtatious way. To be sure, this isn't for the uptight types out there – and we wouldn't have it any other way.
This stunning acrylic Daddy necklace is the perfect accessory to put you in that coquettish kind of mood, making it a choice piece to wear out on date night, or to a casual Saturday-night party. Or just to the mall or the grocery store if you happen to be feeling frisky – you don't need a special occasion to feel that way.
Get one as a gay present for that wicked friend whom you just know would love it.
Here is another must-own necklace (or actually, in this case, a collar) for all you lovers of kink out there. This is an excellent addition for your bedroom arsenal, perfect for pup-play or to spice up a night in with fetish underwear and gay sex toys.
It also works fine as a statement piece to wear to the club. This is tailor-made for the adventurous sorts who wish to let their wild side loose. This is available in three stylish colors to suit your preference. These make perfect gifts for your SO or for that kinky friend.
Have you ever heard the term "freak on a leash?" That is what comes to mind when seeing this necklace. If you consider yourself something of a freak and happen to proudly own the fact, then why not express it with this cool neck candy?
You'll appreciate the bombastic aesthetic and you just have to love the horror-movie-esque font going on here, which somehow fits the necklace's statement to perfection. Wear your pride and show off your freaky side with this attention-grabbing pride necklace.
If you have a crazy cat lady in your life, then this charming statement LGBTQ necklace would make a wonderful gift for them. It features an acrylic letter necklace design that employs a cute cat-ears serif on the first letter C, and a cat tail one on the last letter Y.
It is something any cat person would adore, crazy or not, and it comes on a twisted Singapore style chain (which is a chain-linking style that uses a sinuous, flattened shape), which is a beautiful chain style. The recipient of this necklace is sure to love it, and you will too, so why not get one for yourself as well, they are certainly affordable enough.
And can you really put a price tag on great style, anyway?
Pay tribute to the sensational, one and only rock god from Zanzibar with this fabulous pendant necklace. If you have ever listened to pop music at all then you'll likely know who this is.
The late, great Queen frontman is remembered for his effortless flair both on the stage and off. It was effortless for him because he was a rock star down to his very core, and he remains an LGBT icon not merely because he was a gay man but because he was the very personification of pride.
He was a man who was embraced who he was in with every fiber of his being. If you would like to emulate that, then we could think of no better way to start than with this rocking pendant.
Subtle is an apt word to describe this gay pride medallion. It comes with a beautiful round-link chain and features the colors of the gay pride rainbow flag worked into its classic design. If your style is more subtle than loud then this is the perfect necklace for you.
Or, if you are just taking the first steps of your pride journey and want to come out to the world one step at a time, and there is nothing wrong with any of that, then this piece is a great way to get started down your pride fashion path. We love our fierce jumpsuits and over-the-top gay clubwear, a.k.a there is nothing subtle about us, but you do you boo!
Not quite your style? Maybe you know such a one this would be a great present to give them as a way of showing your support for them.
This one is just for the leather pride subculture and we are, after all, all about seeing everyone represented. This gorgeous pendant proudly displays the colors of the leather pride flag, complete with a heart near the top-left corner.
The colors of the leather pride flag are open to interpretation but they are a beautiful representation of the leather culture nonetheless. Here it is all about leather, Levis, and BDSM. The pendant comes with a braided chain that is positively stunning in its own right.
If you happen to be part of this subculture – or know someone who is – then you simply must have this.
How much cooler does it get than dog tags, right? And dog tags themselves don't get much cooler than these stylish rainbow flag-themed ones.
They are available in two very different styles, each of which boldly displays the pride colors and what they represent: sex, life, healing, art, spirit, sunlight, nature, harmony, diversity and inclusivity. When it comes to queer neck candy, these dog tags are essentials yet make a great subtle LGBT necklace too!
Show the courage of your convictions with this stunningly basic medallion. If you consider yourself a staunch supporter of progressive agendas, then this item is practically custom-made with you in mind. The stainless-steel pendant proudly, defiantly displays a laundry list of truisms that you hold dear.
Express yourself and be not afraid to put your pride on display. Look cool AF in this stunning necklace and show the world that you believe in science, equality for all, love is love, and most of all, that kindness is all that matters.
This charming gay necklace bears a relatively basic, almost understated design that still manages to be outright fabulous. The pendant is made in the fashion of a rainbow-themed necktie – an amusing and clever design.
What a wonderful way to show your pride and support for LGBT rights with subtlety, if that is what suits your style. And as far as gay pride-themed jewelry goes, this just might be the quintessential gift for your LGBT friends and family members.
There's nothing understated about this fabulously fabulous statement necklace. When you love who you are, there's no reason not to do it loudly, proudly, and with panache.
Flaunt your pride everywhere you go and command attention when you show up at the party. You're sure to get a lot of compliments in this sensational neck candy. It is just the thing to match your larger-than-life personality.
Sometimes the simplest designs have the most impact. That is certainly true of this beautiful pride piece. This is a direct – and super-stylish – way to put your pride out there for all to see.
And just imagine having a matching pair of earrings…now how fabulous would that be?! if you love colorful gay pride rainbows that increase visibility for queer folk all over the world, then you can't go wrong with this lovely necklace.
Here we have another equally gorgeous design centered around using the pride flag/rainbow motif. You will simply adore this one as well. It displays the pride rainbow colors vertically with the word pride lovingly draped diagonally across.
The design is so simple, yet so elegant. You will positively feel like an LGBT hero or heroine when you slip this pretty pendant around your neck and feel the self-confidence rush over you.
Embrace the pretty bitch within you! Pretty bitches are our favorite kind, after all. And whether you are a male pretty bitch or a female pretty bitch, or a non-binary or gender fluid one, we say welcome to the club – it's so great to have you! Wear your pretty bitchdom like a medal of honor, quite literally with this necklace.
You'll love the attention-grabbing design; there is nothing bashful going on with this bold neck candy. Make it yours and remember that being a pretty bitch is a way of life.
And lastly, we conclude this lengthy list with this fabulous bear pride necklace. It shows off the colors of the international bear brotherhood flag.
These stunningly attractive colors are meant to signify the inclusionary nature of the gay bear subculture. The bear paw emblem is an enthralling capstone to the design. If you just so happen to be in the market for an affordable gift for that strapping, cuddly bear in your life, then your search is over.
Or if you simply want to show your support for this LGBT subset, then this is a stylish way to do it.