When it comes to pride fashion accessories, gay earrings take the proverbial cake these days. Just ask Vogue, Elle, Cosmopolitan, GQ, or Allure – they all say we are living in a golden age of earrings. And just taking a look around, who could disagree?
If you haven't been hiding under a rock lately, then you will have surely noticed this smoking hot trend over the course of the last couple of years.
Did you happen to see Amal Clooney with her 53-carat drop earrings at this year's London Film Festival? Or Zendaya with twisted gold-plated earrings to match her gold-plated breastplate at the Women in Film Awards? And who could forget Beyonce's show-stealing 70 carats-worth of ear candy at the Grammy Awards a few years back? A thousand WOWS aren't enough to do them justice.
It just goes to show that you can be as bold as you like nowadays with these fun little style addendums with being considered gaudy. If you are not that big into gay earrings, this might be a good time to reconsider your stance, because these style accessories are having a moment, to say the least, and that moment doesn't appear to be coming to an end anytime soon.
This trend applies to LGBT fashion as well. What you are about to see here aren't your grandma's earrings. Fashion changes with the times, or maybe it's the other way around, but at any rate, earrings are no longer about just simply prettying up an outfit or adding a touch of flash. Gay earrings, like any other accessory including necklaces and sunglasses, need to match not only your mood and personal style, but also need to be a good fit for your face type and hairstyle.
Every pair of gay earrings does not necessarily match well with every variety of the above-mentioned. And most importantly, earrings must match the rest of the look – to augment an ensemble, not clash with it. You wouldn't wear those shoulder-scraping hoop earrings with a baggy-sweatpants-and-tee shirt ensemble. No; you would wear something a bit simpler say, a small pair of huggies that wouldn't conflict with that super-casual look. Nor would you wear vibrant, flamboyantly colored earrings with a look that calls for a heavy application of makeup, because those colorful earrings would compete with the colors of your makeup and throw off your entire look rather than complimenting your face.
While there may seem like a lot of dos and don'ts involved here, the same applies to style in general, and it's a learning process. It must be remembered that at the end of the day fashion is a journey, and the point of the journey is not just about perfecting your look but about finding yourself, and discovering that proud, fierce spirit within. It's about you being you, but first, you must learn who you are.
Great jewelry is one part of all this. So with the point made we are proud to present to you these, the best LGBT pride earrings. And don't worry about wearing them to the pride parade, because you are the pride parade, baby! Every day, every place you go, the pride parade goes with you.
Pay homage to this stalwart champion of LGBT rights with these fabulous earrings. They are available in two styles, and both are designed to emulate the late U.S. Supreme Court Justice's signature look.
No matter what certain others may say about the lady, she definitely had a sense of style, especially when it came to her taste in earrings. But more importantly, she fought the good fight against discrimination of LGBTQ people in America and championed the legalization of same-sex marriage.
She was a personification of courage and an inspiration to people around the world, and a shining example of what can happen when one person stands up and says "no." These fashionable earrings make a wonderful tribute to this fierce social justice warrior and are a great way to keep her legacy alive.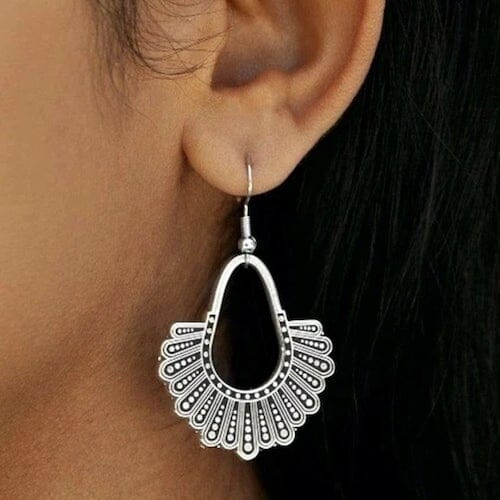 Dazzling, spectacular, and fabulous. That's how we would describe these gay earrings. We'd use a better word but there really just isn't one to do these earrings justice. Fabulacular? Spectabulous? Dazztacular? See what we mean? But anyhow, you are going to feel sensational when you put these on.
These are rhinestone parrot earrings, for crying out loud! How could you not be fabulous in them? You'll love these dazzling earrings will garner you, and you'll love the way they make you feel. They add flair and an extra layer of flash to any outfit, that's for sure. Take an ordinary ensemble and make it electrifying. Make those you encounter adore you whether they like it or not.
If you wear earrings at all and have even an iota of style sense, then these are a must-have for your LGBT jewelry collection.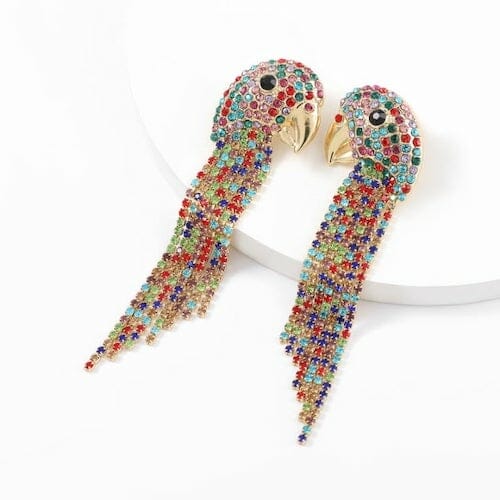 You can't go wrong with a classic. And these heart-shaped rhinestone hoop earrings are an all-time classic, only with a flamboyant, attention-grabbing twist.
They feature an oversized design to suit your huge personality, and you will be pleased to know that this awesomeness can be had in silver or gold. They will look adorable on you either way. These are just the thing you need to have in your collection to break out for date night, or any other situation where you seek to impress.
Use them to add that final devastating touch to that cocktail dress or evening gown that you have just been dying to finally break out of your closet. Or go super-extra and add them to your gay crop top ensemble. These heart hoop earrings will add that dash of sugar to go with your spice and make give your look that alluring dynamism that can be so hard to pull off sometimes.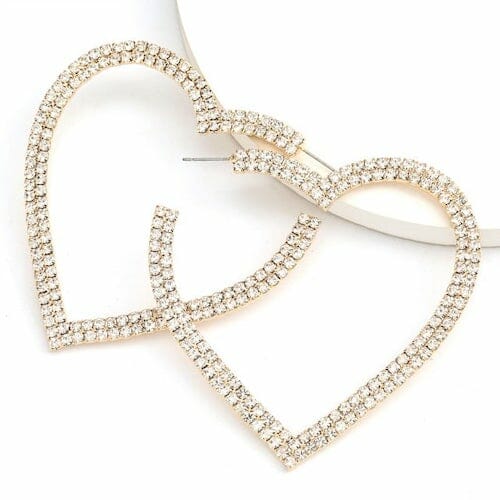 Here we have an item that goes fabulously with any casual outfit or even a more laissez-faire semi-casual one.
These rhinestone earrings say OK in black, silver or gold. OK is an attitude; it means OK as in "you are ok, I am ok, and it is ok to be who we are." OK is the spirit of acceptance and camaraderie that is pride, and pride fashion is all about embracing that spirit and making it a way of life. These OK earrings are no exception.
They give off a chill vibe and are great for completing a laid-back kind of look if that's what you are going for. These will add just the right amount of dazzle – but not too much to spoil the relaxed aesthetic. Be mellow and fabulous at the same time with these gorgeous rhinestone earrings. Add them to your collection today.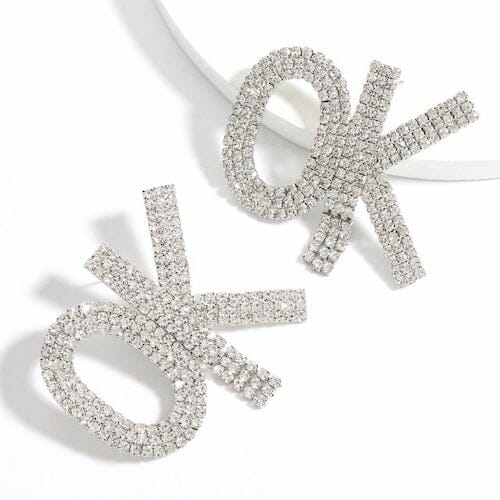 A rainbow made of rhinestones. How could it be anything other than breathtaking? And that is just exactly what these gay pride earrings are – breathtaking. Not to mention dazzling, show-stopping, and downright fabulous.
They are made with a beautiful rainbow design featuring all the gay pride colors, with an added bit of sparkle that cannot fail to be noticed. Add them to your collection and they are sure to become your new favorite pair. They are exactly what you need for the next pride parade.
They are also an excellent choice for a party or the club, especially when you want to look like a star and make a statement too. These earrings also make wonderful gifts for your LGBT and pride-supporting friends, especially since these gorgeously chic accessories are so inexpensive.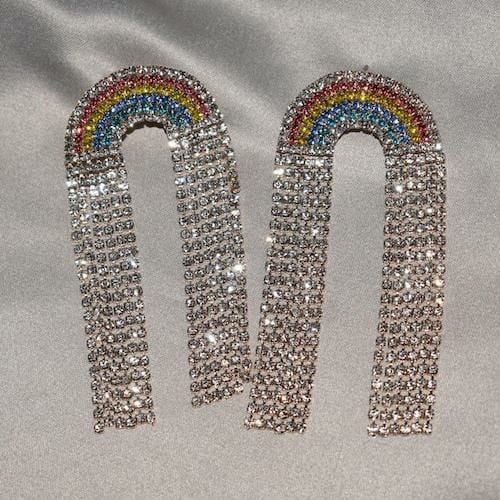 Wear these earrings and be an inspiration to everyone you encounter. They are made in a rainbow design with clouds that bear the saying "Storms Don't Last Forever."
Truer words have never been spoken, or in this case, displayed on fashion accessories. If you are going through a tough time in your life, little things like the positive messaging of these earrings can make more of a difference in your mental wellbeing than you realize. Or perhaps you'll improve someone else's – in the same way LGBT pins or gay patches can too.
And you will love the fact that these are, don't forget, gay pride-themed earrings that are a stylish means of expressing yourself, of displaying your pride and self-confidence, you love and approval of who you are as a person.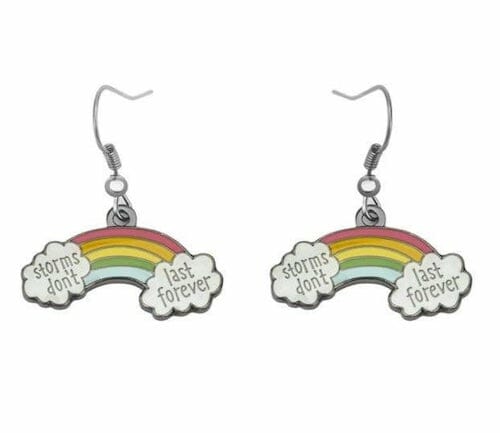 These gay earrings are sensationally, spectacularly, stunningly beautiful. Forgive us if we sound overly excited, but there is just no other way to put it.
We know you are going to agree with us once you set eyes on them. If you love things that sparkle, glitter, and dazzle, then these oversized heart-shaped hoop earrings are the only earrings you will ever need. They are the ultimate attention-grabbers, so you are sure to be seen wherever you wear them, though you won't have to worry about being outshined by the earrings themselves so long as you wear them with confidence and pride.
They come in three fabulous styles: classic silver which you cannot go wrong with; rainbow for extra color, vivaciousness and of course, pride; and fluro, or florescent, which allows for the perfect blend of color and flash.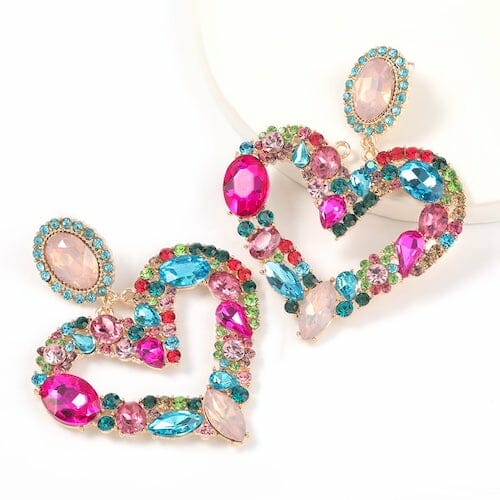 These large hoop earrings are the essential gift for that fierce femme in your life. And if you happen to be that fierce femme yourself, then these are perfect for you. In modern LGBT lingo femme is a term of empowerment, so these are perhaps the quintessential lesbian pride earrings, but honey the term can equally apply to non-binary folx, gay men, genderfluid individuals, or anyone else who feels it.
Femme is a state of mind!
You will feel like a femme indeed – like a total LGBT badass – when you slip these babies on, of that there is no doubt. You've got to love the way the oversized design only serves to make the statement all the louder (and prouder). Embrace your inner femme and show these off everywhere you go. Steal the show at the next pride parade. Femme is a mindset and a way of approaching life with ferocity and a never-quit attitude.
If that describes you then you are more than worthy of wearing these LGBT empowerment accessories.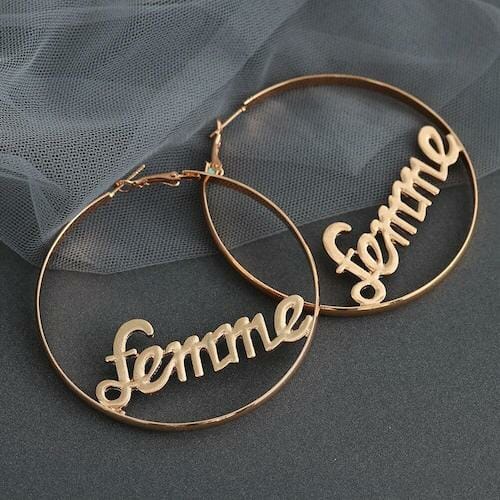 You will instantly adore these playful and gorgeously colorful earrings. The vibe they give off is unmistakably frivolous, with the candy aesthetic. You can have these in any of a slew of colors/styles. There is sure to be something to suit your preference.
With the candy cane swirl design these earrings almost look good enough to eat! But you would rather have them as style pieces and a means of expressing your frivolous, cheerful, and fun-loving personality. And if you have a friend or relative who is equally frivolous, cheerful, and fun-loving then these would be a fabulous gay gift for them.
Their bright souls will shine all the brighter when you give them these beautiful earrings, and given how inexpensive these are, wouldn't that make it so worth it?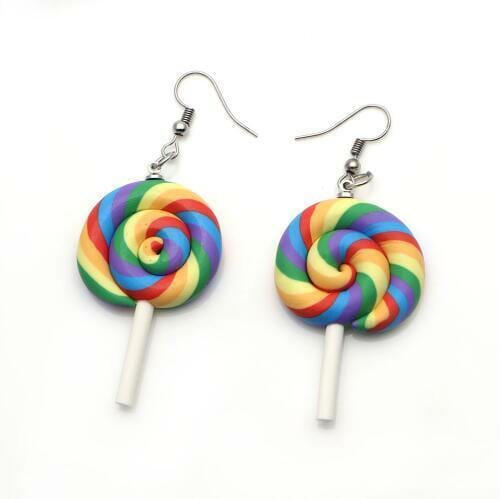 These may have one of the simplest designs of all the earrings featured here, but the impact they make is all the more poignant for it.
These colorful rainbow earrings will be dear to your heart when you realize how good they make you feel, and how proud you will be for expressing yourself and not being afraid to be who you are, wherever you are. Wear them to a pride parade and you'll fit right in and stand out at the same time. It's hard to imagine that things so small could have such a huge impact on how you feel, but alas it's true!
You will love them, and your LGBT friend or family member will love them just as much when you present them with these earrings as a gift. They are so inexpensive that you could easily get them for your entire circle of friends. They'll thank you for it (not to mention they will owe you one big time).
Best of all, they are versatile to go with any gay apparel ensemble!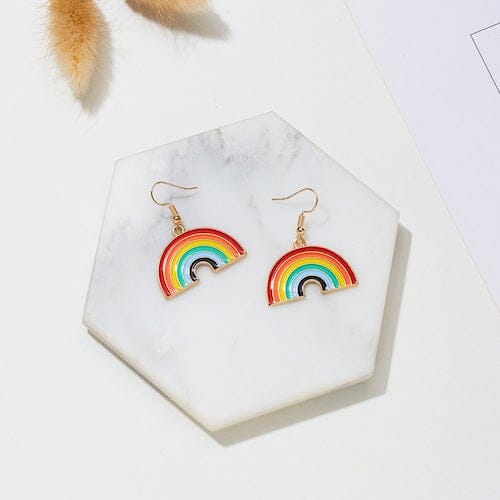 These snazzy earrings are a stylish AF way to let everyone know that you are single and ready to mingle! They say it in beautiful rhinestone lettering.
You will get plenty of come-ons and invitations when you wear these out and about. They look quite flattering with just about any look or outfit be it casual or more dressed up; they are stylistically versatile that way. They are a great and subtle (but not too subtle) way to put yourself out in the meat market (or fish market?). The most likely suitors will know who they are, so just sit back and let the flirtation come to you. Y
You can also get them for that flirtatious friend of yours – these make great presents that won't cost you their weight in gold.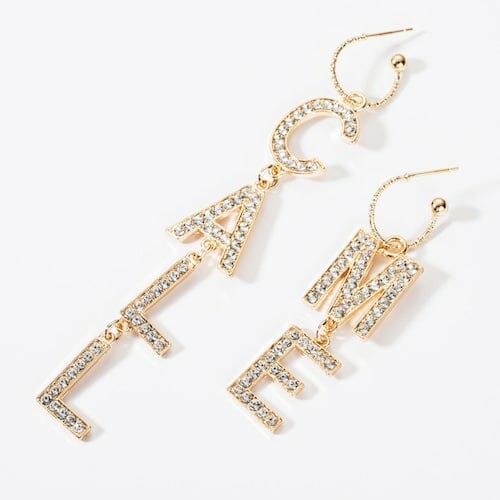 These earrings are the capstone to our list of LGBT pride earrings collection. They feature the colors of the trans pride flag (light blue, pink, and white), a variation of the gay pride rainbow flag which was created to specifically recognize transgender people.
If you don't know: the light blue and pink colors signify those colors traditionally used to represent baby boys and baby girls respectively, while the center white stripe represents those who are in the process of transitioning or who are gender neutral. Like the trans flag, these are a wonderful way to increase visibility for the transgender community.
If there is a transgender person in your life and you'd like to show them support, you can start by wearing these beautiful earrings. And while you are at it you can get them a pair too; it'll mean more to them than you know.