With this list, we have an array of gay apparel that is sure to cover all tastes, needs, and occasions. There is bound to be something here for everyone, whether you are just looking to add something new and interesting to your collection or perhaps you are on the lookout for something special, be it for yourself or as a gift for someone else.
This is quite a motley selection of fun gay fashion, with everything from hoodies to crop tops to jumpsuits. No matter your style you are bound to find something to suit your fancy here. Looking for a warm fleece hoodie to keep you snug when the weather turns cool? You'll find it on this list. Need a sexy see-through bodysuit to spice things up in the bedroom? We've got that too.
In the market for something to wear to that upcoming formal event that is both classy and seductive? We have you covered. Have fun perusing these exciting gay pride clothing options, and remember: it's all about not only looking fabulous but feeling fabulous too.
It is about that liberating feeling that comes with expressing yourself for its own sake, without the need for approval or caring what anyone else thinks. It is about bearing yourself to the world while covering up by wearing clothes that tell your story. Gay apparel is about being comfortable in your own skin and loving who you are, and honey – what could be more important then that!
You are going to positively smolder in this stunning see-through mesh jacket. Available in purple and orange, this sleek and sexy item looks good on just about anyone and not only reveals but accentuates the upper body.
If you happen to be a bit of a tease, then you will have blast with this; it has that alluring quality in that it shows just enough to set the imagination on fire and leave them wanting more. This is unmistakably seductive apparel that is ideal for the club or party, though you can wear it anywhere you have a mind: you don't need a license to be devastating.
Wear it in any setting where you want to unleash your sexual energy. Just be careful not to underestimate its power.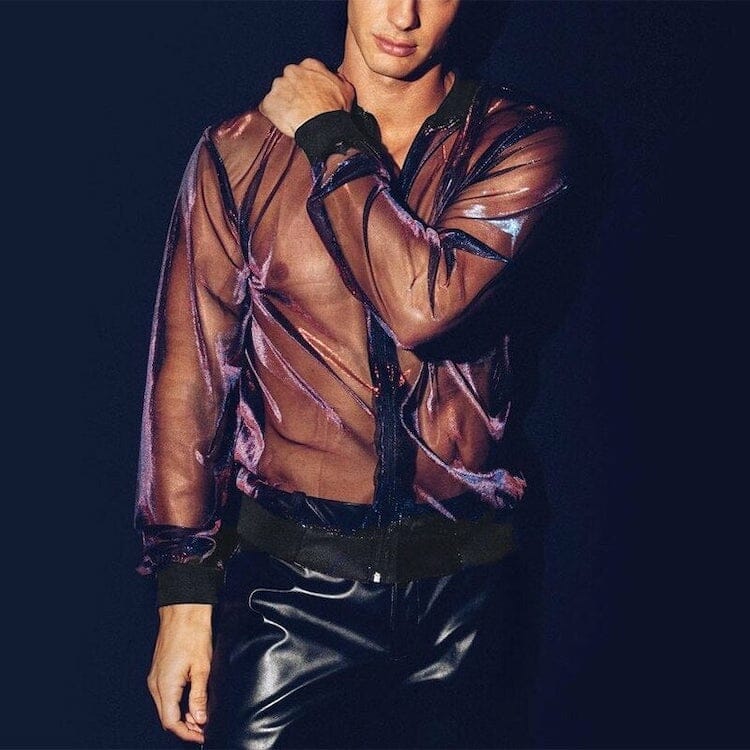 You will instantly adore this charming transparent floral top. It's not hard to see why these floral designs are so appealing; they evoke the springtime, which in turn evokes youth, life and vivacity, and beauty. The "language of flowers," as it has been called, (and this actually has a technical term: floriography) refers to the complex and intricate varieties of symbolism associated with floral aesthetics, be it in art, architecture, fashion, etc.
Take the rose, for instance. Red roses signify romance while black roses are symbolic of black magic, and so on. Other flowers represent everything from purity and chastity to wealth and honor.
Floral prints have their origins in the far east – specifically Japanese kimonos which were themselves inspired by Japanese print painting – as well as Southwest Asia, namely Persia and India. From there floral textiles made their way to Venice, and eventually, the rest of the West caught on.
And with the advent of the era of liberation that has come in recent decades, the floral print has become a fixture of LGBT fashion. Hell, even non-LGBT men are on to floral prints with the likes of Connor McGregor, Daniel Craig and Ryan Reynolds rocking them.
A fact for which we are all thankful. You'll be proud to flaunt what you've got with this seductive little gay apparel item. If you have an eye out for something – the right something – to get for a special occasion, say an upcoming pride parade or party, anywhere you really want to lay on that easy, innate charm of yours and make a memorable impression, then you would be hard-pressed to top this gay tank.
Can someone be turned on while simultaneously laughing their ass off? Put this on and find out! Get this two-piece cow print outfit, which includes both the crop top and the leggings, and it will swiftly become a favorite of your collection. Animal prints – and cow prints in particular – are very trendy right now (who could forget Doja Cat's Mooo on Instagram a few years back?), which is why you have been seeing them all over the place.
There's no better time to get in on this fun fashion movement than right now. And there's no better place to start than with this sexy outfit that also doubles as a great LGBT Halloween outfit. It would be just the right thing to have in your closet when you find yourself in a frisky mood and you want to let out your playful side.
What makes the cow print so appealing is that it evokes many things at once: playfulness, zany humor, whimsy, a carefree attitude. A willingness to laugh at one's self. The revealing truncated top of this outfit adds a seductive element to it that most will find irresistible. To be sure it is not a low-key ensemble. Wear it out and see if you don't get chatted up everywhere you go.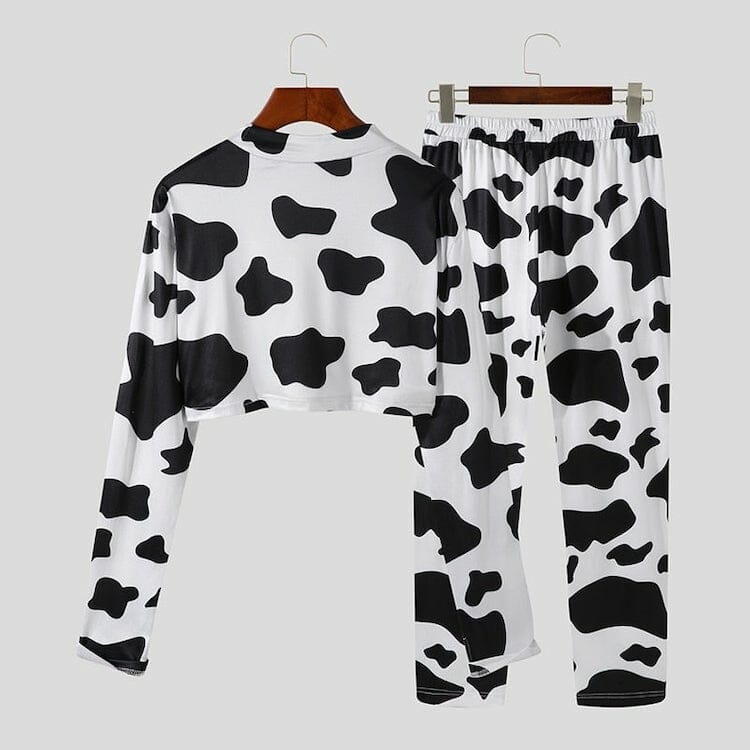 This is without question one of the most dashing, suave, urbane and elegant things we are featuring on this gay apparel list. Do you like your fashion voguish and a little risqué (or even a lot)? Then this will no doubt beckon to you.
It recalls glam fashion of yore but manages to eschew the excess which that style was sometimes guilty of. And no doubt you will feel glamorous in this. Just know that it is not for the bashful as it is quite revealing of the midriff. Put it on and be proud and intrepid, and don't be afraid to show off that sexy six-pack (even if you are still working on it).
Sleek and oh-so-flattering, this sultry top radiates raw sex appeal. You'll be a hit in this at the club, party, wherever. In fact you just might have to beat them off with a stick, as the expression goes, which might just be a whole new avenue of fun for you in itself.
You simply must have this in your collection of you like to really "dress up" and can't get enough of that empowering feeling that comes with it (which, by the way, is a legitimately recognized psychological phenomenon called "dopamine dressing).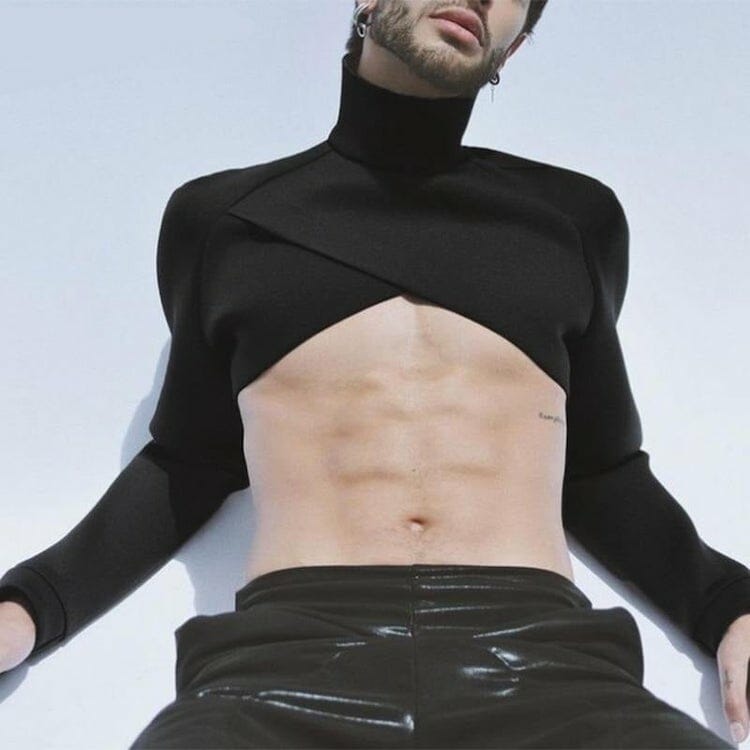 This has to be one of our most daring items yet. Are you bold enough to pull this see-through overalls jumpsuit off? All it takes is confidence, and you will have it in spades when you step into this fabulous outfit and see how sexy you look.
This makes for excellent bedroom attire and is just the thing to get your partner(s) all hot and bothered – they are sure to see you in a new light when you surprise them in this. And if you're brave enough to go out in this, be prepared for an inundation of compliments and invitations. You are sure to be seen when you wear this – though it might be best to wear a jockstrap or pride underwear underneath at the least.
Hot fashion items like this are a wonderful way to express yourself, particularly your love and acceptance of your own body, for at the end of the day we are all fabulous and unique. And that sentiment is what bold, risqué attire such as this jumpsuit is really a celebration of.
It's about so much more than simply showing off skin; it's about defying pre-conceived beauty standards and expressing body positivity, confidence, pride, self-love, and self-acceptance. We are all fabulous. We are all unique.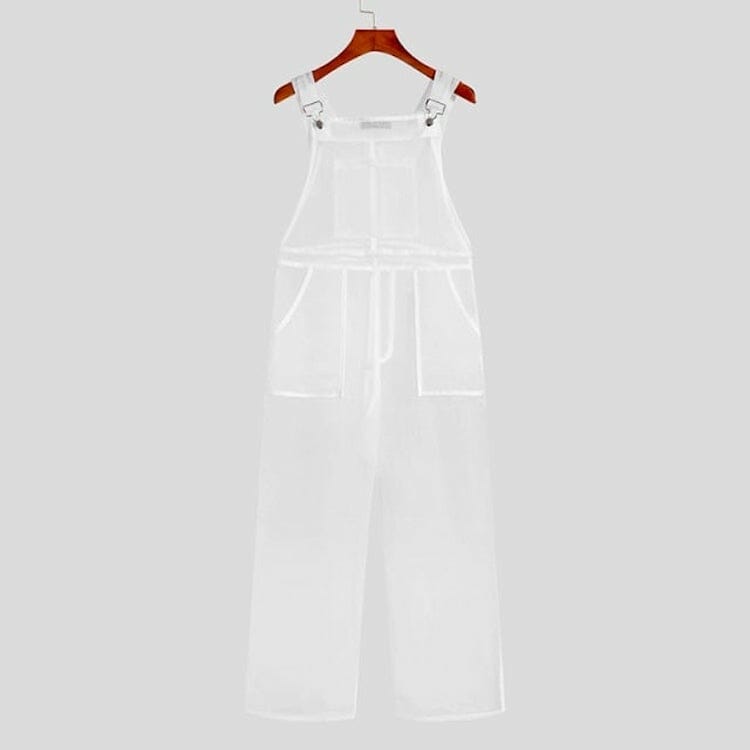 This gorgeous outfit would look good on anyone. You are going to adore this fabulous two-piece ensemble when you try it on, and you will love how pretty it makes you feel when you wear it. This pink mesh outfit comes with both the tee shirt and the shorts.
What's great about these alluring mesh outfits is that they are a wonderful way to show off the goods without giving away too much – a nice little preview, if you will, and just enough to have that enticing, seductive effect: Provocative yet subtle. This is a wonderful summer outfit and would be perfect for outdoor warm-weather outings – festivals like Milkshake and Mighty Hoopla, pride parades, cookouts, outdoor concerts, an Atlantis gay cruise – you name it.
The nicest part is that you are sure to turn plenty of heads in it without being an outright attention whore (not that we don't love attention whores), but rather with more subtlety if that is what better suits your style.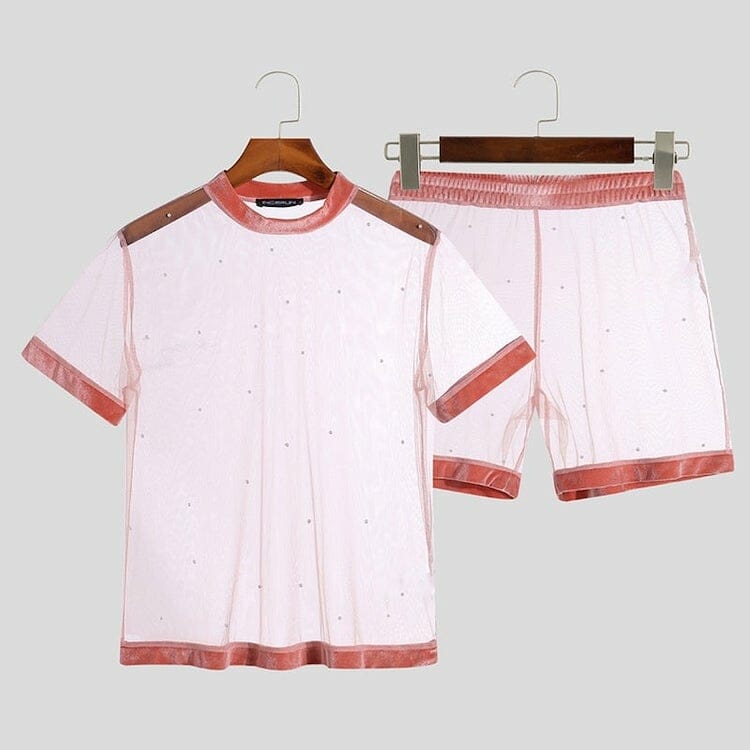 Here we have another beautiful two-piece mesh outfit. This one is available in yellow or purple, and is sure to be a crowd-pleaser in either of these color options. It includes the crop top and the shorts.
This is another item that will make you feel darling when you wear it out and about. It is also cool and comfortable warm-weather attire for those hot summer days, which also makes it perfectly suitable for yoga class, the gym, or any outdoor activity, say a little game of volleyball at the beach or just throwing the frisbee back and forth with friends at the park.
There is no reason you can't feel comfortable and look good while doing it.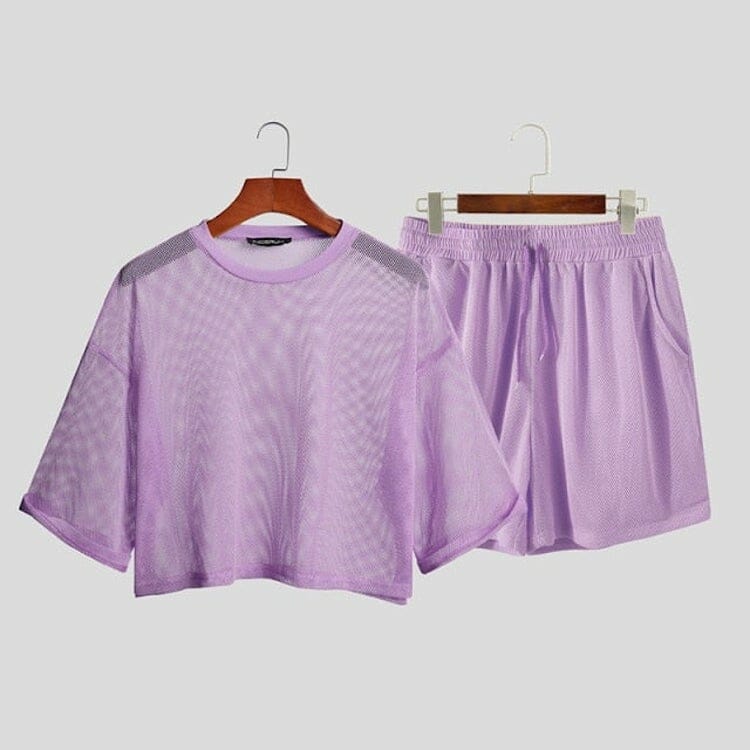 This suave and sexy crop top comes in black, rose and blue, and you will love it no matter which color you choose. This top is a good choice for more formal settings where you want a look that is just a bit more refined but still sexy as hell.
Who says you can't be well-dressed and seductive at the same time? This will be a hit at a cocktail party, soiree or gala event. Just be prepared to drop some jaws in this revealing crop top.
If you are not used to wearing velour, well then it's time to find out what you've been missing. It is a super-comfortable fabric that is soft and pleasant to the skin. This particular velour shirt has a lustrous sheen and looks positively fabulous. You need this in your closet for the occasions where you are going for a cultivated, cosmopolitan look that still retains something of your innate sexual energy.
Make it yours today.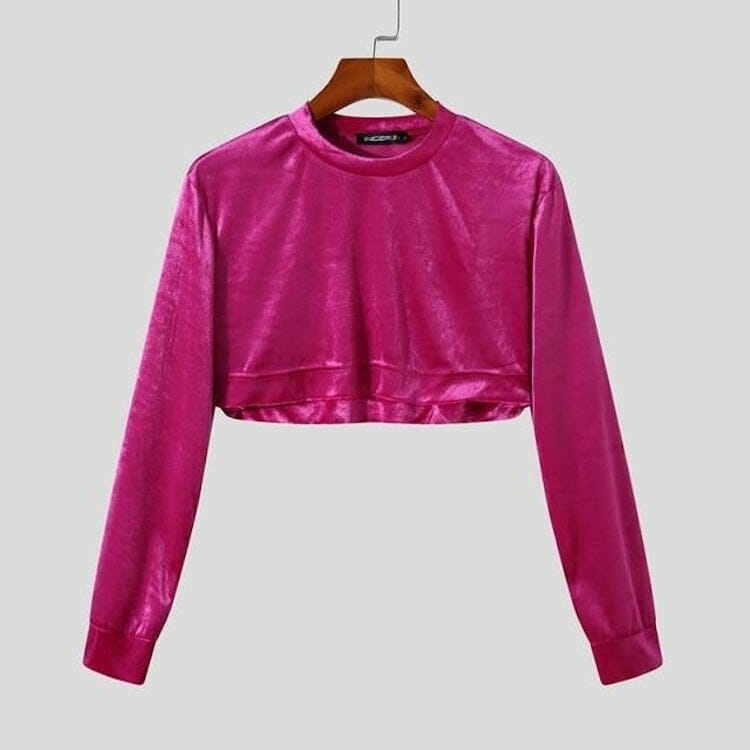 We couldn't think of a better holiday season gift to get for that big cuddly bear in your life. This thick fleece hoodie is just the thing to keep them warm on a cold winter's night. They'll be super comfortable and ready to snuggle when you give them this. The fleece material is soft and pleasant to the touch – and there is apt to be plenty of touching going on when you get all cozy with your bear.
Are you a bear yourself? Then this is perfect for you. Treat yourself to this adorable hoodie, you will feel all warm and snuggly inside when you wear it. Your significant other will love it too and they will demand cuddle time every night once they've seen you in this.
It is available in coffee and blue, and on that note just think how cute it would be it got one of each: one for your SO and one for yourself. Now just imagine how adorable the two of you will look in those pictures.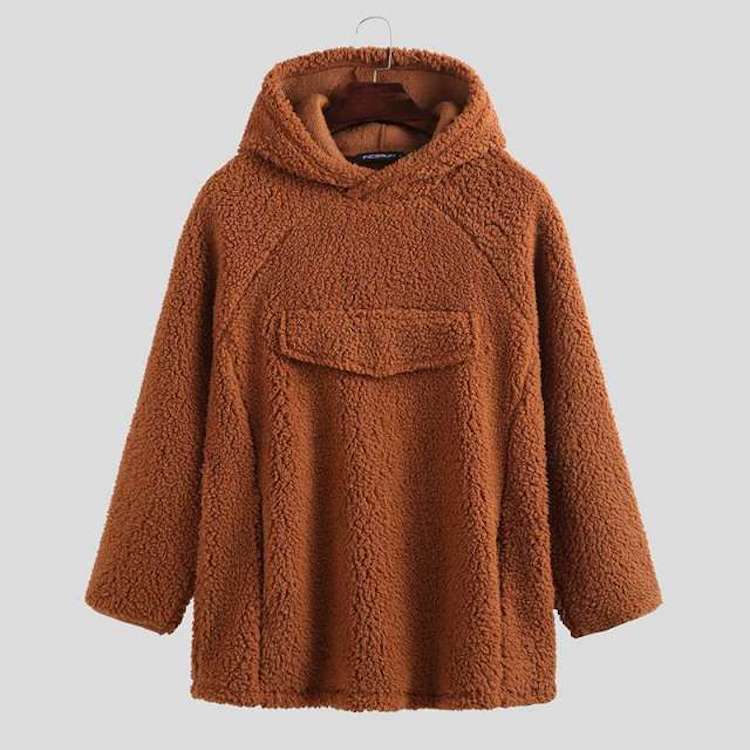 Get ready to strike a pose when you add this to your wardrobe. You are going to have an absolute blast playing seducer or seductress in this glamorous number.
It's one of the hottest items on this list to be sure, and it's not for the faint of heart. But you don't need the body of a Brazilian supermodel to wear this and look and feel fabulous and outrageously sexy; all you need is a little confidence and a good, healthy amount of self-love and body positivity.
At first glance it is instantly apparent that this is ideal bedroom apparel, but it doesn't stop there. You can knock 'em dead anywhere you want with this scintillating and super-sexy bodysuit. Wear this and you are a guaranteed smash hit at the pride parade, the circuit party, the discotheque, or anywhere else.
Sexy knows no bounds.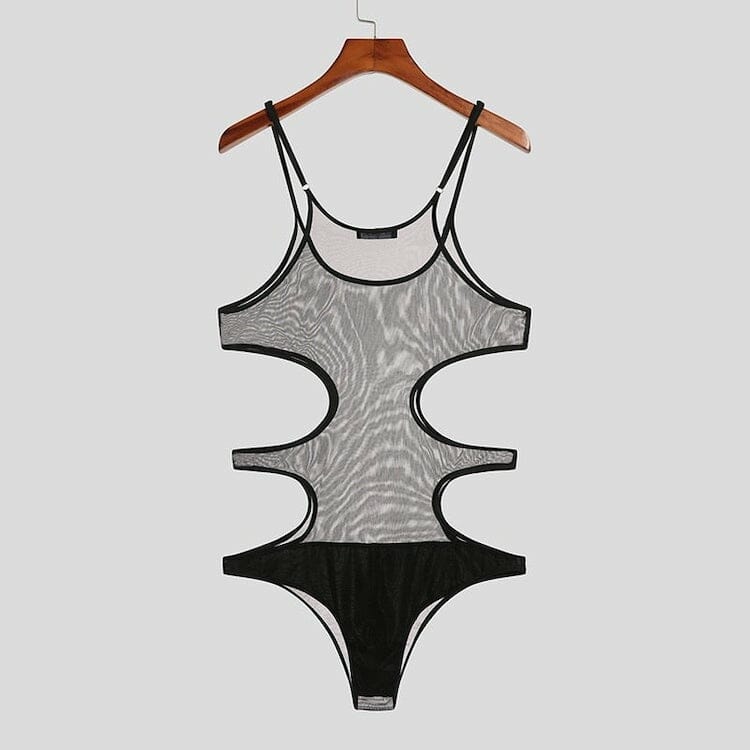 What a way to finish up this list of fabulous gay apparel. Bring out your inner barbarian sex god with this sensational, jaw-dropping fleece crop top. You are sure to drive them wild wherever you go in this sultry, revealing item. Though it takes a bit of courage to wear something like this, it is so worth it, because when you put yourself out there it makes you feel powerful and gives you a sense of liberation, and gives you a sense of your own sensual potency.
Once you overcome those initial inhibitions and begin to find your comfort zone, you start to get the feeling that you can take on anything in the world, and that self-confidence you didn't know was hidden inside you begins to shine through. You will truly start to feel like a whole new you, or at least a whole new side of you that was there all along and just waiting for a chance to come out.
And at the end of the day, that is what fashion and dressing up is all about. It is so much more than just the clothes; it is about self-discovery and self-realization – about finding who you are and unlocking the hidden potential within you.