Who doesn't love a good gay sweatshirt? There's nothing more comfortable – and comforting – than pulling on your favorite pullover. Just as the sweatshirt has become a pop culture mainstay, it has also long been a fixture of LGBT fashion.
To be sure, queer style has always been parallel to, and largely influential on, what's trendy and new "mainstream" fashion, much more than many people realize. The story of gay sweatshirts is interwoven with many of the most happening aspects of mainstream culture, namely hip hop, and sports.
The sweatshirt started life as athletic wear for training athletes and was purely functional in its design and usage, made to both induce and absorb sweat, all while helping the body maintain warmth. The sweatshirt would later evolve to include its sibling – sweat pants – to form the "sweat suit," or jog suit, an apparel sensation that really took off during the jogging craze. Again, an example of how gay fashion has always been on the cutting edge, for fitness and a general regard for personal appearance has been a constant lifestyle staple of the modern LGBTQ+ person.
Around this same time, the graphic tee shirt phenomenon exploded and this naturally translated to the sweatshirt which, when you think about it makes perfect sense because really the sweatshirt is like a warmer, more utilitarian close cousin to the tee-shirt. The sweatshirt (along with its other close cousin, the hoodie) became irreversibly a staple of university life when universities began printing their logos onto them. It soon became apparent how clothing could be used to get a message out there, and fashion has never been quite the same since.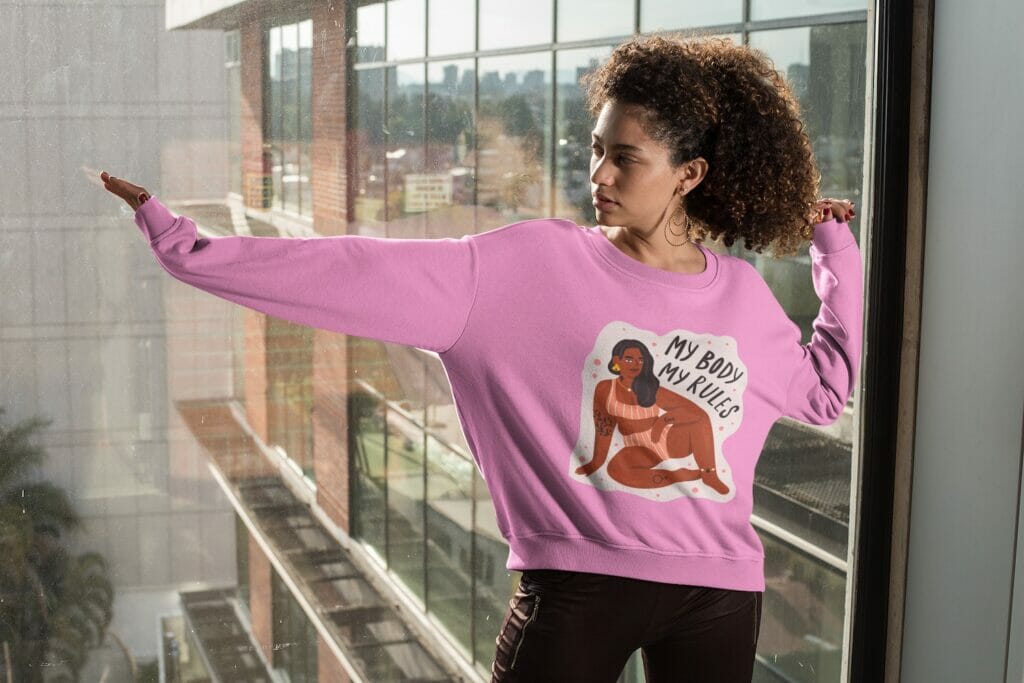 There were a couple of developments in the following decades that would see the sweatshirt cement its place in pop culture. One of these developments was the advent of hip-hop culture. The sweatshirt has been since day one – and continues to be – a staple of the hip hop style, a style which is ultimately defined by the intersection of casual streetwear comfort and urban aesthetics that reflect the general hip hop sensibilities and attitudes.
It was adopted early by popular rap groups such as Run DMC, and brands such as Adidas were quick to latch onto the emerging hip-hop fashion scene.
Another development was the rise in popularity of extreme and alternative sports. Skateboarders and BMX bikers made sweatshirts part of their style because of the added cushioning granted by them while retaining a level of easy comfort. Surfers naturally took an affinity for the sweatshirt as it was the most sensible garment solution upon getting out of the water: it afforded them a means of both drying off and warming up.
And here might point out the differences between the sweaters and sweatshirts: versatility. While the sweater is, functionally speaking, a one-trick garment in that its sole purpose is to provide warmth, here we will reiterate that the sweatshirt can provide warmth as well as absorb moisture. While sweaters are usually knitted (or sometimes crocheted) sweatshirts are sewn. And while sweaters tend to fit snug, enveloping you so as to retain your natural body heat, sweatshirts tend to have a looser (and ultimately more comfortable) fit.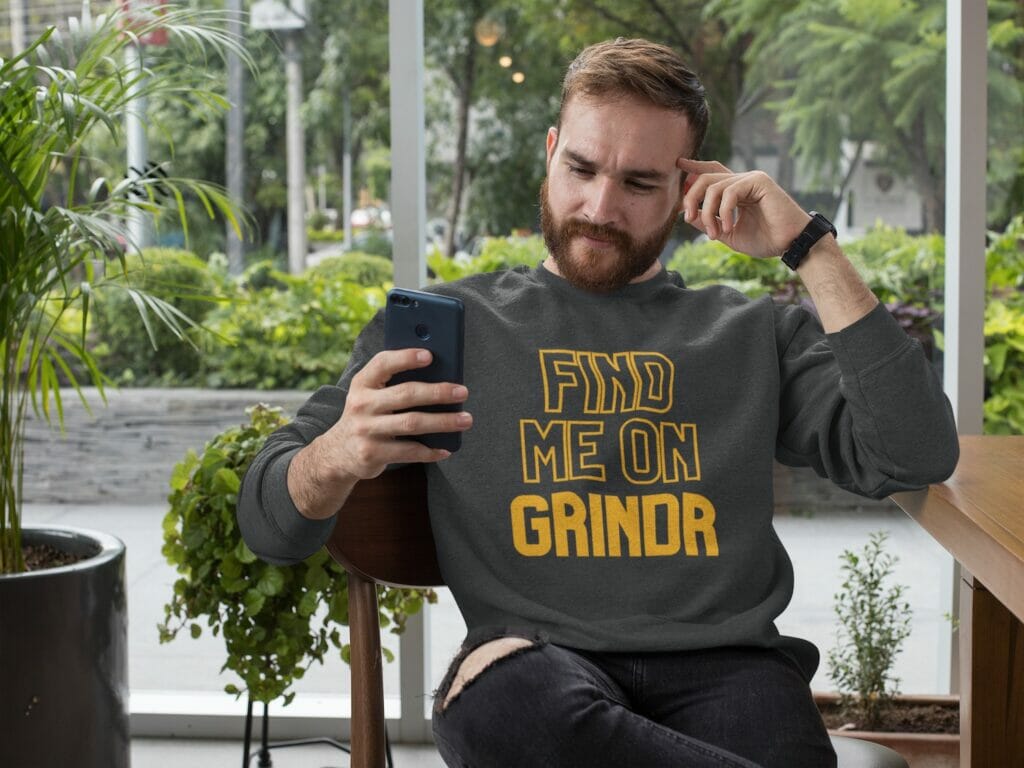 Sweaters are typically made from woolen materials; sweatshirts are often made from cotton and will have both an outer soft side as well as an inner napped side. And while sweaters can be either casual or more formal, gay sweatshirts are pretty much exclusively casual wear. While many people think of sweaters and sweatshirts interchangeably, they are in fact two very different types of gay apparel.
This fact can be demonstrated in the most fundamental of their differences: sweatshirts can be worn in warm weather months, even in summer, with the sweater being strictly reserved for cooler weather. Yes, that's right. Believe it or not, the sweatshirt can absolutely be part of your spring and summer wardrobe, with the caveat that it should be the right kind of sweatshirt – the kind that has a light, breathable fabric as some do – and that you wear it the right way.
That is, with shorts or a cute skirt, with casual shoes or sandals/flip flops. Unless it is positively simmering outside, you can totally pull this off and be comfortable. None of this can be said for the sweater.
All this brings us to the lively world of LGBT fashion. For the reasons described above the sweatshirt is hit among the younger crowd, from millennials to Gen Z. The same is true when it comes to LGBT style. But you don't have to be under thirty – or under forty, fifty or even eighty for that matter – to enjoy these hot, comfortable, affordable, and fabulous gay sweatshirts.
The LGBT community is all about inclusion for everyone. And for that matter, so are we. And we hope that you find something here that is just so "you," that you know at first glance that you simply must have it. In fact, we're certain you will. So without any further delay let us have a look at the best gay sweatshirts (only a little) money can buy.
This cool sweatshirt comes in a variety of flavors – um, we mean colors – and there is certain to be at least one for everybody.
This cool sweatshirt will keep you warm and toasty any time of year. Have you ever felt like a cute little ice cream boy? Well, you certainly will now in this cute little ice cream sweatshirt. Make it yours today and enjoy the looks and compliments you'll get.
Here we have an awesome sweatshirt that any LGBT person will be proud to wear. And that's the theme here: pride. This stunning graphic sweatshirt displays an embracing lesbian couple with rainbow-colored hair.
Whether you are part of the LGBT community or a straight supporter of it, you will love the beautiful messaging of pride and acceptance here. After all, love knows no color or gender – love is love.
Spread the message of love and do it with comfort and style. This sweatshirt features a gorgeous rainbow heart graphic that makes no bones about your pride, and lettering done in beautiful rainbow colors.
You know that love is all you need, now do your part in sharing this knowledge with others everywhere you go. You'll be met with approval words of encouragement, to be sure. Embrace the spirit of love and pride with this fabulous apparel.
This cute sweatshirt puts a serious-yet-playful spin on a classic 80's pop song. If you are a die-hard feminist AND have impeccable taste in music then not only are you a keeper, but we will also say that this sweatshirt is the perfect thing to keep you nice and snug while proudly showing the courage of your convictions.
You don't have to be a girl to stand up for girls' (and women's) rights. Just as LGBTQ rights are human rights, so too are girls' rights human rights.
Take a bold stand for not only your inalienable freedom over your own body, but also take a bold stand for casual style. This trendy sweatshirt features a cute graphic you'll love with the slogan "My body my rules." We say "Hell yeah!"
Put your indomitable spirit on display with this feisty apparel. You won't be told what to think, say, or be. Let all know it with this sweatshirt.
Love is love. It is a mantra of the gay lifestyle. We are free to love who we choose – no one can take this fundamental freedom away from us. This stunning graphic print sweatshirt says all this for you, and does so with beautiful rainbow lettering, with cute rainbow heart flourishes.
Spread the message: love is love. Make an impression with this pride apparel and give others something to think about anywhere you go.
Nothing says pride like this awesome graphic sweatshirt. It's totally rad! It proudly displays the peace hand sign. But not just any peace hand sign, no – a pride rainbow peace hand sign. How groovy is that?
LGBT culture has always existed alongside and in some ways parallel to other countercultures that push back against the status quo. Such as the hippie counterculture. Strike a nonviolent blow for freedom, for peace, and for pride! Get this gorgeous pride sweatshirt today.
You are proud AF of who you have become in life. And why shouldn't you be? Say it loud and proud with this gay sweatshirt. It displays the slogan "Proud of Myself" in vibrantly colorful lettering, so the message won't go unnoticed.
This sweatshirt is a great way to proclaim your self-confidence and contentment with the person you are. The pride rainbow theme is present and accounted for, so put it on and just get on with being you and loving it. So what are you waiting for? Get yours now.
This gorgeous sweatshirt features a rainbow umbrella graphic. If you don't know, this symbol represents solidarity within the gay community, and the concept of LGBT representing all sexual orientations, gender identities, romantic attractions, and behaviors.
The idea is that the LGBT struggle for equality is a struggle for all – hence the umbrella as a metaphor. If you subscribe to this idea, then there would be no better way to show your support of it than with this beautiful apparel.
If you happen to be a big strapping cuddly bear, or if you happen to love one, then this sweatshirt is the perfect thing for you. You'll love how it feels when you wear it. Like all these sensational gay sweatshirts it is designed for maximum coziness and comfort – no more chattering your teeth on those long winter nights.
And you will love even more how it feels when you are snuggling up with your bear and he's got this on. These sweatshirts are specially made snuggling sweatshirts. All of a sudden those long winter nights don't seem so dreadful anymore, do they?
This tired old social construct has worn out its welcome and been shown for what it is. Do your part to help it on its way out the door with this sassy little sweatshirt.
Make your bold statement with style and enjoy the comfort of this lovingly made item. Redefine what is "normal" with this snazzy piece of pride fashion. Strike a blow for LGBT recognition. Add this to your cool-weather collection and proudly demonstrate the courage of your convictions. Change is in the air, and this fabulous sweatshirt is a wonderful way to be a part of it.
Make it yours.
This sweatshirt displays a message that is blunt, direct, and to the point. And you will absolutely adore it for that! It proudly displays the word "Queer" against a rainbow-colored backdrop, so the messaging couldn't be any clearer.
Be who you are, and be proud without worrying about what someone else may think. Nothing can hold you back in life when you have pride; embrace the pride attitude with this sexy shirt. Get one for your partner – they'll appreciate it when the cold winds are blowing and they have this to keep them warm.
And if you have a friend who identifies as queer, they'll appreciate the thought that went into getting them something that is not just any gay gift, but a gift given with them especially in mind.
Love is a beautiful thing, not a shameful one. You know this, so let others know it too when they see you in this beautiful sweatshirt. More love is what is needed in this world.
Spread it with the same pride with which it was made.
It's high time someone said it! Help bring an end to the discrimination of LGBTQ folks all over the world. Some are worried about legalizing a plant, but why not focus on legalizing people?
Sure, the graphic on this stunning sweatshirt has a humorous slant, but it's a humorous slant on a serious issue. Make your convictions known and get this gay pride apparel. Increase visibility for the LGBT community.
Beauty comes in all shapes and sizes, as this fabulous sweatshirt proves. Whether you are lean and graceful or full-figured and bodacious, or somewhere in the middle, true beauty ultimately comes from within.
It comes from self-confidence and being in love with yourself, because that self-love is infectious and it has a way of rubbing off on others. That is what makes confidence so attractive.
Be your best, most beautiful self with this sensational sweatshirt and inspire self-love and positivity in others.
At least you'll look fabulous when you deliver all the girls the disappointing news. Leave them with an unforgettable impression – one of style and easy swagger.
This gay pride sweatshirt puts the funny phrase against a backdrop of rainbow stripes, making for quite the dashing graphic. They'll be eating their hearts out. And you will be cozy AF in this. It feels great, looks great, and will put a smile on someone's face when they read the amusing text on the shirt. What more can you ask for?
Do yourself a favor and get one today.
The insanely popular gay dating app is a great way to put yourself out there if you are single and ready to mingle. And this stylish sweatshirt is a great way to advertise that you are on the Grindr marketplace.
It's really more about a general impression though, that impression being that you are willing to seek out adventure in your life and are ready to share it with someone who has that same carefree spirit.
This sweatshirt captures that sentiment perfectly.
What's not to love about this brash and bold sweatshirt? Direct statements are the best kind of statements, and it doesn't get much more direct than this.
The shirt's graphic prominently displays but a single word: Gay. The supersized lettering is for emphasis and is done in gorgeous rainbow stripes like that of the gay pride flag. Show everyone who they are and show it with pride.
If you are a fan of the iconic LGBT TV show RuPaul's Drag Race, then you will know what this sweatshirt is referring to. Sissy that walk is about strutting your stuff and embracing your inner sense of swagger, of confidence.
It's about embracing the pride you feel and letting it shine for all the world to see. So arch that back and sway those hips. Sissy that walk! Get this shirt and add it to your drag queen merch collection!
Are you a supporter of progressive causes? Do you love the cozy feel of a great sweatshirt, especially when it's your new favorite sweatshirt? Well then, we are here to tell you that you have just hit the jackpot.
You will adore the message here especially with the humorous last entry. Hey: hoes are people too just like us. Give them a little love with this adorable gay pride sweatshirt.
This is a gay sweatshirt with a fabulous graphic that shows a gay couple running into each other's embrace with a rainbow heart in the background. It is beautiful imagery.
A must-have for any LGBT sweatshirt fan. Give it a place in your closet, and if you have a gay friend for whom you happen to be searching for a gift, then you need look no further. Give them the gifts of style and warmth to go with your gifts of friendship and acceptance. It's like four gifts in one! They'll cherish you for it.
You love yourself for who you are. Wear it on your sleeve in the most literal sense with this snazzy sweatshirt. It boldly displays the slogan "Gay & Proud."
Sometimes the bluntest messages make the biggest and most lasting impression. This should be a staple of any gay wardrobe. You won't be hurting for either style or comfort when you wear this.
The point of this gay sweatshirt is immediately plain to see: LGBT folks are just like any other folks. They are your friends and neighbors, brothers and sisters, coworkers. All they want is equal recognition.
If you are an LGBT supporter you owe it to yourself to own and wear this LGBT pride sweatshirt.
If you don't know the reference, Zero Feet Away is a joke about your distance as seen on gay hook-up apps and is also the title of an excellent short film about the gay dating app Grindr, and about the perils of online dating in general.
If you haven't seen it, you need to fix that right away. Just don't watch it alone and in the dark. This cute sweatshirt pays homage to the short film. You might be shivering after watching it, but it won't be from cold if you've got this super cozy shirt on.
And now we close out this lengthy list of gay pride sweatshirts with what is probably the most poignant one in terms of the message conveyed. The purple triangle was used by the Nazis in their concentration camps as a way of branding gays.
As many as 15000 men were sent to the camps because of their sexuality, and there they were subjected to experimentation and an untold number of them perished. Today the purple triangle has become a symbol of vigilance and solidarity.
Pay homage to those who were lost by wearing this sweatshirt and otherwise displaying the purple triangle wherever you can.