What's great about gay pride Tshirts, besides the fact that they are typically cheap and comfortable – not to mention they are universally the most basic and accessible form of casualwear – is that they are a great way to visually express yourself.
Here we have put together a list of fun gay pride Tshirts that let the world know in humorous, genial terms that you are a proud member of the LGBTQ community.
These gay pride Tshirts are made from jersey cotton: a thicker, durable fabric that is also soft and stretchy, for the best quality you can get anywhere. And they are unisex T-shirts, so they are suitable for anyone no matter what gender you identify with.
We kick off the list with a gay Tshirt that takes inspiration from a smash-hit pop song by none other than Dua Lipa. The Tshirt comes in black, oxblood black, navy, and heather true royal, and features a video player graphic with a song lyric captioned at the bottom.
It is just the right amount of suggestive to get your point across without being overtly aggressive. Made entirely from Jersey cotton, a single-knit fabric that is both soft and elastic not to mention highly durable. A fine quality product.
Are you a bit of a space nut and want to flaunt your rainbow spirit? Then look no further, you have found the funny gay shirt you need! This quirky undercover gay alien signal gives lets everyone you meet know you are a friend of dorothy (or ET), while you advertise who you are with pride!
Comes in a choice of colors but if you're going for a sci-fi theme, then black is definitely your best option to match the color of outer space.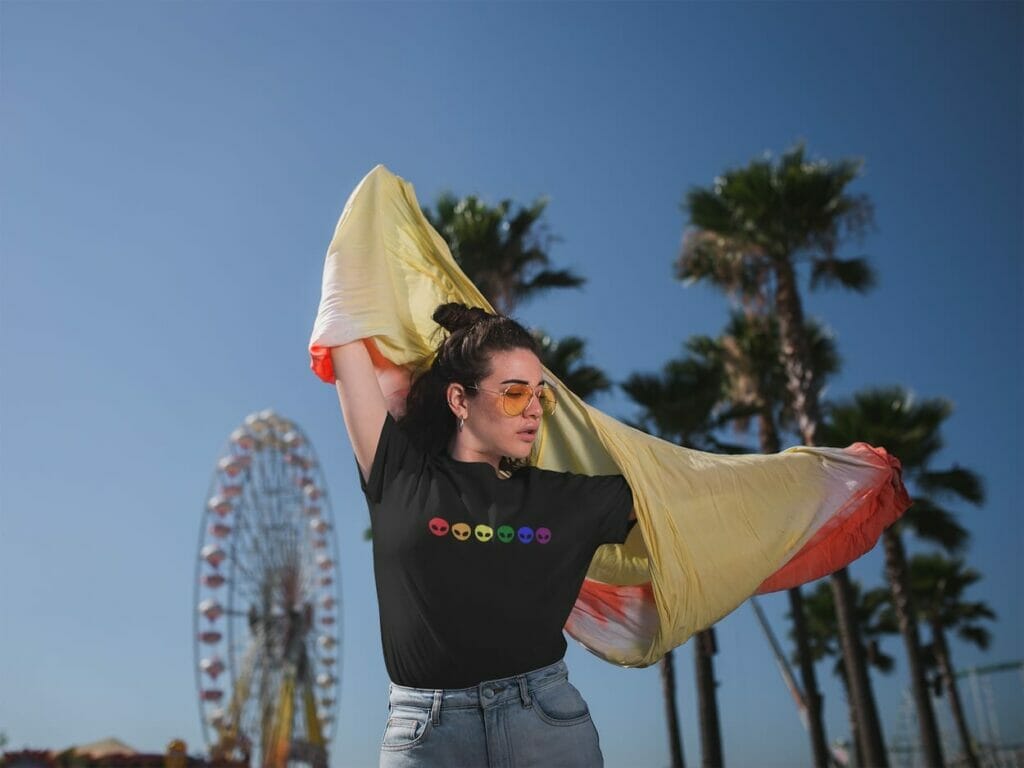 If you support the LGBTQ community, then you can show that support with this lovingly designed tee. It features the "straight ally" symbol of a rainbow letter A within a heart-shaped field of black and white stripes.
This beautiful symbol signifies heterosexual and cisgender support for LGBTQ rights and equality. The Tshirt comes in an assortment of vivacious colors so you are sure to find one that is right for you.
Not for wallflowers, this cute shirt will make people smile, start conversations at check-outs and make you look just fabulous. We love the sparkles in the the rainbow burst and the silhouetted unicorn rising proud in the middle.
Show your love for the LGBT community and embrace your sassy sense of humor at the same time with this tee.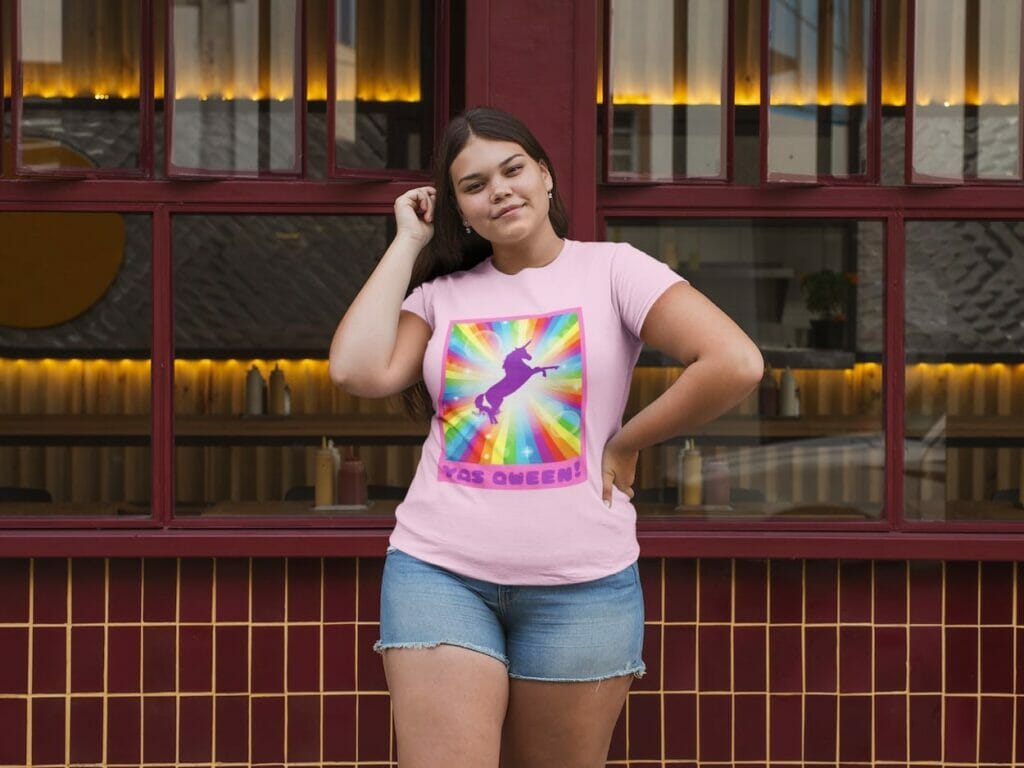 If you appreciate the clever wit of one of the best LGBT TV shows of all time Schitt's Creek, then you will appreciate this item. It's a fun way to get the message out there with your own brand of wry humor – the message being that you are a sexual free-spirit who isn't willing to be pinned down by labels.
This unisex tee comes in white and sport gray, and is made of durable Jersey cotton. This would make a great addition to your summer collection.
This is one of those shirts that just saves you explanation time, are we right? There's only one way to stop the queue of ladies forming and that's to clarify your preferences loud and clear. On a funny gay shirt.
This wearable tee is versatile, goes with everything and has some excellent rainbow colors helping the word 'Gay' fully stand out. What more could you want?
All this fabulous gay pride merchandise of course. What, we are greedy OK!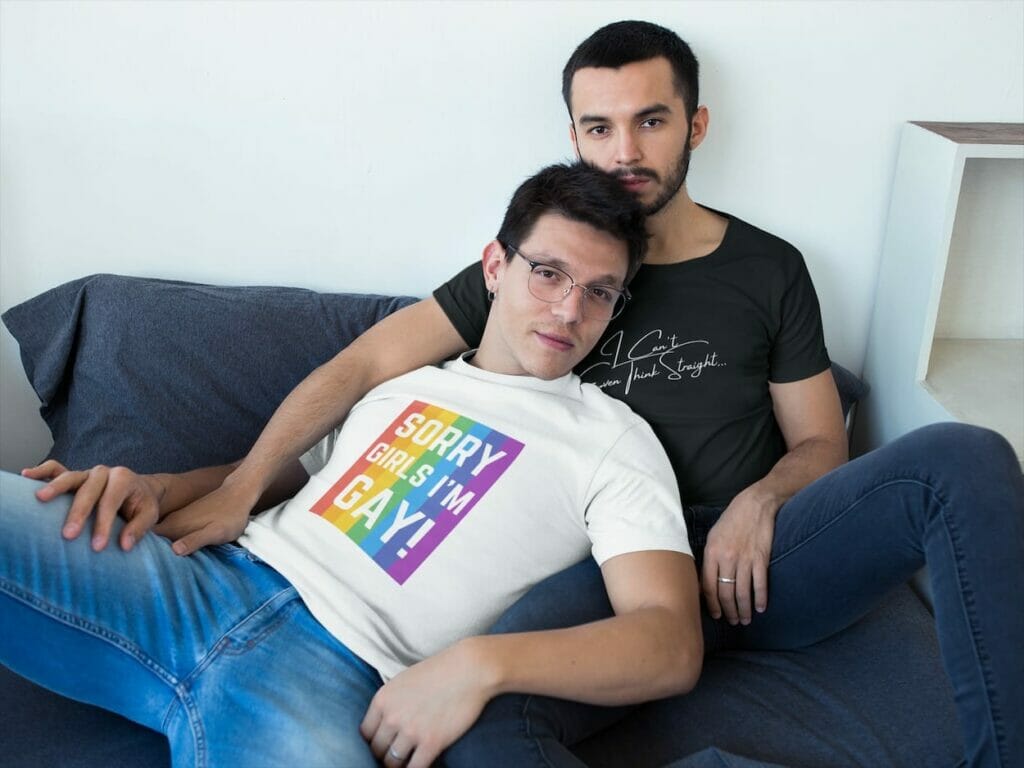 This gorgeous gay pride Tshirt proudly displays a rainbow-ized map of the Earth. It comes in black heather, lilac, white, and heather mint, and is stunning in any of these options.
All the inhabited continents are represented with the full spectrum of color – red, orange, yellow, green and blue. The message of this Tshirt is immediately apparent: the LGBTQ community is worldwide and it is here to stay. It is a beautiful way to display your support of the community whether you are a part of it or a straight ally.
This is one of the winners among funny gay shirts for its choice of colors and the hilarious message. It always gets double-takes on the street and makes people smile wherever you're wearing it.
It's so soft that you can wear it out and about or as a pajama top. We love that the design is quite subtle, but still very funny. Plus, the simplicity of the top means that you're free to go wild with the rest of your outfit.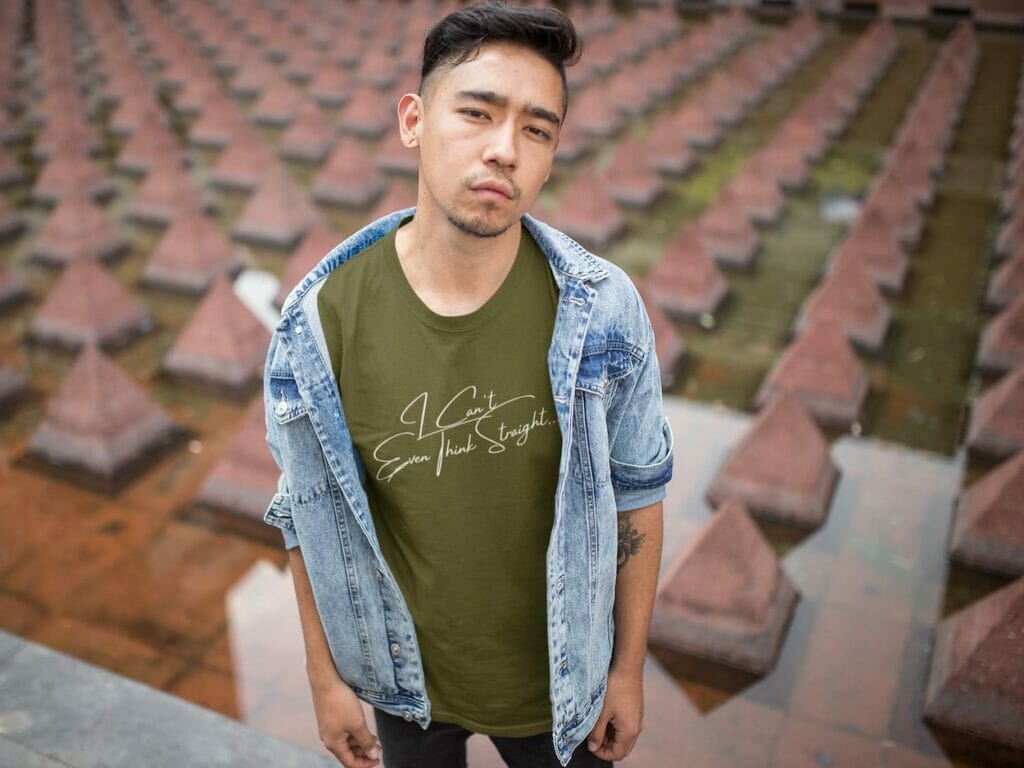 You'll definitely get some chuckles with this cool and humorous tee. Its centerpiece is an amusing toon-animation style graphic that features a rainbow in the background with stars and smiling clouds, while in the foreground is a rocket ship proudly displaying a heart insignia as it blasts off into space.
Below reads the caption "Liberals for Gay Space Socialism." The Tshirt comes in an array of creative colors such as mustard and heather prism lilac, among others, that are a perfect match for this zany and whimsical item.
Funny gay shirts aren't just for Christmas; they're for Halloween, too! This versatile t-shirt is the perfect lazy gay guy's Halloween costume, but you can wear it year-round to make people laugh.
It's actually super comfortable so you can wear it to work out in, to run errands in or to the next costume party you can't be bothered making an outfit for.Because lets be honest, this just isn't going to cut it at the costume party night on your next gay holiday in Palm Springs, Key West or Fire Island.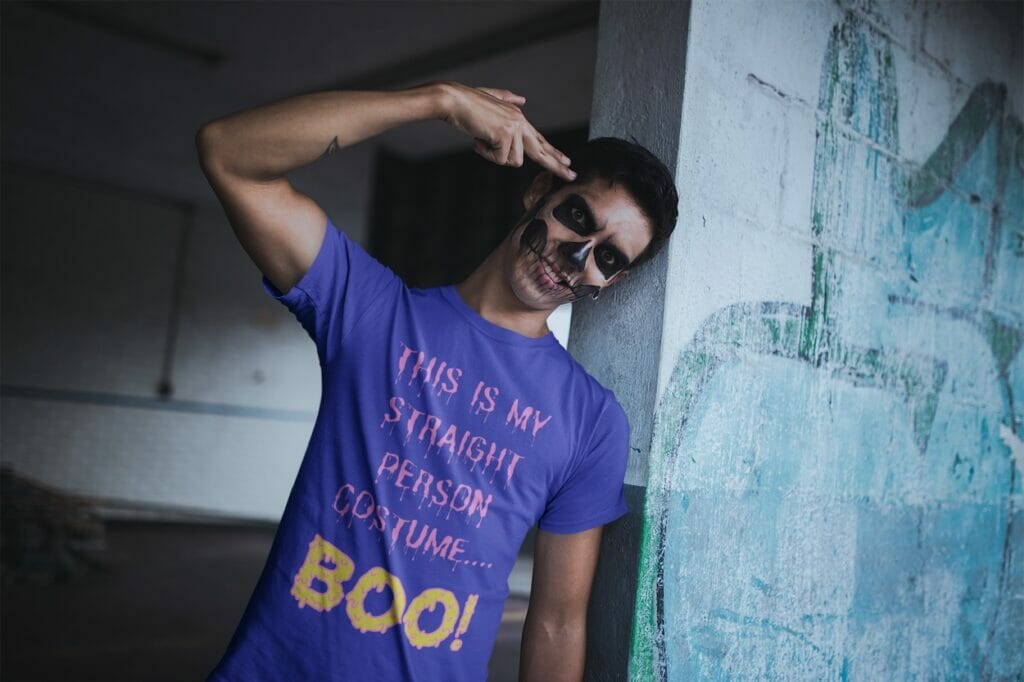 This gay pride tee is stunning in its simplicity. It features a clenched rainbow fist, emulating the Black Lives Matter emblem.
The message is clear: the LGBTQ community stands with BLM. You can have this Tshirt in navy, army, pink, white and black heather. And it looks good while making a statement no matter which color you choose.
Seriously, people take one look at this tee and immediately burst out laughing, every time. For extra laughs wear it next time you go on a flight! Actually, really do wear it on a flight; it's lightweight and comfortable enough for a long journey. Plus you never know who might see it from the airport lounge and offer be your new daddy.
Choose from a range of colors or just get them all and wear matching outfits on your next gaycation with friends!
Now the real question if – whose your daddy?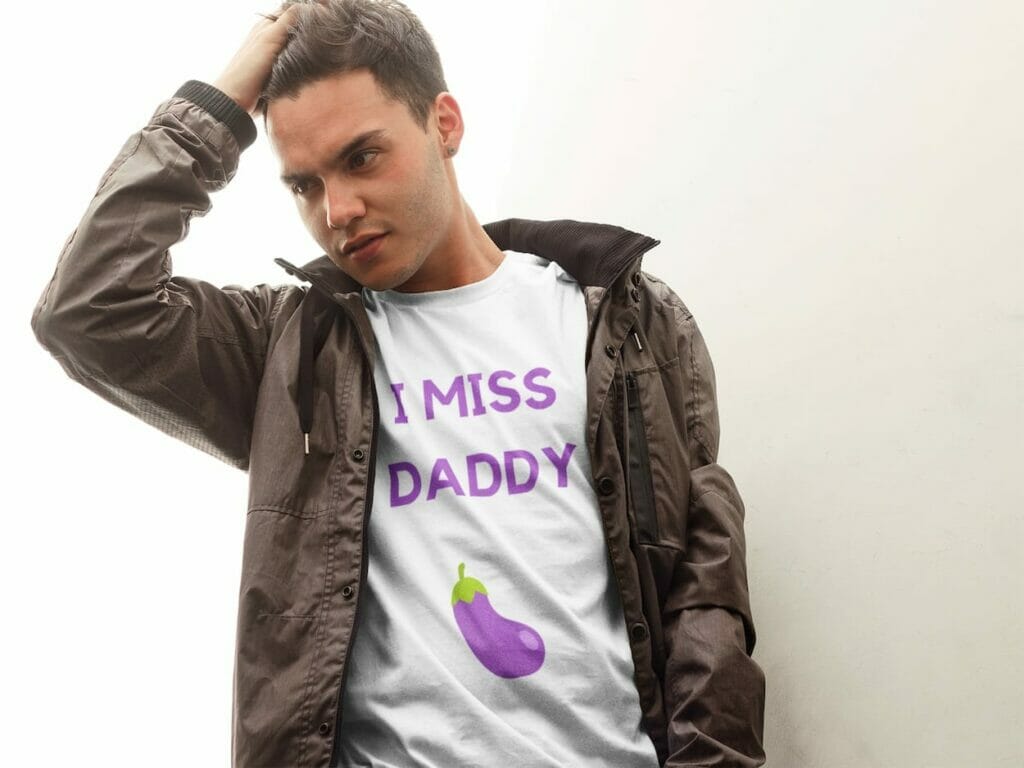 Here we have another of our favourite message-driven gay pride Tshirts. It proudly and solemnly reads "We Stand together," and displays a beautiful graphic featuring a row of townhouses colored in a rainbow spectrum.
The imagery boldly expresses solidarity among not only the LGBTQ community but among all marginalized or underrepresented groups, and symbolizes the universality of the struggle for equality.
This is definitely the perfect t-shirt if you've got a dry and sarcastic sense of humor. It's the kind of thing that takes people a second to get; and then they snort in their cup of tea!
Buy it in gray with black print or black with white print (or both) and get people chuckling on your next trip to the supermarket.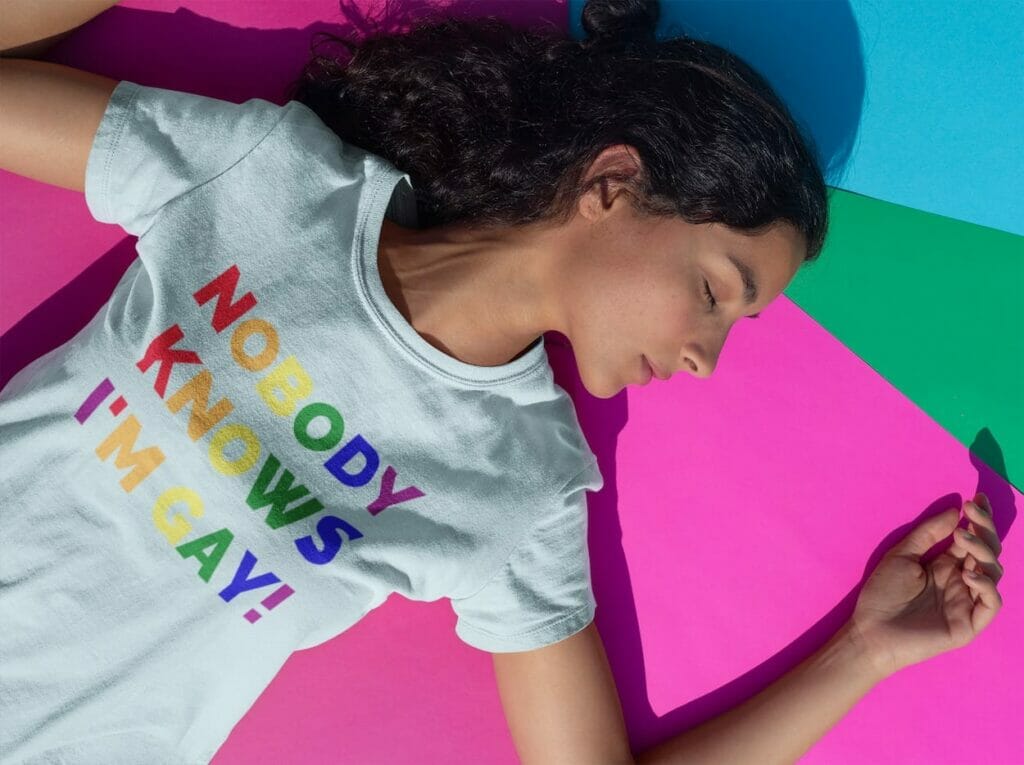 Simple and straightforward messages are often the best kind. This striking Tshirt displays a simple yet prominent heart graphic, with a slightly caterpillared design that uses a quirky but appealing color combination of green and violet, with the message "Love Knows No Gender" proudly and defiantly superimposed over the graphic.
It is arresting imagery, to be sure. Color options include but are not limited to leaf and heather true royal, just to list a few of the more uncommon options.
Even if you're not a fan of corgis (is that possible?), we challenge anyone not to smile at this design of a cute Corgi butts like all those that drive us nuts. The graphic stands out well on the black background but we like the baby blue option for something a bit more summery.
For a true comedy effect, wear this tee while taking your corgi for a walk (or just borrow someone else's for an afternoon!). Or just wear to your next Atlantis gay cruise or Disney Gay Days to make instant friends with someone cute…
Now either buy me a drink or talk to the fluff!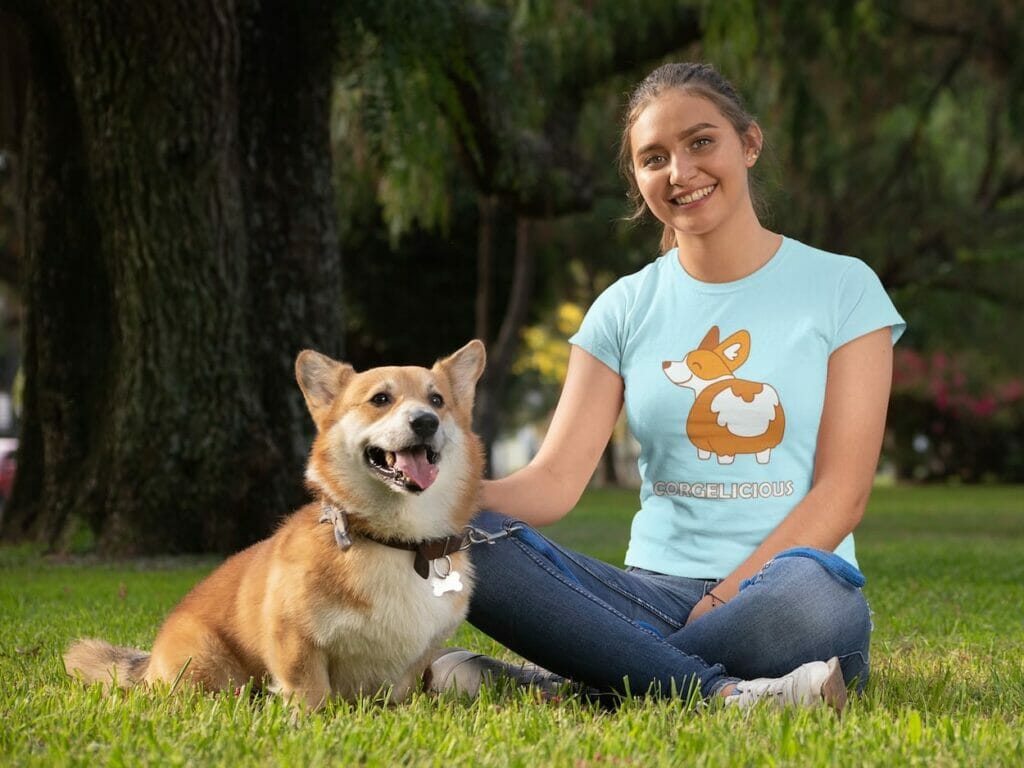 This just might be the most playful and lighthearted gay pride Tshirts on this list. Anyone who is familiar with this subset of gay culture will know the inference here. Are you part of the international bear brotherhood yourself? Or do you know or have a big cuddly bear in your life?
If the answer is yes to either of these questions, then this fun tee is a must-have either for your own collection or as a fun gift. Christmas is right around the corner, and so is winter. The nights are getting colder. What better to keep you warm than a big hulky bear of your own?
This slogan has become a battle cry of the gay community since some anonymous soul spray-painted it on an old stone wall in Marseilles a few years back.
The implication of it is that many non-LGBTQ folks point to modern homosexuality and pansexuality as evidence of the demise of "society," an idea which many in the gay community actually embrace since the "society" in question is an unjust patriarchy. If you too are of this political persuasion then this Tshirt is right up your alley. Proudly say to the world that you are fighting the good fight. Stonewall was a riot!
You're proud of who you are, and you're not afraid to show it. Let 'em know in terms that are anything but uncertain with this tee. It features a stylized bubble quote graphic that simply says "Gay AF."
An array of stunning colors is available for this: trusty standbys black and white as well as heather prism mint, heather true royal and berry. Embrace who you are with this and don't forget that confidence is sexy AF.
The slogan that accompanies this contemporary geometric rainbow design deer never fails to make us giggle. It's cute, it's funny and the deer graphic is surprisingly trendy (no cartoon Bambi deer here).
You know we like to have options, and this tee offers plenty as you can choose from a variety of different colors for the main t-shirt – we think the deer stands out best on the black or white, though.
Perfect for country gals who now like Taylor Swift a little too much…or is that just us?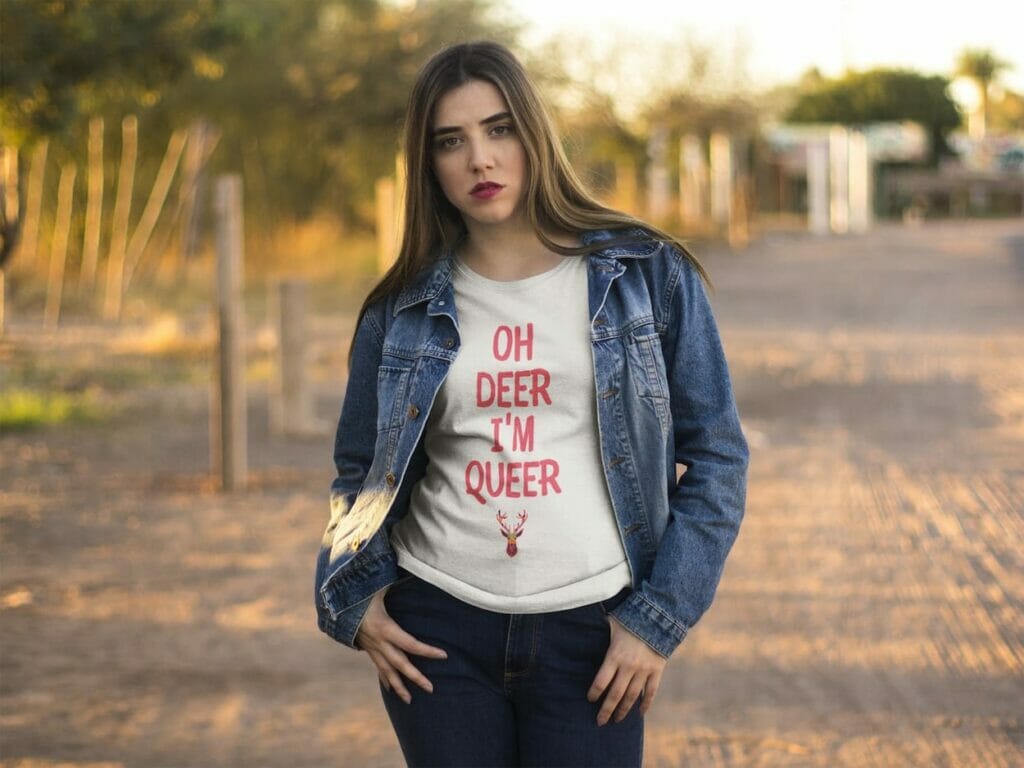 This Tshirt features a rainbow globe with the continents displayed in stark white against the colors of the gay pride flag – a lovely symbol of pride and solidarity.
Available in leaf, pink, white, black heather, and heather true royal, the Tshirt is a great gift idea for the upcoming holidays.
Are you a member of the gay community as well as a gamer at heart? This tee is perfect for you.
It proudly proclaims that you are a "Gaymer" with lettering done in the colors of the gay pride rainbow, and in a gorgeous font that is evocative of a certain classic videogame franchise featuring Italian brothers who happen to be plumbers. This is a must-own if you identify as both a gamer and LGBTQ.
Be an inspiration to those around you with the beautiful message of hope proudly displayed upon this tee. Wearing this is one small way that you can fight the good fight against hate and intolerance.
The stylish graphic accompanying the text is done in lovely pink and blue – representations of the two primary genders. Comes in five handsome colors.
We can't all be as fabulous as RuPaul, that doesn't have to stop us from embracing the spirit of self-affection that comes with showing off one's feminine side.
Be yourself and encourage others to do the same with this lighthearted Tshirt. And if you fly or if you fall, at least you can say you gave it all. Now sissy that walk!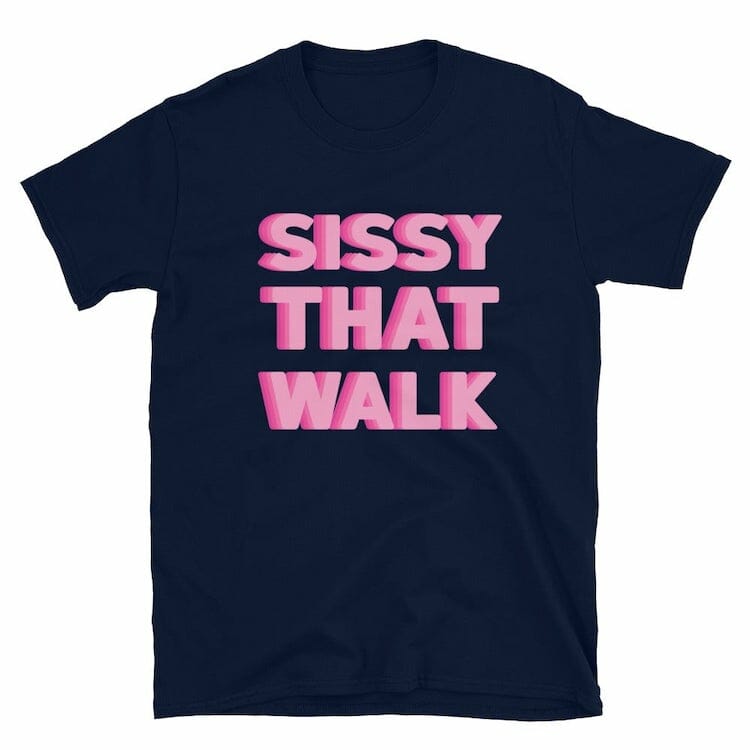 Definitely not the shirt to choose if you're a shy and retiring type, this shirt makes a strong statement and will make you smile every time you catch sight of yourself in a mirror.
We love the out and proud 'Bossy Bottom' statement and fact it might even save you some akward situations late at a club when two bottoms go home together by accident. If you know, you know.
The quality is great, so you might buy it for a one-off laugh but you'll find yourself wearing it all the time. Just maybe don't wear it to your grandma's for tea; otherwise there'll be some awkward explanations. Trust us.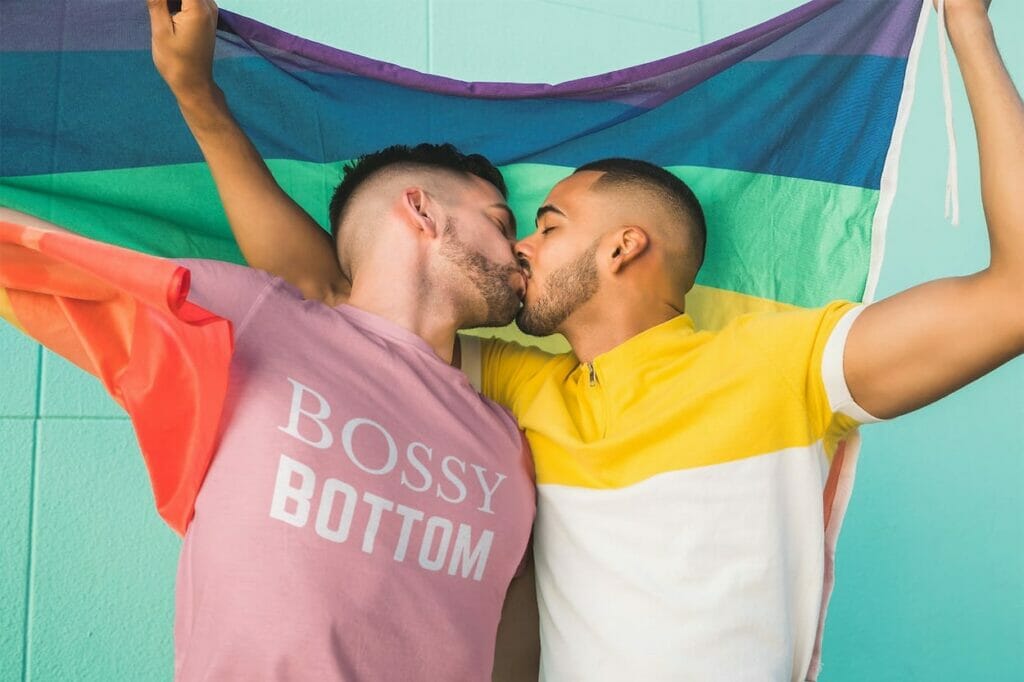 And there is our list of the best Gay Pride Tshirts That Will Leave You Gagging. As we mentioned earlier, Tshirts really are a great way of wearing your pride on your sleeve, if you'll allow us a little pun. So what are you waiting for? Order your favorite now.
Or if you see something on this list that makes you instantly think of that LGBTQ person in your life, then these Tshirts are the perfect gay gifts, especially with the Christmas season fast approaching. They are an excellent way of conveying your acceptance and support of people of all gender preferences and sexual orientations.