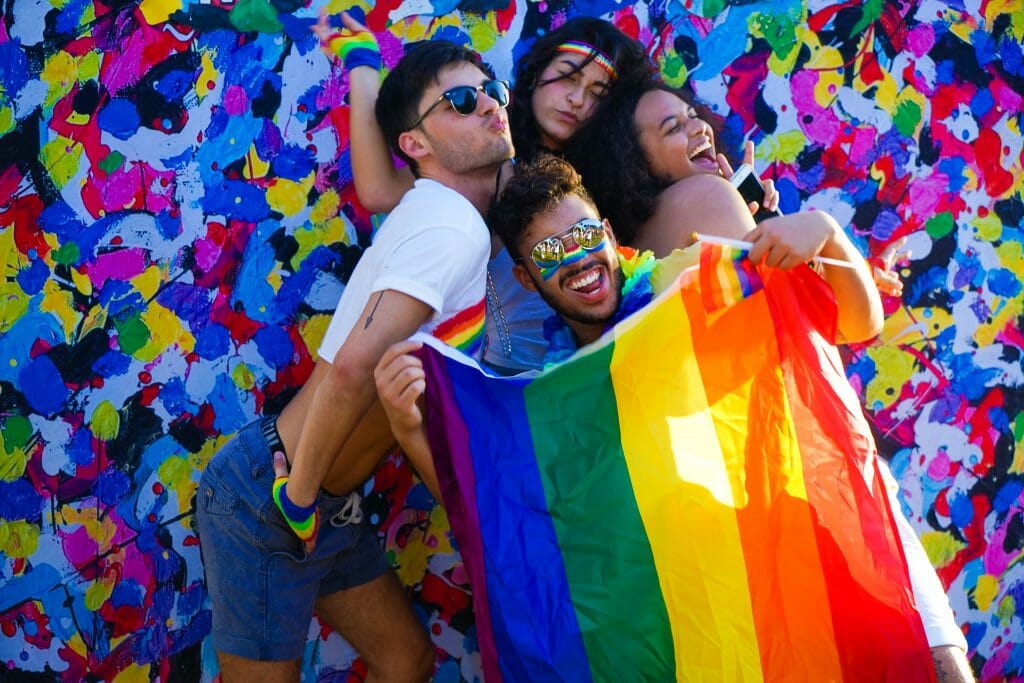 There's nothing like Pride – hundreds or thousands of people coming together to celebrate their sexuality and enjoy being who they are is an amazing thing to be a part of.
The other great thing is all the fantastic merch you can get for the Pride season; everything from awesome T-shirts to cute rainbow pins. But where to start?
Well, start right here and get sickening with all of this fab gay pride merchandise. Just don't blame us if you want to get it all!
….We're all born naked and the rest is drag and fab gay pride merchandise!
Seriously, I'm not sure it gets any more sickening that this absolutely fabulous rainbow romper for men. It's a completely confident choice that's sure to get you a lot of attention whether you're wearing it at Pride or just for your next party. Why be boring? Live your life to the max with the ultimate in gay pride merchandise!
A good-quality is a must for any Pride attendee to carry keys, whistles or any other necessities, so why not make sure yours catches the eye? This one, with its pretty rainbow design, has different clasp types, which makes it a versatile and useful addition to your gay pride survival pack.
You can bulk-buy, too – useful if you're going in a team and need something to identify yourselves to each other. Add a name badge if you're stewarding (or just want everyone to know your name!).
Would your gay Pride merchandise wish list be complete without a flag? Of course not! This one is one of the best around. We love that it's made of individual stripes sown together, rather than printed fabric, which gives it that something extra among the many flags that you'll see.
Durable and brightly colored, you can wear it as a cape (or, if it's cape you're after, check out our recommendation below) or fly from your flagpole to show off your pride spirit.
Who doesn't want a gay Pride tee that includes a T-Rex? Answer: no one. This cute design is sure to bring a smile to everyone's face and it's good to know that even our prehistoric friends support the cause!
It's great quality and comfortable, so two more boxes are ticked. This tee is great if you want to show off your queer spirit and your sense of fun as well!
These are seriously, jaw-droppingly awesome. The colors are incredible and the shoes are comfy; no blisters in these guys, even if you're dancing dawn till dusk. A good option both for gay pride merchandise and for the fitness freaks among us!
They're a great pop of color paired with a neutral outfit on more understated fashion days. Honestly, they left us gagging when we first saw them!
Another t-shirt that's just too cute to resist (we know we can't!); you're definitely going to get some envious glances if you wear this shirt with its rainbow of ice-cream scoops.
The message reads 'choose equality', which is definitely the statement you want to make this Pride. The bonus with this t-shirt is can you make a statement about your beliefs and your love of ice cream at the same time!
Sometimes it's the little touches that complete your collection of gay pride merchandise: this is one of those touches. A jauntily colorful license plate frame that adds a rainbow to your car.
Perfect if you're driving to your Pride outing and want to make a declaration of your LGBT support on the highway.
Because why go subtle? The fun all-over rainbow design on this t-shirt will definitely make you stand out from the crowd. Even when everyone's got some rainbow gear, this will be one of the only shirts that's pure rainbow.
It's good quality and there's also a tank version, if you've got a pair of shoulders you like to flaunt!
Speaking of tank tops, this is a fun and comfortable tank that you'll be able to dance the night away in. You don't have to be a fan of Gaga to enjoy the wordplay in the message, and the sleeveless style means you'll feel free and easy on your parade.
The multicolored letters add a splash of color and really stand out on the dark background. And we all know standing out is what we want on pride.
Some people like to wear their hearts on their sleeves; we prefer to wear ours on our ankles! These fab socks proclaim your queer spirit loud and proud – literally. Bright letters spell out how proud you are to be you. They are a great alternative to a rainbow t-shirt.
Comfortable and high-quality, they'll come in useful when winter rolls around as well! Wear with shorts for Pride and under boots when the cold weather arrives.
Both practical and fun, this backpack will come in useful for carrying around all necessities on your pride parade (after all, you want your hands free for dancing). Just don't let everyone you meet ask you to carry stuff for them!
The brightly-colored letters spell out a bold message that everyone can get on board with.
We understand that sometimes you don't want to splash too much cash on your merch; sometimes, you just want those fun little touches that add rainbow joy to your look. These pins are the answer! Cute and colorful, you can pin them to your top, your bag, your friends… whatever makes you smile!
Something for the dapper gentlemen among us: a rainbow bow tie that will smarten up an old shirt to make you fully pride-ready. Trust us, bow ties aren't just for James Bond and your grandpa; you can definitely pull this off.
Even more so as it comes in these jazzy and joyful rainbow strips.
Let's be honest, we all spend a lot of time on our phones: messaging, selfies, Tindr. So why not spruce up your iPhone with this cute piece of gay pride merchandise? We love the sleek design and the intense colors that won't fade with time. It's understated but attractive; just make sure it doesn't make you even more of a phone addict!
Embrace an 80s look with this multicolored headband. It's a great way to keep the dance sweat from dripping in your eyes while sporting some rainbow colors. This versatile item can also be worn around your neck or to tie back long hair.
It's got a lovely smooth feel and the colors are bright and gleaming!
These rainbow silicone bracelets are a fun and comfortable addition to your gay pride look. They're easy to get on and you can actually buy them in different sizes – we'd recommend getting more than one to wear at the same time to really stand out.
A cool thing about the Lokai bracelets is that they include among the rainbow a black bead and a white bead containing elements from the lowest and highest points on earth, as a reminder to stay humble and hopeful. Amazing.
Because squinting gives you wrinkles, sunglasses are always a necessity for a day parading in the sunshine. These fun rainbow ones make a joyful statement while protecting your eyes and they're light enough to wear all day. Despite the low price tag, they don't look like you found them in a bargain bin!
Another brilliant hands-free option, this humble bum bag has been pimped up in bright and cheerful rainbow stripes. Hold everything you need in this secure fanny pack, leaving your hands free to wave in the air. They can comfortably hold a mobile phone, bottles of water and money.
Jazz up your whole body with these gorgeous temporary tattoos, adding all the colors of the rainbow to your skin. The best way to show off your gay pride and they stay on even through the wild dancing and heat of a Pride Parade!
So let your Pride spirit shine!
From those of us who just want a little something, to those of us who want to be a g-damn pride superhero, here's the cape of your dreams! Wrap yourself in these rainbow colors and soar high above the clouds (metaphorically, of course!).
It's well made, so won't get ripped in the crowd, and durable enough that you'll be wearing it for many Prides to come.