Gay jumpsuits are great, aren't they? Also called adult onesies or all-in-ones, they are essentially the full-body version of the romper suit and typically go for that same casual lounge/streetwear aesthetic.
They're comfortable and easy to wear and are perfect for when you want to achieve an everyday, laid-back look while forgoing the shorts and tee shirt (we all get tired of that sometimes, don't we?) while also getting a break from tucking in that shirt or tugging up that belt.
The gay jumpsuit tends to be form-flattering as well, as they are generally cinched at the waist and drape the body more elegantly than does attire that is comprised of separate parts.
Though the jumpsuit is becoming more and more trendy these days, these fun garments have been around the fashion scene a long time. Fashion icons such as Barry Gibb and the incomparable David Bowie – not to mention, in iconic fashion, a very young and bearded Paul Newman – were rocking them long before Justin Bieber had us all buzzing about his infamous neon-yellow jumper.
And after experiencing a bit of a renaissance back in the 90s (check out Will Smith or John Travolta from that period), the gay jumpsuit is really coming around in a big way – especially in the realm of men's fashion with a slew of attractive one-piece garbs that look fetching in any setting.
And as usual, the gay community sits at the forefront of men's style movements, so it's no surprise that the trendiest one-pieces out there are LGBTQ-inspired ones. So with that in mind, we thought it would be fun to have a look at some of the best gay jumpsuits you can get right now…
The only appropriate way to kick off this list is with this gay pride bodysuit. This short sleeve, short gay jumpsuit exuberantly displays the colors of the gay pride flag and perfectly embodies what those colors stand for: life, healing, art, nature, spirit, sexuality.
This is the go-to choice of attire to wear to a festival or event, especially when you want to wear your self-confidence and proudly show the world who you are.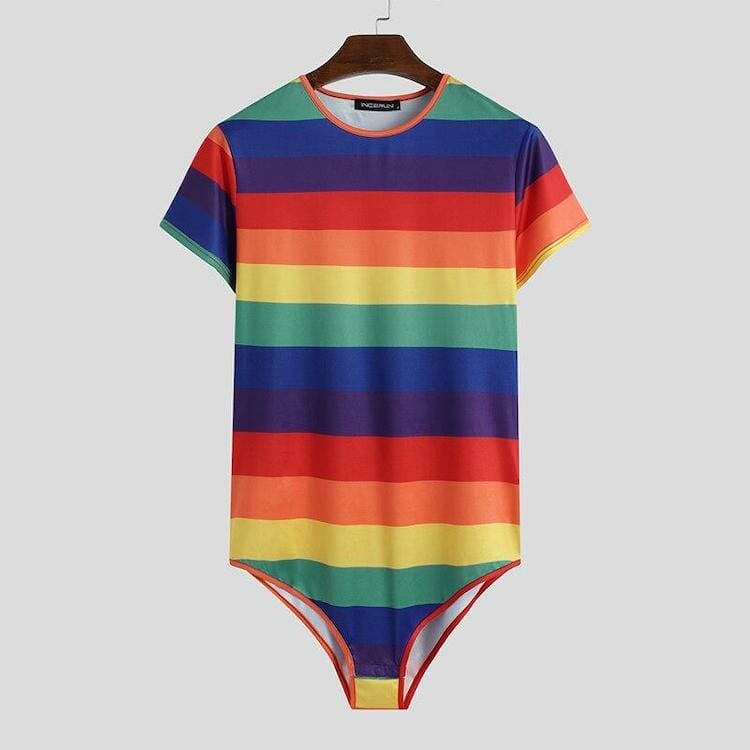 This fun little item achieves a similar effect as the previous one but allows you to show off a little more skin. It belongs to the same milieu of erotic fashion but has a style all its own.
The highlight of this outfit is the transparent mesh top, which has a zip-up front for easy removal when the need arises. Another excellent choice for any erotica-themed party or get-together, or if you're just having a little one-on-one fun in the bedroom.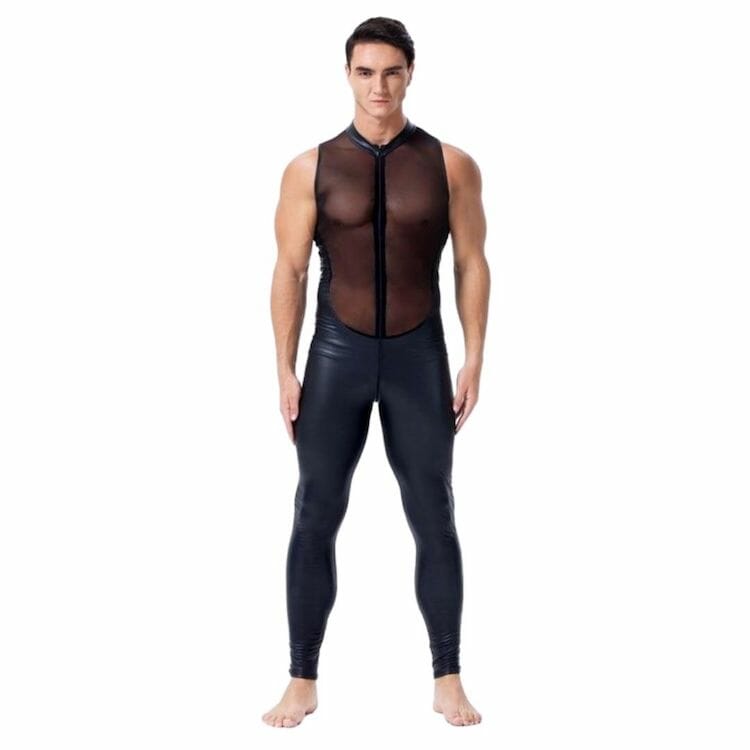 This fashionable two-tone jumpsuit comes in two exciting color schemes: orange and blue (on yellow-gold). You really can't go wrong with either choice, for this attractive leisurewear is a sure winner at a dance party or just down the street.
You could even wear it for a sleep-over with one of the boys you meet on a hook-up app, but honestly; when you look this cute, is anyone going to be good enough for you? We think-not!
The stunning patchwork design evokes a playful, whimsical vibe. You'll turn plenty of heads rocking this one-piece wherever you go, so wear it with style and confidence.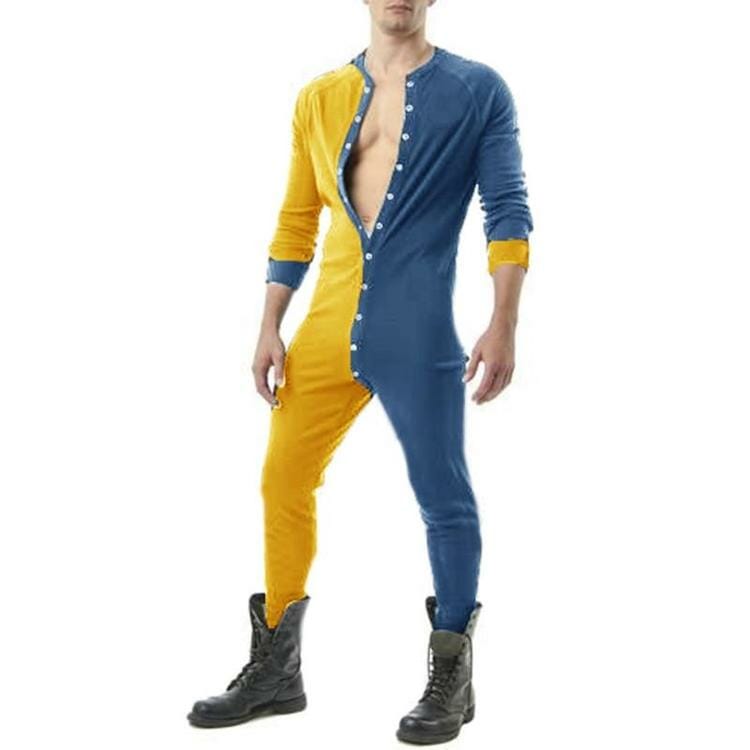 This zip-up one-piece jumper comes in an array of dashing color schemes, each as flattering as the next. It features a tartan-esque design that is simply fabulous in any color choice.
One could say that this stunning gay jumpsuit pays homage to style movements of yore, and the beautiful plaid print gives off a distinctly retro vibe without looking outdated. Think Palm Springs, but in fashion form.
This would be the thing you want to have in your queer essentials collection for when you want to go with a smart look without giving up comfort.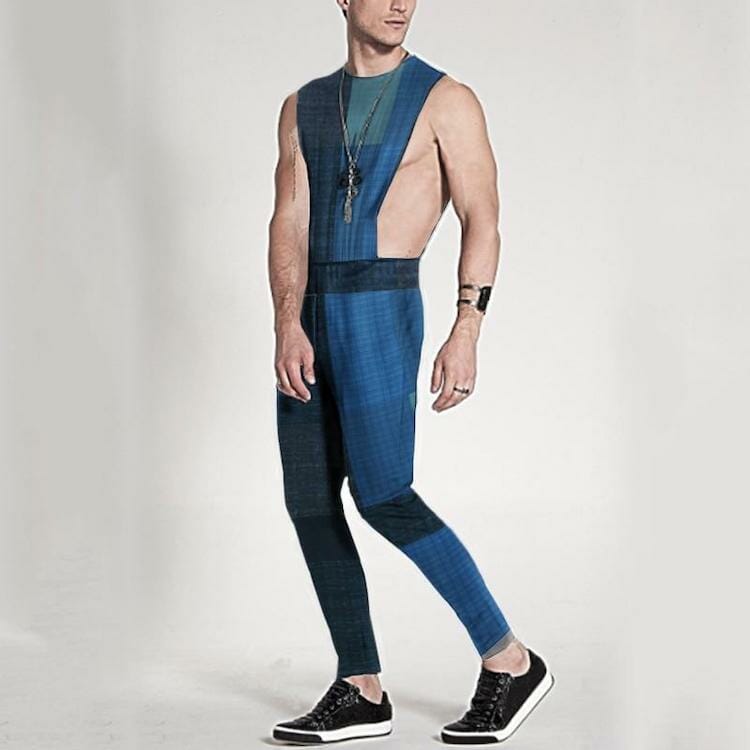 Do you need something that is just as appropriate out on the town as it is in the bedroom (or whatever room you like to have your fun in, you free spirit)? Then this is for you.
Gorgeous, trendy and most of all sexy, this steamy ensemble gives off just the right amount of randy and lets the world know that you are an adventurous sort, and is sure to attract the same kind of vibe whenever you wear it out.
Get it in blue or black. Or both. You can never have too many gay rompers.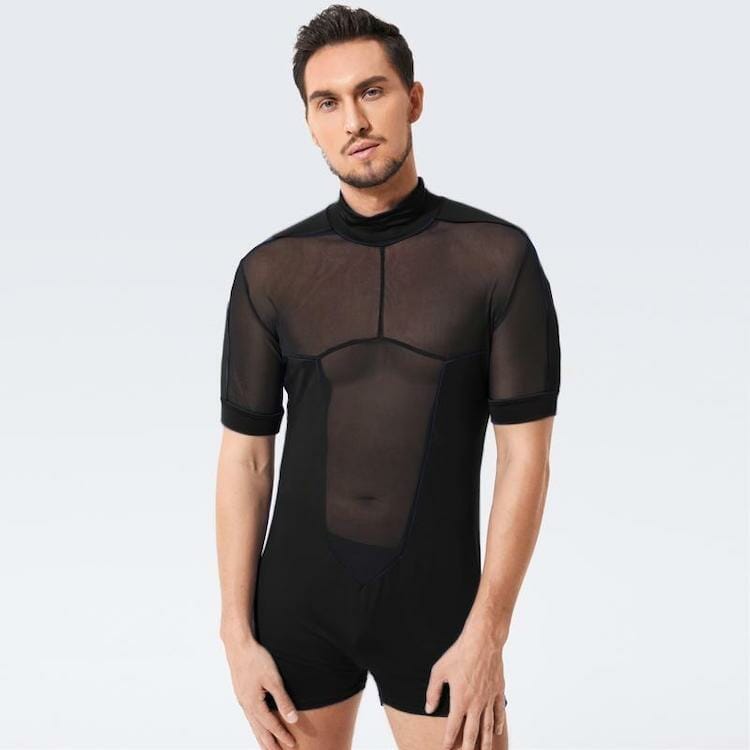 You really just can't go too wrong with stripes. This reliable fashion fixture looks good on just about any sort of garment, and jumpsuits are no exception. This is clearly evidenced by the overwhelmingly positive reviews this item has received.
In fashion terms, stripes can evoke a rebellious energy, so if that suits your personality then this item is a must-have for your wardrobe. The outfit has a cute suspender design that is also super-convenient for getting on and off. This also comes in blue or black.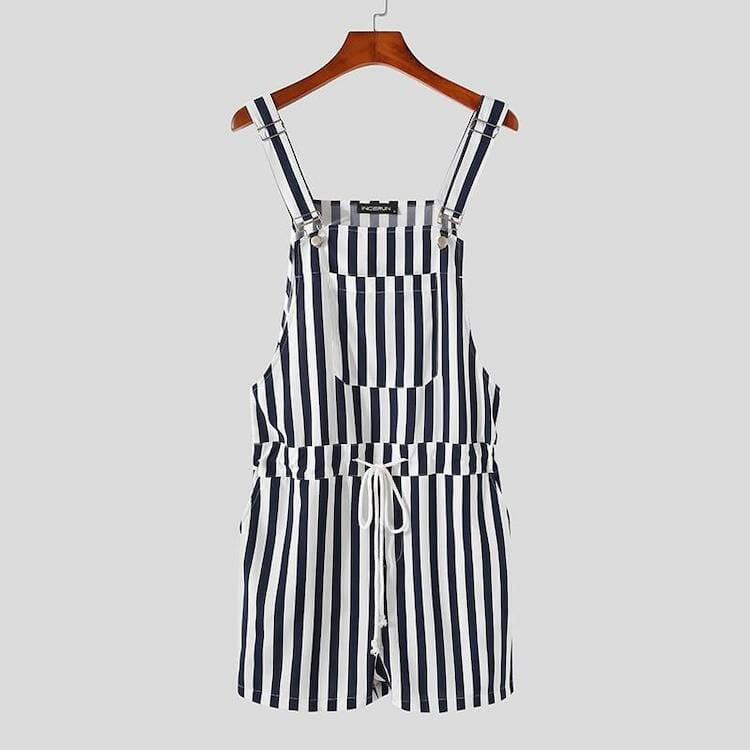 This has to be one of our most daring items yet. Are you bold enough to pull this see-through overalls jumpsuit off? All it takes is confidence, and you will have it in spades when you step into this fabulous outfit and see how sexy you look.
This makes for excellent bedroom attire and is just the thing to get your partner(s) all hot and bothered – they are sure to see you in a new light when you surprise them in this. And if you're brave enough to go out in this, be prepared for an inundation of compliments and invitations. You are sure to be seen when you wear this – though it might be best to wear a jockstrap or pride underwear underneath at the least.
Hot fashion items like this are a wonderful way to express yourself, particularly your love and acceptance of your own body, for at the end of the day we are all fabulous and unique. And that sentiment is what bold, risqué attire such as this jumpsuit is really a celebration of.
It's about so much more than simply showing off skin; it's about defying pre-conceived beauty standards and expressing body positivity, confidence, pride, self-love, and self-acceptance. We are all fabulous. We are all unique.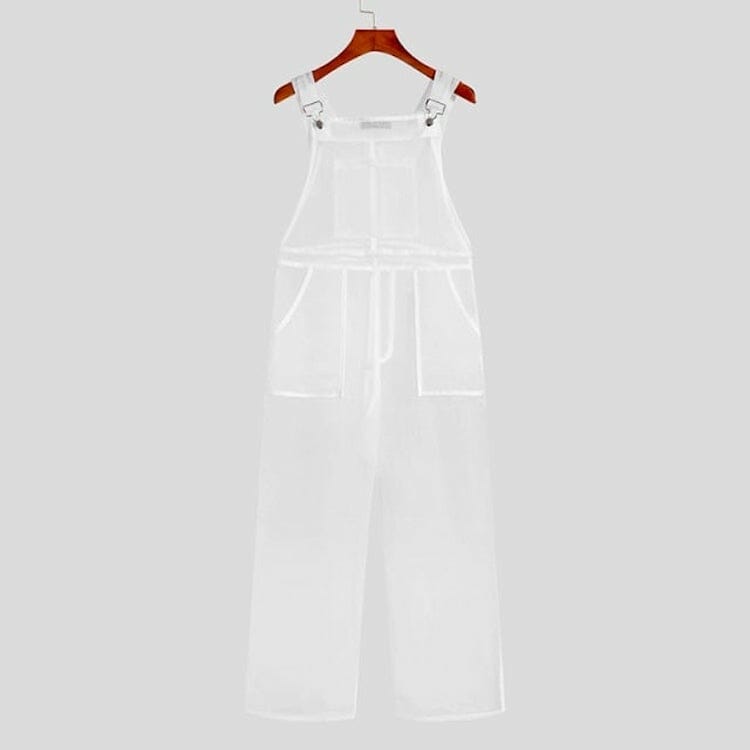 Say you just want to make a simple statement and don't want to feel too "dressy?" This one is what you need. This is one of the more understated jumpsuits on the list, which is what makes it so dapper.
A very tasteful choice of streetwear, especially if the vibe you're after is one of nonchalance. And that kind of carefree attitude has a certain appeal all its own, a certain kind of easy confidence that is so irresistible.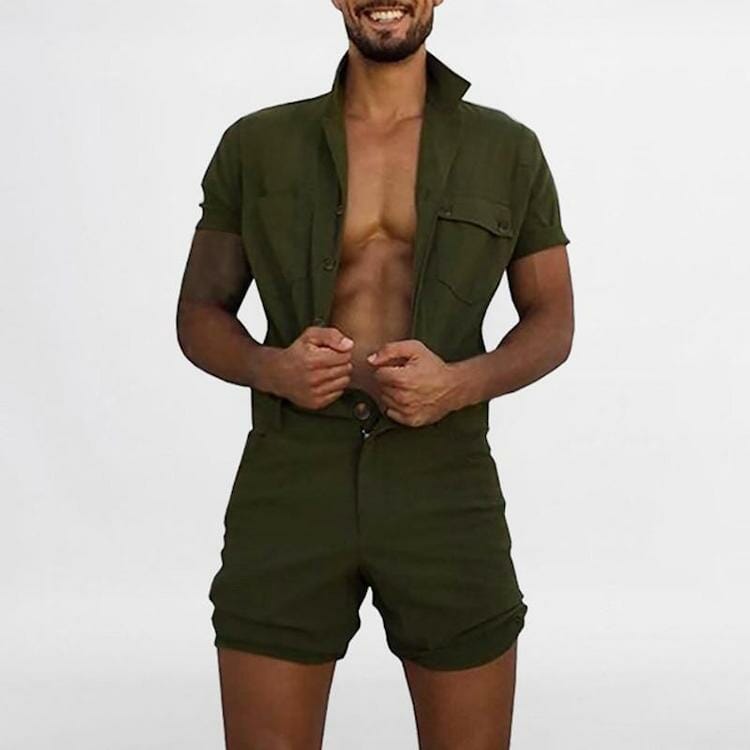 Quite possibly the most stunningly – and unambiguously – erotic item on this list. Sure we love jockstraps and fetish underwear but there is just something about the sheen of black latex that sets those pheromones racing.
This jumpsuit is the very embodiment of sexy and will positively smolder on anybody. Live out your wildest fantasies and become the object of anyone's desire. For when you want to get your kink on.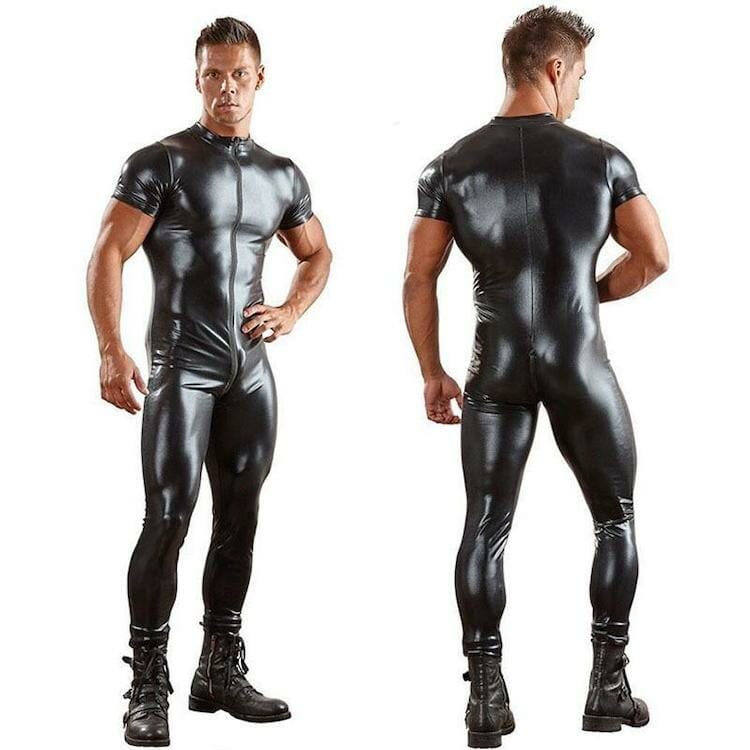 Similar to another item previously mentioned on this list, yet completely different in terms of aesthetic and style sensibility. You'll be hard-pressed not to make a good impression in this charming outfit.
This one is a bit more subdued with a quieter thin-stripe design, and it is available in gorgeous navy, black, or white. This is what to wear if you're in a more sedate kind of mood and just want to look good while enjoying a party or event without being too flashy.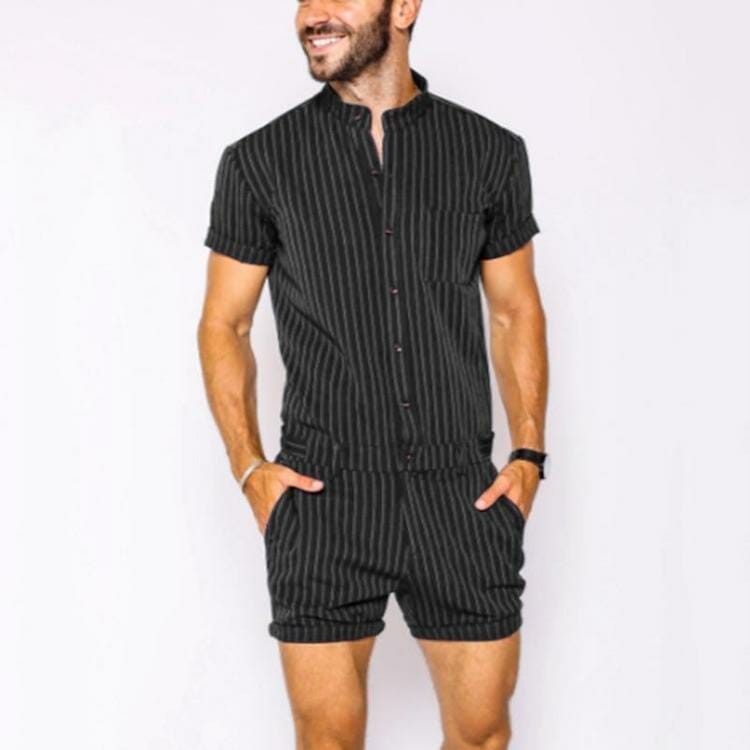 There's something amiss if you can't feel pretty in this, perhaps the most quintessentially feminine jumpsuit on the list. Whether you get this lovely outfit in green or rose, it is sure to attract all the attention you can handle no matter if you're at the mall, the club, or just a neighborhood gathering.
It features a gorgeous floral lace design and vibrant, eye-catching color with either color option. And that one guy you've been trying to get to notice you? Try this romper on for size and you'll be on your way to mastering the art of coquettish seduction.
And if it fairs, there is always all this other gay lingerie…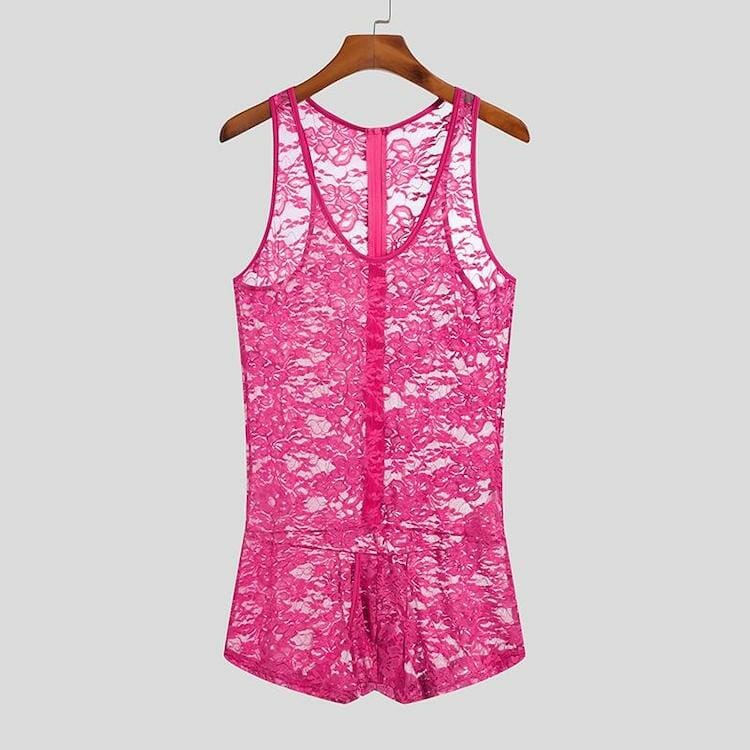 Available in brown (or a cute hot pink) this stylistically modest jumpsuit resembles classic overalls, though with the added comfort of a zip-up front design. This is the thing to have in your collection when you're feeling strapping and masculine, and want to show it in a coy way.
After all, the most powerful forms of seduction are often the most subtle. And don't worry, these overalls definitely evoke more of a charming arcadian aesthetic than a rube-ish one.
The perfect answer to the problem of male festival wear, combined with a cute tote bag and a gay rainbow bandana around your neck and hit up Milkshake, Mighty Hoopla, or any other of the gay festivals in Europe or around the globe!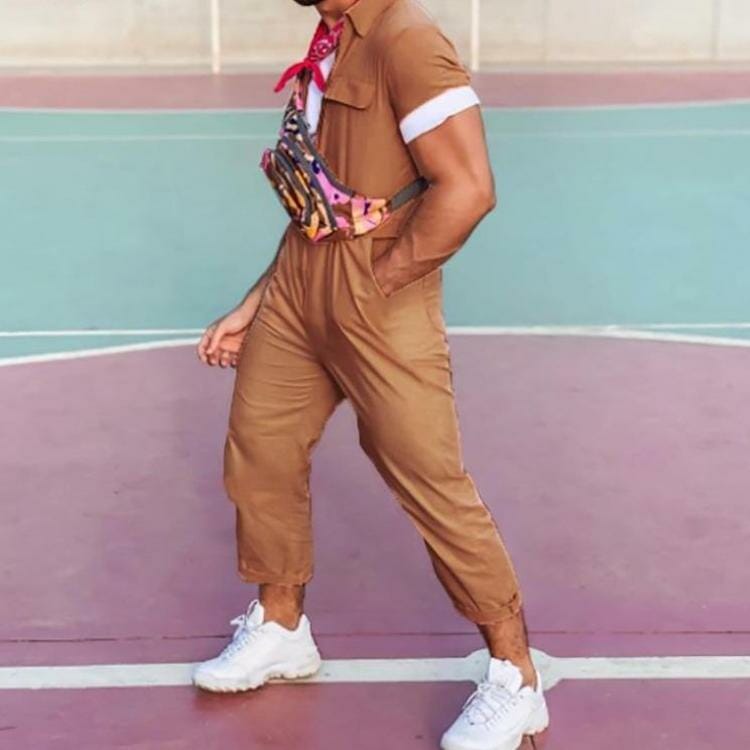 It doesn't get more casual than this cute hooded pajama jumpsuit. If you're a fan of lazy leisurewear – of having it both ways with comfort and style – then we've saved the best for last with this list. Look good, feel good in this fun garment.
You have a choice of black, blue or light pink. And it isn't just nightwear: you can wear it out for nice leisurely stroll, to the mall, or any other casual environment. But more importantly, you'll feel adorable in it.
Even if it is not for you, it would make a fabulous gay gift for that special queer in your life!