There's no time like the summer season for getting out and about and enjoying what the world around you has to offer. Many of us live for peak festival season, while the location, vibe, and line-up are all important – equally important is looking good while dancing around all day.
This is why we are putting together this list of the best male festival outfits in which we will focus strictly on attire that is made to shine in casual social settings such as festivals, community gatherings such as cookouts, reunions, and backyard cocktail parties, and so on. Wear them to queer-tastic events like Milkshake Festival in Amsterdam or Mighty Hoopla in London, or progressive urban festivals like Flow Festival in Helsinki.
These are also suitable for the club, bar, the beach, or any of the Gay European festivals. Really anywhere there is a love-filled safe space for freedom of expression (though music, DJs, jaw-dropping performance, and other glitter-covered ravers are always a bonus).
There's no excuse to not look turn a look with this list of male festival outfits in hand and the inspiration it is sure to provide. See you out there!
We couldn't think of any better way to get this festive list started than with this striking festival shirt and shorts combo.
Orange, green, or gray, you can't miss with this reliable go-to outfit that belongs in every man's collection. It is just the thing to get you into party mode. And the best part is that it's just as comfortable as it is stylish.
And you know what they say, "the best time to wear stripes is all the time." …
This fun romper comes in green or rose. Both versions are much more interesting than just that however and are made with an alluring V-neck design that manages to come off both retro and modish.
The outfits are decorated with a more abstracted form of tropical print and both rose and green feature stunning use of color. This is a short-sleeve romper that is made from a high-quality polyester that is cool, breathable, and comfortable.
It is perhaps one of the most elegant items to be featured on this list of already elegant male festival outfits and will look great in any setting or environment.
This creative two-piece outfit consists of a casual button-up shirt and shorts. It features an aquatic "flamenco fish" aesthetic with a stunning arrangement of color – rich reds and vibrant blues – on black.
This is a fun, artsy ensemble that is sure to be noticed in any setting, and this makes it the perfect outfit to wear to a carnival or at any kind of summer outdoor event or festival.
A must-own for fans of casual fashion, especially if you have the kind of quirky, offbeat personality for which this fanciful two-piece is suited.
The gorgeous leopard print so lavishly displayed on this outfit is truly a feast for the eyes. This jaw-dropping bodysuit will turn all the right heads anywhere you want to wear it. This is surely one of the most fun – not to mention chic – outfits to be featured here.
You may wish to combine it with shorts that smartly match the beautiful leopard print when wearing it in a public setting; otherwise, this stunning one-piece attire is only for the bold.
But if you are one of those rare intrepid souls, then cast aside any lingering doubts and flout that self-confidence.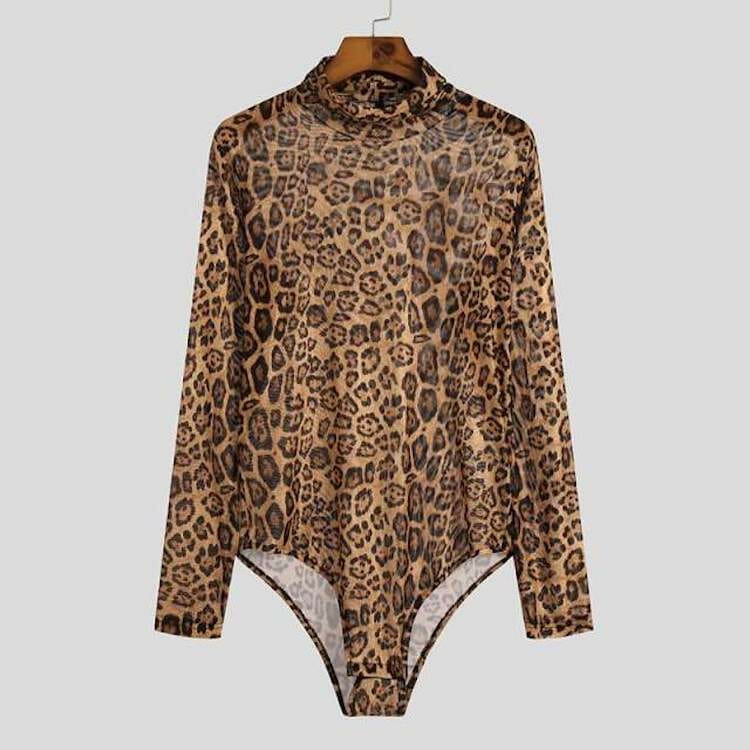 Here we have another leopard print outfit, this one a two-piece. It features a different, though equally gorgeous, leopard print that is ever-so-slightly more subtle for an aesthetic that is by a degree tamer, yet still holds something of that same animal allure, that raw attraction that animal prints can hold.
This is a well-reviewed item that, even if not your normal style, you should add to your wardrobe for when you're feeling adventurous and want to wear something different, especially to a festival or party.
You never know how you might discover, through fashion, a wilder and more carnal side of yourself you never knew was there all along!
This tropical fruit-themed outfit is the very quintessence of nonchalance. The pineapple print features a stunning use of complementary greens on red and achieves a harmonious color balance.
Wear this to a festival to embody those easygoing, laid-back vibes that can be so infectious in a party atmosphere. Capture the mood and leave your stress behind. It also makes for splendid beach attire for wear in places like Gay Puerto Vallarta or Gay Singapore.
This just might be the perfect summer vibes outfit.
There's no lovelier textile print than the pink and red rose motif featured on this item. The reviews are in, and the rating is fabulous! It's no wonder this outfit is so popular, though. You'll have no trouble looking – and just as importantly, feeling – sensational in this.
And the looks you'll get will be affirmation enough (hey, who doesn't appreciate a little validation now and then?). We can just about promise you that this will be that one outfit in your collection that you save back for special occasions.
Just don't wear it if you're not in the mood to be hit on.
Refined and svelte with heaps of flair, this two-piece is one of the smartest outfits out there. It would make a suitable choice of attire for less informal events, though is still stylistically mellow enough for say, a local fair or festival or even just going out for drinks with friends.
This is your thing for a little more sophisticated look, and you will absolutely die for the color of the print: the complimentary purples and oranges are nothing short of divine, and together they create a beautiful, consonant maelstrom of fantastic color.
Plus, if you have a body you want to show off, well, this kimono outfit lets you do just that!
This dazzling one-piece bodysuit is sure to get you noticed. It brings a whole new take on the gay pride rainbow with a rather artsy liquefied spectrum aesthetic. Or, if you go for the white color option (you also have a choice of black or green) you'll get a melting galaxy theme, which is just as astonishing as it sounds.
A unique, whimsical piece that is just as imaginative as you are. No matter your color choice the effect is eye-popping and is a sure winner in any festival environment or at carnival – a great way to show off your fanciful side.
This hooded bodysuit is nothing short of resplendent. Another rainbow-themed piece that the perfect way to wear your pride whether you go with the white or black color options – which by the way, give off wholly different vibes with the white being more bright in terms of mood, while the black option has a more neutral vibe and functions splendidly as evening wear.
Either way this outfit's a great choice for a party or a night out at the bar, or it would also fit right in for a local fair or, say a cultural/arts festival.
"Barely there" might be a good way to describe this sultry bodysuit. Surely one of the most – if not the most – provocative outfits we have featured. This hot item is designed purely for seduction and is a great way to show off some skin.
You literally can not be alluring in this, and that's the awesome thing about mesh, as anyone can pull it off. This will be your go-to outfit when you're heading out for a night of conquest.
Perfect for club nights, cocktails by the pool, or pumping gas at a truck stop at 2 am… because honey, there is no reason not to look this fabulous 24/7!
Disclaimer: If you are going to wear it out, you might want to wear a jumpsuit or a romper over the top until the right moment for a reveal. For both maximum effect (and to avoid any charges of indecent exposure!).
An enticing gay lingerie-esque item that you should definitely have in your closet if you have an adventurous bone in your body (and we sincerely hope you do). This sleeveless bodysuit has a daring cut that leaves less to the imagination and simply oozes sex appeal.
You'll feel like a master of the bedroom arts when you've got this on, yet it looks just as good out on the town or at club.
Not only do we think it is one of the best male festival outfits but it would look equally cocktails by the pool, or sitting beachside in Gay Fort Lauderdale or Ibiza… because honey, there is no reason not to look this fabulous 24/7!
Who knew a tropical floral print could have so much poise? Yet that is the perfect way to describe this two-piece garment: poised and confident as well as laid-back and casual.
The color scheme of this fern-themed print is positively stunning, with a subtle arrangement of compliments – green against red, blue against orange – and colors that are vibrant without being loud, that have just the right amount of pop.
Not only would this be a great vacation outfit, but it would also be just the right thing to wear to a food or wine festival where you'll be going for that casual-but-cultured look that can be so hard to pull off.
Available in a cute hot pink or brown, this stylistically modest jumpsuit resembles classic overalls, though with the added comfort of a zip-up front design. This is the thing to have in your collection when you're feeling strapping and masculine, and want to show it in a coy way.
After all, the most powerful forms of seduction are often the most subtle. And don't worry, these overalls definitely evoke more of a charming arcadian aesthetic than a rube-ish one.
Combined with a cute tote bag and a gay rainbow bandana around your neck and you have one fabulously prideful festival outfit!
Sophisticated and dashing, this very original piece is our swan song for this list. It makes use of both stripes and a rainbow gradient for a look that is fresh and distinct. This is yet another original take on pride-wear. Wear it to a summertime fair or festival, carnival, Oktoberfest or an outdoor concert or music festival.
This is the kind of outfit that gets you in that zany sort of mood where you can let yourself go and show the world that off-kilter, carefree side of you that so rarely gets loose. A fun outfit that deserves a place in your closet.