Hey, you've got great shoulders; why not get them out in a gay tank top? Even if you don't think your shoulders are your best feature, tank tops are comfy, sexy, and great in hot weather – the perfect recipe for an ideal Pride outfit.
So why not go the extra mile and get a tank top that proudly proclaims your queer spirit?
Tank tops – or muscle shirts, as they are also called – have a bit of a complicated lineage. But don't worry: we're not about to put you to sleep here with the fascinating history of post-industrial-revolution textile development.
Instead, we'll just summarize by saying that like it's close relative to the t-shirt, the tank top is descended in part from the "athletic shirt" (or A shirt). The A shirt was designed as a counterpart to the newly invented jersey shorts (briefs), which themselves were designed as a cooler, lighter undergarment alternative to what had come before: the one-piece union suit.
The modern tank top (or what came to be known as such) made its prime time public not-just-an-undergarment debut at the 1912 summer Olympics in Stockholm, Sweden where a sleeveless swimsuit version of the A shirt was worn by many competitors in women's swimming events as part of their competition uniform. Long story short it made quite a splash (sorry) and was seen by many as "immodest," though the tops were in fact quite similar to what male competitors were wearing. At any rate, back then swimming pools were called swimming tanks – hence the "tank" top was born.
Luckily for us, things have come a long way for the tank top over the course of the last century. This was in no small part thanks to Hollywood. Who could forget Marlon Brando in A Streetcar Named Desire? (or in On the Waterfront for that matter?). James Dean also had a rather huge hand in popularizing the T-shirt – and hence the muscle shirt – for the baby-boomer youth in films like Rebel Without a Cause.
The tank top's cinematic pedigree continued down the decades with memorable examples being Nick Cage (Con Air) and Bruce Willis (Die Hard) among many others.
Today they are a much-beloved part of the LGBT wardrobe, offering a sexy fit and a chance to flex muscles and keep cool. With these gay tank top options, you will find a great choice of rainbow colors, fun slogans, and cool designs, which pair perfectly with both shorts and jockstraps, or can be combined with gay shoes and socks for a super cute and PRIDEFUL look.
So without any further ado, we will now dive right into the list of the best gay tank tops you can get today.
Let's face it: you're kinky and you know it! Own it with this sultry shirt. You'll get a kick out of the funny, playful graphic printed on it every time you put it on. Others will love it too. Let your freak flag fly with this suggestive piece of attire and enjoy the attention you're sure to get.
You might even attract some of your kinky-minded brethren when you wear this out, especially to a pride parade or even just at the club, the bar, the concert – you name it. If you're the raunchy gay sex toys sort, then you need to have this in your closet.
If you have raunchy friends who just happen to have a gay present coming their way soon, could you really do any better than this?
If you haven't met them already (and if not: what's wrong with you?) then let us proudly introduce you to the new Fab Five of the new Queer Eye: Jonathan Van Ness, Karamo Brown, Antoni Porowski, Bobby Berk, and Tan France. AKA, one of the best LGBT TV shows of all time.
Who would have ever imagined that so much fabulosity could be crammed into a single individual? Well, here we have five such rarities. Why not celebrate them by wearing this tributary tank top. If you are going for a bit more formal look you can always wear a gay tank top underneath as a complimentary piece of your outfit. Just think how freaking fabulous you will look.
Could you be as adorable and fabulous as one of them? Who knows…
Be loud and proud in your support for gender equality, no matter what part of the world you come from! And better yet, this lesbian tank top lets you look really smart while you're at it thanks to the articulate message printed on it.
Sophisticated, progressive, modern thought will win the day when you wear this in public. Being a champion of inclusivity and equal rights for all does not have to forego looking sexy as hell – after all, smart IS sexy. Make this yours today.
You will instantly fall in love with this playful bisexual tank top. And don't worry, those for whom the message is intended will know who they are. In all seriousness though, it is just the thing to send a not so mixed signal to that annoying/creepy person in your life who just can't take no for an answer.
Otherwise, this versatile shirt is good for a chuckle from anyone who can appreciate your wit, sass, and dry sense of humor. And if you have a bisexual friend or family member who fits that same mold, this would be a fun Christmas or birthday present to give them.
This phrase, in case anyone doesn't know, is the millennial equivalent of the quote (by French author Gustave Flaubert) "Travel makes one modest, you see what a tiny place you occupy in the world." It can also be compared to Mark Twain's "Travel is fatal to prejudice, bigotry, and narrow-mindedness…" That is essentially the gist of the phrase and of gay tank top it's printed on.
If you have never in your life had the travel bug then now is the time to catch it. It can be a great way to escape the insanity of the modern world. And if you can't be away in the physical sense, be away in spirit with this thought-provoking shirt. It perfectly embodies the same peaceful mentality.
Wear this and refuse to let the chaos get to you.
You don't have to be a gym bro or a gym rat to appreciate this sexy gay tank top. It really is quite flattering on just about anyone, no matter your size, shape, or body type. And while it would, of course, be perfect for the gym or yoga class or say, a casual game of volleyball at the beach, it will also look fine AF on you when you are just out for a walk or doing your weekend errands.
It really is hard not to look at least pretty good in this shirt. There is just something about that athletic look that is so magnetic, that just exudes sensuality. Pull off that look with this attractive muscle tee and enjoy the attention.
This surely is one of the most bluntly provocative items to appear on the list. It isn't for the faint of heart, but if you do have the figurative cajones to flaunt your stuff in this (and you will flaunt it, for this is see-through) then you will be a guaranteed hit at the club or the pride parade or wherever else you take your swagger.
However, if you are the more reserved type and there's nothing wrong with that then this is still one steaming tank top to have in your closet for when you want to ratchet up the bedroom shenanigans and take things to the next level. Pair with some mesh underwear for the ultimate gay night in.
Your lucky partner(s) won't know what to think!
This queer tank top features a powerful symbol that represents many things to the LGBTQ+ community and its allies, chief among them defiance and solidarity.
Used by the Nazis to brand gay and lesbian prisoners in the concentration camps, the inverted pink triangle was later reclaimed (in uprighted form) by LGBT folks to not only honor those who did not survive the Holocaust but also to remind the world what can happen when no one speaks up, that silence = death.
Get this shirt and wear it to do your part in spreading that message.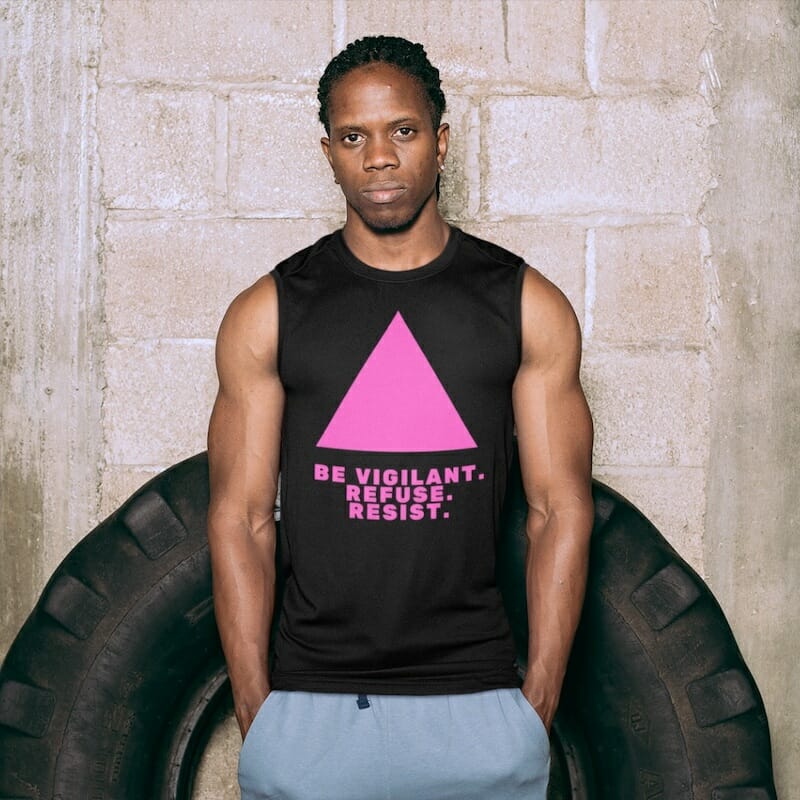 Take a stand against antiquated thinking with this hot gay tank top. Look fab, feel fab, AND make a point while doing it in extreme comfort.
Score a small victory for the gay community here when you wear it out, for only by being brave, bold and proud can we destigmatize any form of love that doesn't adhere to rigid, long-held outmoded notions of what people should be. So put it on and put yourself out there. Be visible, be you, be loud, and most of all – be proud.
Yet another pop culture colloquialism handed down to us from RuPaul's Drag Race. Who knew the show would wind up being such a fount of fabulosity?
Get a piece of that fabulosity for yourself with this hot muscle tee; it will quickly become a favorite part of your warm-weather wardrobe. You'll have a blast with the sass and the drama of this funny saying, which has gone on to become a popular internet meme as well as a song.
You'll find plenty of sass you never knew you had when you throw on this gay muscle shirt. Take on the snappy attitude of this popular saying which has been in circulation within the gay community for decades and which has entered the mainstream lexicon thanks to shows like RuPaul's Drag Race and feel like a queen yourself.
"Yasss Queen" (or in this case, "Yasss Qween") is a joyous celebration of anything fabulous, and it will become your credo when you have this on.
The message on this muscle tee is a cool, funny way to lighten the mood and change internalized homophobia and heteronormative gender roles. Relaxed, playful vibes will prevail when you are wearing this and gathered with friends, or at the club, the gym or just out for a stroll.
And with the holidays fast approaching, this attractive gay tank top would be an excellent gift to give. And what is best of all is that you don't even have to be a fan of cosmetics or even wear them, for that matter to have fun with this shirt.
But of course, if you are, or know someone who is, then this fun tank top will take on a whole new meaning. So why not make it yours today?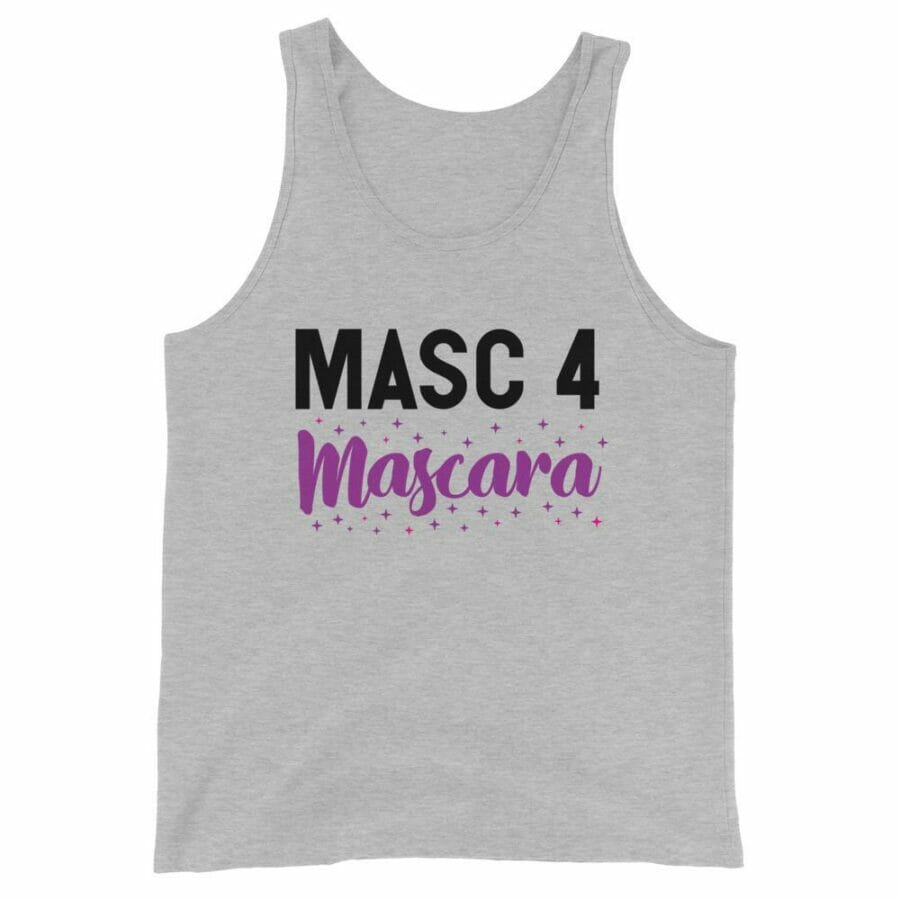 Sexy, sporty, and seductive, this mesh tank top is the last item on our gay clothing list. It is quite reminiscent of a sports jersey, so it has that hot athletic thing going for it. And there is something about that look that is so effortlessly appealing, so easy to pull off and unleash that raw sexual energy you have within.
It takes so little effort to look hot in something like this. If you're something of an attention whore (nothing wrong with that), then this definitely has a place in your closet. You can get it in black or orange for a very different look and vibe. You'll love both so why not have one of each for different occasions?
Or even get one as a gift – anyone with so much as a bit of style sense is bound to adore it.
Here is another item featuring a phrase made famous on the hit show RuPaul's Drag Race, this one coined by the queen of all drag queens him/herself (RuPaul has often expressed indifference to pronouns). The meaning of the phrase is deceptively profound: "Sissy That Walk" refers not just to physical movement but how you "wear" yourself.
In other words, it refers to your swagger not only on the runway but in life generally. And you are gonna feel like strutting your stuff in this fabulous shirt. Wear it to yoga class or the grocery store, to the park or the dance hall, just be sure to wear it with style, wear it with pride.
And don't forget to sashay that ass!
Live the good life with this fun-loving gay muscle tee. Are you a jet setting, club-hopping, adventure-seeking free spirit? Then you may as well do it in style and swagger. You don't have to be a world-famous super pop star like Lady Gaga to get how crazy the jetsetting life can be.
You know the infamous interview clip, you know the meme, now own it with this smart and sexy shirt. And while you're at it get one for that Lady Gaga fanatic you know it would make the perfect gift.
Do you ever feel like a steaming, smoking, smoldering hot mess? Well now you will when you get this sultry muscle shirt. And what's better than a HOT MESS tank top? Answer: a gay pride HOT MESS tank top.
The lettering features a sensational rainbow spectrum of color, making this something more than just a plain old tank top with some lettering. This is something you can wear with pride and with your own special brand of swagger. Make it yours today.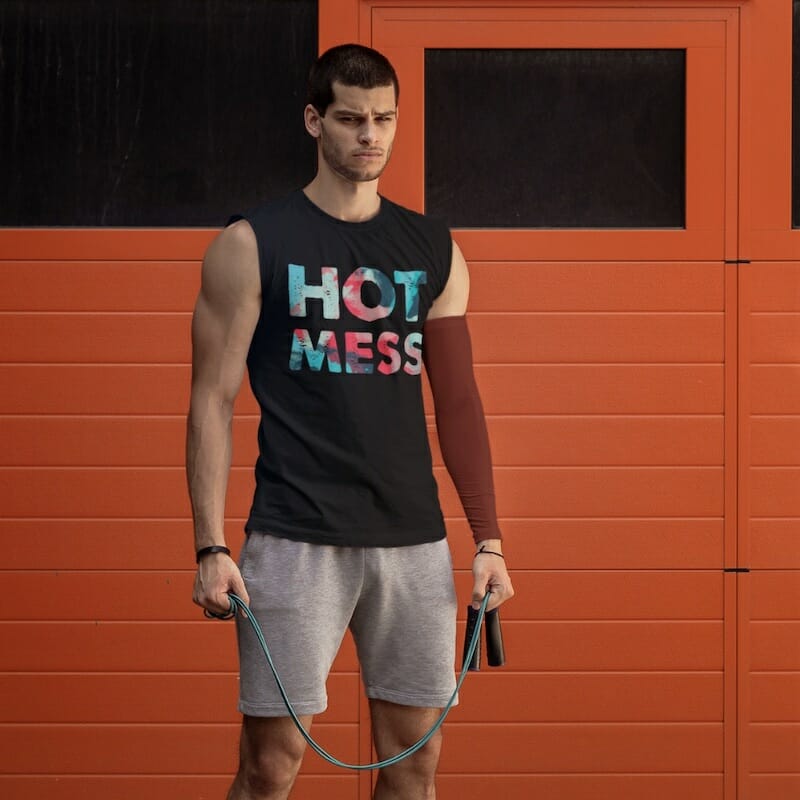 When it comes to gay pride tank tops it doesn't get any more apropos than this. In fact, this just may be the most quintessential gay pride muscle shirt or tank top out there.
The shirt displays one simple word: PRIDE, which is done in beautiful rainbow-colored lettering. It's a great thing to show off in if that's your thing. Wear this and you will be right at home whether it's at the gym, the shopping mall or the grocery store, the bar, the food festival, the pride parade, or anywhere else you choose to strut your sexy stuff.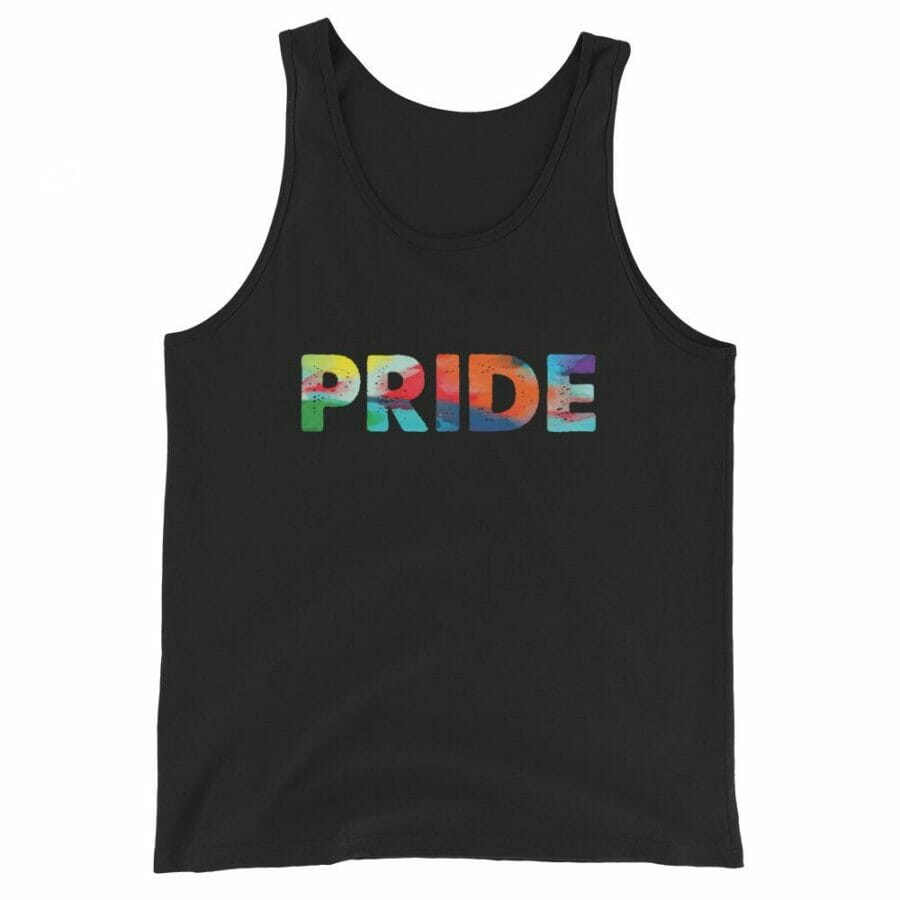 This shirt is simply and utterly striking, both in terms of its visual impact as well as the thought-provoking message behind it. The shirt displays an arresting graphic with the message "Stop You Inner Saboteur." And we all have one, right?
That incessant, critiquing voice that we often aren't even aware of, whispering words of self-doubt. But that voice can go a long way in holding us back. It's important to recognize that voice and combat it with frequent reaffirmations. Remember: you go this. That, in a nutshell, is the gist of this tank shirt. It isn't often that a piece of fashion says something so substantial.
So wear this, and be an encouraging force to all you encounter.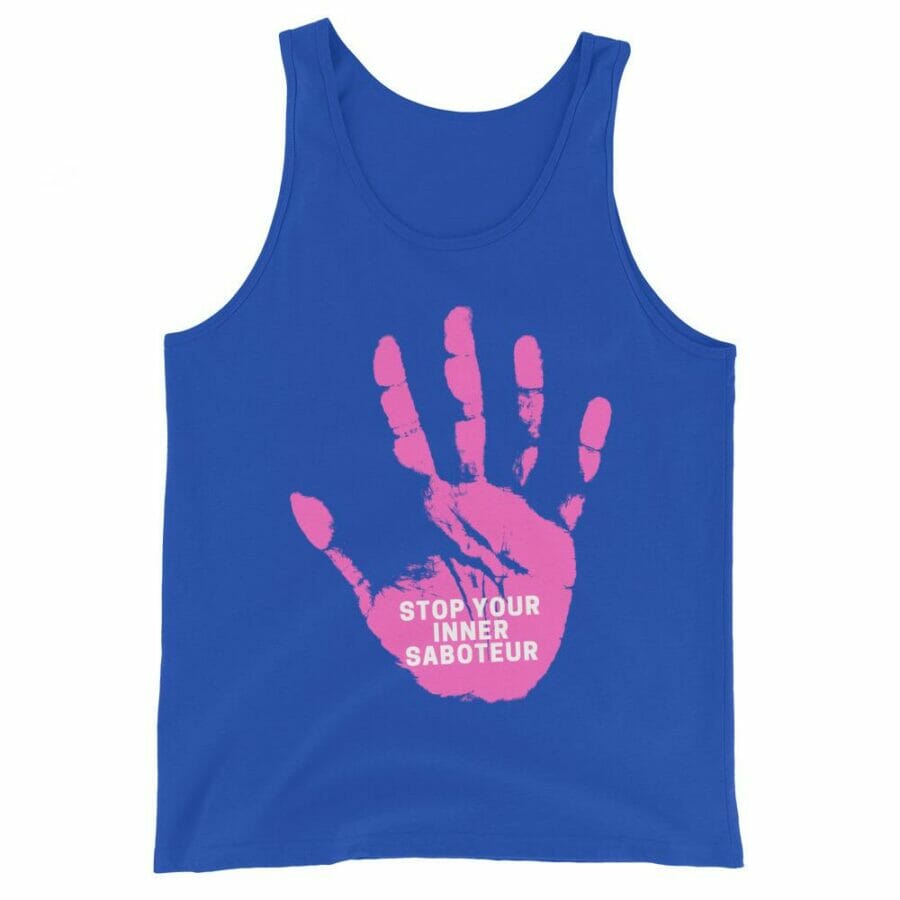 This gay pride tank top is a fun and sexy way to wear your pride on your sleeve (In a purely figurative sense, since tank tops don't have sleeves…but you get the idea).
Express that you support the LGBT community and gay rights, all without saying a word. Simple, everyday acts such as wearing a shirt like this have a cumulative effect in increasing visibility for the community and "normalizing" gender preferences and orientations that have been stigmatized by society in the past.
Wear this steamy top, be a better queer ally and show your love and support for that LGBTQ friend or family member in your life.
Sass, style, attitude, humor, sex appeal, fabulosity…this sexy little tank tee has it all. You too can have it all and more when you put it on. The shirt has a cute rainbow alpaca piñata graphic a rare creature indeed. And that is the point of the shirt, that you too are something unique and special.
Something proud. Something fabulous!
And for those other fabulous creatures, you know: this is a great gift to give with the Christmas season coming up, or at any time of the year for that matter.
Check out this stunning gay pride tank top. You'll love it for the simplicity of its design and the straightforward nature of its messaging. Proudly show to the world who you are. They say the clothes make the person. If the saying is true then your self-love and confidence will shine through when you have this on.
And like so many of the tank tops and muscle tees on this list, it truly would make a fabulous thing to give a certain LGBTQ someone as a gift whether it be for the Christmas holiday season, as a birthday gift, or even just because with no special occasion needed.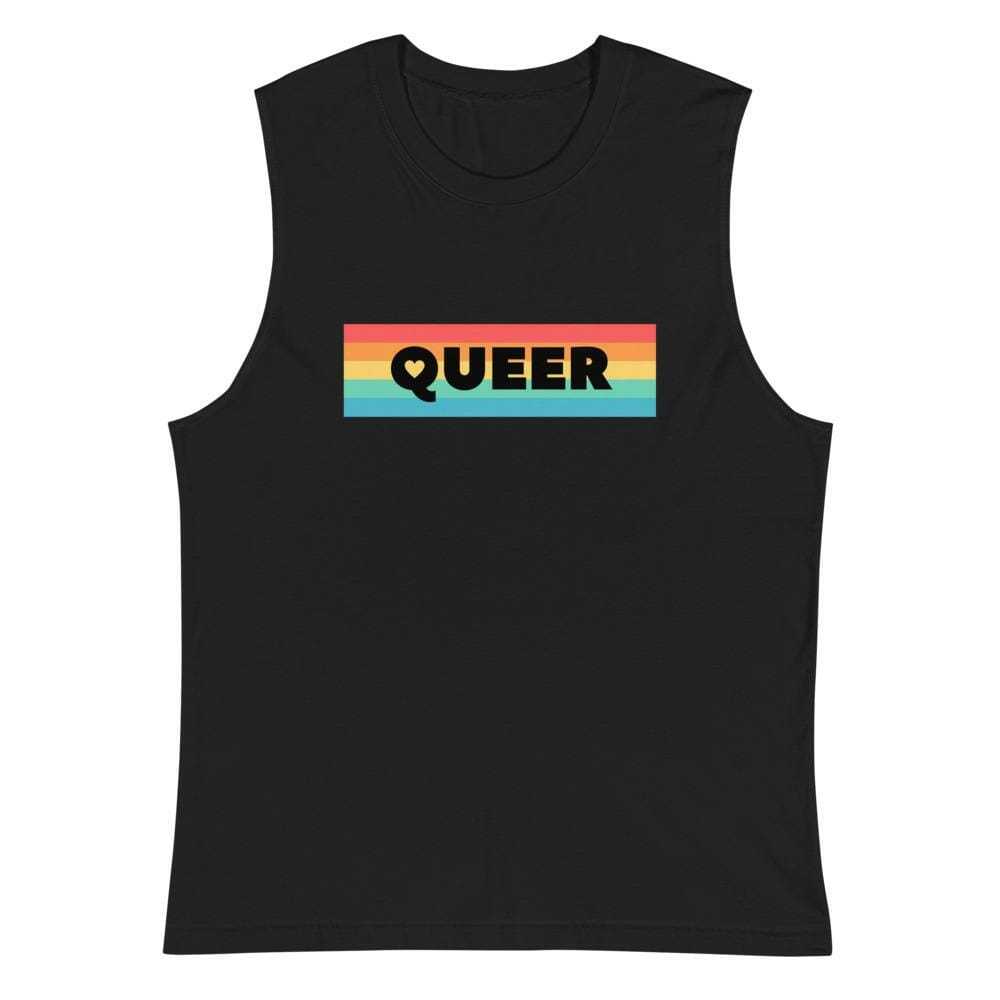 Whether it's the meme, the song, or the infamous quote (from a scene in season six of RuPaul's Drag Race, in which Bianca Del Rio used it to clap back at Courtney Act) from which it all originated, the spirit of this phrase is the same.
Essentially it can be construed as a slightly more polite but no less sassy way of telling someone to piss off. It means you are not going to take any grief, and is basically the very essence of cheek encapsulated into linguistic form.
All this on one little tank top. If you have a saucy disposition, this is a must-have for you.
It doesn't get much more fabulous than this sexy muscle shirt. Get this and get your swagger on. It is the perfect piece of attire if you like to show off a little or maybe a lot. You will feel confident as hell in this.
If you're sexy and you know it then there's no need to be bashful: get this and show them your strut at the gym, the beach, the mall, or anywhere you please.
Get it for a friend you think needs a little confidence boost or who maybe just needs to come out of their shell.
Swagger, sex appeal, self-confidence…you already possess all these gifts, so why not wear something that does you justice? This semi-transparent mesh tank top (which, by the way, comes in an impressive variety of colors) is just the thing for you.
It is certainly not something for the bashful, but that's not a problem for you, is it? Make this yours and wear it with the same brazen confidence with which you go about life. Be careful when you go out in this though, for it will be like flies to honey when all the guys out there see you in this.
It's okay to be who you are, and this LGBT muscle shirt emblemizes that perfectly. This is an essential piece of pride wear to have in your collection. Allow your self-love to shine through with this stunning shirt, featuring a graphic with an inverted rainbow triangle.
You'll be met with approving eyes at any pride parade or event, and it is also a great way to express yourself when you are just out and about in the course of everyday life. This could also make an excellent gift for any LGBTQ friend or family member or for anyone who is supportive of gay rights. There could be no better time to pick one up than today.
And here at last we come to the conclusion of our list. Surely we have seen something for everyone here. But don't worry, we have saved one of the best for last. Here we have a delightful gay pride muscle shirt that virtually oozes confidence. But that's okay when you look good and you know it.
You will feel good too when don this sexy shirt, for there is nothing sexier and more appealing than someone who is not only comfortable in their skin but who is just as comfortable in letting you know it.
So get this cocky tank tee and wear it proudly, for you are sure to be seen in it.
You will instantly adore this charming transparent floral top. It's not hard to see why these floral designs are so appealing; they evoke the springtime, which in turn evokes youth, life and vivacity, and beauty. The "language of flowers," as it has been called, (and this actually has a technical term: floriography) refers to the complex and intricate varieties of symbolism associated with floral aesthetics, be it in art, architecture, fashion, etc.
Take the rose, for instance. Red roses signify romance while black roses are symbolic of black magic, and so on. Other flowers represent everything from purity and chastity to wealth and honor.
Floral prints have their origins in the far east – specifically Japanese kimonos which were themselves inspired by Japanese print painting – as well as Southwest Asia, namely Persia and India. From there floral textiles made their way to Venice, and eventually, the rest of the West caught on.
And with the advent of the era of liberation that has come in recent decades, the floral print has become a fixture of LGBT fashion. Hell, even non-LGBT men are on to floral prints with the likes of Connor McGregor, Daniel Craig and Ryan Reynolds rocking them.
A fact for which we are all thankful. You'll be proud to flaunt what you've got with this seductive little gay apparel item. If you have an eye out for something – the right something – to get for a special occasion, say an upcoming pride parade or party, anywhere you really want to lay on that easy, innate charm of yours and make a memorable impression, then you would be hard-pressed to top this.