Gay Stockholm is a city of is captivation mix of modern innovation juxtapositions with old-world history, all served up in chic Scandinavian style. Quite possibly the most open city in the world, there is a lot to love here – no matter who you love.
For a city of only a million inhabitants, Stockholm – and Sweden – is a surprisingly influential powerhouse of music, design, fashion, and technology. With its finger on the pulse of global innovation and trends, its no wonder companies like Spotify and H&M were started here. Progressive ideas are encouraged here, and today the atmosphere here is open to diversity and welcoming to everyone.
The result is Stockholm is one of the most liberal countries in the world in regards to LGBT+ rights and we were pleasantly surprised how many cafes, hotel, bars, restaurants, and other spaces were explicitly gay-friendly.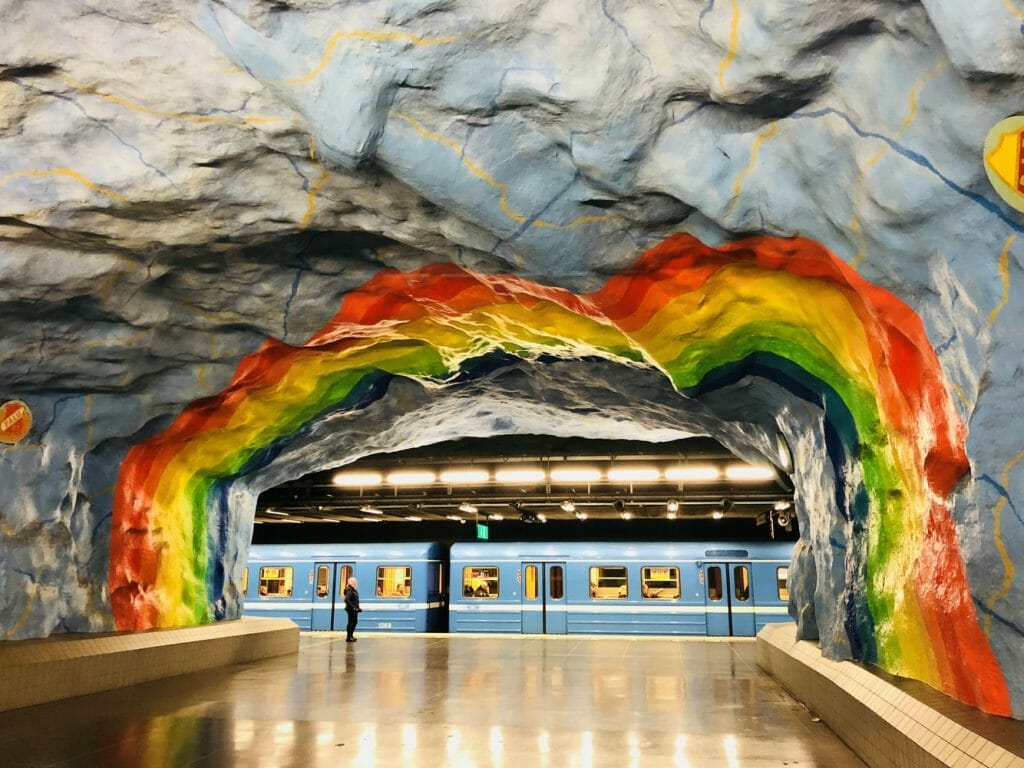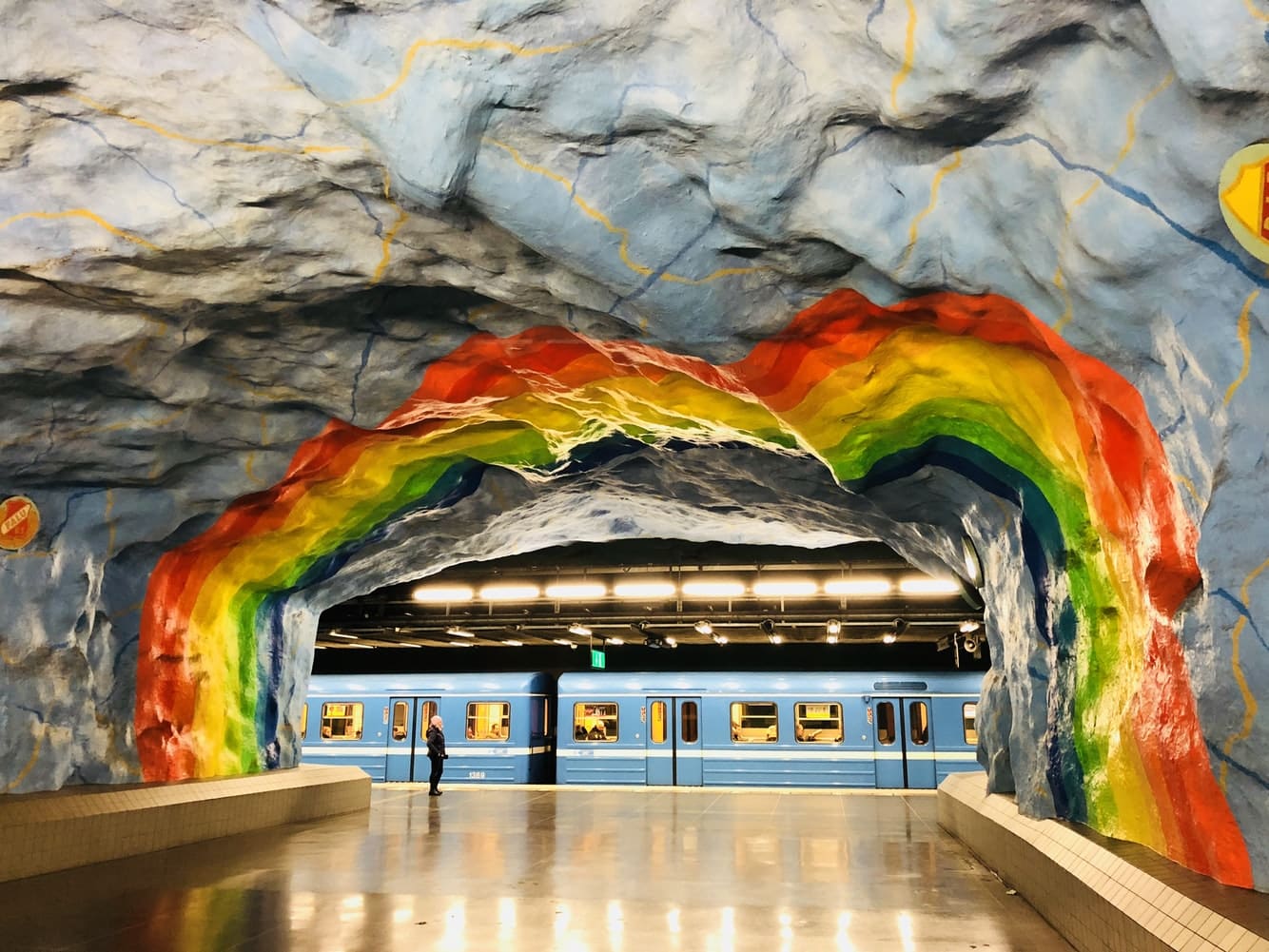 There are several major draw cards to Stockholm including its exciting architecture, world-class restaurants, fabulous shopping, and trendy nightlife – all while never being too far from nature. This is the city where lake and sea meet after all. As well as the culture, the cafes are the other pillar of Stockholm life.
Fika, the Swedish concept of a coffee and cake break, is more than just something you do – it's a state of mind. Embrace that at one of the many quirky cafes here, taking your time over your coffee and a huge cinnamon bun – and if you are using a hookup app, well: the local Swedes will surely appreciate the effort to emerge yourself in their culture.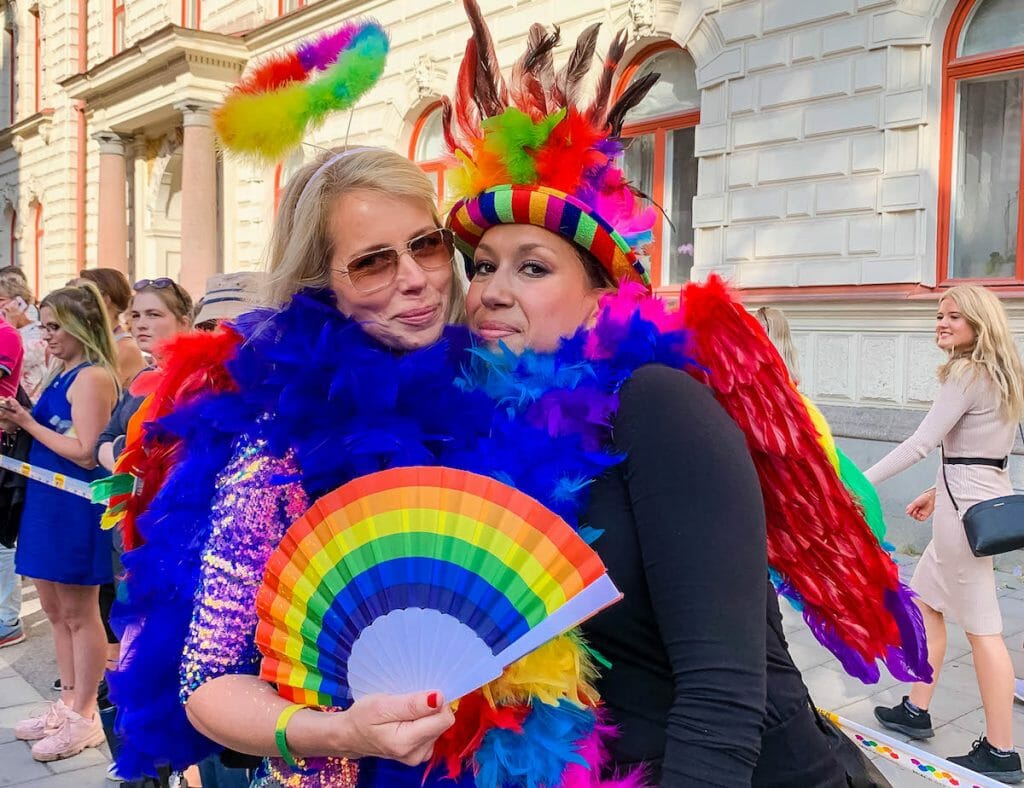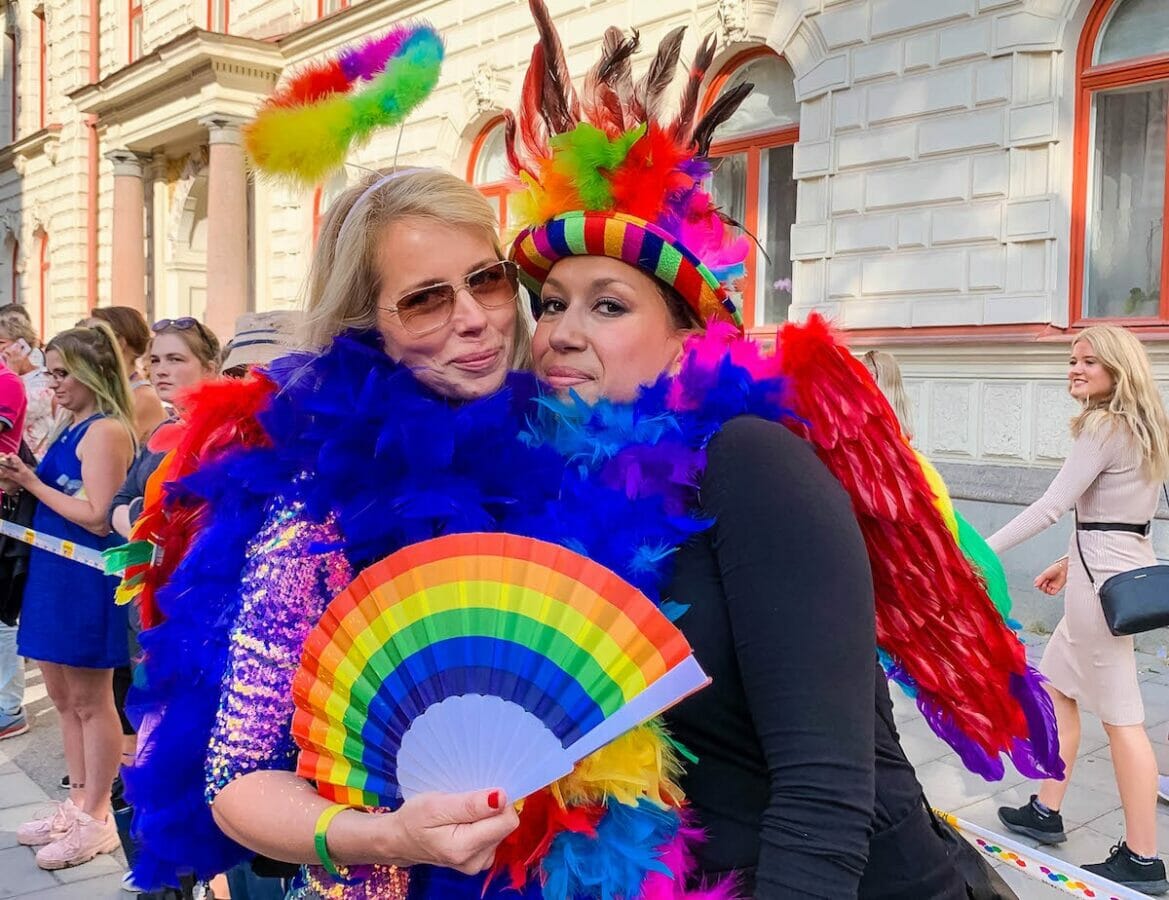 Frequently referred to as the Gay Capital of the Nordics – a title we think only Copenhagen could challenge – you'll surely be impressed with how open-minded people are here. Just don't expect to find any gay districts in Stockholm, everybody is welcome everywhere – although most queer cafes, restaurants, and clubs are found in hipster Södermalm and Gamla Stan (Old Town).
In such an inclusive city its no wonder however that many in the LGBT+ community here no longer feel the need to hang out in 'gay spaces' and can be found mixing and mingling across a broad range of nightlife venues in the city – and we suggest you follow their lead. Trust us, such acceptance is liberating to say that least and we wish the entire world could be just like this. Even better public shows of affection are totally acceptable, so you can feel truly able to express your love however you wish.
Accepting, beautiful, modern. exciting and wonderful queer: What's not to love about Gay Stockholm. And all those cute Swedish boys, argh, well … Gimme, gimme, gimme a man after midnight (or any time of day, to be honest – we aren't picky).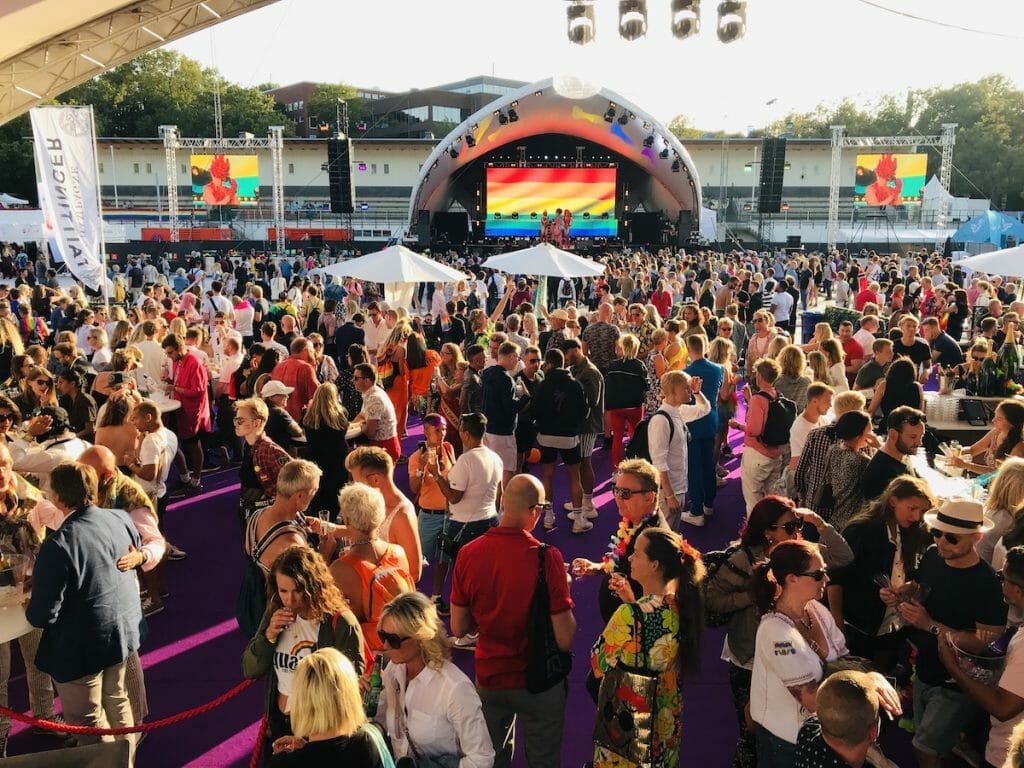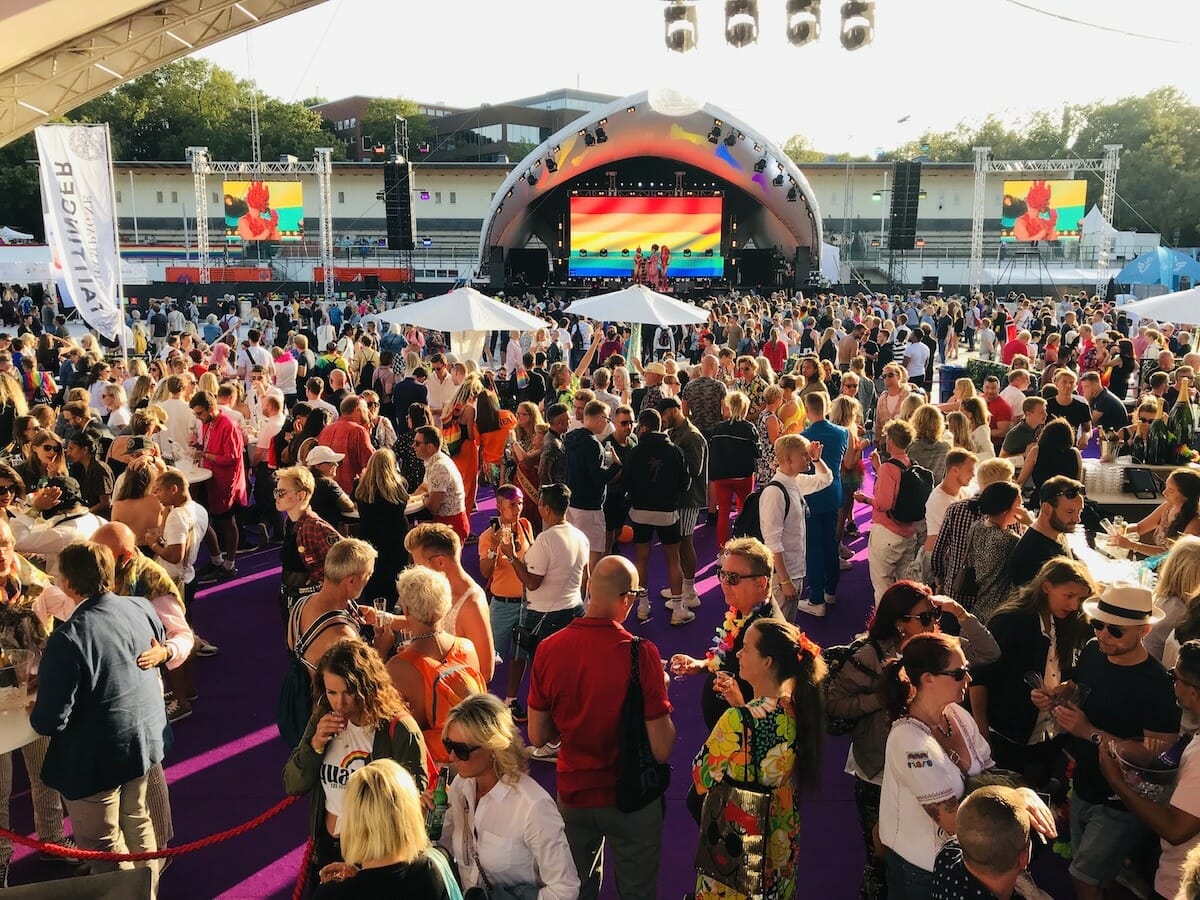 Gay Stockholm Guide: The Essential Guide To LGBT Travel In Stockholm Sweden
Attractions in Gay Stockholm
If we know one thing about Stockholm it's that it is cool as hell. And not just temperature-wise (although everything you've heard about Scandinavian winters is true), but cool in everything it has to offer. Cool culture, cool people, cool cafes and bars. And while this is certainly true, but Stockholm it's also welcoming, fun, dynamic and endlessly fascinating. Whether you're into gallery-ing, partying, eating or all of the above, you'll find something to love in Stockholm. Among the gorgeous historic streets of the city you'll find tons of museums and galleries housing Viking treasures, contemporary art, Abba memorabilia, and design pieces.
Naturally being gay does not define which attraction most of us will want to see in each city and most queer travelers will simply want to check out the top things to see in Stockholm during the day! Stockholm is a very safe, tolerant and progressive city and gay travelers in Sweden do not need to take any precautions concerning public displays of affection. Rest assured you will have no issues exploring this beautiful and diverse city, and even the essential list of things to do will keep visitors entertained for at least a couple of days.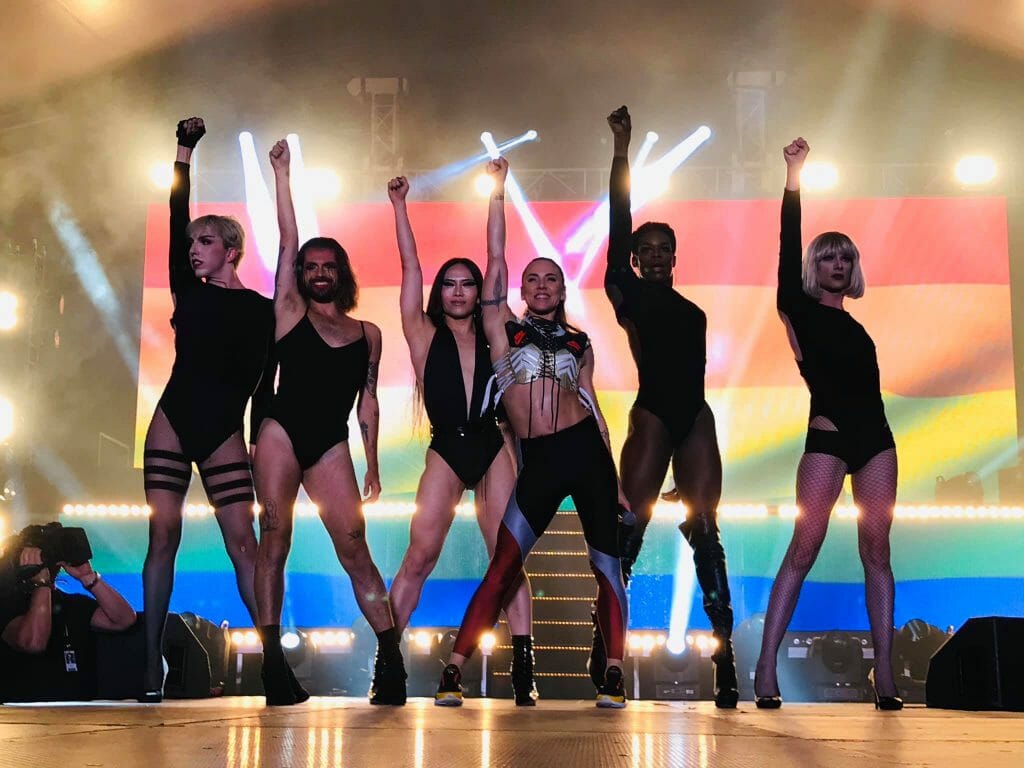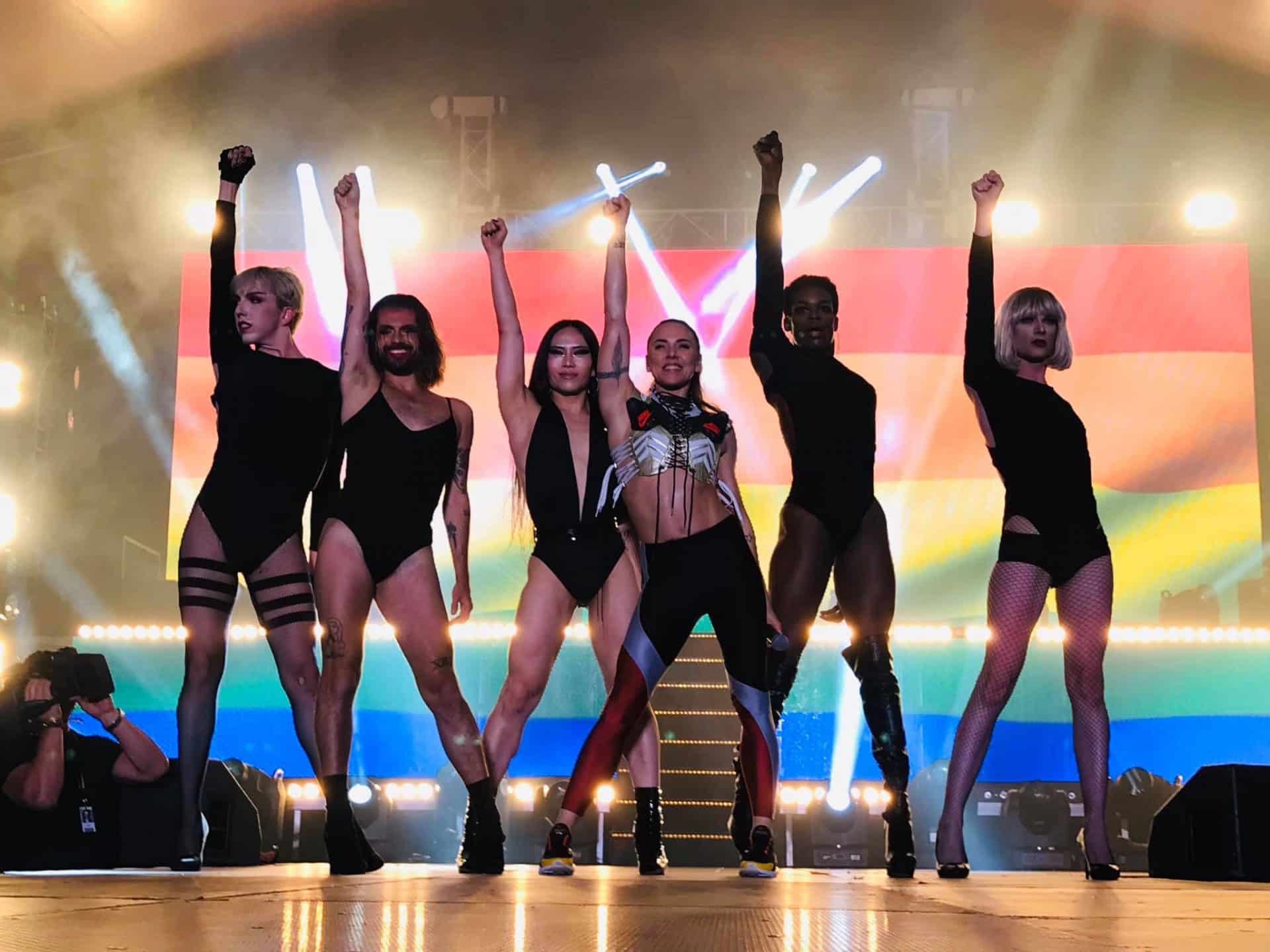 Whether you're spending a weekend, a week or a month here, it'll definitely be time well spent. There are masses of amazing things to do in Stockholm, whatever your holiday style is. Lovers of the outdoors will adore the fact that the city is spread along islands at the Baltic sea, effortlessly incorporating the ever-changing water. This glorious location means you're never far from nature and a chance to swim in a lake, walk in the nearby forests or hop on a ferry to an island.
If exploring history is more your speed, then Stockholm's got plenty of cultural heritage to offer you. Its historic center is one of the best-preserved on the continent and you'll be hard-pressed to find more charming cobbled streets.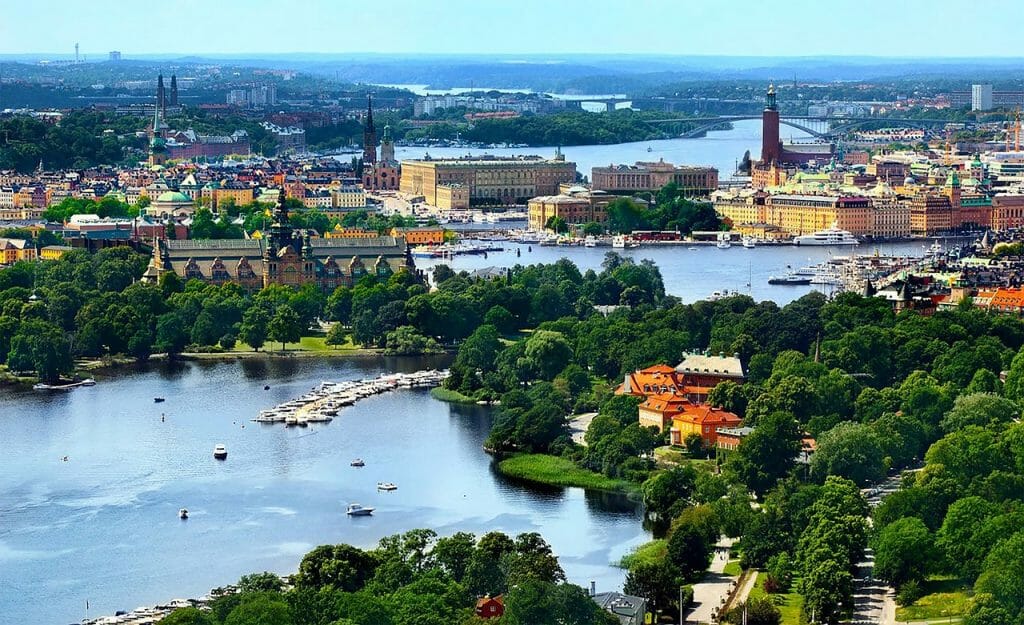 Then there's the wealth of museums and galleries on offer. You might want to see an impeccably salvaged warship from the 16th century or the original ABBA costumes – you can do both here, as well as much more.
We can't pretend that it's a cheap place, however, and with this much to see and do, it can be difficult to prioritize. We know you'll want to soak up as much as you possibly can, which is why we'd recommend a tourist card to help you save money and time. Especially in a city as packed full of attractions as Stockholm, using a tourist card is one of the best ways to see as many of these as possible without breaking the bank. This is where the Stockholm Pass comes in, a discount card that helps you see much more and go much further than you otherwise could.
My my, how can I resist you Stockholm?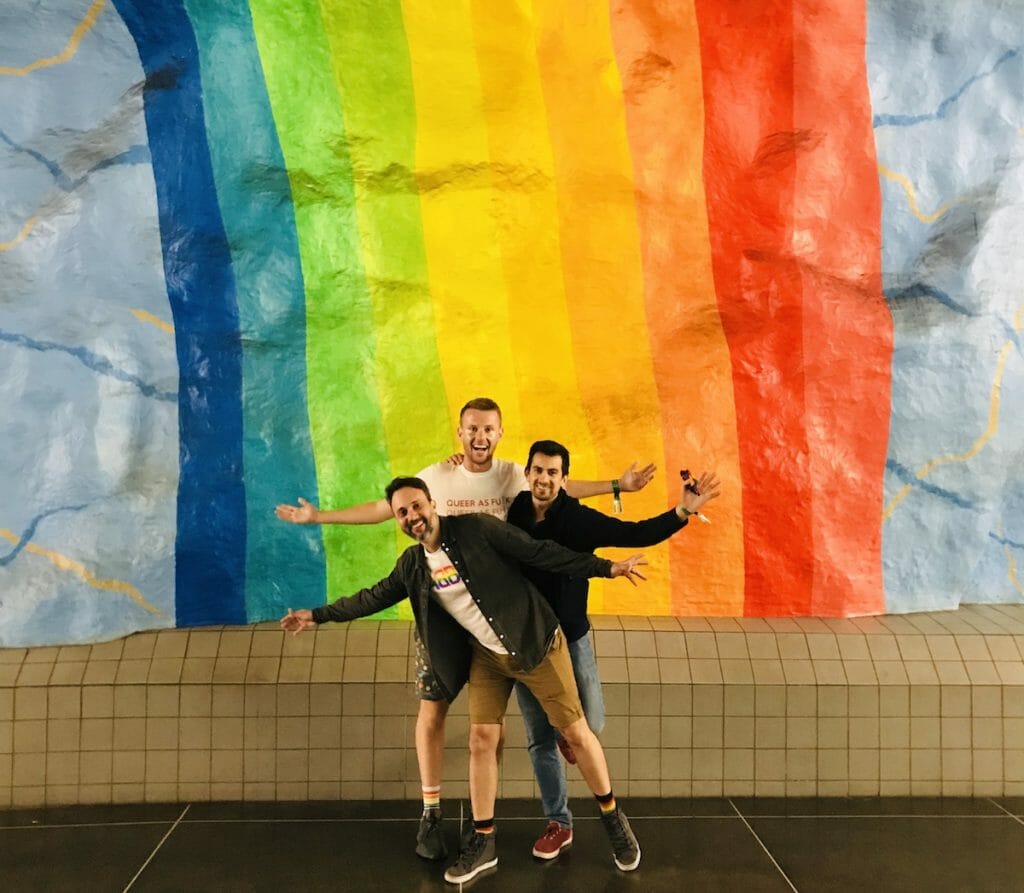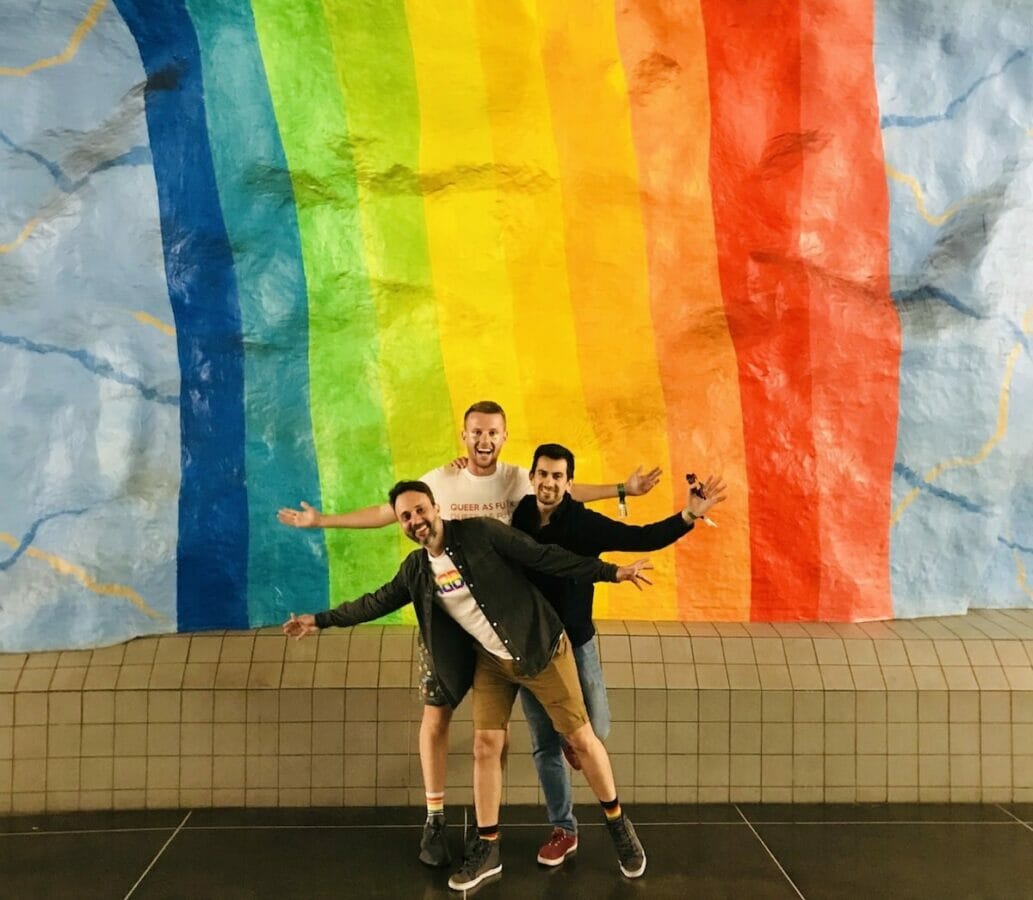 Top Highlights Of Stockholm
Royal Palace – This enormous Baroque-style Royal Palace is filled with gorgeous rooms and five museums, all while still being the King's official residence, so you could catch a glimpse of Swedish royalty With 608 rooms, this is the biggest palace in the world that's still be used by the monarchy and as you can imagine, it's incredibly lavish both inside and out. Ornate gilded cornices decorate high ceilings, a silver throne looms over the Hall of State, and the Armory is full of armor (of course!), costumes and elaborate carriages.
Gamla Stan – Stunning Gamla Stan has stood at the heart of Stockholm since the 13th century and has been incredibly well preserved. Gabled buildings painted yellow, gold and orange line atmospheric cobblestone lanes. Famously, Mårten Trotzigs Gränd narrows to a teeny 90 centimeters. The area stretches across three islands. It's a gorgeous place to simply wander through, getting a sense of what Stockholm was like when it was one of the main ports on the Hanseatic trade route. In summer, the houses seem to glow in the sunshine; on a snowy winter's day Gamla Stan is astonishingly picturesque (although those steep streets are harder to negotiate!). Amongst the unique frescos, you'll find various attractions including Stockholm Cathedral, the Nobel Museum, and the enormous Royal Palace.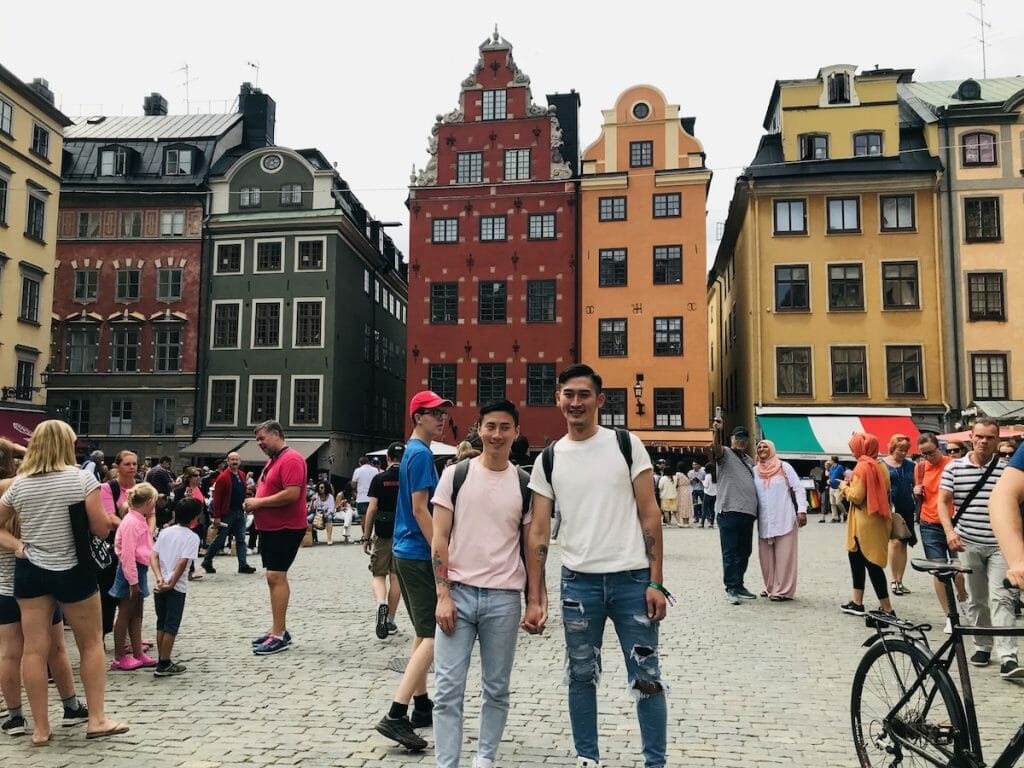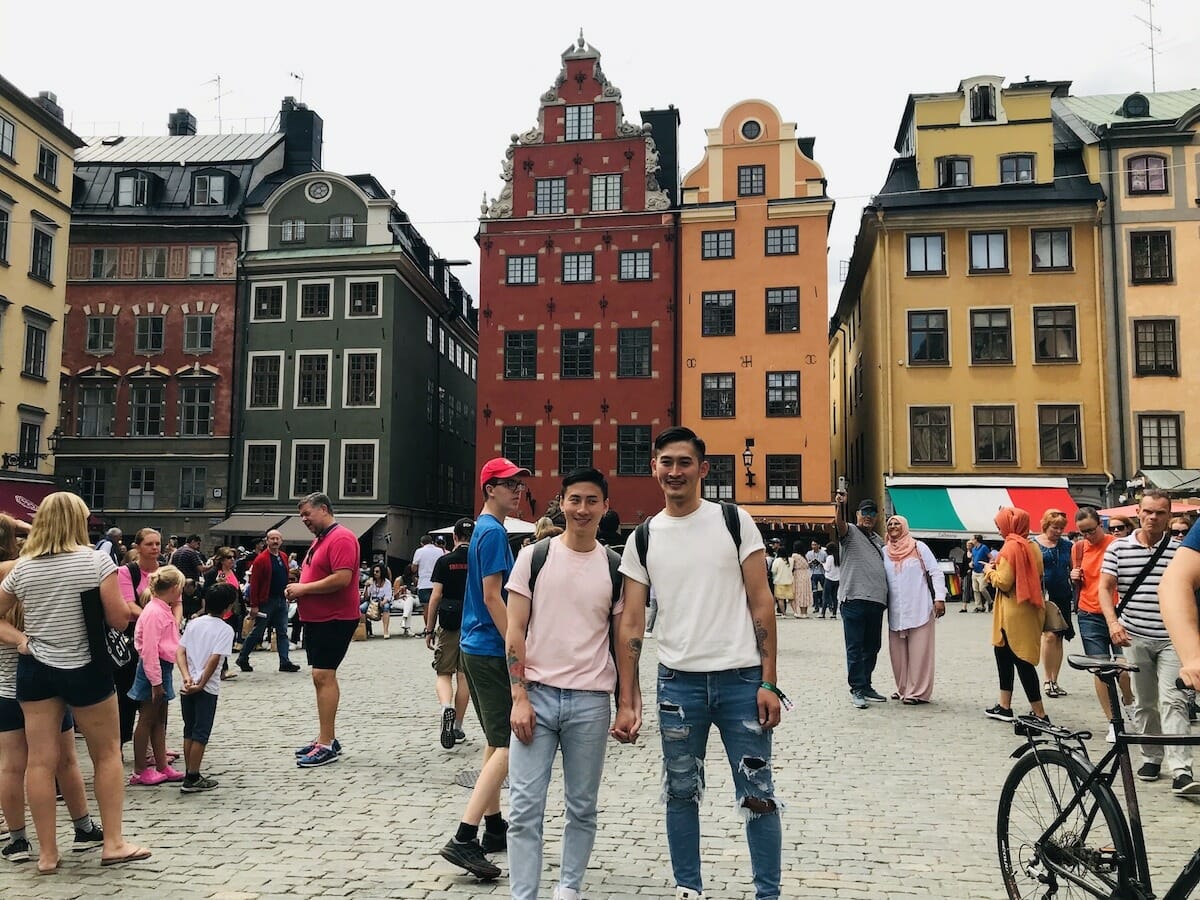 Skogskyrkogården – Known in English as 'The Woodland Cemetery', this beautiful World Heritage Site is both moving and architecturally fascinating. Here is where life and death come together, as the tombstones rest quietly amidst green grass under pine trees. It was built between 1917 and 1920 after two young architects won a competition to design a new cemetery. The cemetery consists of pastoral landscape, a grove of pine trees, a large pond, a meditation hill, and chapels and a crematorium in a functionalist style. Every detail was designed by the architects and it reflects the development of architecture from Nordic Classicism to functionalism.
City Hall – The 106-meter-high red brick tower of Stockholm's City Hall is an integral part of the city's skyline and the golden Three Crowns at the top have soared above the waterfront since its completion in 1923. While it is still the workplace for civil servants and politicians, Stadshuset is probably best known for hosting the Nobel banquet in its lavish Blue Hall. Similarly, lavish events are held in the Golden Hall, which has 18 million gold mosaic tiles (home décor inspiration anyone?). Guided tours are the best (and only!) way to see around the interior of the building; you should also make time to stroll around the neighboring park. For an extra fee, climb to the top of the tower and drink in the incredible views.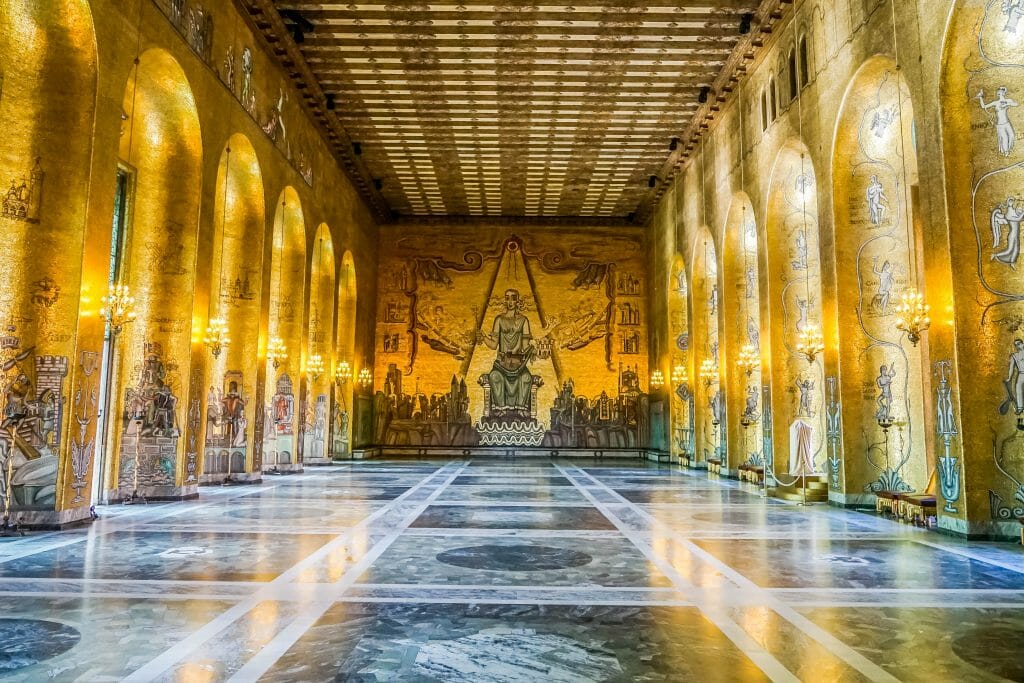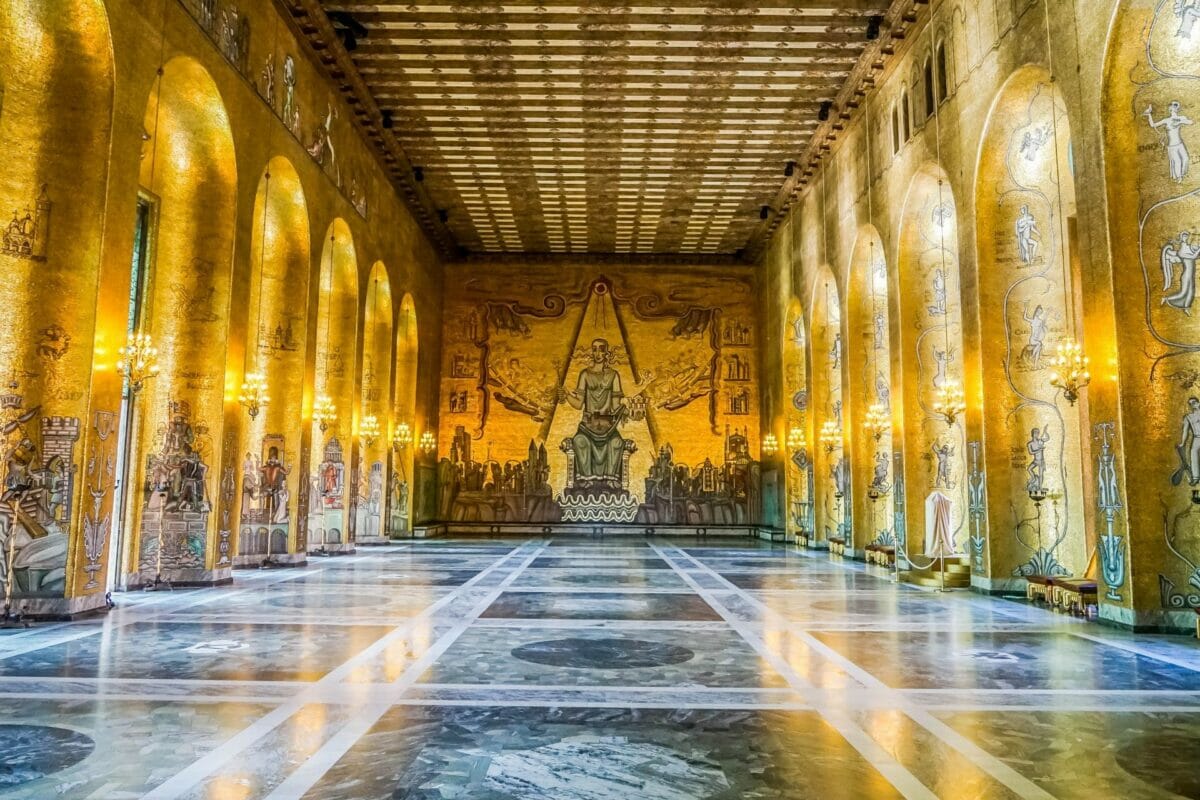 ABBA The Museum – For fans of Sweden's most-loved Eurovision entry, this is an absolute must-do. A sensory abundance, the interactive exhibits and amazing collection of memorabilia is a gift that keeps on giving. You really will walk in and dance out. Even if it were only memorabilia here, we'd still enthusiastically recommend it as seeing the platform boots, sequined jumpsuits and instruments in real life are fascinating and really puts the band's achievements in a historical context. But this isn't only about looking at things, you also get to take part! You can join the group as their 5th member in a hologram experience, trying on a virtual costume; you can even wear a replica of the shiny outfits they used to don for their performances.
Drottningholm Palace – A gorgeous example of regal architecture on a private island – Drottningholm is not only absolutely beautiful and well-preserved; it's a UNESCO World Heritage Site to boot. Lavish salons, ornate bedchambers, a golden library, atmospheric galleries… all are on show to the public while outside there is the famous Baroque Gardens and Chinese Pavilion.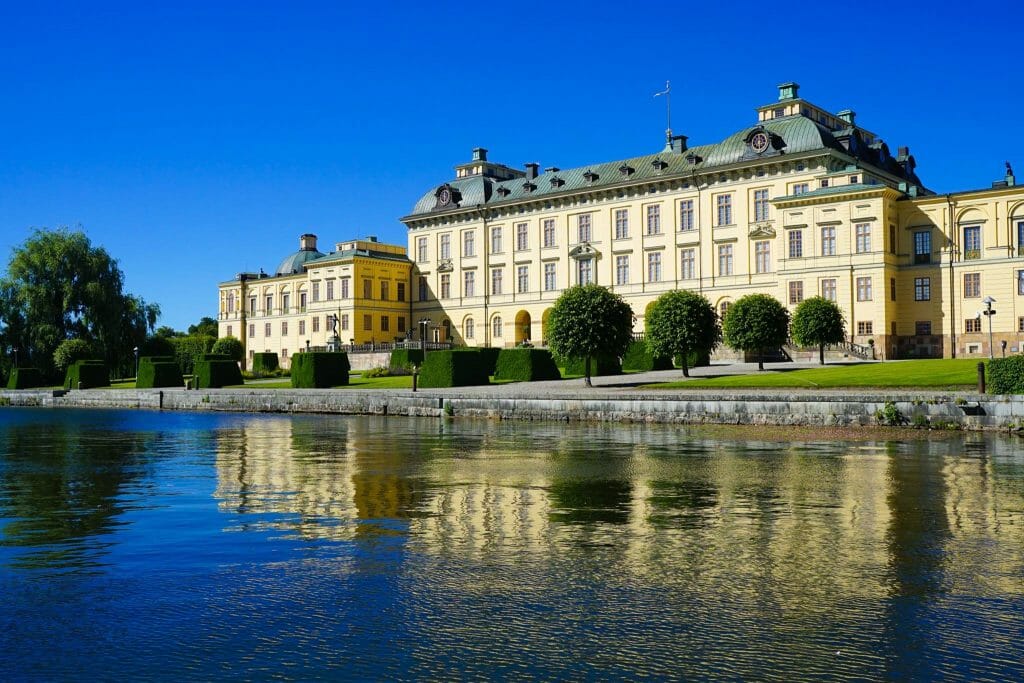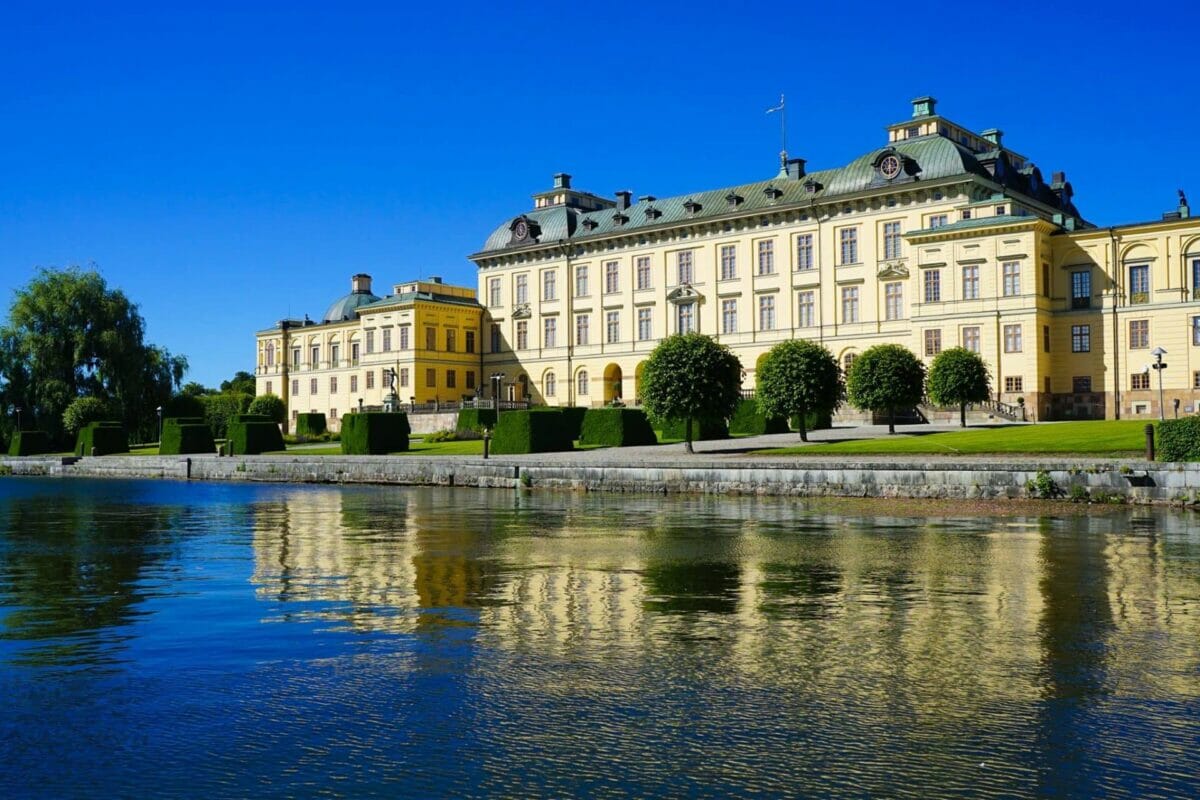 Glashuset Restaurant and Bar – Located in the hipster Södermalm area, behind the unique glass facade and the brick walls from the former metalworks, you'll find hip spot where exotic flavors combined with updated Nordic classics – including meatballs – to tell a new story. Traditionalists be dammed, this is modern food for the 21st century!
Archipelago Cruises – Stockholm's archipelago is easily one of the most beautiful coastlines we have experienced and some of it feels so secluded and remote that it's hard to believe a capital city is only minutes away. Cute red houses dot the hillsides of the thousands of islands, the wind rustles in the grasses and leaves, deep blue water laps the many shores. You can enjoy all of these sights from the decks of a classic archipelago boat, built in the first half of the 20th century, for two and a half hours. A passionate and knowledgeable guide will add to the experience by telling you the history of the area and the different sights you pass along the way. The spectacular scenery combined with the interesting stories gives you a real taste of Sweden, particularly how people live outside the capital.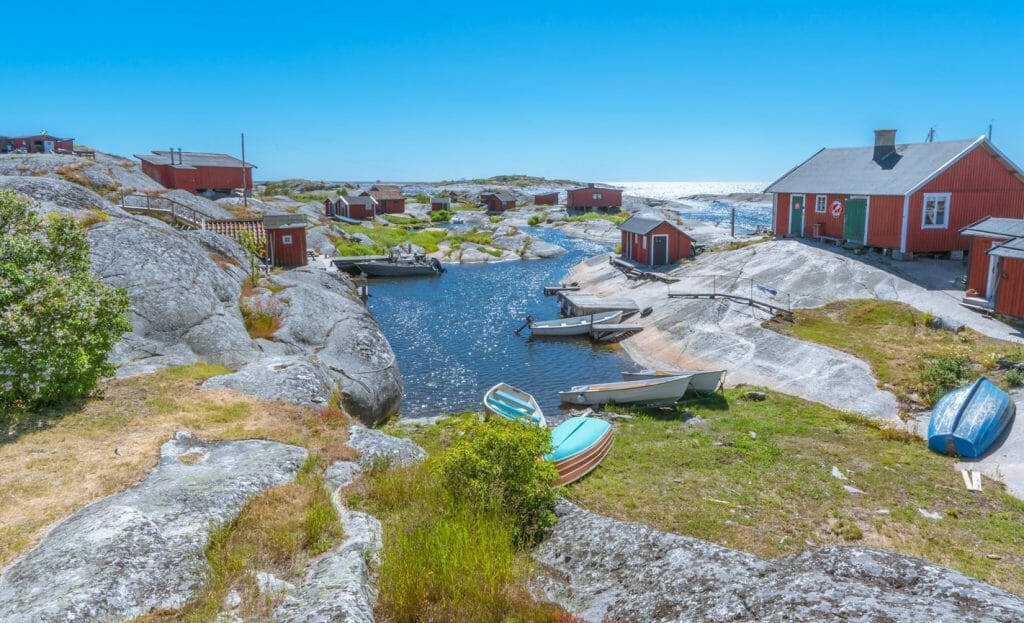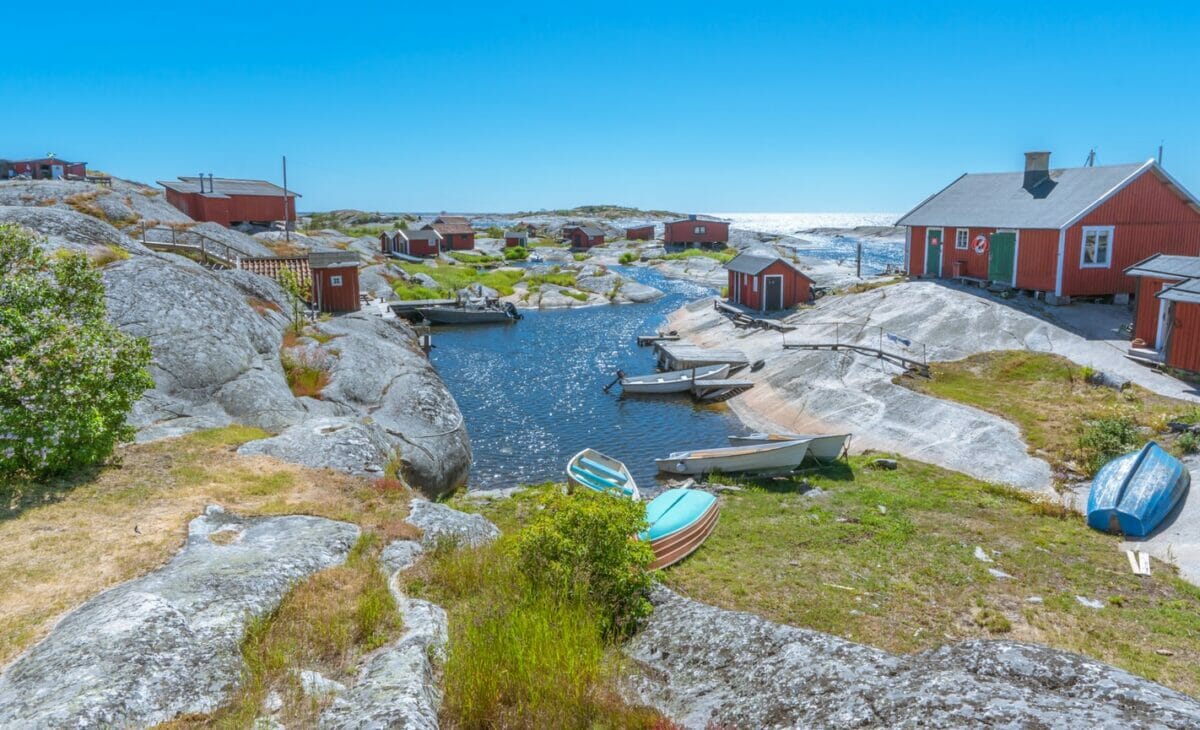 Stockholm Cycling Tour – Cycling around the compact city center is a lovely way to see the beautiful streets, pretty buildings, and meandering coastline. This engaging bike tour takes that cycling experience and makes it even better. A local guide takes you around the main sights, making sure you don't miss anything and telling you the stories behind all the places you glide past. After meeting in the middle of the city, you'll spend two hours exploring Gamla Stan, the islands surrounding it and the national port. It's great to be able to ask questions about everything you see (no more Googling obscure facts!) and your guide is sure to tell you even more than you expected! The only difficult thing about the tour will be giving your bike back at the end.
Vasa Museum – The enduring appeal of this popular museum lies in its time-capsule-like quality. The 69-meter warship Vasa sank in front of hundreds of onlookers on its maiden voyage in 1628, dealing Sweden's economy and navy a heavy blow. It's now the striking centerpiece to the Vasa Museum, which is easily findable because of the three tall masts on the roof. How did a ship go from a wreck to the middle of a museum? Thanks go both to the pollution in the Baltic sea that managed to kill wood-eating micro-organisms for the 333 years Vasa was on the seabed, and to a painstaking salvaging process in the early 1960s.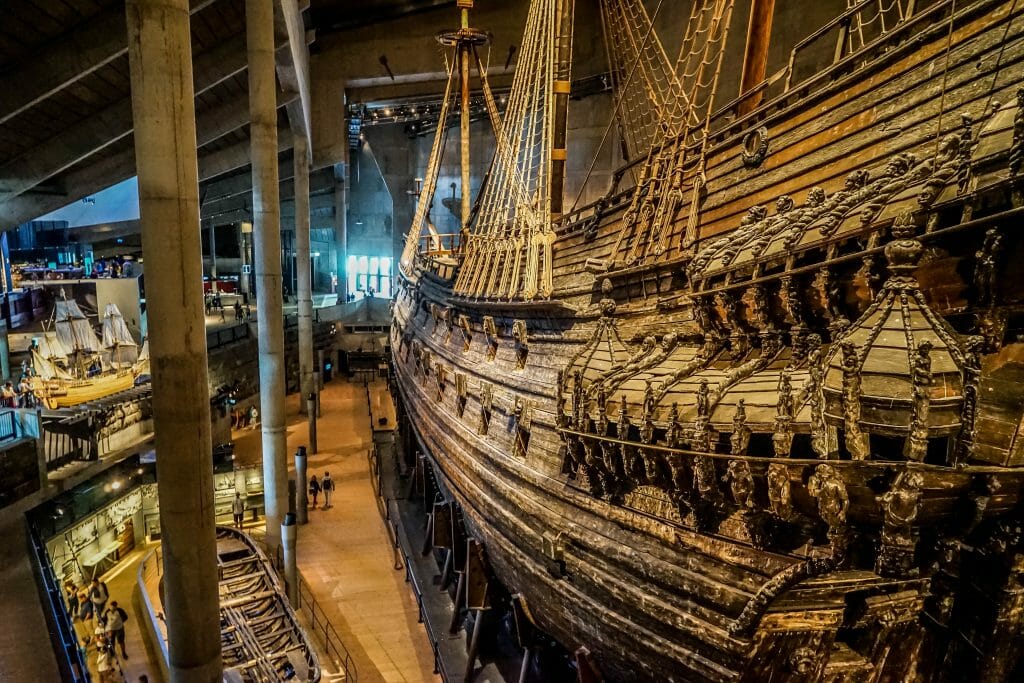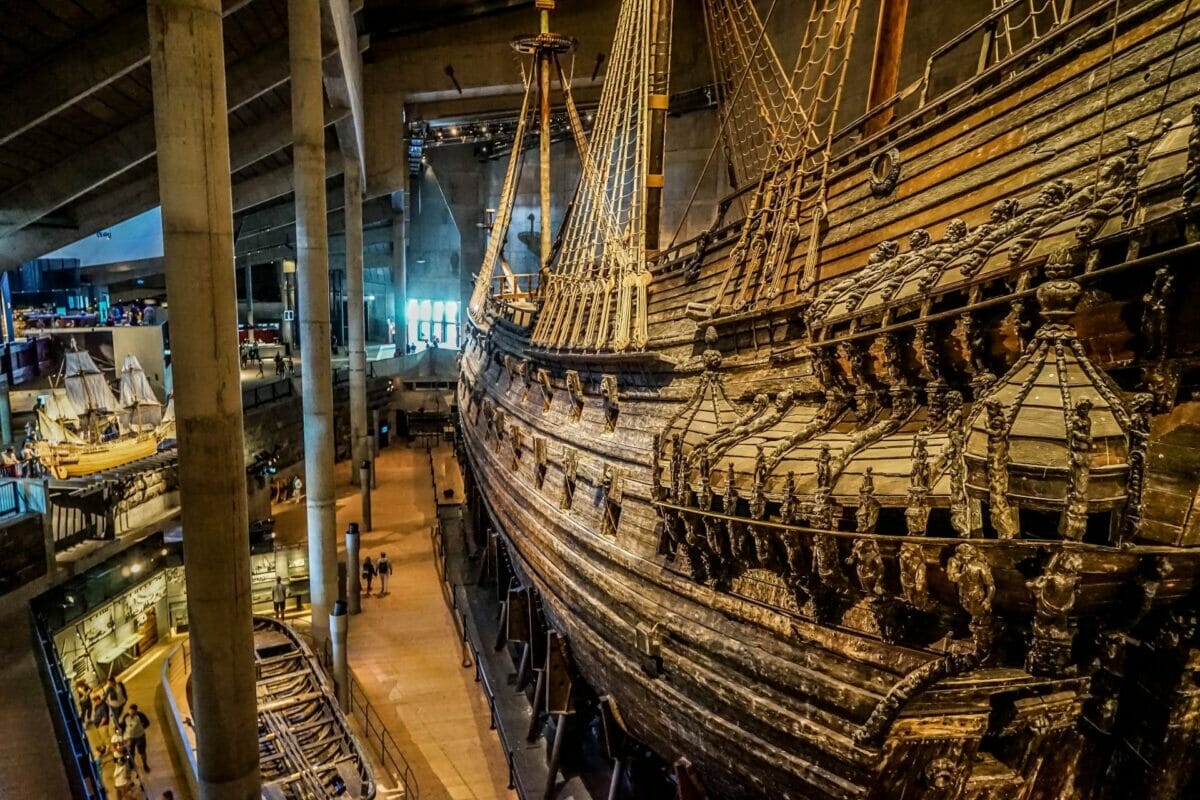 Gay Things To Do In Stockholm
Viking Bears – A club for gay men, who are hairy, bearded, a bit on the weightier side and who often like other men with the same features. They organize plenty of get-togethers throughout the year with a generally mellow atmosphere, for example, pub evenings, an annual Christmas party, visits to the theater, picnics, sauna parties, etc. Their aim is to provide an opportunity for those not comfortable with the general gay world to meet each other and have an enjoyable time together, so if this sounds like a good fit for you why not take a look at their upcoming events.
Cinema Queer International Film Festival – A queer film festival held in Stockholm every year in late September help across multiple venues and nights. A chance for a more sophisticated LGBT night out with a variety of thought-provoking's offerings covering a wide variety of genres and topics.
StandOut Travel Sweden– A fun tour company started by Erik and Sofia offering itineraries specifically designed for the LGBT traveler in Gothenburg and Stockholm. They are working with and for the local LGBTQ+ community to help bring people together, end discrimination and tell Sweden's queer history. Their services include various queer-centric day tours, tailor-made trips, weddings and events and more to ensure you experience Gay Sweden in the most fabulous possible way!
Stockholm Pride – A week-long salute to diversity and openness with shows, live music, theatre, art, workshops, and seminars culminates in a rainbow-filled Pride parade where over half a million members of the queer community plus allies, friends and family dance, march or strut through the gorgeous streets of Stockholm. The diverse crowd at Pride is such a heartening reflection of the open-minded Swedish society and the whole country gets involved in the movement. It's always been a highly-regarded event, with plenty of politicians in attendance. Sweden's former Prime Minister Fredrik Reinfeldt took part in 2014, two years before Justin Trudeau made headlines for doing the same thing in Toronto. Sweden's Supreme Commander of the Armed Forces even performed an Elvis song in 2019! It's a rebellious, welcoming, colorful celebration of all things LGBT; but with a steely determination at its core. Stockholm Pride isn't taking the threat to equal rights lightly and knows that events like this one are part of a wider movement. It could look different for every attendee, depending on your preferences. Some of us love to dance from dusk till dawn and then to dusk again; others like to discuss issues of the day; others want to explore a city when it's covered in rainbow flags. Whatever you want to get from Stockholm Pride, you're sure to find it. As with every Pride event, there is no right or wrong way to experience it. It's about doing what you want, finding your own space to be your fabulous queer self, and meeting like-minded people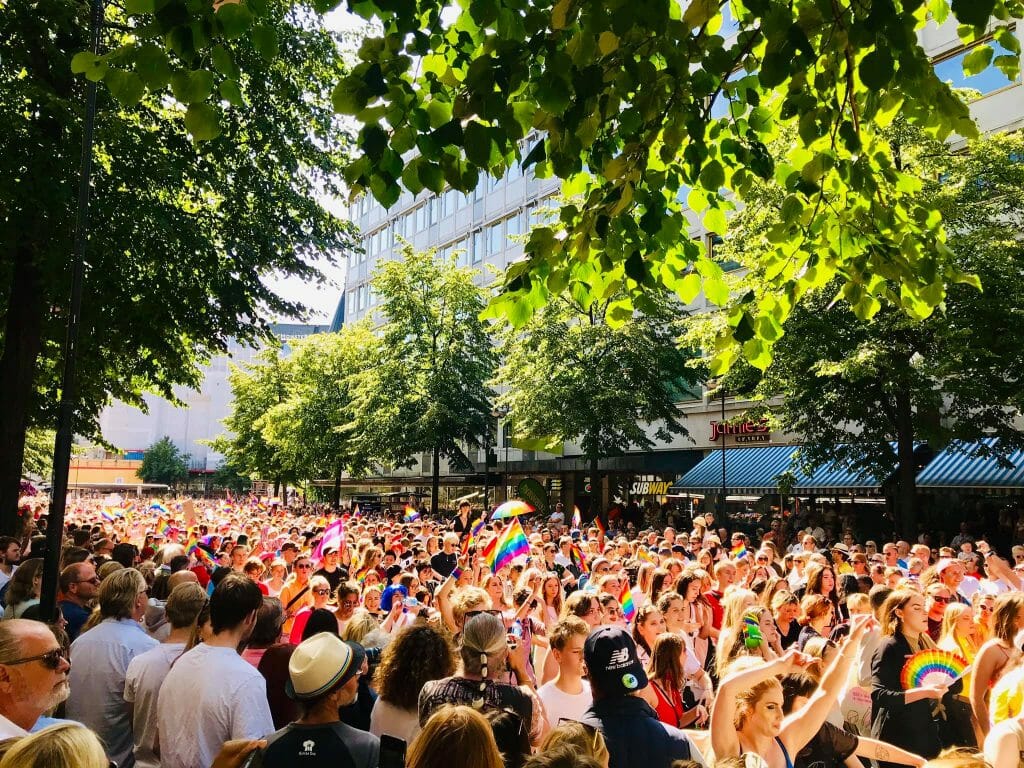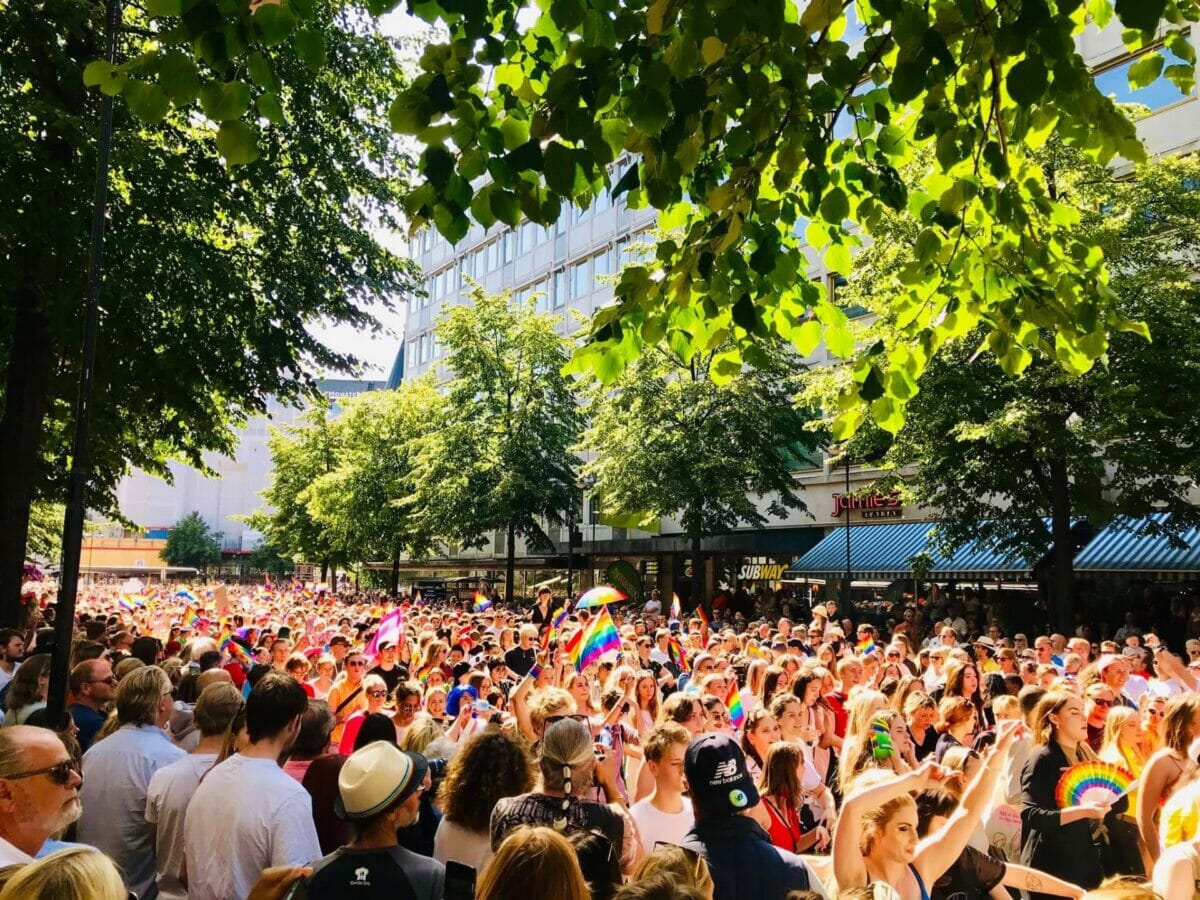 Gay-friendly and Gay Hotels in Stockholm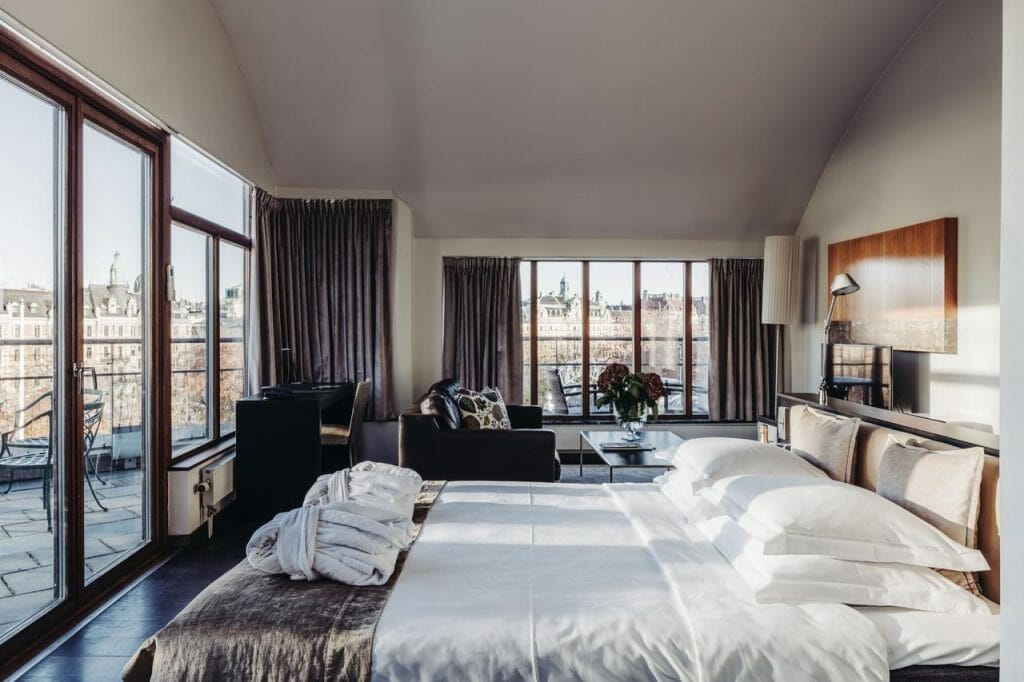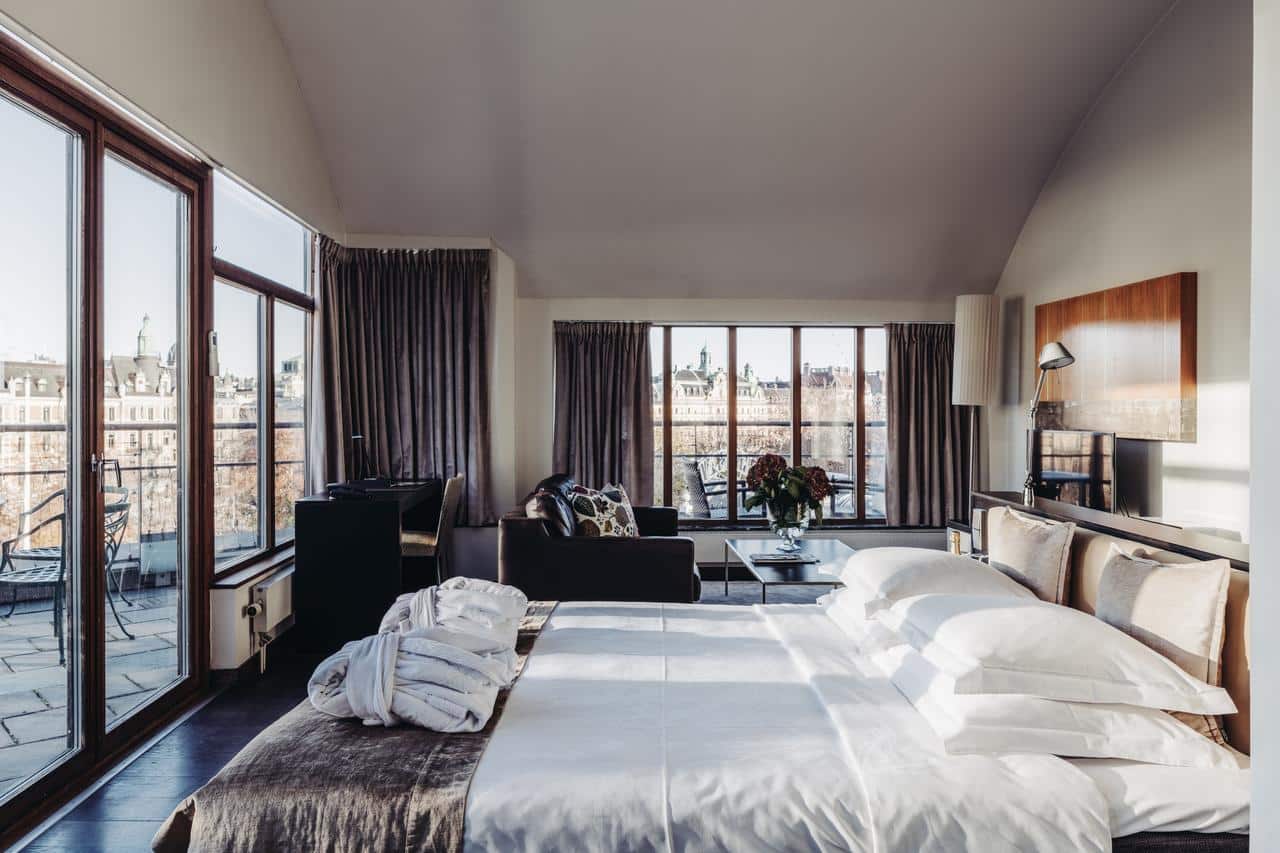 As you would expect in such a progressive country, pretty much every hotel and hostel in Stockholm can be considered gay-friendly – after all, being a gay-friendly it not all about upscale luxury, but about providing friendly and open service and welcoming everyone with open arms!

Having said that, everyone likes to be surrounded by people with common interests, and as such there a few popular hotels in Stockholm that are known hot spots for gay travelers to stay!


No hotels are exclusively for gay men anymore – a sign of the liberal times in Sweden – but others are still a crucial part of the gay scene because of their location and history and some hotels are just known as being exceptionally welcoming of gay guests. The following hotels in Stockholm are only the most popular with gay travelers can all be relied on for an extraordinary stay, but there are hundreds of other hotels in Stockholm if you don't find quite what you are looking for.
Whether you want a fun and social hostel, a cheap room to crash after a night of partying or a designer boutique option to sip cocktails and surround yourself with fabulous people – Gay Stockholm as something for everyone!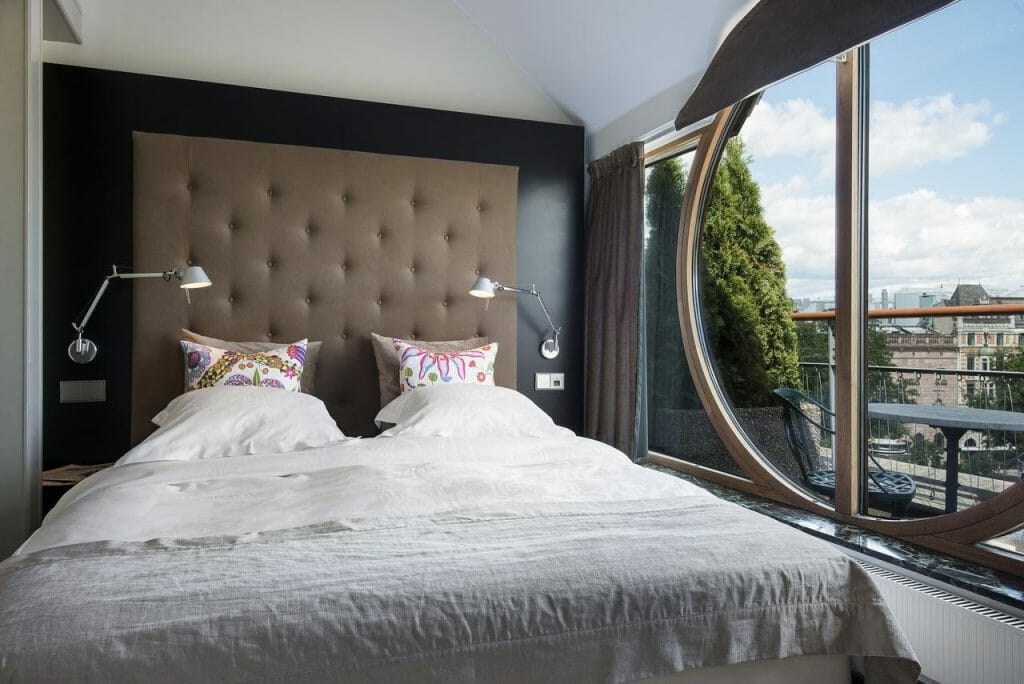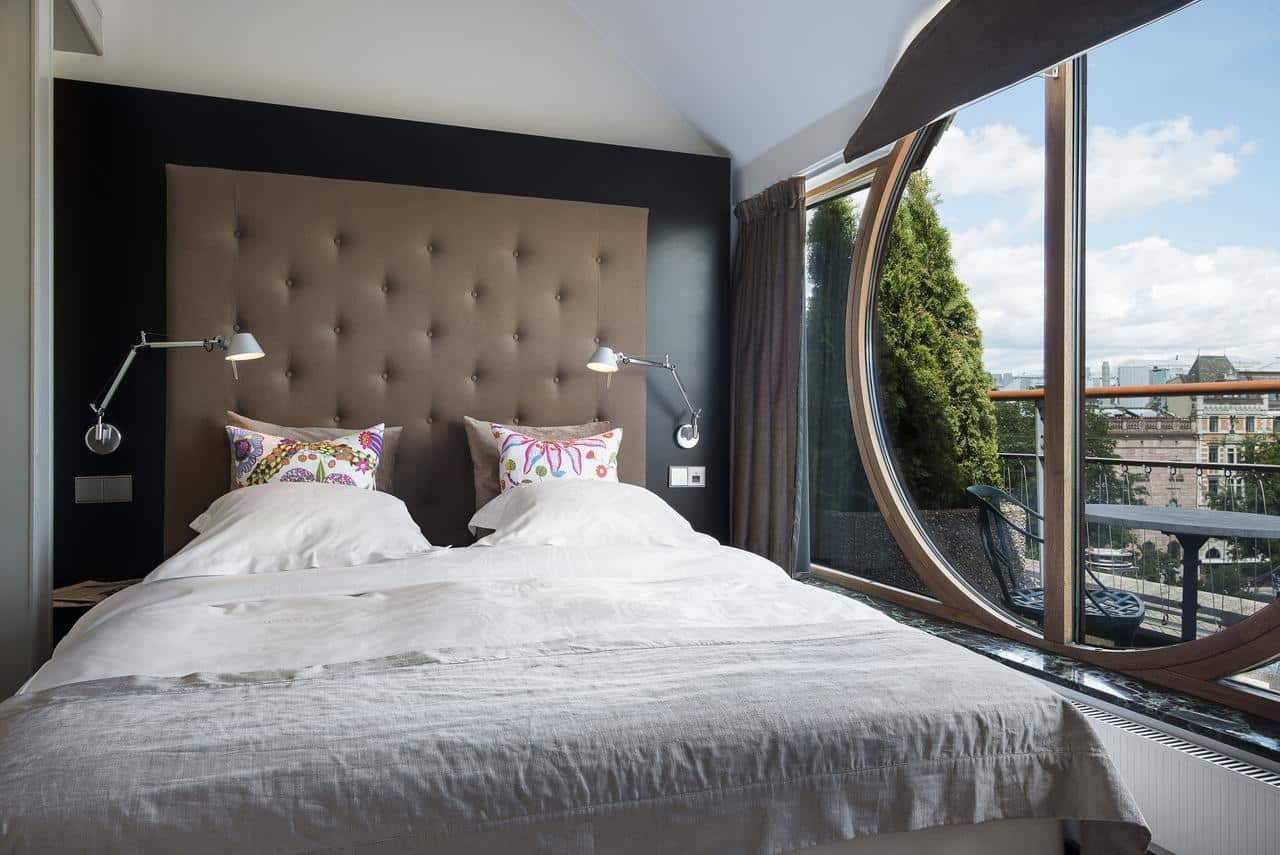 Hotel Berns ☆☆☆☆ – With 82 personally decorated rooms, multiple awards and an intimate boutique hotel feeling, Berns is not just a place to sleep but a place to live. With early breakfasts, long lunches and never-ending nights at one of Berns nightclubs, this fun hotel invite you to be seduced by their buzzing and vibrating atmosphere. Welcome to the house that never sleeps! There are three full-time club venues operated by Berns, and one Stora Salongen – The Great Hall – offering one of the most stunning dance floor in Stockholm, which is used for the Guldrummet monthly gay dance party. The breakfast dining hall is pretty out of this world also!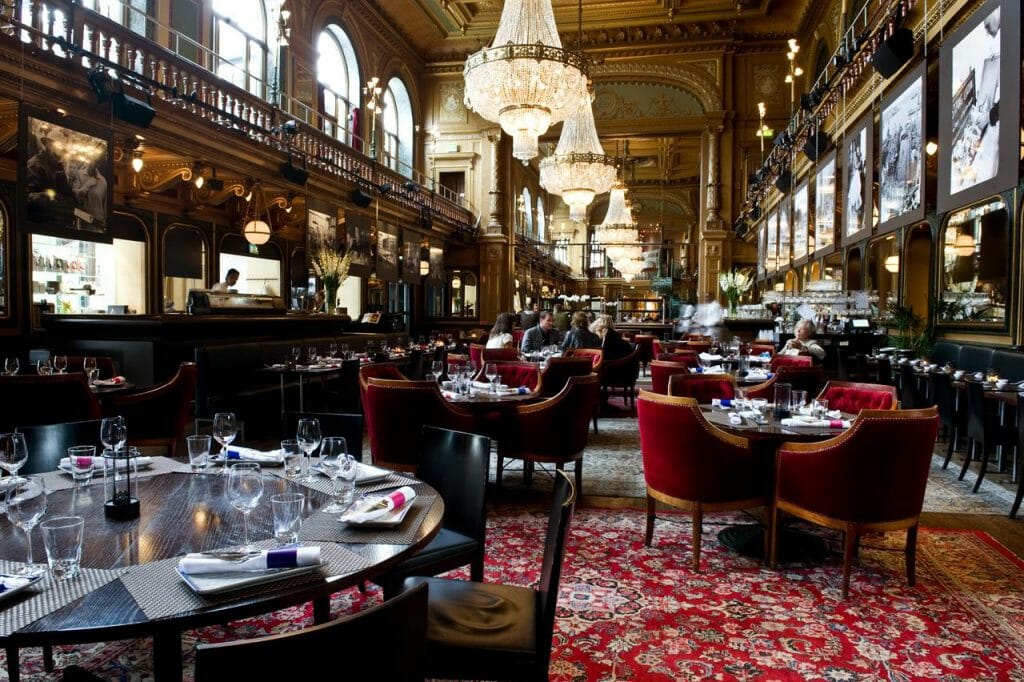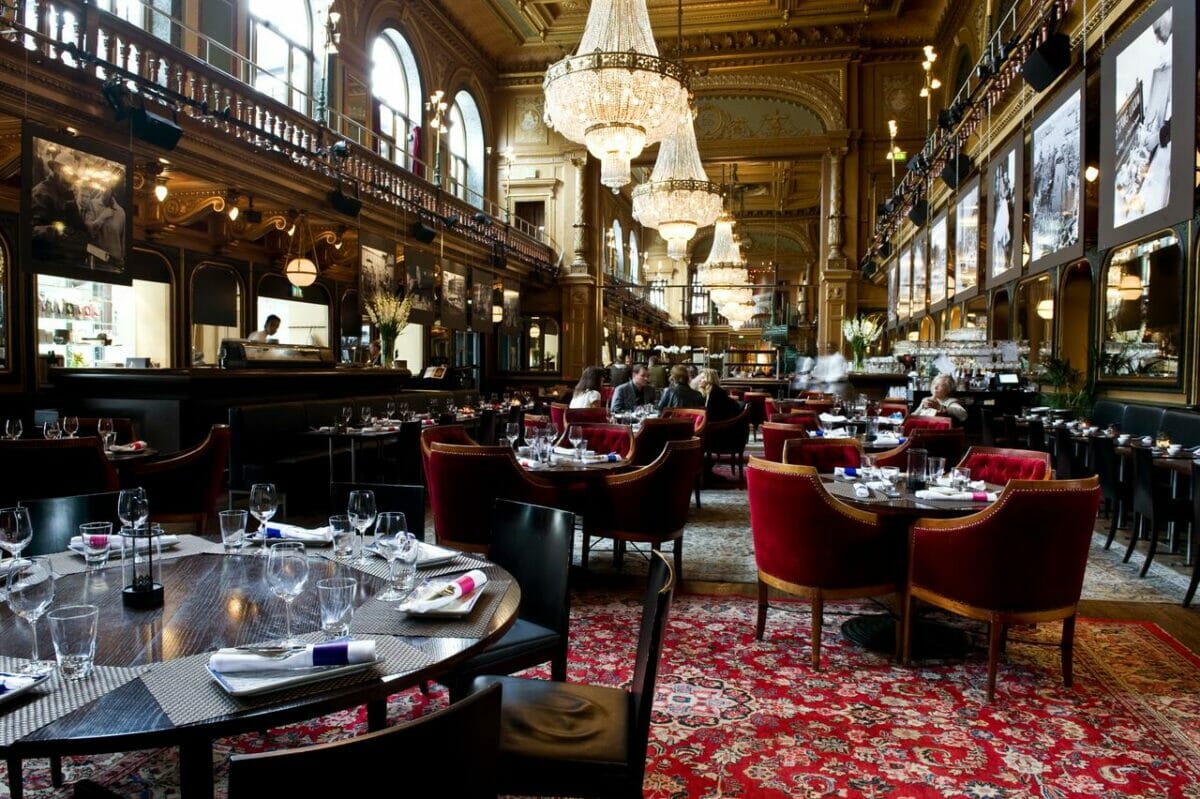 AtSix ☆☆☆☆ – Offering en vouge elegance, this luxe hotel option provides spacious rooms you'll never want to leave with generous marble writing desks, custom-designed lounge seating and dreamy beds sized for kings and queens. Detail focussed, there is also an erudite international restaurant, a spontaneous café, two happening bars, as well as a 24-hour gym.
Hotel Diplomat ☆☆☆☆☆ – Stylish and elegant. Hotel Diplomat is a luxury hotel, located on Strandvägen in the city center of Stockholm. Perfectly positioned to explore the green scenery of Djurgården, Karlaplan and the vibrant Stureplan this unique Art Nouveau palace offers stunning views over Nybroviken and Stockholm's waterfront. The most luxurious hotel experience on offer in Stockholm, and beloved by discerning LGBT travelers. The hotel's 130 rooms and suites are bright and distinctly Scandinavian, with suites offering saunas, living rooms, and sweeping views. Amenities include a contemporary bar and restaurant with a terrace, a ritzy cocktail bar, fitness room, a spa, and hot tub.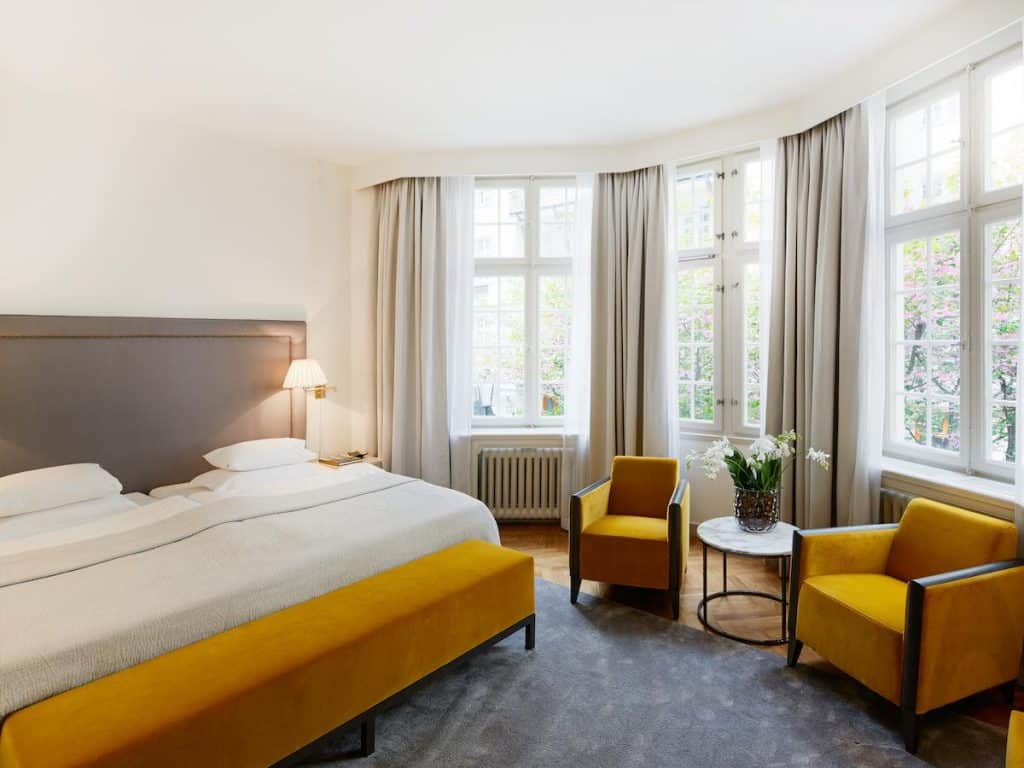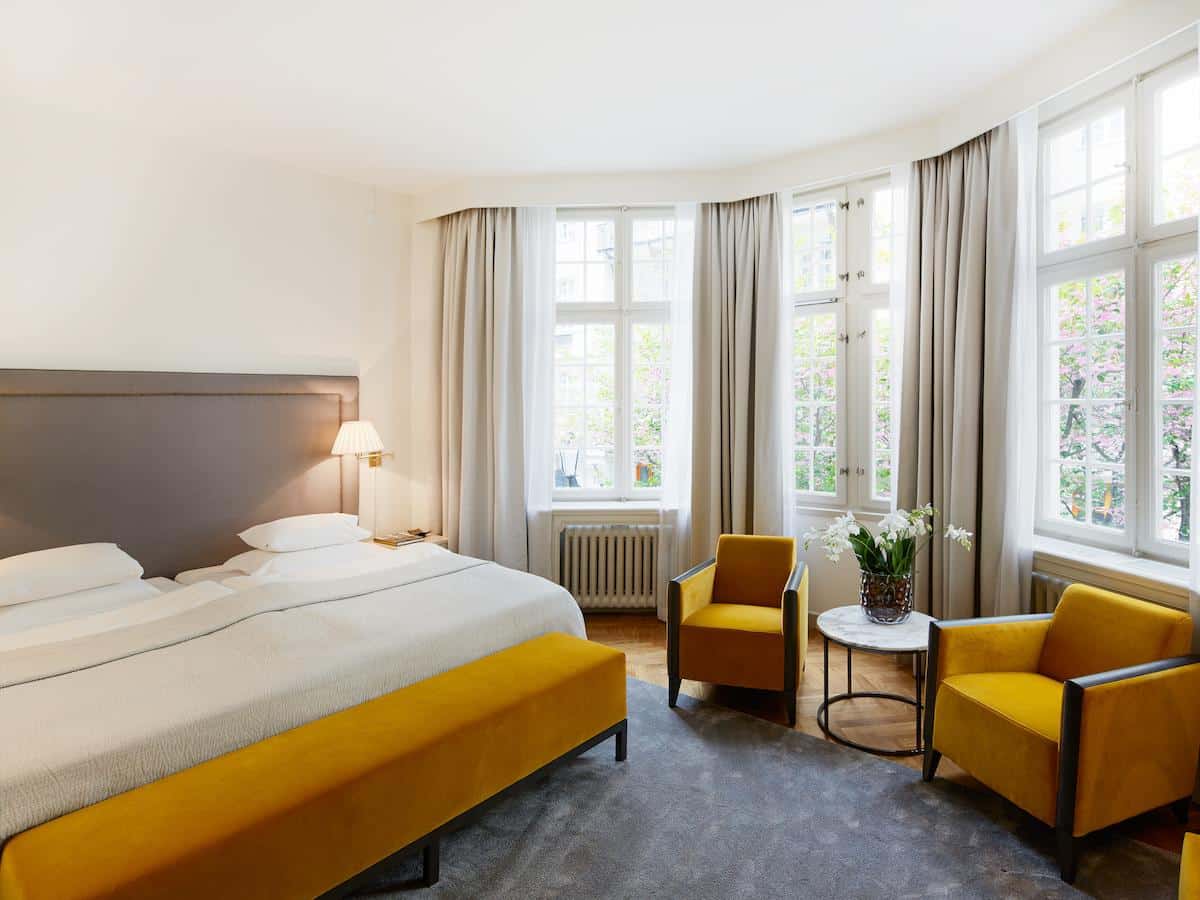 Pop House Hotel ☆☆☆☆ – A funky hotel located in the Djurgården area of Stockholm, a stone's throw from the city center and at the same address as ABBA The Museum. There are 49 beautifully appointed rooms, all with panorama windows that enhance the light, space and guest experience. Awaken refreshed after a good night's sleep in the bespoke beds or opt to stay in one of their rooms decorated in music themes like MAMMA MIA! The Party Room and the ABBA Gold Room. Daily breakfast is complimentary, and if you don't feel like going out there is a trendy cocktail lounge onsite.
Hobo ☆☆☆☆ – A boutique hotel in Brunkebergstorg in central Stockholm – but it's far more than just a hotel. Hobo is at its core, the idea of community. A place to live, work, create, learn and have fun together. Boasting 201 hotel rooms, plus two bars, an event space, a weekend club, the Grandpa Kiosk (all hail the midnight shopping!), restaurant and SPACEby, a pop-up area for collaborations between local creators, Hobo, and guests – you'll soon feel right at home in this community too. There is trendy décor, loaner bikes for hire and even a well-curated peg-wall with items free to borrow. So hip, cool and happening it hurts.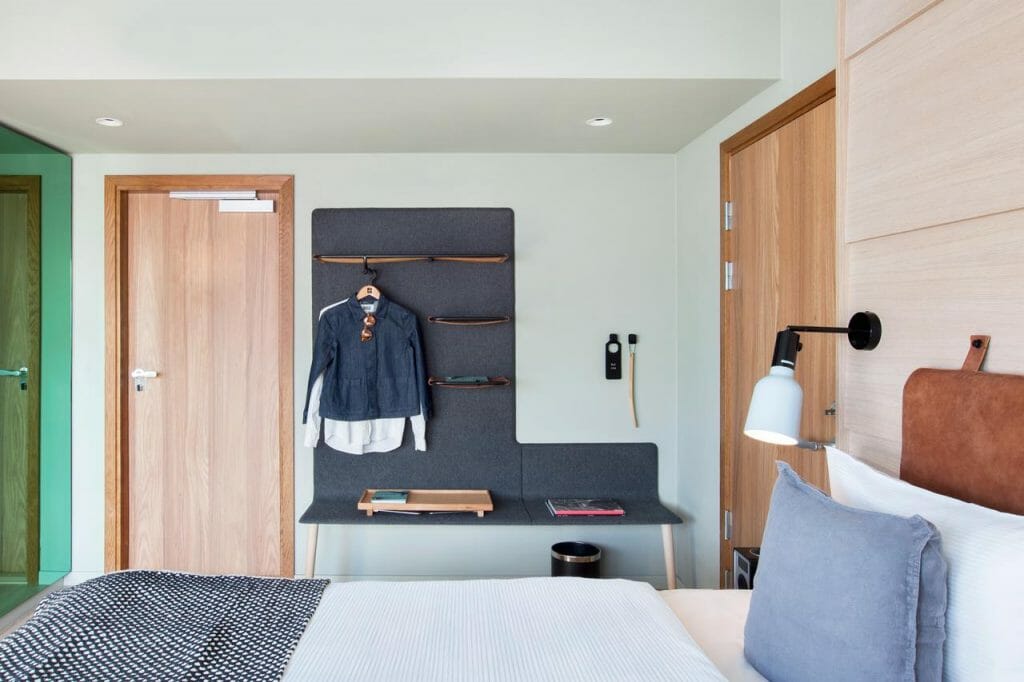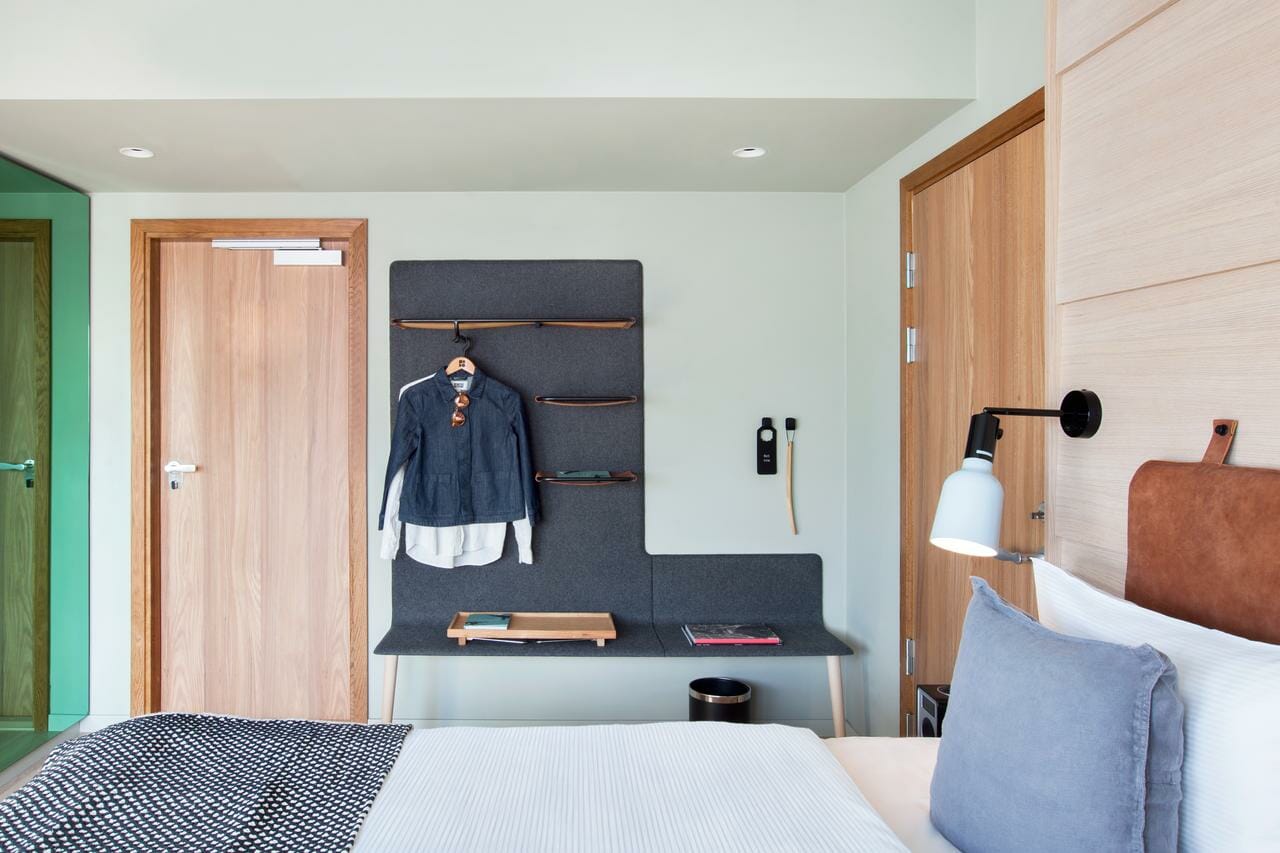 Courtyard Stockholm Kungsholmen ☆☆☆ – A modern hotel which invites you to experience their comfort and award-winning convenience just outside the city center. A stay here means you get the best of both worlds: a sense of urban sophistication, plus the calm and tranquility of nature, thanks to their close proximity to Ralambshovs Park. Settle into exceptionally spacious rooms with modern amenities including complimentary Wi-Fi; large windows that let in natural light and provide views of the park and the residential green area. There is also bike hire, a gay-popular bar, and fitness center.
Generator Stockholm ☆☆☆ – An experience & design-led city center accommodation in Stockholm near Central Station. Generator Stockholm unites the city's strong sense of design and patterning with inspired art, great food and drink, on-trend music and the best events; it's a hot spot loved by locals and tourists alike. Offering affordable dorms and budget private rooms, this is a great option to keep costs down while visiting Gay Stockholm!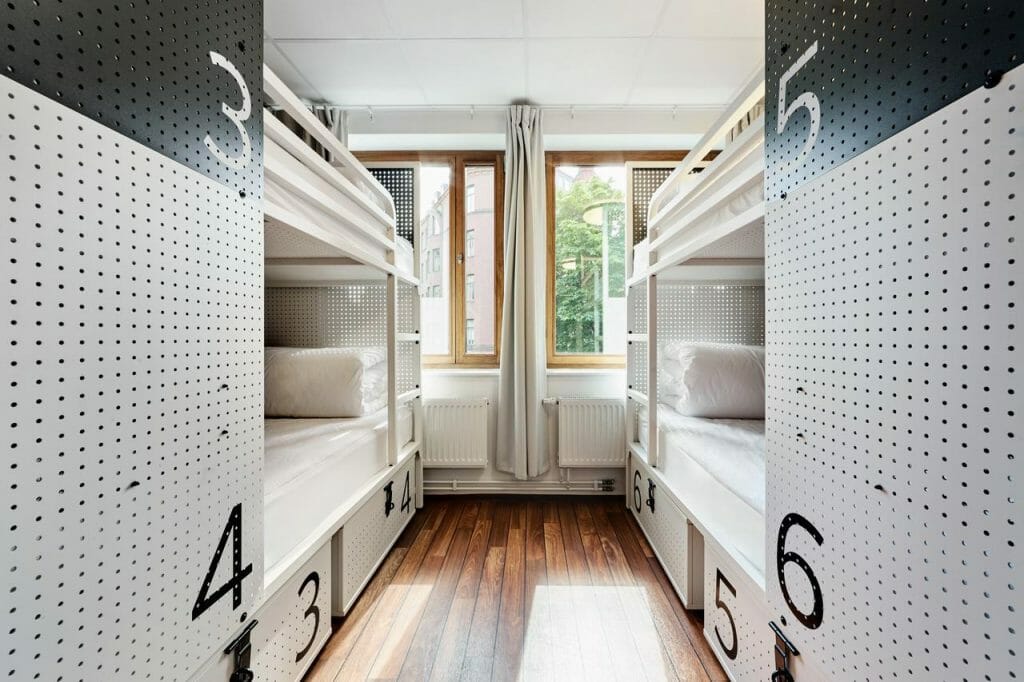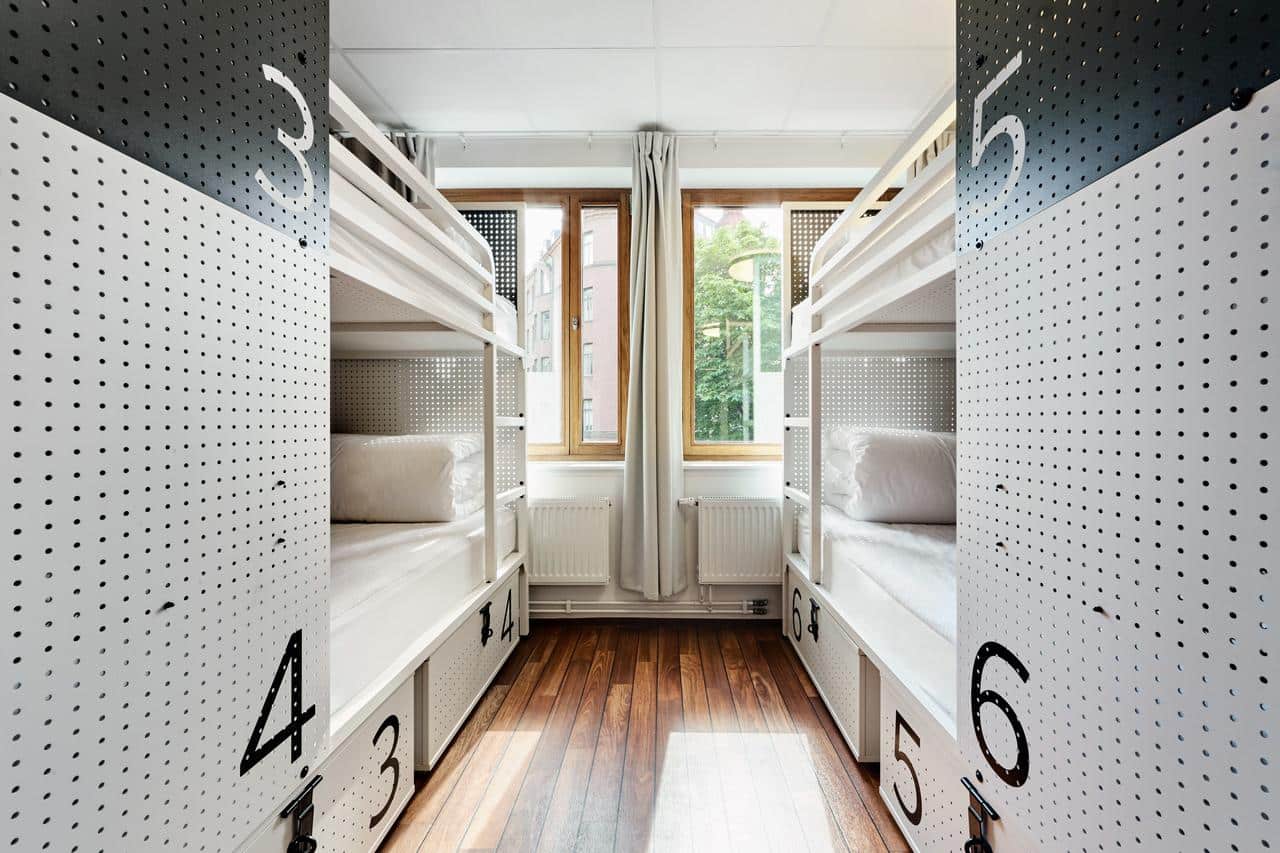 Gay Nightlife in Stockholm
We are not even sure where to start as the wild gay nightlife in Stockholm took us by surprise! Sure it is not the best in Europe, but Gay Stockholm is up there and has far more than we expected for a city of this size!
If you become as overwhelmed as we were, the only thing you need to know is the fashionable Södermalm district and Gamla Stan (Old Town) is the unofficial Stockholm gay areas and the hub of LGBT nightlife here …but by no means the only place to spend the night with your global queer family.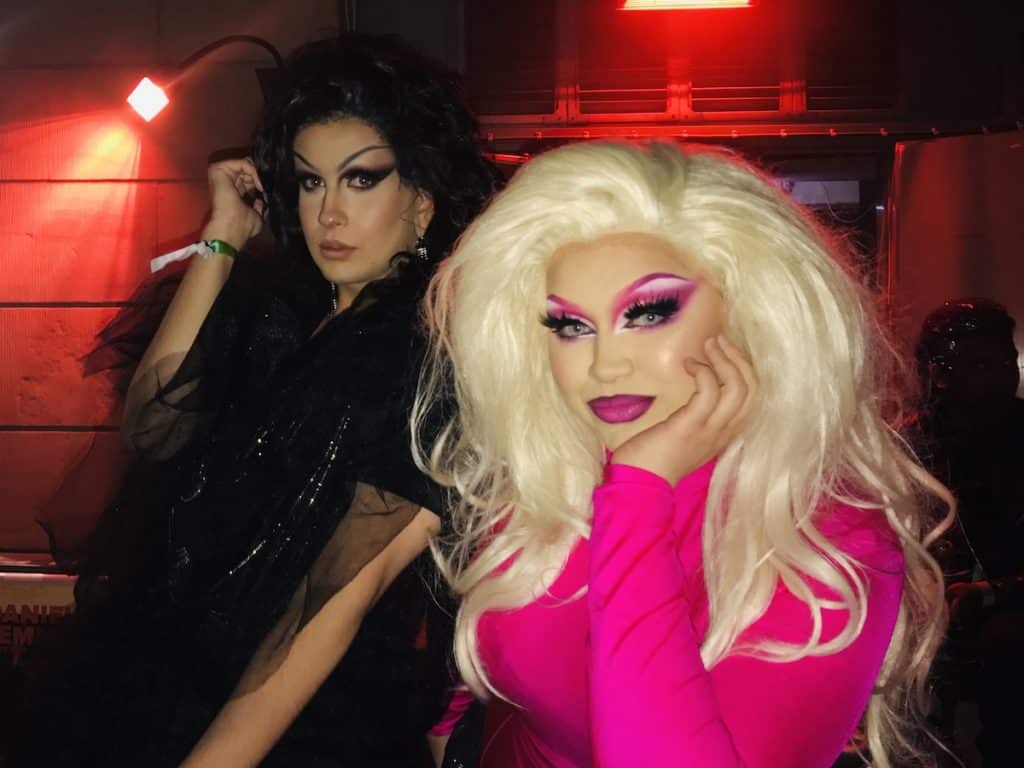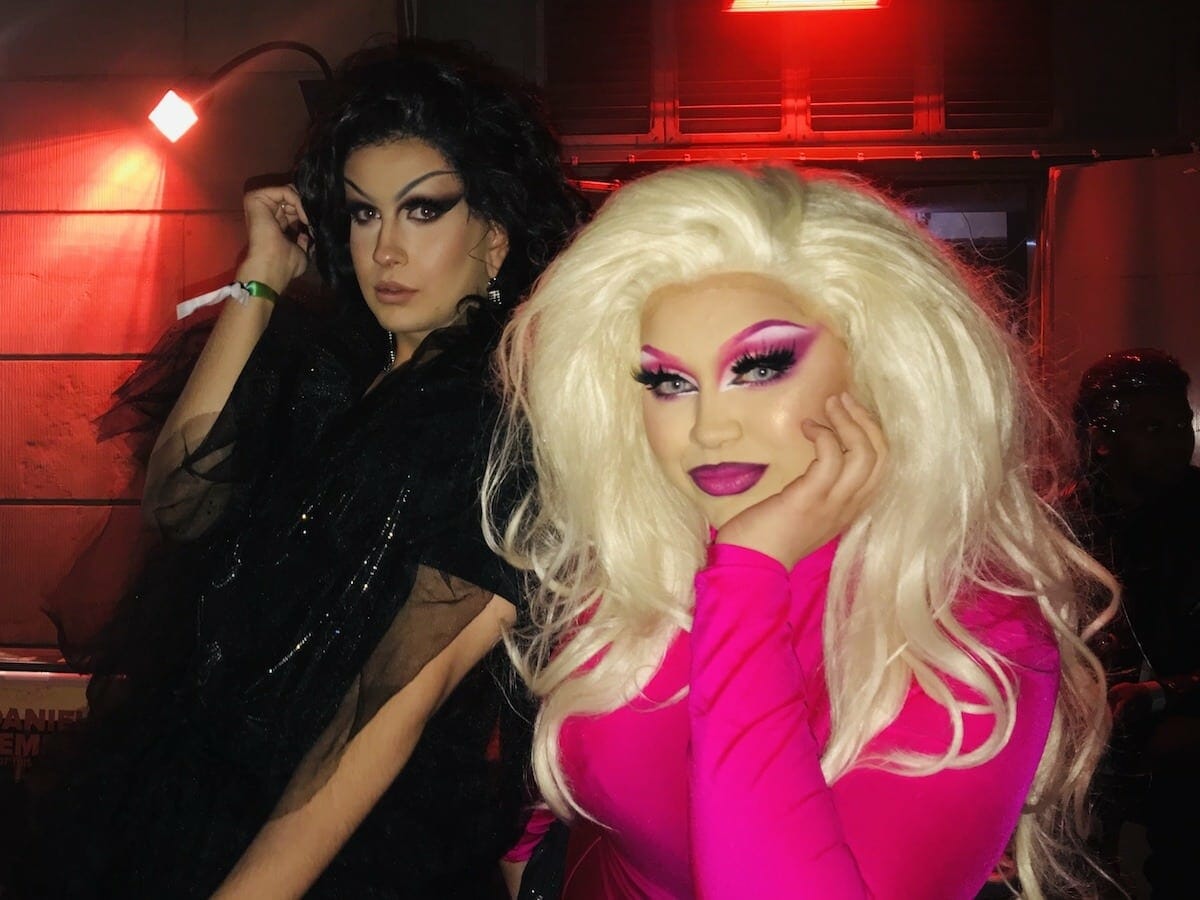 Stockholm has something for everyone from utterly over-the-top glitter queer club parties to relaxed pubs and Scandinavian chic bars, and that is without exploring all the LGBT-friendly options. If none of these gay venues seem for you, remember many gays in Stockholm don't feel the need to segregate themselves to the 'gay ghetto', and because Stockholm's nightlife is very mixed and you can meet queer people almost everywhere you go.
Narrow streets meet open minds here. No matter how you choose to explore Gay Stockholm, you are unlikely to experience any issues in what is one of the most gay-friendly cities in Europe.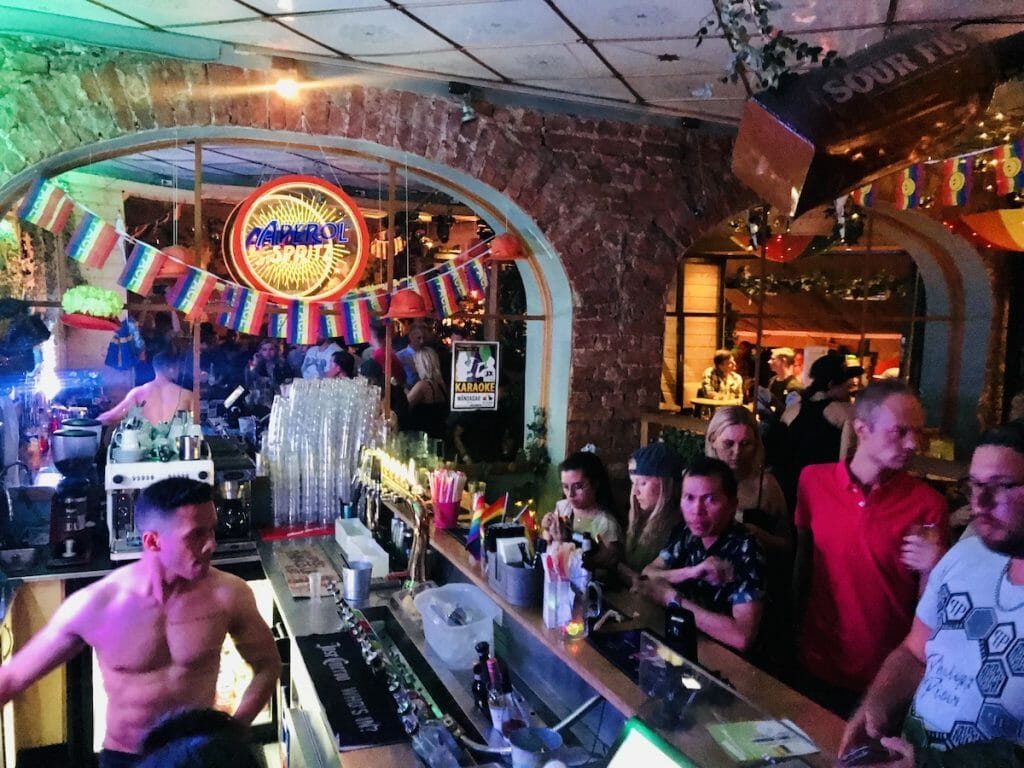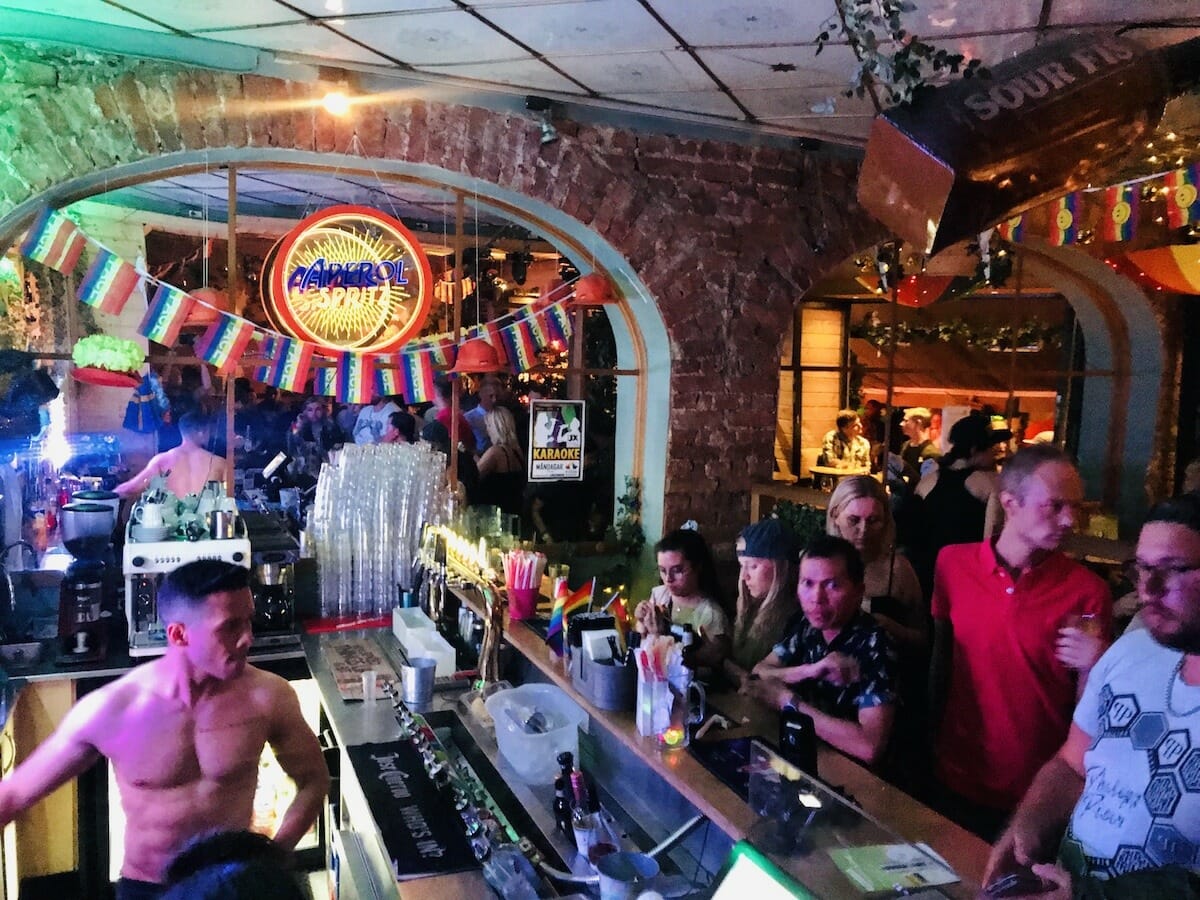 Gay Bars In Stockholm
The Secret Garden – A vast 'open-minded' pub in Stockholm's Old Town popular with the cities LGBT+ community. With long opening hours, there is something for everyone here. Stop by during the day to enjoy a quiet environment and a lovely meal, or just on a glass of wine with a fantastic view. Later at night, be amazed as the various rooms here are transformed in a cozy dance bunker, a fast-paced nightclub, with DJ or social outdoor terrace. For some quiet time you can always sneak into their secret little "garden" – though, at this point, we have to say the secret is very much out.
Mälarpaviljongen – A renowned summer-only café and bar found on a floating pontoon. An idyllic, green oasis under the colors of the rainbow, which welcomes everyone, this gay-owned and popular venue offers seasonal, creative menus, a fun line up of events and a truly unique space with an infectious neighborhood feel. One of our favorite spots in Gay Stockholm, though it can get very crowded on weekends.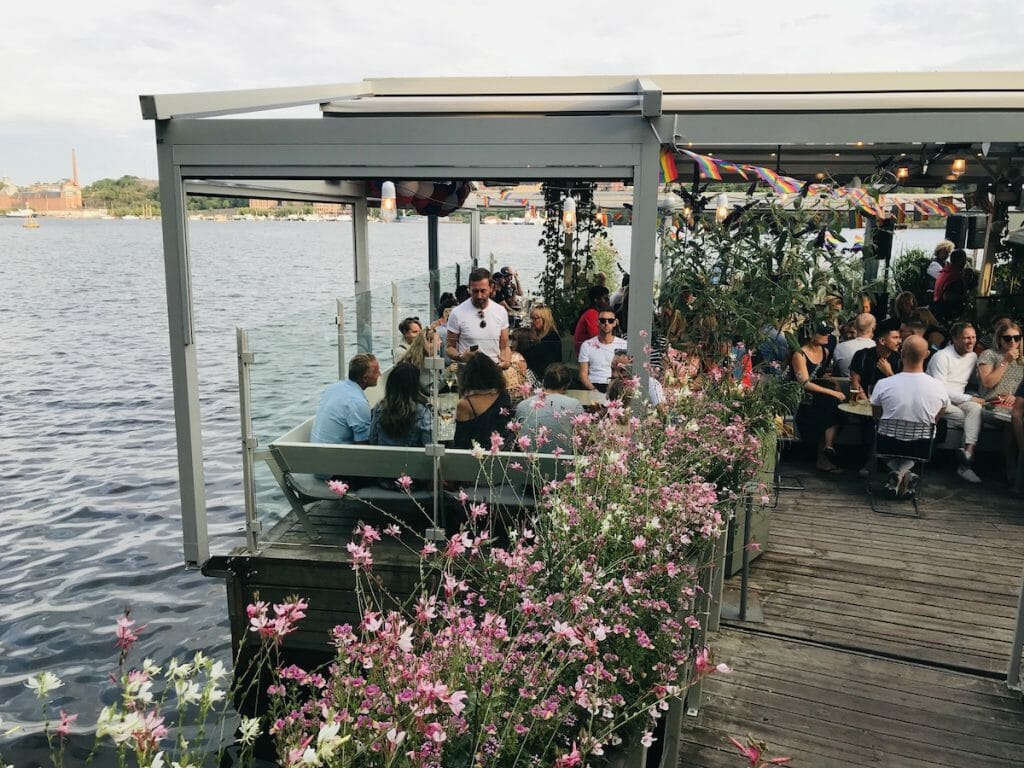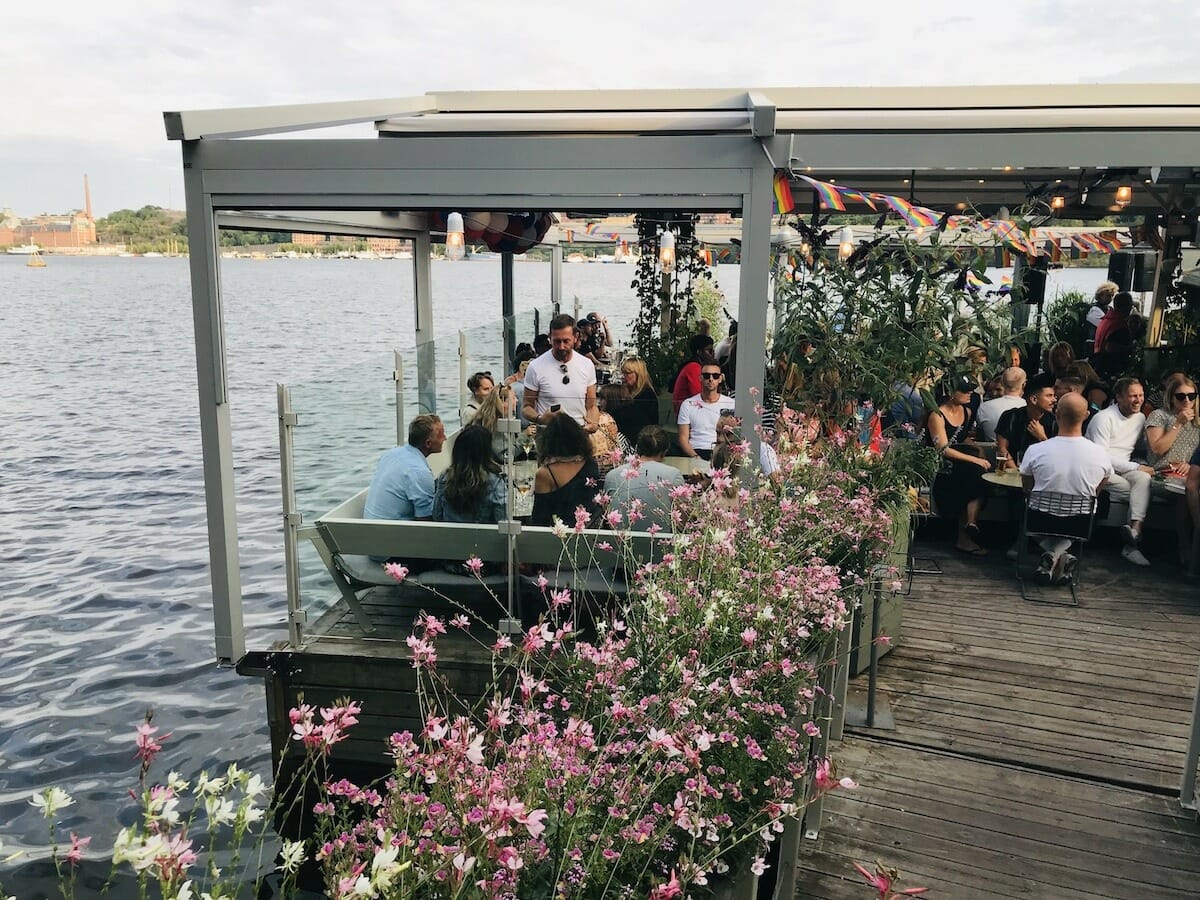 SideTrack – A fun gay bar and restaurant in south-central Stockholm, offering good food and cozy surroundings. SideTrack is the place for you to casually dine on Swedish cuisine or just hang out and enjoy a beer. Relaxed on the weekdays and much more wild on the weekends when gays flock here to enjoy signature cocktails before moving on to the gay clubs of Stockholm. The oldest gay bar in Stockholm having served the local community for 20+ years. For 20 years Sidetrack has been one of Stockholm's best gay bars and you are guaranteed to have a good time with us.
Chokladkoppen – A cozy café with lovely food and cold and hot drinks in a unique in the heart of Gamla stan, Stockholm's Old Town. A popular meeting spot among both local and visiting gays in Stockholm where you can pick up flyers about parties and other upcoming gay events – or simply pick your servers brains. Enjoy the afternoon sun and watch the world go by from their outdoor seating during summer – or stay warm inside during winter. A Stockholm gay institution.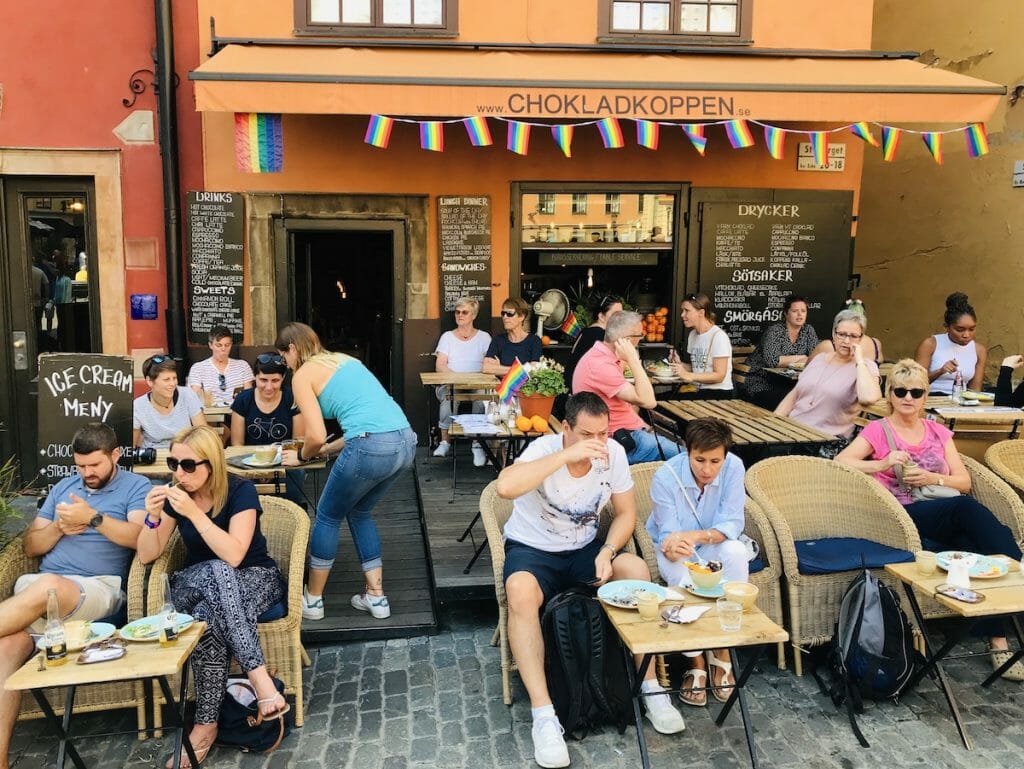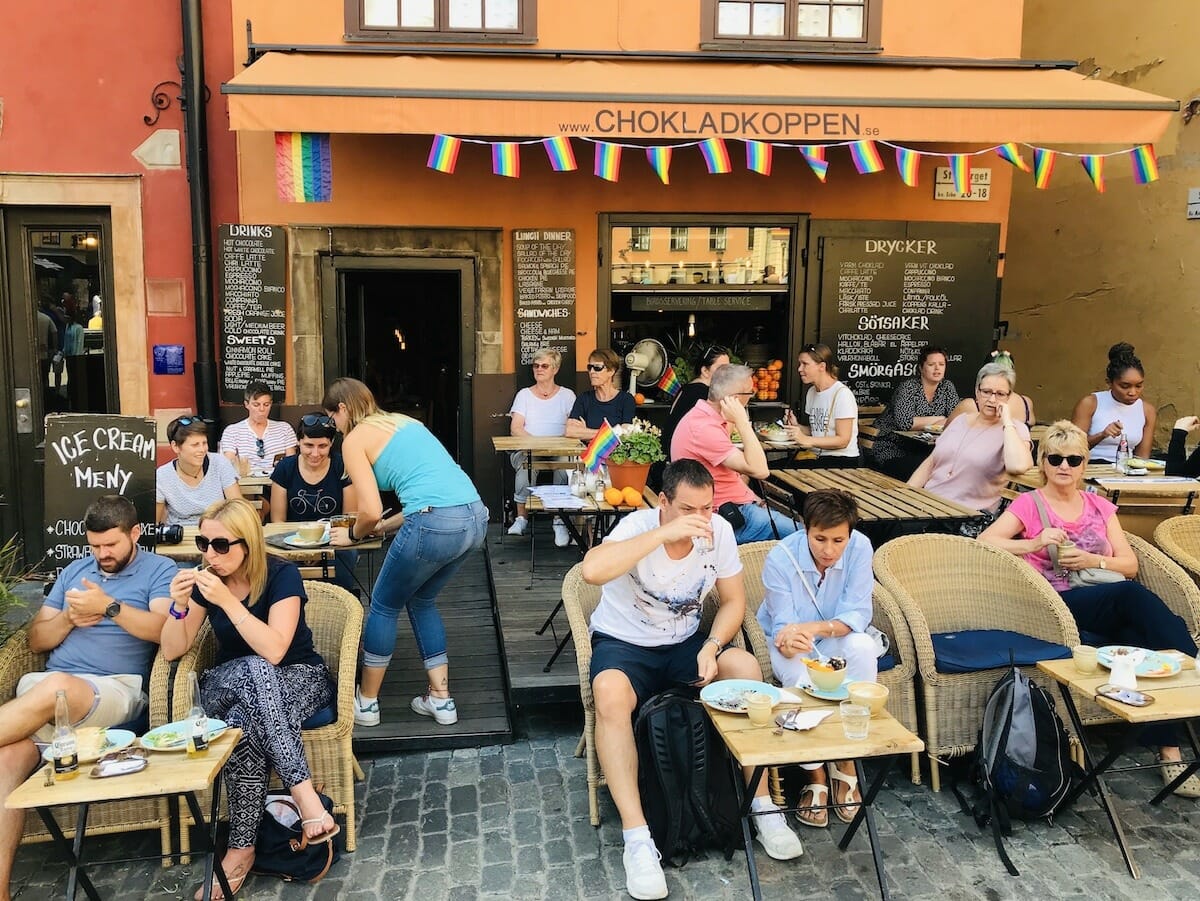 Gay Clubs & Parties in Stockholm
Clean Group – With a powerful sound, world-famous DJs and connections with major venues, Clean Group´s mission is to take Sweden's LGBTQ+ nightlife to the next level. Join them in Gay Stockholm for the biggest parties, the best productions, lights, visuals, sexy GOGO dancers and performances by global artists…surrounded by beautiful people who just want to have fun, of course. Hosting pop-up queer events every few months – check their Facebook page our for upcoming details.
Patricia – One of the few clubs in Stockholm which is open until 5 am, found in the hipster Södermalm area. MS Patricia is actually a former private yacht that now boasts four extraordinary floors of music with two outdoor bars and a restaurant. The nightclub here welcomes everyone with the latest hits on their various dance floors and 4-7 bars open, depending on the night. On Sundays from 6 pm til 5am , there is a specifically gay night which is known for its drag, copious amounts of glitter, fabulous costumes and a whole new level of 'extra'. Not to be missed.
King Kong – A jungle rhythm beats in bohemian Södermalm at this fierce underground gay club open every Saturday night (and on other special occasions throughout the year). Release the Gayrilla in you with 3 dance floors featuring disco house, RnB and Eurovision hits. Rather small but always packed with cute, younger guys ready for fun. It gets very hot so don't plan on wearing much – which is useful as the cover charge includes cloakroom fee.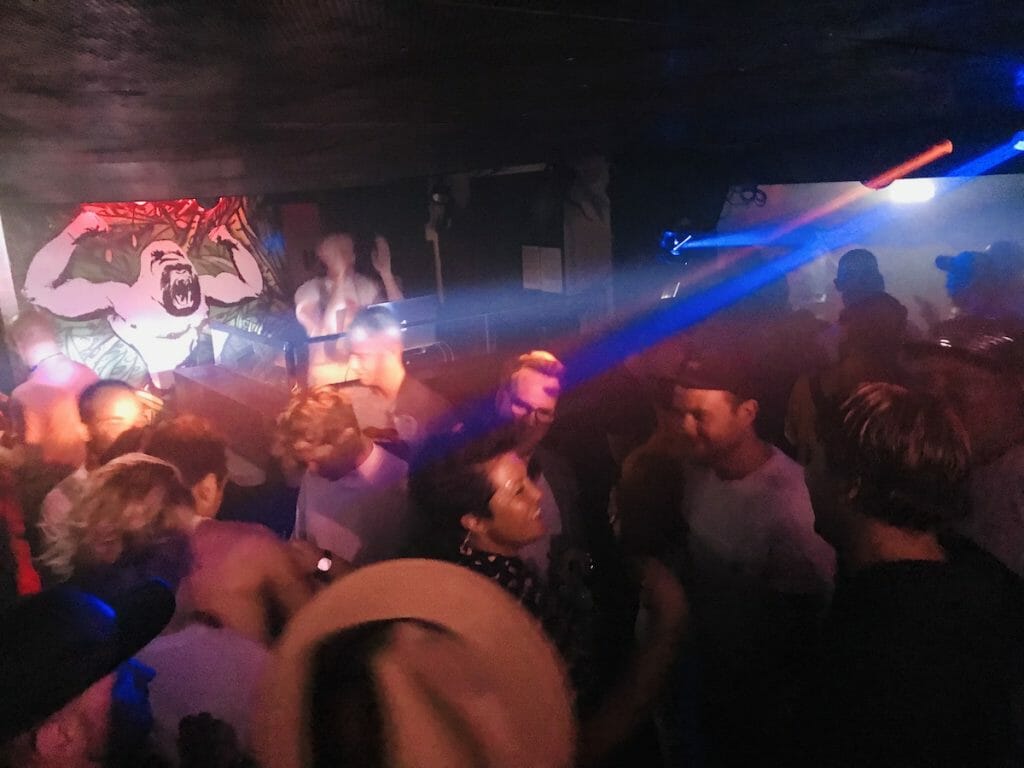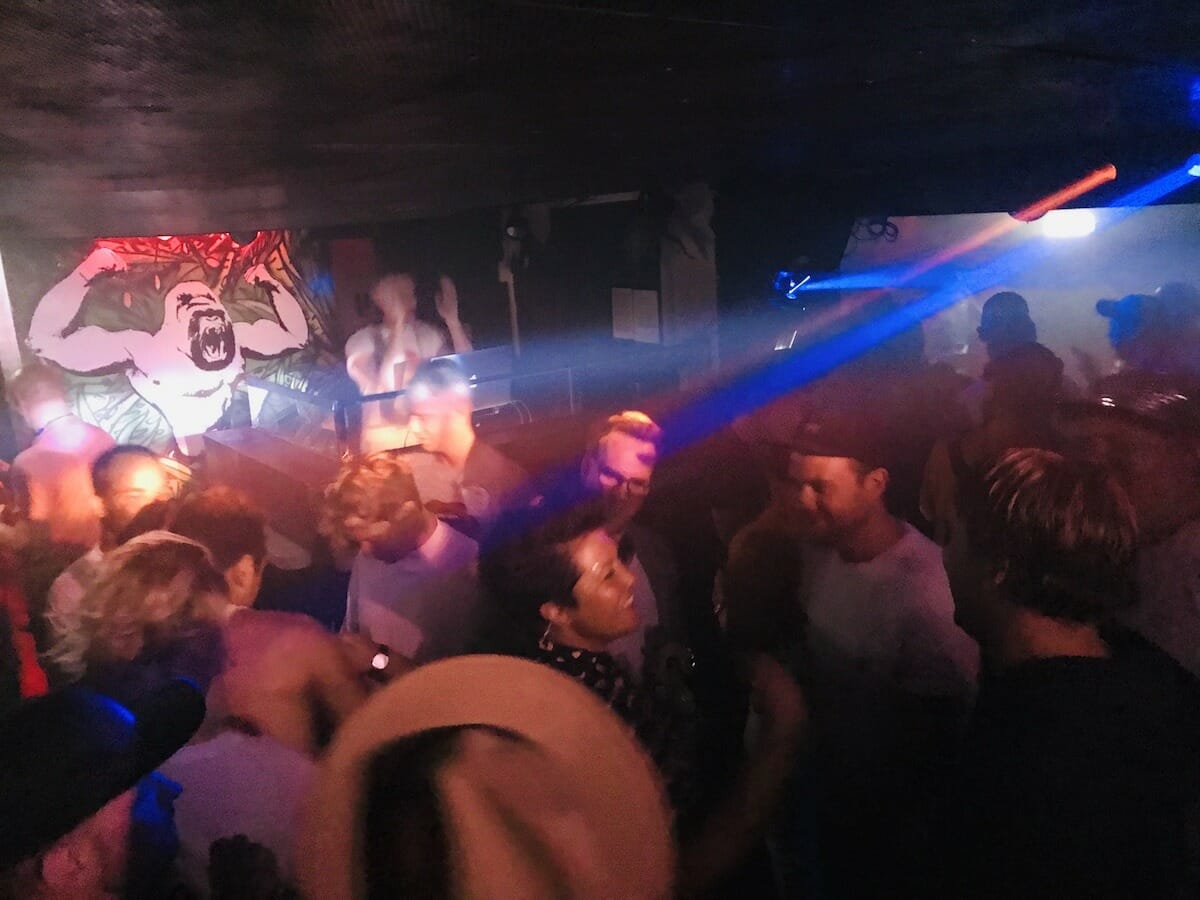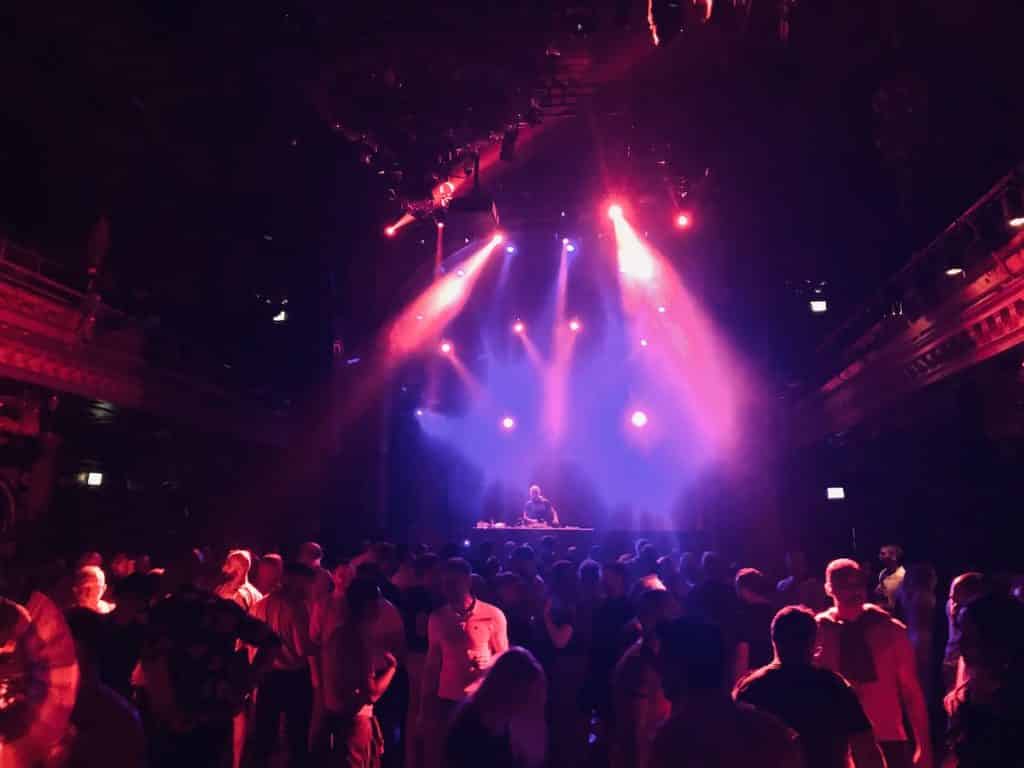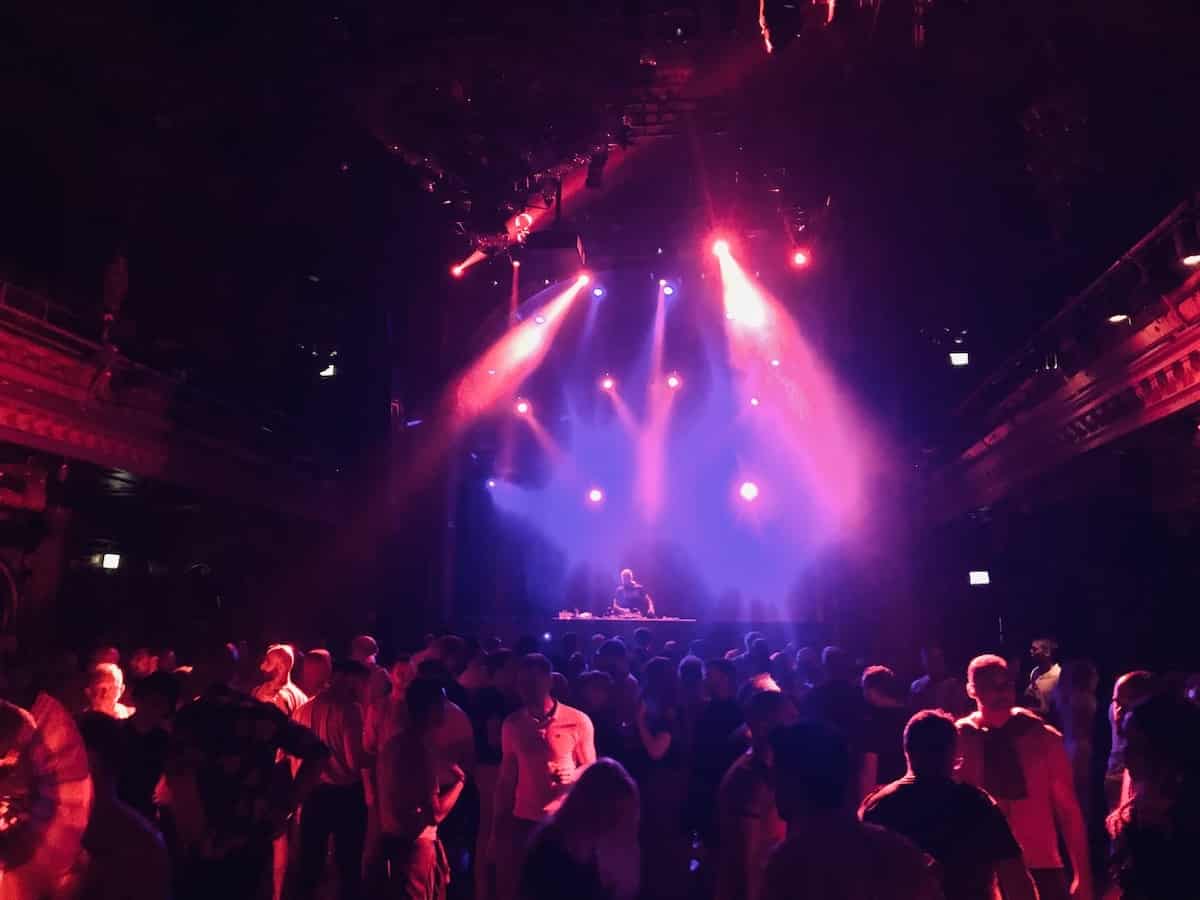 Gay-Popular Spots in Stockholm
Golden Hits – A gay-friendly (but mostly straight) nightclub with three different dance floors and five bars. The bar opens at 7 pm every day and the nightclub starts at 9 pm. For something out of the ordinary try their – unique – dinner shows to start your night off right.
Melt – Stockholms first speakeasy bar, inspired by the Prohibition era of the USA. At Melt you will enjoy luxurious cocktails, eclectic cuisine, world-class entertainment and an experience unlike anything else in the city! Pop up cabaret acts every night, open to close, from their rotating cast of international performers including singers, burlesque dancers, acrobats, jugglers, and so much more! You never know what you'll discover when you open the door marked with the golden "M". Open Thursday through Saturday.
Tak – An amazing rooftop bar which excels in exceeding expectations. Playful and lavish, simple and complex we loved the down-to-earth atmosphere with a breath-taking view. Welcome to the roof of Stockholm where crafted drinks meet lively conversations and laughter with a hint of escapism. Gay-popular, as are most trendy location in Stockholm, tend to be.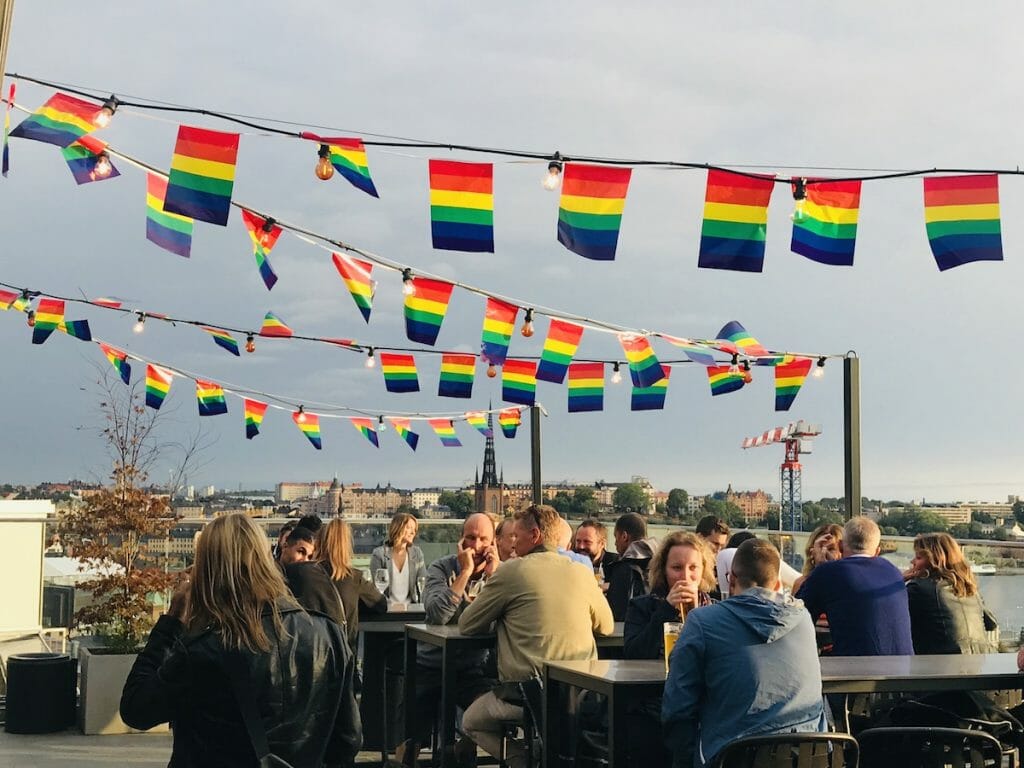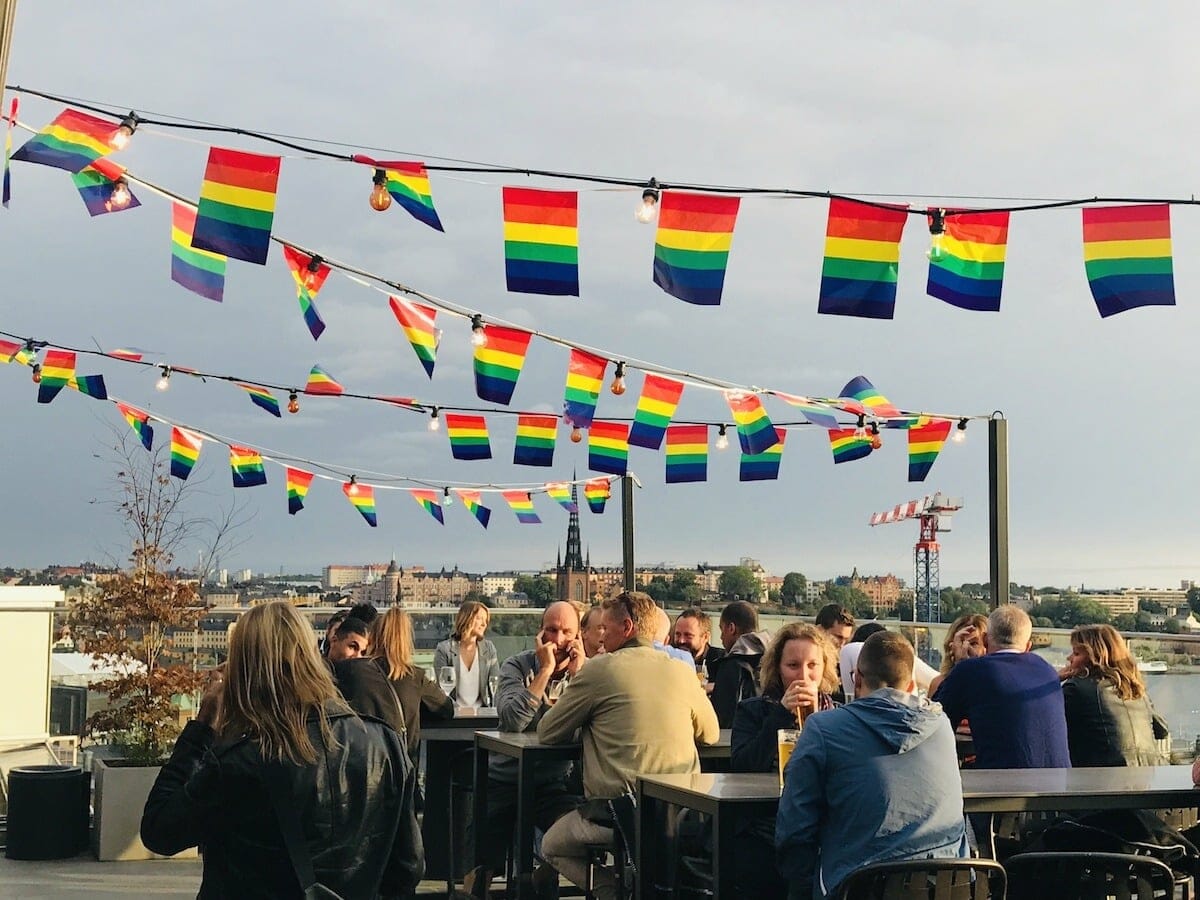 Björk Bar & Grill – A upscale dining concept with an innovative dining menu and modern bar serving a selection of beverage including beers from Swedish micro-breweries, Swedish high-quality liquor, and organic wines. Based on seasonal fruits and berries Björk's experienced bar team creates unique signature cocktails inspired by the Swedish landscapes and changing with the season.
Pharmarium – A funky cocktail bar with a soul offering stiff drinks and bar snacks. Located in the middle of Stortorget where Sweden's first pharmacy was once opened in 1575. This antique pharmacy is the inspiration for the drinks served here which combine interesting flavors with questionable ingredients and a large dose of imagination.
Urban Deli Nytorget – Incredibly supportive of the local LGBT community, this multi-concept store has various locations around Stockholm but this spot seems to be the most gay-popular. Enjoy Swedish & Mediterranean dishes in a relaxed & modern cafe/deli, with a sidewalk terrace – and incredible cocktails later in the evening. Or you can try the newly opened Takpark by Urban Deli where you can enjoy a pretty spectacular view of Stockholm.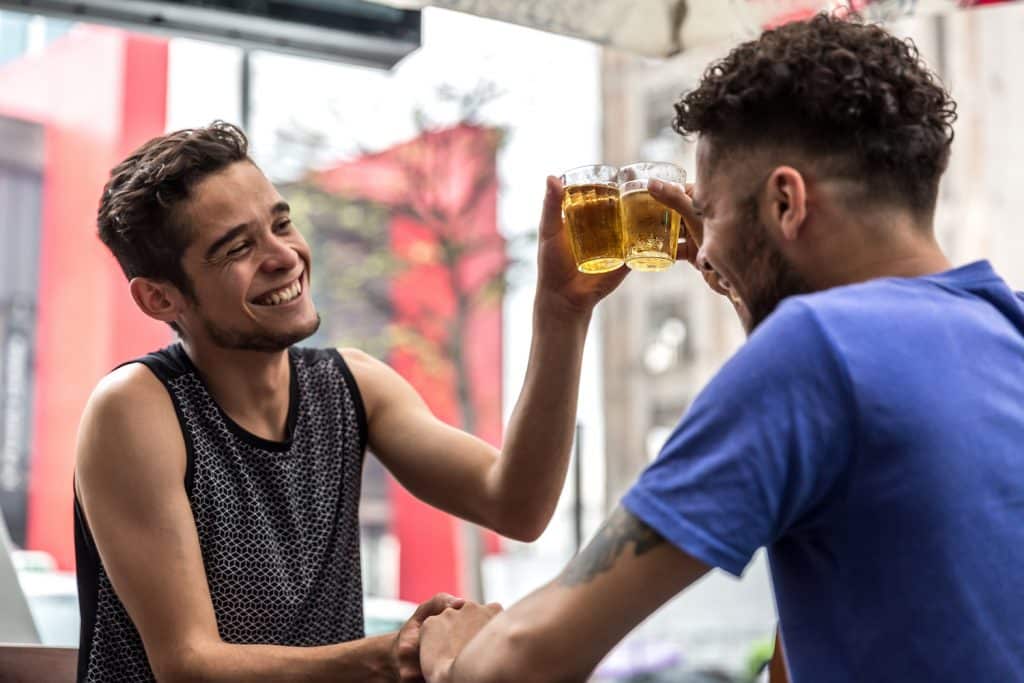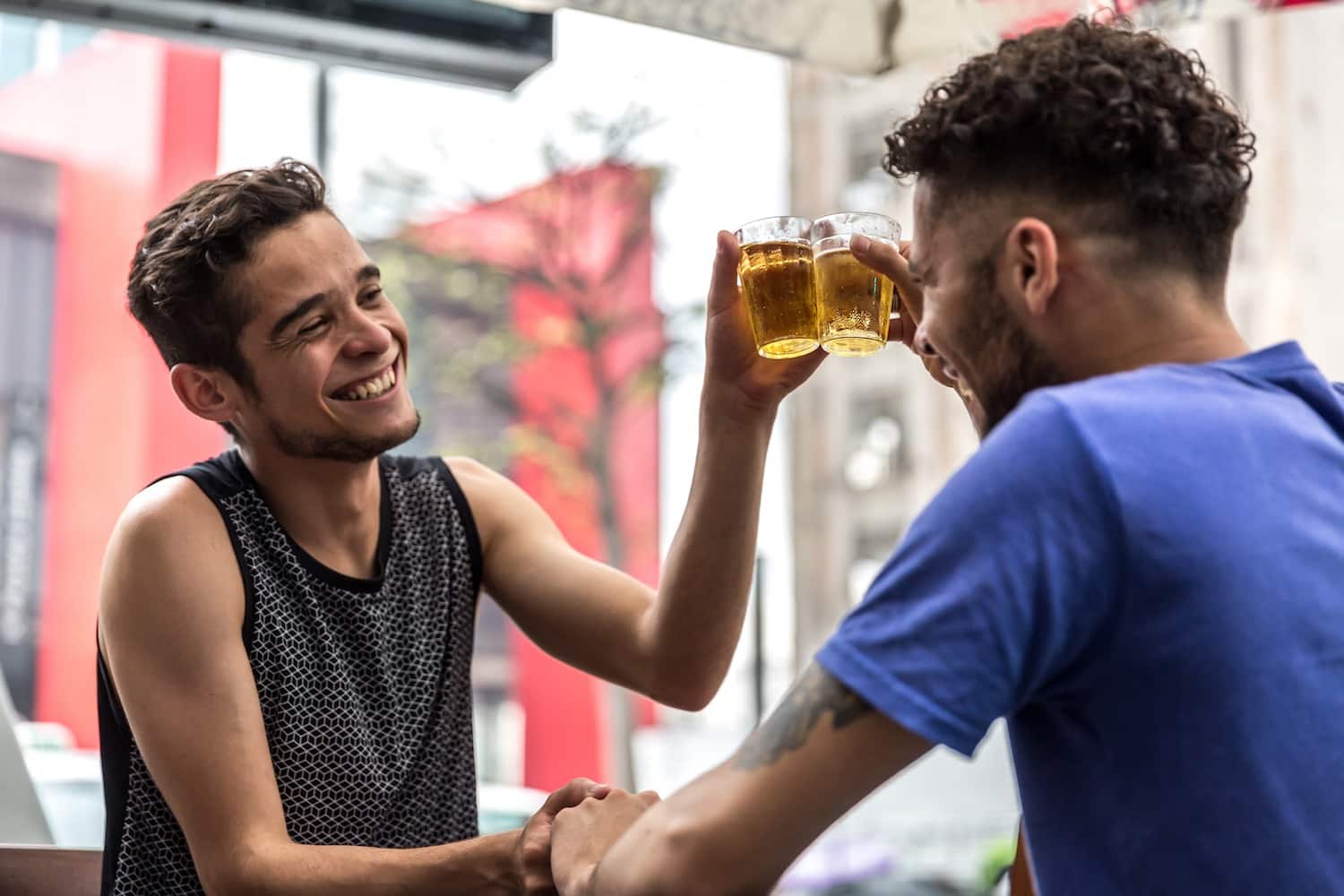 Gay Sauna in Stockholm
One place where Grindr and other gay hook-up apps really made a difference worldwide is the closing of saunas and bathhouses.
While other European destinations such as Vienna, Brussels, Milan, and Lisbon have managed to buck the trend and continue to have a thriving gay sauna scene. In Stockholm, this is not the case, and today Rainbow Sauna is your only option – if you chose to go, make sure your expectations are low.
Rainbow Sauna – Newly renopened in a fresh premises, this sauna is run by the same people as Texas Sauna which has since closed. Inside you will find a large TV lounge with lovely sofa groups, dark room, kinky spaces, private cabins, cruise area, saunas, masseur services, dressing room with showers and a infra-red sauna. Entrance includes towel, slippers and lockers with lock – and you can opt for a annual membership or once-off admission.
Gay Cruising in Stockholm
Not interested in a steamy sauna, and think the bars or gay parties in Stockholm are too vanilla for you, perhaps these fetish clubs and cruise lounges are a better fit?
The gay leather/fetish/bear scene is not as wild as other places in Europe like Amsterdam, Rome, Paris, and Prague but there are still plenty of carnal delights to indulge in here! For the uninitiated, this could be the perfect place to explore your curiosities and hidden desires…
Blue Vision – A playground and meeting place for adults – very much focussed on gay men but welcomes all open minded people. Enjoy non-stop action in the dark rooms, cruise spaces and private cabins. There is also a sex toy store on site to keep you busy. At 300 sqm there is something for everyone here with mazes and many smaller rooms, including five rooms with big screens and comfy sofas, four rooms equipped with special aids and video booths if you want to be more private. Do you want to be naked or change? Lockable changing cabinets and towels are provided. You can also hand in clothes and banknotes in the cash register for safe storage.
Manhattan – Gay, bi, trans or straight – everyone is welcome at Cinema Manhattan, a cruise space with several movie booths and glory holes. There is also a dark room and a small cruise area. The crowd here is mostly gay, though you can run into straight girls and couples here.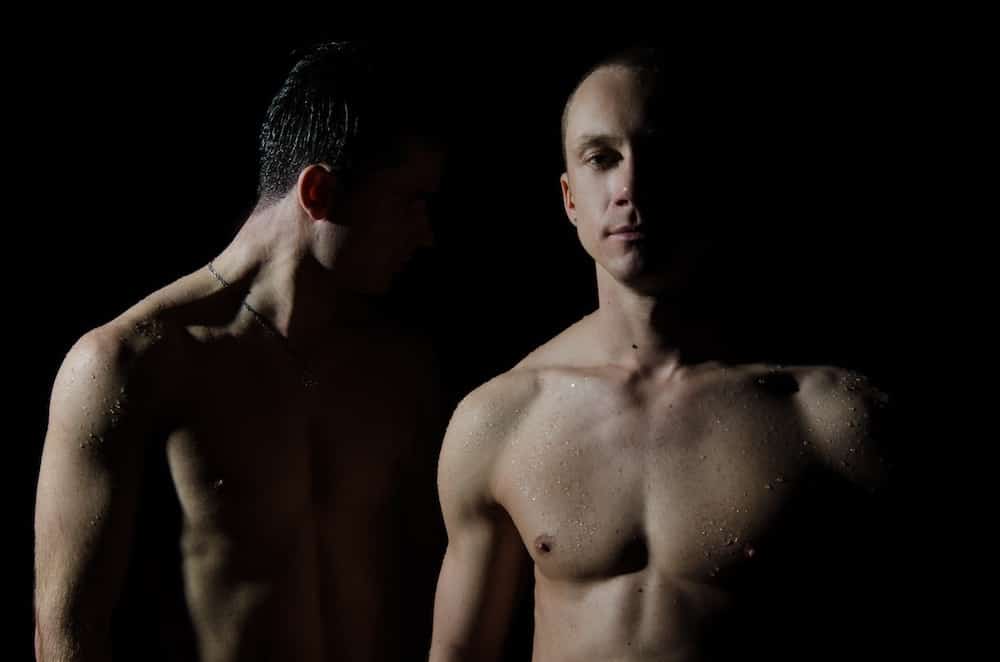 SLM Stockholm – Part of the Top of Europe SLM / Fetish club group that was also be found in Helsinki, Copenhagen, Oslo, Malmo and Gothenborg. Open to gay and bisexual men who like leather, rubber, uniform, army, skinhead, construction, and denim. SLM Stockholm is open every Wednesday and Friday plus hosts special theme nights most Saturdays, but check their calendar in advance. As a members-only club, you must buy a membership card prior to arrival on their website. While S&M is not compulsory, it is the main focus here – although 50% of people come to socialize SLM Stockholm offers very clean faculties with plenty of action. T A strictly 'masculine' dress code is enforced, so dress for the theme or risk staying out in the cold.
US Video – The largest erotic store in Sweden where you can find a vast range of XXX movies, fun sex toys, useful sexual essentials and erotic clothing that will enhance your sex life. For gay cruising in Stockholm there is also a gay labyrinth with private rooms and video booths to explore. Dated and not our first choice, but it is open 24/7 and busy on the weekends.