Nothing says cool like a nifty pair of shades, and we all know that gay sunglasses are the best sunglasses of all. But in reality, there is so much more to them than that. Gay sunglasses provide important protection against harmful UV rays and help to facilitate good eye health and prolong good vision without the need for corrective measures if we wear them properly.
Because self-love is self-care, and we all need to take care of ourselves first!
And if somehow you neither care about style nor your vision, then allow us to tell you that gay sunglasses are important for protecting against the aging effects of excessive exposure to UV rays, particularly in regards to the causation of wrinkling around the eyes – i.e., the dreaded "crow's feet." Have we got your attention now? We thought so.
With the PSA out of the way let us now move on to the fun stuff, by which we mean LGBT fashion. Gay sunglasses are the de facto style essentials when it comes to your sunny weather wardrobe. This maxim holds true for LGBT pride fashion as well – take us seriously when we say that the right shades can be the difference between standing out or blending in with the crowd at the next pride parade.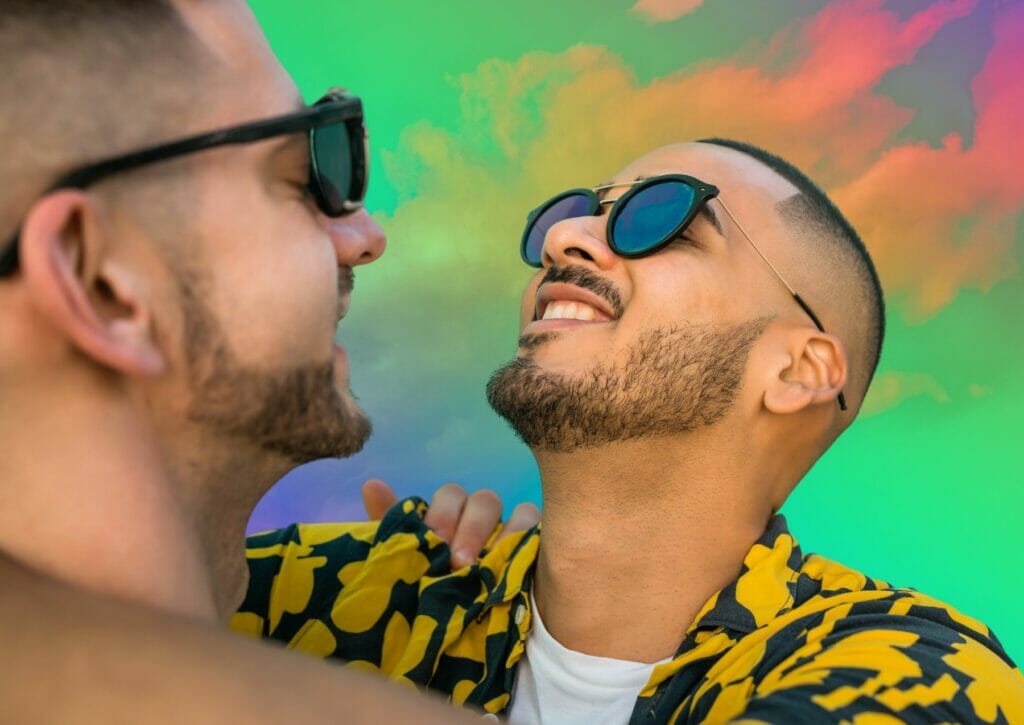 Sunglasses can make or break an outfit in some instances. In others, they can transform an entire look from simple (read: boring) to cosmopolitan, chic, and sexy. More ordinarily though, sunglasses can add that extra touch that makes a look complete and adds dynamism, complexity, and sometimes, even an air of mystery to it. And of course, as with all things style-related, in the end, fashion achieves its purpose only if it makes you feel a certain way: smart, sexy, cultured, modern, whatever the aim of a look is. It is true of eyewear just as much as it is true of an iconic gay crop top, a glittery festival outfit or a pair of LGBT Pride Sequin Mid Calf Boots (Yasss Qween!).
Another rule that holds true with LGBT style is that it does not come with a price tag – only certain items do. Even the most swankily dressed person will fail to pull it off if they don't feel it. Style doesn't reside in material things, but rather it resides within you. The fashion merely serves to bring out what is already somewhere inside there. Style is a state of mind and a state of being. It is, in the literal sense, not what you wear but what you feel.
And what you feel is pride. And the self-love that comes with knowing that you are something unique and special that could never be replaced. So, with that thought in mind, we are here to let you in on a little secret: you don't need a pair of exorbitantly-priced Saint Laurent shades to feel like a million bucks.
It may be hard to believe, but it's true; you can look just as fabulous and feel just as proud without spending next week's paycheck to do it. In fact, we are about to prove it to you. Without any further fuss, let's get into it: the best gay pride sunglasses to ramp up your sun-loving style.
You are going to gush over these fabulous rainbow-rimmed gay pride shades. Just as stated the rims of these glasses are decorated with the colors of the gay pride rainbow and are made in the retro-square style. Which, in case you aren't aware, is basically the go-to shape that suits all face types, so you won't have to worry about looking snazzy in them because honey you will!
If you are in the market for a fabulous new pair of shades but aren't sure what to get or what is going to suit your style, well you can't go wrong here. These are a must-have for the summer pride parade season. Protect your eyes and look great at the same time.
And these are the perfect inexpensive gifts for your LGBT and gay rights-supporting friends.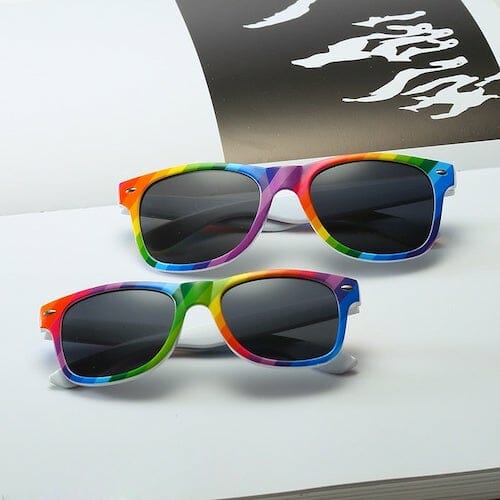 The forecast calls for a mix of style and sexy with these colorful gay sunglasses. Each pair comes in the shape of a cloud and features tasseled teardrop gem add-ons that represent "precipitation" but can also look like tears!
You've got to love the inventiveness and creativity that went into this design. They come in a variety of fabulous colors to suit your mood (on which note wouldn't it be nice to have different colored pairs for different moods? As inexpensive as these are no one could blame you) and they are certainly something that you will be seen in. So if you enjoy attention then this is the LGBT eyewear for you.
Bask in the shower of compliments you will receive when you're seen in these.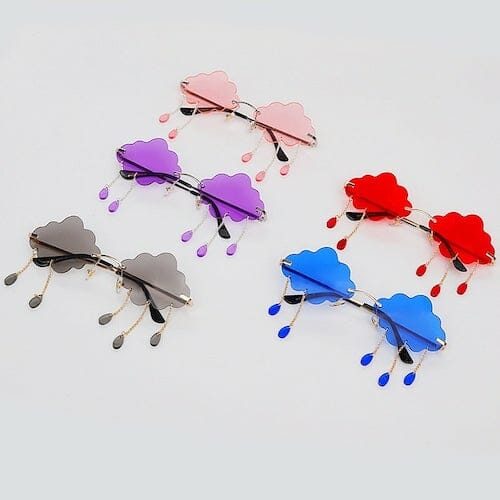 Bring your own distinct brand of razzle-dazzle with you wherever you go when you have these sensational glittery sunglasses.
These stunning square shades feature a show-stopping design adorning the rims – a variety of them to choose from in fact, including tiger patterns or, if you're looking for something more unembellished, a solid color, glitterless option. You won't go wrong either way you choose, because these sexy shades have swagger to spare and are just the thing to put a little extra sashay in your step and bring out that extra surge of pride you have within you.
You'll be the star of the show when you show up in these glittering, sparkling, dazzling sunglasses.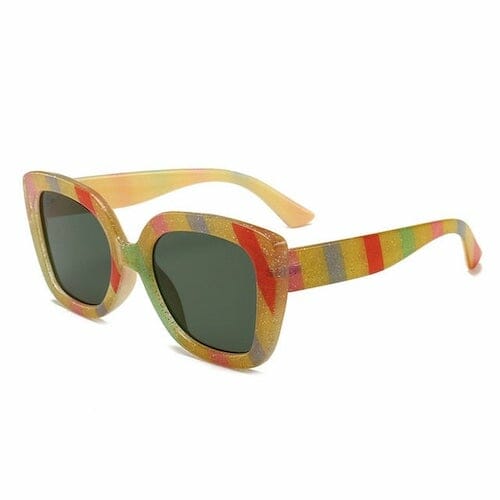 If gaudy (and we mean that in strictly the most positive sense possible) and over-the-top are your style, then you seriously need to check out these flamboyant sunglasses.
They definitely make a memorable statement, and those you encounter are not likely to forget you any time soon. And you know what is the most awesome thing about these cool shades? They can double as a snazzy gay necklace if you are so inclined! How many sunglasses out there can make that claim?
These come in a variety of colors and all options feature the iridescent crystal teardrop tassel design that makes these so fabulous. You can't do better than this if you are looking for a cool pair of shades that will let you stand out – without busting your wallet – to wear to a festival or fireworks event, for instance, or say an outdoor concert or maybe a pride parade.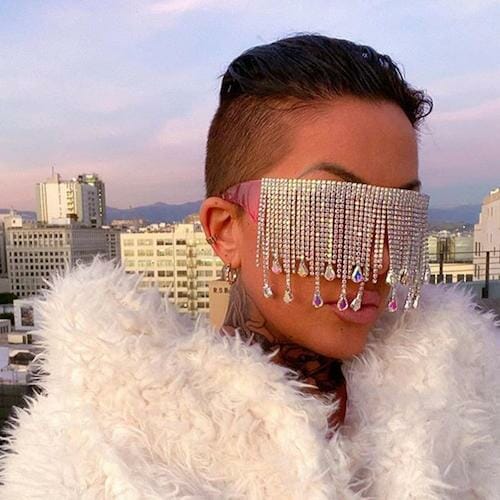 Check out these adorable sunglasses. Quirky, fanciful, playful, and just downright cool are a few of the ways we would describe them.
If you're like us you'll love the gnarly butterfly-wing shape of these glasses. They are a great way to express yourself if you have a creative and offbeat kind of personality – if you have an affinity for the fantastical and the imaginative. They certainly aren't your dime a dozen, run-of-the-mill boring old sunglasses. Put them on and embrace the creative vibe; you will feel light and carefree, like a butterfly yourself.
Wear them to a concert or queer festivals like Milkshake or Mighty Hoopla and get lost in the festive spirit.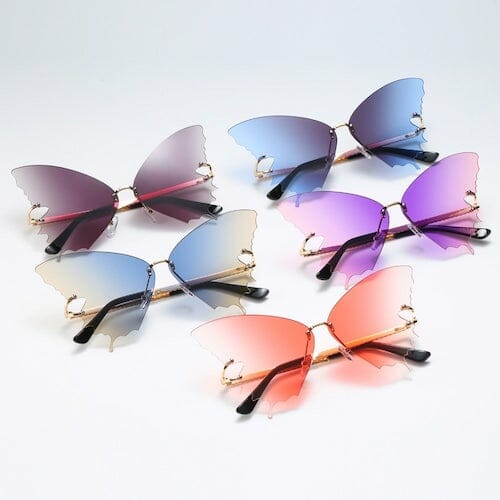 This is quintessential fabulosity right here. Extravagant and tantalizing at the same time, you'll wonder how so much awesomeness was ever packed into a single pair of shades.
There is something inherently sensual about the cat-eye style of sunglasses; they have a way of bringing out the seducer/seductress in just about anybody. These have a gorgeous rainbow-themed rhinestone design for the frames that you will positively go Ga-Ga-gagging for.
Slip these bad boys on and let others behold your transformation because you will feel like a movie star and that can't help but shine through in everything you say and do. Feel the surge of pride and confidence and wear it like a badge.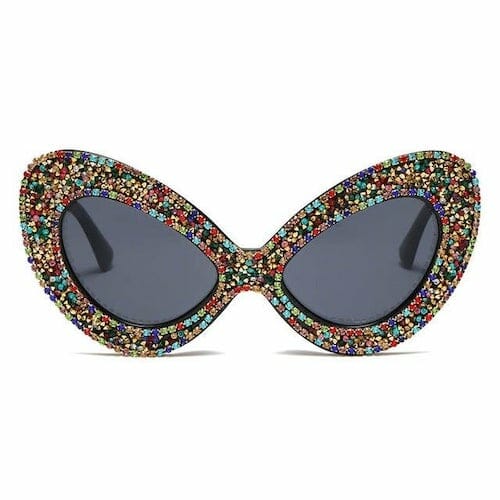 Here is another stunning pair of gay sunglasses that are suited to the more flamboyant of style sensibilities. This pair comes in a slew of colors so there is guaranteed to be something for everyone to like.
These are great to be seen in whether it's at a cocktail party, at a fair or carnival, at the beach, at a pride parade, you name it. Put them on and you are bound to make an impression. They give off an extroverted, uninhibited vibe. So if you are a carefree spirit then you'll look right at home in these dazzling shades.
And if you have a friend who shares your unrepressed energy, what better gift could you give them than the gift of sensational style?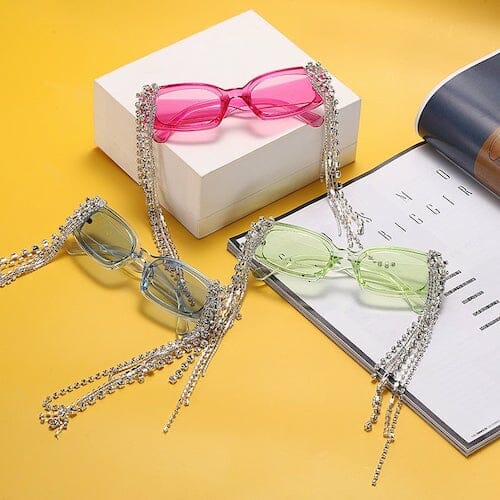 You won't find a more beautiful pair of gay sunglasses anywhere, we guarantee you. No matter your sense of style you are going to love these. They are delicate and beautifully iridescent just like the dragonfly itself. The colorful dragonfly wing lenses have a magical, fairytale kind of vibe/aesthetic.
They will suit you fabulously if you have a personality that can be described as whimsical, or that of a dreamer, or if you are given to flights of fancy and are known to get lost in your imagination. And if so: that's okay. Be yourself and express yourself with these stunningly gorgeous sunglasses.
They are perfect for a rave, for a carnival, for a gay costume party, or for a pride event.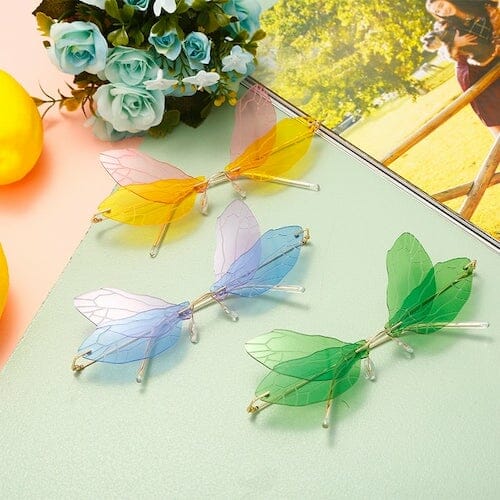 It seems that this type of sunglasses will always be associated with the legendary musicians who made them irrefutably cool: John Lennon, Ozzy Osbourne, and of course, the incomparable Sir Elton John.
This item, however, puts an LGBT twist on this classic style with a clever design that puts a rainbow above the upper rim of the lenses. We say far out! If you are headed out for the next pride parade or a concert or festival, use these to complete your look if you are going for a hybrid hippie/queer look (we ask you, how much more fabulous could it get than that?). While they go with everything (in our opinion), they sublimely pair with a colorful and queer shirt or gay leggings.
You can get these in an array of sensational colors, and we promise you that each one is gorgeous enough to gush over, and the vibrant color of these glasses is emphasized all the more by the large lenses. You'll feel like a rockstar yourself from all the attention you'll receive when you have these on.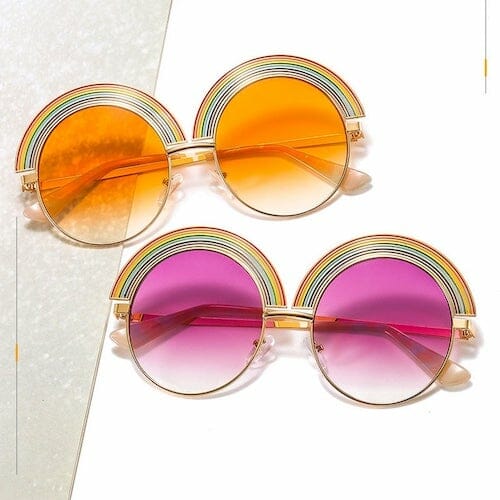 Let's face it: you need a pair of stunning oversized LGBT sunglasses to go with your oversized, larger-than-life personality. To be seen in a lesser pair of shades would frankly be to do a disservice to yourself.
You are loud, you are proud, and you want the whole world to know it! Therefore you wouldn't settle for a boring pair of vanilla, plain jane shades. Let everyone else in on your fabulousness when they see you in these. When you look like a rock star, you feel like a rock star, and everyone you meet will see that in you.
Confidence, more than style even, is what draws people to you and makes you attractive. It's all about that confidence, that pride, that innate charisma that only needs to be given a chance to shine. Make these awesome sunglasses yours and you will be well on your way.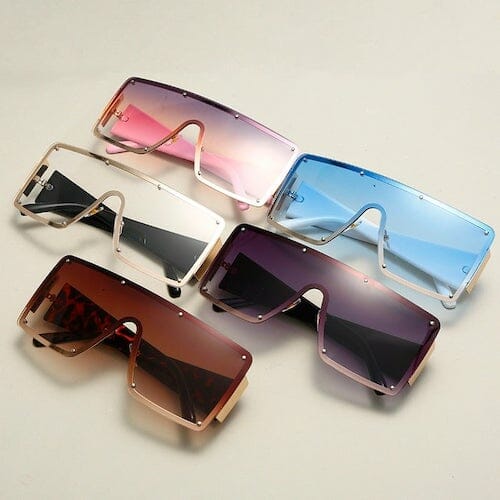 This is a pair of sunglasses with flourish to spare. If you are anything of a free spirit, then these are just the style to suit you. The lenses are made in a running teardrops shape and they come in a myriad of stunningly vibrant colors, each one as beautiful as the last.
These give off an elfish vibe when you wear them; they mark you out as an individualist and free spirit, as someone who isn't going to be fettered by convention. As someone, most people would want to hang out with. These glasses are a terrific way to express who you are.
Get them for your free-spirited friend as well – they are so affordable, so stylish, and make such an impression that they would be an awesome gift to give.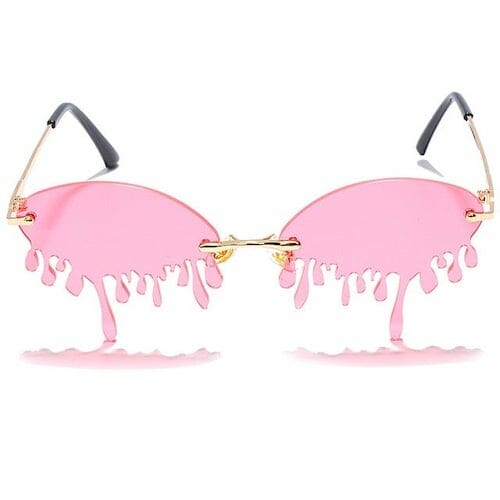 Here we have the de facto statement shades. Chic, swank, and unabashedly sensual, they come with a larger-than-life oversized square design – a design that works well with any face shape so there is no excuse not to look amazing in them.
The outer rims are encrusted with faux diamonds that add another level of oomph and razzle-dazzle to this already devastating fashion eyewear. Look like a movie star and own the place anywhere you go. Feel that surge of confidence wash over you when you put these on.
You'll feel like a whole new person: dauntless, intrepid, and ready to go out there and get everything you want in life.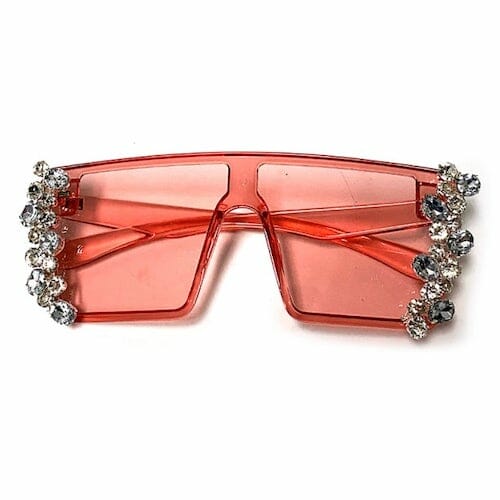 Are these the ultimate rave glasses? We think they just may be. But you will look snazzy as hell with them on whether it's at a rave or a party or pride parade. There's no way you can fail to stand out in these voguish sunglasses.
Loud, proud, and flashy these feature a wave shape that is eccentric, to say the least, and is all about fashion and flair, which this item has in spades. Let your wild side loose and cast aside your inhibitions with these stylish shades, and infect everyone around you with your free-spirited energy. Get a pair for yourself and another for that friend you have who needs to learn how to loosen up.
These will make them come out of their shell in the blink of an eye.