The origin of the Aloha shirt is hotly contested to this day, though it seems that one small, local dry-goods store or another is responsible. Or perhaps it was the older generation of Japanese-Hawaiian women who started the trend by using kimono fabric to fashion shirts for the men-folk.
However they came to be, Aloha shirts eventually made their way to mainland America in a big way and the rest, as they say, is history. Fast forward to the 2020s and of course, the LGBT community has done our own take on it with wildly popular queer shirts being all the rage.
There is no better evidence for the Aloha shirt's place in pop culture than just by looking at its history in TV and film: Montgomery Clift in From Here to Eternity; Elvis Presley in Blue Hawaii; Al Pacino in Scarface; Tom Selleck in Magnum P.I; Jim Carrey in Ace Ventura: Pet Detective; Nick Cage in Raising Arizona; Sean Penn in Fast Times at Ridgemont High; Jonah Hill in 22 Jump Street; the list goes on and on but we think you get the picture with that brief sampling of the button up print shirt's influence.
For decades the Aloha Shirt – or Hawaiian shirt as it is more commonly known – was seen as a fashion faux pas, a style sin only to be perpetrated by the tasteless or the stylistically illiterate. But oh my how times have changed!
The Hawaiian shirt, by which we mean here the tropical print shirt and print types belonging to the same loose milieu- e.g., floral, animal and abstract prints and so on, have been in recent times adopted by the LGBT community to become in some ways the queer shirt du jour and a staple of gay fashion along with clubwear, jockstraps and crop tops. And really it makes perfect sense.
To quote none other than Homer Simpson: "There are only two kinds of guys who wear Hawaiian shirts: gay guys or big fat party animals!" You know you've made the pop culture big time when you've been referenced in The Simpsons. But in all seriousness, this style of queer shirt has gained a level of acceptance and popularity, and it's no different when it comes to the world of gay pride fashion.
It is not uncommon to see these shirts at pride events and at LGBT bars and clubs. And why should it be? So without further ado here are, in no particular order, the best loud and proud queer shirts you can wear to express your love of who you are.
You'll fall in love with the gorgeous bold print on this gay Hawaiian-print button-up shirt. It's vibrant, vivacious and just the right amount of flamboyant. This beautiful gay shirt is a colorful and eye-catching way to be seen and feel confident in a look that is both laid back yet stylish.
You are sure to make an impression when you wear this out on the town whether it's just a night out with friends at the club, at the pride parade, or even just at the beach. This LGBT pride shirt would be a great thing to pack into your suitcase if you happen to be going on vacation, especially if you are going somewhere warm and tropical-like Sitges or Puerto Vallarta. This will be just the thing to help get you into vacation mode and leave the stress behind. It's a versatile piece of attire that belongs in your closet.
Make it yours today.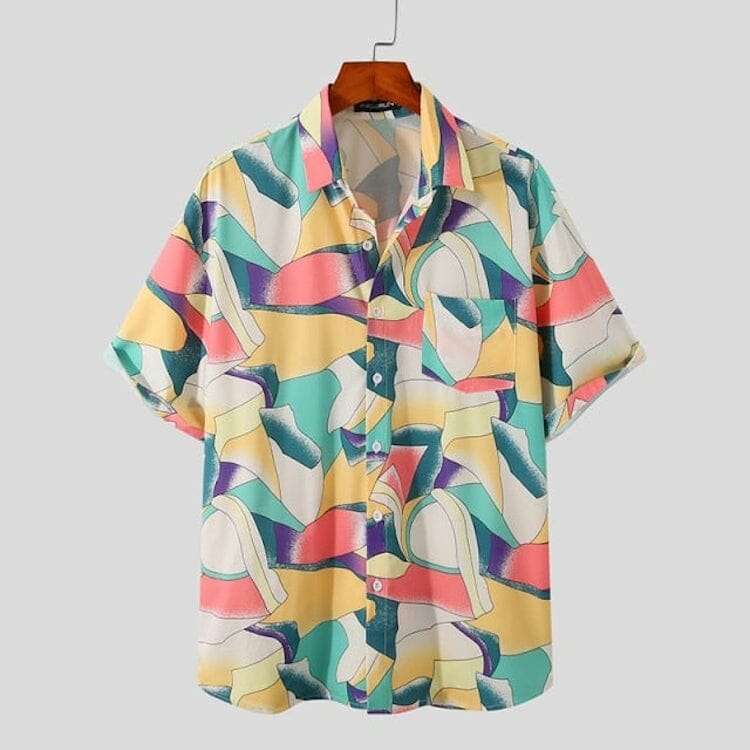 Trust us when we say that you don't have to be a kid to love this playful short-sleeve button-up shirt. It's sure to bring out the kid in you when you need to lighten up say when you are on vacation or just on a weekend getaway.
Wear it to your next pride parade and you'll be everyone's favorite; just pair it with your favorite pride bottom piece and complete the look: pride with a touch of whimsy. It looks great whether you go with white or pink, and is a sure way to lighten the mood in any setting. Bring out that kid in you (and trust us, it's still in there somewhere) all over again with this charming gay shirt.
And for that happy-go-lucky friend you have for whom this would be tailor made, these gay shirts make wonderful affordable gifts.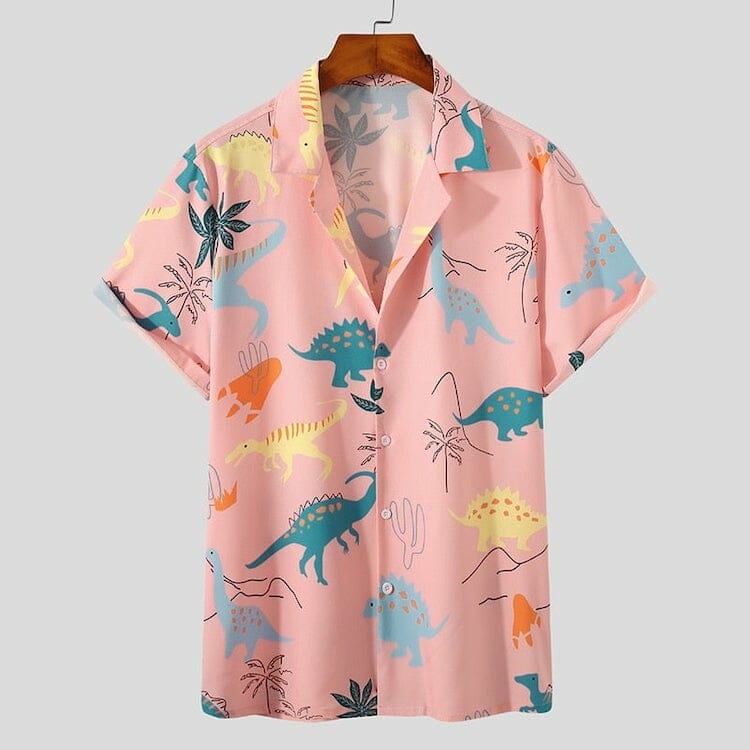 Bright and vibrant, this western-themed queer shirt features a cactus/desert design that incorporates a stylish use of complementary colors. You'll feel like (a sexier and more stylish version of) John Wayne or Clint Eastwood riding off into the sunset when you put this on.
You can be smart and modish and at the same time rough and rugged just like those superlative and majestic landscapes of the American West. Get this and strut around just like one of those old-time movie stars. Get one for a friend while you are at it. This gay shirt would be a splendid choice if you happen to have an upcoming themed party or event that you're attending or are planning a holiday in Gay Vegas or Palm Springs.
Just pair it with your favorite jeans or even better, a pair of leather chaps (if you're bold you can even go for the assless variety) and add a larger-than-life belt buckle and cowboy hat to complete this compelling look. Lay on your rugged charm and you'll have them swooning over you anywhere you go.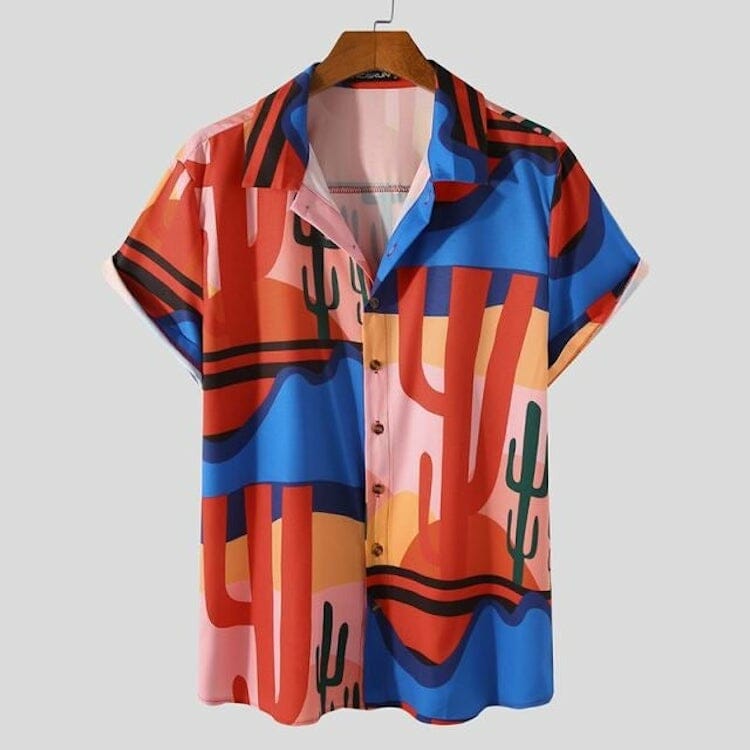 This queer shirt has an undeniable animal magnetism, a certain primal allure that you can make your own when you get this and wear it out. Wear it with pride, confidence, and swagger. Embody the same grace and majesty as the leopard itself.
Feel that same feline charisma and raw sexual energy. This is what you want to have on when you're out on the prowl, be it at the club or the beach or just out on the town. People reported in an actual research study that wearing animal prints made them feel strong, powerful, and sexy.
This is how you'll feel when you wear this stunning leopard print gay shirt out. It makes for a powerful confidence booster.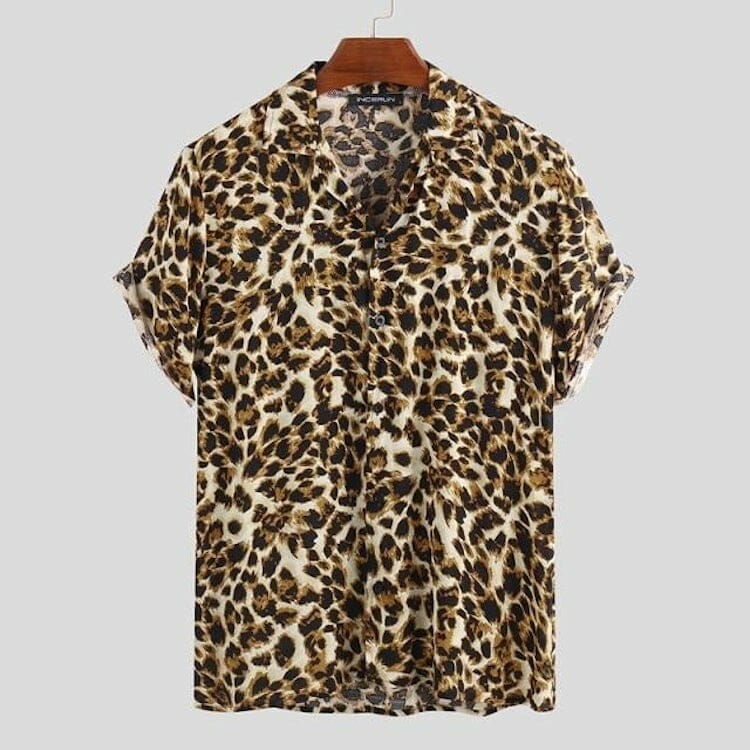 Let your creativity shine through with this artsy gay pride button-up shirt. It features a paint splash design with a rainbow spectrum of colors. It is a great way to wear your pride and at the same time show your quirky side, your resistance to conventions.
If you have a fanciful or imaginative bone in your body then you by all means should add this to your wardrobe. This is the type of gay shirt that will make you feel smart in a modern renaissance-man sort of way, and it tends to bring out your imaginative side and put you in that creative kind of mood.
Get it as a queer gift, especially for that one friend or relative you know that could use a little loosening up, a little bit of perspective. This would be just the thing to bring it out.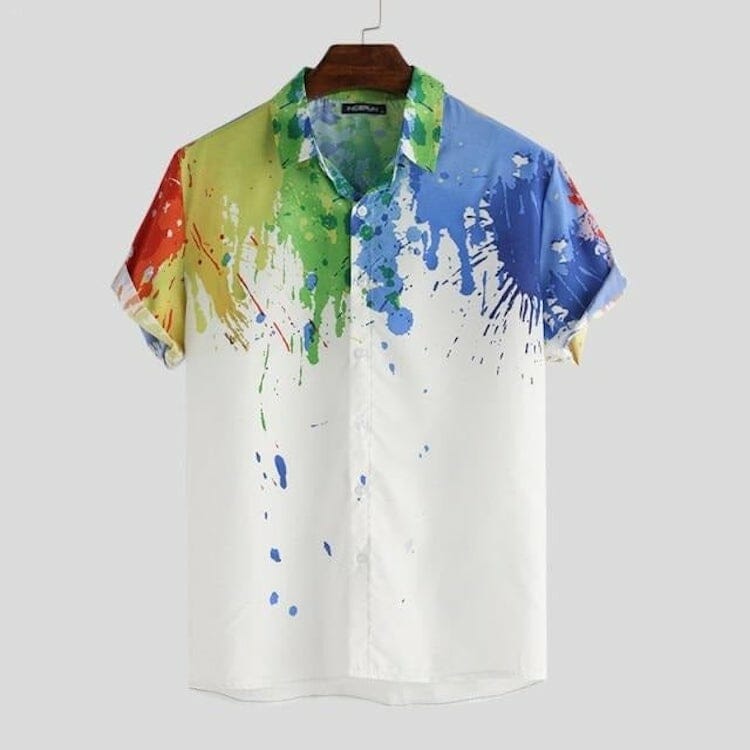 You will adore this stunning striped queer shirt. It uses a gorgeous color combination to achieve a unique look: smart, sophisticated, and still casual. You really can't go wrong with the classic striped look, and what's even better is that it will work without almost any bottom you could think of.
You will look great in this when you go for a night out or even just down to the grocery store. It would also work splendidly on a college campus, at the public library, or even at work if they have Casual Friday. If you are living the university life then this gay shirt would be a wardrobe essential.
Dress to impress, but without sacrificing comfort, because when you look good you feel good. Add it to your collection and you won't be sorry.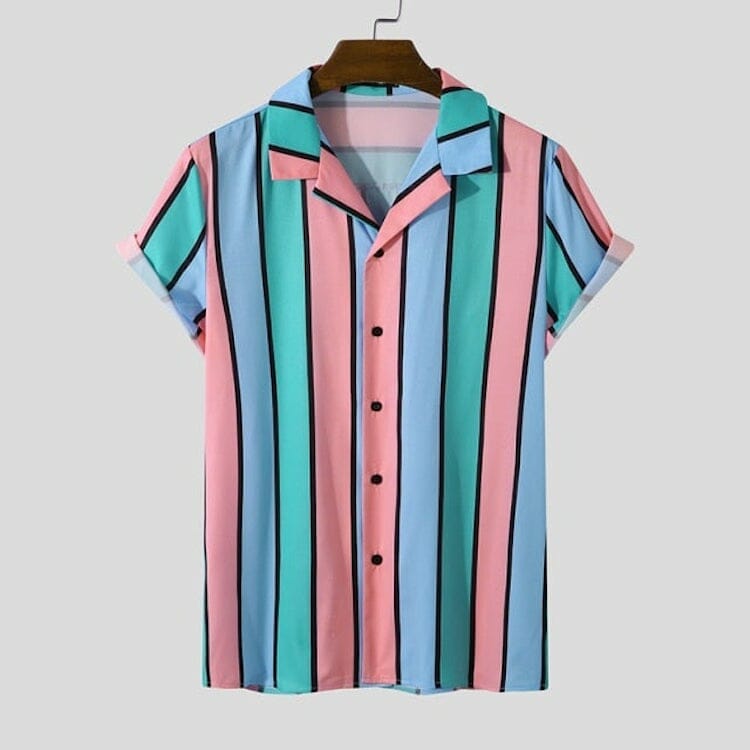 You'll be scary in this shark-themed gay shirt…or at least scary sexy. This is probably one of the funniest shirts on the list. You don't have to be a fan of shark-horror movies like Jaws or even Sharknado to get a kick out of this. The shark has taken on many different symbols throughout various cultures, ranging from representing the devil in Biblical mythology to being seen as protective entities in traditional Hawaiian folklore.
Either way, this gorgeous gay shirt takes on a vibe that is both fierce and playful, and it's sure to be a hit anywhere you choose to wear it. People you encounter will appreciate your impish humor and you will be the recipient of many compliments and words of approval.
And besides, who doesn't love sharks? They're surely one of the coolest animals there are. And you'll be pretty cool yourself when you wear this gay shark shirt.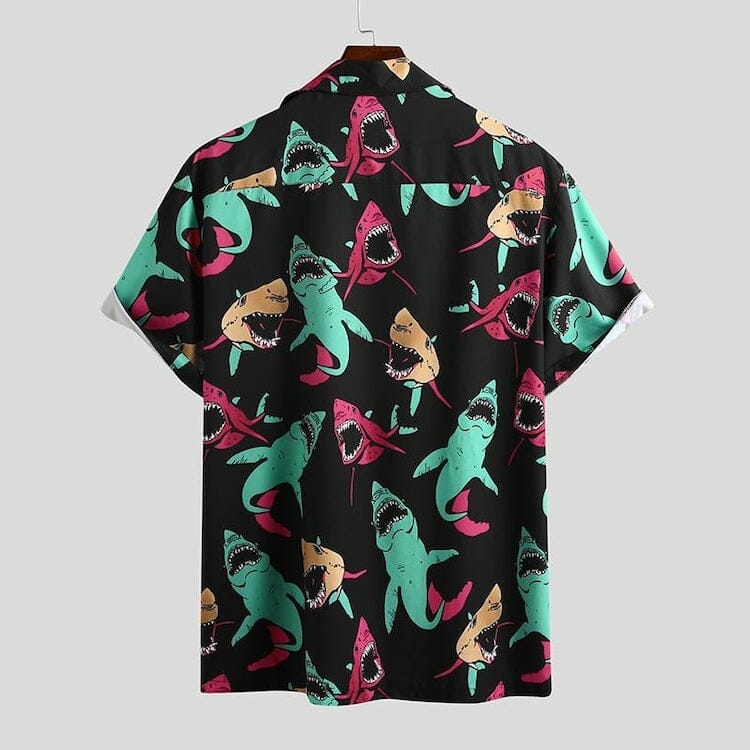 Add this fearsome gay shirt to your closet and you will be breaking it out all the time. The short-sleeve button-up shirt features a red tiger print and is absolutely stunning.
Did you know that in Chinese mythology the red tiger governs the summer season and is one of the five mystical tigers and represents the fire element? In other cultures, the tiger represents strength, cunning, and majesty among other things. Are these traits you aspire to embody? Then this striking gay shirt is for you.
Like all the stylish shirts on this list, it would make a wonderful gift to give someone…say a gay friend who happens to have an affinity for animals and an acute sense of style. He'll know hot pride fashion when he sees it.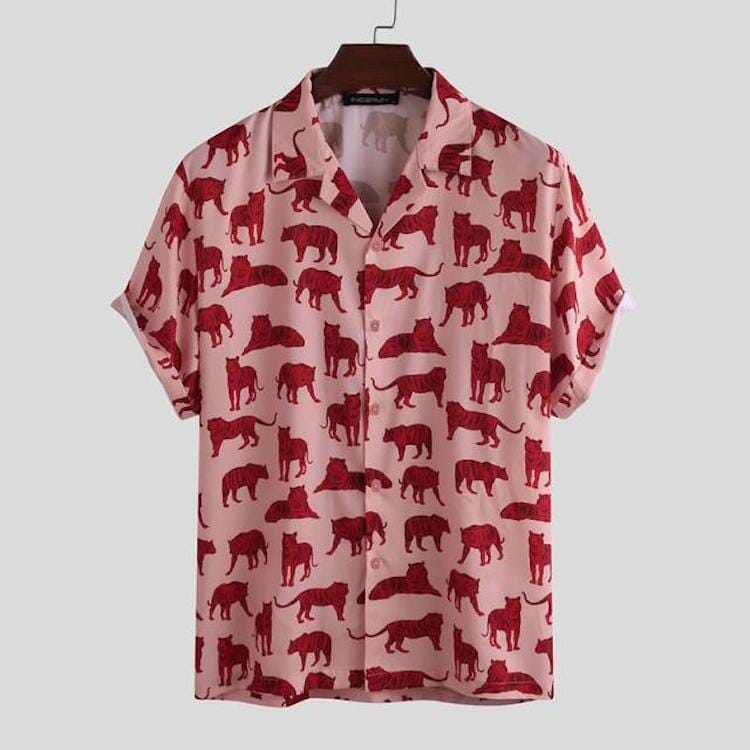 It's hard not to adore this smart and snazzy piece of fun LGBT fashion. The beautiful print on this gorgeous gay shirt is a veritable riot of color.
It comes in two available colors, which of which have their own unique designs, and frankly, you couldn't be blamed for wanting one of each (and hey – if you decide you like one over the other you can always give one to a friend, so there's no way to lose here).
This is the perfect cool summer shirt to have in your collection if you have a whimsical streak in you, or if you just appreciate aesthetics that combine abstract design with vibrant color.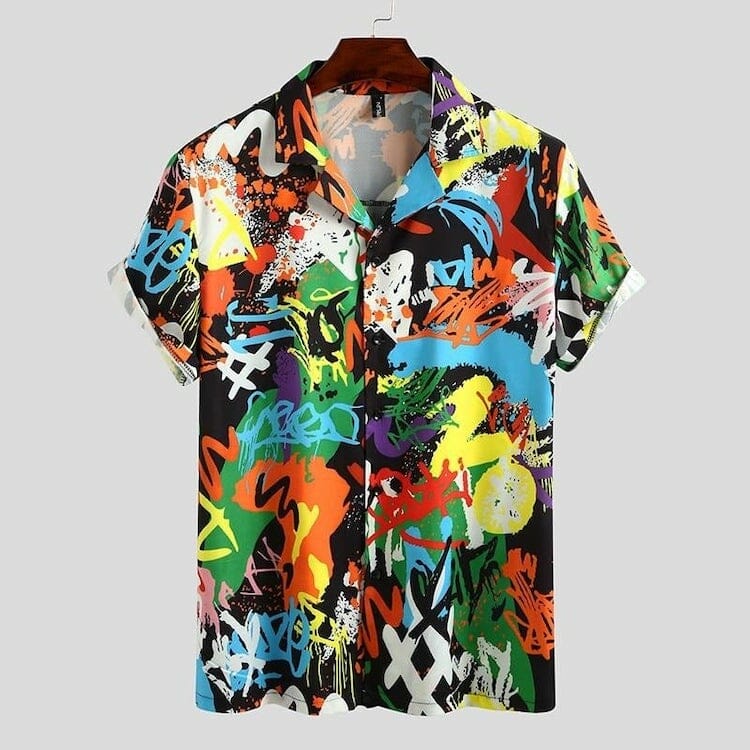 If you are a fan (or even if you aren't necessarily) of half and half shirt, then you are just going to love this. It features a dichotomous solid color/stripes design. The effect is quite stunning and gives off a dapper aesthetic, making it a good reliable choice when you are going out and want to impress.
Yet it is still casual enough to wear to informal settings like a neighborhood get-together like a cookout or outdoor cocktail party. These queer shirts are available in black, navy, and yellow, and you will surely look terrific in any of these colors.
If you can only own one half and half shirt, it would be hard to go wrong with this one.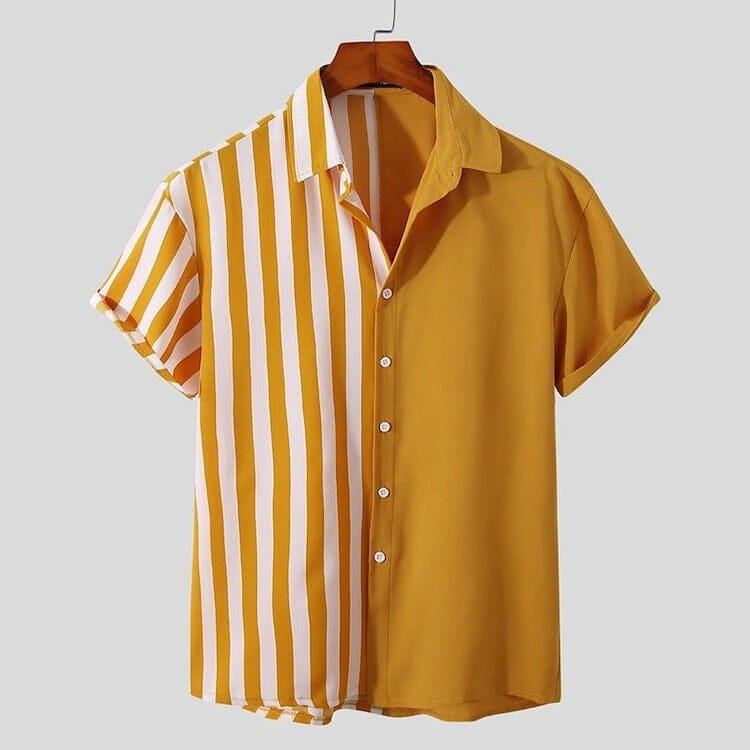 Who doesn't love floral prints? No one, that's who! This shirt is, to put it succinctly, simply fabulous. You are bound to get a lot of comments when you don this beautiful gay shirt in public – and most of them will likely be inquiries as to where you got it from. Seriously though, there is a reason why floral prints are so popular.
Organic aesthetics like these, and florals, in particular, are evocative of youth, beauty, and vivacity, things that we all naturally are attracted to – it is just human nature. And that is also why florals never really go out of style. And they will be attracted to you, even more so, in this shirt.
You can get it in navy and beige, and it looks great in either.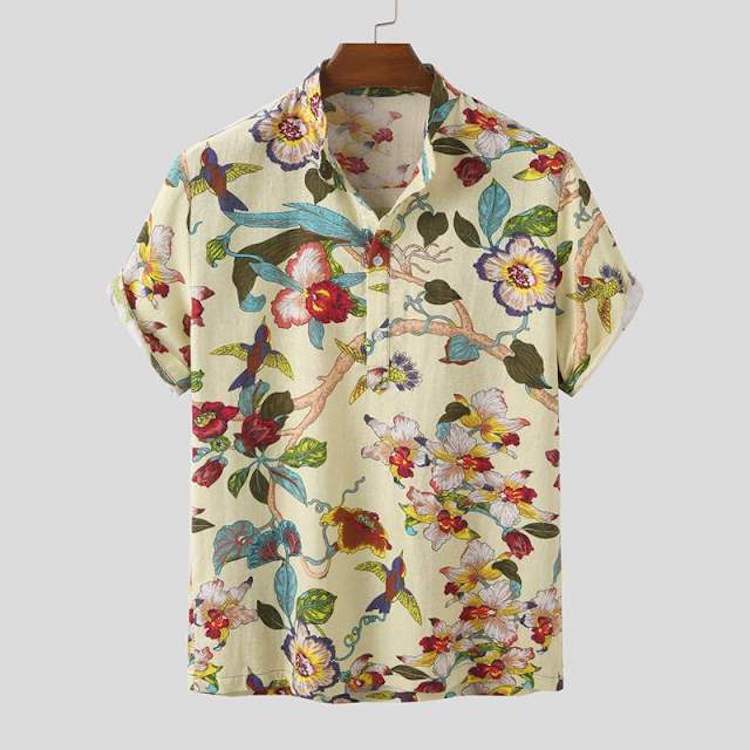 This striking half and half gay shirt makes an immediate statement. Love tropical print shirts? We got you covered. Are you a fan of stripes? You got them. You will have no trouble getting noticed in this, with its vibrant colors and arresting design.
This is just the thing when you want to put yourself out there and be loud and proud. And if you are the shy sort, fashion like this can be a real confidence-booster for those moments when you want to let go of your inhibitions and come out of your shell a little. This gay shirt will be a surefire attention-grabber wherever you go.
Wear it with pride and embrace your inner sense of swagger – that feeling that when you walk into a room you own it. That is what attracts others, because that kind of self-confidence is an inspiration to others when they can see it in you. And they will see it in you when you boldly wear this gay pride shirt.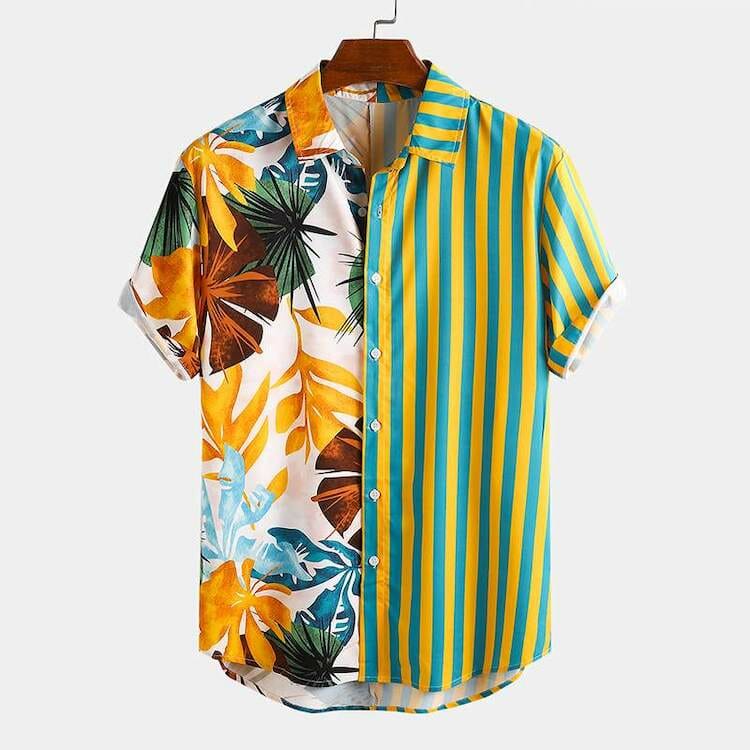 We have saved one of the best for last. If tropical floral/animal prints are your thing, then you are going to fall in love with this beautiful, beautiful gay shirt. The color on this queer shirt is absolutely fabulous. The gorgeous print features flowers in almost all colors of the rainbow as well as a charming tropical bird motif.
It is practically the quintessential vacation shirt, and it will almost instantaneously put you in relaxation mode when you put it on. Chill vibes will be the order of the day when you wear this, and you'll soon notice a certain lightness to your step that wasn't there before.
And what a sensational gift this gay shirt would make for that special friend or family member who needs a dose of chill.