Whether you go on holiday for the suntan, new experiences, blow off steam, or just to escape the daily grind, we're willing to bet that you want to feel relaxed and free to be yourself. Thankfully the gay resorts in Provincetown allow you to do just that – to be 110% yourself, without a single double-take, all in the company of other open-minded folks.
Not only is Provincetown considered the highlight of beautiful Cape Cod, but it is also a favorite of LGBTQ travelers and home to some of the best LGBT resorts in the USA. And there is no reason to wonder why, as Provincetown has a long history of celebrating individuality and free expression. Visitors of all stripes will find no more welcoming, friendly and open-minded locale than right here in P Town (as the locals refer to it!).
Gay and lesbian travelers have been coming here for nearly a century and have turned Provincetown into one of the country's most gay-friendly destinations (up there with Palm Springs and Key West). P Town boasts a number of LGBTQ+ events, among them Provincetown Pride, Bear Week, Mr. New England Leather, and the list goes on and on all through the year. You can even see swimsuit-clad Santas running through the street in December!
So it is sufficient to say that LGBT Provincetown enjoys a generally festive atmosphere and knows how to have a good time, to say the least.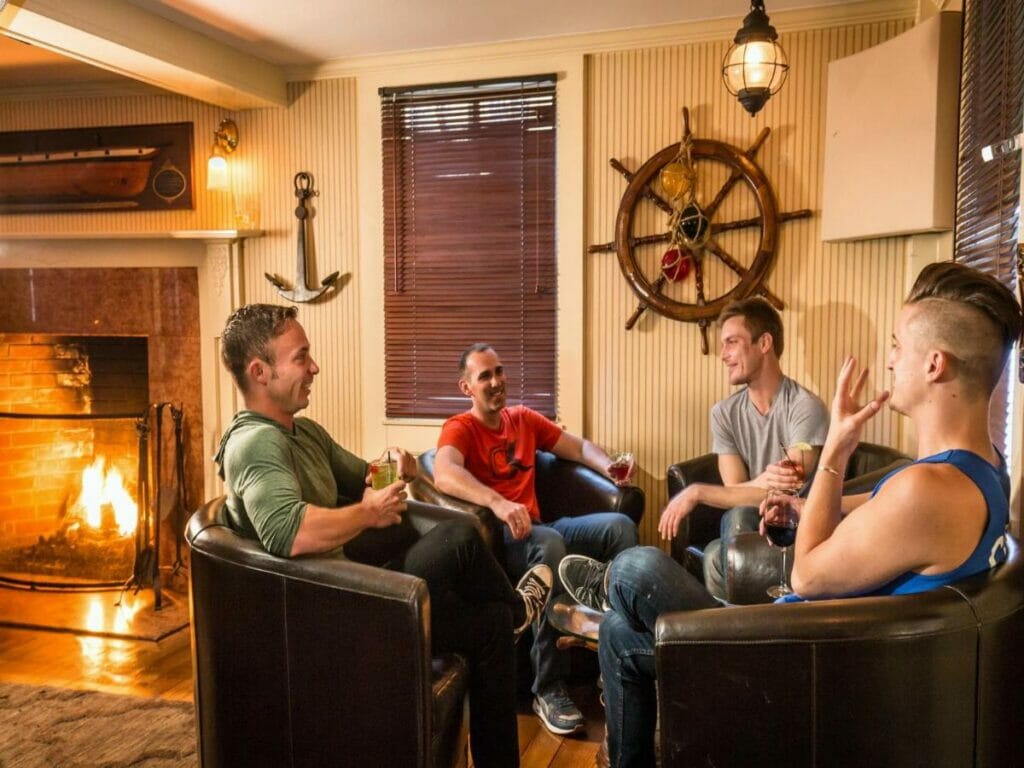 And there is no better time than right now to get in on the year-round queer party. Whether you are planning a return trip or are setting your sights on discovering this amazing town for the first time, you will have absolutely no problem finding friendly accommodations in this free-minded locale. But you naturally want to know where to find the best gay hotels P Town has to offer, and we have found them for you.
All of the gay resorts in Provincetown listed below are gay-friendly, and the majority are even owned and operated by gays. And, of course, this is our mission: to give you a starting point in your search for a warm and friendly place to stay during your time in Provincetown. We'll send you in the proper direction, and after you arrive, you'll be surprised at how quickly you can develop friendships with people at a gay resort — it's as if everyone there has something in common, there's no judgment, and you can connect more easily. Even better, no dating sites or gay apps are required to meet folks here…
So without further ado, here are the best gay resorts in Provincetown.
The Boatslip is a fan favorite among Provincetown locals and LGBTQ+ travelers from all over alike, and there is no better place in Provincetown to kick back, let go of your inhibitions and set your wild side loose. Guests love the fun-loving and laid-back atmosphere that awaits at The Boatslip. They also appreciate the fact that the hotel is just a stroll away from cafes, shops, and galleries of Provincetown Harbor.
The Boatslip is best known for the Tea Dance, an almost 50-year tradition. This outdoor dance party is something you simply cannot miss if you guest at The Boatslip – and you will want to take your best jockstrap, swimwear, and shorts! The hotel also boasts beautiful views of Cape Cod, with the heated swimming pool overlooking the harbor.
Rooms feature free Wi-Fi access and remote-control air conditioning and heat; they also have refrigerators, access to on-site parking, as well as a complimentary breakfast buffet. All rooms have private bathrooms, and the Waterfront King Rooms have a king bed and balcony. Waterfront Doubles, naturally, have two double beds and stunning views, though the Pool View Queen Rooms have the best view of the pool and the afternoon Tea Dances.
The Boatslip also has its Buoy Bar and Patio, a great place to people watch with a martini in hand and maybe make some new friends…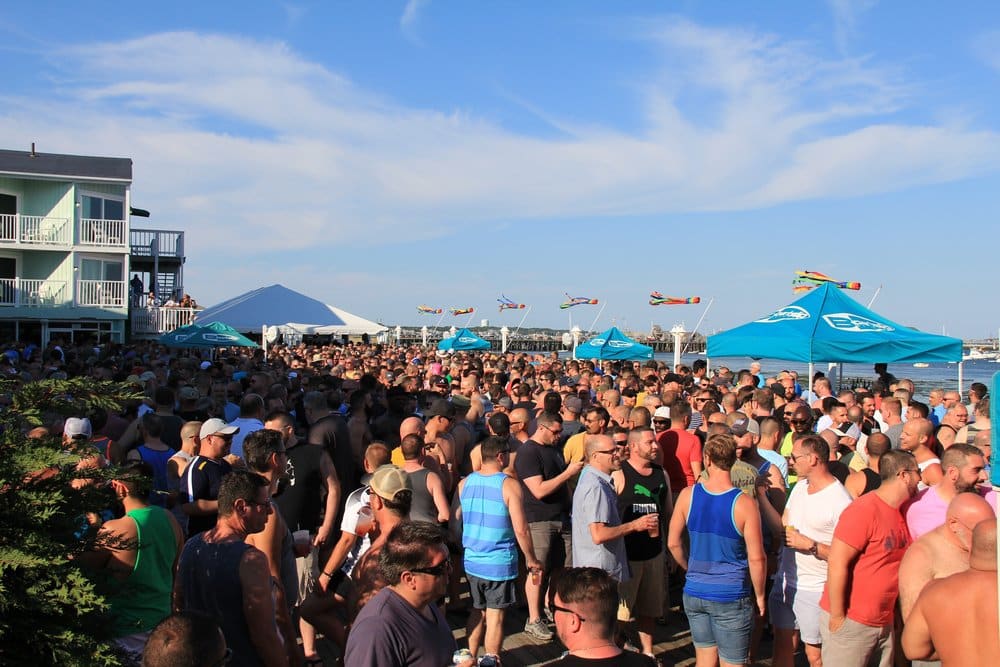 "Gay, lesbian, straight, or something else? We don't care as long as you don't either." Those are the hotel's own words, and it doesn't get more accepting than that, does it? This "all welcome" boutique hotel takes pride in embracing diversity and open-mindedness.
The Guesthouse actually encompasses nine faithfully restored historic buildings, with an enclosed terraced courtyard. There is an infinity-edge pool and oversized in-ground spa on the grounds as well. All of it is enclosed for a secluded, quiet experience that shuts out the noise of the city, though it is still at your doorstep. In fact, pretty much everything can be walked to within minutes.
There is a rooftop deck where guests can lounge, as well as a 15-person hot tub with views of the open sky. Also, there is a wine and cheese reception every evening that provides guests a great opportunity to meet each other. As does the on-site Shipwreck Lounge, one of P Town's most popular gay hangouts. It offers handcrafted cocktails and an excellent tapas menu. There is a courtyard out back that offers a secluded outdoor bar experience, with vintage décor, fire pit, lounge seating, and "thoughtful" lighting.
All in all, LGBTQ tourists will have a hard time finding a better choice for accommodation in Provincetown that promises a good time for all.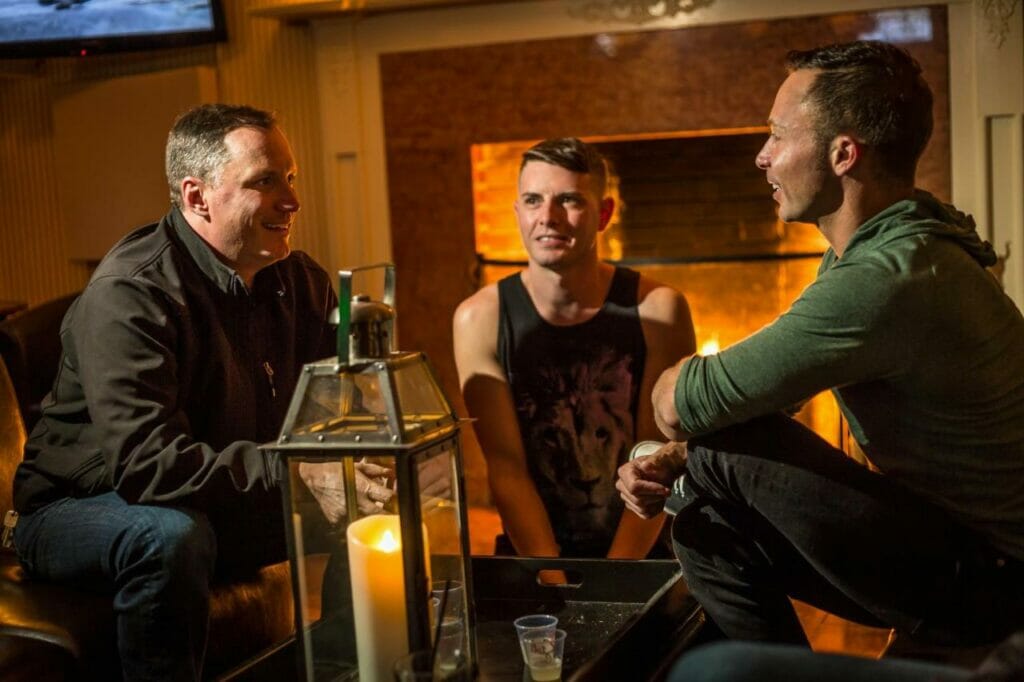 This cheap-chic hotel offers what it calls "Provincetown's Most Unique Historic Gay Boarding House." A gay landmark in Provincetown for over 60 years, Crew's Quarters promises a lodging experience that is "comfortable, intimate and affordable."
The lobby offers a lounge area and a common-use bar; it is the unofficial hub of the hotel. The reception area has a fireplace and a privacy chair. Rooms are equipped with ceiling fans, desk fans, dressers, and period lamps. As the hotel strives to retain its heritage, it is naturally vented and, as such, does not have air conditioning. Wi-Fi is available, however, and is complimentary.
A range of accommodation styles is offered. The Bunk Room, for instance, has one twin bed and sleeps 1, while the Merchant's Room has one full bed and sleeps 2. The Master's Cabin sleeps 2 with its single queen bed. Bathrooms are shared locker room-style bathrooms, with one bathroom on each of the three floors.
Crew's Quarters offers not only a glimpse of Provincetown of the past but also one of the most unique gay hotel experiences anywhere in the country. If you are in the mood for something different in the way of lodging for your P Town trip, this is it.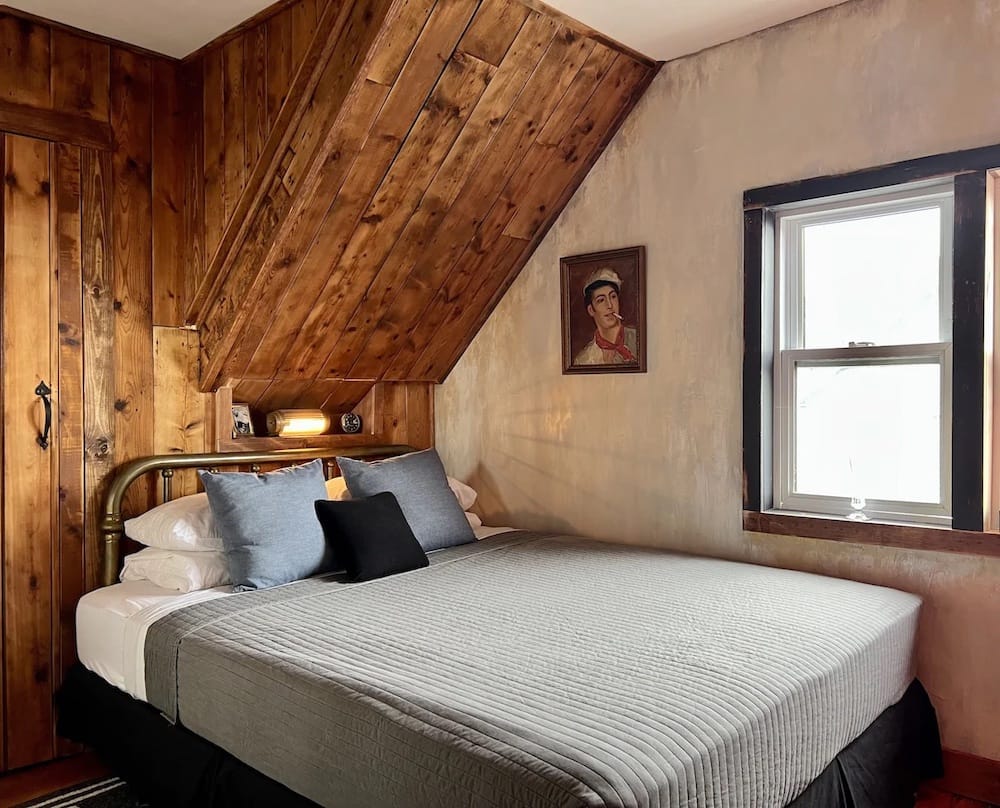 The Gifford House dates all the way back to the 1850s and is a resort catering to LGBT travelers though all are welcome. This New England style Bed & Breakfast is centrally located in Provincetown, with everything the downtown area has to offer close by.
The inn offers a cocktail lounge, porch bar, and an on-site eatery. The lobby piano bar is a great place to hang out and make new friends, as is the porchside lounge with its pool table and arcade game.
Over 30 guest rooms are available. Amenities vary but mainly include air conditioning, TV, refrigerator, and either king or queen beds. Some rooms feature double beds. All guest rooms have private bathrooms.
The Gifford House hosts an array of events throughout the year, including Independence Day (July 4th) celebrations, Bear Week, Carnival Week, Gay Pilots Weekend, Fantasia Fair Transgender Week – with parties, shows, and workshops – and so on.
For a fun, relaxing setting where LGBTQ folks and everyone else can let loose and enjoy good vibes, there is no better place in Provincetown.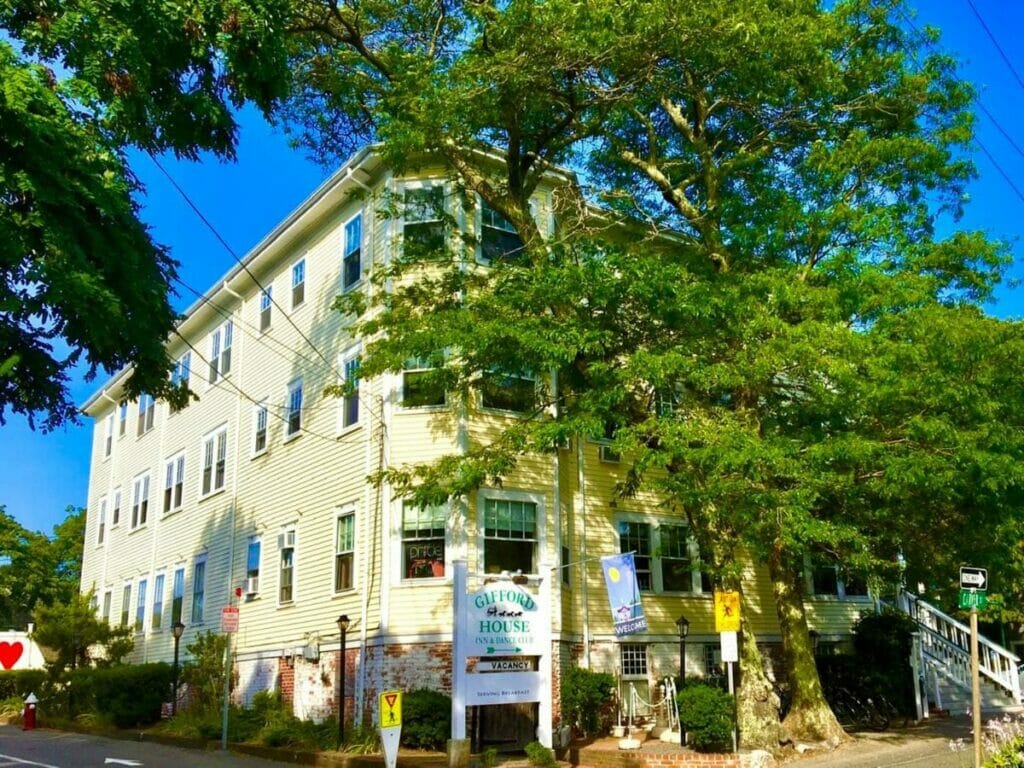 This gay-owned hotel enjoys a nice spot right in the center of town and offers guests a lot of nice perks that you don't see everywhere: a nightly wine and cheese hour (which provides an opportunity to meet the other guests), as well as cooked breakfast. Above all, the best perk of this hotel is the friendly service you'll receive as a guest here.
The property has a spa (the Namaste Spa, which is the best-rated spa in Provincetown) with a steam room, sauna, and hot tub. Eighteen guest rooms – each of them uniquely furnished – are inspired by the concept of a New England sea captain on a journey to the Far East, and the décor style strikes a gorgeous fusion of these two aesthetics. Colors are in creams, grays, and navy blue, completing the maritime vibe. All rooms have private en-suite bathrooms and are available in styles, including Classic, Deluxe, and King rooms. Deluxe rooms feature fireplaces.
Spa services include a Finnish dry sauna, which uses radiant heat from hot rocks placed in the steam room; Moroccan Hamam steam bath, a purifying and detoxifying experience; a hydro jet spa tub is also available, as massage. Couples' treatments are also available.
Potential guests should keep in mind that the Carpe Diem Guesthouse is an adults-only hotel, and at present, it does not have pet-friendly accommodations. What it does have is an atmosphere where all are welcome.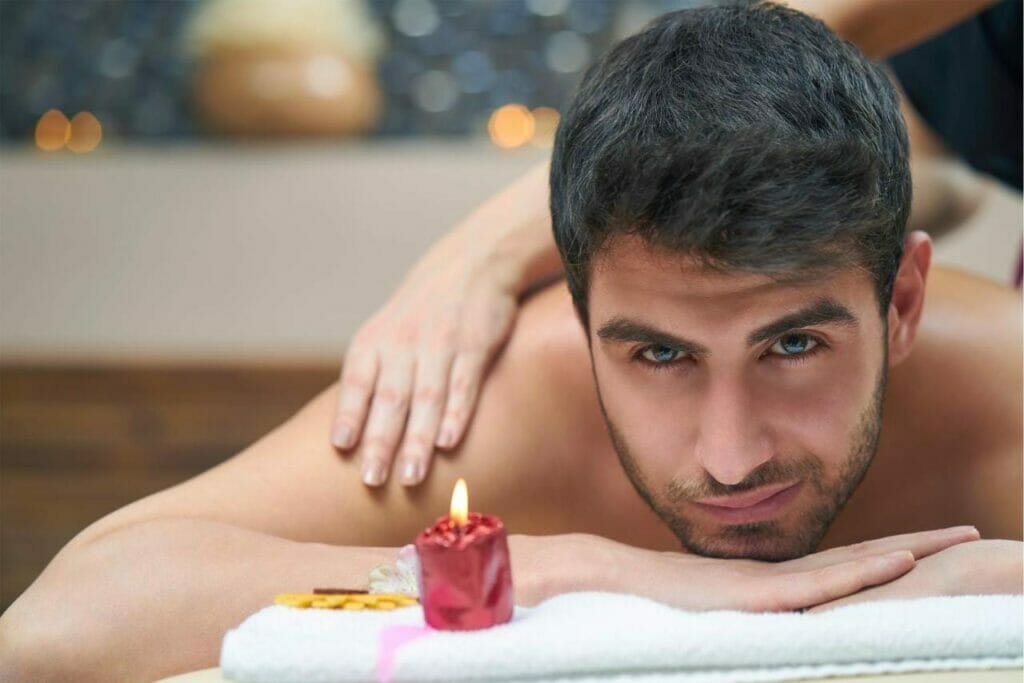 This B&B-style hotel was originally built as a captain's house in the 1840s. It is located in the heart of Provincetown, on Commercial Street across from Cape Cod Bay. The central location affords some excellent views of the bay and Provincetown Harbor, as well as the ability to easily walk to all the shops, galleries, and restaurants of downtown.
Hotel amenities include complimentary parking and breakfast served each morning, with coffee, juice, and/or hot tea and a hot breakfast dish, baked goods, fresh fruit, cereal, and yogurt. There is also a complimentary evening reception each night with wine and beer.
Room amenities are as follows: cable TV, wireless internet access, private bathrooms, L'Occitane amenity products, individual air conditioning and heat in all rooms, hairdryer, iron and ironing board, mini-fridge, daily housekeeping, bike rack, and, in certain rooms, fireplaces. The hotel is a non-smoking establishment and, sadly, not pet-friendly. However, while four-legged friendly are not welcome (unless they are of the pup kink variety), Somerset House Inn does welcome gay, straight, and any other sort of lifestyle, and all are equally welcome to partake in the good vibes and fun times to be had.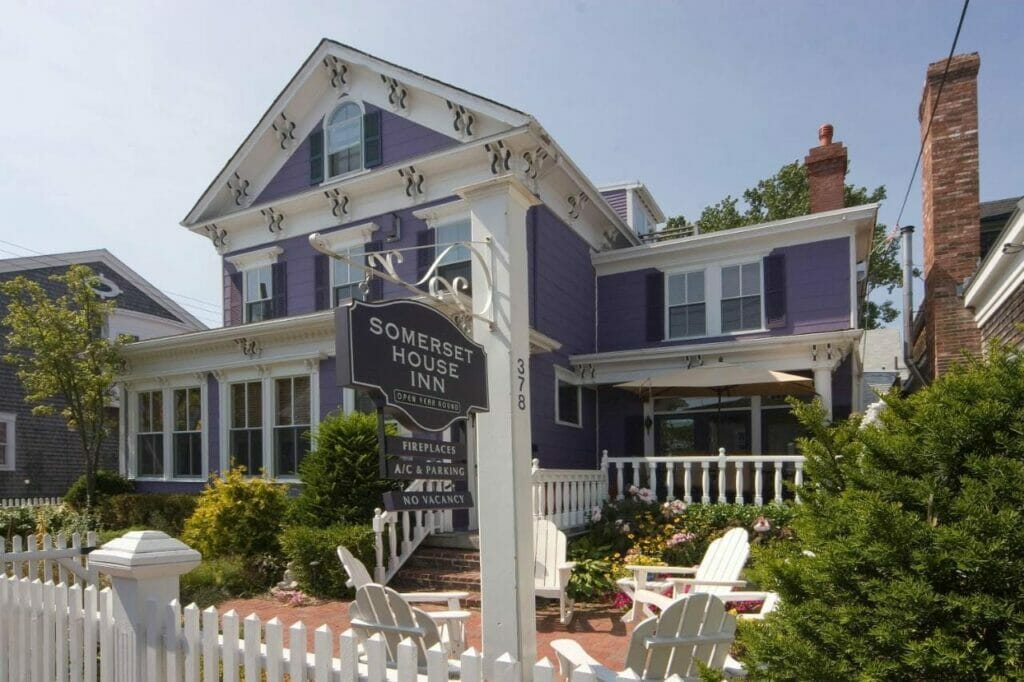 This boutique hotel and B&B was also a sea captain's home in its former life. It enjoys a central location on Commercial Street, in the middle of all the downtown attractions, and is just steps away from the West End beach. Queen Vic offers a friendly atmosphere for all to enjoy, right across from the aforementioned Boatslip Hotel and its famous Tea Dance.
The guest house boasts a private hot tub, beautiful gardens, and a splendid front patio. It also offers a European-style continental breakfast with Belgian Waffles and fresh fruit, and private baths in every room. Even many of the best European gay resorts can't offer that! Rooms are air-conditioned and spacious and have either king or queen beds with luxurious linens, and free Wi-Fi access, flat-screen TVs with cable access.
The on-site bar features an impressive drinks list. Cocktails include cosmopolitans, vesper martinis, cape codders, and planter's punch, just to name a couple. There is also a fine list of red, white, sparkling, and Rose wines. Guests staying at the Queen Vic also enjoy a considerable (25%) discount at the guest house's sister property, the Café Heaven, which offers up, as the café itself puts it, "brunch and dinner with a New American Flair." the extensive menu includes, as just a sampling, fluffy omelets, crisp salads, and the best sandwiches in town. Its beverage menu has a selection of beer, wine, and creative cocktails. And they say the café's desserts are to die for.
Also to die for is the friendly vibes and comfortable atmosphere you will enjoy as a guest at the Queen Vic Guest House, with its beautiful setting and great location.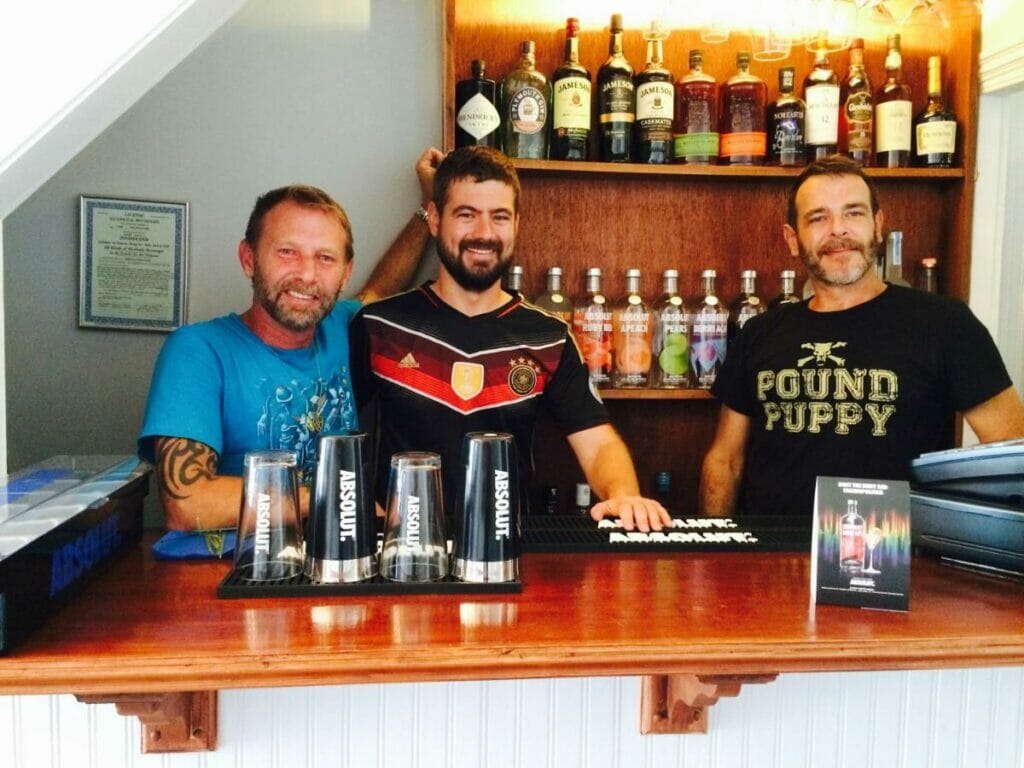 A four-diamond establishment set in a historic building, with the best of P Towns shops, galleries, restaurants, and the beach just steps away, guests will find a real winner in the Crowne Pointe Hotel. Its highlights are the (award-winning) spa, sauna, and pool, as well as its Pointe Restaurant. The property also features a hot tub and a lounge bar. It is a gay-friendly establishment, and anyone is free to be themselves in an accepting and tolerant atmosphere that reflects that of Provincetown itself.
The Shui Spa offers quite a range of services from facials messages including waxing, mineral baths, Himalayan salt sauna, steam room, and Reiki Chakra Balancing treatments.
The Pointe Restaurant offers modern-coastal fare and an al fresco dining experience. It prides itself on using fresh ingredients as much as possible. "Farm to table, pier to plate," is the restaurants' motto. Regional favorites are on hand, like clam chowder and steamed lobster. Fantastic meals can be complemented by fabulous desserts like chocolate temptation cake.
The Pointe Lounge has a fine drinks list with signature cocktails like tequila cosmo and cucumber martini, and so many more. It also offers beer, bubbles, and wines by the glass. The bar itself goes for a fusion of old-world elegance and contemporary energy, and frankly, it nails it.
Room accommodations have a good variety to suit all needs, and all of them offer luxurious comfort. Classic queen rooms to executive suites, to Superior Rooms and Deluxe Suites, which also come in a two-story variety; it is all just a matter of the exact extent to which you plan to pamper yourself. No matter which accommodation you choose, you will be in for an experience, not just a stay.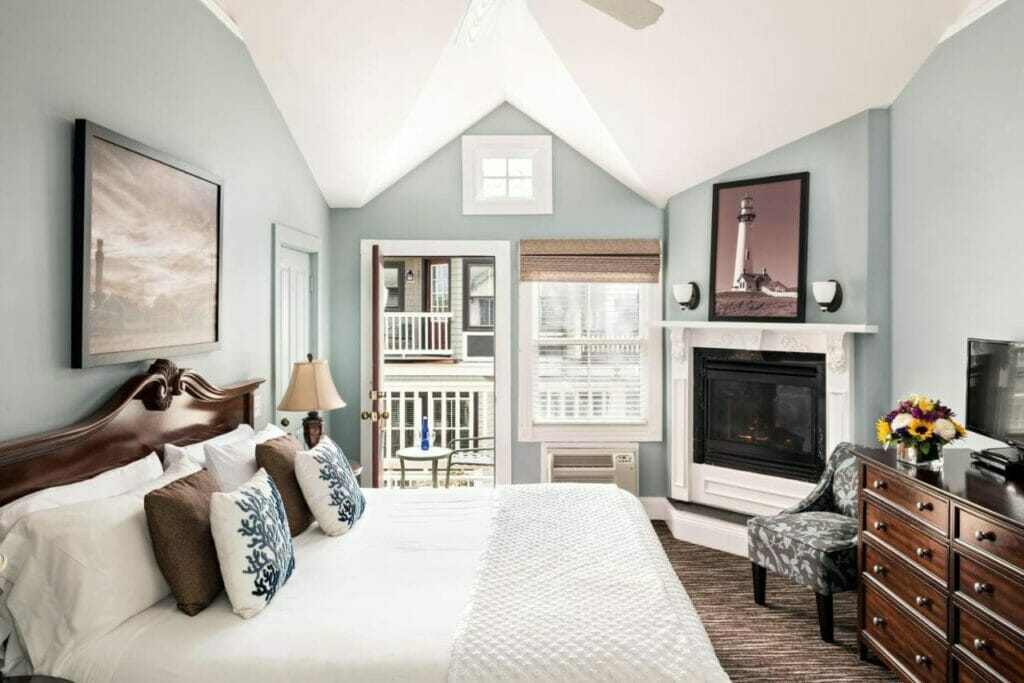 One of P Town's newer hotels, the beautiful White Porch Inn is proud of the fact that it is also one of the more unique among them. This upscale B&B also takes a lot of pride in the fact that legendary songstress Cher stayed here.
You'll feel like a star yourself when you treat yourself to a stay here at White Porch, with in-room breakfast and in-room coffee. Designed in the trendy beach-chic style, the hotel features an integrated art gallery and has ten guest rooms available, all of them named after Cape Cod lighthouses. These each have private bathrooms, flat-screen TVs with smart TV and/or DVD player, wireless broadband internet, air conditioning, refrigerators, wine coolers, and original paintings from artists all over the world (it is the art hotel, after all). Some rooms also have fireplaces, spa tubs, and views of the harbor. Some even have a view of the Pilgrim Monument. What they all have are supreme comfort and a unique personality.
The living room and kitchen/dining area are the hubs of activity. And, of course, the porch is the place for guests to meet each other and take in the gorgeous views all around. All this and the friendly P Town vibes that make this one of the best spots for LGBTQ people.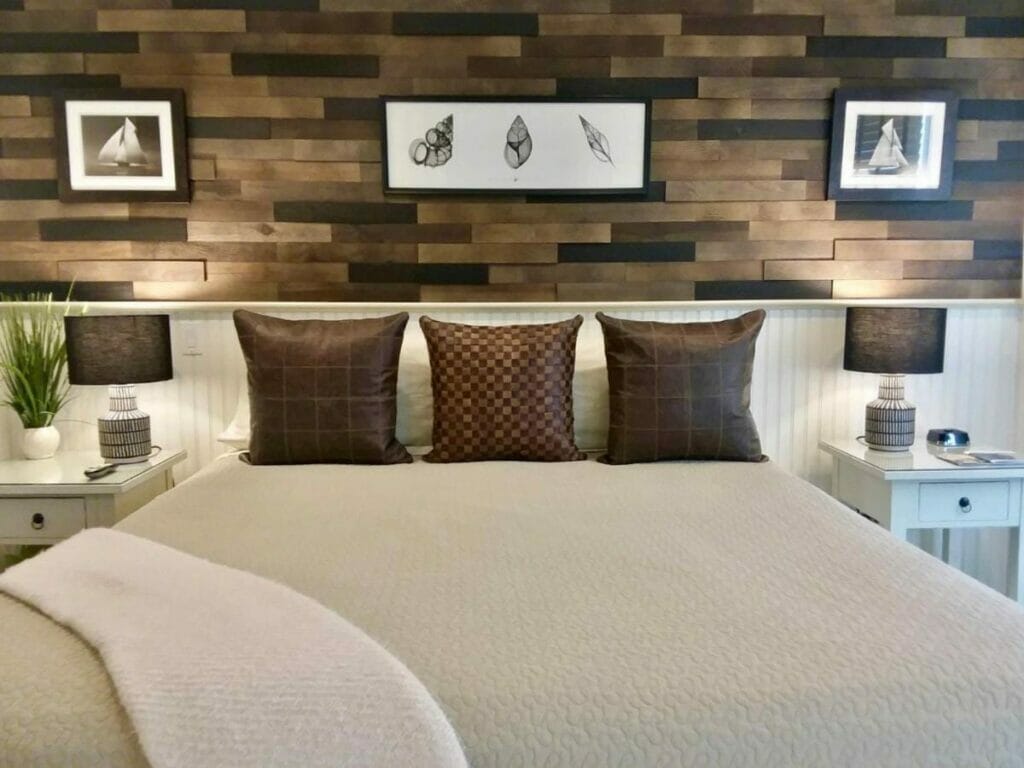 Yet another restored sea captain's home, the Prince Albert, is only a short stroll from Provincetown Harbor and calls itself the crown jewel of the city. It can boast over 130 years of service as a luxury getaway.
Rooms feature private bathrooms and private outdoor patios. They also have HD cable TV on large flat-panel LCD TVs, air conditioning, ceiling fans, mini-fridge, iron, and ironing board. The hotel also boasts newly acquired two bedroom/ 2 bathroom apartments, located on the waterfront. These apartments have spacious chef's kitchens with gas stoves, a wine fridge, and all utensils included. Also, there is a rear deck with a grill. A spacious dining area in addition to the two bedrooms and two baths, along with laundry facilities, make the home away from home experience complete. Each bedroom has its own a/c unit and a flat-screen TV.
While the hotel does not have an on-site restaurant, it does have a staff that is knowledgeable about the abundant eatery choices in the immediate vicinity, and they can provide guests with recommendations. They are always happy to help make your stay the best it can be. Burger joints, Italian, and, naturally, great seafood places are just steps away.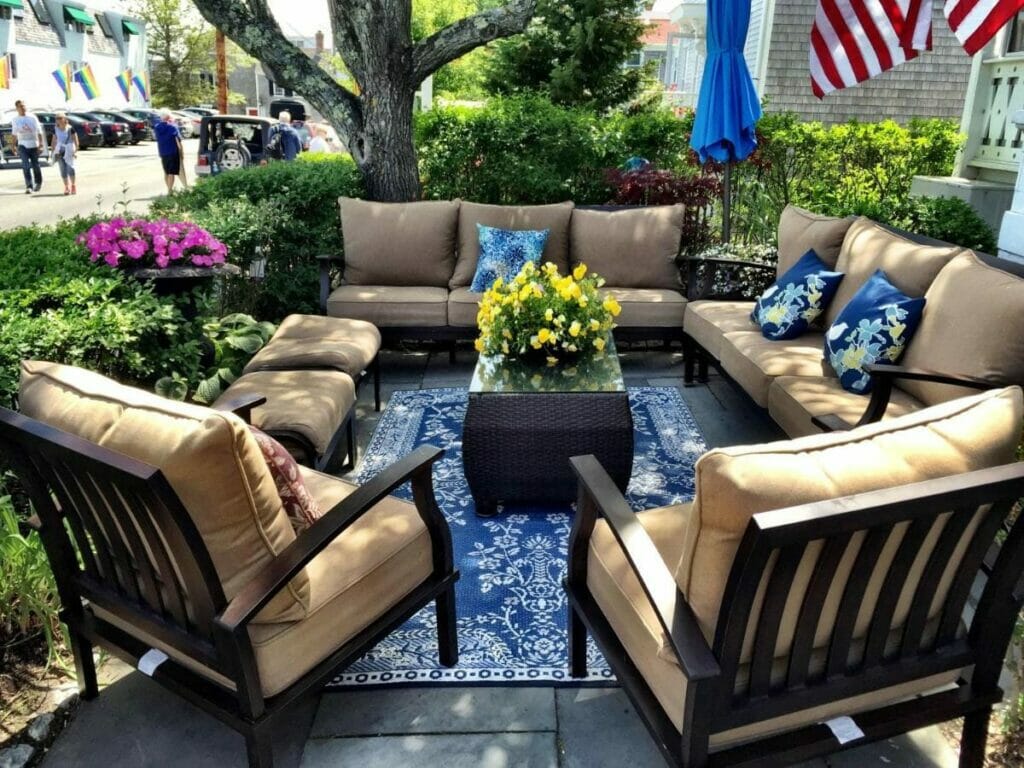 Perched atop West Ends' Gun Hill and looking out over the Atlantic, Lands' End Inn features 18 luxurious guestrooms. Each one is uniquely built, with lavish décor and furnishings, with such touches as antique heirlooms and fine art giving the place an air of old-world sophistication. Thankfully, pet-friendly rooms are available should that be a key criterion for you.
It can be fairly said that Lands' End Inn is a destination within itself, set in a beautiful landmark of a building with sweeping views all around, and with the beaches just step away on one side and downtown P Town with its shopping and nightlife just steps away on the other. It's no wonder Lands' End likes to claim the best location in town.
Continental breakfast is included with a room, featuring fresh orange juice, home-baked muffins, loaves of bread, coffee, tea, cereals, yogurt, and fresh fruit. Breakfast can be enjoyed out on the hotel's veranda or in the garden, wither of which offer stunning ocean views. All-day snacks and beverages also come complimentary, and there is an evening reception with excellent wines and beers, as well as cheeses, olives, and other snacks. You can tell the managers really go out of their way to take care of guests here. And they also go out of their way to make sure that everyone is made to feel comfortable and welcome here, regardless of sexual orientation or gender identity.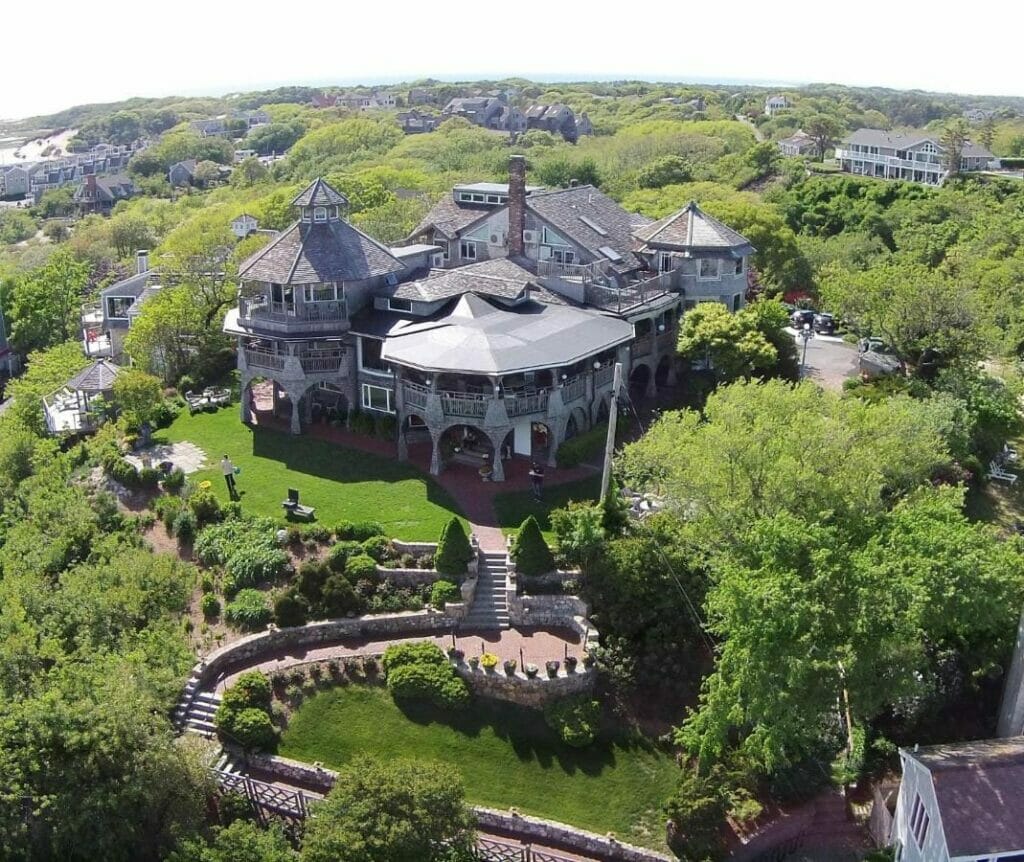 Guests rave about the elegant décor and ambiance of this Bed & Breakfast-style hotel. They also rave about the comfortable rooms, great location, fabulous home-cooked breakfasts, and, above all, the welcoming setting and tolerant, inclusive atmosphere that embraces the spirit of open-mindedness.
As for The Gaslamp's' 8 guestrooms, they offer everything from small and budget-friendly rooms ideal for a single traveler to larger rooms with two queen beds and a private bath that are more suited for couples. And of course, there are rooms that cover the territory in between. All offer clean, comfortable accommodation. Room 8, aka "The Penthouse," in particular offers plenty of space and a private bath.
Listed among this gay-owned establishment's amenities are high-speed Wi-Fi, smart TVs in each room, a hot tub, and a clothing-optional deck. Best of all is its great central location right in the heart of downtown P Town.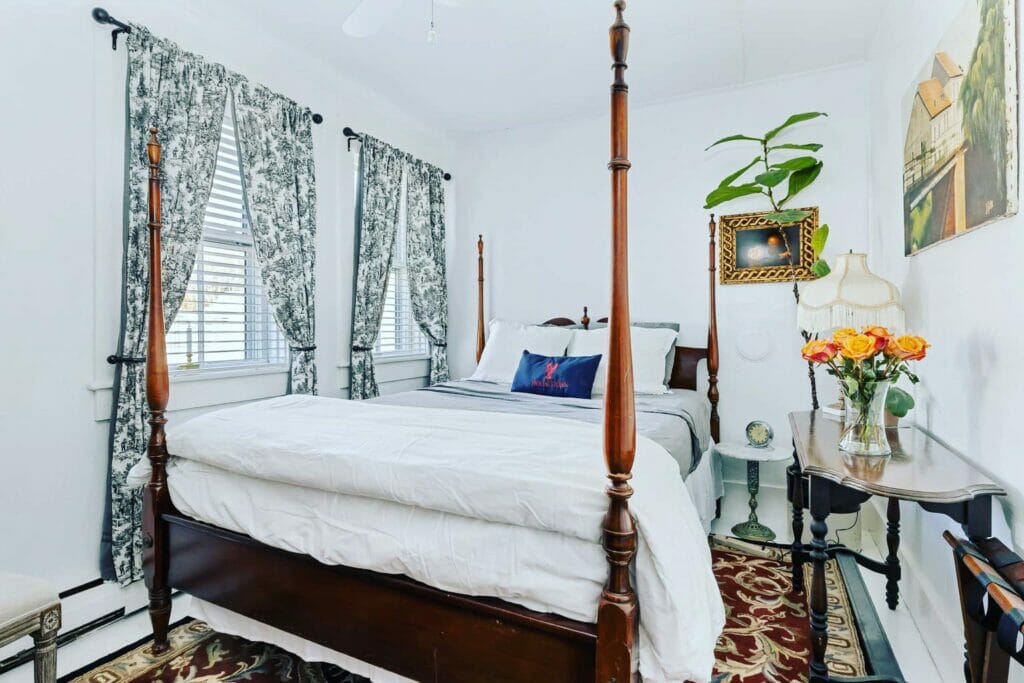 The Revere Guest House is a beautifully restored 19th century home with an excellent central location in the middle of all P Town's many attractions. Besides the guest rooms – which range from small economy rooms for single travelers on a budget to full-size apartments and two-room mini-suites – there is a common room where guests can relax or socialize if they choose, as well as a garden with its own patio and a fire pit.
Complimentary continental breakfast is on offer, with a different scrambled egg dish each morning and bagels, baked, goods, hard-boiled eggs, fresh fruit, and Cape Cod Roaster's Coffee. The Revere House was proudly featured on an episode of the popular show "If these walls could talk," after a time capsule containing documents was discovered during the buildings' renovation.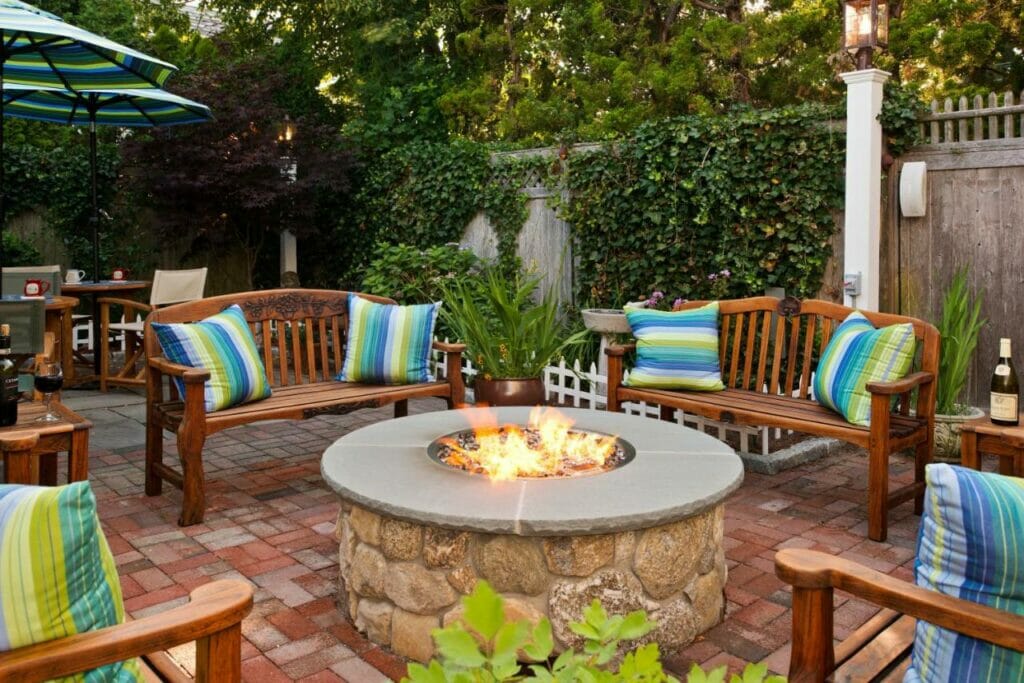 This chic gay resort in Provincetown consists of four buildings around a central courtyard and is located next to Town Hall and the Pilgrim Monument. The 22 rooms are all named after famous figures from the region, such as Agatha Christie and Jane Goodall. Each includes private baths, Wi-Fi, cable TV, air conditioning, fireplaces, sun decks, gardens, and beds featuring Tempur-Pedic mattresses.
Just like P Town itself, the hotel adopts an inclusive attitude, and everyone is welcome here, and all are encouraged to be themselves. The hotel has been operating for over 40 years and takes pride in the fact that over 80% of guests are repeat visitors. So it is safe to say that The Provincetown Hotel knows how to treat guests right.
Property amenities include a gorgeous courtyard area with quaint stone bridges, an outdoor fire pit, a goldfish pond, lounge chairs, and walking paths. Guests love the quiet setting right in the heart of the city, with easy access to everything but secluded away from the hustle and bustle.