Whether you go on holiday for the suntan, new experiences, blow off steam, or just to escape the daily grind, we're willing to bet that you want to feel relaxed and free to be yourself. Thankfully the gay resorts in California allow you to do just that – to be 110% yourself, without a single double-take, all in the company of other open-minded folks.
It doesn't get much better than sunny California. There's no reason to wonder why the Golden State is so popular both with visitors from the U.S. and abroad as well as those who choose to join almost 40 million others and make California home. It is America's most populous state and is still seen by many as "the land of milk and honey."
It is also seen as a bastion of progressive thinking. The San Fransisco Bay Area, in particular is known as a more open and liberal-minded environment that more closely resembles the kind of vibes you might encounter in a European city than the rest of the country. To be sure, this part of California, in particular, has long been seen as a haven for LGBT people, and a place where those of all sexual orientations and gender identities can feel comfortable to be themselves.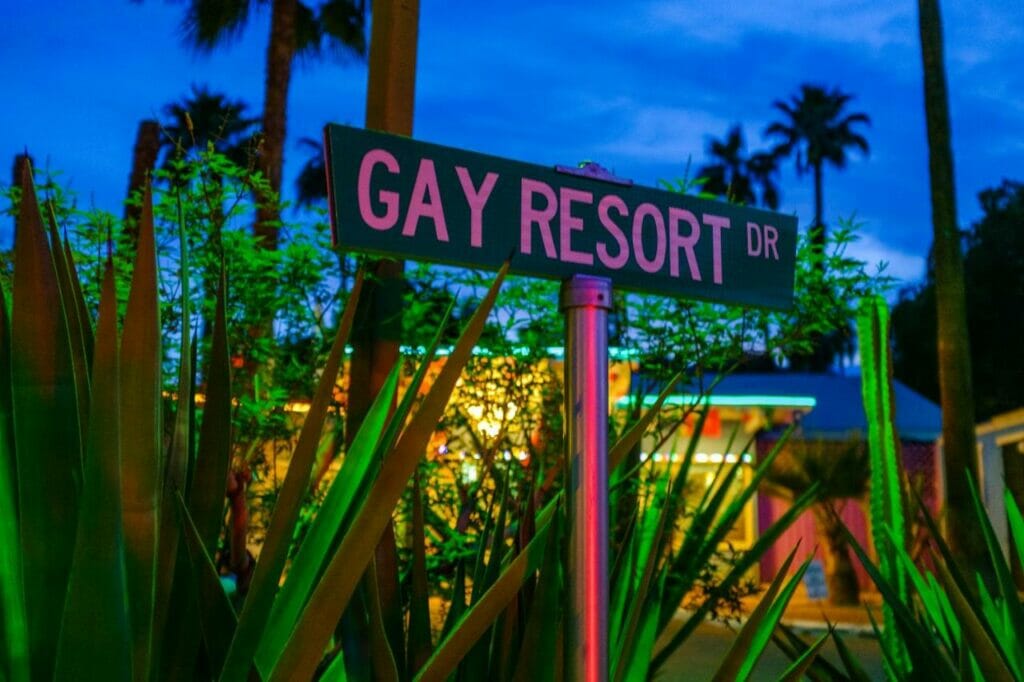 California is also a traveler's paradise, with more to see and do than anyone could ever cover in a lifetime. From the glitz and glamour of Hollywood to the majestic Redwood forests to breathtaking beachscapes to world-famous national parks like Yosemite to Disneyland itself. It's easy to see why the state greets a staggering 140 million visitors each year.
At this point, it is probably needless to say that as one of America's most welcoming and inclusive states for folks of all stripes, Cali is also home to some of the USA's best gay and gay-friendly hotels and resorts. Here we have put together some of the best gay-friendly and gay resorts in California.
All of the resorts listed below are at a minimum gay-friendly, and most are even owned and operated by gays. And, of course, this is our mission: to give you a starting point in your search for a warm and friendly place to stay during your time in California. We'll send you in the proper direction, and after you arrive, you'll be surprised at how quickly you can develop friendships with people at the gay resorts in California — it's as if everyone there has something in common, there's no judgment, and you can connect more easily.
Even better, no dating sites or gay apps are required to meet folks here…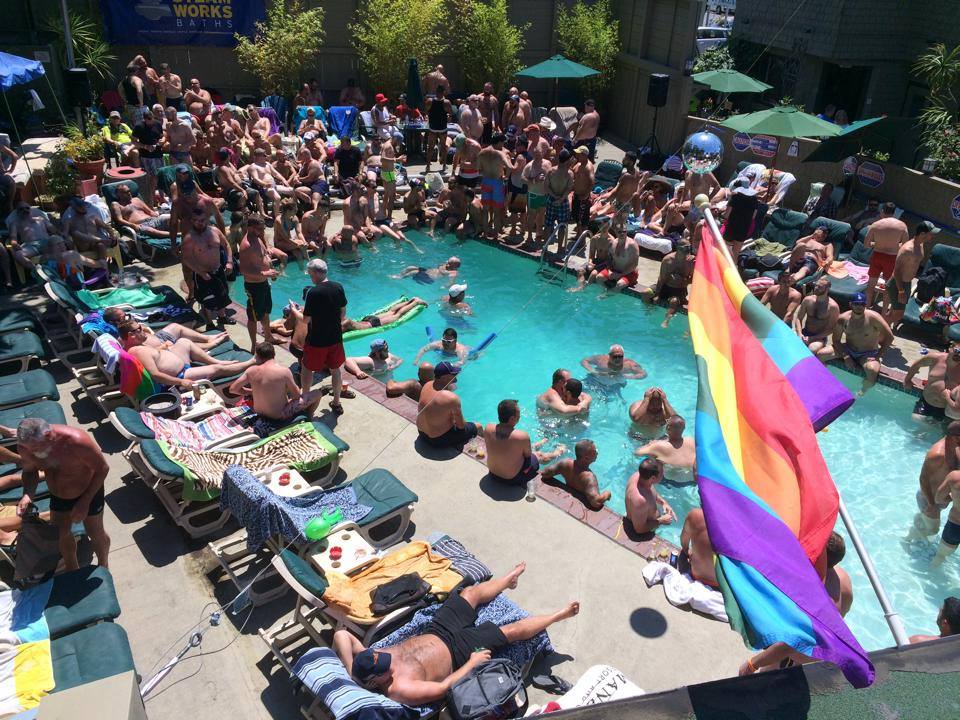 To begin our offerings of gay resorts in California, let us introduce the oh-so-sophisticated Highlands Resort, which seeks to provide a quiet and relaxing atmosphere in the heart of Redwood country. It prides itself on having an idyllic wooded setting that is still only a short walk away from everything that little Guerneville has to offer (which is to say, quite a lot despite the town's small size). The resort is also a short distance from Johnson's Beach.
The Highlands Resort is undergoing a transition to new ownership, and part of that transition will mean that The Highlands will no longer be a clothing optional resort, so potential guests should bear that in mind.
There is a slew of accommodation styles available. Standard rooms are about 170 square feet and include either a double or full bed with nightstands and reading lamps, corner table, chair, small fridge, and dresser. Also included in the standard rooms are a wall heater and ceiling fan. The private bathrooms have small showers, and each has a porch with two chairs. These rooms are non-smoking, and sadly they are not pet-friendly should you be looking to bring your furry baby. Also of note is the maximum occupancy is two guests.
Cabins and suites are also available in a pretty wide range of styles. They range from 250 to 320 square feet. Some of these feature nifty extras like an oversized two-person soaking tub in the King Spa Cabin, a wet bar and two-person shower in the Deluxe Studio Cabin, or a fireplace and balcony with gorgeous views of the Redwoods in the King Cabin, just to name a couple of examples. Most of the cabins and suites include a mini-fridge, microwave, and coffee maker.
The Coyote Camp is the newest addition to the resorts' list of accommodations. The campground features fully furnished scout tents. If you don't know what a scout tent is, just think "glamping" and you'll have an idea. These 12 x 14' tents come with king beds – linens and all – as well as a wardrobe rack, USB charging ports for phones, and porch chairs. These can sleep two and are non-smoking. Again, no pets are permitted, and also of note is that guests at the campground use shared outdoor bathrooms. There is also a pool at the campground and a shared BBQ area – so bring your cutest gay swimwear or tank tops to get noticed. Tent stays include a continental breakfast and a freshly brewed cup of Flying Goat coffee.
Best of all is the resort's open and welcoming attitude, which is right in line with that of Guerneville and the Russian River area of the Sonoma Valley.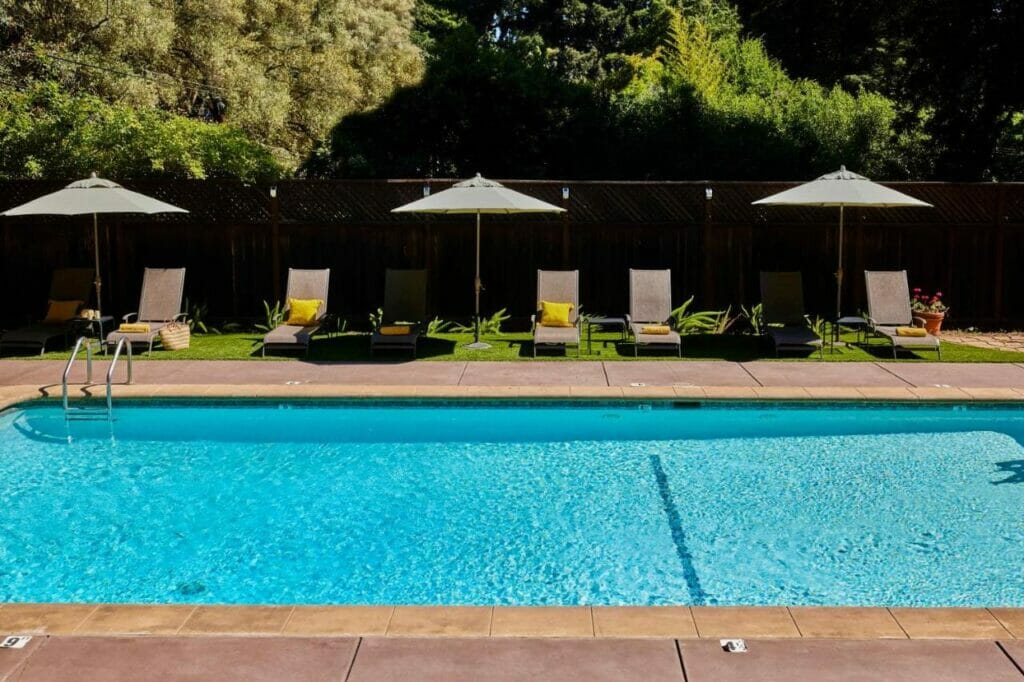 This fabulous hotel, located in downtown Guerneville, is gay-owned and, as such is more than welcoming toward LGBTQ+ visitors. It is an adults-only establishment, and while the hotel as a whole is not pet-friendly, there are three rooms available that are. The Woods enjoys a central location with all the shops, restaurants, bars, and clubs within easy walking distance.
Accommodations include cottages, cabins, basic and large rooms, and balcony rooms, as well as multi-room suites. All rooms have a 43" high-def flat-screen TV and a king bed. Cottages are air-conditioned, and the bathrooms have both a tub and shower. Also included in the cottages are fully equipped kitchens with gas stoves and full-size refrigerators, not to mention a large living-dining area with a gas fireplace.
The cabins are billed as a "delightful mix of rustic and modern," yet each features unique décor. The cabins are all adjacent to the pool and provide easy access to it as well as a birds' eye view. Each cabin features a king bed, a TV with a DVD player, and a kitchenette with a microwave, coffee maker, and full-size refrigerator. They are also air-conditioned. All cabins have gas fireplaces and a balcony deck. Occupancy is for two guests though more can be added for $50 a person.
Basic rooms offer simple, no-frills lodging. However, they are nicely appointed with queen beds, 43" TVs, mini-fridges, coffee makers, and air conditioners. Tiled bathrooms with showers also. Rounding out the resort's lodging options are the Den, Woodshed (a spacious suite with a full kitchen and a large dining area and is specially outfitted for accessibility for the physically challenged), deluxe cabins, and balcony rooms.
The beautiful Woods at Russian River resort also serves as a venue for a range of event types such as weddings and vow renewals, as well as anniversaries, family reunions, graduation and birthday parties, and so on. Ceremonies can be held poolside, and gatherings both large and small can be accommodated.
The resort prides itself on its beautiful landscaping and the vibrant flowers that are in bloom for most of the year.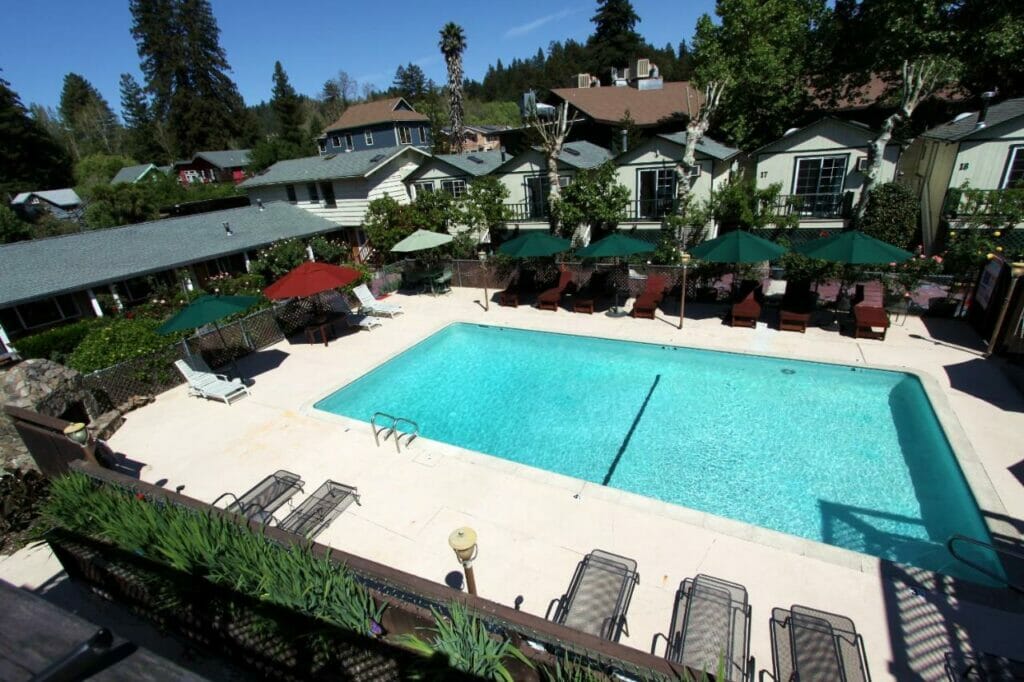 The R3 Hotel advertises itself as the premier entertainment resort of the Russian River area. It also adopts the laid-back, open-minded attitude of its locale: Guerneville. The hotel was originally a drive-in motor lodge more than three decades ago, and traces of that origin can still be seen in the property's U-shaped layout, in which the pool takes center place with walkways and landscaping surrounding.
Besides the pool, the R3 Hotel has an on-site restaurant and a bar, as well as a game room. The bar is the unofficial hub of activity at the hotel, with a sliding glass wall that looks out onto the pool. The bar also has ten televisions and a DJ booth with a high-end AV system, and a billiards table.
The R3 Hotel has 23 guest rooms, so while it is a smaller establishment, guests can enjoy the more intimate vibe that comes along with that. The rooms come with private baths, cable TV, refrigerator, microwave, and coffee maker. Free Wi-Fi is also available in all rooms, along with air conditioning. Thanks to the resort's layout, all the rooms are in close proximity to the pool and have easy access to the poolside bar and entertainment stage.
The hotel is big on providing entertainment, and there are a host of events taking place at the R3 throughout the year. Events like Oscar Parties, Easter Weekend Fun, Cinco de Mayo, and Women's Weekend are just a few examples of how the hotel works hard to make sure guests can have a good time, with plenty to do.
The best part of all is that the R3 will put guests right in the middle of everything Guerneville has to offer, with a smattering of bars, galleries, and eateries just a stroll away. All that and a fantastically friendly atmosphere where everyone is free to be just who they are.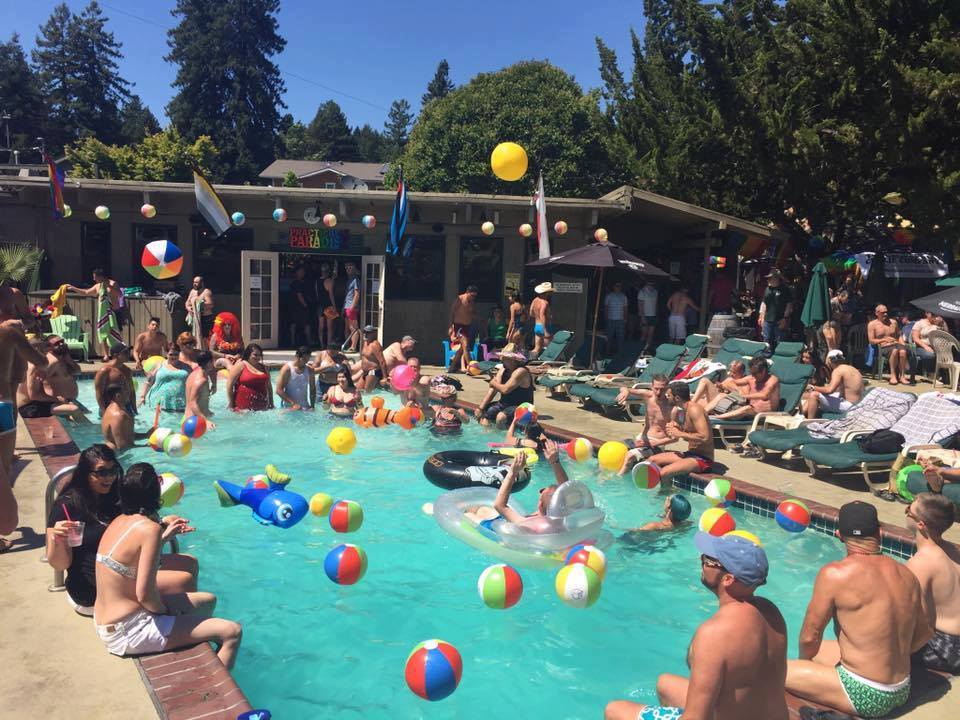 Located in Badger, California, Seven Circles Retreat is a gay-owned resort that puts an emphasis on wellness – spiritual, physical, and emotional – by helping guests reconnect with nature. Situated within the Sierra Nevada Mountains with Sequoia and Kings Canyon National Parks nearby, the retreat is in a prime location to do just that.
The property itself is relatively small at 24 acres, but that only lends it a cozier vibe than would otherwise be the case. There are nine guest rooms in addition to campsites in the summer months. There is a library on the property with CDs, DVDs and of course, books. Free Wi-Fi is available in the guest rooms. The retreat also has a pool. A nice feature of the retreat is the option for an all-inclusive meal plan which provides three meals a day for under $10.
The retreat offers secluded hiking opportunities, not to mention magnificent views of the Sierra Nevada Mountains. There is a range of other activities too, with volleyball, basketball, horseshoes, and badminton games all up for offer. Nearby Hume Lake also offers a white sand beach with rental boats and canoes.
The retreat sits upon what was once a spiritual gathering place for those that came before. Owners Chris and Jim warmly welcome guests to come and experience the special aura of the place, and above all, they encourage visitors to partake in the renewal, rejuvenation, and healing that comes with connecting with nature. And of course, the experience is equally open to all, and everyone is encouraged to enjoy the relaxed atmosphere.
The Sonoma Coast Villa is a gay-owned boutique hotel resort where the California wine country meets the Pacific, with a location that gets the best of both worlds. The beautiful hotel blends the sunny California climate with architecture inspired by an Italian-style villa. The result is simply splendid, with red tile roofs, a columned veranda decorated with terracotta stucco, and a terraced garden.
Sonoma Coast Villa has a 9-hole putting green in addition to the swimming pool and private patios. Not to mention an expansive and beautifully landscaped property with stunning vistas and several hiking trails, granting an opportunity to take it all in. Hotel staff can help guests arrange off-property group activities and excursions, with a range of exciting adventures lying within just a short drive from the hotel. Day trips can involve beach exploration, fishing in the Pacific, horseback riding, tours of the many local wineries and creameries nearby, or guests can go antiquing, visiting the numerous antique stores in the vicinity.
The hotel features 18 suites, with fireplaces and oversized Jacuzzis. There are also some pet-friendly rooms if you want to bring a furry friend along. All rooms have free Wi-Fi access and complimentary in-room continental breakfast, as well as satellite TV. Also included are two complimentary bottles of water, toiletries and hair dryers, wine openers and glasses (this is wine country, after all), minibar service, and packaged teas and decaf coffee. The rooms come in a range of options – from the cozy Hillside Rooms, some with private decks, and some overlooking the pool or the gardens – to Poolside King and Double Rooms to premium California King Rooms, with radiant heated floors.
The jewel of them all, however, is the Grand Residence which is a standalone home on the premises that serves as the ideal accommodation for a family-style getaway or a weekend away with friends. It has a large living area that can be outfitted with a 14-person dining table. There is also a pool table.
The Grand Residence can sleep up to 10 guests, with four bedrooms. The master bedroom has a king bed and sleeper sofa, as well as a private bathroom. Another of the bedrooms features a king bed, and the other two have queen beds and share a Jack and Jill bathroom. The home also has a full kitchen and a private outdoor deck.
The beautiful resort also hosts events and functions, and there could be no more ideal setting for a wedding ceremony. The property has multiple meeting rooms, such as the Carriage House, with 800 square feet of space and multiple configuration options for gathering both large and small. Also, there is the Board Room which can serve as a great venue for corporate functions. Rounding out the property's impressive list of amenities is the outdoor Dining Room, with a vaulted wooden ceiling, which can accommodate a 40-person dinner, and the Courtyard Lawn, which can comfortably accommodate over 200 guests for larger functions.
All this, and a warm, welcoming atmosphere and the kind of inclusive setting. It's no wonder so many choose Sonoma Coastal Villa for an idealistic getaway.
The Meadow Lark Inn lays claim to being one of the most sought-after getaway destinations in the Napa Valley wine country region of California. It offers what it calls European ambiance and hospitality, in a clothing-optional, adults-only five-star resort. It is open to hetero, gay, bisexual, or any other lifestyle type. Owners Kurt and Richard strive to provide a welcoming setting where everyone can be comfortable and enjoy a tolerant and accepting environment.
There is a pool that is clothing optional, in addition to a hot tub and Finnish-style dry sauna. There is also a massage room, a heated mineral water lap pool, a mineral water hot tub, and sunbathing areas. As you can likely see for yourself, the resort is big on wellness and works hard to provide an array of self-care amenities for guests.
There are a variety of rooms and suites available. All accommodations include free Wi-Fi, air conditioning, and cable tv, and daily housekeeping is another of the standard amenities. Other amenities vary with each room, though ones for the standard rooms include queen size beds, sofa, writing desk, and private baths with showers. Some have garden views. Suites include private decks, large bathrooms with both bathtubs and showers, and Jacuzzis. Some suites have large sitting areas and whirlpool tubs.
Then there is the Pool House, which is the crown jewel of the Meadow Lark. It provides guests lucky enough to experience it with their very own private hideaway. The Pool House is separate and secluded from the other lodgings. This Guest Cottage offers plenty of space with two bedrooms – one with a queen size four poster bed, another with a queen bed, and a private half bath. Other highlights are a fireplace, dining area, sofas and loveseats, TV, kitchen, washer and dryer, and a marble-tiled bath with a whirlpool tub for two. There is also a private deck accessed through a pair of French doors. Views of forest and vineyard come complimentary.
The Meadow Lark Inn is a great place to come and get away from the stress and cares of everyday life. Take advantage of the wellness opportunities, and enjoy the healing and rejuvenating qualities of the spa. Get a relaxing massage or take a restorative mineral bath. Or just simply relax and soak up the warm California sun on your own private deck. You can do all this and enjoy the laid-back, friendly setting you will find here and be comfortable to just be yourself.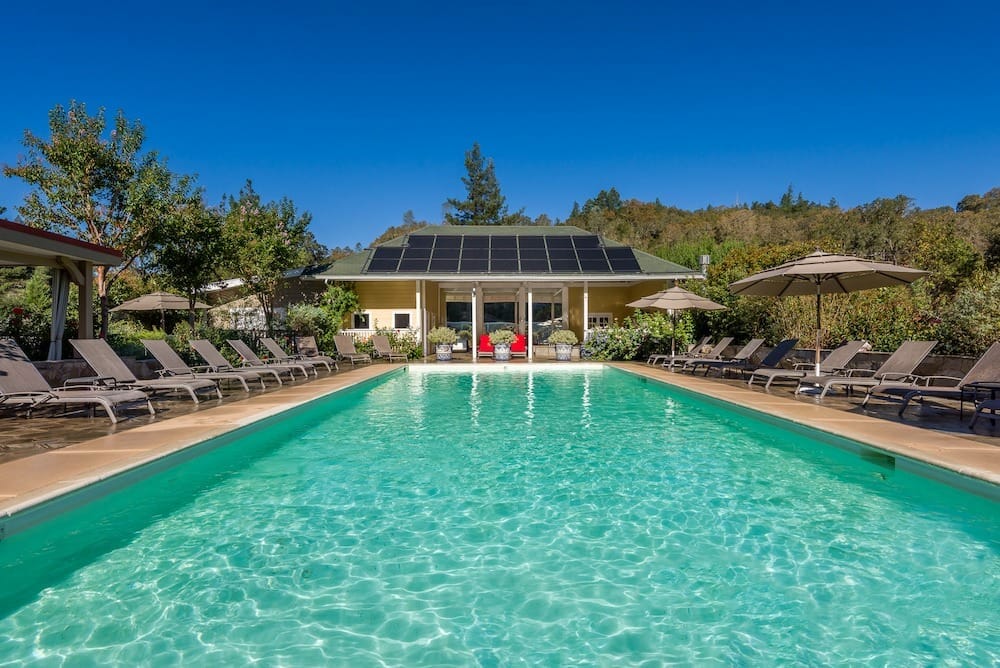 The Stavrand is a five-star luxury retreat in the Russian River valley that has recently undergone a complete renovation "to create an experience that brings together the delightful indulgences of a resort with the character of a boutique hotel." Among the Stavrand's property amenities are a lending library, spa services, outdoor games, bicycle and kayak rentals, and, coming very soon, a pool. The name Stavrand comes from Norwegian Stav (church) and rand (hill) because the hotel itself is rather evocative of the image of a church on a hill.
For dining on-site, the Stavrand has a culinary team consisting of four chefs, each of whom is a proven and passionate expert in preparing fine cuisine. And it wouldn't be a proper Sonoma hotel without a fine selection of beverages on hand, including local spirits, sake, microbrews in addition to wine, of course, with many a Sonoma signature brand to choose from.
The hotel has only 21 rooms, which means guests can look forward to a more intimate experience, not to mention an attentive staff that will work hard to make your stay the best it can possibly be and engage with you on a personal level. The 21 rooms are spread out across three buildings. The Belden House is the heart of the hotel. The beautiful mansion is a Sonoma County Landmark. It features custom artwork and modern furnishings that complement the many antiques found inside. The Cazadero House compliments the Belden House and is several decades newer than its 1922-built counterpart. Many of the rooms in the Cazadero House feature gas fireplaces and/or freestanding soaking tubs and/or outdoor cedar hot tubs with views of the open sky.
Last but not least by any means is the Armstrong House, which is the most modern of the three buildings. This part of the hotel offers new designer furniture and renovated wood flooring. It also features semi-private outdoor decks. The large bathrooms have Saltillo tile showers, Jacuzzi, and either a window or skylight.
Room amenities include high-speed Wi-Fi, 50" HDTVs, in-room safe, USB charging stations, daily housekeeping and turndown service, luxury bath amenities, stocked minibars, new heating, and air conditioning units, robes and slippers, gourmet hot breakfast, new pillowtop king beds, hairdryers, makeup mirror, alarm clock, coffee and tea service, umbrella and portable lantern. That is quite a lengthy list, with many things you won't find in every hotel. It is just another example of how far The Stavrand will go for its guests. Add in a gay-friendly setting where anyone is free to be who they are in comfort, and you have the makings of a special hotel that will have guests coming back year after year.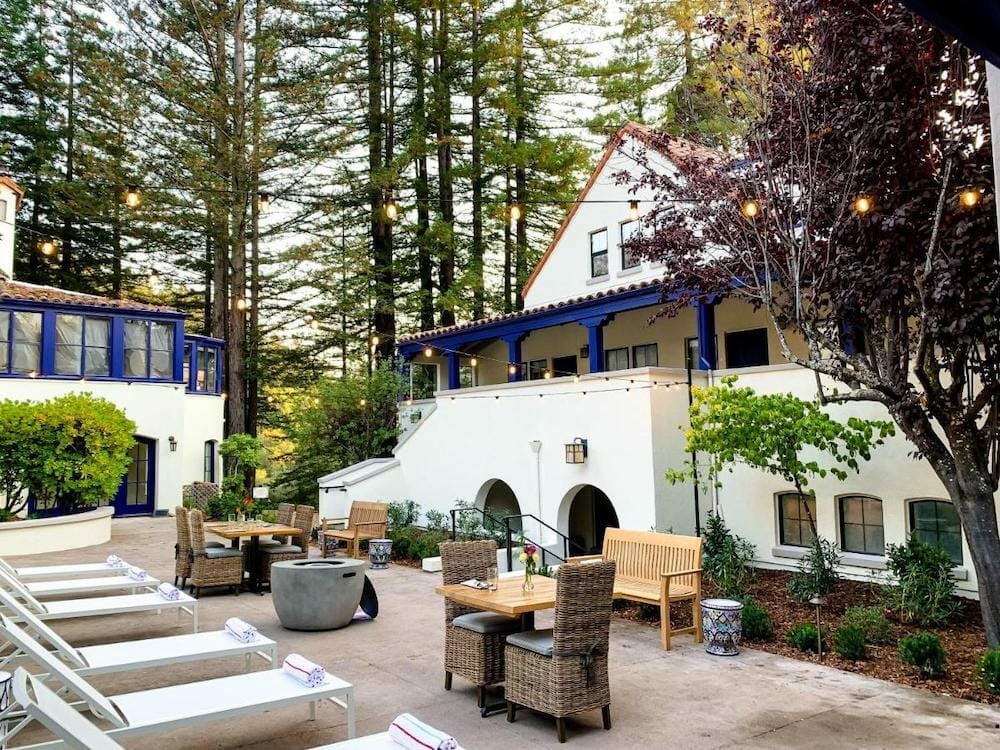 This Palm Springs hotel is on a mission to "design an atmosphere where gay men can escape the stress of everyday life, and to create a resort environment where you can relax, have fun and just be yourself," to put it in their own words. And with an address such as 615 Warm Sands Drive, it would be hard to argue that they are off to a great start with the location. Actually, the Desert Paradise Resort is one of the longest-running gay hotelsf in Palm Springs, and it is gay-owned and operated and strives to provide a welcoming setting for all. Singles and couples are welcomed here, and the resort goes out of its way to make it easy for guests to mingle with each other.
You can leave your gay swimwear and shorts behind for this vacation if you want because the Desert Paradise is a clothing-optional resort and boasts a long list of property amenities. They include but are not limited to the heated swimming pool, gardens (with an outdoor shower), heated hot tub, sundeck lounge, dry sauna, and steam room, misting system, guest computer, fire pit, two-man hammocks beneath palm trees, koi pond, fountains, spectacular views of the desert and mountain scenery of the Palm Springs area, and best of all the friendly and professional staff.
The rooms have individual a/c and heating and feature California Kings beds for a little extra leg space. Rooms also include a flat-screen TV, ceiling fans, coffee makers, mini-fridge, microwaves, iron and hair dryers, and complimentary snacks. Continental breakfast is also included with rooms, as is high-speed wireless internet access and off-street parking. Needless to say, you can hardly beat the value and fun you will get when you book a room at the fabulously queer Desert Paradise.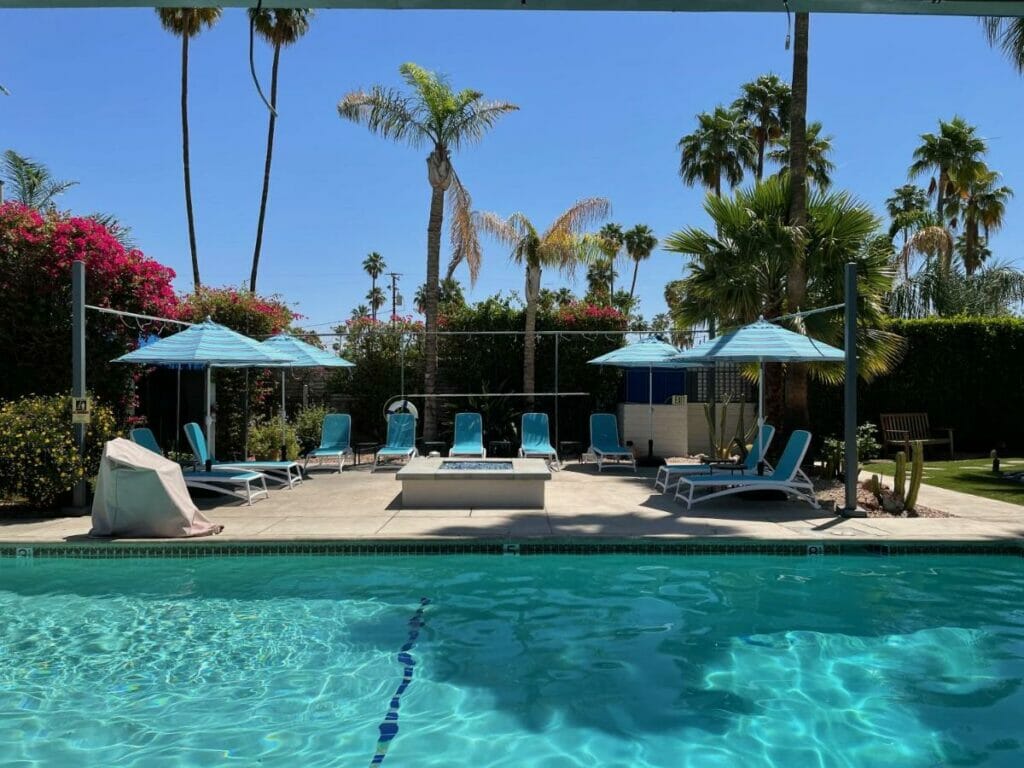 The Hacienda at Warm Sands is more than a fashionable gay resort. It is an experience. Or so says the resort's advertising. This is another of the gay hotels in Palm Springs that endeavors to provide a safe, welcoming environment where gay men can relax and be themselves in the company of like-minded individuals. This is another clothing-optional resort in Palm Springs, and the choice of whether to wear clothing is yours whether in your room, at the pool, or anywhere on resort grounds.
There are a variety of suites available: patio rooms, junior suites, deluxe junior suites, deluxe suites, and grand deluxe suites. All include butler's service, 4K Ultra HD LED Apple TV (to unwind watching all the latest LGBT TV shows), and Tuscan-style spa shower (perfect for getting those gay Onlyfan shots…). Deluxe and Grand Deluxe offer more spacious — as well as more lavish — appointments and furnishings, such as a large gas fireplace and full kitchen, as well as a private patio.
The Hacienda is hard to beat when it comes to outright luxury, and it prides itself on its world-class service, with the only 1:1 staff to guest ratio of any hotel in Palm Springs. Such perks as the Hacienda offers that you won't find everywhere include personal concierge as well as personal shopper service, meaning you pre-order everything you love and have it stocked ahead of your arrival. Personal messages are also offered with a variety of massage styles from professional therapists.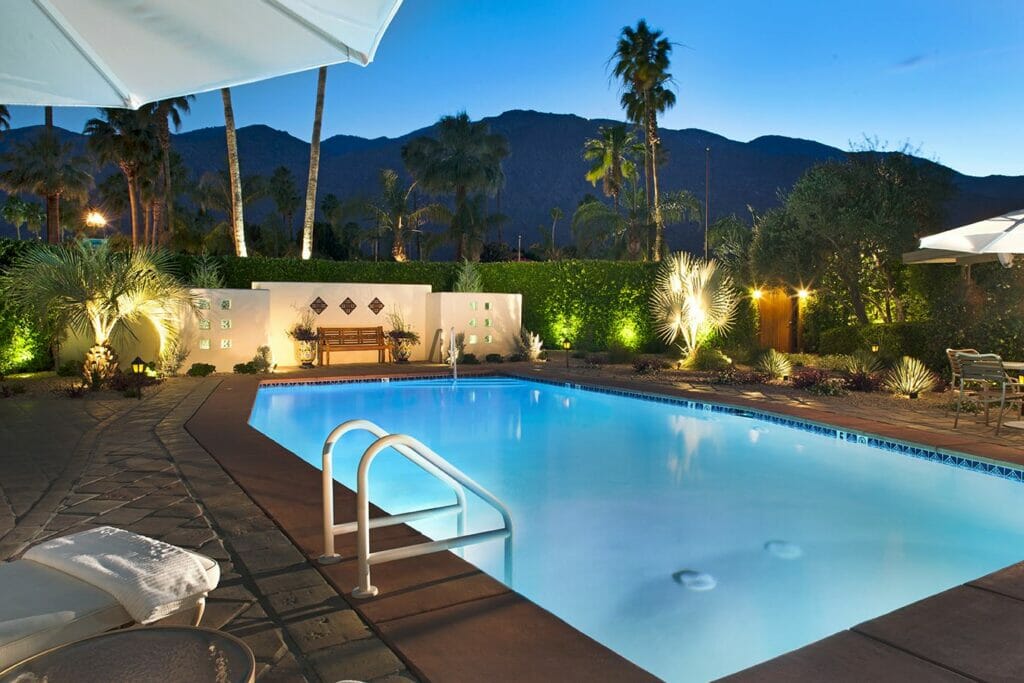 Located at 68300 Gay Resort Drive, you know you are in for a treat with this gay resort, which bills itself as a fantasy playground for men. It is situated on three acres and yet only seven miles from downtown Palm Springs. And as the largest clothing-optional gay resort for men in the entire United States, the CCBC Resort is a great place to stay and play, to say the least. It makes a great venue for a fun weekend away as well as for more extended stays.
There are a variety of studios and suites available, from the Garden King Studio to the Premium Deluxe Suite to the Atlantis Suite to the Nature Walk Studio, and more. All of them are nicely appointed, and guests will not be left wanting for comfort. Rooms feature all the standard amenities you would expect, including a/c, flat-screen TV, refrigerator, microwave, and kitchenette. The property has a swimming pool, hot tub, and sauna. There are also BBQ facilities.
The resort's own Runway Bar & Restaurant is not only the place to grab a fine bite or a drink, but it also hosts a wealth of events from live music to burlesque shows to "Big Daddy Bingo" and more. It has a fine menu with many breakfast and brunch choices thrown in.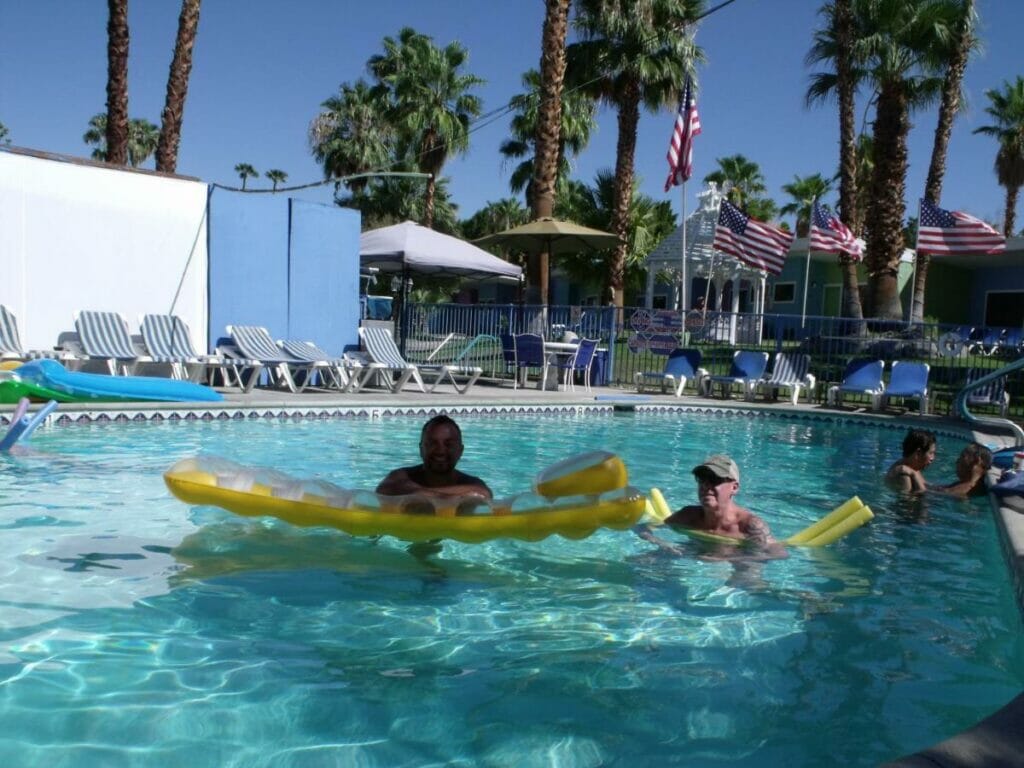 The Triangle Inn, located right in the heart of downtown Palm Springs, offers "a feast for all your senses." This gay-owned and operated hotel offers warm hospitality that can't be beaten anywhere. Owners Michael and Stephen live on the property. It is a laid-back hotel where guests become friends, to quote the hotel's tagline.
Inspired by the queer bed and breakfast stays they had experienced on their own travels in Europe, Michael and Stephen decided to create a resort with a cozy kind of atmosphere and vibe. And they have succeeded, saying of the resort that "it really does feel like having friends over in your backyard." The Triangle Inn draws many visitors from as far away as the UK and Germany seeking the almost guaranteed sunshine of Palm Springs, so there is ample opportunity here to meet guys from all parts of the world and all walks of life.
Clothing optional, the Triangle Inn is perfect for your stay whether you are seeking something "romantic and relaxing or fun and frisky." Studio suites, junior suites, and one- and two-bedroom suites are available, with eight total on the property. All suites feature either a full kitchen or a kitchenette, as well as large private baths, spacious closets, and private reading libraries. Suites also include flat-screen TVs with DirecTV and DVD players. Rooms come with a generous breakfast served poolside each morning. There are also afternoon mixers that give guests a great chance to meet each other….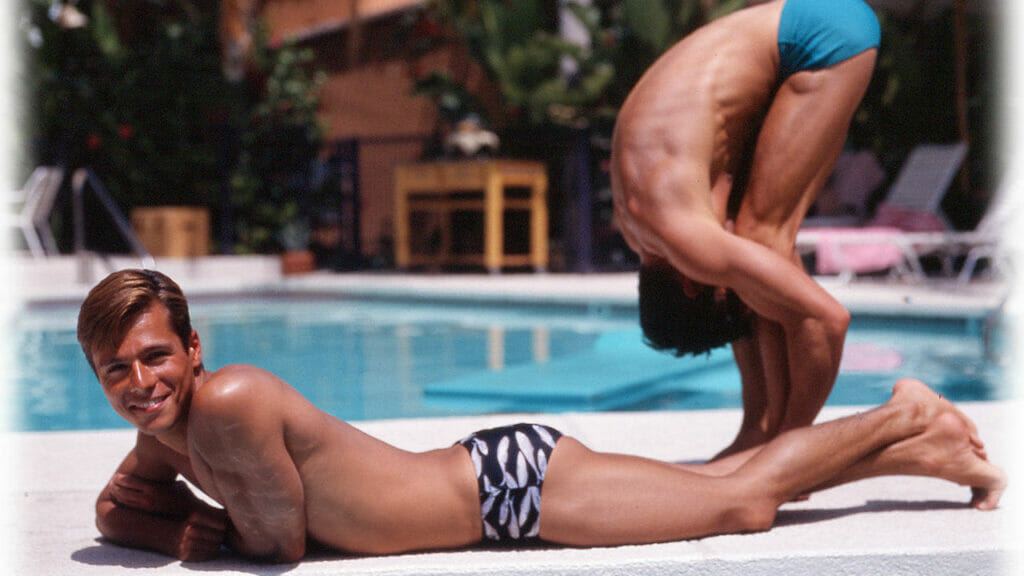 This guesthouse happens to be an award-winning gay resort legend in Palm Springs. It has received 5-star accolades from such sources as Planet Out and TripAdvisor. You are guaranteed to find no more welcoming, inclusive, and friendly establishment than the Inndulge. It is not just gay friendly but is focused on catering to the needs of gay guests, and you can tell the hotel really goes out of its way to create a safe, encouraging space where everyone is free to be themselves. It is an optional clothing resort, and swimsuits are allowed as well. Skinny dipping in either the 24-hour swimming pool or the 12-man jacuzzi is not required, though it is strongly encouraged.
There is a range of accommodation choices at the Inndulge, from one-bedroom suites to deluxe and superior rooms. The luxury rooms have free Wi-Fi, daily continental breakfast, local gym access, laundry room access, air conditioning, a safe, microwave, refrigerator, and flat-screen TV, and also have kitchenettes. The hotel has an evening social hour that provides the perfect opportunity for guests to meet each other. There are also Thursday pizza parties and weekend pool parties. The Inndugle really pulls out all the stops to be a great place for guests to meet new friends.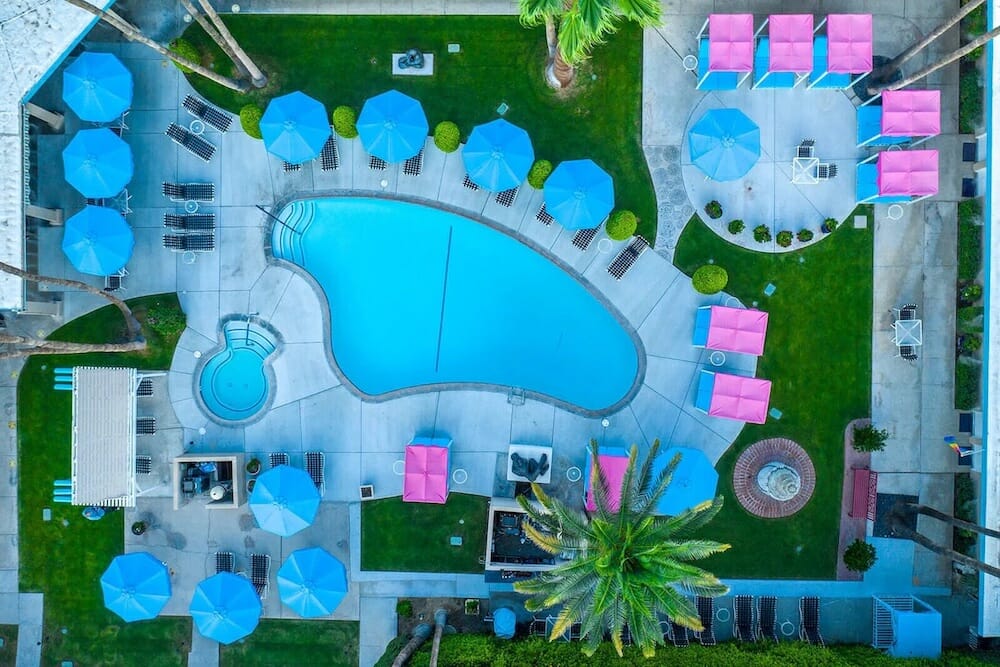 The El Mirasol Villas Resort claims to be the resort of choice in Palm Springs for gay men. It's no mean claim, but it's hard to contest the El Mirasol Villas Resort's right to make it. It has one of the most inclusive resort settings in Palm Springs or anywhere else, for that matter. The hotel was first built by the famous Howard Hughes in the late 40s. The property boasts mountain views by day and splendid starlit skies by night.
The bungalow-style studios and suites are available in an array of accommodation varieties, from simple studio rooms to 2-bedroom suites. Each has a California king bed as well as a desk, refrigerator, flat-screen TV, and DVD player. Some rooms add a wet bar, microwave, sleeper sofa, and private patio. The top-of-the-line 2-bedroom bungalow suite has two bedrooms and two bathrooms, a kitchenette, and two private patios.
The resort property boasts a beautiful garden with citrus trees and an outdoor misting system for maximum comfort. The hotel's outdoor area is highlighted by fountains, fireplaces, an outdoor shower, a 10-man jacuzzi, and two swimming pools. There is even a eucalyptus steam room. That is quite a list of amenities that many hotels can boast.
And it all comes with a gay-focused experience with top-of-the-line service. Just don't blame us when you fall in love with the lifestyle and decide to contact a gay realtor about making a move to LGBT Palm Springs permanently…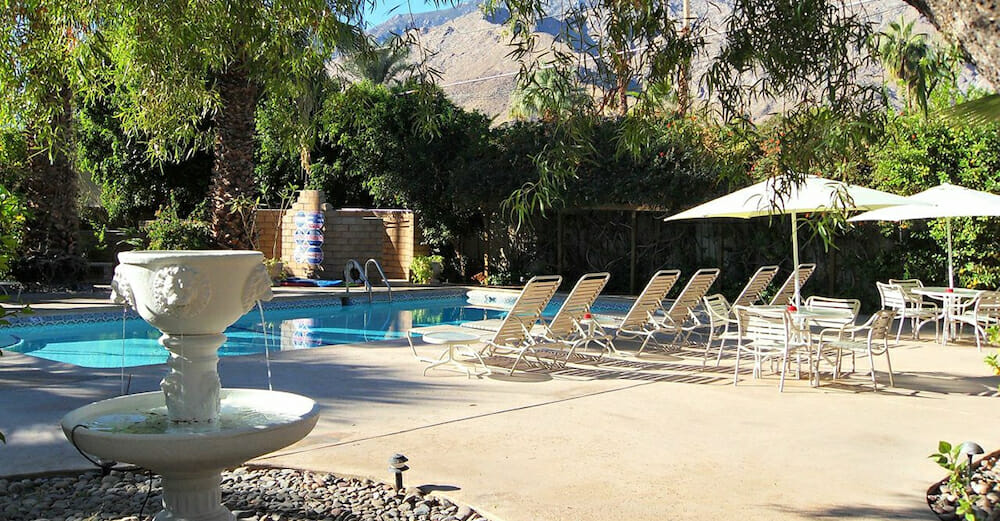 the canyon club hotel is a clothing optional hotel for gay men, situated right within the epicenter of some of Palm Spring's best gay nightlife. It boasts 32 rooms with affordable rates and all the amenities to make your stay pleasant and enjoyable.
The hotel is designed for maximum on site fun, with an expansive outdoor space with a garden, outdoor park, and hedge maze. Lounge chairs are provided, and guests will appreciate the sunbathing opportunities. There is also a koi pond in the garden, and water misters provide a cooling mist breeze when the heat is up. The resort also boasts a steam room – the perfect thing for rejuvenation – and a dry sauna that can complete the revitalization process. There is also a 52' pool in the middle of the property, though the 16-man spa is not to be outdone for group fun.
Some rooms are outfitted with computers and webcams should guests wish to make use of them, and there is a computer available for guest use in the lobby as well. Wifi is available throughout the hotel. King, double, and master suites are available in several variations of accommodation packages. Each of the 32 non-smoking rooms, which have been described as airy and colorful, are air-conditioned and come with maid service. Each room has a TV and radio/alarm clock. There are also refrigerators in each room, and each has a private bathroom. Some rooms feature a kitchen or kitchenette. Some have a private patio, and some feature walk-in showers. Double deluxe rooms feature two full-size beds.
The Canyon Club Hotel has special offers for students and members of the military. It offers free parking and a complimentary continental breakfast. And the best thing it offers is an open, free-spirited atmosphere where gay men can let loose and be themselves. There may be no better choice in Palm Springs for gay visitors than the Canyon Club.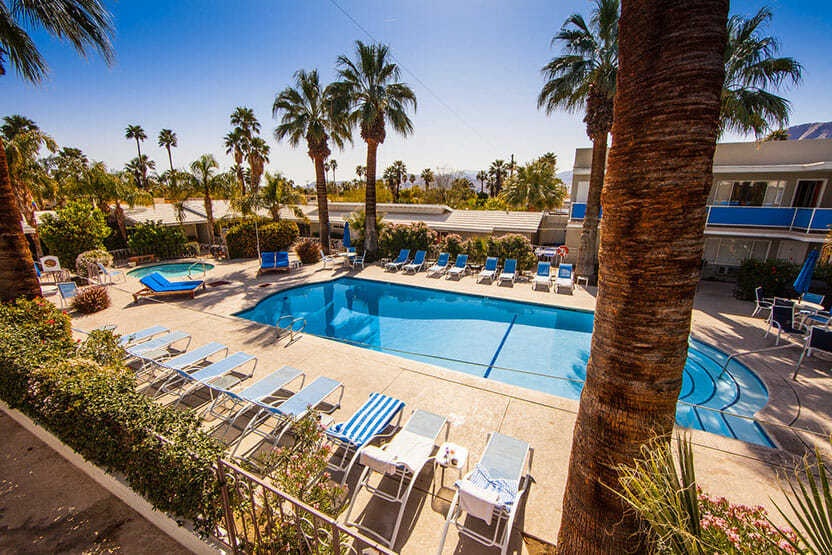 The Descanso is a newly reimagined and freshly refurbished gay men's resort in Palm Springs that harkens back to the glory days of old Hollywood, but with a modern vibe.
Guests are often blown away by the impressive list of resort amenities to be found at the Descanso, like the privacy fencing surrounding the property for added peace of mind. Or the heated swimming pool, outdoor spa, or the misting system for extra relief from the heat of the desert. Then there is the poolside garden shower, the communal outdoor fire pit, poolside day beds, and the meticulous landscaping with native plants and trees to enjoy. And did we mention the cantina with its snacks and beverages which come complimentary? Or the "stay and splash" poolside lunches and Weekend 'Wine O'Clock' Happy Hour which is also complimentary. And for those fun-loving eco-gays, the resort also has electric vehicle chargers on the property.
A multitude of modern rooms and suites are available – either balcony or poolside – and there is the balcony deluxe suite option should you want to go all out. This latter sleeps up to three guests with one king bed and a daybed. It also features a spacious bathroom with a freestanding tub and stunning mountain views. The rooms have one king bed and sleep two. All rooms are nonsmoking. Other room amenities include fast Wi-Fi access, refrigerator, iron, safe, and hairdryer in all room options.
Descanso prides itself on its world-class service and staff. It can also lay claim to an inclusive setting where gay men can feel free to be themselves in an environment that encourages guests to enjoy the supreme relaxation opportunities the hotel has to offer.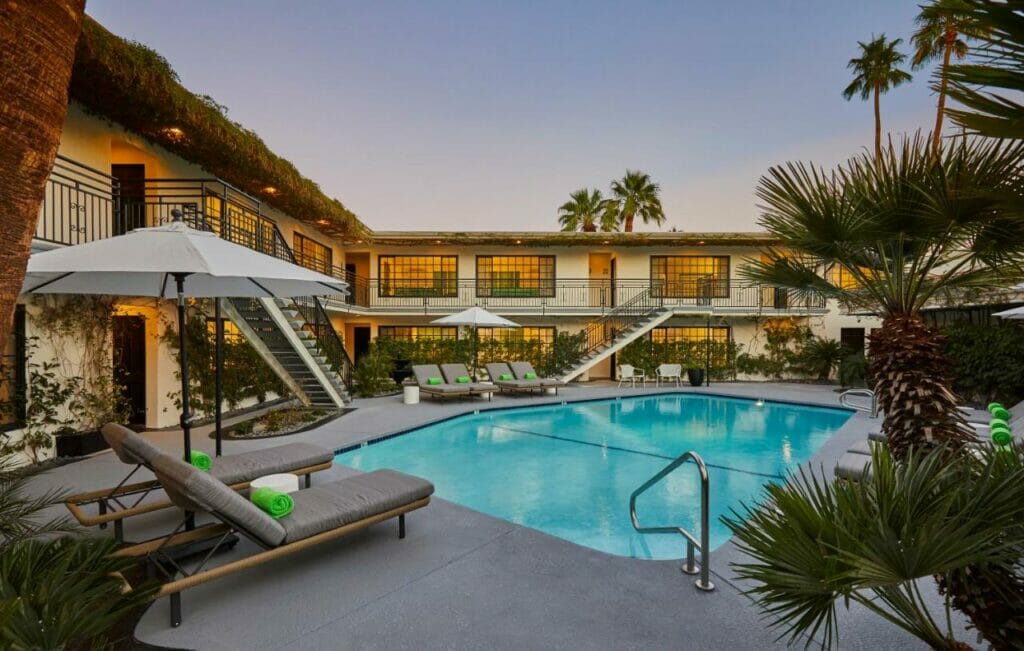 "Santiago Resort is a luxury getaway where men come to hit pause, be spoiled, and rediscover the bliss of completely giving in to the moment." So says the resort's advertising. So it is. The hotel provides an escape for gay men to come to the Palm Springs area and be themselves in a welcoming setting, surrounded by those of like minds and preferences.
The resort is nestled at the foot of the San Jacinto Mountains, surrounded by the stunning vistas of the Coachella Valley and the Sonoran Desert. Here guests will be treated to some of the best services to be found in Palm Springs, delivered by extraordinary staff. They will also be treated to a fabulous set of property amenities like a large, heated swimming pool and an outdoor heated saline spa, as well as an outdoor mist cooling system. Day beds are available at the pools (also pool towels and accessories), and there is a poolside garden shower along with a communal fire pit and two-man hammocks strung between palm trees.
Rooms come with high-speed Wi-Fi and individual heating and cooling, as well as flat-screen TVs with DVD players—also, refrigerators, irons, and in-room safes. Hairdryers and microwaves are available upon request. There is an on-site electric vehicle charger, and city bicycles are available. There is overnight off-street parking. Continental breakfast is offered.
Santiago boasts 23 rooms total in three types: king room, king suite, and deluxe suite. King rooms sleep two guests while king suites add a daybed to sleep a third person. Deluxe suites then add a fireplace in addition to a private patio. All are pet friendly. There is no wrong choice here as all are tastefully decorated and furnished and offer the best in basic comfort.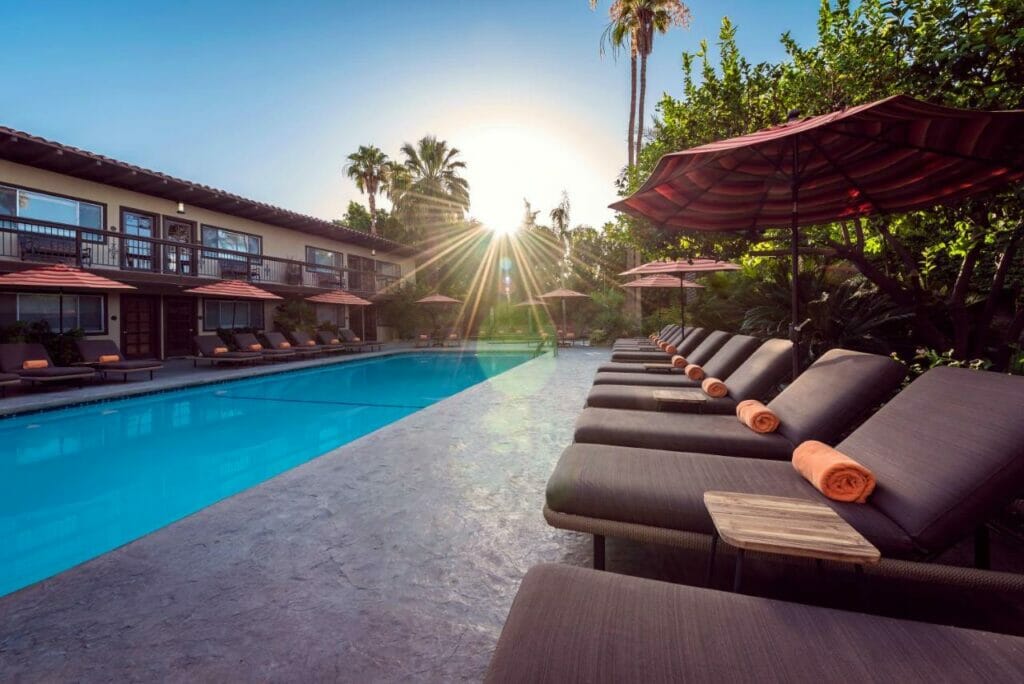 And last but definitely not least on our list of great gay resorts in California, we have the Vista Grande. The Vista Grande Resort is appropriately named for its spectacular views of the breathtaking San Jacinto Mountains. This clothing-optional resort is a safe haven for gay men looking for an inviting atmosphere catering to like-minded individuals, where everyone is free to let loose and be who they are without the need for inhibitions. The property boasts no fewer than three heated swimming pools in addition to a "pleasure garden." there is also a hot tub and a spacious steam room.

The resorts' 29 rooms are available in cabana-style and studio apartments, as well as suites. Rooms feature air conditioning and flat-screen TV, as well as a phone, a safe, complimentary bathrobes, and toiletries. They also have either a kitchenette or a full kitchen. Free breakfast is included as well as free wifi access and free parking. Bicycle rental is available, and rooms include daily housekeeping service.

The Vista Grande has been in operation for 37 years and is one of the best options for gay men in Palm Springs, which is no mean feat given the city's highly inclusive attitude toward the LGBTQ community. It is a great place to base your Palm Springs exploration. Or if you would rather just relax and stay on the resort grounds, you are all but guaranteed to find no more welcoming setting, nor one that goes more out of its way to make gay clientele feel like royalty.