Whether you go on holiday for the suntan, for new experiences, to blow off steam, or just to escape the daily grind, we're willing to bet that you want to feel relaxed and feel free to be yourself. Thankfully the gay resorts of Europe allow you to do just that – to be 110% yourself, without a single double-take, all in the company of other open-minded folks.
If you have never been to Europe, there has never been a better time to visit the "Old Continent." There's a reason why the world's second-smallest continent (after Australia) remains one the world's hottest gay travel destinations.
It is home to a vast wealth of culture that can be matched by few if any of the other major parts of the globe, and artistic and architectural treasures abound for those interested in seeing them. But what others don't know is that Europe is also home to uncounted natural wonders, from volcanos to majestic mountains to stunning beaches to fabulous forests.
This aspect of the continent is often overshadowed by the iconic cities: London, Paris, and Rome, of course, but also the beautiful Vienna, Stockholm, Geneva, Amsterdam, Munich, and the list goes on and on. To be sure, Europe has a little – nay, a lot – of everything to offer those who are willing to look further than the iconic images that first enter the mind when thinking of it.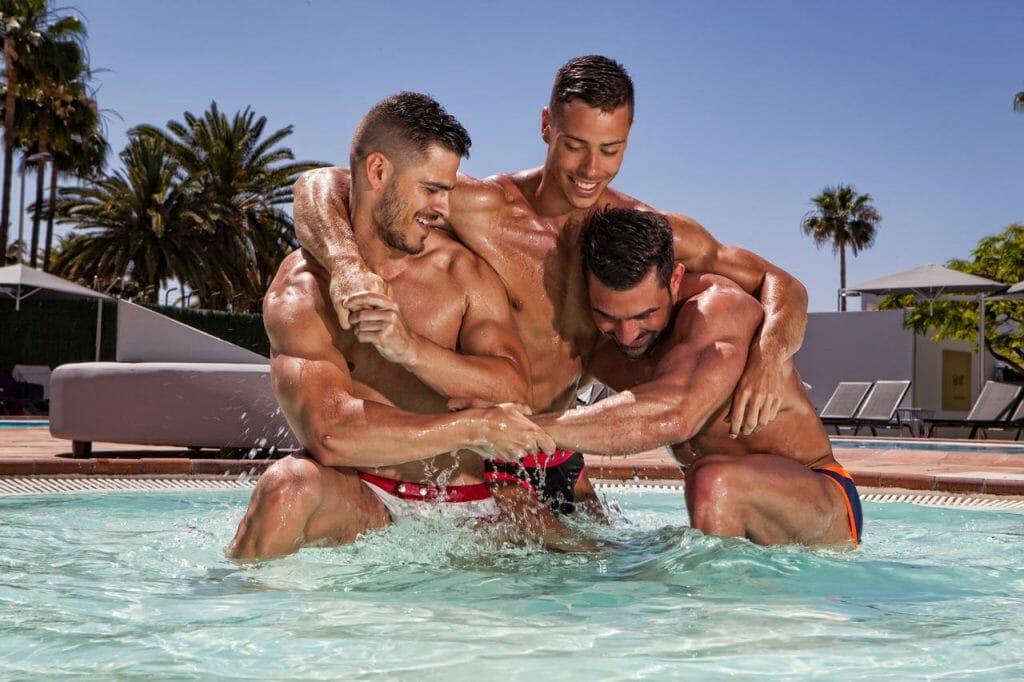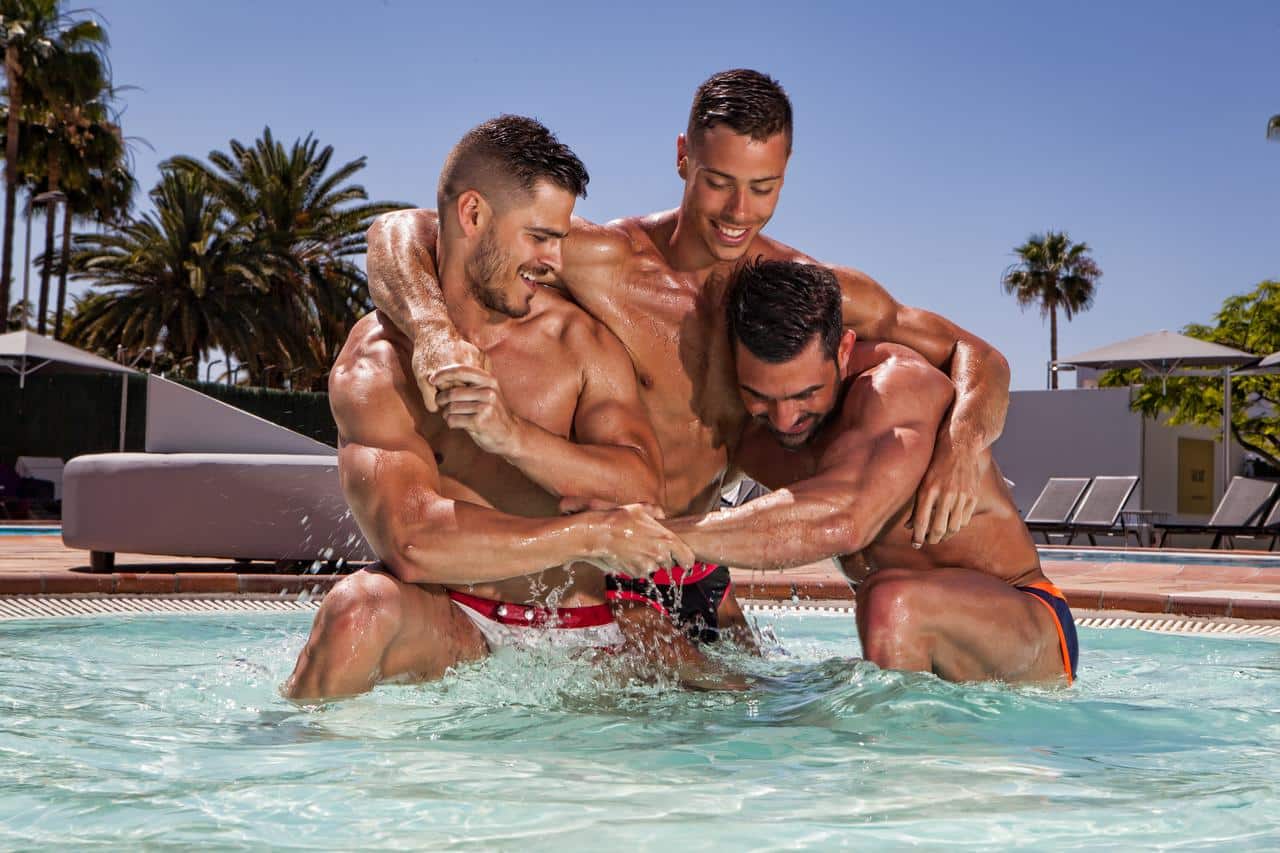 But more to the purpose of this article, there has never been a better time for LGBTQ folk to broaden their horizons and see what the world has to offer. While in times past it was not always possible for LGBT people to travel some places without fear of harassment (or even worse), times have changed and the world has come a long way, baby! This generally holds true of the world at large (keeping in mind, of course, that this is a sweeping statement and we recognize that there is still much progress to be made), but it is especially true of progressive Europa.
Today more than ever Europe is one of the most LGBT-friendly – if not the most LGBT0friendly – regions of the world. This means that now is the time to take in all it has to offer and try one of the fabulous gay resorts in Europe.
If you've ever dreamed of standing in the shadow of Big Ben as the Great Bell strikes the hour, of running with the bulls in Pamplona with death only a single misstep away, of receiving the best kiss of your life within view of the Eiffel Tower as fireworks light up the gloaming, or if you just want to find a nice gay resort to have a relaxing stay and be treated like royalty by competent and friendly staff, Europe is guaranteed to have something for you.
As you will see, most of these hotels and gay resorts in Europe are gay-owned and managed, so the staff will be sure to know how to attend to your needs with an acute degree of sensitivity that may or may not come with service in non-gay only establishments. That is the great benefit of going with gay exclusive resorts – they cater to LGBT folk with a special degree of understanding that will make your stay not only enjoyable but something special that you won't soon forget.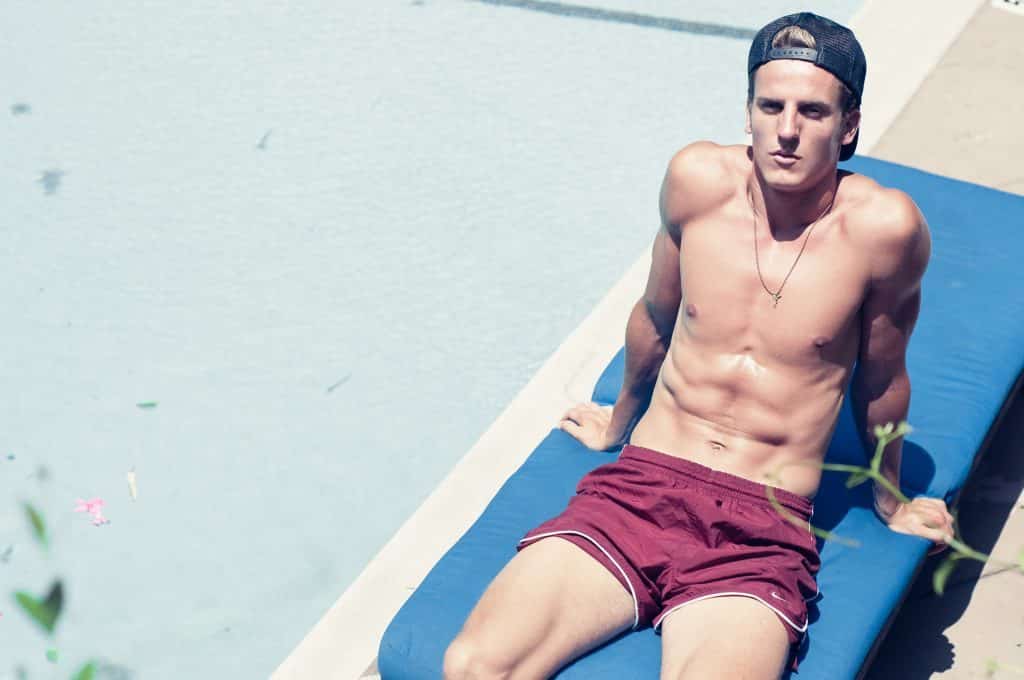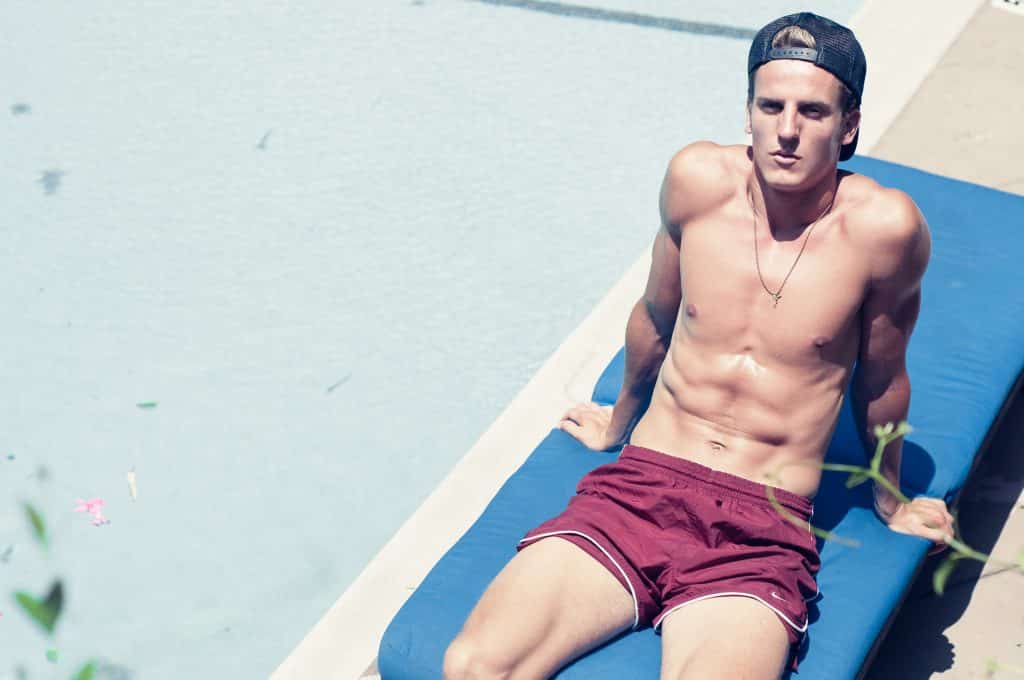 Gay exclusive resorts have been around for decades, beginning in the Florida Keys in the seventies. The idea caught on quickly and spread across the USA not long after, as the queer/gay community had been heretofore underserved, to say the least. While there may be a plethora of gay exclusive resorts throughout Europe, here we are only interested in bringing you the best of the best. That's why we have narrowed the list down to these best gay resorts in Europe.
While you are likely to be treated hospitably at other resorts – most establishments nowadays are LGBT friendly – they aren't necessarily geared toward the LGBT crowd, whereas with gay-themed hotels and resorts you will get a smorgasbord of amenities, perks, and niceties that you just won't see in other establishments. Chief among these is an LGBT welcoming environment that will go above and beyond what you will see elsewhere, with staffs that have undergone sensitivity training, and a general open atmosphere where you can relax and truly be yourself and, what's more, you'll be surrounded by people like yourself. Which brings us to another point: there is no better place to meet others you relate to most than at gay hotel resorts, many of which organize social events to allow guests to mingle and meet new people.
Gay resorts almost always go the extra mile in yet another regard: location. They tend to be centrally situated vis-a-vis the local gay community and nightlife, as well as other attractions. You will also find that these resorts are all up to standard and them some in all normal regards – these are generally four- and five-star establishments so you can expect all the standard amenities: air conditioning, TV and WiFi in the rooms as well as private bathrooms, pet-friendly establishments, concierge, 24/7 front desk, parking, housekeeping, room service and so on and so on.
With these hand-picked gay hotels, you won't be left wanting for any amenity or service that should come as a standard, to be sure. And you will find that these gay-oriented resorts will almost always be centered in the middle of the best gay neighborhood in the places where they are located. In other words, what we are saying is that you won't have to worry about them being tucked away, out of sight, thanks to discriminatory zoning loopholes – that is a thing of the past, we assure you.
Whether you are a world travel newcomer or a seasoned tourist, there has been no greater time for LGBT people to experience Europe. It's more than just castles and quaint little villas on the Mediterranean. You will be astonished at what else there is on offer – not to mention the men and gay European festivals.
So now that you are properly sold on the benefits of choosing a gay resort for your next European excursion, we are going to unveil to you the A-list of gay exclusive resorts in Europe, the creme de la creme. We do so with a word of warning, however: once you've been to any of these fabulous resorts, you may have to be dragged back home, because you'll never want to leave. But never worry, that next stay is always right around the bend, and you'll find your way back sooner than you think.
Without any further ado, let's check them out.
Lisbon is one of the hottest 'it' places to go in Gay Europe with spectacular views (thanks to the seven hills it's built on), a hugely innovative and dynamic food scene (just keep us away from the pastel de nata!), and the party scene is epic!
Quiet little streets by day transform into open-air bars by night and the booze is mercifully cheap. What could possibly make Lisbon any better? Well, it's incredibly LGBT-friendly! With a film festival dedicated to queer cinema, a vibrant gay bar scene, and some fabulous parties, Lisbon is the place for your next mini-break.
Not to mention it has one of the best gay resorts in Europe: the oh-so-chic-and-gay Late Birds hotel. Housed in a gorgeous 18th-century building with white stone walls, large windows, and a lush courtyard complete with an inviting pool, The Late Birds was gutted and renovated in 2015 to create a city resort with stylish 16 rooms and attractive public spaces where guests can chat, enjoy a glass of wine and get to know each other.
The Late Birds has been magnificently decorated using natural materials throughout and makes the most of the natural light with well-placed windows and a soft color palette. We love how minimalist the style is, with simple stucco, stone, and wood offset by the local designer pieces like wooden chandeliers and striking shell chairs.
The owners also use their own collection of antiques to great effect – there's nothing like a WWI propeller in the bedroom to give it a bit of an edge! Having only 16 rooms really makes the Late Birds feel exceptionally special and unique. Three of these 16 are suites and all are clean, spacious, and have their own private bathrooms.
We recommend choosing one of the options with a balcony if you're feeling flush, or either a pool or terrace view. You even get a Mac computer in your room, which is a very modern touch – not that you want to do much work while you're staying somewhere so beautiful!
Outside of your room, there are fabulous indoor and outdoor public spaces to mix and mingle in. There are a lounge and a bar inside which serves local beer and wines alongside craft cocktails. You can enjoy a drink on the terrace, enjoying the scent of jasmine around you; or in winter, cozy up by the fireplace – not that it is ever that cold in Portugal. Then there is the fashionable swimming pool which is super-refreshing on those hot Lisbon days.
Or you can grab a chair, sit with your feet in the grass and watch other men take a dip…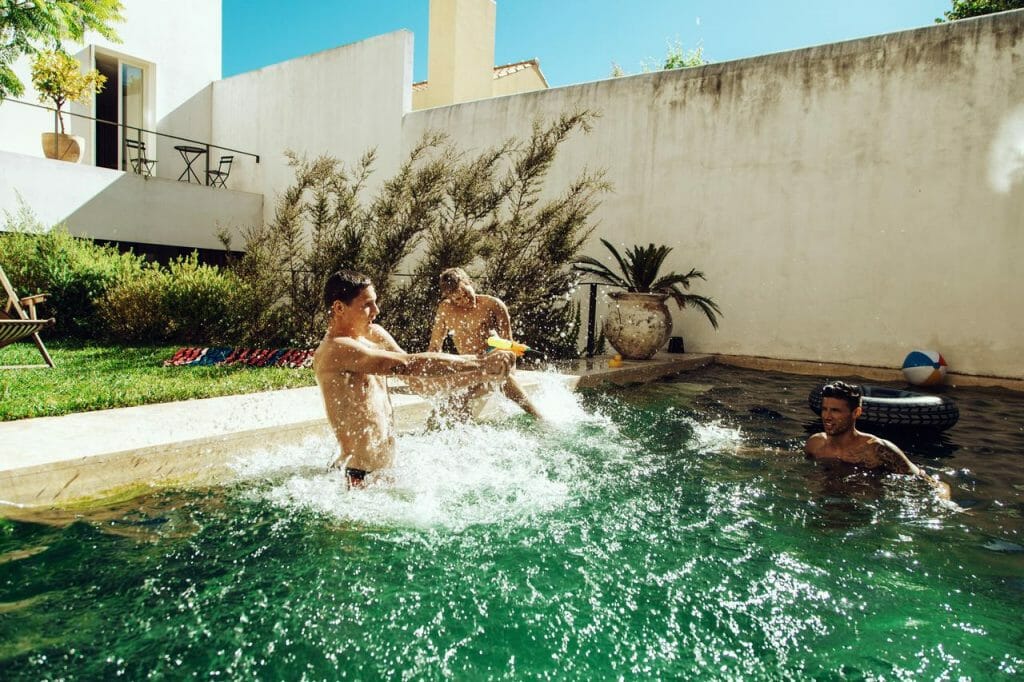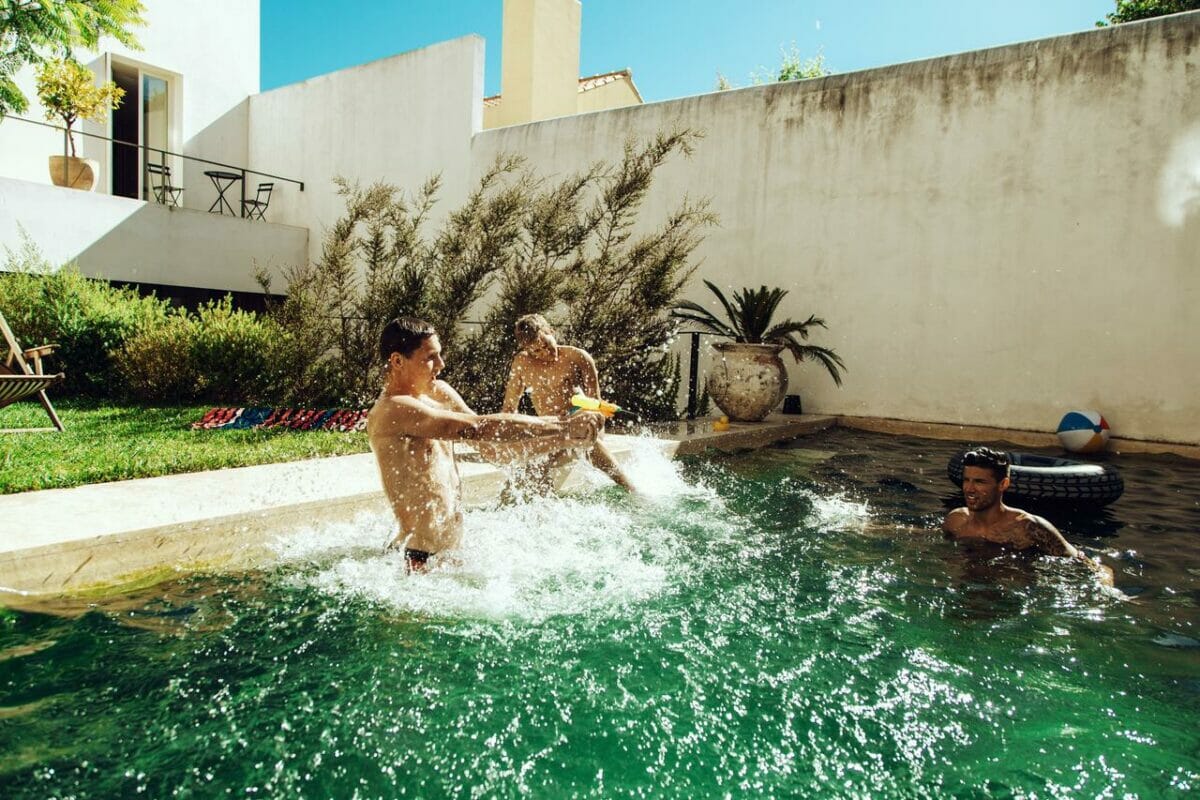 Come and be enchanted in Spain's cultural capital, a seaside town with a magical feel, beautiful artwork and top-range food and drink scene. Opened in 2003, this is the flagship of the Axel chain and offers the perfect spot to explore Barcelona from.
Not familiar with Axel Gay Hotels yet? Well, let us give you a brief introduction as they will be appearing on this list on more than one occasion. The founder of the Axel Hotel chain had a vision, to create an upmarket place to stay designed for the gay community that valued diversity and respect – a core tenant of their urban resorts that remains true to this day. But while Axel Hotels are designed for the gay audience, it is not only for us – whatever your sexuality, you're welcome to stay at one of these hip and comfortable hotels.
In fact, the Axel philosophy has a term for it: heterofriendly. What's not to like about this twist on the usual terminology?
Back to their Barcelona location, there are 105 modernist and luxurious rooms, with beds so comfortable you'll barely be able to drag yourself out of them. They are light, well-designed, and well-equipped, decorated with erotic artwork (naked man lightbox, anyone?). During the day you can chill by the rooftop pool or discover the surrounding Gayxample area.
If you're exhausted after a long day's sightseeing, there's no need to head out again. Have a cocktail at the Sky Bar (warning: they're strong!) or eat Peruvian-Japanese fusion food at the Nikkei 103 restaurant. There's even a spa to complete your relaxation. Not the only gay-popular hotel in Barcelona..but one of our personal favorites!
How much more idealistic does it get than beautiful Gay Ibiza, the hippest of Spain's Balearic Islands? Long considered party central international, it's no wonder Ibiza is one of the world's premier spring break destinations and a hit with the younger crowd. To be sure Ibiza has to be one of the sexiest places on Earth filled with the most beautiful people and long nights you won't soon forget.
The sensational Purple Hotel, a gay resort located in the town of Sant Antoni de Portmany, knows how to reap the benefits of Ibiza's many, many charms. The hotel features all the amenities you would expect: air-conditioned rooms come with free WiFi as well as flat-screen TV, and a bathroom. Standard services like concierge, daily housekeeping, and room service are of course present. There is also access to a lounge and a bar, also an on-site restaurant named "A Pinch of Purple."
The hotel has an outdoor pool with a poolside bar, as well as a sun terrace. The harbor with its promenade is within easy walking distance. Rooms range from standard double rooms to junior suites and just about everything in between, so there will be something for every budget, taste, and need out there. The Purple Hotel is located near Ibiza's thriving LGBT community, and other nearby attractions include Aguamar Water Park and the trendy bar/restaurant Discopoint.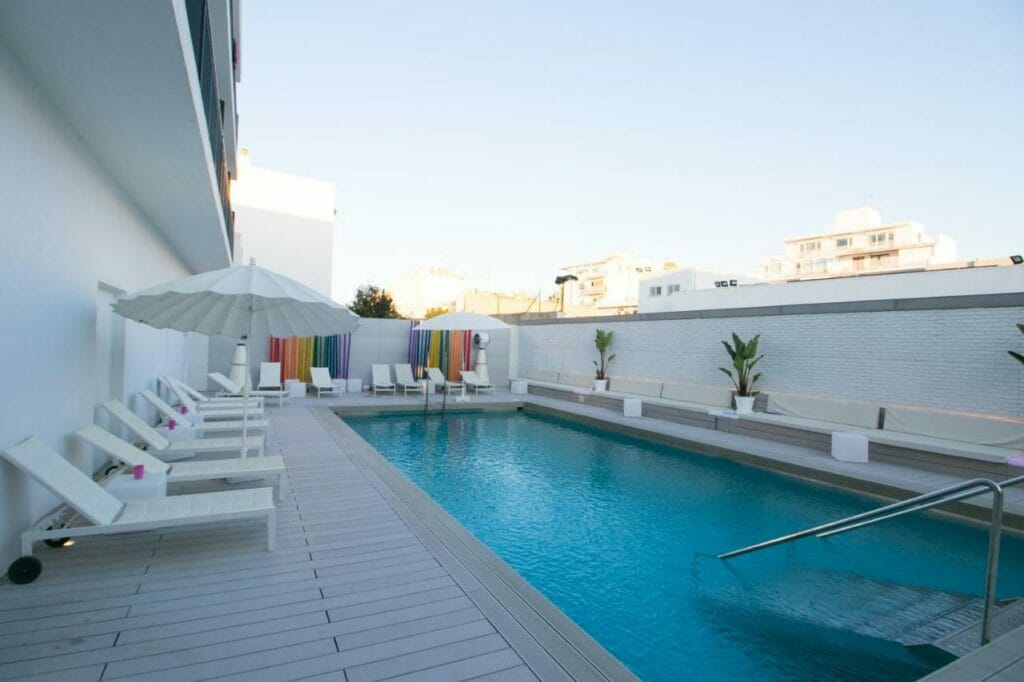 This fabulous men-only has to be one of the best gay resorts in Europe and is located near the world-famous Loonse en Drunense National Park, in Drunen, Netherlands. This is one of the smaller resorts on our list and quite possibly the coziest, which makes it a perfect choice if you prefer a cozier atmosphere and want to avoid the large crowds you'll often find at the bigger resorts.
Dunez features 3 cabanas and 5 guestrooms; there is also a small campsite for those who are so inclined. Particularly if you happen to be in North-Western Europe, Dunez is a stellar option for a day trip, weekend getaway or place to recover after Milkshake Festival or time in Gay Eindhoven.
You will be amazed at what this gay wellness-oriented resort has to offer. Enjoy swimming in the "ecologically pure, silky soft water" of its swimming pool, or take advantage of the steam baths, foot baths, or its many saunas, including the nude-only Finnish sauna. Then head out to the orangerie and while away an afternoon on one of the sunbeds there.
Dunez Resort has an on-site restaurant and a bar. There is also a massage room where you can treat yourself to a relaxating massage by a professional, certified masseur. It's okay to pamper yourself from time to time – in fact, we would say it's essential. Dunez Gay Male Resort is all about catering to your wellness needs.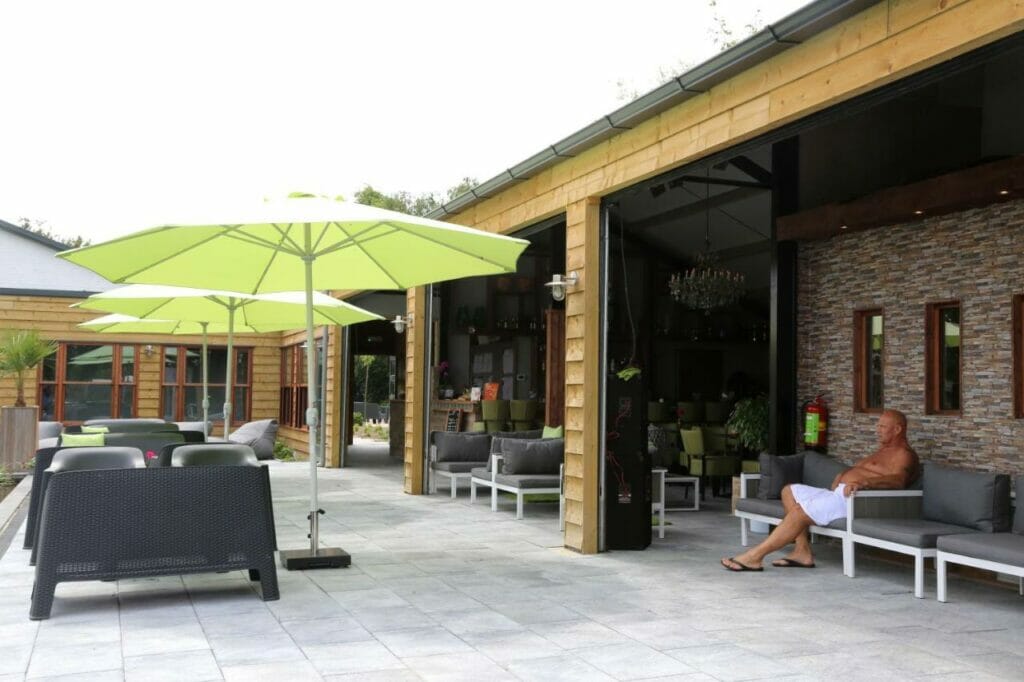 Maybe you've already experienced the glamour of the Axel Hotel Barcelona, in which case it's time to enjoy the sheer energy and joy of Spain's capital – Madrid.
There's no better base than this gay resort, a four-star accommodation in a converted 19th-century palace. The design and concept is imaginatively worked to recreate the spirit of the Movida Madrileña – the boom of creativity and debauchery that burst out with the death of Franco at the end of the 1970s. There are bright colors, neon slogans, and gold tiled showers; it's gloriously decadent.
As always with the Axel chain, they want their guests – gay or straight – to have a good time and are fully equipped for that. Another rooftop pool with a bar is a summertime hangout, and there is a funky bar and restaurant space on the ground floor with more Movida references.
In a brick-vaulted basement, the Bala Perdida Club offers all the indulgent partying you could wish for. Again, not the only gay-popular hotel in Madrid..but one of our personal favorites!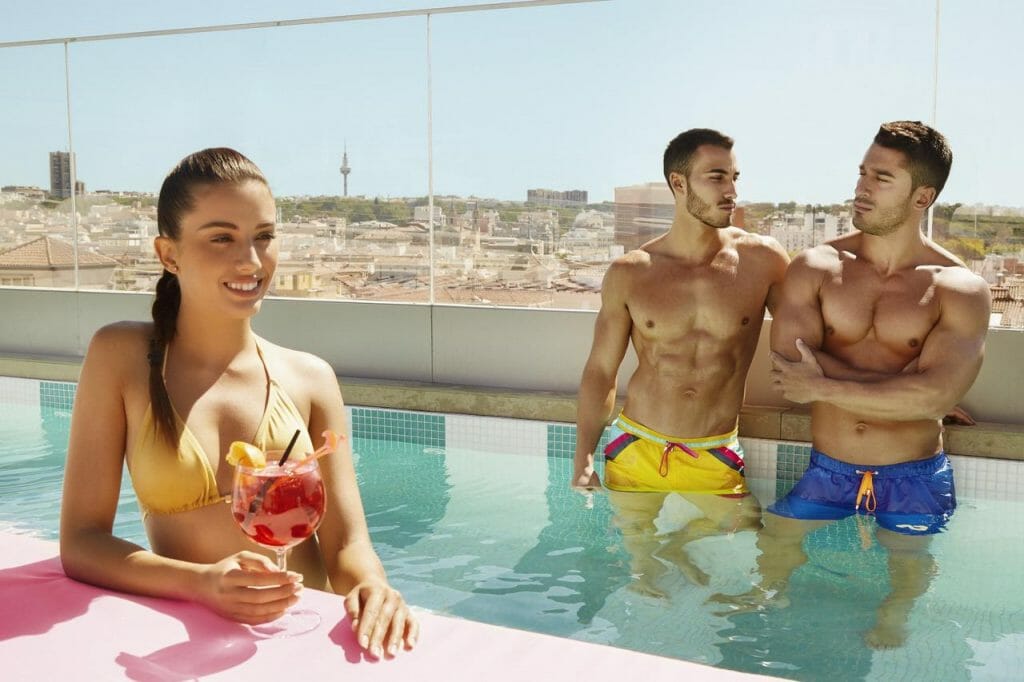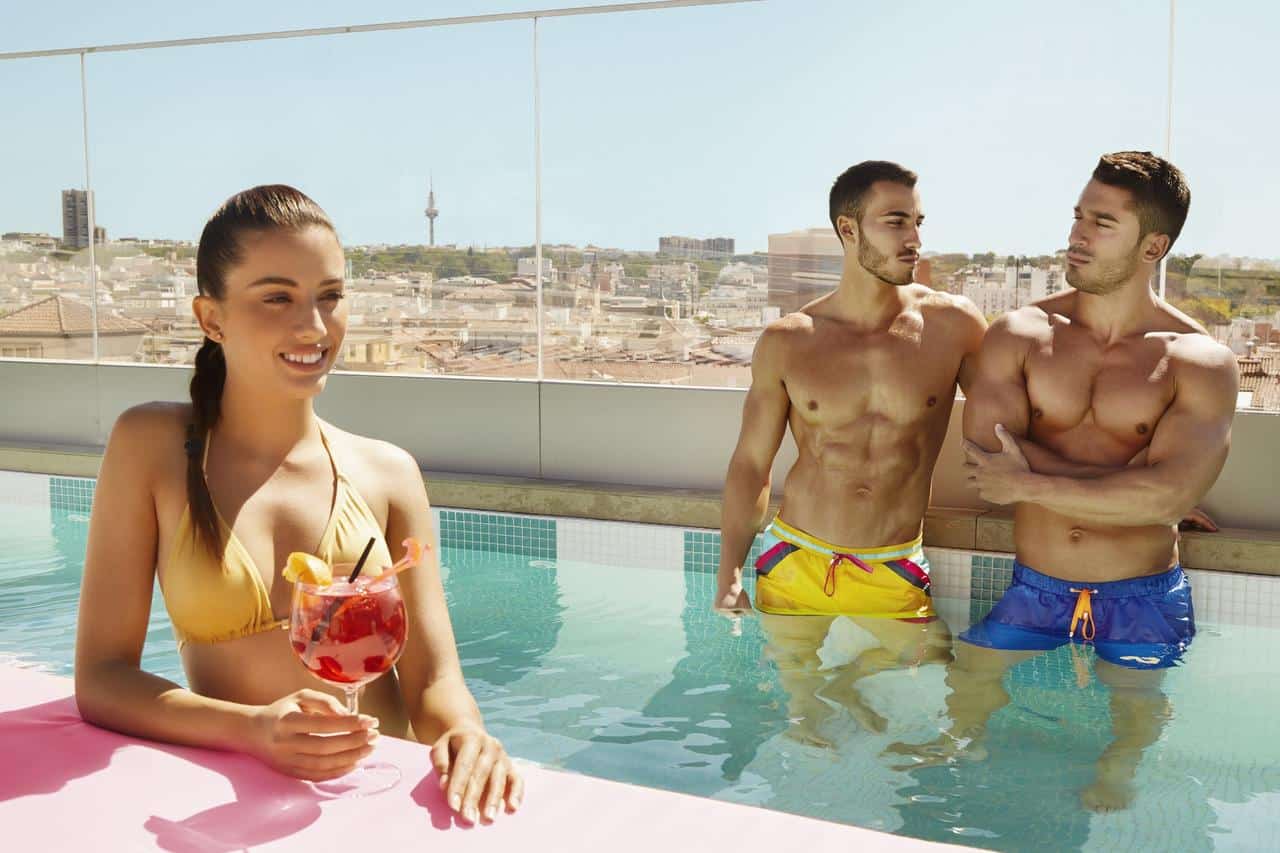 Le Vieux Donjon is a gay-only guesthouse located in Pressigny les Pins, in North-Central France, in one of France's beautiful wine regions. The Gayresort is surrounded by a wooded park and is only an hour from Paris by train.
All rooms in the resort are named after a flower and are decorated with furnishings sourced from flea markets all over the country, as to give the place air of French authenticity so that when you stay here you will know that you are in France, a nice touch that adds tremendously to the experience.
The rooms all come with WiFi, a double bed, shower, and bathtub. Le Vieux Donjon features many attractive niceties such as Greek and Roman banquets (you are free to enjoy your own meals at the resort's table in the common room), a hammam, or Turkish-style bath, and a naturist park. There are also a variety of massage courses on offer, including those for Tantric massage! This is quite a desirable skill to have even if you are not a masseur, and all your future significant others will cherish you for it.
The resort even has naturist weekends, where guests spend the entire day, in all areas of the resort, as they were born! By now you are picking up on Europe's comparatively relaxed attitudes about such things. Considering all this, this gay resort in Europe is a great place to get away from it all, enjoy the swimming pool or just sunbathe, and meet other like-minded people in a relaxed atmosphere.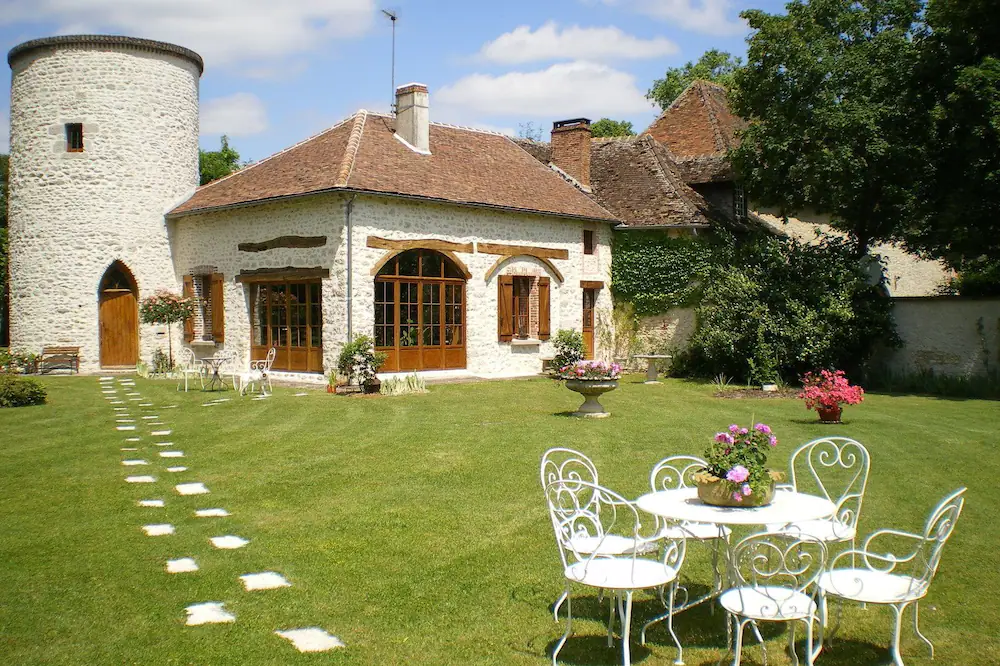 This gay resort is situated on the idyllic Costa del Sol, in Gay Torremolinos, Spain, in the Malaga region. All rooms come with a private balcony (many with views of the Mediterranean) and modern decor, and feature WiFi access, flat-screen TV, air conditioning, and even a mini bar! The site also has a poolside bar and a restaurant.
Many attractions are nearby, chief of them being Bajondillo Beach, where you can idyll away your days on the soft sand and sunbathe or just enjoy the people watching. There is an infinity pool as well as a nudist area with a rooftop bar. Of the many nearby attractions, a few noteworthy ones are Casa de los Navajas, a Moorish palace with gardens that is an absolute feast for the eyes, Molina de Inca Botanical Garden, and Aqualand Torremolinos, a waterpark.
The gay resort Hotel Ritual also includes spas, a solarium, and a gym, not to mention many gay bars and restaurants are within easy walking distance.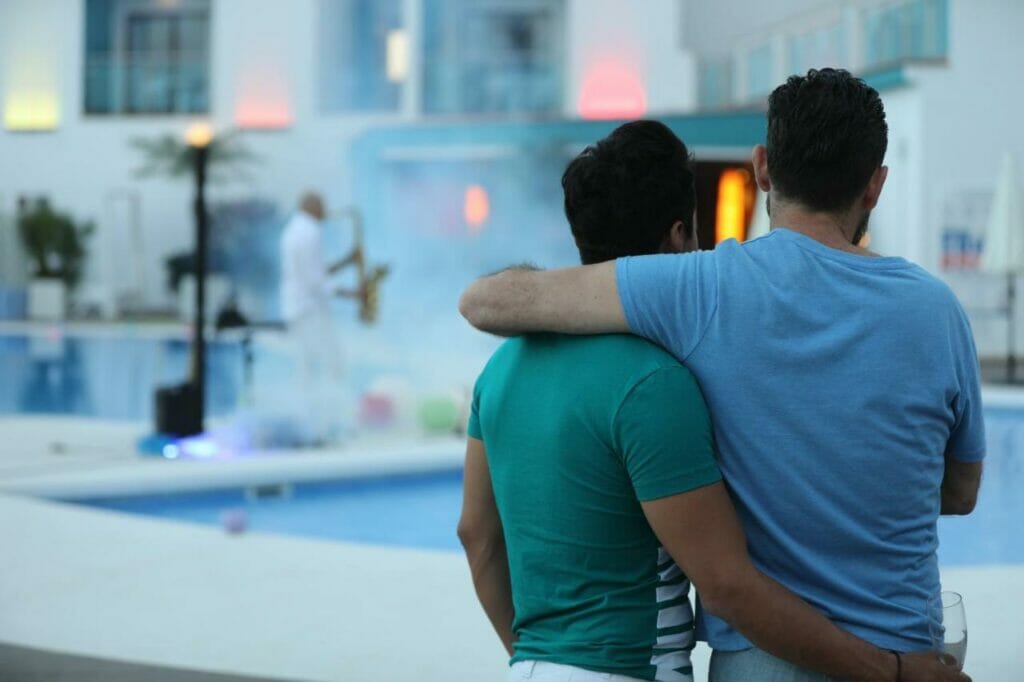 Gay Berlin is a hedonistic, glorious, diverse, and open-minded city and is called the gay capital of Europe for good reason. Schöneberg is at the heart of the gay scene, and this is where Berlin's first Axel hotel is located. The 87 rooms of this urban gay resort are sexy and elegant; the gold and black designs and mixture of textures in the design make it completely luxurious. They might not be spacious, but there's enough space in there for the post-party rest.
Have cocktails on the roof before heading out to one of Berlin's legendary techno clubs or stay in and eat at the Georgian restaurant. If you really need to unwind, hop into the Jacuzzi on the roof; maybe you'll make some new friends to experience the city with!
If you still envision in your mind's eye the sunny Cote d' Azur as a glamorous place…then you are absolutely correct! The Villa Bacchus is impeccably situated between fabulous Provence (of Van Gogh fame) and the French Riviera (home to world-famous Nice, Marseille, Montpellier, Cannes, and St. Tropez, just to name-drop a few), so you really cannot find a better-located gay only resort anywhere.
This little piece of paradise is also gay-owned, so you know that will be warmly welcomed when you visit. Several beaches are nearby, some of them mixed and some of them gay. Some of them are also nudist beaches if that is what you are looking for. Or you can just enjoy the resort's swimming pool if you prefer a quieter atmosphere. Either way, you should bring your best gay swimwear.
Nearby St. Tropez is an alluring attraction if you are into the nightlife. Since the Villa Bacchus is a gay bed and breakfast, you won't be surprised to learn that rooms come with breakfast, and the Bacchus table also offers lunch and dinner, which include wine. This guesthouse has three rooms – each including a private terrace and bathroom – and you can also opt for the more fully equipped Trailer Bacchus.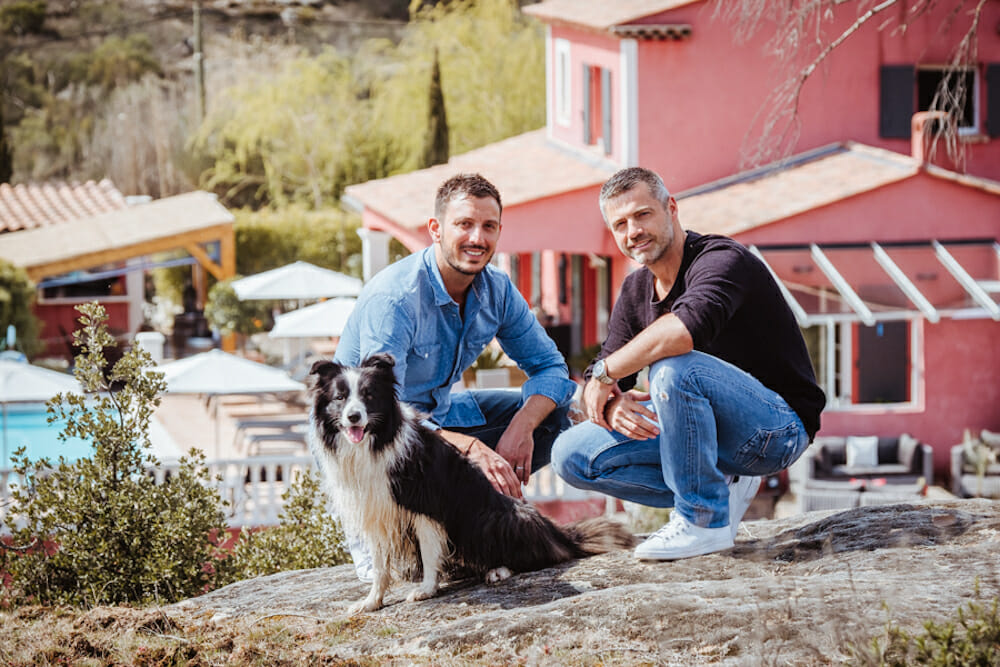 This four-star rated gay lifestyle resort hotel is surely one of the most uniquely named on our list. It is located in Gay Maspalomas, Grand Canaria, Spain, and is centrally situated to the gay nightlife there.
The Eiffel Bar, the Mardi Gras Bar, and the Cappuccino House are just a few of the many, many establishments that are very close by, so you won't be wanting for options when it comes to great places to socialize and enjoy great food and drink.
Of course, the hotel has its own restaurant as well and a lounge & bar. There is also a wellness temple where you can receive a multitude of treatments including massage. The Yumbo Centre shopping district is a less than ten-minute walk away.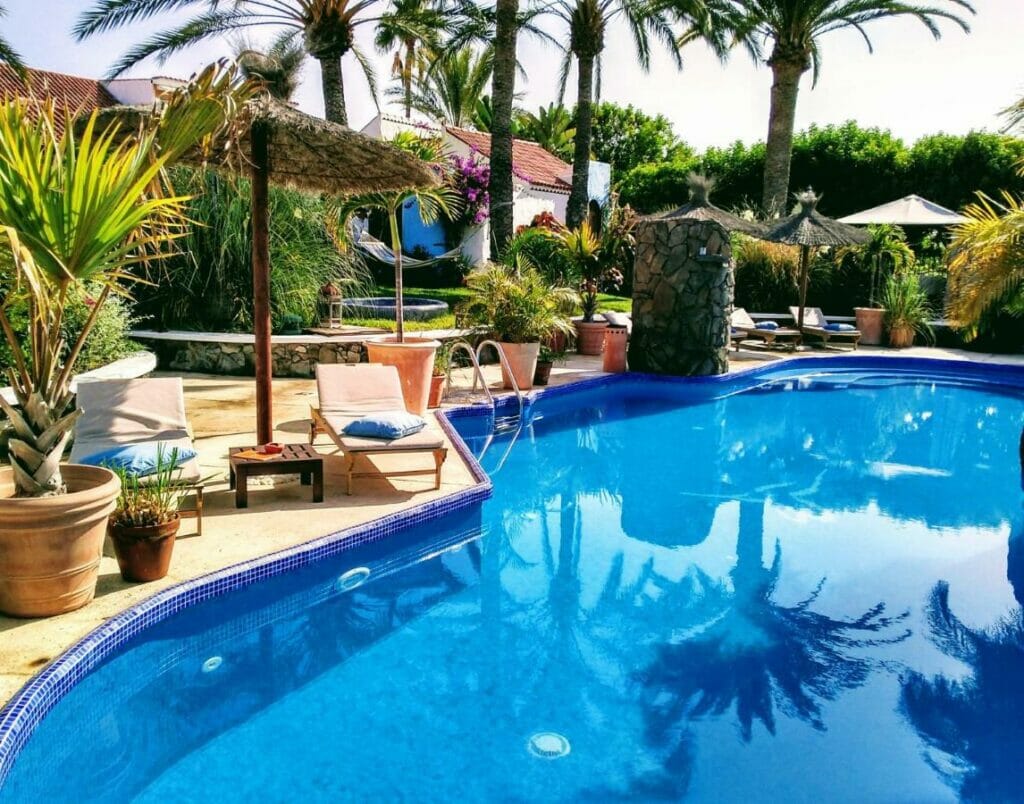 This gay-only resort in Europe is located in the quaint village of Roujan in the Languedoc province in the south of France, in a beautiful 18th century Masion, or manor house.
Cinq Et Sept features nine suites all of which include fully-equipped kitchens and shower rooms, super king-sized beds, and of course air conditioning. Some of the suites have private terraces overlooking the resort's pool and garden.
The resort has a summer lounge by the pool with a bar and is a great way for guests to mingle. Owners Alex and Greg see to it that the guesthouse maintains a warm and welcoming vibe toward all the guests, and because Cinq et Sept is gay-owned you know they will treat you right.
The Mediterranean is just a short drive away, as are a few other attractions that are quite unique. Broaden your horizons and take painting lessons from the "Painting in France" workshop if it's something you have always wanted to try, or visit a nearby farm raising a distinct breed of angora goat and llama used in the production of mohair wool.
Your time at Cinq et Sept will be a lasting memory, filled with new friends, fun nights, and relaxing days.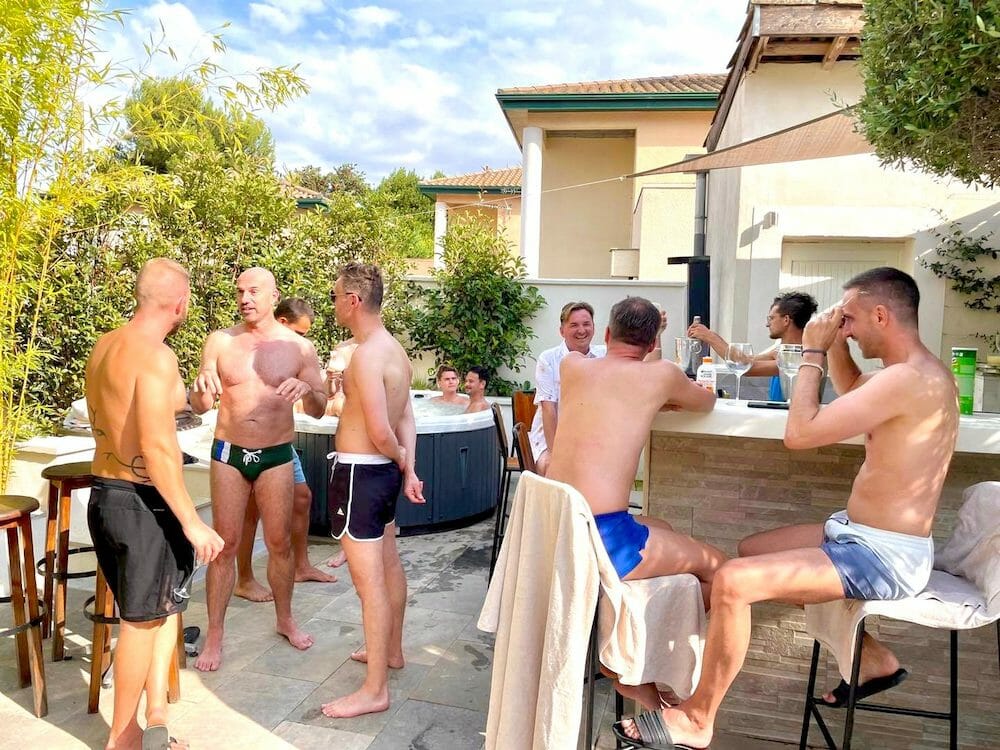 One of two gay hotels in Mykonos, the Elysium is the place to see and be seen. There's a stunning terrace space where you can sip a cool drink and enjoy the view, decadent interiors and, if that isn't relaxing enough, a spa. We love how big it is, so there's always something new to explore here: you'll never get bored! The view will take your breath away (as will some of the contemporary artwork on the walls!).
Here you'll find great rooms, excellent service, and a range of events aimed at gay guests; making it the perfect base for a gay holiday in Mykonos. Yes, there are lots of completely gay-friendly hotels in this area, but sometimes you just want to be surrounded by like-minded people. We love the gay-themed artwork that decorates the walls, for example – something that you couldn't find anywhere else.
Not to mention the fact that here you'll know everyone you're eying up at the poolside bar definitely has the potential for romance!
As the hotel's website points out, the Elysium Gay Hotel was known as the playground of the Greek Gods in Greek mythology, and that's the vibe they are going with! How could you resist that kind of atmosphere?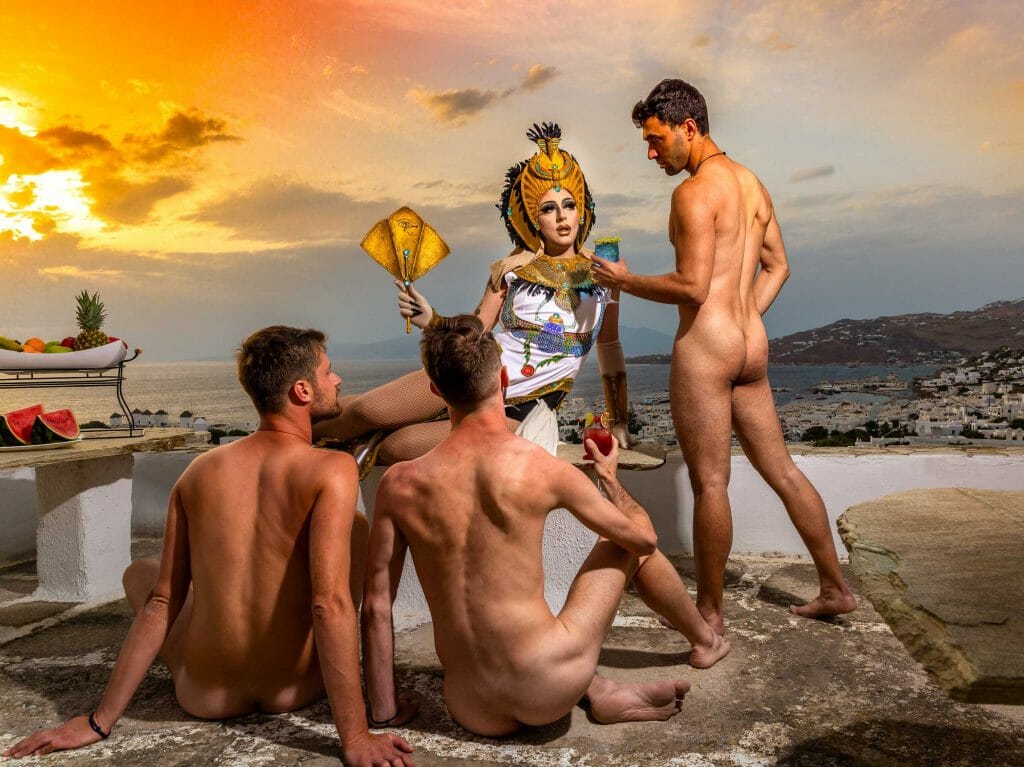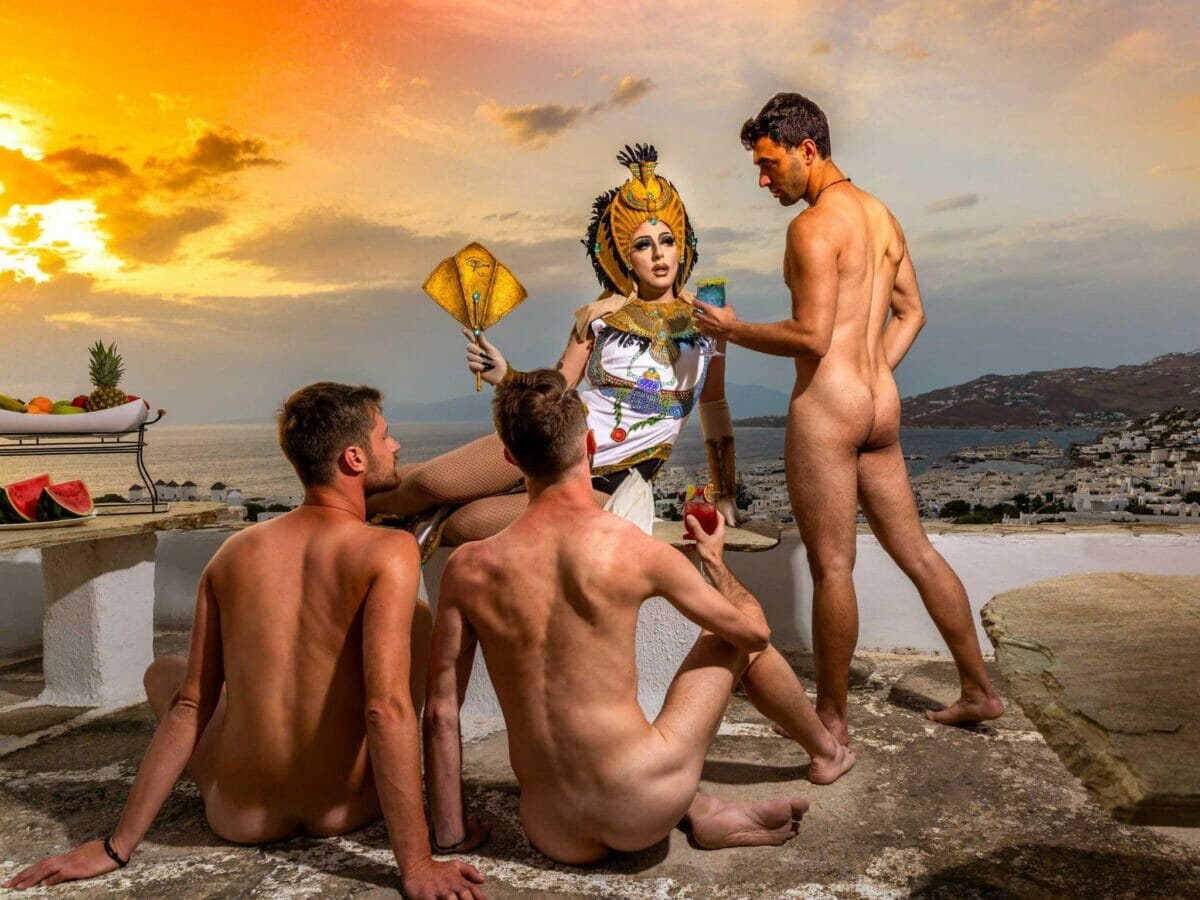 This gay resort can be found in Camargue, the famous delta region in the southern part of France best known for its pink waters and for the ancient breed of horse that takes its name from the region.
It is also conveniently located near the city of Montpellier, long known as the "Gay Capital" of France, so you won't be stuck longing for nightlife should you choose to visit. Montpellier is home to France's biggest pride parade – something not to be missed if you find yourself in this area. Gay naturist beaches are also nearby, so you will find the surrounding area quite the happening spot if you are looking to socialize.
The gorgeous gay resort features a large pool where nude sunbathing is permitted (if not encouraged) and poolside meals are available. There is also a jacuzzi with room for up to 6-8 people. The resort consists of four bedrooms and one studio. Each of the rooms comes with its own private terrace. A rather unique service offered by this resort is "Pool Afternoons" to which you can invite personal guests.
Here Cedric and Stephane have created quite the little piece of Eden in the heart of France, and their hard work is the reason so many queer travelers tell us this is their favorite gay resort in Europe.
A chilled and sophisticated beach town, Maspalomas is a great place to escape the rat race for a week or two. And where better to do that than in Axel's adult-only resort. Large, bright apartments and the warm design make it a welcoming place to enjoy your holidays.
There's a spectacular swimming pool where you can enjoy the heterofriendly scene, meeting fellow holiday-makers and letting your hair down with a cocktail or two. If you want to relax somewhere a bit more secluded, there's a unique lounge garden to recharge your batteries.
So when you're done with all the European city breaks, Ibiza has got to be your next holiday destination. It's got beautiful beaches, stunning sunsets and some of the most famous gay nightlife in the world. And where there is gay nightlife, Axel is not far behind and here there offering is a gay resort right on the beach with 89 sophisticated and comfortable apartments with private terraces.
The Sky Bar provides you with a place to tan and people-watch by day and with creative cocktails and flirting by night. Enjoy the pool and the view, then head inside for a treatment at the glass spa. Delicious Mediterranean cuisine at the on-site restaurant provides you with energy for the Ibiza party scene.
This resort's slogan is "Live and feel good in the heart of Munich." The Hotel Deutche Eiche (or The German Oak Hotel) benefits from a prime location right in the middle of Gay Munich, as evidenced by the fact that it is a mere two-minute walk from Viktualienmarkt, a square and a happening "victuals" market. If you are a foodie, then you will love this place.
The hotel is replete with a restaurant, a rooftop terrace with stunning views of the city, and a bathhouse. It also has an in-house gay sauna that is one of the most popular in the city. Nearby are Little London Bar and Grill; DinnerHopping is another excellent choice if you would like to go out for dinner, as is Cafe da Me. Rooms include air conditioning, flat-screen TV, and a minibar.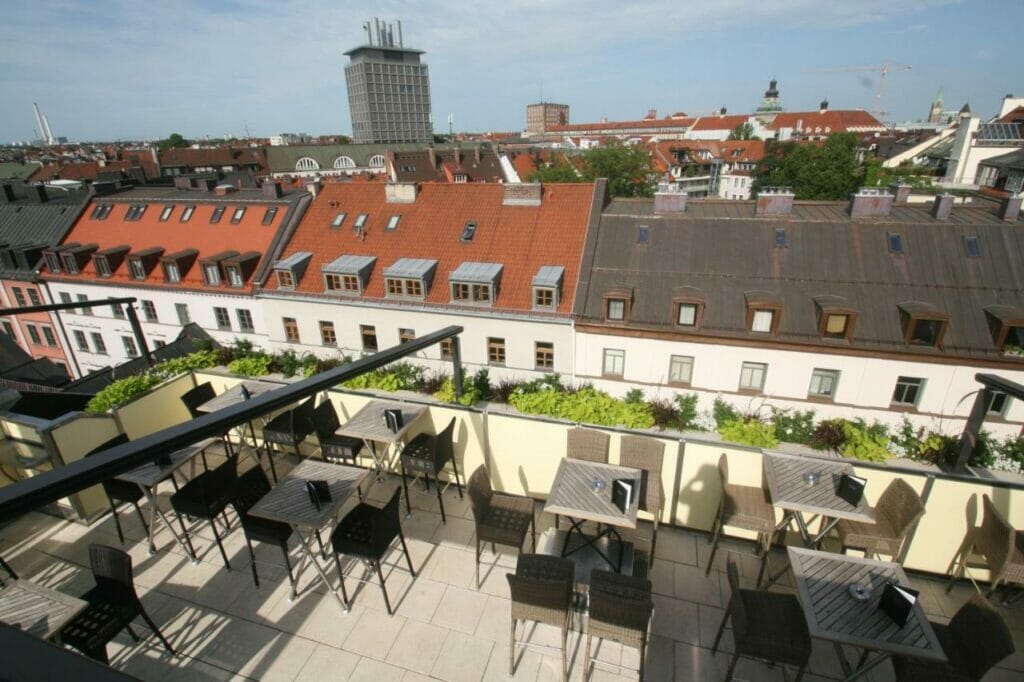 We round out our fun list of gay resorts in Europe with one more Spanish entry, and like a few other entries, it also is set in fabulous Maspalomas, Grand Canaria.
The list of perks and amenities on offer at this resort is quite impressive: room service, pet friendly, WiFi, breakfast, late checkout. The rooms come with standard things like a flat-screen TV and air conditioning, as well as other perks like (in some but not all cases) a sofa bed, a furnished porch, and a dining area, something not seen in many hotel rooms.
Seven Hotel & Wellness is situated next to Maspalomas Golf Course so if you feel like teeing off, you won't have to go far. The hotel also has a heated outdoor saltwater pool. Rooms come with free breakfast. Maspalomas botanical park and Minigolf Taidia are a few of the neighboring attractions.
All-wheel drive and wildlife tours, as well as scuba diving, climbing, sailing, and volcano hiking will also be on offer. You won't have a reason to be bored in Grand Canaria, that's for sure! BurgerBar B2 and GoodVibes Cocktail Bar & Restaurant are just a few of the many dining choices that will be available to you.
As with all these gay hotels and resorts, Seven Hotel & Wellness is oriented toward making your stay as a gay visitor the best it can possibly be (it is, after all, gay-only) so you can rest assured that you will be made to feel right at home during the entirety of your stay here.