A medieval metropolis of love, food, art, style, and shopping where queer people are embraced as a natural part of society, it's no wonder Gay Montpellier is one of the most up-and-coming LGBT travel destinations.
Oh, and did we mention the long balmy summers and Medeitteran coastline right at your fingertips? By day there are plenty of sexy French boys and girls picnicking in tranquil parks, wandering stately boulevards or lazing in the iconic bistros of gay Montpellier but sundown is when this sleepy town really comes alive.
Despite the recent closure of some high-profile gay venues in Montpellier, there is still plenty to discover in what is frequently referred to as the second gay city of France after Paris…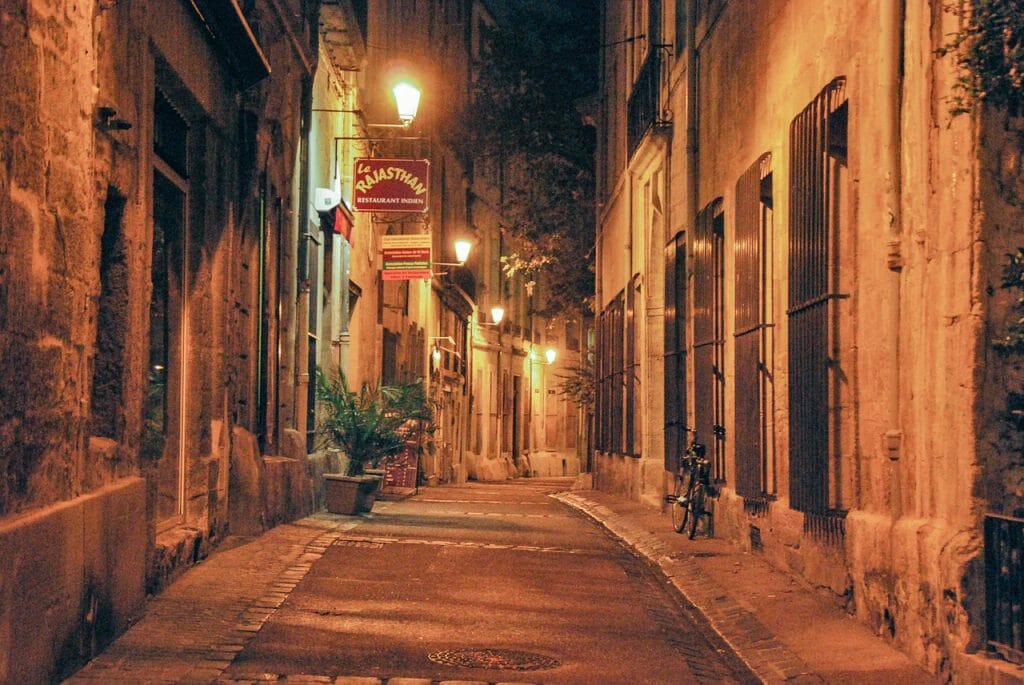 A traditionally liberal country which legalized same-sex activity in 1791 during the French Revolution and gay marriage in 2013, France is frequently named one of the most gay-friendly countries in the world. Gay travelers should not take any extra precautions in Montpellier than they would in any other major Western European city, especially in the center of Montpellier area where most queer nightlife is located.
As a result of such accepting attitudes, Gay Montpellier offers a long and well-established LGBT presence with plenty of gay beaches, bars, saunas, and organizations – as well as one of the most popular Gay Prides in France held annually in July. Even excluding the gorgeous beaches and world-class museums the street art, iconic architecture, fine dining and utterly intoxicating atmosphere of Montpellier will give tourists more than enough reason to visit Gay Montpellier – whether it's for a night, a week or to live full-time!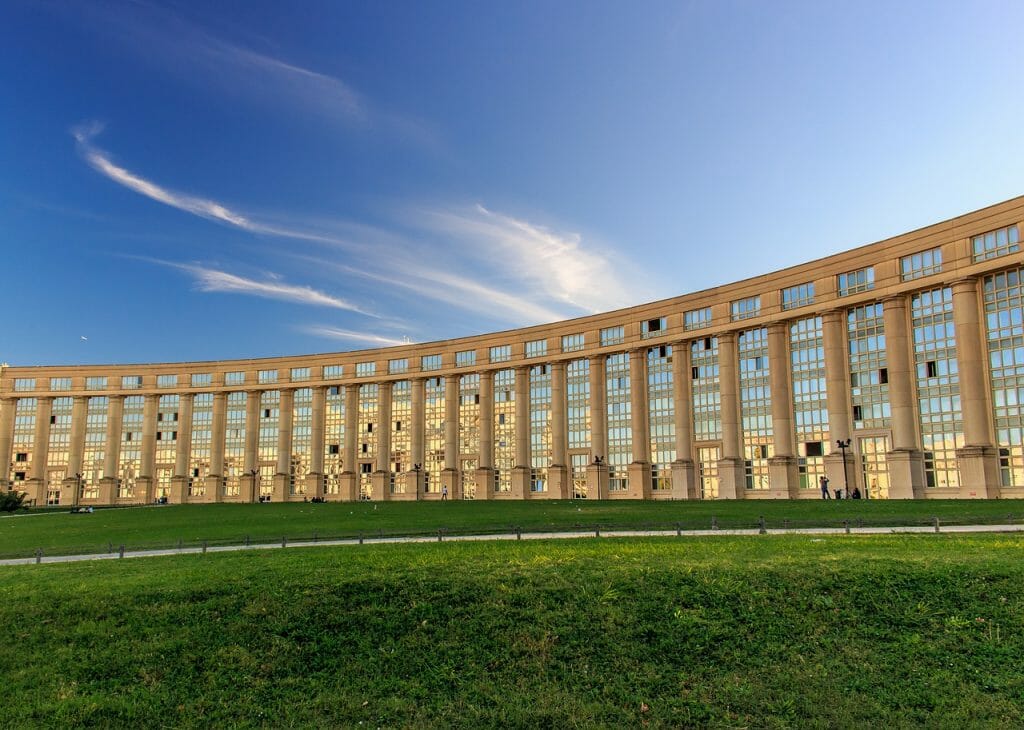 Gay Montpellier Guide: The Essential Guide To LGBT Travel In Montpellier France
Attractions in Gay Montpellier
Obviously being gay does not define which attraction most of us will want to see in each city and most queer tourists will simply want to check out the top things to see in Montpellier during the day! Montpellier is a very safe city but still, all travelers should take caution with valuables. Gay travelers in Montpellier need not take any extra precautions in terms of public displays of affection and should have no issues exploring this magical cities beauty! Here are just a few of our favorite gay things to do in Montpellier!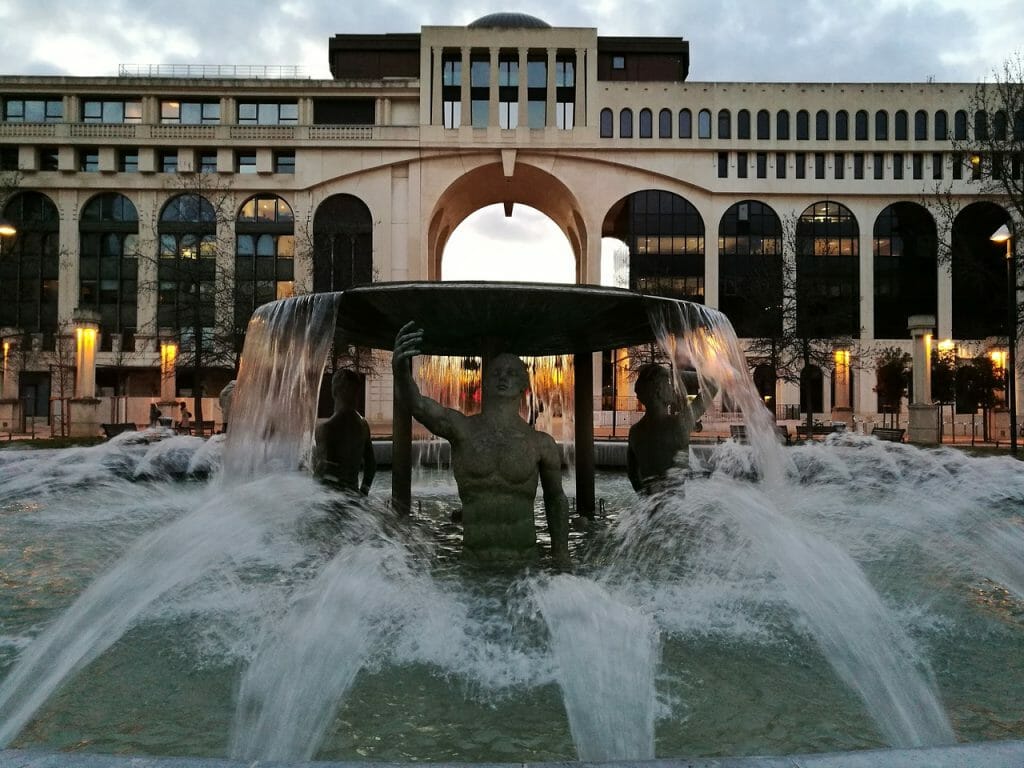 Top Highlights of Montpellier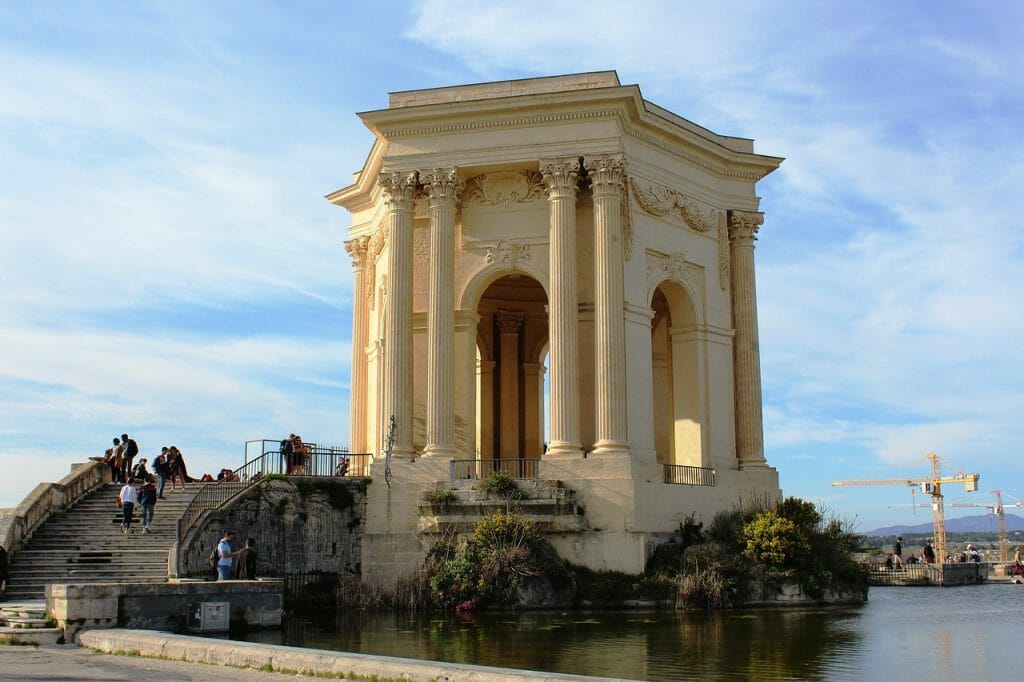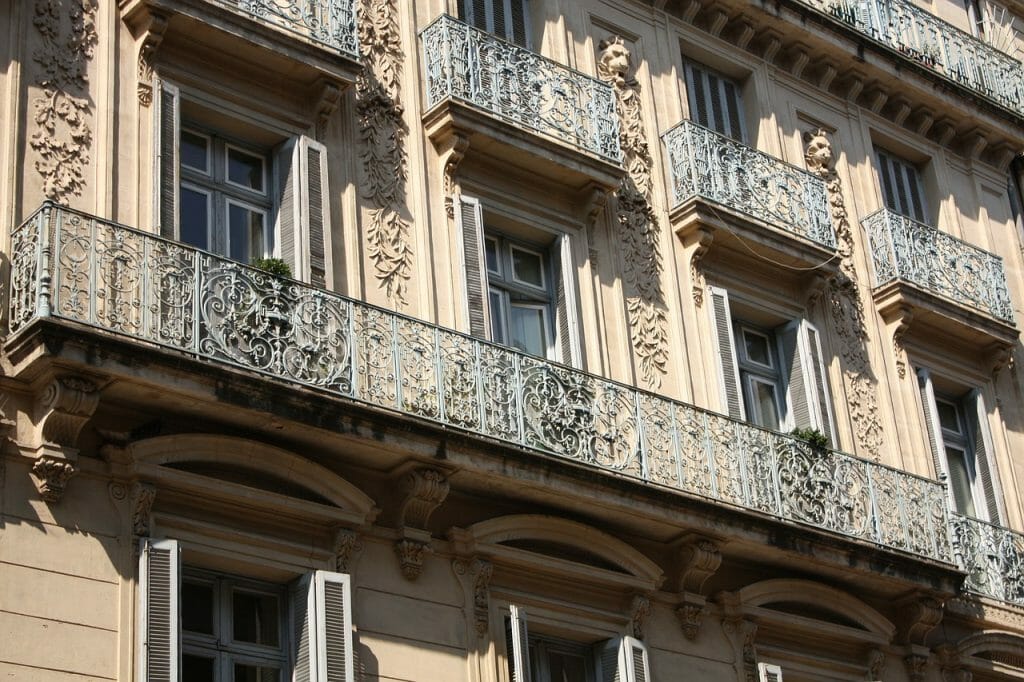 Day Trips From Montpellier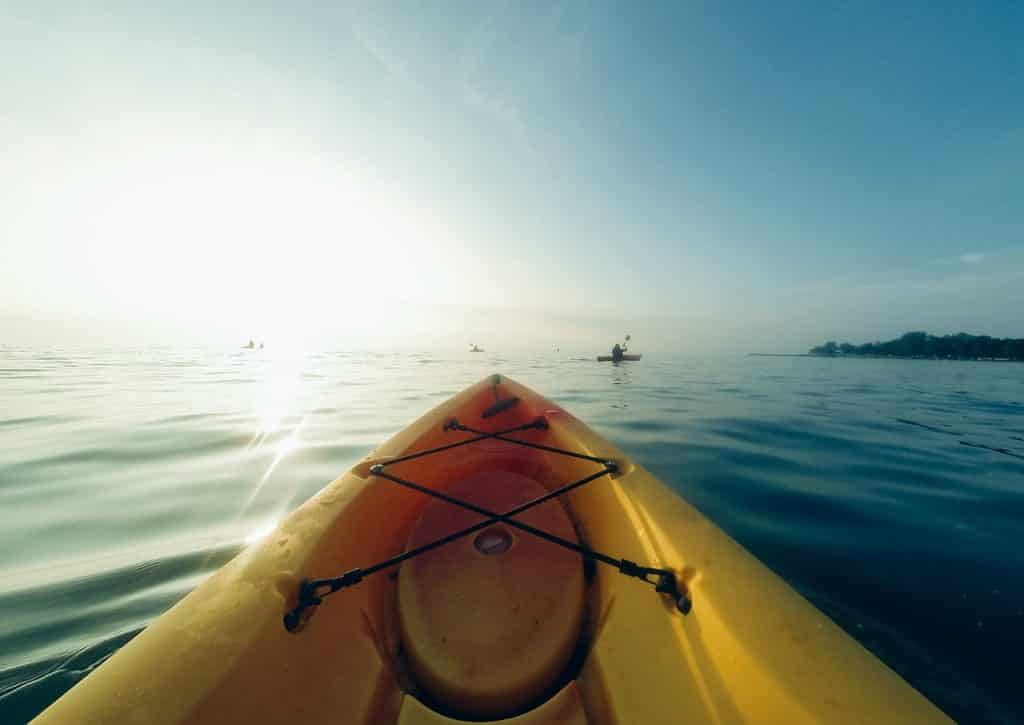 Gay Things To Do In Montpellier
Rando's Midi – A local LGBT association that organized frequent walks in the countryside. We love seeing LGBT life outside of clubs and hook-up apps and think this is a fantastic way to connect with gay locals. Their website is always up-to-date with the next hikes.
Le Marvelous – Not to be missed this gay restaurant in Montpellier is inspired by the tightly clad super-heroes and their revealing outfits. Fabulous meals and very-popular Sunday brunch.
Playfood – Gay popular concept restaurant with chic design, original recipes, and very instagrammable food.
Boxer shop – A favorite new gay shop in Montpellier for bears and leather daddy to get all the latest toys.
Exclusive Men Underwear – Another gay shop in Montpellier for all boys who need to up their branded underwear game. All the hottest brands conveniently located close to Gaumont Comédie cinema.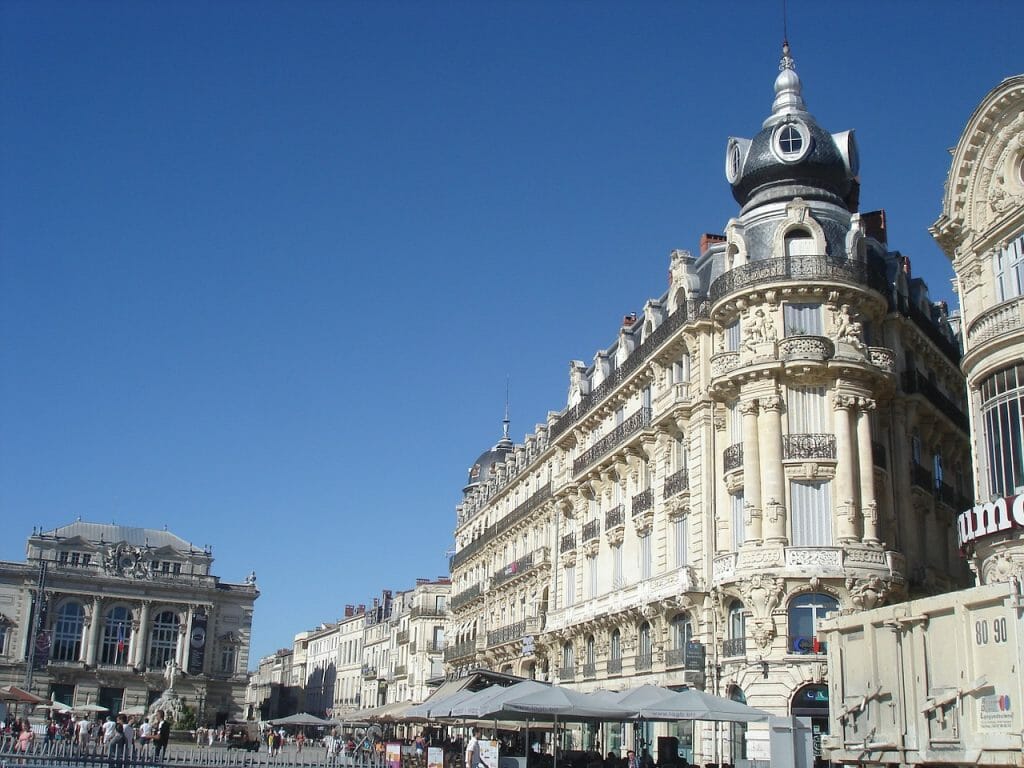 Montpellier Pride – One of the most vibrant gay prides in France. This week-long party celebrates the role of the LGBT community in making Montpellier what it is today, and is entirely worth planning a trip around. Held annually in July, the highlights are the massive street festival, a vibrant parade, and all the club parties – but there are plenty of other more cultural events too! Today it is mostly about celebrating everything queer and fabulous but of course still much needs to be done to achieve total equality and there is a strong focus on the political roots of Montpellier Pride. The Pride Parade starts from the

Place Royale du Peyrou

, goes via

la Place de la Comédie and finishes

on

le Parvis de l'Hôtel de Ville

.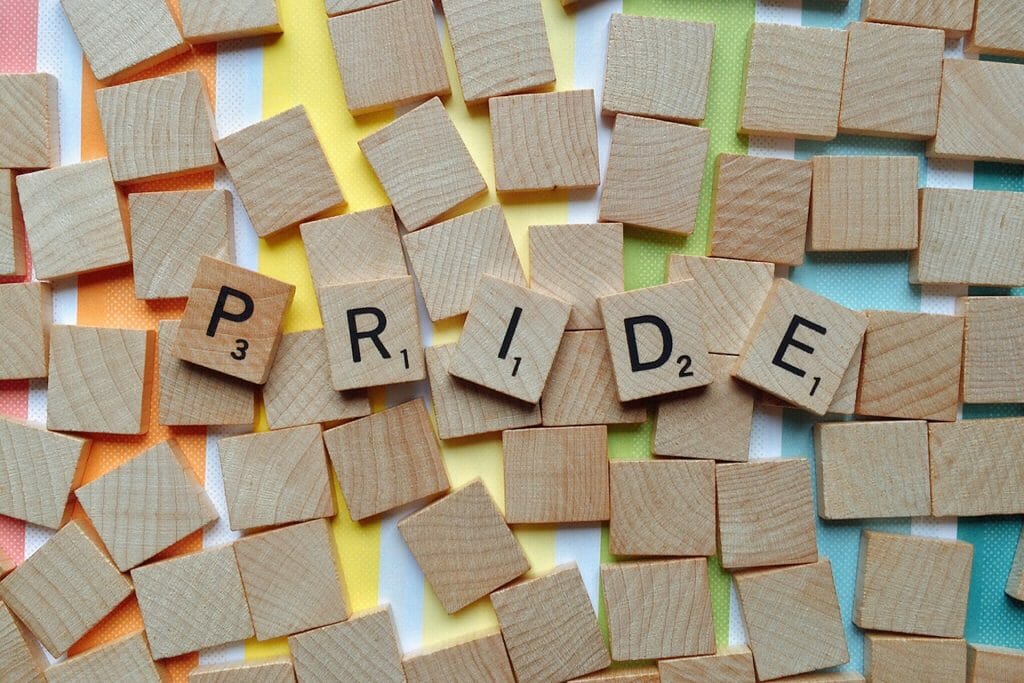 Gay Beaches Near Montpellier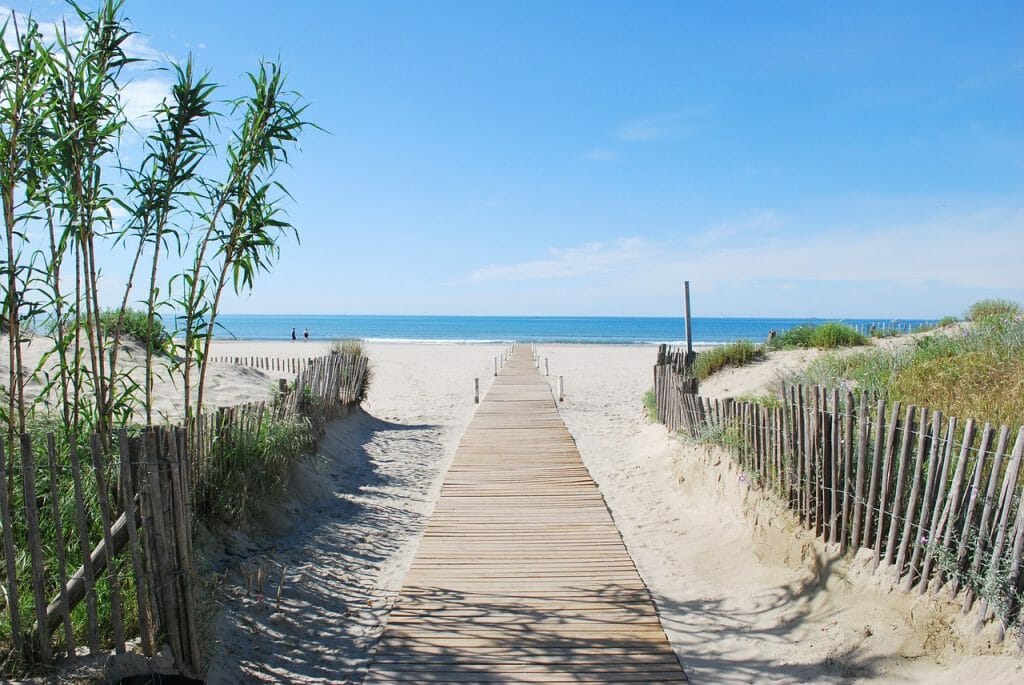 Gay-friendly and Gay Hotels in Montpellier France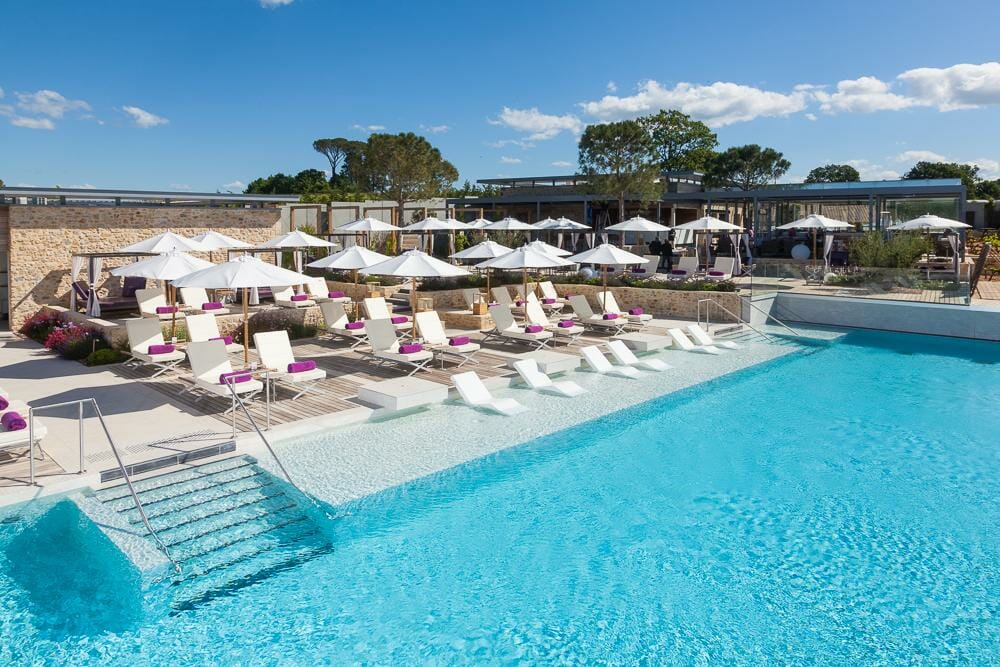 Being one of the most gay-friendly countries in the world, almost every hotel and hostel in Montpellier can be considered open and welcome to LGBT travelers. After all being gay-friendly is about simply providing a non-judgmental and respectful environment in which all people are treated equally.

Elegant design, helpful staff, and excellent value for money never hurt anyone though! Some hotels in Montpellier have gone above and beyond in recognizing and marketing to the LGBT community and given their popularity with gay travelers we would say it has paid off!



There are quite a few popular hotels in Montpellier that are go-to hot spots for gay travelers…and really, doesn't everyone like to be surrounded by people with common interests! These are the hotels we have checked out and included here. While there is one exclusively gay hotel in Montpellier, any hotel in the historic center of Montpellier is sure to have more than a few gay guests staying – plus being a stumble home from all the gay bars is pretty desirable!

There are hundreds of other good hotel option in Montpellier if you don't find what you are looking for but we are confident you'll find something here for you. Whether you want a luxurious spa, a cheap place to crash after a night of partying or a chic designer option to sip cocktails and surround yourself with fabulous people – Gay Montpellier as something for everyone!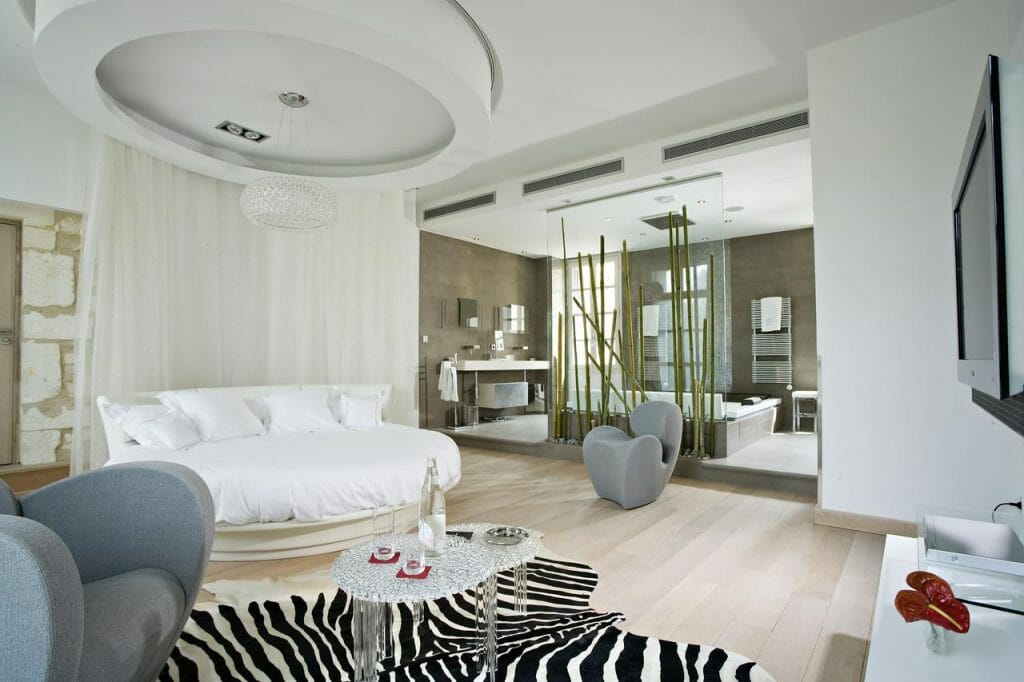 Luxury Hotels in Montpellier
Les 4 étoiles ☆☆☆☆ – Gay owned designer accommodation in the heart of Montpellier. Set in a cute 1930s house, this upscale B&B offers a contemporary and welcoming space with friendly staff and beautiful boutique rooms. Exceptional reviews from previous guests of the design, owner Pierre and fabulous breakfast lead us to recommend this as the best gay hotel in Montpellier (even though it's not exclusively gay).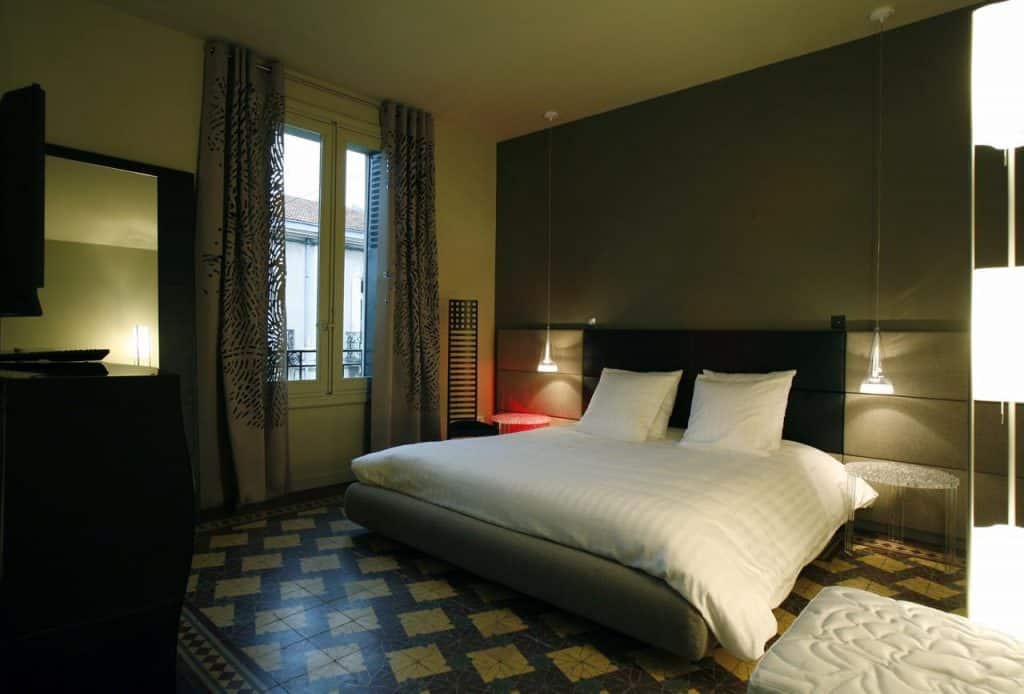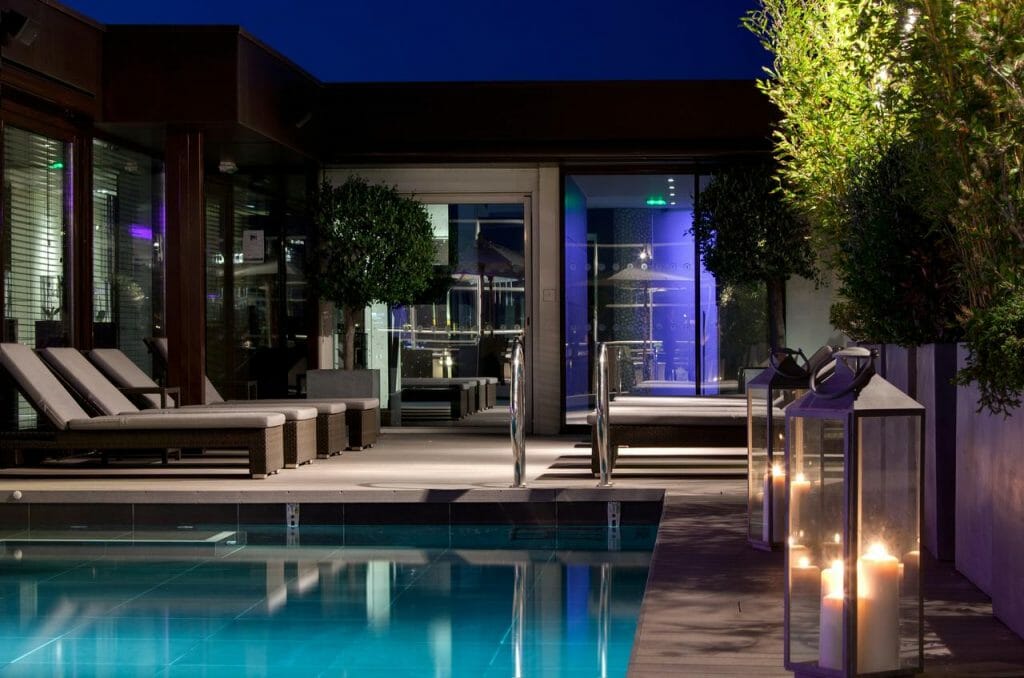 Vichy Thermalia Spa Hotel Montpellier ☆☆☆☆ – A twenty-minute drive out of Montpellier but the place to stay if you're more interested in relaxing in style then dancing the night away. This designer spa hotel offers an indoor and outdoor pool, contemporary rooms, hammam, saunas and a world-class spa with 27 treatment rooms. There is even a fabulous acclaimed restaurant on-site, so really there is no need even to explore Gay Montpellier.
Villa Ragazzi ☆☆☆ – A gay only resort and spa 45 minutes out of town offering overnight accommodation and day passes. If your coming from this direction or hiring a car, it might be worth to stop in for its clothing optional relaxed atmosphere, male massages, and sweet pool. Cute owners, social atmosphere, and delicious food make the Villa Ragazzi gay resort in France a favorite place to spend a few nights, though sadly its just a little too far away for us to recommend as the best gay hotel in Montpellier.

Mid-range / Budget Hotels in Montpellier
Villa Catouna ☆☆☆ – A 1920's villa with 5 bedrooms with en-suite bathrooms open only in July and August. An exclusively gay hotel in Montpellier, this is a fun B&B run by charming Patrick and Jean. Beautiful pool, house, and location that is close to everything in LGBT Montpellier. Add in being surrounded by gay men and what more could you ask for really?
Apartments Azema ☆☆☆ – Affordable and spacious apartments just out of the city center (meaning you can still park easily if needed). Twenty minutes walk to most of the Montpellier gay scene. Quiet location, basic but clean apartments with dining table, laundry, kitchenette and sitting room. If you want to host or enjoy your privacy, this is the perfect place to stay.
Hotel d'Aragon ☆☆☆ – Beautiful gay-friendly accommodation which has a loyal following in the LGBT community. A privileged location in the heart of the city with a beautiful glass-roofed veranda and cozy lounge for relaxing and meeting other guests. They should be able to help organize a gay boat tour to Espiguette Beach during peak season with Philippe or Thierry.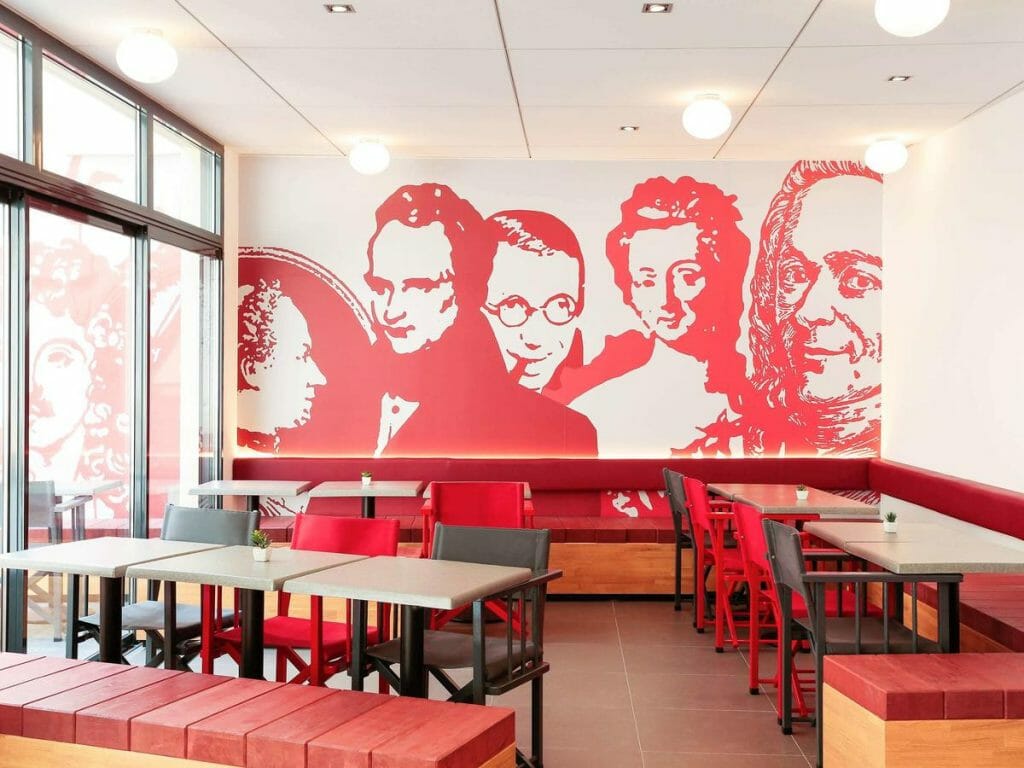 Villa Cemaste ☆☆☆ – Basic guest house with cheap rooms, daily breakfast offer, and friendly service. Villa Cemaste will not be winning any design awards, but it has a nice outdoor pool, location close to train station and car parking if your driving in France. An oasis of calm with a welcoming host.
ibis Montpellier Centre Comedie ☆☆☆ – A international hotel specializing in budget rooms at the best price. This location is closest to the gay scene and perfect for LGBT travelers who want simple rooms with no surprises. When we checked, it was also the cheapest room in Montpellier without terrible reviews as there are not any real hostels here.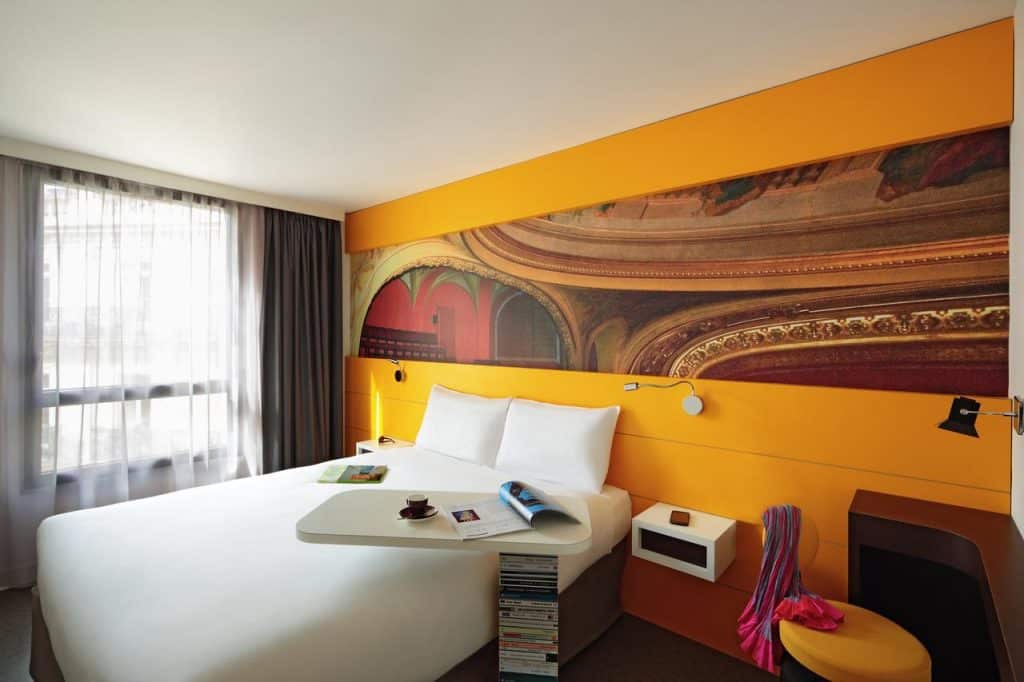 Gay Nightlife in Montpellier
Montpellier is one of our favorite under-the-radar gay destinations in Europe – in part due to comparatively low prices, vibrant gay nightlife scene and all those smoking hot French boys (and girls!). Compared to LGBT Paris, we found the Montpellier gay nightlife scene to be more relaxed with less attitude. Ther was an excellent, yet not overwhelming, selection of gay bars and clubs to choose from which always kept things interesting. Most bars and clubs often don't kick off till late here, but there are plenty of cute cocktail spots and wine cellars to relax in until then.
New bars and club events are taking place consistently here, so it pays to ask around when you arrive (hotel staff are often a good bet), but the historic Old Town plays host to most gay bars here. Things can get crazy – but just go with it! You can also use our Gay Montpellier Map at the end if you're lost…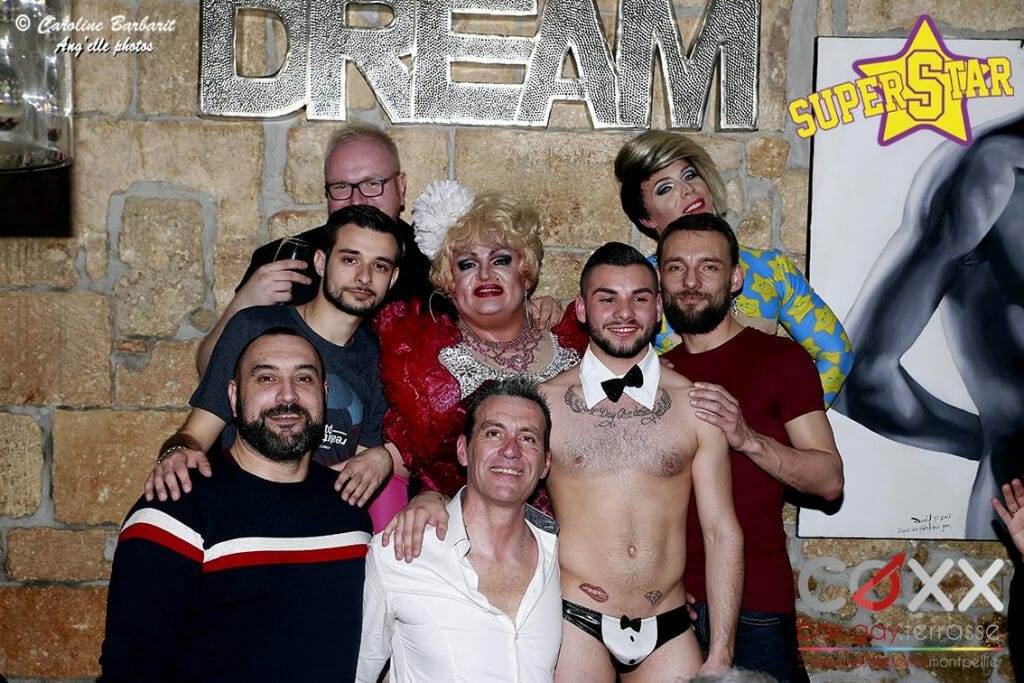 Gay Bars and Clubs In Montpellier
Le Cafe de la Mer – A typical French cafe popular with the Montpellier community as a gathering spot before a night out. The outdoor terrace tables are the place for people watching and meeting new friends. Sip wine, be your own fabulous self and see where the night takes you.
Industrie Bar – A newly opened gay bar on the edge of town. Spacious with a cool industrial theme known for hosting the Montpellier off-shoot of the Paris Beardop parties.
Le Cubix Bar – Popular dance club which is very LGBT friendly. Home to any international circuit parties, delicious cocktails, and small tapas. Music is generally a mix of house and electro.
Moom Club – The only remaining gay club in Montpellier with deep house and tech music. Open till 6 am every day of the week if your planning on a night out in gay Montpellier it is almost certain you will end up here at some point. An eclectic clientele who all just want to enjoy the friendly and festive atmosphere, with many students and young guys. Frequent events updated on their Facebook page.
Le Coxx Montpellier – A uber-fun and trendy gay bar for men of all ages with a party that often spills out onto the adjacent alley. Frequent events listed on their Facebook page including the ever popular karaoke night. Sexy bartenders, clientele and the occasional drag queen host. This is our favorite gay bar in Montpellier, and are pretty sure it will be yours too!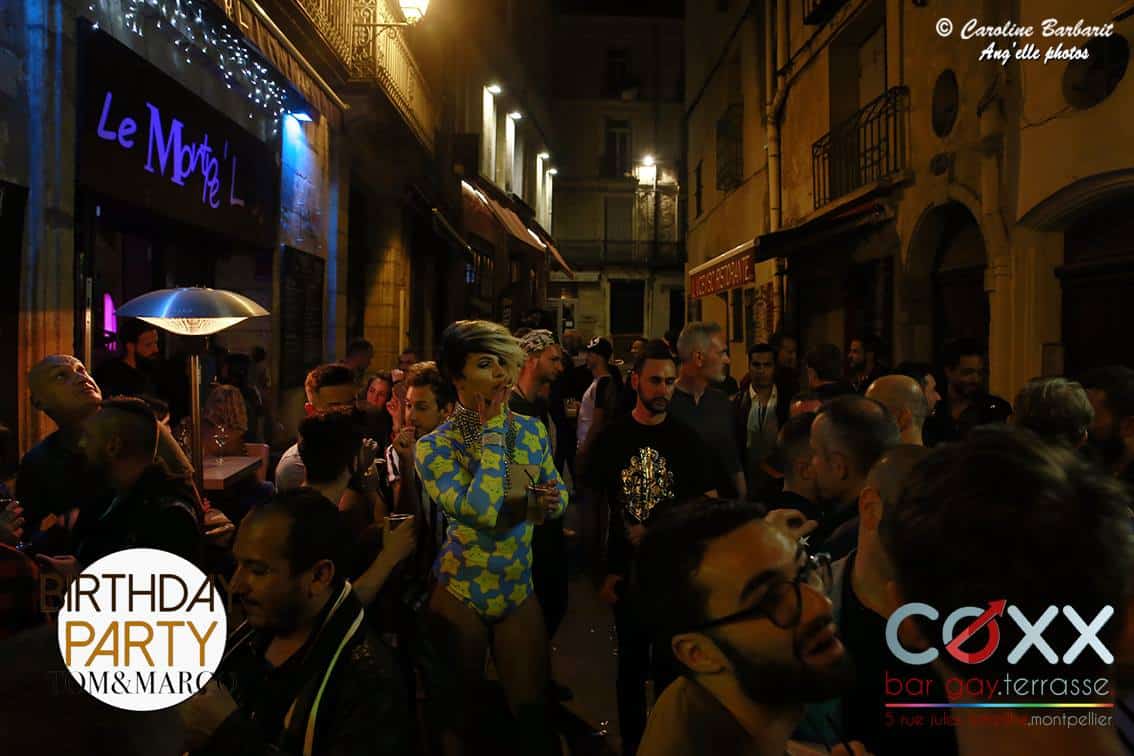 Gay-Friendly Bars In Montpellier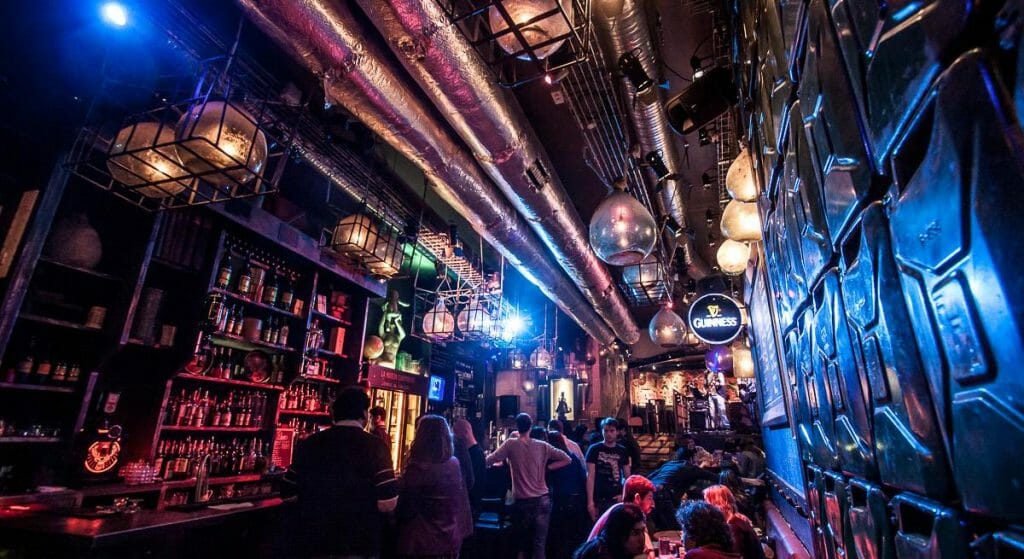 Cruising & Gay Saunas

in Montpellier
Had enough of gay cruising in Montpellier – either in the bars or elsewhere? For those who want a bit more guaranteed action, the gay saunas in Montpellier will not disappoint you (unlikely all those faceless accounts on Grindr or the other hook up apps…). Foreigners are typically welcoming through-out the Montpellier gay scene, but many guys don't speak English in the saunas here so you'll need to be good at reading non-verbal cues.
There are three gay saunas to choose from, and each is just outside the historic center so easily accessible. The gay sauna's in Montpellier mostly get crowded on weeknights after 5 pm and on Sunday afternoons. We also found Google Maps helpful for displaying the busiest times for most locations.
One Sauna – A three-level sauna in the center of Montpellier with two hamam, a dry sauna, cruising floor, cabins, sling and XXX porn rooms. There is even free entire for 22 years and younger! Closes early at 8.30 pm but One sauna is busiest after work anyway.
Koncept Sauna – The original and most popular gay sauna in Montpellier for gay and bisexual men. Clean, open late until 2 am, frequent theme nights and dark, hard and funky decor. All the expected amenities including jacuzzi, glory hole, steam and dry sauna, private cabins, hammam and some of the best male massages in Montpellier.
Sauna Le 36 – A bit grungy but the biggest gay sauna in Montpellier. Most popular on Thursday for naked nights but even then its very hit-and-miss for cruising action. Enjoy their hammam, dry sauna, steam room, industrial cruise area and jacuzzi (even if it is a bit too cold!).
Rex Club Sauna – A sex-on-site sauna open to everyone: bi, straight, gay and trans. This sauna is about tolerance and has many theme nights include trans parties and nude karaoke.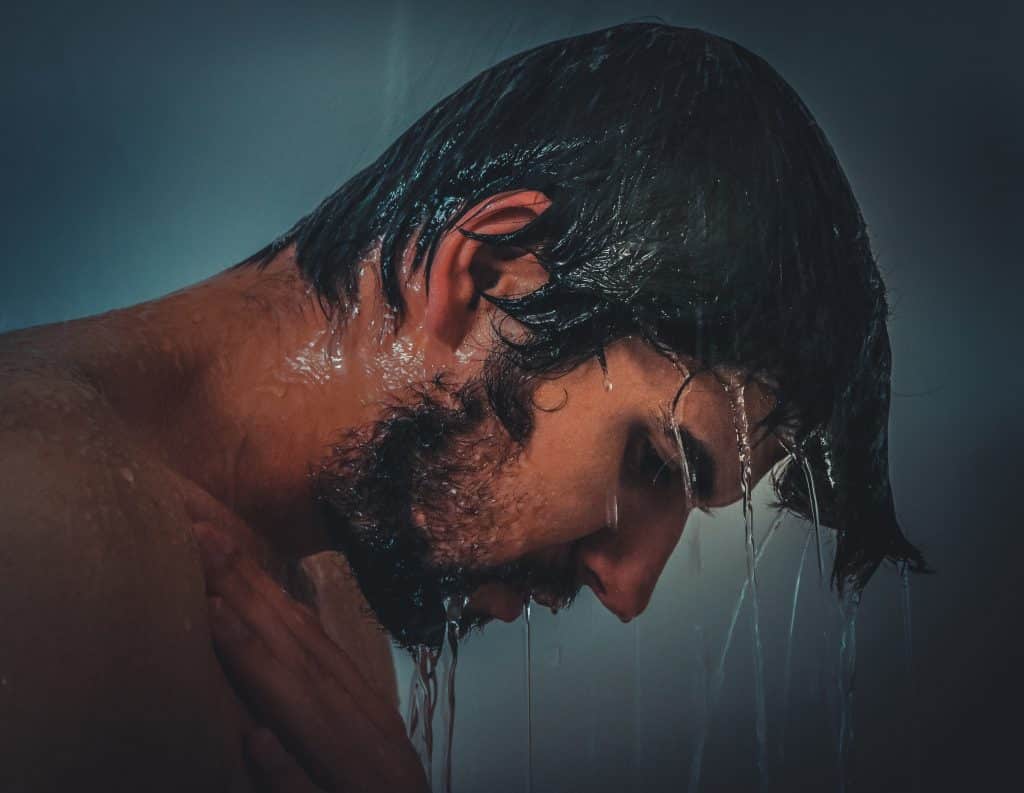 Le Chantier Cruise Club – If cruising in Montpellier is more your style check out this popular cruise / gay sex club, though results may vary. Centrally located on a quiet side street you can find private cabins, porn films, and black rooms. There is a bar serving non-alcoholic drinks but let's not kid ourselves. We are not here for the conversation or a social drink…
Sauna de la Gare, a popular gay sauna in Montellier, is now closed permenantly.