It's got beaches, it's got mountain scenery, it's got culture, and it's got an incredible gay scene; is it any wonder that Barcelona is one of the most popular gay travel destinations in Europe?
Barcelona is known as Spain's cultural capital, and there's undoubtedly art, history, and architecture aplenty. During the day you can head to the magical, and unfinished, Sagrada Familia, wander the streets of the Gothic Quarter, or go and see on the eye candy at one of the gay beaches to the north of the coastline.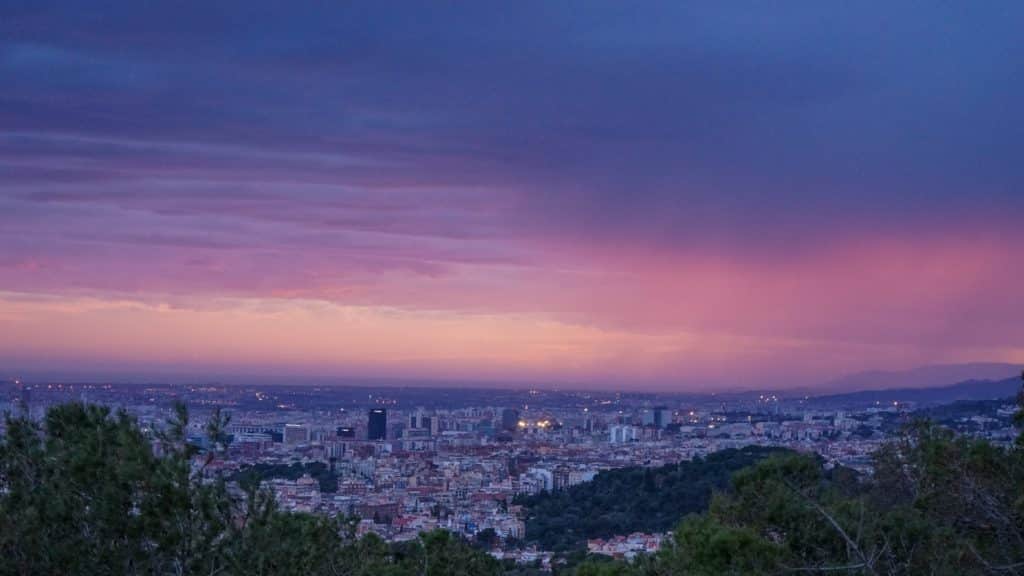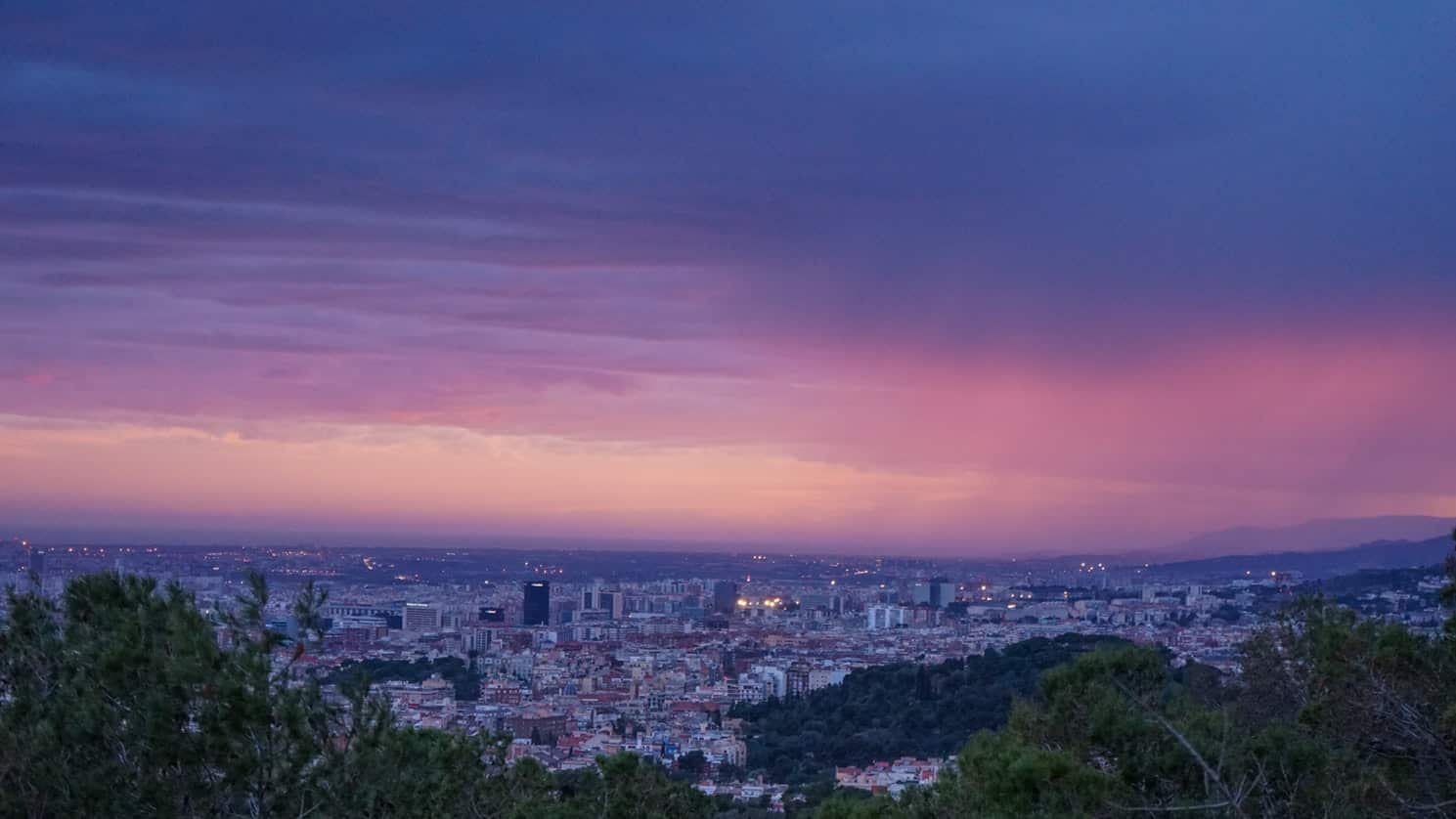 There's plenty to feast your eyes on, but not just during the day! At night, Barcelona offers a diverse and fun-loving gay scene where things don't really get started until after midnight (drink lots of coffee!). Metro club is varied and open all night, every night; or try "PERVERT" on a Saturday night.
L'Eixample or Gayxample, as it's known, is the centrally located gay area of Barcelona. You can go here in the afternoons to sip a cocktail in the sun and watch the world go by; or wait until after sunset to enjoy most of the city's gay bars, including Café Bar Punto and the Axel Sky Bar. It's always worth visiting Europe's most famous 'hetero-friendly' hotel chain for a drink at their rooftop terrace.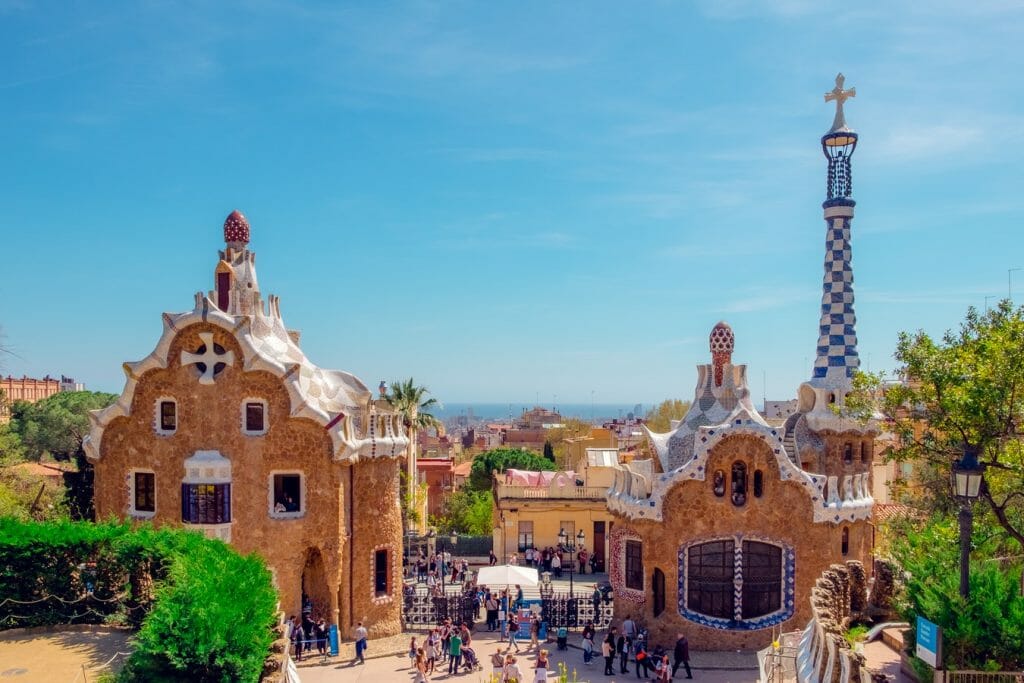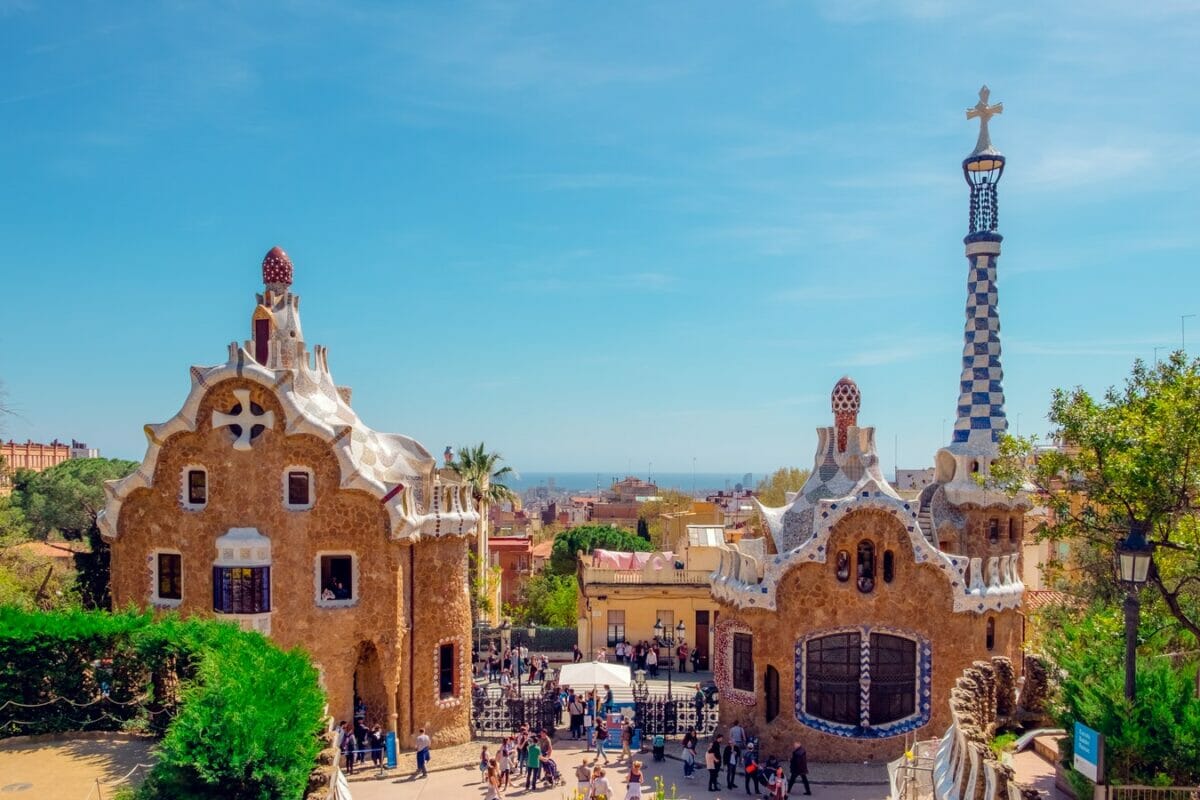 Barcelona is great to visit any time of year, but if you want a huge party then aim for the Circuit Festival, Easter Matinee or of course Pride Barcelona -one of the best Gay Pride festivals in the world. Circuit is two weeks of festival attracting 70,000 visitors every August and boasting parties everywhere from water parks to the beach. Easter weekend in Barcelona might not be that big, but there are still plenty of parties, and of course, Pride needs no explanation here!
So if you'd like to have plenty of money left over for all this partying, you'll want to budget on your accommodation. While there aren't any exclusively gay hostels in Barcelona (if you've got the cash, you should try out the luxury gay hotel chain Axel), there are plenty of hostels popular with gay travelers for their location, design and a very 'hot' welcome.
Now just between us girls, here are our favorite almost-gay hostels in Barcelona that are popular with gay travelers. YAS GAWD!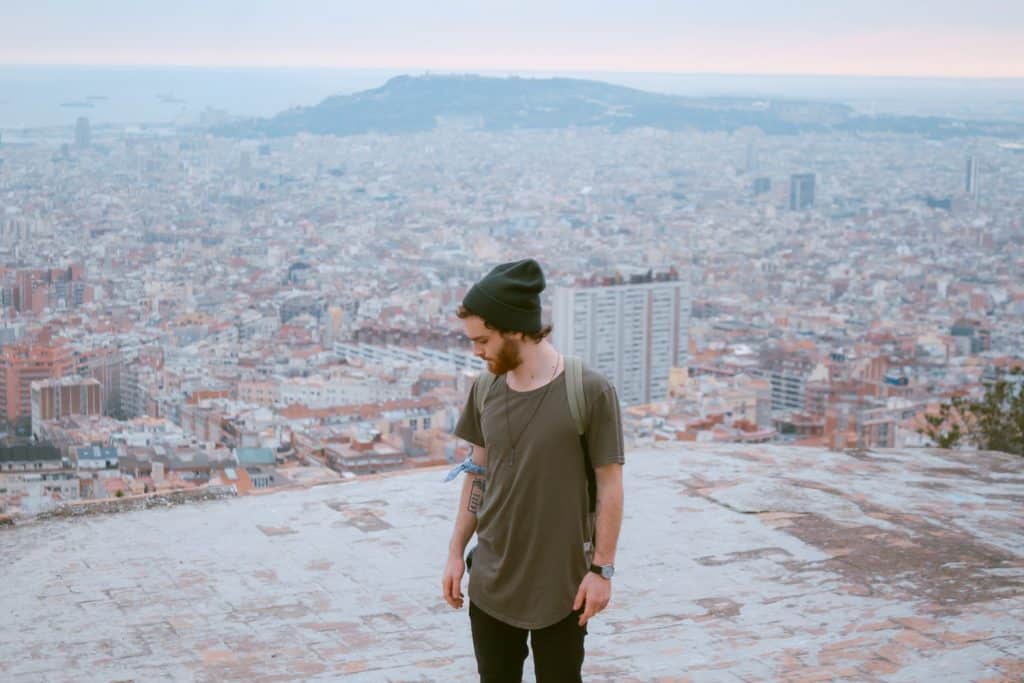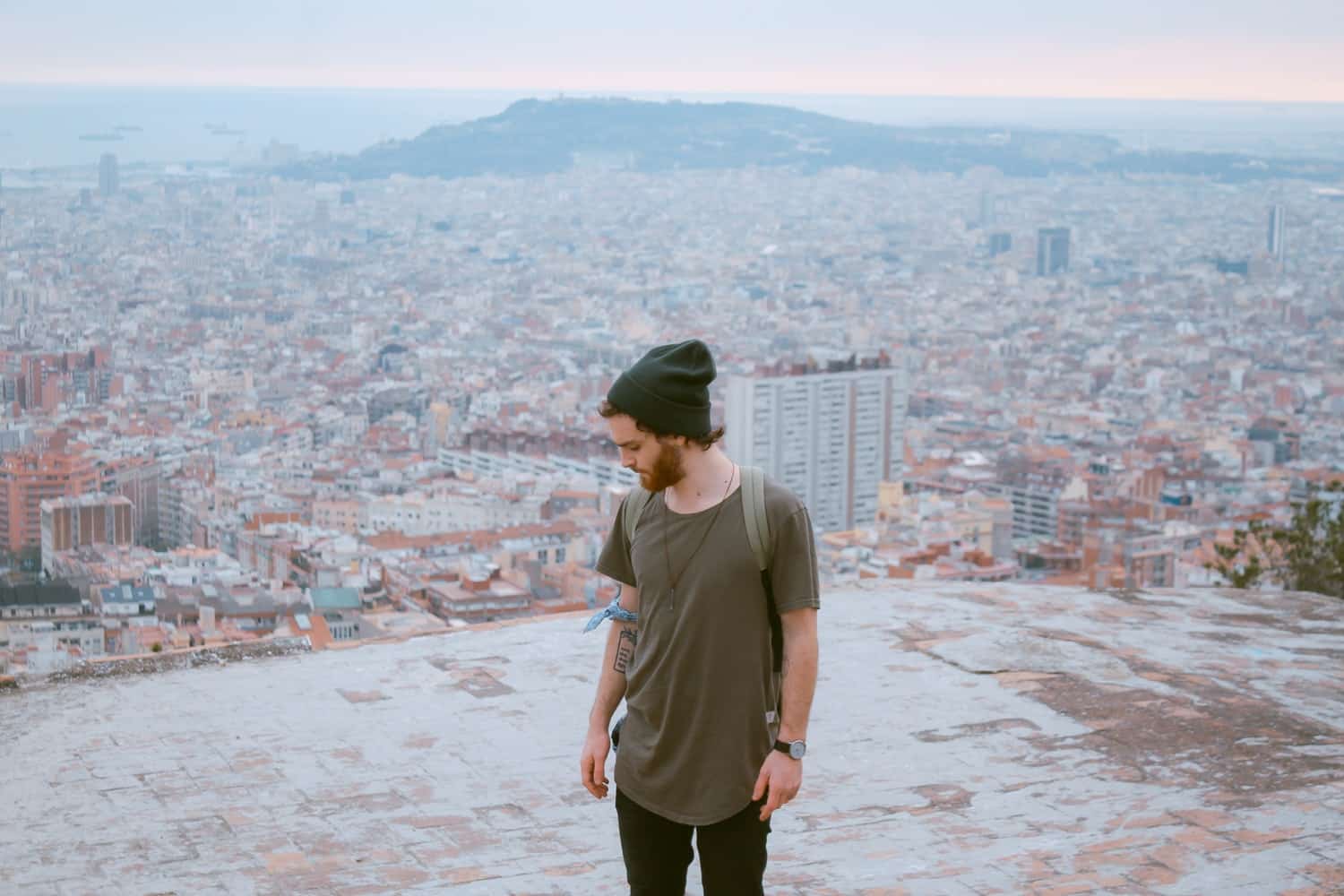 The Most Fabulous And Almost-Gay Hostels in Barcelona 🇪🇸 
This hostel right in the heart of the action has such a warm vibe; it's no wonder it's one of the most popular gay hostels in Barcelona. It actively promotes itself as a family hostel, and wants to make you feel part of that too.
There are rooms for two, three, four and six people. All rooms are cozy and clean, with fun patterned wallpaper and shared bathrooms. It won't feel weird sharing a dorm because the staff promote interaction and all other guests will feel like being sociable!
One of the best things about Hostel One Sants is the free dinner the staff cook every evening. They also run a pub crawl every night and free daytime activities. All guests have to be over 18, so you can rest assured there's a party atmosphere. The team there go the extra mile to make everyone feel part of the fun.
If you're not partying with your new friends, you might want to get out and explore the city; from here, it's all on your doorstep. Montjuic is close by if you want a fantastic view of Barcelona and you can wander down Las Ramblas to see all the tourist sights.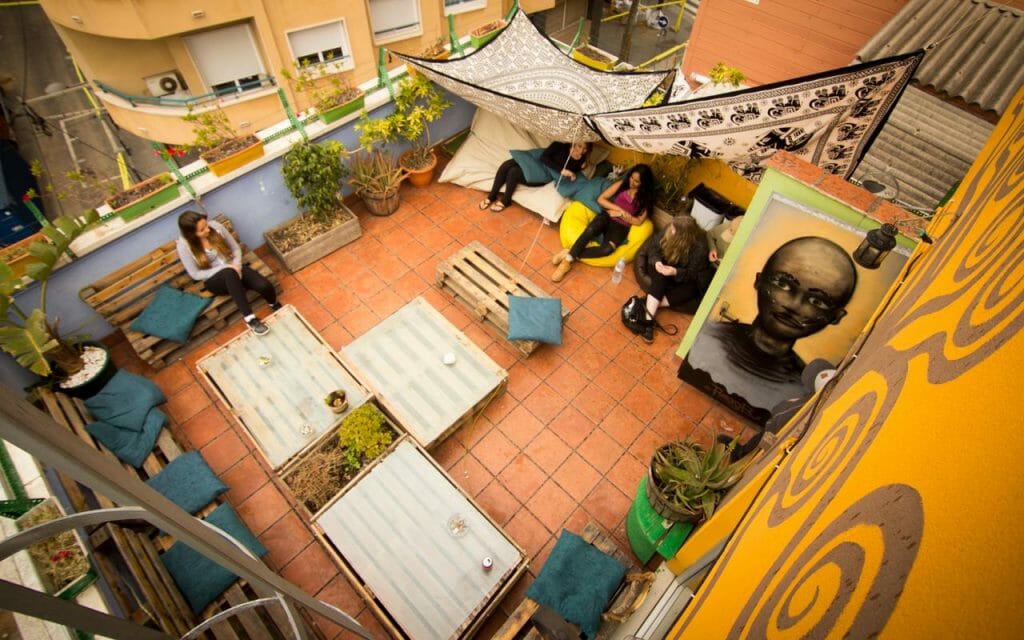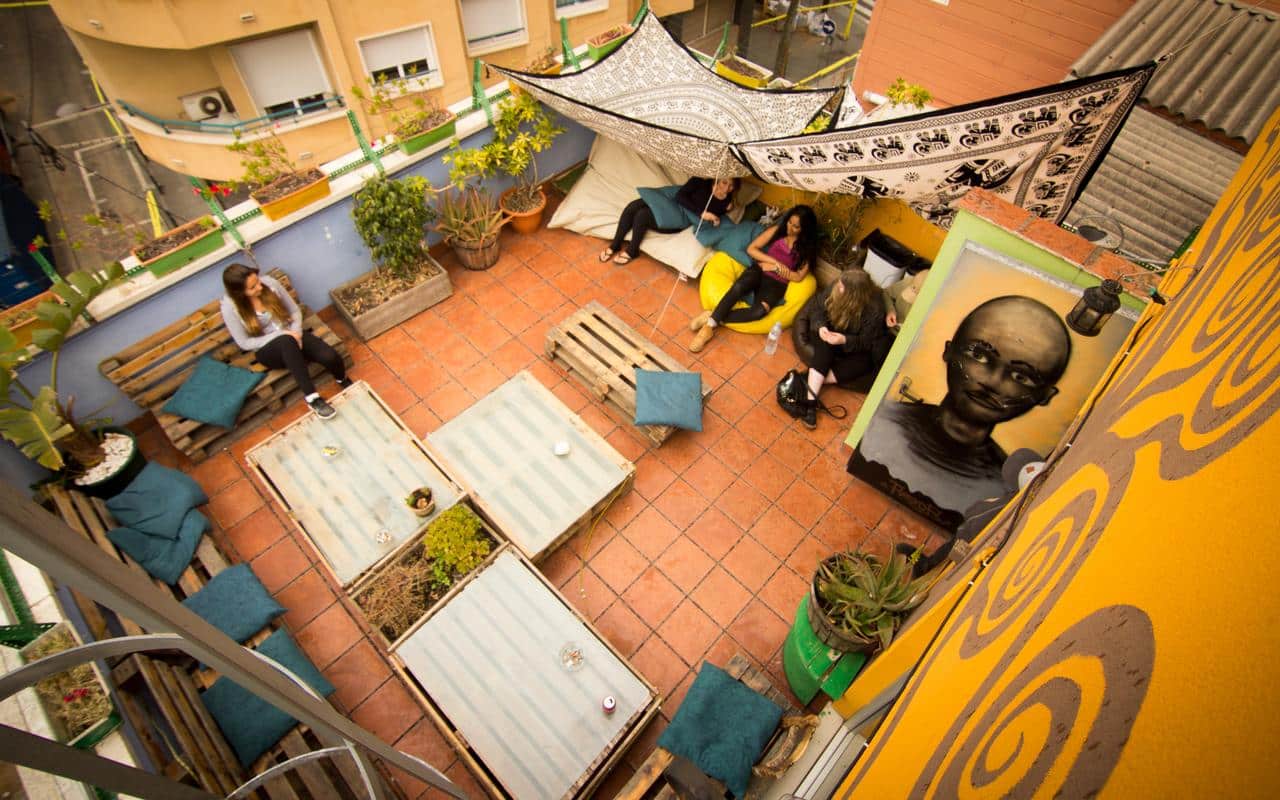 Plaça de Catalunya is the heart of the city, and this fun and stylish hostel is located right next to it, so you never need to worry about finding your bed after Barcelona late night adventures.
They have dorm and private rooms fully equipped with all the practicalities travelers need. We love that the bunks have big lockers underneath, a curtain for privacy, a personal light and a power socket – all ideal for a nest to relax in at the end of the day.
St Christopher's is unashamedly a party hostel, with an onsite bar and a range of events to help guests get to know each other. A buffet breakfast is available for an extra €4, and they offer free tours from the reception. The beautiful tiles in the communal areas and contemporary lounge area make it look upmarket, and you're bound to make new friends in the fun atmosphere.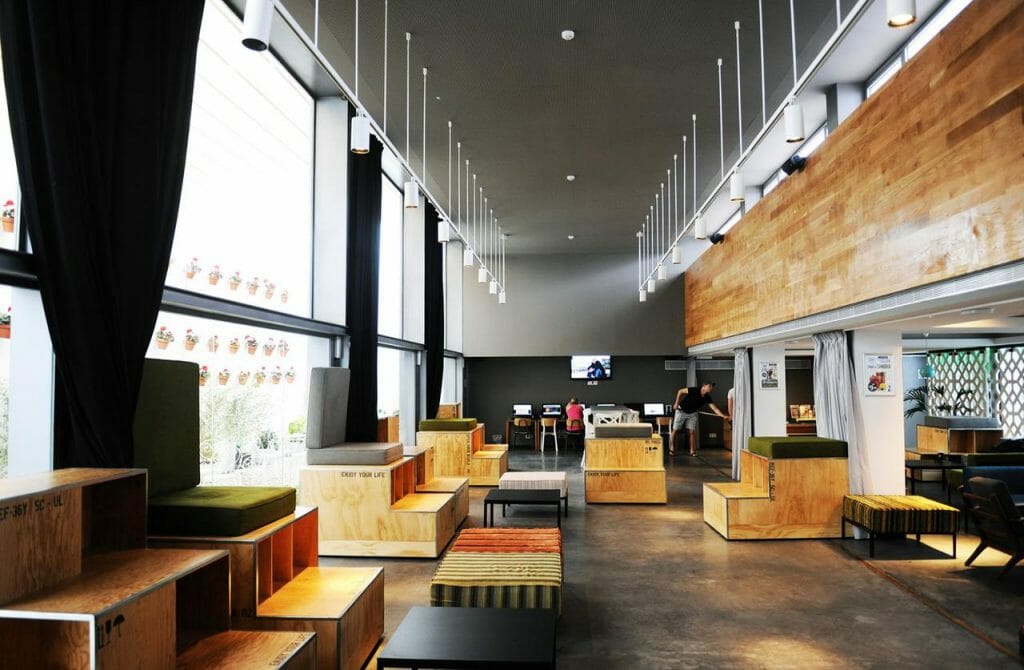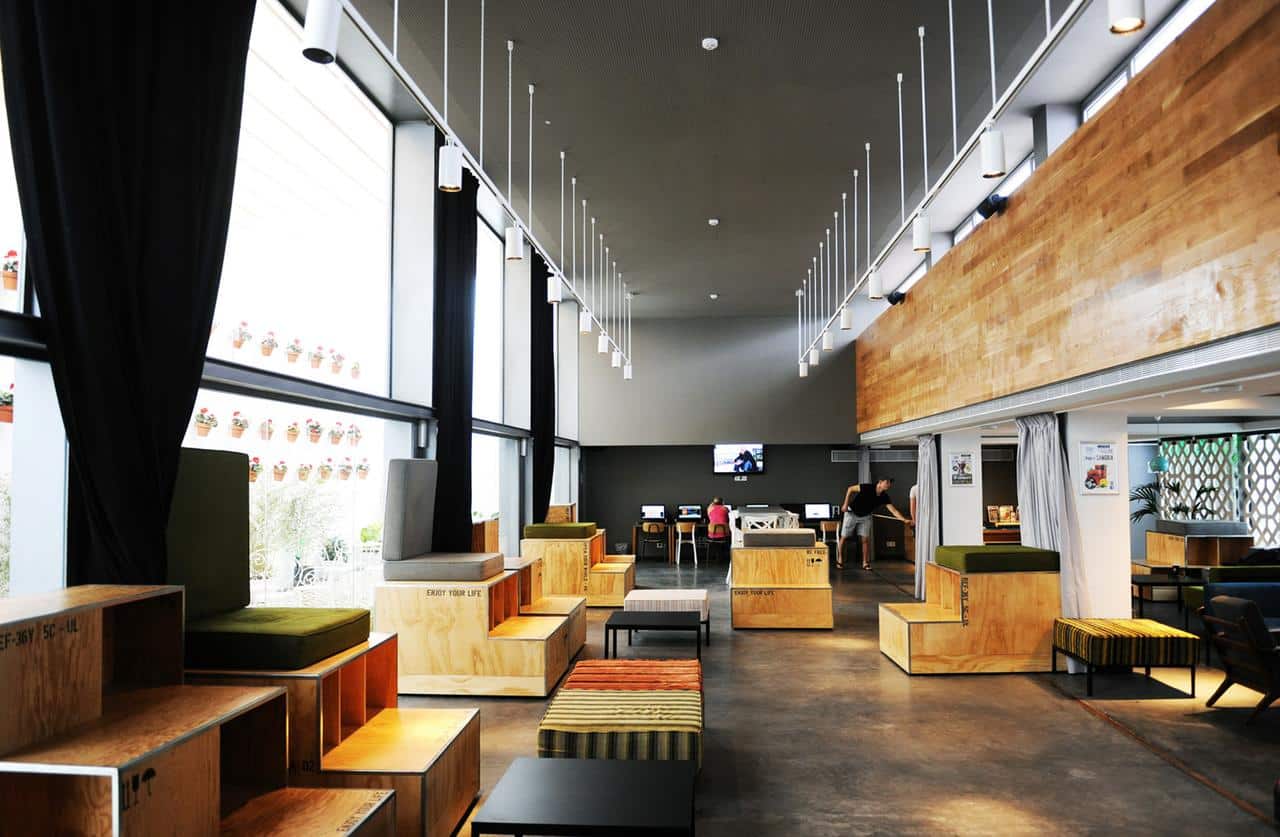 The tasteful and elegant décor of this central hostel means it has a luxury feel you wouldn't usually associate with wallet-friendly accommodation. There's a green and welcoming patio area where guests can enjoy the sunshine, and the communal kitchens are among the best we've seen.
With this eye for design and the great location, no wonder this is one of the more frequented gay hostels in Barcelona. Situated in Born, the historic area of the city next to the Gothic Quarter, the Picasso Museum is only minutes away, as is the beach.
The service is really excellent, with staff always happy to help you explore the city. Everything is gleaming and clean, and it's the ideal place to relax, perfect for people who don't want a party hostel.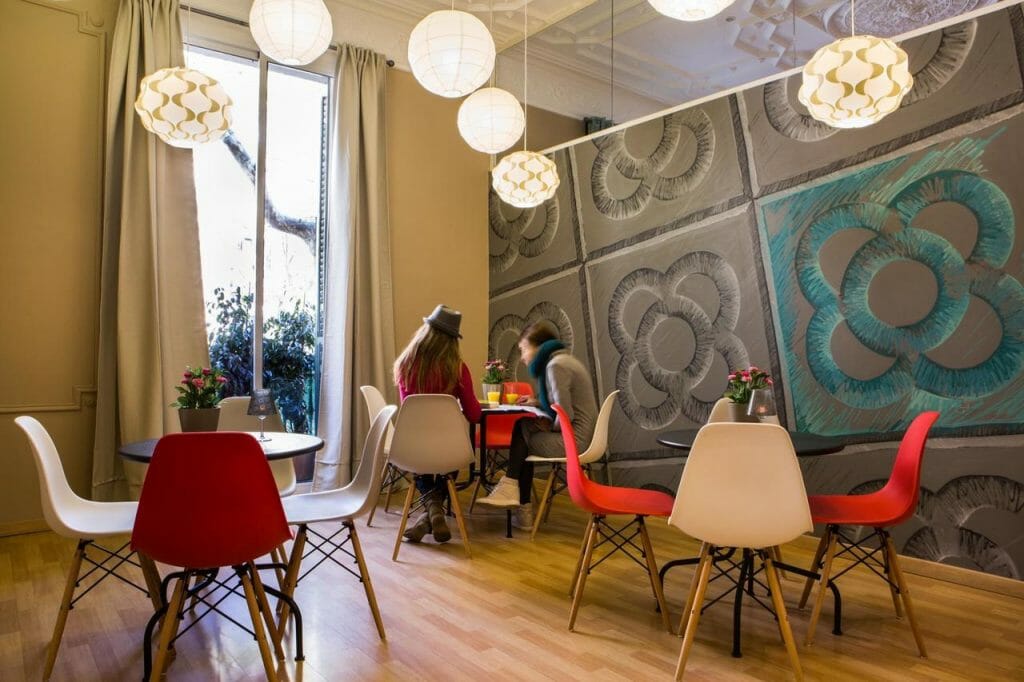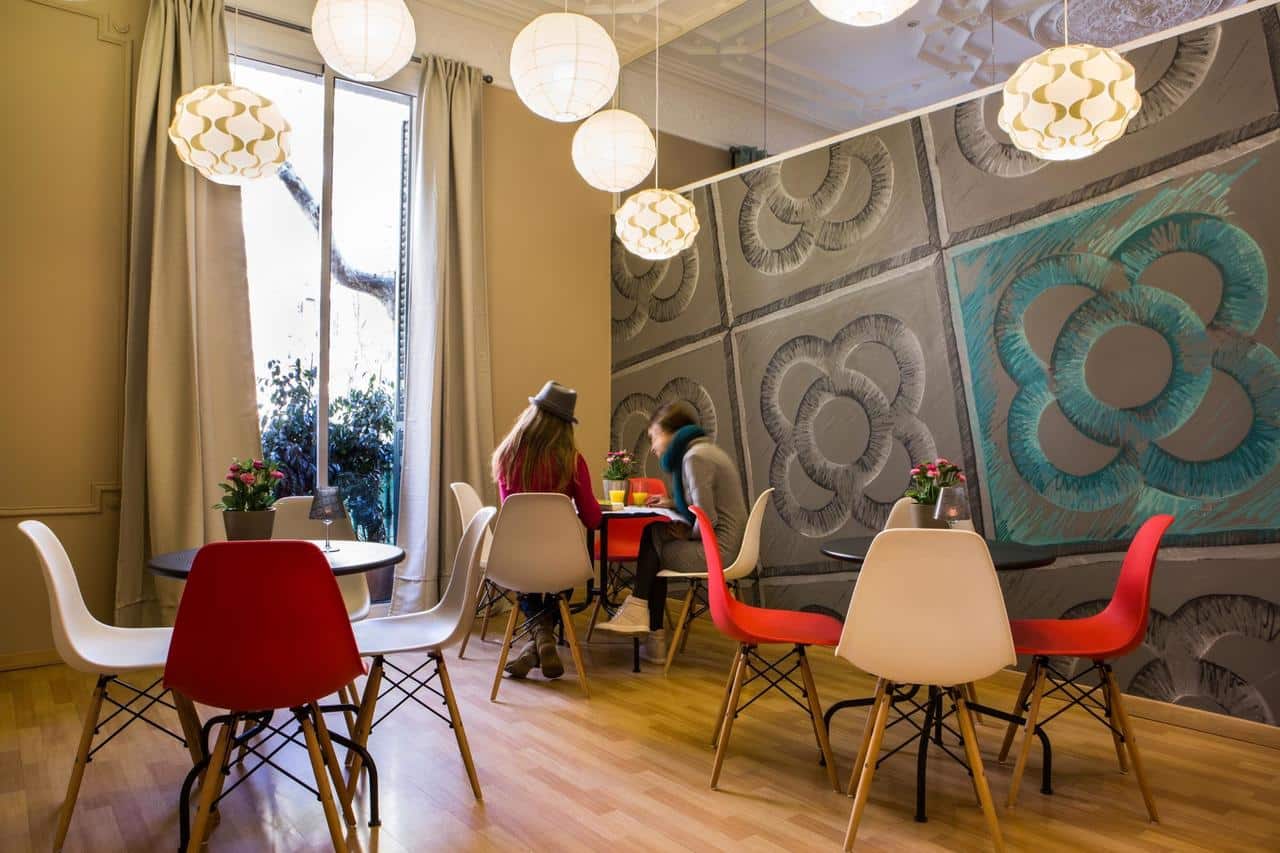 Stay at this glamorous boutique hostel and all of Gayxample is right on your doorstep – perfect for travelers who want to fully explore Barcelona's gay district. This location is one of the reasons we'd describe it as an almost-gay hostel in Barcelona; that, and the fabulous interior!
It's an intimate space with just seven meticulously decorated rooms and an independent apartment for those who want a bit more privacy. The managers have taken a lot of care with the renovation of this Art Nouveau building, and the results are stunning.
Enjoy the lavish mezzanine, modern and fun design in the dorms and the decadent touches, like fur throws in the bedrooms and zebra-print rugs on the floor. It's a soothing space ideal for gay travelers who want a more sophisticated mini-break!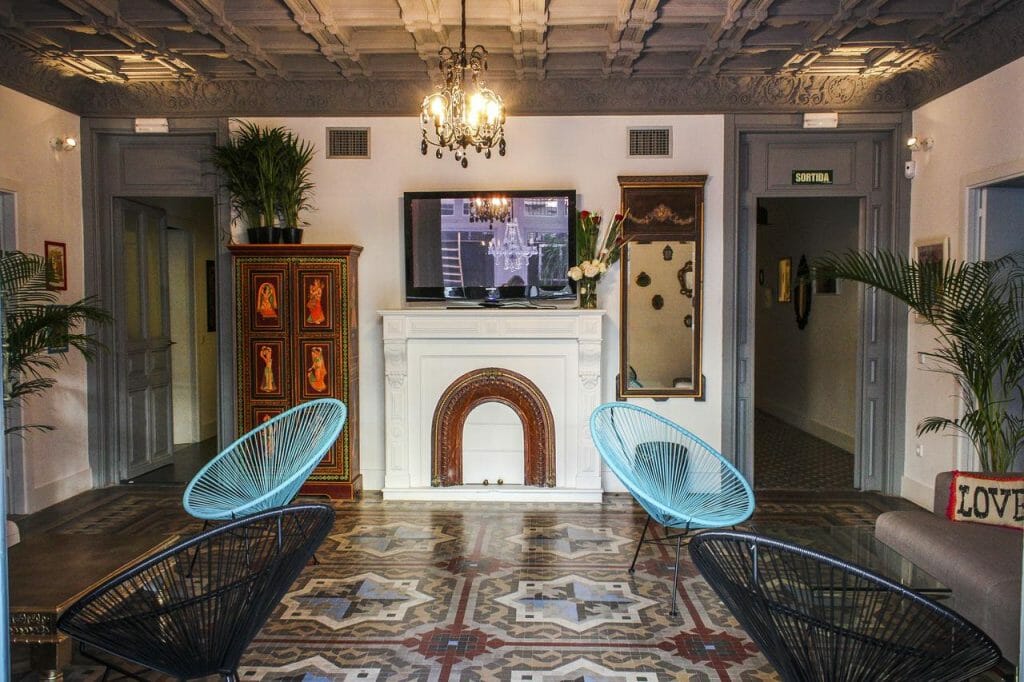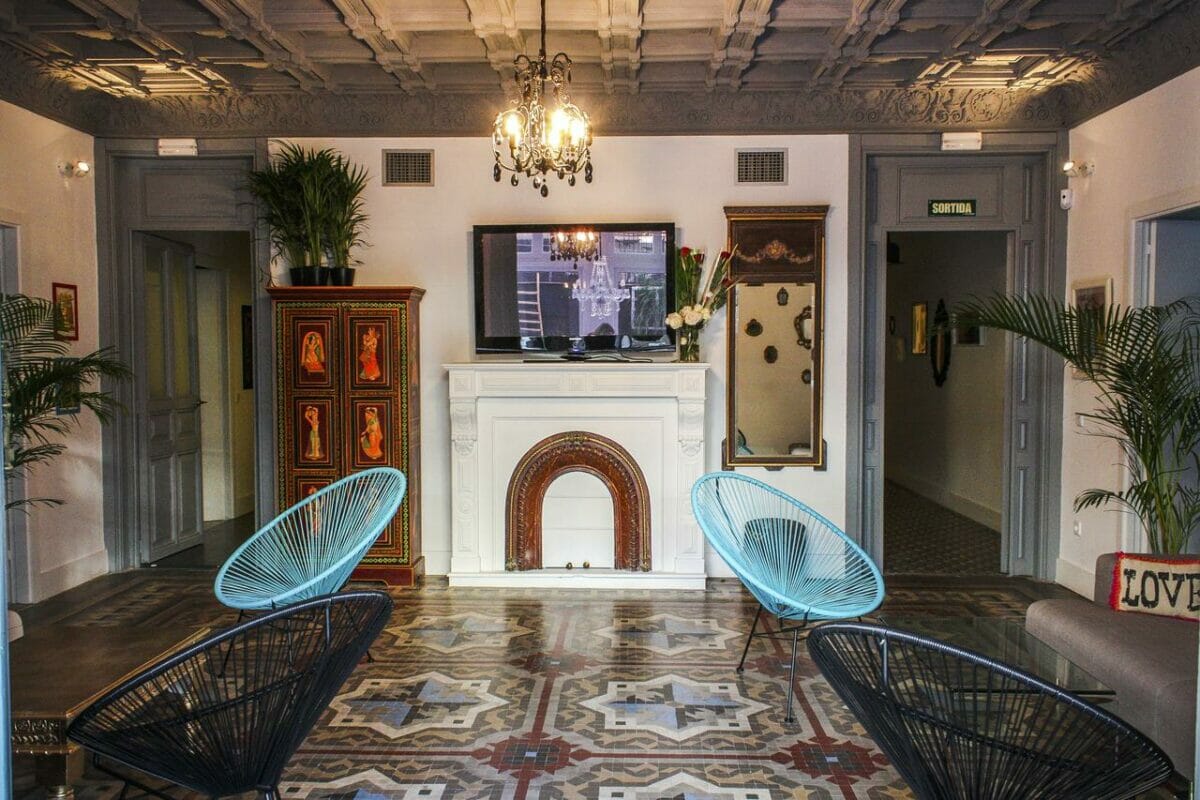 Everything you'd expect from a Generator hostel – funky design, quirky touches and a whole lot of fun – with a Catalonian touch seen in the warm welcome, the stylish tiles decorating many of the bathrooms and the tapas dinner available.
Located close to Eixample and only a few blocks away from Sagrada Familia, this hostel also boasts an incredible view of the city from the 7th floor – if you're lucky, your room might even have a private terrace. Whether your bed is in a private twin or a multi-person dorm, you'll have a light for late-night gay romance novels reading and your own power socket (so you know your phone will be charged for all the selfies you).
The facilities are almost endless, from multiple communal spaces to a travel shop to a range of food options. There are activities every night, so its the perfect gay holiday for singles choice as you're certain to go home with a whole lot of new friends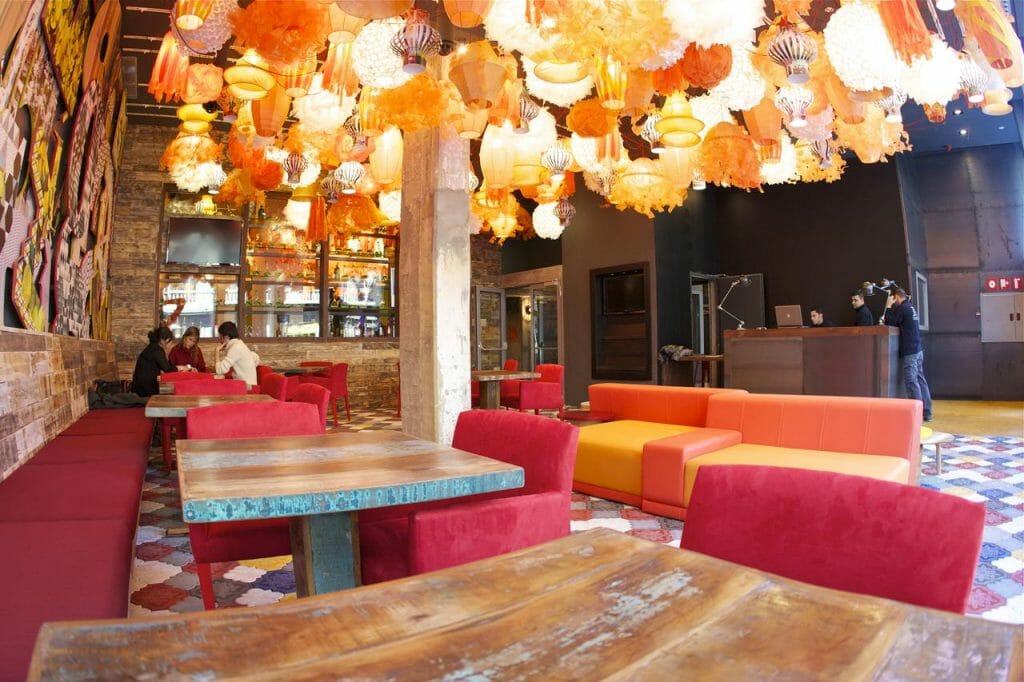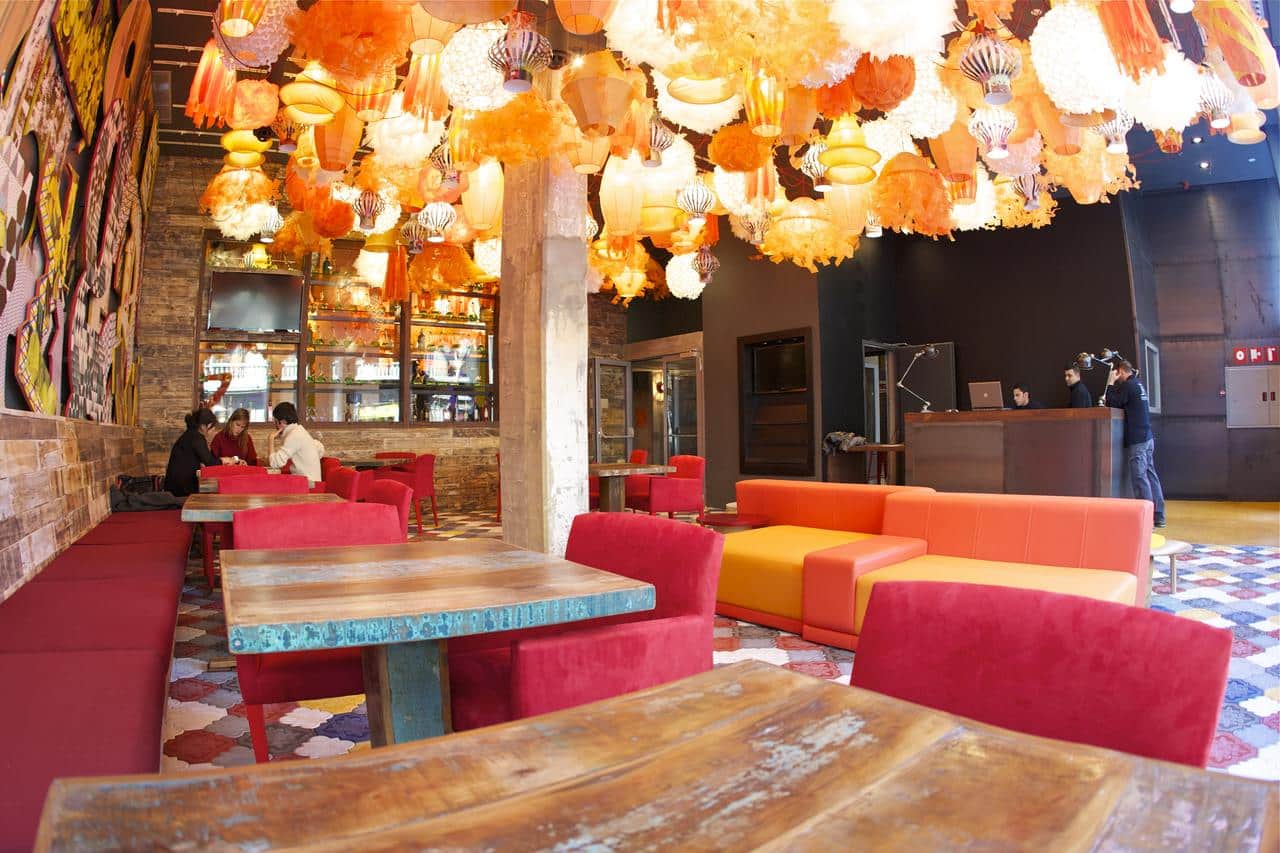 With stunning design, a modernist building and the most stylish dorm rooms we've ever seen, Casa Gracia is an oasis of beauty and calm in the bustle of Barcelona. Gay travelers to the city will love that it's located near Gayxample, but they'll love the décor even more.
All creature comforts are included: comfortable beds with fresh towels and linen, 24-hour reception, free tea and coffee, WiFi, a fully equipped kitchen and gorgeous communal areas. A healthy and filling breakfast is available for only €7 extra per night.
The lounge area with its parquet flooring and comfortable leather chairs immediately makes you feel at home, as do the enthusiastic and energetic team working there. If you want to push the boat out, even more, book their Super Suite and enjoy the Jacuzzi there. That's right, a hostel with a Jacuzzi.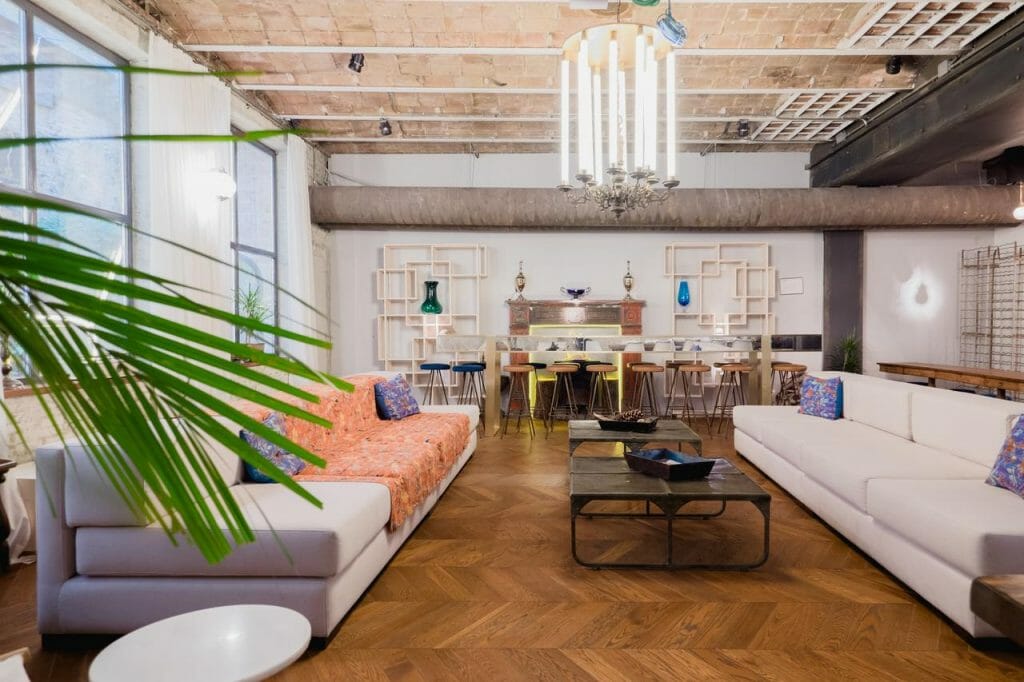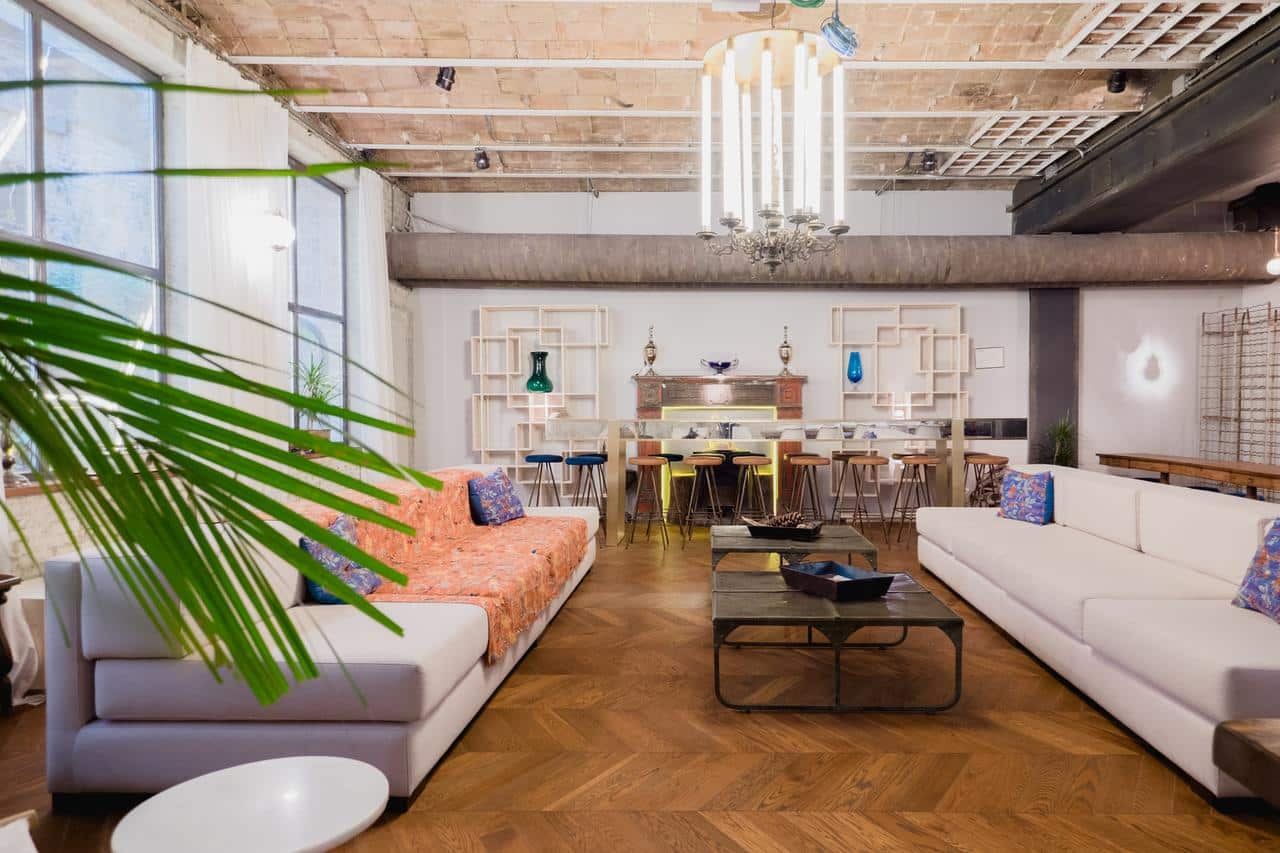 Clean, minimalist dorm rooms, a sociable atmosphere and plenty of facilities combine to make this a safe choice among the (nearly) gay hostels in Barcelona. The neutral tones used in the décor make it a soothing space to come back to after a hard day's sightseeing in the city center.
Said sightseeing is easily achieved from the central location right next to Eixample off Avenue Diagonal. There are self-catering facilities, free breakfast, and even a steam room. Choose from 4-bed or 11-bed dorms where you'll have a locker, a bed with privacy curtains and shared bathrooms.
The staff are incredibly friendly and always happy to look out for the guests. Although of course as Barcelona is one of the worlds most gay-friendly travel destinations we would not expect anything else!  It's welcoming without being too much, so a good choice if you'd rather avoid a hard-core party hostel but still want to get chatting to people.
So if you've been thinking about exploring Barcelona, there's no excuse not to when you know there are these high-quality gay-friendly hostels to choose from.