Whether you go on holiday for the suntan, for new experiences, to blow off steam, or just to escape the daily grind, we're willing to bet that you want to feel relaxed and feel free to be yourself. Thankfully the gay resorts of Costa Rica allow you to do just that – to be 110% yourself, without a single double-take, all in the company of other open-minded folks.
Thinking about gay travel to Costa Rica immediately conjures up images of an idyllic, peaceful tropical paradise, with lush, unspoiled tropical rainforests, secluded islands, white sand beaches overlooking the sea, spectacular sunsets, verdant forested mountainsides breaching into the sparkling azure waters of the Pacific. Plus plenty of gorgeous men and hot Latin nightlife.
This picturesque image of Costa Rica is not misplaced, for the country is about as close to paradise as it gets. Of course, the country has its problems, to be sure, but on the whole, there is a good reason why this little slice of Central America has become the world's no.1 ecotourism destination and a premier gay travel destination for sun lovers, nature lovers, and adventure sports enthusiasts seeking a thrill in the form of windsurfing, ziplining, hang gliding, and the like.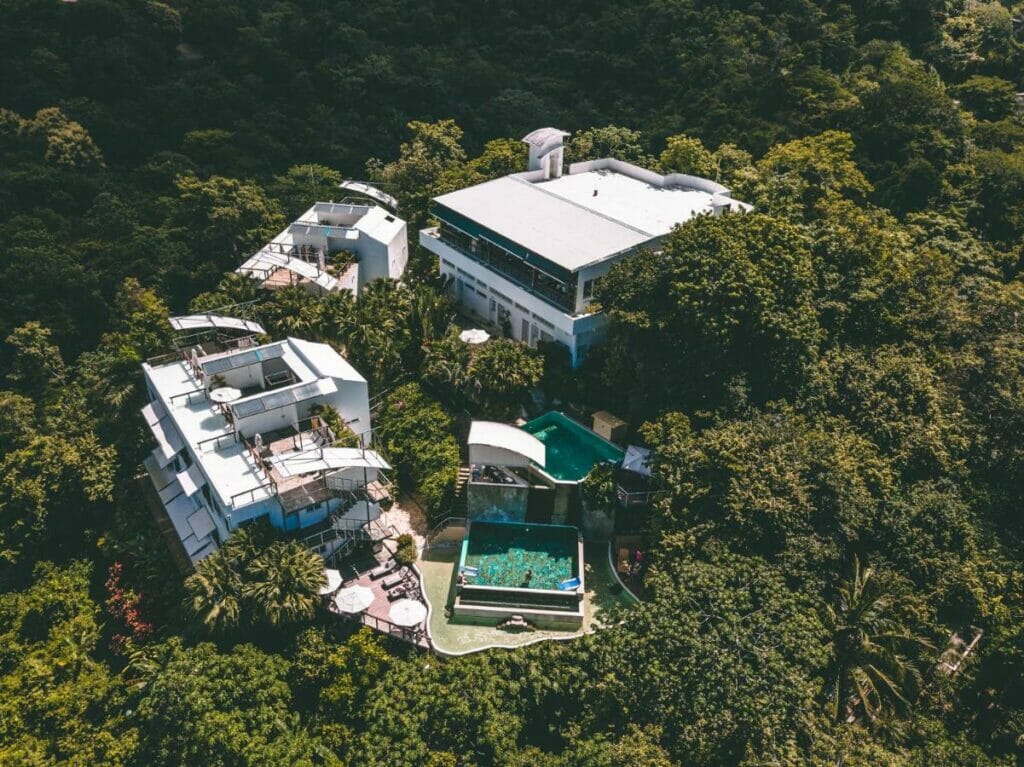 Costa Rica has also become known as the LGBT-friendly capital of Central America. It was, in fact, the first country in this region to legalize same-sex relationships. For certain, attitudes have become much more progressive as the country has opened up in recent decades, especially in urban hubs like the capital and the only major city San Jose as well as in other larger towns such as Cartago, Liberia, and Puntarenas, where something of a visible gay community exists.
Other popular destinations have been attracting LGBT tourists for some time now – one particular example being Manuel Antonio, which features heavily on this list of the best gay resorts in Costa Rica.
All the resorts featured here are gay-friendly, and some of them are gay-owned and operated. And this is, of course, our mission: to provide you with a starting point in your quest for a welcoming and inclusive accommodation for your stay in Costa Rica. We aim to point you in the right direction and once you stay, you'll find how quickly you can form friendships with people at a gay resort – it's as though knowing everyone there has something in conventional means, there's no judgment, and you can connect easier. Even better, there is no need for dating sites or gay apps to meet people here…
On this list, you will find a variety of establishments from secluded island glamping to five-star lux resorts, for we have made sure to include something gay-friendly for all tastes. And without any more delay, let's have a look at the best gay-friendly lodging and gay resorts that Costa Rica has to offer.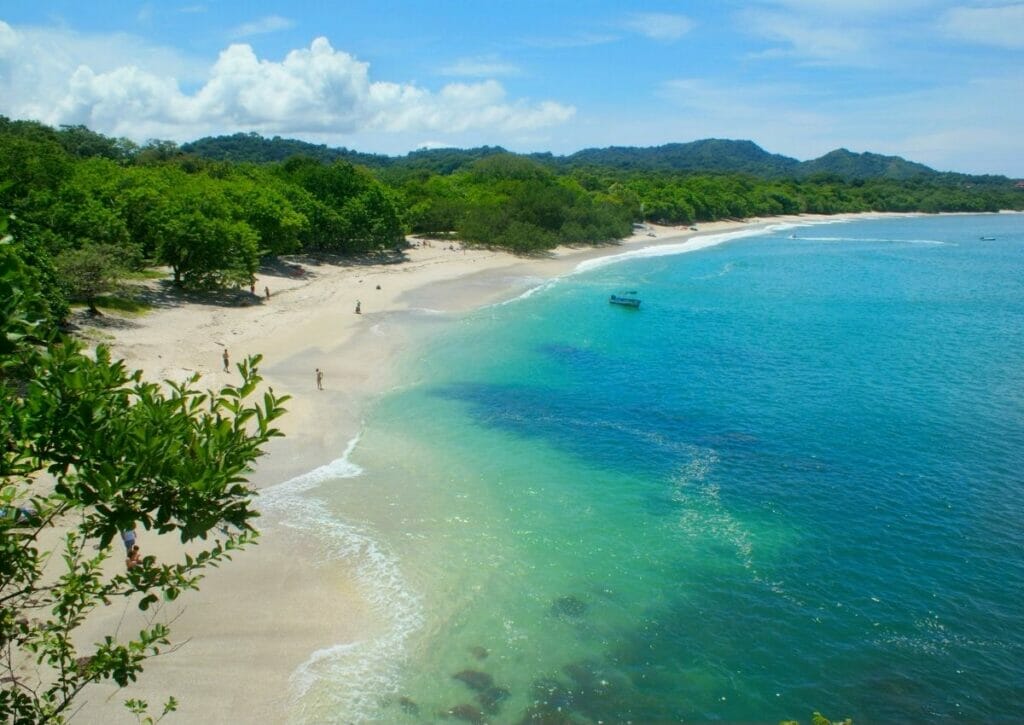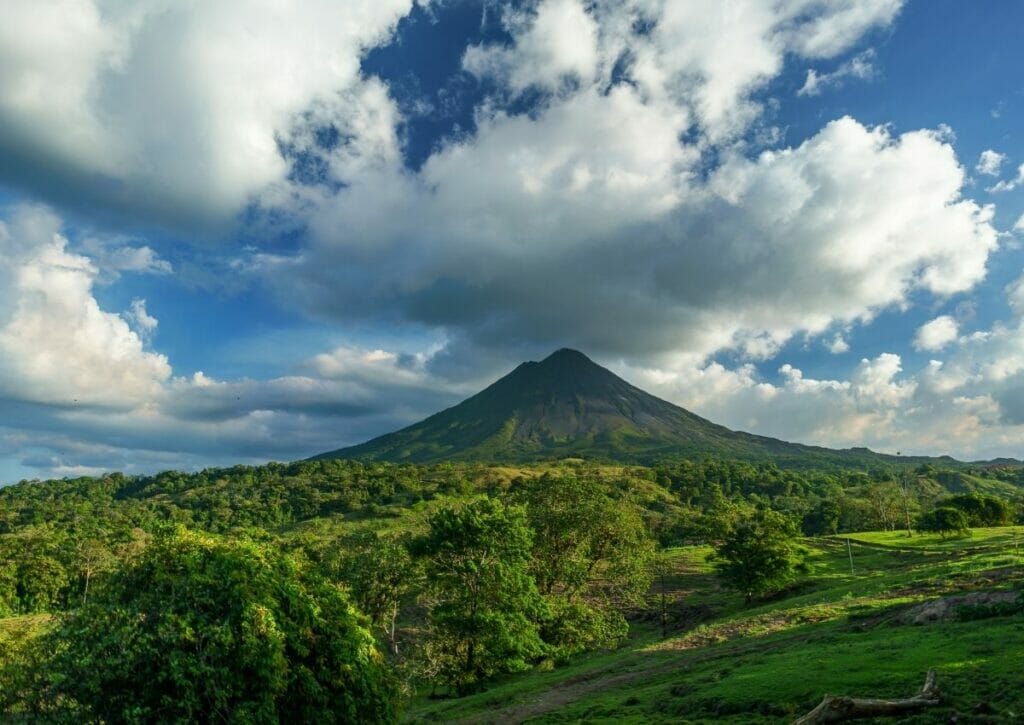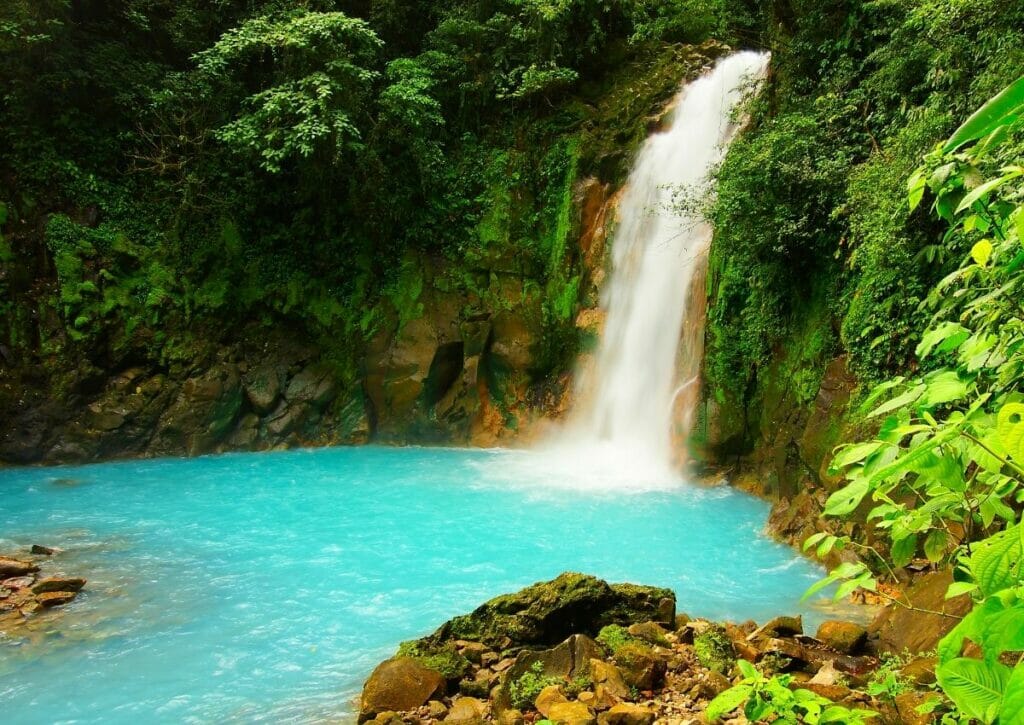 Gay Resorts In Costa Rica
We kick off the list with the fabulous Hotel Villa Roca. This eco-friendly, adult-only establishment, which bills itself as "Costa Rica's no.1 LGBTIQ Boutique Hotel and Resort" as well as the only clothing optional resort in Manuel Antonio, is known for its unmatched spectacular views of the surrounding tropical forests as well as the Pacific Ocean and Manuel Antonio's outlying islands.
It is located just outside of the village of Manuel Antonio, on the road to Parque Nacional Manuel Antonio – a beautiful mix of tropical forest and sandy oceanfront beaches and home to the endangered squirrel monkey as well as sloths, howler monkeys, capuchin monkey, and a rainbow-spectrum of iguana species, just to name a few.
Hotel Villa Roca consists of 12 rooms and 5 apartments. Rooms come with WiFi, and breakfast is included. There is an infinity edge pool as well as a jacuzzi on the property. The resort also has a swimming pool, though most likely you will be coming here for Manuel Antonio's five nearby beaches, of which there are no fewer than five: Playa Manuel Antonio, Playa Gemelas, Playa Biesanz, Playa Escondido and Playa Espadilla, the last of which is the most popular.
Swimming, surfing, snorkeling, scuba diving, sunbathing and a host of other activities can be had on the world-famous beaches, and they also sometimes host festivals and parties. All told, the Hotel Villa Rica is a great LGBT friendly resort, and the location is a nature-lovers paradise.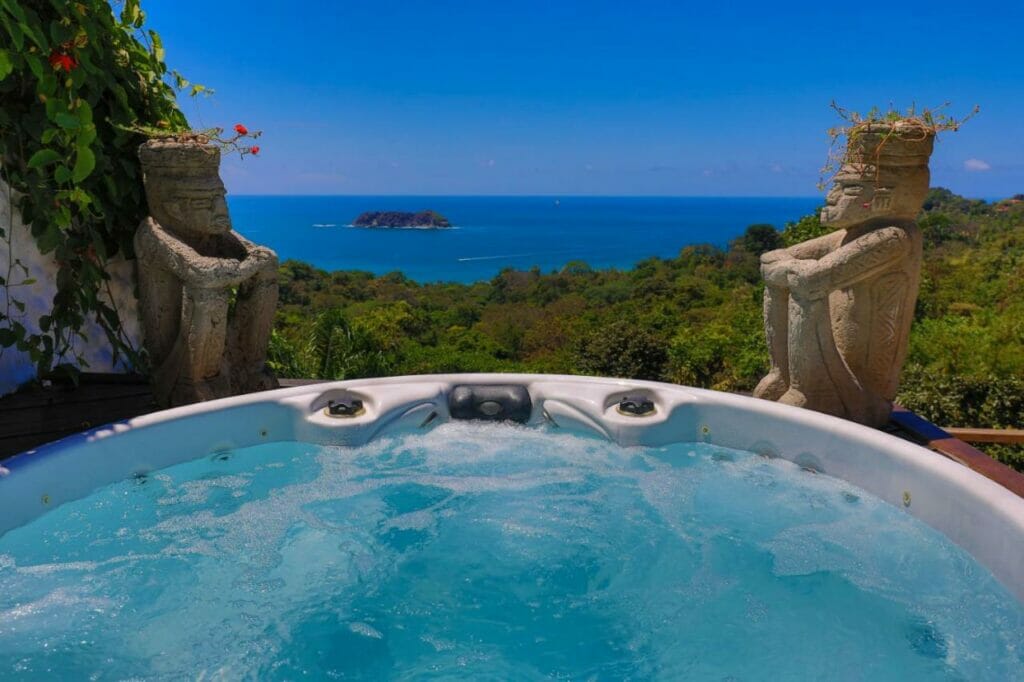 Conveniently set in the heart of Costa Rica's capital and first city, San Jose, Colours Oasis welcomes visitors of all backgrounds.
The gay resort features all the standard amenities: outdoor swimming pool with sun loungers, rooftop terrace, on site bar and restaurant, exercise room, and a garden. This is a mid-sized resort, with a total of 23 rooms in four price categories, spread out over the "Main House," the new wing, and three apartments, these latter of which come with fully equipped kitchens. Rooms come with WiFi and cable TV, as well as a safe for securing your belongings. Upgraded rooms add a flat screen TV and a private terrace. Complimentary breakfast is included, and there is an on-call masseur should you desire a nice, relaxing message.
As mentioned, this hotel is nicely located in bustling San Jose, where can be found the "hottest gay nightlife in all of Latin America." There are many restaurants nearby within walking distance. Beaches, waterfalls, and volcanoes are close enough for day trips. And of course, everything San Jose has to offer will be at your doorstep, such as the Costa Rica National Museum and San Jose's Central Market. Shuttle services are available to the most sought-after city attractions.
This is a resort that has long strived to be inclusive and welcoming to gay tourists, and you won't likely find a more inviting establishment anywhere in the country.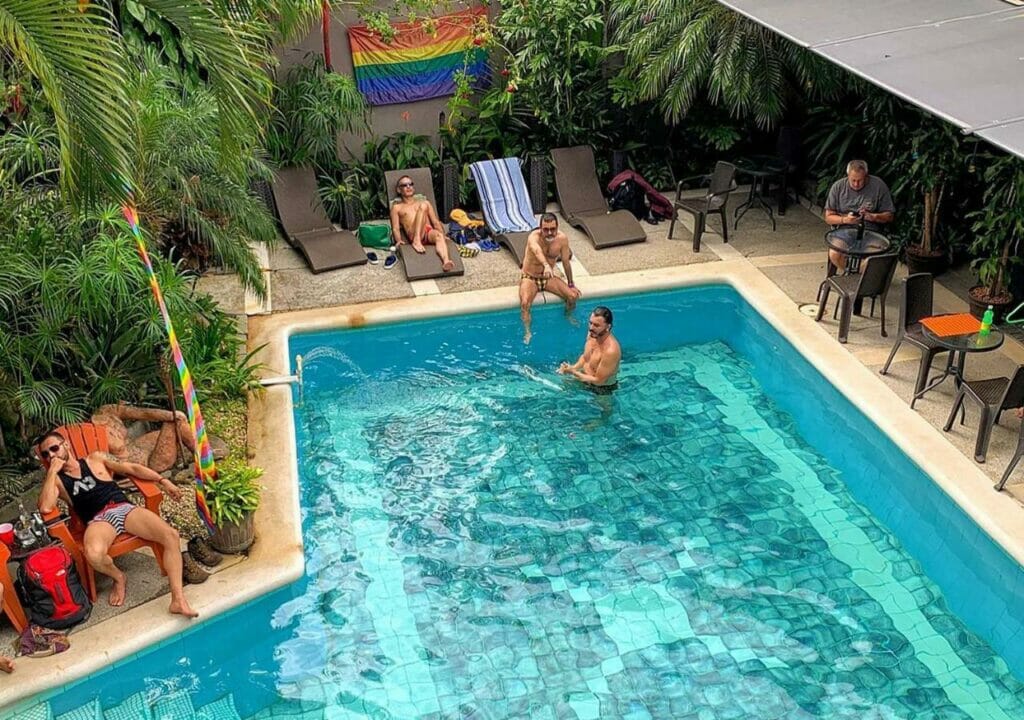 A gay clothing optional resort in Costa Rica for guys who want to spend time with other guys in a luxurious and discrete setting on the Southern Pacific Coast.
The last couple of miles to their remote location requires a 4×4 (4WD) vehicle in order to arrive due to the low maintenance and rather rough condition of the public road. However, once you arrive, you will find tropics and luxury combined with spacious beds, incredible ocean views, light and modern rooms, open-air showers, and individual balconies or terraces. Oh, and there are two infinity pools, and breakfast included. There is also yoga, a hang-out lounge, splendid gardens, and a kitchen with some delicious adapted local dishes.
While it is not a gay resort in Manuel Antonio, it is only around 90 minutes south so a gay trip can easily be arranged.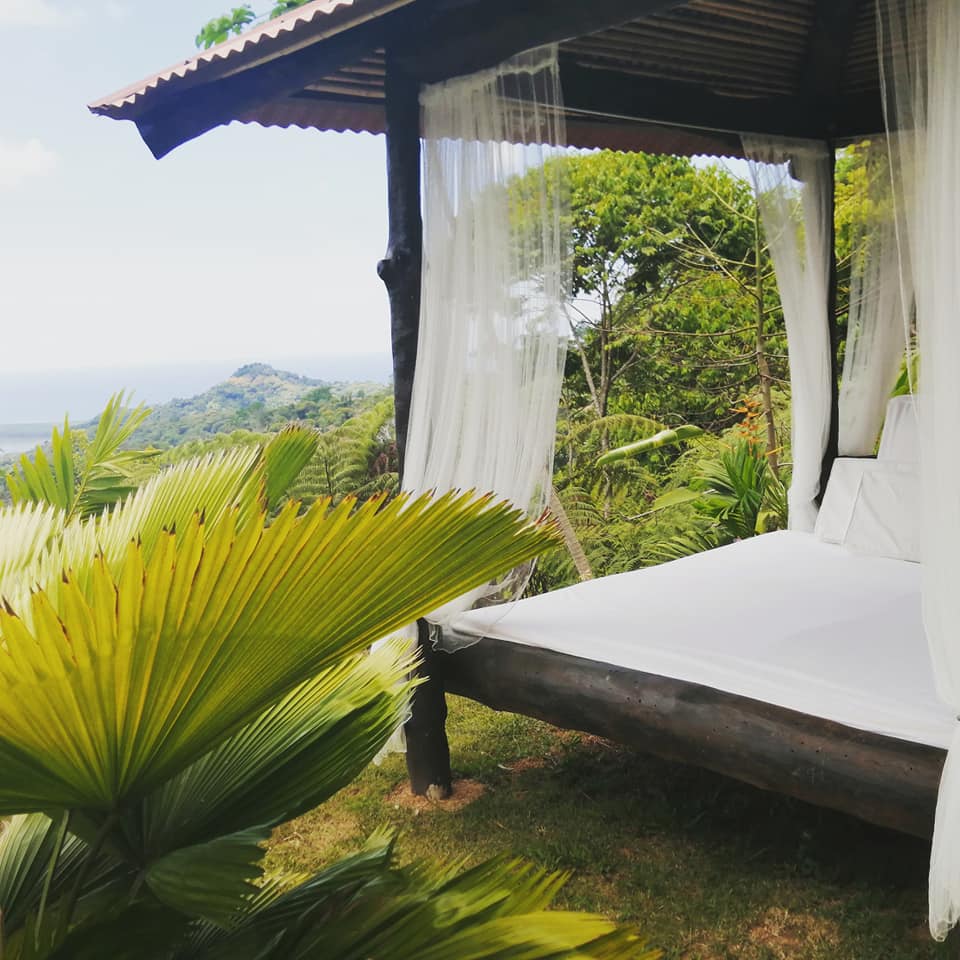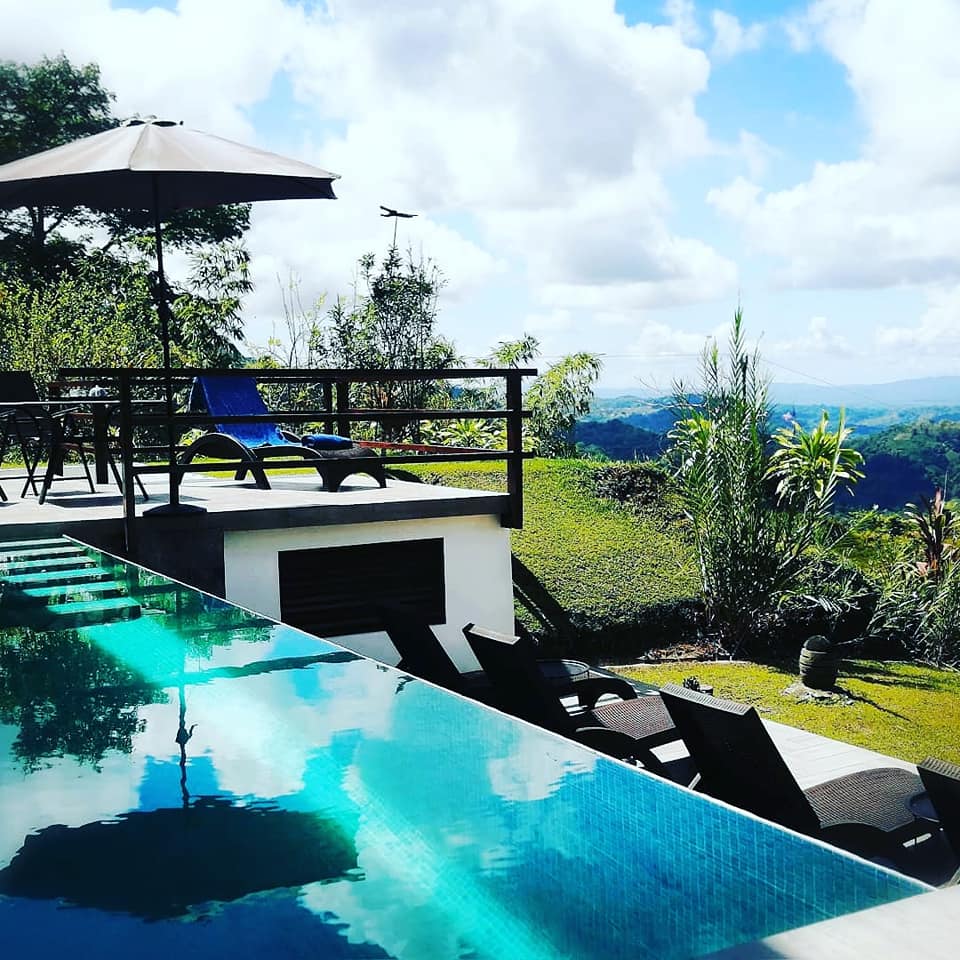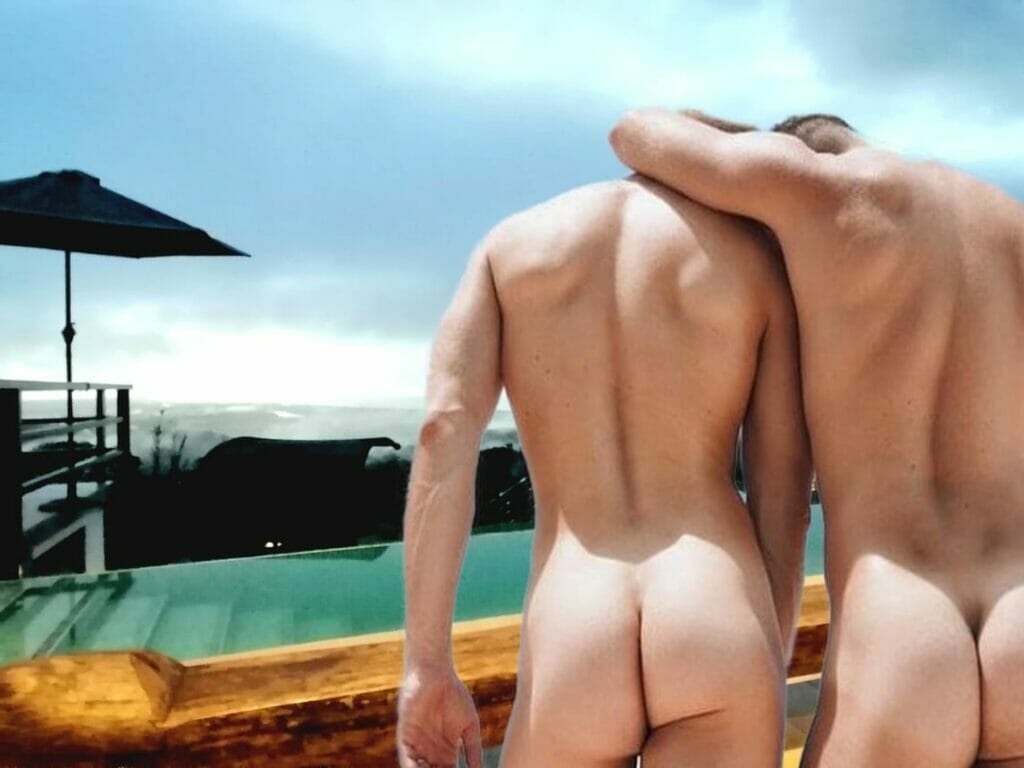 Gay-Friendly Resorts In Costa Rica
Located in beautiful Manuel Antonio Beach, this gay-friendly resort is a five-star eco-friendly establishment for adults only. It consists of 22 rooms – studios, suites, and villas – which include free WiFi and free breakfast, as well as a/c.
Housekeeping, laundry service, turndown service, concierge, grocery shopping service, and 24-hour room service is also available, and you will be glad to know that this is a pet-friendly resort. The hotel property features three outdoor swimming pools (so pack your best gay swimwear) along with a 24-hour fitness center, a sauna, a steam room, a full-service spa, and a library.
There is even a hair salon on the premises. Wedding services are also performed at the resort, so if you are in the market for a special wedding experience that you'll look back on fondly for the rest of your days, then you need to look no further. (And just to assure you: yes, we do mean ceremonies for same-sex couples; this is a gay-owned resort after all).
Hiking and biking trails are nearby, as well as kayaking and scuba diving thanks to the resort's close proximity to Manuel Antonio's beaches. Manuel Antonio Nature Park and Wildlife Refuge is also within easy striking distance. If you are looking for a Costa Rican getaway, we assure you that you won't find a more inviting and LGBT-friendly gay resort than this one.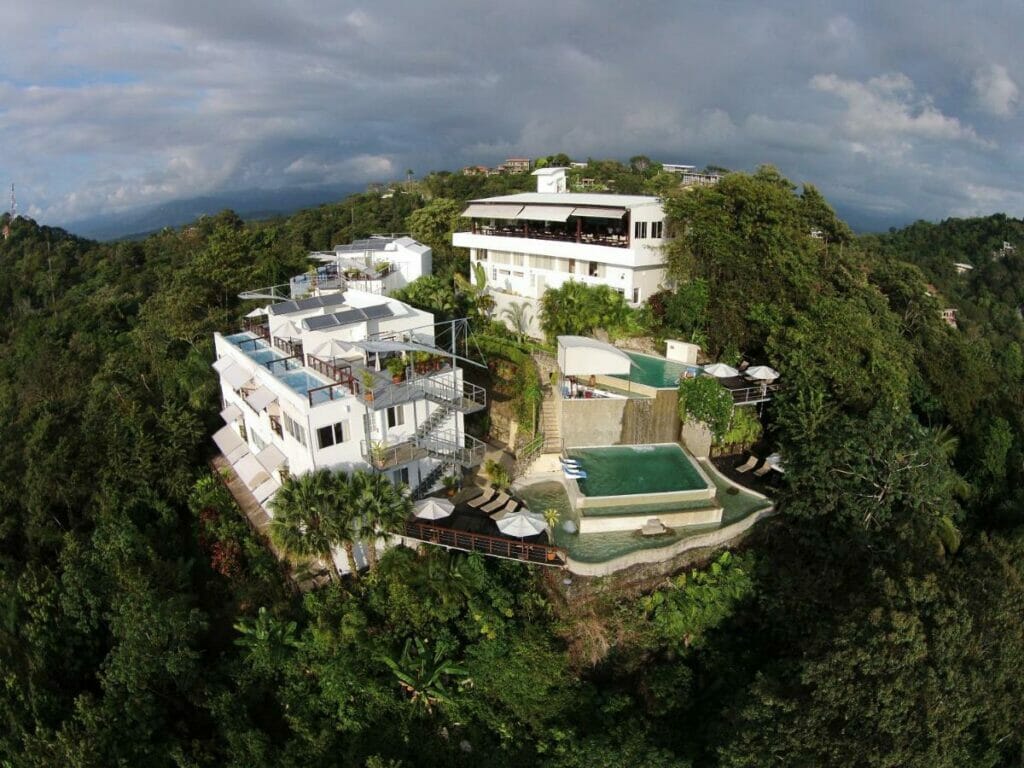 Coyaba Tropical Elegant Adult Guest House presents an attractive adults-only resort option in that it is a smaller (8 rooms between two Spanish Colonial buildings) establishment that is gay-owned and operated.
What this means is that it offers a cozy, more intimate setting for those who seek a quieter place to stay without the crowds. It also means that owners Mike and Paul will know how to treat you right and with a special degree of sensitivity and consideration that you might not find at other gay-friendly, but not gay-owned, places.
All eight rooms are uniquely furnished, but all come with a/c as well as a ceiling fan, so you should not want for comfort. No tropical resort would be complete without a swimming pool, and here Coyaba does not disappoint. WiFi is available in the rooms as well as throughout the property. Laundry service, as well as home-cooked breakfast, is available although it should be noted that this is not free. Guests can also treat themselves to an in-room massage by a professional massage therapist (for a fee).
As with the previous resort, Coyaba is situated within close proximity to the Manuel Antonio National Park, which is a wildlife lover's dream come true. There is also a bus service, with a bus stopping at the front gate every thirty minutes for easy access to nearby attractions.
In all Coyaba Tropical Elegant Adult Guesthouse is a perfect choice for a gay-friendly hotel in Costa Rica if you want your stay to be like a tropical home away from home.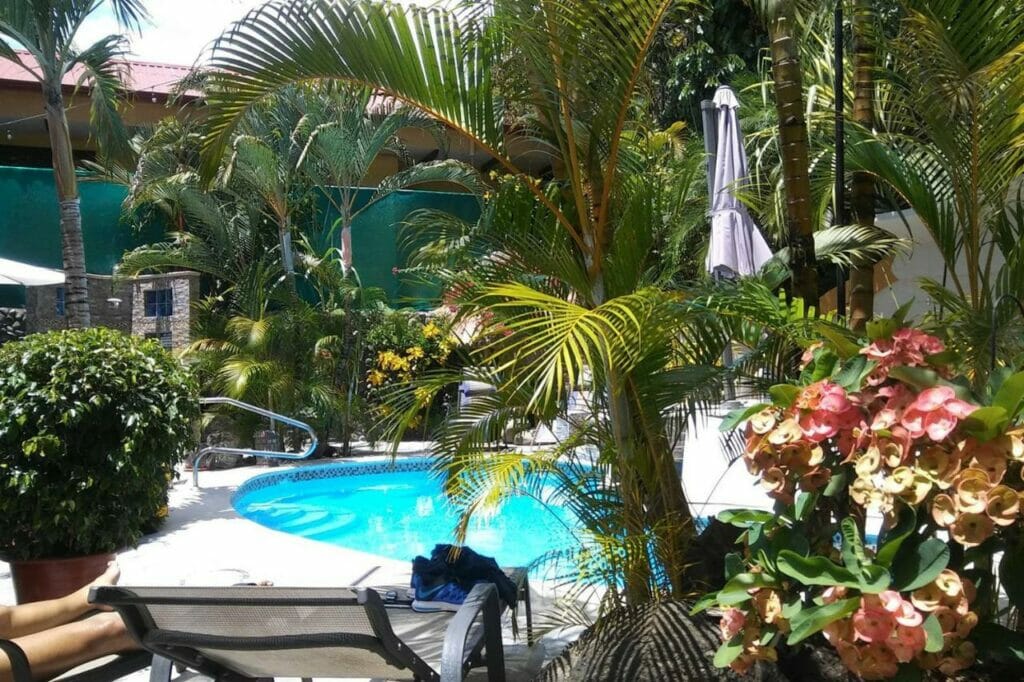 This one is for the gay tourists out there who are looking for a more unique Costa Rican adventure. This gay-friendly eco-tourism lodge is nestled at the foot of the Rincon de la Vieja Volcano, on the border of the namesake national park there, near the village of Curubande.
The hacienda is located on a working cattle ranch that has been in operation for more than a century. That's right – if you opt for a stay here it means you'll be staying on a real ranch! How many gay resorts offer this kind of unique experience? The lodge has been hosting guests from all over the world and all walks of life since 1985, so the management knows a thing or two about hospitality.
The area in which Hacienda Guachipelin is located is home to a plethora of events. These include horseback riding (it is a ranch, after all), hiking, mountain biking, zip-lining, bird watching, and so many more. You will not be bored or left wanting for something to do during your stay here, that much is for certain. And don't worry: pretty much all the standard amenities are to be had here and then some: WiFi, free breakfast served in the on-site restaurant (there's a bar too), an outdoor pool fed by natural spring water.
While the basic rooms are somewhat spartan, private bathrooms and air conditioning come with all rooms, so that's a plus, and all rooms also have a safe for securing possessions. There are even natural hot springs and boiling mud pools on the property.
So if you are a nature lover looking for a gay-friendly Costa Rican resort that offers something different, with an almost overwhelming number of things to do and see, then this is the clear choice. Your stay here promises to make for an unforgettable experience that shouldn't be missed.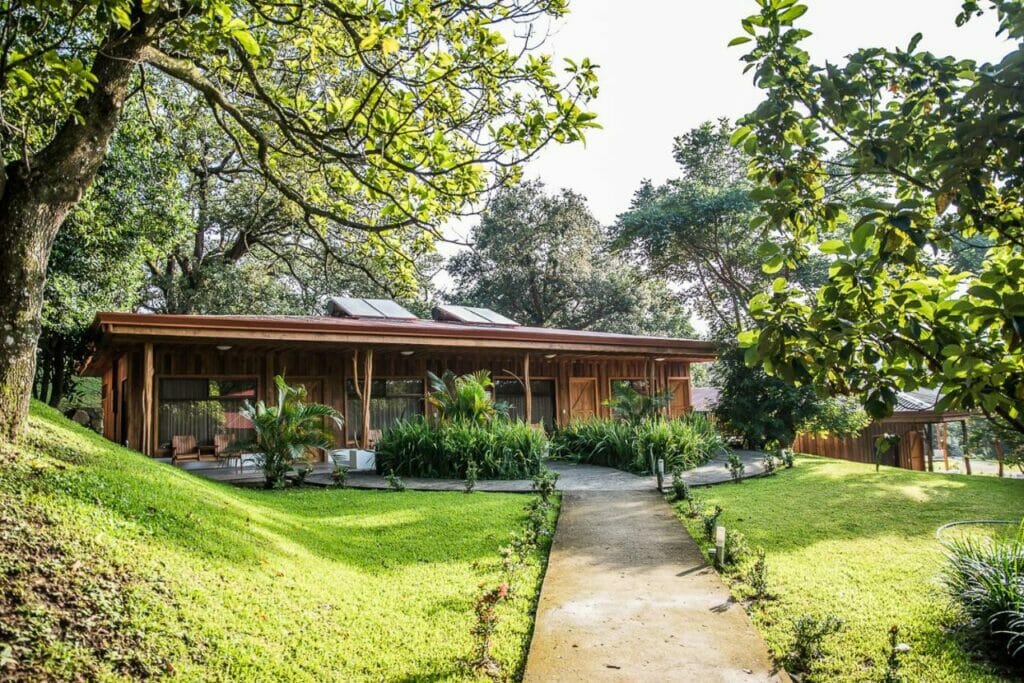 The gay-friendly Rio Celeste Hideaway Hotel unsurprisingly takes its name from and is located near, the famous Rio Celeste, within the beautiful rainforest region bordering Tenorio Volcano National Park. If your dreams of a Costa Rican adventure involve first-class hospitality from an inclusive and welcoming establishment, in an area that shows off the stunning natural beauty the country has to offer, unsurpassed in central America, then your dreams have just come true with this stellar, multiple award-winning establishment.
The resort includes 26 bungalows, and there are no less than three eateries on the premises: the open air, rainforest-themed Kantala; the more formal Kantina Delirio lounge; and the Blue Moon swim-up bar which offers poolside lunch. Daily breakfast is included with your stay. Spa treatments, as well as yoga classes with a certified yoga instructor, are available.
The site has a game room with an assortment of table games to be enjoyed, such as foosball and billiards. Each bungalow includes a private patio and outdoor shower (a real treat for many), in addition to wireless internet and a flat-screen TV with cable. Bungalows also come with a coffee maker and mini-fridge. Room service is available.
Adventure opportunities abound here, and guided tours are available. Hiking (the Rio Celeste Waterfall hike is highly recommended), horseback riding, tubing in the river, or visiting the wildlife refuge in the Cano Negro Wetlands – home to a myriad of exotic birds and other animals. Visit a nearby chocolate farm or learn about Costa Rica's indigenous cultures. LGBT couples seeking a welcoming resort that offers an eco-oriented experience can scarcely do better than the Rio Celeste Hideaway Hotel.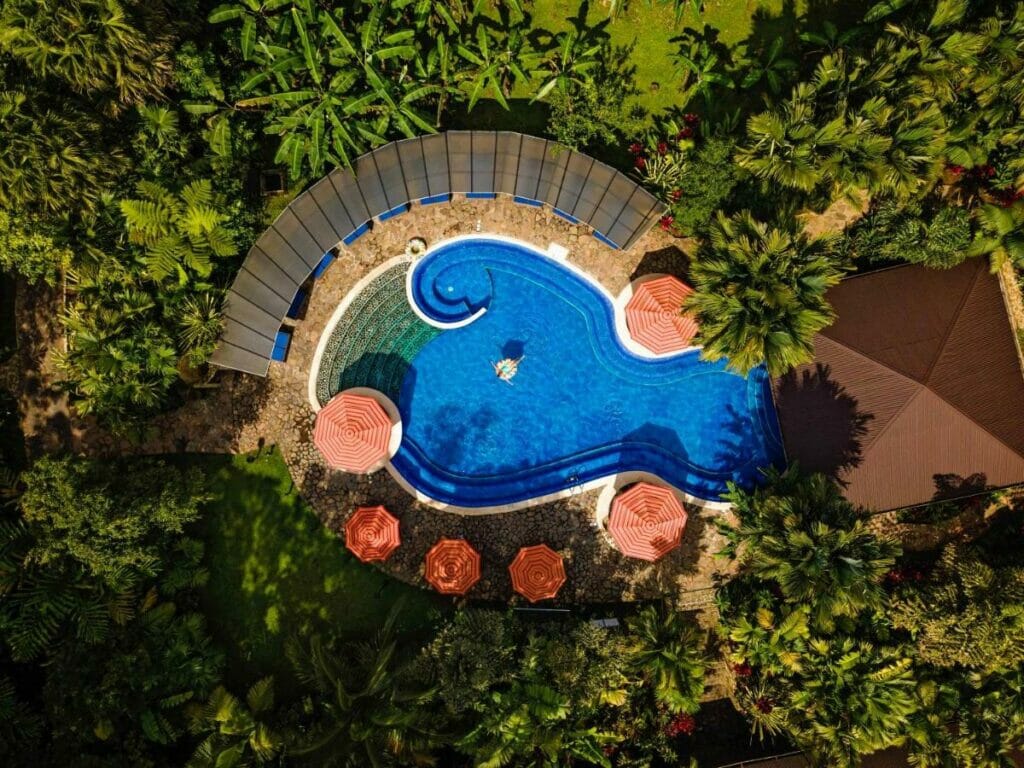 This gay-friendly resort in Costa Rica has what is likely the coolest name of any on this list; it translates literally to "Blue Banana." To be clear, this is the name of the "main property," (there are other add ons across the street and adjacent) but here we concentrate strictly on the Banana Azul.
It is located in Puerto Viejo, on the Caribbean coast far removed from the hustle and bustle of San Jose. It should be noted here that while the Hotel Banana Azul and Puerto Viejo are 100% gay friendly, this is a less progressive part of the country and whatever LGBT community exists here does not have much visibility.
We emphasize that there has never been an issue with gay travelers according to the Banana Azul's owner Colin – and in fact, the resort enjoys a large gay clientele – we are merely informing would-be travelers that this is not the ideal setting for single gay travelers looking for the best gay nightlife to be found in the country. But for LGBT travelers coming to Puerto Viejo to see a different part of the country, this can be a wonderful choice for lodging.
With all that said, the main hotel features laid-back timber 25 guest rooms and many individual suites including wraparound decks, bathroom tubs with views of the ocean, and private pools. It is located on the Playa Negra beach. Other beaches are close by, as is the Cahuita National Park. Rooms have free wireless internet and free breakfast is included.
There is a restaurant on the property serving breakfast, lunch, and dinner, with vegetarian (though not necessarily vegan) options available for those that want them. All in all, for gay tourists visiting Puerto Viejo, this is likely the prime resort option.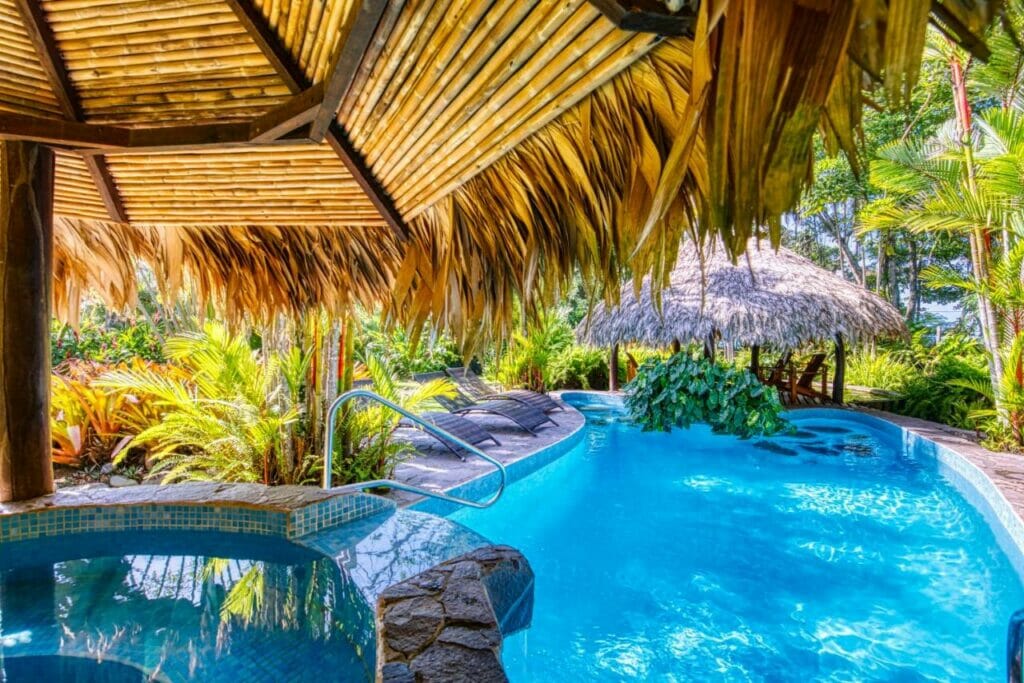 Located on its own island in placid Gulfo Nicoya, this resort bills proudly declares itself "the country's first and only island glamping destination." In case you don't know, glamping is a term for camping, only more glamorous and with more amenities and the added comfort that comes with them.
The resort has 18 tents spread throughout the island, allowing visitors a degree of seclusion and privacy. Each tent comes equipped with "en suite bathrooms with organic products, deluxe bedding, cooling ceiling fans, and a spacious private lounging deck."
Some of these tent suites come with full bathrooms with private showers, not to mention king beds and double beds. The premium suites even come with their very own plunge pools. So if when you heard the mention of tents you were thinking of those tiny little hiking tents, think again! Isla Chiquita really knows how to put the Glamour in Glamping, to say the least.
As you have no doubt noticed, this is a highly unique resort experience, and gay tourists looking for a friendly and inclusive getaway in Costa Rica that offers an unparalleled camping opportunity, and one where anyone will be made to feel welcome, will be hard-pressed to find a similar resort. There is a competent staff in place to see to guests needs, and it should be noted that most of the activities here are guided, and there are a few opportunities for solo excursions.
Tents include a la-carte breakfast, free WiFi, access to kayaks and paddleboards, water taxi service, and each "room" gets a $25 credit at the resort's restaurant. It also includes a 2 for 1 deal for the resort's top activity: the Bioluminescence Tour (in which guests are shown an area where the seawater glows in the dark!).
Lastly, Isla Chiquita offers a much-advertised special honeymoon package – a 4 day, 3-night stay. It features couples message, torchlight dinner, self-guided kayaking tours, also a sunset cruise as well as a trip to Isla Tortuga (comes with lunch). The resort considers the honeymoon tour its crown jewel, and it does offer quite a unique and no doubt memorable experience that any gay couple with an affinity for the outdoors should at least consider.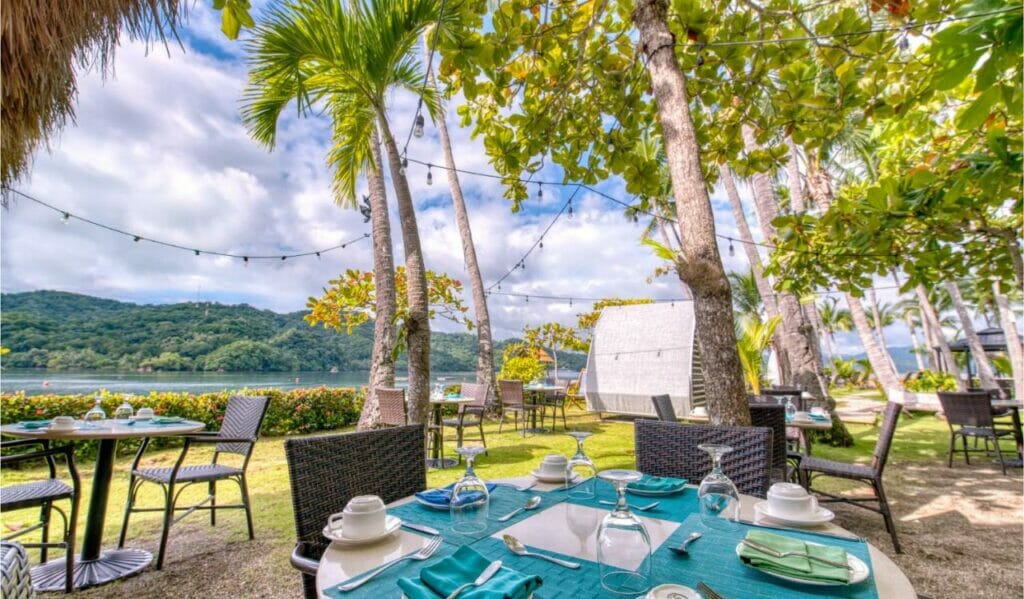 Located in – you guessed it – Las Catalinas, this beautiful hotel sits atop a hill overlooking the Pacific Ocean, so you know that spectacular views will be the order of the day when you stay here. Casa Chameleon has 21 private villas, each of which has a private pool. Rooms are also equipped with refrigerators, coffee makers, and minibars (though there are no TVs in the rooms).
Each room also has a balcony or patio. Free WiFi internet access is available in all rooms as well as in the public areas. An open-air cliffside restaurant is on the property, along with a lounge bar and an outdoor swimming pool. Room service is available as is concierge service and daily housekeeping. Guests can enjoy yoga classes as well as massage and other spa treatments.
The hotel is a mere one-minute walk from Danta beach. Hiking and biking are popular activities in Las Catalinas, and bike rental is available from the hotel if you feel up to taking a ride. Helicopter and airplane tours can also be had if you want to see the city in ultimate style. Other activities include surfing, paddleboarding, snorkeling, fishing, diving, and windsurfing.
For gay tourists who find themselves in beautiful Las Catalinas, they could scarcely do better than friendly, open Casa Chameleon.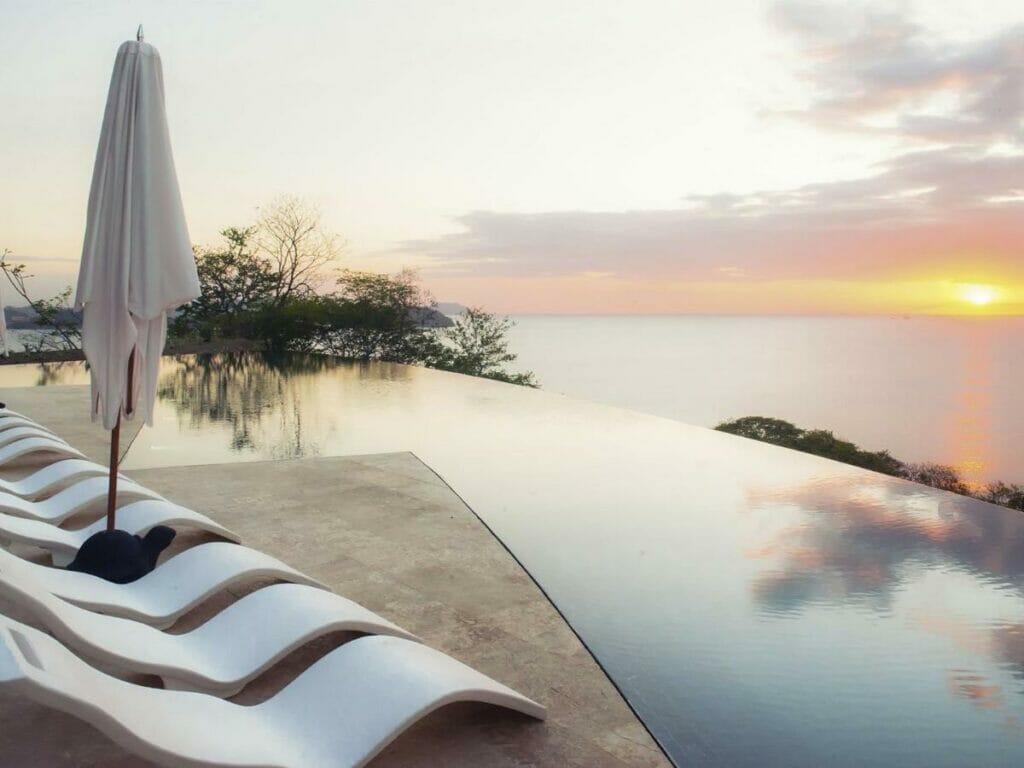 And to close out our list when once again return right back to the place we started: beguiling Manuel Antonio. A list of fabulously gay-friendly and gay resorts in Costa Rica would hardly be complete without a mention of Hotel Los Altos whose motto says it all really, "Bold in presence; playful in personality."
This inclusive five-star luxury resort is perched along a mountain promontory overlooking the Pacific Ocean (hence the name "Los Altos," or "the heights"), and offers some of the finest accommodation to be had in Costa Rica for those gay tourists who want nothing but the best, and in a welcoming and friendly atmosphere.
This is a suite-only resort, so guests know they will be getting premium accommodation. Suites come with a balcony and modern bathroom with both shower and bathtub, as well as a fully equipped kitchen, and as a side note, cooking classes are available at the resort. Rooms also include tea/coffee makers, satellite TV, and DVD player. Suites are air-conditioned and free WiFi is included throughout the property.
For on-site dining options, there is foremost Karola's gourmet restaurant, and the Sumai Thai restaurant offers what might be the best Thai dining in Costa Rica. There is also a poolside snack bar as well as a Japanese Sushi restaurant that promises "A truly memorable…gastronomic experience," so foodies will not leave Los Altos disappointed in fine dining choices. The resort has an outdoor pool and fitness center, a game room with billiards and ping pong. A host of spa services is available, ranging from neck, back and foot massages to full-body massages, yoga classes, and complete wellness packages. In short everything you would come to expect from a five-star resort can be had here. The resort even has secluded beach access.
Given the resort's dreamy location it is no surprise to learn that a plethora of adventurous activity choices are yours when you stay here. Surfing (lessons available), snorkeling, kayaking, hiking, you name it. Or tour the Isla Damas Mangrove, a highly recommended experience. Catamaran cruises offer dolphin and whale watching. Sports fishing, whitewater rafting, horseback riding, ATV off-road tours, and sports fishing round out a lengthy though not an all-encompassing list of the things you can do while staying at Los Altos.
In fact, the only problem with this gay-friendly resort is that LGBT tourists probably won't want to leave. This is surely one of the finest lifestyle-inclusive resorts in the entire country.