Despite some of the news headlines that show up from time to time, the panhandle state is actually one of the most gay-friendly parts of the U.S.A and its abundance of gay resorts in Florida make it a prime destination for LGBT travelers looking to soak up the sunshine and partake of the flourishing gay scene the sunshine state has to offer.
Fort Lauderdale in particular (especially the Wilton Manors gayborhood, home to more than 100 gay-owned businesses), you will notice features heavily in this list, and for good reason. Over a million LGBTQ tourists come here each year, and they come for the gay and gay-friendly bars, clubs, cafes, coffee houses, bistros, hotels, B&Bs, hostels, and guesthouses.
As one of the great gay meccas of the world, Ft. Lauderdale is a veritable global LGBTQ party central, and here everyone is welcome to get in on the action.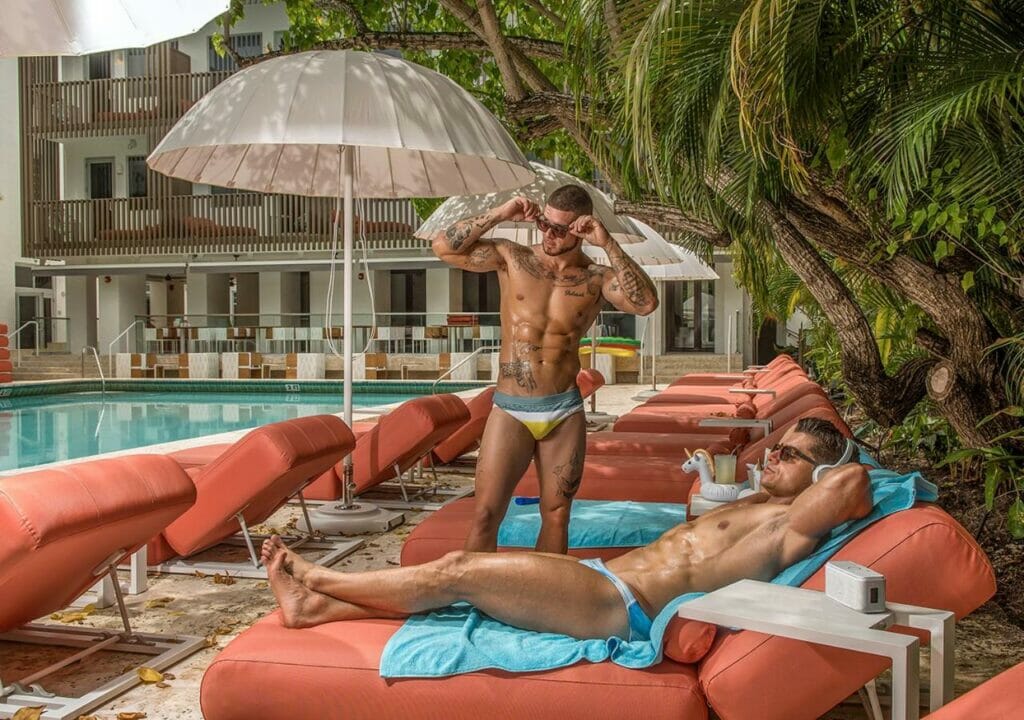 But there is also so much more for LGBTQ travelers to experience in the state of Florida outside of the gay party haven that is Ft. Lauderdale.
Key West is another great gay party destination with an inviting and accepting atmosphere where everyone is indeed both welcomed and encouraged to have a good time. And let's face it: if you can't have a good time in Key West, you can't have a good time anywhere. And while you are here make sure to spend some time on Duval Street – quite possibly the greatest concentration of gay bars, clubs, and gay-friendly restaurants anywhere in the country. It is essentially a must-do for any LGBTQ visitors to Key West.
Not to be outdone, glamorous Miami Beach has long been called "The Gay Riviera." Along with some fabulous gay nightlife, the city boasts the large Miami Beach Gay Pride festival and the Miami Gay and Lesbian Film Festival. Other notable pride events take place throughout the state in each and every month of the year (another boon of the constantly nice weather!).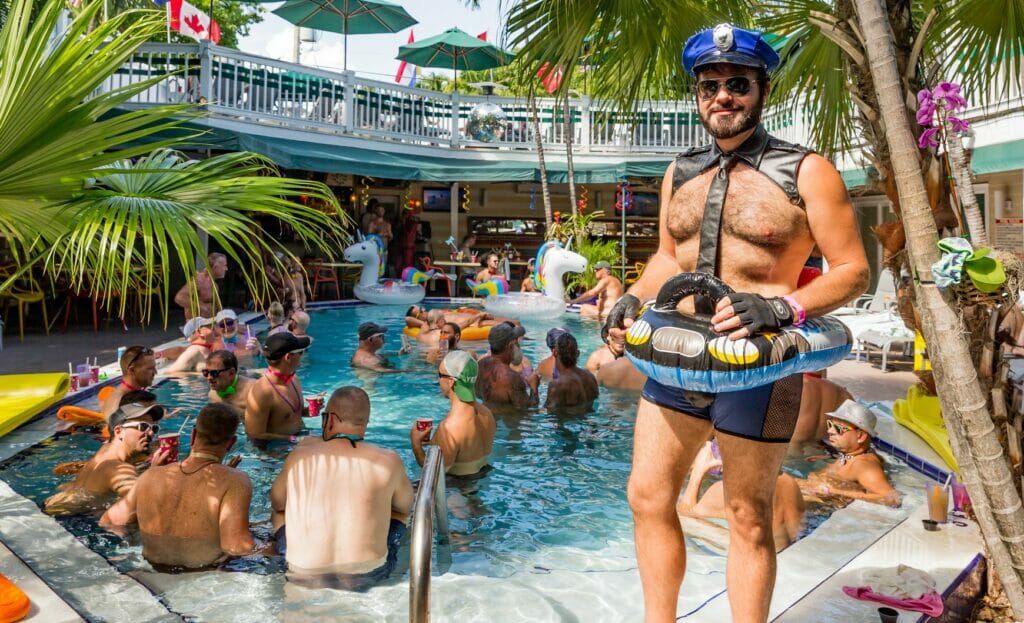 Florida is also one of America's top wedding destinations, and gay and lesbian weddings are no exception to this rule. Many LGBT couples choose to elope to sunny Florida for a romantic and unforgettable wedding getaway. If you are ready to tie the proverbial knot with the one you love, and want to make the event something truly special, it would be hard to find a better, more welcoming, or more gay-friendly place to do it than Florida.
With its gorgeous scenery, fabulous cities, and overwhelming abundace of things to do, see and experience, there is no reason to wonder why so many from all over the country and the world choose to move here every year. And why so many millions more choose Florida for a getaway destination over all the other options available.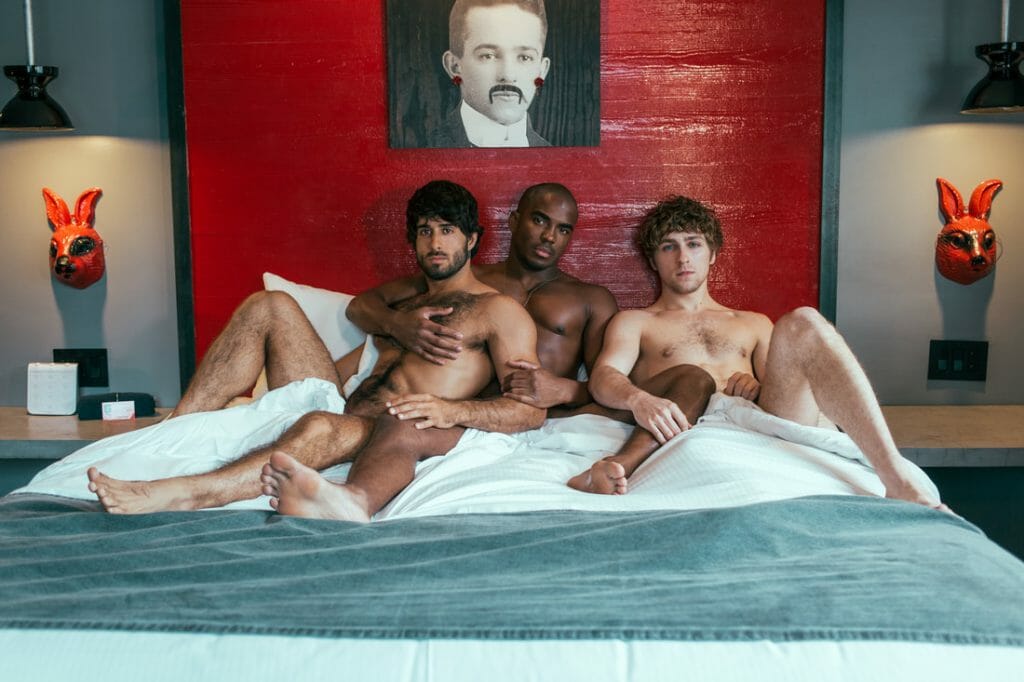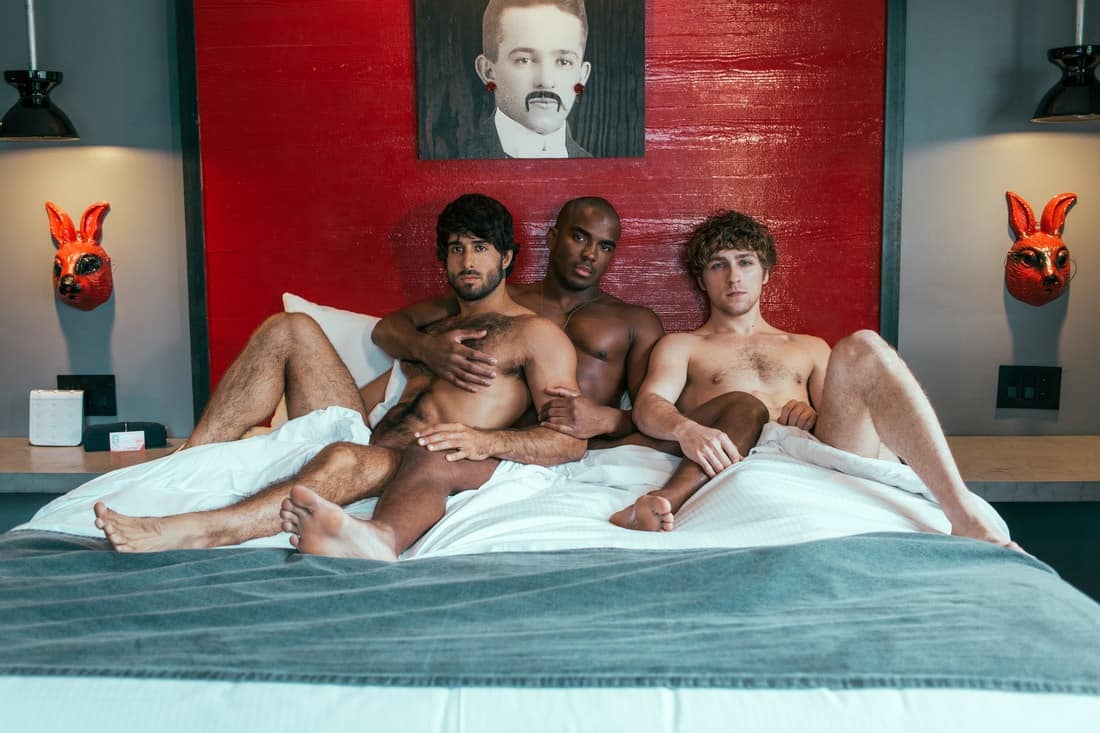 So what are you waiting for? Grab the suntan lotion, fab sunglasses, and your best gay short shorts, and head on down to the sunshine state to discover what it has in store for the fun- and sun-loving gay globetrotter.
Explore the numberless beaches, the floating wetlands teeming with wildlife, or take in the LGBTQ spectacle that is Floridian gay nightlife, with some of the hippest gay bars and clubs anywhere on planet Earth. While you're at it make sure to try the stone crabs and key lime pie – it would almost be a crime to leave the panhandle state without doing so.
Also don't forget the Cuban sandwich and fried gator bites, while you're at it. Or the shrimp and grits. Or the Minorcan chowder. Or the conch fritters. Or the Key West pink shrimp.
All this is just a taste of what Florida has to offer for the gay tourist looking for a friendly, welcoming destination that can provide an unforgettable getaway experience. But of course, you are going to need a place to stay as you take it all in. As one of the best LGBT destinations on the globe, you can rest assured that there are more gay resorts in Florida than can be counted, so here we are only counting the best.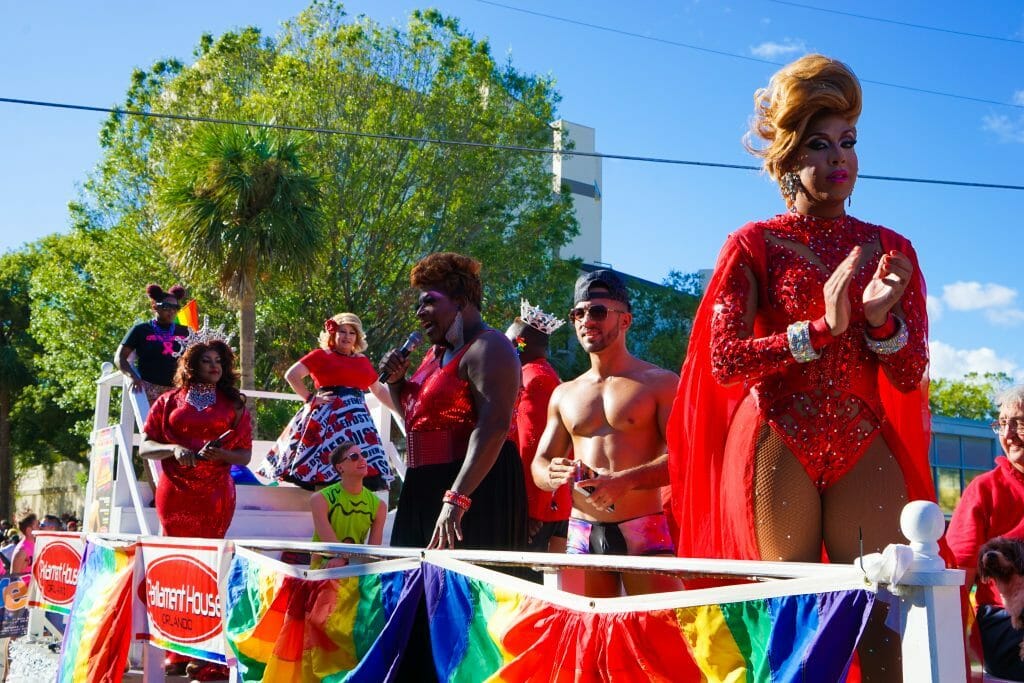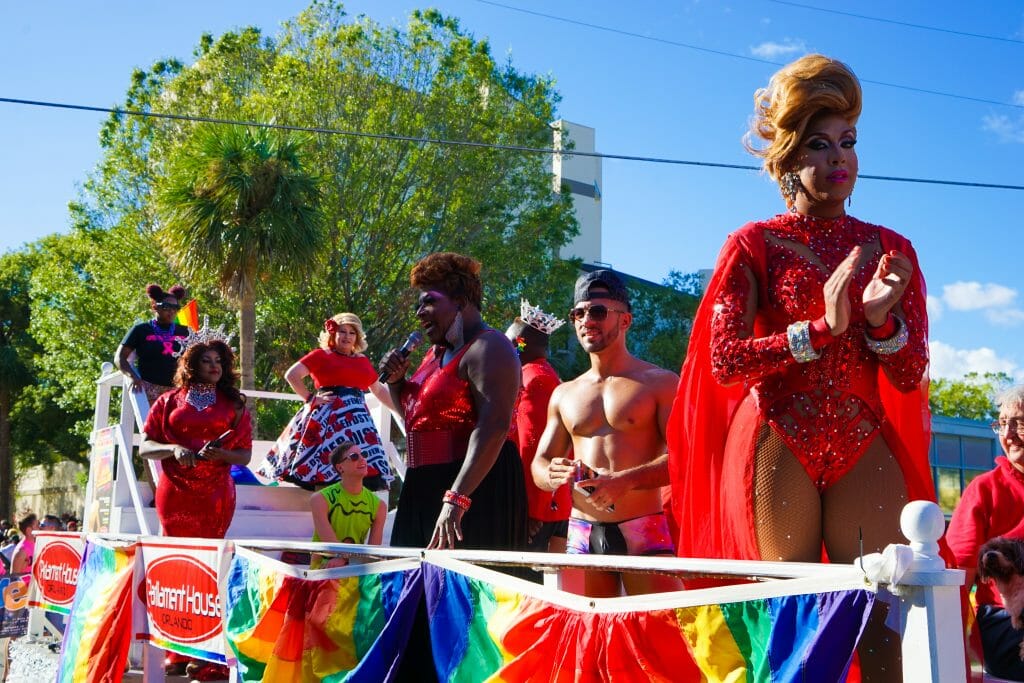 In fact, all the resorts featured here are targeted at gay travelers, and most of them are gay-owned and operated. And this is, of course, our mission: to provide you with a starting point in your quest for welcoming and inclusive accommodation for your stay in Florida.
We aim to point you in the right direction, and once you stay, you'll find how quickly you can form friendships with people at a gay resort – it's as though knowing everyone there has something in conventional means, there's no judgment, and you can connect easier. Even better, there is no need for dating sites or gay apps to meet people here…
Without any further delay, let's discover the best LGBT friendly hotels and gay resorts in Florida to stay in.
Gay Resorts In Florida
The Alexander's Gay and Lesbian Guesthouse is a wonderful way to get our list of gay resorts in Florida started. The hotel's mission statement reads in part: "We are an LGBTQA guesthouse which means all humans are welcome, of course, but we also hold an especially safe space for members of the Lesbian, Gay, Bi, Trans & Queer groups. We welcome all Allies as well." And by all accounts, Alexander's lives up to that standard.
It is a 17 room B&B geared toward LGBTQ and straight ally guests, so LGBTQ folks know they will be treated right when they stay here – in fact, it is something that the owner/managers are extremely passionate about.
Key West is known for its welcoming attitude toward the gay community. It is, in fact, one of the most gay-friendly places in the entire state of Florida (which is saying quite a lot!) if not even the whole United States. It has long been a mega popular gay tourist destination, and the gay nightlife there will provide a night out you will never forget.
The hotel is located on Fleming Street, with all the attractions of world-renowned Duval Street a 15-minute stroll away. Divided among three structures – the Main House, Guest House and Poolside Cottage – the hotel's rooms tend to be a bit on the small side, though each and every one has its own private bathroom, which is something you don't always get with a B&B and a huge plus in the Alexander's favor.
The property boasts a poolside bar called The Pink Monkey that serves free cocktails during happy hour, and there are three sun decks, some of which are clothing optional. The hotel has free Wi-Fi access throughout, and though there is no on-site restaurant serving lunch and dinner (you'll want to head on over to Duval Street for that), rooms do come with complimentary breakfast.
For a cozier, more relaxing, and intimate Key West stay, we can't recommend the Alexander Guesthouse enough. No establishment will serve you any better than this.
The Calypso Inn Wilton Gay Male Resort is a gay-owned and operated B&B in Fort Lauderdale, the city which has the highest concentration of gay couples of any city in the U.S., so gay tourists can rest assured that they will find no more gay-friendly venue for their Florida stay.
All rooms have air conditioning and either a king- or queen-sized bed and are also equipped with a large flat screen TV, free Wi-Fi, microwave, minifridge, and all have private bathrooms with large walk-in showers; hairdryers are provided. Continental breakfast comes complimentary with the room. This adults-only hotel has a sun deck as well as a garden on the property, so relaxation opportunities will available for all guests.
And once you've had enough relaxation and are ready for a little fun, the immediate area is home to a host of gay-friendly bars and eateries. TJ Thai and the New York Grilled Cheese Co. are just a few honorable mentions of the many restaurants that are worthy of mention. And of course, Ft. Lauderdale's beaches are a stone's throw away, including the gay popular Sabastian Beach.
All in all, gay travelers really can't go wrong with a pleasant and welcoming stay at the Calypso Inn Wilton.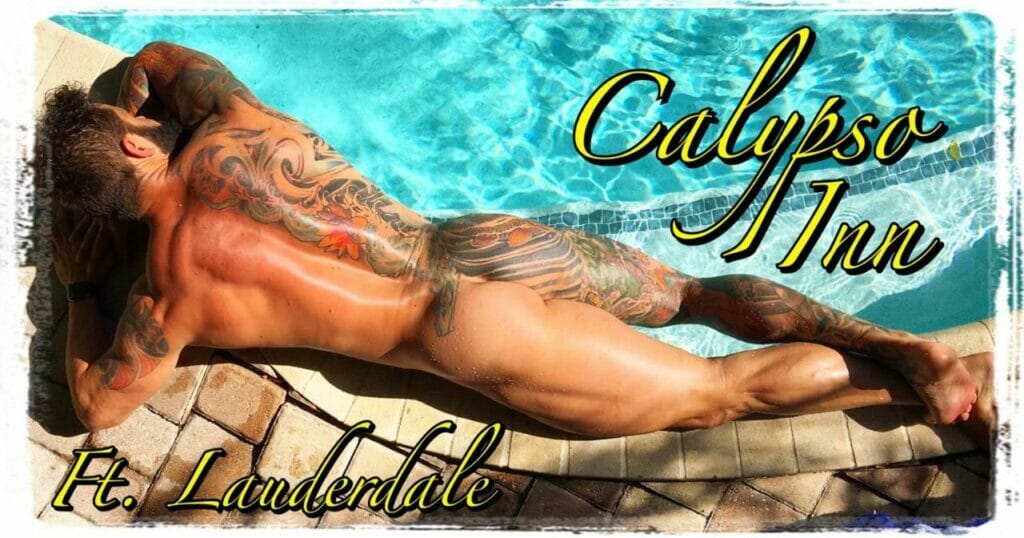 The Cabana's Gay Guesthouse and Spa is another gay hotel located within the Wilton Manors community of Ft. Lauderdale, the gay hub of the city. The multiple award-winning gay guesthouse and spa is a clothing optional resort for men only. Besides the spa facilities, there is a large jacuzzi that can accommodate up to ten, and a swimming pool.
And you really can't beat the location, either. Aside from being situated right in the heart of the action, in the midst of the Ft. Lauderdale area's gay community, guests at the cabana can enjoy a stay at a hotel central to the best gay nightlife in one of Florida's gayest cities. There is an absolute plethora of gay bars and clubs, many of them well within walking distance of the cabana, with Hunter's Night Club being perhaps the most famous among them. And you have easy access to Ft. Lauderdale's beaches as well. It's easy to see why this resort has been named the best gay guesthouse and spa.
A real winner for gay tourists looking to enjoy some of the best of Florida in a gay-oriented atmosphere.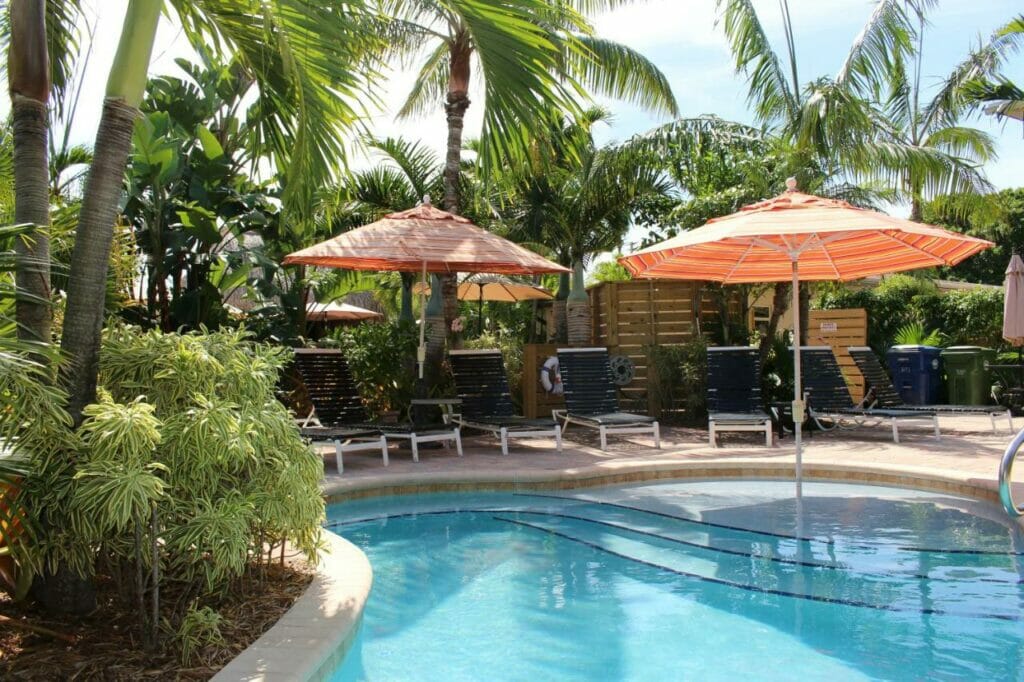 'Where gay men play and stay in Miami Beach," is this gay resort in Florida's tagline. It advertises itself as the epicenter of the Maimi gay community, which is quite a bold statement considering the gay nightlife to be had in Miami Beach, yet it is one that the Hotel Gaythering strives to live up to with its excellent, gay focused hospitality.
The hotel's bar (known as "The Gaythering Bar") plays hosts to regular gay-themed events such as "Bears and Hares" on Friday nights, as well as karaoke and bingo nights, etc. And if you are looking to venture out, the beach is a ten-minute stroll away, as is a wealth of gay-friendly dining and drinking establishments. And if you are looking for a great gay beach, the area has two: 12th Street Beach on South Beach, and Haulover Beach in Miami Beach.
Aside from the bar, the property offers a spa with a hot tub, steam room, and a dry sauna. There is also a library with a games room, and communal events are sometimes held there.
To sum it up, if you are in Miami Beach the Hotel Gaythering is a sexy and fun place to stay with unbeatable hospitality.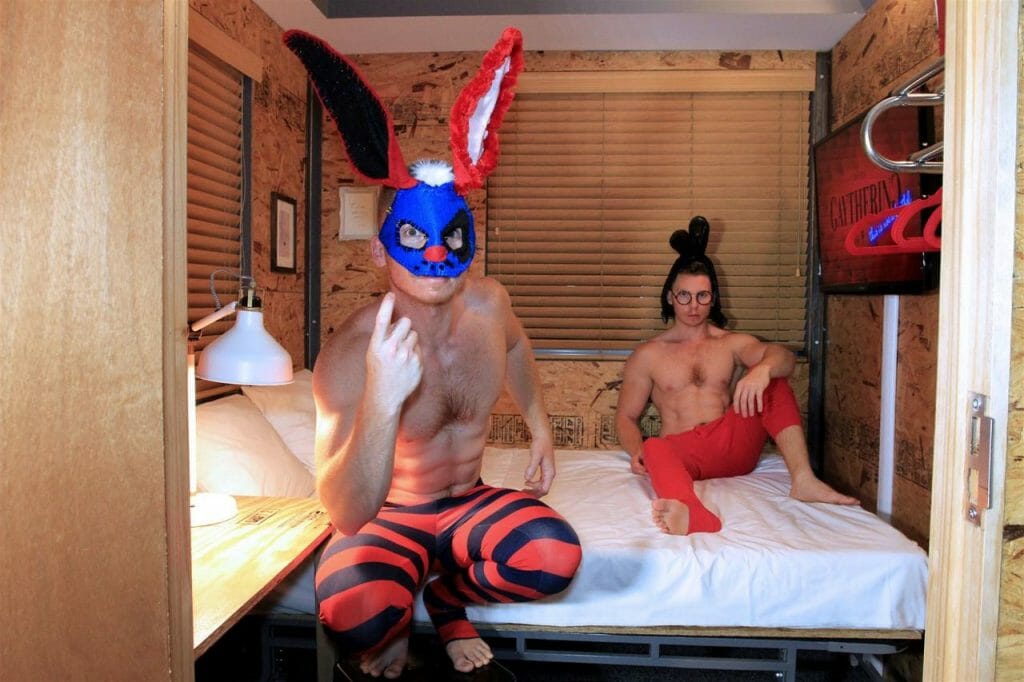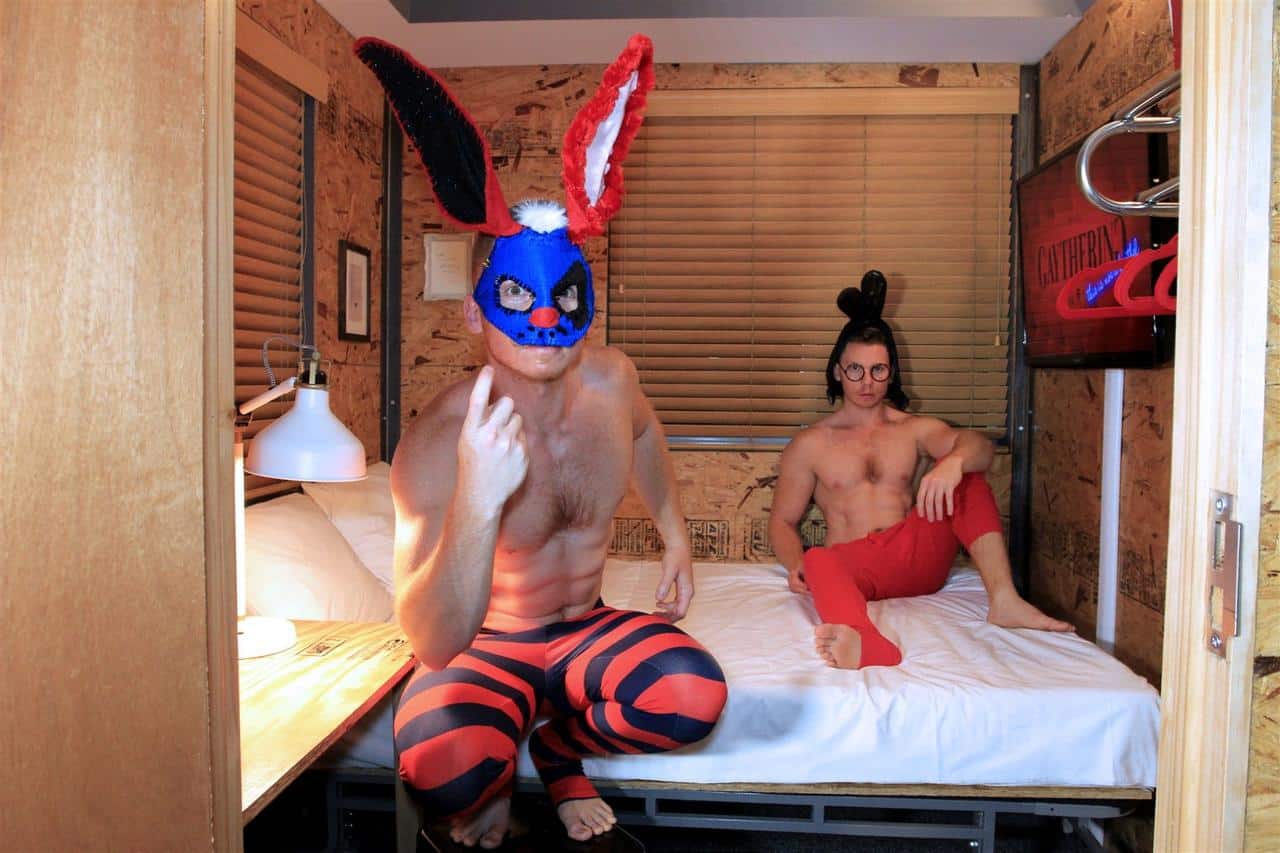 Here we have another gay hotel situated in Fort Lauderdale's gayborhood of Wilton Manors. And there is no reason to wonder why this area is so popular with the LGBT crowd, with its plethora of gay clubs and bars like the newly remodeled LeBoy (Where the boys are), 321 slammer, and Ramrod Ft. Lauderdale. Sabastian Beach, Ft. Lauderdale's main gay beach, is about two blocks away and well within easy walking distance.
The clothing optional (at least in some areas) Worthington Gay Men's Resort features 63 air-conditioned rooms with free Wi-Fi access and free breakfast. The standard rooms are somewhat basic but come with a flat screen TV and mini fridge. Studios add a small kitchenette with a dining table, microwave, coffee maker, toaster, and two-burner stovetops. Swimming pools, hot tubs, and a fitness center round out the list of property amenities. The resort sometimes hosts barbeques.
This is another great gay hotel in the heart of gay Fort Lauderdale. Guests here will be made to feel welcome, and the hotel enjoys a great central location to everything gay tourists will want to see and do.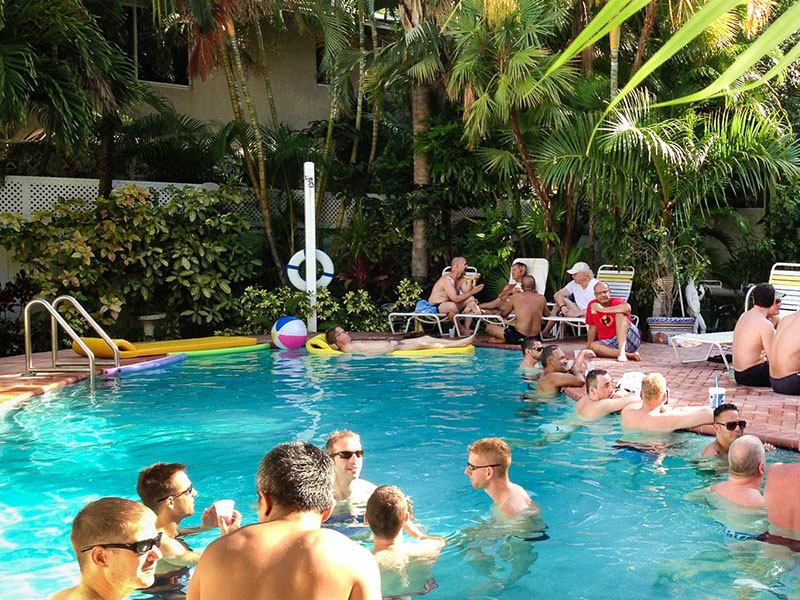 "Imagine…. a place where everyone is gay…. where it's easy to make friends…. where you can really be yourself.…" This is part of the Island House Resort's mission statement. Sounds like quite the novel concept, doesn't it? Well, it isn't just a concept at this magnificent Key West gay resort.
This gay-oriented, men's only clothing optional resort has an open atmosphere that can't be topped anywhere and is specifically tailor-made for a great gay resort experience. Here like few other places guests can relax and truly be themselves, all in the company of like-minded gay folks.
The Island House has been around for decades, in this the very birthplace of the gay resort – that's right, it all started right here in Key West. And the concept quickly spread throughout Florida, the rest of the United States, and then the world. So you know that they know how to do it right down here in the Florida Keys. And the Island House really does take it a step further.
The resort boasts a large heated pool and several jacuzzis. There is also on the property a gym, spa, cafe, and bar. There is also an erotic video lounge. While staying here you will enjoy being served by an all-male staff. The resort is less than a mile from Duval Street and its many attractions. Island House calls itself Florida's premier gay resort, and we feel that it has well-earned that right with nearly a half century of service.
Gay travelers seeking a fun and open environment while enjoying sunny Florida can't really do much better than this.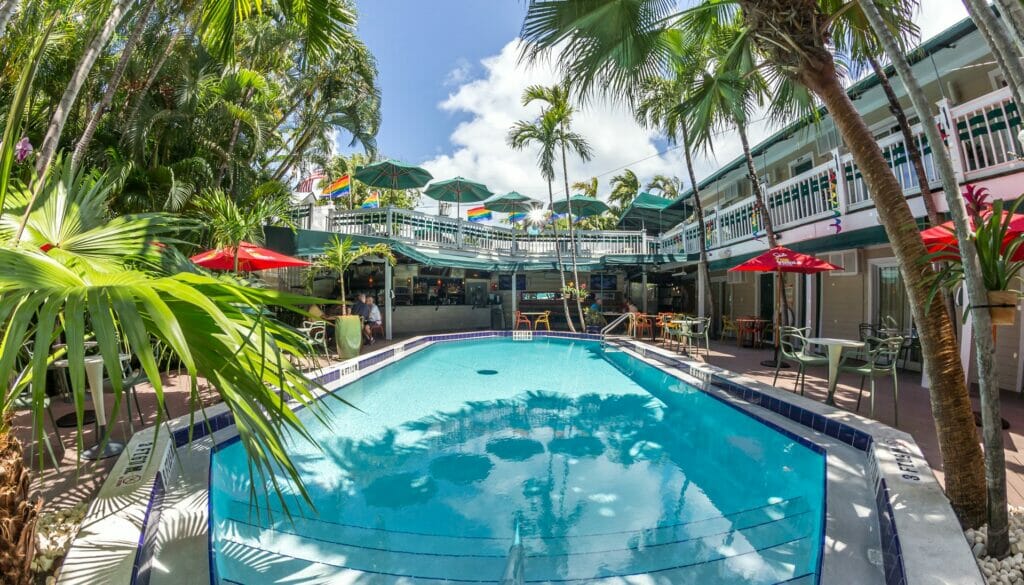 Axel Hotels is a popular gay Europe resort franchise if you don't know, and AxelBeach Miami is the latest arrival on the scene, only the second gay resort in Miami to open after Hotel Gaythering (which is also featured on this list). It is also the chain's first hotel in the United States, having opened its doors in 2019. The hotel has 159 guest rooms along with a restaurant, a gym, and a spa. There is also a sky bar with impressive views of the city
The hotel features five varieties of accommodation: Axel City; Axel Premium; Axel Premium Superior; Axel Single; and Axel Suite. All but the singles sleep two. Rooms are air conditioned and come with free Wi-Fi access, as well as flat screen TV and private bathrooms. All the standard room amenities are included in this three-star establishment.
Staying at the AxelBeach Miami guest will enjoy having the beach virtually at their doorstep, along with a bevy of restaurants, bars, and shopping. Art Deco walking tours are available, as are speedboat sightseeing tours and a variety of walking food tours – the restaurant scene of Espanola Way, in particular, shouldn't be missed anytime you find yourself in Miami Beach.
Gay tourists visiting Florida and dreaming of a gay-friendly stay with top-notch hospitality will find it right here, and none come more recommended than AxelBeach Miami.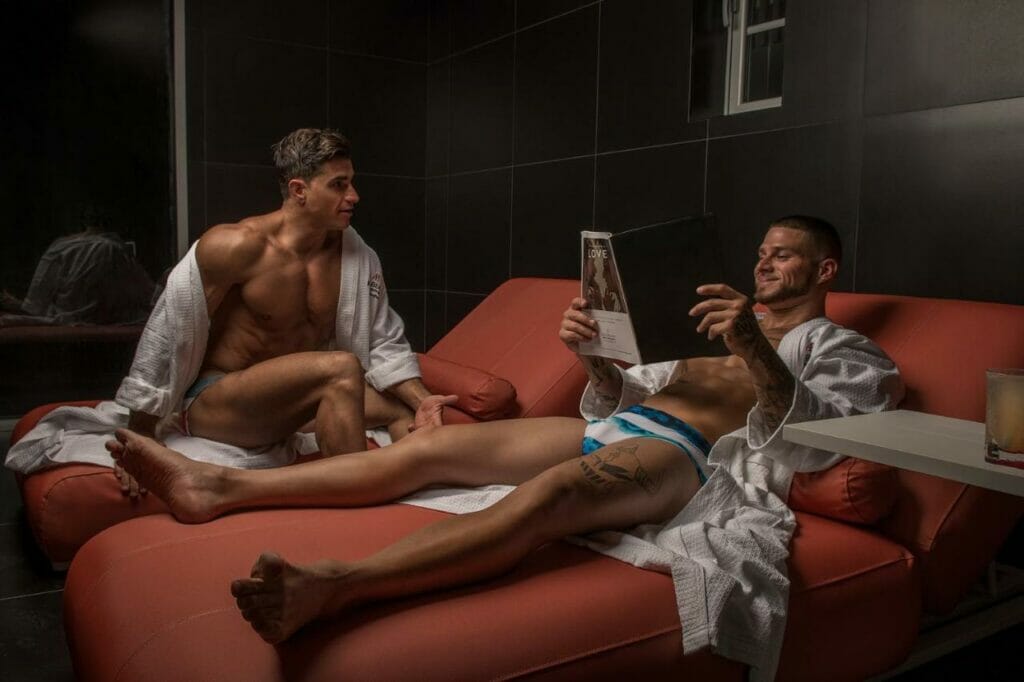 "Stay where you play," is this hotel's motto. And why not? We close out our rundown of the best gay hotels in the state of Florida with the intriguingly named New Orleans House on famous Dual Street. It is, in fact, the only all-male guesthouse thereon. It is also just a few minutes' foot from the Earnest Hemingway Home and Museum and only ten minutes from South Beach.
The New Orleans House has 11 rooms featuring free Wi-Fi and cable TV, also minifridges, microwaves, and coffee makers. Some rooms have a kitchenette and some have balconies. The property has a clothing-optional pool with sundeck, and there is also a hot tub. There is a bar on the property as well, and the hotel partners with certain local nightclubs to provide guests with free entry to said clubs. Free breakfast is also included with rooms.
There are literally dozens and dozens of gay and gay-friendly bars, clubs, and restaurants in the immediate vicinity -an almost overwhelming amount in fact. Surely there is more to experience here than even the most veteran bar hoppers could hope to cover in one visit (which is a good reason to consider becoming a regular visitor here). Truly Key West and Dual Street in particular are a fun-seeking gay tourist's mecca.
To rattle of just a few of the wonderful gay and gay friendly establishments you'll have easy access to during a stay at The New Orleans House: The Rum Bar; Heroes Bar & Liberty Lounge; Key West Cuban Coffee Shop; Clement's Trolley Pizzeria; Red Shoe Island Bistro; Little Pearl seafood restaurant; Green Parrot Bar; Firefly Key West; Duffy's Steak and Lobster House; Bobby's Monkey Bar; Aqua Bar & Nightclub, a gay show bar with nightly drag performances; and so, so, so many more.
Really, it's enough to make your head spin. And it will all be at your feet when you guest at New Orleans House. To be honest, you may have a hard time leaving this hotel and Key West once you get here.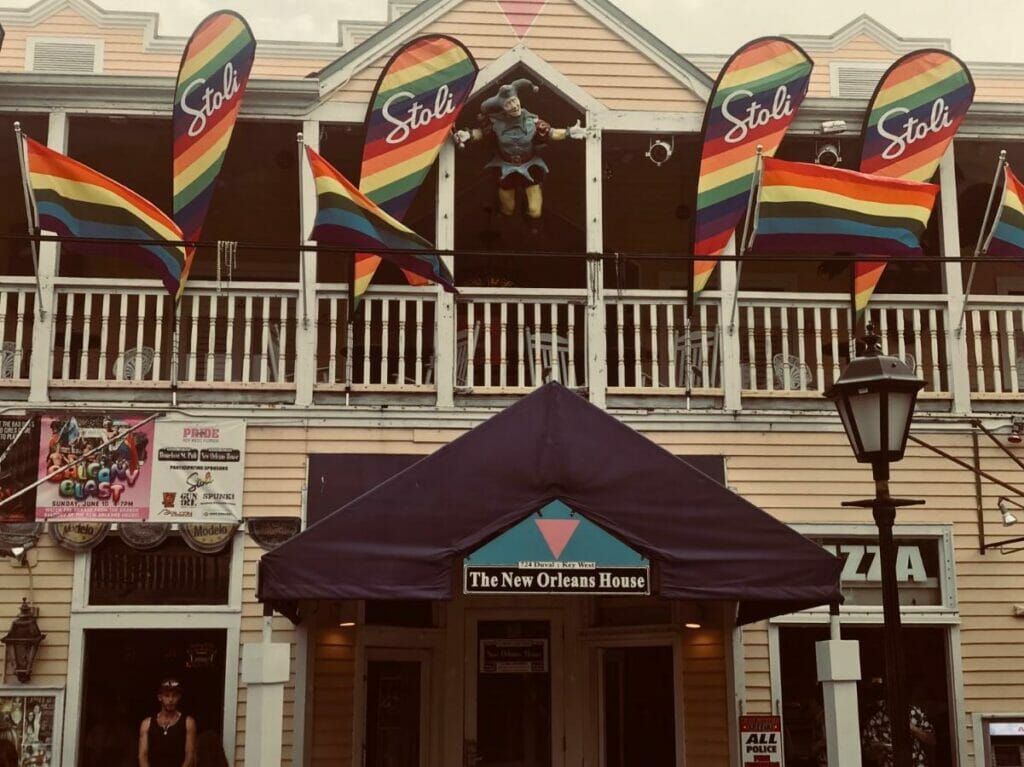 Popular Gay-Friendly Resorts In Florida
Also known as The Pink Palace, the Don CeSar is a gay popular hotel just two miles from Saint Pete Beach, in the St. Petersburg area. Its guest rooms include flat screen TVs with cable access, free wireless internet, and coffee makers. Upgraded select rooms have private patios or balconies with amazing views.
The property features a pool, salon, spa, fitness center, bar, and restaurant. The resort even offers wedding services for straight and LGBT couples alike. Twin Brooks Golf Course, Clearwater Marine Aquarium, Tropicana Field, Winter's Dolphin Tale Adventures, The Sunken Gardens, and The Dali Museum are all within a short drive's distance when you stay at the Don CeSar.
Area restaurants in this neighborhood of Saint Petersburg include Shrimp's Blues Bistro, which serves "New Orleans and Florida fusion fare" on the waterfront with live music, Madfish with "a new twist on fresh fish and aged steaks," as well as the Sola Bistro and Wine Bar for a slightly more sophisticated experience.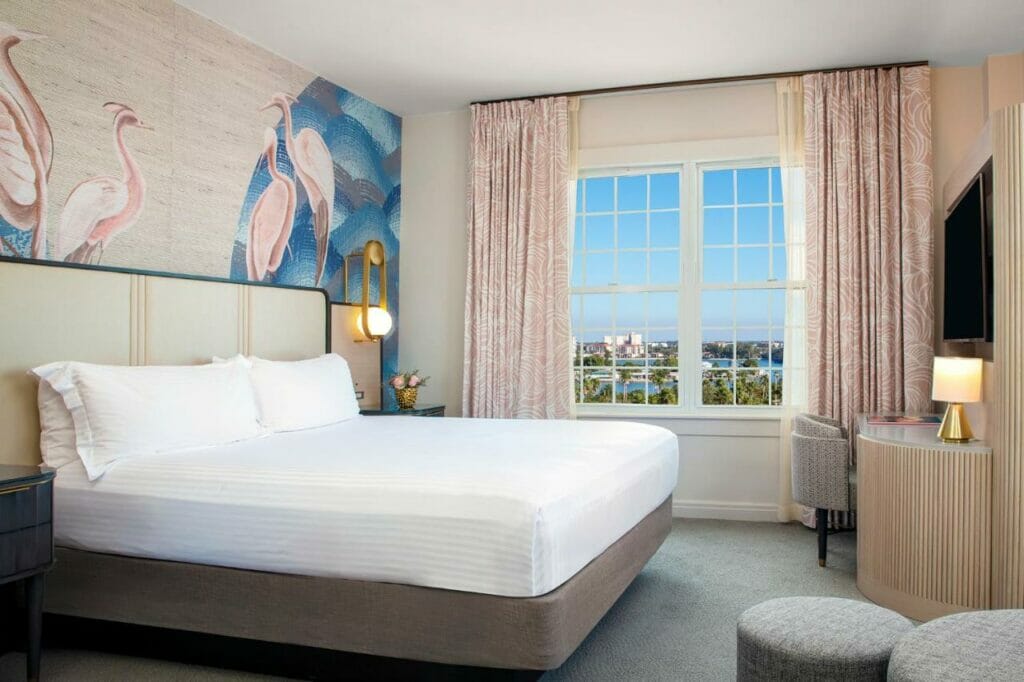 Located in Cape Coral, this four-star gay-friendly resort offers standard rooms as well as 1–3-bedroom suites. All accommodations come with top-notch service. The property boasts all the amenities visitors would expect – pool, spa, fitness center, restaurant and bar (The Naughty Mermaid Dockside Bar & Grill, which serves fresh-caught seafood amoung other fine things), salon, and so on – as well as the sort that you don't always see, such as a kid's club and a tennis court, for example.
And you cannot beat the Westin Cape Coral Resort's stunning location on the Tarpon Point Marina, from which boating and kayaking excursions can be launched. The Marker 92 Bar & Bistro is another fine gay-friendly establishment, and there are many shops along the promenade. Lobster Lady Seafood Market is another great seafood restaurant that shouldn't be missed while you are staying at the Westin Cape Coral Resort.
For other nearby attractions be sure to check out the Tom Allen Memorial Butterfly House and the Rotary Park Environmental Center, just to name a few standouts. A few other noteworthy side trips are Ostego Bay Foundation Marine Science Center and the Cape Coral Museum of History. But if you are in this area and are attracted to more amourous types of entertainment, Rascals is an "upbeat gay bar with a patio and karaoke." Cruiser's Lounge is another great gay establishment, and there is also Eden, A Show Bar.
To be sure Cape Coral is not hurting for great gay nightlife, and neither will you when you choose to stay at the Westin Cape Coral.