Tropical sunshine, gently swaying palm trees, white sand beaches, and friendly Floridians; what's not to love about Fort Lauderdale?
Oh yes, and that's before we even mention the fact that it's one of the most gay-friendly destinations in the world, with the highest concentration of gay couples of any city in the US. Drive through the city and you'll see rainbow flags galore; honestly, it's like coming home!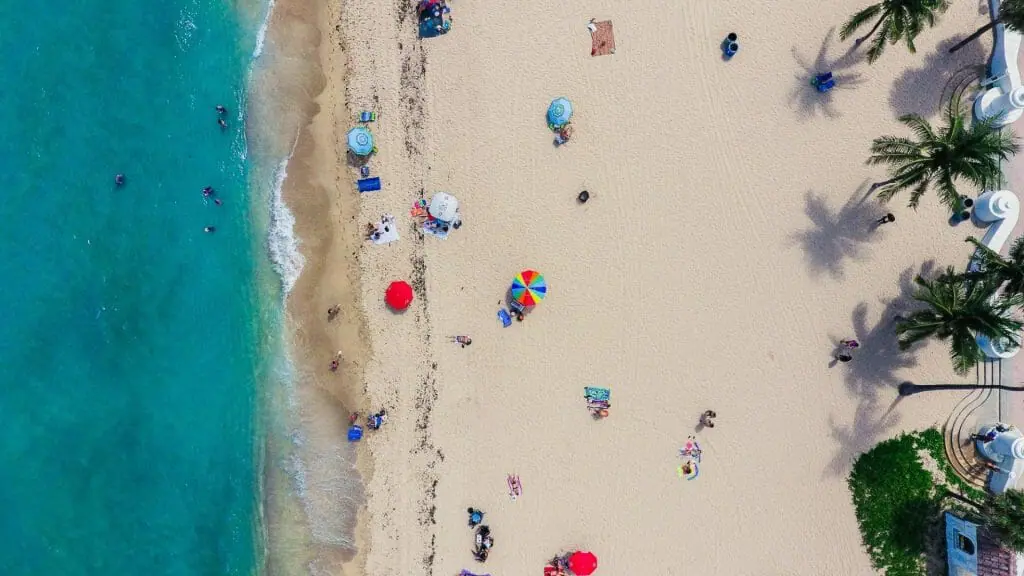 The calendar of LGBT events is bursting at the seams and even when there's no official event you can choose from hundreds of gay-owned bars, clubs and restaurants. During the day you can enjoy the 23 miles of idyllic beach, tanning and people-watching. This is a place where you don't need to feel guilty for doing nothing. Just relax and soak up the chilled vibes – you're on holiday, after all!
Plus, if you get bored you can always hire a car and explore more of sunny Gay Florida: Orlando, Miami, Tampa, Key West, and even Gay Days at Disney are all right on your doorstep after all. Though, we are more likely to be caught sipping a rum runner poolside than off explore…
Talking of basking in the sun, the one thing that can make this even better is being able to be totally free. Yes, we mean being able to slip out of your clothes and enjoy the feeling of the sun's rays in your birthday suit. Luckily there are tons of clothing optional gay resorts in Fort Lauderdale, so your only challenge will be choosing between them.
Let's have a look at some of our favorite clothing-optional gay resorts in Fort Lauderdale…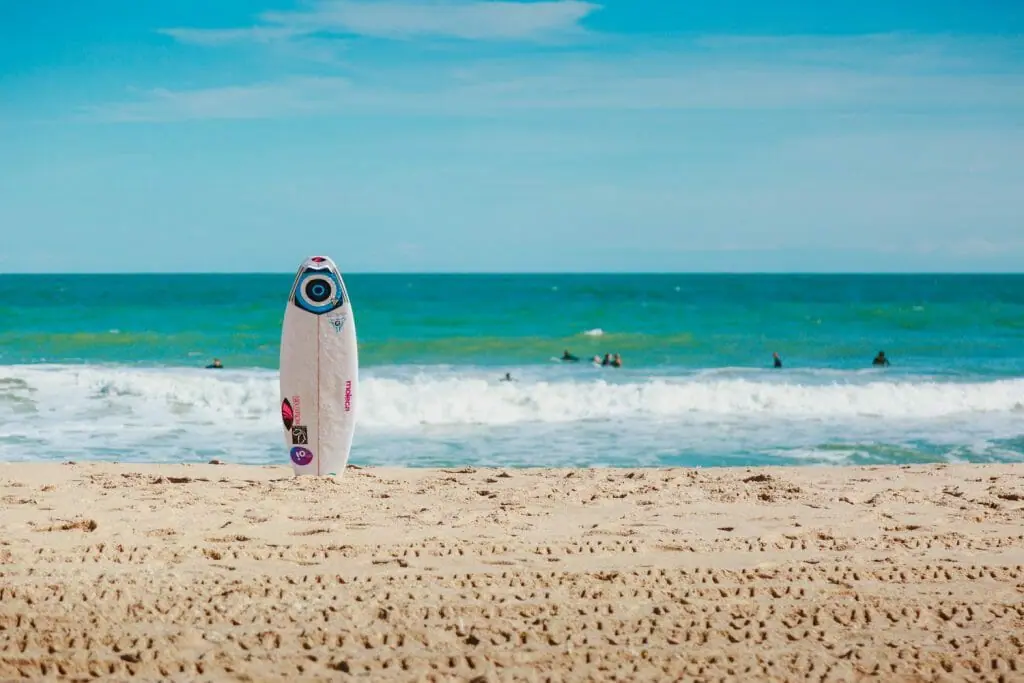 Honestly, one of the things we love most about this guesthouse is the name! But aside from that, it's also a chilled and affordable accommodation option if you want to stay somewhere friendly with amazing staff.
You're a bit further away from the beach here, but you can enjoy the clothing optional outdoor pool and bar area. The rooms are clean and well-equipped, although the décor is a bit old-fashioned. But when the weather's this good, you'll only be there to sleep anyway!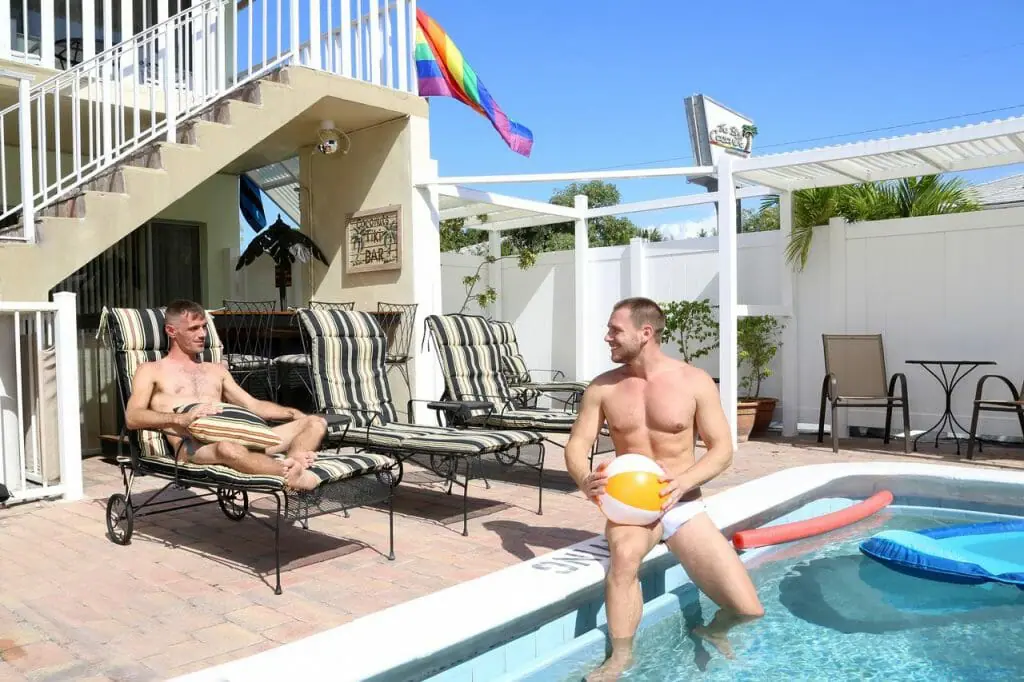 In the heart of Wilton Manors, Fort Lauderdale's gay town, you'll find this charming adult-only gay guesthouse. The rooms are bright, colourful, simply decorated and clean, equipped with TVs, fridges, microwaves and coffee-making facilities (so you don't have to face the world without caffeine!).
The atmosphere is incredibly welcoming, thanks in no small part to the friendly staff. We also love the treatments available in the spa and the aromatherapy steam room. The saltwater pool is heated and clothing-optional. If you feel like being active you can rent a bike or kayak for free – we recommend clothing for this, though!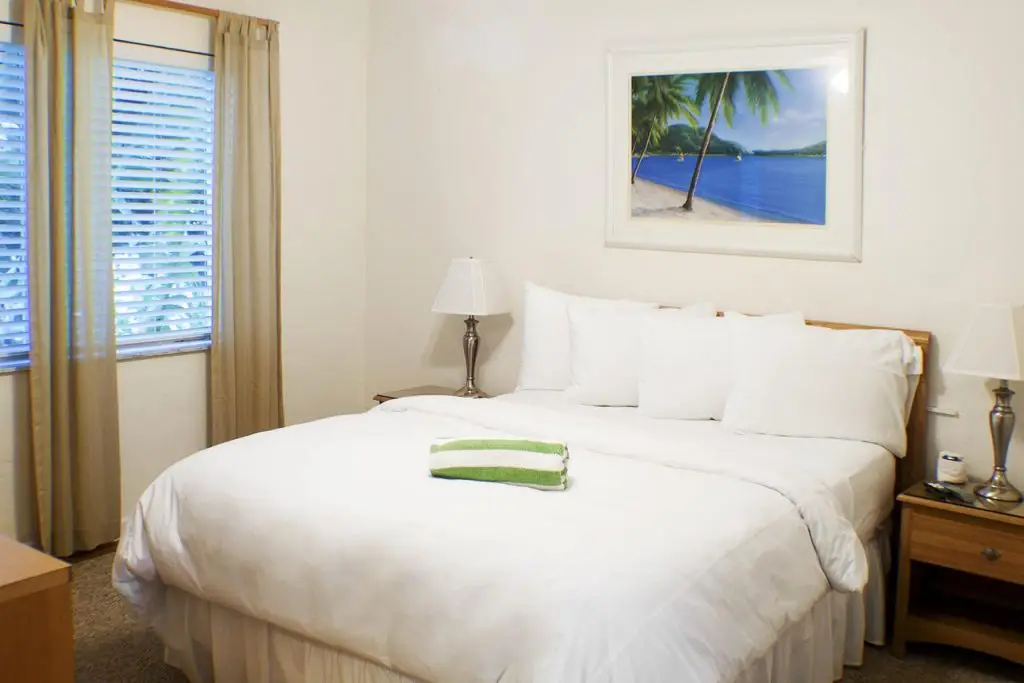 It's not the most luxury clothing optional gay resort in Fort Lauderdale, but its loyal following proves that this quiet guesthouse is doing plenty right. The grounds are charming and you can strip down at the outdoor swimming pool. The fact that it's small means you're more likely to get chatting to fellow guests.
If you want to get out and about, you're only 10 minutes from the Sebastian Street stretch of Fort Lauderdale's beach, which is the gay beach. When you need a break from the sun and partying, your room is clean and comfortable, equipped with everything you need.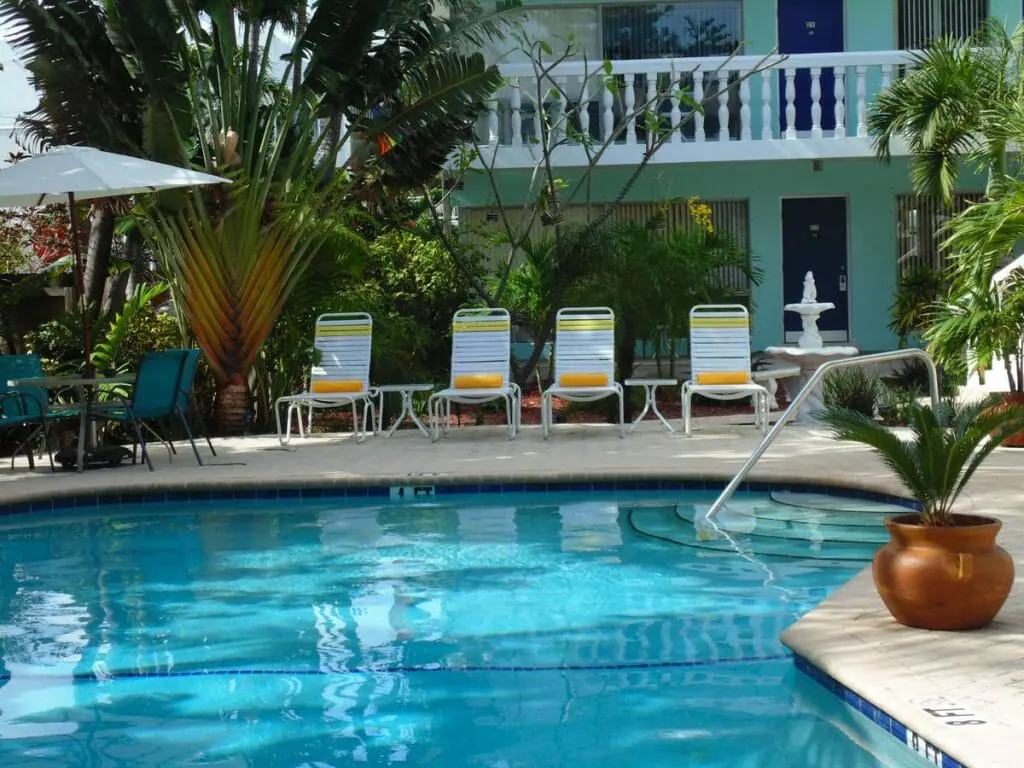 It's the staff that really make this one of the most popular clothing optional gay resorts in Fort Lauderdale. The eight rooms are nice enough and the courtyard and pool are very attractive. It's a peaceful environment as the guesthouse is located in a residential area.
The service is personal, friendly and makes you feel comfortable and at home straight away. The team will give you excellent recommendations for where to explore as they know the city well. If you prefer to spend your vacation getting to know the area then this is the ideal base to retreat to.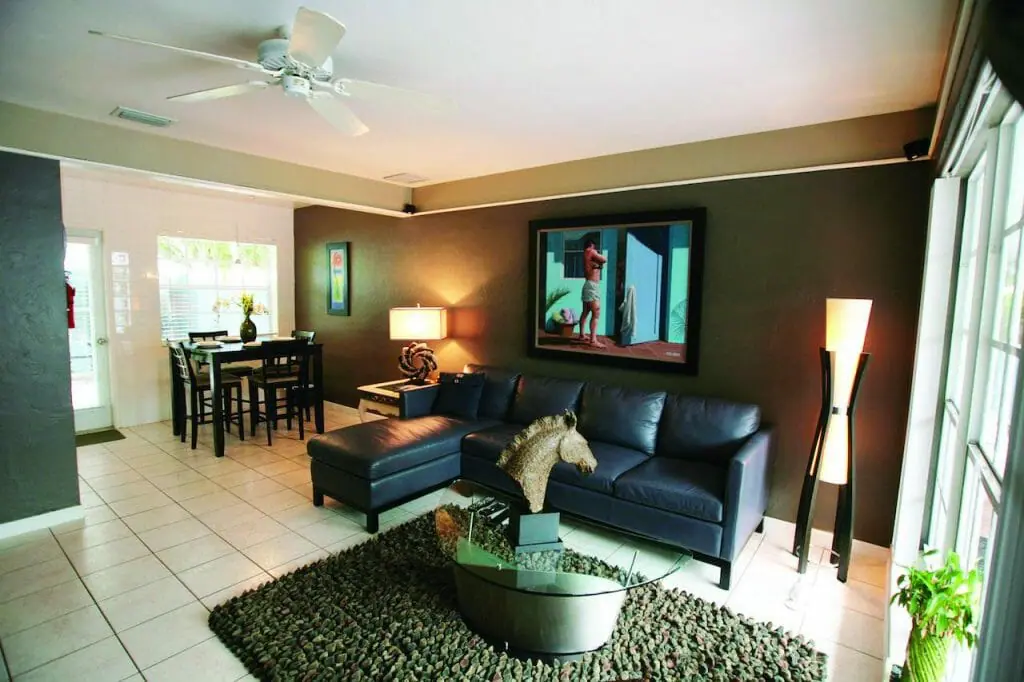 We love the escapist feel at this clothing optional gay resort with its retro 1950s bungalows, all renovated so that they're comfortable and decadent. It's practically a tropical oasis as it helps you feel fully removed from the nearby hustle and bustle. A pool surrounded by lush greenery, a waterfall and outdoor showers, and lively hot tub all contribute to the sense of luxury.
If you do want to leave (and we wouldn't blame you if you didn't) then it's only moments away from all the best things Wilton Manors has to offer, from nightclubs to restaurants to cocktail places. Friendly Ed and his great staff can give you recommendations for all the best places. Book early to avoid disappointment!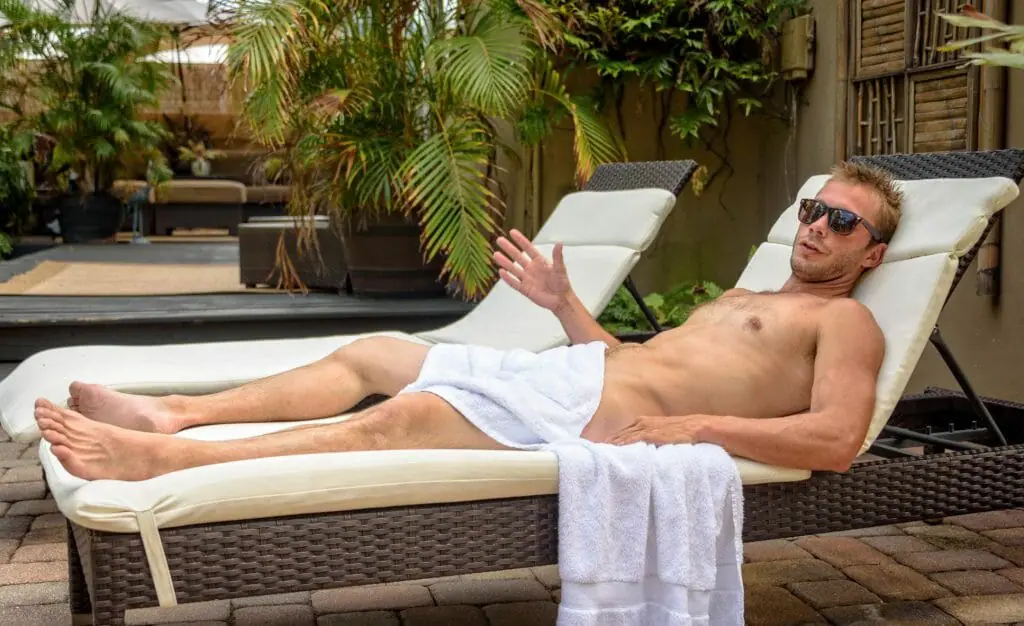 This is one of the more buzzing clothing optional gay resorts in Fort Lauderdale, with free Sundown Happy Hours on the weekends contributing to the lively atmosphere and encouraging guests to get to know each other. The public areas are sociable and attractive – relax on the sun deck or in the pool. We like the retro feel to some of the amenities; you can almost imagine yourself back in the 60s or 70s when Fort Lauderdale was first coming into its own as a gay destination.
To take your relaxation up a notch or two, head to the luxury on-site spa where you can enjoy multiple treatments, including massages, mani-pedis and even a hairdresser. It's a great way to get ready for a night out in Fort Lauderdale – after all, you want to look your best! The morning after you can recover in one of the spacious and stylish suites or take a stroll in the gardens.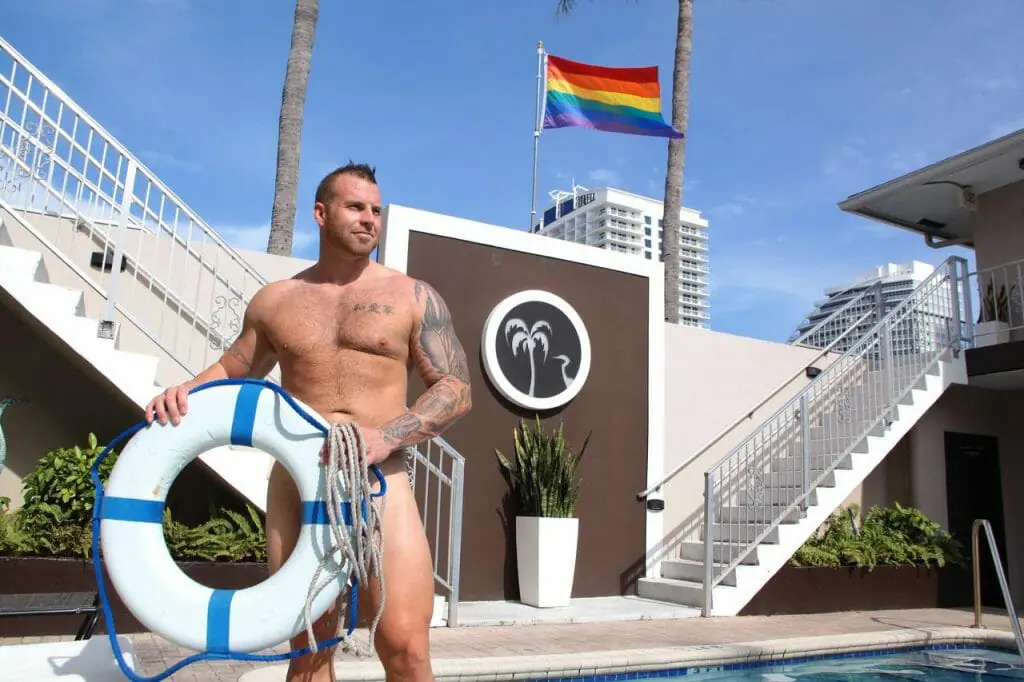 As you might guess from the name, this certainly isn't a place to bring your mother on vacation – but what clothing-optional resort is? However, if you're looking for hunky men with a penchant for leather who are up for a good time, get a room here now! Gay owned and operated, the Inn Leather has been devotedly serving the Leather/Levi community since 1999 and has gathered quite the loyal following. Rooms are relatively basic but well – equipped, including flat-screen TVs and a sling in every room.
It's got friendly community feels, and you're sure to meet lots of people hanging out at the pool or in the hot tub. They even offer a day pass system, so there are always different guys to meet, plus parties and themed events to keep things interesting. The Inn Leather provides a taste of uninhibited freedom for your holiday – just don't blame us when you want to go back for more.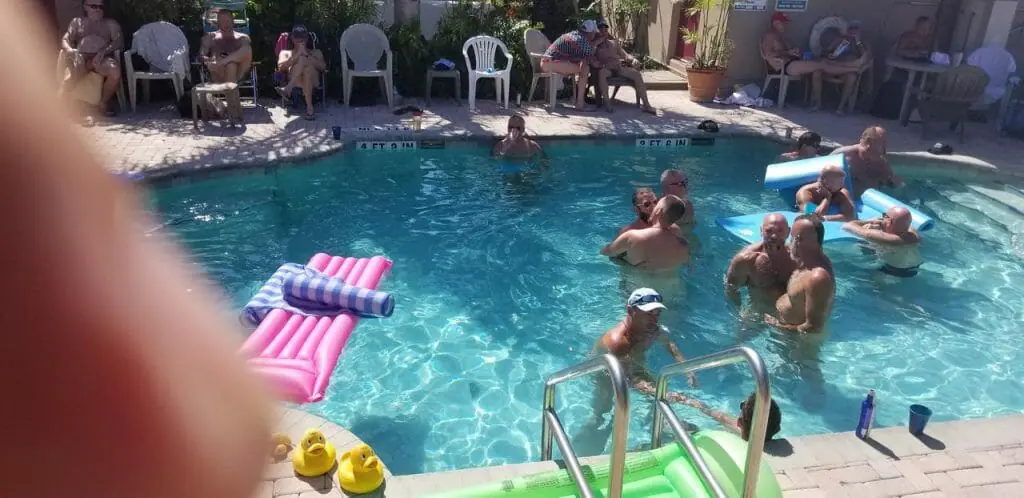 Lush by name, lush by nature – you'll understand what we mean when you see the gorgeous gardens at this charmingly retro gay resort. You feel totally secluded as you enjoy the landscape, the peaceful clothing-optional pool and the elegant rooms.
Spend your morning at the resort, enjoying the continental breakfast poolside. In the afternoon, the beach is only blocks away, so you can wander down there to enjoy the Fort Lauderdale vibes at gay Sebastian Beach. It's got a welcoming, boutique feel that will make you want to come back again.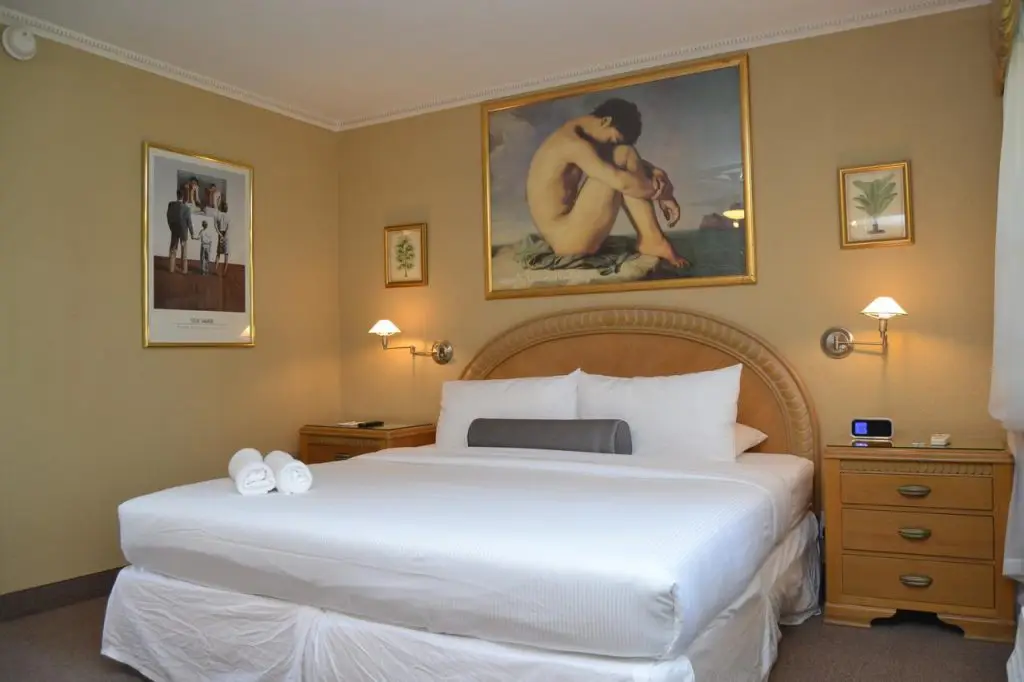 This is two acres of sheer, clothing-optional joy. Stunning, spacious rooms decorated in soothing colours with some incredibly comfortable beds are equipped with everything you need. It's hard to imagine that you'd even want to leave these rooms, but if you do you'll find idyllic, green grounds, wooden boardwalks and a turquoise pool to relax in.
If all this isn't enough, the staff are also amazingly friendly and attentive. You'll want for nothing. An extra touch is the daily happy hour with free drinks, cheese and crackers. Sophisticated and sociable!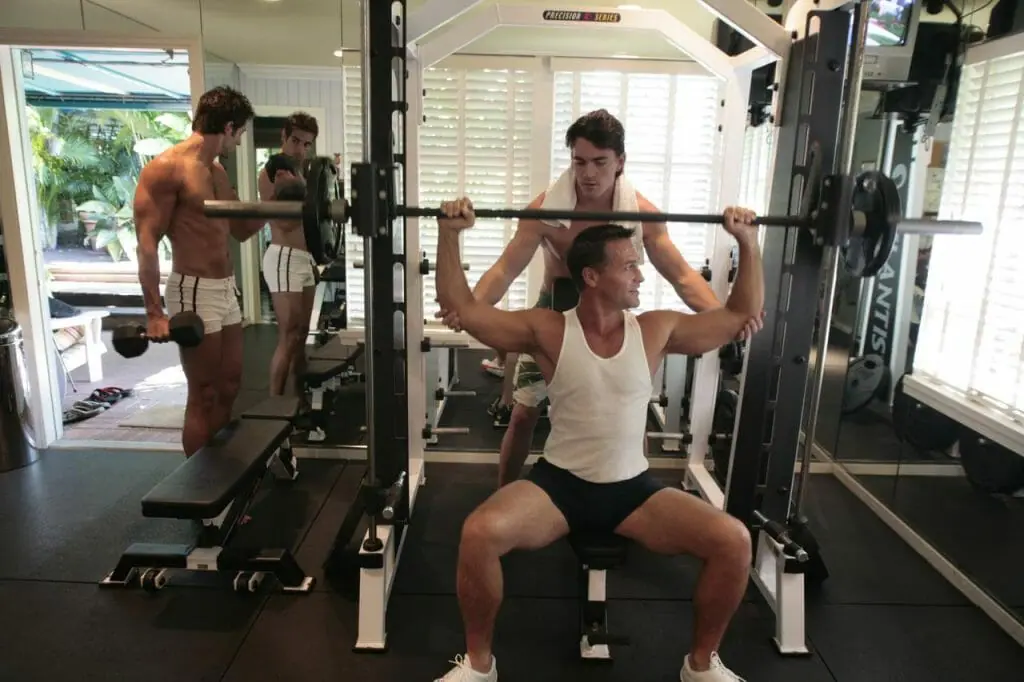 All in one place, here you'll find three of the best clothing optional gay resorts in Fort Lauderdale. The Worthington includes Alcazar Resort, Villa Venice Resort and Worthington Guesthouse; all properties are linked by beautiful gardens. The resort is so popular, in fact, that sometimes Fort Lauderdale residents go for a staycation here!
Having the three properties in one place means that visitors can choose between different pool areas depending on what kind of atmosphere you're looking for. Whether you want a more party vibe or a chilled feel poolside, you'll find something here. And if you need a break from the clothing optional pools? The Atlantic Ocean is only 500 feet away.
The rooms are spacious and soothing with decadently comfortable beds and all amenities. Hang out here or in the clothing optional courtyard. We love the two hot tubs as well, where you can get to know other guests. The welcoming staff add to the friendly atmosphere and you're sure to feel comfortable here.
So whether you want to party, chill or flirt, you're sure to find a place to stay in Fort Lauderdale. Even if you're a clothing-optional 'newbie', all of these accommodation options will make you feel comfortable with how you want to be – and you'll be a convert in no time!