Greece has so much to offer those willing to discover it: ancient ruins, beautiful Aegean islands, the splendid city of Athens, and much, much more. It is one of the most desirable places to visit in Europe, or the world for that matter. The same goes for gay travelers seeking to explore this culture-rich pocket of southern Europe from the comfort of one of the gay resorts in Greece.
While it still has much progress to be made, Greece has seen great strides toward equality and LGBT rights in recent years, and the country is coming around to a more progressive way of thinking perhaps slowly, but surely. And there has never been a better time for LGBT travelers to find out for themselves what this oldest of countries has in store for the adventurer.
Greece has a wealth of LGBT-friendly establishments all over the country, though this is particularly true of urban centers and places that have opened up to tourism more so than others. There are several large pride parades held annually in Greece, most notably the ones held in Athens and Thessaloniki.
At any rate, the Mediterranean nation is an excellent destination for an adventure-packed European getaway, with all the must-see and do attractions within its borders: beautiful, ancient Athens with its many splendors such as the Parthenon; Delphi with its sensational Temple of Apollo; the almost-unbelievable geography of Meteora and its ancient, sky-touching monasteries; the island of Santorini with its white washed Cycladic architecture, gorgeous beaches and some of the most stunning sunsets in the world.
And then there is the Greek cuisine. Or should we say Greek cuisines, with an emphasis on the plural. The traditional cuisine of Crete is quite different from that of say, the Peloponnese. All told, there is a wealth of variety in traditional Greek fare, to use an understatement. Most everyone knows about gyros and "Greek salads," but there are many other worthwhile dishes that foreigners may not have heard of, that have many regional variations.
Souvlaki, for instance, is a Greek fast food consisting of skewered meat and vegetables, sometimes wrapped with pita bread. Seafood is also a big part of Greek cuisine, with shrimp and octopus being staples of the traditional Greek diet (depending on the region), with dishes such as calamari fried squid remaining popular. The Greeks also take their wine very seriously and have done so for millennia, so it's safe to say that they know a thing or two about fine wine.
In fact, there is a whole smorgasbord of Greek dishes that you really just can't leave the country without trying, so while you are there you may want to squeeze in a hike or two to try to burn off some of those excess calories. But in all seriousness, there are plenty of opportunities for gay tourists to take to the beautiful Greek countryside and do so with safety and knowing that you are accepted and welcome. And in case you are wondering, the Samaria Gorge Trek on the island of Crete and the Mount Olympus Trek are only at the top of the list of best Greek hikes.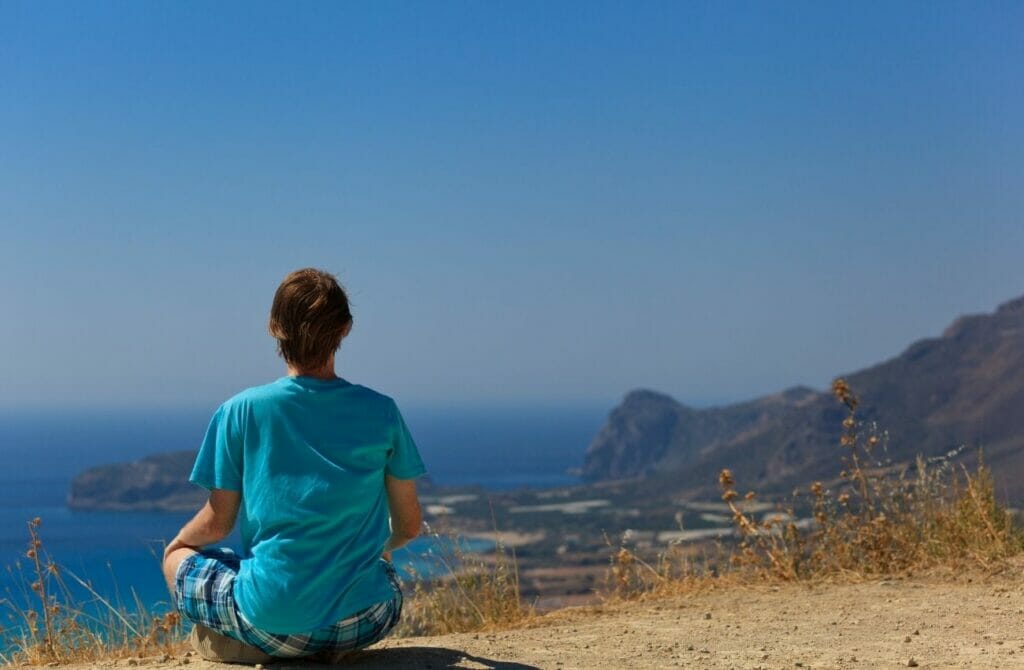 All this is just a taste of what Greece has to offer for the gay tourist looking for a friendly, welcoming destination that can provide an unforgettable getaway experience. But of course, you are going to need a place to stay as you take it all in. And as home to one of the best LGBT destinations on the globe (Mykonos!), you can rest assured that there are plenty of gay-friendly and gay resorts in Greece to spend your time at.
Whether you go on holiday for the suntan, for new experiences, to blow off steam, or just to escape the daily grind, we're willing to bet that you want to feel relaxed and feel free to be yourself. Thankfully the gay resorts of Greece allow you to do just that – to be 110% yourself, without a single double-take, all in the company of other open-minded folks.
Once you stay, you'll find how quickly you can form friendships with people at a gay resort – it's as though knowing everyone there has something in conventional means, there's no judgment, and you can connect easier. Even better, there is no need for dating sites or gay apps to meet people here…
Without any further delay, here they are.
Of course, our list was always going to begin with the infamous Elysium Hotel, the only true gay resort in Greece located on dreamy Mykonos. One of the best gay hotels in the entire world, the Elysium is the place to see and be seen.
There's is a lot to love here including enjoying the stunning terrace space where you can sip a cool drink and enjoy the view, decadent interiors, wild parties, the hottest men, and if that isn't relaxing enough, a spa. We love how big the resort is is, so there's always something new to explore here: you'll never get bored! The views alone will take your breath away (as will some of the risqué contemporary artwork on the walls!).
There are over 40 rooms, ranging from standard to superior, so there's something for every budget. Every room is fully air-conditioned and has everything you'll need for a trip – internet access, mini-bars, a safe, a TV and (of course) a bath.
If you are on a budget, then don't feel like you're missing loads by booking a standard room – all rooms are tastefully decorated in a minimal, contemporary way and are fully equipped, it's just that the superior rooms are more spacious. Of course, if you can, we would always recommend going for a superior room just because it's nice to have that extra space though all rooms have a terrace or balcony so you can chill out after a hard day at the pool!
The swimming pool at the Elysium Hotel is truly spectacular; the luscious curvy edges are surrounded by sun loungers for you to flaunt your tan (and admire others'!). There's plenty of space on the terrace, so invite all your friends to come with you.
There's a Jacuzzi as well – if getting the swimming pool seems just too strenuous – a great place to get chatting to fellow guests. You never know where things might lead!
For gym bunnies, there is complimentary equipment in the gym for workouts so you can ensure your body stays beach-ready. Once you've whetted your appetite with a workout, replenish at the extravagant breakfast buffet. You can also have a delicious meal at the on-site restaurant or snacks at the poolside bar. There's also great coffee on offer, if you prefer to wait until the evening to sample the cocktails!
This restaurant aims to provide local food cooked in traditional ways, and offers you an amazing view of the surrounding area. Think of fresh seafood, colorful vegetables, and delicate flavors; it's the perfect food for the hot weather.
Once the sun starts to go down, the fun really begins! The sunset bar offers unparalleled panoramic views of Mykonos town and the sparkling Aegean Sea. Enjoy innovative cocktails while drinking in the surroundings, and then get involved with one of the Elysium Hotel's famous shows and events.
The repertoire includes drag-queen shows, professional dance troupes, and dance parties, all with an uninhibited vibe and sheer joyfulness that you just won't find anywhere else. The sunset cabaret is famous for a good reason, after all!
You won't have properly partied in Mykonos until you've partied at the Elysium Hotel, trust us. Sipping a drink while chatting up a cute gay while the stars start to come out all around is a magical experience. Not to mention dancing until dawn and watching the sunrise.
What really makes this gorgeous hotel stand out is its 100% welcoming atmosphere. The staff are amazing and clearly, want to make every guest's stay an unforgettable one. Whatever you need, they are sure to help you with it.
We also love how it seamlessly mixes the air of a secluded retreat with all the fun of the gay party scene. The white-washed rooms are perfect oases of calm for guests, where you can soak away the sweat and sunscreen from your day at the pool and take a replenishing break before heading out for drinks and dancing.
It's a little slice of gay luxury in the midst of one of our favorite gay holiday destinations – stay here, and you really feel like you're in the middle of something special.
How many of us thought when growing up that something like a gay hotel existed? Probably not many of us, so to discover an exclusively gay (or 'straight-friendly', as they term themselves) hotel is still a bit of a novelty and one that should be fully enjoyed!
So grab yourself a sliver of gay heaven with a stay at the Elysium Hotel, and play like a Greek god – or just be surrounded by them!
Our list continues with this award-winning, four-star adults-only (16 y/o plus) hotel in Agia Marina, on the island of Crete. Standard rooms, junior suites, and superior suites are available.
Standard rooms come with twin beds or double beds and can sleep up to three. These rooms feature either a terrace or balcony. They come with a minifridge, LED TV, safe deposit box, and free Wi-Fi. Marbled bathrooms feature a tub (no shower) and hairdryer along with basic bathroom amenities.
The Junior Suites are for up to four people and feature a sitting room as well as a double bed. Located on the hotel's top floor as they are, these junior suites afford an excellent view of either the mountains or the ocean, depending upon your choice.
Superior suites consist of a bedroom and living room. In each of the three superior suites, there is a jacuzzi right next to the bed. These rooms come with a balcony and a sitting room equipped with a plasma TV, DVD player, and a minibar among other amenities. These spacious rooms sleep as many as three guests.
As you would expect, the Thalassa Beach Resort has a host of property amenities that are standard in high-end establishments, and there is an art gallery on the property along with a spa, a beach taverna, and a traditional Greek restaurant.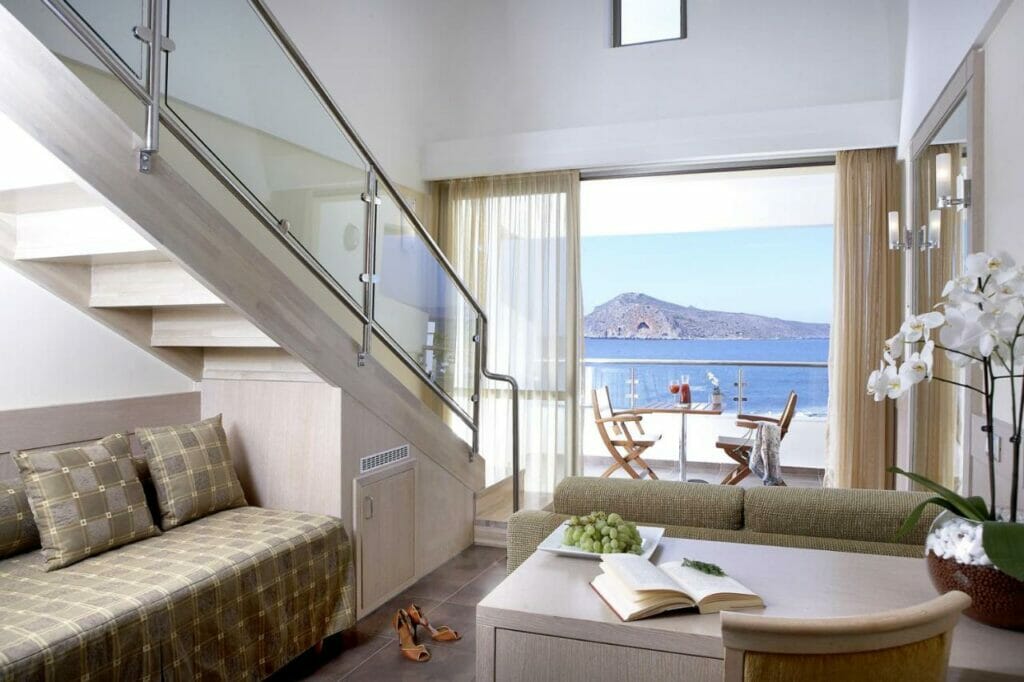 Gay tourists can't really beat the luxury afforded by this welcoming five-star upscale resort. What is even better is that the resort is, just as the name implies, located on stunning Mykonos. Well known as one of the most accepting and gay-friendly places in all of Greece, Mykonos has earned for itself a reputation as one of the "big four" party destinations in the whole of Europe, along with places like fellow island Ibiza in Spain. That is high praise indeed.
With that said, you cannot beat the gay nightlife in Mykonos town, which is less than 5 km away, with its inclusive atmosphere toward all and its plethora of gay-oriented discos and bars. Rest assured the folks of Mykonos know how to have a good time!
The Mykonos Grand Luxury Resort and Hotel offers just about every amenity you could ask for. All the standards are present: restaurant, pool, fitness center, spa and so on. But the property also has an excellent wine cellar with an impressive collection of both domestic and international wines (you can't come to Greece and not drink wine). There is also a tennis court on the property if you fell up to swinging a racket, and there is an outdoor amphitheater in which exercise classes take place. This swanky high-end resort is an excellent place to take you SO for a romantic stay they won't soon forget, with lots to do and some of the finest accommodation to be had anywhere.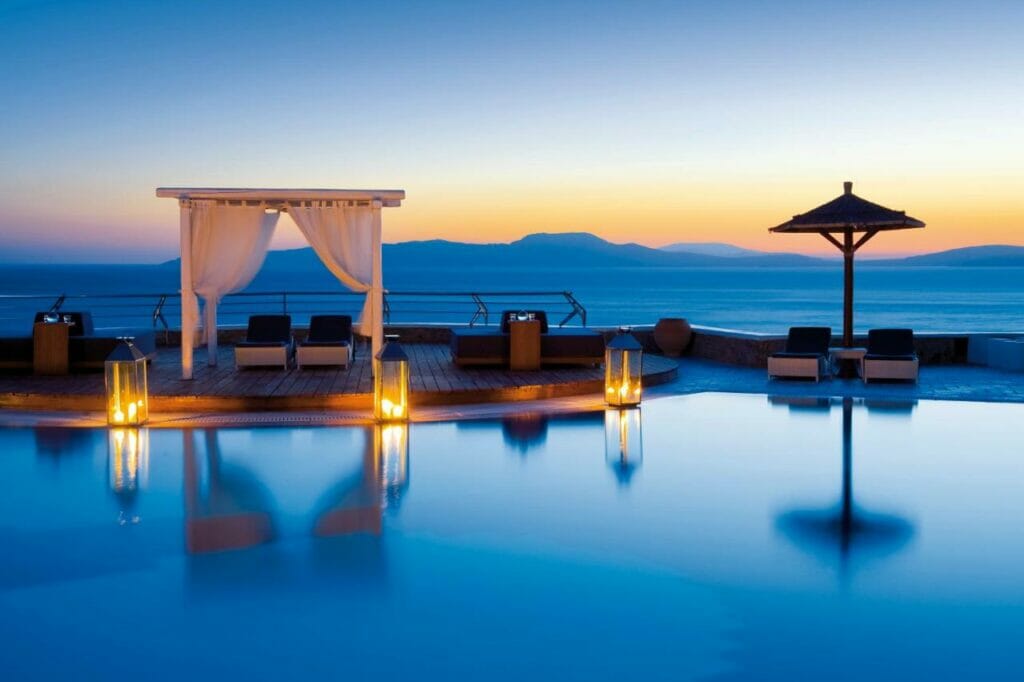 Here is a five-star hotel in the very heart of Athens, central to so many of the city's top attractions like the Acropolis (which, along with the waters of the Saronic Gulf, can be seen from the hotel's rooftop bar & restaurant). The hotel promises a "classic Athens stay," with a great central location and top-of-the-line upscale accommodations, not to mention an LGBT-friendly atmosphere in which all are welcome and treated with excellent hospitality.
With 276 rooms on 8 floors, the Wyndham Grand Athens offers all the standard room amenities one could expect from a five-star establishment: air conditioning, free wireless internet, flat-screen TV, etc. And VIP services are available too. And there is plenty to do right outside the hotel's doorstep, with the best of Athens right at your feet.
Explore the city's cultural and architectural treasures, such as the Parthenon. Or partake in the city's gastronomic artistry via one of the many guided food tours available (it is all but mandatory that you have at least one gyro while in Athens). Exploring the city this way, walking the streets, and greeting locals, as you explore the street food scene, is the best way to really get to know any city.
And for a day trip, you'll look back on fondly visit the ruins of Delphi, or take in the incredible monasteries and awe-inspiring scenery of Meteora. Cruises to the islands of the Saronic Gulf are also available and make for excellent day trips as well. Not that you will have an easy time pulling yourself away from the city. While Greece still has a ways to go in terms of social progress, especially in some of the more rural areas of the country, Athens is as happening a gay nightlife spot as you will find.
The Big Bar, The S-Cape, The Noize Club, ATTRAXX Cruising are just a few of the many hotspots for party-hungry gay tourists to socialize. All this can be enjoyed with the comfort of a first-rate hotel with an outstanding location in the middle of everything. For LGBT tourists seeking to discover all that majestic Athens has in store, there is no better lodging option than Wyndham Grand Athens.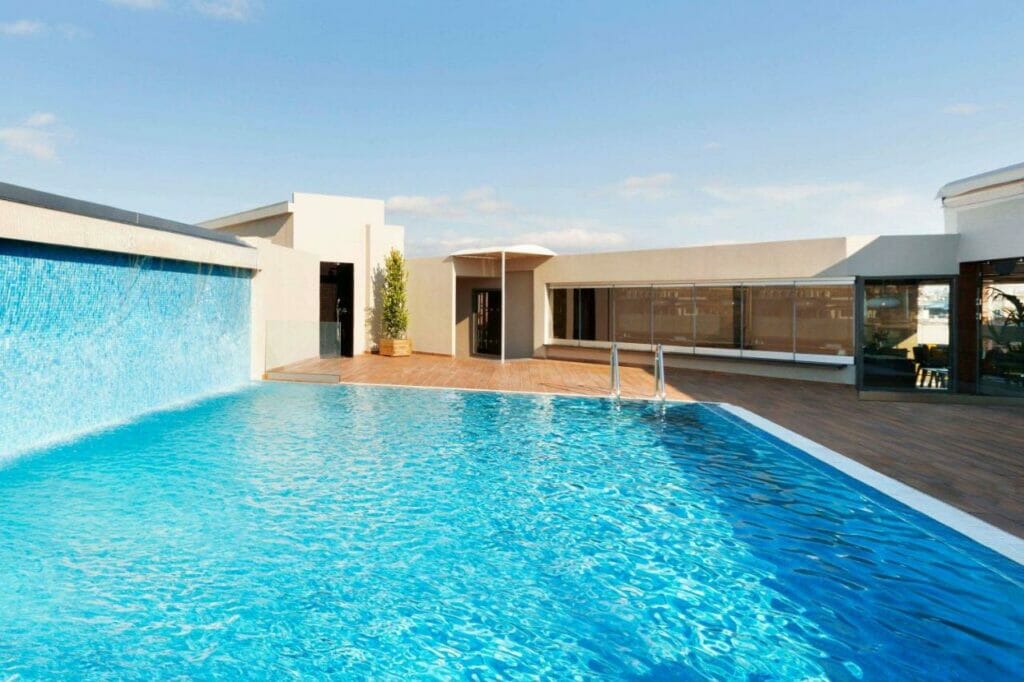 This is another hotel situated in downtown Athens, so you can't really beat the location. It is a mere couple of minutes' walk from public transportation, so getting around will not be an issue. Rooms at the O&B come with a/c, Wi-Fi, flat-screen TV, and minibar. Each has a private marble bathroom with a shower.
Laundry service, housekeeping, and room service are available, and free breakfast, concierge, and 24-hour front desk service too. And most importantly it is a gay-friendly hotel with an inviting vibe where everyone will feel welcome regardless of sexual orientation or gender identity, and gay tourists considering a stay here can rest assured they will be treated with all due deference.
Being right within the heart of the capital, guests at The O & B Athens Boutique Hotel will not have to worry about dining options should they forego the hotel's restaurant. Dozens and dozens if not even hundreds (no, we are not kidding) of eateries and bars are to be found in the vicinity, more than could ever be sampled in a short stay.
To name only a few standouts, Dos Gardenias offers Latin American cuisine; Kallapateira has Greek and Mediterranean cuisine that can't be topped; Po' Boys BBQ is great for American tourists craving something more familiar and offers Cajun & Creole dishes, and Indian Masala is a restaurant featuring – you'll never guess – fine Indian food.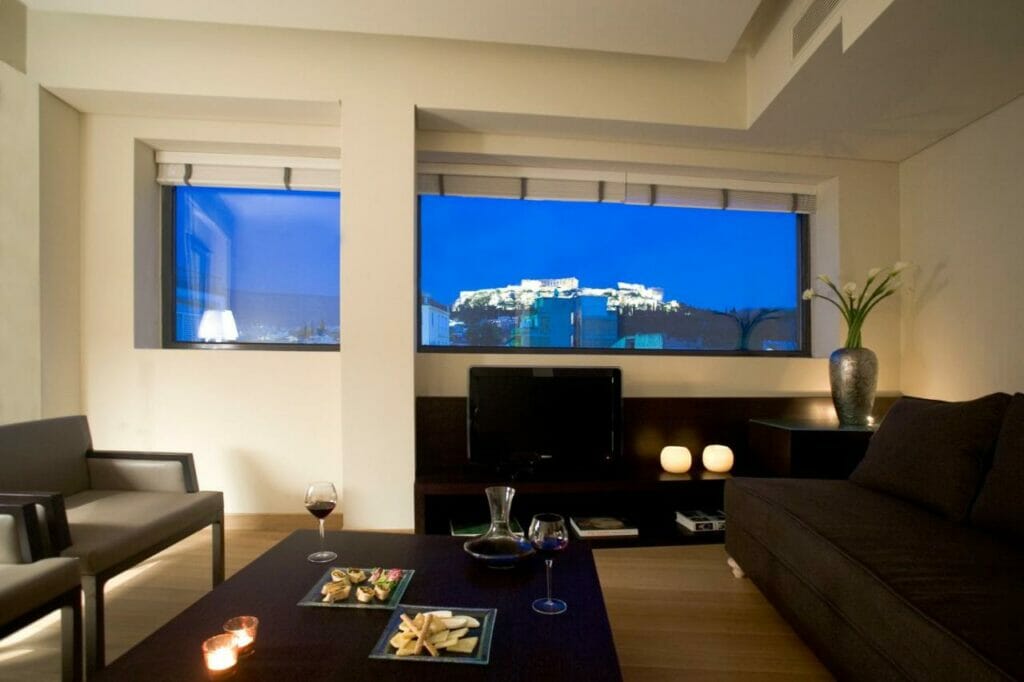 Located in Thera on the world-renowned island of Santorini, arguably the most beautiful in the Aegean Sea, The Erosantorini Hotel is a prime establishment from which to base your Greek island-hopping adventures. This exclusive, super high-end five-star resort consists of five swanky suites and is a gay-friendly establishment that knows how to make anyone feel welcomed and included; gay tourists have nothing to worry about if looking to stay here for a luxurious getaway.
The height of the impressive luxury accommodation this island resort has to offer is the Erosantorini Estate, the largest and swankiest of the suites, at over 8000 meters square. The estate has five bedrooms, a living area, an outdoor terrace, both indoor and outdoor showers, "floating" fireplaces, outdoor heated Jacuzzis and infinity pool, and a private backyard with a pool and daybeds. A stay at the estate includes a private chef, and there is a wine cellar on hand.
The other suites offer impeccable amenities also, most featuring whirlpools and outdoor private terraces. All are laid out to make optimal advantage of the impressive views of the adjacent caldera. For the absolute best in luxury accommodations, and with a friendly, inclusive attitude toward all guests, gay visitors to Santorini have a real winner with the Erosantorini.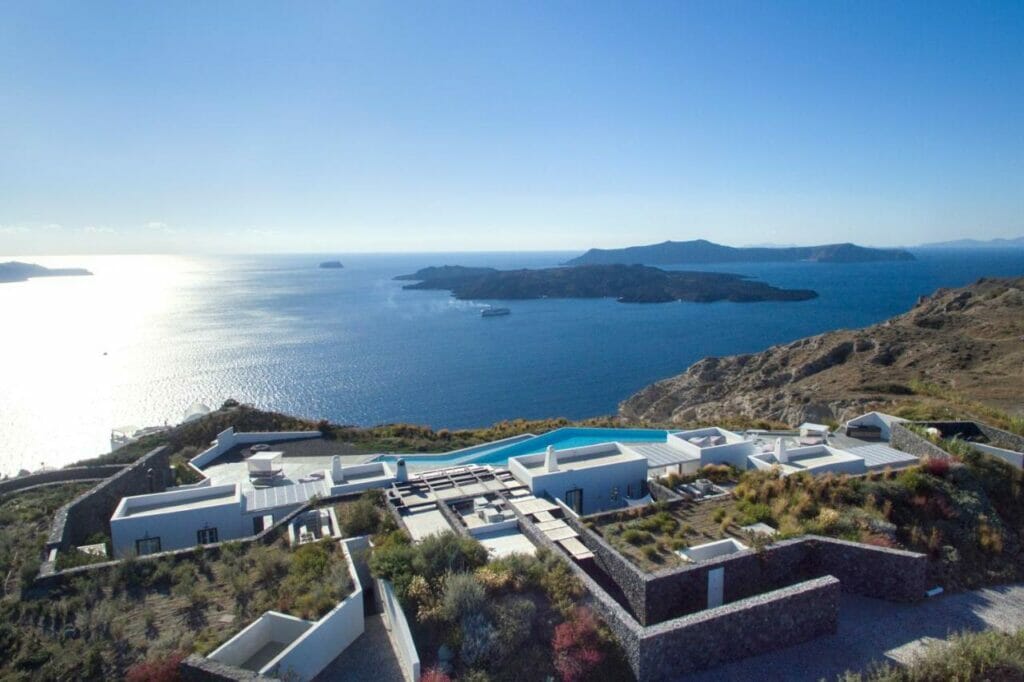 The Villa Bonaventura is a large estate in the south of Mainland Greece. It likes to advertise itself as the biggest estate south of Athens. The property boasts a three-acre tropical garden as well as a large pool and a privacy fence. Wi-Fi is available throughout the property, and there is a children's playground on the premises. The massive estate has over 20 bedrooms and over 20 jacuzzi-equipped bathrooms and can accommodate up to fifty people.
It is conveniently a mere 20-minute drive from Athens Airport, and a free shuttle service from the airport is available. A three-minute drive will deliver you to the nearby beach, the Paralia Marvo Lithari. The Paralia Thimari beach is also close by. Seaside taverns serving excellent seafood await, along with a bevy of watersports opportunities.
But the Villa Bonaventura's real claim to fame is its popularity as a wedding resort, gay weddings included. It has specifically been praised as a wonderful destination for a luxe gay wedding (the property has a chapel). Owners Nikolas and Anna are well known for their inclusive hospitality and will do anything in their power to make guests feel right at home.
Large groups of gay tourists finding themselves in this part of Greece, or maybe just want to get away from Athens for a few days, can't do much better than the Villa Bonaventura.
The Hyatt name is known globally for its first-rate luxury hospitality. The Hyatt Regency Thessaloniki is no different and offers a gay-friendly setting in which all are welcomed with the best accommodations a five-star hotel has to offer.
This resort promises celebrity treatment, and with free Wi-Fi, flatscreen tv, a/c, bathrooms with shower, fireplace, refrigerator, coffee maker, minibar, housekeeping, room service, housekeeping, and private balcony we would say they provide exactly that.
The property features a restaurant, poolside bar (did we mention there's a pool?), tennis and squash courts, fitness center with classes provided by a personal trainer, if so desired, a salon, and a sauna with steam room., with all the services you'd expect from facial treatments and hammam to couples and full-body massage. The hotel has a banquet hall, and there is a casino and gambling on the premises.
Concierge, butler service, laundry, dry cleaning, doorperson, and free taxi and shuttle services are on hand. In short, the Hyatt Regency has pretty much every amenity guests could possibly want, and with an inclusive, accepting atmosphere to match. For gay visitors to Thessaloniki looking for the best lodging available, this is it.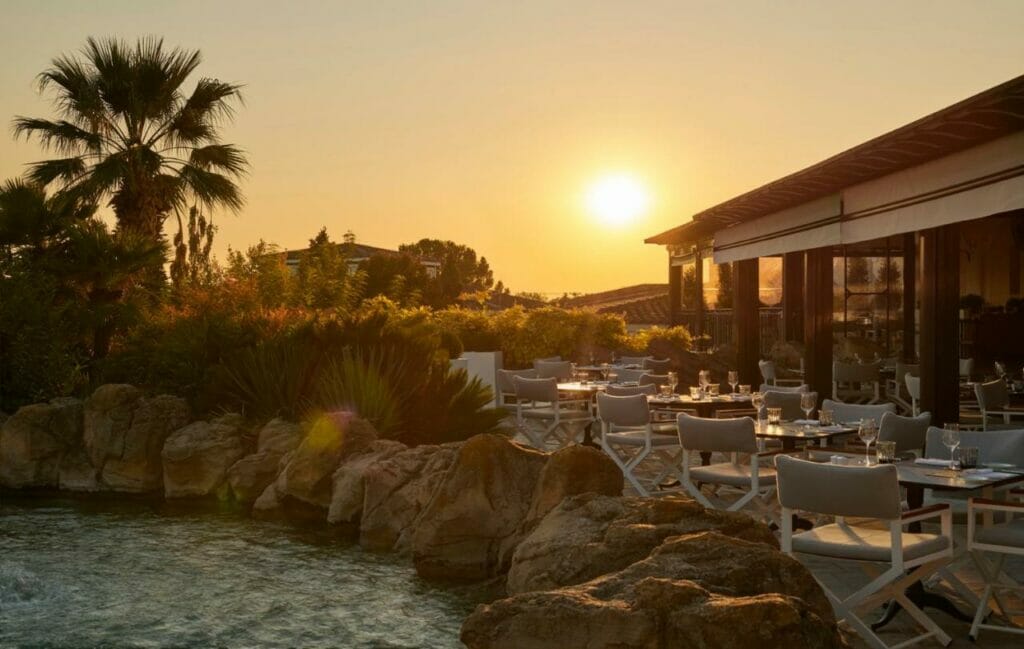 The Periscope Hotel in Athens, Greece describes itself as "a young, energetic and seductive urban haven." Located in the Kolonaki neighborhood, this hotel is geared toward business travelers, though it is also a great accommodation option for gay tourists in Athens, as it employs a gay-friendly attitude and is inviting toward LGBT people.
Property amenities include free internet access, concierge, on-site restaurant, fitness center, room service, pool, and spa.
Public transport is only a few minutes' walk away, and there are a plethora of gay-friendly establishments in the neighborhood, such as the Enodia, the Big Bar, and the Shamone Club, which has been called the best gay bar in Athens. To be sure, you'll not want for a good time while staying at the Periscope. Museums abound in Kolonaki if that is your type of thing. Of the many eateries calling the neighborhood home, Yoleni's Greek Gastronomy is not to be missed, and Izakaya offers fine Japanese cuisine if you like oriental.
And of course, everything Athens has to see and do will be right at your doorstep when you stay at the Periscope Hotel. With its gay-friendly policy and fine four-star amenities, the Periscope is a clear winner for gay visitors to Athens. Just make sure you take your gay swimwear for the Insta-photo from the spa pool we all know is coming…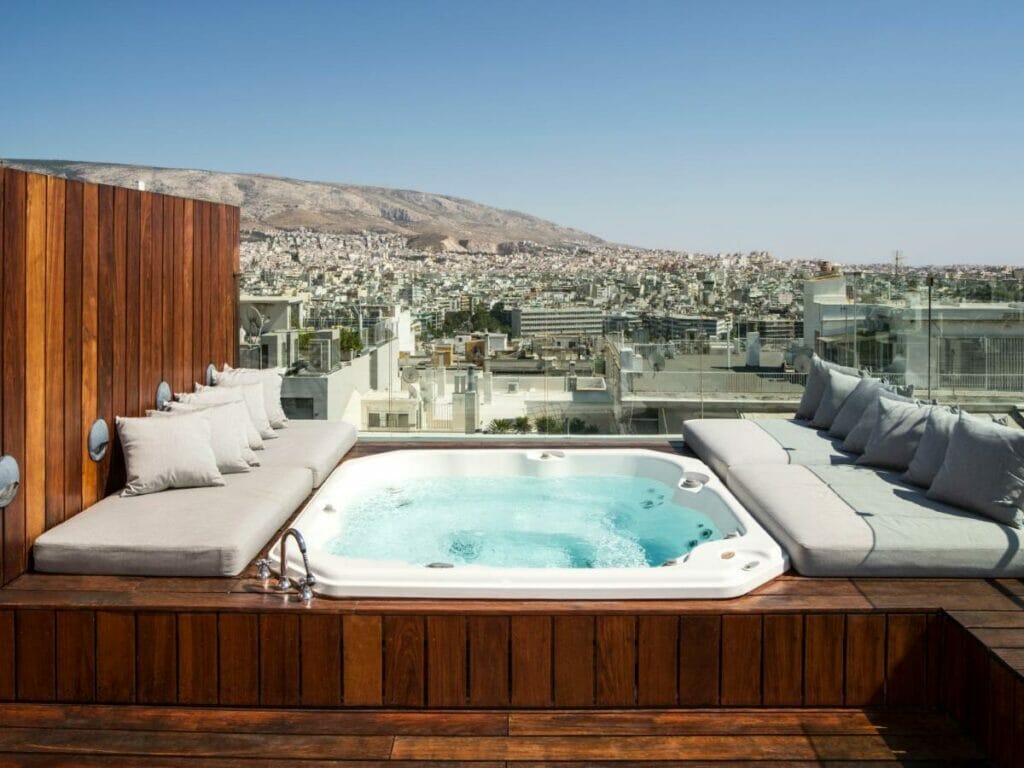 Mykonos Townhouse Hotel is an 18th-century townhouse straight out of your Greek / Mamma Mia! dream. This high-end boutique hotel is for adults only and is friendly toward LGBT folks from all parts of the globe and all walks of life. The five-star establishment is a 2-minute walk from Choras Mikonou Beach.
Rooms have free Wi-Fi with smart TVs, minibars, coffee makers, and upgraded rooms feature terraces. The property features a rooftop bar with stunning views of the Aegean, as well as a coffee shop, a nightclub, a sun terrace, and a gym, the only one in the town of Mykonos, apparently, and it offers yoga and fitness classes. There is also a spa offering various types of massage.
As we said, the island of Mykonos has known the world over for its party atmosphere; and it is particularly renowned as a gay-friendly destination – one of the most popular on the entire continent for LGBT tourists, in fact. Gay travelers looking for a good time will most definitely find it here. And Mykonos Townhouse Hotel is as stylish and comfortable a place to stay during all this partying as you are going to find – and a quieter alternative to Elysuim.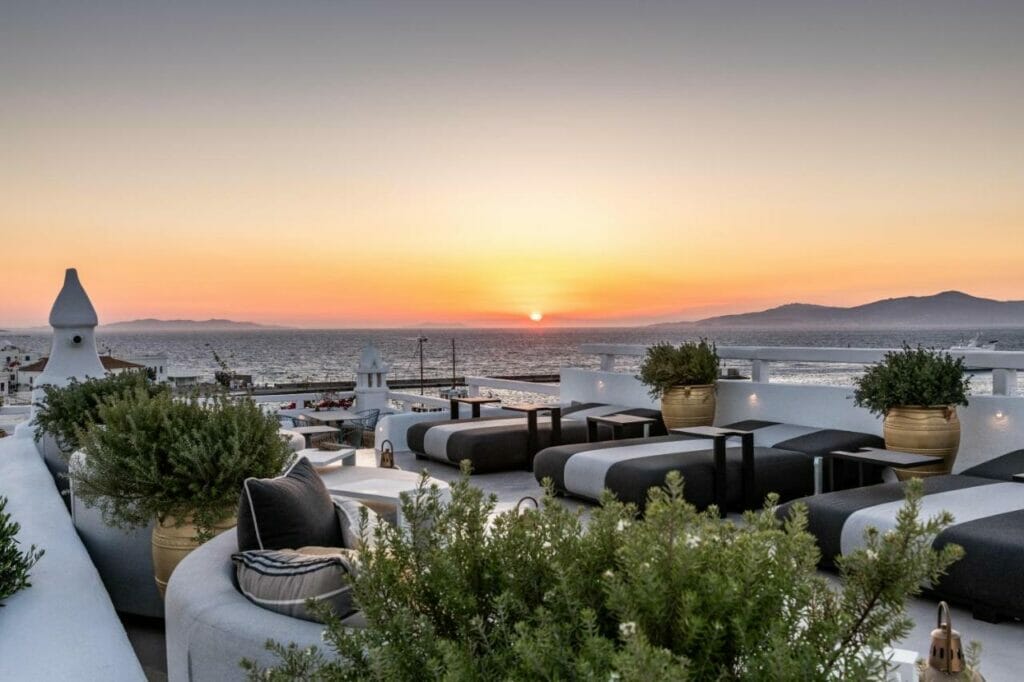 Let us now wrap up our exciting list of the best gay hotels in Greece, and to do so we go right back to the place where it started: on beautiful Crete, in the heart of the city of Chania, to be exact.
This jewel on the south of the Aegean Sea has the best nightlife on the entire island, hands down. In fact, the nightlife here has been described as both spectacular and intense. And Kydon, the City Heart Hotel is the best gay-friendly establishment to be found in Chania.
Kydon's 112 guest rooms have all the modern comforts and amenities which you would come to expect from a fine four-star hotel. Some have private balconies and most afford terrific views of the old town. The hotel's restaurant specializes in Cretan cuisine, and the Agora Bar-Restaurant has a great selection of wine on hand, along with coffee, cocktails, and so on. The hotel is just minutes from Paralia Koum Kapi beach by foot.
Bars, clubs, and eateries in Chania are myriad (and not to mention gay-friendly). Just a few of the most notable are Conor Pass Irish Bar, Flamingos Sky Bar with its rooftop terrace, the aptly named Utopia (only open in peak tourist season, though), and Avalon Rock Pub Chania. No doubt gay visitors to Chania will have a blast exploring the bar scene on this jewel of Crete. And the restaurants, just to name a few of the best: Tamam serving up traditional Cretan along with Maria's Taverna, To Stachi is the place you want to go for organic vegan and vegetarian, and The Well of the Turk has Turkish as well as Greek cuisine.
All this can be right out your front door with a stay at Kydon, the City Heart Hotel, where the LGBT crowd can enjoy a comfortable, safe and hospitable stay provided by management that knows how to treat them with the sensitivity that all are entitled to.