It's no surprise that Gay Santorini has become a hotspot for the affluent, with its glittering sunsets, iconic villages perched atop white-washed cliffs and breathtaking views. From luxe nightlife spots to hidden tavernas tucked away from the modern hustle and bustle – there's something here sure to make your romantic getaway truly magical.
Whether you fancy sightseeing through ancient sites or downing cocktails at beach clubs frequented by Instagram influencers – this Southern European paradise really does have it all!
For thrifty travelers looking to experience everything without breaking the bank – hikes in nature reserves await alongside secluded beaches perfect for enjoying some alone time together.
With only 13,500 full-time residents, Santorini might not sound like the ideal gay travel destination. However, this island is a shining example of philoxenia, or love of strangers, the Greek tradition of hospitality. It is the perfect destination for a heavenly Greek getaway, no matter your sexuality with open arms to all visitors looking to enjoy its beauty and luxurious lifestyle.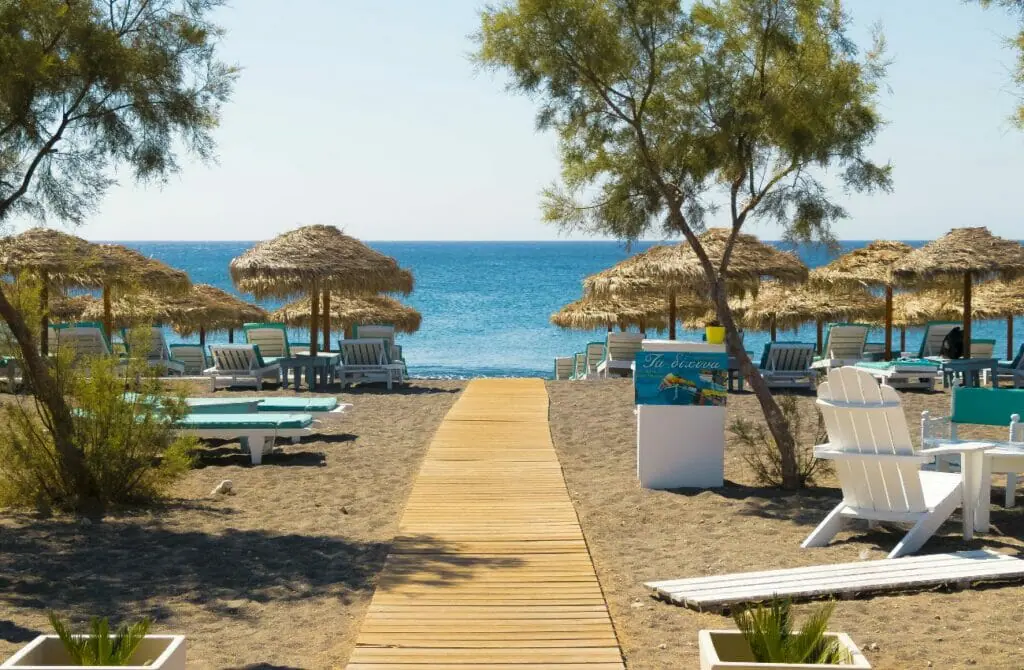 Greece has been making large strides over the last ten years to accept people of all backgrounds, including expansive rights for the LGBT+ community. As long as you and your traveling companions follow basic safety rules, you should have no trouble getting around.
Moreover, Santorini specifically has a welcoming and liberal atmosphere that is perfect for LGBTQ+ travelers. The island is home to a vibrant gay community, with gay-friendly bars and clubs, as well as fantastic restaurants that cater to all tastes. The island's nightlife is also lively and diverse, with different areas and vibes to suit any preference, from the chic and sophisticated bars in Fira to the more laid-back and beachy vibes in Kamari.
What sets Santorini apart from other popular gay destinations is its unique charm and authenticity. Unlike the bustling and overcrowded Mykonos, Santorini is more serene and peaceful, offering a more intimate and personal experience. Whether you're looking to relax and soak up the sun or explore the island's history and culture, Santorini has something to offer for everyone. With its welcoming atmosphere, stunning scenery, and diverse nightlife, Santorini makes the perfect gay holiday destination.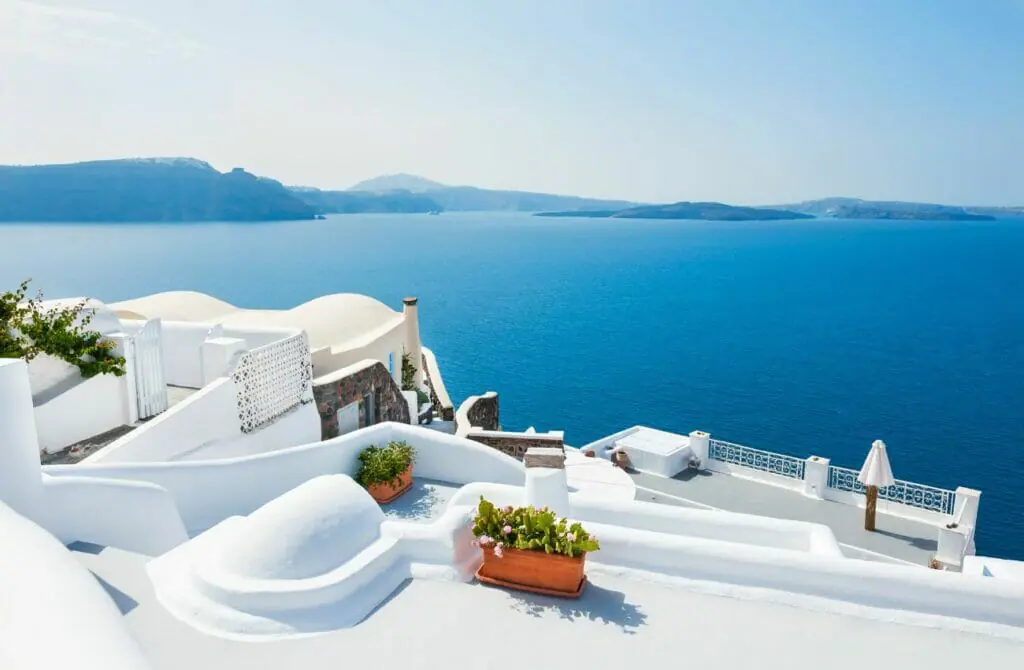 Attractions in Santorini
As a new visitor to Gay Santorini, you'll quickly realize why this is one of the most beautiful and romantic destinations in Greece. The island is well-known for its iconic blue-domed churches and whitewashed buildings, stunning sunsets, and crystal-clear waters.
While you're here, be sure to explore the towns of Oia and Fira, both perched on the caldera cliffs with breathtaking views. Take a walk along the narrow streets, shop for local products and souvenirs, and indulge in the local cuisine. The seafood is fresh and delicious, with classic Greek dishes such as moussaka and gyros also available. Don't miss the local wine, produced from the grapes grown on the island's volcanic soil.
For a unique and memorable experience, try a donkey ride from the port up to the town of Fira or take a catamaran cruise to explore the nearby islands. If you're feeling adventurous, head to the black sand beach of Perissa for a swim or a water sports session. And of course, you can't leave Santorini without watching the sunset from the town of Oia – it's one of the most famous sunsets in the world, and for good reason!
In Santorini, the LGBTQ+ scene is not as big as in some other cities, but the island has a laid-back and accepting vibe, making it a great destination for all travelers. You will certainly feel welcome here and will have no issue exploring as queer person.
So, whether you're on your honeymoon, traveling solo, or with friends, Santorini will captivate you with its stunning beauty and charm.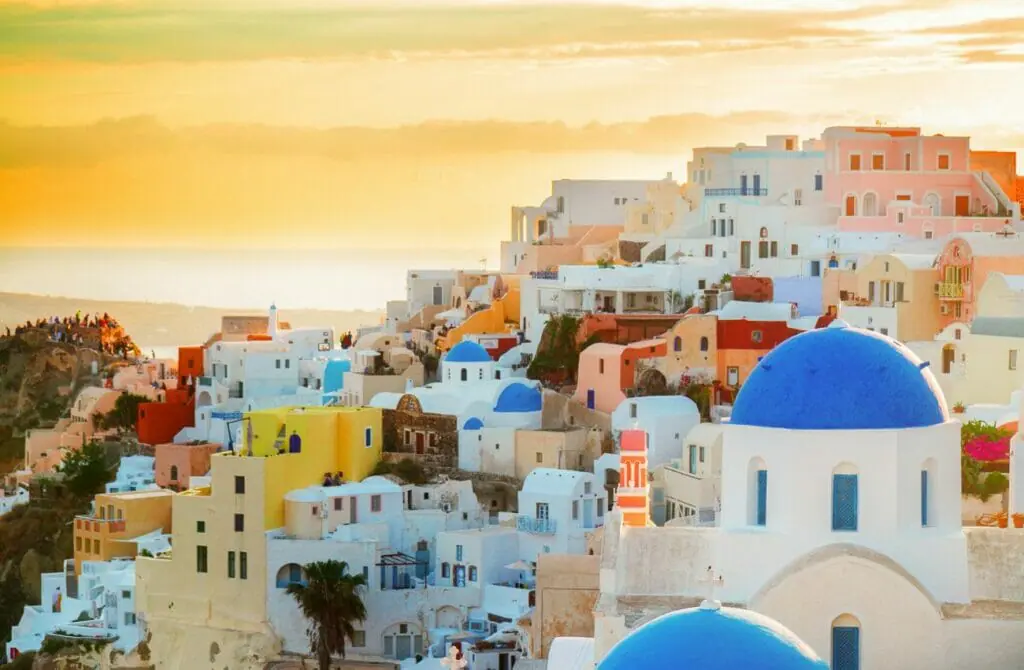 Arts and Culture in Santorini
Museum of Prehistoric Thira
Going hand in hand with Akrotiri, this museum houses artifact pulled from the Minoan dig site, countless other artifacts from dig sites elsewhere on the islands, and other Greek archaeological wonders from the mainland.
Megaron Gyzi
This local heritage museum is a great place to drop in if you want to see a highlight reel of Thira culture in Fira. They hold summer and winter festivals and often partner with the local Catholic church to organize historic religious events.
Santorini of the Past Traditional Village
This set of buildings is a model of historic Santorini construction and highlights the life of the typical Theran. This building was constructed in 1895 by a local family and has been faithfully preserved.
Akrotiri Mionan Site
This site features the Minoan village Akrotiri dating back to the 16th century BCE before it was destroyed by the Theran eruption that formed Santorini's unique caldera shape. You can buy tickets for tours and even walk among the village buildings.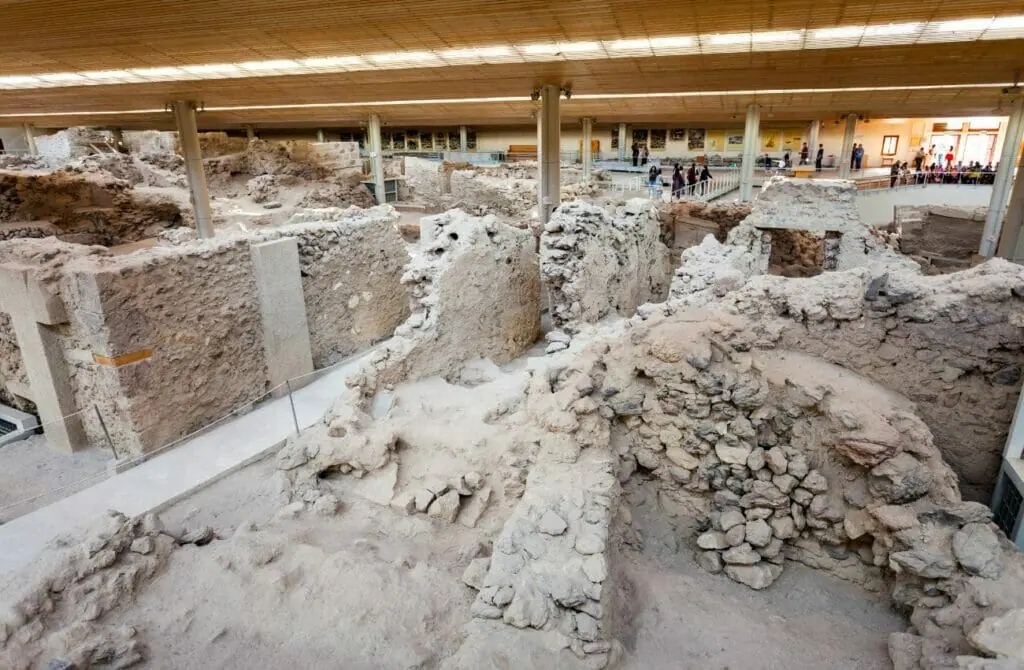 Restaurants and Food Experiences in Santorini
Koutsogiannopoulos Wine Museum
Located in a cave eight meters down, this museum highlights local Santorini traditions of winemaking and is the only one in Greece. It is run by a single family and they offer tastings of their contemporary and historic varietals.
Another beautiful, local winery, this massive estate is on the eastern side of the main island, next to the village of Kamari. This one has vines that are over 70 years old and produce a wide variety of local wines using traditional techniques. This is the largest commercial winery on the island.
Another historic winery, this one opened in 1947 and is the oldest industrial winery in Santorini. Their process has been developed using gravity and you can take tours and taste their varietals in their underground facility.
Located in the charming village of Megalochori, this restaurant is set in a beautiful courtyard surrounded by lush greenery and stunning views of the surrounding landscape. The ambiance is relaxed, intimate, and romantic, making it perfect for a special occasion or a romantic dinner.
The menu is a perfect blend of traditional Greek cuisine and modern culinary techniques, using only the freshest and highest quality ingredients. The chef has a strong commitment to using local produce and creating unique and innovative dishes that tantalize the taste buds.
The staff at Five Senses Restaurant are attentive, knowledgeable, and passionate about the food and wine they serve. They are happy to help you choose the perfect wine to complement your meal and are always willing to answer any questions you may have.
Overall, the Five Senses Restaurant is a must-visit when in Santorini for anyone looking for an exceptional dining experience. The stunning views, delicious food, and exceptional service make it a memorable experience that you won't forget.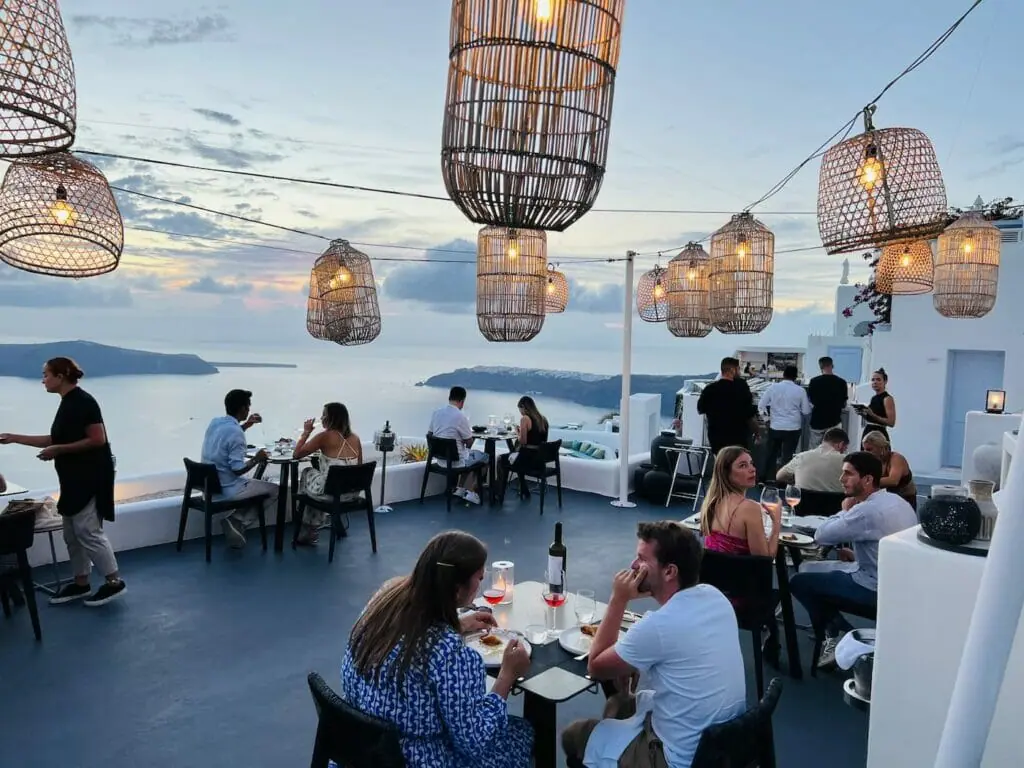 Santorini Tomatoes
A local delicacy, these tomatoes were introduced to the islands in 1818 by a monk. They have rapidly grown into a staple and cannot be found anywhere else. This unique variety of cherry tomatoes features many local recipes.
What trip to Greece is complete without an olive oil tasting? Many of the food tours in Santorini include an olive oil tasting at several different local businesses. These different varieties have unique flavors based on where they were grown and might even be infused with other things, like Greek rosemary.
Opened in 1922, this restaurant has been dominating the local gastronomic scene with lovely locally sourced Greek cuisine. There have been three generations of family cooking running this place and it is an amazing glimpse into Santorini's history.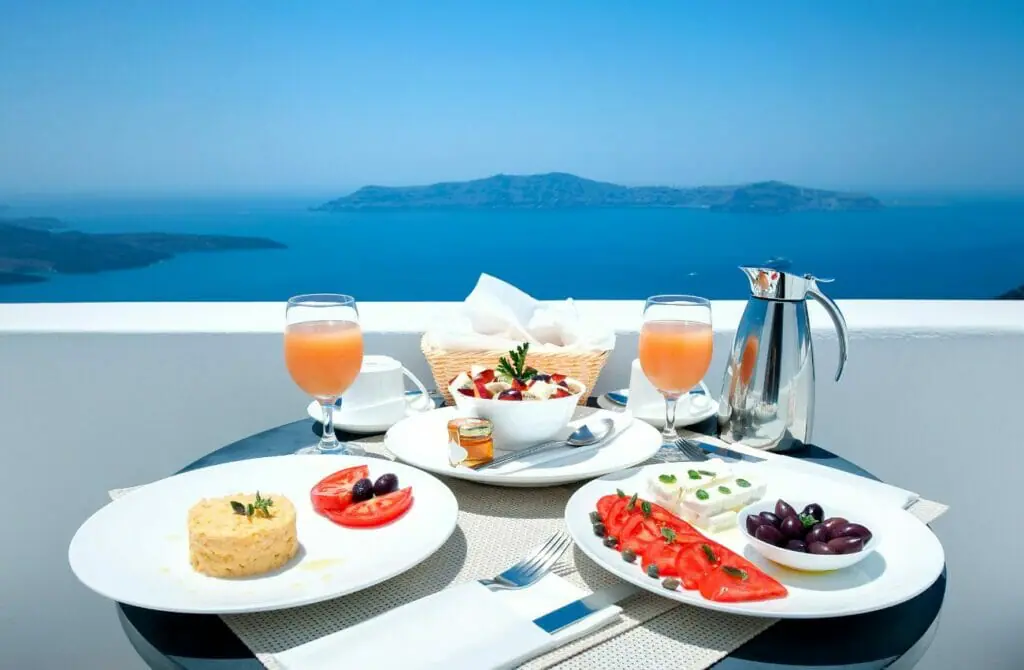 Beaches, Springs, and the Lagoon in Santorini
Vlychada Beach
Also known as 'Moon Beach' because of its shape, this dark pebble beach is popular with all members of the community but has a section more popular with gay visitors. This secluded back end is a great spot to relax (especially if you want to explore a nude beach) and there is a tavern that rents umbrellas and sun beds.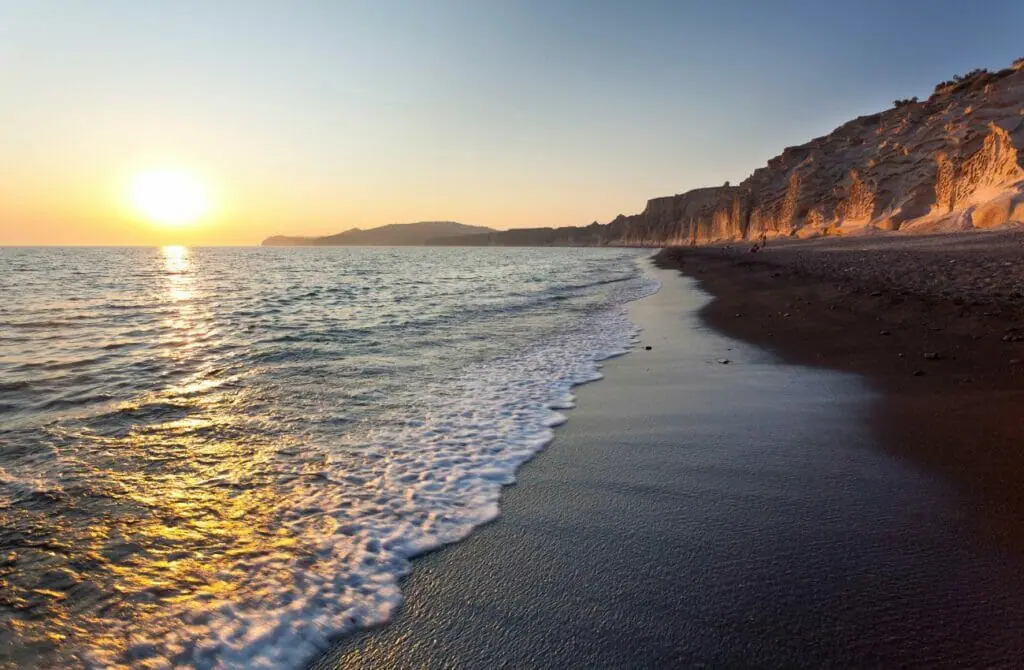 Kolombos Beach
Also known as Colombo, this beach is well-known as a gay hotspot. The closest large village is Oia, which is 4 km. away from the beach. It is also known for its small, dark pebbles, a cave nearby, and its swimsuit-optional dress code. It is more remote than other beaches, so bring your own gear for a picnic if you want to spend a whole day here.
Like the name says the Red Beach is a red sand beach created by the volcanic activity on Thira. This natural wonder is open to the public and is a popular snorkeling spot because of its massive biodiversity. You do need to hike down to the area, so bring plenty of water and wear sturdy shoes.
Perissa Black Sand Beach – Similar to Red Beach, Perissa Beach is popular for its unique sand colors and snorkeling opportunities. Another great option is Kamari, which also has black sand, and is less popular with the tourist crowd.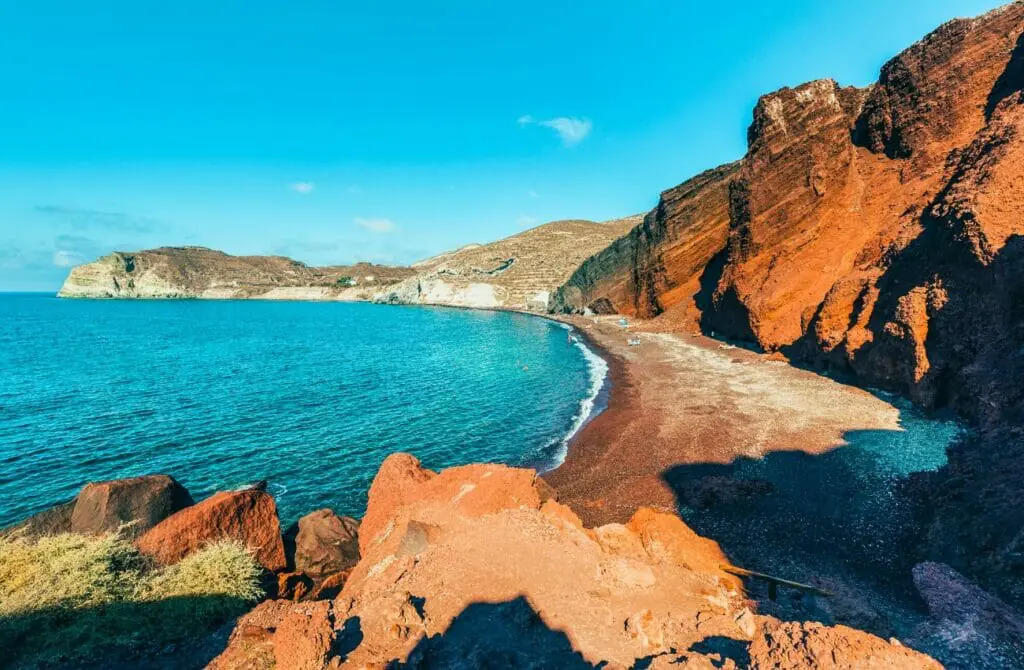 There are countless options for boat tours around the caldera lagoon. These feature everything from yachts to BBQ lunches and even romantic experiences. They feel like something right out of Mama Mia!
These hot springs are located on the uninhabited Nea Kameni island and near the Nea Kameni Volcanic Park. This is a protected scientific site, so it is important to find a certified and permitted tour group to take you to the springs. These guides will also give you safety tips about swimming in the springs.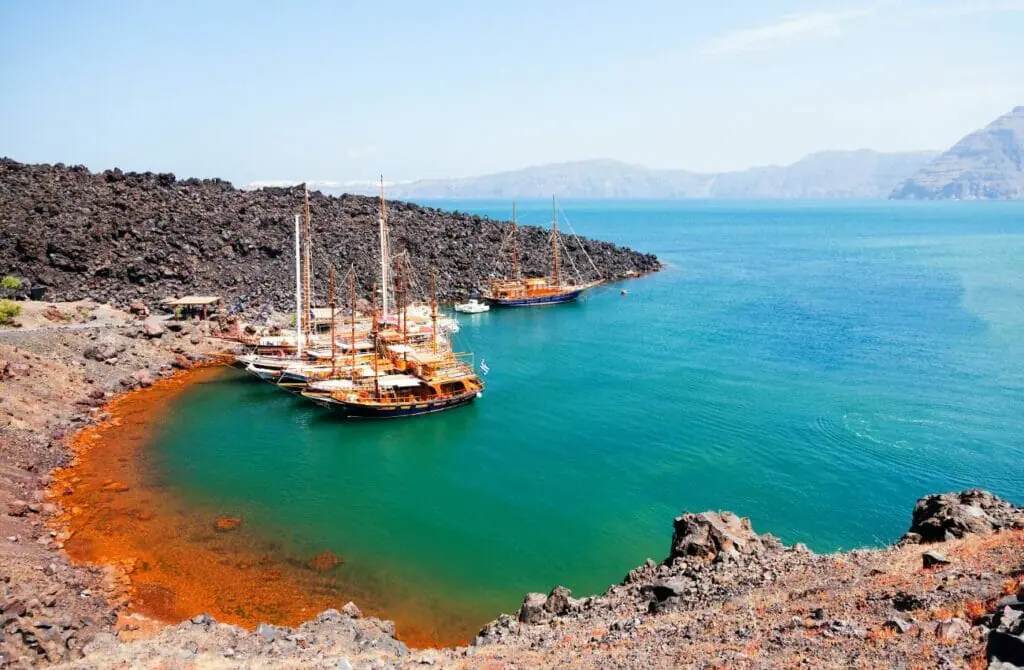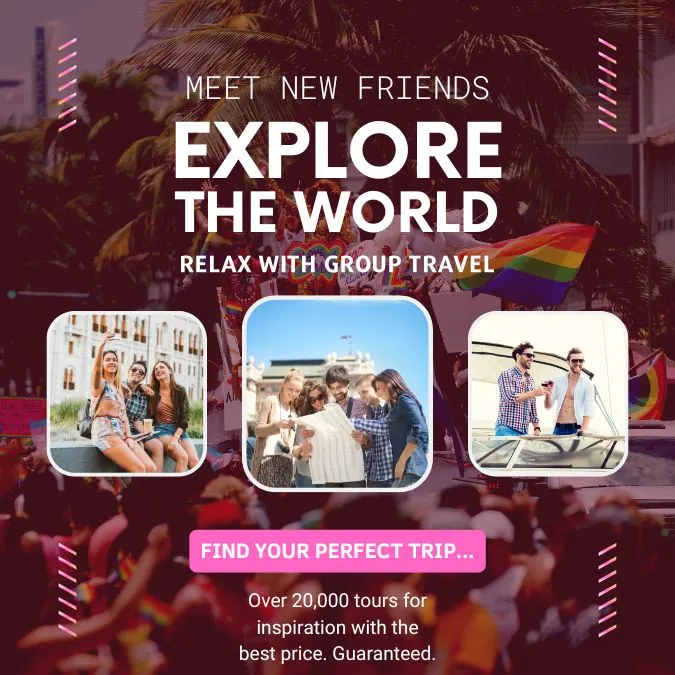 Gay and Gay-Friendly Hotels in Santorini
Santorini is known for its lovely beaches, lavish hotels, and warm hospitality and when it comes to being gay-friendly, Santorini knows how to shine bright like a diamond!
These welcoming accommodations create a safe and inclusive environment for LGBTQ+ guests by having non-discrimination policies and providing resources for queer travelers. Plus, some may even offer amenities specifically catering to the LGBTQ+ community, such as rainbow flags or local LGBTQ+ events and resources.
While Santorini doesn't have specifically gay hotels or resorts like Mykonos, there are plenty of pro-actively gay-friendly hotels for you to choose from. And if you want to be in the heart of the action, head to the island's capital, Fira, which is known for being the most popular gay area.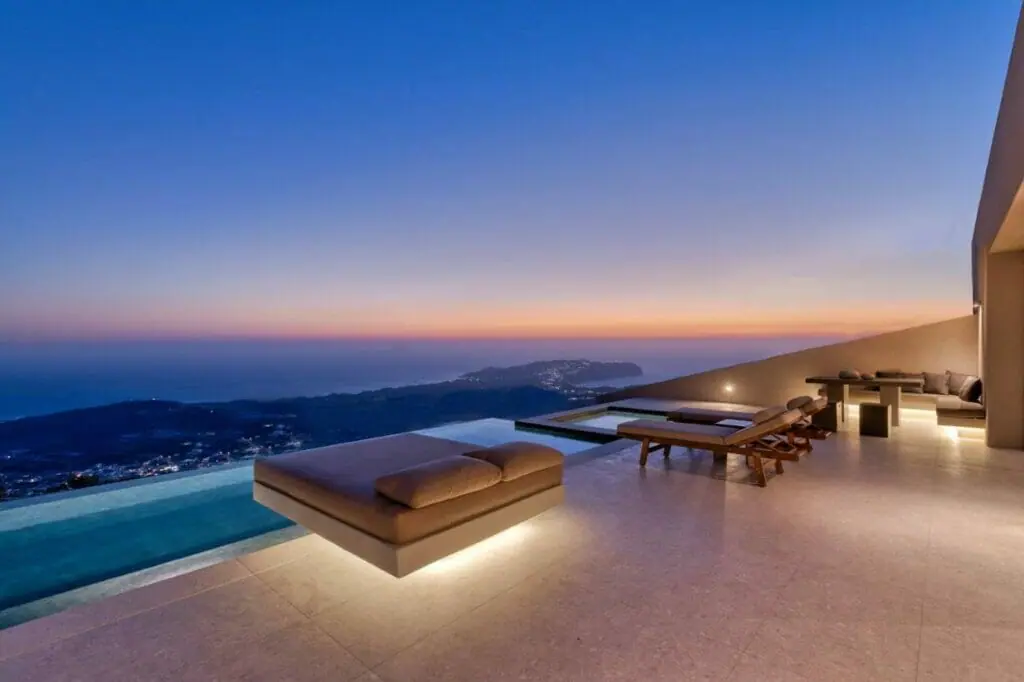 That being said, why would you go for a vacation rental when you can find options for every taste on our list? Not to mention that many of these options offer special honeymoon or wedding deals with all kinds of luxurious upgrades. This list is far from complete and it doesn't include the massive amount of rental properties and full houses you can rent for your visit. Get ready to soak up the sun and the stunning views, and don't forget to book your stay now before these fabulous hotels sell out!
Needless to say, there are also hundreds more hotel and hostel options in Santorini if none of these suit your desired budget, facilities or area – but these are the best hotels according to other gay travelers and us.
Whatever your needs are, Santorini has you covered.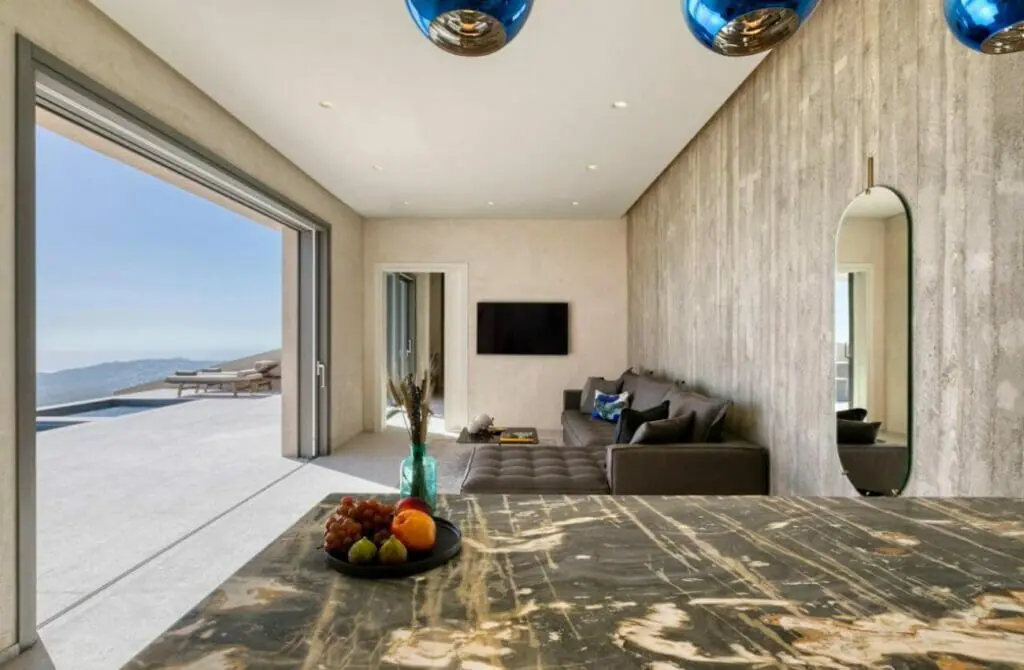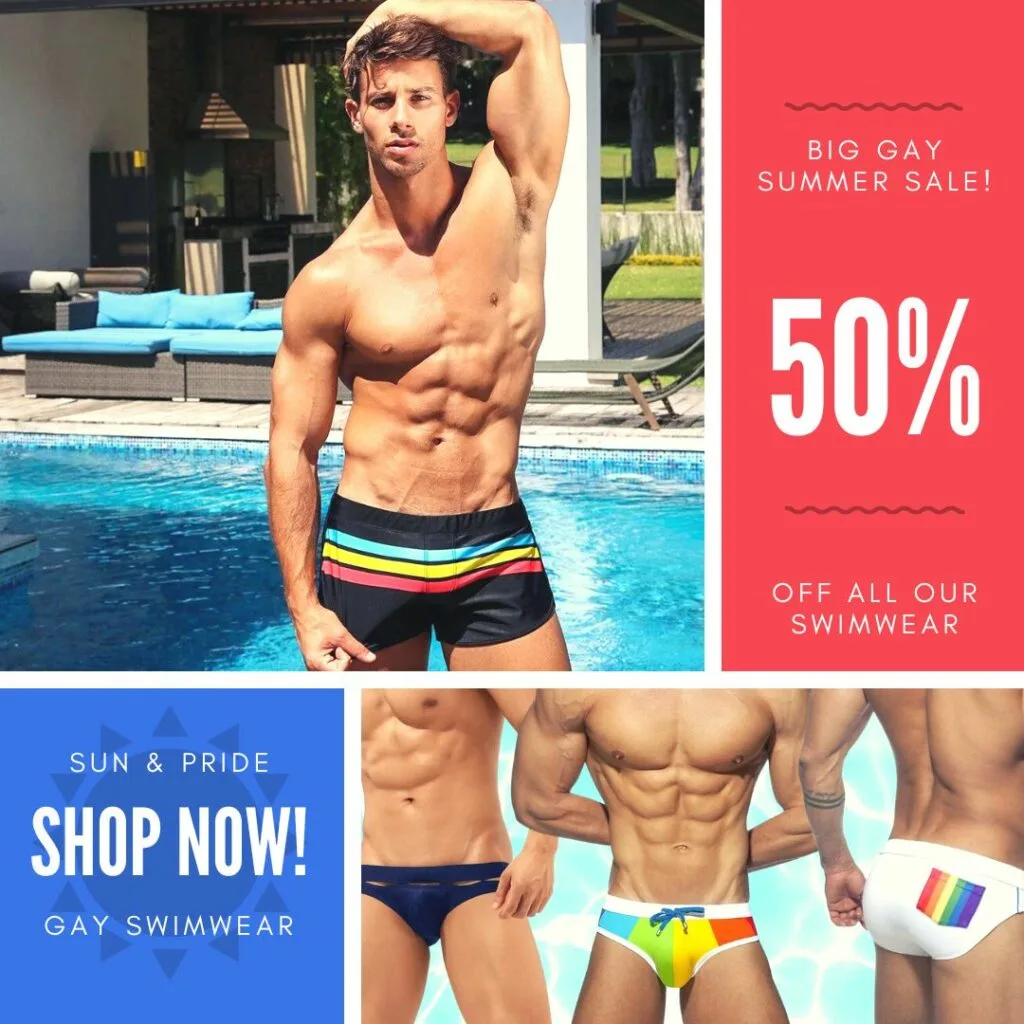 This luxury resort fits at the top of this list for two major reasons. One, they provide top-of-the-line luxury accommodations. Two, they helped plan the first-ever Pride event for Santorini in 2022. Not to mention they have been featured on the Bachelorette.
This hotel is a completely new construction. There are several good things about this. First, that means the hotel is brand new and will not look run down. Next, it is built with extreme attention to detail and is custom for the hotel. Finally, they have installed extensive luxe touches throughout the property.
These include rooms like the glamping Sky Dome, massive villa-style hotel rooms, and designs intended to capture as much light as possible. They also include satellite TVs, designer toiletries, a minibar, private pools, private hot tubs, and a Nespresso machine in each room.
Shockingly, all of this comes at a surprisingly low price tag compared to other five-star hotels. One of the smallest villas starts at $380 a night, which is a great deal for everything they offer. Each villa is separate from the others, giving a completely private stay.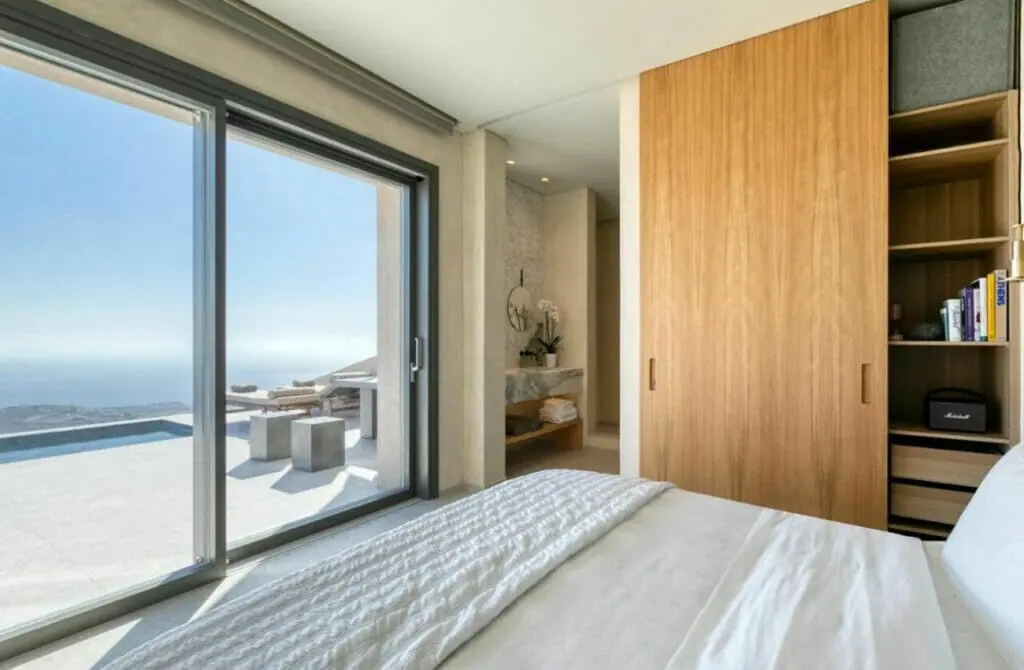 Starting your stay with a bottle of sparkling wine is a life-changing experience and sets the tone for the hospitality you can expect while staying at Aspaki. This hotel in the heart of Oia is perfect for viewing sunsets and the volcano.
Featuring a wide range of suites, this hotel is best known for its uniquely shaped suite pools. These cut into the building and also can make up parts of the terraces. This is great if you don't want to experience the full sun or just want a unique experience with an indoor-outdoor pool. All rooms have access to at least a hot tub next to their room.
Each room is air-conditioned and features an open-plan bedroom with an attached living room. Bathrobes and towels are provided for each guest and all rooms have soundproofed windows for even more privacy.
Edem Luxury Hotel is located near Oia, in the village of Finika. If you want the small-town village experience without compromising the luxe touches Santorini is known for, then this is the hotel for you. You will be greeted with a check-in drink and then escorted to your room with the complimentary bellboy service.
These rooms all come with rain showers, access to private pools and hot tubs, satellite TVs, private terraces, and a complete set of luxury toiletries. These rooms are all renovated and feature the typical minimalistic style of Santorini cave rooms.
There is a bar, terrace, complimentary breakfast, a lovely pool, and hot tubs for some suites. This is a perfect intimate spot that has a lot fewer rooms than other hotels in Santorini, perfect for honeymooners.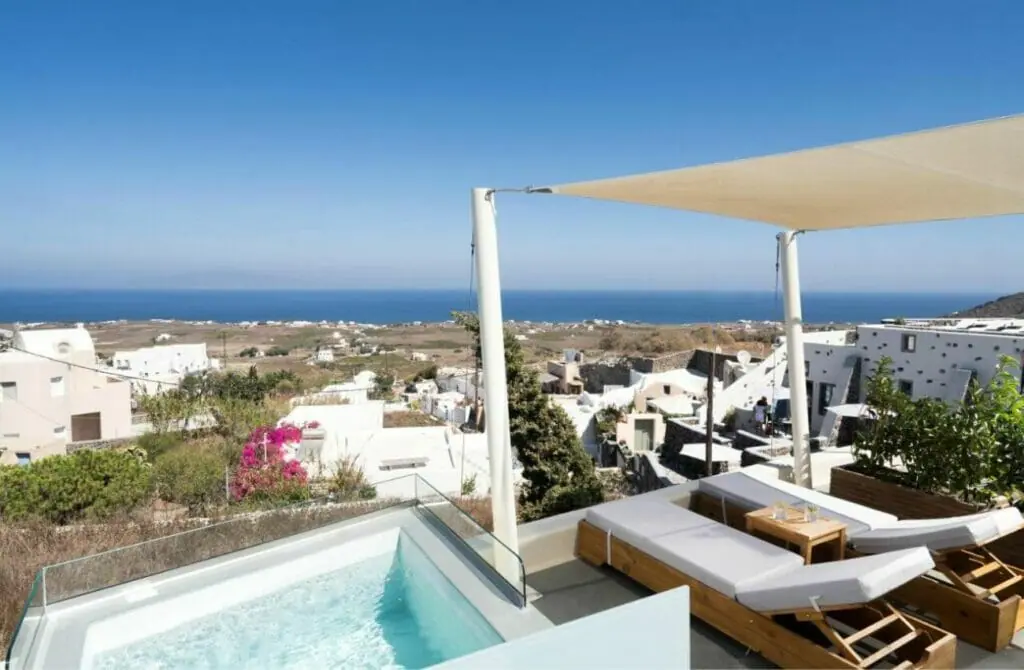 Ony featuring modern suites, this hotel wants to set the new standard for Santorinian luxury. An 18+ hotel that only allows two guests per room, it is perfect for the couple who just wants to get away in style. Their open floor plan only adds to the ambiance of intimacy.
All of their suites feature private hot tubs, with their Grand Villa Suite having a private infinity pool and hot tub combo.
Each room has been thoughtfully decorated in a sleek, minimalist style, but without skimping on the luxe accommodations, such as a rain shower and bathtub in each suite, orthopedic mattresses, Molton Brown bath products, couches, and B&O sound systems. Each room also features views of the caldera and boasts stunning sunset scenes.
This is, however, the most expensive hotel on this list. The Junior Suite is the least expensive at over $800 for one night and requires a two-night stay, bringing the total to over $1700 after taxes. This hotel offers a once-in-a-lifetime experience, but that does come with quite a price tag.
This hotel is comprised of all suites and features countless luxe touches for the discerning traveler. A sleek black-and-white color palette sets the tone for a fun, moody experience that is perfect for couples. Your experience begins with a free airport transfer to the hotel, taking all of the uncertainty out of your travel arrangements.
There is free breakfast and espresso, you get a welcome drink, a free bottle of water per person per day, concierge services, free parking, and even a free airport transfer for direct bookers. Many rooms come with balconies or are on the ground floor with immediate pool access.
Another option is that many rooms feature rooftop patios or hot tubs for the ultimate private experience. While Kalisti is close to many beaches, it is also nice to cool off in the comfort of your own room and not have to worry about getting home after a midnight swim. You can also order room service for the ultimate in luxury.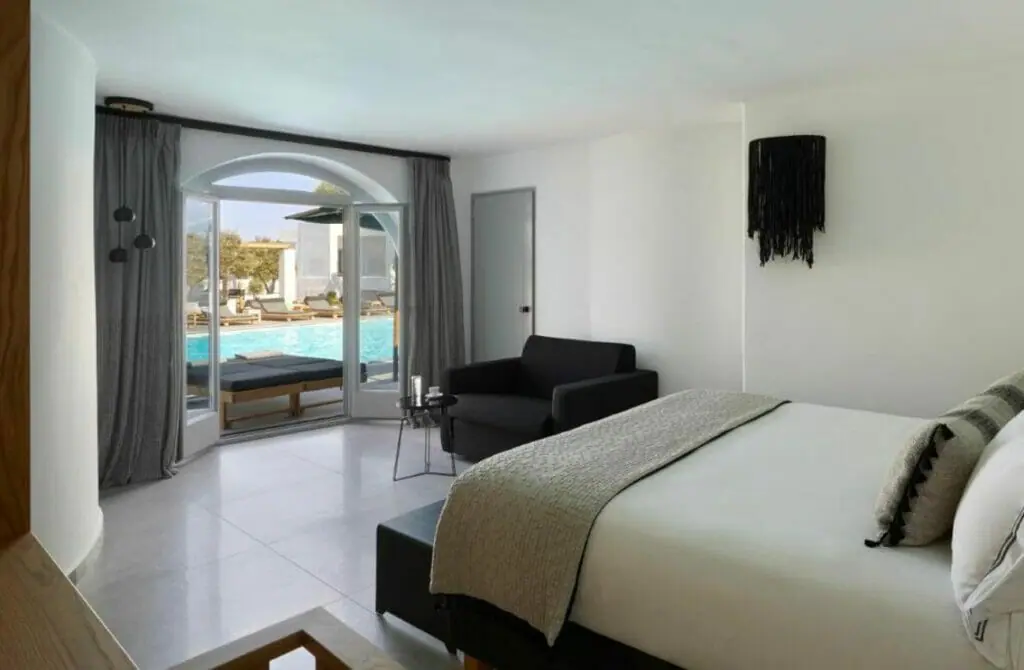 Located in Akrotiri, the Kalimera has incredible views of the caldera and Akrotiri archaeological sites. It is mere minutes from Red Sand Beach and Akrotiri, making this perfect if you want to explore Santorini above all other attractions. They specifically cater to those who want to explore the archeological history of Thira.
All rooms are clean and vibrant with either a distinct white and blue color palette or a rustic farmhouse feel. While they do not look the most modern, they are quite charming. There is a pool on-site, each room has satellite television, and either a balcony or veranda. They also have a Greek restaurant that has both BBQ and Greek cuisine.
As a bonus, you can get a discount when booking if you like their Facebook page! They also offer discounts during the off-season if you want to take advantage of the fall and winter travel periods.
This hostel is stereotypical in a couple of ways; the color palette (white with bursts of color), the murals, and the necessities. However, it does have private bathrooms for all rooms, air conditioning, and fridges. There is also a swimming pool that summer guests are welcome to take advantage of during the summer.
The rooms are small and you will be in close quarters with other backpackers, but it has an incredible location, which is the most raved-about feature in reviews. There are different sets of rules for the summer and winter months, but they are very reasonable and make sense.
While this place isn't anything fancy, it is a good place to stay at night and you will be in one of the best locations in the city. Fira Backpacker's Place is located one block from the Fira main square and only a few minutes from the shore.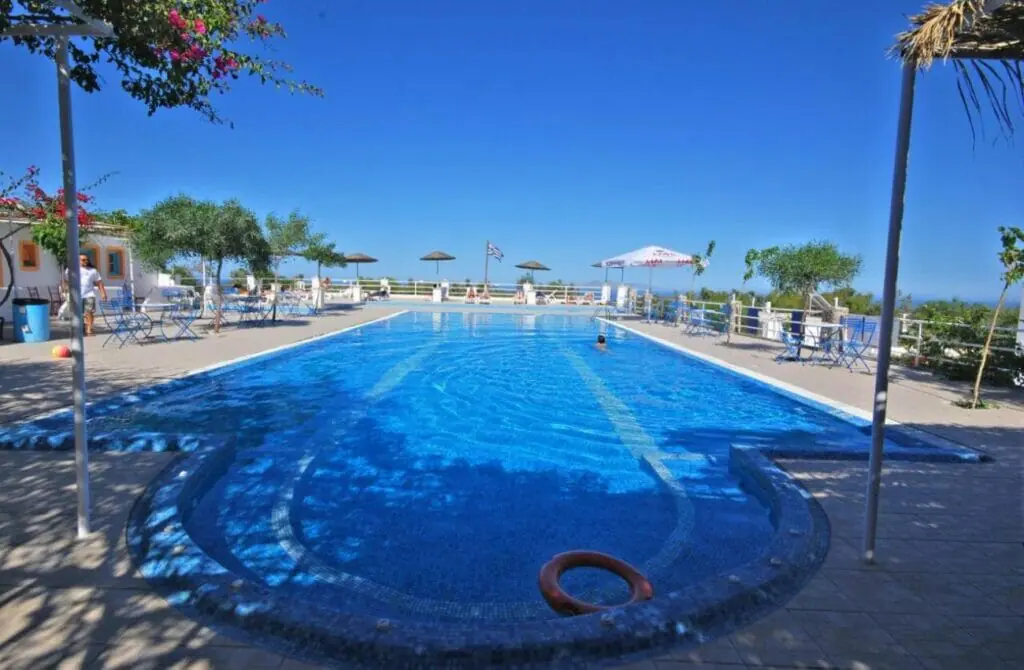 Gay Nightlife in Santorini
Darling, if you're planning a trip to Greece, don't miss out on the fabulous nightlife in Santorini – even though there are no gay-specific clubs. From picturesque sunset hour to the buzzing nightclubs and bars, this island offers everything you need for a thrilling and unforgettable holiday.
The main nightlife areas in Santorini are Fira and Oia, where you'll find a variety of bars and clubs that are welcoming to the LGBTQ+ crowd. The vibe in Fira is a bit more laid back and romantic, while Oia is known for its chic and upscale atmosphere.
One of the best times to visit Santorini is during sunset hour. Picture this: the sky turns into shades of pink, orange and red while you sip on a delicious cocktail at a cliffside bar. It's the perfect opportunity to mingle with locals and other travelers alike.
If you're looking for a more vibrant party scene, head over to Koo Club in Fira. This club has a lively atmosphere and features a mix of electronic and pop music, making it a great place to dance the night away. Another popular spot is Enigma in Oia, a sleek bar with an extensive cocktail menu and a fabulous rooftop terrace.
Compared to the wild gay scene in Mykonos, Santorini is a bit more low-key, but still offers plenty of options for a fun night out. Most of the clubs and bars in Santorini close around 3am, so make sure to pace yourself and enjoy every moment of your stay. Don't be afraid to let loose, darling – the LGBTQ+ community in Santorini is warm, welcoming and ready to party!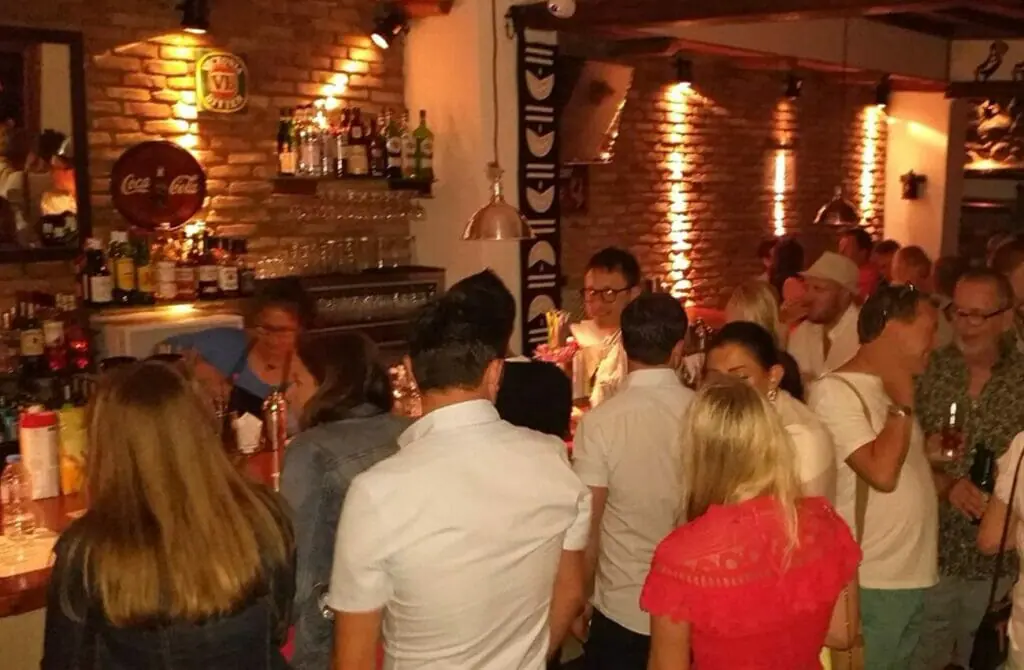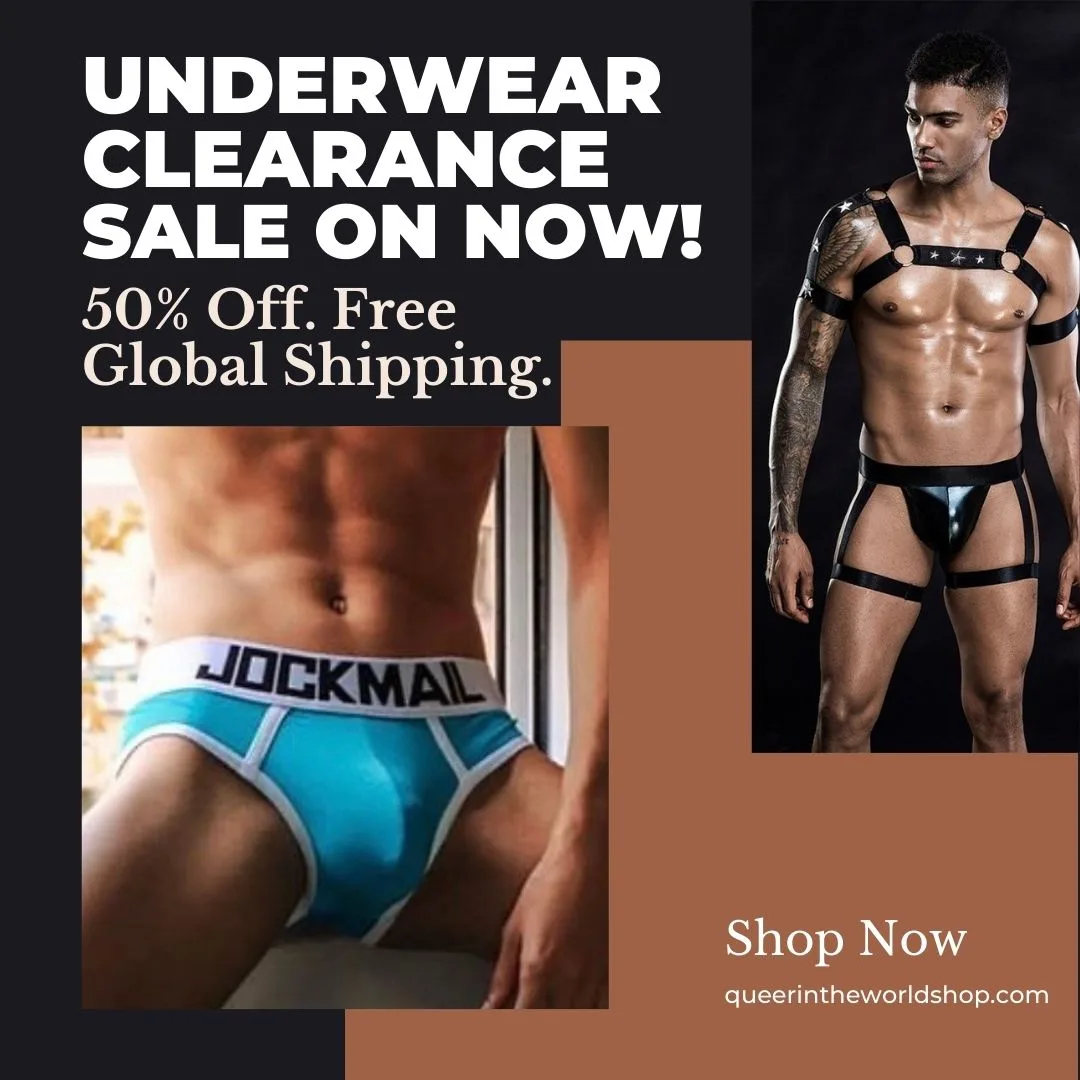 This bar in the main city of Fira has a reputation for being one of the most accepting in Santorini. It has a stunning view of the caldera lagoon that becomes a stunning view of the Fira coastline at night, and beautiful murals decorate the interior.
Reviews do mention that this bar tends to get very hot during the summer, especially on the terrace, but that the interior is pleasantly cool. Drinks are fairly priced and this bar is clearly catering to all since most of the reviews are from Santorini residents. Locals have flocked to this bar for a reason.
Another Fira bar, Crystal Cocktail Bar is yet another gay-friendly choice for a quiet night out. They offer outdoor seating on a terrace, are open all day long, and have stunning sunset views. Not only do you get a panoramic look at the lagoon, but you also get to see the way Fira sweeps out along the coastline.
This is done by the two floors which make this a perfect event space too. They host live music and it can really get bumping. However, this is no bar. It is a classy cocktail lounge and perfect for couples. This does make it a little more pricey, but it is worth every penny.
Locals rave about the beautiful interior, which is lit up at night with indigo colors. Most of the patrons of this bar are locals, so you can expect a quieter spot to watch the sunset and snap some stunning photos.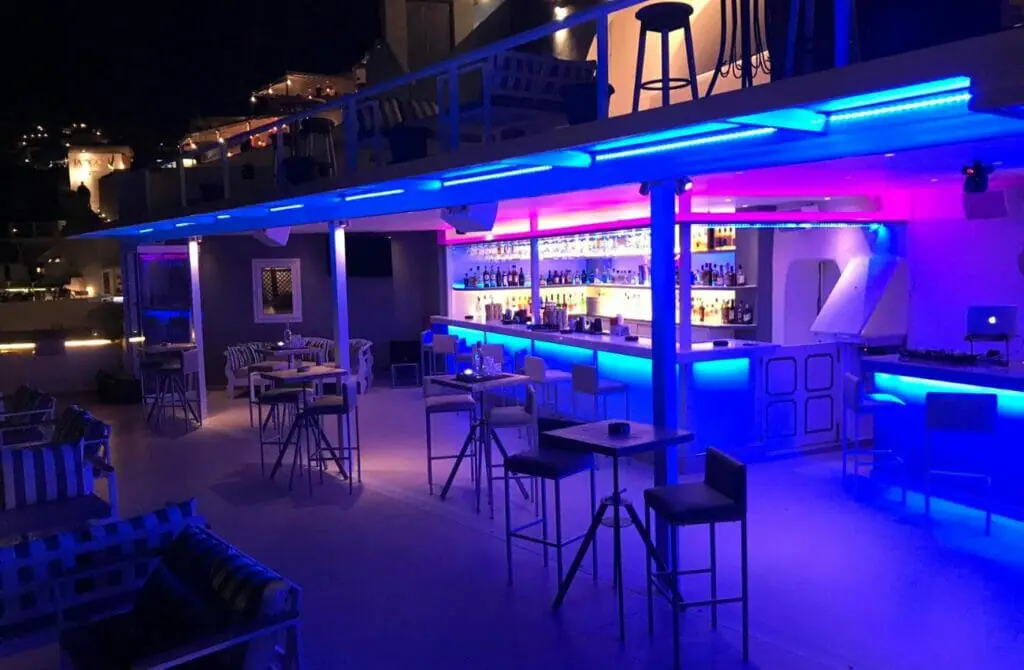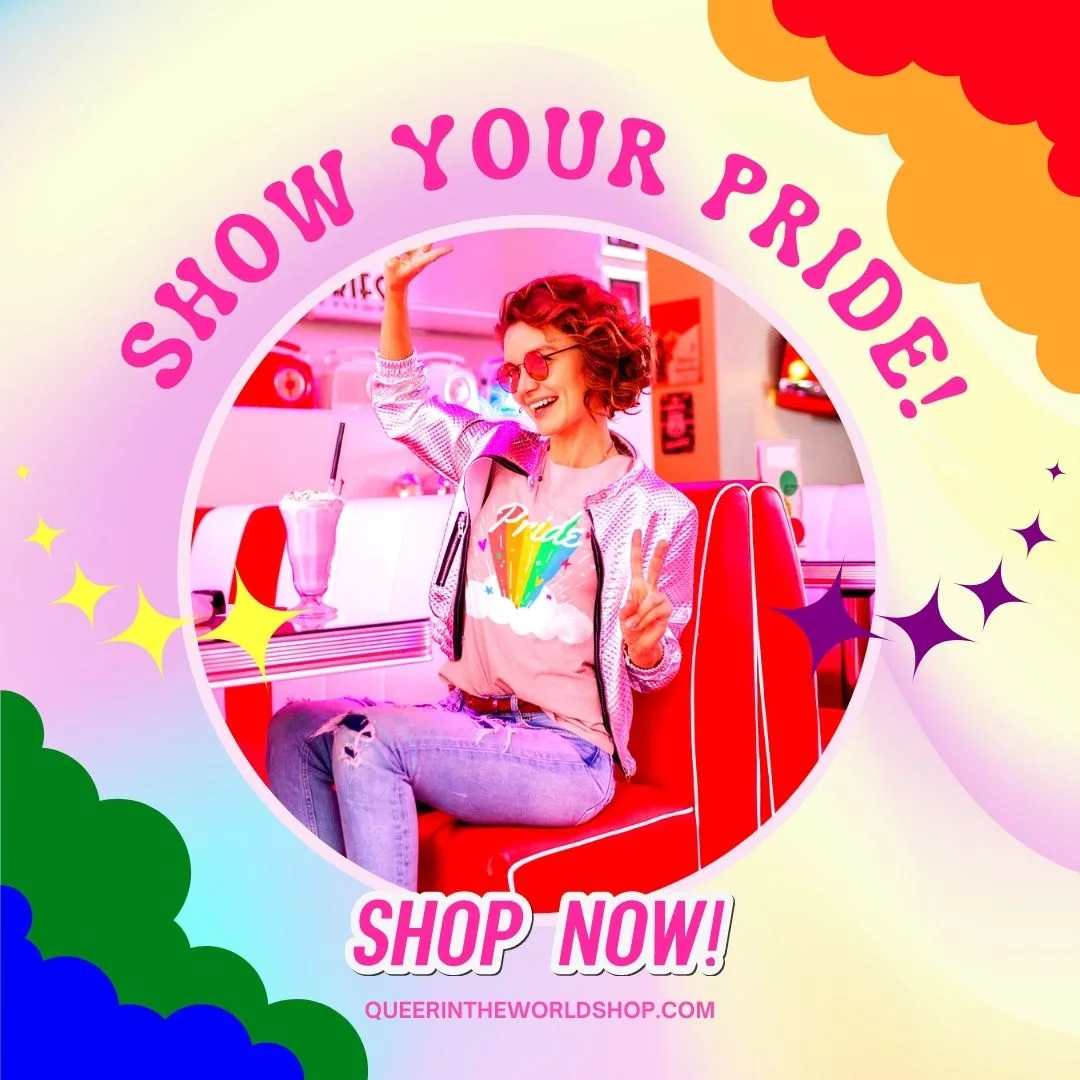 The final Fira bar we'll talk about here, Murphy's (opened in 1999), is one of the oldest bars on the island. It is a thriving dive bar with two levels that features live music, and DJs, and is specifically geared towards tourists and travelers. The top level if Murphy's proper, and the one below is Murphy's Saloon.
During the day, they offer food and simple pub services but turn into a nightclub once the sun sets. They have an extensive menu of cocktails and drinks available for purchase. The food menu includes vegan options and Greek eats.
They are only open for the summer season, with a typical opening day in late March, so if you want to take advantage of the off-season specials that many hotels have, you can't go. They also close before Halloween.
This bar caters to tourists of all kinds, so if you want a more authentic, local experience, you may want to look elsewhere. It tends to get rowdy and packed, so if you do want to go, arrive early.
Eros Beach on the southern coastline is a wonderful place to spend the day, and the Theros Wave Bar has a reputation for being friendly to gay people. Despite being outside of a main village, it is a great spot to drop in and enjoy a good drink.
Reviews cite the amazing beachside location and the friendly service. According to the reports, they are great people to ask for tips and tricks to get around, which they seem happy to oblige. It is also a popular stop on food tours.
This bar is right next to one of the black-sand beaches, which makes it perfect for a day trip. The restaurant itself is on the far south end of the island, which gets you away from all of the main tourist hotspots so you can simply enjoy yourself.
Like Murphy's, they are also open in the summer, roughly May through October. During this time, they serve up modern Greek eats and fairly priced, unique cocktails. They also offer a good list of mocktails if you are the designated driver or otherwise do not drink.
Additionally, this bar offers catering and hosting for weddings and other special events. Make sure you book well in advance if you want to have a larger group dine-in. You can also reserve beach dining.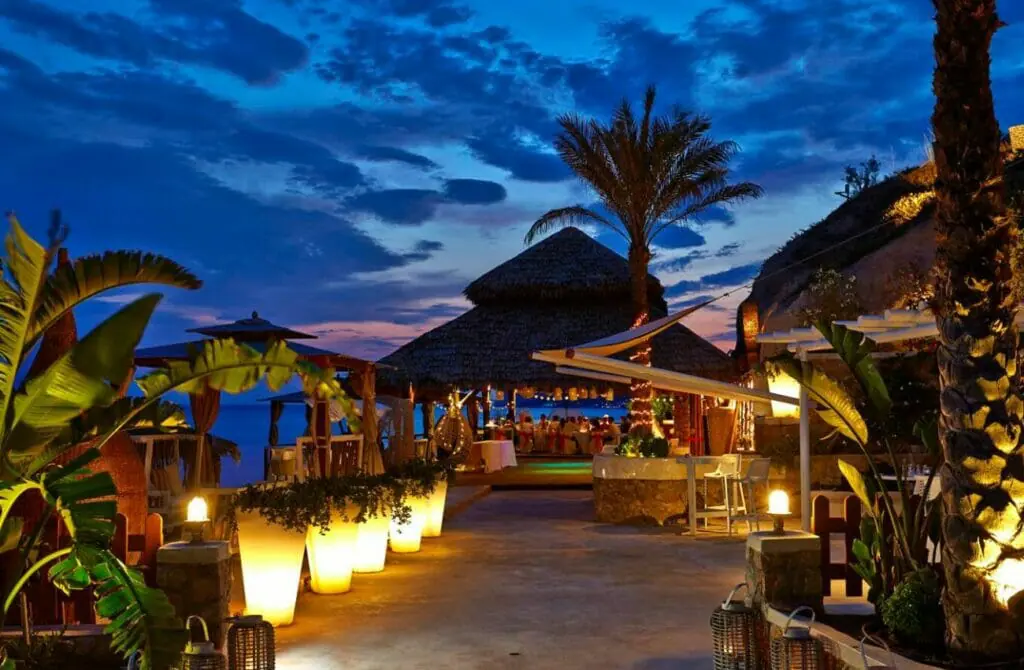 Enigma is a must-visit gay-friendly nightclub in Santorini, especially if you love to dance and party all night long. Located in Fira, the club offers a lively atmosphere with a spacious dance floor and a great sound system. You can expect amazing drag performances, fire shows, and other dazzling entertainment throughout the night.
Don't miss their signature cocktails, as well as premium spirits and wines. The club usually starts to get busy around midnight and keeps going until the early hours of the morning. Get ready to let loose and have a blast at Enigma!
For a more laid-back vibe, head to Koo Club in Oia. This cozy gay bar has a welcoming atmosphere and a stunning outdoor terrace that offers breathtaking views of the Caldera. You can enjoy a variety of delicious cocktails and wines, as well as tasty snacks and light bites.
The bar is popular among both locals and tourists and offers a great opportunity to meet new people and make new friends. Koo Club is perfect for a chill night out, and it's open until late, so you can enjoy the sunset and the night sky while sipping on your drink. Don't miss this hidden gem in Santorini!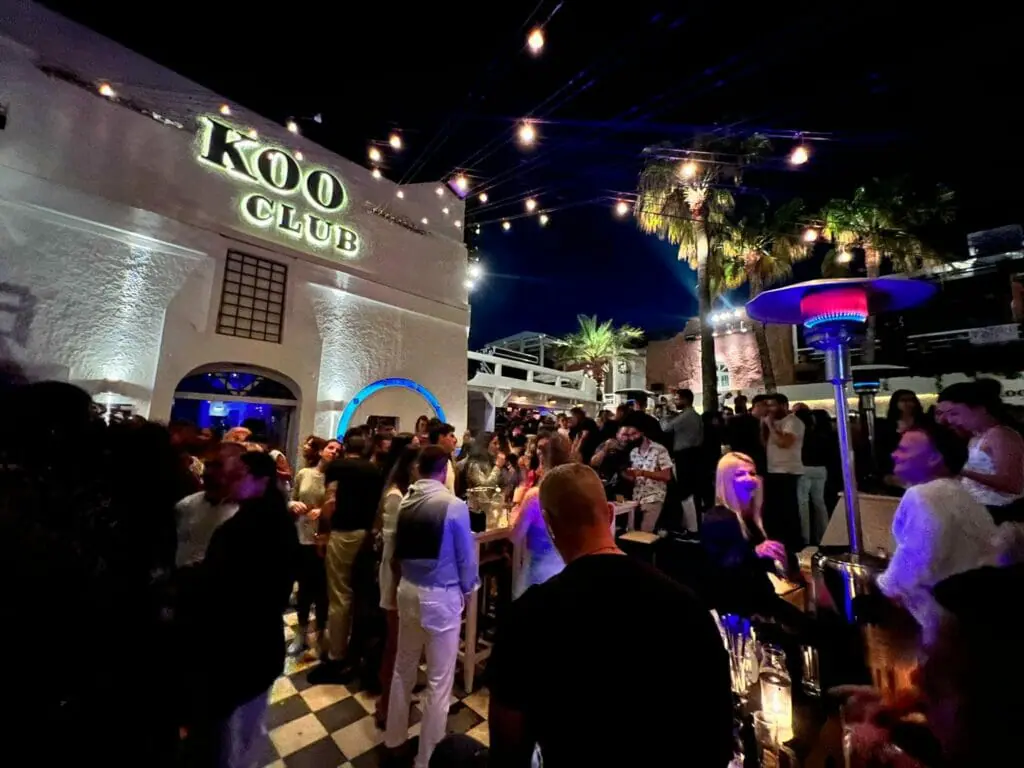 Cruising & Gay Saunas In Santorini
Well, well, well, if you were hoping to spice up your Santorini trip with some sauna or cruise club action, I'm sorry to burst your bubble, honey. But let me tell you, Santorini may be hot, but it's not THAT hot!
There might be plenty of spas here, but we can confirm there are no gay saunas or cruise clubs on the island, so you'll have to resort to the good old-fashioned hook-up apps or public cruising if you're looking for some steamy fun. Who knows, you might even find someone to show you a secret spot for a midnight skinny-dip in the Aegean Sea!
Just don't forget to bring some extra sunscreen – you don't want to leave with a sunburn in places you didn't even know existed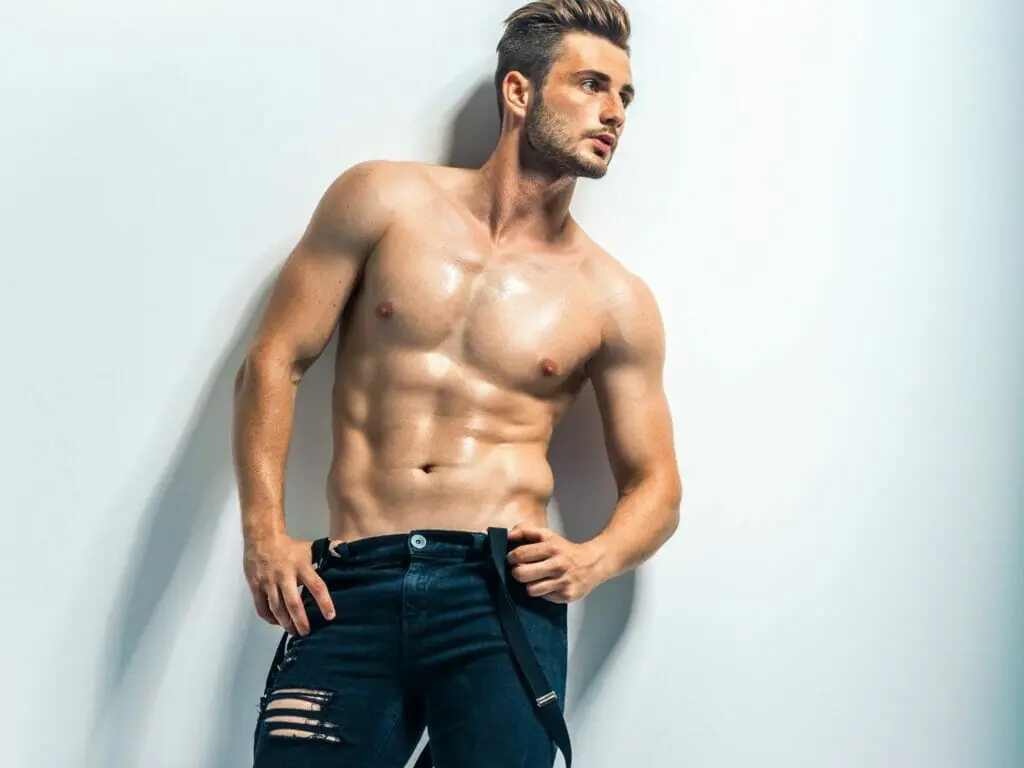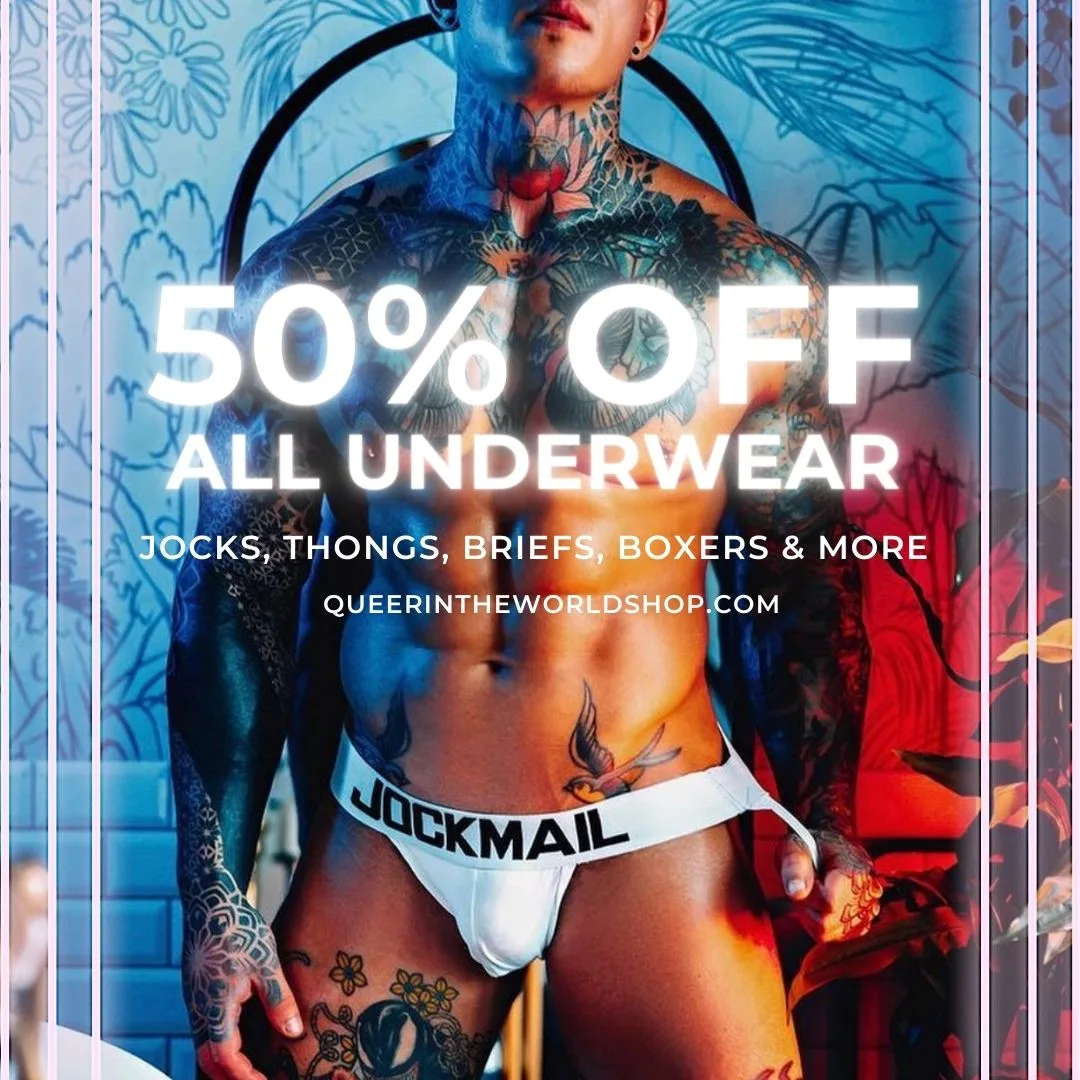 Gay Map Of Santorini
Finding it hard to envisage where everything is in Santorini? Hopefully, this queer-centric map helps where we have marked all the bars, clubs, parties, hotels, saunas, massages, and more will help you stay in the spot best suited to you!