Long overlooked by queer travelers, Gay Ljubljana (pronounced loo-blee-on-a) – Slovenia's sparkling capital of culture and adventure – is the perfect destination for an unforgettable trip.
Here you'll find a cosmopolitan nightlife to keep your feet tapping, tantalizing local cuisine made with traditional recipes full of flavor, plus stunning natural landscapes that will take your breath away! So don't miss out on this hidden gem where all tastes can be satisfied.
With only 300,000 people, it's a smaller capital city, but a thriving and bright one. This city is the hub of queer activity in Slovenia with the highest proportion of LGBT+ residents of any city in the nation. In addition, there is a wide variety of government-sponsored pride events for tourists and residents to participate in.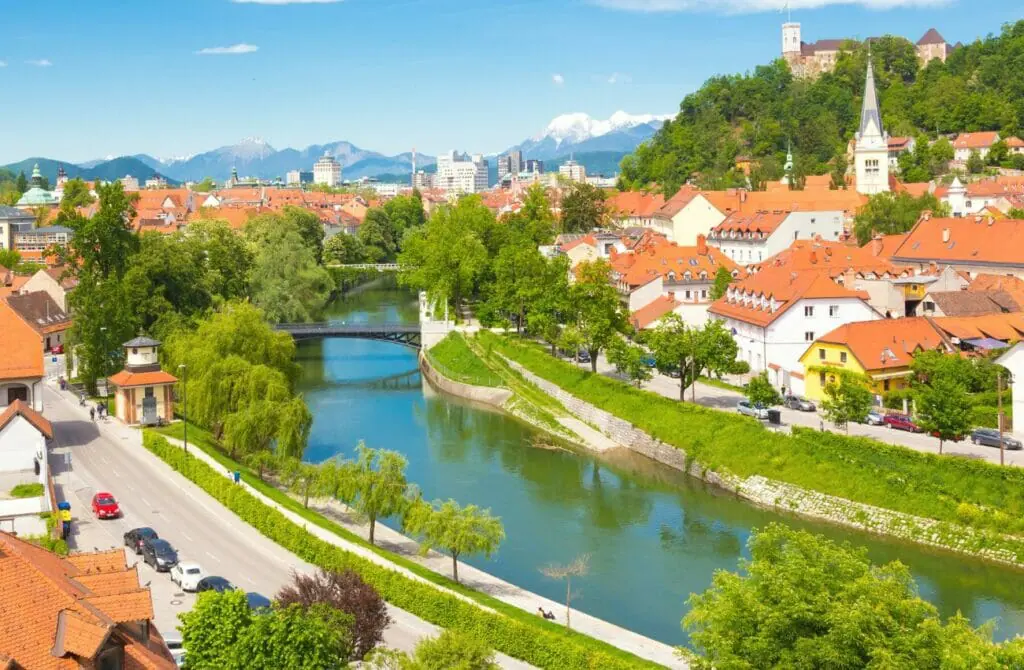 Slovenia has long led the Eastern European push for equality, dating back to the Yugoslav era. All of this has led to Slovenia's 28th ranking for gay safety in 2019. Even with this, gay marriage was still illegal in the country until very recently but thankfully same-sex marriage in Slovenia has been legal since 9 July 2022 in accordance with a ruling from the Constitutional Court of Slovenia!
Ljubljana is generally an accepting and tolerant city, and the LGBTQ+ community is a visible and active part of the city's social fabric. The city has a lively gay nightlife scene, with several gay bars, clubs, and saunas. The annual Ljubljana Gay and Lesbian Film Festival is also a popular event that brings the community together.
However, like many places, there are still challenges that the LGBTQ+ community faces in terms of discrimination and prejudice. While legal protections for LGBTQ+ people are in place, some members of the community may still experience discrimination and hate crimes. It is important for queer travelers to exercise caution and be aware of their surroundings, particularly in areas that may be less accepting.
All in all, this is an underrated city that deserves a little more love for all it can offer. It's not exactly the hopping city that never sleeps, but it is a rich hub full of greenery and queer adventures waiting to happen.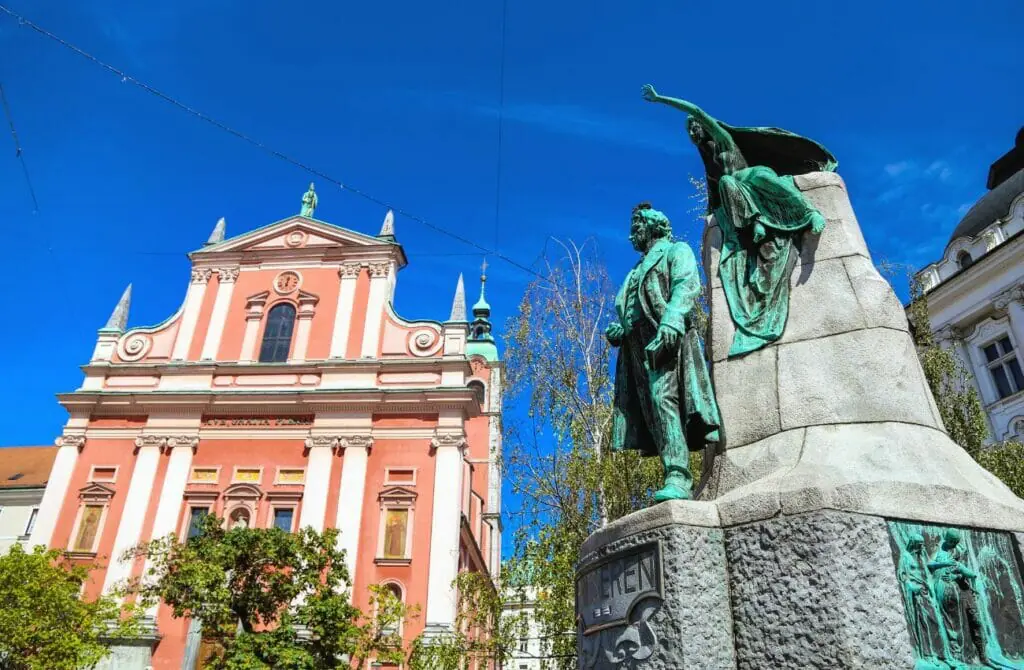 Attractions in Ljubljana
Welcome to beautiful Ljubljana, where the stunning architecture, vibrant culture, and warm hospitality welcome all visitors, regardless of their sexual orientation. As a queer travel experts, we can attest that Ljubljana has much to offer to the LGBTQ+ community and beyond.
In addition to visiting the city's most iconic landmarks, such as the stunning Ljubljana Castle, the breathtaking Triple Bridge, and the Ljubljana Cathedral, be sure to indulge in some of the local delicacies, including the mouth-watering Burek (a savory pastry), Idrijski žlikrofi (dumplings filled with potatoes), and the famous Ljubljana cream cake.
The city's relaxed, bohemian vibes are perfect for strolling through the beautiful parks and gardens, and exploring the vibrant cultural scene, including local markets and festivals. Don't miss the Dragon Bridge, one of Ljubljana's most famous landmarks, or take a romantic boat ride down the Ljubljanica river to admire the city's architecture from a new perspective.
No matter your sexual orientation, Ljubljana welcomes you with open arms. Explore the city and its unique culture at your own pace, and gain a deeper understanding of its friendly and welcoming people.
As we mentioned above, this isn't a city that is always hustling and bustling. While there is nightlife, the vast majority of attractions in Ljubljana are cultural and worth taking time to explore – but trust us, these are the must-see attractions that will make your visit unforgettable.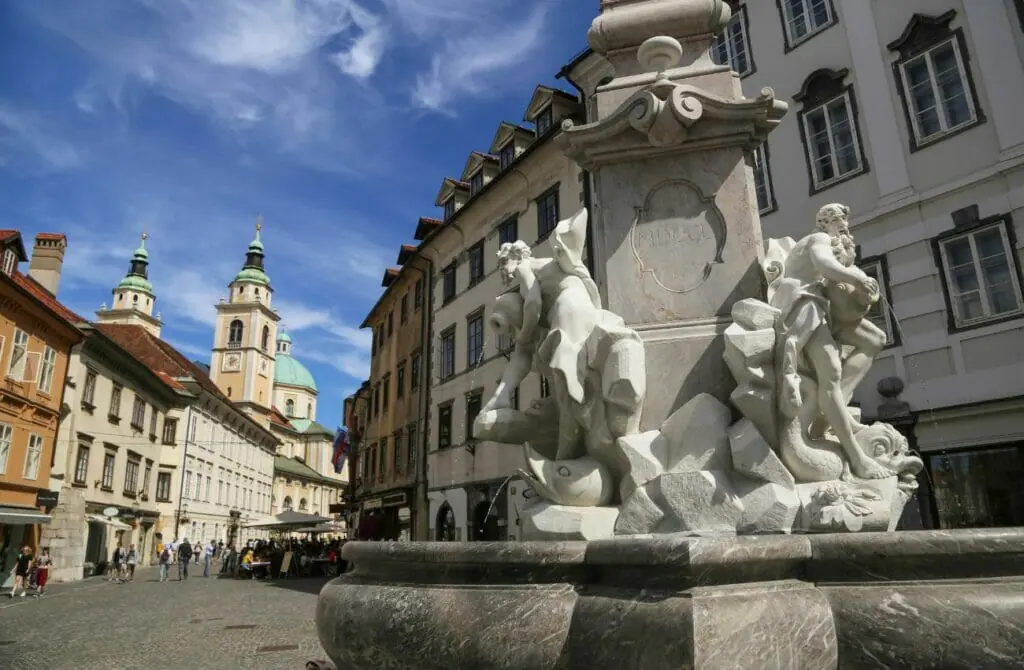 Arts and Culture in Ljubljana
The National Gallery is the premier art museum in the city and houses the largest art collection in Slovenia. The art ranges from the late medieval period to contemporary pieces and includes statues, paintings, and sketches. The original Robba Fountain is also on display here.
This is a multimedia cultural venue and there is a little bit of everything. The Slovenian Symphony Orchestra performs here, opera singers shine, local bands rock out, and there are even literature events. Their roster changes constantly, so check out their calendar to see what's on while you're in town.
This castle sits right in the middle of town and is a landmark of the city skyline, complete with a funicular to take you to the site. There are permanent historical exhibits and a wedding venue, and you can even do an escape room! The museum also offers packages to stack with some of the other attractions on this list, so you can get a really good deal.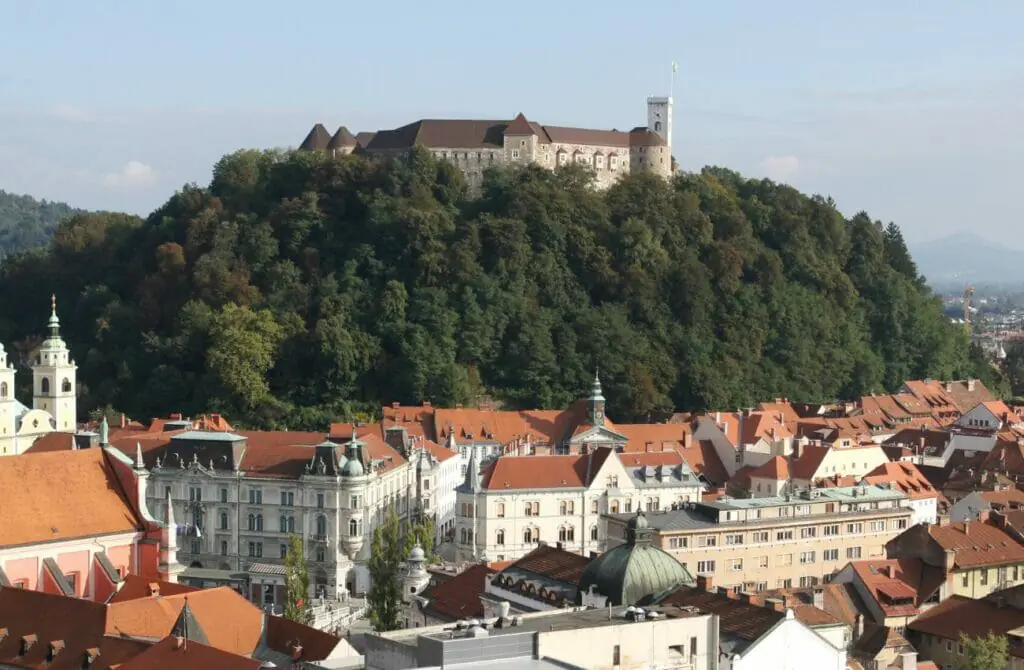 Restaurants and Food Experiences in Ljubljana
There are so many great food tours, but this one takes the cake. Not only will you get to try treats such as aged prosciutto from the Vipava Valley, and beer from local breweries, but you also get to learn about the history of Slovenian gastronomy.
This seafood restaurant is considered one of the best in the city and has won the TripAdvisor Hall of Fame award. It is an understated and rustic establishment that is known for its octopus and beef goulash. It is also quite popular with the locals, probably because the price point is very good for what they serve.
Not only will you get to try some of the most underrated wines in the world, but you can also explore the vineyards and see many historic farmsteads. Wineries are a popular choice for wedding events, so you could even scout out locations for you and your special someone.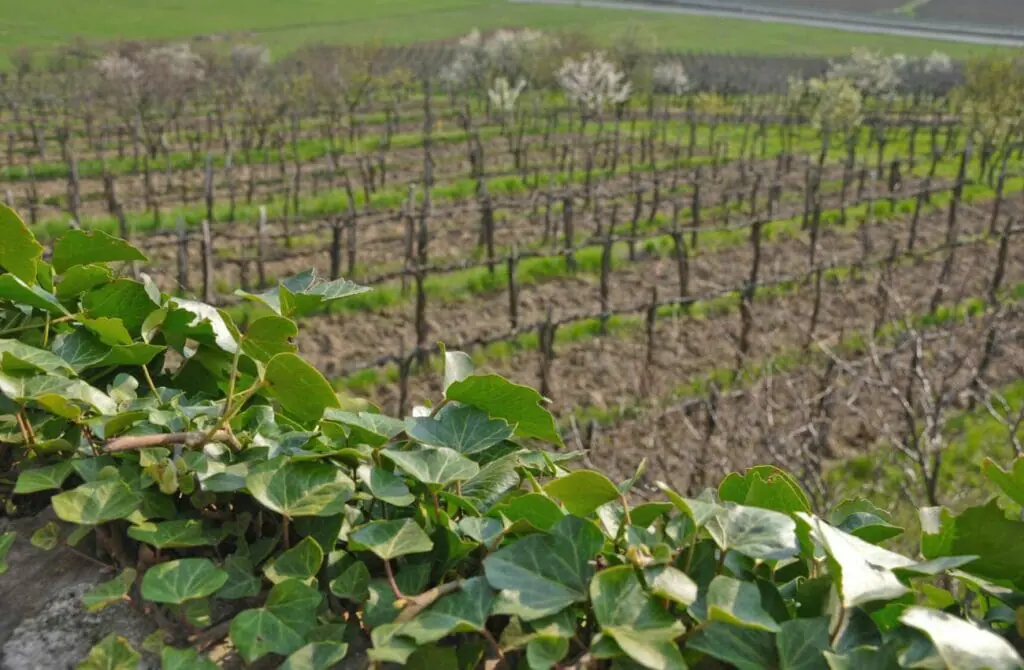 Natural Attractions in Ljubljana
This is a massive 24 km. cave system with a railroad built inside of it for guests to see the whole length. In addition, there is a castle close by and the cave park offers special entry deals to this other attraction. You can even see some olm (baby dragons) that are part of a conservation program!
This Slovenian national park is breathtaking and a must-see if you can make it out. It is the only national park in Slovenia and is tucked away in the heart of the Julian Alps. While it's a bit smaller than most American national parks, this makes it perfect for a day trip of hiking and sightseeing.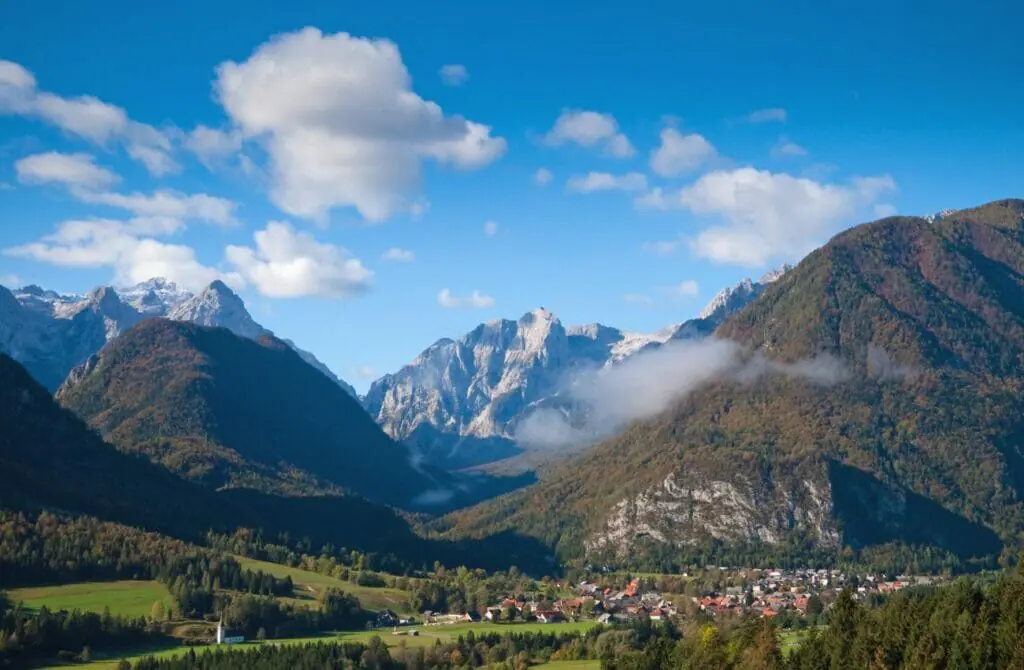 This botanical garden works in collaboration with many other gardens around the world and protects endangered and rare native plants from extinction. It is absolutely stunning, especially the glasshouse for tropical plants.
The Dragon Bridge and the Butcher's Bridge
Ljubljana is known for its many lovely bridges. These are best enjoyed with a local guide, which is why we are suggesting a tour with a local who can explain everything you see in detail. These tours are very small and focused on each guest, so you get a lot of hands-on time with the sights.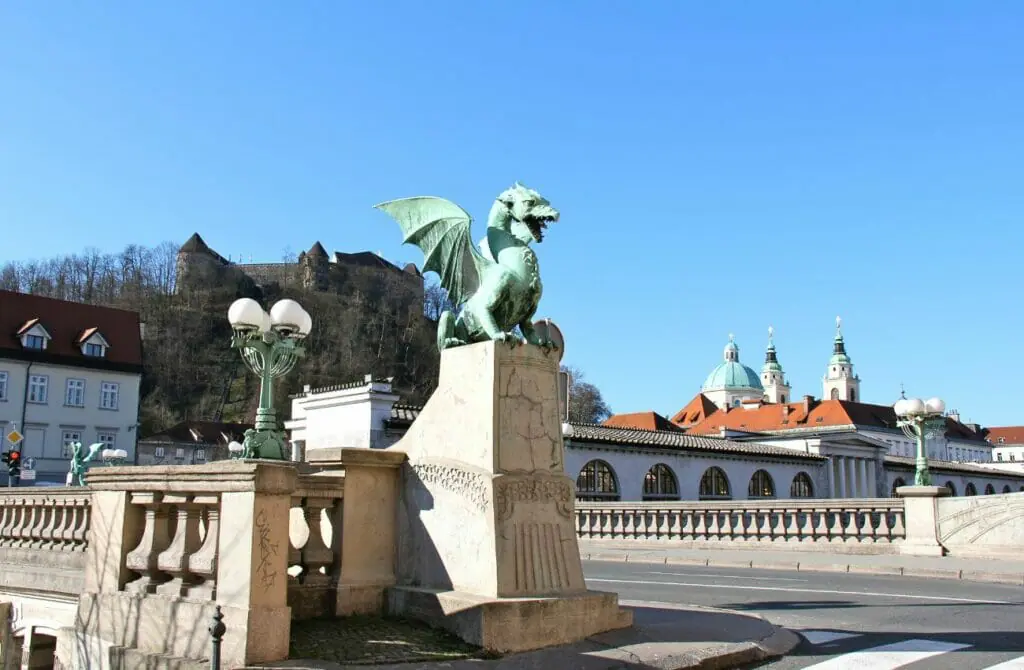 Shows and Venues in Ljubljana
Ljubljana is well-known for its traditional Slovenian puppet shows, so you should catch a show while in town. They are both more mature and offer shows for children too. There is also a museum of Slovenian puppetry on the upper floor, so you can learn all about the craft before or after seeing a show.
This venue is very similar to Cankar Hall in that it is a multimedia hall that features all kinds of performing arts on its stage. Spoken word poetry, dancers, and rock musicians perform in the same space, for example. They have a massive list of events and are typically smaller than the Cankar Hall events, so keep an eye on the calendar list.
Try saying that five times fast! This festival is a non-competitive film festival simply done to uplift and review queer-made films that are debuting at this event. All films are subtitled in English, but they are presented in their native languages, so you can expand your horizons and keep an eye out for the new rising filmmakers.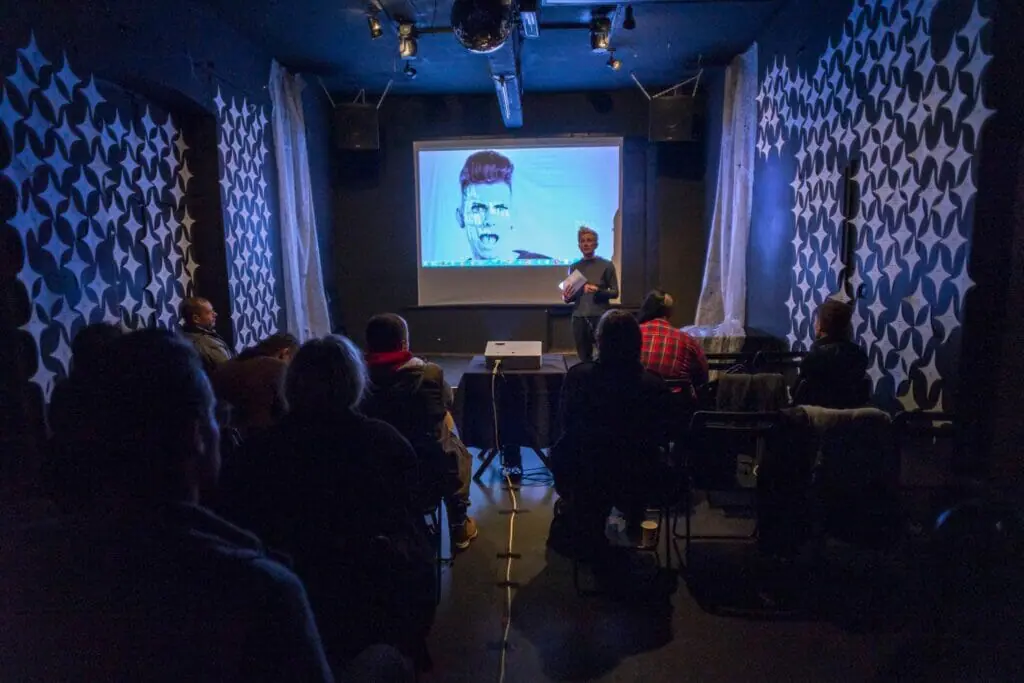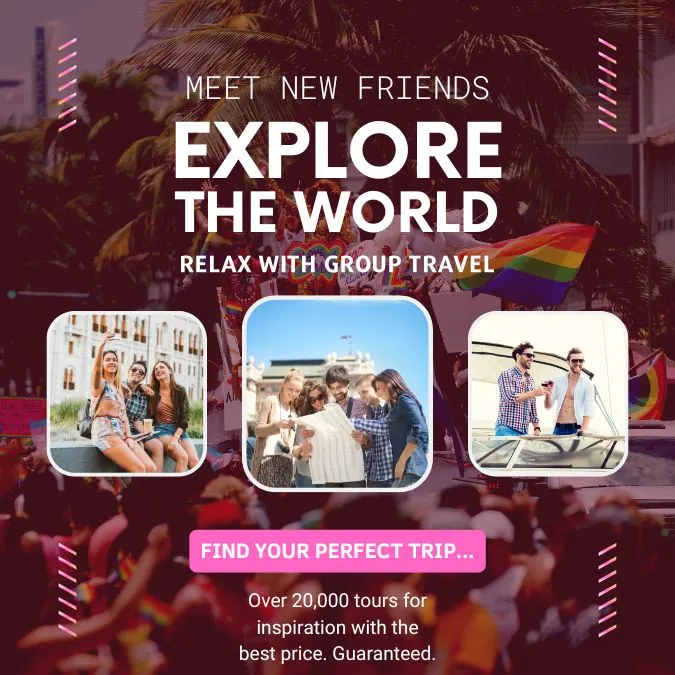 We highly recommend attending Pride in Ljubljana, Slovenia for a unique and unforgettably queer experience of this baroque city. The event takes place annually in mid-June, and the parade starts in the city center, with live music and festivities continuing throughout the day. Ljubljana Pride began in 2001 and has grown in popularity to attract over 20,000 people from all over Slovenia and beyond.
Ljubljana Pride is a chance to celebrate diversity and show solidarity with the global queer community. The event's name itself is significant, as the word "Pride" signifies the importance of self-affirmation and confidence in one's identity. It is a space for LGBTQ+ people and allies to come together, have fun, and raise awareness about important issues affecting our community. Ljubljana Pride is unique in its location, set in one of Europe's greenest capitals, surrounded by the stunning Julian Alps and the picturesque Ljubljana River. Attending and supporting events like Ljubljana Pride is crucial to connect and empower our global queer community and to push for greater visibility, acceptance, and equal rights.
In conclusion, attending Ljubljana Pride is a unique and meaningful experience that I highly recommend. The celebration is a powerful statement of pride and solidarity, and an excellent opportunity to connect with the LGBTQ+ community in Slovenia and beyond. By attending and supporting events like Ljubljana Pride, we can create a more inclusive and accepting world for all. So, pack your bags, grab your rainbow flags and gay pride jewelry, and join us at Ljubljana Pride for a beautiful celebration of love and equality amidst some of the most stunning natural scenery in Europe.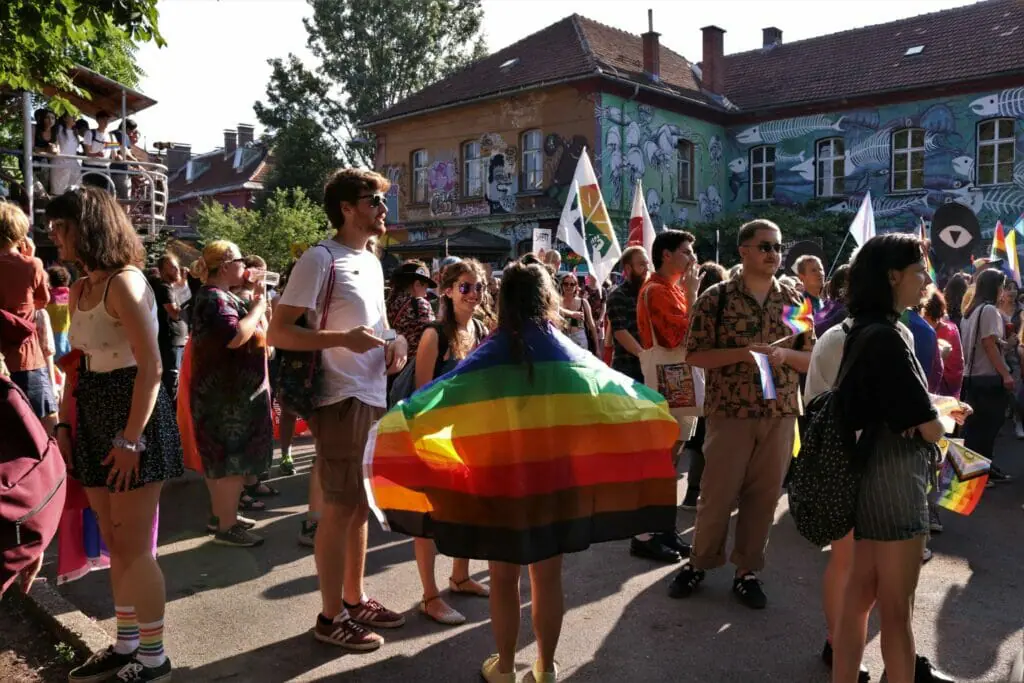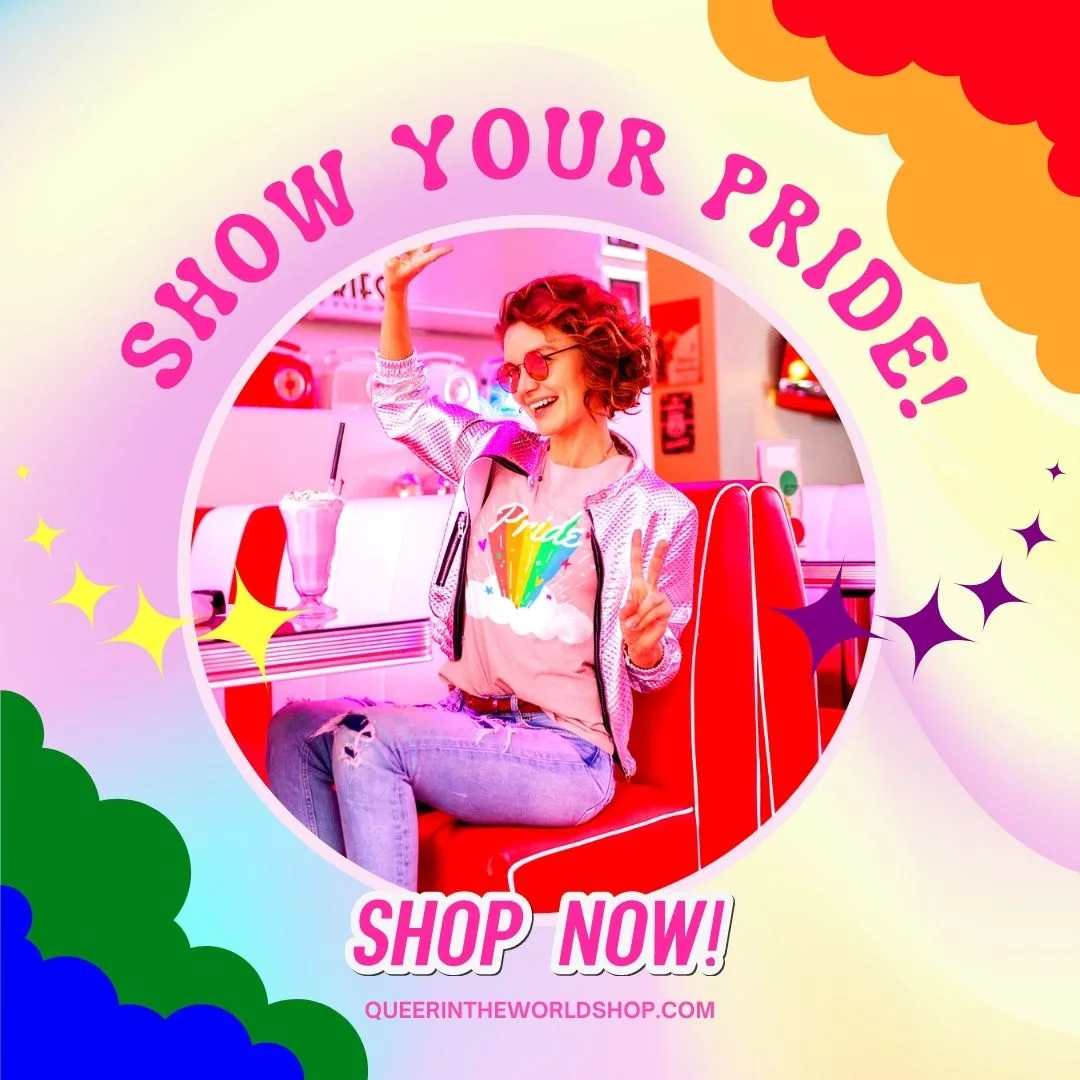 Gay-Friendly and Gay Hotels in Ljubljana
Get ready to experience the charm of Ljubljana, the vibrant capital of Slovenia. Being gay-friendly accommodation in Ljubljana means you'll feel welcomed and included as an LGBTQ+ guest. This means having policies and practices in place that create a safe and inclusive environment for queer travelers.
Some gay-friendly hotels may also offer amenities catering specifically to the LGBTQ+ community, like rainbow flags or literature about local LGBTQ+ events. You deserve to feel safe and comfortable during your travels, and that's exactly what you'll get at the best gay-friendly hotels in Ljubljana.
While there aren't any specifically gay hotels or resorts in Ljubljana, there are plenty of fabulous and proactively LGBTQ+ friendly hotels to choose from. If you're looking to be in the heart of the action, then the gay scene in Ljubljana is centered around the Metelkova area. Whatever your budget, desired facilities or preferred location, you'll find your perfect Ljubljana accommodation with us.
Needless to say, there are also hundreds more hotel and hostel options in Ljubljana if none of these suit your desired budget, facilities or area – but these are the best hotels according to other gay travelers and us.
Whatever your needs are, Ljubljana has you covered – just don't wait to book your room, because these hotels fill up fast.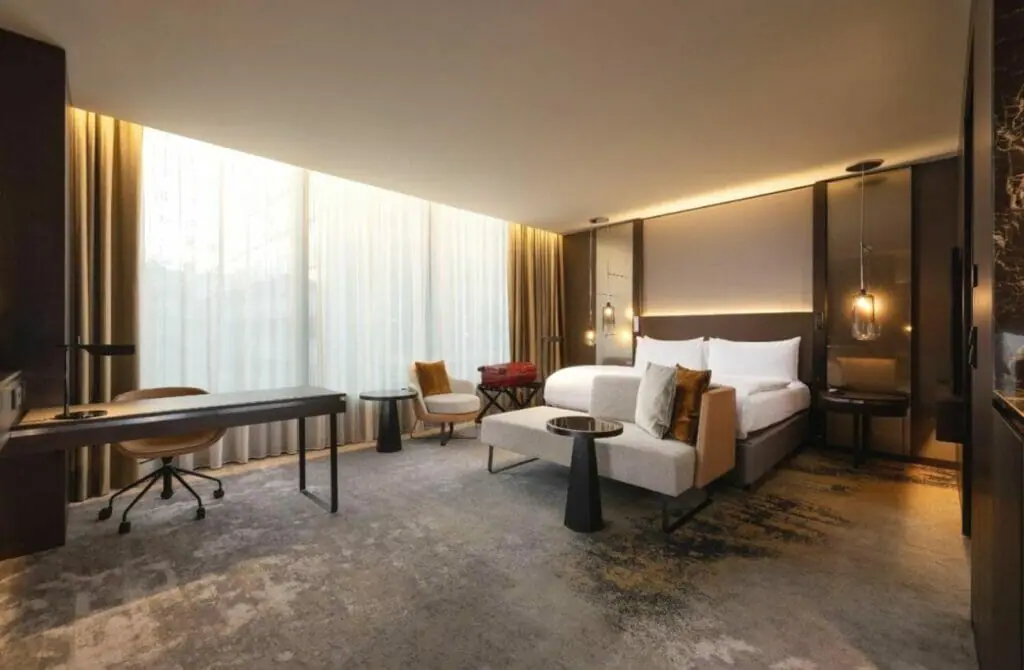 The InterContinental is the only five-star hotel in Ljubljana and it lives up to this standard. It is managed by the IHG network, which means it lives up to the IHG International standards of cleanliness and sanitation. Guests report large, stylish rooms and a great location near Old Town with easy access to the biggest attractions.
The spa on the 18th floor is a particular draw for guests. The zero-edge pool and sauna and steam room with floor-to-ceiling windows are luxe and tasteful and give you near-limitless views of the city. The pool is frequently mentioned in reviews as the best spot to check out the skyline and watch the sunset.
There is also a full gym on the same floor with personal trainers ready to help you hit your peak and stay on track while on vacation.
There is a restaurant in the building designed by a Michelin-star chef, enormous board rooms, and even a full-size conference center. This hotel is brand new and has been built with every modern convenience in mind.
Children are welcome at the hotel and there are even nanny services they offer, for a fee. Cribs and cots are available for free and for a small fee, respectively. Pets under 12 kg are welcome in rooms, but if your pet weighs more than 12 kg, you need to contact the reservations team for more information.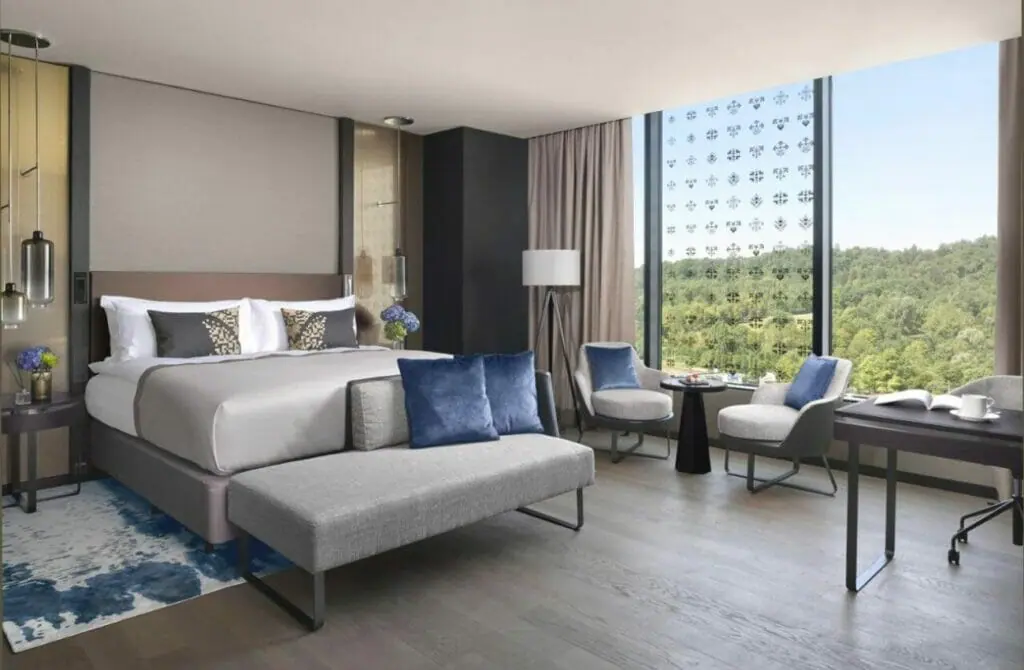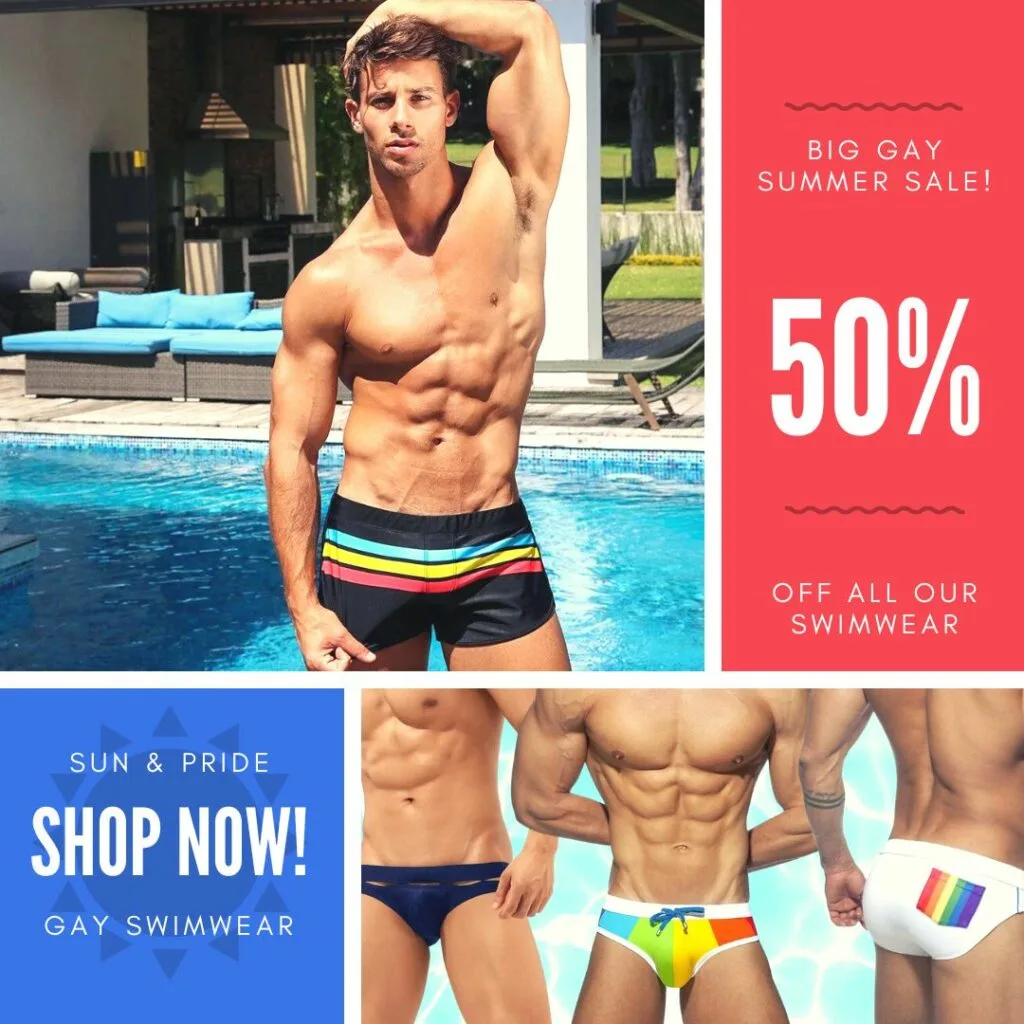 This 4.5-star hotel has a fun edgy flair without compromising the plush comforts of other high-end hotels. Like other big-name properties, they have a bar (next to the pool on the rooftop patio), a snack bar/deli, and a restaurant on-site. There is free parking on-site and a bellhop to help get your bags into your room along with an included concierge.
Each room has a minibar, blackout drapes, and in-room safes for guests to utilize. In addition, there are Frette Italian sheets and free cribs if you bring along a baby to this hotel. All rooms are soundproofed, so if you did bring along a more vocal member of your family, there's no need to worry about other guests being bothered.
Overall, this twenty-room hotel is a fun choice for any family or couple who is traveling to Ljubljana and wants to stay near the castle. The grey and yellow color palette is simple and modern without being obnoxious, plus it is plush enough to make each dollar count, but not break the bank completely.
A little bit further out from the city, G Design is an exceptionally-rated hotel that is perfect if you want to get into the countryside. This hotel is a glimpse into the modern era while being tucked up in the mountains and out of the hustle and bustle. The lobby is sleek with lots of glass, electric blue, and pops of red, while the rooms are sumptuous and glitzy.
There is a restaurant and a bar on-site along with a spa that offers massages and manicures. All of the rooms are soundproofed and have only showers, but so many plush design choices. The rooms all feature a uniquely patterned pillow sham and comforter that tie into the rich color themes.
Now, while this hotel is nice and at a good price point, it is far enough away from the city that you would need access to a car to get back and forth into the gayborhood and to do anything near the city center. Luckily, there is free self-parking and they offer an airport shuttle for an additional surcharge.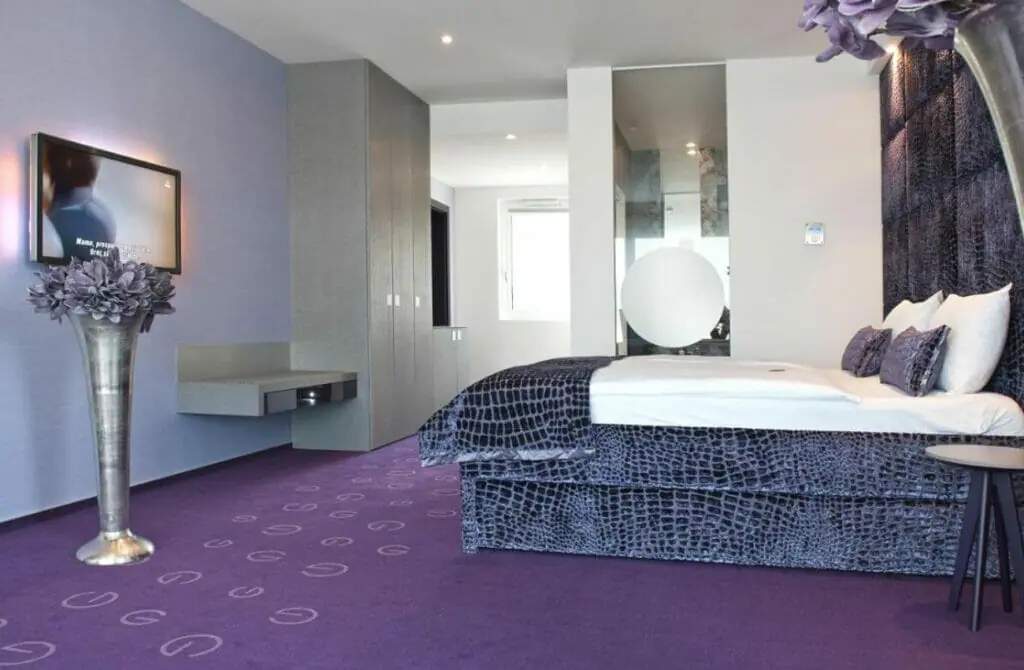 Hidden in Old Town, Barbo Palace is tucked away and surrounded by local residences. A rising trend in Europe, this hotel is made out of an apartment building, giving each guest their own suite to relax and rejuvenate in. Most rooms have views of the castle too, so you can lean back and enjoy yourself with the whole family in these vintage-inspired rooms.
This hotel has a quaint charm like you just stepped back in time. With clean white and pops of color everywhere, it is a bright, but not overwhelming, hotel. The bathrooms are absolutely stunning and there are hidden passageways over small terraces wherever you look.
This isn't the most lavish hotel on this list, but there are some great amenities. Not only is check-in completely private (you have to call the front desk before arrival), there is an elevator, free WiFi, air conditioning, and concierge services that guests can take advantage of.
You also have access to a kitchen, perfect for longer stays or to cut down on travel costs for a bigger group.
Also a bit outside the city, but closer to the airport, Hotel Morea is a charming modern hotel with a rustic twist. You'll see exposed rock walls alongside fun, mid-century modern touches that give this hotel great energy. It is a small, sixteen-room hotel with a cafe and garden for guests to explore.
The rooms themselves are nothing to scoff at, but there are a few other amenities. These are exactly what they need to be: places to stay for the night and not much else. However, you can amuse yourself by touring the property, enjoying the restaurant and bar, and even checking out their wine-tasting room.
Since this hotel (like the G Design) is outside of the city proper, you'll need a car to get around, but this property offers free self-parking. To get an even faster morning start, they also offer free breakfast between 7 and 9:30 AM. There is also a manager's reception each day, meaning free drinks for you and your fellow travelers.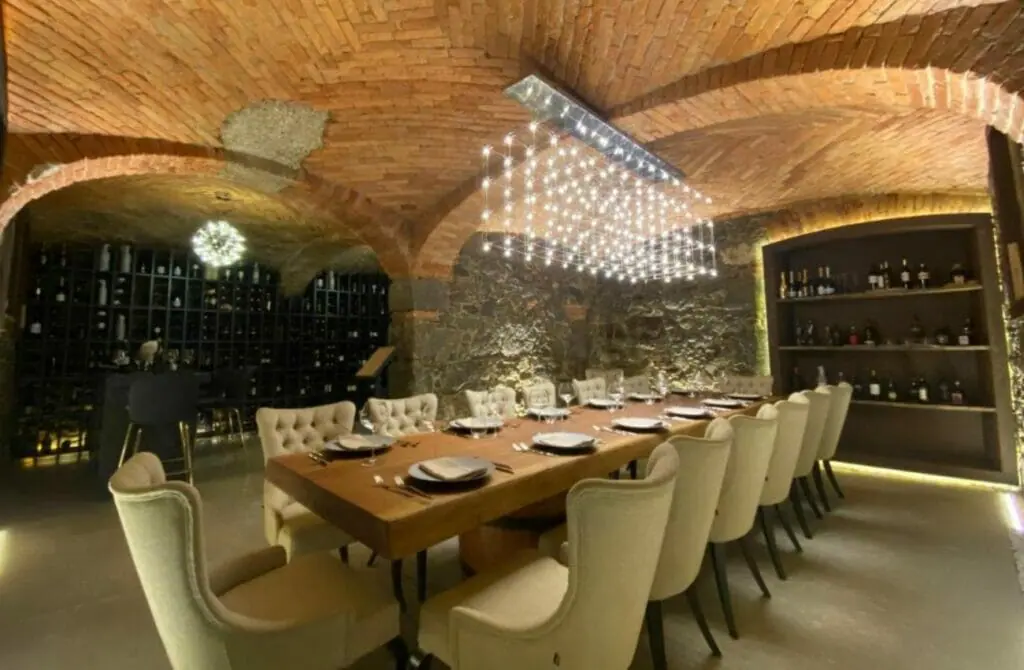 Don't let this hostel put you off with the first line of their description on Hostel World. Despite being built in an ex-military prison, this hostel is one of the best-ranked in the world and is the best hostel in Slovenia per recent polls.
It has beautiful rooms that have been fully updated to the modern era. There are 20 former prison cells and a set of more modern construction if that isn't to your taste.
This hostel offers free breakfast, WiFi, parking, and city maps for their guests. Hostel Cecilia is also a larger hostel than most: they have a cafe, bar, and terrace available for guests to explore too. They have rooms of every size and some that can even hold seven guests.
While we wouldn't recommend this hostel for families, this is a great spot for solo travelers to meet new people, have a safe place to land, and have a unique place to sleep.
Gay Nightlife in Ljubljana
Ljubljana isn't exactly known for its gay nightlife. Most of the bars are only gay-friendly, not gay-focused, but that doesn't mean you can't enjoy them while out and about. The bars on this list are even mentioned on the government tourism site, so they have good enough reputations to be recommended en masse. With that in mind, let's begin!
Welcome to the fabulous world of LGBTQ+ nightlife in Ljubljana, honey! Get ready for an unforgettable experience that will introduce you to the vibrant culture and fabulous community of Gay Ljubljana.
First things first, let's talk about where the party's at. The gay nightlife in Ljubljana is centered around Metelkova, a former army barracks turned alternative cultural center. Here, you'll find Klub Tiffany, the city's oldest gay club, and K4, a popular nightclub with a mix of queer and straight crowds. Both venues feature a range of music from pop to techno and host regular drag shows and other special events.
Things start to get busy around midnight, but don't worry if you're not a night owl – many clubs stay open until the early hours of the morning. For a more laid-back vibe, check out the gay-friendly bars in the city, such as the popular bar Monokel or the hipster hotspot Sputnik.
So, grab your glitter and get ready to dance, mingle, and make some unforgettable memories in the fabulous gay and gay-friendly nightlife of Ljubljana. You won't regret it, hunty!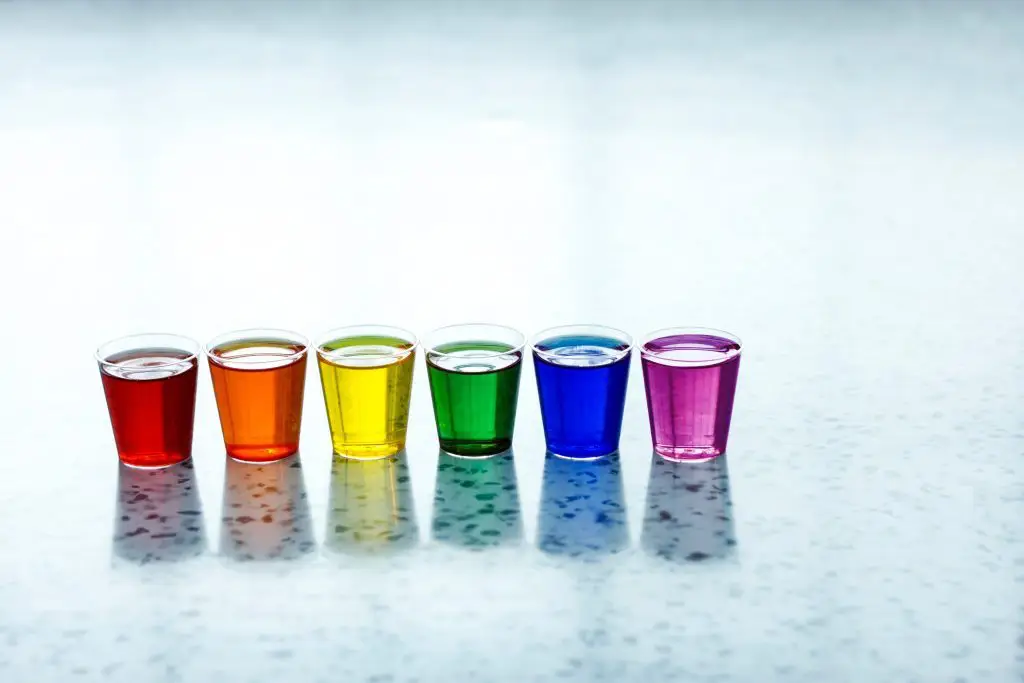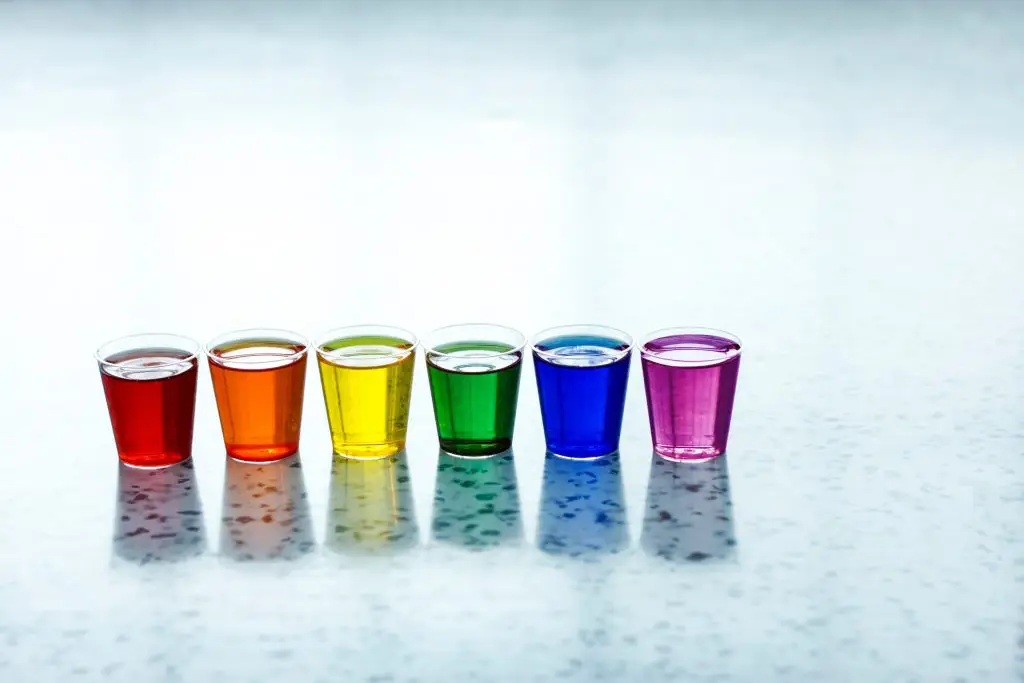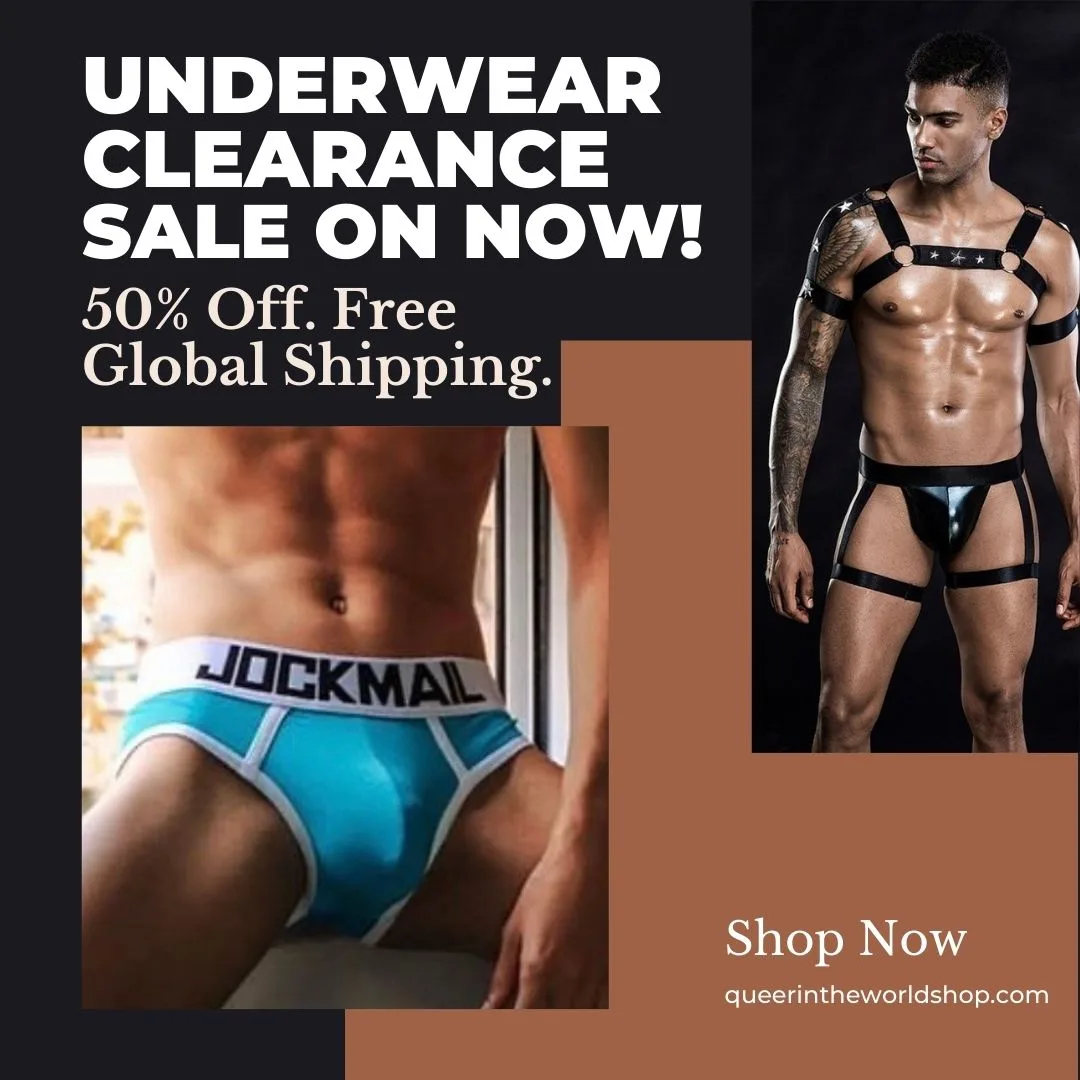 This bar is arguably the best known of Ljubljana's gay scene. Not only is it promoted on national tourism sites, but it is also a well-rated dive. The drinks are cheap, the music is contemporary, and it is right next to the train tracks, so it's easy to get to. Most of the clientele is a younger crowd, so an older fellow might not fit in as much, but you won't be kicked out.
In addition, this bar doesn't just focus on nightlife. It is run by the Kulturni Center Q (KCQ), an organization dedicated to supporting the LGBT+ community through workshops, sober events, and even research on the Slovenian queer community. This club is a safe space developed by students and has been open for ten years.
All in all, this is a staple and definitely worth a drop-by, even if you aren't looking to stay out all night partying. While they are only open on the weekends as a bar, there are all kinds of other events they put on throughout the week.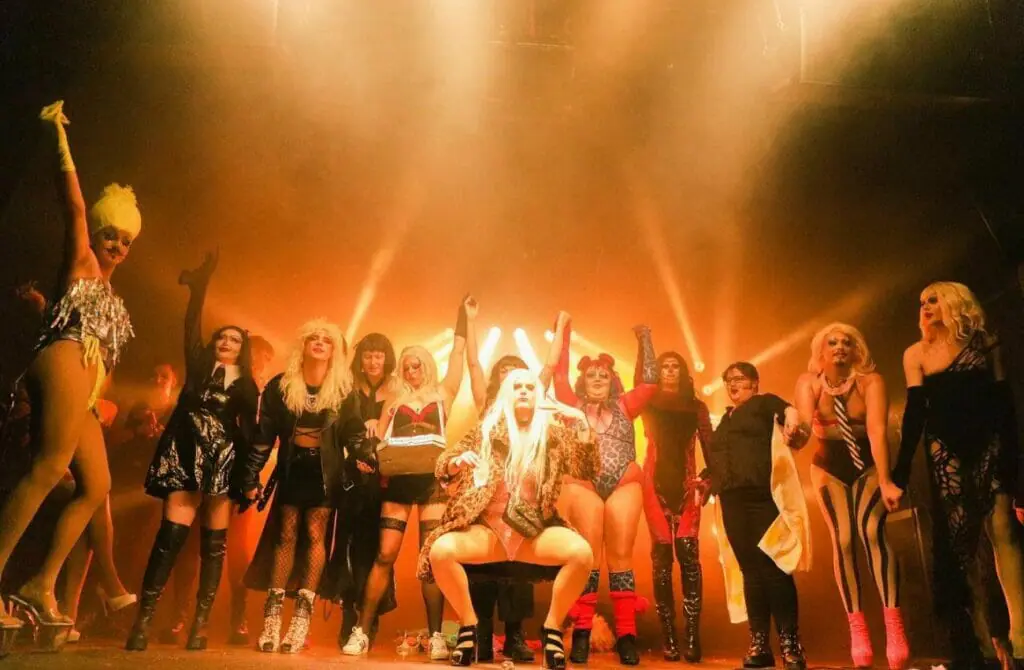 While this bar isn't exactly gay-exclusive, it is an LGBT+-friendly bar that anyone can come to enjoy. That is, as long as they love champagne! Bar Roza recently reopened under new management and is beloved by locals and tourists alike. They have been open for many years and got a facelift with a renovation in 2021.
This bar is more upscale than the others on this list, but it is a great spot to pop into in the afternoon or early in the evening. Bar Roza often has live entertainment, Socratic talks, and debates for members of the community to join in.
And, of course, they have an incredible selection of wine and champagne for guests to choose from. This is perfect to try out local wines before you go out to the wineries or to try them if you can't get out to the Vipava Valley.
This bar is owned by a gay woman and is located right in the center square next to a wine bar. It is also noted as being open longer than most other bars in the city. Pritlicje also has a more progressive, activist-heavy clientele of local students, so you know this place is legitimate.
There is free WiFi for patrons and it seems like every reviewer mentions how good the food is here, including the vegan options. This bar is recommended for smaller gatherings and a more punk crowd, but you can also pop in and enjoy coffee on their terrace if you aren't here for the full party atmosphere. They also hold educational talks, debates, and smaller events, like one-person drag performers.
Speaking of, if you sit outside in the patio area, you can enjoy a lovely view of the Robba Fountain. This historical landmark is a fountain with a tall obelisk and carved figures with jugs surrounding it. It was constructed in 1743, unveiled in 1751, removed in 2006 for preservation, and replaced with a replica. You can see the original in the National Gallery we covered above.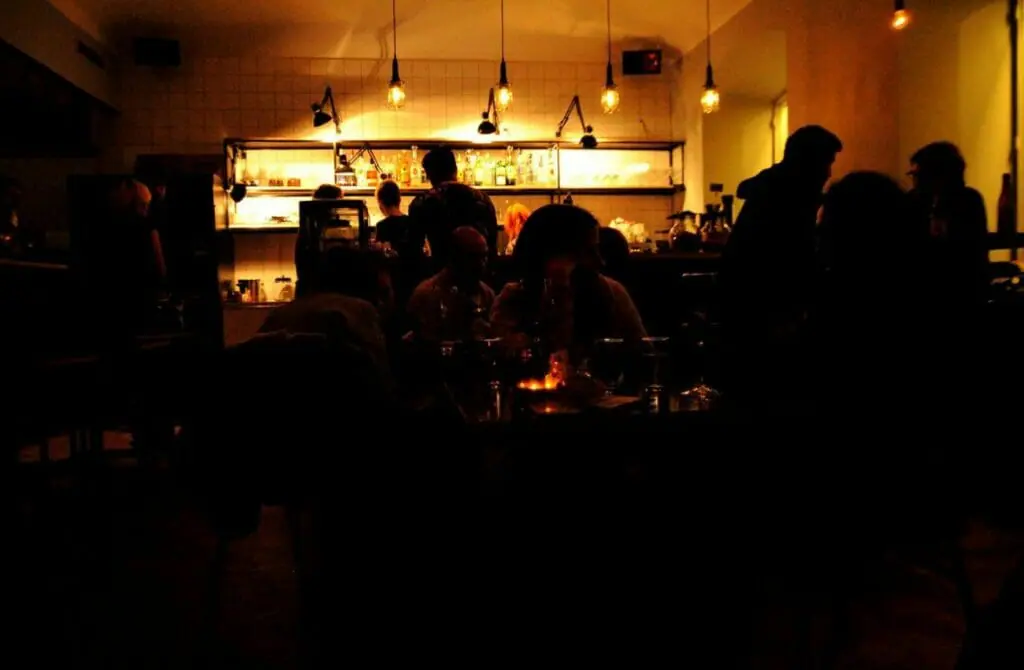 This is a local lounge that is very popular with both locals and tourists who come to Ljubljana. It is backed right up to the castle and you can enjoy drinks on their patio with that view. Occasionally, they have special events where they bring in a DJ, but this is a more relaxed spot to kick back and enjoy a glass of wine slowly.
They also serve small eats to enjoy but do not have a massive menu or entrees. They have some seasonal cocktails, but this isn't the place to order your expensive, complicated drink.
While this isn't a gay bar, they do have specific gay nights for clientele dating back to 2001 from the original inclusivity initiatives. These events are broadcasted on their social media, so be sure to check ahead. They often include drag DJs, local bands, happy hours, and other specialty performers.
You can also come back on other nights to enjoy their electronic music and stunning wall projections while you jam out. Locals note that this bar has a distinctly Berlin vibe, similar to their style of clubs. While this can be nice for some, a more subjective door policy and brusque bouncers can be off-putting.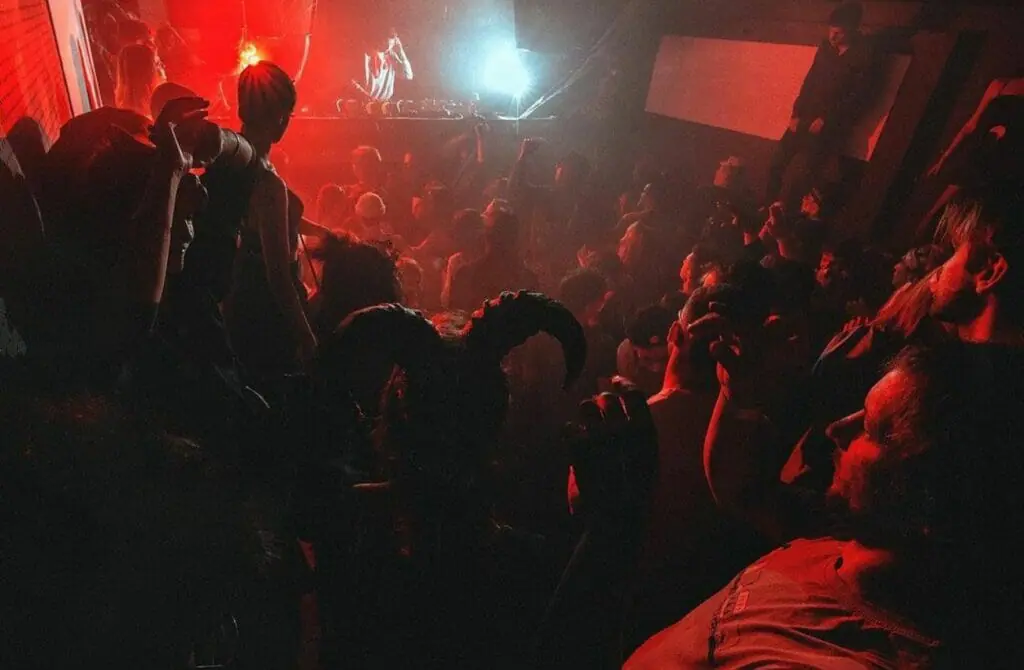 Sputnik is a multifaceted venue that combines elements of a café, restaurant, and nightclub all in one. It's the perfect place for a queer traveler looking for a unique experience that merges great food, top-notch coffee, and lively music and dancing. Sputnik offers a wide range of delicious options from cooked breakfasts and satisfying lunches to delectable afternoon snacks and romantic dinners, with a unique blend of traditional recipes and exotic flavors from around the world. Notably, Sputnik also caters to vegans and those with gluten-free dietary needs, ensuring everyone can enjoy a fabulous meal at this hipster hotspot.
Located in the bohemian Metelkova neighborhood, Sputnik is a great place to hang out with friends and meet new people. The bar is open every day of the week from 5 pm until late, and is busiest on weekends.
If you're looking for a swanky spot to enjoy a cocktail and a breathtaking view, Neboticnik is the place to be in Ljubljana. Located in the heart of the city, this historic skyscraper houses a chic bar on its top floor where you can take in stunning views of the city while sipping on a delicious cocktail.
The bar has a luxurious ambiance and a wide selection of cocktails to choose from, as well as a fine selection of wines and beers. The bartenders are skilled and attentive, and they can whip up a custom drink to your liking. The outdoor terrace offers an even more stunning view of the city, and is the perfect spot to catch the sunset with a drink in hand.
So, if you want to treat yourself to a classy night out with a view in Ljubljana, head to Neboticnik and enjoy some delicious cocktails and stunning views.
Monokel is a popular bar/club in Ljubljana, known for its lively and welcoming atmosphere. The bar is located in the city center and features a cozy interior with a small dance floor, comfortable seating, and friendly staff. The crowd is mixed, but you'll find plenty of LGBTQ+ locals and travelers enjoying the vibe.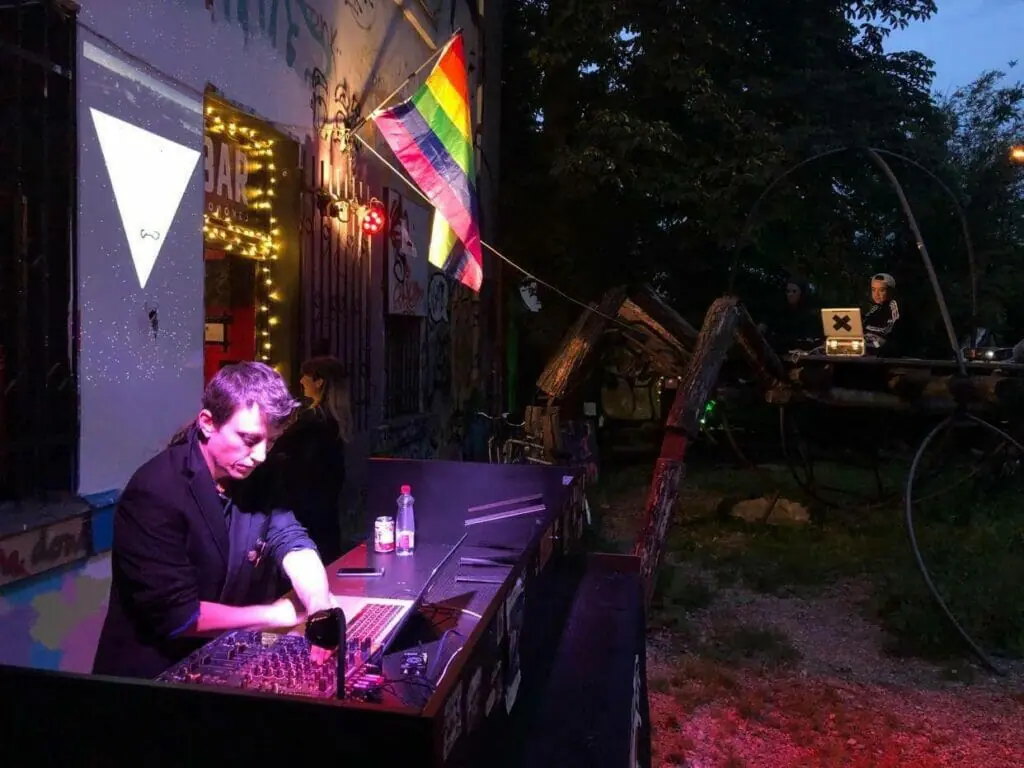 Cruising & Gay Saunas in Ljubljana
When traveling to a new city, it can be exciting to head out for more than just a stiff drink. One aspect of gay travel that many queer men enjoy is visiting gay saunas and cruising clubs and while Ljubljana is not as hedonistic as Amsterdam, Londo or Berlin, there are thankfully two venues that offer a chance to meet new people, socialize, and engage in sexual activity.
Without resorting to gay hook up apps or public cruising…
However, it's important to keep in mind that these sex-on-site venues around the world can vary greatly in terms of atmosphere, clientele, and rules, so it's a good idea to prepare yourself before visiting. If you are apprehensive, we advise studying our guide to visiting a gay bathhouse for the first time, which should help set your mind at ease, and always practicing safe sex.
Additionally, it's important to be aware of and respect local laws and customs regarding gay venues and sexual activity. With a little bit of planning and an open mind, visiting the gay cruise club and sauna can be a fun and exciting part of your gay Ljubljana travel itinerary.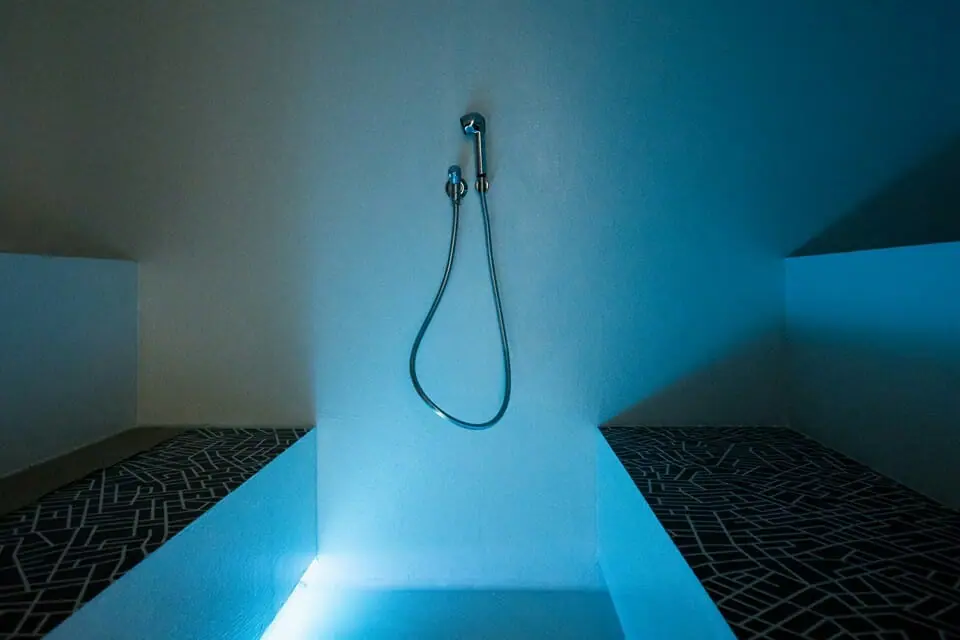 District35 is the largest and most well-liked gay sauna in Ljubljana. This multi-story sauna occupies a surface area of over 300 m2, and features a bar on the ground floor, saunas and a dark room on the first floor, and a top floor boasting a sun terrace that offers a scenic view of the Alps and a place to relax and catch some rays.
Additionally, District35 has an on-site massage studio that provides professional massages with prior booking. They are closed on Mondays, except for public holidays, and also offer free WiFi. The facilities include 3 saunas (steam bath, dry and infrared), music, private cabins, a sling, and a dark room.
Looking for a relaxing and welcoming space to enjoy in Ljubljana? Look no further than Klub Gymnasivm, the gay sauna that offers a comfortable and enjoyable atmosphere to all its visitors. As part of the Libero Association of Hedonists, the sauna is dedicated to promoting the principles of the hedonistic movement and a healthy, balanced lifestyle.
At Klub Gymnasivm, you can enjoy mental and physical health through movement, recreation, body care, and socializing, all in a space that encourages good relations and respect among people. With a range of facilities including saunas, private cabins, and a lounge bar, you're sure to find the perfect spot to unwind and relax.
Open from 3:00 PM – 10:00 PM on Sunday, Monday, Wednesday, and Thursday, and from 3:00 PM – 11:00 PM on Friday and Saturday, Klub Gymnasivm is the perfect spot to spend an evening in Ljubljana. Note that the sauna is closed on Tuesdays. Don't hesitate to visit and experience the unique atmosphere and friendly community at Klub Gymnasivm!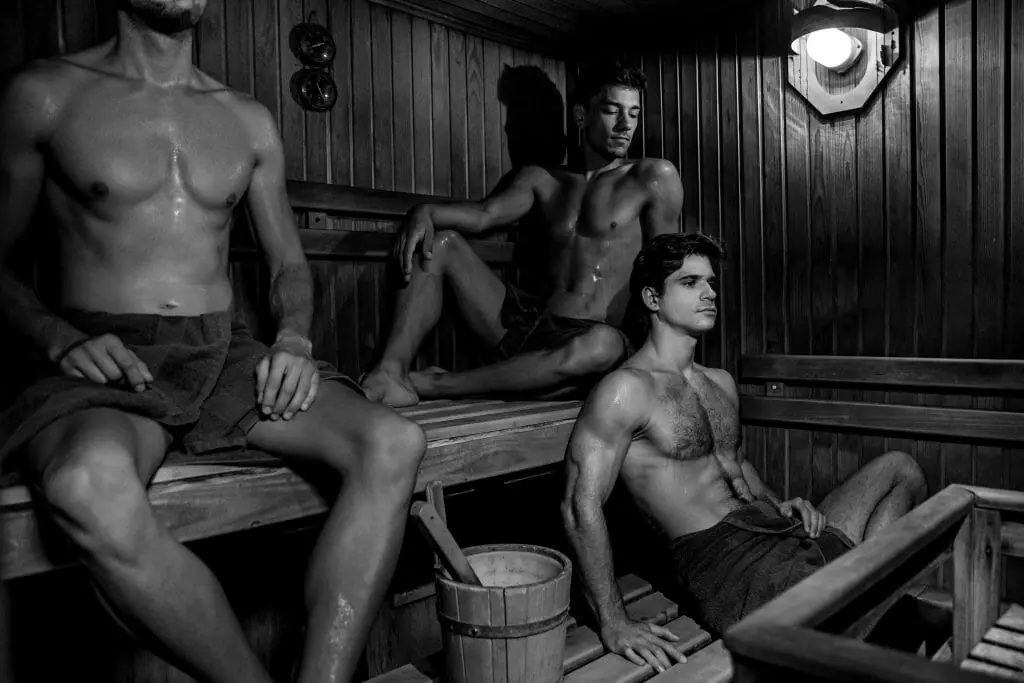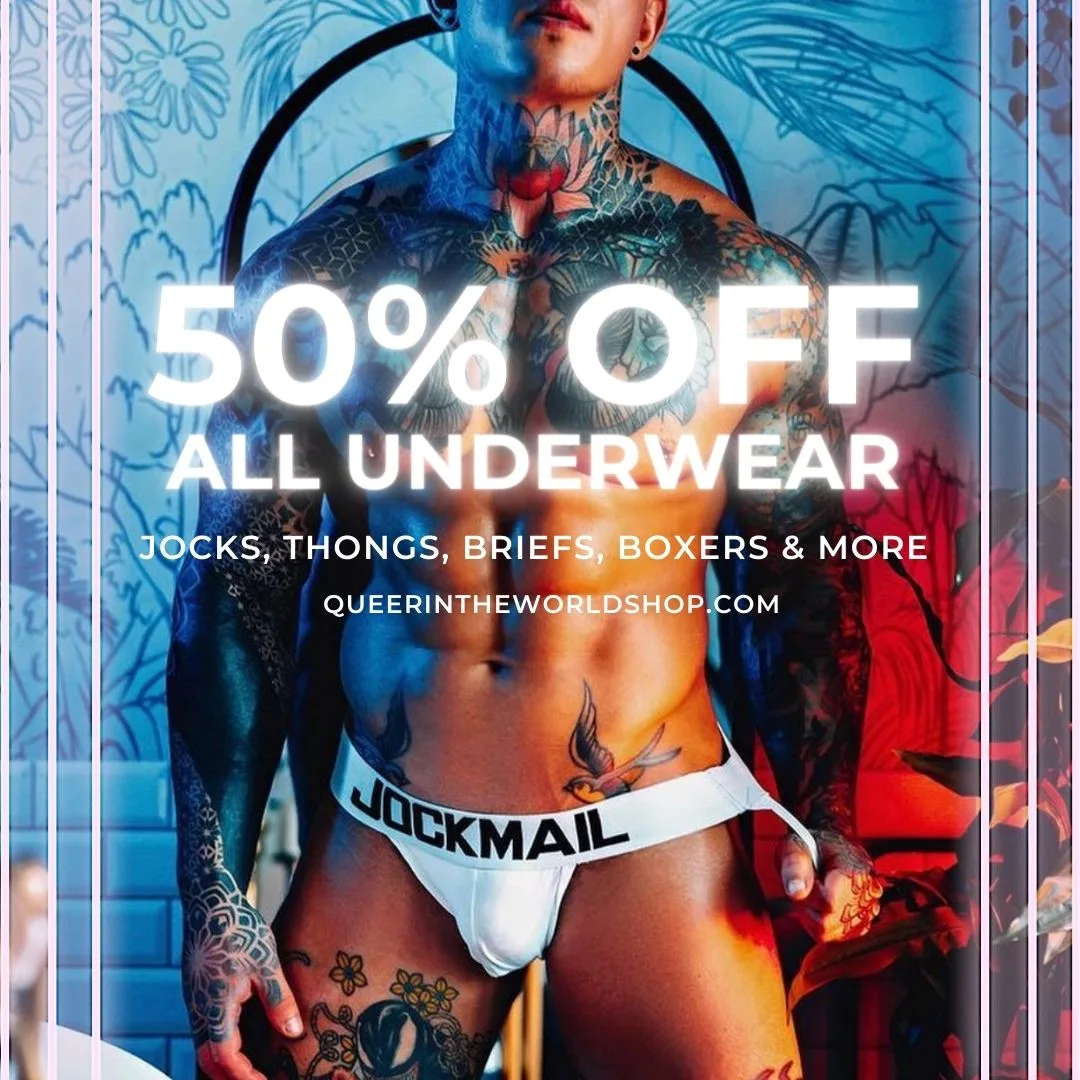 Gay Map Of Ljubljana
Finding it hard to envisage where everything is in Ljubljana? Hopefully, this queer-centric map helps where we have marked all the bars, clubs, parties, hotels, saunas, massages, and more will help you stay in the spot best suited to you!