What do we really need to say about the Caribbean? It is pretty much everyone's dream vacation destination, with warm, tropical sun-washed island beaches, friendly locals, sparkling azure waters, warm breezes, lush rainforests…you name it, the Caribbean has it. Except, due to a lack of widespread LGBT rights and acceptance, going to the wrong country or resort here can quickly become a nightmare.
Yes, sadly the homophobic reputation of the Caribbean is quite deserving and it's far from everyone's idea of paradise. Despite the laid-back reputation, many of the countries here are often hostile to the gay community and the discriminatory laws in place have proven hard to repeal.
It turns out, gay-friendly Caribbean islands are not all that common…and this is something we really have to discuss before talking about gay-friendly and gay resorts in the Caribbean!
There's a strange contrast between the Caribbean islands and the Latin American mainland (and the fabulous gay resorts of Mexico and Costa Rica). Despite the much stronger religious traditions in Catholic Latin America, the laws and attitudes towards homosexuality there are much more liberal; while the English-speaking Caribbean are considerably less gay-friendly, to the point of being dangerous in some places.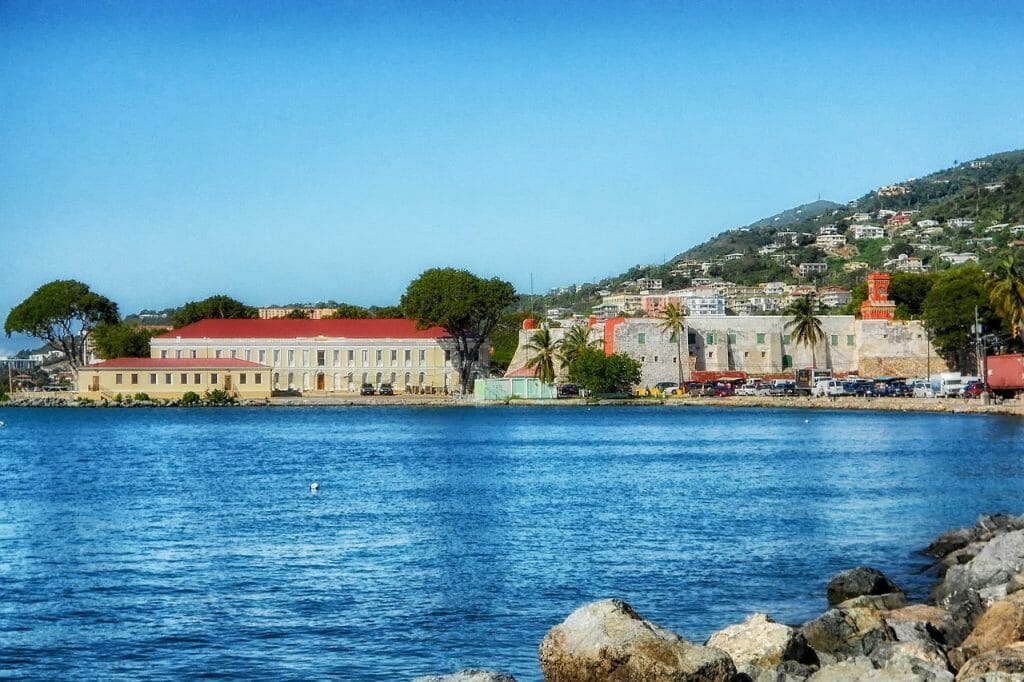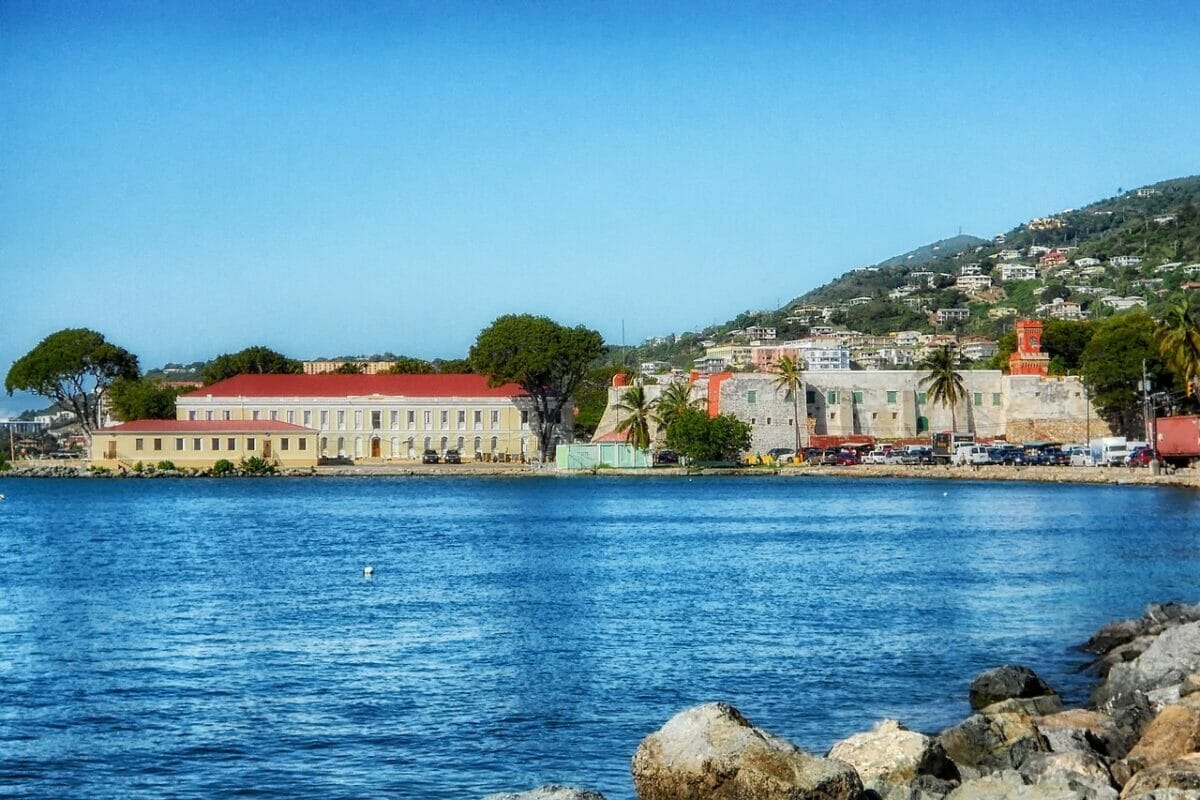 Why this is the case is complicated, related in part to religion but even more to toxic perceptions of masculinity in the region. A shocking 11 countries in the area prohibit gay sex. Violence against the gay community is, unfortunately, a frequent – and unpunished – occurrence.
Even more shockingly, in Jamaica and Barbados, it can carry a maximum sentence of life imprisonment. The Cayman Islands also deserves to be named and shamed, although it repealed its anti-gay sex laws in 2001. These places, in particular, have a terrible reputation for homophobia and we wouldn't recommend traveling there at this time, and you won't find any of these three places featured in these gay resorts of the Caribbean for that reason.
However, as depressing as this all is, we wouldn't like to recommend that gay travelers don't go to the Caribbean full stop. After all, it's a stunning area of the world with lots to enjoy, and everyone deserves fun-in-the-sun with warm weather and Piña colada in hand. And the more exposure communities have to the LGBT community, the more you would hope attitudes change.
There are many places here that are gay-friendly, and even a few specifically gay resorts to are worth planning a trip around. And without any more ado here they are the best of the best gay and gay-friendly hotel resorts in the Caribbean. You are welcome.
We kick off our list with one of the best! The Thuishaven Gay Boutique Resort is located just outside of Curacao's capital of Willemstad. This gay resort consists of five studios and two apartments – note that these are in two separate locations just a couple of minutes drive apart. The apartments accommodate up to six people, and each has its own private garden as well as a shared pool (so don't forget to bring your best gay swimwear!)
The five studios each have a unique theme/aesthetic, and each comes with either a private garden or a terrace overlooking the property's main garden. Studios sleep up to two guests. And speaking of the main garden, it serves as the resort's social hub. Here you can partake in "regular drinks in the sun, dinner under the stars…and the occasional pool party," all while enjoying the company of the other guests.
The garden features a large swimming pool and a gazebo. Your host during your stay at Thuishaven will be Martijn, who moved to the island nation in 2021 to create his "own piece of gay heaven on earth." So visitors to this gay resort can rest safe in the knowledge that they will be well taken care of throughout their stay.
There will be plenty to do while your here, too. That is if you can tear yourself away from the resort's allure long enough to discover it. While there may not be much within easy walking distance, there are several worthwhile attractions that are just a short drive away if you'd like to see a little bit of the island.
There are several stunning caves in the immediate vicinity of the hotel, such as the partially-underwater Blue Room cave, as well as a wildlife refuge and flamingo habitat. Beaches are close at hand, including Blue Bay Beach and Kokomo Beach Curacao with its gorgeous pavilion. The most easily accessible dining options are the Restaurant Bali Grote Berg and the Artisan Cuisine a la Liz, a fine takeout restaurant. Both are within walking distance of the hotel. There is even a MacDonald's nearby as well.
While it may not exactly be teeming with gay bars and such, Curacao is easily one of the most gay-friendly of the Caribbean islands. And Thuishaven Gay Boutique Hotel is really going to be the gay hotel of choice if you are in Curacao and don't mind getting just a little bit out of Willemstad.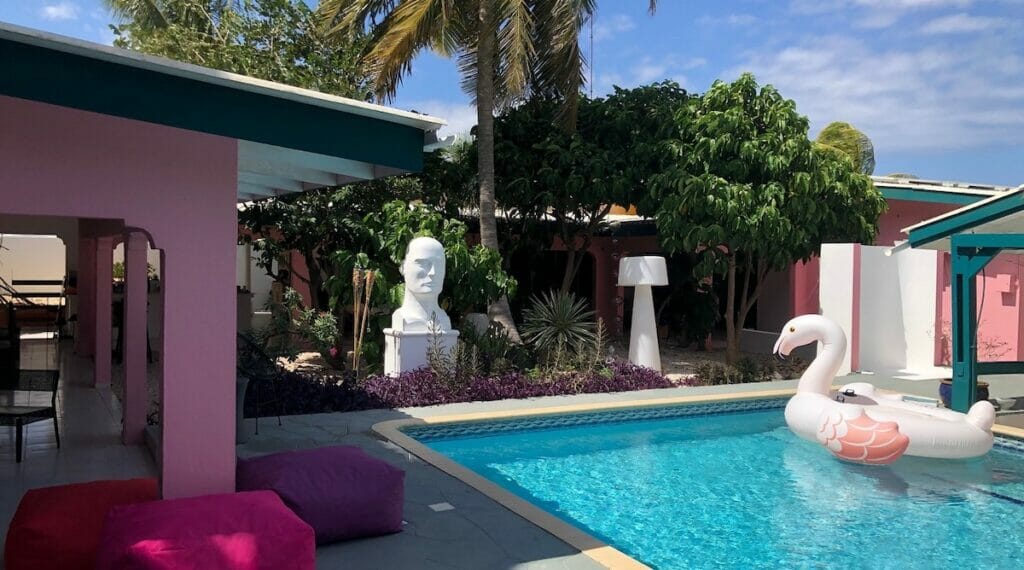 This gay-owned and managed resort proudly proclaims itself to be the gayest in Puerto Rico, or in the entire Caribbean for that matter. And really, who could argue the point? As part of its mission statement, the Coqui del Mar Hotel says "We welcome all LGBTQIA. Our goal is to make you feel at home. You are safe. You are welcome. And you can relax and enjoy your vacation the way you would like to."
And if that isn't enough to convince gay tourists in San Juan that this is the place for them well, we don't know what is! But in all seriousness, this hotel offers many nice little perks that you won't find everywhere else, such as complimentary brunch on weekends. And fee-free access to beach chairs, beach bikes such as cruiser bikes for women, and even kayaks. So it is safe to say that owners Rob and Vianney know how to treat their LGBTQ guests – with a unique brand of sensitivity and attention that likely won't be matched anywhere in Puerto Rico.
The hotel's dozen rooms are all distinct and have a unique style and personality, as evidenced by the room names: The Pink Room, The Bear Room, The Orange Room, The Rainbow Front, and so on. The hotel has a pool and a jacuzzi. Something else you should know is that the entire ground floor is clothing optional. And you may be glad to know this is the only 420-friendly hotel in San Juan, and the hotel can even assist you in getting your medical marijuana license, should you need it. Medical Marijuana dispensaries are available within walking distance of the hotel.
All told the Coqui del Mar offers a one-of-a-kind hotel stay that you won't find anywhere else in San Juan. And for gay resorts in the Caribbean, it really doesn't get much better than this.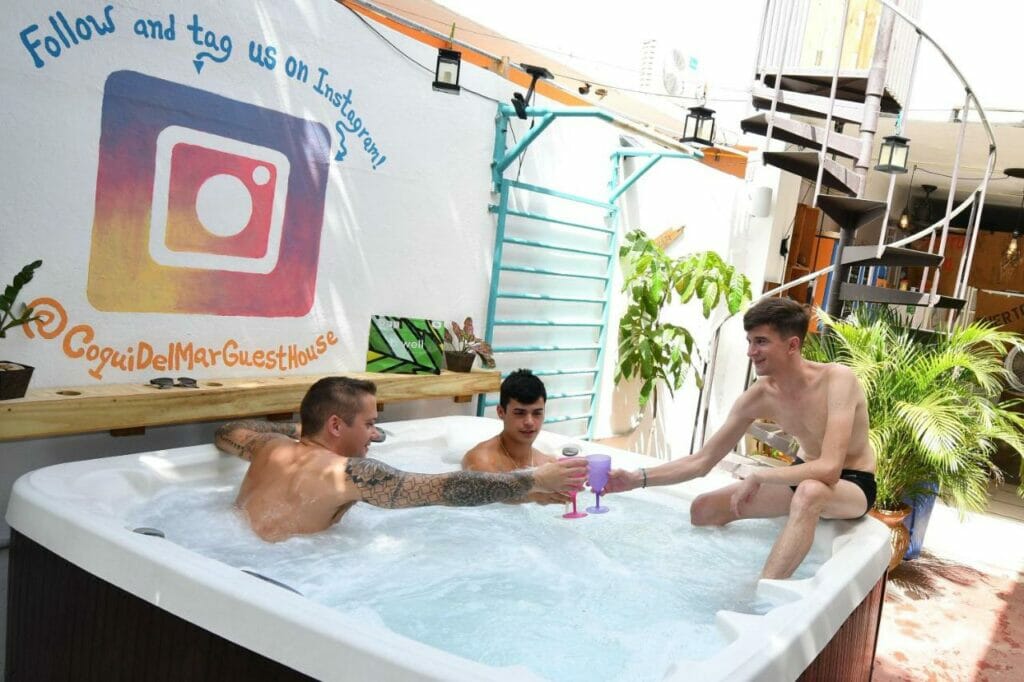 This gay-owned resort on Saint Croix (an island in the Caribbean Sea, and a county and constituent district of the United States Virgin Islands) has a rather whimsical name, and while it certainly does embody the sort of laid-back vibe you would reasonably expect from a hotel so-named, rest assured that it doesn't skimp on taking first-rate service and hospitality seriously. It offers a wide range of room types – from studios to villas – so you can be sure there is something for every type of guest.
Owneres Ted and Chris have become fixtures of the gay community in the U.S. Virgin Islands and throughout the region. They sponsor LGBTQ events such as pride parades and drag shows, including charitable ones that help to raise both funds and awareness visibility for the gay community and to help promote acceptance of alternative lifestyles throughout the islands.
They have striven greatly to make St. Croix and the other islands a safe place for LGBTQ people. So you know that you will find no better, more accepting accommodations than at the Sand Castle On The Beach anywhere in St. Croix and perhaps anywhere throughout the Caribbean for that matter.
The resort is of course, right on the beach as any great beach resort should be, and features all the nice amenities guests would expect from a fine three-star establishment. Rooms come with industry standard amenities, and there are plenty of gay friendly bars and restaurants in the area, along with great attractions. Surely Sand Castle on the Beach is one of the best gay friendly resorts in all the region.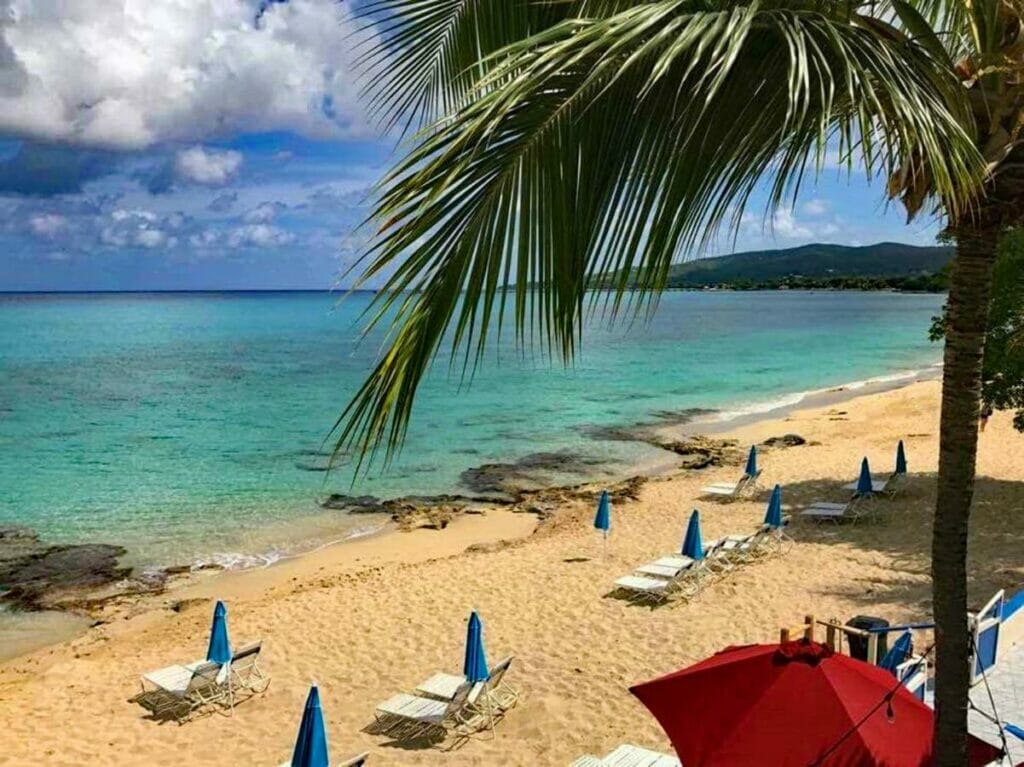 Known for its "fiery sunsets and turquoise waters," the fabulous island of Aruba is one of the top Caribbean getaway destinations, and The Ritz-Carlton Aruba is one of the most luxurious gay friendly hotel resorts anyone could ask for. Gay travelers will be in for a real treat when they book a stay at this stunning hotel.
The luxe property has 320 guest rooms and suites (each and every one of them offering a private balcony) and a 24-hour casino with live entertainment and, of course, an array of slot machines and table games including Craps, Blackjack, Roulette, Baccarat, Caribbean Stud Poker, Three Card Poker, Let It Ride and Texas Holdem Bonus, making the hotel a gambler's paradise.
There are two pools on the property, and a total of 5 bars and eateries. Rooms also come with large flat screen TVs and free Wi-Fi access, and spacious bathrooms with showers. There is plenty to do at this beachfront luxury resort's doorstep, as well. Skydive Aruba offers skydiving for the brave, as you might have guessed. Hadacurari Beach is known for its kitesurfing, and if you are up to try it out then the nearby Kitesurfing School will be happy to get you started.
And there is also a wealth of off-site dining options if you want to venture out of the resort property and taste a little more of Aruba. Madero Pool and Beach Grill is – no surprise – right on the beach, as is Waves Bar & Grill. At the bluntly named Eatery (yes, that is the actual name of the restaurant) you simply must try the fish tacos, and Wilma's world famed "frozen pain killer" is a highly recommended treat that you won't find anywhere else. The Ketsu Sushi Bar and Marhaba Lebanese Cuisine Aruba offer a taste of something a bit more international.
As is obvious by now, guest won't be hurting for fine dining choices when they stay and the Ritz Carlton Aruba. Nor will they be hurting for some of the best luxury gay friendly accommodations to be found anywhere in the Caribbean.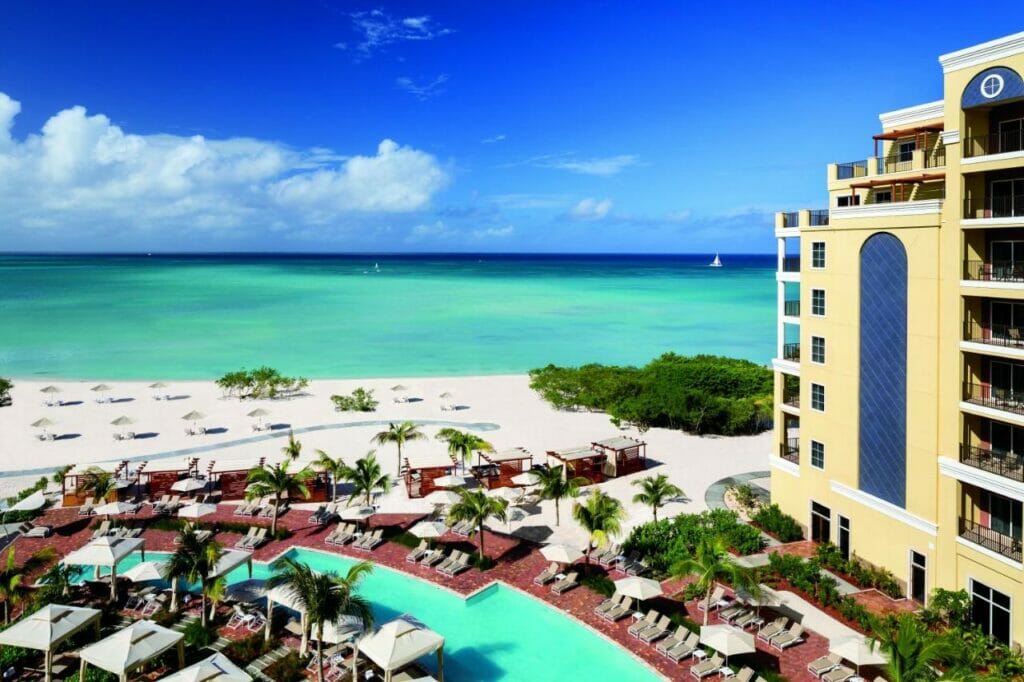 Tiamo Resort is a gay friendly resort in the Bahamas that bills itself as "The quintessential unspoiled luxury island hideaway in The Bahamas." It is accessible only via boat or seaplane, and has its own private beach.
Tiamo Resort features 11 villas and 2 rooms, and can accommodate a total of 38 guests at a time. So you know you are in for a cozy, intimate resort experience when you book a stay at the Tiamo Resort, and one that promises an unforgettable secluded getaway that will allow you to leave the stress of the everyday world behind.
The eco-friendly Tiamo boasts a dive shop and wedding facility in addition to standard amenities like a pool and on-site restaurant. It is probably needless to say that this resort is an ideal wedding destination, something the resort takes advantage of in providing many wedding services each year, and it can also host other events such as birthdays and anniversaries, or just an informal family get together. The resort's restaurant offers fine beachside dining with an exciting menu.
The resort allows easy access to some exciting water sports opportunities such as wakeboarding and water-skiing, and snorkeling, diving, and paddleboarding are also available. The diving excursions are particularly worthy of note for the spectacular coral reef just offshore. If you choose the Bahamas for your gay Caribbean getaway, then you really can't find a more memorable gay friendly place to stage it than at the Tiamo Resort, where staff will go out of their way to make you feel welcome.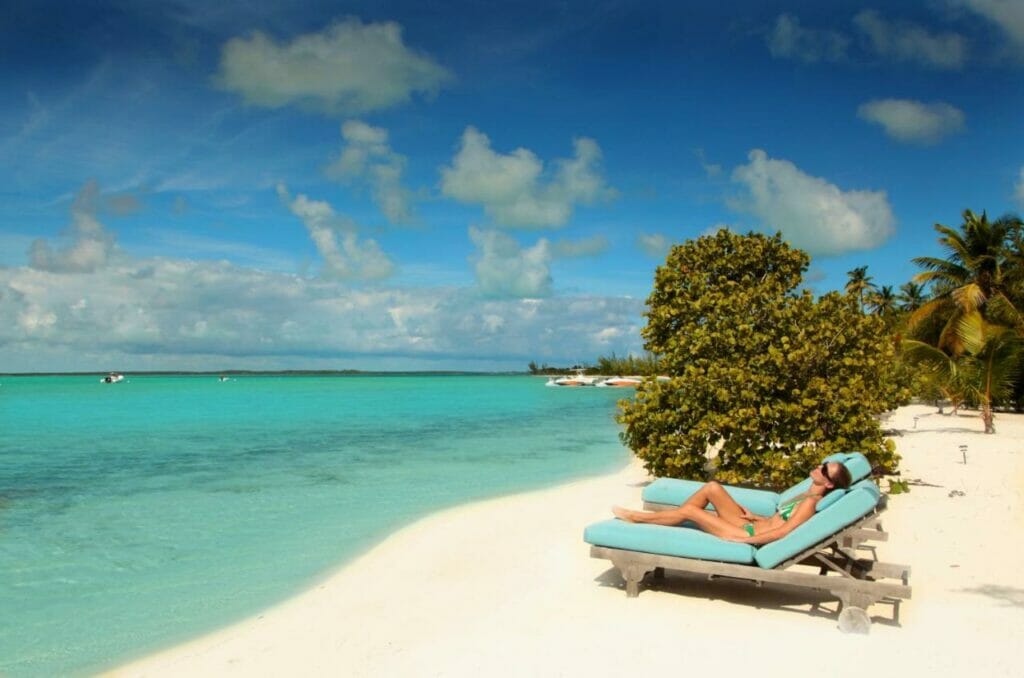 Cuba is quickly becoming a gay-popular travel destination but as of yet have any gay exclusive hotels, although it does have many gay-friendly ones. And Hotel Cubanacan Marazul is among the best of them.
Located in East Havana Beaches, immediately outside of Havana proper, on the Playa del Este, the hotel is a mere five-minute walk from the beach and only 20 minutes from Old Havana, and the Havana International Airport is only a 25-minute drive away. The hotel has an outdoor swimming pool, with sun loungers with sun umbrellas and beach chairs. There is also a fitness center on the property. This is an adults only all-inclusive hotel; pets and children are not permitted.
The 188 standard double rooms come with either an ocean view or a garden view. Wired internet is available at the hotel's business center, for a fee. Concierge service is available along with a 24-hour front desk, also currency exchange. Daily maid service is provided. The resort has a restaurant on-site and a snack bar. There is a game room with board games and billiards as well as table tennis.
X Y, which was formerly known as Bar Myxto, is a popular gay bar in Havana that hosts drag shows. Cabaret Las Vegas is another, though it tends to get crowded at times. Five minutes from the Marazul is Las Palmitas, a mixed clientele bar that attracts a lot of gays for its inviting atmosphere. So while Cuba may not be at the top of mind for gay-friendly travel, the country is making great strides every year.
Much of this has been championed by Mariela Castro, daughter of Raul and niece of longtime communist leader Fidel, is a staunch feminist as well as an influential champion of LGBTQ rights. It can be fairly said that the Cuban people are generally tolerant, and there is some great gay-friendly establishment catering to gay clientele. If you are set on a stay in Cuba, the Hotel Cubanacan is going to be your best option for gay-friendly hospitality.
Here we have another fine gay friendly hotel in Curacao. This one is situated right in the heart of the capital, Willemstad, right on the Blue Bay Beach just as its name implies. This gay friendly resort has a terrace restaurant and a bar, gym, a pool, and tennis court. The rooms come with Wi-Fi, flat screen Tvs with Netflix, and kitchenettes. Upgraded rooms add a full kitchen along with whirlpool tubs, and have added lounge space or terraces.
Guests at the Bayside Boutique Hotel Curacao get to play at the resort's 18-hole golf course at a discount, and the tennis court is available free of any extra charge. So if you are looking to brush up on your game while you are staying here, you will be glad to know that it won't cost you much. Besides tennis and golf, you'll have opportunities for all kinds of fun activities including sailing and kayaking adventures, and Blue Bay Dive and Watersports Curacao, headquartered right on the beach, will take care of your every watersport adventure need.
You won't be deprived of gay-friendly drinking and dining establishments here either. Pirate Bay Curacao Beach Club and Restaurant offers some of the best seafood to be found anywhere on the whole island. Wet and Wild Beach Club lives up to its name, while Sauc'e Curacao is a happening little nightclub with an inviting atmosphere and welcoming vibe where all can have a good time.
As previously mentioned in the Thuishaven entry, gay visitors will find Curacao to be one of the most accepting and tolerant islands in this part of the world. And while there is no overwhelming abundance of gay accommodations, there is not a lack of it either. But (with the new Thuishaven notwithstanding) Bayside Boutique Hotel Curacao is the most gay friendly of them all, and right in the hub of everything on the island.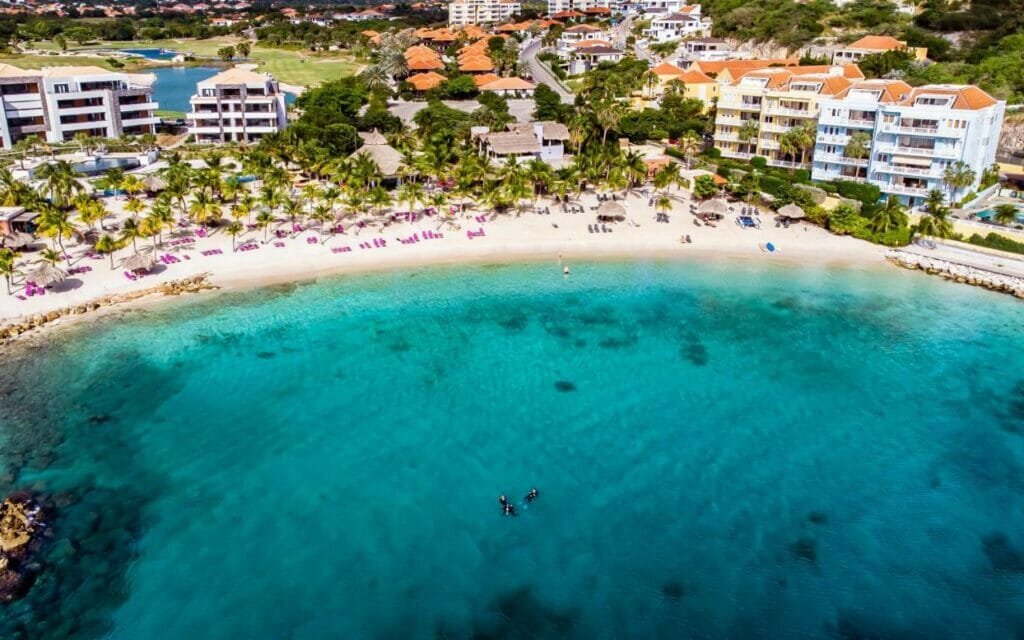 This gay-friendly resort bills itself as "The sparkling gem of St. Martin," and who could argue the point?
This world-class hotel makes for an ideal Caribbean Island retreat with world-class service and amenities that you will be hard-pressed to top anywhere in the Caribbean. In fact, it is considered one of the region's top ten hotels. And the best part is that it practices a welcoming attitude toward all, and gay tourists to St. Martin can have peace of mind in knowing that their stay here will be an enjoyable one where staff will pull out all the stops to provide top-notch hospitality. After all the Belmond La Samanna isn't a five-star hotel for no reason.
L'oursin offers excellent sea views to go along with the fine Caribbean cuisine and seafood. The restaurant also has an impressive wine selection. Laplaj serves fresh grilled fish and drinks on its shaded terrace. And the Baie Longue Bar is another great hangout in which to just relax and enjoy the calm vibes.
Seaside Nature Park, with horses and hiking trails, and The Butterfly farm are worthy side trips if you want to explore a little of what St. Martin has to offer, along with the Natural Jacuzzi Cave. And if you are still thirsty for more adventure, Sky Explorer Flying Dutchman Schooner Ride and Sentry Hill Zip Line, by Rainforest Adventures St Maarten offers a thrill ride with spectacular views. and Billy Bones Boat Charters offers a full-day snorkeling and beach excursion, lunch included. the tour promises the chance to "snorkel with sea turtles and visit iguanas at Pinel Island," and it is all done in an eco-friendly manner.
And really, this is just a sampling of the kind of unforgettable fun you can have on this small but extraordinary island. and the Belmond La Samanna is the perfect place to base all of this memory-making adventure for gay-friendly luxury lodging that can't be beat.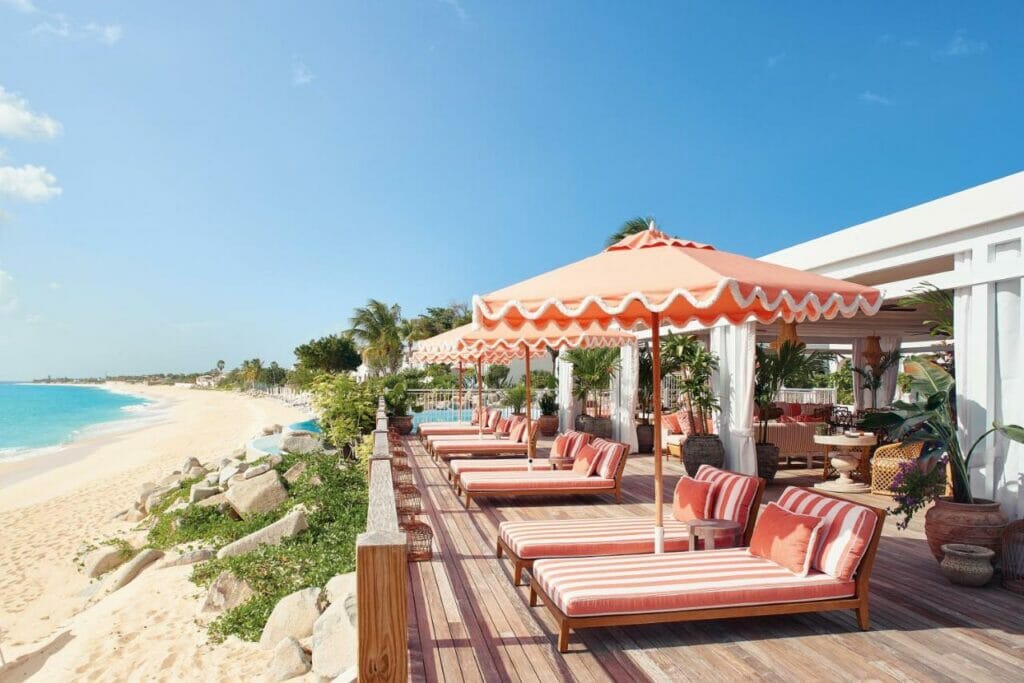 This resort, located in Punta Cana in the Dominican Republic, promises a one-of-a-kind resort experience in its advertising that we think it delivers on.
The all-inclusive hotel, which is for adults only, offers a variety of suites. Property amenities for this five-star luxury establishment are as follows: swimming pool, direct access to the beach, internet access, a/c, free breakfast, gym, room service, housekeeping, flat-screen TV, minibar, and the list goes on. Suffice it to say it has pretty much all you would come to expect.
For on-site dining options, guests will be spoiled for choice. The Hashira Japanese Restaurant offers what else but Japanese fare and El Galeon Surf and Turf Restaurant offers international gourmet cuisine, with dishes such as crab tartar, duck magret, and bouillabaisse just to name a few, as does La Tentazione Wine Cellar, along with more than 80 wines to accompany that fine cuisine.
If you are planning a visit to the Dominican Republic, The Iberostar Grand Hotel Bavaro has to be at the top of your gay-friendly hotel list.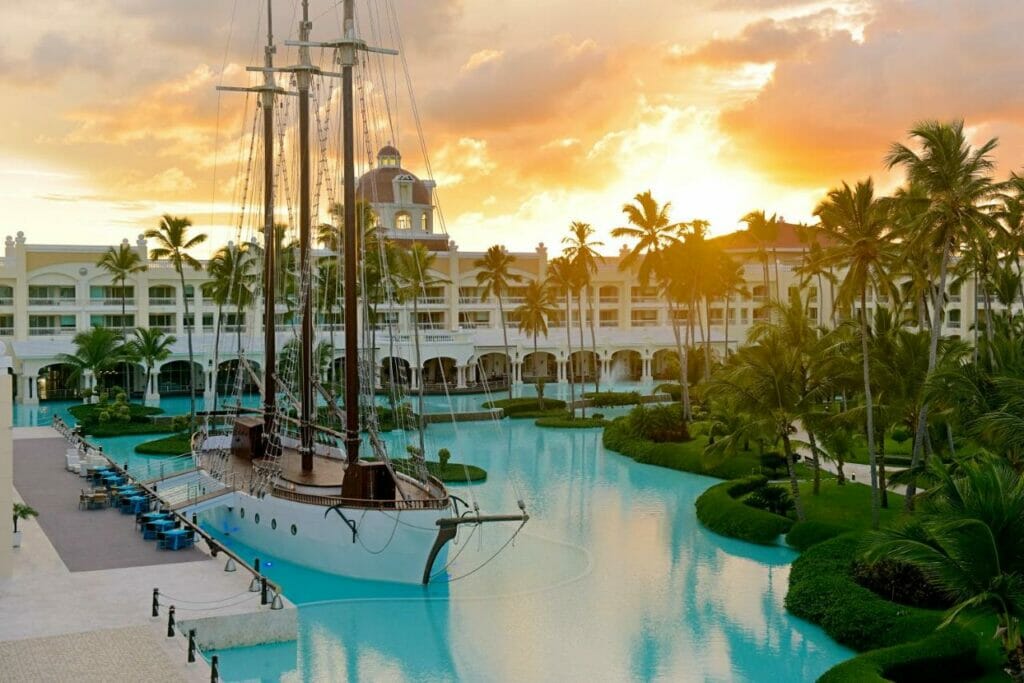 This business class hotel located on the island of St Kitts is the perfect choice to close our list of the Caribbean's best gay and gay-friendly hotels.
While you're here basking in the fine four-star hospitality be sure to try your luck at the Royal Beach Casino with its many table games, and after that tee off on the Royal St Kitts Golf Course. This is, without doubt, the best place to base your tourism activities in St Kitts, with all the amenities you could want and great service with an open, accepting attitude toward LGBTQ people.
And there is more to do on this little tropical island than you may think. Climb a volcano or zipline through a lush tropical forest. Or take in some dolphin watching at Bird Rock Beach, or enjoy the views of the St Kitts Scenic Railway for a relaxing experience as you get a real appreciation for the island's natural beauty. A tour of Fairview Great House and Botanical Gardens is a worthy activity when you are in the island's capital, Basseterre.
The island isn't hurting for gay-friendly bars and restaurants, and you'll have a good selection of fine establishments in St. Kitts. This little island has more to offer than may at first meet the eye if you give it a chance. And there is truly no better place to stay than St Kitts Marriott Resort and The Royal Beach Casino while you visit!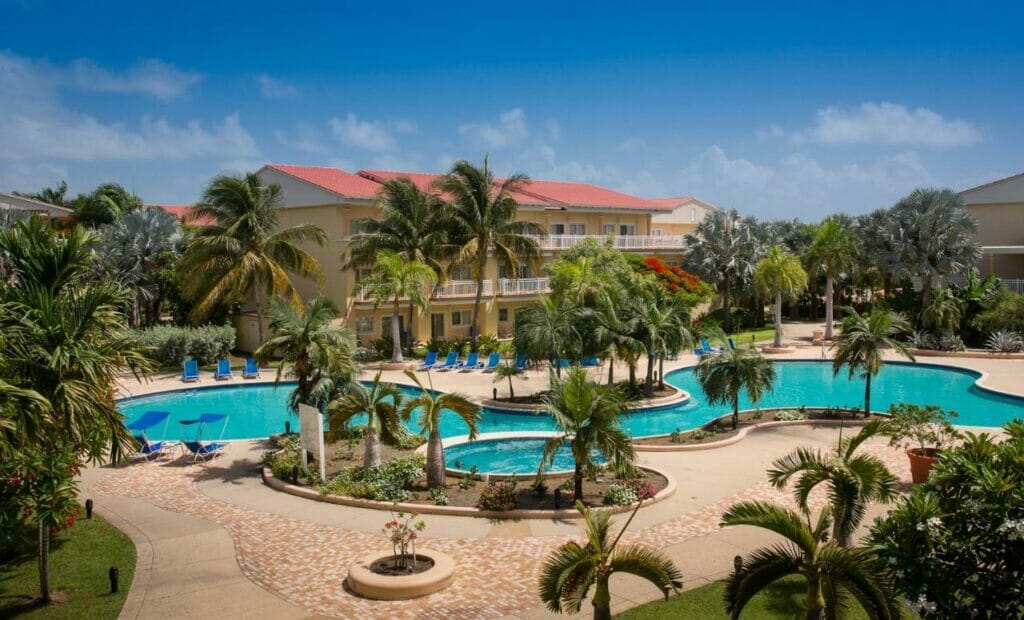 The eco-friendly Royal Isabela Resort, located in the town of Isabela in Puerto Rico, known as the "Garden of the Northwest," consists of 20 casitas that encompass 1500 square ft. total, including both indoor and outdoor space. The resort offers a romantic, intimate, and nature-oriented stay with a gay-friendly atmosphere that welcomes all.
The resort is right on the oceanfront, with access to the beach. It takes much pride in its clifftop-perched golf course, The Links, where lessons are available including junior lessons every Saturday. The resort's restaurant, the Jota Restaurant at Royal Isabela, boasts a Caribbean menu with farm-to-table ingredients, as well as fresh fish from local fishermen and cheese from local cheesemakers. The restaurant features an outdoor terrace for an alfresco dining experience.
Close attractions are bountiful, with the region's dramatic natural beauty punctuated by stark oceanside cliffs, lush forests, and stunning beaches. The Guajataca State Forest and the Camuy River Cave Park are close by, and the area is known for its many breathtaking limestone caves. The Royal Isabela Resort is also a popular wedding destination, and gay couples could do much worse than to arrange the important occasion here at the Royal Isabela. It offers a beautiful natural setting and LGBT-friendly hospitality with great service.