If you love queer culture, sun-soaked beaches and tropical drinks then San Juan, Puerto Rico is the perfect place for you to explore. From its lively nightlife and inviting atmosphere to its unique history steeped in Spanish colonial architecture, San Juan is a tableau of history and culture.
Whether you're looking for a romantic getaway with your partner or an exciting group trip with friends, this Caribbean city offers something for everyone within the LGBTQ+ community. So dust off your flip-flops, throw on a tank top (with optional sunscreen) and get ready to experience everything that this gorgeous multicultural gem has to offer.
San Juan's energy spans centuries, with the beloved colonial Old City sitting atop its iconic 16th-century Spanish roots while simultaneously embracing modern America.
Home to many distinct districts including Condado Beach, Ocean Park and Santurce, this capital city attracts an eclectic range of tourists seeking out both gay-friendly vibes as well as sensational nightlife hotspots dotted across luxurious hotels and casinos.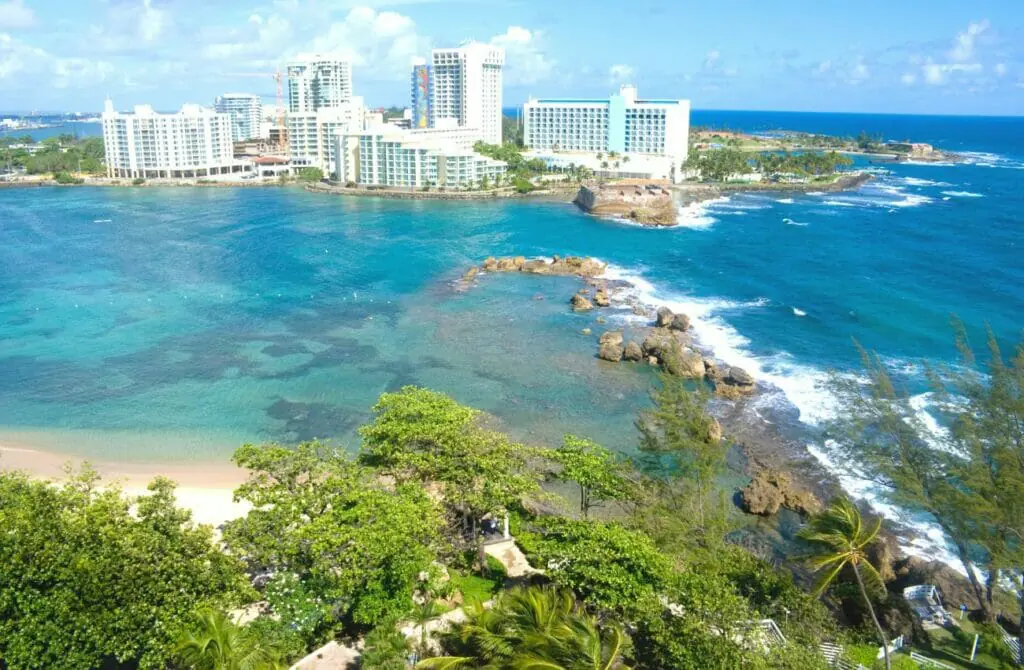 This city is treasured by its residents and visitors alike, where flavors of Spanish, African, and Taino cultures mingle in the local food, music and art. With its passionate locals ready to welcome you with open arms, it's no surprise why this coastal capital is called "The Island Of Enchantment".
Although Gay San Juan is an incredibly welcoming place for the queer traveler, there are petty crimes and it's always best to take safety precautions as you would anywhere else.
There's no shortage of activities fit for any kind – from beach-goers enjoying tropical warmth to museum buffs finding artistic inspiration or locals celebrating unfathomable joy at municipal festivals. But that's not all – Puerto Rico legalized same-sex marriage in 2015 and made headlines with its groundbreaking court order in 2018 which allowed people to change their gender recorded on birth certificates.
Talk about making history! San Juan has become a beacon of inclusivity and equality, especially for the LGBTQ+ community. With its notorious gay bars, lively queer activities, and abundant pride events, it's no wonder that this vibrant capital is Puerto Rico's premier destination to let your true colors shine.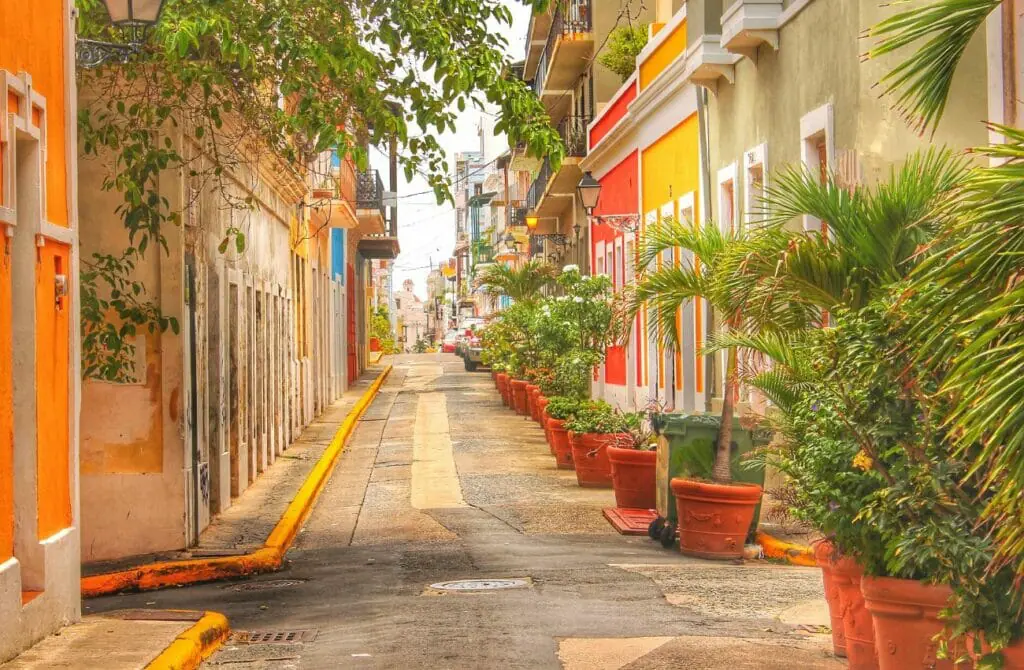 Top Attractions in San Juan
As a new visitor to Gay San Juan, there are plenty of things to see and do, regardless of your sexual orientation. One of the best ways to experience any new city is to visit some of its most iconic landmarks and attractions, including visiting historical monuments, museums, and art galleries. We also love gazing at architecture up close, exploring parks and gardens, sampling the local cuisine, visiting local markets, and attending cultural events such as festivals, concerts and shows.
Even as the out-and-proud queer we are, we still love to just explore the city and its culture in the same way as everyone else. Doing so allows us the opportunity to learn more about the city and its people and gain a deeper understanding of the local culture. As such, these are our favorite must-see attractions in San Juan.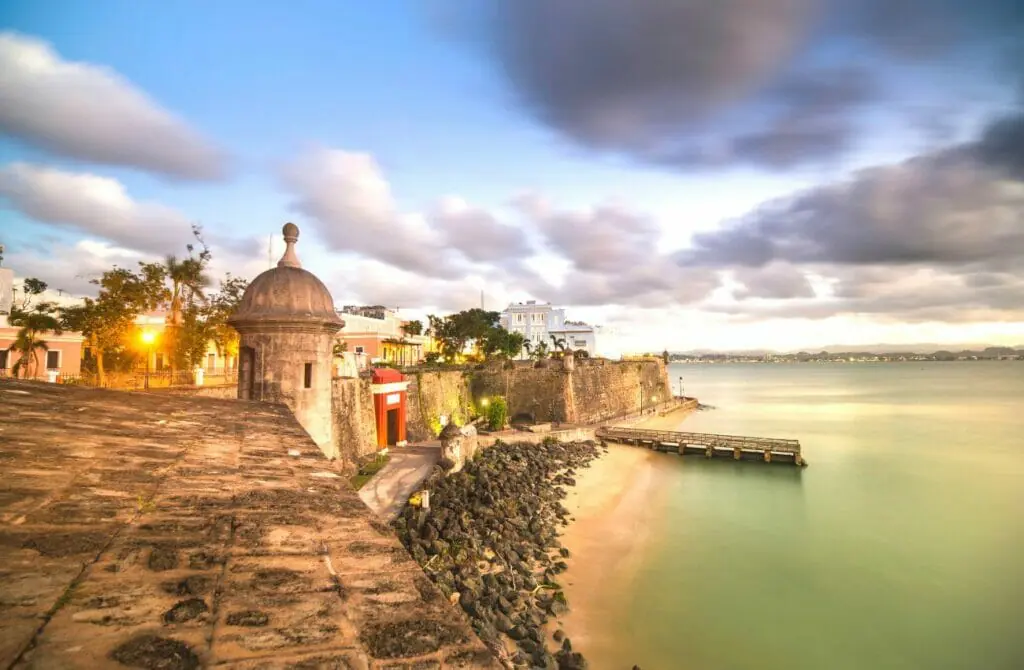 Old San Juan Walk and Taste Tour
Spice up your Puerto Rican vacation with the Spoon Experience! From morning and sunset walking food tours of Old San Juan to a "Sip & Savor Cocktail Tour" in five bars, there are plenty of unique ways for queer travelers to explore the city's delicious culture.
They also offer other tours. Get away from it all on an unforgettable drive around culinary destinations outside El Viejo or take part in a Flavors of Puerto Rico Cooking Class — learn traditional recipes and make memories you'll never forget.
Get ready for a queerly exhilarating experience and take your gaycation in San Juan to the next level, and explore lush rainforest trails and breathtaking caves or party on at one of the island's most vibrant gay beaches. With certified gay guides by your side at every step, you don't want to miss out on this unique and unforgettable adventure.
Old San Juan's Historic Landmarks
Here in the Old City lies an incredible infrastructure surrounded by stunning colonial architecture that has been declared World Heritage Site. The best way to explore this unique cityscape is by riding a bike. Rent The Bicycle–an awesome tour company featuring guided tours and hourly bike rentals for all your sightseeing needs.
Step back in time to the vibrant and lively streets of Old San Juan. 500 years of history envelop this picturesque city, with its colorful Spanish colonial architecture serving as one-of-a-kind photo opportunities.
Whether you're interested in meandering down cobbled roads or exploring historic landmarks such as Castillo San Felipe del Morro and Castillo San Cristobal, this area is perfect for a first visit. No matter your queer identity, restaurants, shops and bars promise an incredibly friendly atmosphere throughout town.
Don't miss out on Hotel El Convento either: built-in 1646 making it Puerto Rico's original luxe hotel destination.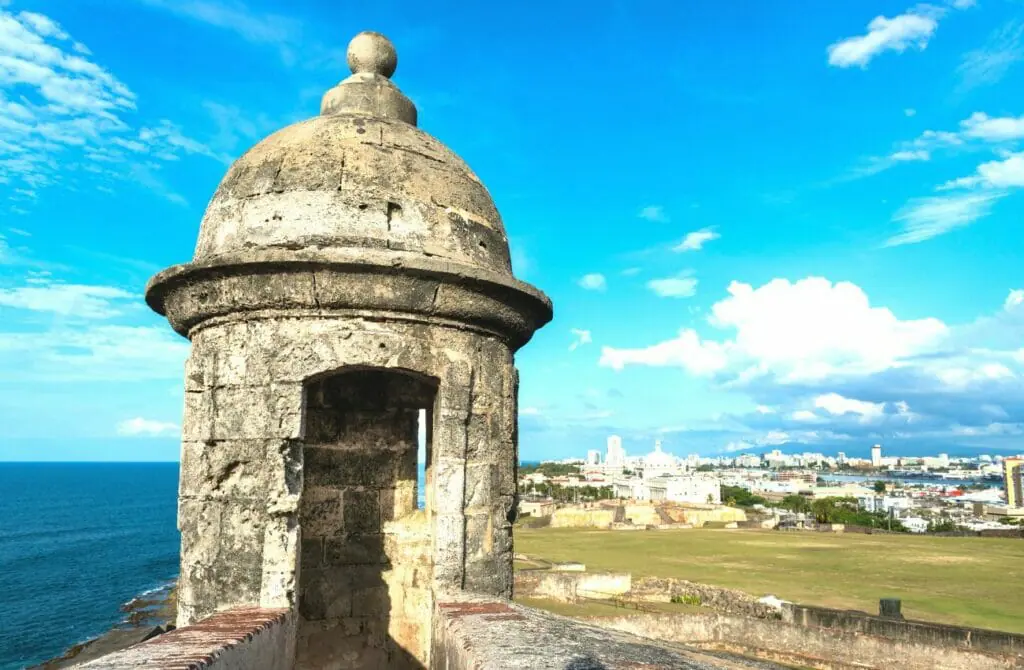 Ready for a magical adventure? Follow your guide on an evening kayaking tour east of San Juan to explore the wondrous Bioluminescent Bay. As soon as night falls, you will be treated to captivating views of sparkling blue and green water – it's like paddling through liquid stars!
Even beginners can join in this unforgettable experience that has all the necessary equipment and instruction provided, so just sit back and take in the calm tranquility before being wowed by bioluminescence.
San Juan Catamaran Sunset Sail
Embark on a cruise to the Caribbean paradise of San Juan at sunset and leave worries behind! Be welcomed aboard by a friendly captain and crew who will take you along breathtakingly scenic waters.
As your boat drifts across the bay, marvel in awe as El Morro Fort and San Juan Gate come into view while delighting in complimentary rum punches or sparkling wine with friends alike. By nightfall you'll be back at the port but ready for more adventures this magical city has to offer.
San Juan Gay Beaches
In San Juan, the LGBTQ+ community takes on two different beaches – both of which are dazzlingly gorgeous and inclusive.
Atlantic Beach in Condado springs is alive with its LGBTQ population. Every Sunday, Groups of friends and families make the most of this special spot – it's an oasis for everyone who enjoys spending time at a beach where they can be their true selves.
Relax and soak up some sun with your queer posse. Rainbow umbrellas and a big Puerto Rican pride flag are sure to draw your attention. Not only is this spot full of good vibes, but it also has plenty of fun people looking for a great time in the water or just lounging around with music playing in the background.
The other gay beach is Ocean Park Beach where you can play water sports or bask in the sun while surrounded by an atmosphere with more locals.
If you want to explore further out, Cueva las Golondinas offers 40 minutes worth of adventure, fully clothed or au naturel — whichever your heart desires.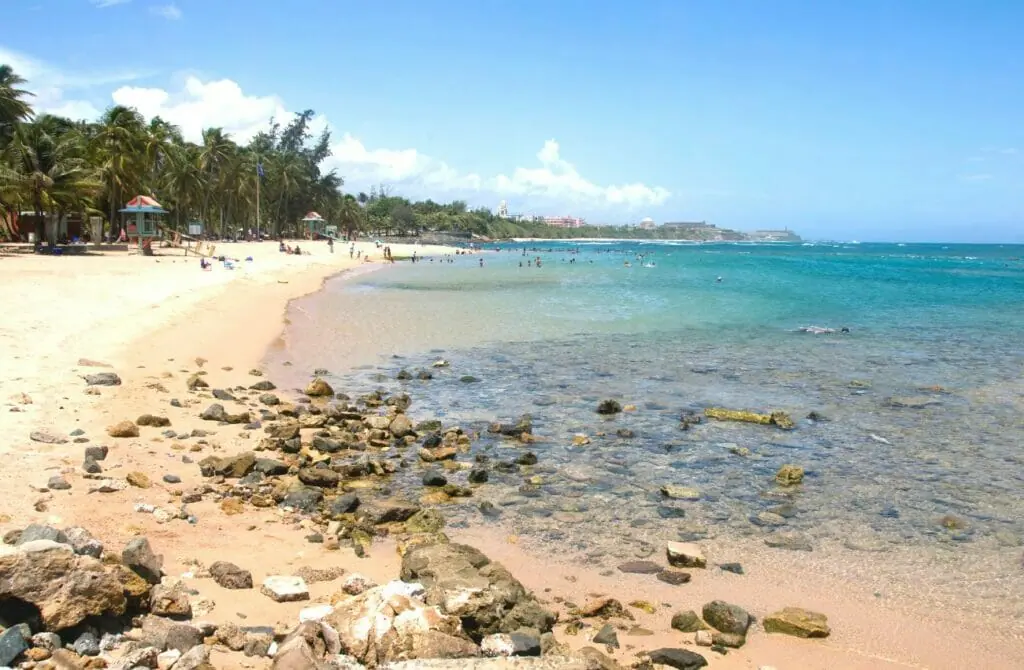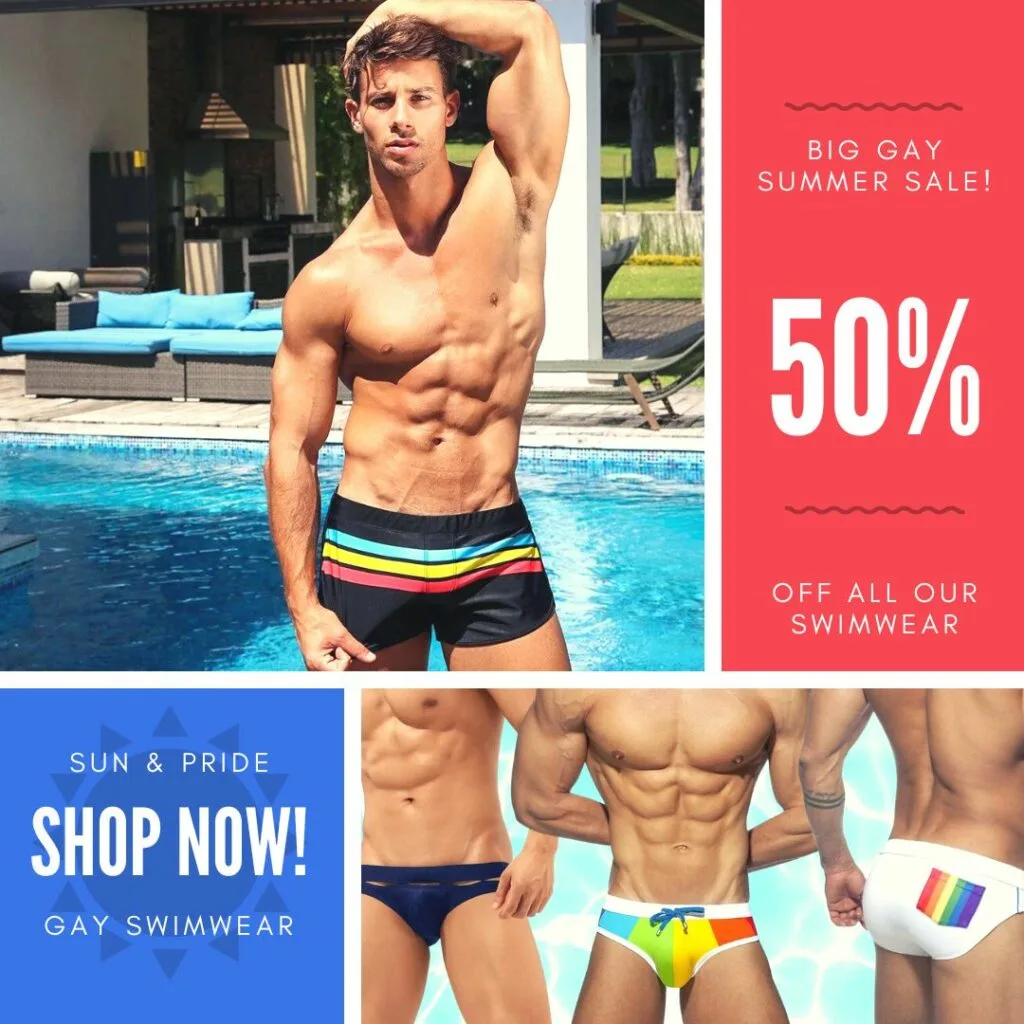 Instagrammable Murals
Get ready to experience Santurce, San Juan's spirited quarter. Here you will find a rainbow of colors and depictions that embody this community with vibrancy.
If you're ready for some cultural rejuvenation, welcome to paradise for all things artsy. Explore the vibrant streets of Santurce, where fun and culture come together as one. For many years it has been celebrated for its free-spirited vibes, a colorful street art movement that originated in Puerto Rico and world-renowned festivals like Los Muros Hablan & Santurce es Ley!
With just a short 10-minute drive from Old San Juan, you will find yourself taken away by this neighborhood filled with awe-inspiring galleries and ever-changing murals that bring life to every corner. Get ready to be immersed in an artistic wonderland; each step offers something new!
Experience the spectacular sights of the El Yunque Rainforest without an arduous climb. Take it easy on this leisurely day trip, an hour from San Juan. After a peaceful hike, you'll find yourself at La Barrigona – where tranquility awaits in its still waters. Let your senses be overwhelmed and marvel at mesmerizing waterfalls or get ready for a thrilling descent as you slide down natural waterslides.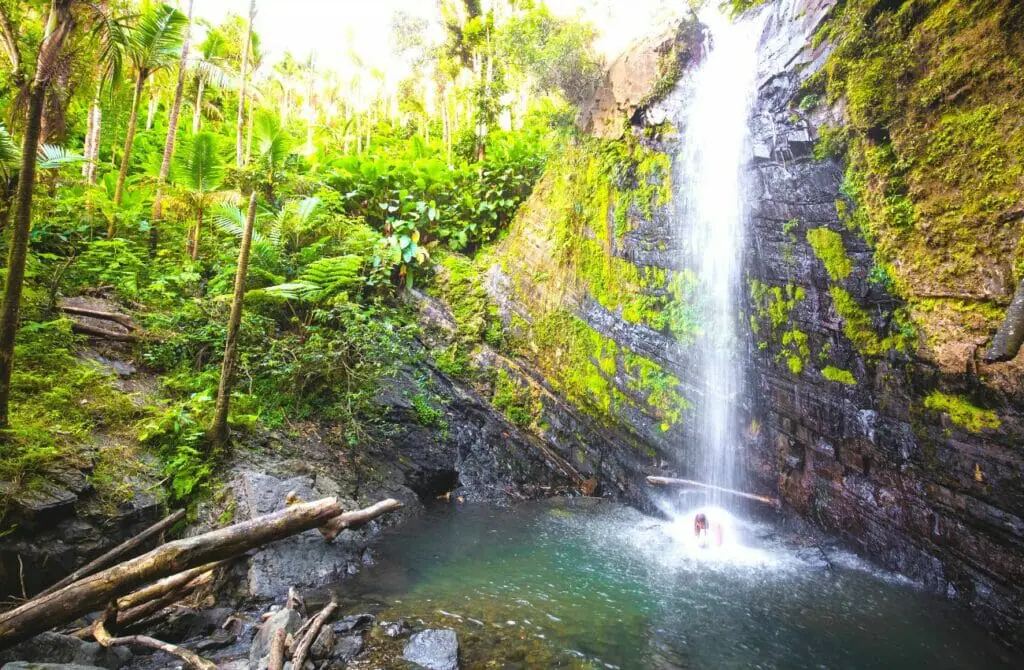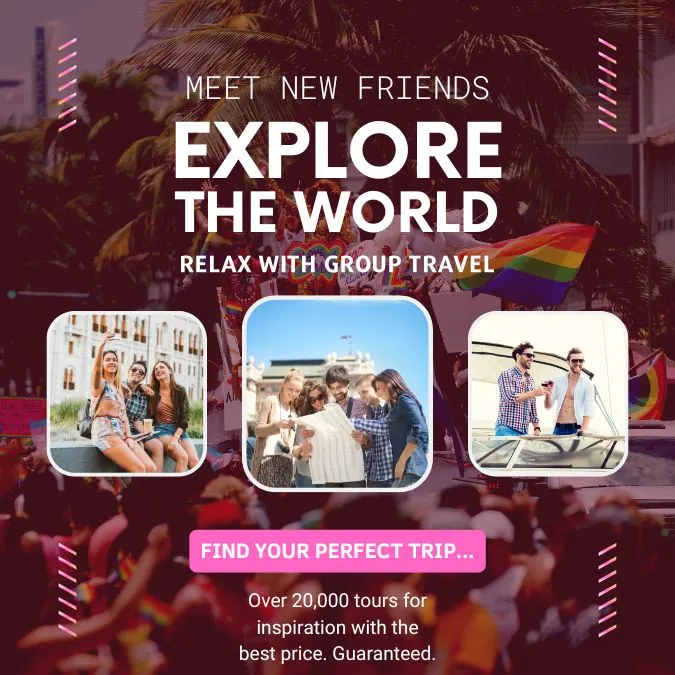 San Juan Pride is a must-attend event for any LGBTQ+ traveler visiting Puerto Rico in June. This annual celebration of diversity, equality, and love takes place in June and is the perfect opportunity to immerse yourself in the vibrant and inclusive culture of San Juan.
San Juan Pride first started in 2003 and has since grown into one of the largest LGBTQ+ events in the Caribbean, attracting thousands of participants and spectators from all over the world. The event takes place in various locations throughout the city, including the historic Old San Juan neighborhood, and features a range of activities and events, including parades, concerts, parties, and community gatherings.
Attending San Juan Pride is a truly unforgettable experience, as it provides a unique opportunity to connect with locals and other LGBTQ+ travelers and to experience the rich and vibrant culture of Puerto Rico. So mark your calendars, pack your rainbow gear, and get ready to join the fun, because San Juan Pride is an event that you won't want to miss!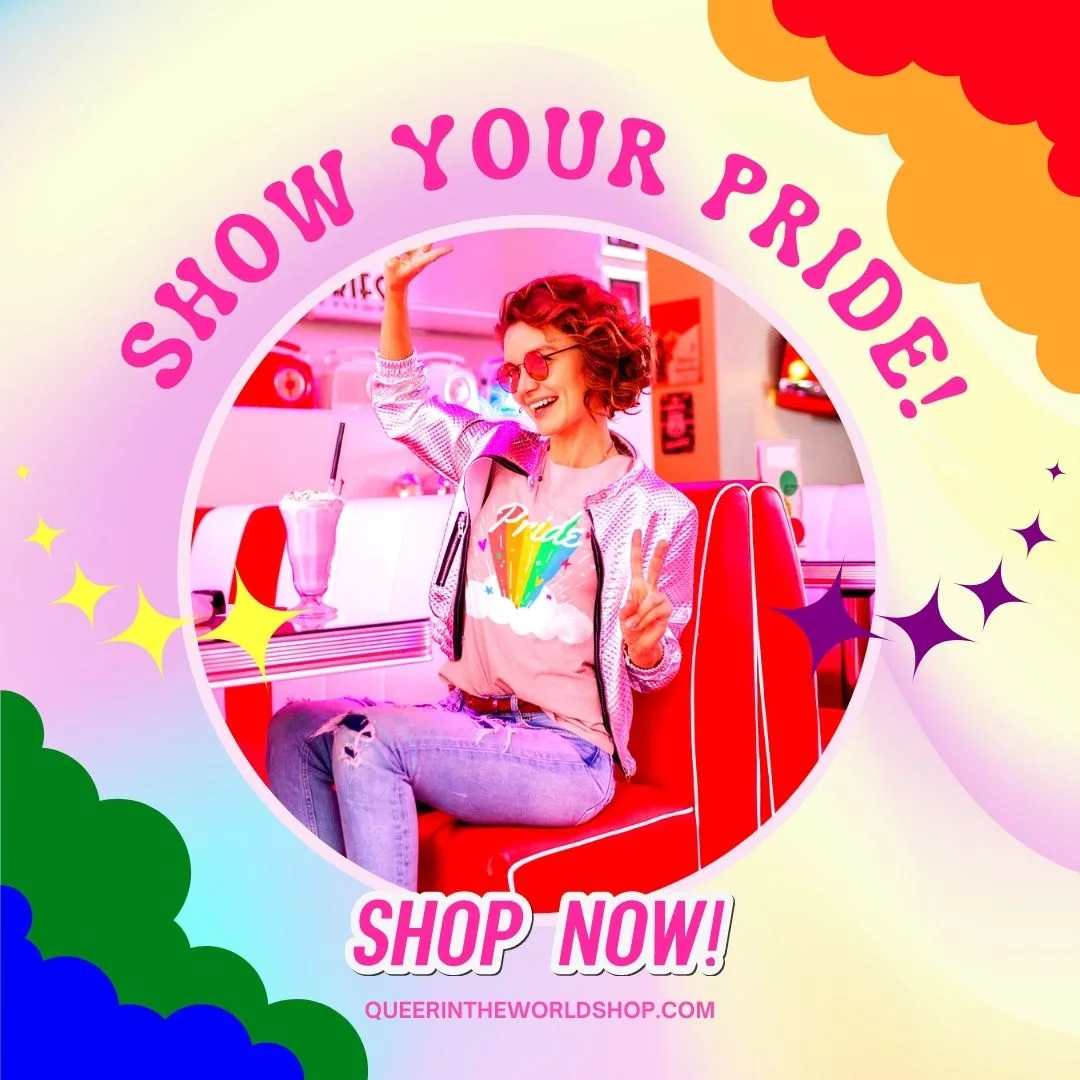 Gay Shopping in San Juan
Beyond its iconic beaches and tropical vibes, San Juan is also known for their incredible LGBTQ retail and shopping scene.
After Hurricane Maria hit the San Juan area hard in 2017, a treasure trove of local businesses has arrived on the scene, from artisanal trinkets to designer threads – all devoted to preserving traditional culture while creating positive ripples around issues such as female entrepreneurship and fair trade fashion.
If you really want to make your mark when visiting these Caribbean shores then shopping with locally owned stores certainly adds more impact than simply dropping into any old mall! Get out there amongst the gay-welcoming neighborhoods with their own unique brand of rainbow-hued hospitality and uncover some unique gems; who knows what little piece of paradise you might stumble upon?
Prepare to be dazzled by high fashion, streetwear and accessories at this shop – the first authorized vendor of sizzling styles from Puerto Rico's trendsetting label on Calle Loíza. Founded by Humberto Vázquez, this small menswear shop is a paradise for stylish guys seeking hats, skateboards and beach items sure to keep you looking cool all summer long!
Libros Libres in Puerto Rico is a revolutionary project that operates on the philosophy of 'sharing information, creating worlds!' Bring your favorite books to this unique non-shop and give someone else an opportunity to explore new realms. Create access by exchanging stories.
Fashion mogul Nono Maldonado is taking the fashion world by storm! From his signature menswear designs to womenswear and interior design is only seen in the newly-opened St. Regis Bahia Beach Resort–it's no surprise that this Puerto Rican designer has quickly gained international fame for their unique eye for style.
Monsieur is the go-to destination for conservative but fashionable men. Located in Condado's bustling fashion district, this iconic boutique stands out with its selection of stylish and sophisticated threads—think vibrant tropical prints or guayabera shirts for a classic Latin look.
Perfect for everything from sunset cocktails or sophisticated clubwear, they will be your new favorite queer shirts. Professional tailoring ensures each outfit perfectly complements your unique style!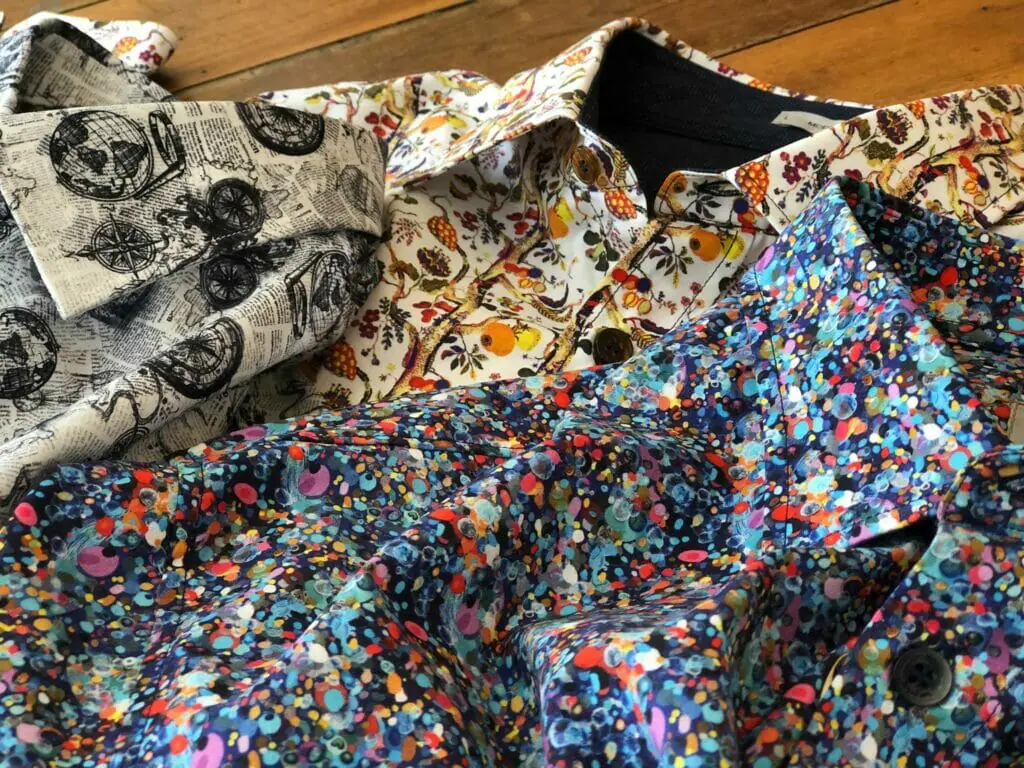 Gay-Friendly and Gay Hotels in San Juan, Costa Rica
San Juan is an easy place to explore and experience since everything's within a cozy reach. Take your pick from three of the most alluring hoods–Condado for its contemporary flair, Old San Juan steeped in history and culture, or Santurce where it's always popping!
No matter which you choose to stay in, you're sure to have a grand ol' time while discovering this vibrant city.
Needless to say, there are also hundreds more hotel and hostel options in San Juan if none of these suit your desired budget, facilities or area – but these are the best hotels according to other gay travelers and us. Whatever your needs are, San Juan has you covered.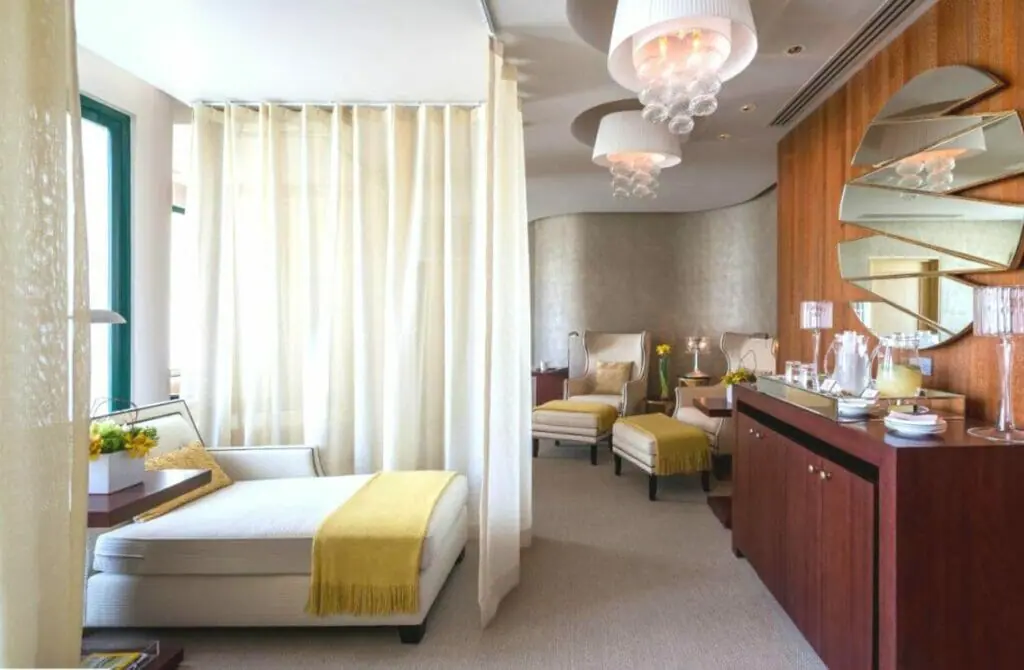 Condado Vanderbilt Hotel ☆☆☆☆☆
Step into the illustrious world of five-star luxury that is Condado Vanderbilt, an iconic hotel. This gay-friendly haven has embraced sophisticated travelers with its magnificent Spanish Revival architecture and breathtaking ocean views – a perfect setting for all your leisurely pursuits.
Boasting opulent interiors meticulously restored to their original grandeur plus exemplary service and exquisite amenities like fine dining experiences and cocktail lounges, you will be immersed in unsurpassable glamour at every turn. Pamper yourself with a relaxing spa treatment or break a sweat at their fitness center – all within one hotel.
Take a dip into either their indoor/outdoor swimming pools or if you're feeling adventurous why not take up horseback riding along nearby sandy shores? With chic modern decor throughout each room offering all essential amenities, it'll be easy to feel right at home while being only moments away from buzzing nightlife districts like Santurce and Old San Juan City Center.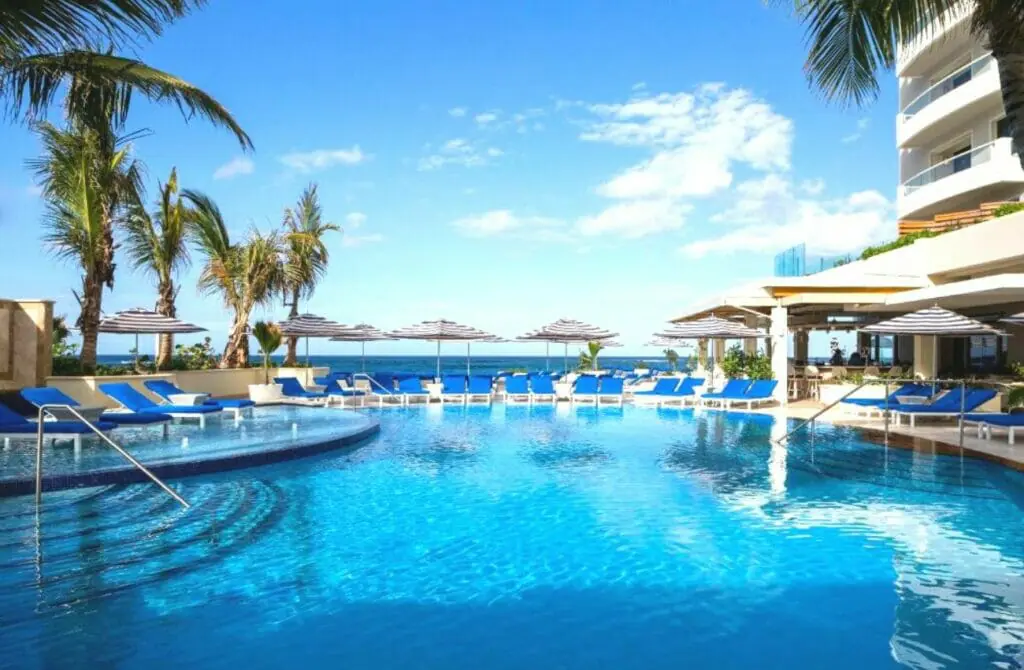 The Ritz-Carlton, San Juan ☆☆☆☆☆
Feel the sand between your toes, smell the salty ocean breeze and experience true luxury – welcome to Dorado's newly renovated Ritz-Carlton resort! Spend time lounging in absolute comfort and security knowing that this gay-friendly space guarantees an inclusive atmosphere for travelers.
Make it a short drive from San Juan (just 15 miles!) and you've got yourself a treat of first-rate hospitality on one of Puerto Rico's most stunning beaches. With nine guest rooms and eight suites providing seventeen breathtakingly beautiful accommodation options, all overlooking the sandy shoreline – this luxurious getaway has it all.
Whether you're looking to relax with fine amenities worthy of a Ritz-Carlton or take part in an exciting watersport adventure right at your doorstep, you'll find something special here.
Plus three golf courses provide plenty more opportunities for fun, while restaurants that are welcoming toward queer guests make sure no one goes away unsatisfied. It promises to be a truly sensational experience from start to finish.
Nestled in the Condado district, O:live Boutique Hotel is a romantic haven for beachgoers and luxury seekers alike. Inspired by the 'art de Vivre and providing an intoxicating blend of Mediterranean sophistication with unparalleled service, this gay-friendly hotel has all you need to experience complete indulgence away from home.
Guests are warmly welcomed into stylish suites featuring motifs that combine contemporary Spanish elegance with Moroccan charm and French finesse – plus modern amenities like sleek hi-tech gadgets.
Explore rooms decorated by chic distressed wooden walls or wrought iron furniture while admiring views through glass bathrooms. Relax on sumptuous sleigh beds draped in white fabric as you soak up earthy tones throughout each space; even standard suite sizes will never feel cramped here.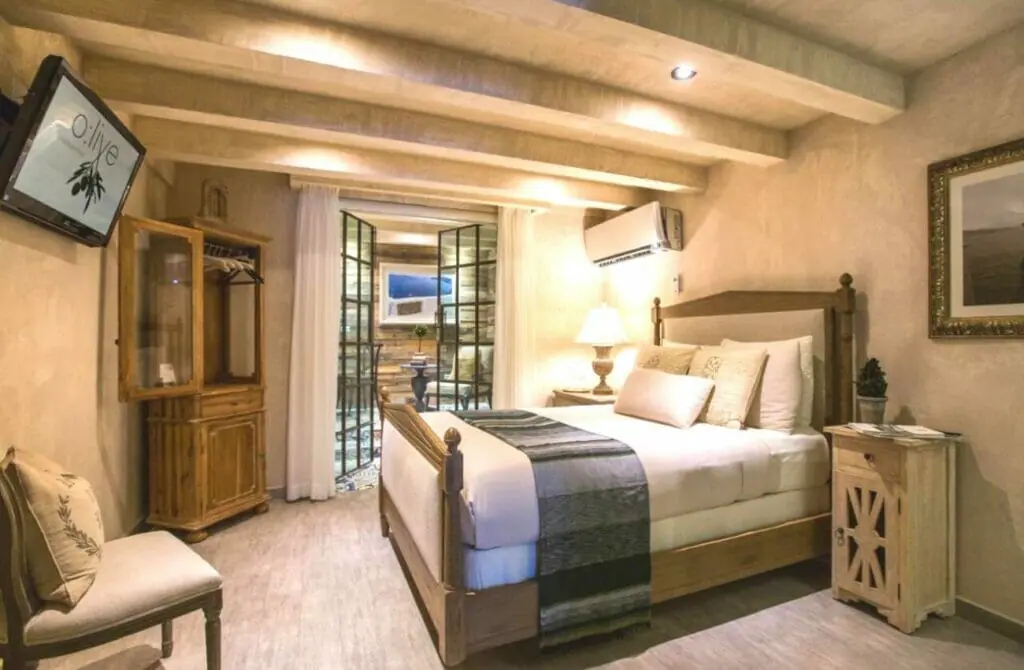 La Concha Renaissance Resort ☆☆☆☆
This hotel is a hip and welcoming haven for the LGBTQ crowd. Nestled atop Atlantic Beach, this destination serves as an idyllic getaway to enjoy sun-kissed days of sand and surf or nights spent living it up in nearby bars and hoppin' hot spots that can't be missed!
This posh paradise offers guests a luxe experience of modernity and relaxation. Marvel at the stunning sights of the Atlantic Ocean from either one of three gorgeous pools, with incredible poolside service provided for all ages!
Be welcomed into an utterly contemporary lobby with soothing fountains and upbeat tunes – here you'll find endless adventures in their 24-hour casino or stylish bar serving coffee during the day to exotic cocktails as night falls. Whether you want to work out on vacation with views overlooking the ocean, enjoy breakfast buffets with killer sea scenery or party away until dawn; this hotel makes it possible.
Coqui del Mar Gay Hotel Adults Only ☆☆☆
Coqui Del Mar, the pride and joy of American/French gay couple Rob & Vianney is a large clothing-optional guesthouse. Here you can experience the city as a true local. Gay-friendly and inviting vibes await!
Put your feet up in one of their cozy rooms or chic villas; they are sure to provide an unmatched home away from home feeling for members of the LGBTQ community – complete with studios and bedrooms that perfectly encapsulate queer comfort.
It's legendary among members of the LGBT+ community for its epic Saturday night pool parties plus Jacuzzis and BBQs as well as easy access to Ocean Park Beach. Soak up some sun by day then party away every weekend at Coqui del Mar – this queer paradise has it all!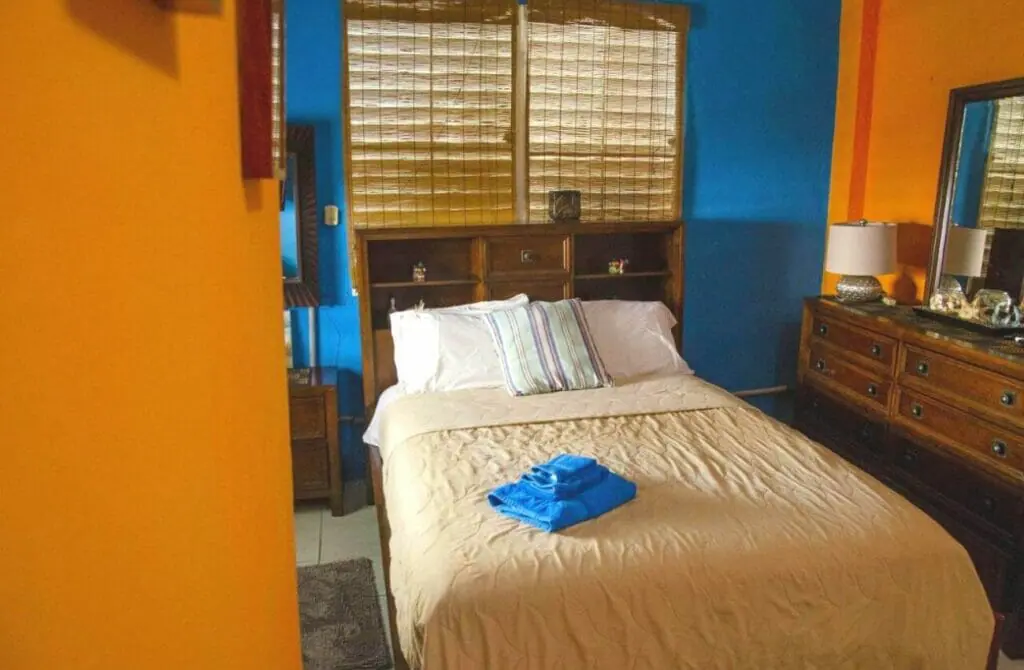 For a true Caribbean getaway, the Dreamcatcher Guesthouse is your ticket to that special queer paradise located in San Juan. From extraordinary beachside sunsets to Salsa Nights and morning yoga, The Dreamcatcher is an unforgettable getaway. Get ready to be embraced by the gorgeous, tropical rooms at this dreamy paradise.
Nature's serenade of tree frog calls every evening is like a soothing lullaby for your soul; truly an enchanting experience assuring you that all will be well. Rest and relaxation await in each unique cocoon filled with beautiful energy.
Live as nature intended here amongst Puerto Rico's only "vegetarian gay-owned" hospitality experience. This guesthouse makes it easy for you to take life slow and enjoy each blissful moment as it's set just one block away from Ocean Park beach – making sure no sea breeze escapes.
Not only will guests love getting lost within its walls of vintage art pieces and furniture full of eye-catching fabrics along with vibrant colors; but they'll especially appreciate the outdoor wooden showers on their patios, hammocks & chairs where lazy days are always welcomed.
If visiting this tropical oasis wasn't enough, be prepared to hang out in communal areas designed exclusively with an ultra-relaxed feel too!
This guesthouse is the perfect sanctuary for any LGBTQ traveler looking to explore and make meaningful connections. Esteban and Emeo, a gay couple from the sunny south of Spain, opened their Andalucia Guesthouse in Ocean Park. This queer-friendly establishment is just a ten-minute stroll away from the stunning sands of Ocean Park Beach.
Plus there are plenty of nearby bars and clubs too. With budget-friendly amenities like air conditioning, blackout curtains in each room, plus a private bathroom – you'll feel right at home.
Lounge around on the colorful 2nd-floor sundeck or tropical patio with other visitors while being just moments away from beautiful beaches where they provide beach towels and chairs free of charge. An ideal vacation spot that won't break the bank.
An eclectic urban oasis brimming with life and bursting with Caribbean flavor and nestled in the heart of Puerto Rico's vibrant Santurce Art District, their modern hostel offers a unique opportunity to sample local culture first-hand.
From its charming bohemian atmosphere to unbeatable rooftop views, here you can immerse yourself among world travelers, mingle over delicious cuisine from nearby restaurants or explore the exciting nightlife.
Offering comfortable private rooms as well as dorm-style accommodations to give you the best of both worlds – peace or party! Air conditioning guarantees optimal guest satisfaction throughout their stay. The large communal living room allows adventurers to swap stories over some snacks.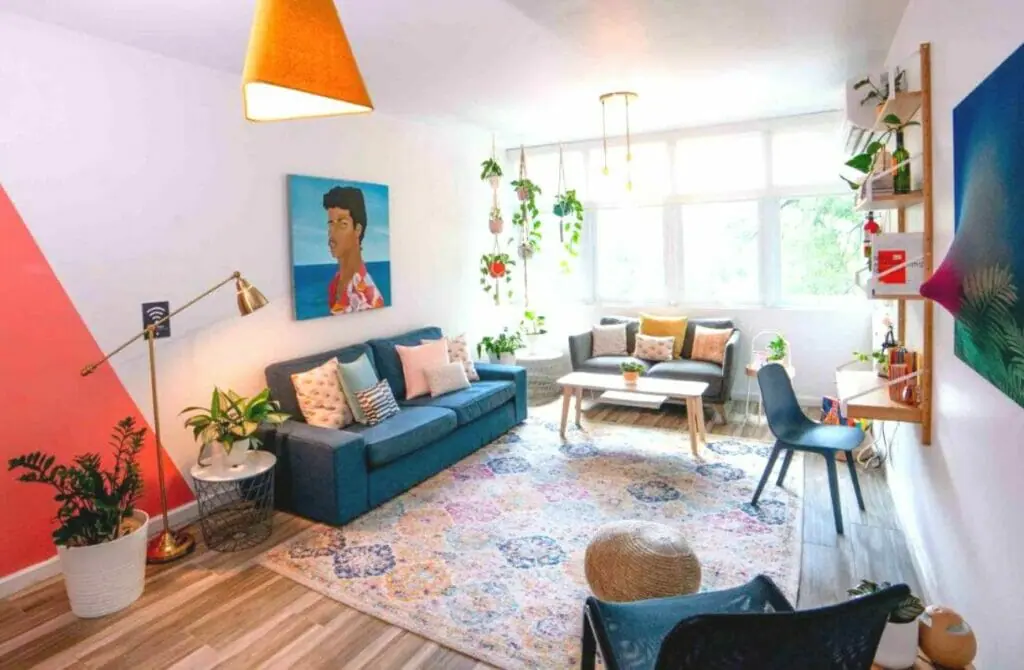 Gay Nightlife in San Juan
Exploring the gay and gay-friendly nightlife in a new city can be one of the most exciting and rewarding experiences while traveling – and Gay San Juan is no exception. Not only will you have the opportunity to meet new people and make friends, but you'll also get a taste of the local culture and learn more about the city's LGBTQ+ community.
Going out and experiencing the queer and queer-friendly nightlife in a new city can also be a great way to break out of your comfort zone and try new things. Whether it's dancing the night away at a gay club or mingling with locals at a gay-friendly bar, you'll have the chance to make memories and create lasting connections.
So, don't be afraid to step out of your comfort zone and explore the gay and gay-friendly nightlife in San Juan. You'll be glad you did!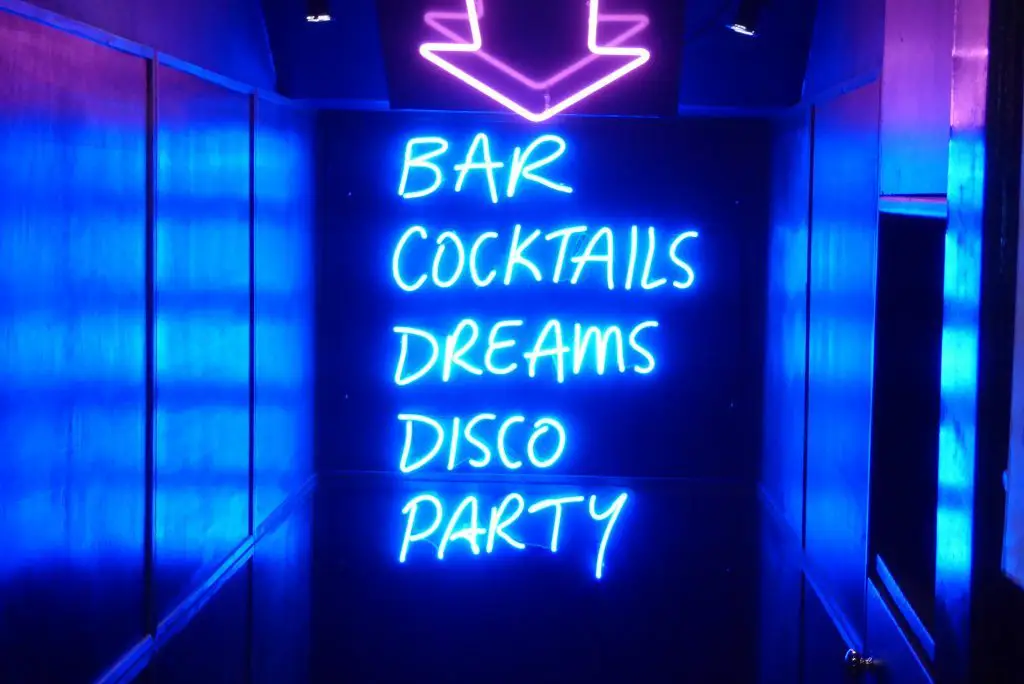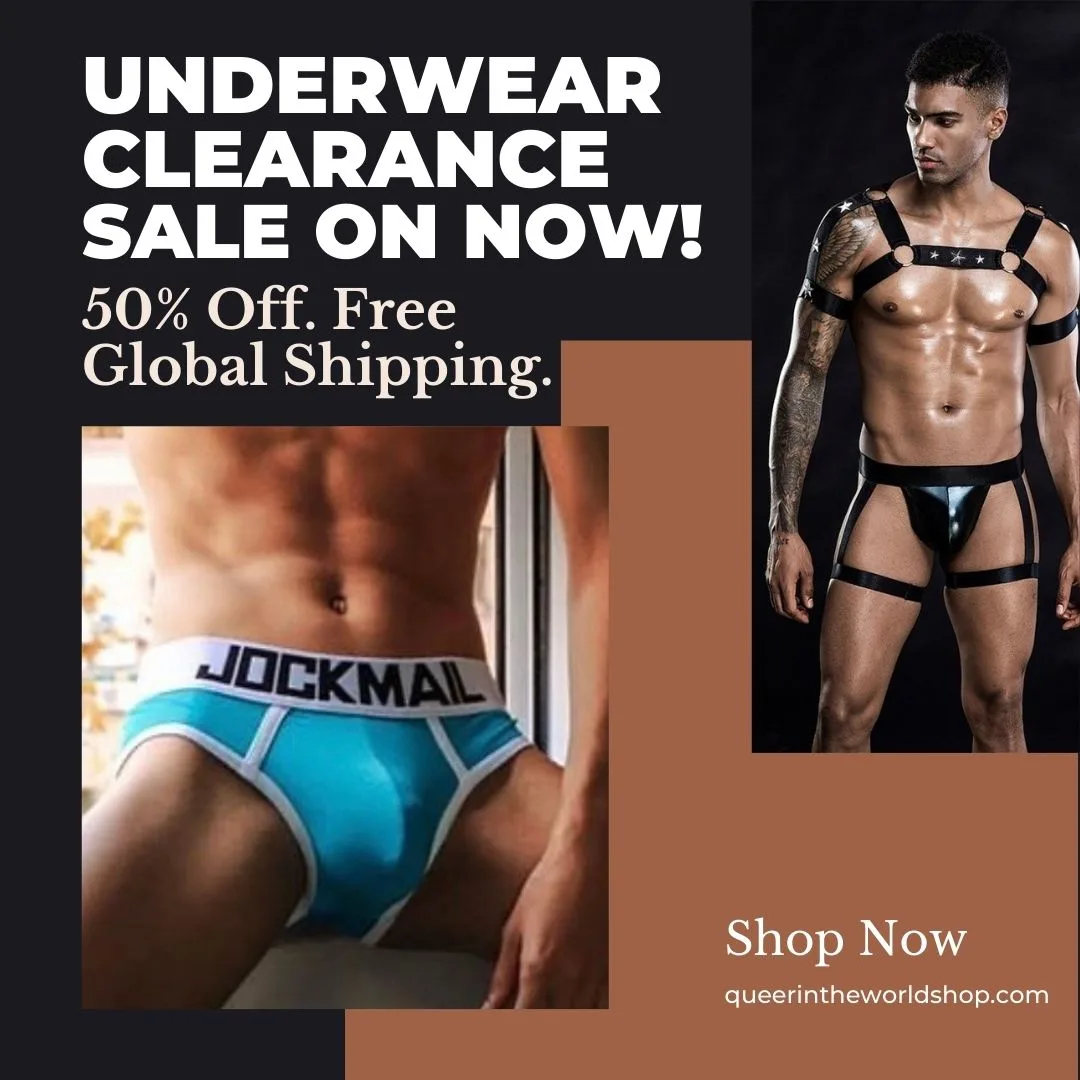 Chueca Bar is a happening queer spot in San Juan. You'll know you're at the right place when your eyes spot a splash of rainbow neon lights and LGBT locals & tourists taking over for nightlife fun! Grab some cocktails with new friends outside or come party inside, either way, it's sure to be an experience like no other.
Renowned as a vibrant hub of San Juan's queer scene – don't miss the electrifying DJs, welcoming bartenders, and an array of special events from Electric Night to Urban Night! Check out their Facebook page for all the latest updates on what is normally the hottest spot in town.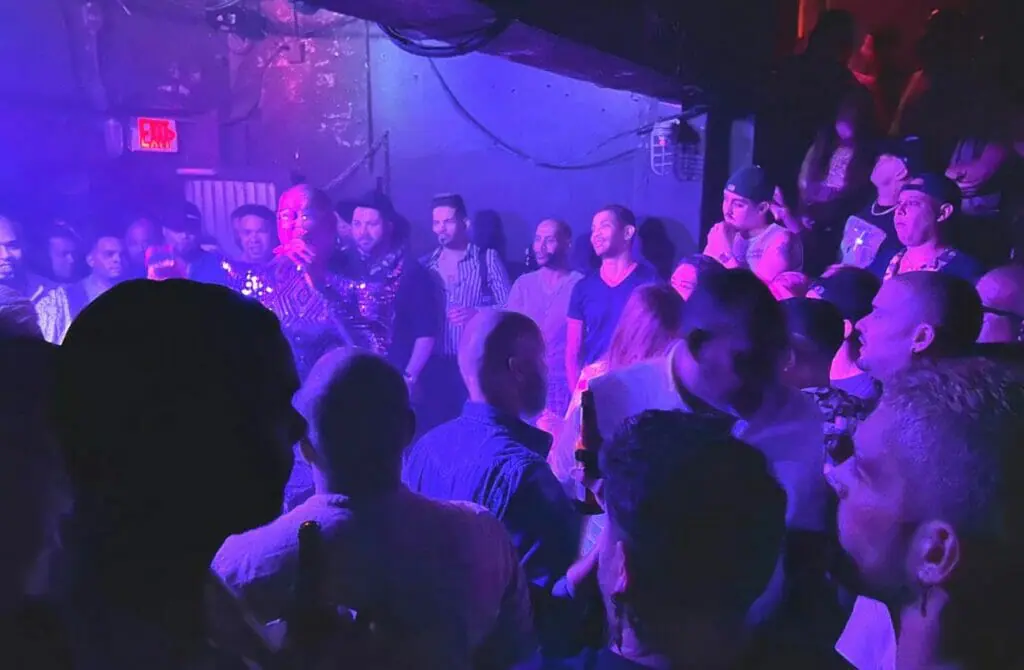 La Plaza del Mercado de Santurce
In La Placita, every weekend, its streets come alive with an eclectic mix of bars and eateries that attract a vibrant crowd. All are welcome to live it up where you can enjoy drinks, dancing, laughter and more.
A fabulous little gay bar is known for its burgers, cocktails, drag and hot wings. Queer happenings are planned for most weeknights, and if they have a Burlesque Brunch while you are visiting Gay San Juan you simply cannot miss it. Mostly local crowd with some visitors in the mix. The drag performers are some of the best on the island – and drinks are reasonably priced.
La Sombra Rosa
This iconic bar and lounge is a staple of the city's gay nightlife and has been a gathering place for the local LGBTQ+ community for over 30 years. Located in the heart of San Juan's historic Santurce neighborhood, La Sombra Rosa offers a lively atmosphere, delicious drinks, and great music, making it the perfect place to dance the night away with friends.
In addition to its lively atmosphere, La Sombra Rosa is also known for its warm and welcoming vibe, making it the perfect spot for LGBTQ+ travelers to connect with locals and experience the best of San Juan's gay nightlife. So whether you're looking to dance, socialize, or just enjoy a few drinks with friends, La Sombra Rosa is the place to be. So grab your dancing shoes and get ready for a night of fun and freedom in the heart of San Juan!
Don't be fooled by the barred windows at this is an epicenter of nightlife in Santurce. They've got it all: party-popping house and Latin tunes, lip-smacking drinks poured with a generous measure of spirits, dramatic Drag shows every Thursday…and for added spice? Stripper Sunday will keep your toes tapping well into Monday.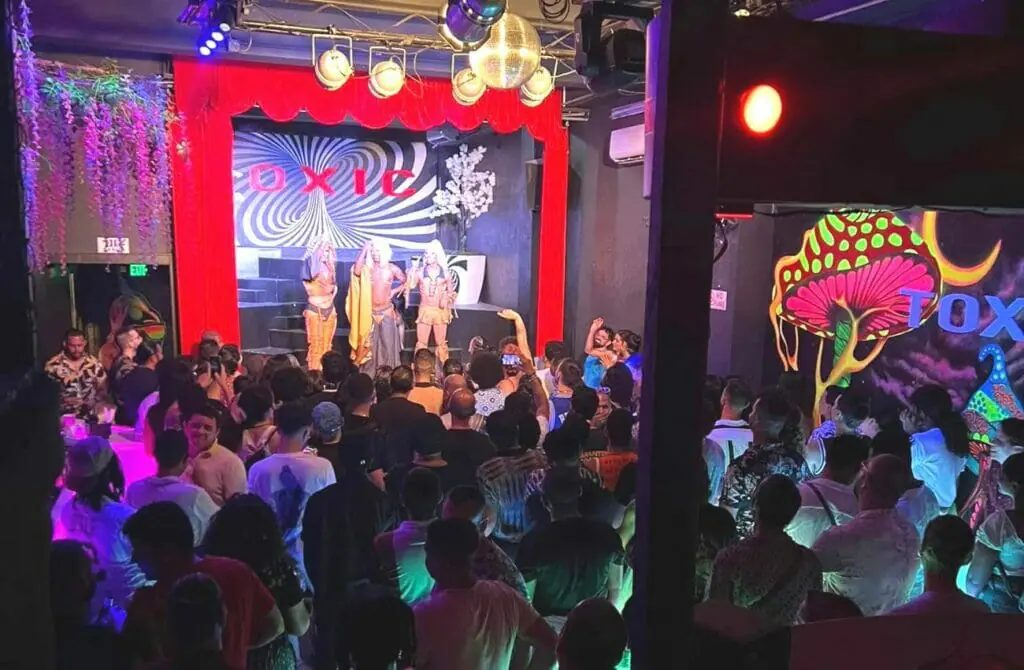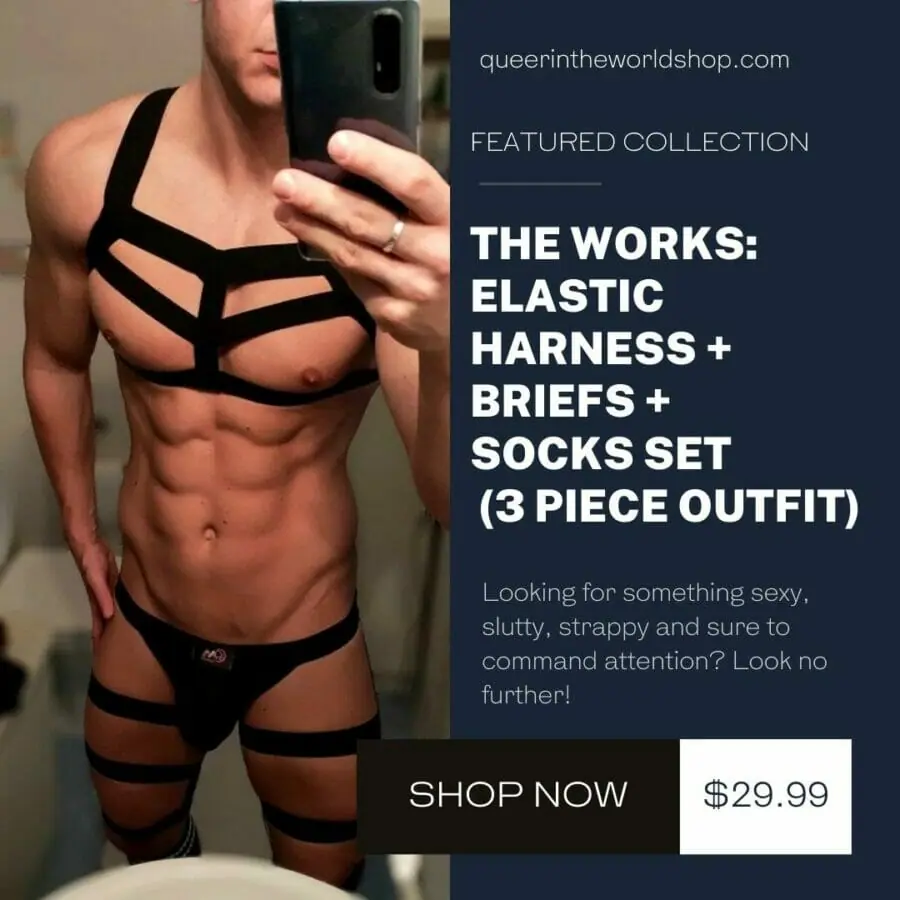 San Juan's super hip haven for sipping craft cocktails. This tiki bar offers a funky atmosphere with elaborate drinks that make it an escape from city life. Get groovin' on its outdoor patio where groups of friends flock to experience one of San Juan's best cocktail bars.
Get ready to experience the ultimate queer paradise, founded by two former drag-queen performers and pageant queens Christian J. Marcano and Dr. Jesus Hernandez-Burgos, opened its doors in December 2021 as an all-inclusive safe haven for every one of the LGBTIQ+ community and their supporters.
Visit on Wednesday nights where you can show off your best dance moves to some hot Latin beats from local DJs or get competitive cheers supporting fierce performances during pageants Thursdays at this always-lit club don't forget Queer Night Fridays & Saturdays when it's time to party hard until dawn brings that morning light!
Take in the most exquisite oceanfront views San Juan has to offer of Condado. And while you're there, tantalize your taste buds with their delicious Peruvian and Puerto Rican creative menu and world-class mixology.
Get down on Saturday mornings during an unforgettable drag brunch show – complete with a refreshing cocktail, heavenly food, and fantastic tunes that make it an experience unlike any other.
Experience the unparalleled beauty of sunset from El Techo Rooftop Bar – an LGBTQ hotspot and one-of-a-kind paradise in town. Lounge around a chic setting and enjoy attentive service while you take in unrivaled views. Get there early to snag those prime spots, or call ahead for a reservation if the timing's tight.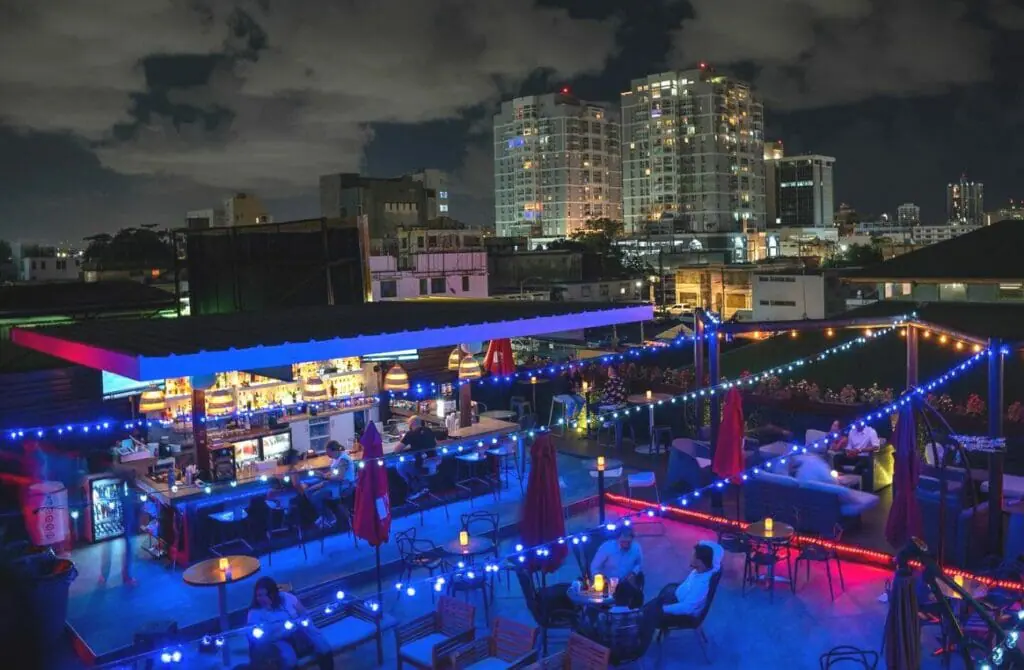 Ready to party? El Local en Santurce is the ultimate house party. This specially crafted venue has everything necessary for an unforgettable night, from drag kings and weekly shows to karaoke and cheap drinks. Who's ready to let loose?!
A queer paradise of happy hour and go-go dancers awaits you! From daytime 'till late at night, this restaurant, lounge and bar have everything. Monday nights are even more thrilling. This beachfront bar provides an amazing atmosphere to set your night up with a bang. Step in and experience like never before – no two nights are ever the same at Oasis.
Come experience the fantastic, uplifting atmosphere of Serafina. Located in Condado's vibrant heart and featuring impeccable indoor/outdoor seating, it's no wonder that this restaurant draws in a crowd. Make sure to reserve your spot ahead of time.
Music lovers, look no further. Serefina is the perfect place for a night out with its enjoyable upbeat music and delicious drinks.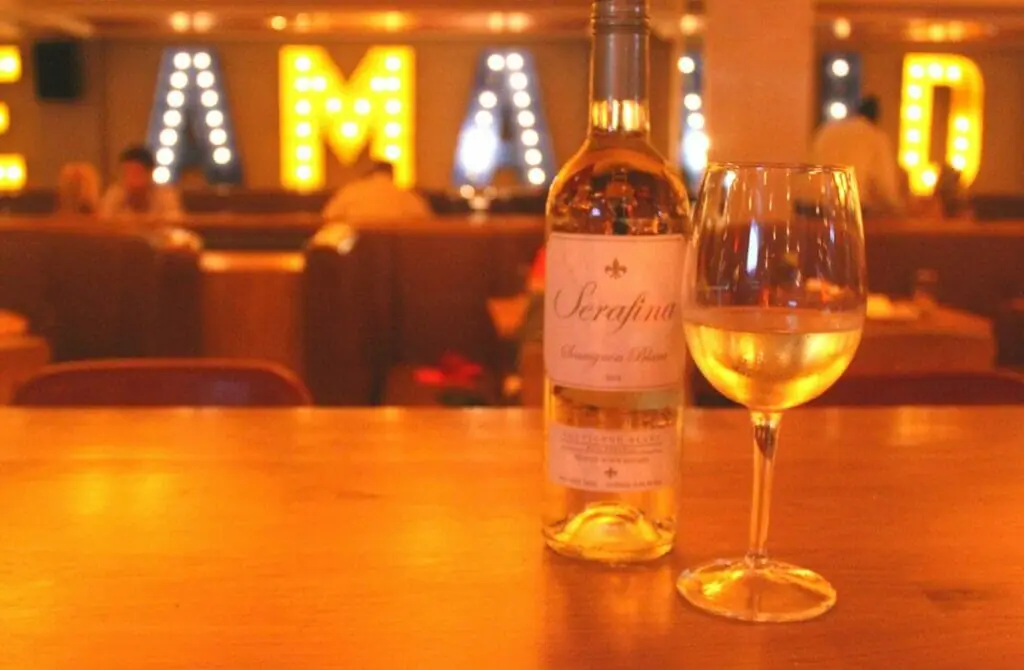 San Juan Gay Sauna
When traveling to a new city, it can be exciting to head out for more than just a stiff drink. One aspect of the Gay San Juan scene that many queer men enjoy is visiting gay saunas and cruising clubs.
Sure, the sauna culture in San Juan is not as hedonistic as in Amsterdam, Barcelona or Berlin, but these venues still offer a chance to meet new people, socialize, and engage in sexual activity – without resorting to gay hook-up apps. However, it's important to keep in mind that these venues can vary greatly in terms of atmosphere, clientele, and rules, so it's a good idea to prepare yourself before visiting. If you are apprehensive, we advise studying our guide to visiting a gay bathhouse for the first time, which should help set your mind at ease, and always practicing safe sex.
Additionally, it's important to be aware of and respect local laws and customs regarding gay venues and sexual activity. With a little bit of planning and an open mind, cruising and visiting the gay sauna of San Juan can add a lot of fun to your queer travel itinerary.
Currently, Xteamworks Bath House is San Juan's only exclusive gay sauna. Tucked away on an eastbound street near the heart of downtown, this spicy oasis offers guests all they need for some premium relaxation: steam rooms, saunas and even private dark rooms. Standards of cleanliness are not particularly high during our visit, but there is certainly fun to be had here…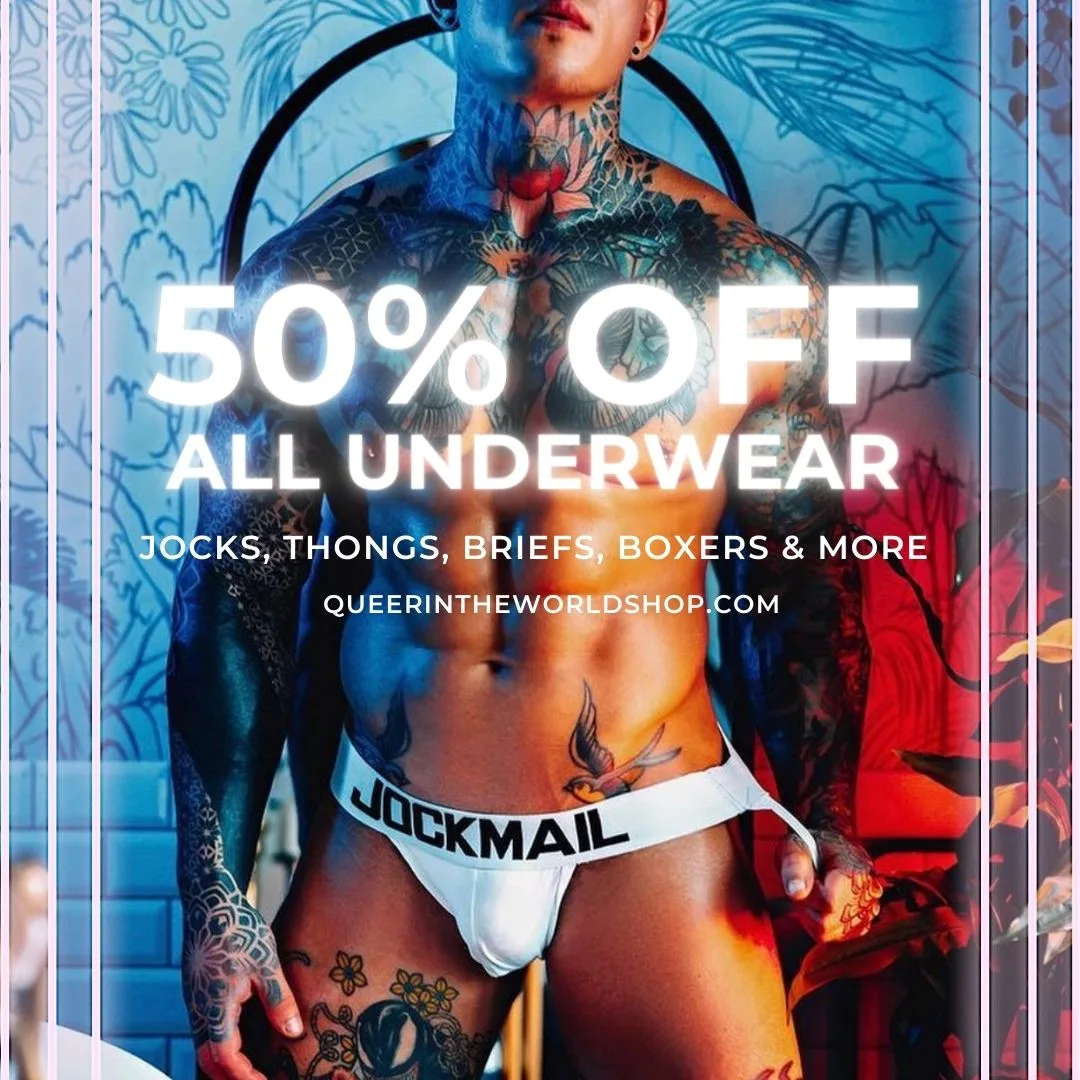 Gay Map Of San Juan
Finding it hard to envisage where everything is in San Juan? Hopefully, this queer-centric map helps where we have marked all the bars, clubs, parties, hotels, saunas, massages and more will help you stay in the spot best suited to you!